Láskavý romantizmus ako prejav sily v nositeľnej kolekcii Alberta Ferretti, Jar/Leto 2021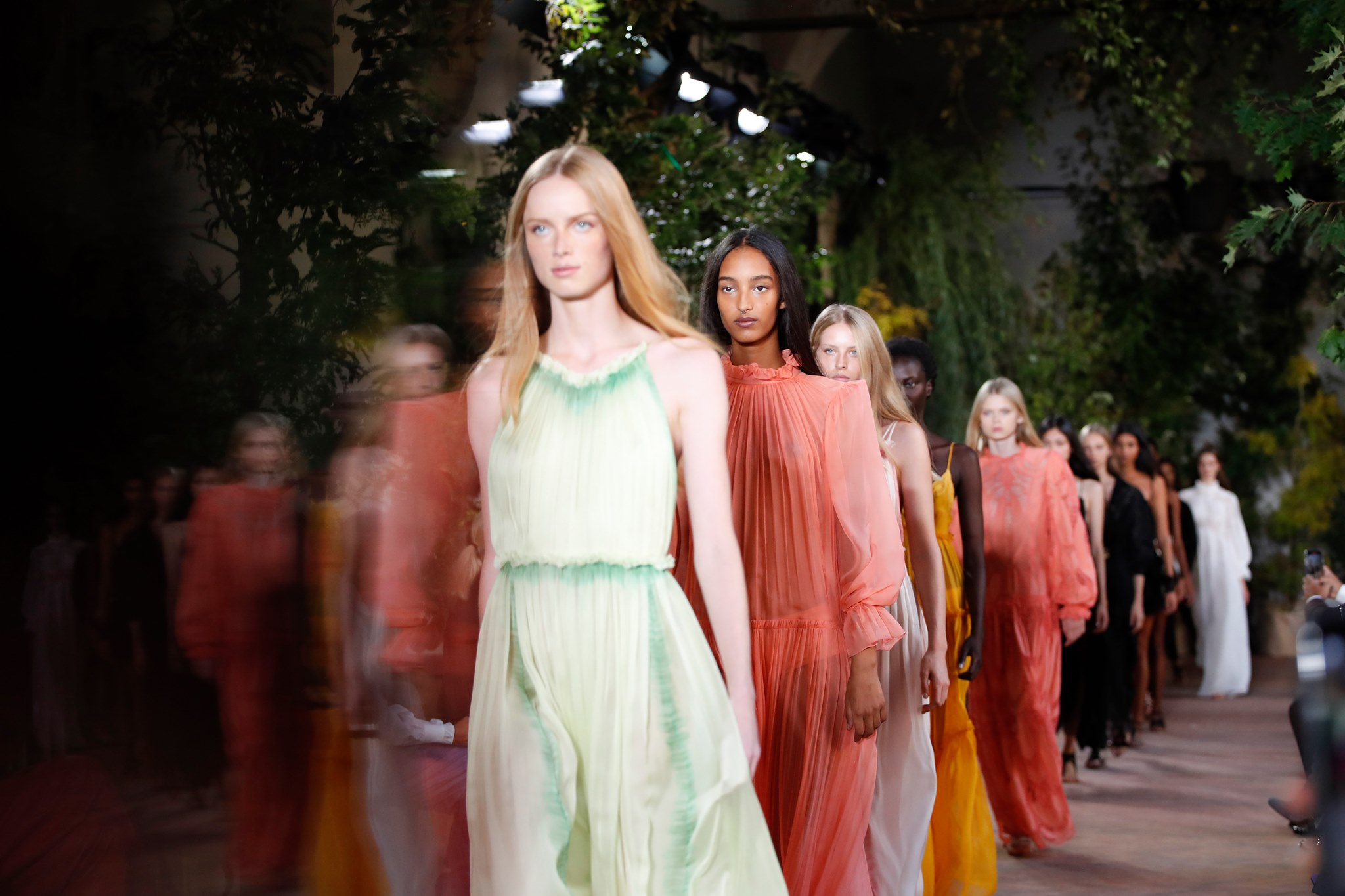 Módna prehliadka kolekcie Jar/Leto 2021 talianskej dizajnérky Alberta Ferretti sa konala v jedno krásne septembrové popoludnie pod holým nebom na dvore milánskeho hradu Castello Sforzesco, kde si hostia v bezpečnej vzdialenosti užívali slnečné počasie talianskeho Milána. Posledné oficiálne dni leta zavŕšila počas letnej sezóny Milan Fashion Weeku, spojeného prehliadkového týždňa Módy Ženy a Muži , v septembri 2020, talianska značka Alberta Ferretti.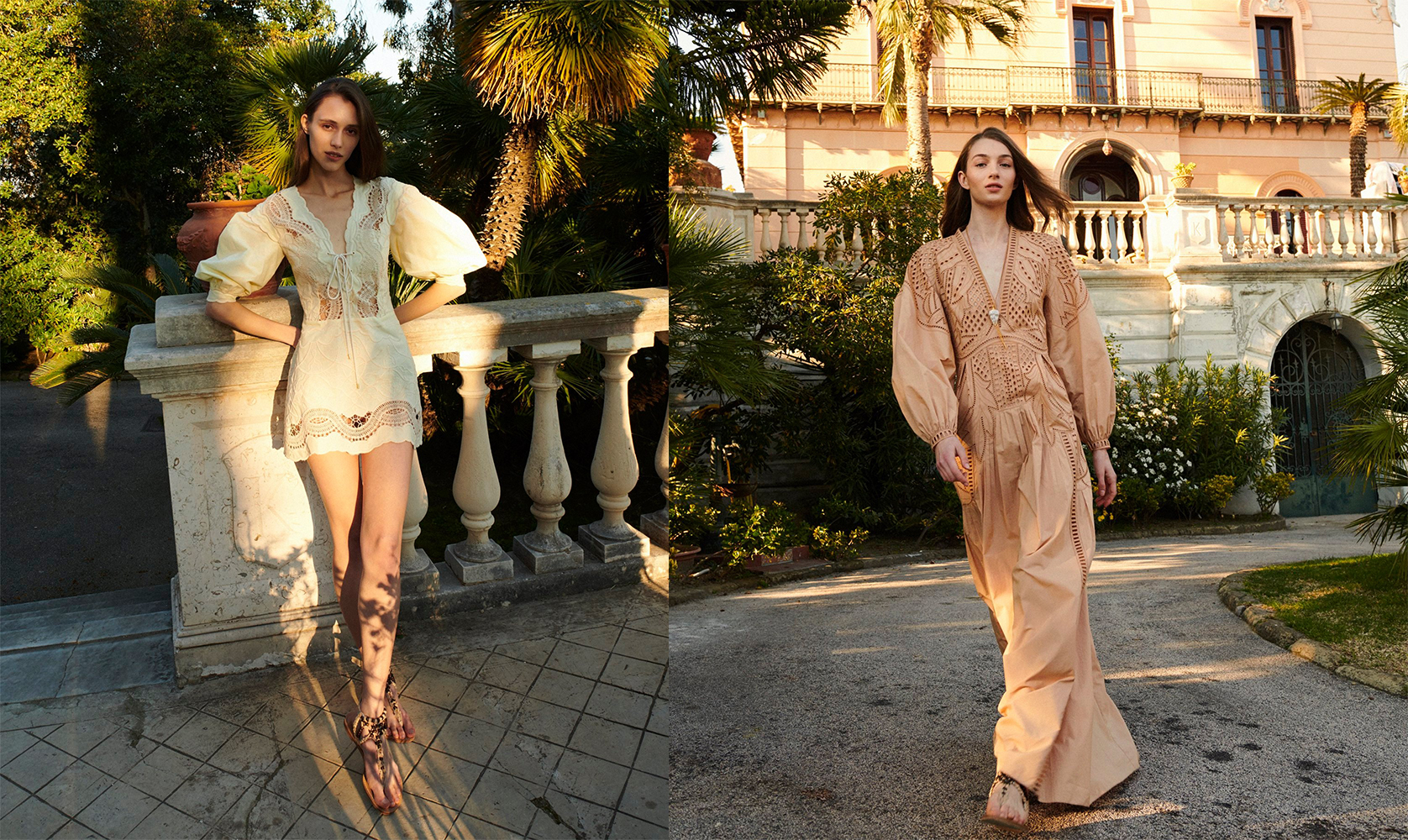 Z prehliadky konanej na nádvorí sa niesol uvoľnený pocit citeľný taktiež z kolekcie určenej na leto 2021, ktorá bola pravdivejšia k Ferretti podpisovému romantickému štýlu, ako k jej nedávnym návratom k rokom 80-tym, kde smerovala k dôraznému pohľadu no v rozpore s jej citlivosťou. Alberta Ferretti pre tentokrát opúšťa isté obdobie v tvorbe spečatené 80. roky a namiešala kokteil láskavosť a romantizmu.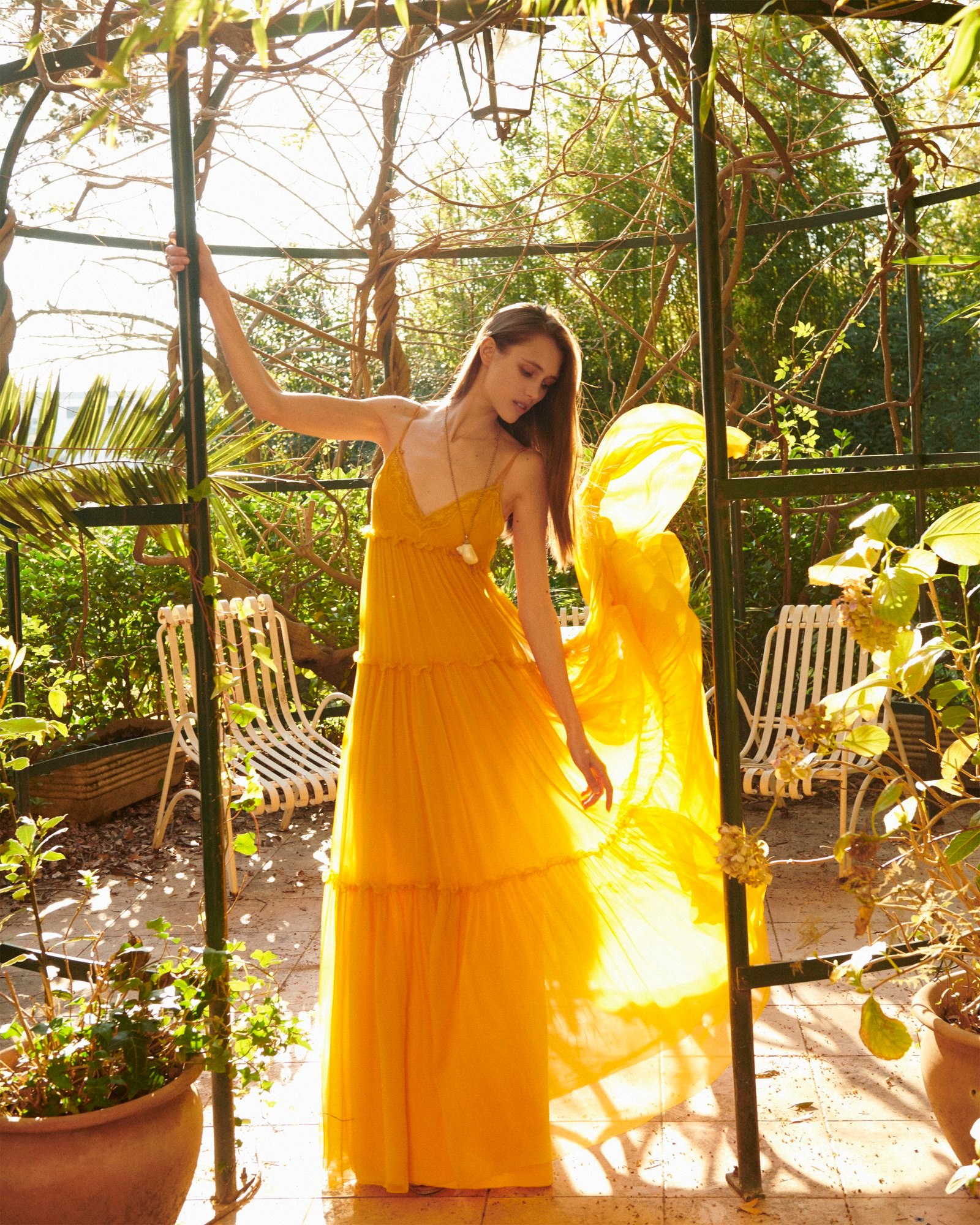 "Myslela som na jemnú módu – romantickú a ženskú," povedala Alberta Ferretti po prehliadke kolekcie počas Milan Fashion Weeku, ktorá bola v súlade s jej víziou.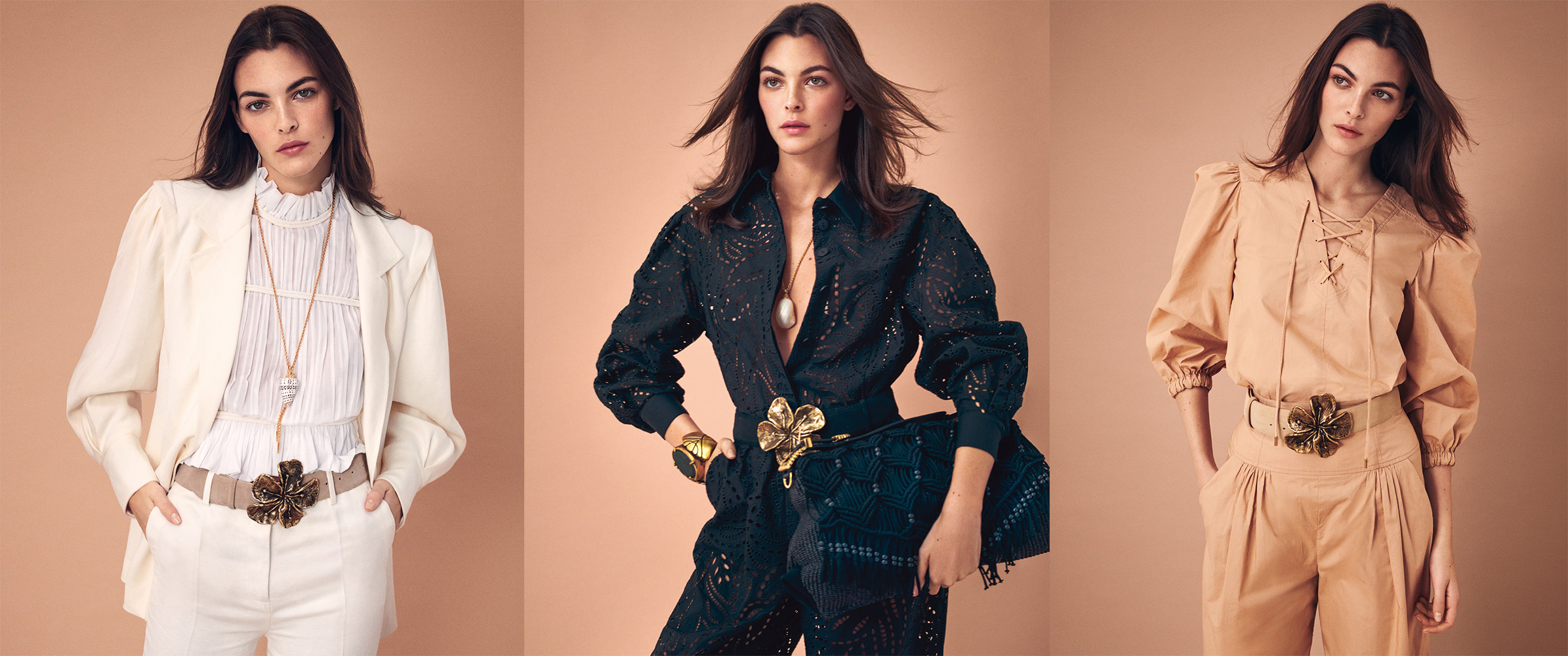 Pre sezónu Jar/Leto 2021 talianska dizajnérka uviedla, že si uvedomuje dobu, ktorá aktuálne zavládla a preto sa rozhodla zobraziť ženu silnejšiu, ktorá potrebuje praktické oblečenie na každodenný život.
"V tejto ťažkej situácii, v mnohých ohľadoch tak tvrdej a nemilosrdnej, bolo mojím vnútorným inštinktom prijať láskavosť a určitú zvodnú jemnosť. Verím, že to vyplýva zo sebavedomia a z prijatia prirodzenej sily ženskosti. "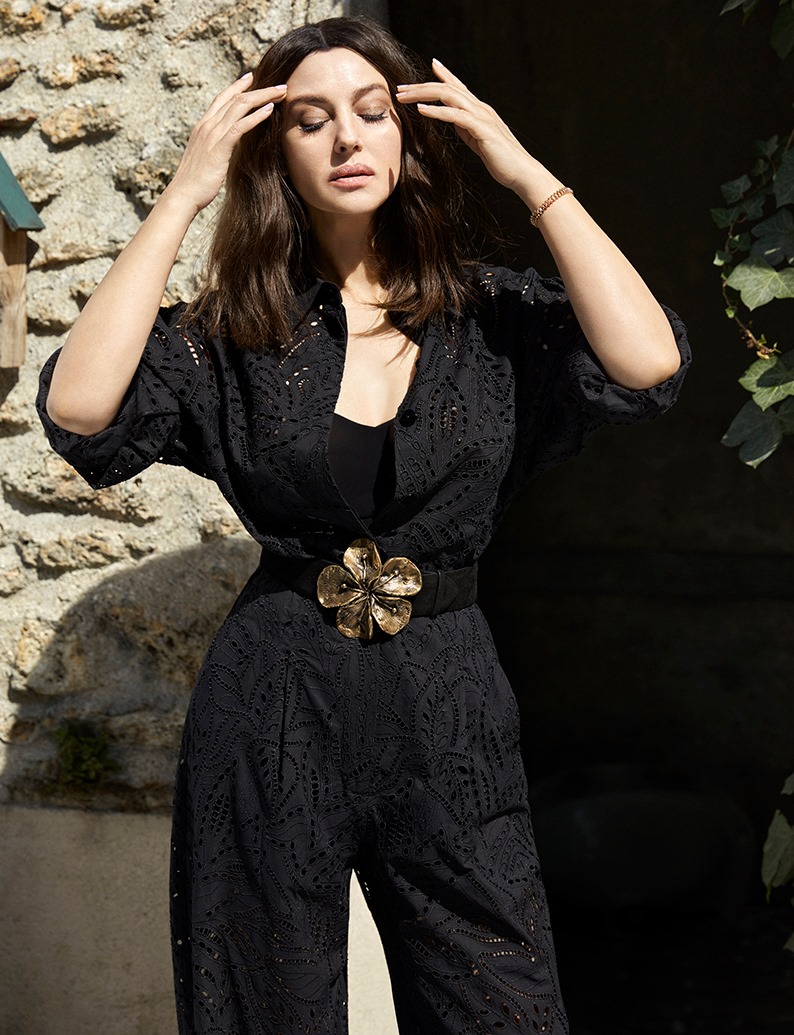 Modely letnej kolekcie Alberta Ferretti 2021 predvádza aj talianska herečka a diva Monica Bellucci.
Tento štýl dizajnérky sa pomerne dobre premietol do príťažlivého repertoáru ženských, splývavých mušelínových šiat a kratších šiat.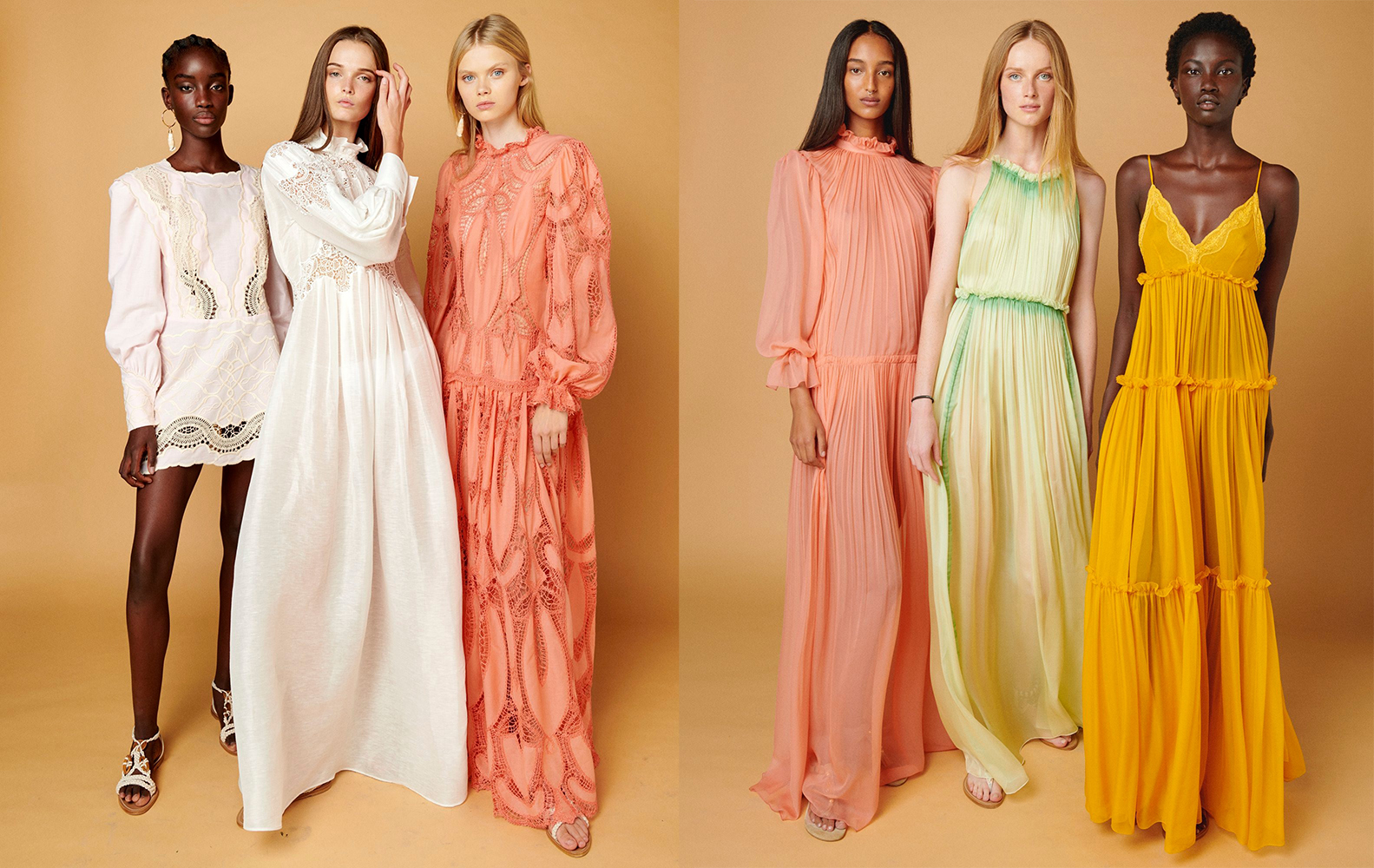 Jej krátke šifónové šaty boli inšpirované svetom spodnej bielizne, ale návrhárka pokračovala aj v skúmaní tie-dye, ktorú tentoraz aplikovala na večerných šatách.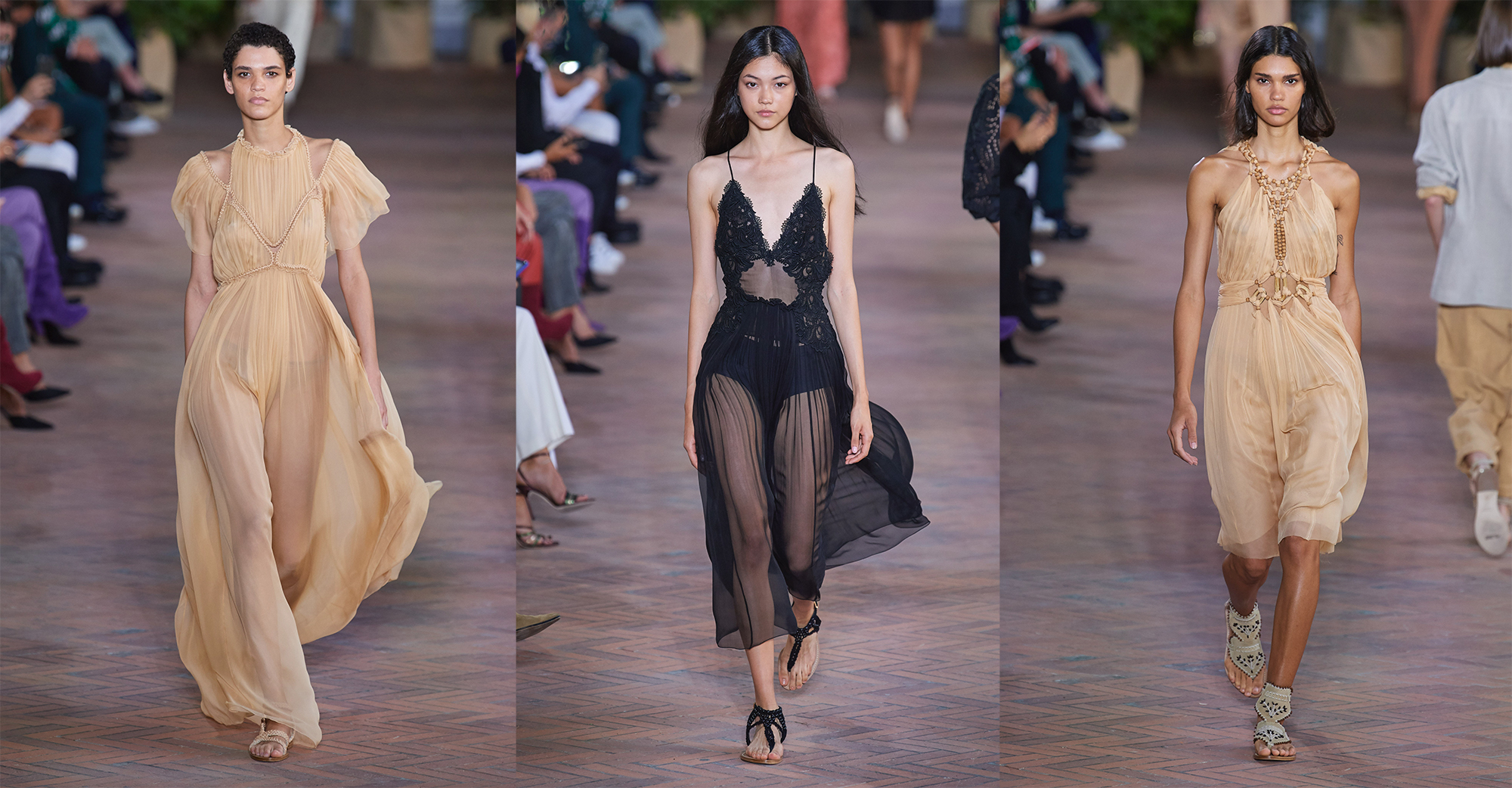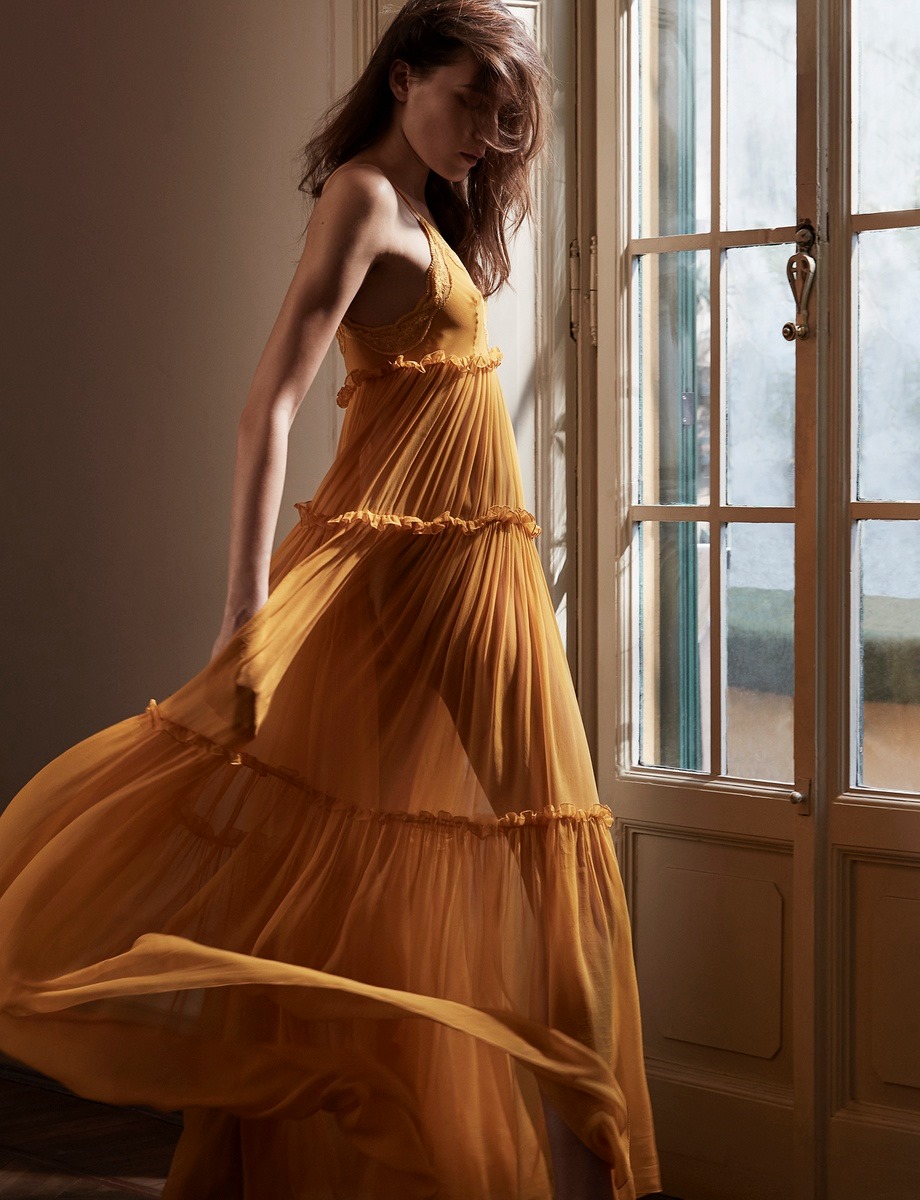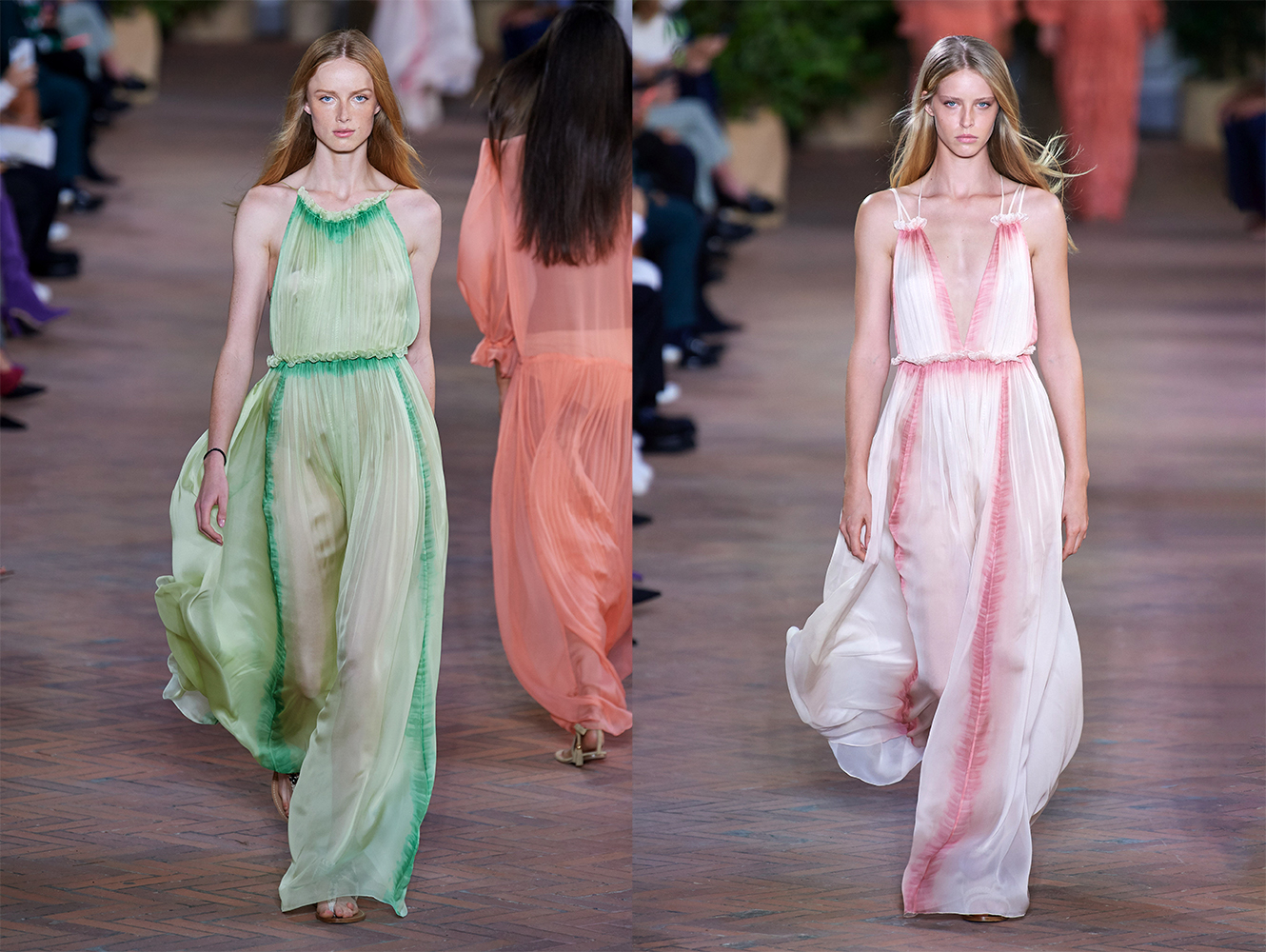 "Bola som známa ako kráľovná slipových šiat," žartovala. Pravdepodobne je to koruna, ktorú dizajnérka zvažuje opätovne si privlastniť.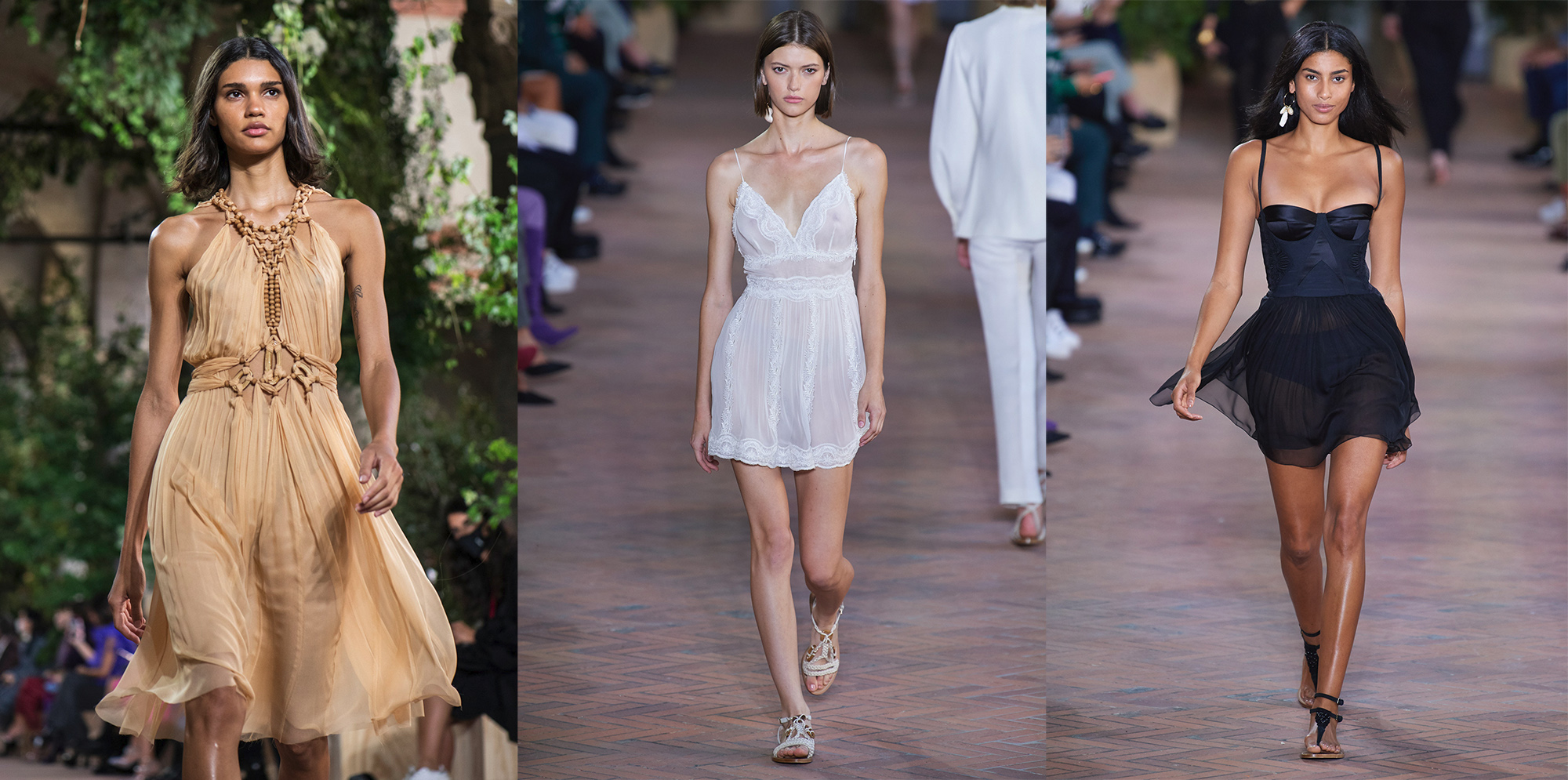 Vyšívané košele s vrúbkovanými kapeletami a ostrihané blúzky s puzdrovými rukávmi kladú v kolekcii dôraz na plecia. Je to akési spätné volanie po Alberta Ferretti štylistickom objatí veľmi ospevovanej mystiky "posilnenej ženskosti". Napriek tomu je talianska dizajnérka v najlepšom móde, keď sa vyhýba štruktúre v prospech jemnosti a nežnosti.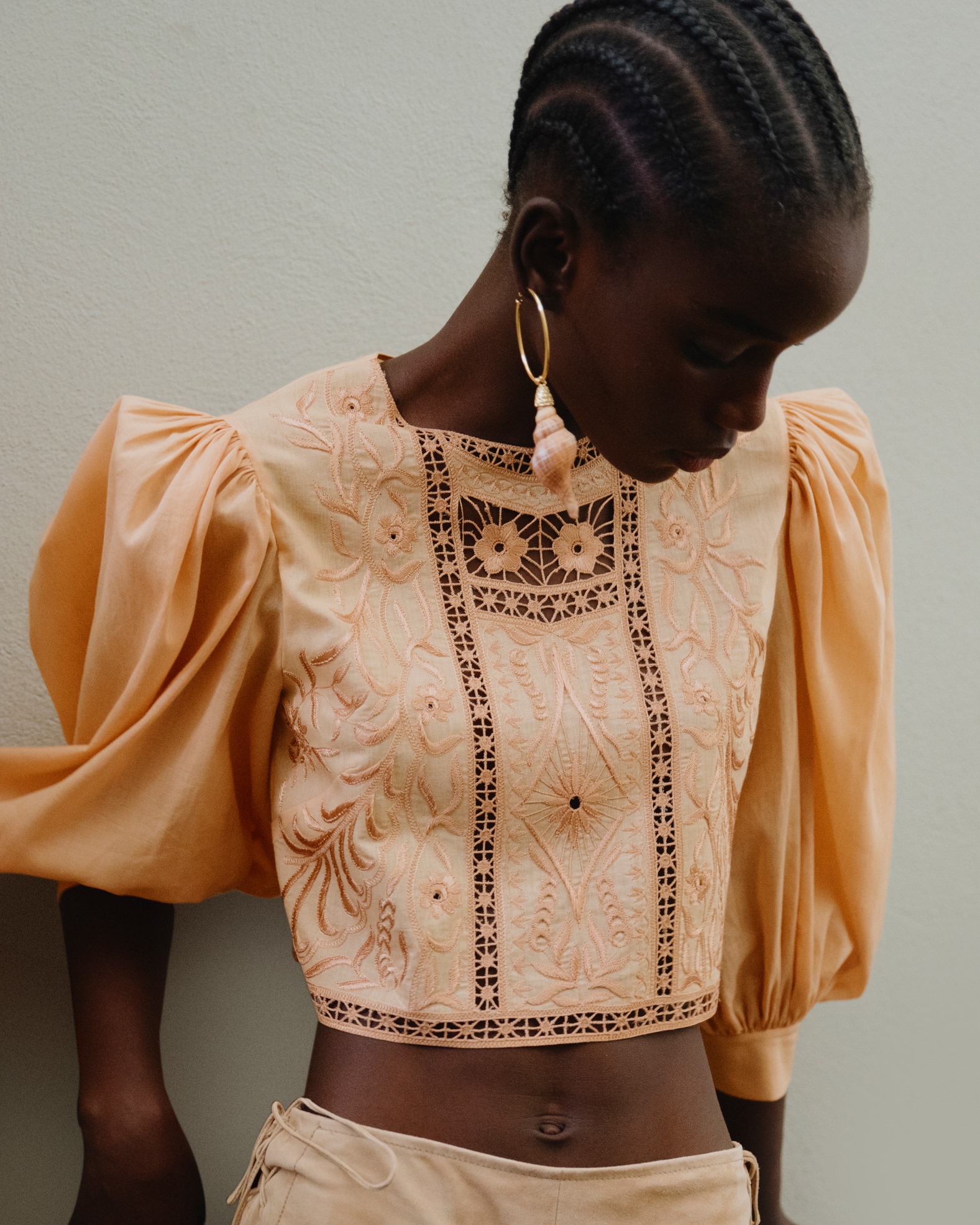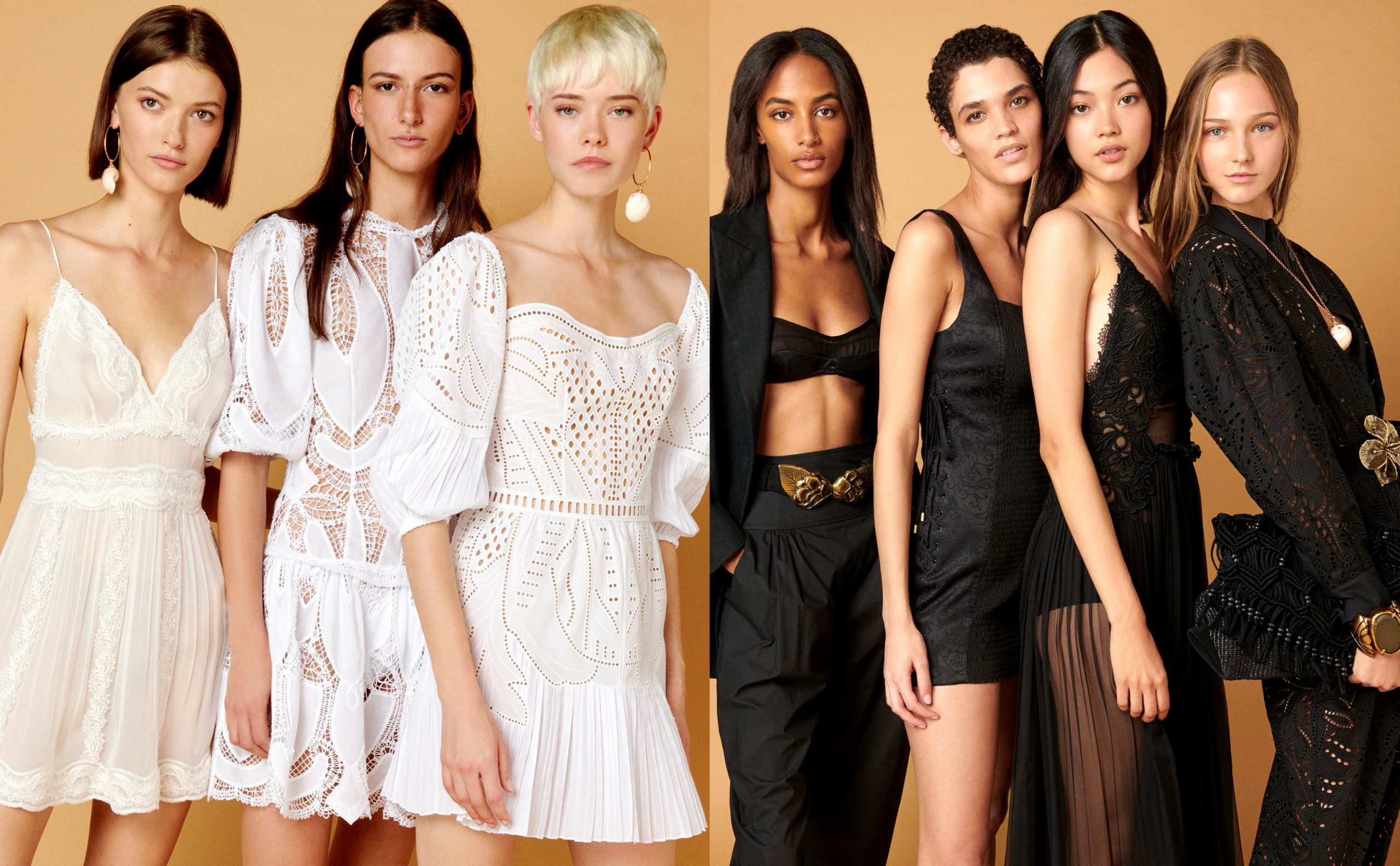 LÁSKAVOSŤ A ROMANTIZMUS V KOLEKCII ALBERTA FERRETTI , JAR/LETO 2021
Láskavosť a romantizmus vytvárajú kolekciu Alberta Ferretti, Jar/Leto 2021, ktorú tvorí obnovené a nevyhnutné denné oblečenie a zároveň prvky inšpirované spodným prádlom a bielizňou.
"Romantizmus je prejavom sily, nie slabosti," uvažovala návrhárka.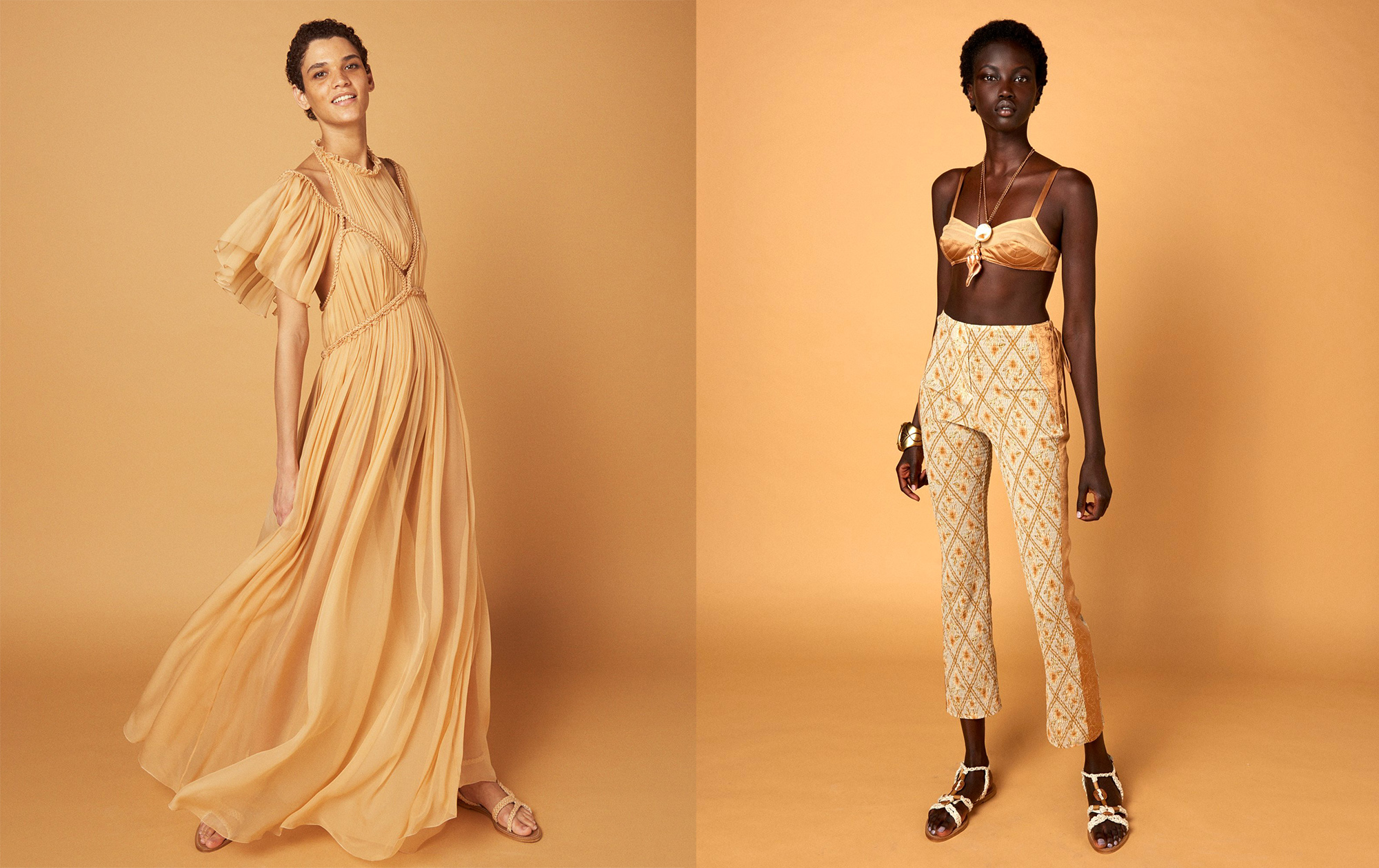 Do popredia nositeľných kúskov sa dostáva džínsovina, ktorá bola zafarbená, vyblednutá a ošetrená, oživené strihy nohavíc, ktoré tvarujú rôzne siluety a premieňajú sa na detaily. Detaily na prsiach a podprsenke sú prevedené do elastických úprav, zatiaľ čo čipka Sangallo je tvarovaná do praktickej, elegantnej a zmyselnej kombinézy.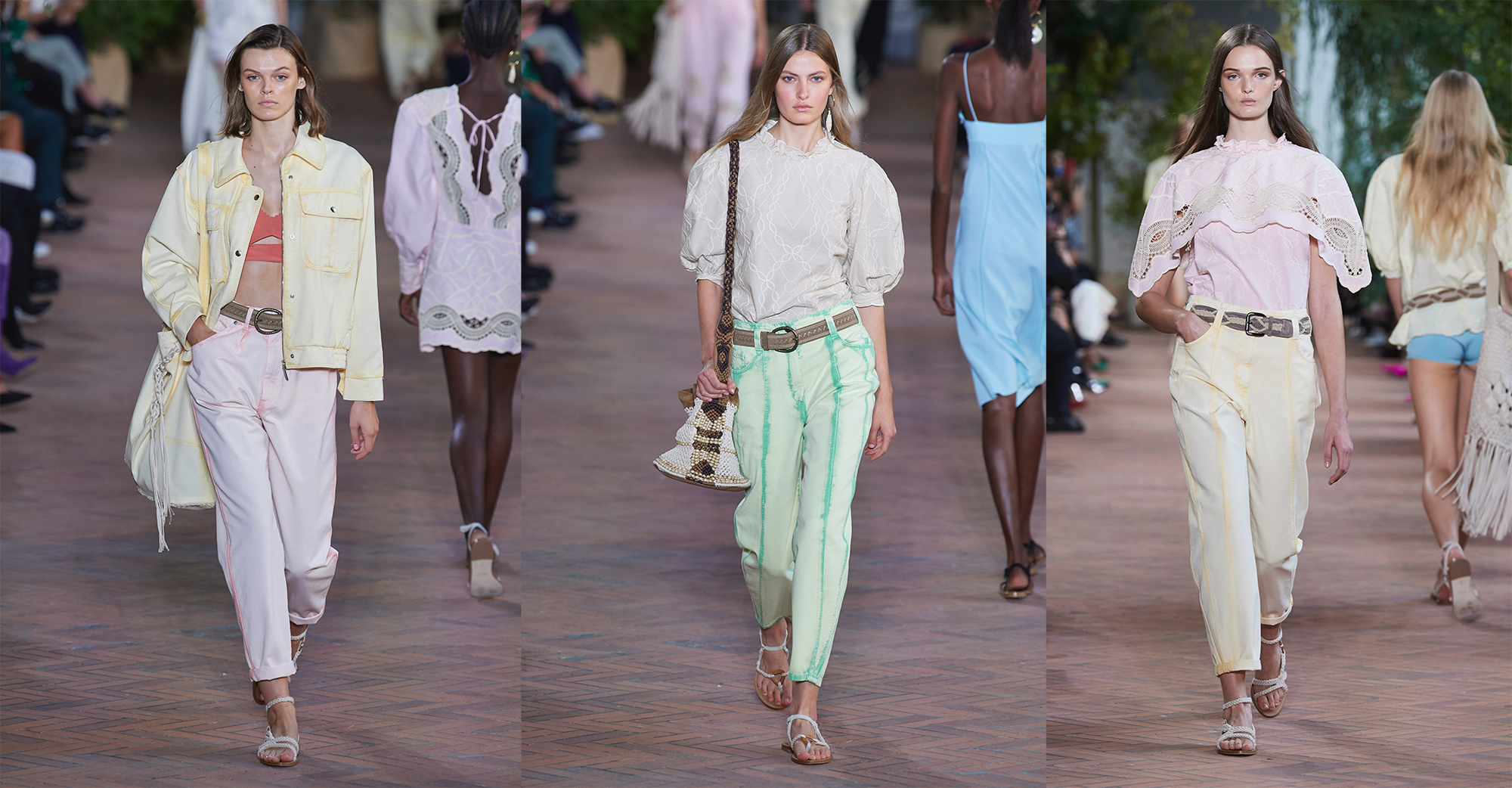 Alternatívou výberu modelov Alberta Ferretti pre Jar/Leto 2021 je tiež denim v pastelových farbách a tesné nohavice s vysokým pásom kombinované s podprsenkami inšpirovanými spodnou bielizňou a peknými braletkami. Kombinácia čipky Sangallo a ručne pletené svetre pôsobili v letnej kolekcii 2021 príjemne .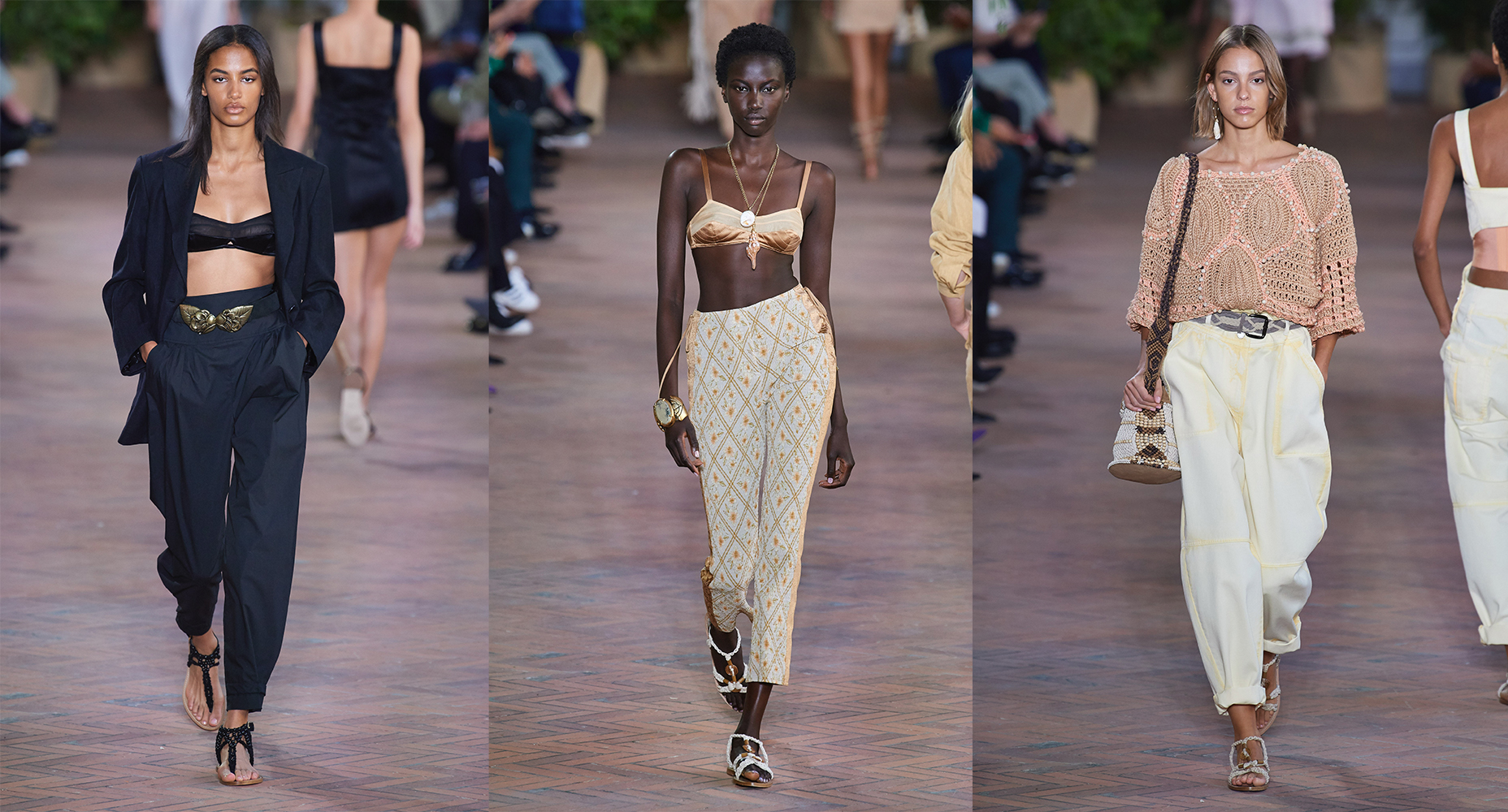 Letnú kolekciu Alberta Ferretti 2021 charakterizuje kontrastné prešívanie po bokoch nohavíc, ktoré dizajnérka spojila s hodvábnymi podprsenkami alebo vysoko, ale jemne vyšívanými blúzkami pre ženský nádych.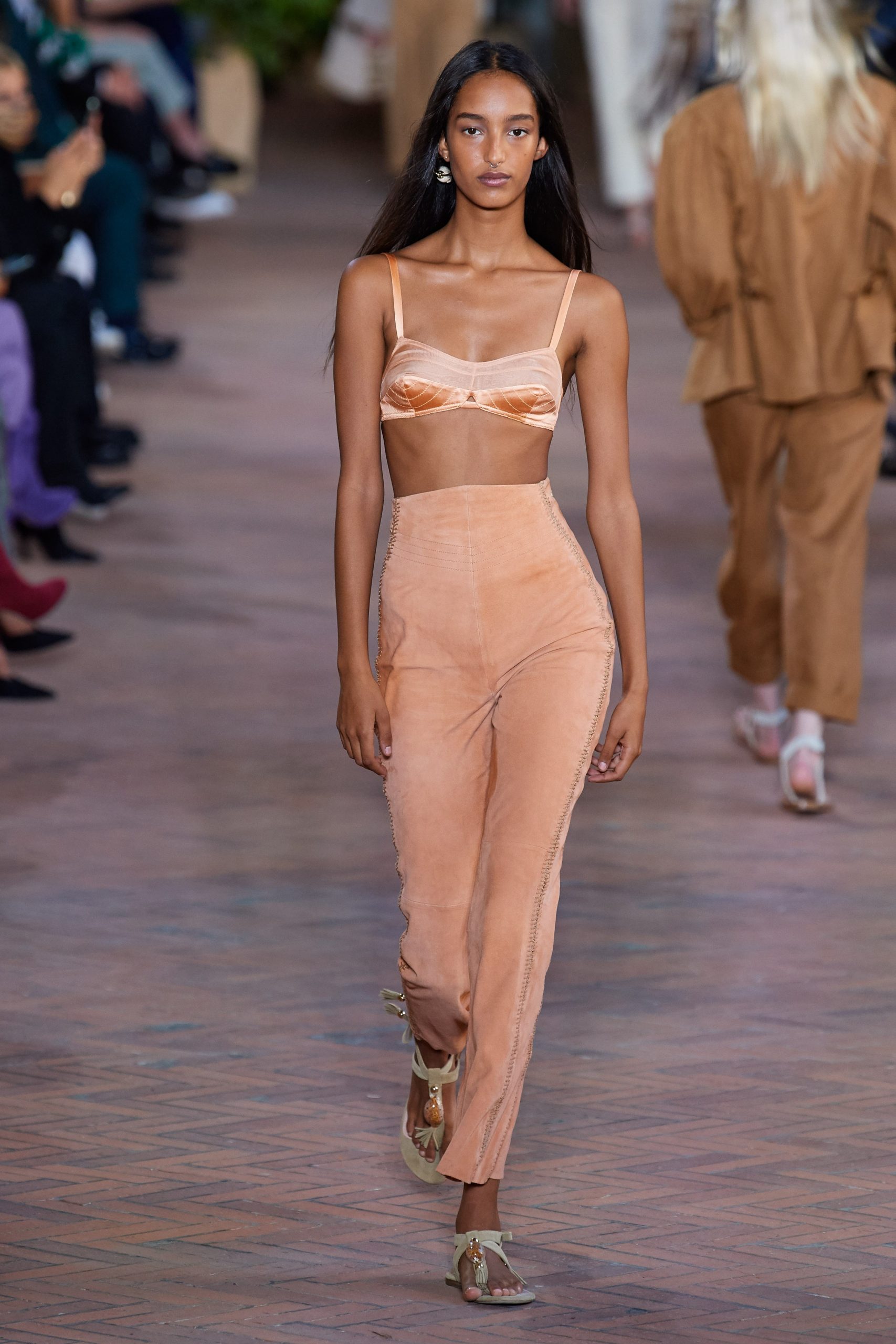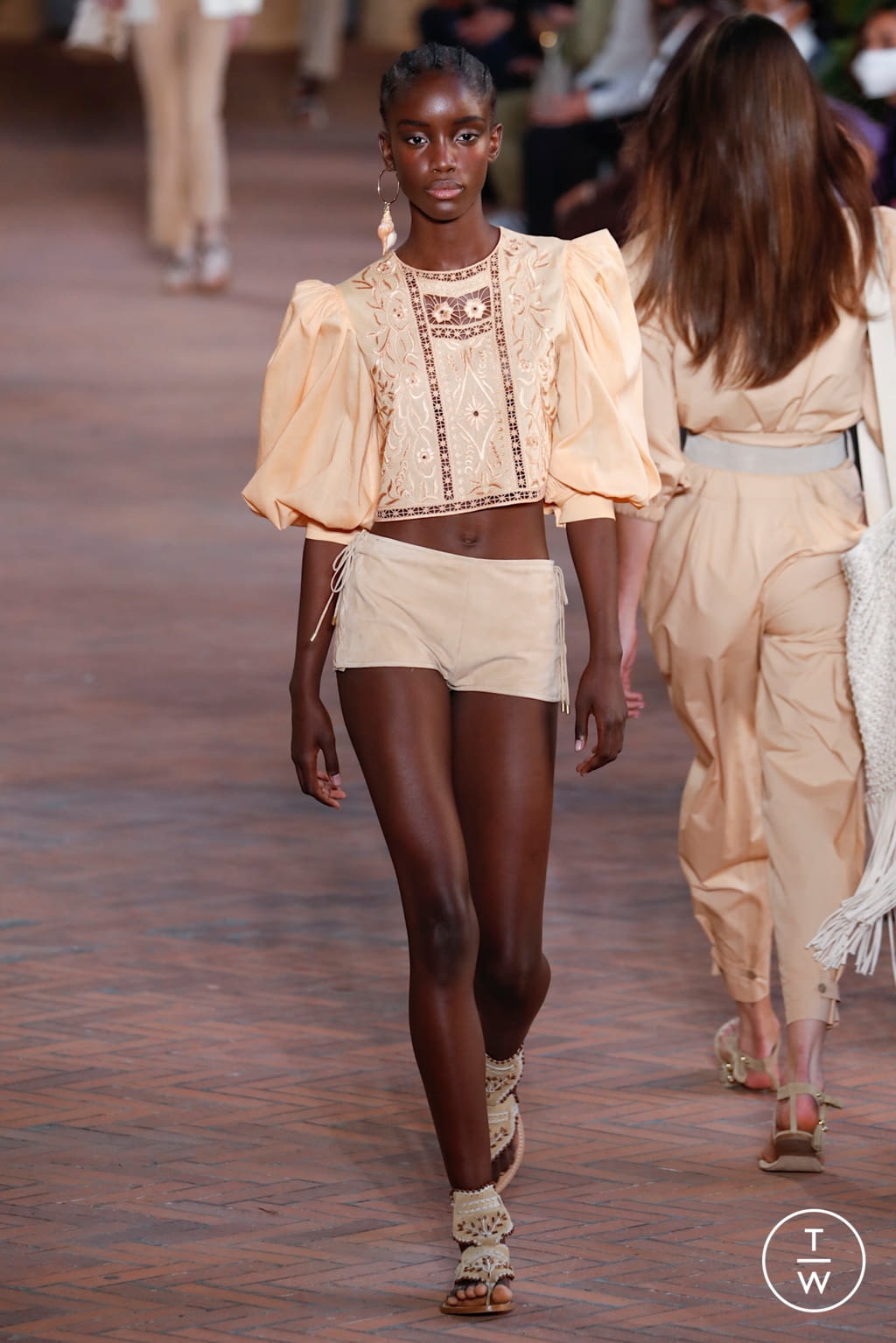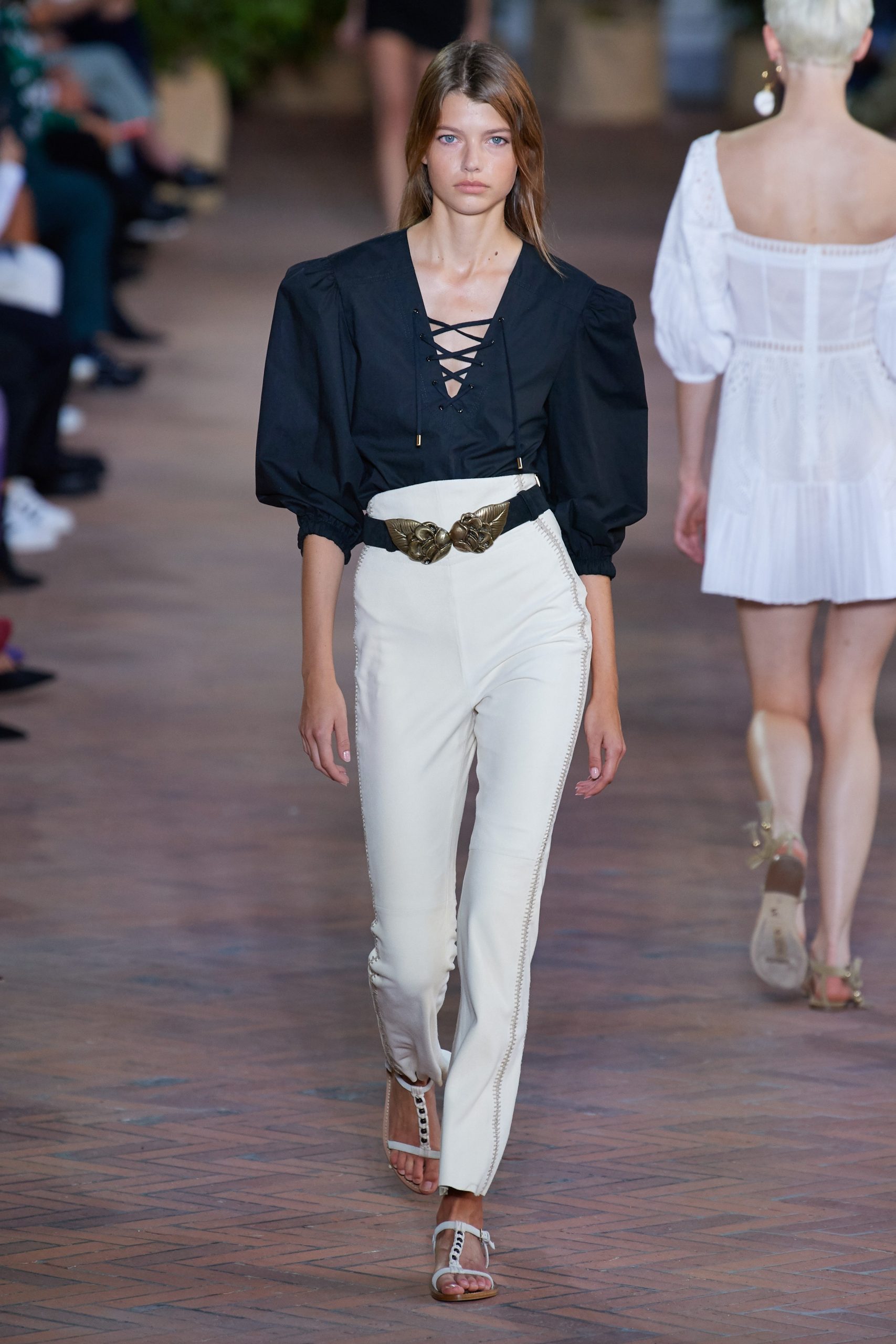 Letným modelom talianskej značky Alberta Ferretti kraľujú ploché sandále a úžitkové pohodlné džínsy, ktoré predviedli modelky v milánskom Castello Sforzesco Cortile Della Rocchetta z 15. storočia.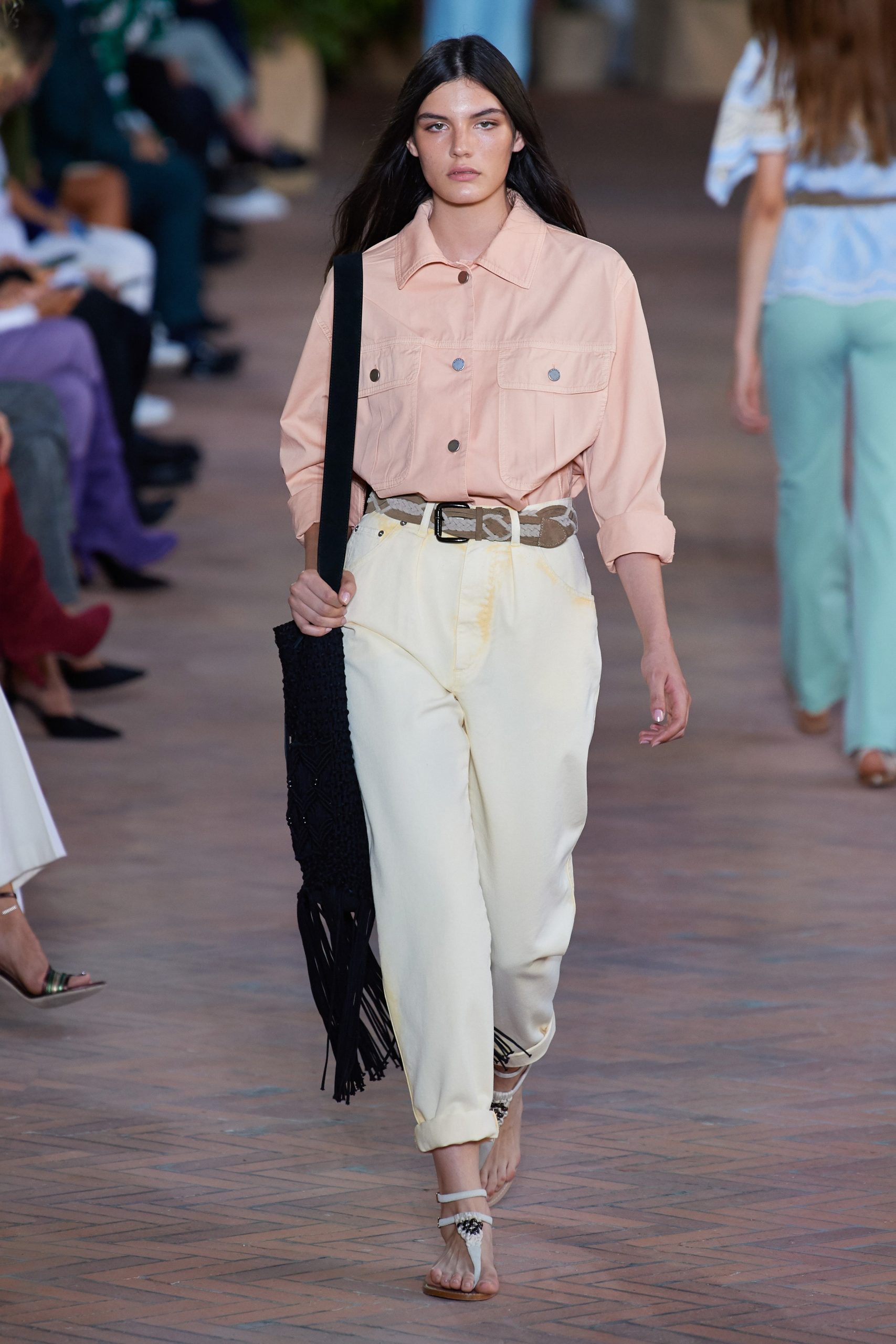 Prístup talianskej dizajnérky bol pre letnú sezónu 2021 praktický a diktovaný jej pozornosťou voči skutočným potrebám žien. Talianska dizajnérka Alberta Ferretti ponúkla v letnej kolekcii najmä veľa každodenných nositeľných kúskov, takzvaných šatníkových.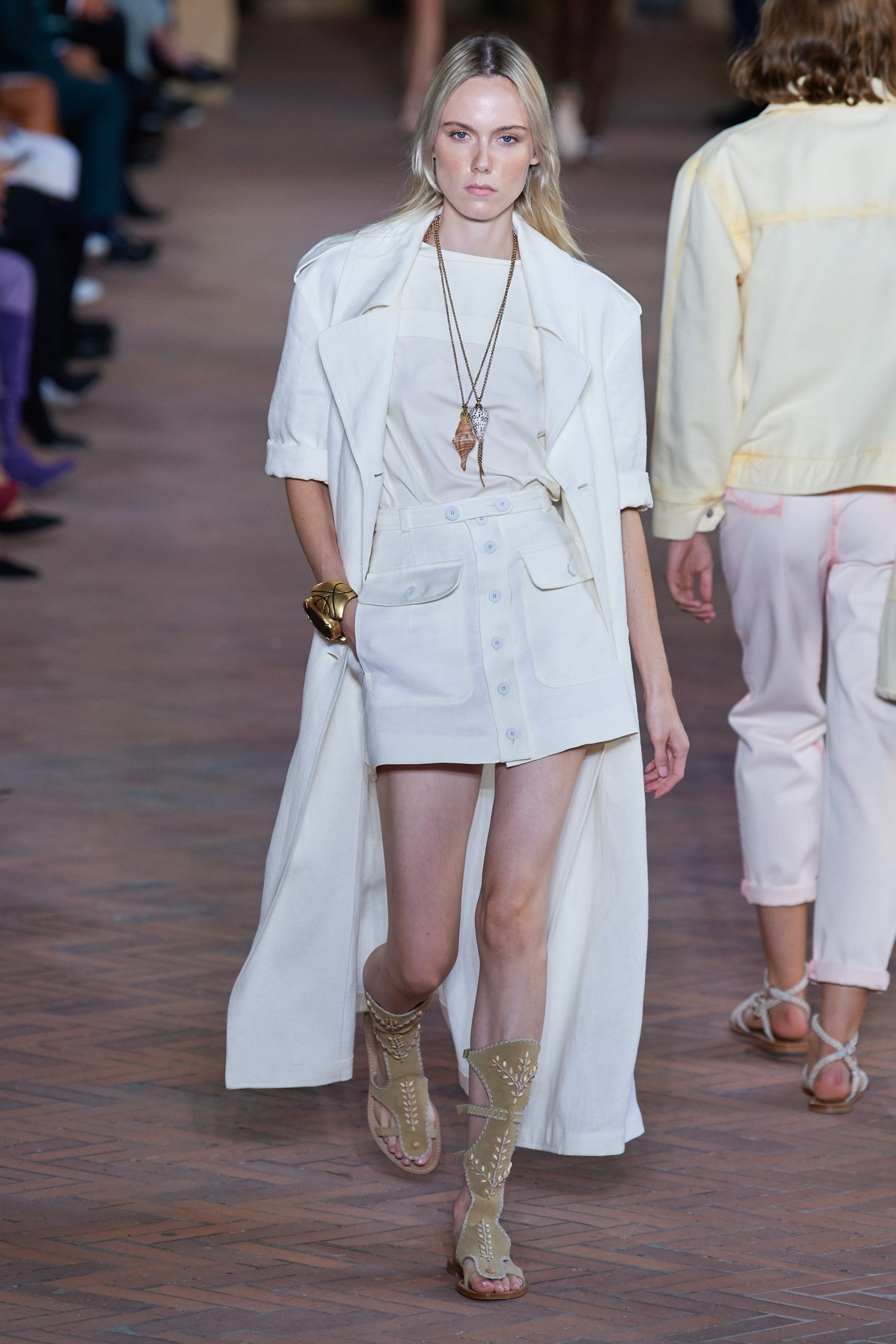 BEACH MODELY ALBERTA FERRETTI – LETO 2021
Cestovanie môže byť pre mnohých stále vzdialenou možnosťou, ale ponorme sa do predstavivosti dizajnérky Alberta Ferretti, ktorá putovala do púšte s niekoľkými štýlmi.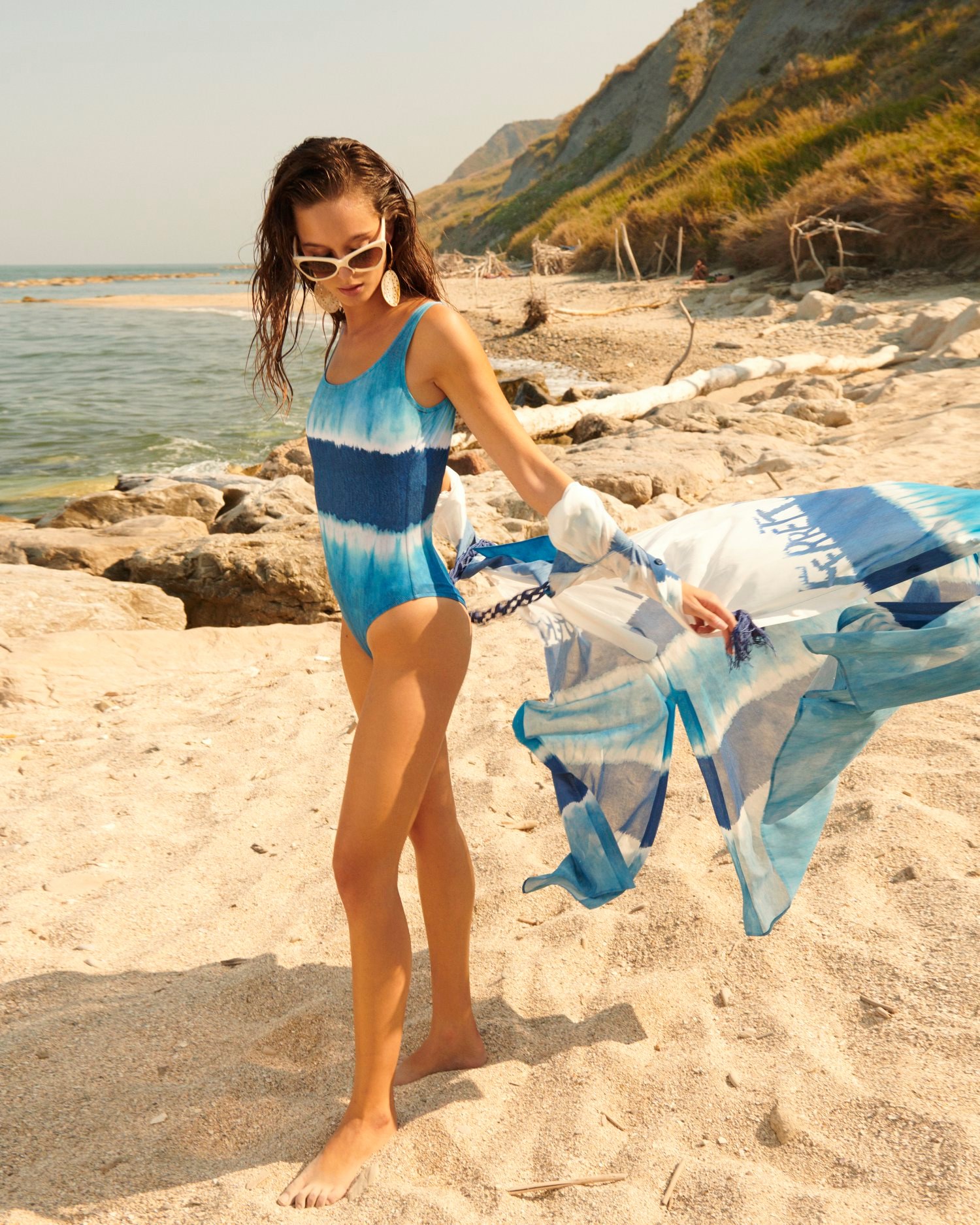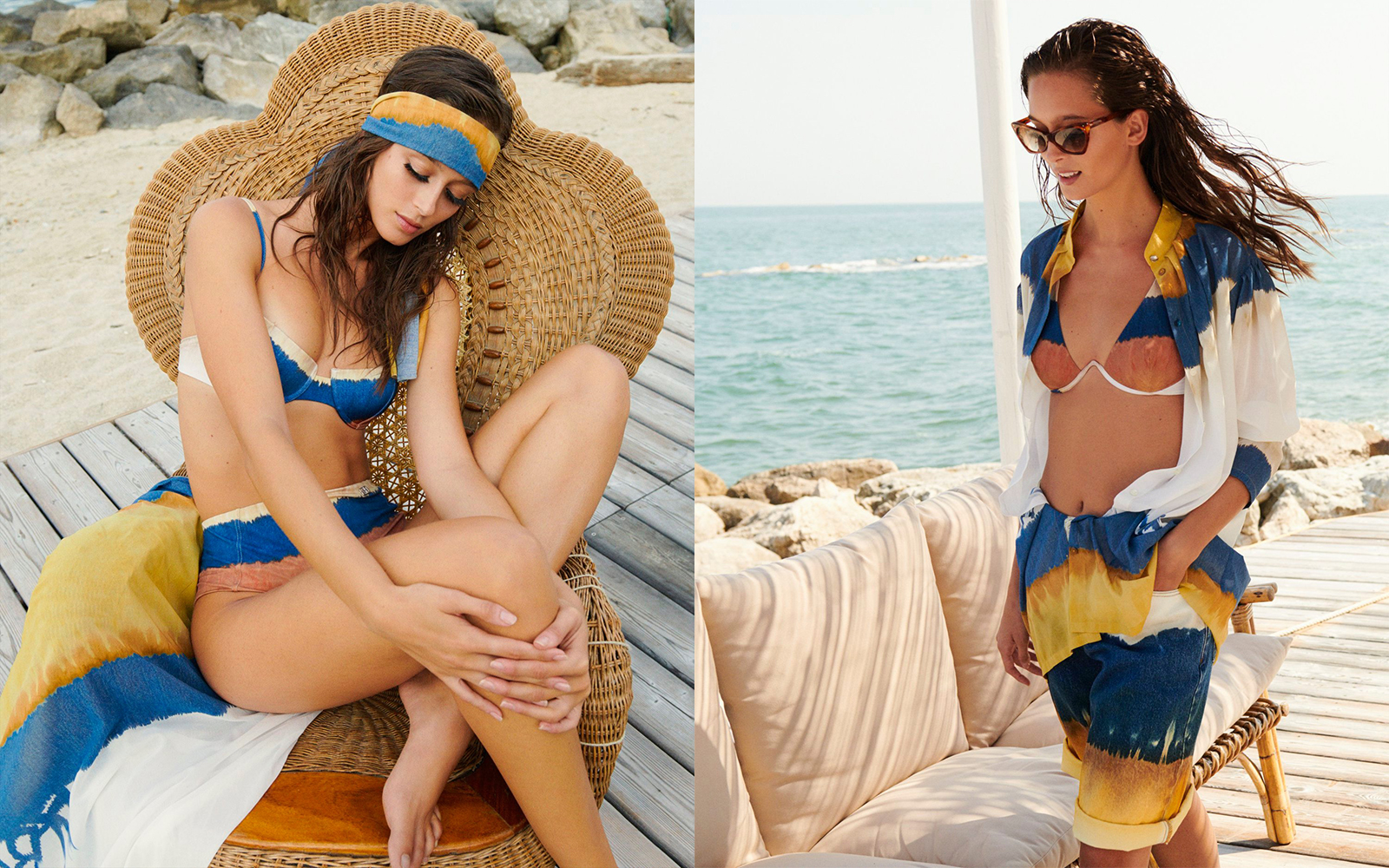 Pre leto 2021 predstavila talianska značka Alberta Ferretti košeľové bundy a bermudy v zemitých tónoch doplnené strapcovými a korálkovými taškami s drevenými detailmi. Pre fotografické safari by tieto kúsky vyzerali ako stvorené.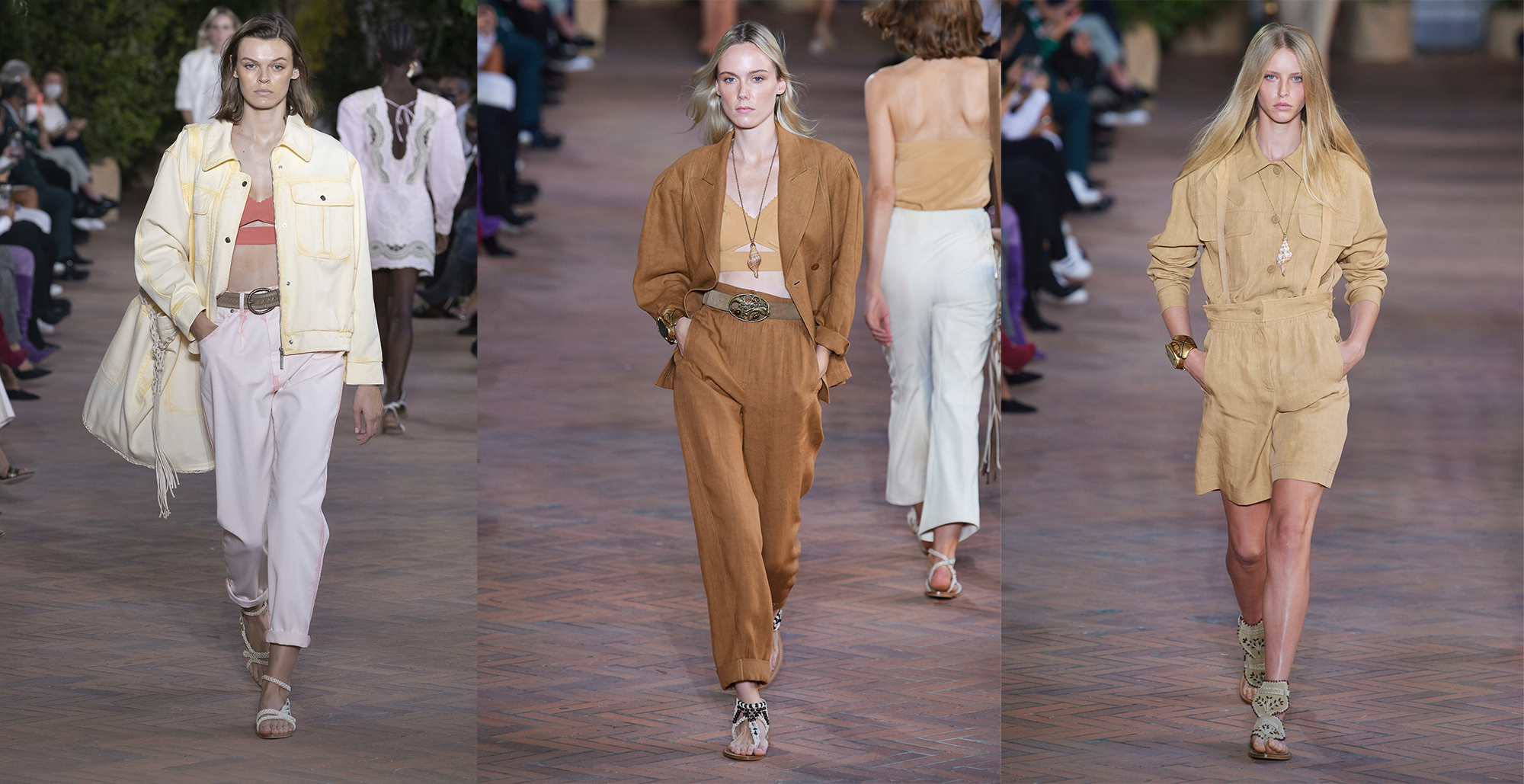 "Ženy potrebujú veľké ramená", aby dokázali zvládnuť súčasnú dobu, a tak dizajnérka predstavila svoje objemné dvojradové bundy.