Móda z červeného koberca Grammy Awards 2021, Los Angeles. 14. marec 2021, časť I.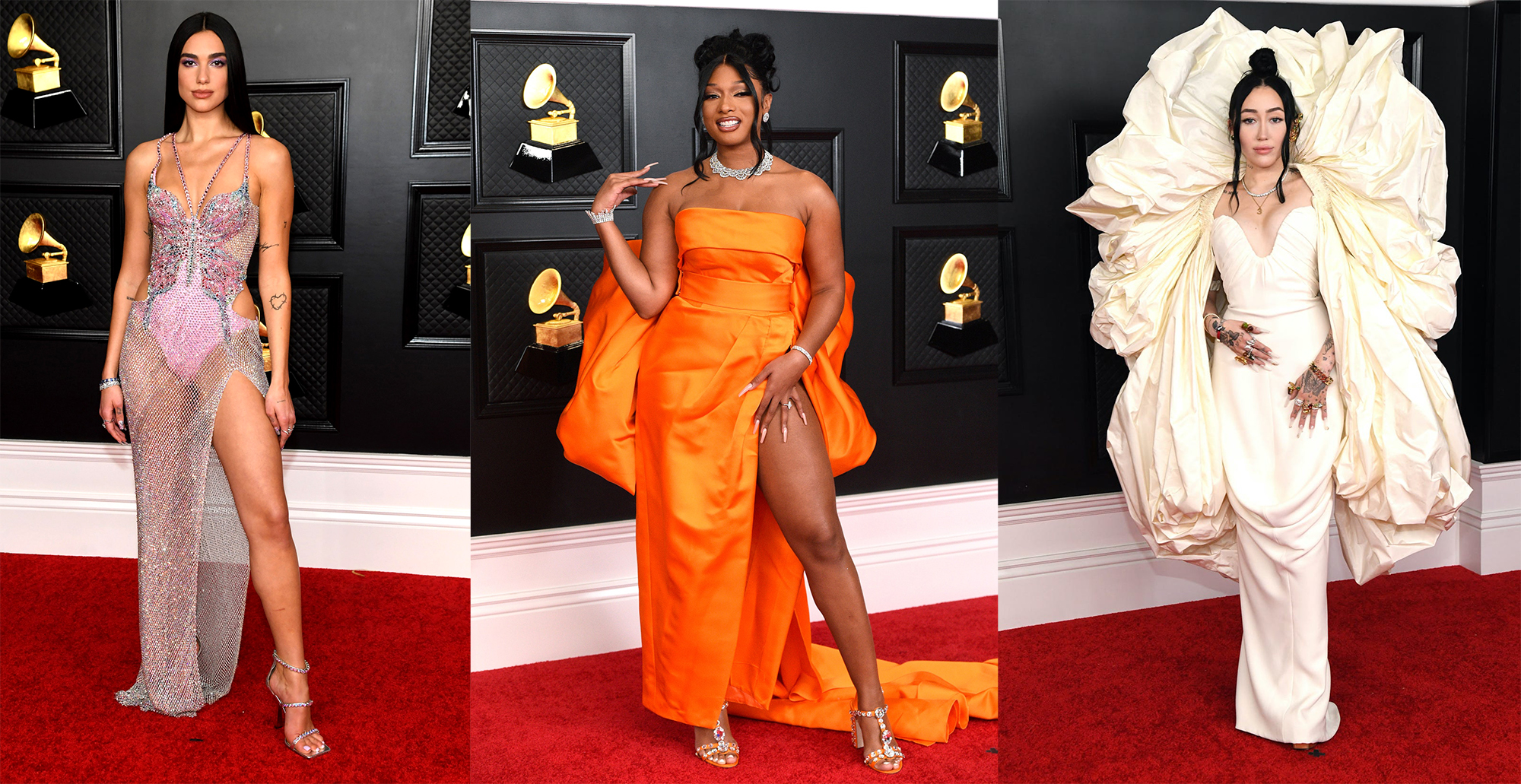 Sezóna ocenení počas roku 2021 v pandemickom čase pokračuje. Po úspešnom, ale neskôr naštartovanom ročníku Golden Globes 2021, sa v americkom Staples Center v Los Angeles odovzdávali v noci na pondelok 14. marca 2021 ceny Grammy 2021. Uskutočnil sa tak ďalší galavečer a prvý ročník odovzdávania cien Grammy v kovidovej pandemickej dobe. Podujatie sa malo pôvodne konať skor, 31. januára 2021 v Los Angeles, no uskutočnilo sa s oneskorením 2 mesiacov práve pre riešenie hygienických opatrení. Kalifornia je totižto dejiskom šírenia sa nového typu koronavírusu a tak bolo všetko otázne.
Ocenenia za výnimočné úspechy v hudobnom priemysle sa datujú do roku 1959, kedy ich udeľovala Národná Akadémia Hudobného Umenia a Vied (NARAS). Prestížny večer a ocenenie sa volalo Gramophone Awards a radí sa k najvýznamnejším hudobným oceneniam na svete. V hudobnej sfére je ekvivalentom k cenám filmovým, podobným Oscaru.
Tak ako aj podujatie Golden Globes sa hudobný galavečer Grammy 2021 uskutočnil na oddelených pódiách, v tomto prípade piatich. Tie boli situované v exteriéri pri losangelskom Convention Center. Ceremoniálu sa zúčastnili celebrity, z ktorých niektoré boli priamo na mieste, iné sa pridali formou online prenosov.

63. ročníku odovzdávania amerických hudobných cien Grammy 2021 dominovali ženy. O víťazoch rozhodovala odborná porota zložená z viac ako 13-tisíc členov NARAS. Súťažilo sa v 83. kategóriách. Tí najlepší hudobníci si prevzali sošky až v 32 kategóriách.
Na tohtoročnom podujatí hosťoval Trevor Noah a predviedli sa umelci Megan Thee Stallion, Harry Styles, Dua Lipa a Taylor Swift . Zvlášť srdečnú cenu za najlepšiu R & B skladbu si prevzala R B speváčka H.E.R. za skladu I Can´t Breathe, ktorá cituje posledné slová nedávno zavraždeného černošského občana Georga Floyda policajtami v Amerike.
H.E.R.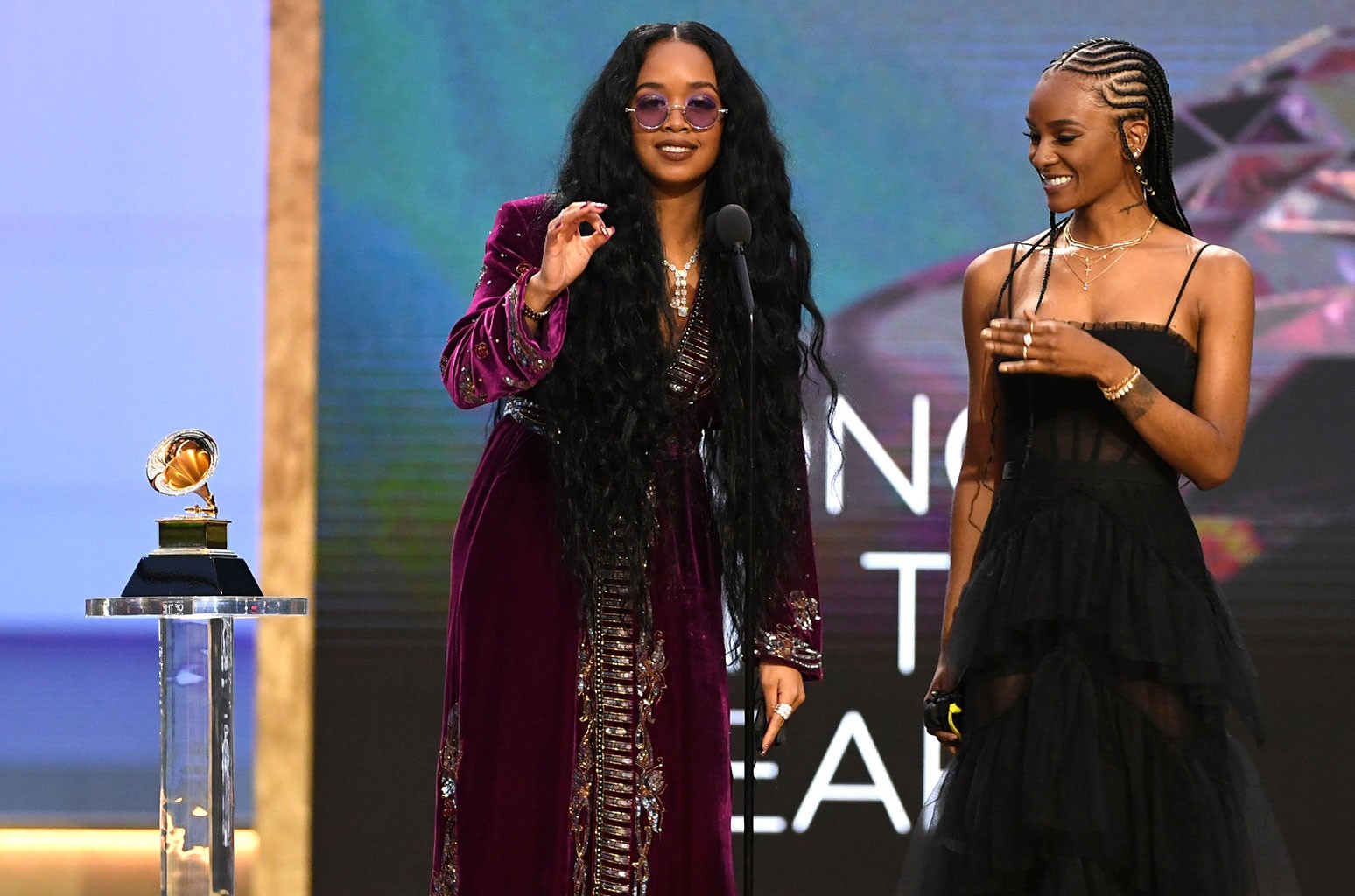 Kevin Winter/Getty Images for The Recording Academy
Podujatie je plné hviezd zvučných mien, ktoré sa snažia čo najlepšie blysnúť na červenom koberci v najzaujímavejších outfitoch od svetoznámych dizajnérov. Pozrime sa na prvé slávnostné looky vybraných z nich.
BEYONCÉ – DANIEL ROSEBERRY
Speváčka Beyoncé sa objavila na pódiu v čiernych kožených minišatách custom couture Daniel Roseberry s rukavicami so zlatými nechtami. Svojím v poradí už 28. víťazstvom vytvorila rekord v odovzdávaní cien Grammy, čím sa stala najoceňovanejšou ženou v histórii Grammy. O jednu cenu predbehla aj bluegrassovu speváčku a huslistku Alison Krauss s 27. cenami a dirigenta Georga Solti s 31. cenami.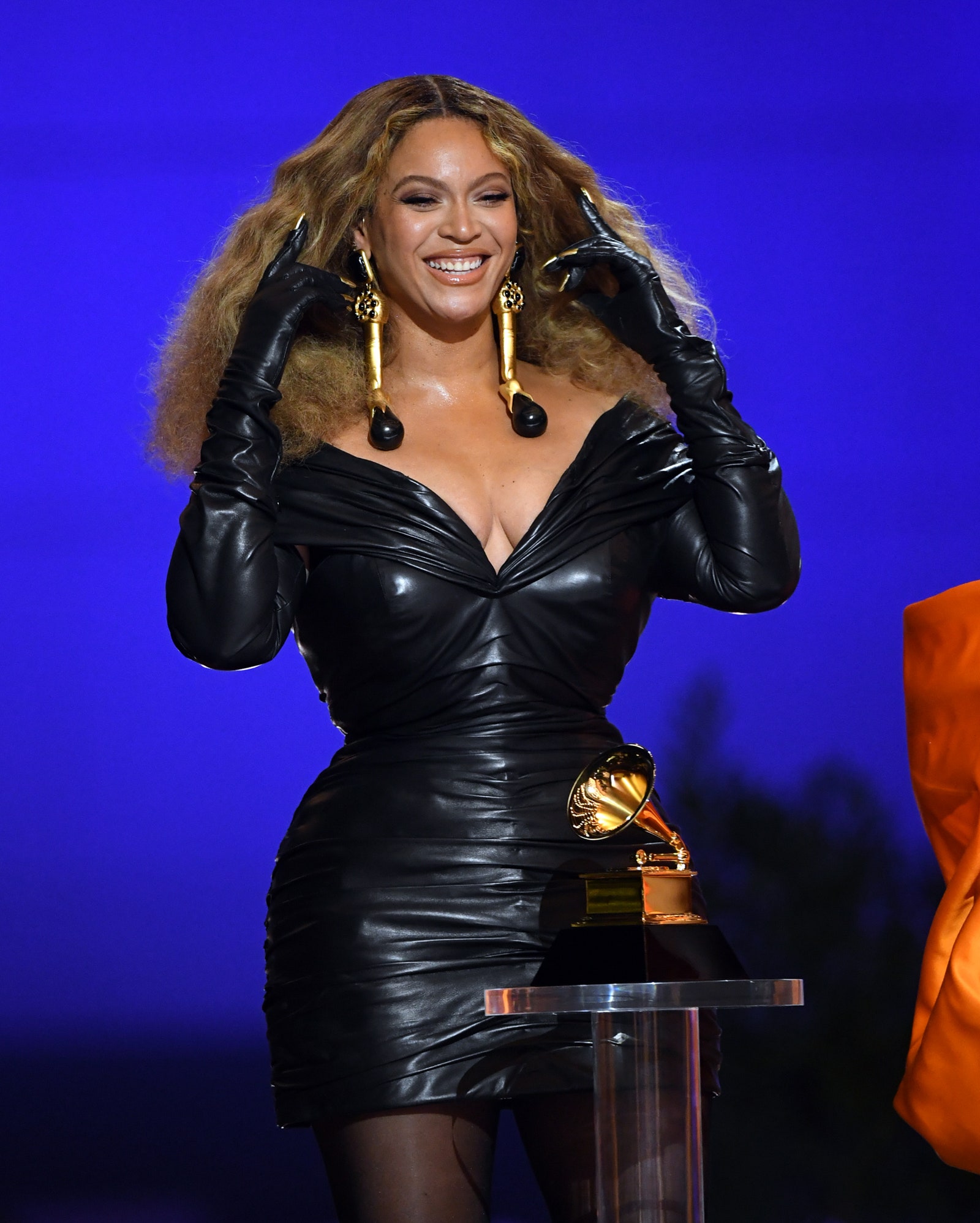 Beyoncé, Grammy Awards 2021 , Foto: AP Photo/Chris Pizzello
Beyoncé si prebrala ocenenie za najlepší výkon v štýle R & B performance Black Parade. Speváčka získala tiež ocenenie za najlepší videoklip Brown Skin Girl a najlepšiu rapovú skladbu Savage. Tú získala spolu s kolegyňou Megan Thee Stallion, spoločne obdržali ceny za spoločný song Savage.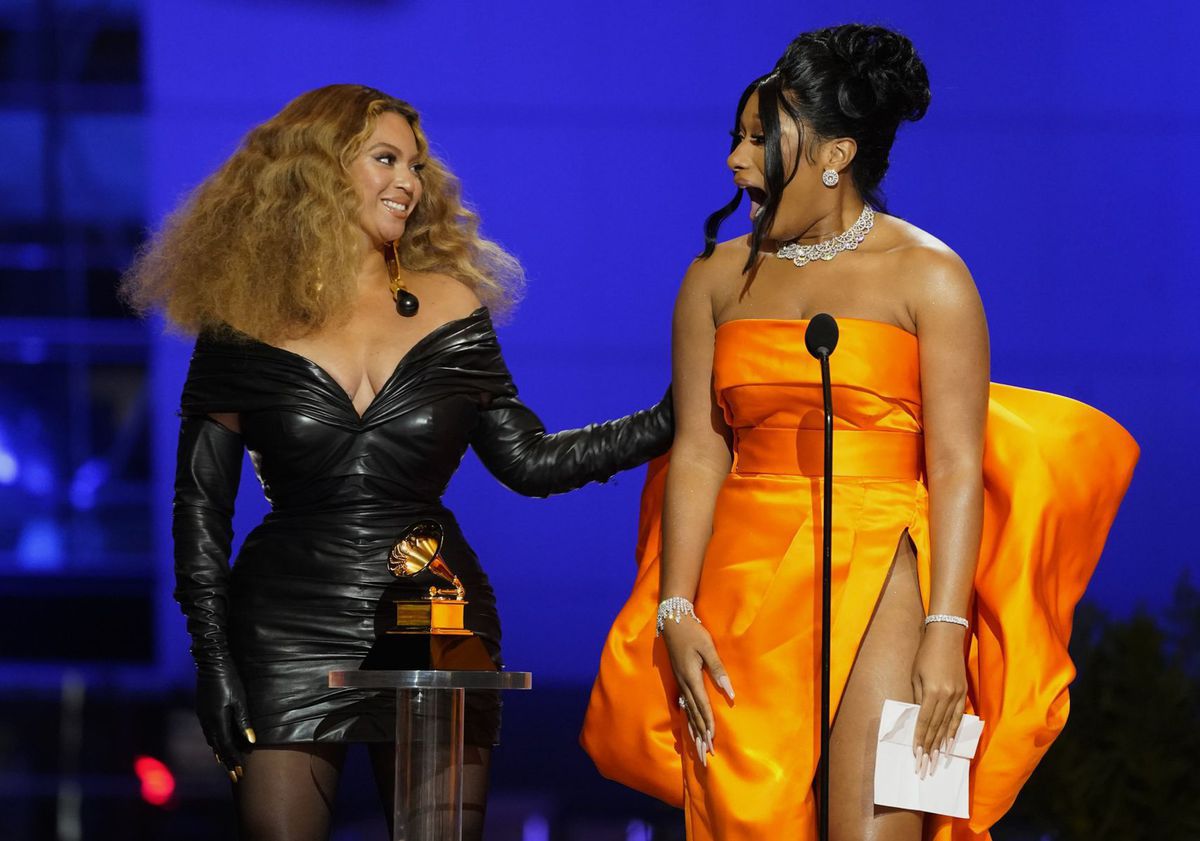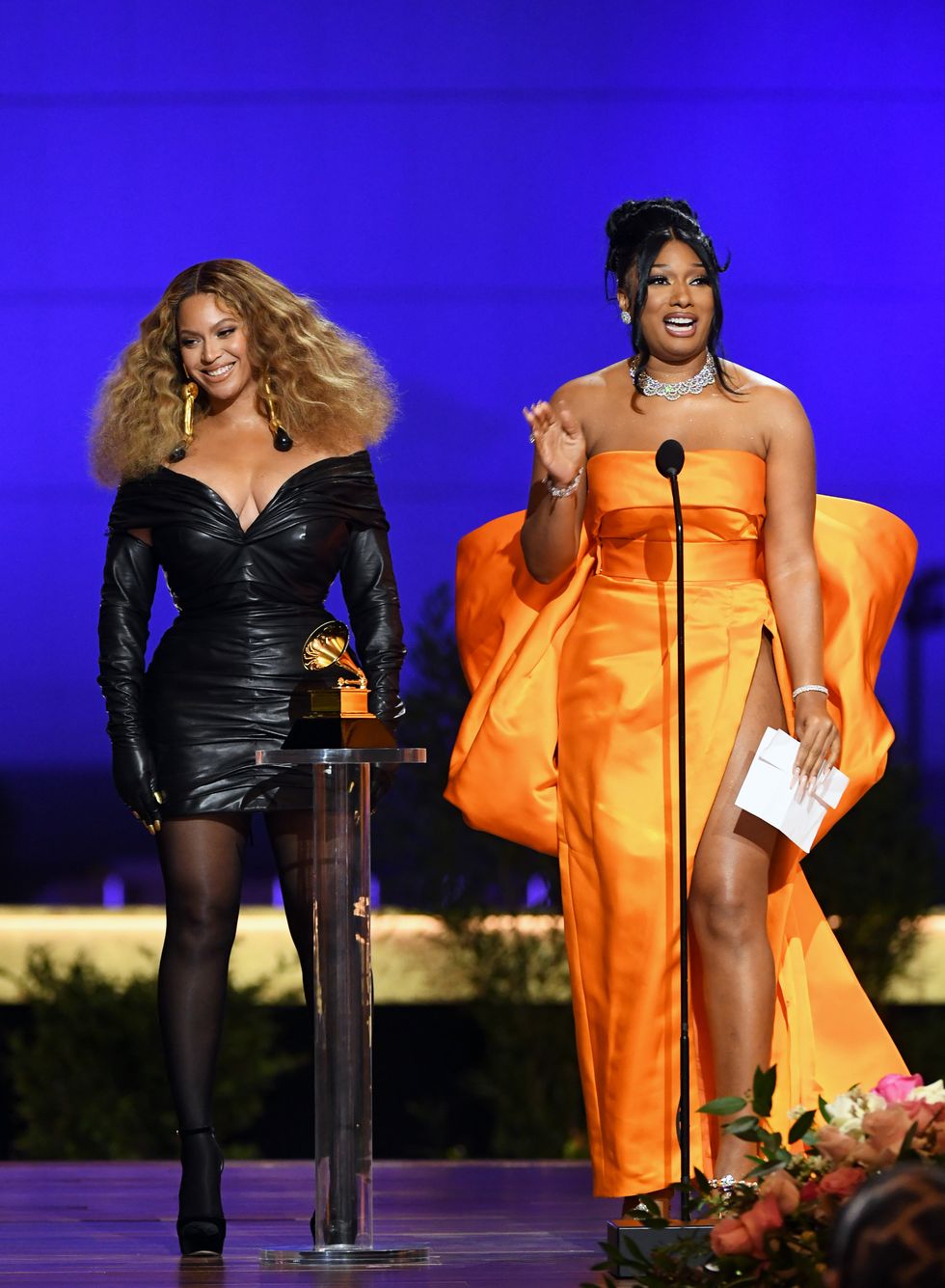 MEGAN THEE STALLION – DOLCE & GABBANA
Americká speváčka získala v priebehu večera Grammy 2021 tri sošky. Zažiarila v svietivých oranžových šatách z dielne talianskeho dizajnérskeho dua Dolce and Gabbana. Šaty zdobili šperky Chopard jewelry.
Megan Thee Stallion won three Grammys at the 63rd Grammy Awards, Jay L. Clendenin / Los Angeles Times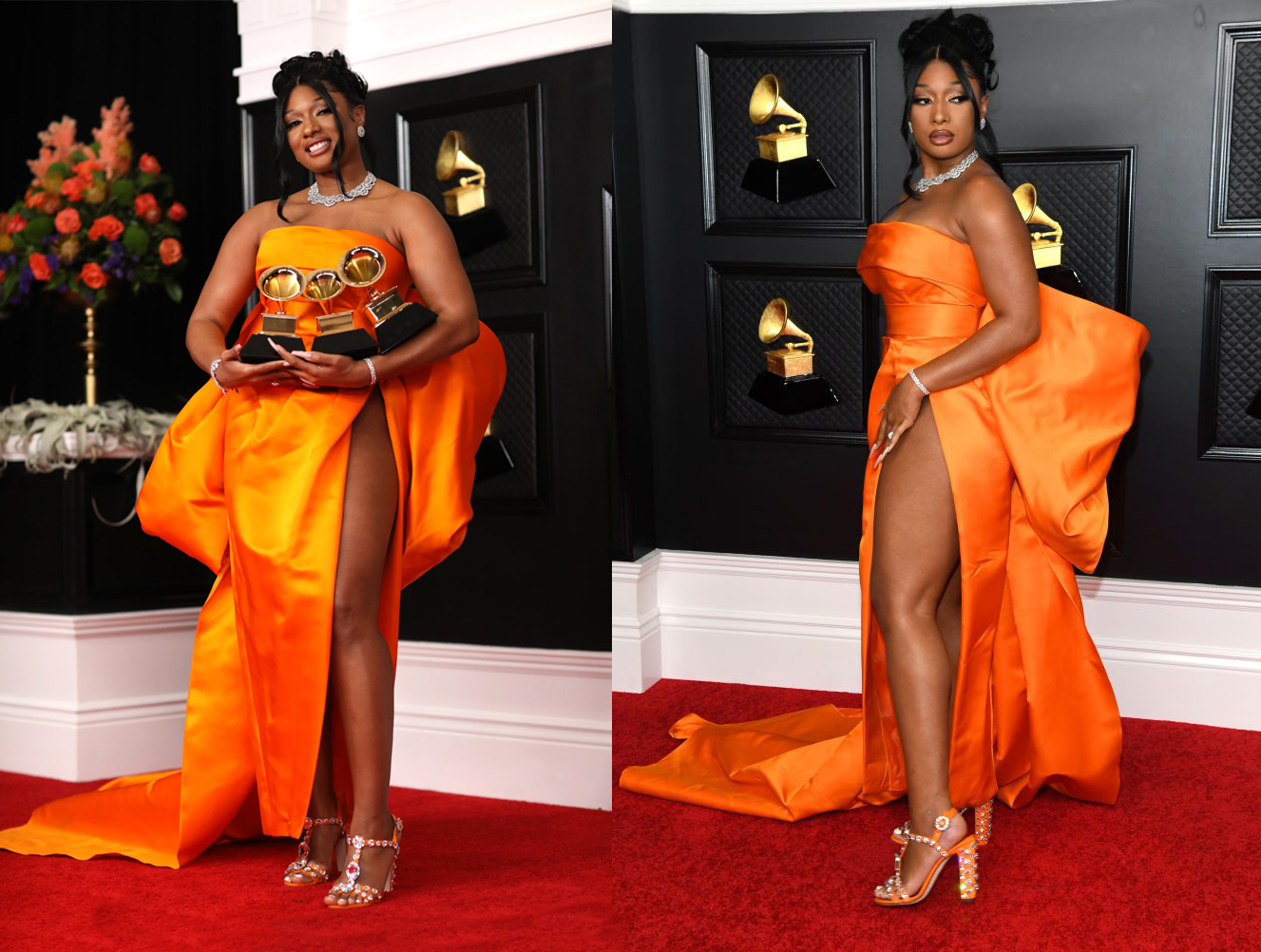 Elektrická farba spolu s farbou pleti Megan, rafinovaný vysoký rozparok a skvostný dizajn šiat, ktorý pristal tejto korpulentnejšej mladej dáme s krivkami, z nej urobili hviezdu večera. Megan si odniesla tiež cenu ako najlepšia nová umelkyňa – Nováčik roka. Na vystúpenie použila transparentný elastický kostým posiaty Swarovskeho kamienkami.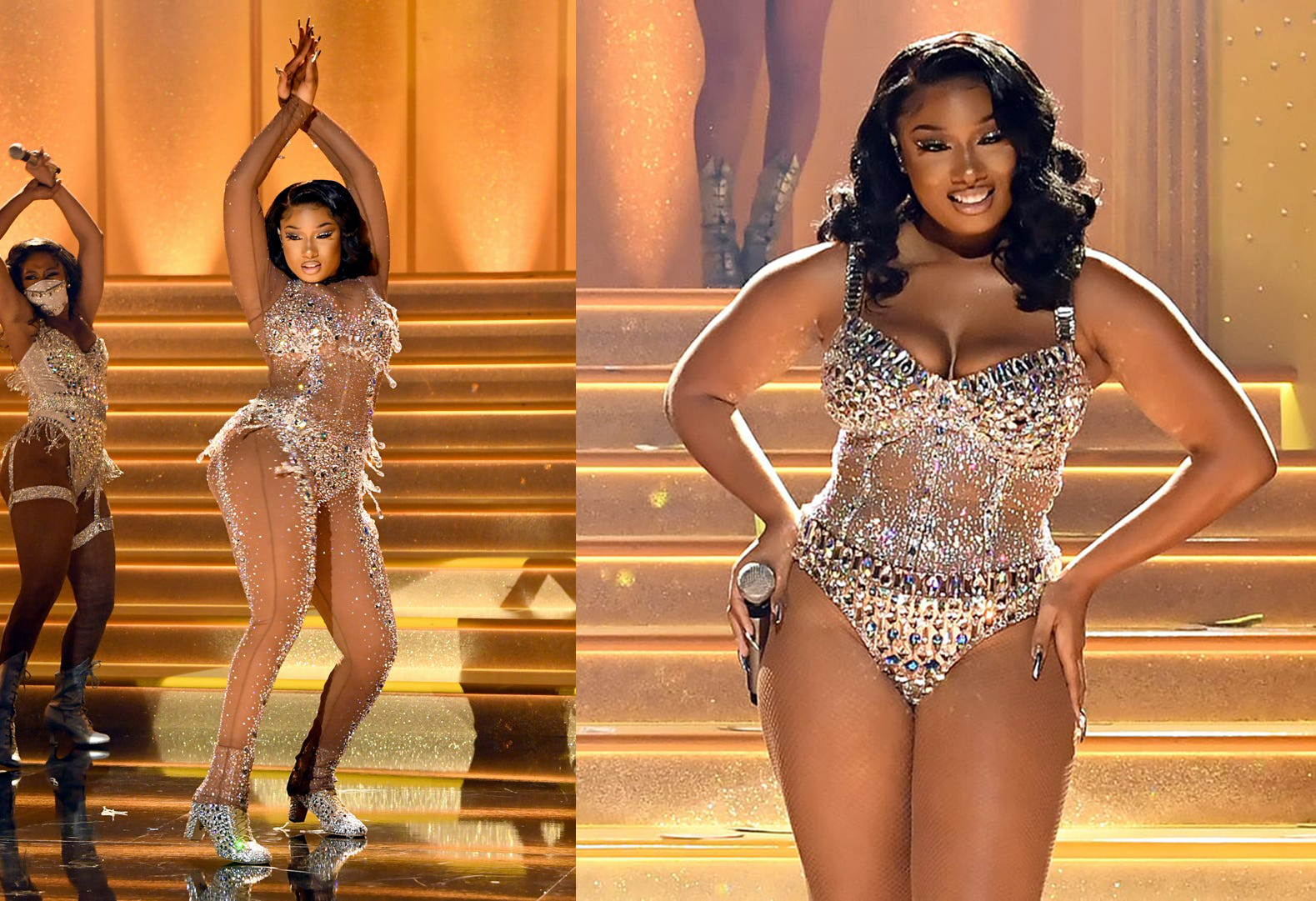 TAYLOR SWIFT – OSCAR DE LA RENTA
Speváčka Taylor Swift sa blysla na galavečere v epickom kvetinovom mini modeli z dielne Oscar de la Renta, ktorý doplnila ružovými lodičkami Christian Louboutin a Cathy Waterman jewelry.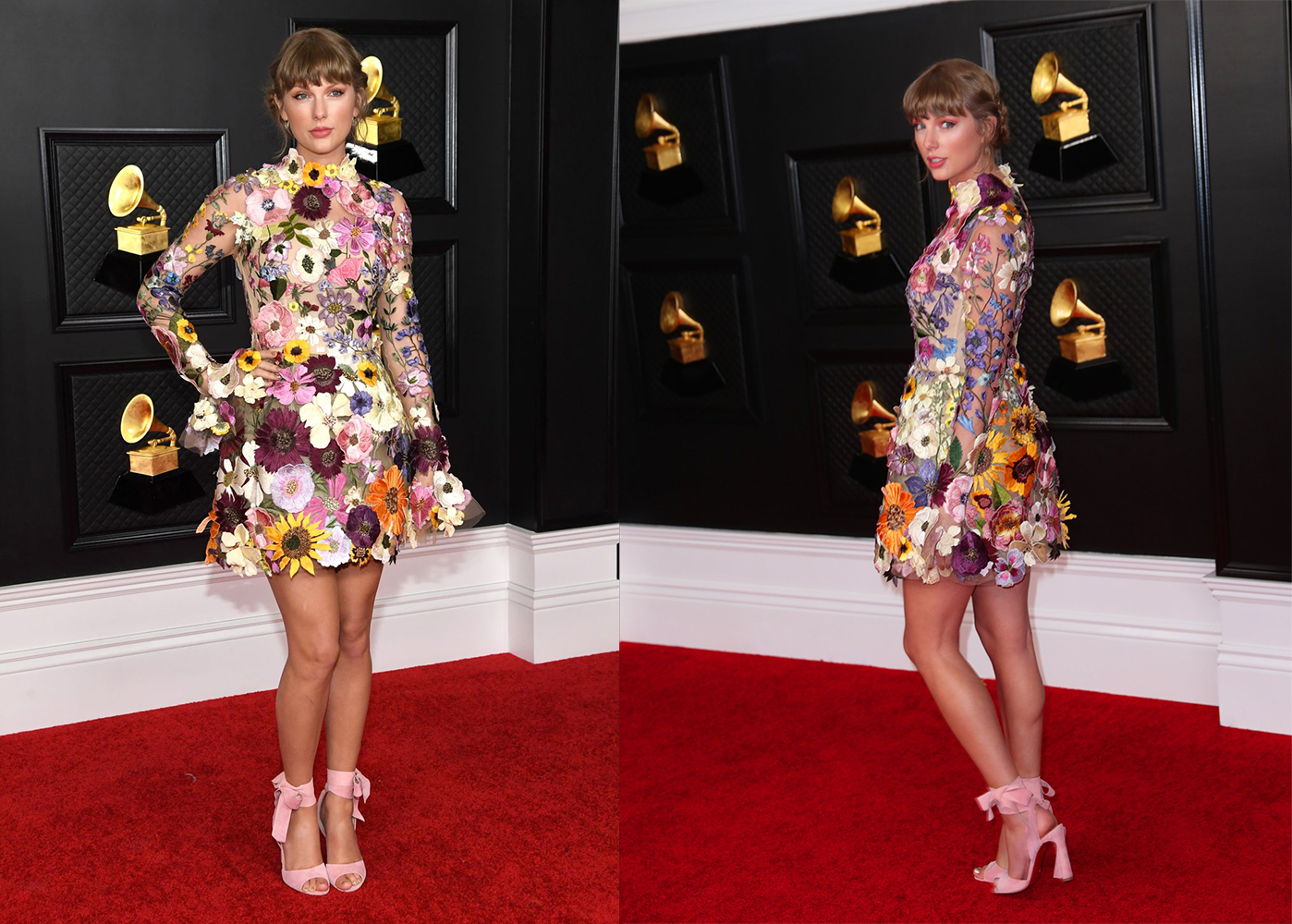 Nežná kráska známa svojími romantickými pesničkami predstavila všetky formy a záblesky blížiacej sa jari v modeli florálnych motívov s vysokým golierom. Šaty stoja približne 9 000 amerických dolárov. K tomuto looku doladila prirodzene vyzerajúci účes drdol s ofinkou a make-up, čo pôsobilo nežne a dievčenským dojmom. O wow efekt sa síce nejedlano, ale Taylor vyzerala krásne.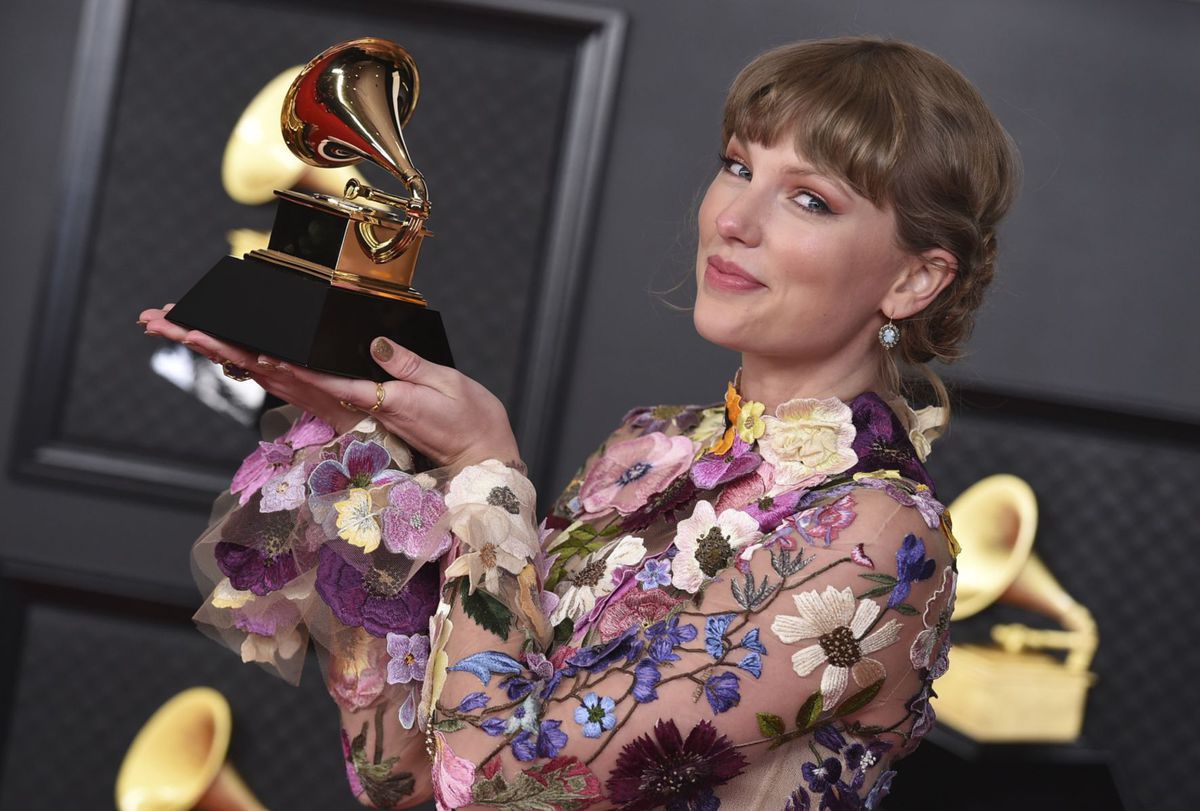 Speváčka bola nominovaná v šiestich kategóriách a cenu Grammy si odniesla za album Folklore v najprestížnejšej kategórii Album roka.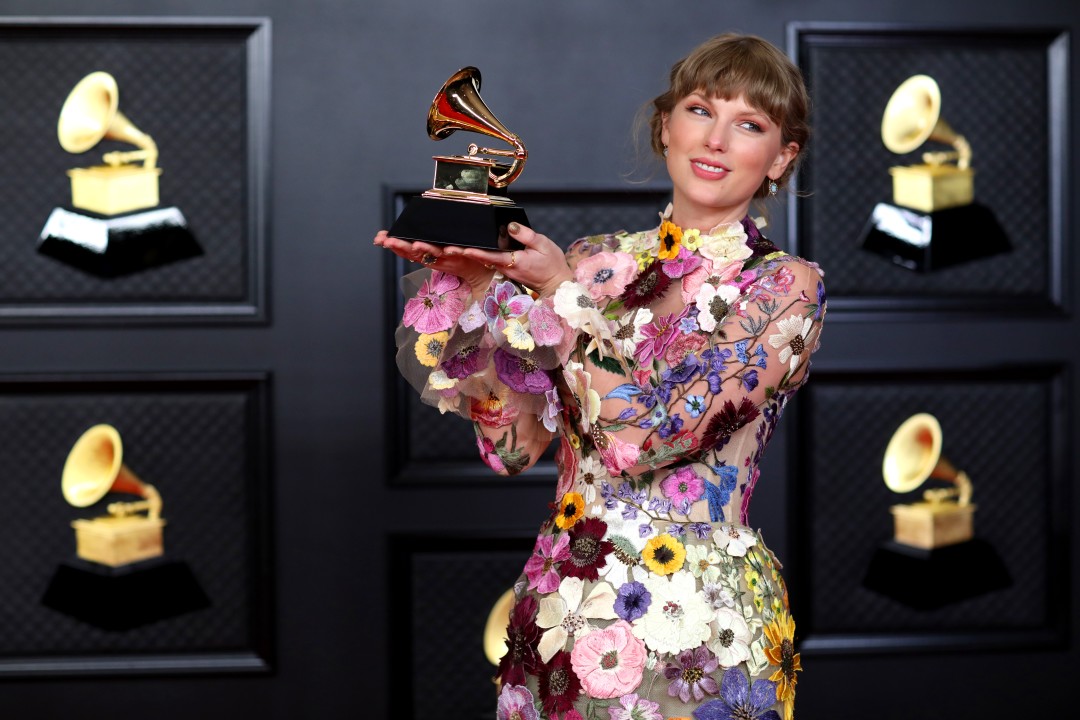 With this Grammy for album of the year, Taylor Swift becomes the first female three-time winner in that category.
Taylor sa navyše zapísala do histórie – stala sa tak vôbec prvou ženskou umelkyňou, ktorá vyhrala album roka trikrát. Okrem albumu Folklore si predtým toto ocenenie prevzala za albumy Fearless v roku 2010 a v roku 2016 za album 1989. Môže sa teda s hrdosťou pýšiť, pretože toto ocenenie si za album trikrát odniesli iba slávne mená Frak Sinatra, Paul Simon a Stevie Wonder.
DUA LIPA – VERSACE
Na oblečenie svetových dizajnérov vsadili takmer všetci zúčastnení, mužskú časť nevynímajúc. Britská speváčka Dua Lipa sa predstavila v glamour priesvitom modeli šiat z dielne Versace.
Dua Lipa, Grammy Awards 2021 , Foto: Jordan Strauss/Invision/AP
Žensky a sexi zvodne pôsobila Dua Lipa v ružových šatách s motýlím korzetom a priesvitnou flitrovou sukňovou časťou, na ktorých sa zračili jemné odlesky pastelov. Šaty s rafinovanými rázporkami na sukni a tiež v oblasti bokov brucha boli z kategórie odvážnych sexi modelov, no nijakým spôsobom nepoburovali ani nepôsobili vulgárne.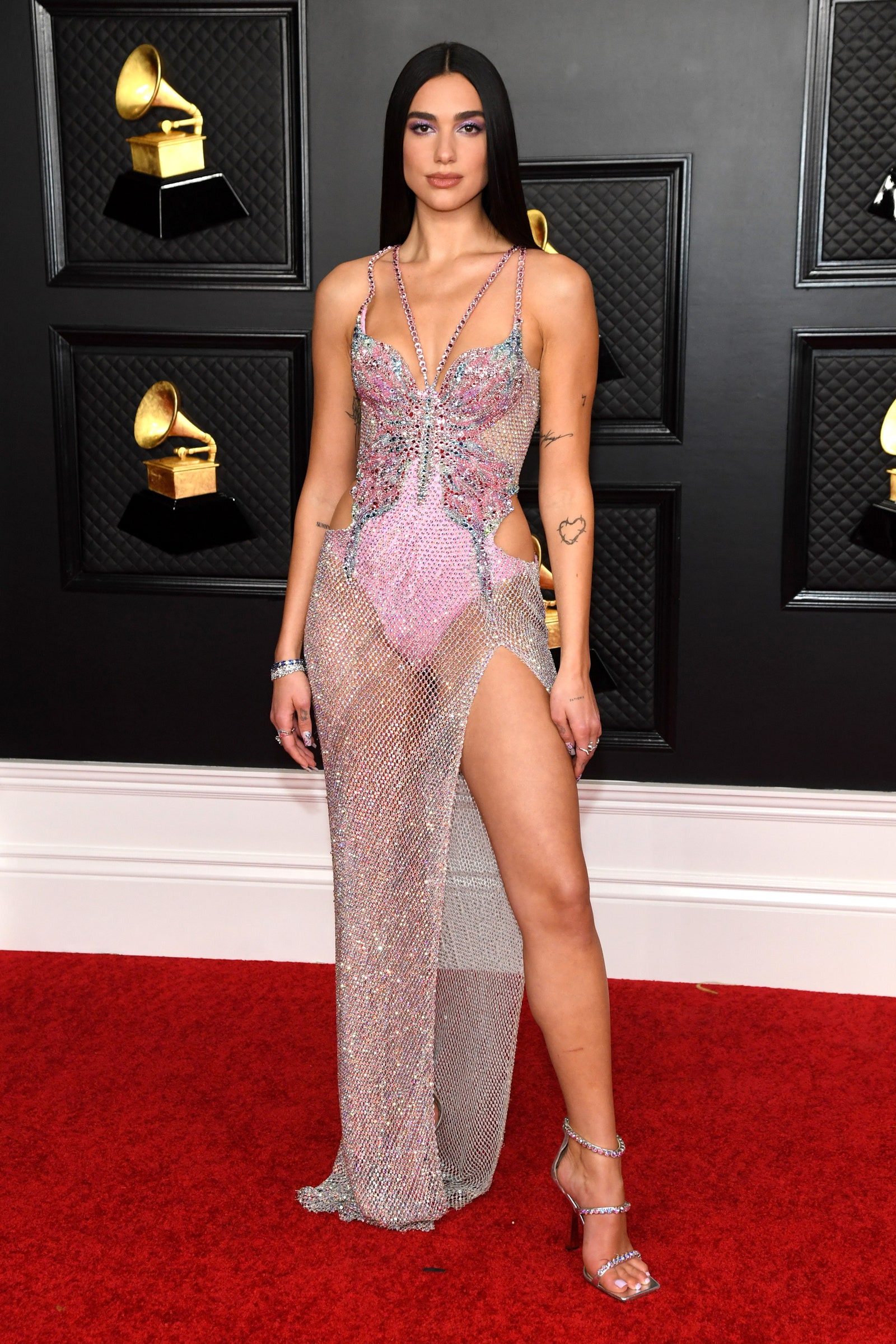 Naopak, šaty dali vyniknúť speváčkinmu krásnemu telu a mladosti, pričom v týchto šatách pôsobila ako éterická víla.
Dua Lipa, Grammy Awards 2021 , Foto: Jordan Strauss/Invision/AP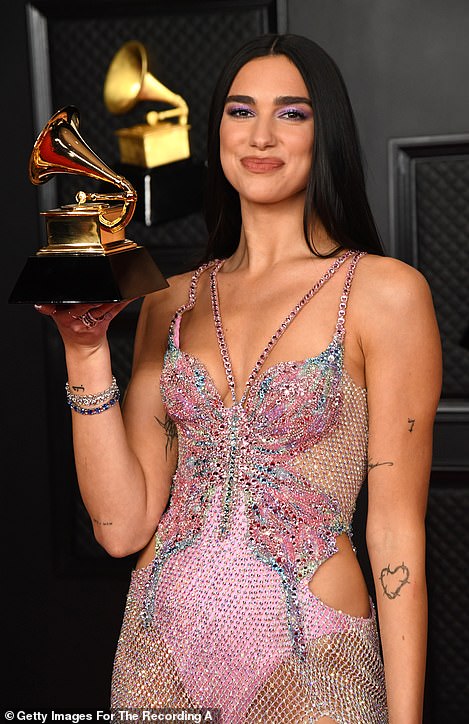 Dua lipa to nijak zvlášť neprehnala ani s účesom, tmavé vyrovnané vlasy a líčenie s odtieňmi ružovej nádherne vykreslovali celkový sexi-dievčenský look.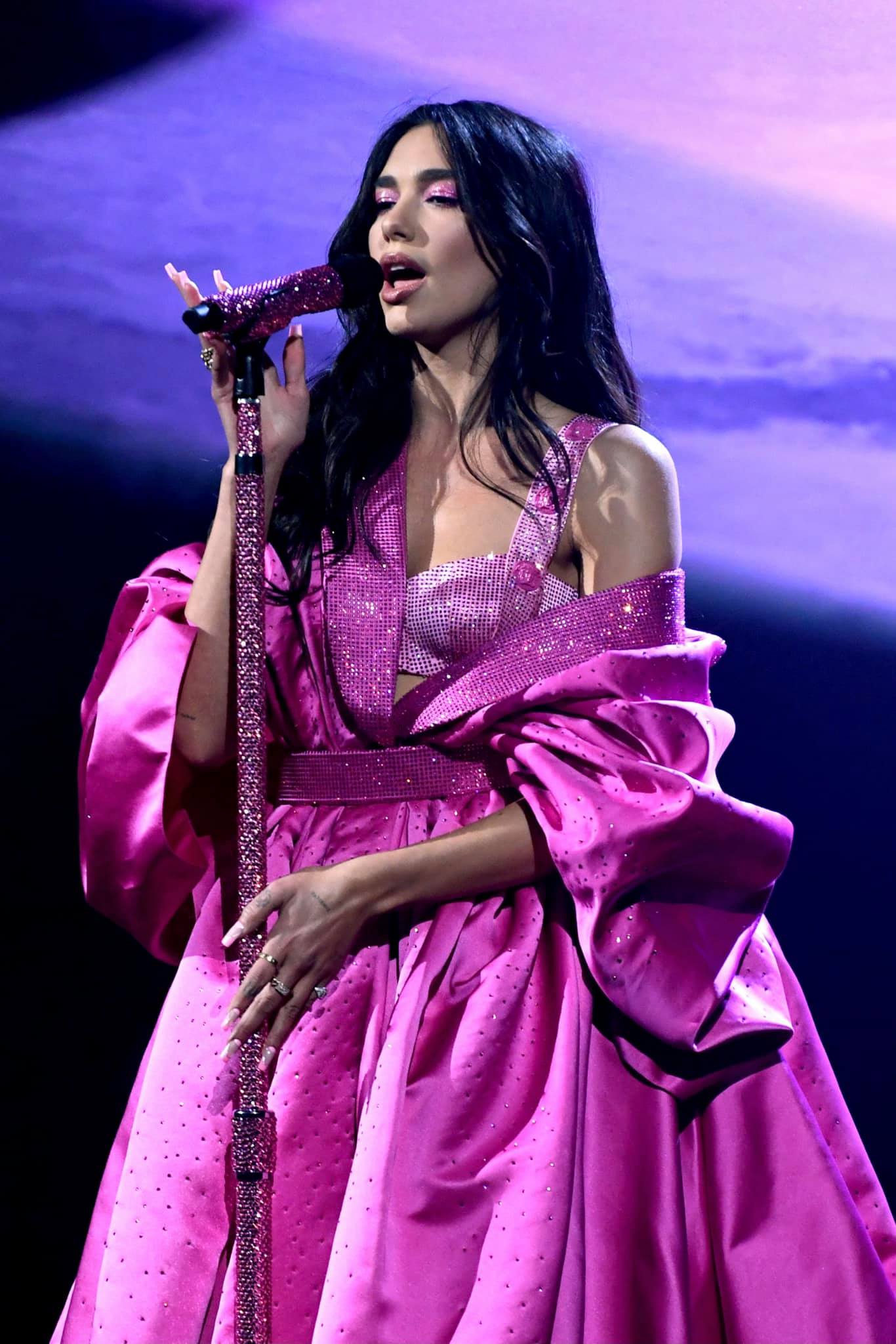 Iný, avšak rovnako krásny, honosnejší model zvolila Dua Lipa na show, v ktorej sa predviedla s jednou zo svojich piesní. Ružové nadýchané šaty s baldachýnovou sukňou , bohatými volánmi a odhalenými ramenami a dekoltom doplnila vybíjanou topovou podprsenkovou časťou, ku ktorej navyše ladil aj mikrofón. K tomuto výraznému wow looku zvolila mierne zvlnené vlasy okolo tváre a flitrové ružové očné tiene. Dua Lipa bola jednoducho v tomto modeli neprehliadnuteľná očarujúca Diva.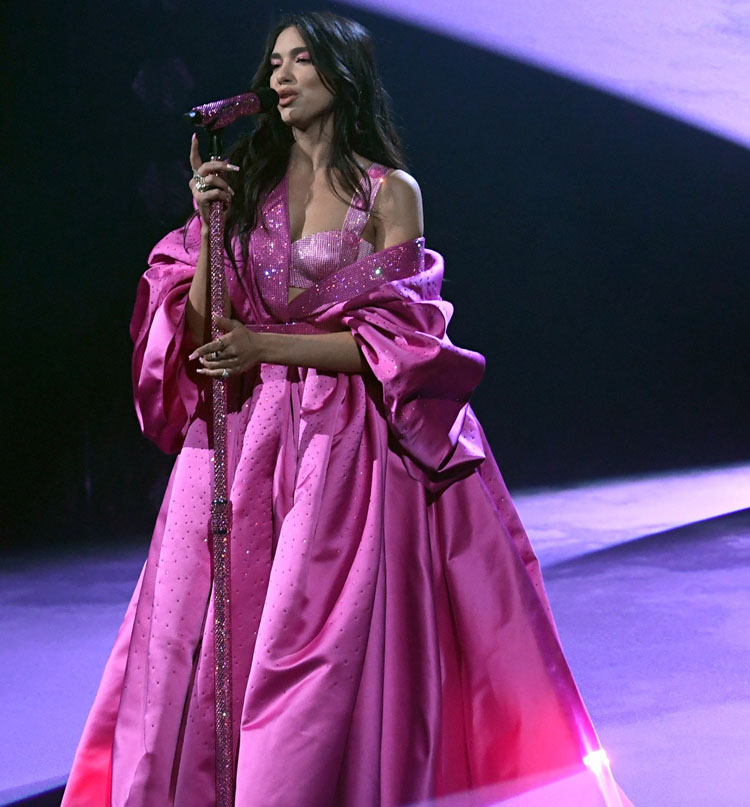 redcarpet-fashionawards. com
NOAH CYRUS – SCHIAPARELLI COUTURE
Pri nadýchaných róbach ešte ostaneme. Nie je nezvyklé, že sa hviezdy radi uchyľujú k výberu takýchto honosných rób, v ktorých mnohokrát spôsobia wow efekt. Niekedy to však nemusí vyjsť. Ďalšou protagonistkou, ktorá ohúrila vo volánmi zaplnenom modeli z dielne Schiaparelli Couture, módnej značky, ktorá je takýmto typom modelov preslávená, bola Noah Cyrus. Noah bola nominovaná v niekoľkých kategóriách.
Mladšia sestra speváčky Miley Cyrus, Noah zvolila biele hodvábne krepové šaty s korzetovým hlbokým výstrihom bez ramienok, s voľne padavou vzadu nariasenou sukňou a volánovou aureolou z hodvábneho taftu. K tomuto modelu doplnila zlato-striebornú kombináciu šperkov, trochu svojskú, no vo výsledku sa jednalo o celkovo zaujímavý look.
Mnohí ľudia ostali mierne šokovaní pri pohľade na tento nadýchaný bold look róby a na prvú dobu ho nepochopili . Kritické hlasy sa dokonca nechali počuť, že sa Noah ukázala v perine. Nadýchaný volán však spôsobil, že speváčka bola neprehliadnuteľnou hviezdou večera a naopak, tento look bol ďalším z kategórie wow lookov.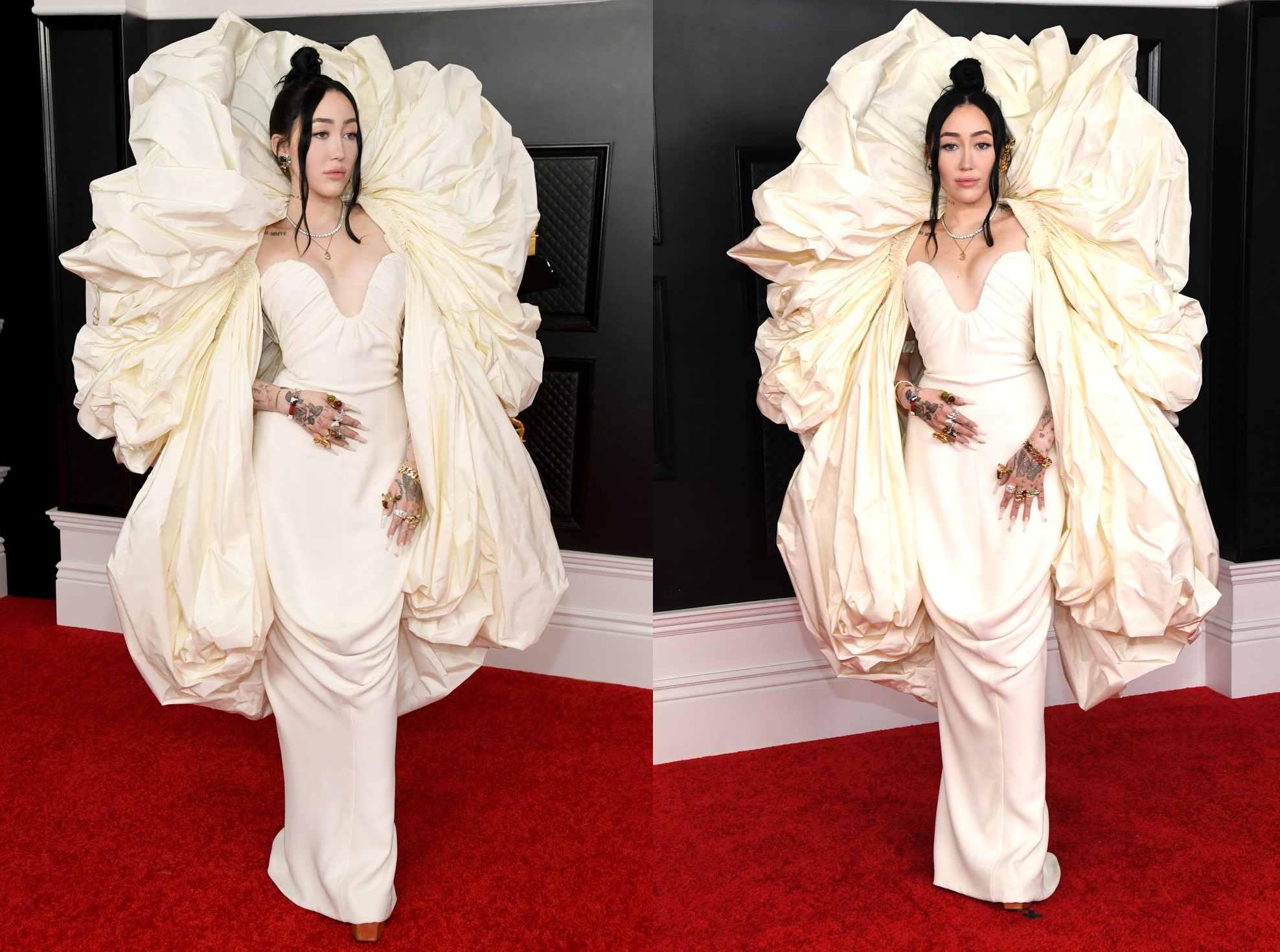 zdroj obrázkov: getty images, pinterest, redcarpet-fashionawards. com, Jordan Strauss/Invision/AP , AP Photo/Chris Pizzello
Druhú časť článku o róbach z červeného koberca Grammy Awards 2021 čítajte ďalej na tomto blogu. Sledujte Facebook stránku: Mya Mirell Fashionista a Instagram: mya_mirell .
© AUTORSKÉ PRÁVA VYHRADENÉ