Najzaujímavejšia móda z červeného koberca Grammy Awards 2021, Los Angeles. 14. marec 2021, časť II.
Sezóna ocenení počas roku 2021 i napriek celosvetovej koronavírusovej pandémii pokračuje. Po úspešnom, ale neskôr naštartovanom ročníku Golden Globes 2021, sa v americkom Staples Center v Los Angeles odovzdávali v noci na pondelok 14. marca 2021 ceny Grammy 2021. Ďalší galavečer plný ocenení a prvý ročník odovzdávania cien Grammy v kovidovej pandemickej dobe je teda úspešne za nami. Podujatie sa malo pôvodne konať skôr, 31. januára 2021 v Los Angeles, no prebehlo s oneskorením 2 mesiacov práve pre riešenie hygienických opatrení. Kalifornia je totižto dejiskom šírenia sa nového typu koronavírusu a tak boli všetky prípravy otázne. Nakoniec sa stanovili prísne hygienické pravidlá a hviezdy sa mohli predviesť vo svojich nádherných róbach dokonca osobne.
Ocenenia za výnimočné úspechy v hudobnom priemysle sa datujú do roku 1959, kedy ich udeľovala Národná Akadémia Hudobného Umenia a Vied (NARAS). Prestížny večer a ocenenie sa volalo Gramophone Awards a radí sa k najvýznamnejším hudobným oceneniam na svete. V hudobnej sfére je ekvivalentom k cenám filmovým, podobným Oscaru.
Rovnako ako podujatie Golden Globes, sa hudobný galavečer Grammy 2021 uskutočnil na oddelených pódiách, v tomto prípade však na piatich. Tie boli situované v exteriéri pri losangelskom Convention Center. Ceremoniálu sa zúčastnili celebrity fyzicky, niektoré priamo na mieste, no kvôli práve hygienickým protipandemickým opatreniam formou online prenosov.
Rozdalo sa mnoho ocenení a padlo mnoho rekordov. Speváčka a skladateľka Beyoncé získala štyri ceny Grammy a celkovo dosiahla rekordný počet Grammy 28, čím sa stala ženou s najväčším počtom gramofónov. Ďalším rekordom bol Album Roka, cena , ktorú získala speváčka Taylor Swift a to ako jediná žena tri roky po sebe. V kategórii Nahrávka Roka si cenu odniesla mladá speváčka Billie Eilish, rovnako ako minulý rok.
Objavom Roka sa stala speváčka Meghan Thee Stallion a to ako prvá raperka od roku 1999. Počas galavečera vystúpila v sexi obtiahnutom flitrovom modeli a zmenila niekoľko šiat rovnako ako ďalšie speváčky.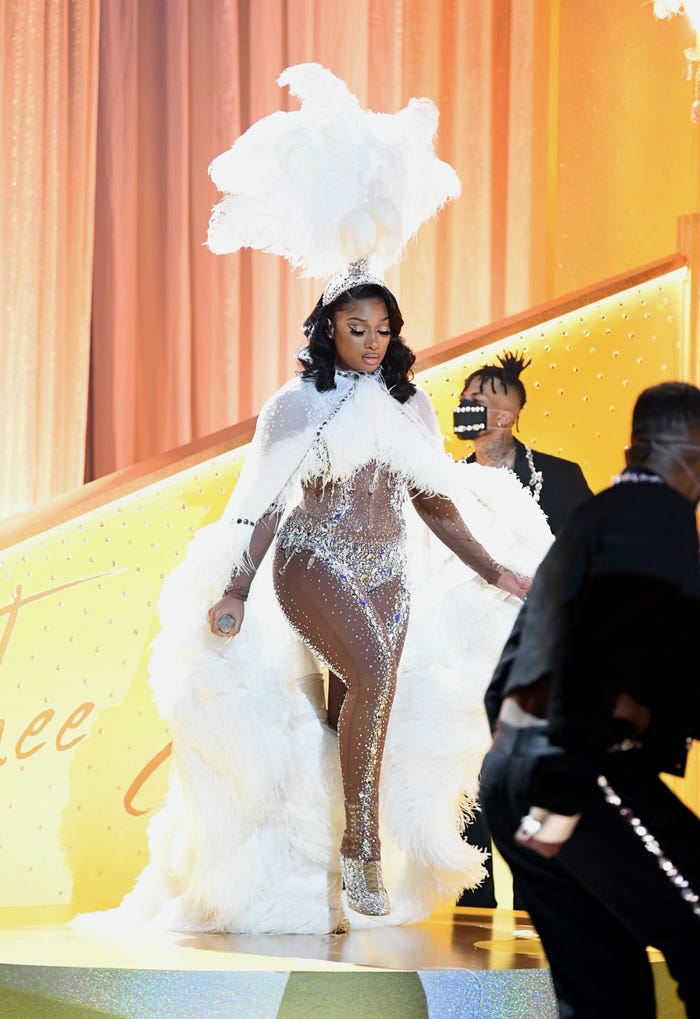 Najlepším pop vokálnym albumom je album Future Nostalgia od 25-ročnej britskej speváčky Dua Lipa.
Výberom rób očarili mnohé ocenené speváčky, o čom sa dočítate v I. časti článku o podujatí Grammy 2021 na tomto blogu v histórii. Z nich azda najsexi zažiarila v ultra glam kamienkovom Versace modeli práve speváčka Dua Lipa.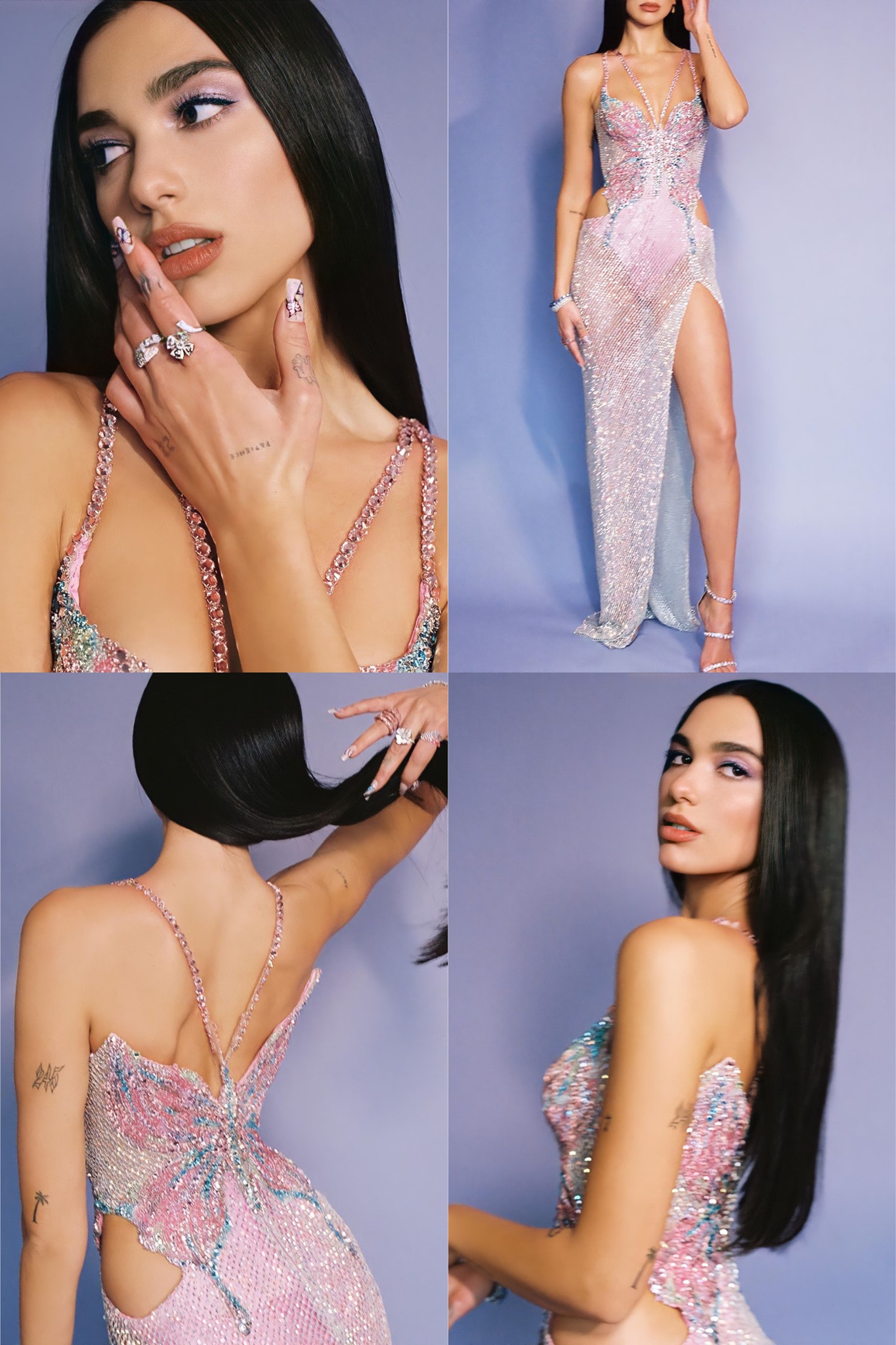 Pozrime sa na ďalšie hviezdy galavečera a ich výber rób.
LIZZO – BALMAIN
Speváčka Lizzo korpulentnejších tvarov veru minulú sezónu vyzerala už aj lepšie. Ba priam výborne. V tom čase predviedla, že aj žena riadnych kyprých tvarov môže pôsobiť vo vhodne zvolenej róbe a strihu famózne a slávnostne. Tentokrát jej to v ani jednom modeli, ktorý si vybrala z dielne Balmain nevyšlo. Tulipánový strih zelených šiat s nariasením na celom tele po volány na spodnom leme sa hodí skôr na štíhlejšiu figúru.
Lesklá ružová či zelená nariasená na asymetricky strihanom saténovom modeli šiat bohatá navyše na volány pôsobila lacno ako na party večierok, či stužkovú z 90. rokov. Doplnky v podobe sponiek, glitrov s prečačkanými náramkami na každej ruke tomuto výzoru na kráse a elegancii veľmi nepridali. Šperky boli pritom z dielne Bvlgari jewelry a ligotavosti pridali aj sandále značky Stuart Weitzman. Až príliš ligotania, žiary vo veľkom formáte.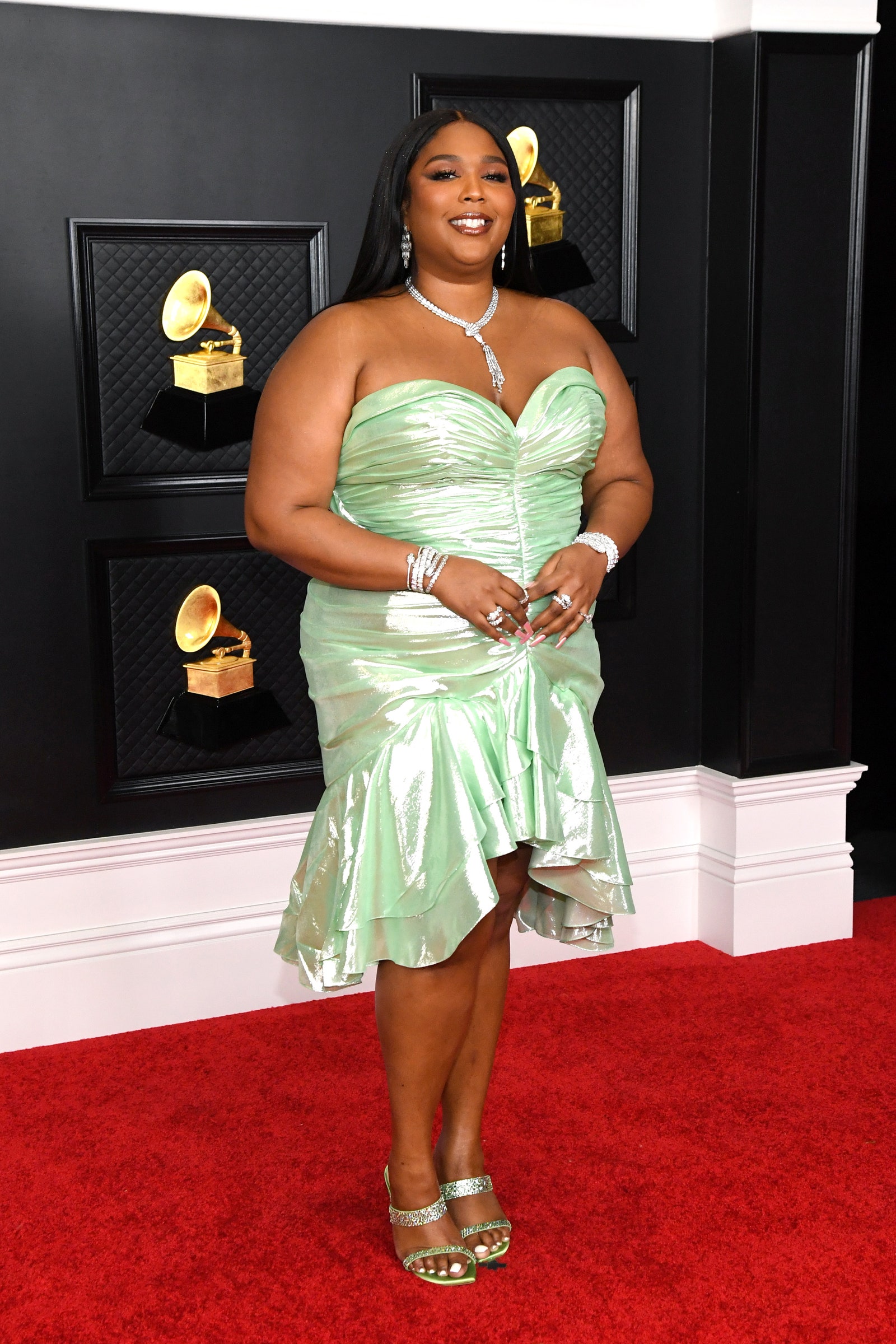 Ružový model šiat je vlastne to isté len v "ružovom" …
Zámer speváčky bol možno pôsobiť neviazane dievčensky s návratom do minulých dekád ako oslava nejakej udalosti, no táto intencia sa zdá byť jednoducho ako zlá prvá voľba. Každopádne stylisti speváčky Lizzo sa zrejme budú musieť zhodnúť s názorom okolia a kritiky, ktorá volá po menšej prezdobenosti , až gýčovitosti.
Za mňa nie veľmi vydarený look, avšak držím palce pri ďalšej voľbe, aby bola tak úžasná ako po minulú sezónu.
DOJA CAT
Azda najväčšiu vlnu zdvihnutých obočí vzbudila speváčka Doja Cat v modeli z dielne Roberto Cavalli , ku ktorej zvolila šperky Schwartz jevelry. Taliansky dizajnér Roberto Cavalli a značka Cavalli je známa svojím extravagantným riešením modelov s dôrazom na sexi look, podobne ako Versace so svojím všade prítomným sexi glam štýlom (sledujte aktuálne Instagram mya_mirell z prehliadky Cavalli počas Milan Fashion Weeku, kde sa tiež objavujú pierkové modely). Pričom kladie dôraz na zvýraznenie ženských kriviek a predností a vo svojich dizajnoch využíva obľúbený materiál kožu a množstvo zvieracích potlačí. Cavalli je jenoducho o potlačiach. (čítajte článok na blogu o prehliadke Cavalli – Roberto Cavalli, unikátna 3D priestorová inštalácia)
Model speváčky Doja Cat sexi dizajnu nebol nič dlhý. Charakterizoval ho do očí bijúci hlboký výstrih v oblasti dekoltu, ktorý siahal až po pupok plynulo prechádzajúci v sukňu zo zeleného peria. Model možno vyzeral famózne na figuríne, či prehliadkach, kde na eklektickej postave modelky sotva odkrýval mini prednosti. No na tele speváčky s odhalenými bujnými vnadami, ktoré vyzerali, že každú chvíľu vykuknú von na svetlo reflektorov a fotoaparátov, pôsobil dosť nevhodne. Možno skonštatovať, že až nevkusne vulgárne. Na odhalené rafinované telá sme na rôznych akciách zvyknutí, no tento look veru dojmom oslavy rafinovanej ženskej krásy a kultu tela nepôsobí.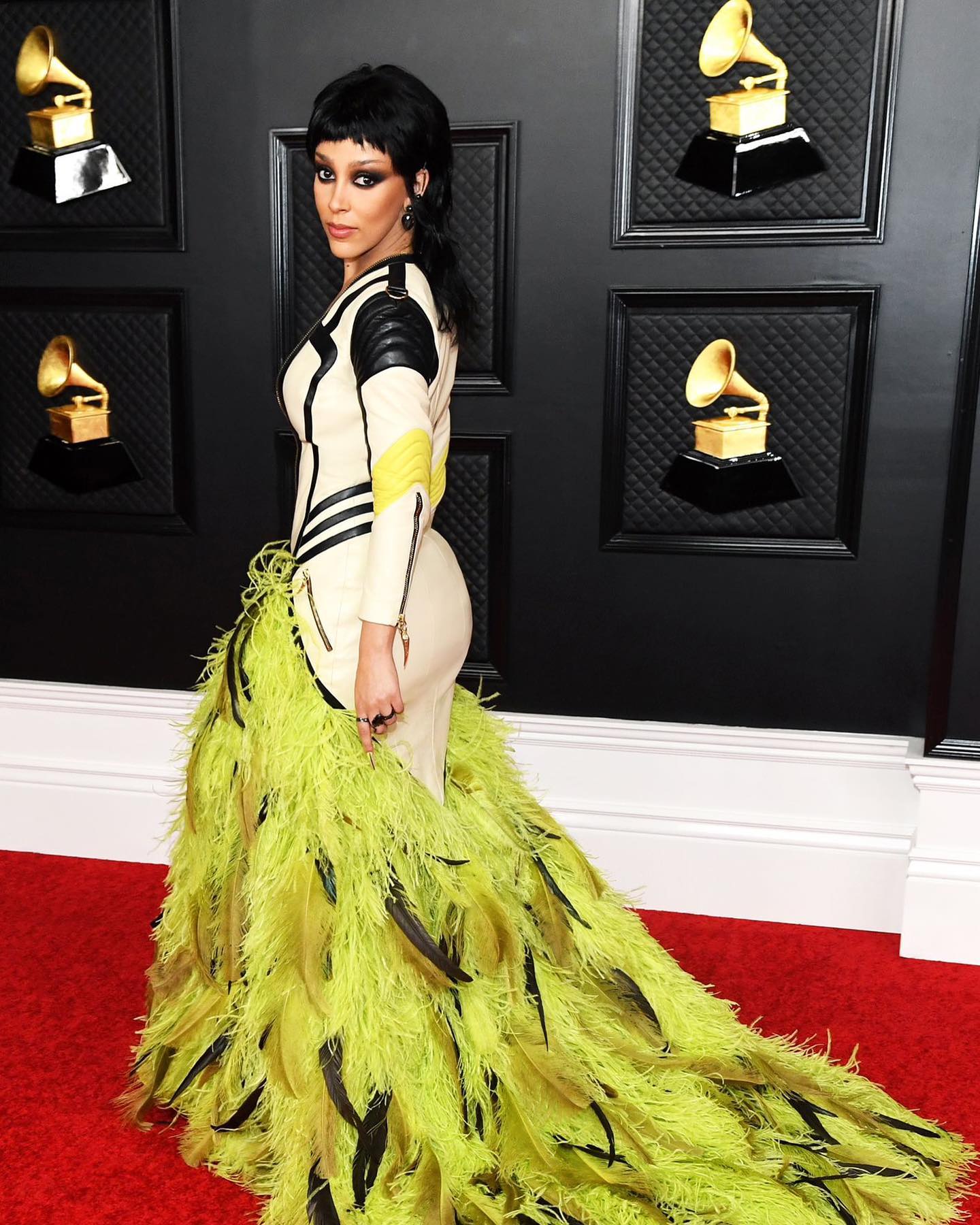 BILLIE EILISH – GUCCI
Azda viacerí čakali glamour ženské a skvostné róby prítomných celebrít, no na tohtoročnom červenom koberci Grammy 2021 ich bolo pramálo. Jedno je isté, mladosť, neviazanosť a rebélia speváčky Billie Eilish derúca sa do popredia bola predurčujúca pre voľbu nohavicového modelu značky Gucci.
Mladá americká speváčka s krásnym hlasom Billie Eilish, ktorá ohúrila hudobnú scénu svojím talentom len nedávno, žne jeden úspech za druhým. So svojím bratom vytvárajú hudbu, ktorá je odlišná od klasickej pop music. Je originálna, snová, svojská a miestami psychedelická, čo podporujú najmä jej videoklipy. Každopádne mladosť a svojský štýl sú charakteristické pre vyvíjajúcu sa osobnosť na hudobnej scéne akou je Billie Eilish.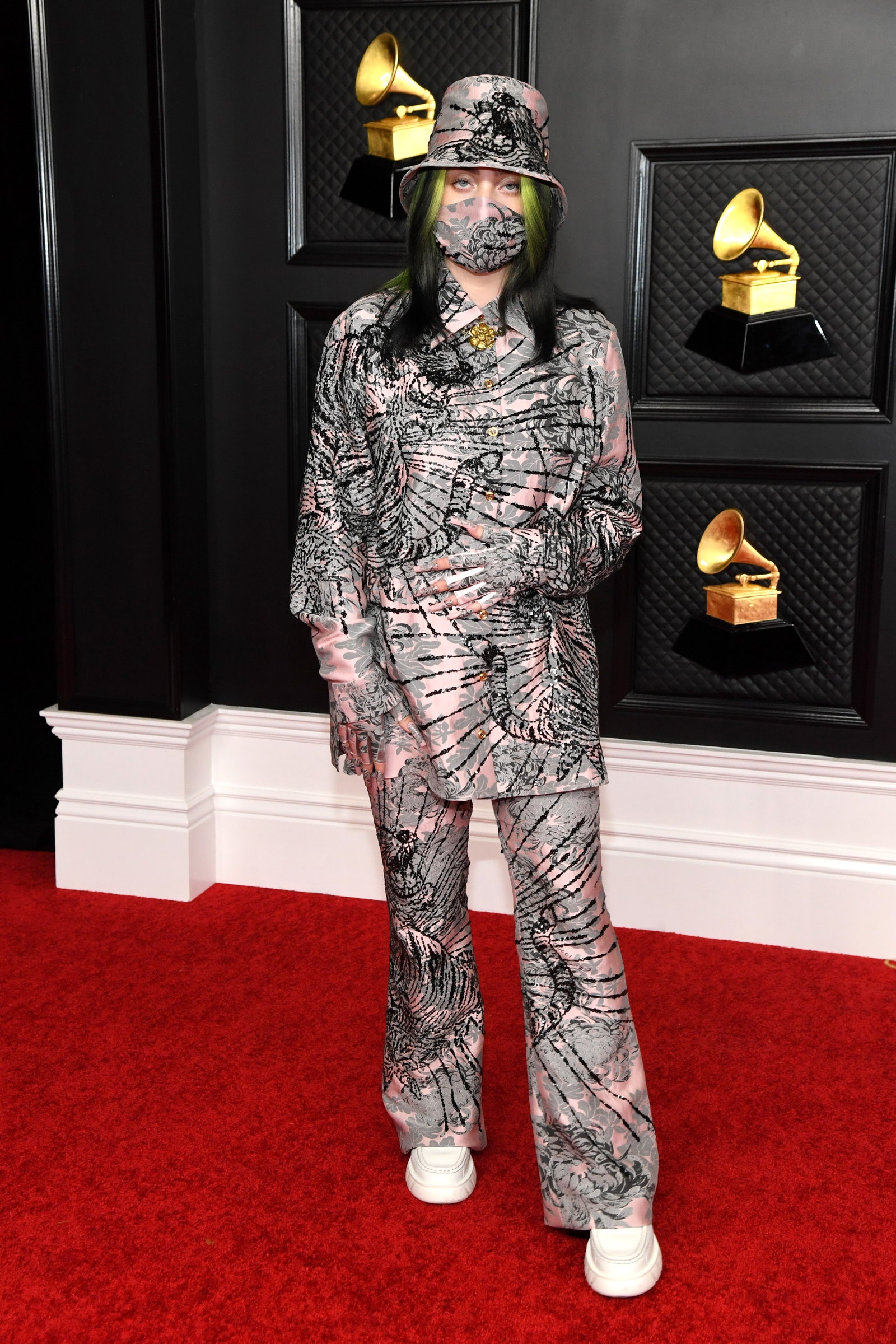 Billie Eilish a Finneas, Grammy Awards 2021 , Foto: Jordan Strauss/Invision/AP
Billie si u mladého publika získala razom úspech a vďačí za to aj originálnemu štýlu. Viac ako ženské, preferuje skôr chlapčenské looky, ktoré sú voľné, pohodlné, športové a tzv. ugly chic štýl, príznačný pre taliansky módny dom Gucci. V modeloch tejto značky, ku ktorému si aj farebne zladí vlasy, sa viackrát predviedla na červených kobercoch. Je očividné, že Billie tento štýl akosi pasuje a je preň priam stvorená. Nie každému sa jej spôsob obliekania môže zdať pekný, či lahodiť. Tak, ako je ťažké sa vžiť do nie práve glamour, ženského dizajnu značky Gucci, ktorej prehliadky kolekcií pod vedením Alessandro Michele bývajú bombastickou, šokujúcou, miestami psychedelickou show s nádielkou ugly chic modelov už niekoľko sezón Milan Fashion Weeku. Taliansky dizajnér Alessandro Michele vie rozhodne, ako upútať divákov a zároveň ich šokovať dizajnom. Pre túto značku treba jednoducho dorásť .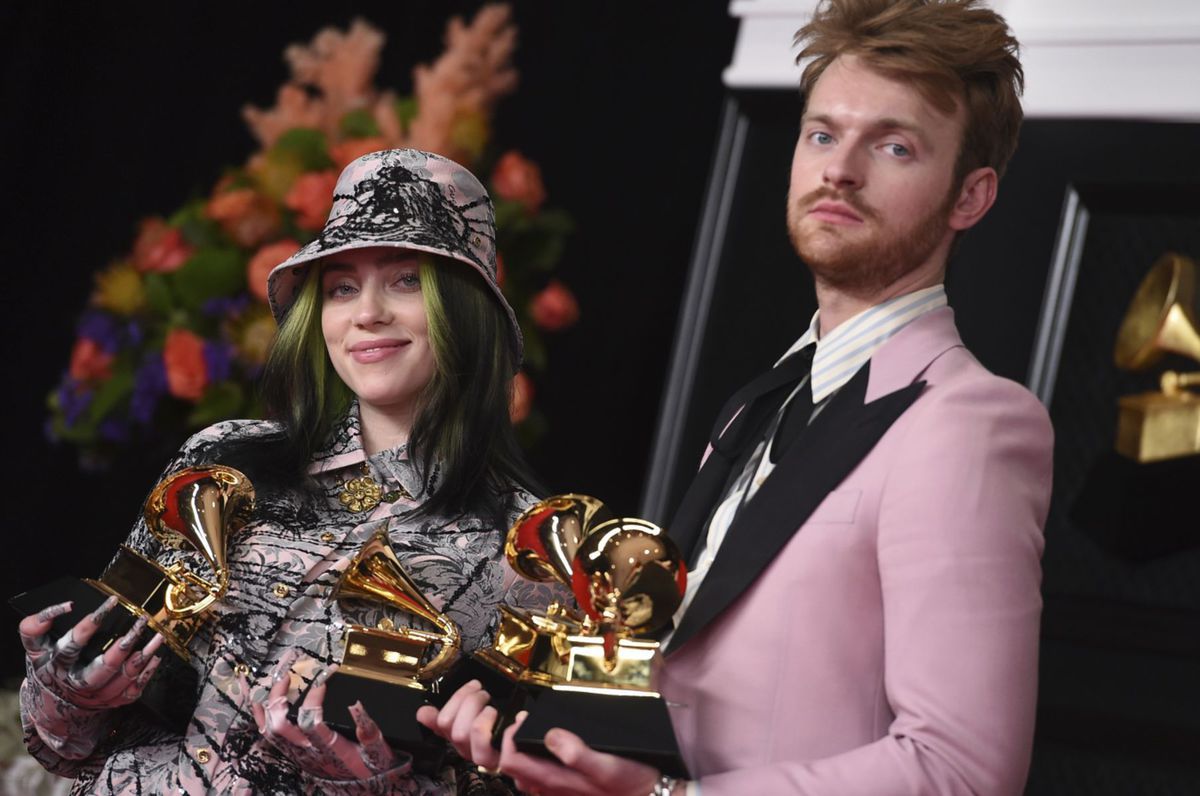 Billie preferuje voľné modely, vrstvenie, nadrozmerné strihy, pohodlnosť a neviazanosť. Looky s prečačkanými šatami so záplavou volánov, riasení, flitrov, ani glamour štýl u nej nenájdete. A presne v takomto modeli z talianskej dielne Gucci sa objavila opäť na tohtoročnom ceremoniáli Grammy 2021. Odetá od hlavy po päty v monochromatickom vzorovanom kostýme s klobúkom a rúškom, ku ktorému tentokrát doladila dlhé nechty, pôsobila originálne a pre mladých zábavne. Odniesla si ocenenie za Nahrávku roka. Och tá mladosť, neviazanosť a rebélia !
JHENE AIKO
Snovú ženskosť a opulenciu plnú nariasených volánov priniesla na červený koberec speváčka, ktorú u nás neveľmi poznáme Jhene Aiko. Podobne ako speváčka Dua Lipa v nadýchanom ružovom modeli s nariasenými časťami, predviedla slávnostný look plný grácie a ženskej nežnosti s miernou dávnou extravagancie. A na tento mnohí diváci a fanúšici rozhodne čakali.
Jhene Aiko obliekla značku Monsoori, arabský dizajnér z Bahrain, Grammy Awards 2021
BAD BUNNY – BURBERRY
Outfit rapera Bad Bunnyho zaujal nielen divákov, ale aj pozorné oko fashion expertov. Pozostával z čierneho kabátu z dielne Burberry, čapice tej istej farby, no zvláštny výraz tomu dodávali uši. Zvieracie uši na čiapke nielen že nevyzerali dobre, ale pôsobili matúco a komicky. Celkovo podarenému looku tak nasadil korunu smiešnosti, čo je vo výsledku škoda. Za prvotný plán ho ale treba pochváliť.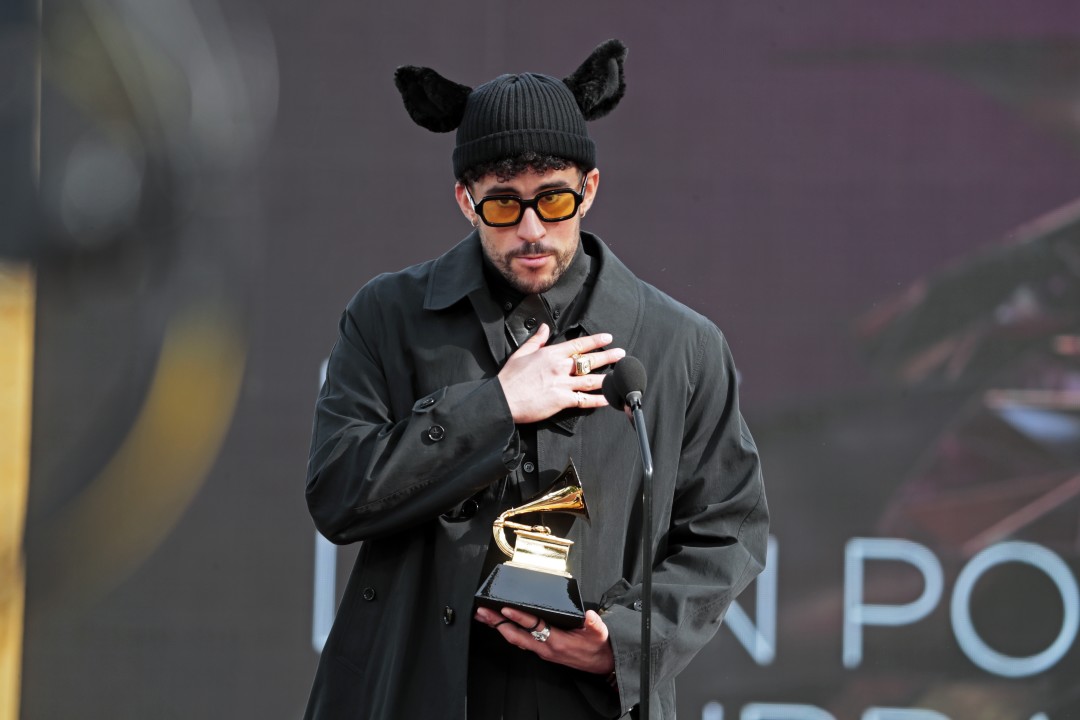 foto: Robert Gauthier / Los Angeles Times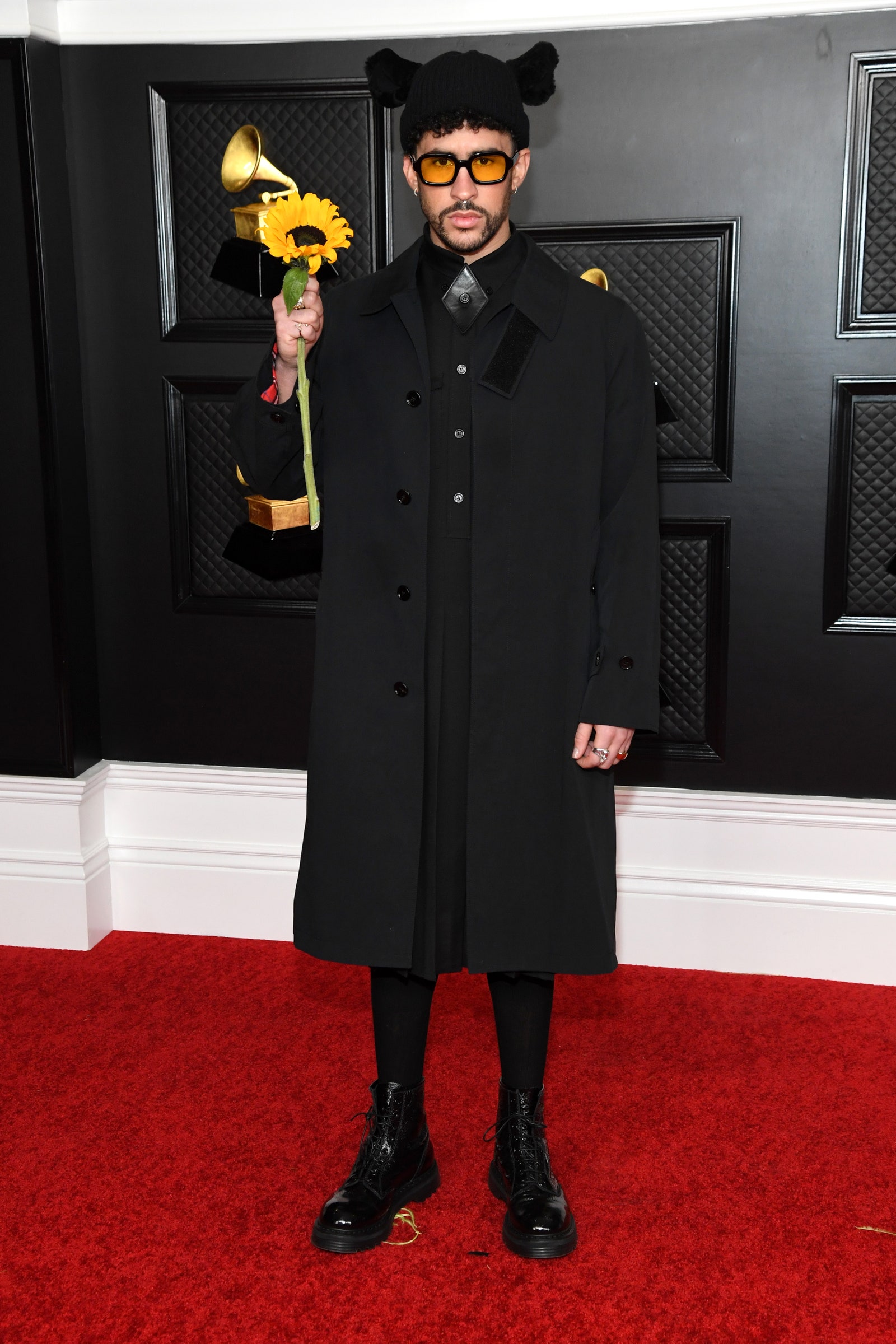 foto: Jordan Strauss/Invision/AP
zdroj obrázkov: getty images, pinterest, redcarpet-fashionawards. com, Jordan Strauss/Invision/AP , AP Photo/Chris Pizzello
Prvú časť článku o róbach z červeného koberca Grammy Awards 2021 čítajte v histórii na tomto blogu. Sledujte Facebook stránku: Mya Mirell Fashionista a Instagram: mya_mirell .
© AUTORSKÉ PRÁVA VYHRADENÉ