Alberobello – talianske mestečko s domčekmi Trulli, pamiatka UNESCO a cesta do rozprávky
Taliansko, pre mnohých zasnúbená krajina. Nielen, že láka svojou krásou, históriou sálajúcou zo všetkých častí, miest a mestečiek, uvoľnenou talianskou chytľavou náturou, chutnými jedlami, preslávenou gastronómiou, dizajnom a módou, no skrýva v sebe aj rôzne zaujímavé poklady. Jedným z nich je mestečko s názvom Alberobello, v ktorom si budete pripadať ako v rozprávke. Toto mesto sa rozkladá v lokalite Puglia (Apulia) v blízkosti mesta Bari. Ak sa raz budete nachádzať tu, vedzte, že môžete zároveň navštíviť aj jaskyne Grotte di Castellana.
Milá architektúra malých domčekov s názvom trulli s kužeľovitými strechami, ktorú by ste nečakali, celkom odlišná od historických častí Talianska, sa svojou netradičnosťou dostala na zoznam svetového dedičstva UNESCO.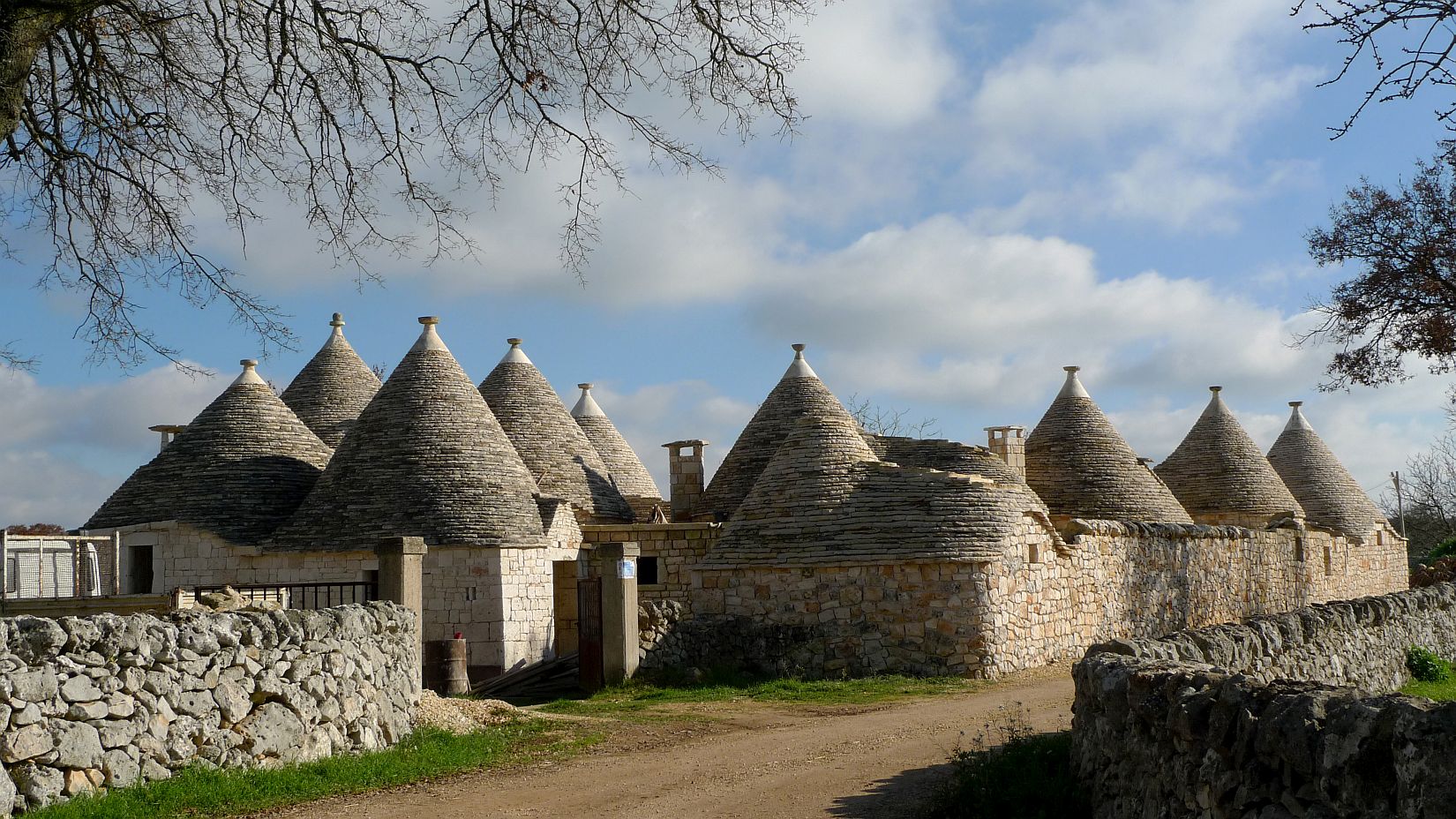 V mestečku Alberobello vás privítajú snehobiele kruhové mini domčeky so šedou kamennou strechou zdobenou rôznymi symbolmi tesne nalepené na seba s názvom trulli. Ak sa
pozriete z horizontu terasy, očarí vás prekrásny výhľad na celé mesto, ktoré vytvára okolo 1400 týchto rozprávkových domčekov. Skrývajú v sebe architektonické bohatstvo južného Talianska regiónu Apulia, taliansky Puglia. Domčeky trulli, v jednotnom čísle trullo (celkom vtipný názov na slovenské pomery) , sú stavané z miestneho kameňa spájaného nasucho vo forme kruhového pôdorysu s kužeľovou strechou, čo malo mytologický podtext. Taliani ako národ boli vždy veľmi poverčiví.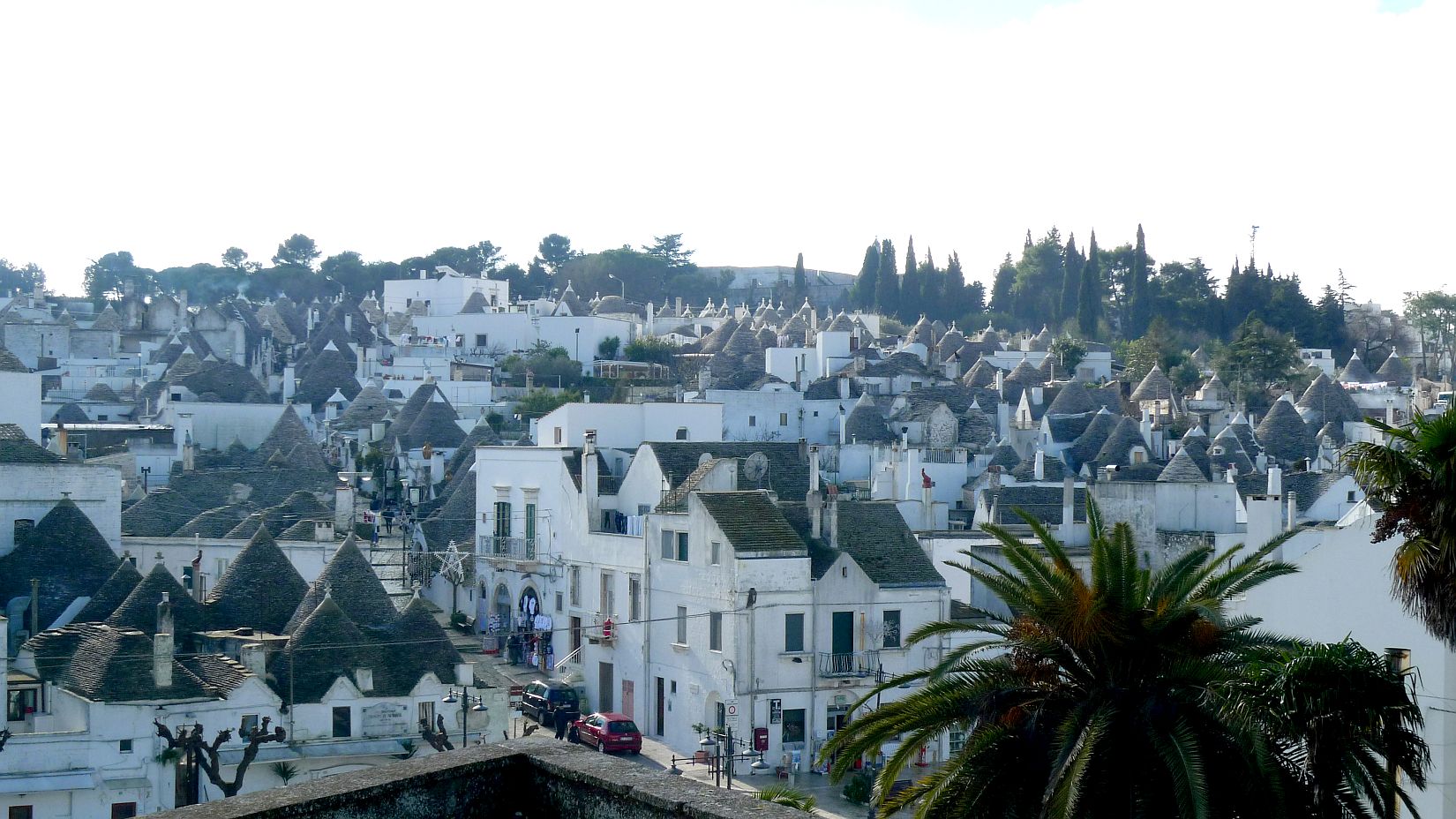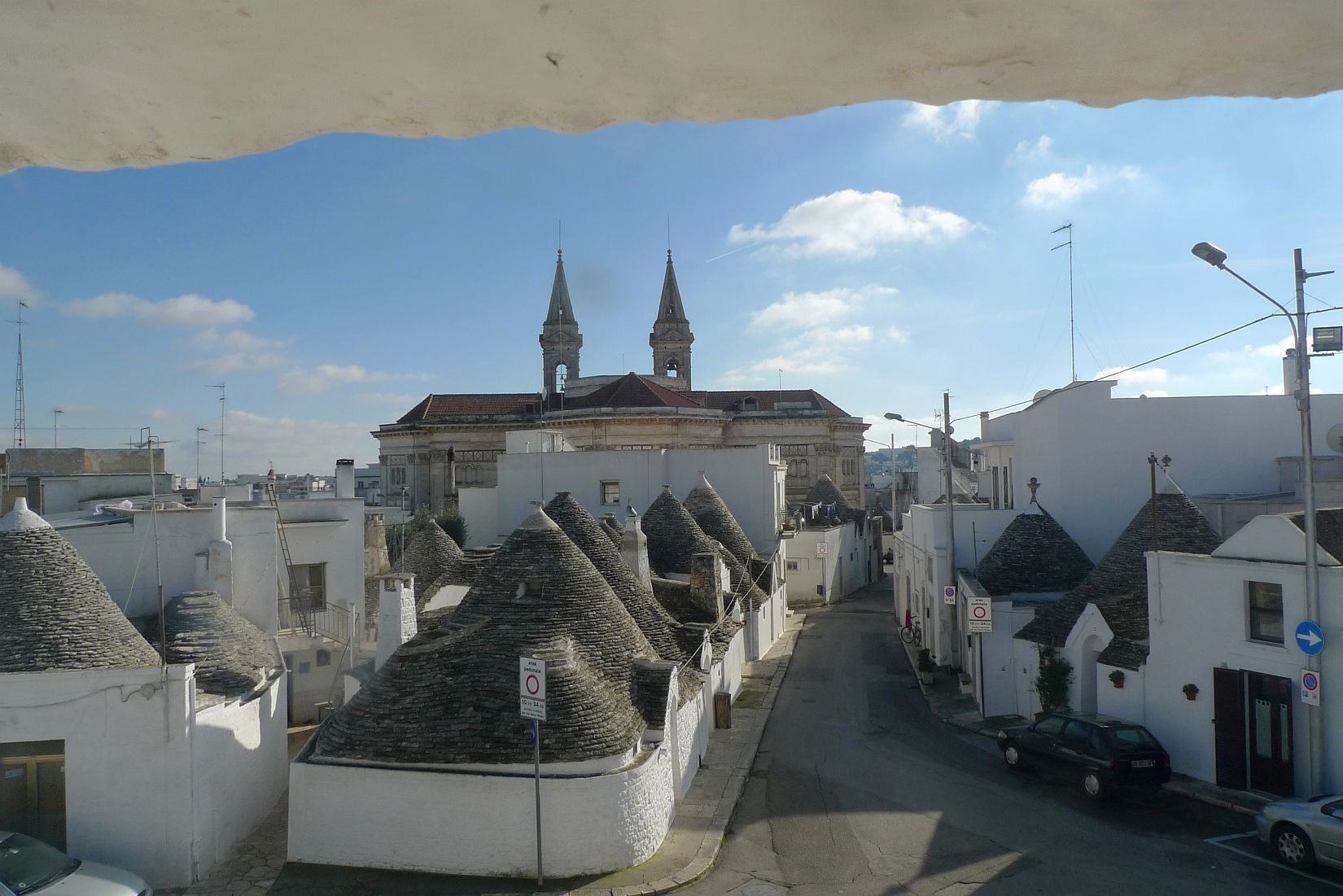 Detail kamennej kuželovitej strechy.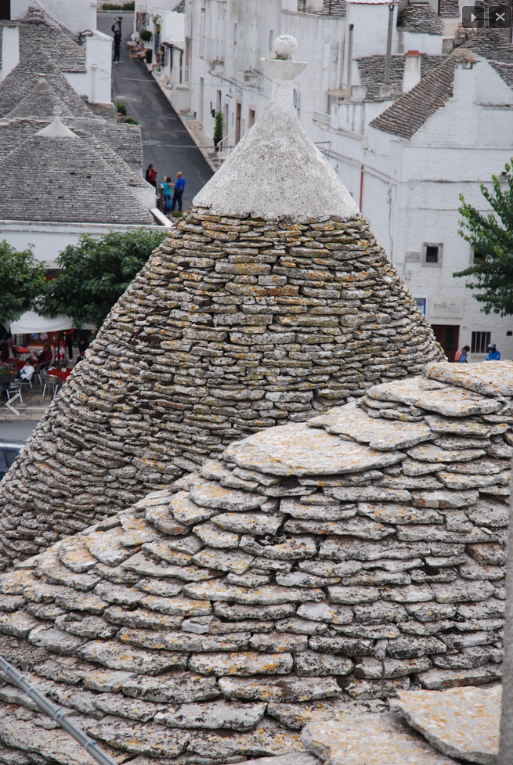 Domčeky trulli sa vyskytujú taktiež v iných častiach Talianska v zoskupenej forme ako v mestečku Alberobello a to v údolí Itria (Valle d´Itria), ktoré je krajinou týchto domčekov. Nájdete ich aj v roztrúsenej forme rôzne po krajine. No v najvyššej koncentrácii v tesnom zoskupení na sebe môžete obdivovať krásu tejto zaujímavej architektonickej stavby práve v mestečku Alberobello, v kultúrnom hlavnom meste údolia Itria.
Ja som sa tu bola pozrieť v období pred začiatkom jari a bolo ideálne počasie. Taktiež teraz a v lete je toto miesto zaujímavé, nadobúda nové čaro, v lete si naviac môžete zabookovať krásny dovolenkový domček priamo s bazénom.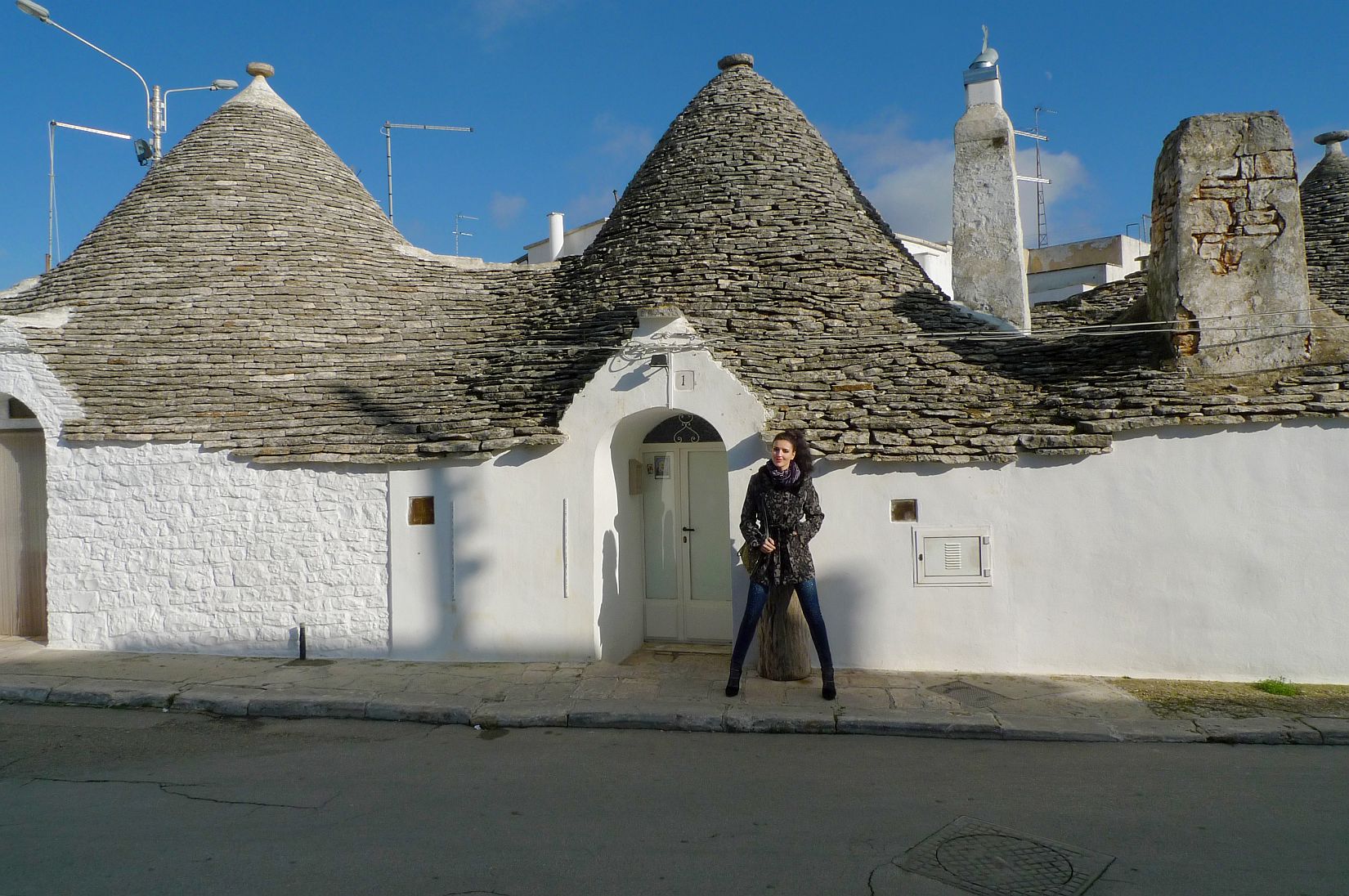 V uličkách malebného rozprávkového mestečka Alberobello to žije. Kde tu si môžete kúpiť nejaký suvenír alebo miestnu dobrotu, či posedieť v kaviarničke. Nejedná sa teda o skanzen, domčeky slúžia turistickému ruchu. Pre ich krásu sú často navštevované, no nájdete ich tu aj v obývanej forme. Ľudia tu normálne žijú, fungujú, sedia na priedomí, čo môžete vidieť a zažiť pri prechádzkach, ba nachádza sa tu aj kostol so zvonicou. Bežný život zmiešaný s touto malebnou architektúrou vytvára zvláštne čaro a atmosféru tohto malebného talianskeho mestečka.
Domčeky trulli sú natreté na bielo a tak celé mesto dostáva zvláštny rozprávkový výraz. Navyše sú nízke, čo tento dojem ešte viac podčiarkuje. Neváhajte sa poprechádzať pomedzi ne a tiež nakuknite dnu.
Môžete navštíviť múzeum, ktoré je situované v niektorých z nich. Vstup je zdarma. Uvidíte interiér s dobovým vybavením a mini záhradkami a pokocháte sa výhľadom z terás.
Iné je to v domčekoch, ktoré slúžia pre turistický ruch a dovolenky. Ak si takýto typ trulla prenajmete, sú vybavené útulným funkčným zariadením a k dispozícii hoci aj s bazénom.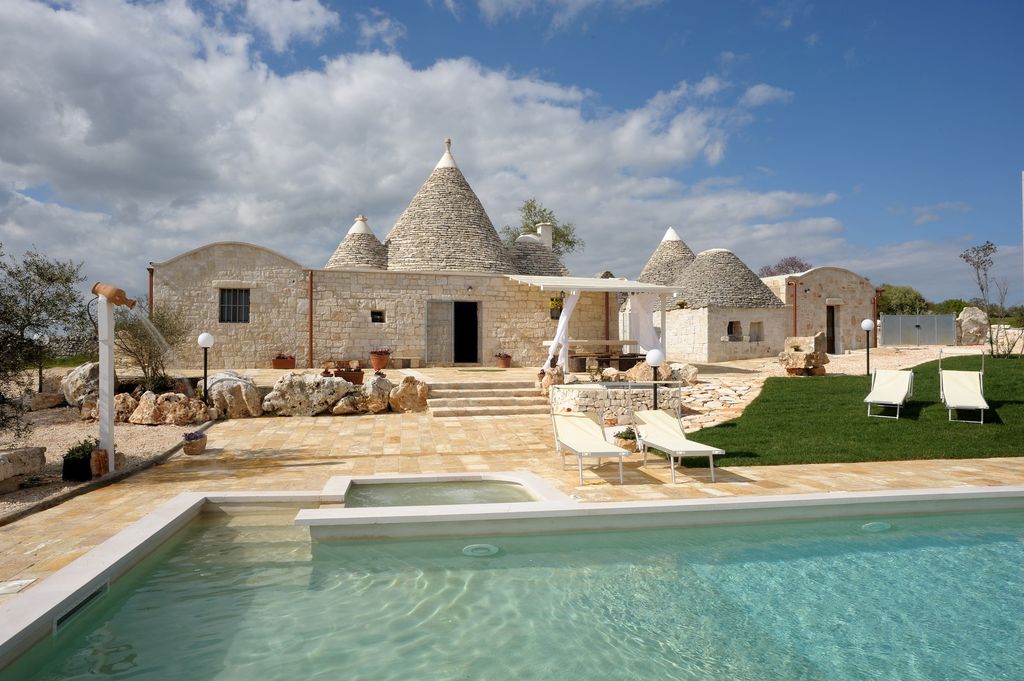 ALBEROBELLO – MESTSKÉ ŠTVRTE, NÁRODNÁ PAMIATKA
Mestečko Alberobello je rozdelené do dvoch štvrtí – Rione Monti, kde boli domčeky trulli postavené v 17. storočí v tesnej blízkosti vedľa seba a Riona Aia Piccola. Je jediným mestom, kde sa zachovali celé štvrte trulli.
Štvrť Rione Monti (v preklade kopce) je predovšetkým lákavá pre turistov, je tu veľa malebných uličiek so schodmi, rôznych zákutí, obchodíkov s lokálnymi výrobkami, so suvenírmi, kaviarničiek, ktoré stoja za to preskúmať. Vyskytuje sa tu dovedna asi 1000 domčekov trulli a tiež kostolík svätého Antonína so zvonicou, ktorý bol rovnako postavený ako trullo, avšak v 20. storočí. Priečelie kostola zdobí rozeta a výška kupole je približne 20 metrov.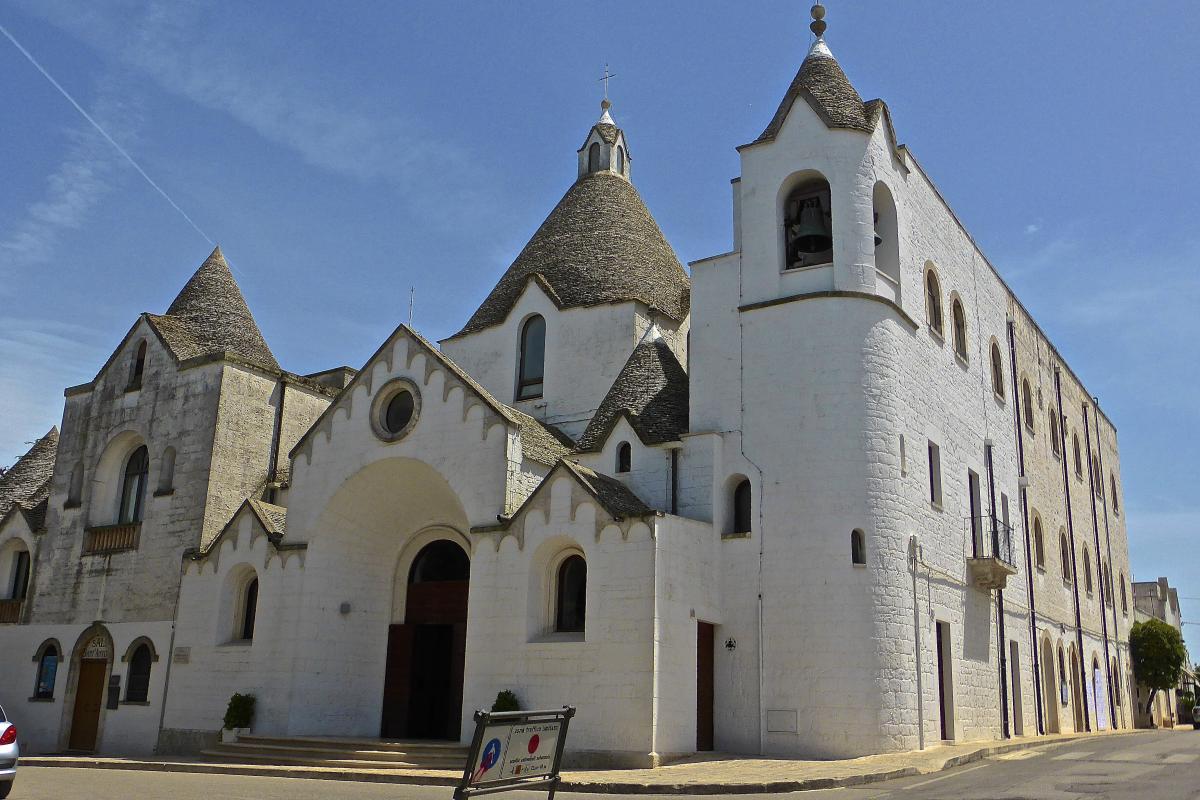 V mestečku Alberobello sa bežný život zmiešal s históriou malebných trulli domčekov a tak v tejto lokalite časom pribudli aj budovy v inom štýle. Jednou z nich je Bazilika sv. Kozmu a Damiána z 18. storočia v oblasti ulice Corso Vittorio Emanuele (ale nie toho v Miláne, ani v Ríme).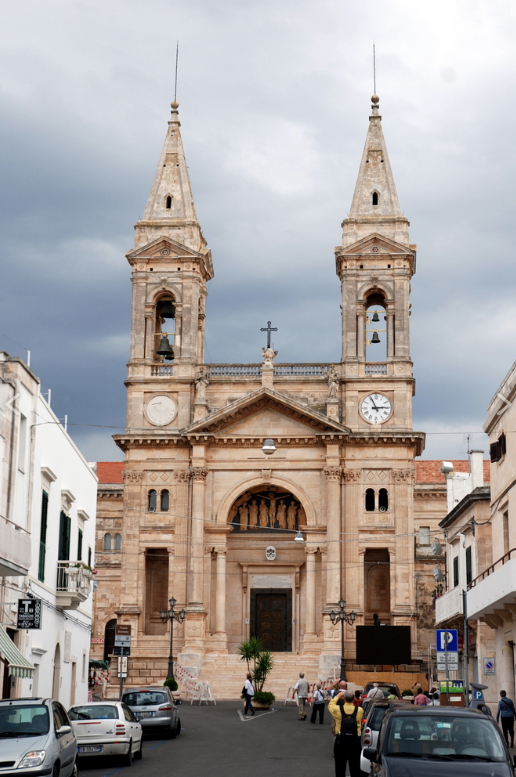 V tejto štvrti nájdete tiež dvojpodlažné trullo, ktoré je unikátne a jediné svojho druhu s názvom Trullo sovrano. Všetky ostatné domčeky trulli sú totižto v celej Puglii prízemného charakteru. Trullo sovrano sa nachádza hneď kúsok za Bazilikou sv. Kozmu a Damiána a slúži ako múzeum. Zhora sa vám naskytne pohľad na okolité strechy domčekov.
Obe štvrte delí od seba ulica Largo Martellotta. V súčasnosti si môžete dokonca vychutnať , objednať pobyt v jednom z domčekov a pokojne v ňom na noc prespať. V noci váš očarí svetlom rozžiarené mestečko, biele žiarivé domčeky a osvetlené nočné mestečko. Skutočne to stojí za to aspoň vidieť.
Riona Aia Piccola je druhou mestskou časťou Alberobello s takmer 400 zvyšnými domčekami, z ktorej je vidno veľmi dobre na prvú štvrť. Nie je tu tak citeľný turistický ruch a žije tu cirka 1500 obyvateľov. V tejto časti vás uvíta námestie Piazza del Popolo s rovnomenným názvom ako v a palác z 2. polovice 19. storočia a "dom lásky" Casa d´Amore.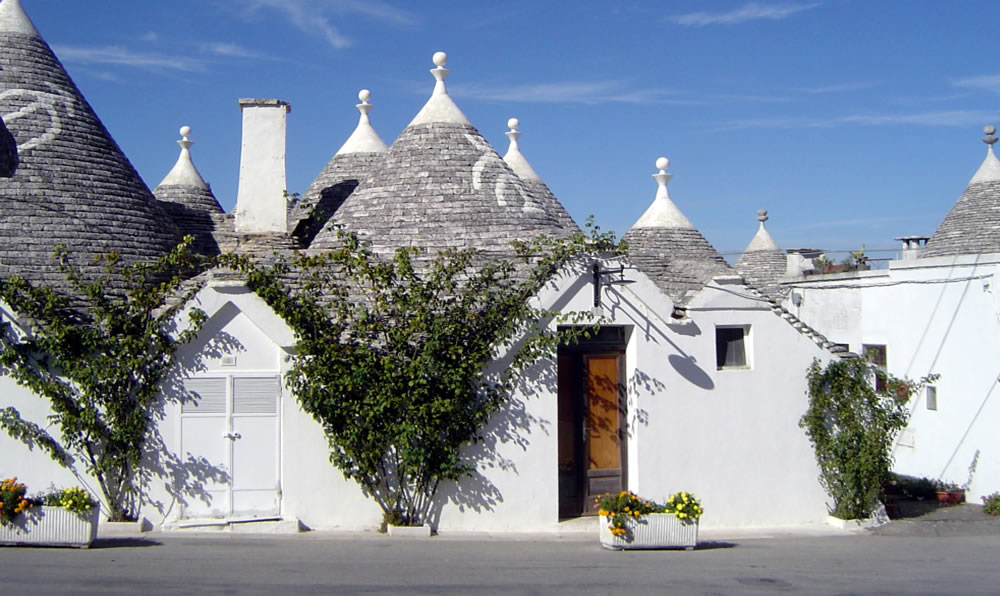 Najhoršia historická pravda z temných čias, ktorá však poznačila toto mesto a ostáva v smutných spomienkach je, že mesto slúžilo počas druhej svetovej vojny ako koncentračný tábor.
Ing.arch. Miroslava Vaňharová
Mya Mirell
Facebook: Mya Mirell Fashionista