Lee McQueen – vzostupy a pády najvplyvnejšieho, najvýrazovejšieho a najprovokatívnejšieho dizajnéra doby, ktorý pomohol móde 21. storočia
Alexander McQueen bol návrhárom, ktorý nemal v módnych dejinách obdobu. Spôsob, akým vnímal módu bol famózny, extraordinárny, umelecký, jednoducho nenapodobiteľný. Jeho strihy boli netradičné, kolekcie dychberúce a módne show vždy strhujúce, unikátne zážitky. Diváci sa mohli tešiť nielen na novú kolekciu, ale doslova na umelecké divadelné módne predstavenie, ktoré pripravoval na rôzne témy.
Veterný tunel, tanec, hologram, divoké vypchaté zvieratá, sklené laboratórium – prehliadky Alexandra McQueena sa stali epizódami jeho života a diváci ich tak mali možnosť spoznávať a zažívať.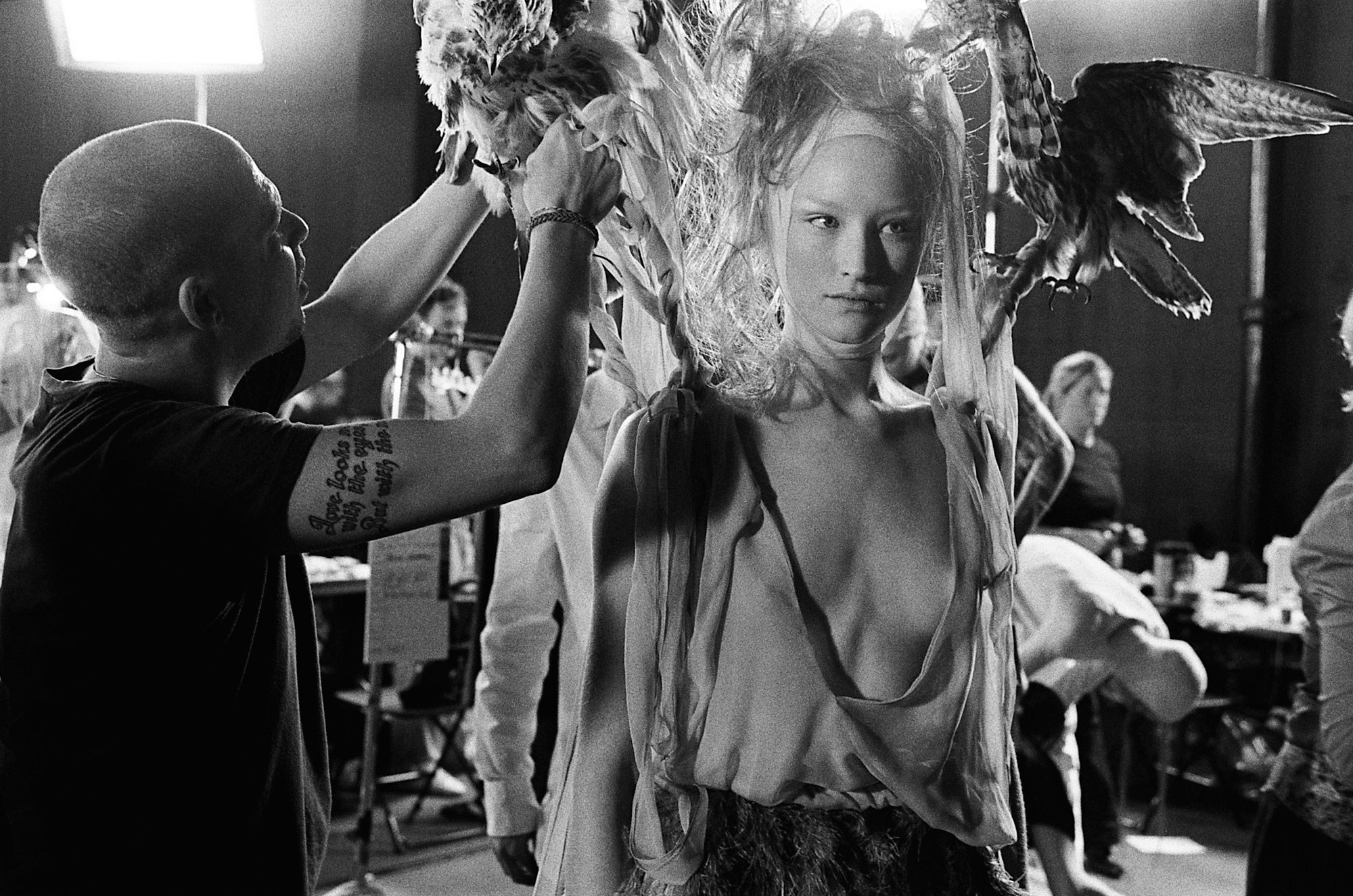 foto: Aerofilms
Reagoval na témy ako smrť, sado-maso, násilie a náboženstvo, ktoré neskutočným spôsobom pretavil do svojich kolekcií. Jeho prehliadky boli plné sexuálnych podtextov, provokácie a šokujúcej fantázie. Z módnych show urobil strhujúce módne predstavenia, ktoré sledovali diváci s nemým úžasom a ktoré sa navždy zapísali do módnych dejín zlatými písmenami.
Alexander McQueen, vlastným menom Lee Mc Queen, bol tvárou módy konca 20. storočia s výrazným presahom do nového tisícročia. Narodil sa 17. 3. 1969 v Londýne ako najmladší zo šiestich detí. Vypracoval sa na jedného z najrešpektovanejších svetových módnych návrhárov, prezývaný tiež módny génius, avšak média ho volali aj l´enfant terrible (hrozné dieťa, postrah spoločnosti). Jeho diela sa buď tešili obrovskému obdivu, spôsobovali ošiaľ alebo pobúrenie.
ALEXANDER McQUEEN VÝVIN A TVORBA
Svoju vlastnú značku Alexander McQueen založil v roku 1992 a časom ju začal rozvíjať ešte počas pôsobenia v značke Givenchy. Rebéliu mal v krvi od samotných módnych začiatkov. Žil z podpory a fondov, z ktorých financoval svoje prvotné módne počiny, v podstate v chudobe. Postupne sa vypracoval a vďaka škandalóznym šokujúcim návrhom a búrlivému životnému štýlu dostal prezývku "chuligán britskej módy."
"Moje prehliadky sú o sexe, drogách a rock'n'rolle. Chcem robiť rozruch a spôsobovať husiu kožu. Chcem infarkty, chcem záchranky," hovorieval britský návrhár Alexander McQueen.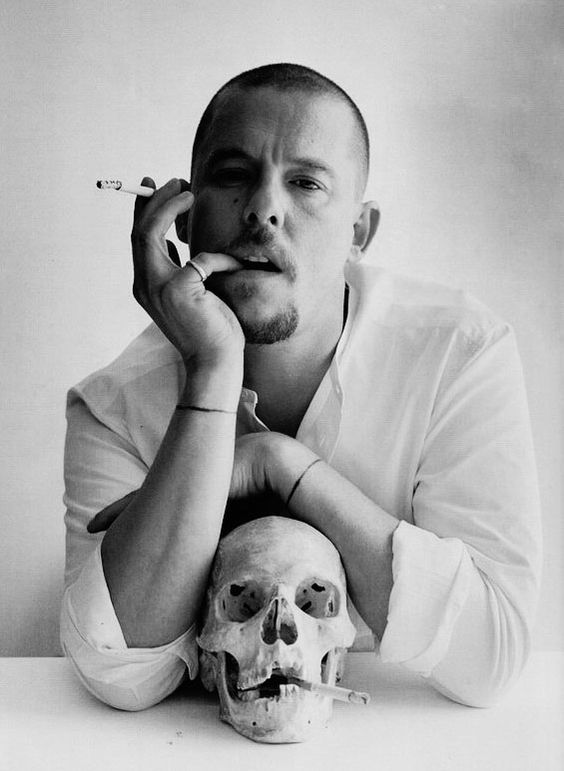 foto: Tim Walker
Kritika spočiatku šalela a nevedela tohto dizajnéra, ktorý predbehol svoju dobu v mnohých inovátorských viziách, prijať a pochopiť.
Alexander McQueen z bežného priemeru, ktorý nemal rád, unikal a do prehliadok zapojil modelky rôznych proporcií a obmedzení – atypické, obézne a telesne postihnuté. Nebránil sa netradičným šokujúcim veciam, ktoré boli vtedy nové, nenapodobiteľné, originálne a ktoré neskôr začali ďalší návrhári kopírovať a napodobňovať : dnešný motív lebky, ktorý bol pôvodne Lee McQueen dizajnom, rôzne kolesá a klietky na hlavách použité na prehliadkach, odvtedy viackrát kopírované v kolekciách módnych návrhárov po celom svete (napríklad v kolekcii Moschino) a tiež snaha o napodobenie unikátnych megalomanských a teatrálnych módnych predstavení ako aj mnohé iné.
Alexander McQueen bol priekopníkom mnohých inovátorských vízií, ktoré priniesol do módy, akými sú nohavice s veľmi nízkym pásom, tzv. bedrové nohavice – bumster, parfumy Kingdom a McQueen, šialené tvary topánok, platformy alebo lebkovú potlač.
V jeho tvorbe vidno kontrastné spájanie protipólov ako kombináciu hravosti a vážnosti, sily, drsnosti a krehkosti, tradície v kontraste s aktuálnymi trendami. Motívy z mytológie, hororov aj zvieracej ríše v rôznych kombináciách sa často objavovali v zrealizovaných víziách módnych show. Pri svojej tvorbe vedel zužitkovať najmä svoje osobné traumy, prežitky a smútky, ktoré sa tam častokrát zrkadlili.
Módna show s divokými vypchatými zvieratami, kde sa návrhár v závere objavil v kostýme zajaca.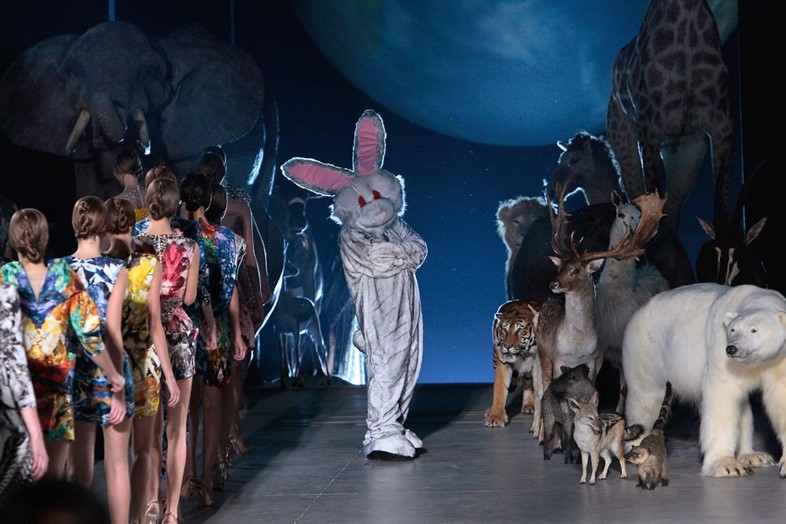 zdroj: onsugar. com
NAJZAUJÍMAVEJŠIE PREHLIADKY
Debut v značke Givenchy, Jeseň 1997
V roku 1996 Alexander McQueen nahradil módneho dizajnéra Johna Galliana a stal sa kreatívnym riaditeľom značky Givenchy. Dokázal, že je viac ako len debutant s februárovou kolekciou. Predviedol extravagantné ženské korzety, ktoré reprezentovali návrhárovú pobláznenosť ženskými formami no ako inak, jemu vlastnou šokujúcou formou. Nahé telo, ženské prsia boli ponechané na obdiv a natreté zlatou farbou. Tieto jeho prehliadky boli však na mnohých príliš silná káva, z niektorých dokonca odchádzali ľudia znechutení (napr. prehliadka Highland Rape). Predvádzala slávna top modelka 90. rokov Naomi Campbell.
obrázok: Givenchy Jeseň 1997 fashion show
V polovici 90. rokov a na začiatku prvej dekády tretieho tisícročia dominovali parížskej couture scéne dvaja bristkí dizajnéri – Alexander McQueen (v strede) a John Galliano (vľavo) , na fotografii s Annabelle Rothschild (vpravo) v roku 2000 počas Vogue Laurents Party v Monte Carlo Sports Club v Monaku.
zdroj: Rex
Francúzi pre tohto "chuligána módy" vôbec neboli nadšení. Samotný Alexander McQueen vydržal v značke Givenchy iba do roku 1999. Ako sa sám vyjadril, nemal rád Francúzov ani francúzske jedlá. S rolou kreatívneho riaditeľa značky Givenchy nebol stotožnený a necítil sa v nej dobre. Zväzovala vraj jeho kreativitu. Kontrakt podpísal na 10 kolekcií ročne, pričom vytváral zaujímavé, úplne odlišné kolekcie, no tie sa ani zďaleka netešili veľkým úspechom. Kritika ho veru nešetrila. Preto si popritom začal budovať svoju vlastnú značku a od značky Givenchy sa úplne oslobodil v roku 2001.
UNIKÁTNA PREHLIADKA SVOJEJ DOBY – SPOJENIE TECHNIKY A UMENIA
1999 finále Alexander Mc Queen Spring / Summer show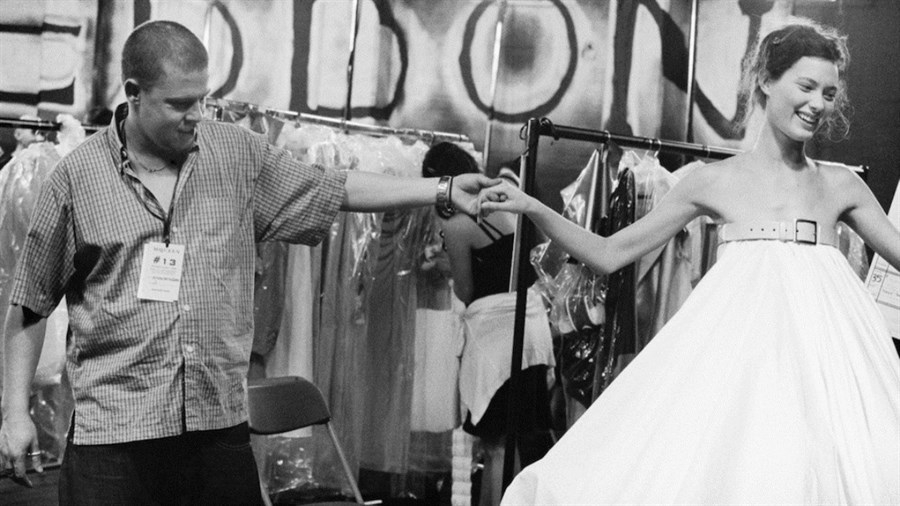 zdroj: Courtesy of bleecker street
Unikátna prehliadka svojej doby, fantastický nápad, spojenie techniky a umenia sa odohrala v roku 1999 počas finále módnej show, kedy automobiloví roboti postriekali šaty modelky Shalom Harlow (objavila sa aj na prehliadke značky Versace vo februári 2019 počas Milan Fashion Weeku ako mature modelka – modelky vo "veku"). Modelka sa za zvuku hudby točila v scénickom tanci na podeste, zatiaľ čo roboti na ňu striekali farbu. Zo šiat tak vytvorili originálne umelecké dielo.
Fotograf: Steve Wood/REX
Celá show bola ohromujúco dojímavým Lee McQueenovským módnym predstavením. Šaty boli zaujímavé aj svojím strihom pripomínajúcim sukňu, boli upnuté opaskom nad prsiami na štýl korzetu. Lee McQueen vymyslel opäť niečo netradičné, čo ešte na módnej scéne nevidelo svetlo sveta.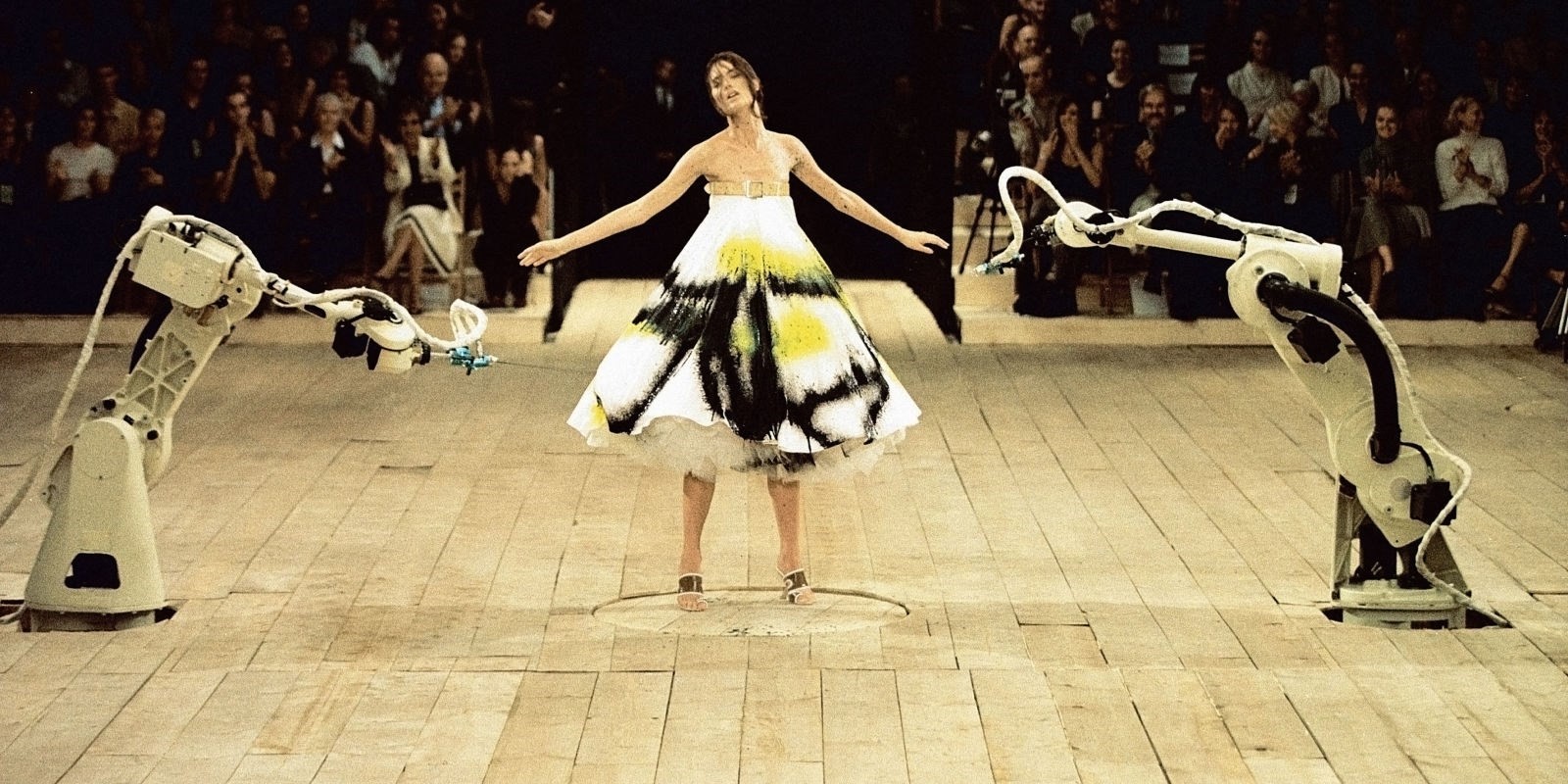 zdroj: glamourmagazine. co . uk
Video tejto módnej show si môžete pozrieť na youtube : https://www.youtube.com/watch?v=1oUFLU5gaSA
zdroj: Vogue. com, pinterest
2001 – ASYLUM kolekcia Jar / Leto 2001
Ďalšia fantastická módna show bola zrealizovaná vízia neprekonateľného módneho génia Lee McQueena v roku 2001. Dizajnér usporiadal módnu show s názvom Asylum, kde usadil obecenstvo okolo zrkadlovej kocky a v momente, kedy sa zasvietili svetlá, diváci uvideli modelky šialene predvádzajúce modely akoby v psychiatrickej liečebni. Sklo bolo z jednej strany nepriehľadné, pričom modelky sa dívali do skla smerom k obecenstvu s neprítomným výrazom na tvári. Bol to unikátny nápad, ktorý nebol nikým prekonaný, naopak, odvtedy sa niekoľkokrát opakoval v iných napodobiteľných obmenách. Predvádzali modelky Karen Elson (vľavo) , Kate Moss (vpravo) , Erin O´Connor a ďalšie, ktoré bravúrne stvárnili McQueenovu predstavu šialených, mentálne chorých pacientov, pobehujúcich v sklenom laboratóriu tlačiac naprieč sklom v extrémne teatrálnych šatách.
Video si môžete pozrieť tu: https://www.youtube.com/watch?time_continue=27&v=qynzgm9i4LI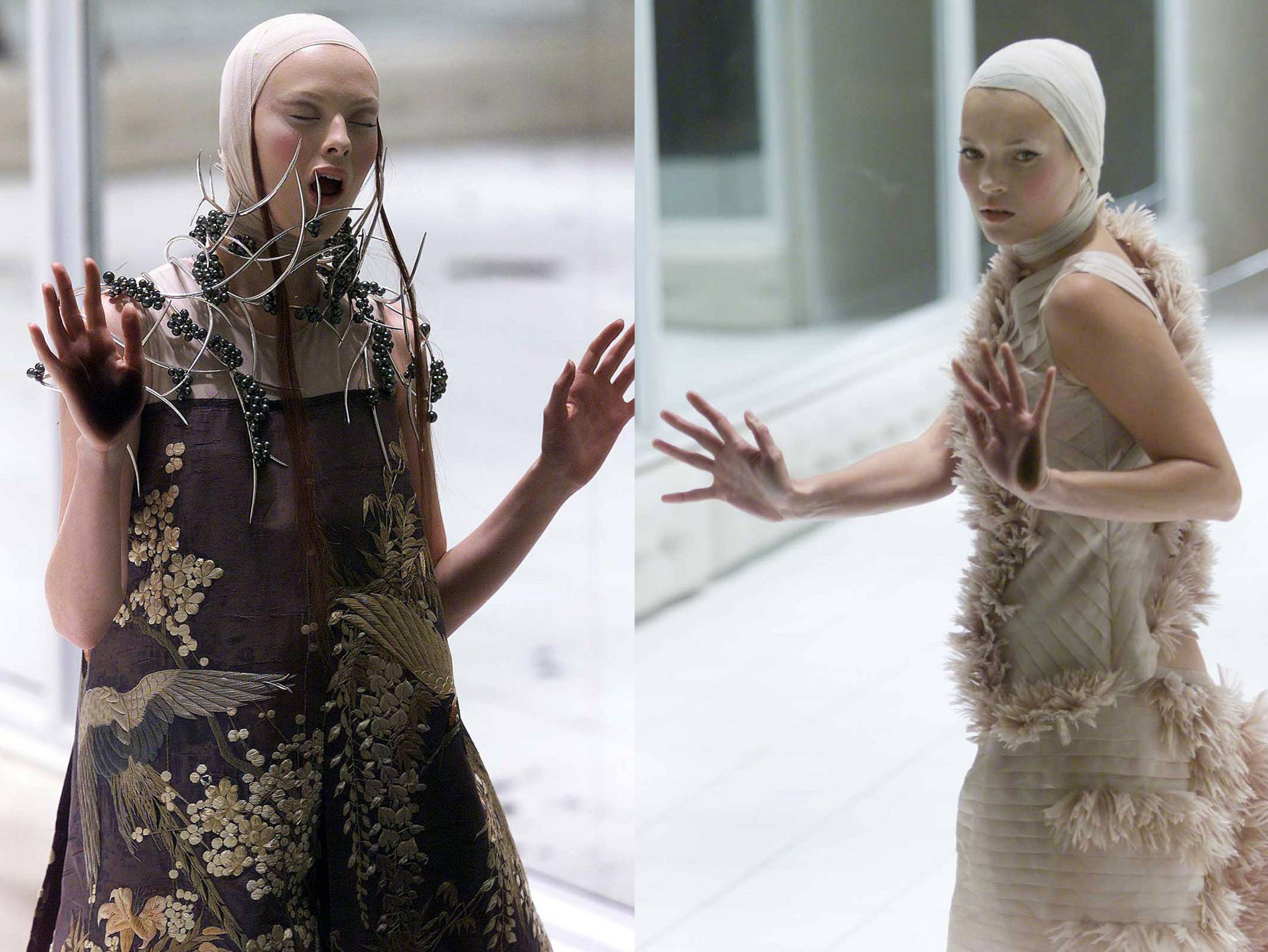 zdroj: Getty images, © Rex Features
Na tejto prehliadke sa objavili azda jedny z najkrajších šiat – šaty z mŕtveho pštrosa z ručne maľovaného červeno-čierneho peria, ktoré boli z vrchnej časti tvorené z mikroskopických sklíčok.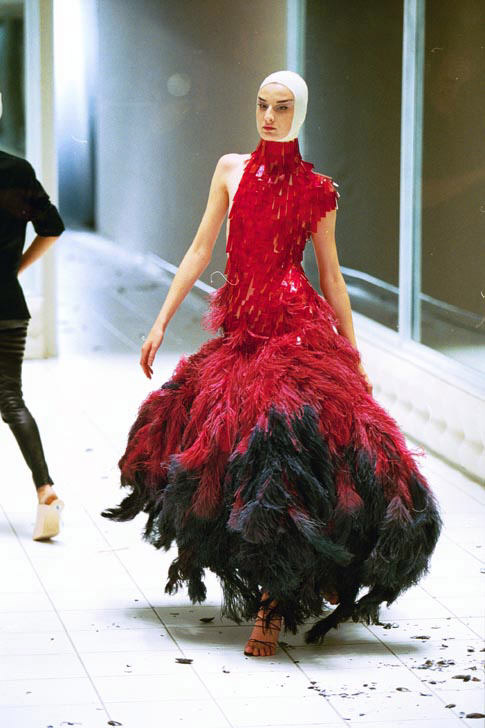 zdroj: pinterest
Jedny z najunikátnejších šiat, bol prepracovaný model, kde mikroskopické pásiky maľovaných sklíčok reprezentovali krv. "Pod každou vrstvou kože je krv" – Alexander McQueen.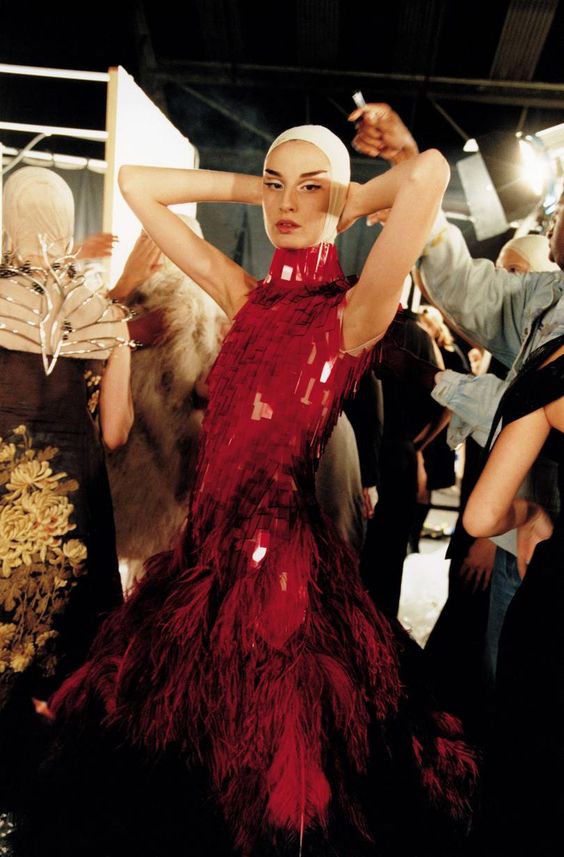 zdroj: blog.metmuseum. org, pinterest, Vogue.co. uk
2003 – prehliadka Veterný Tunel
Finále módnej show v roku 2003, prehliadka jesennej kolekcie, bola inšpirovaná trasami cestovateľov naprieč drsnou nehostinnou sibírskou krajinou.
Najpozoruhodnejším modelom bol tesný overal, na ktorom bola pripevnená obrovská parašutistická saténová kapucňa. Alexander McQueen show osadil do obrovského veterného tunela, kde modelky predvádzali akoby vo výšinách oproti silnému vetru. Jeho nádherné vyšívané kimono sa tak stalo vo vetre obrovskou vlajúcou kapucňou vytvárajúcou dramatické siluety.
Toto umenie, umelecké poňatie módnej show a stvárnenie jeho vízie bolo jeho ďalším vynálezom s príbehom, kulisami a postavami, ktorý neskôr chceli napodobniť aj ostatné značky.
V tomto úsilí sa mu však už nik viac nevyrovnal. Alexander McQueen, neprekonateľný módny génius, ktorého svet miloval alebo nenávidel, bol iba jeden.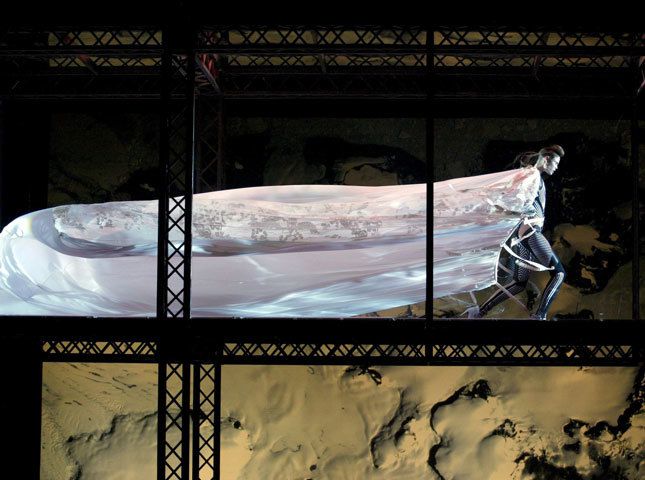 zdroj: harpersbazaar. com
Mandatory Credit: Photo by Mark Large/Daily Mail/REX (1133169a) Alexander Mcqueen Autumn / Winter 2003/2004 Collection. Paris Fashion Week – Pret-a-porter.
2006 – 2007 – Kolekcia Jeseň / Zima – Vdovy z Cullodenu
Prehliadka kolekcie Jeseň / Zima 2006 – 2007 bola plná očakávaní a napätia z ďalšej famóznej módnej show, na ktorú sa čakalo síce dlhšie, no tieto očakávania sa vyplnili. Opäť famózne módne predstavenie s umelecky prepracovanými modelmi do posledného detailu. Prehliadka niesla názov Vdovy z Cullodenu a vzdala hold škótskemu dedičstvu McQueena. Kolekcia bola zasvätená pamiatke vdovám, ktoré počas krvavých konfliktov stratili manželov . Alexander McQueen ju však venoval aj svojej najdrahšej priateľke Isabelle Blow, ktorá spáchala samovraždu.
zdroj: wireImage
Pokrývky hlavy sa stávali čoraz komplikovanejším McQueenovským prvkom kolekcií. Boli predmetom krásy samy o sebe, čoraz viac bizarnejšie zapadajúce do ideí módnych prehliadok – ako napríklad vtáčie hniezdo vyrobené z krídiel kačice a vajec posiatych Swarovského kryštálmi pre kolekciu 2006 "Vdovy z Cullodenu". Kolekcia mala pozoruhodnú úroveň ručnej tvorby vlastnú každému dizajnovému kúsku. Išlo doslova o prepracované majstrovské diela.
zdroj: pinterest
"Vo svete, kde každý človek a jeho pes je dizajnérom, bol Alexander McQueen skutočným géniom. Jeho talent bol úžasný. " vyjadril sa o dizajnérovi Phillip Treacy, ktorý s sním pracoval na vytváraní klobúkov pre jeho dychberúce módne show. Na tejto kolekcii spolupracoval tiež s dizajnérom Shaun Leane.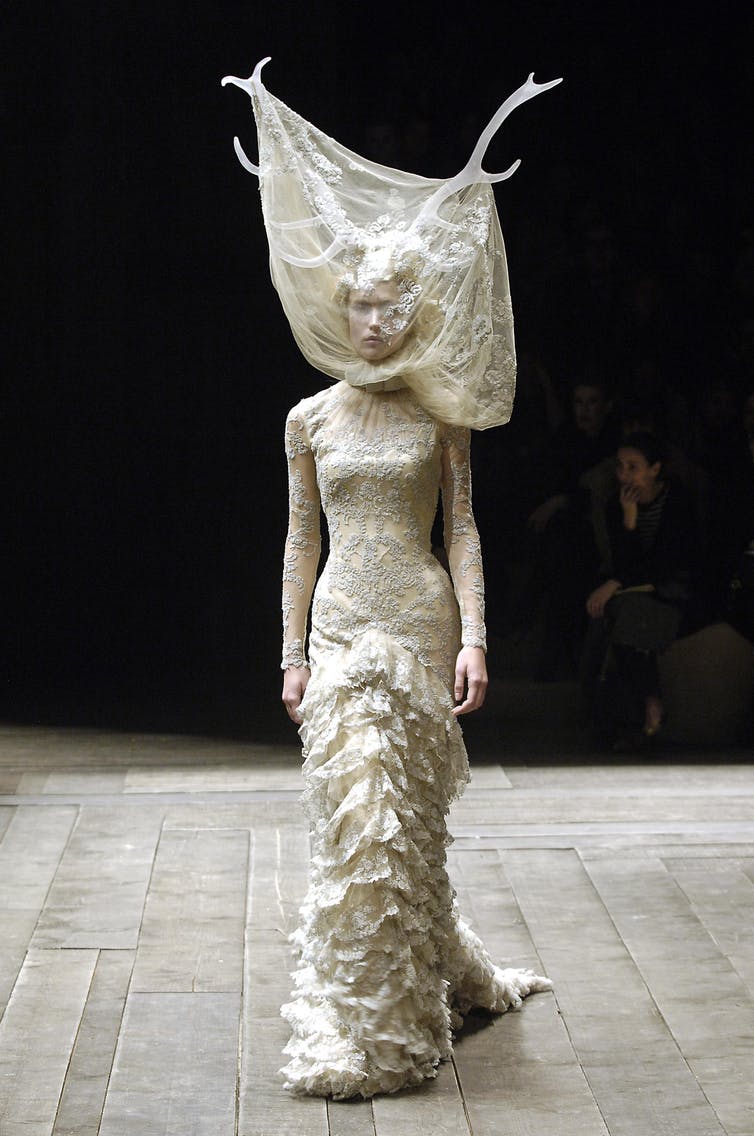 zdroj: anothermag. com
2007 – kolekcia venovaná zosnulej priateľke Isabelle Blow
Po tragickom skone svojej priateľky, múzy, mentorky a fanúšičky Isabelly Blow, ktorá spáchala samovraždu potom, čo sa dozvedela, že trpí ťažkou chorobou, venoval Alexander McQueen kolekciu Jar/Leto 2008 práve jej. Prehliadka plná hýrivých farieb a expresívnych motívov zo zvieracej ríše na modeloch – konkrétne vtáčie perá aplikované na šatách – mala byť poctou jeho najdrahšej priateľke.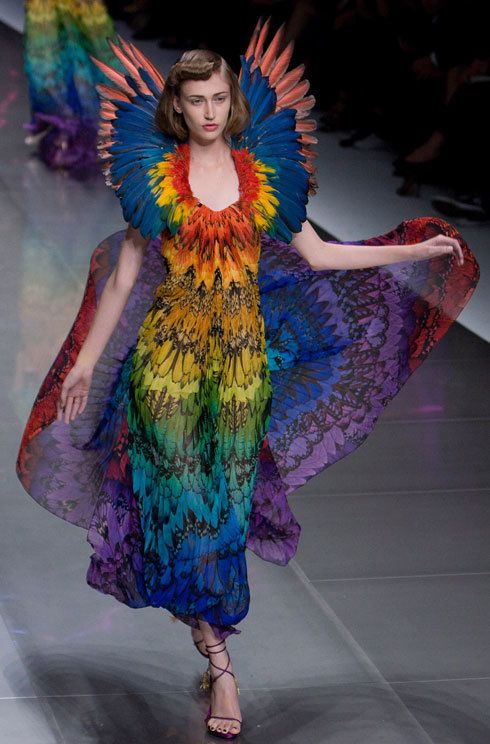 zdroj: pinterest
Isabella Blow bola známa pre svoj výrazný nadčasový módny look, lásku k riskovaniu a hravý spôsob narábania s farbami a proporciami. Módna show končila sériou kúskov na motívy vtákov, ktoré boli zvláštnym spôsobom v súzvuku s extraordinárnou módnou editorkou. Táto pamätná vtipná fotografia je v módnom svete preslávená – je na nej zachytená šťastná Isabella a v pozadí ju zrakom sleduje britská módna kritička a žurnalistka Suzy Menkes (ktorá sa doteraz vo veku 78 rokov zúčastňuje svetových týždňov módy na popredných miestach, v tzv. front row).
zdroj: twitter
Luxusná módna značka McQueen, ktorú dizajnér založil v roku 1992 má v súčasnosti svoju pokračovateľku – funguje vo Veľkej Británii pod vedením návrhárky Sarah Burton. Sarah s Alexandrom McQueenom v minulosti spolupracovala viac ako 14 rokov. Pravidelne vytvára kolekcie pre Paris Fashion Week a dá sa povedať, že istá vtlačená pečať slávneho módneho mága doby, Alexandra McQueena, je tam navždy zapísaná a stále citeľná.
Ďalšie skvostné momenty jeho hviezdnej kariéry, ikonické módne dizajny kolekcií si môžete pozrieť v ďalšom článku na pokračovanie, v jeho III. časti a to na tomto blogu v kategórii Fashion. Viac fotografií o tomto dizajnérovi a jeho kolekciách nájdete na facebook stránke: Mya Mirell Fashionista v albume Alexander McQueen.
V našich končinách (na Slovensku) bol uvedený na jar roku 2019 do kín dokumentárny film McQUEEN od režisérov Iana Bonhôteho a Petra Ettedguiho. Film krásne vykresľuje život a tvorbu slávneho módneho génia všetkých čias.