Lee McQueen – muž, ktorý pomohol móde 21. storočia, vzostupy a pády najvplyvnejšieho, najvýrazovejšieho a najprovokatívnejšieho dizajnéra doby
Paris Fashion Week, ktorý sa skončil 5. marca 2019 si uctil pamiatku zosnulého návrhára KARLA LAGERFELDA, módnej ikony a predstavil nové kolekcie velikánov módneho sveta. Jedným z nich, rovnako nezabudnuteľným, avšak úplne odlišným, bol aj britský návrhár Alexander McQueen, ktorého legenda ostala živá a pokračuje v jeho značke pod vedením kreatívnej riaditeľky Sarah Burton. Najnovšia kolekcia módneho domu Alexander McQueen bola predstavená práve počas uplynulého Paris Fashion Weeku, 25. februára – 5. marca 2019, čítaj predchádzajúci článok na tomto blogu.
ALEXANDER McQUEEN, vlastným menom Lee McQueen, bol tvárou módy konca 20. storočia s výrazným presahom do nového tisícročia. Narodil sa 17. marca . 1969 v Londýne ako najmladší zo šiestich detí.
MÓDNY VÍCHOR
Do módneho sveta vstúpil ako víchor. Výnimočná krása jeho šialených kreácií a vízií a originalita modelov z neho spravila jednu z najväčších módnych ikon. Za krátky 40-ročný život dokázal vytvoriť nezabudnuteľné módne show a kolekcie, ktoré očarili celý svet a stal sa módnou legendou. Jeho schopnosť vyrozprávať príbeh skrz módu bola najúžasnejšia črta, ktorá ho vystrelila na vrchol v jeho hviezdnej kariére. Lee McQueen bol jedným z najtalentovanejších dizajnérov všetkých čias a ovplyvnil tiež módu v ére po ňom.
Začiatky mladého Lee McQueena boli rôzne. Srdcom túžil po štúdiu na umeleckej škole, no bol nútený pracovať ako učeň. Rebélia mu však bola vlastná, na nejednom saku, podšívke, vyšil neraz drzé provokatívne nápisy. Neskôr sa k štúdiu na prestížnej škole Central Saint Martins dostal a práve tu očaril vplyvnú módnu stylistku Isabellu Blow. Tá s úžasom skúpila jeho modely a odštartovala jeho hviezdnu kariéru.
Isabella a Lee sa stali veľmi dobrými priateľmi, no jej náhla smrť (spáchala samovraždu) ho hlboko zasiahla. Viac fotografií o tomto dizajnérovi a jeho kolekciách nájdete na facebook stránke Mya Mirell Fashionista v albume Alexander McQueen.
Nasledovali kolekcie, v ktorých bolo cítiť smútok, znaky morbídnosti a sado-maso motívy ako prehliadka Čarodejnice zo Salemu a ďalšie.
LEE McQUEEN – CHULIGÁN BRITSKEJ MÓDY
Svoju vlastnú značku Alexander McQueen založil v roku 1992, pričom rebélia, ktorú mal v krvi od módnych začiatkov, bola citeľná. Mladý módny návrhár žil z podpory a fondov, z ktorých financoval svoje prvotné módne počiny, v podstate žil v chudobe. Postupne sa vypracoval a vďaka škandalóznym šokujúcim návrhom a búrlivému životnému štýlu dostal prezývku "chuligán britskej módy."
GIVENCHY
V roku 1996 získal Alexander angažmán v značke Givenchy a stal sa hlavným návrhárom francúzskeho módneho salónu. V jeho doterajšej roli nahradil podobne šialeného návrhára Johna Galliana, avšak len do roku 1999. Francúzi pre tohto "chuligána módy" vôbec neboli nadšení. Kontrakt podpísal na 10 kolekcií ročne, pričom vytváral zaujímavé, úplne odlišné návrhy, no tie sa ani zďaleka netešili veľkým úspechom. Kritika ho vôbec nešetrila.
Givenchy , Alexander McQueen, Haute Couture, jeseň / zima 1997
Sám Lee McQueen nebol s pôsobením v tejto značke stotožnený a neskôr sa vyjadril, že tento čas strávený v Givenchy nebol šťastným rozhodnutím. Navyše nemal rád Francúzov a ani francúzske jedlo. Popri práci v tejto značke si paralelne rozbiehal vlastnú, ktorej sa začal naplno venovať po odchode z módneho domu aj za podpory talianskej značky Gucci, ktorá mu pomohla v rozlete. V jeho tvorbe ho tiež podnecovala stála mentorka a priateľka Isabella Blow, ktorá v ňom videla vizionára a budúcu hviezdu a verila v jeho potenciál, čo sa aj stalo.
Jeho prehliadky boli plné sexuálnych podtextov, provokácie a šokujúcej fantázie. Reagoval na témy ako smrť, sado-maso, násilie a náboženstvo, ktoré neskutočným spôsobom pretavil do svojich kolekcií. Z módnych show urobil strhujúce módne predstavenia, ktoré sledovali diváci s nemým úžasom a ktoré sa do módnych dejín zapísali zlatými písmenami .
Z bežného priemeru, ktorý nemal rád unikal a do prehliadok zapojil modelky rôznych proporcií a obmedzení – atypické, obézne a telesne postihnuté.
Hendikepovaná modelka Aimee Mullins bez nôh predviedla vlastné nohy vyzerajúce ako čižmy. Viac fotografií o tomto dizajnérovi a jeho kolekciách nájdete na facebook stránke Mya Mirell Fashionista v albume Alexander McQueen.
NAJZAUJÍMAVEJŠIE KOLEKCIE ALEXANDRA MC QUEEN
1995 – prehliadka HIGHLAND RAPE – Znásilnenie Výšin
Prvú kolekciu predviedol Lee McQueen v Londýne, niesla názov "Highland Rape" a šokoval ňou celý módny svet. Kolekcia, ktorej témou bolo britské vraždenie v Škótsku z 18. storočia, bola sexi, dráždivá, vulgárne provokatívna a šokujúco drsná. Modelky postriekané krvou boli odeté v rozpáraných šatách z čipky, rozrezaného tartanu a polonahé sa tackavo vypotácali na mólo, ktoré bolo posiate mŕtvymi kvetmi.
Video z prehliadky si môžete pozrieť tu: https://www.youtube.com/watch?v=5Fs2nEKCT1o
Prehliadka bola stvárnená na tému násilného obsadenia škótska Angličanmi. Sám návrhár pochádzal z rodiny zo 6 detí so škótskymi koreňmi.
1996 prehliadka HUNGER – Hlad
O nič pozitívnejšiu tému niesla prehliadka s názvom Hunger. Modelky behali po móle v roztrhaných šatách, ktoré stelesňovala téma otroctva a poníženia a taktiež sa tu objavila krv.
Za motív si vzal Lee McQueen vampírsky film Tonyho Scotta the Hunger (1983).
The Hunger – Hlad, zdroj: pinterest1996 – prehliadka DANTE
Počas New York Fashion Weeku predviedol kolekciu s názvom Dante, krásne temnú, na ktorej predstavil šokujúce bedrové nohavice tzv. the bumsters. Modelky mali na tvárach masky s krížom.
1997 – 98 – THERE IS A JUNGLE OUT THERE – Vonku je džungla
OCENENIA
Šokujúceho návrhára si však verejnosť aj kritici postupne obľúbili a v rokoch 1996, 1997, 2001 a 2003 získal ocenenie British Designer of the Year – britský návrhár roka. Od magazínu GQ získal v roku 2007 titul Menswear Designer of the Year a taktiež ocenenie Most Excellent Commander of The British Empire (CBE) od britskej kráľovnej. Je považovaný za najlepšieho britského návrhára všetkých čias. V roku 2007 otvoril butiky v Londýne, Los Angeles, Miláne, New Yorku a v Las Vegas.
Módny návrhár Alexander McQueen viedol náročný, pracovne hektický život, ktorý sa odrazil na jeho zdraví. Vypäté tempo, ktoré ťahal dlhé roky, bolo zničujúce, do kontaktu sa dostal aj s drogami, kokaínom. Povráva sa, že v týchto kruhoch to nie je nič výnimočné, keďže sa kamarátil s modelkou Kate Moss, ktorá v tom čase bola častokrát vo víre neblahých večierkov. Jeho turbulentný hektický život ako na húpačke, kedy musel stíhať niekoľko kolekcií ročne, plný ovácií a vypätých emócií, osobný život plný sklamaní a frustrácií z vlastnej rodiny, ktorá dlho nevedela prijať jeho homosexualitu…. bol zároveň postupnými klincami do rakvy. Všetky tieto emočné výkyvy s ním silno zamávali, pričom poslednou bodkou bola smrť dlhoročnej priateľky a mentorky Isabelly Blow a neskôr aj vlastnej matky. Tieto udalosti mali za následok, že talentovaný módny génius a vizionár Alexander McQueen sa už z toho nespamätal a nepostavil na nohy. Jeho depresia dospela k vyvrcholeniu.
Skonal tragicky obesením vo februári roku 2010 asi týždeň po smrti svojej matky. Plánoval sa vraj zabiť priamo na móle. O jeho živote, ktorý bol sínusovou krivkou osobných pádov, bolestí, vzostupov, radostných momentov a nádejí, sa môžete dozvedieť vo filme s rovnomenným názvom, ktorý prebiehal aj na Slovensku od januára 2019. V októbri sa konala v Bratislave jeho predpremiéra, na ktorej som sa bola osobne pozrieť a vychutnať si pohľad na život tohto génia.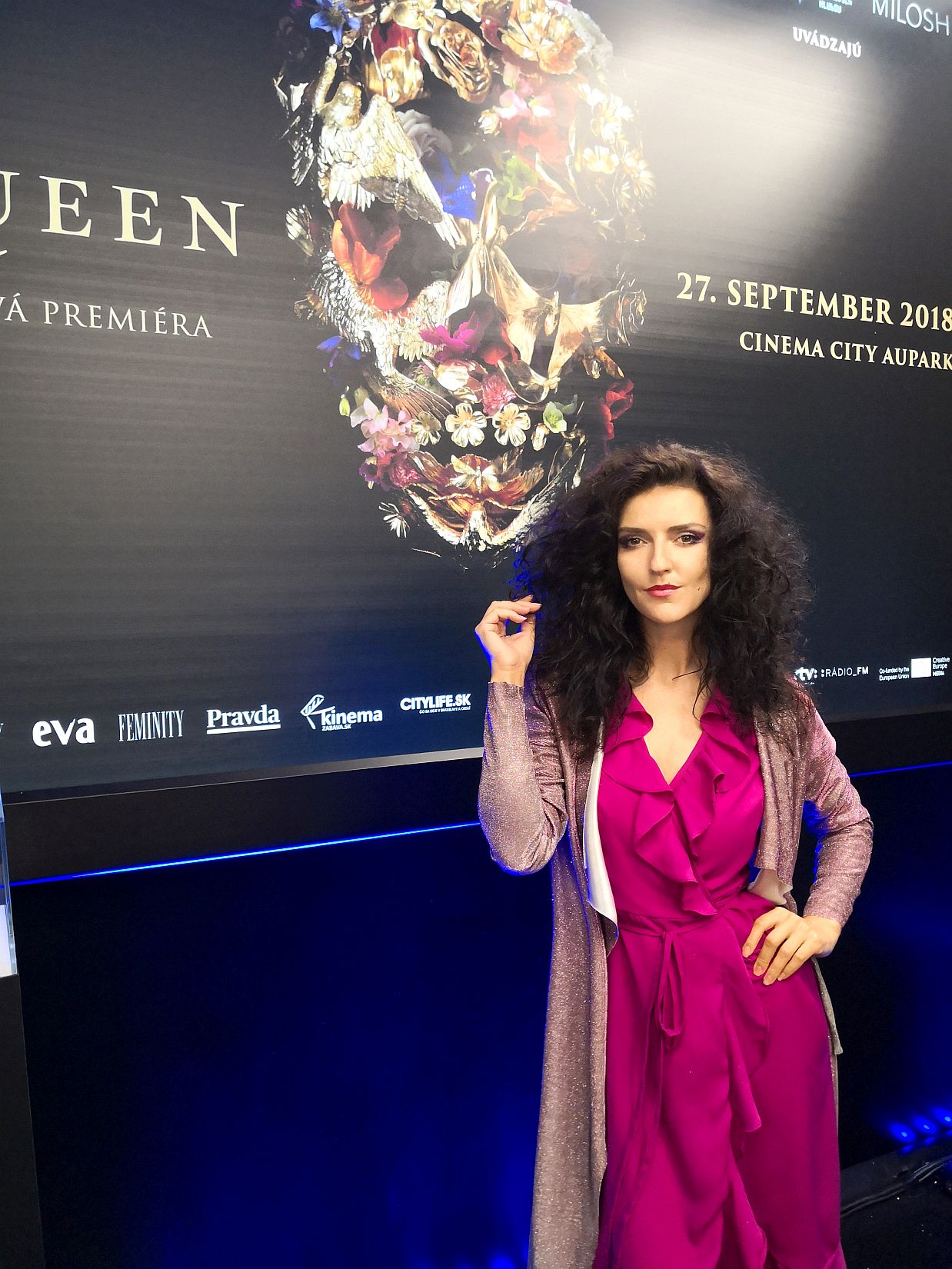 Ďalšie skvostné momenty jeho hviezdnej kariéry a unikátne ikonické dizajny, si môžete pozrieť v druhom pokračovaní článku o Lee McQueenovi na tomto blogu.
Viac fotografií o tomto dizajnérovi a jeho kolekciách nájdete na facebook stránke: Mya Mirell Fashionista v albume Alexander McQueen.