Uchvacujúce vzhľady z módnej šou Balenciaga , Jar/Leto 2023 – moc, chamtivosť a športové oblečenie zabalené do amerického sna, 23. máj 2022
Módna prehliadka značky Balenciaga pre Jar/Leto 2023 bola veľmi očakávaná z mnohých dôvodov. Ako prvý záblesk sa objavilo posielanie falošnej hotovosti ako pozvánky. Ďalej vo vzduchu vírila špekulácia o spolupráci so značkou Adidas vďaka uniknutému prototypu tenisiek. No najmä do poslednej chvíle sa vôbec netušilo, či a kde sa bude prehliadka vôbec konať. Zahalená rúškom tajomstva, módna šou kolekcie Balenciaga Jar/Leto 2023 sa nakoniec konala na burze cenných papierov v New Yorku.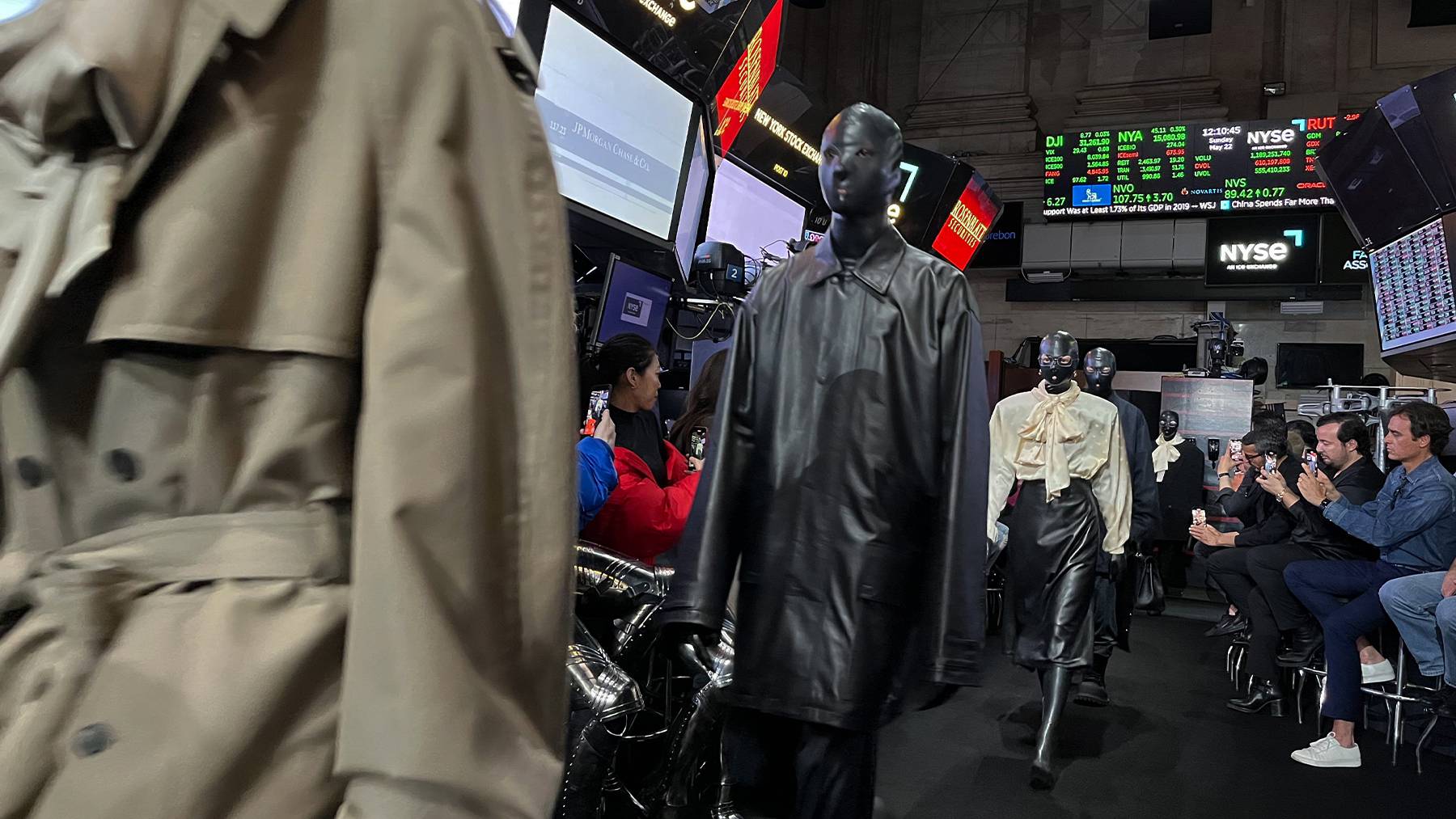 Kreatívny riaditeľ značky Balenciaga, Demna Gvasalia je jednoducho majstrom šoumenstva a palcových titulkov. Za jeho vizuálne úžasnými mólami a kolekciami je vždy hlbší význam, či už je to posadnutosť našej spoločnosti celebritami (v kolekcii Jar/Leto 2022) alebo hrôzy vojny (kolekcia Jeseň/Zima 2022).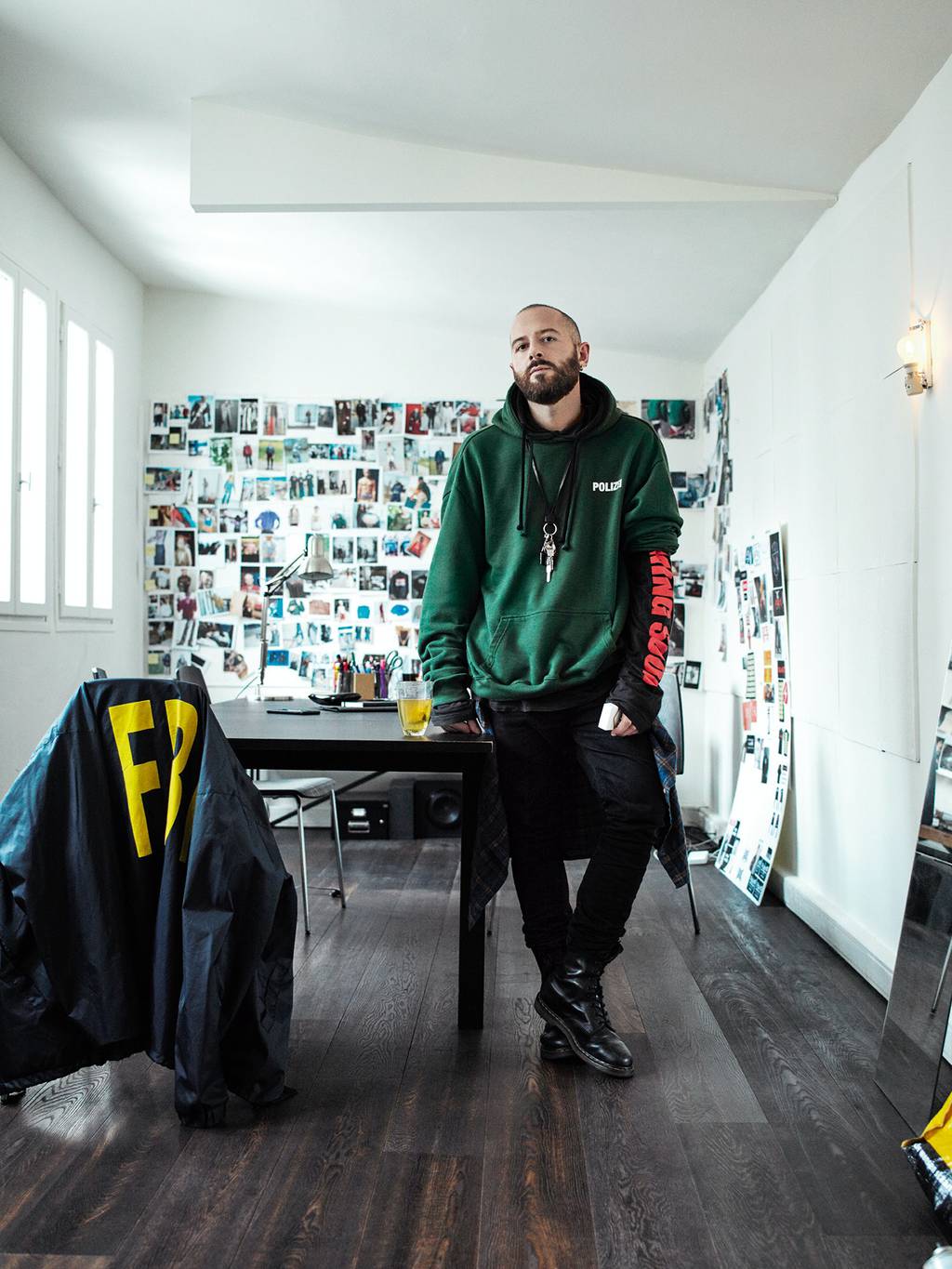 Kolekcia Balenciaga pre Jar/Leto 2023 ukázala futuristickú dystopiu s prevažne s čiernou paletou, hypnotickou hudbou a úplne novou spoluprácou so značkou Adidas.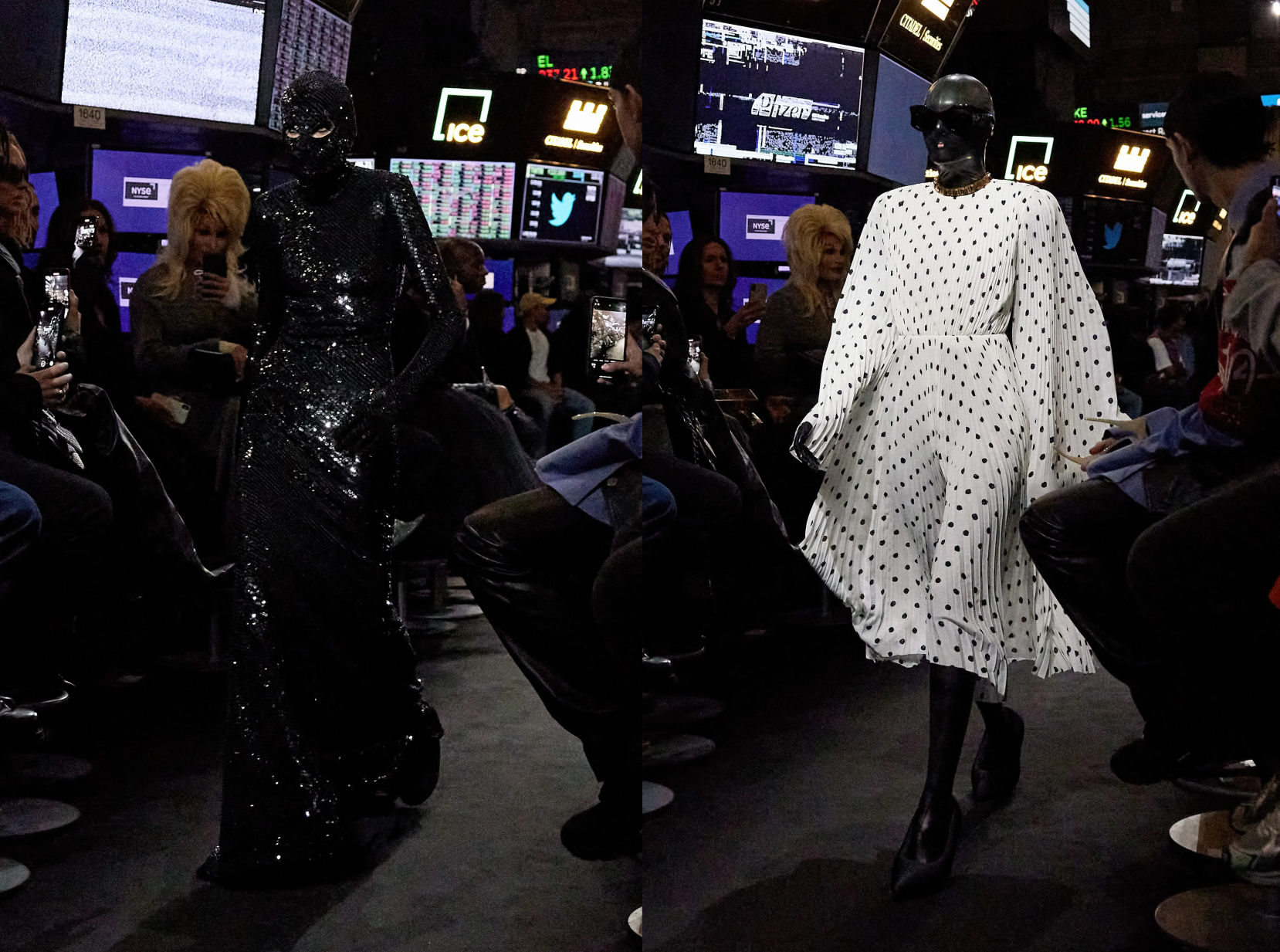 Značka Balenciaga, verná svojej forme, priniesla ďalší faktor prekvapenia. Miesto konania na burze cenných papierov bolo skutočne nepredvídateľné, vysoko stávkové a nestále prostredie dokonale odzrkadľovalo trúfalý, do-it-all prístup maison (značky). Nad hlavami modelov a modeliek sa na súbore obrazoviek mihali obchodné čísla a ikony veľkých spoločností ako Walt Disney, Coca-Cola, Twitter a Bank Of America. Šou pritom sprevádzala zlovestná psychedelická hudba, zo začiatku a v sporadických časoch k mierne zlovestnej a dystopickej atmosfére prispievali aj poruchy samotných obrazoviek.
KOLEKCIA BALENCIAGA, JAR/LETO 2023
Prehliadka kolekcie Balenciaga Spring 2023 sa konala 23. mája 2022, no svet módy ju očakával už niekoľko týždňov. Zdá sa, že pre túto sezónu sa Gvasalia v kolekcii Balenciaga zameral na moc, chamtivosť a športové oblečenie, skoro všetko zabalené do amerického sna.
Módna šou začala pulzujúcou strašidelnou techno hudbou, ktorá pôsobila ako prechod medzi soundtrackom z The Matrix a epickou diskografiou hudobného dua Daft Punk. Modelky kráčali za zvuku hudby zahalené v latexových festišistických oblekoch s tvárami a hlavami skrytými v čiernych maskách (vidno im bolo len oči a ústa) .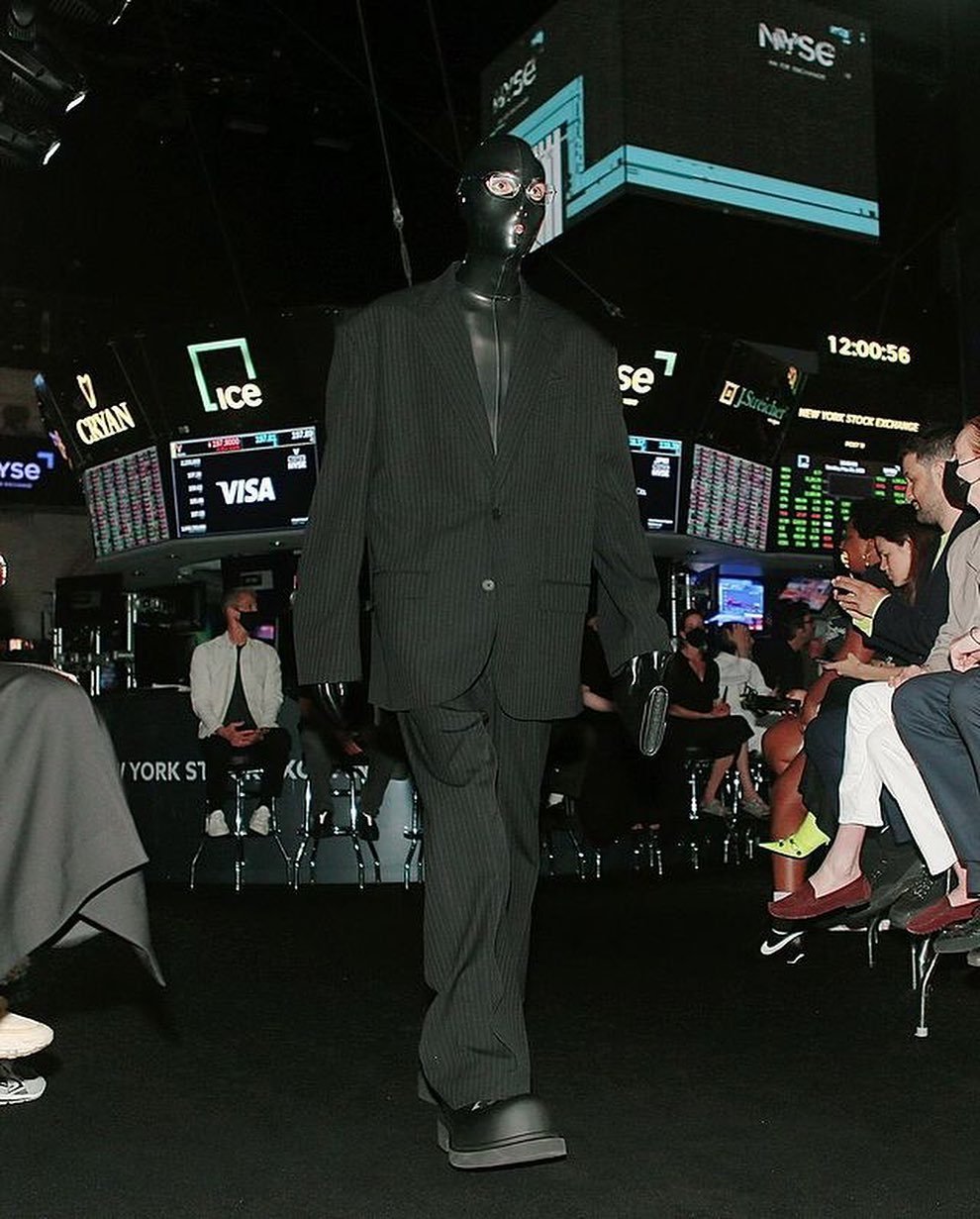 V tejto prvej časti módneho predstavenia uviedol Demna aj nejaké variácie – trochu ostrej sily z 80-tych rokov , večerné róby , dlhý khaki dvojradový kabát, ktorý rozbil všetku tu čiernu, no všetko malo rovnaký zlovestný tón.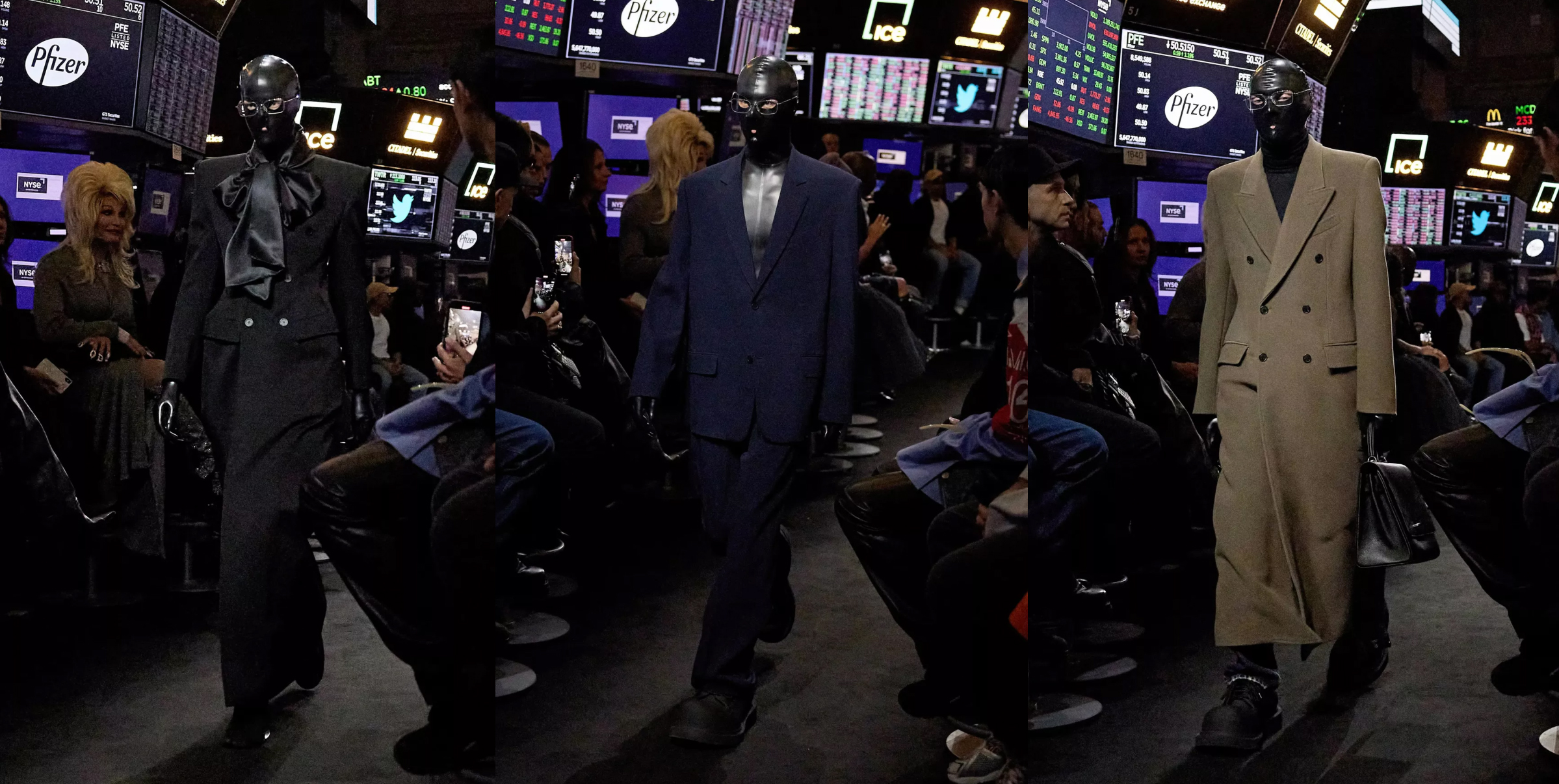 Kolekcia tiež vzdala poctu 80-tym rokom silnými vypchatými ramenami, ostrými oblekmi a večernými šatami.
V druhej polovici show došlo k zmene tempa, pričom hudba sa zrazu zmenila na chvejúci sa melancholický cover skladby Franka Sinatru – New York, New York. Kúsok po kúsku sa vzhľady rozjasnili, najprv v siluete – tekuté sukne, plyšové blúzky s mašľou, úplety, stále väčšinou v čiernej farbe a potom vo farbe krémovej a jemnej myšacej.
Modelky vyšli vo farebných maskách s hravými chvostami a vrkočmi. Medzitým bolo všetko doplnené Balenciaga topánkou sezóny, nadupanými lodičkami a všetkými druhmi obuvi.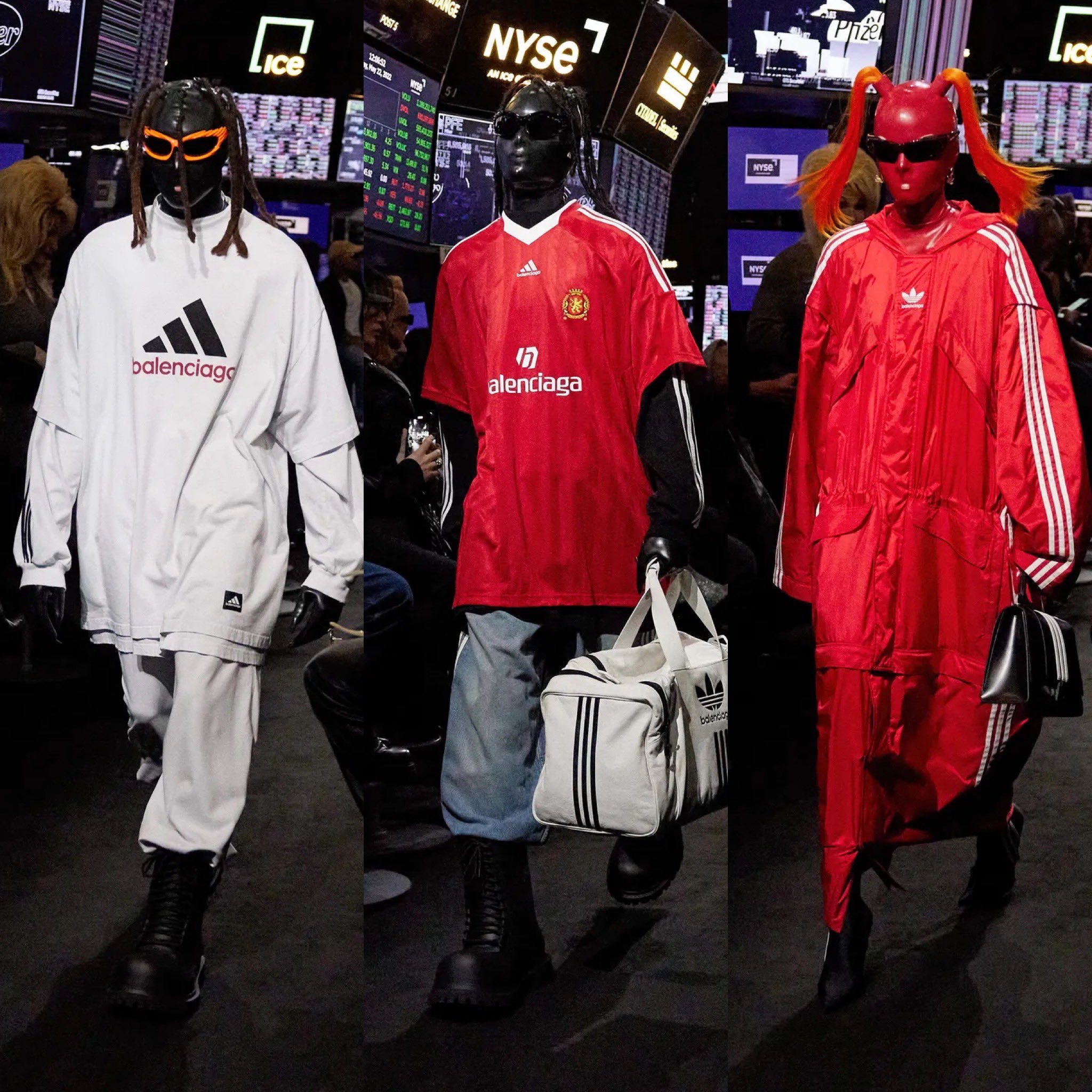 Pozoruhodnými modelmi tejto kolekcie boli nadrozmerná džínsová súprava s typickým motívom adidas s tromi pruhmi, neónovo žltý a modrý župan a šaty s kamienkami po zem.
NAJRUŠNEJŠÍ MOMENT ŠOU – SPOLUPRÁCA SO ZNAČKOU ADIDAS
Najrušnejší moment nastal, keď parížsky maison debutoval s ponukou spolupráce so značkou Adidas, o ktorej sa už povrávalo.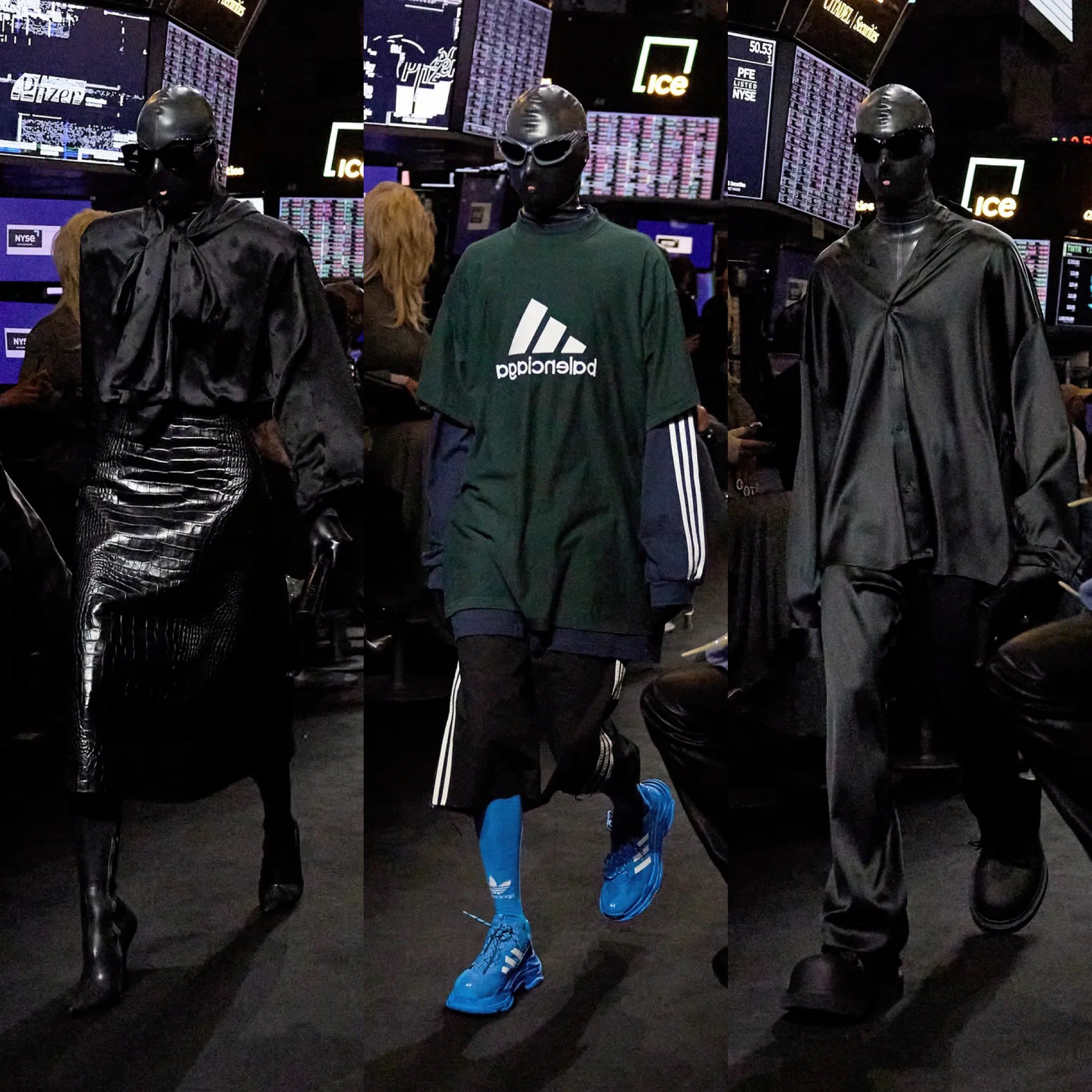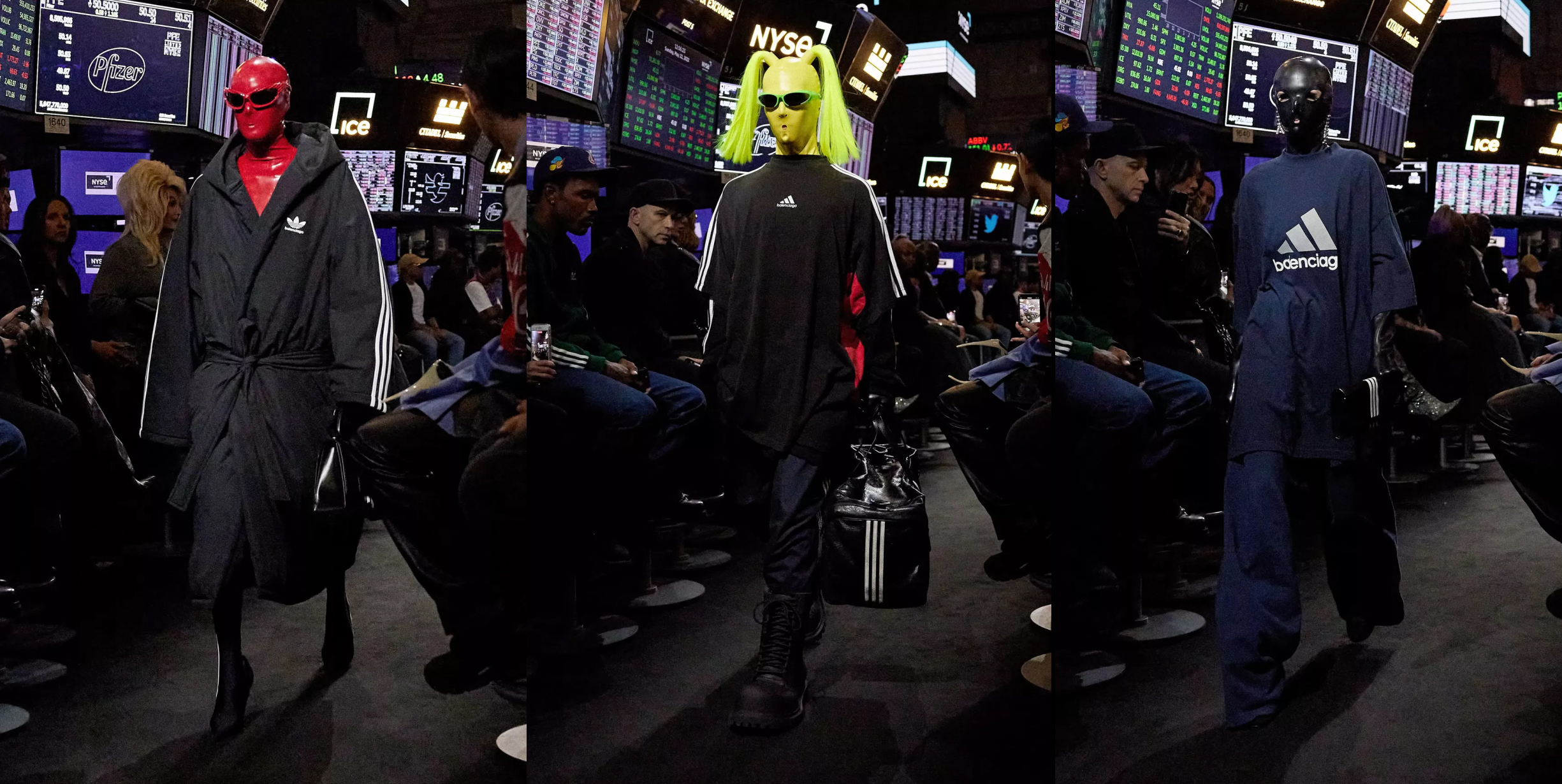 Objavilo sa aj známe trojpruhové logo aktualizované textom "Balenciaga", čo vydláždilo cestu pre spoluprácu Balenciaga a Adidas. Od plyšových mikin s kapucňou a teplákových búnd až po futbalové dresy a tričká boli všetky modely označené logom športu alebo logom trojlístka nad menom Balenciaga malým znakom Adidas.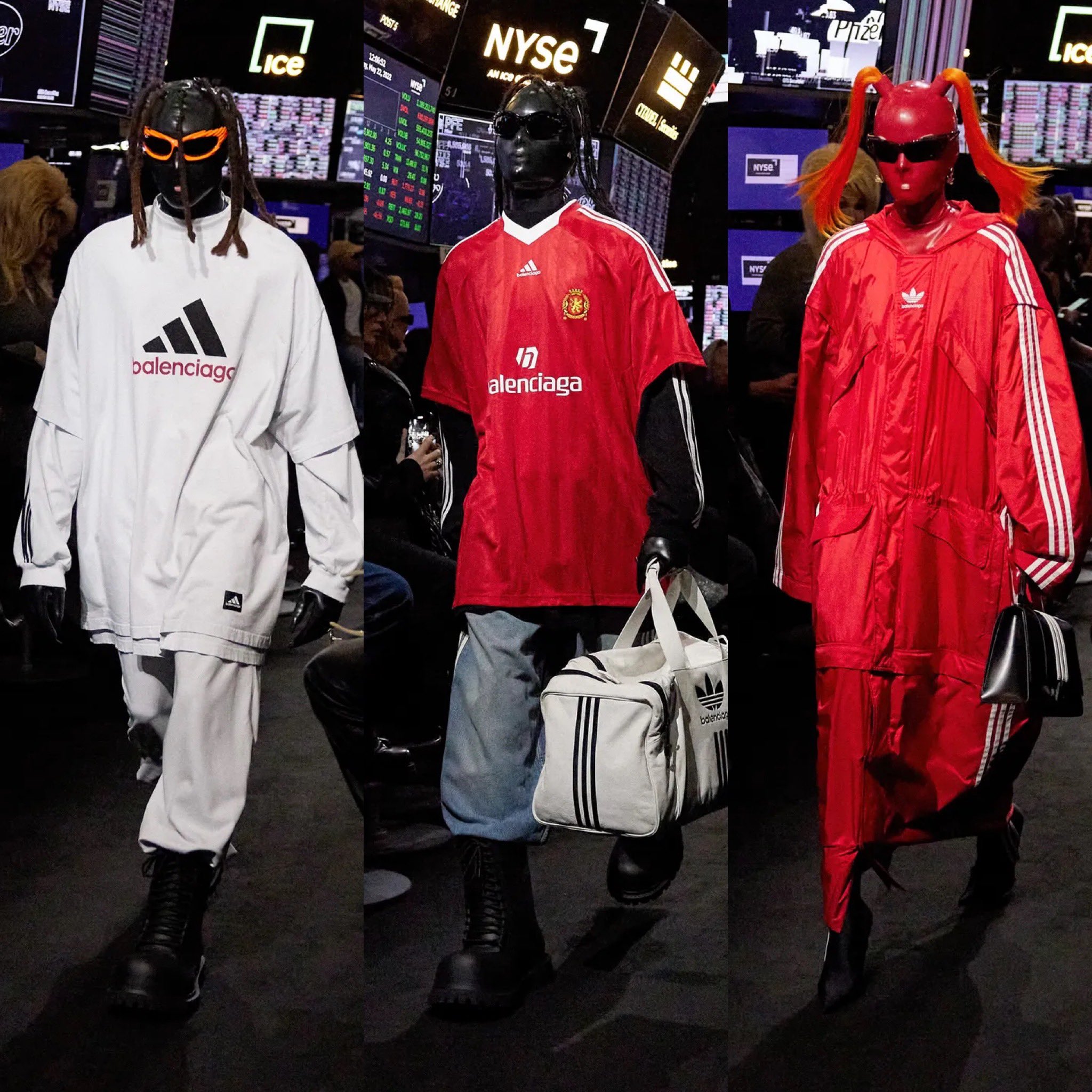 "Spolupráca medzi Balenciaga a Adidas rekontextualizuje prvky športového oblečenia, ktoré boli súčasťou kreatívneho jazyka Balenciaga", uvádza sa v poznámke k módnej šou, ktorá tiež odhaľuje, že výber kusov je teraz možné zakúpiť a predobjednať na stránke balenciaga. com a na obmedzenú dobu v obchode Madison Avenue v New Yorku. "Rada konfekcie, topánok, tašiek, šperkov a doplnkov je označená logom športu alebo trojlístka nad menom Balenciaga malým písmom adidas."
Toto určite nie je prvýkrát, čo sa atletická značka spojila s luxusným domom – svoje sily spojila aj značka Gucci, Wales Bonner a Khaitom.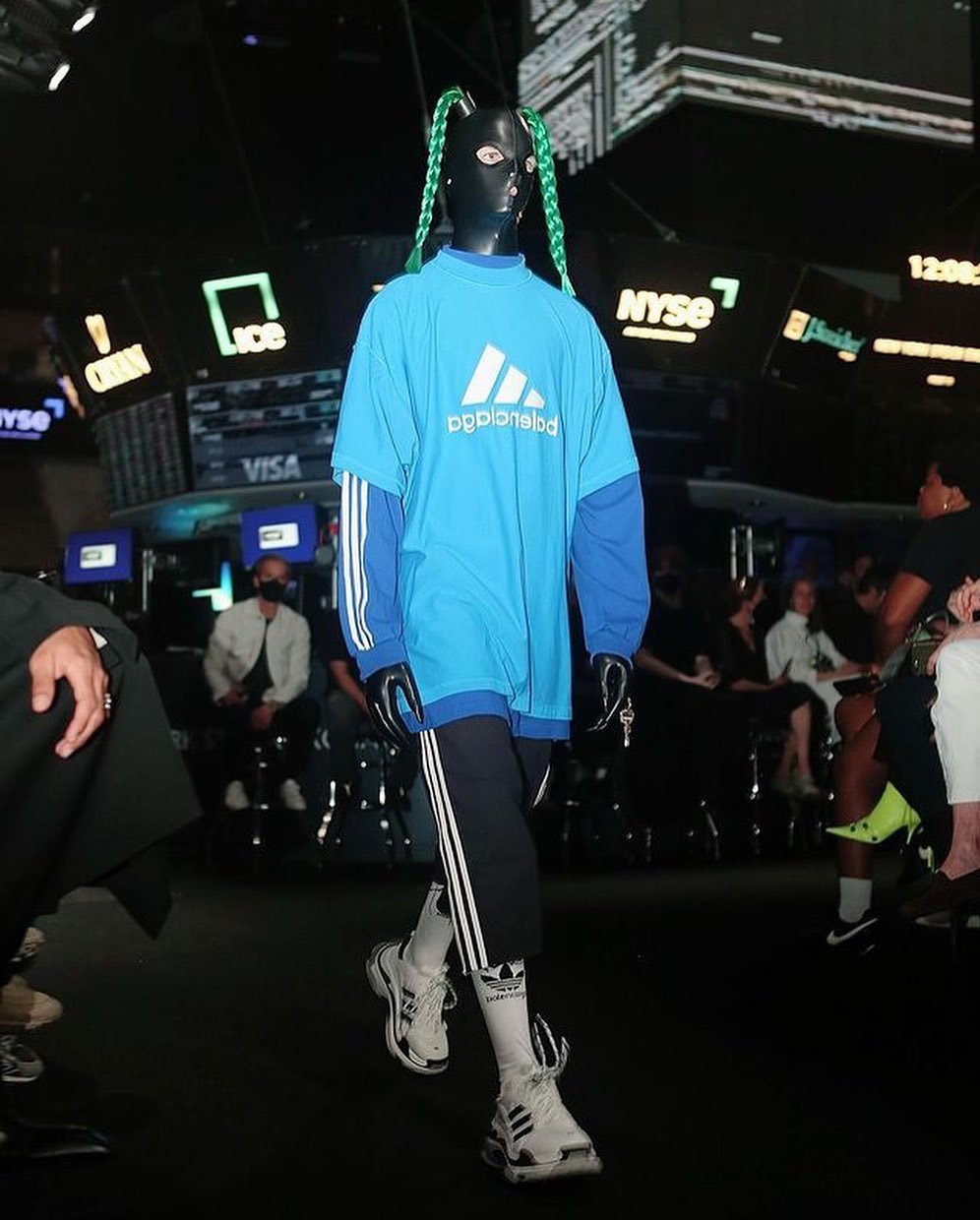 Vo výsledku sa kolekcia Balenciaga, Jar/Leto 2023 ako celok zdala, že odrážala správu o neúnavnom, ziskom poháňanom prúde Ameriky, ale aj o uvoľnenom a nenútenom postoji jej občanov k životu.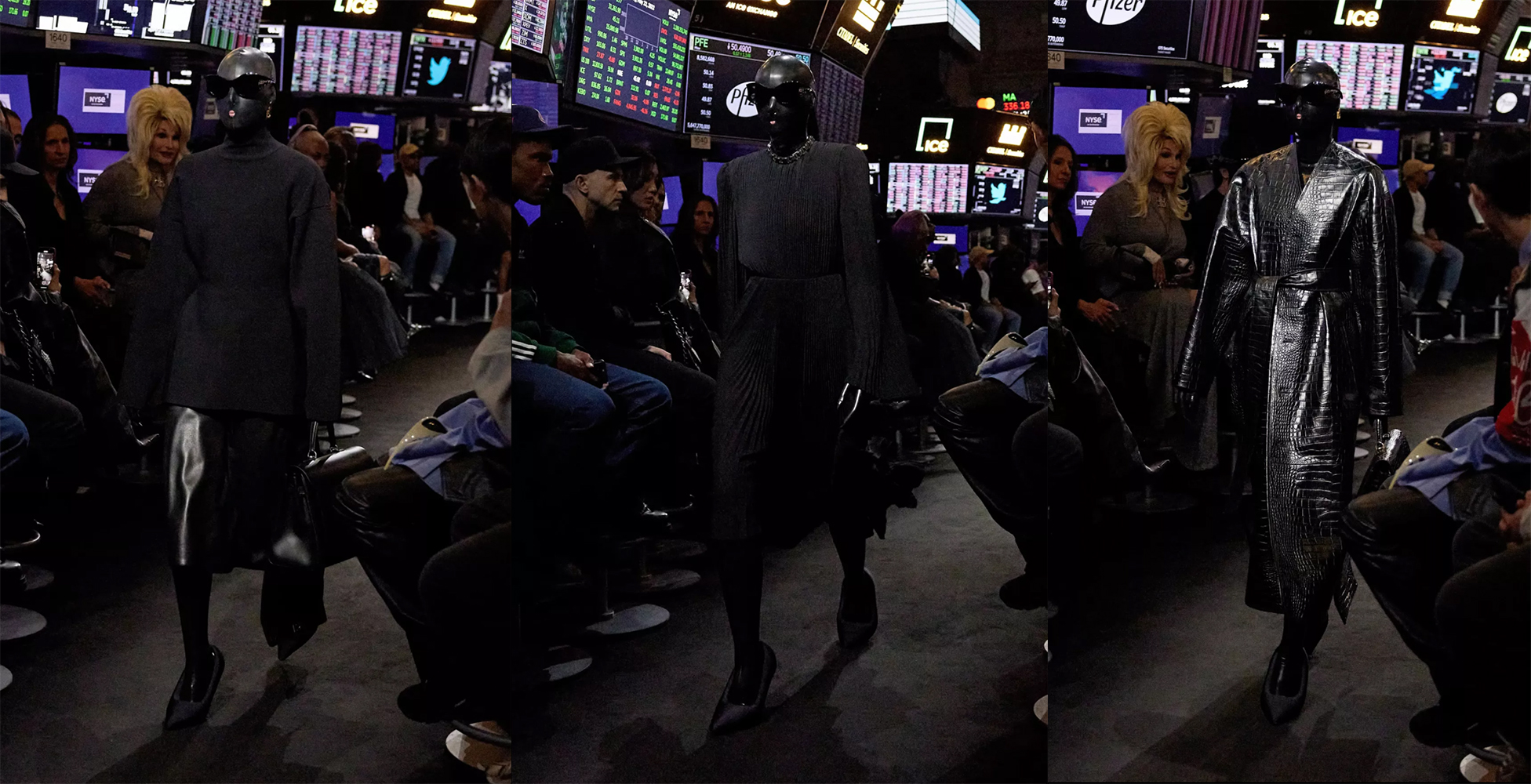 obrázky: © Courtesy via Getty Images, Vogue, Balenciaga, pinterest
Sledujte Facebook stránku: Mya Mirell Fashionista a Instagram: mya_mirell .