BOTTEGA VENETA – kolekcia pre jeseň / zimu 2019-20, Milan Fashion Week, Móda Ženy , 22. február 2019
Taliansky týždeň módy konaný v Miláne – Milan Fashion Week, Móda Ženy – priniesol pre zimnú sezónu Jeseň / Zima 2019 -20 najmä luxusné materiály, zdobenia a živé farby. Milánski módni dizajnéri sa postarali o trendy pre túto sezónu a to: káro, ultra glam štýl, dramatické výstrihy, mašľové detaily, romantické goliere, chunky boots alias "bagandže", vojenský štýl a estetiku matrixu.
O najexpresívnejších prehliadkach z prehliadkových mól a podrobnejšie o trendoch a návrhároch z Milan Fashion Weeku, február 2019, sezóna Jeseň / Zima 2019-20 sa dočítate v predchádzajúcich článkoch, viac (foto a video) – sledujte facebook stránku blogu s názvom Mya Mirell Fashionista a instagram mya_mirell.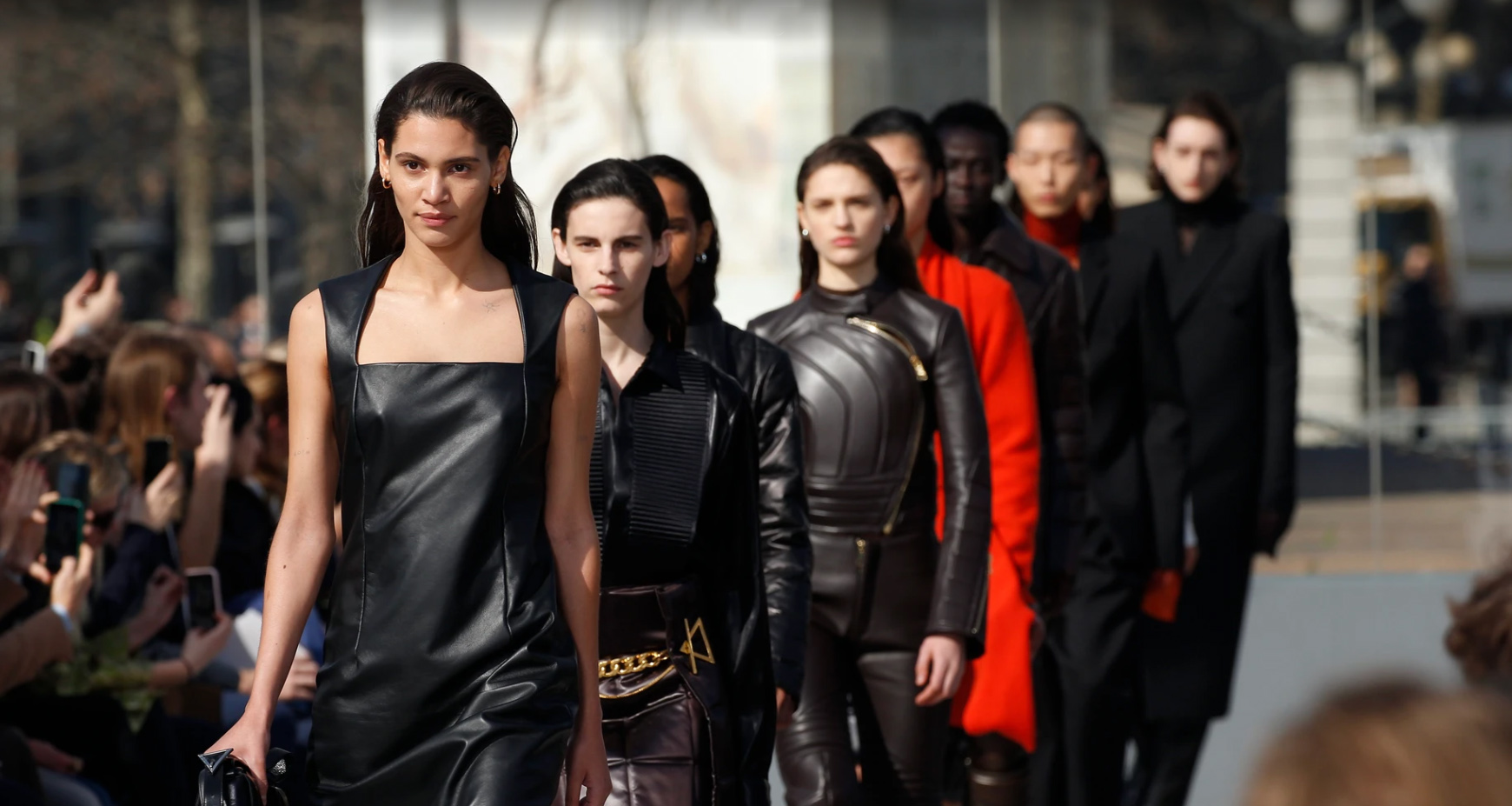 BOTTEGA VENETA a ESTETIKA MATRIXU
Do popredia sa počas februárového Milan Fashion Weeku (02/2019) dostala estetika matrixu ako nový trend pre sezónu Jeseň / Zima 2019 – 20.
Talent Daniela Lee debutujúceho v pozícii kreatívneho riaditeľa značky Bottega Veneta bol jasne viditeľný. Zimnú kolekciu pre mužov a ženy vytváral pozoruhodný mix odvážnych kontrastov, óda na slobodu, vlastné vyjadrenie a senzualita.
Ikonický čierny kožený look z Matrixu, ktorý začínal sláviť návrat minulý rok počas Milan Fashion Weeku v prehliadkach kolekcií pre sezónu jeseň 2019 zosilnel. Tento trend priniesla najmä značka BOTTEGA VENETA a taktiež značka Alberta Ferretti.
Masívne bojové čižmy k celkovému bojovému looku a Matrix štýlu ešte viac dopomohli.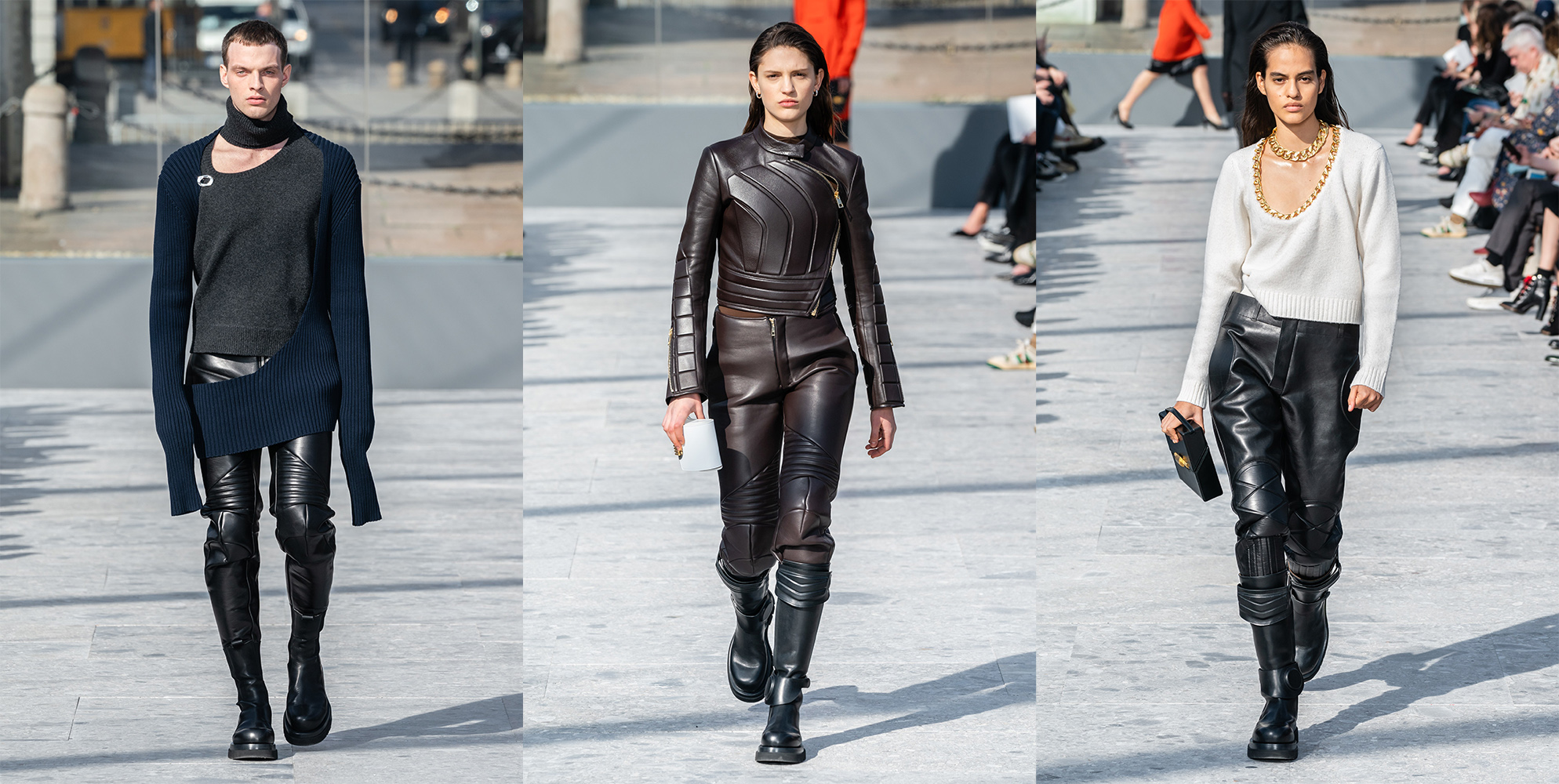 Prehliadka sa konala v otvorenom priestore milánskeho Parco Sempione, Arco della Pace, za denného svetla 22. februára 2019 počas slnečného dňa.
Tradícia a modernita sa stretli vo vzájomnom súlade v heterogénnej kolekcii zostavenej z tmavých, minimalistických, sexy a nadčasových prvkov. Je to príklad jemného rozlišovania a dôrazu na detaily, kombinácie vzácnych látok a precíznych siluet.
Majstrovská úroveň a zručnosť je srdcom identity značky, vždy citeľne badateľná, súčasná v každom dizajne a vyvíjajúca sa vďaka dôraznej dávke modernity kombinovanej s klasickými technikami.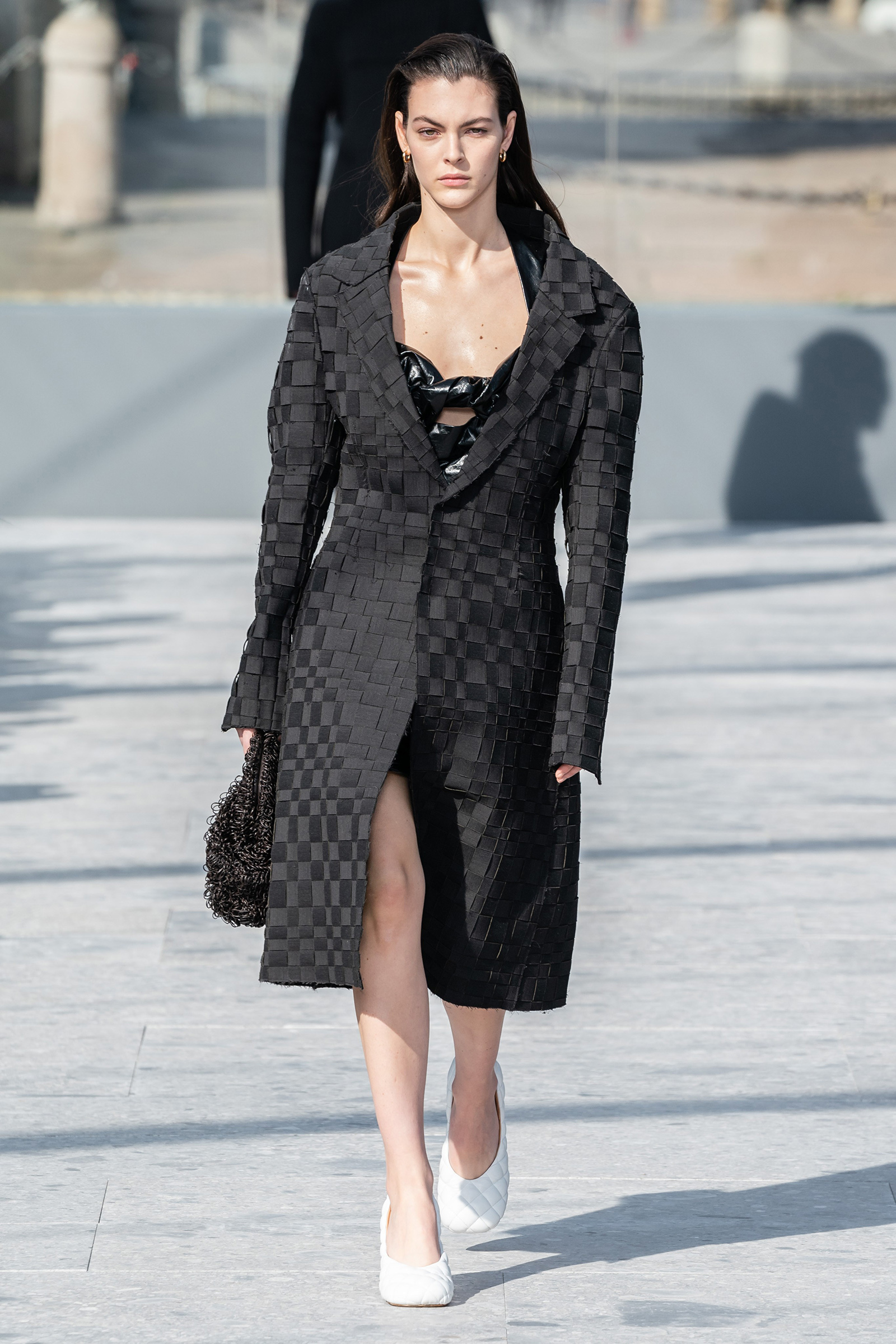 STRIHY
Zimná kolekcia jeseň / zima 2019-20 Bottega Veneta sa vyznačuje geometrickými strihmi a širokými objemami zahaľujúcimi postavu.
MATERIÁLY
Koža je majoritný protagonista kabátov, košieľ a sukní revidovaných novým spôsobom. Elegantné outfity sú zmiešané s viac športovým lookom. Kolekcia je charakterizovaná rozdielnymi elementami: efektný a kultivovaný look, dlhý a krátky, hedonistický a intelektuálny.
FARBY
Farebná paleta kolekcie je refleksiou týchto kontrastov – stretnutie medzi tmavými tónmi a trblietavými elementami, prírodnými tónmi striedajúcimi sa so zelenou, červenou, svetlo modrou a zvieracou farbou.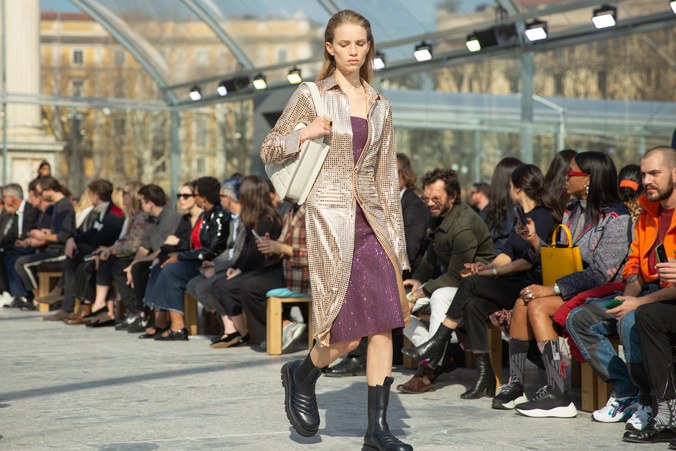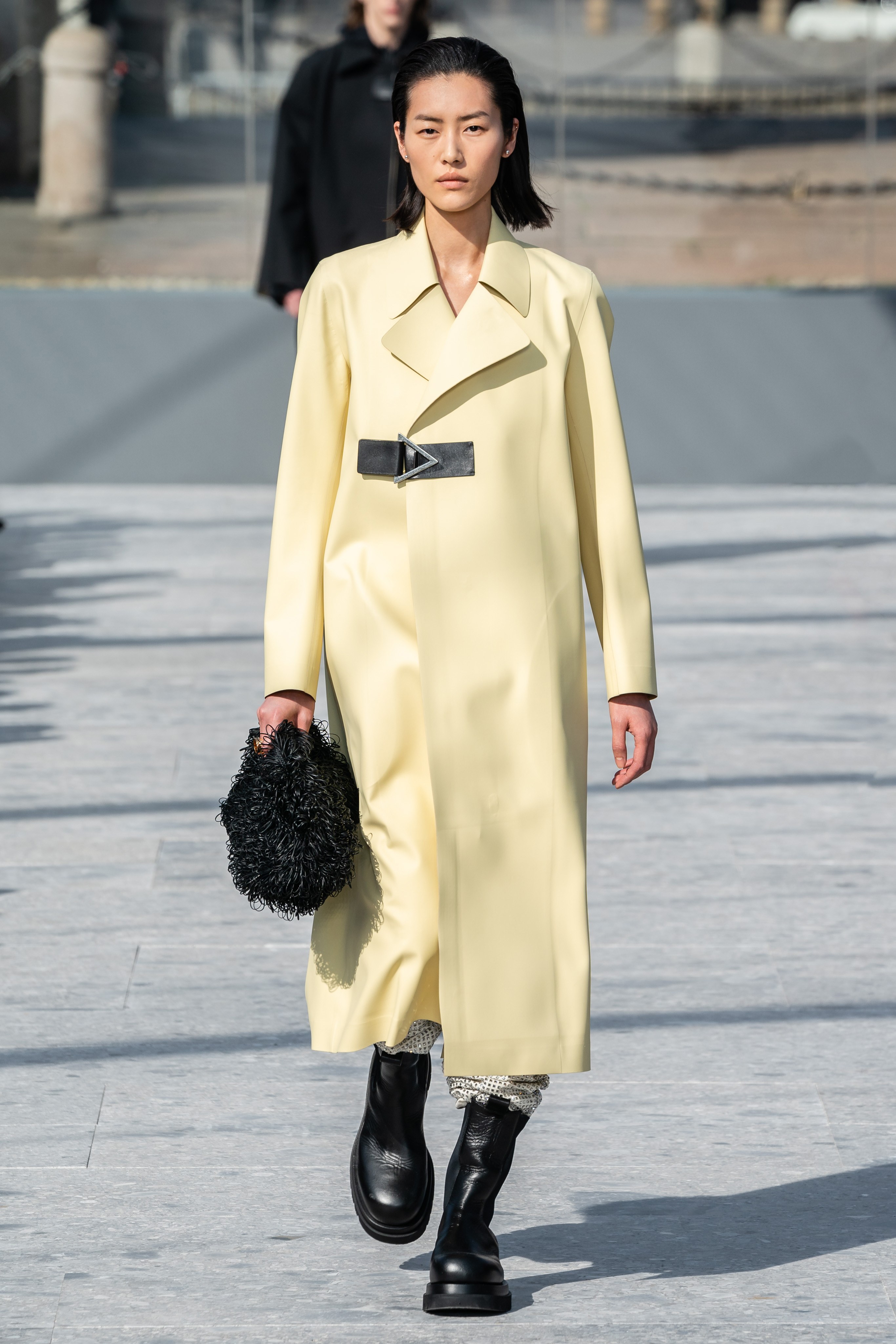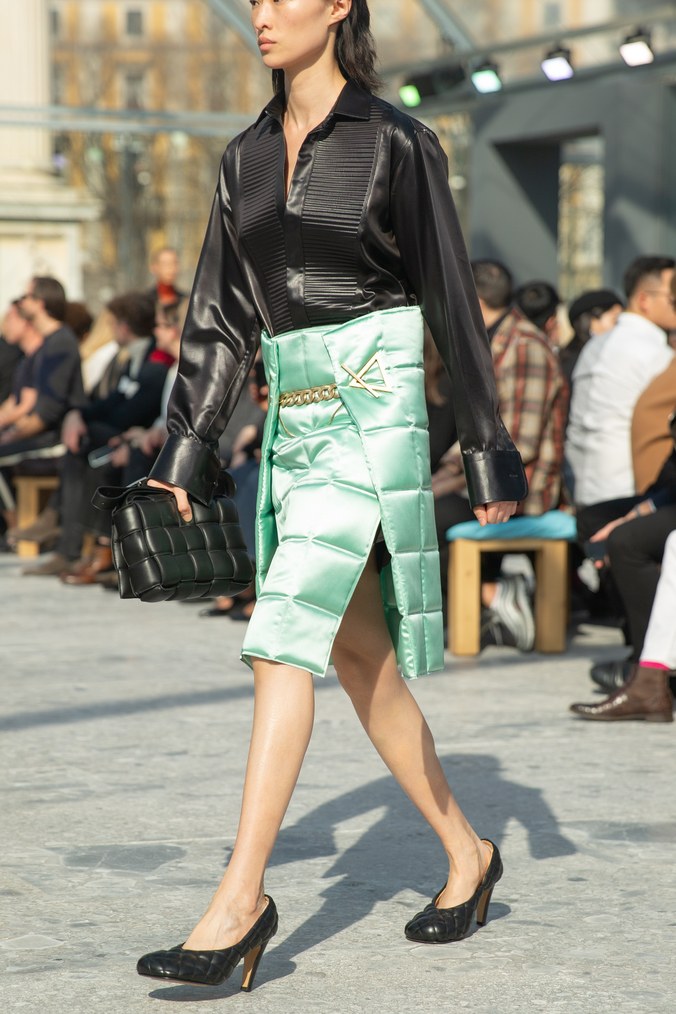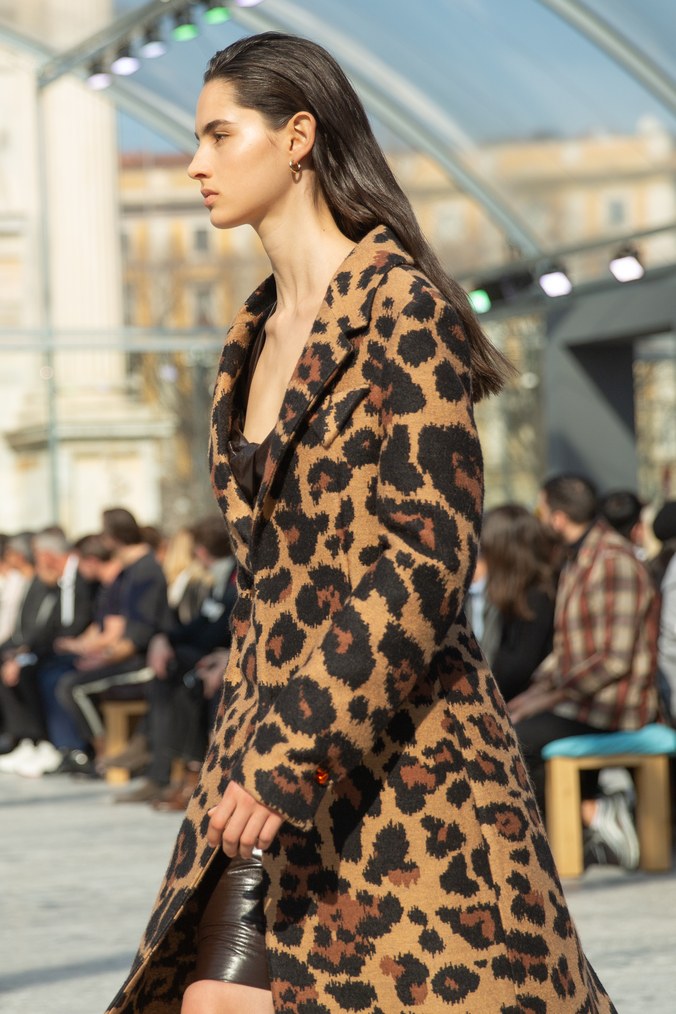 Prvý mužský look tvoril čierny oblek s nohavicami s vysokým pásom na oranžovom nylonovom roláku so zaujímavým detailom, vonkajším a zároveň vnútorným náprsným vreckom. Dizajnér Daniel Lee týmto predviedol krajčírske umenie a priniesol inovatívny dizajnérsky prvok.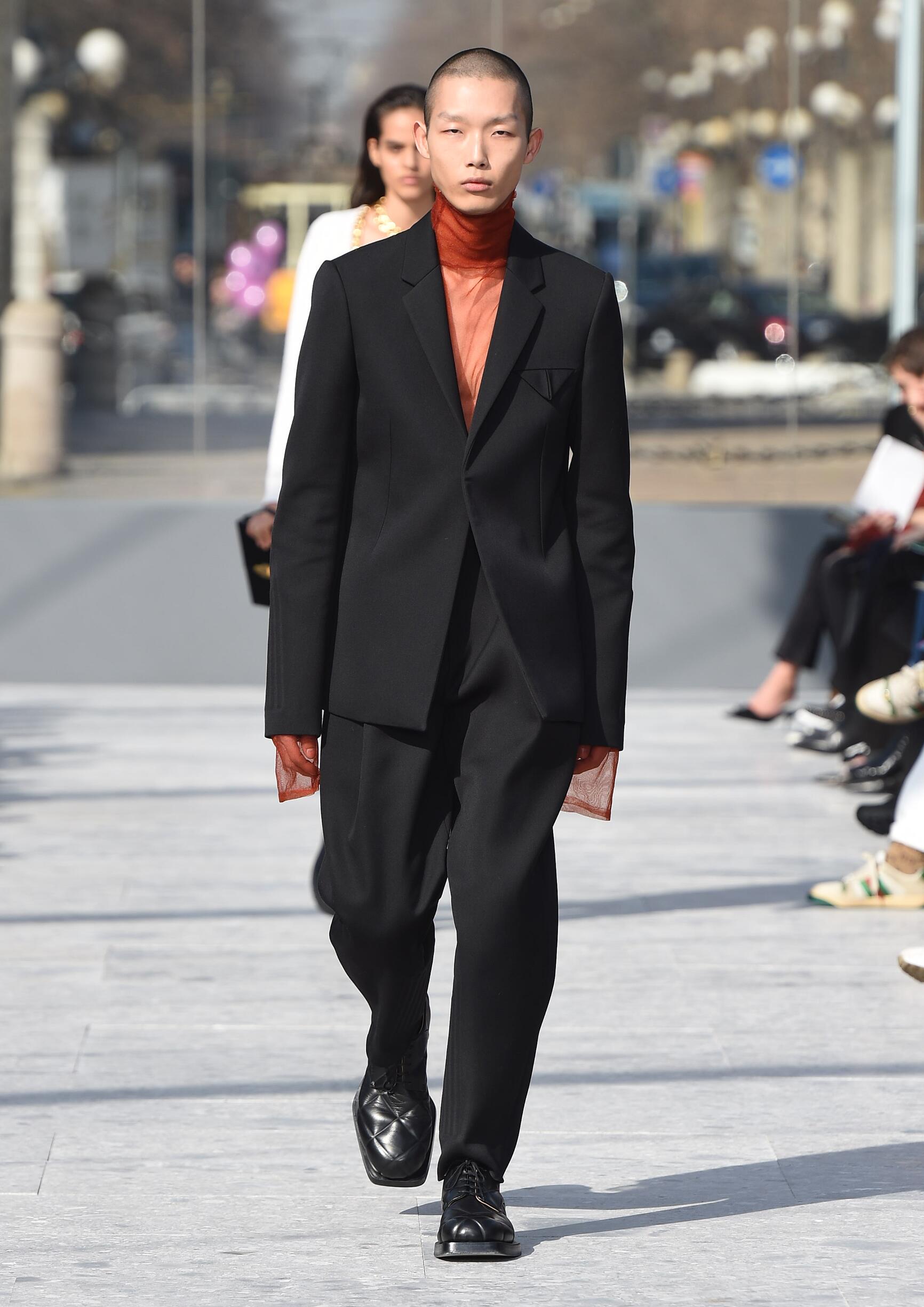 VOJENSKÉ TOPÁNKY
Zjednocujúcim leitmotívom kolekcie sa stali vojenské topánky tak v mužskej ako aj v ženskej časti.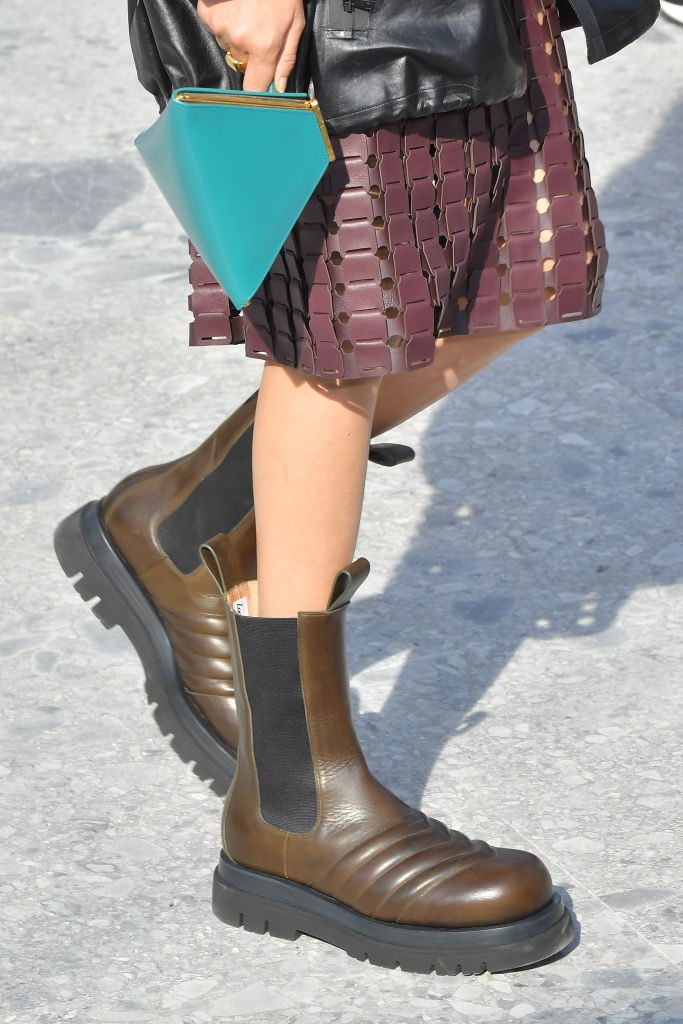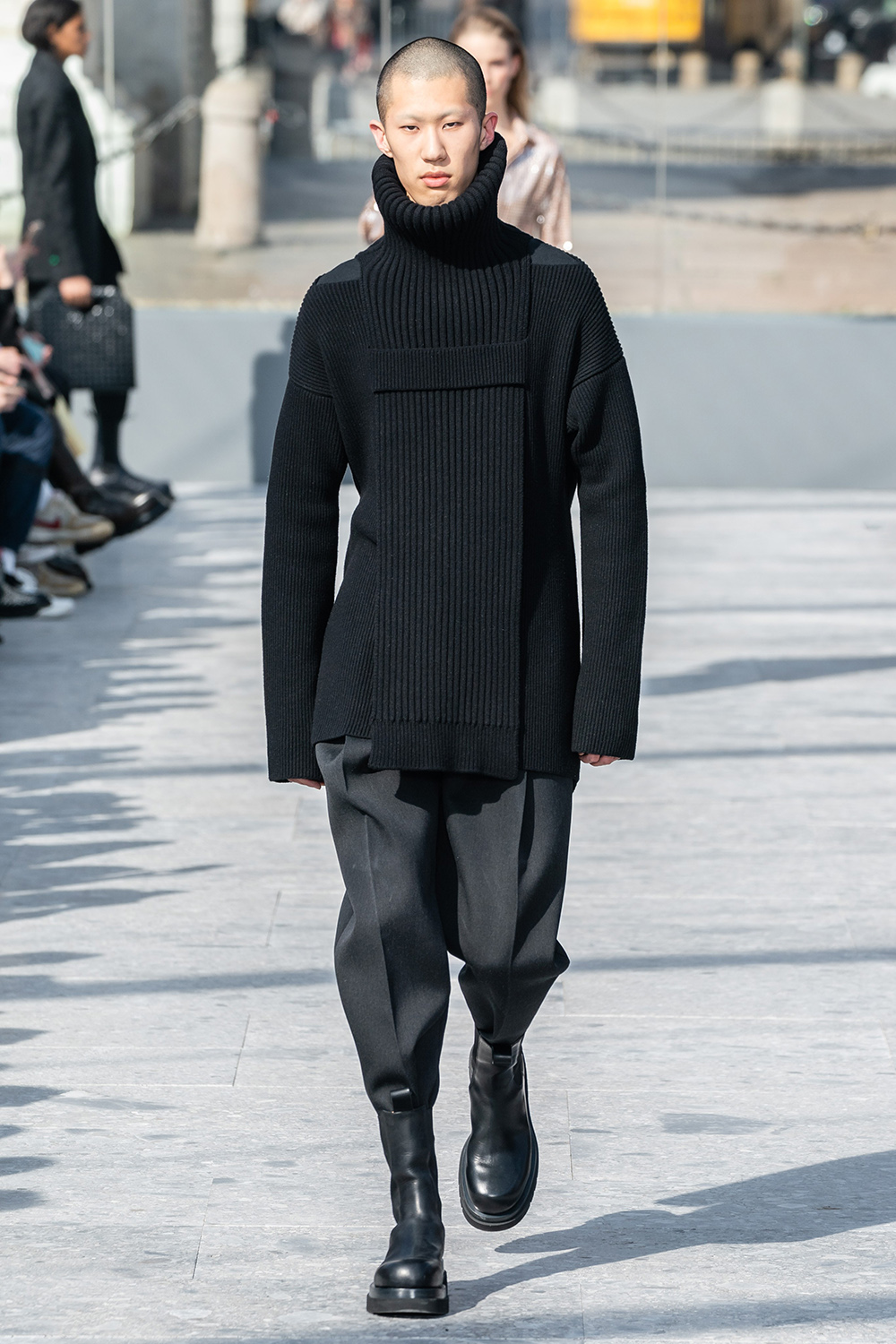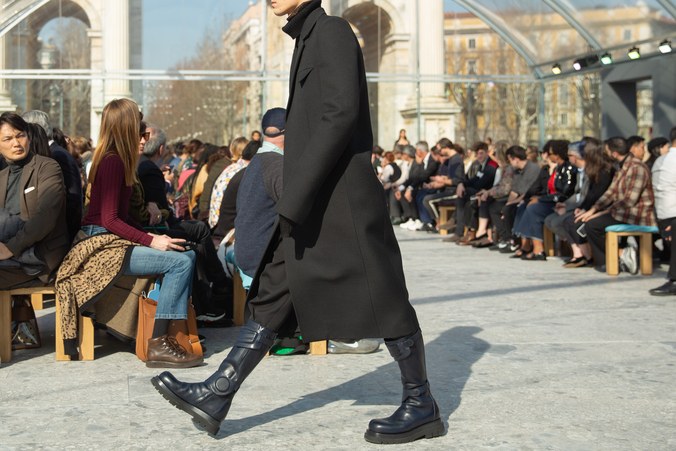 Novým trendom zimnej sezóny sa stávajú vojenské topánky, ktoré mala obuté skoro každá predvádzajúca modelka a ktoré môžeme vidieť ako street style trendy v uliciach nielen počas týždňov módy.
Luxusná značka a jej mladý britský kreatívny riaditeľ Daniel Lee predviedla taktiež protipól a to dizajnové kožené lodičky s prešívaním kombinované so sukňami, blúzkami, sakami, ladiace s prešívanými kabátmi, sukňami a kabelkami podobného dizajnu.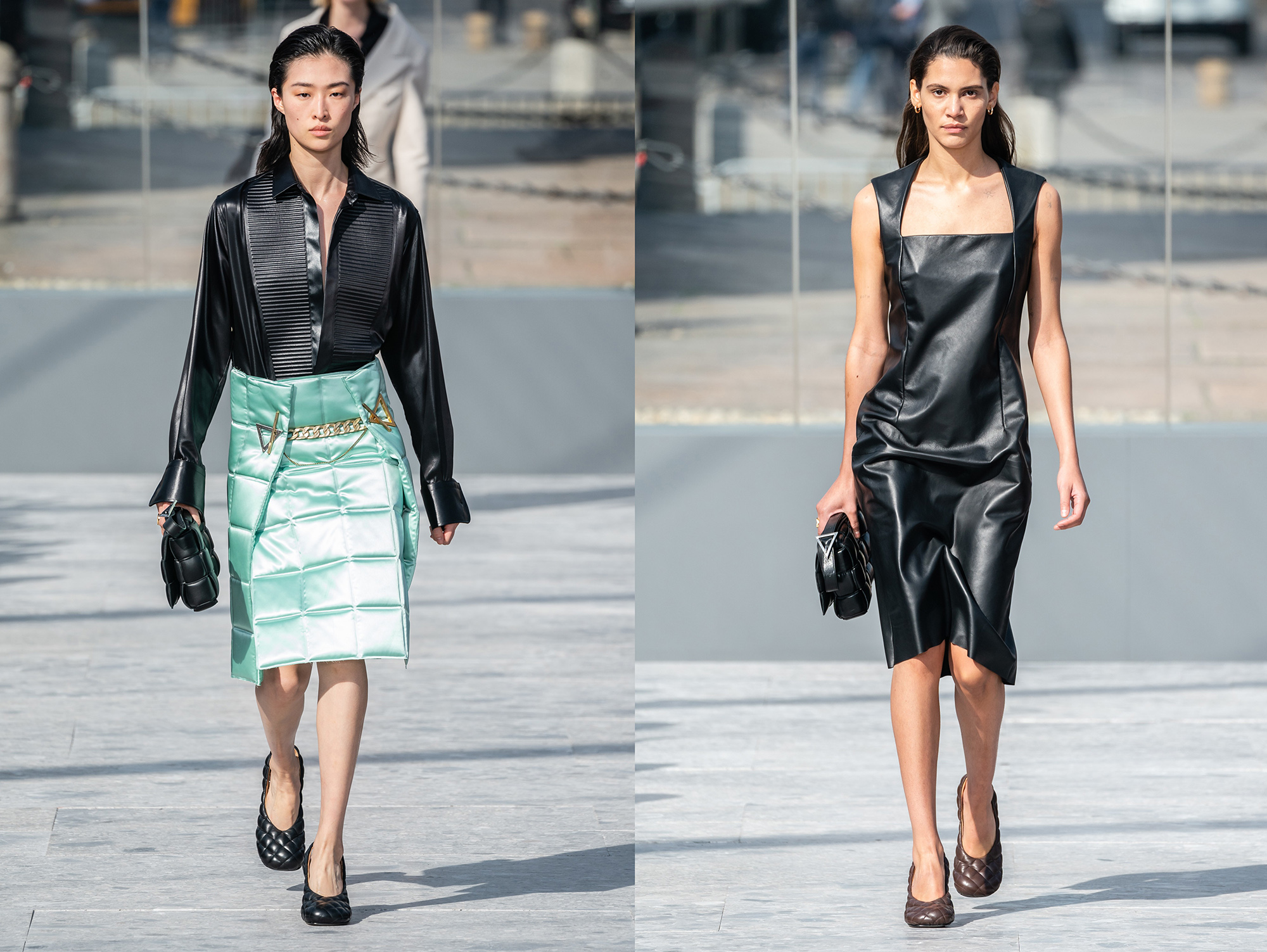 Pletené pulóvre sa stali maxi a taktiež doplnky prešli v priebehu prehliadky mutáciou – od maxi kabeliek sa kolekcia prepracovala k večerným kabelkám s perím.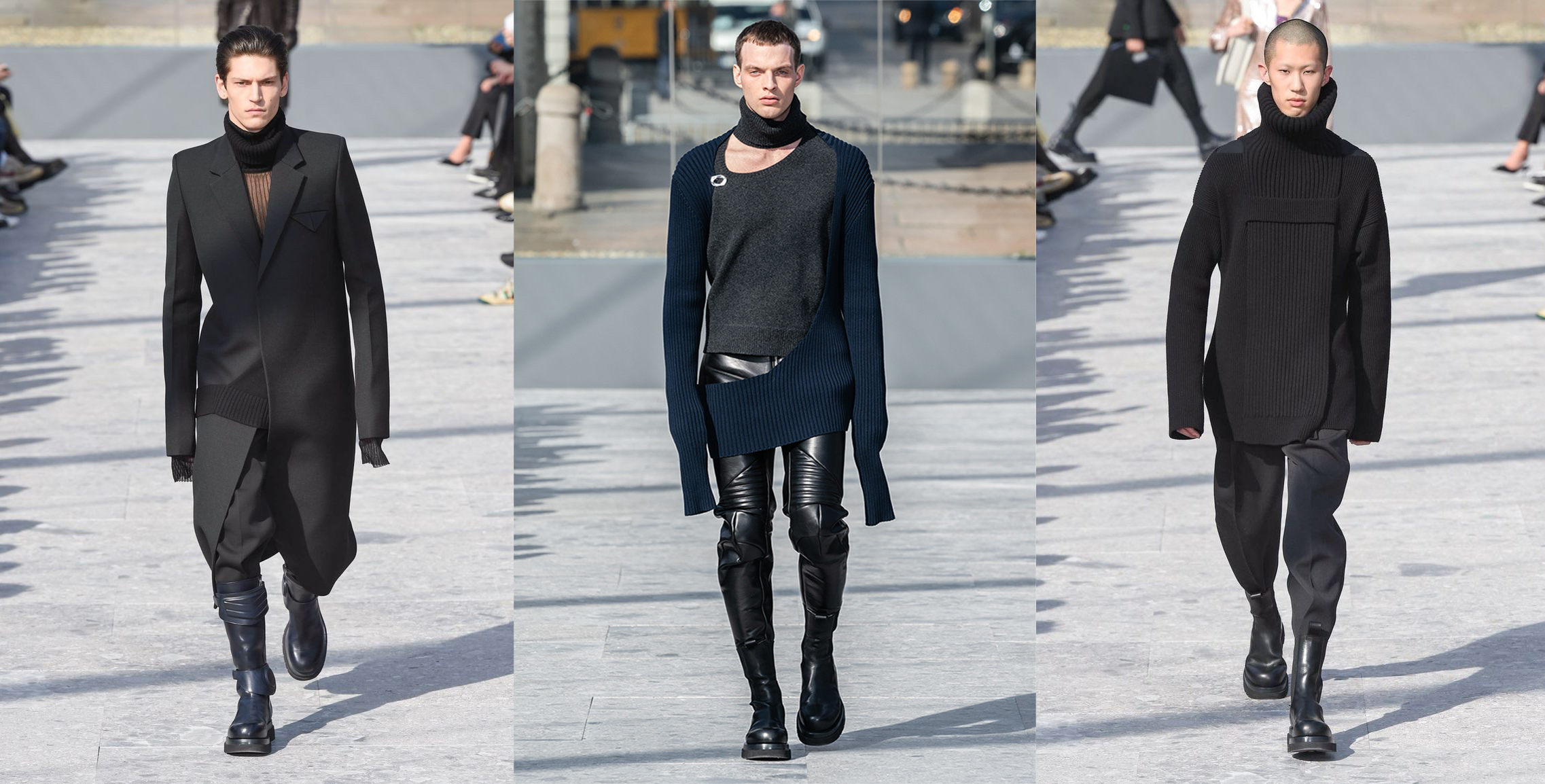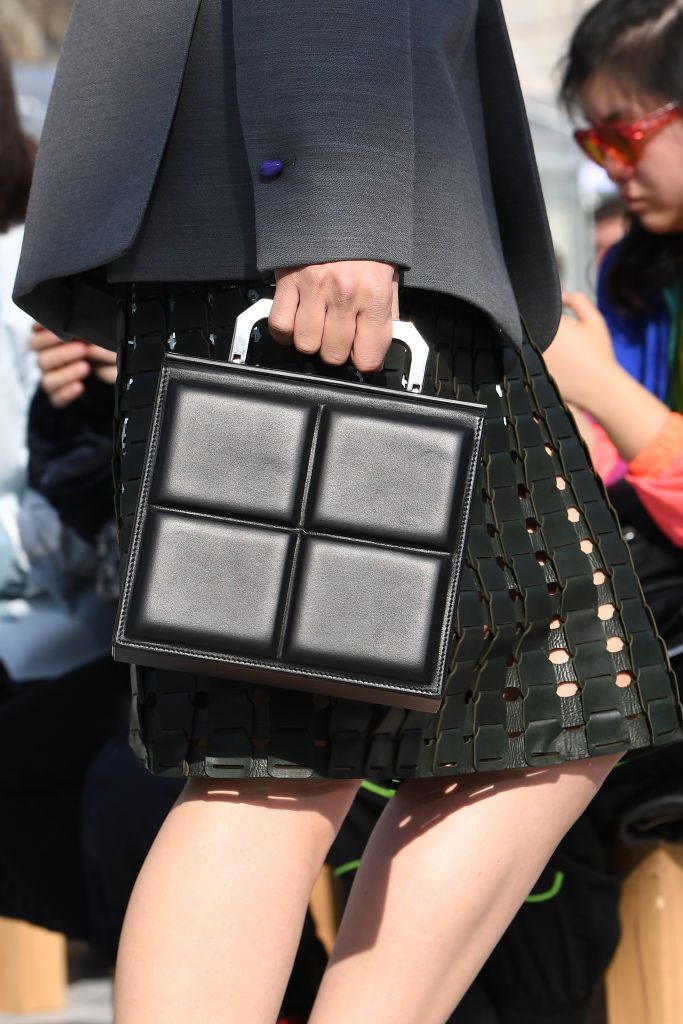 Kolekcia značky BOTTEGA VENETA, jeseň / zima 2019-20 navrhnutá dizajnérom Daniel Lee mala vyburcovať emócie – potešenie a radosť, túžbu a krásu.
Zimná sezóna Milan Fashion Weeku, Móda Ženy, konaná vo februári 2019, na ktorom predstavili svoje novinky dizajnéri, bola doposiaľ najväčšia. Tvorilo ju 179 nových kolekcií predvedených počas prehliadok v nabitom harmonograme módneho týždňa. Milan Fashion Week sa stal aj viac medzinárodný a to najmä vďaka spolupráci Fashion Hub a Camera Nazionale della Moda Italiana. Je známy tým, že si udržiava scénu módneho diania doma. Počas tohto týždňa módy predvádzajú prevažne talianski dizajnéri a tie najväčšie značky svoje kolekcie uvádzajú v tradičných priestoroch. Spoločne tak vytvárajú tzv. milánsku módnu scénu v rodinných pomeroch.
zdroj obrázkov: wmagazine . com, Vogue . com, iodonna. it, pinterest, getty images, foto: Serichai Traipoom
Sleduj ma na:
2 Instagramy: myamirell ,
mya_mirell
Facebook: Mya Mirell Fashionista,
Mya Mirell