To najkrajšie z udeľovania cien SAG Awards 2023 – 29. ročník Screen Actors Guild Awards
Sezóna udeľovania cien je v plnom prúde a po Grammy´s prišiel na rad 29. ročník udeľovania cien Screen Actor Guild Awards. Najžiarivejšie hviezdy Hollywoodu sa zišli na ceremoniáli vo Fairmont Century Plaza v Century City v Kalifornii, kde sa udeľovali ceny vynikajúcim interpretom, hercom, ktorých uznávajú ich kolegovia.
Screen Actors Guild Awards sú ceny hercov, o ktorých hlasujú členovia SAG-AFTRA a vyznamenania prichádzajú s vedomím, že "vaši kolegovia rešpektujú vašu prácu". S každým ďalším víkendom sme teda čoraz bližšie a bližšie k záveru tohtoročnej sezóny udeľovania cien.
Najlepšie nominácie večera na A-liste boli poprední herci a herečky ako Jennifer Coolidge, Zendaya, Michelle Yeoh, Viola Davis, Cate Blanchett, Brendan Fraser, Austin Butler a Colin Farrell a Emily Blunt.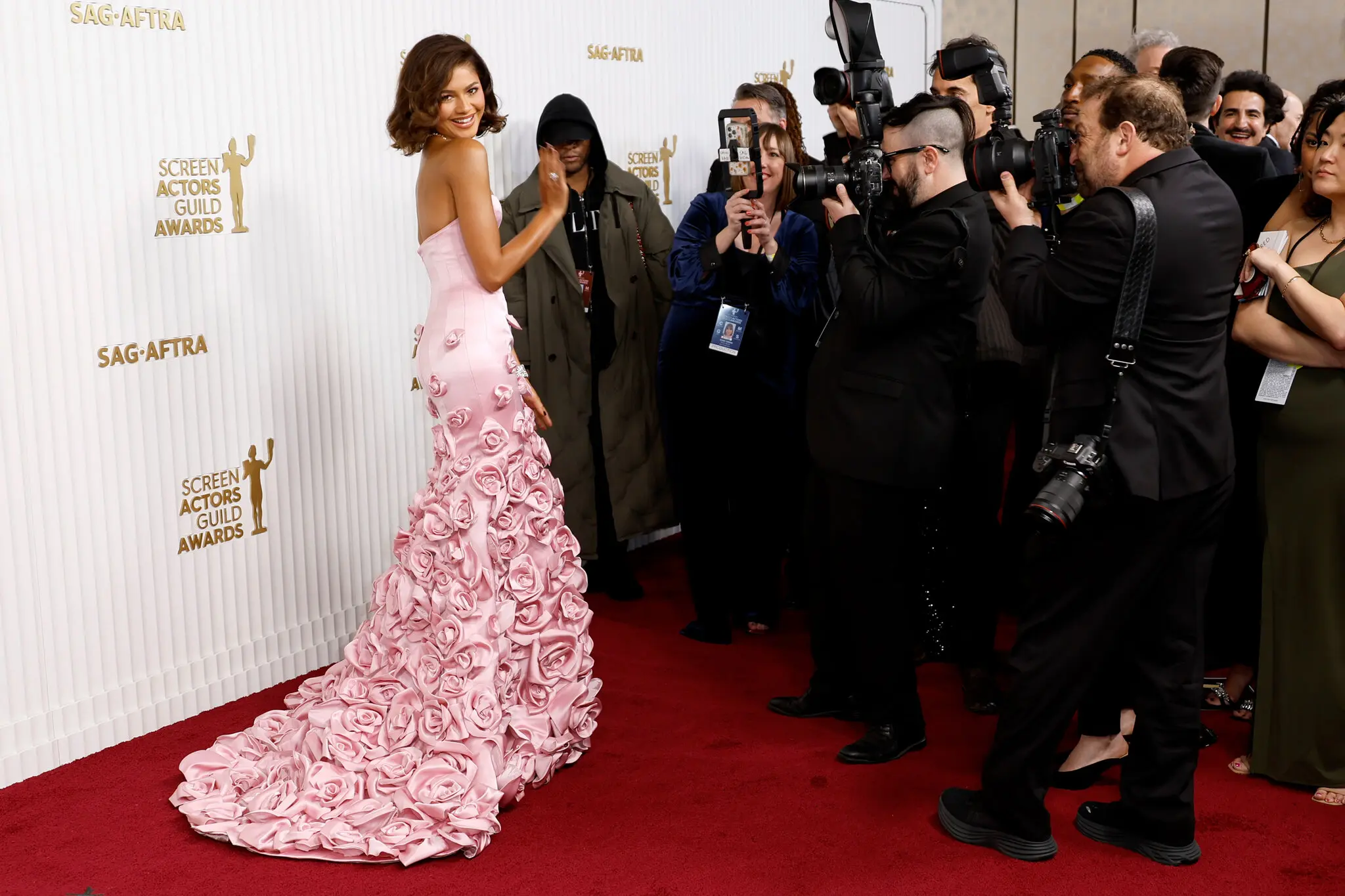 Medzi prezentujúcich moderátorov patrili Paul Mescal, Aubrey Plaza, Jenna Ortega, Ariana DeBose , Adam Scott, Amy Poehler, Eugen Levy, Jasona Batemana, Jeffa Bridges a prezident SAG-AFTRA Fran Dreschera.
Medzi účastníkmi tohtoročného udeľovania cien SAG Awards 2023 boli Sam Elliott, Cara Delevigne, Tony Dalton a Kathryn Newton a mnoho ďalších hviezd. Pred samotným ceremoniálom sa samozrejme blysli na červenom koberci v tých najodvážnejších a najzaujímavejších róbach, ktoré si pre tento večer zvolili.
29. ročník udeľovania cien Screen Actors Guild Awards prechádza na digitálne vysielanie a bude sa vysielať na kanáli Netflix na YouTube, čo bude od roku 2024 prvá veľká relácia udeľovania filmových a televíznych cien, ktorá sa bude vysielať na streamovacej sieti. Množstvo fanúšikov z celého sveta tam bude môcť sledovať a oslavovať talentovaných hercov, ako sa vyjadril v januári šéf globálnej televízie Netflix Bela Bajaria.
Udeľovanie SAG Awards bolo dlho považované za ukazovateľ hlasovania pre Oscary, pretože výsledky sa častokrát zhodovali a červený koberec tohto galapodujatia je tiež prípravnou pôdou pre očarujúci oscarový večer. Aj keď ceny SAG nie sú na prvom mieste, show ponúkla významné momenty hviezd ako nezabudnuteľnú Lady Gaga a Jennifer Lopez.
V porovnaní so Zlatými glóbusmi alebo Oscarmi sú ceny SAG Awards zvyčajne udalosťou na červenom koberci, kde sa hviezdy trochu viac bavia a upúšťajú od tradícií. Minulý rok patrili medzi najzaujímavejšie looky šaty Louis Vuitton, ružové šaty Valentino Ariany DeBose a žiarivý strieborný dizajn Caroliny Herrera Sandry Oh.
Táto sezóna udeľovania cien priniesla taktiež niekoľko nezabudnuteľných štýlových momentov, jedným z nich bola herečka Cate Blanchett, ktorá si znovu obliekla a prepracovala róbu Margiela z BAFTA .
Nedeľný večerný červený koberec žil tentokrát hravými detailmi, trblietavými flitrami a sýtou farbou. Pozrime sa na hviezdne looky a momenty z červeného koberca tohtoročného SAG Awards.
JESSICA CHASTAIN
45-ročná Jessica Chastain očarila vo fuchsiovej róbe Zuhair Murad, ktorá jej náramne kontrastovala s vlasmi a ktorú doplnila šperkami Gucci.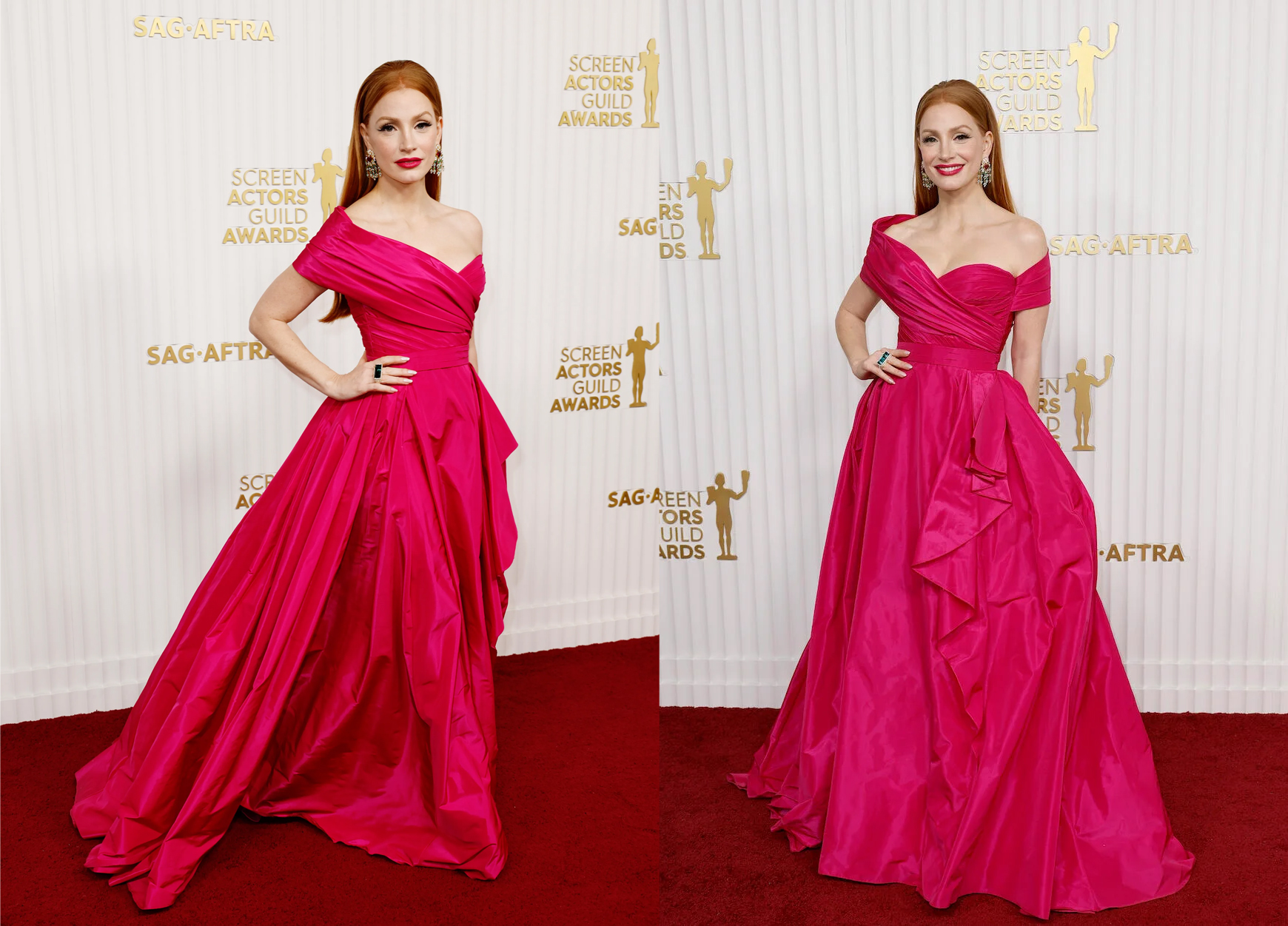 Pri vystupovaní na pódium, aby si prevzala trofej pre najlepší ženský herecký výkon v tlevíznom filme George & Tammy od Showtime zakopla. Herečka vyzerala pri prezradení jej mena viditeľne šokovaná a potom, čo sa dostala k mikrofónu prehlásila: "Zakopla som o schody, ale mala som dvoch veľmi pekných mužov, ktorí mi pomáhali hore" , jedným z nich bol Paul Mescal ! "Takže to nebolo také zlé," zavtipkovala. Toto víťazstvo je jej tretia cena SAG Awards z celkovo piatich nominácií.
JENNIFER COOLIDGE
Vtipná herečka, ktorej ide túto sezónu karta, sa ukázala opäť v tmavých šatách tentokrát z dielne Saint Laurent okrášlených šperkai Niwaka. Jennifer zase raz nesklamala a predniesla dojemnú a vtipnú reč, pri ktorej jej aj od dojatia slza vybehla. Zdá sa, že Jennifer Coolidge prežíva práve vrchol svojej hereckej kariéry, keď je čoraz viac obľúbená a vyhľadávaná.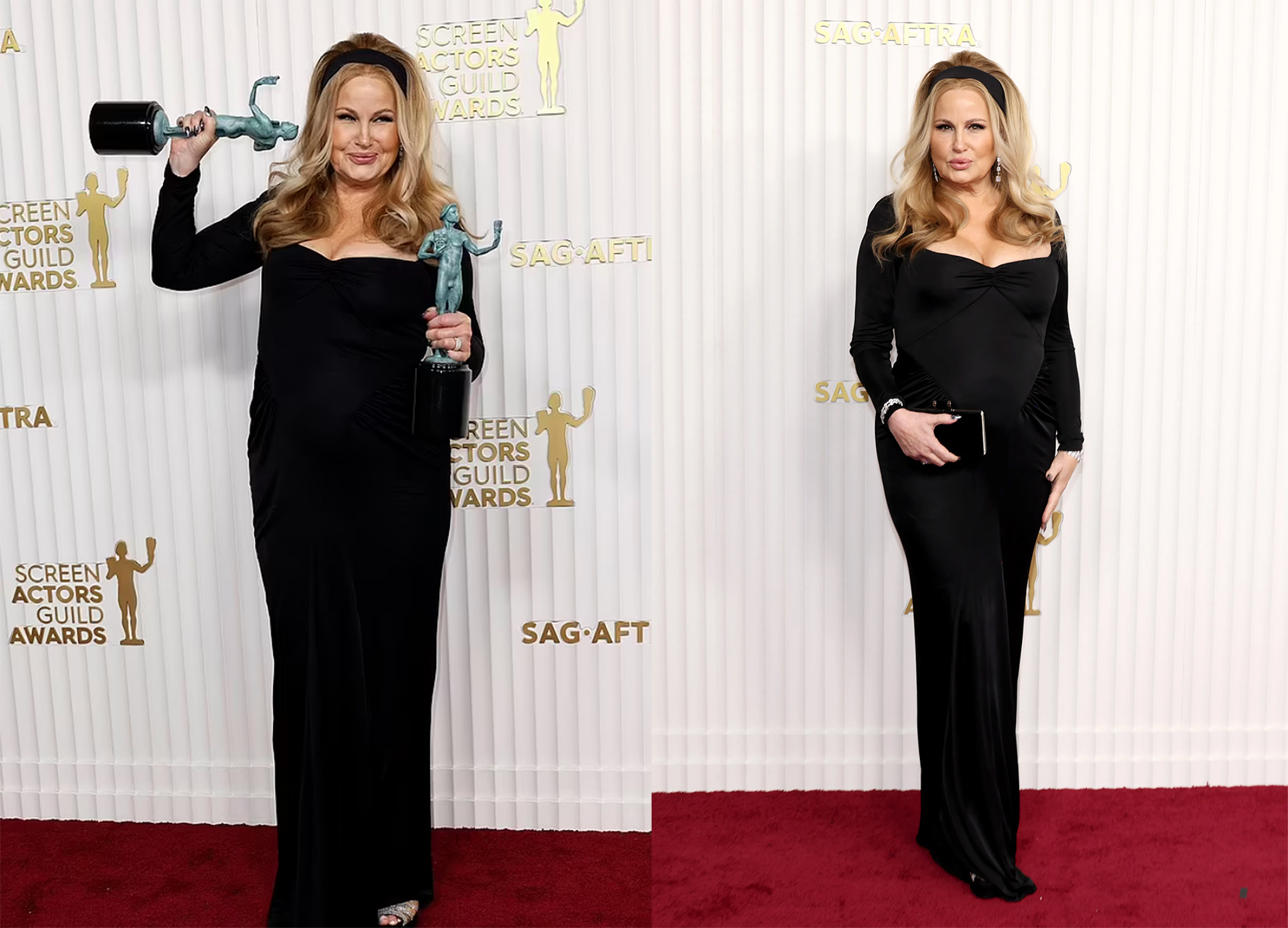 Herečkyn vzhľad bol vraj na štýl slávnej Brigitte Bardott.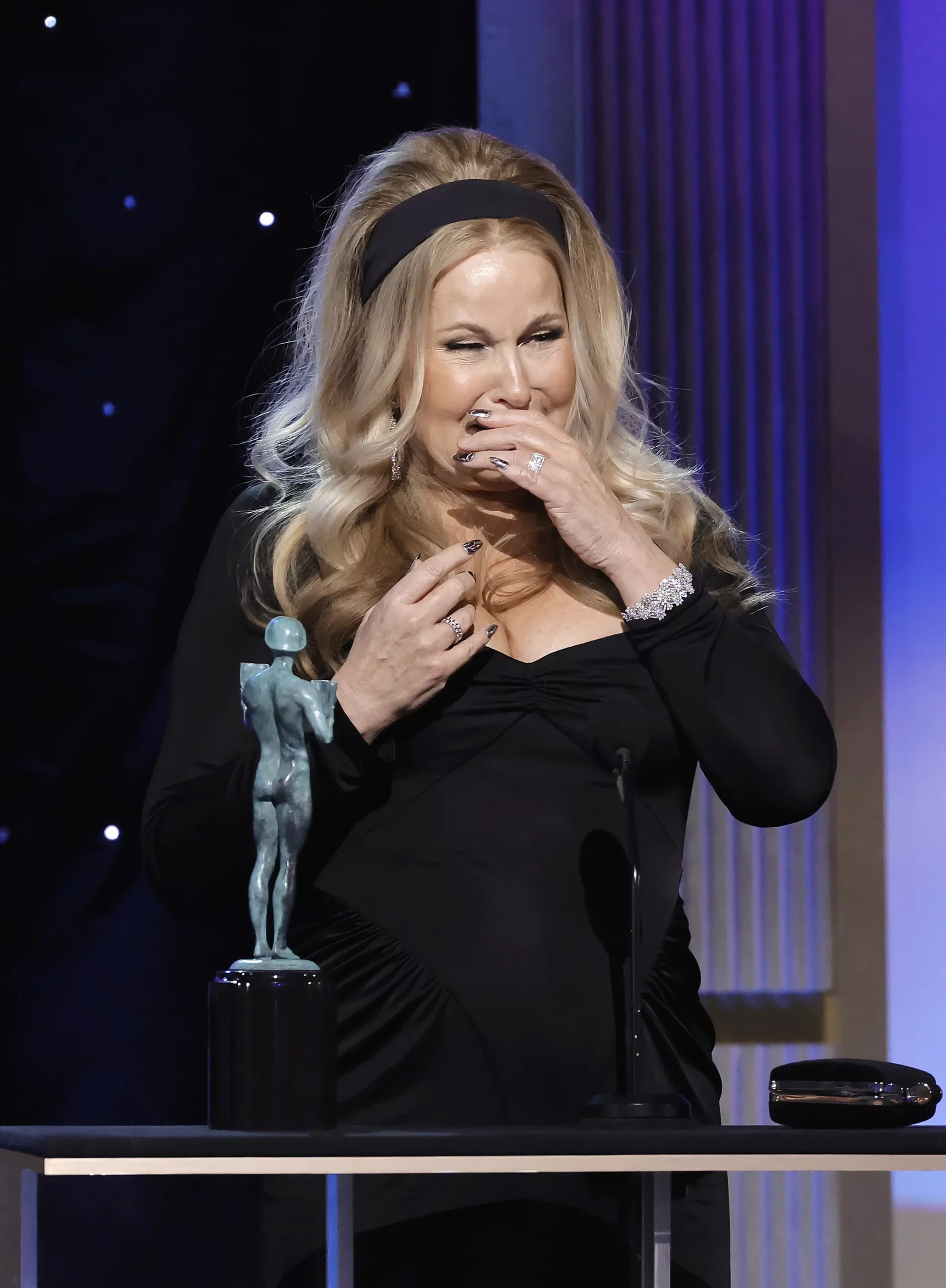 AUBREY PLAZA
38-ročná herečka z televízneho seriálu White Lotus , Aubrey Plaza, rozžiarila červený koberec SAG Awards 2023 v bronzových flitrových šatách s rafinovanými výstrihmi od Michael Kors. Odvážne šaty v štýle Jessicy Paster okrášlila šperkami značky Mouawad a metalickými sandálmi Jimmy Choo. Aj keď bol jej vzhľad očarujúci, vyvolal zmiešané reakcie od fanúšikov, ktorí vyjadrili svoju kritiku do sekcie komentárov na módnom blogu Instagram Check the Tag.
JENNA ORTEGA
20-ročná herečka spolu s herečkou Aubrey Plaza predviedli vtipný zadumaný dialóg, keď odovzdávali cenu za výnimočný herecký výkon. Táto ich interakcia sa čoskoro stala virálnou práve pre ich vážne výrazy tváre.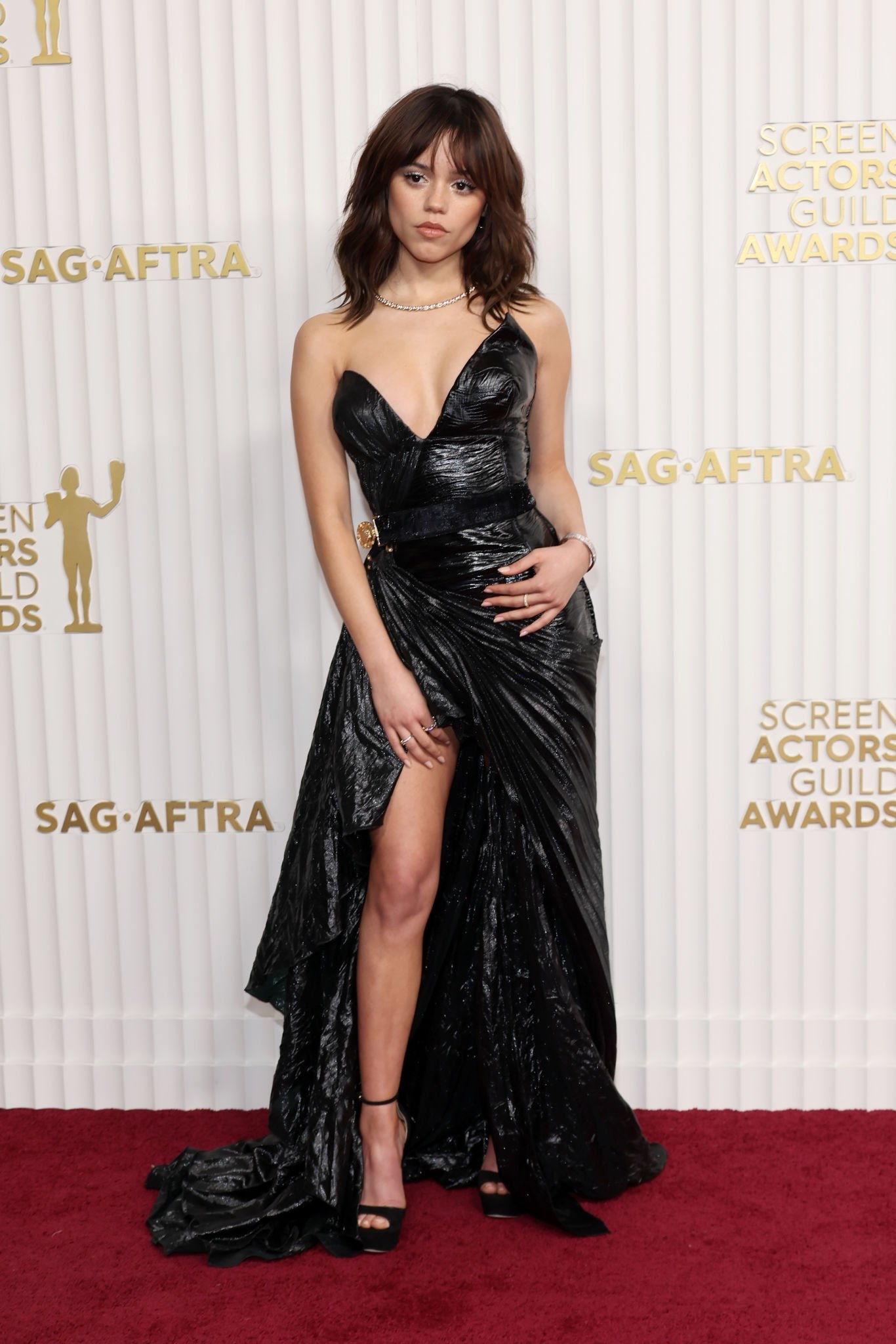 ZENDAYA
Medzi najlepšie oblečenými hviezdami noci bola Zendaya, ktorá zaujala v prsnatejších šatách Valentino, ktoré navrhol na mieru kreatívny riaditeľ módneho domu Pierpaolo Piccioli. Na róbe bez ramienok bolo vyšívaných takmer 200 hodvábnych ruží, ktoré za ňou tvorili elegantnú vlečku. Mladá štíhla herečka teda vie, ako očariť na červených kobercoch. Ako vyletela v televíznom seriály Euphoria, stáva sa čoraz častejšie múzou svetových dizajnérov, ktorí jej prepožičiavajú tie najslušivejšie róby. Tentokrát očarila v ružovej róbe s ružičkami od Valentino a šperkoch Bulgari jewelry.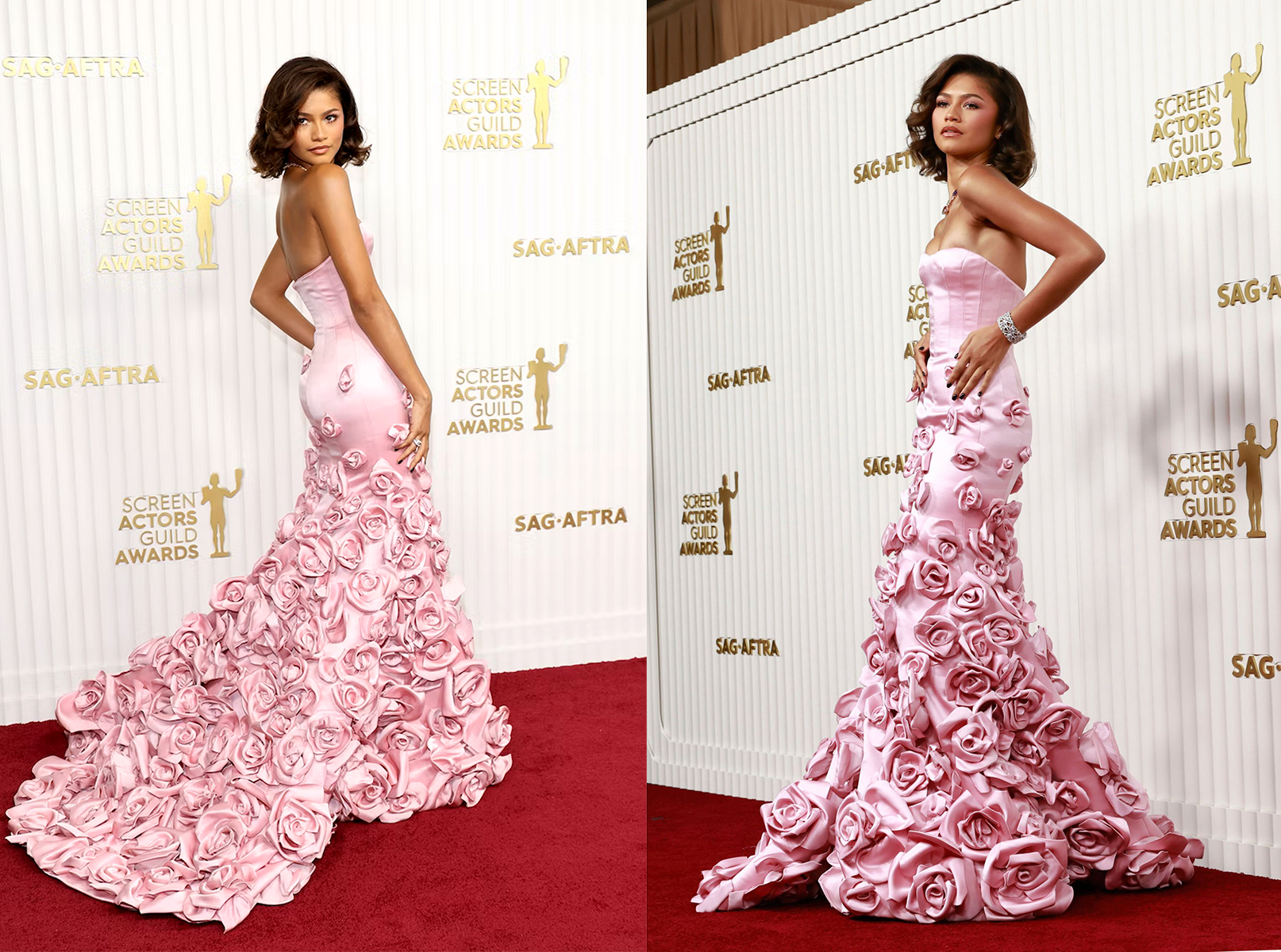 Hviezda "Euphoria" nebola jediným účastníkom, ktorý sa rozhodol pre kvetinové šaty, ktoré siahali od odvážnych kvetinových ozdôb na postave Emily Bluntovej, cez róby Oscar de la Renta, až po jemnú potlač vzhľadu Carolina Herrera od Stephanie Hsu.
CARA DELEVINGNE
Stále chladivo krásna modelka Cara Delevingne oslnila v nohavicových šatách, v overale so sukňovou vlečkou Carolina Herrera, ktoré boli rôzne variabilné so šperkami De Beers.
CATE BLANCHETT
Múza talianskeho dizajnéra Giorgia Armani obliekla slušivé trblietavé šaty Armani Privé.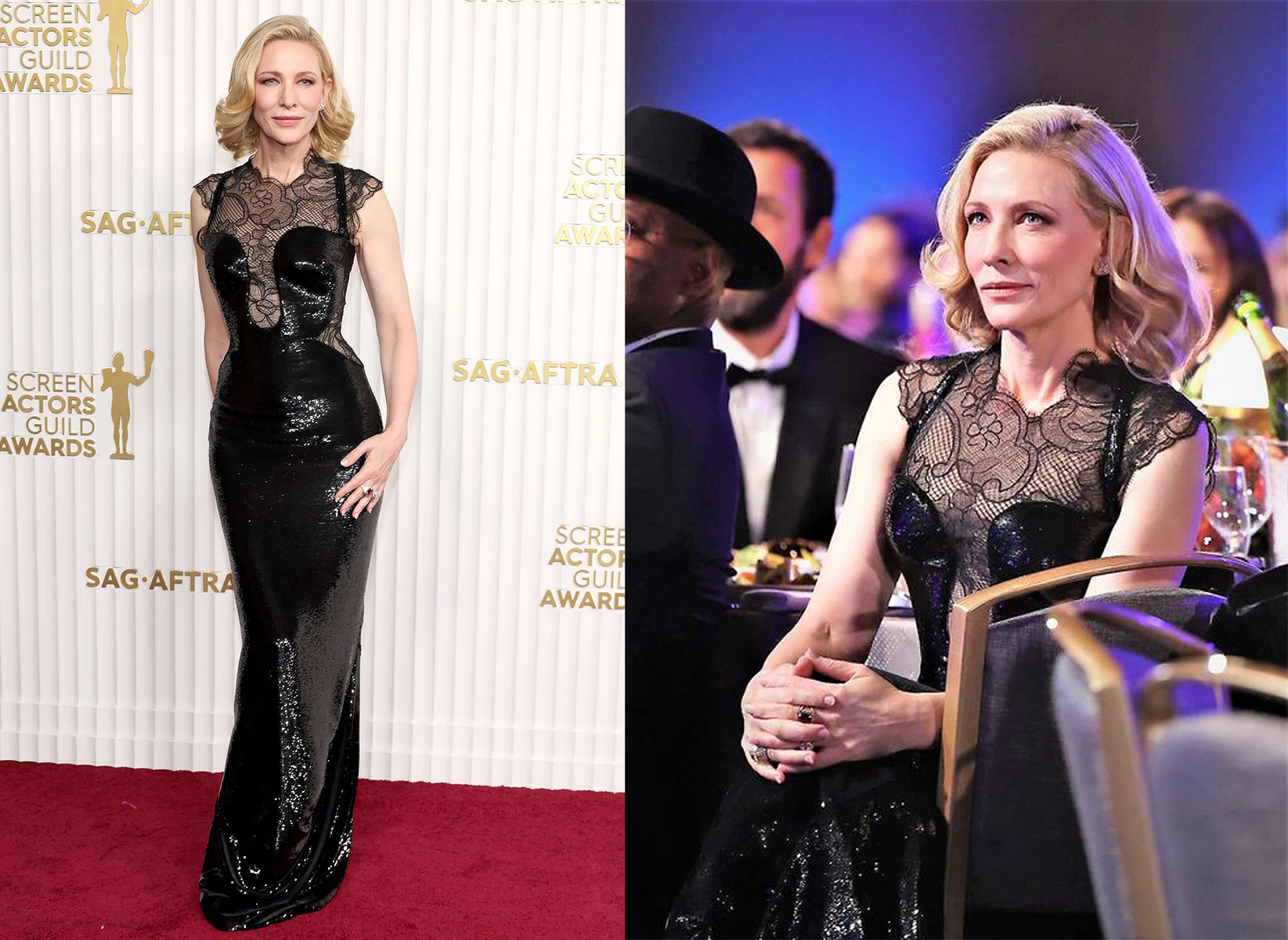 EMILY BLUNT
40- ročná britská herečka Emily Blunt , známa najmä z filmov Diabol nosí Pradu a z postapokalyptického hororu Tiché miesto, zapózovala s manželom, hercom a režisérom Johnom Krasinskim v šatách Oscar de la Renta a šperkoch Bulgari.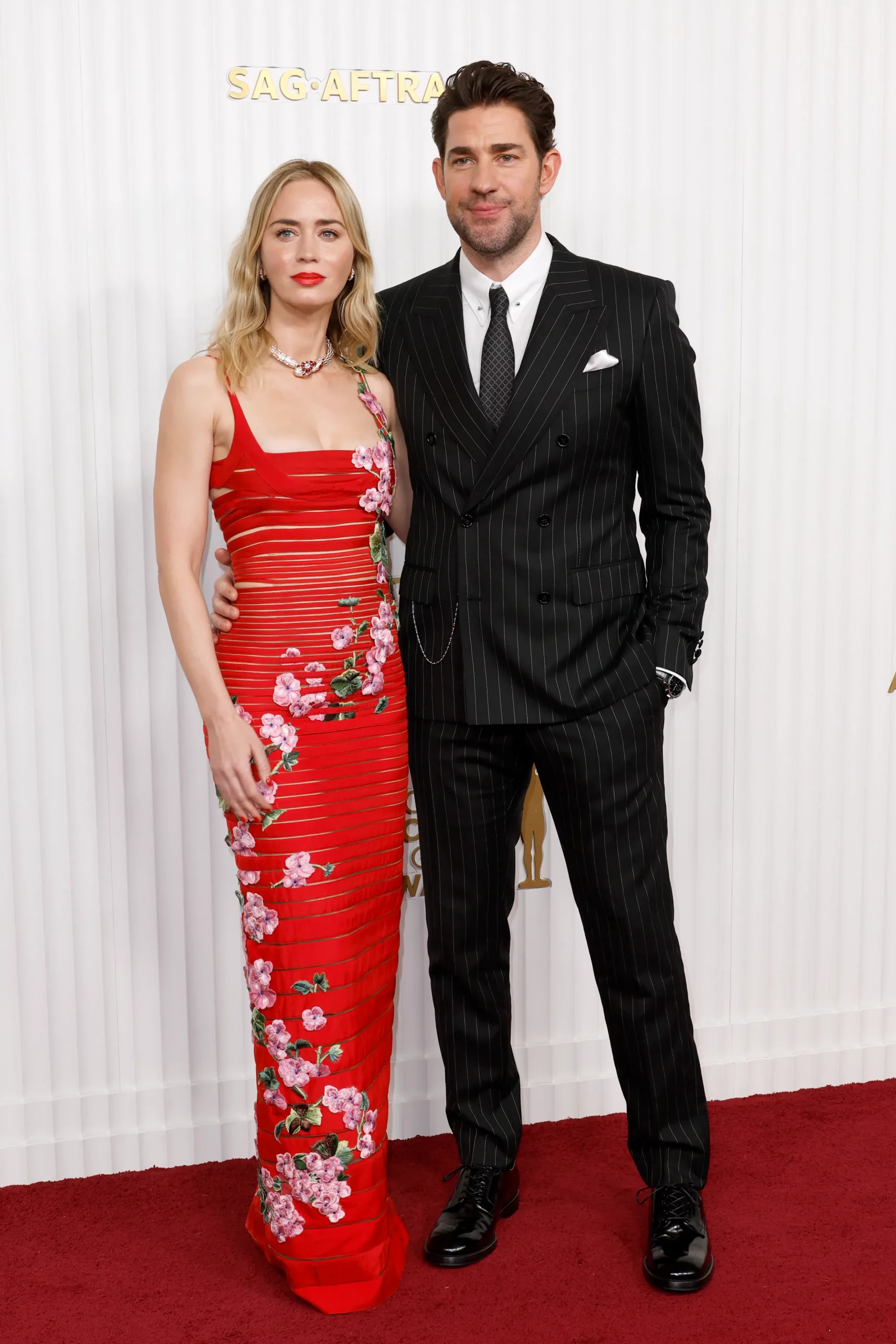 STEPHANIE HSU
32-ročná americká herečka, ktorá vystupovala na Broadwayi, zvolila nariasenú vlečkovú róbu s abstraktnou kvetinovou potlačou Carolina Herrera a trblietavé lodičky Christian Louboutin .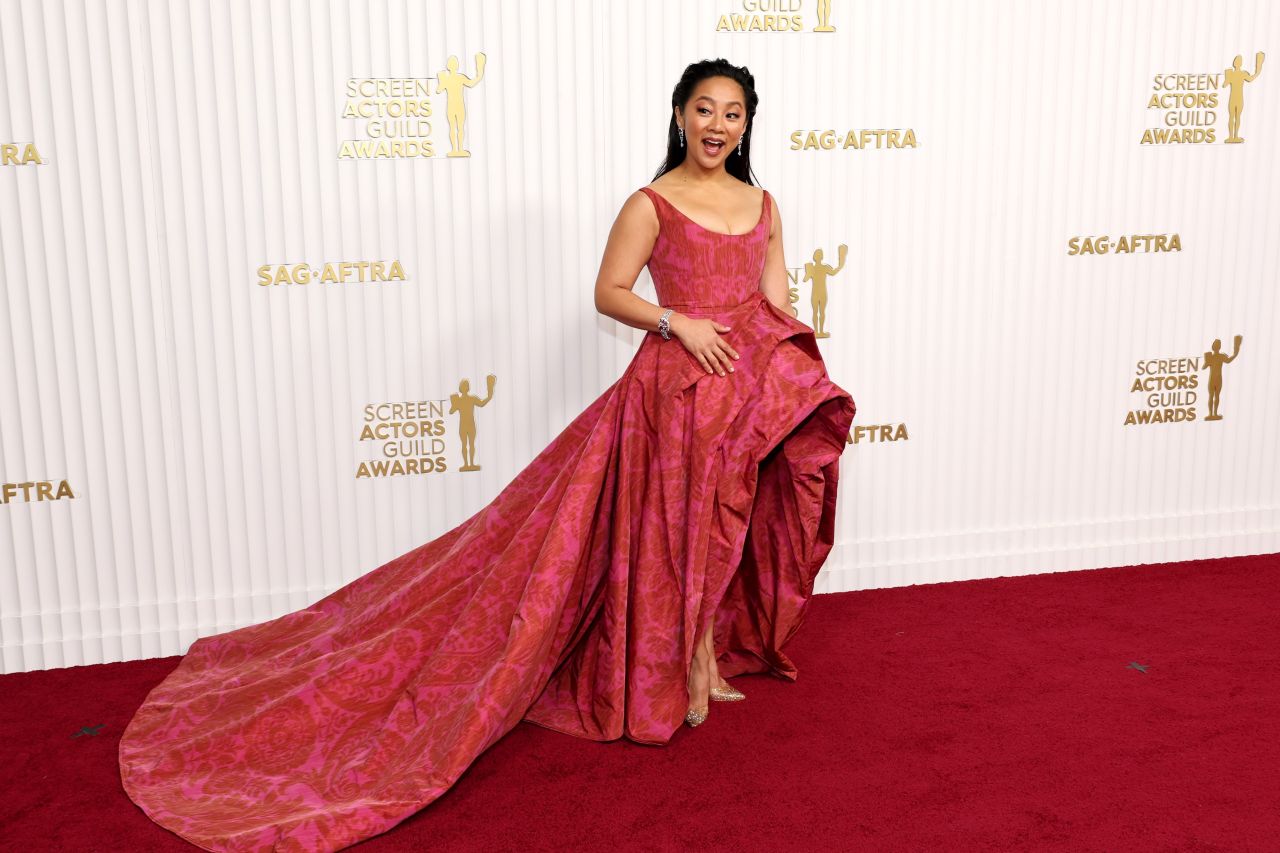 RONEY MARA
Americká herečka dva krát nominovaná na cenu Oscara a dva krát na cenu Zlatého glóbusu, partnerka herca Joaquin Phoenix, zvolila šaty z dielne Alexander McQueen.
Do trendu sa dostal aj Paul Mescal s priesvitným kabátom vyšívaným okvetnými lístkami zdobenými drahokamami.
PAUL MESCAL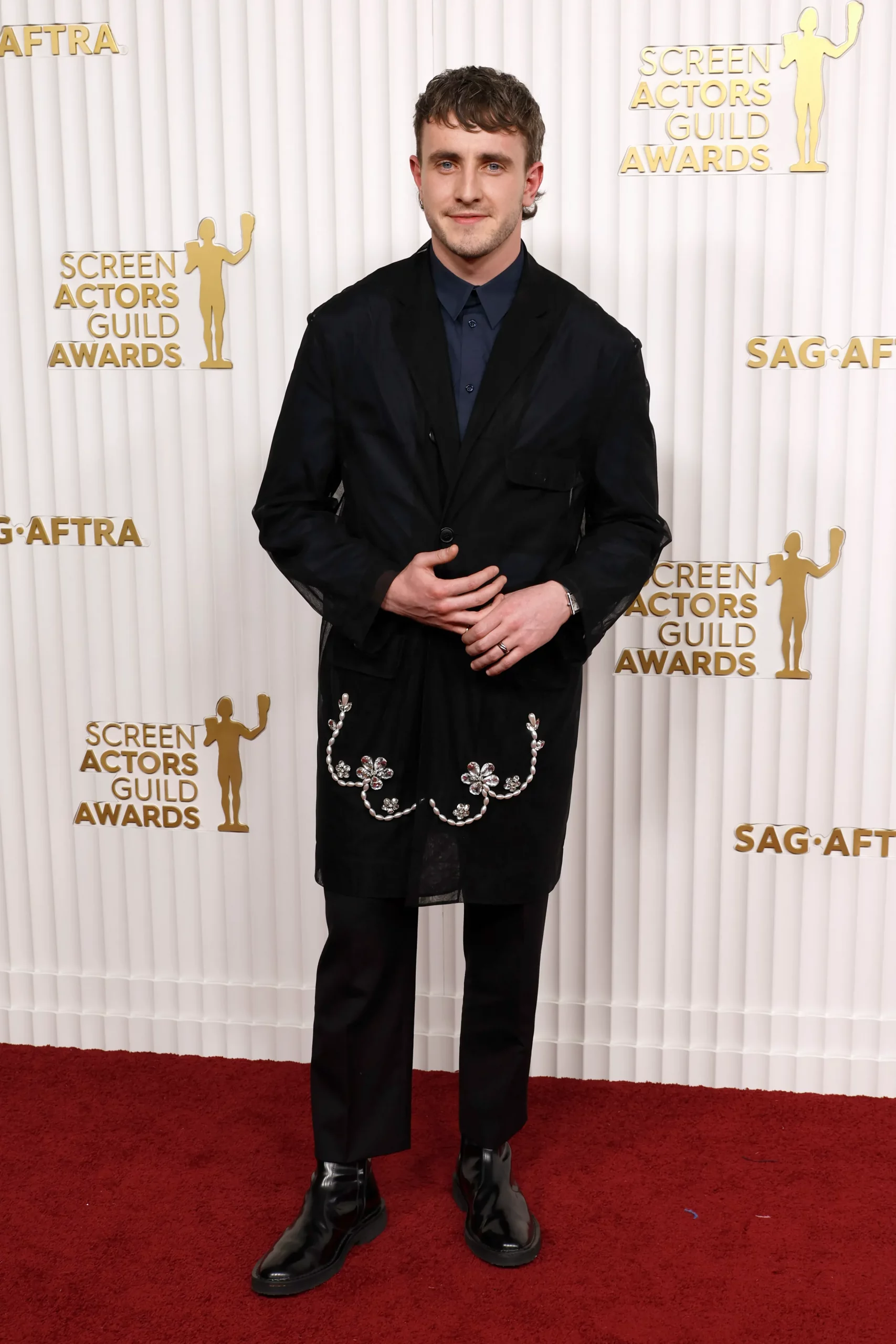 HALEY LU RICHARDSON
27-ročná americká herečka z filmového miniseriálu "The White Lotus", ktorá bola ambasádorkou ceremoniálu po boku Antonia Gentryho, oslnila v čiernej róbe pokrytej perlami so šperkami Boucheron..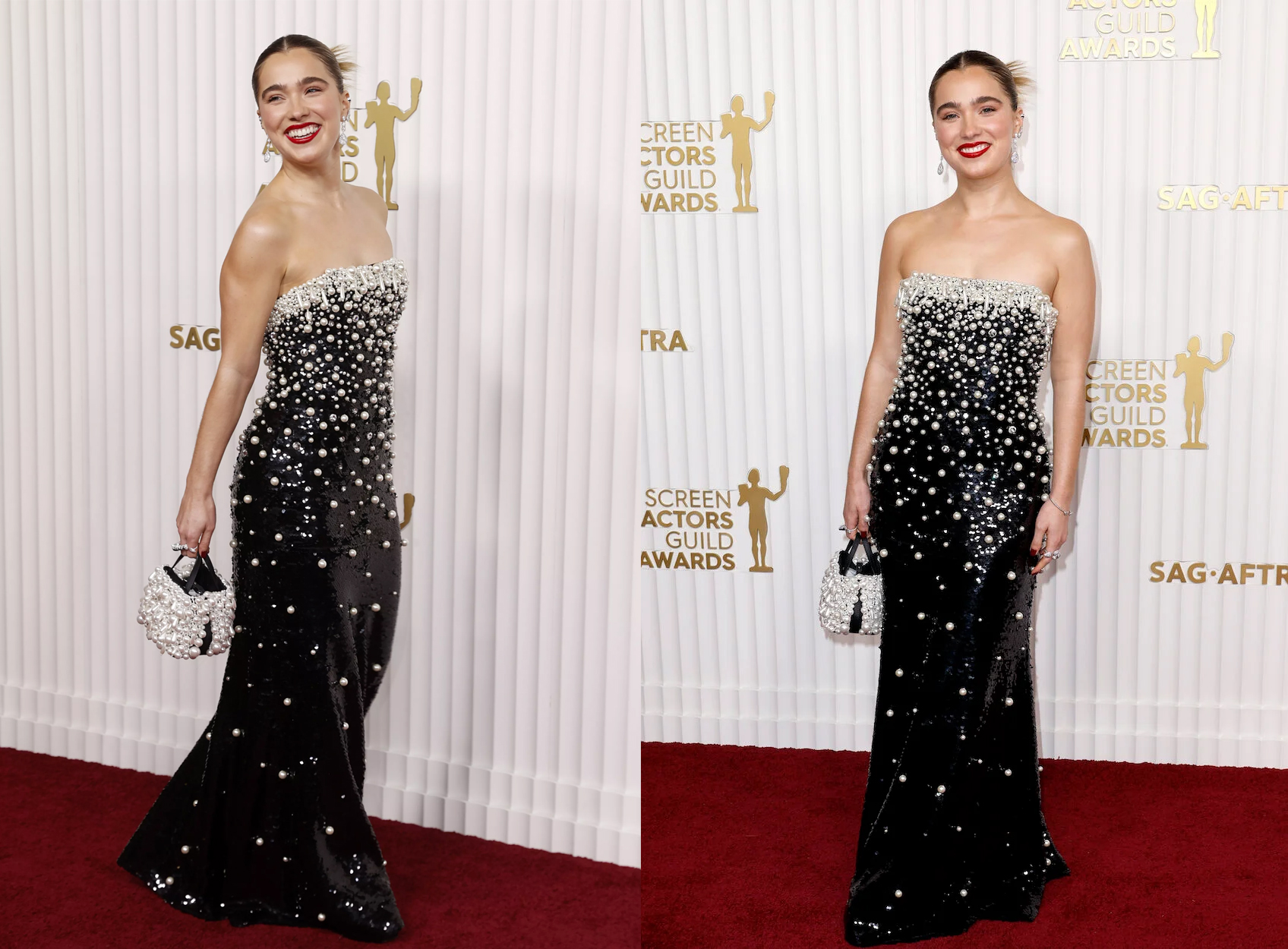 Ako vidno, na galavečere bolo zjavne veselo a pri fotení sa vyskytli aj takéto momenty.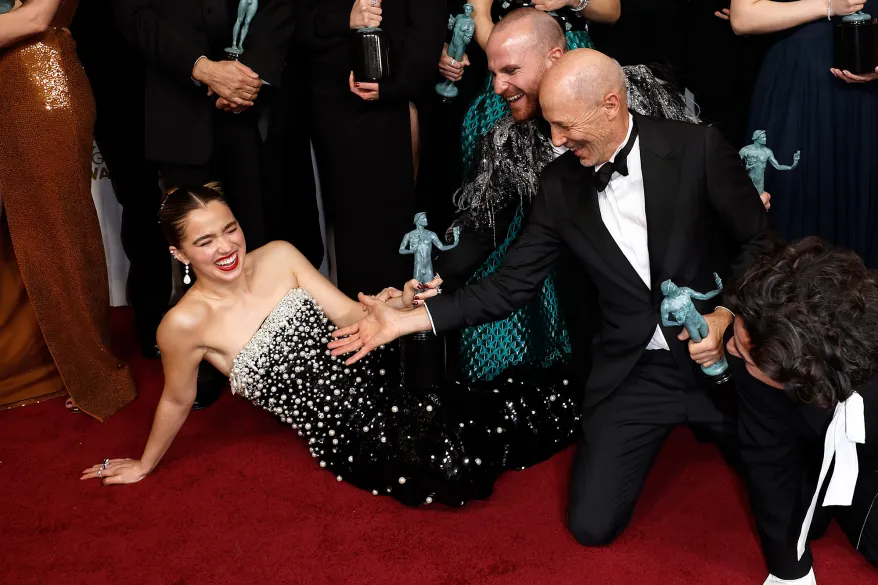 Ďalšie hviezdy sa rozhodli pre farebné róby ako pútavé odtiene žltej vrátane Claire Foy, Violy Davis a hviezdy "Dahmer" Niecy Nash-Betts a Angely Bassett.
Claire Foy obliekla saténovú róbu s hlbokým dekoltom značky Prada.
VIOLA DAVIS
Samotná "The Woman King" rozžiarila upršaný losangeleský deň v slnečnej žltej róbe Valentino.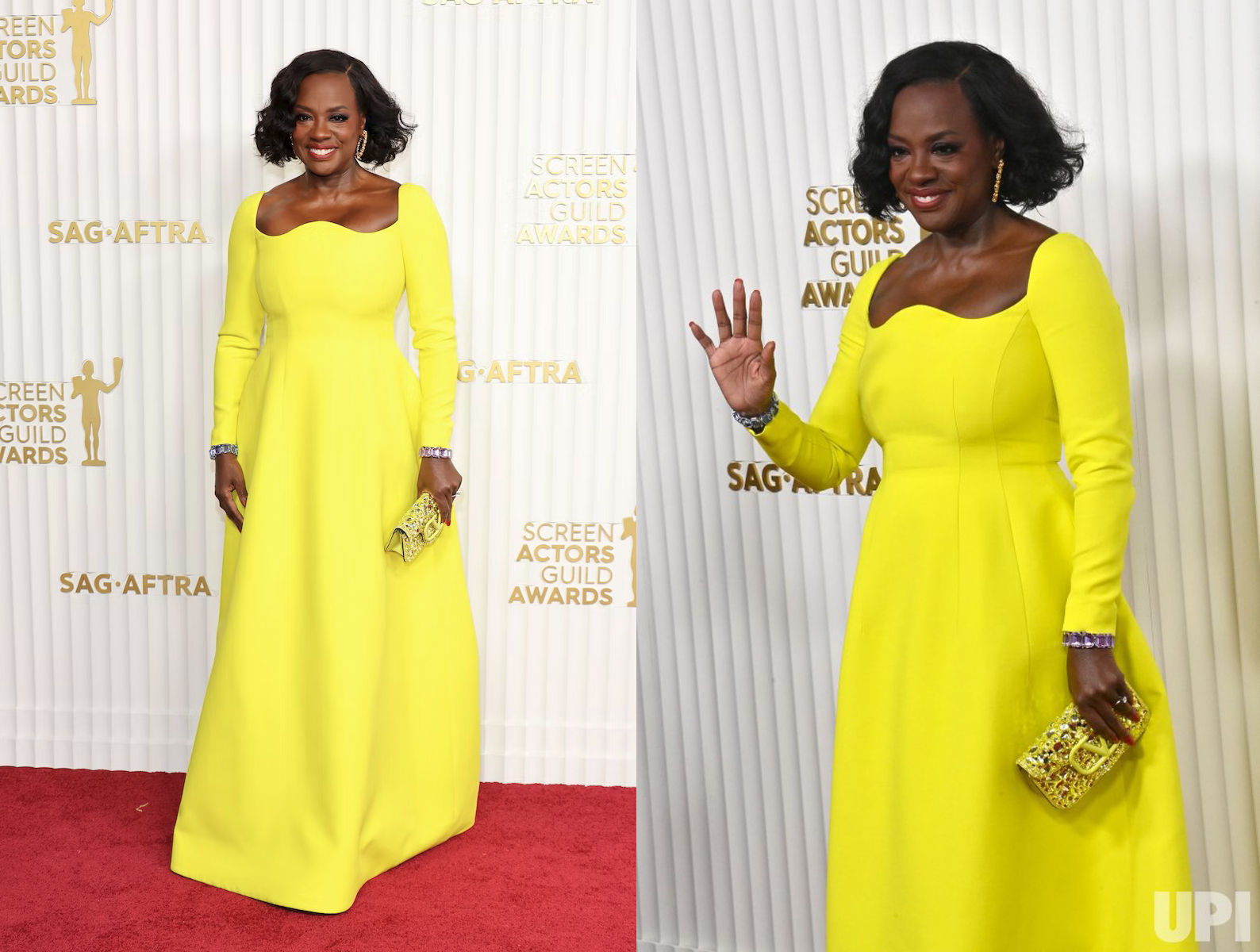 ANGELA BASSETT
V žltej couture róbe Giambattista Valli s podpätkami Sarah Flint a šperkami De Beers zažiarila na červenom koberci Angela Bassett.
NIECY NASH-BETTS
Hviezda zvolila vlastné šperky a svieže šaty Vera Wang.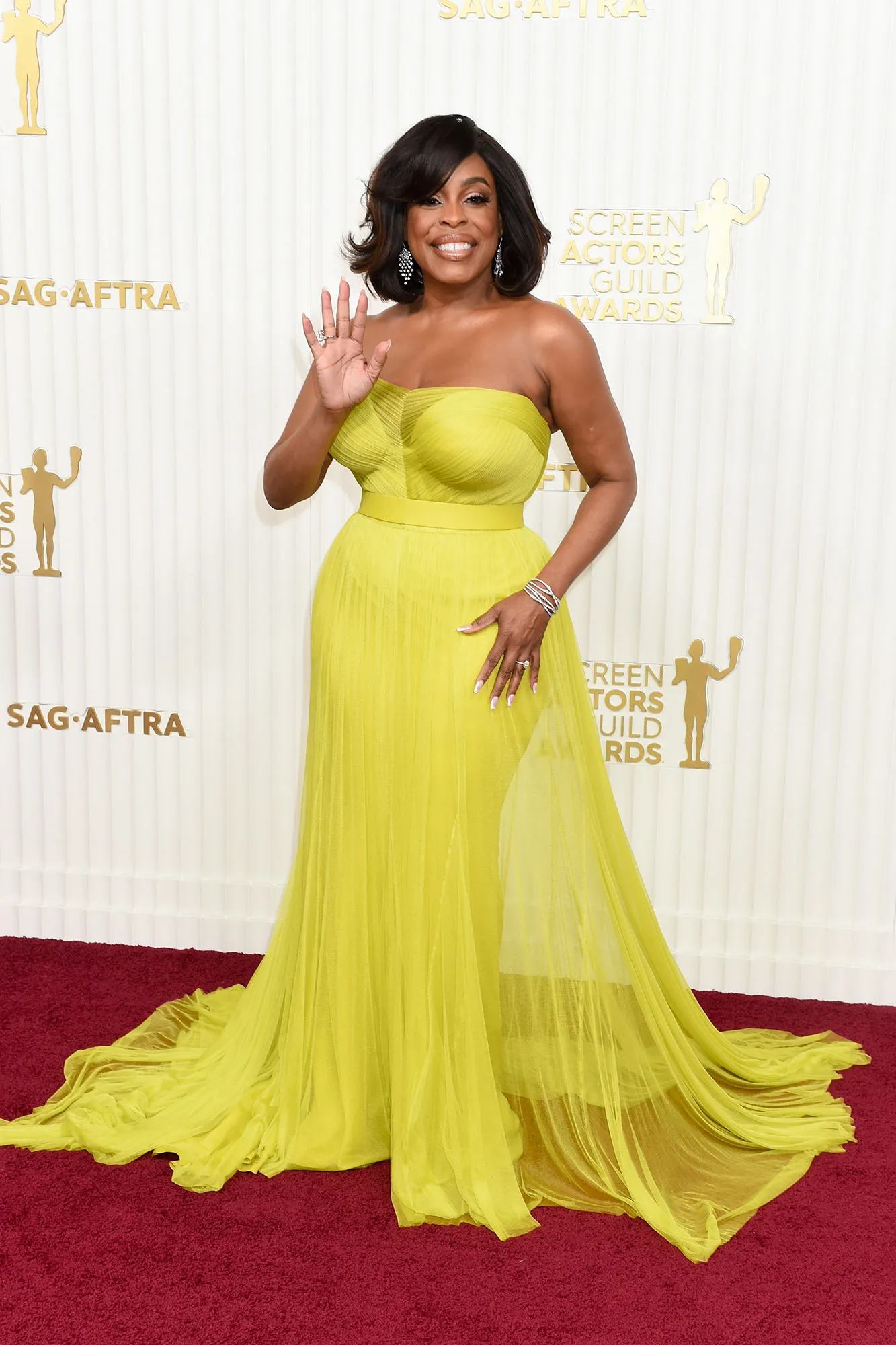 JULIA GARNER
Herečka sa zjavila v šatách na mieru od Gucci so šperkami Irene Neuwirth.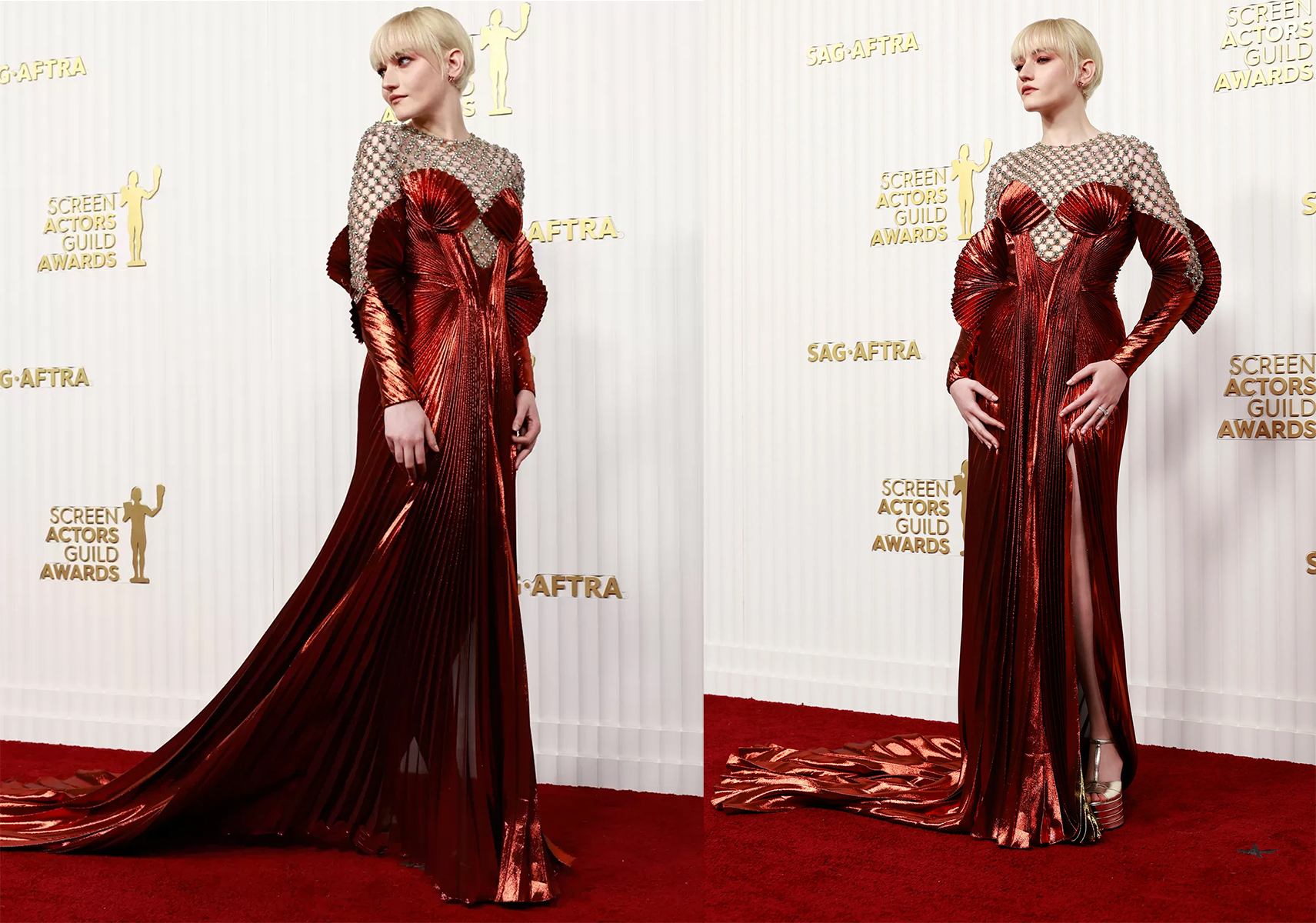 ANA DE ARMAS
Herečka, ktorá stvárnila Marilyn Monroe vo filme si obliekla tentokrát elegantné šaty z dielne Louis Vuitton.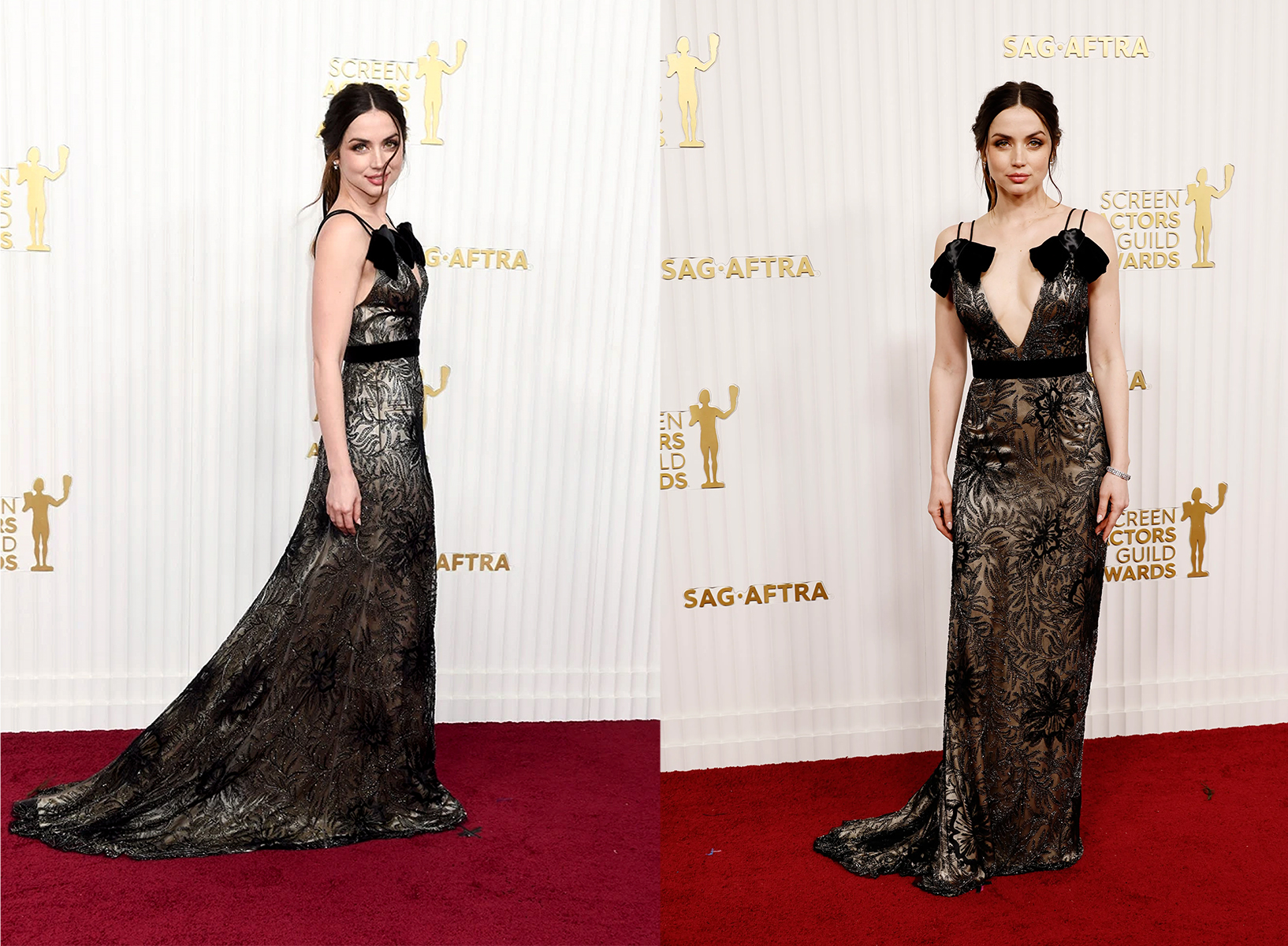 AMANDA SEYFRIED
Okatá blondýnka zažiarila v šatách Prada s vreckami a šperkoch Cartier.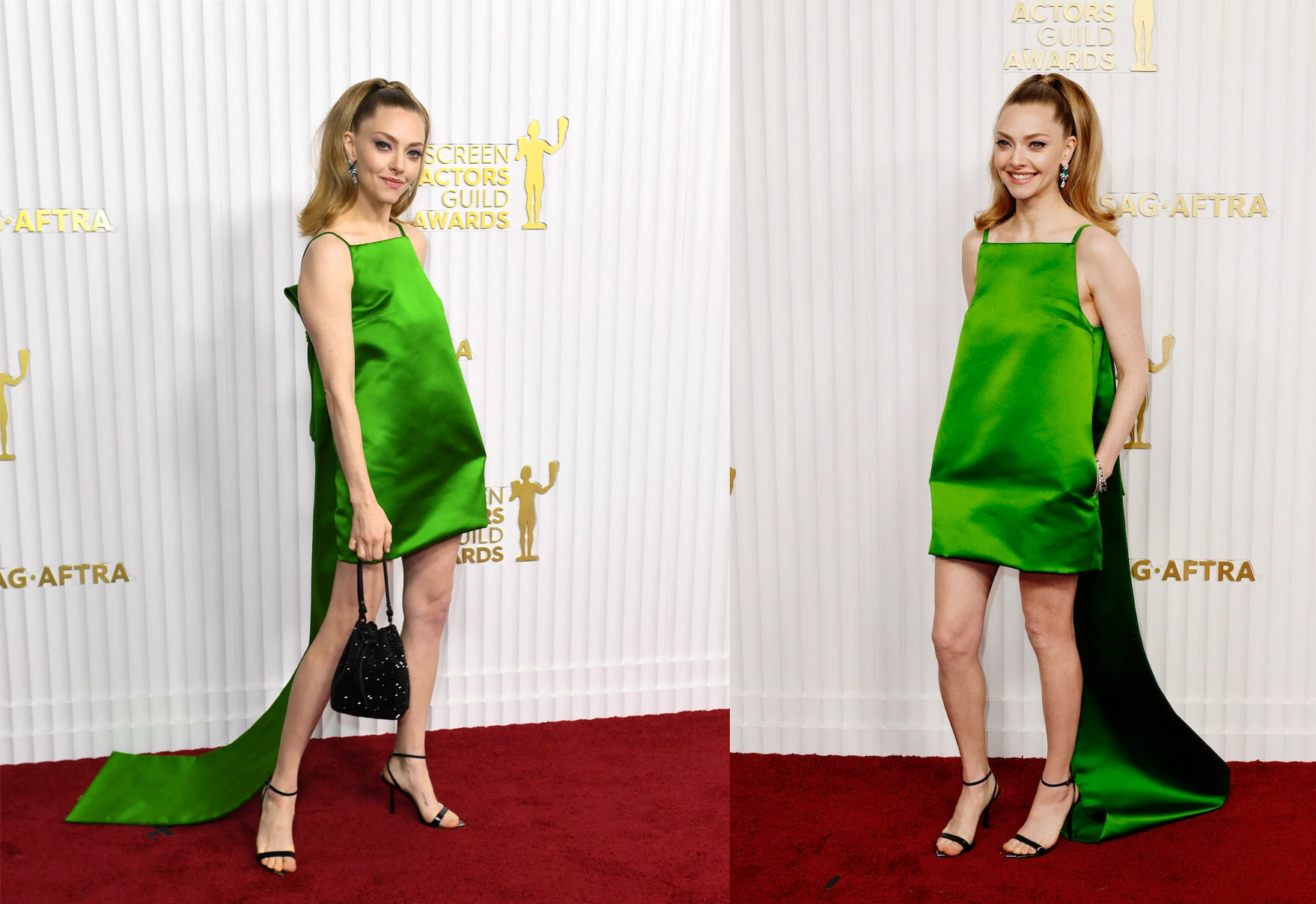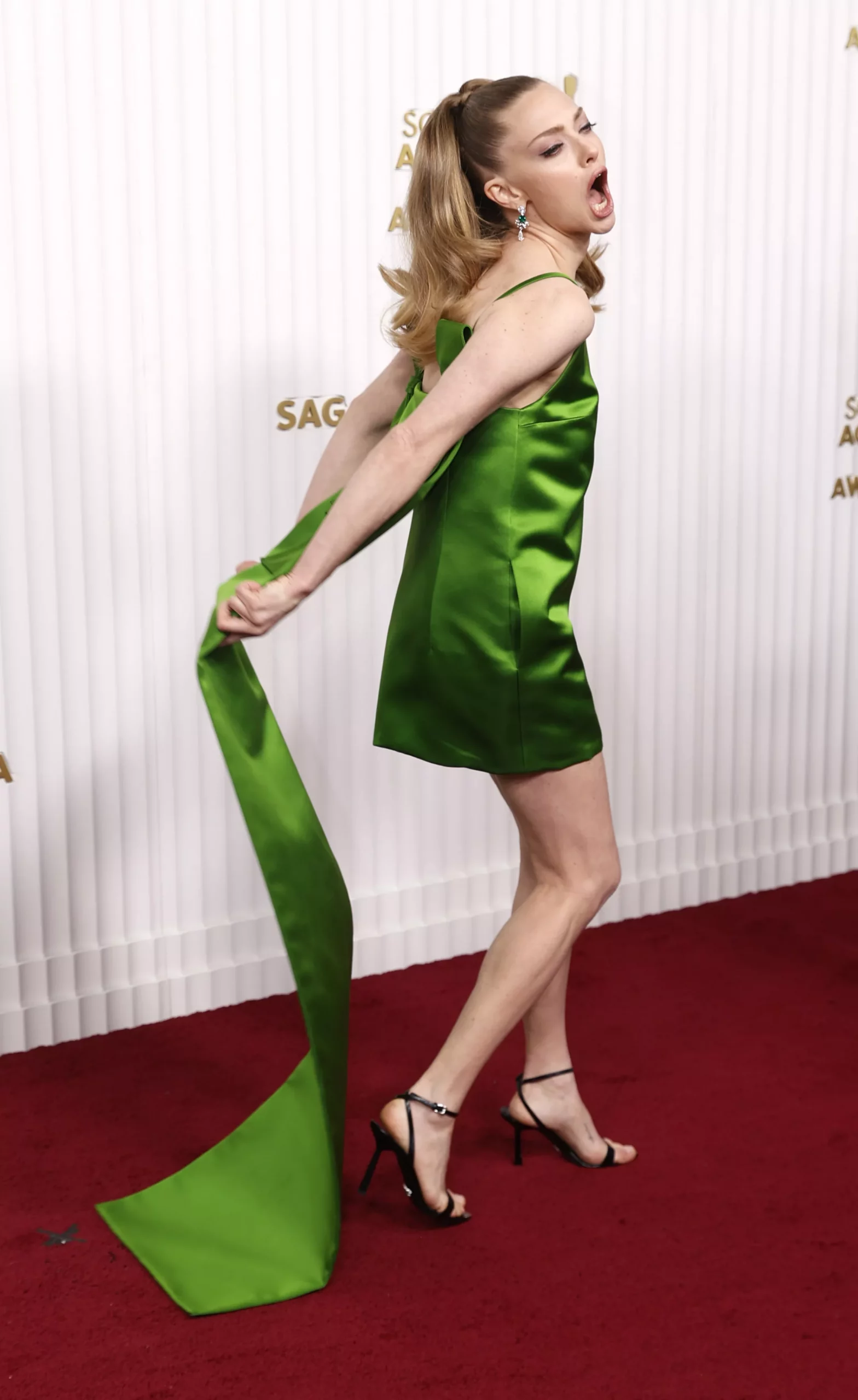 Dámy mali veľmi pekné "old hollywood style" retro účesy.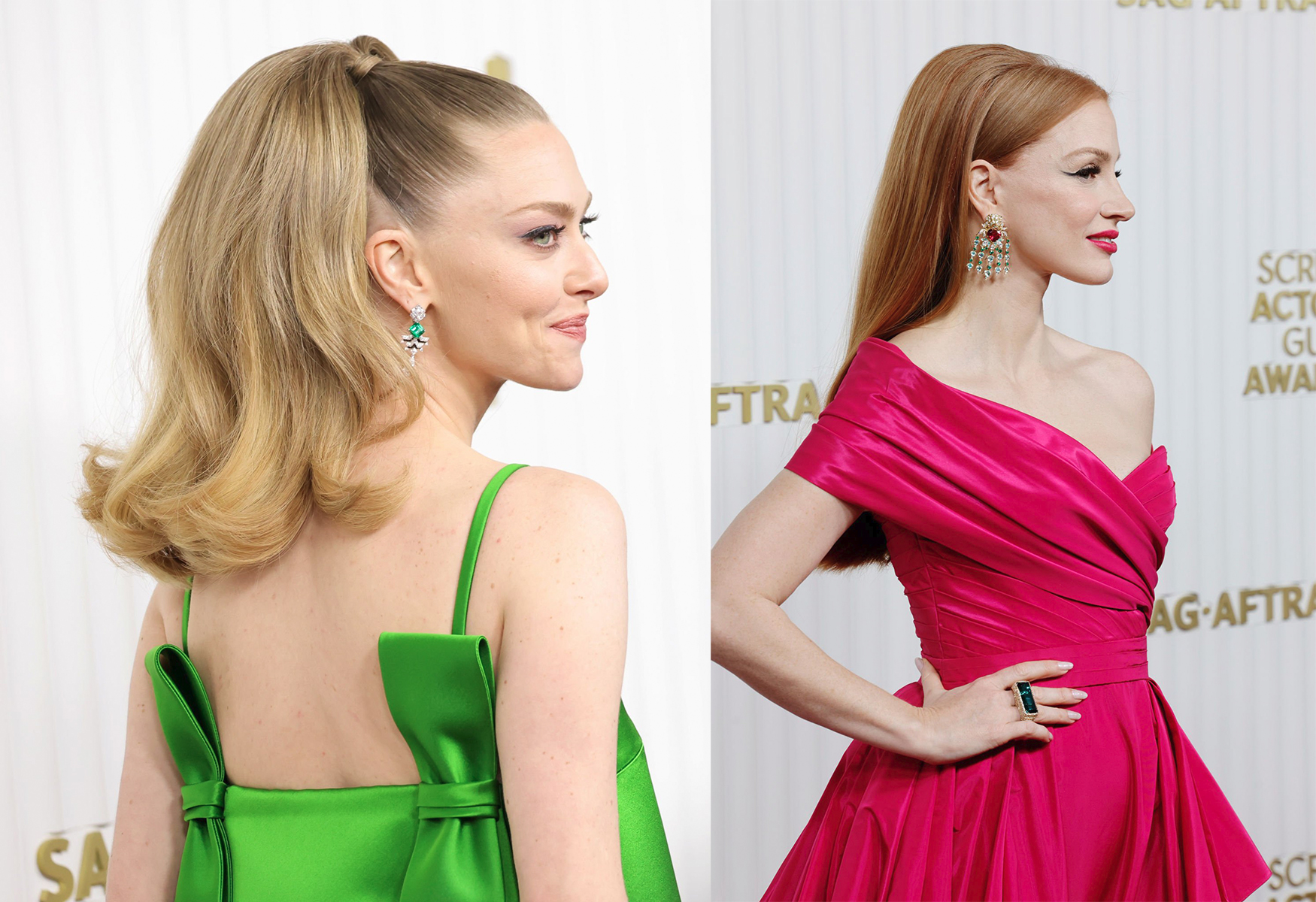 ADRIANA DeBOSE A KATHRYN NEWTON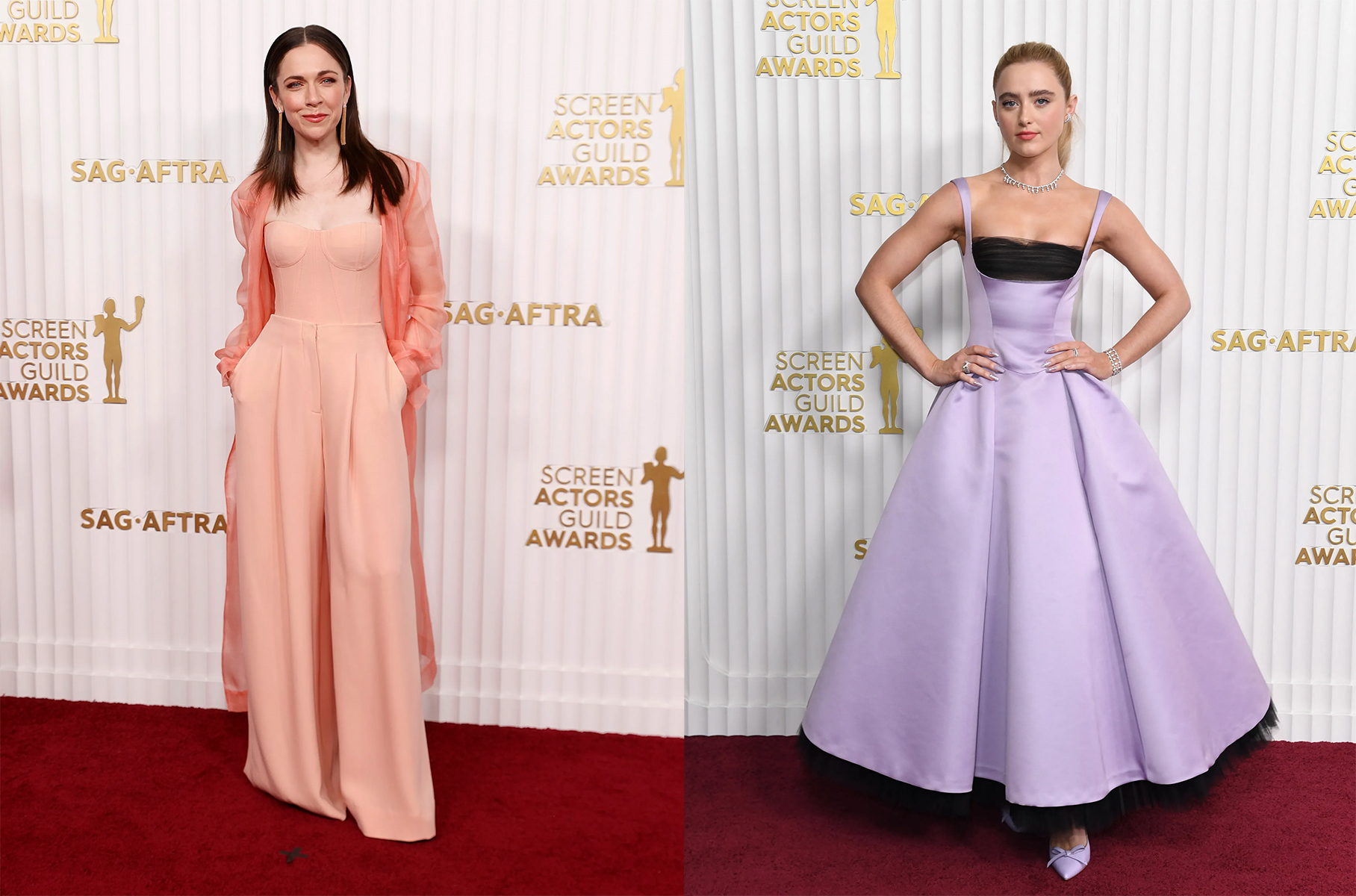 CLAUDIA SULEWSKI
MEGHANN FAHY
Krehká blondýnka z televíznej minisérie "The White Lotus" zvolila obtiahnuté šaty na telo Ralph Lauren so šperkami Cartier.
ZURI HALL
Nádherný model vanilkovej farby, dizajnových prekladaných vĺn voľného strihu obliekla 34-ročná americká zábavná reportérka, televízna osobnosť a herečka Zuri Hall.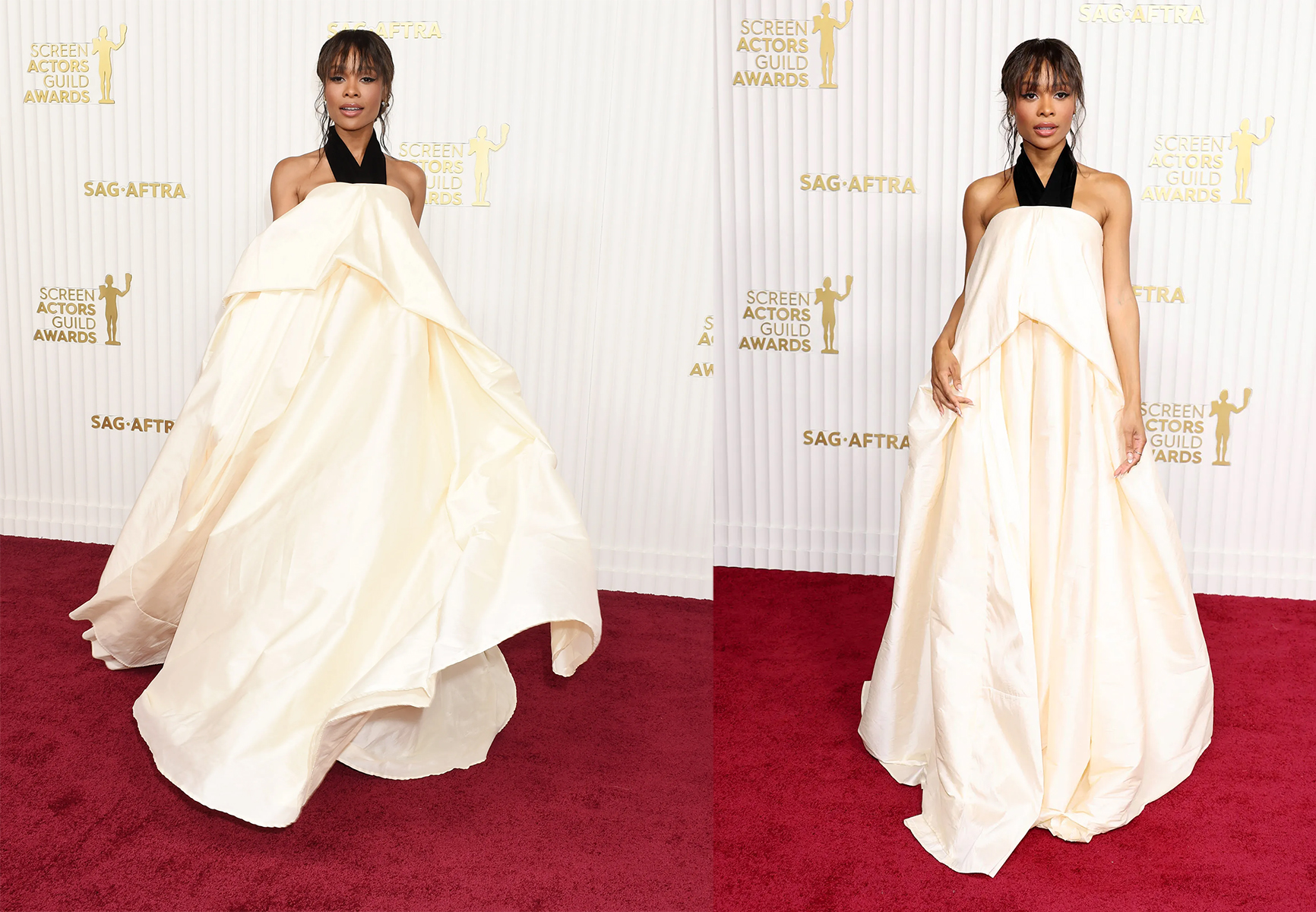 ABBY ELLIOTT
Ďalšia hviezda, ktorá sa rozhodla zažiariť vo farbe valentino ružovej v šatách z dielne Taller Marmo, tehotná Abby Elliott obliekla prekrásny model okrášlený strapcovým lemom.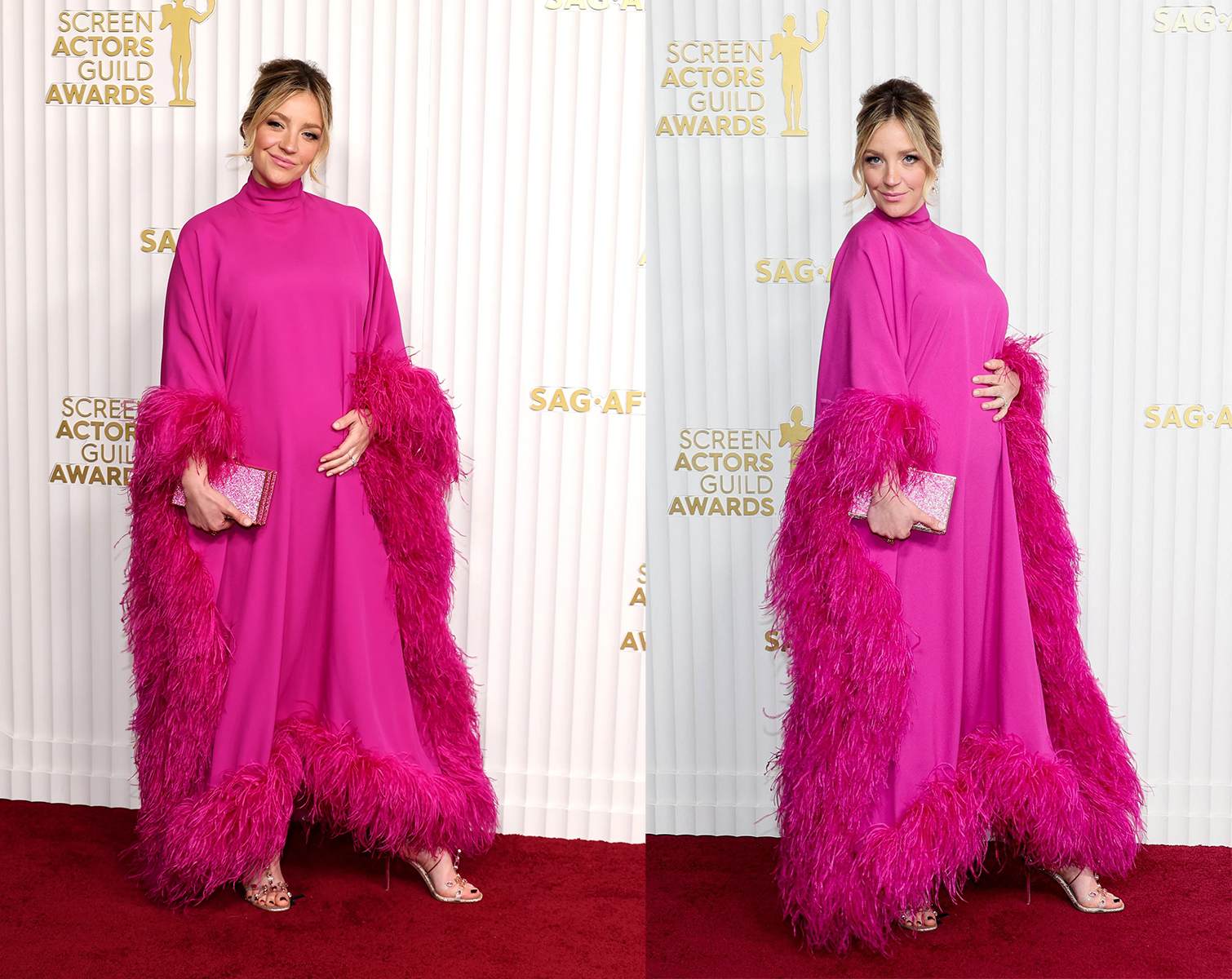 KELTIE KNIGHT
41-ročná kanadská televízna osobnosť, herečka a moderátorka zvolila na červený koberec tiež fuchsiovú záplavu volánov.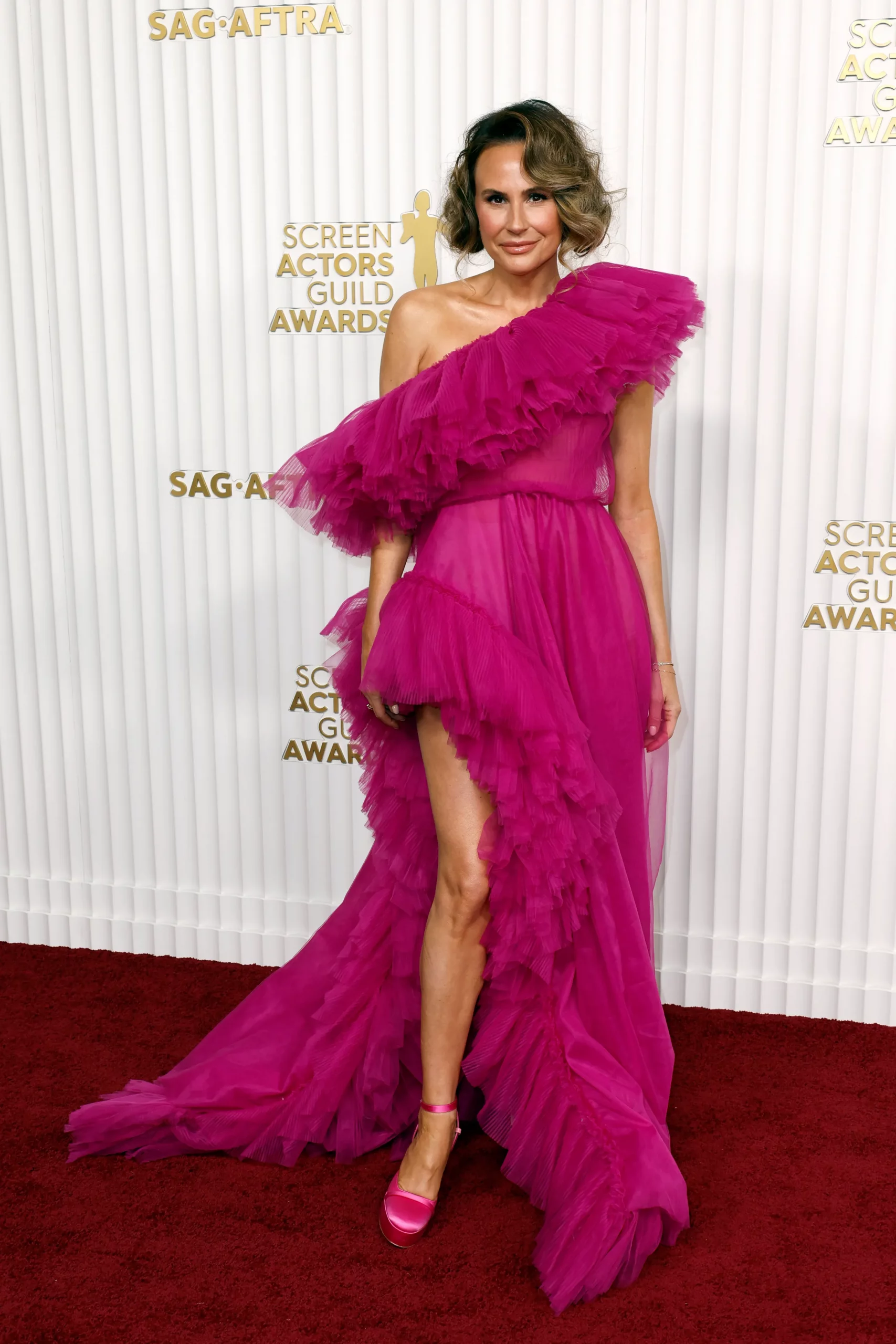 JAMIE LEE CURTIS
Herečka zvolila veľmi pekné červené šaty s rafinovaným hlbokým výstrihom na dekolte od Romona Keveza.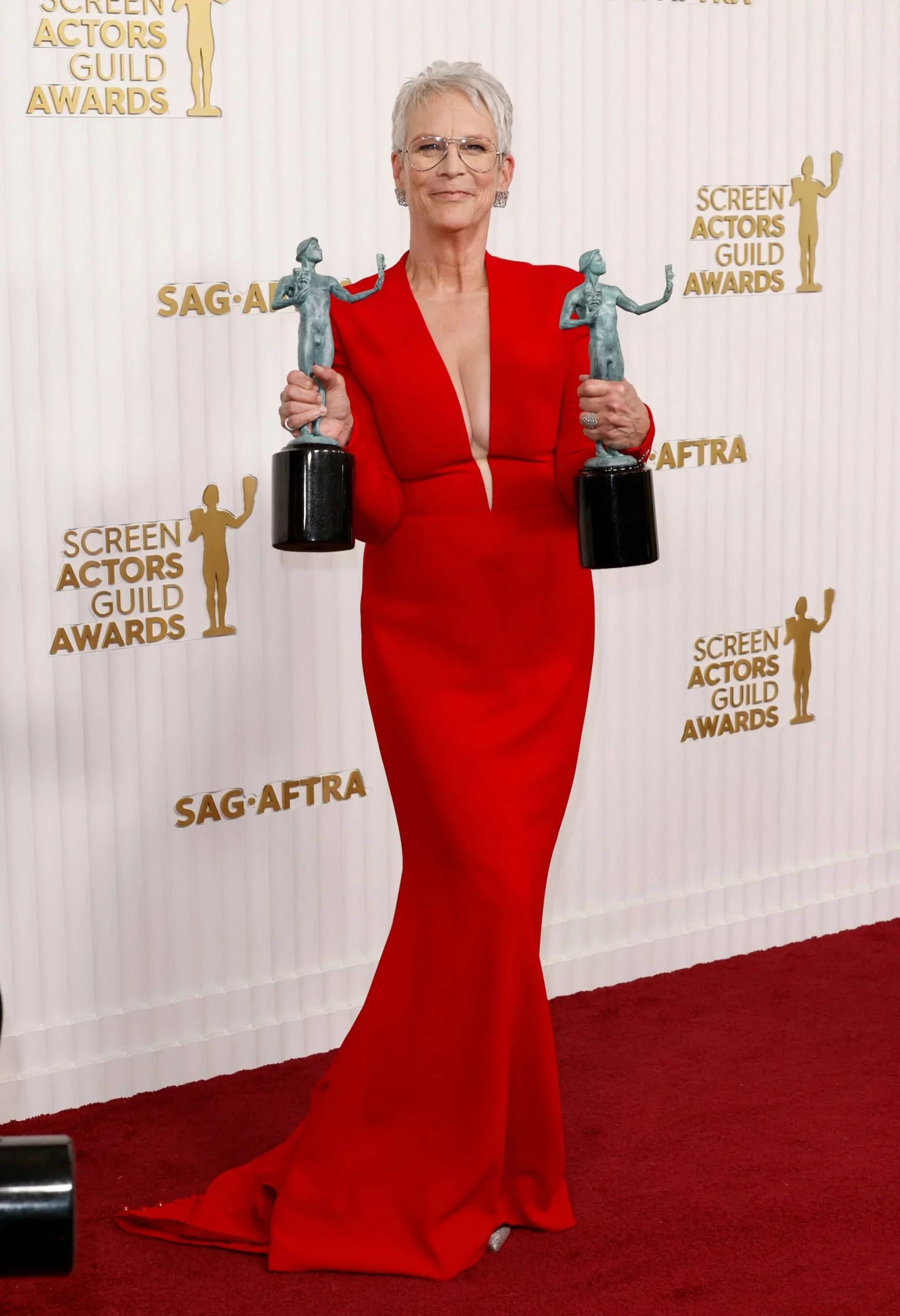 Ďalšie dámy, ktoré zvolili na červený koberec s nádychom do purpurovej červené šaty boli Hannah Einbinder a
ELISABETH MeLAUGHLIN A HANNAH EINBINDER
Dámy, ktoré sa rozhodli pre červené róby slušivých jednoduchý línií . Herečka (na fotke vpravo) oblieka šaty Staud so šperkami De Beers.
SHEILA ATIM
Šaty podobné farbe kobercu no skvostného strihu z prehliadkového móla zvolila herečka Sheila Atim.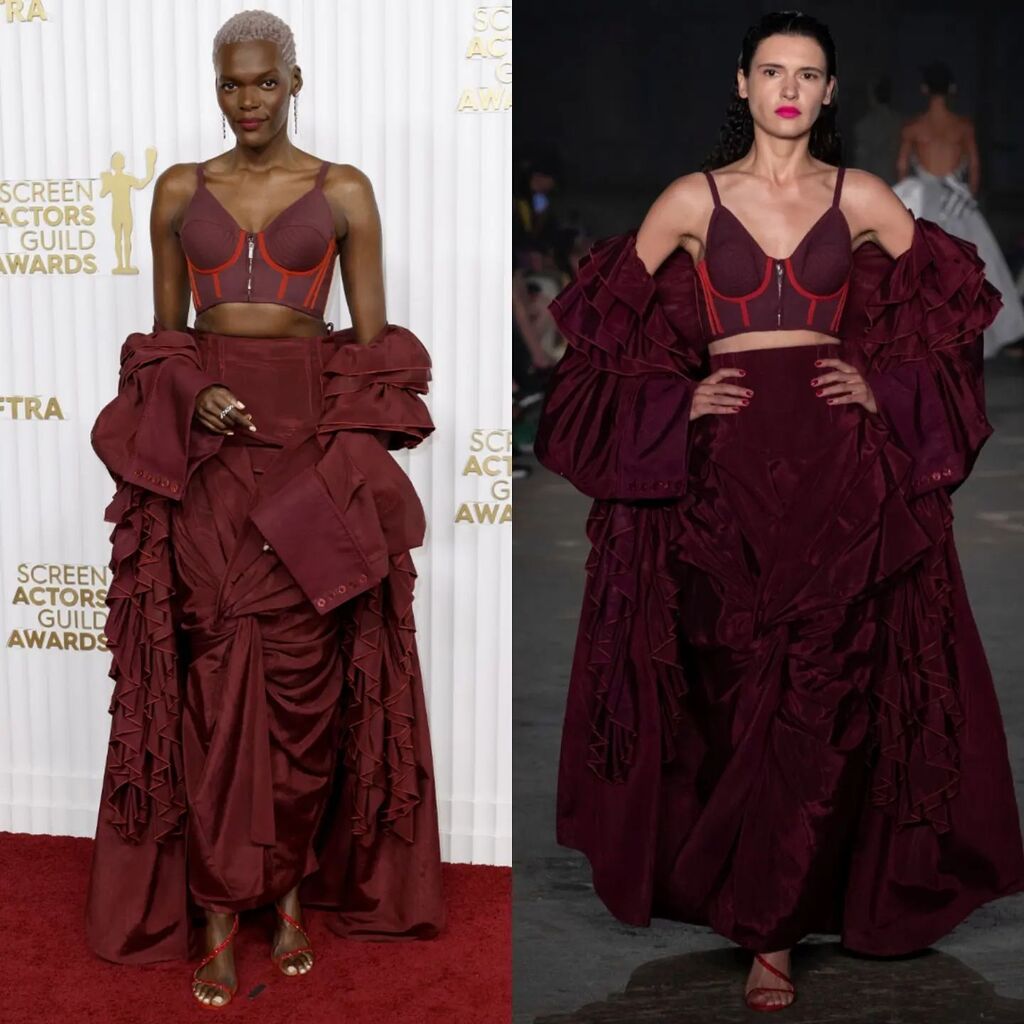 SIMONA TABASCO A BEATRICE GRANNÓ
Ďalšia herečka zo seriálu "White Lotus" , Beatrice Grannó zvolia čierne šaty Valentino a šperky Tiffany & Co. Jej herecká kolegyňa Simona Tabasco z rovnomenného seriálu očarila v tyrkysových šatách s diamantovou textúrou a tyrkysovom make-upe.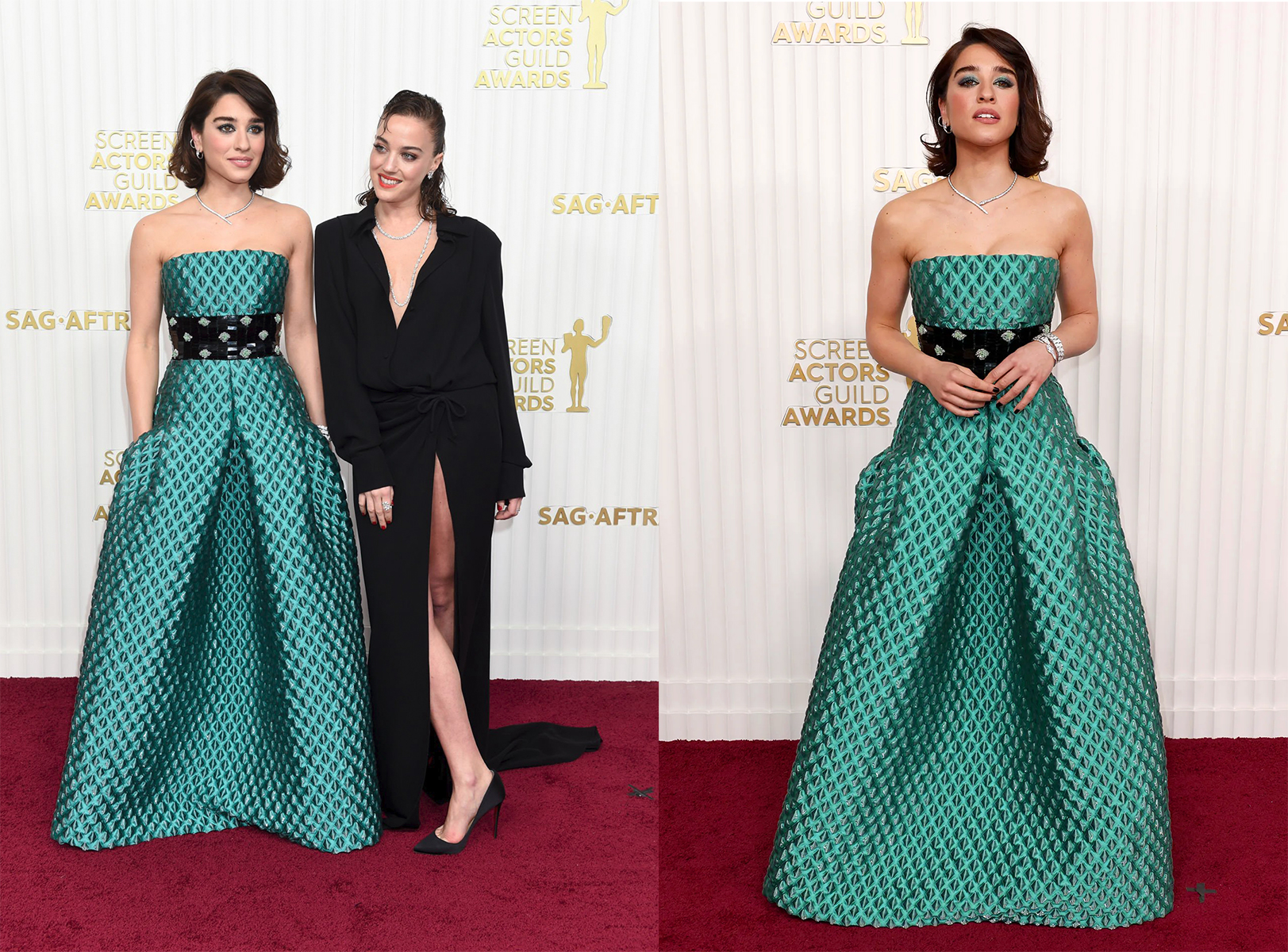 Jedny z najfarebnejších a najzaujímavejších šiat večera a treba povedať že aj jedny z najpôsobivejších, ktoré herečke náramne pristali.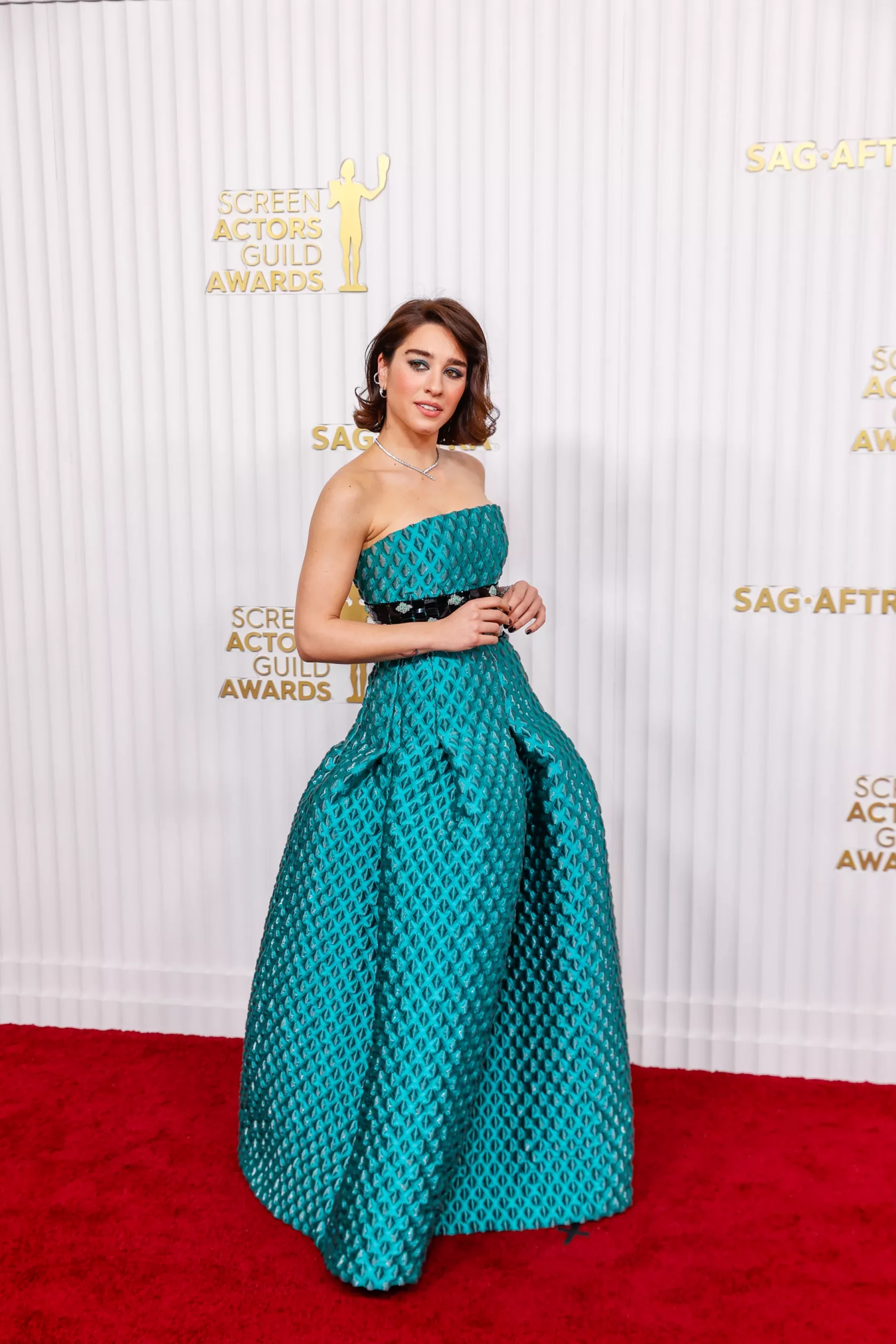 ADAM DiMARCO
Jej herecký kolega vo filme White Lotus, Adam Di Marco mal oblek z kolekcie Dior Men so šperkami Tiffany & Co.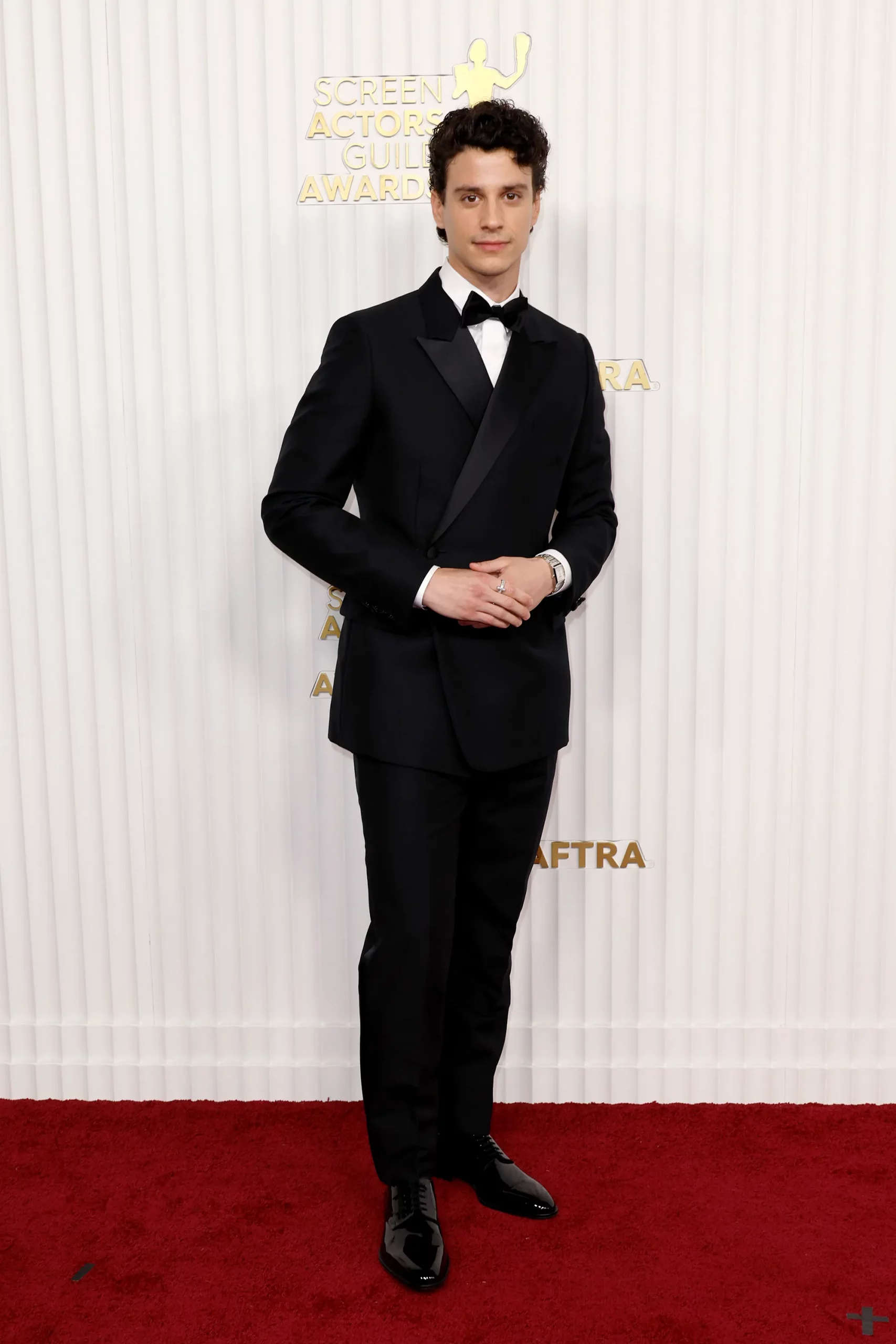 THEO JAMES
Ďalší z partie tv seriálu White Lotus, charizmatický Theo James zvolil oblek Louis Vuitton s hodinkami Omega.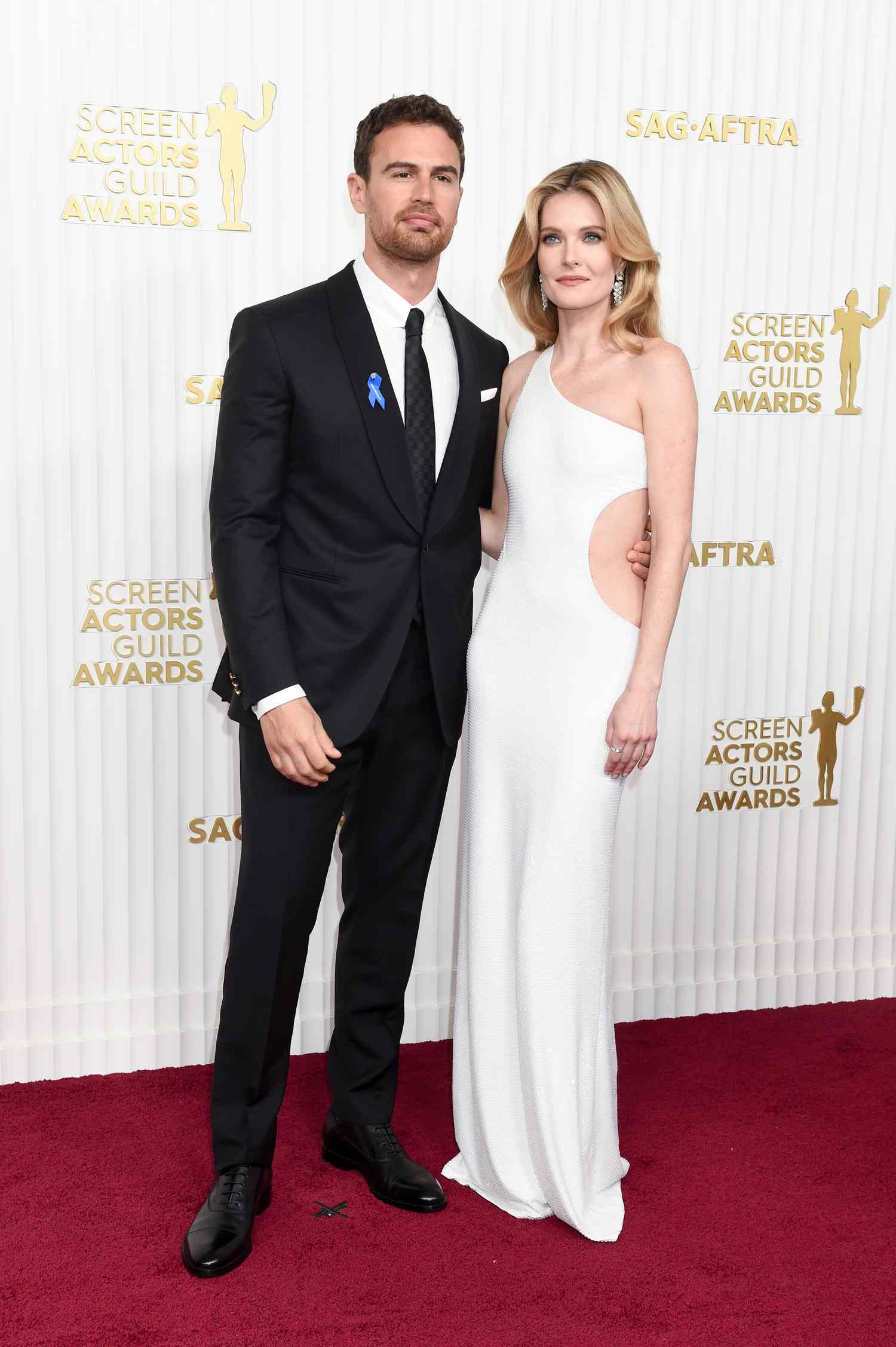 JULIA BUTTERS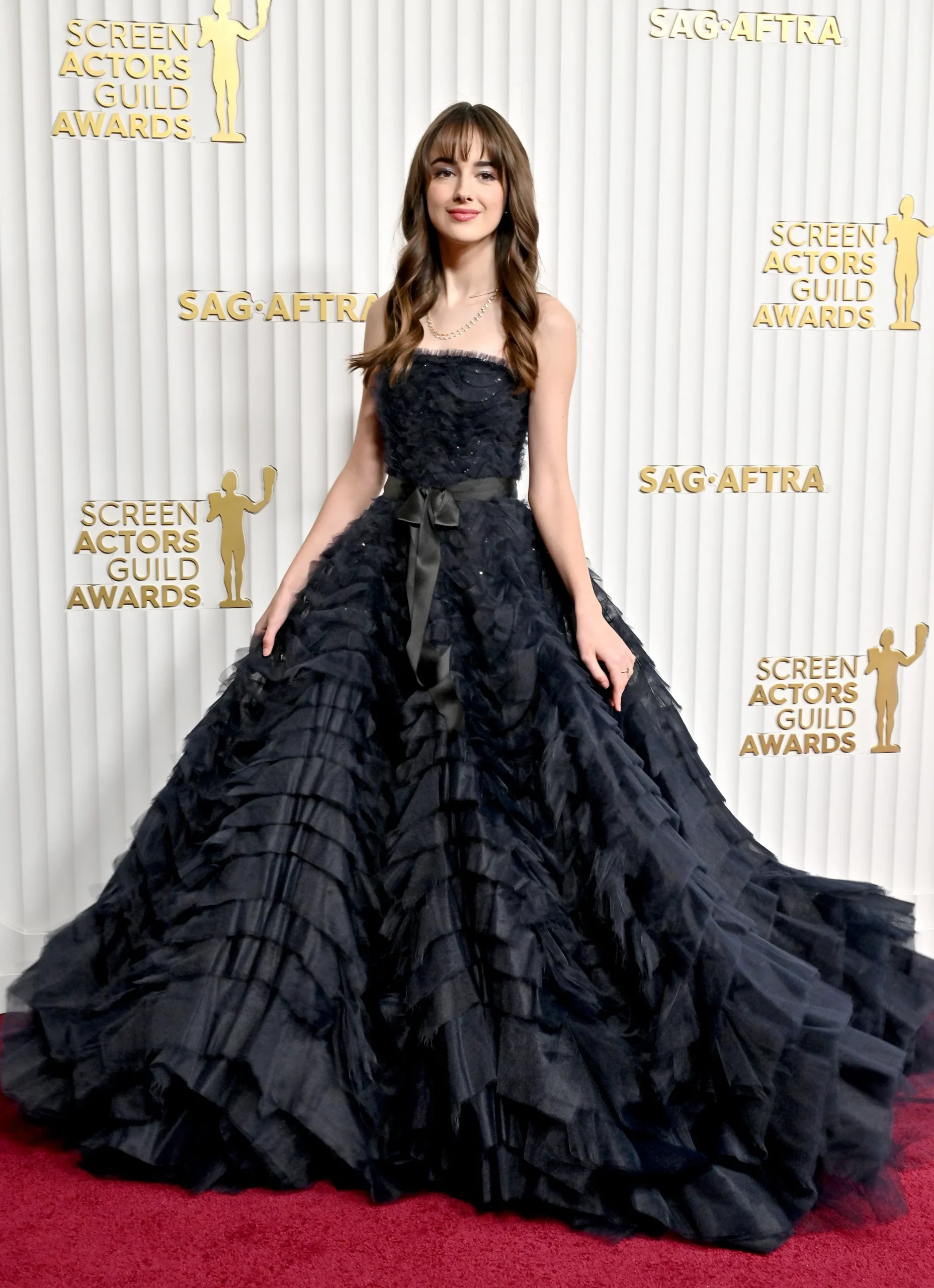 QUINTA BRUNSON a MICHELLE YEOH
Michelle Yeoh zaujala v šatách so strapcami na frontálnej časti od Schiaparelli Haute couture. Šaty morskej panny na živôtiku s dramatickým dizajnom mušlí obliekla 33-ročná americká herečka, scénaristka a producentka Quinta Brunson.
SHERYL LEE RALPH A BRITT LOWER
Hviezda z "Abbott Elementary" (na fotke vľavo) zažiarila v trblietavej róbe Tadashi Shoji vo farbe champagne . Herečka Britt Lower obliekla šaty Rahul Mishra Couture.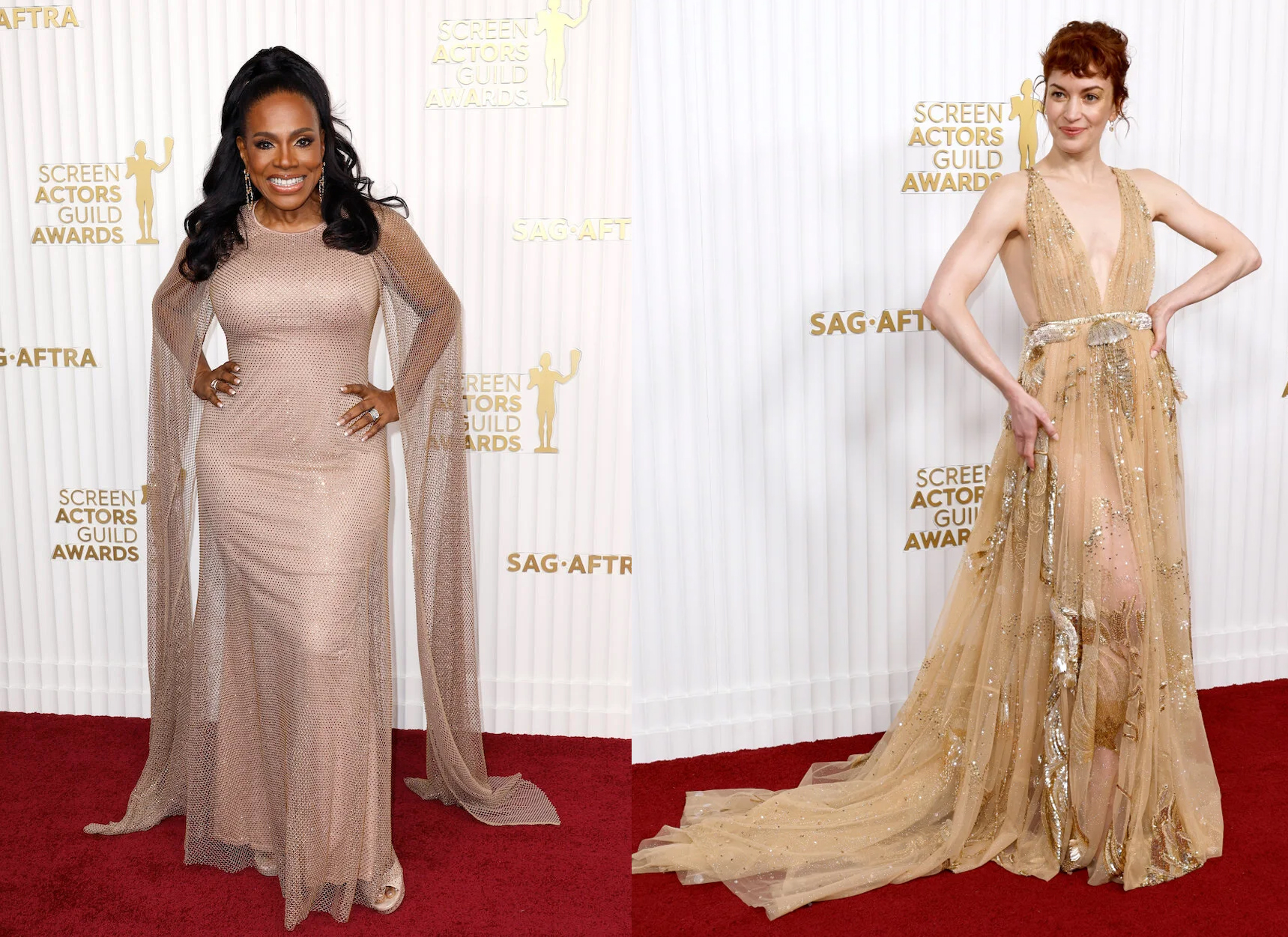 Niektoré z najlepších pánskych odevov večera tiež obsahovali farbu, pričom Austin Butler a James Marsden sa pri obliekaní s čiernou kravatou popasovali v gaštanových a baby modrých smokingoch.
AUSTIN BUTLER
Červený koberec a červený oblek. Elvisova energia rockovej hviezdy Austina Butlera zaplavila červený koberec – herec obliekol trojdielny oblek s rozšírenými nohavicami .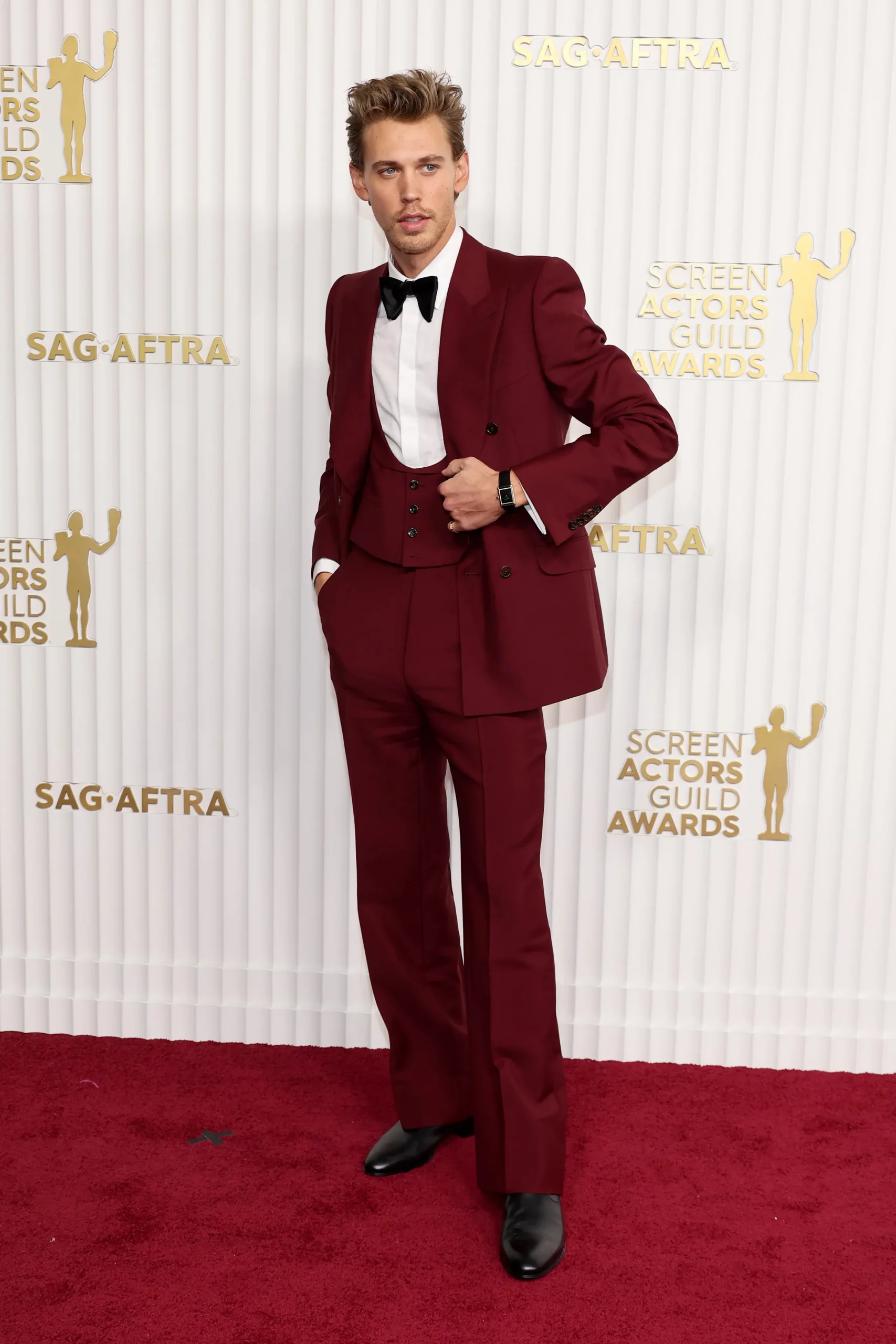 JAMES MARSDEN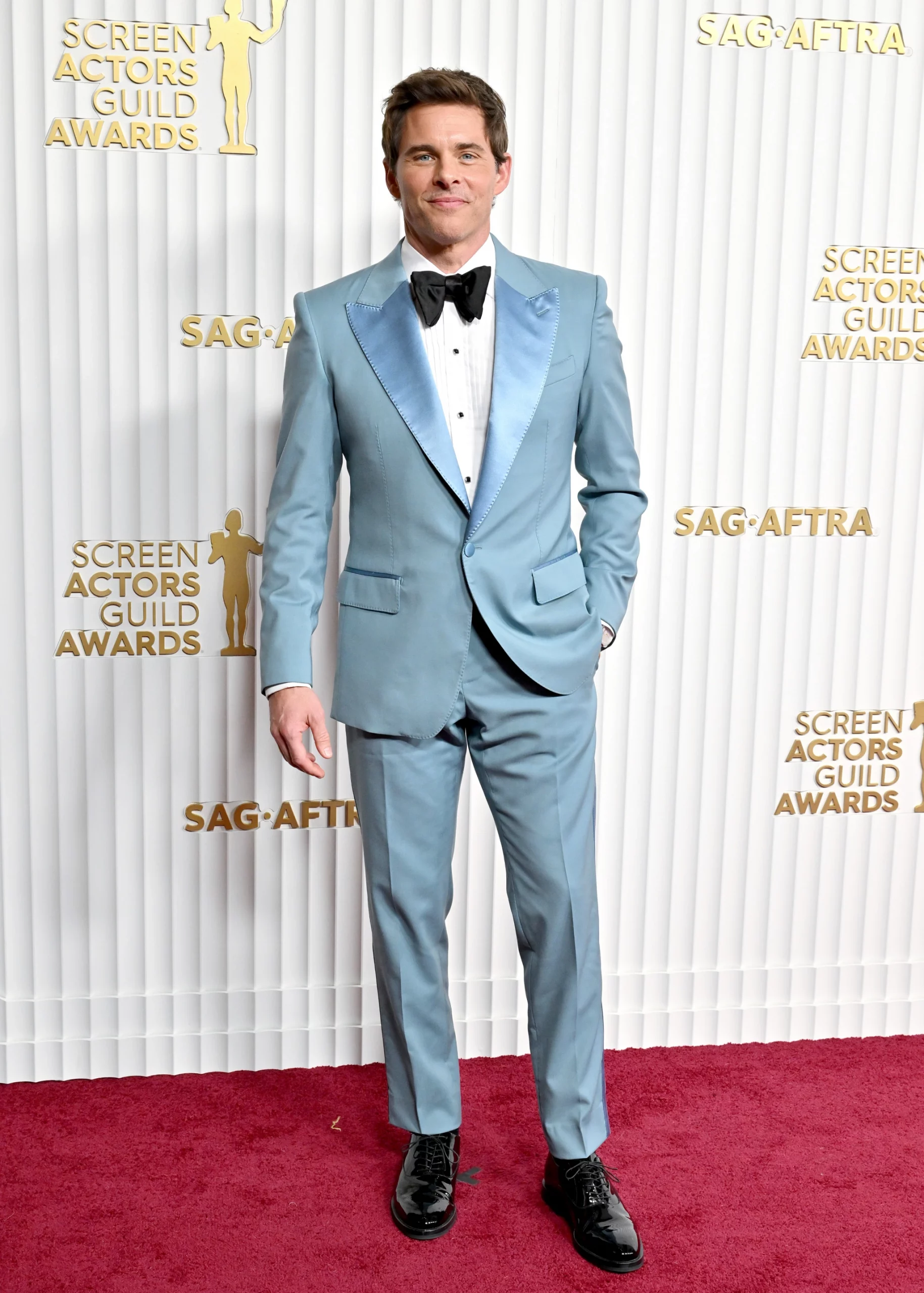 EDDIE REDMAYNE
A Eddie Redmayne (na foto vpravo) priniesol na červený koberec vítanú extravaganciu v dramatickej blúzke Saint Laurent a zamatových nohaviciach so širokými nohami.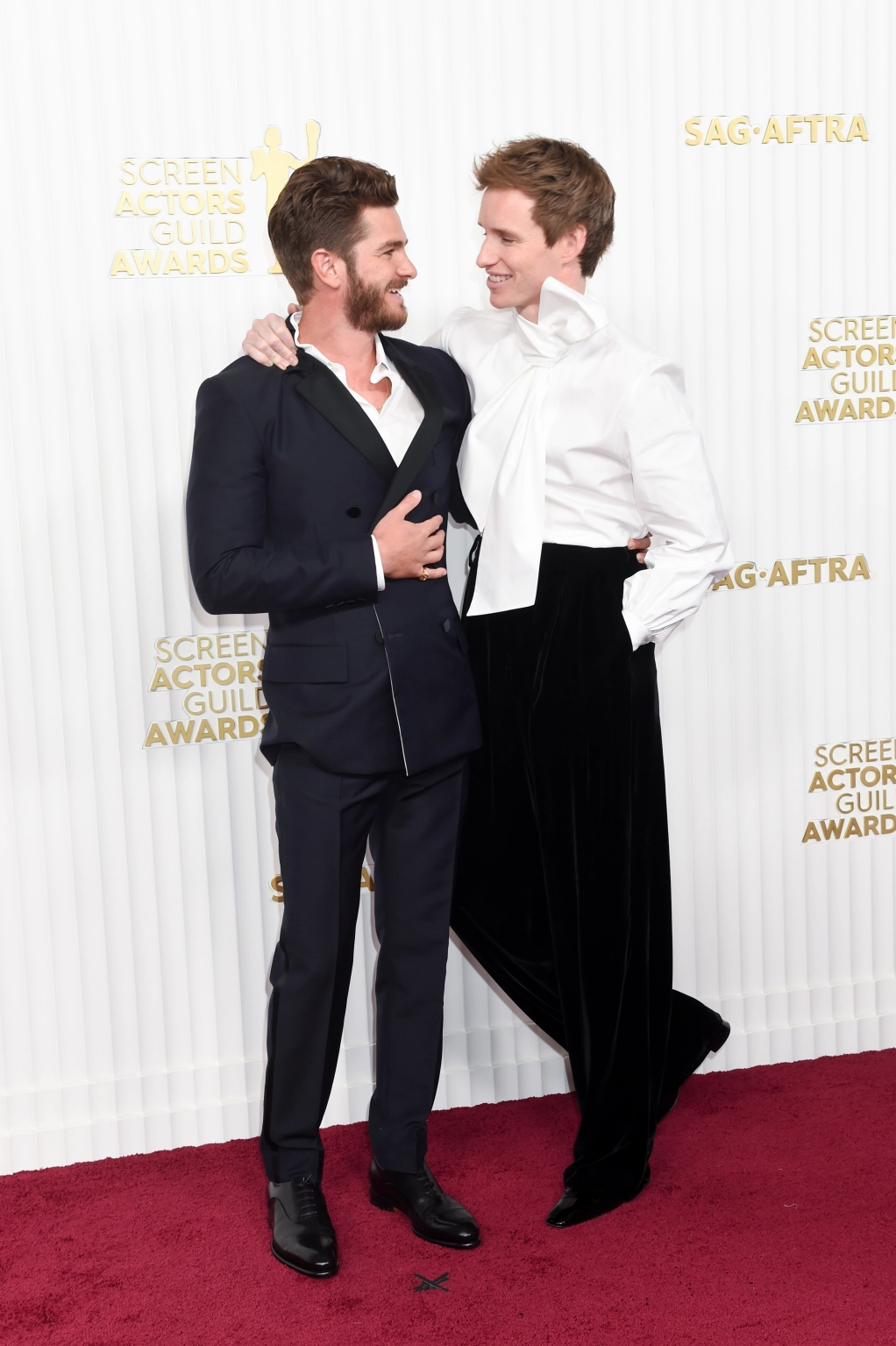 JACKIE SANDLER A ADAM SANDLER
EVAN PETERS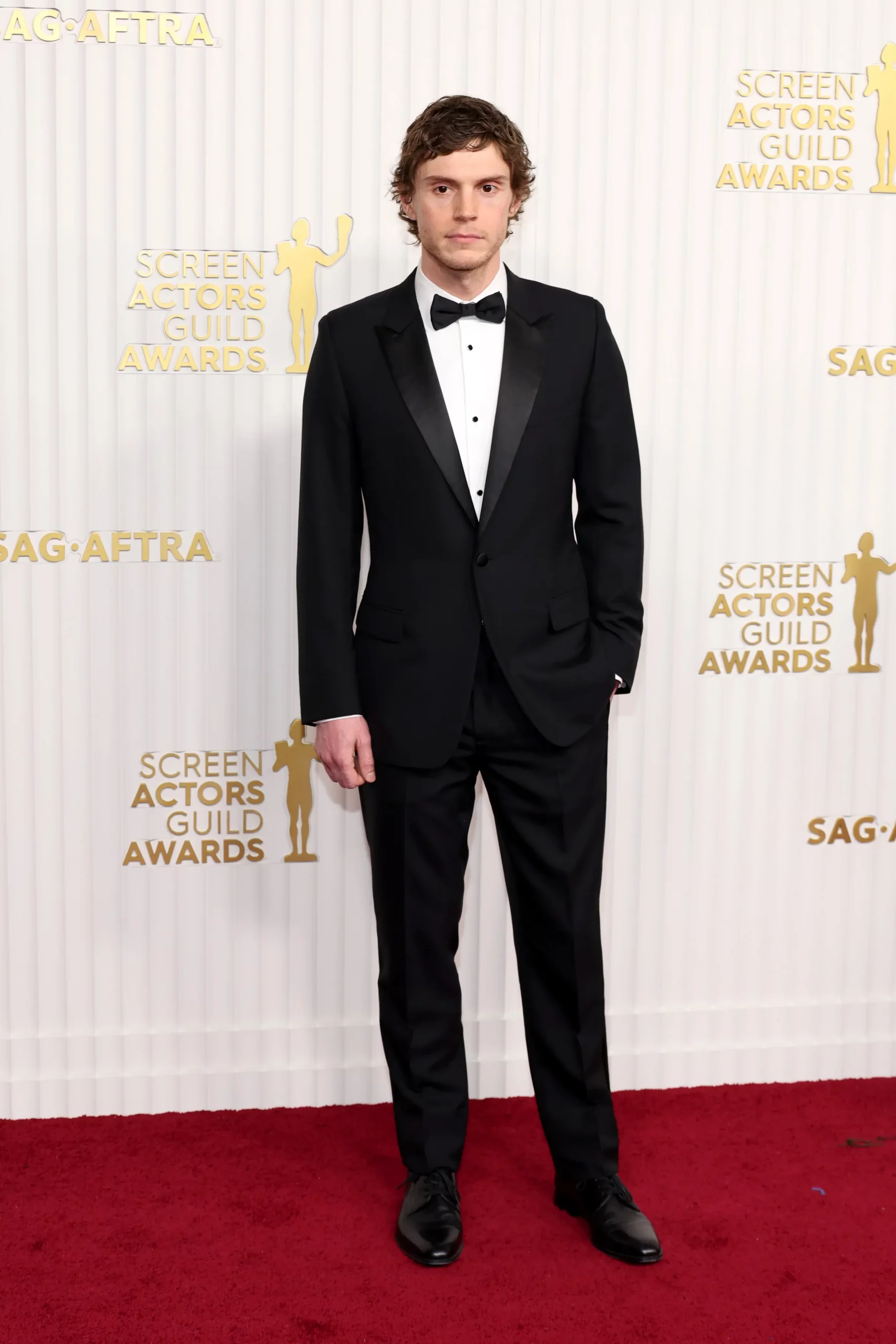 BARRY KEOGHAN
LI JUN LI
Babylonská Li Jun Li mala na sebe trblietavé, priesvitné šaty s naberaným výstrihom z kolekcie talianskej značky Fendi. Šperky De Beers dodali jej zdobenej róbe ešte väčší šmrnc.


CAITLIN REILLY A ASHLEY PARK

Ashley Park, známa predovšetkým z poslednej série obľúbeného seriálu Emily in Paris, sa zahalila do slušivej krémovej róby zaujímavého strihu čistých línií s kamienkovým zdobením na frontálnej časti a ravinovanými rázporkami.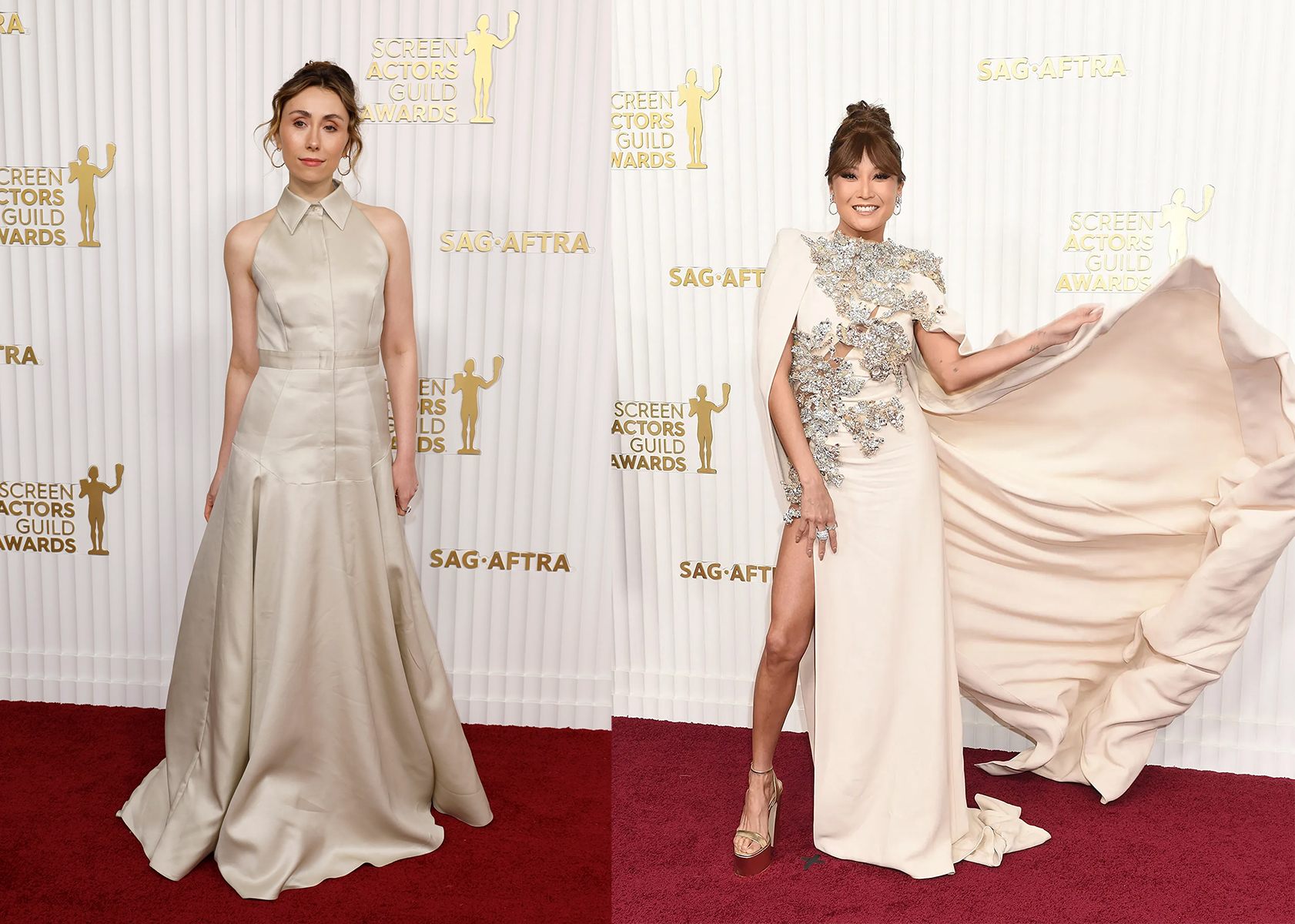 JESSIE BUCKLEY A KATHERINE VATERSTON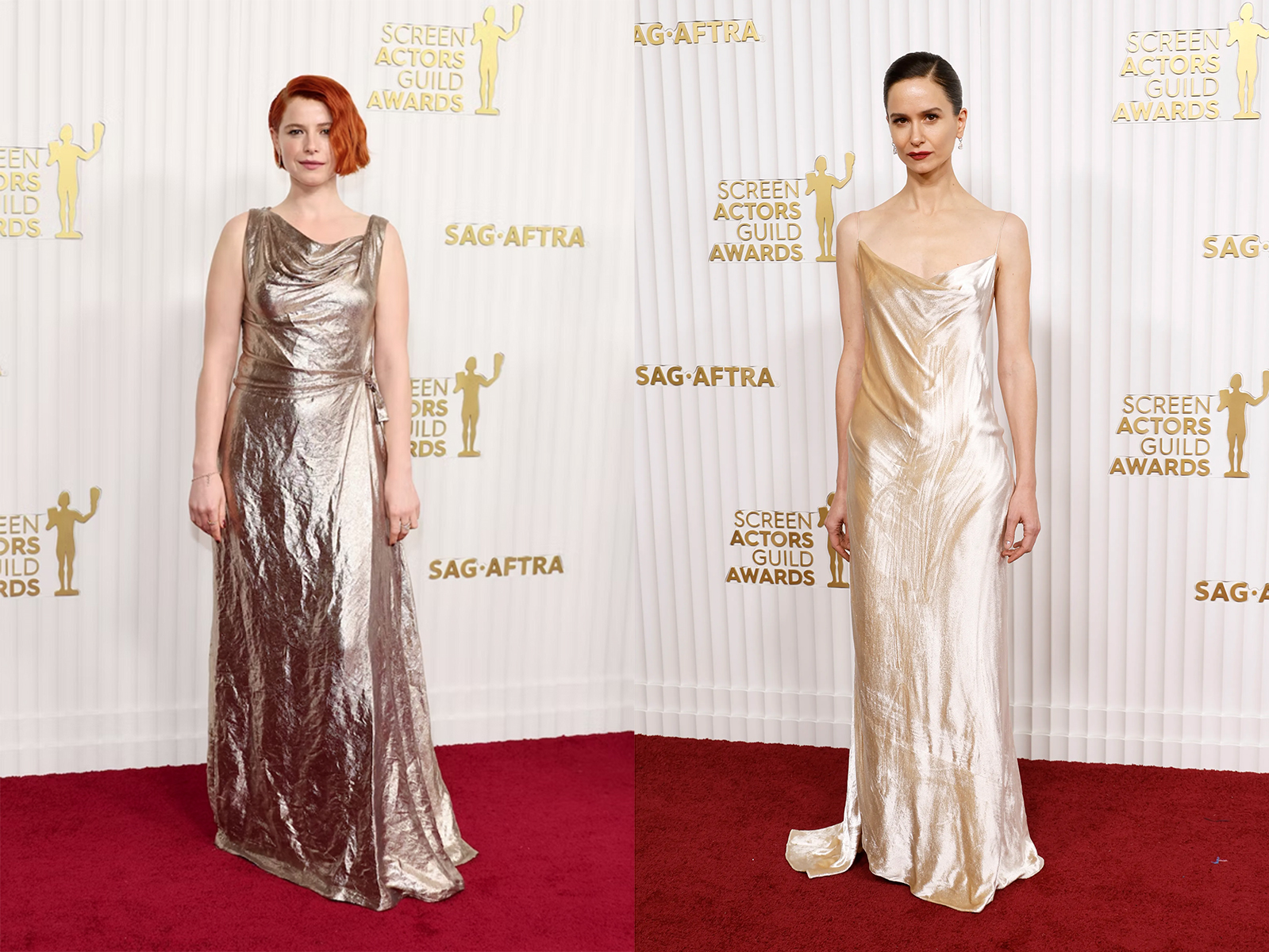 ELAINE HENDRIX A ADINA VERSON
Adina Verson, newyorská herečka si na červený koberec SAG Awards zvolila zaujímavý outfit – trojvrstvový pepitový oblek, ku ktorému zladila účes, topánky aj okuliare. Čerešničkou bol vlčí mak v klope saka. Elaine Hendrix sa obliekla do old hollywood štýlu, kde k pánskemu obleku s motýlikom zvolila páskové sandále a retro účes s voľnými vlnami.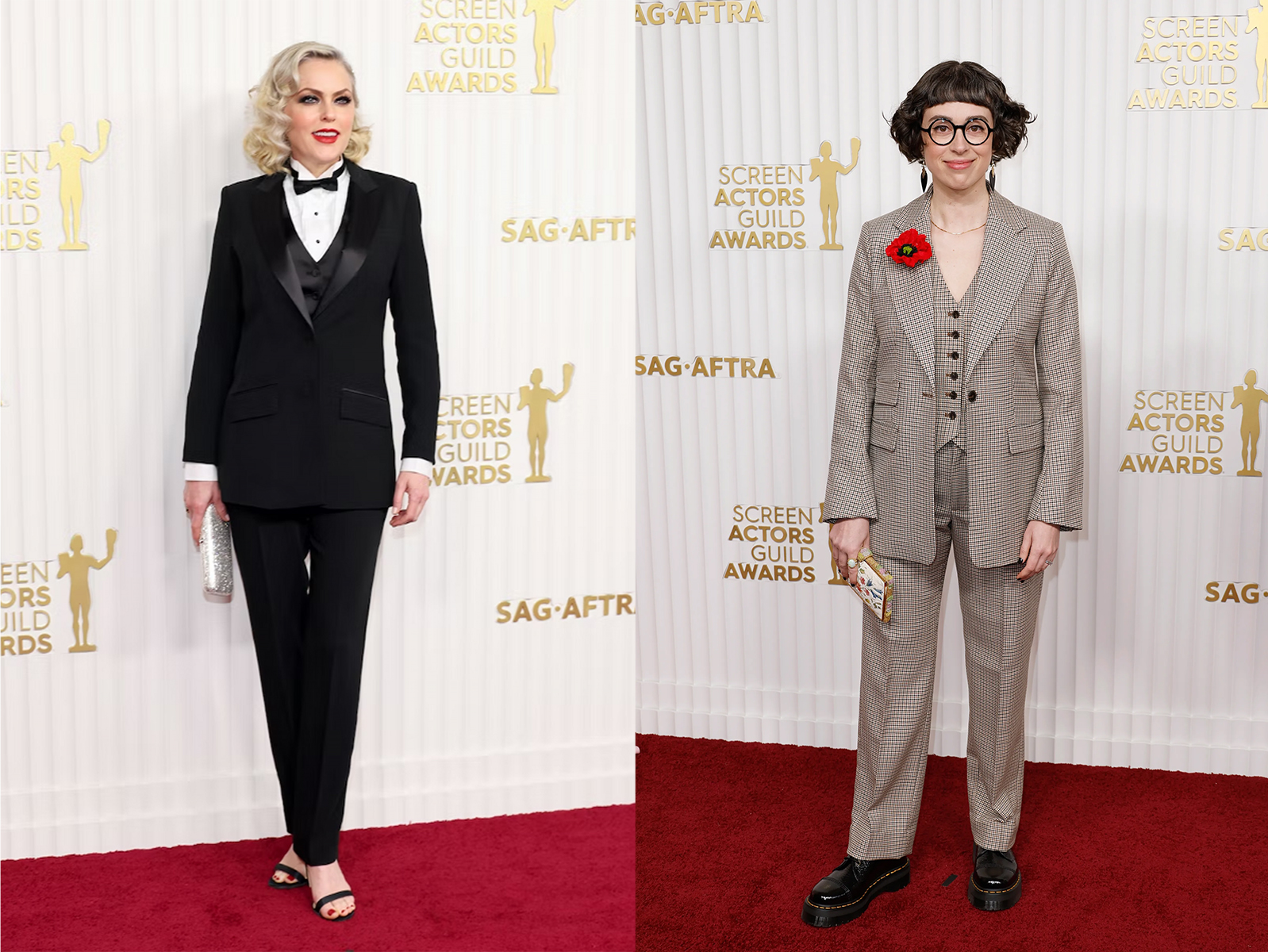 LAUREN PEREZ A FRAN DRESCHER
Dámy zvolili flitrované modely úplne odlišných strihov, ale každej to náramne pristalo.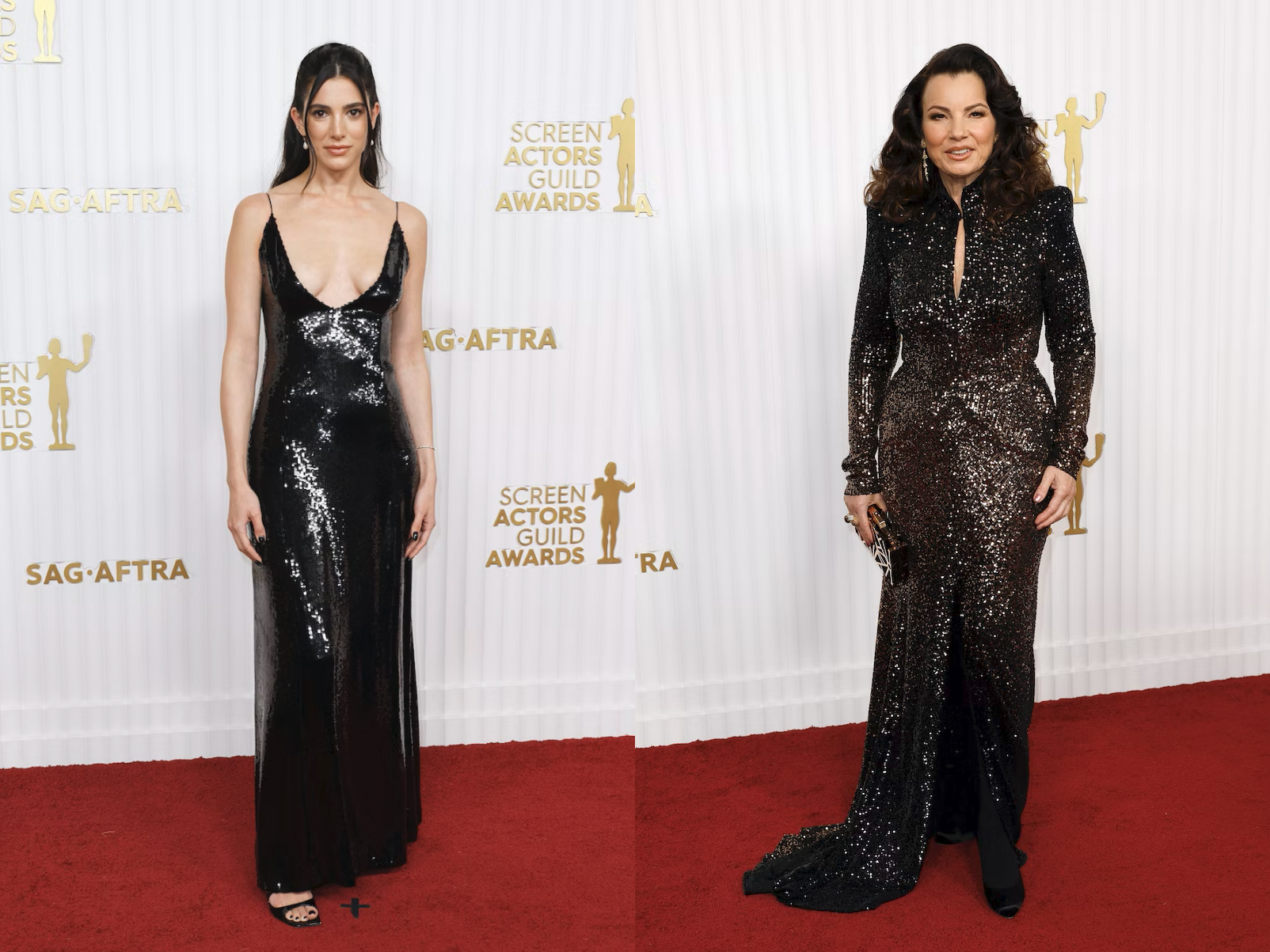 LISA ANN WALTER
59-ročná americká herečka, komička a producentka sa predviedla v slušivej róbe ovšem s extrémne veľkým výstrihom, ktorý nechal zrejme zámerne vyniknúť jej výrazný dekolt, čo pokazilo celkový dojem z elegancie a noblesy.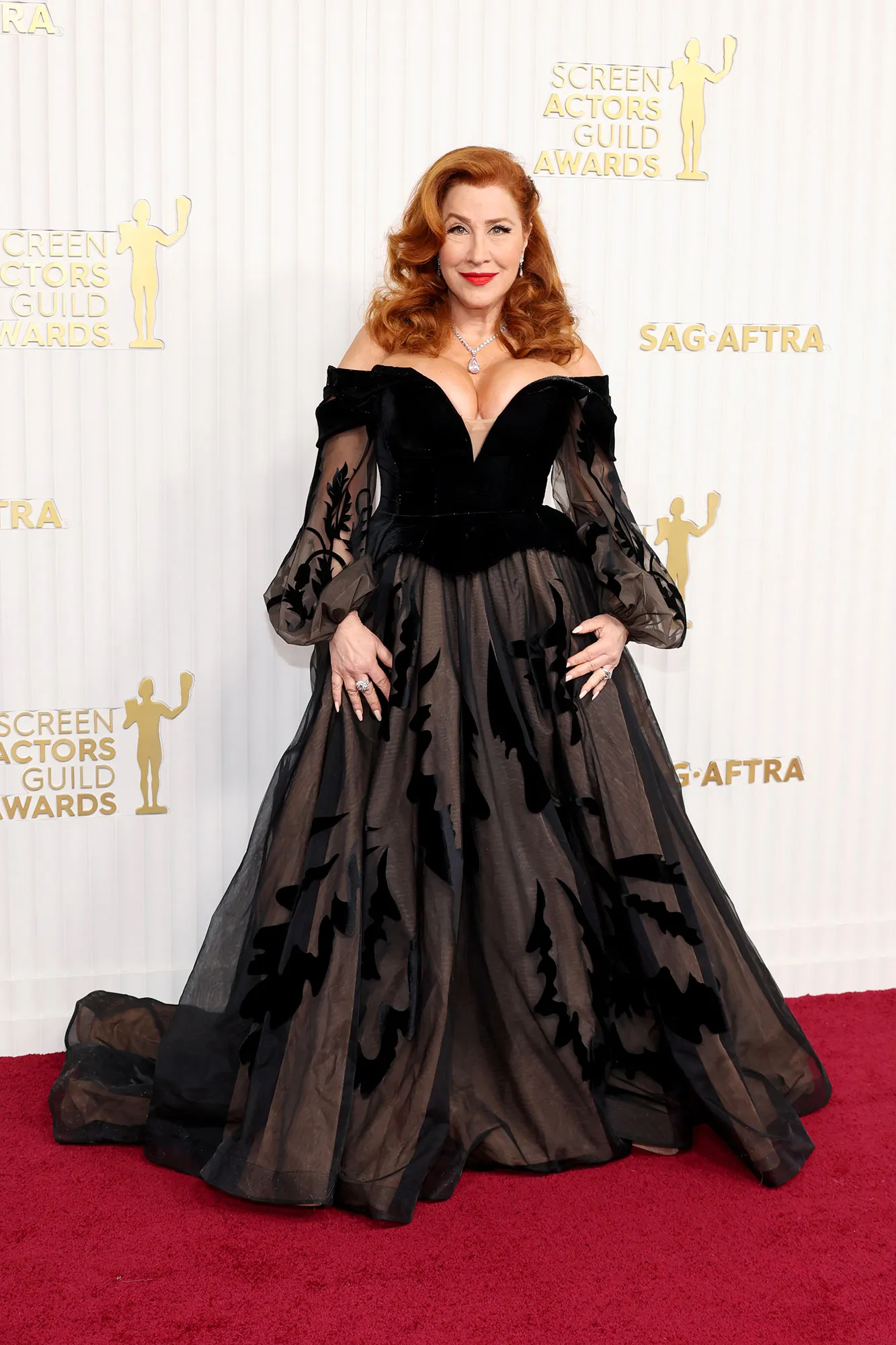 Obrázky: © getty images
Sledujte Facebook stránku: Mya Mirell Fashionista a Instagram: mya_mirell .