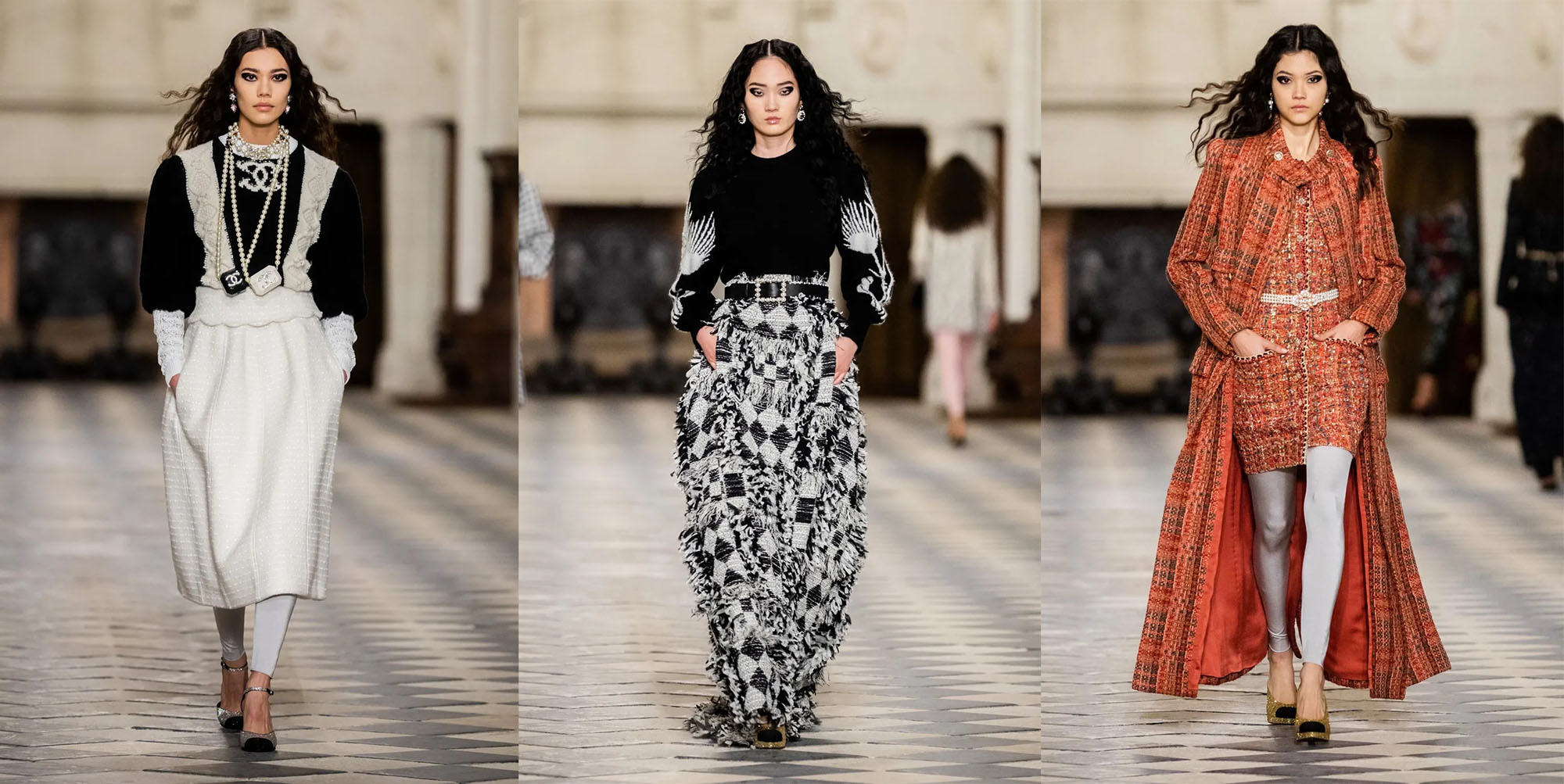 CHANEL 2020 – 21 Métiers d'Art – kolekcia inšpirovaná filmom Angelika, francúzskou kráľovnou Katarínou Medicejskou a zámockou dobovou atmosférou
Módna prehliadka značky CHANEL 2020 odhalila nové kúzelné kreácie. Dejiskom sofistikovanej prehliadky Pre-Fall kolekcie Chanel 2020/21 Métiers d'Art s tradíciou diania sa stal magický zámok Château de Chenonceau , majstrovské dielo renesancie osadené v údolí rieky Loiry. Toto prekrásne miesto tvorilo perfektné pozadie pre show módneho domu Chanel uskutočnenú v decembri 2020 , ktorý teraz vedie kreatívna riaditeľka Virginie Viard.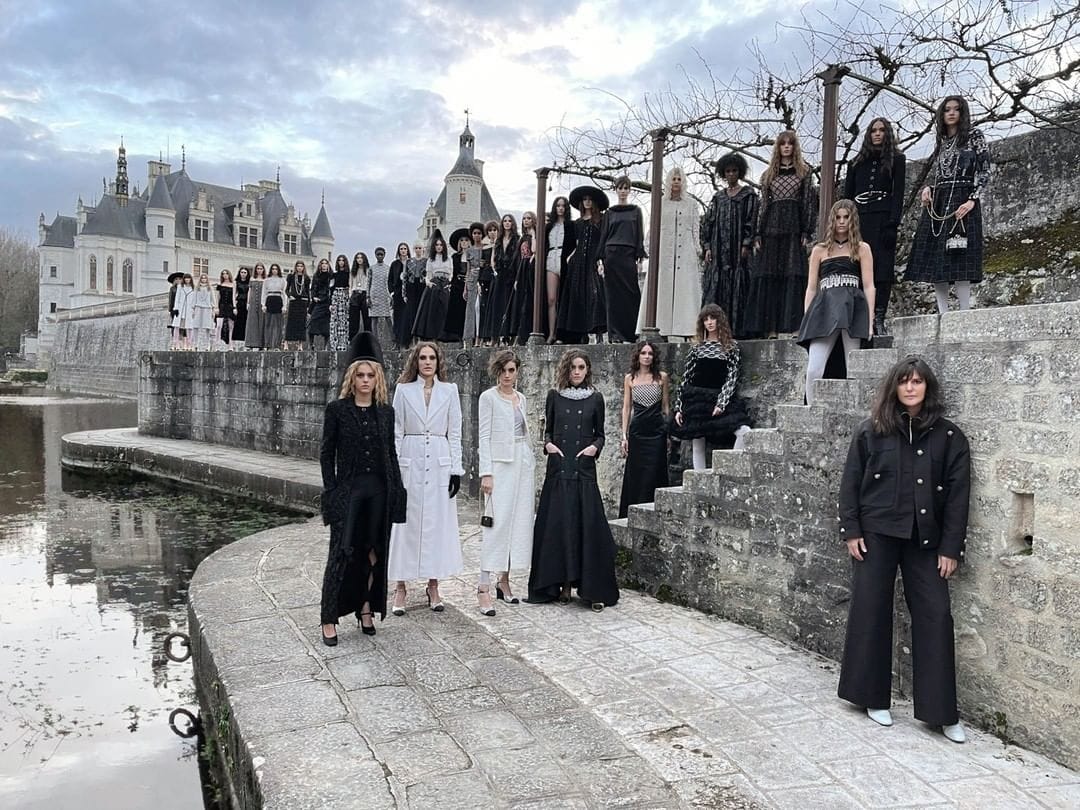 Francúzsky módny dom Chanel prezentoval looky prostredníctvom kanála chanel.com a sociálnych sietí značky. Módnu show, bez novinárov, vďaka pandémii, zdobila práca a zručnosti Métiers d'art remeselníkov – stoviek vyšívačiek, plisérov, výrobcov peria, obuvníkov, klobúčnikov a remeselníkov prestížnych značiek ako Lemarié e Lesage z Paríža, ďalších oblastí Francúzska a Talianska. A aby toto všetko spolu ladilo, všetko inšpirovala nádherná lokácia francúzskeho zámku. Mólom a módnou show sprevádzala múza módneho domu, herečka Kristen Stewart , ktorá bola zároveň jediným divákom.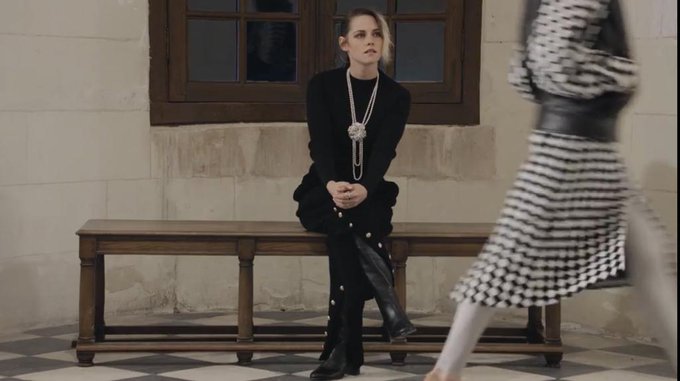 "Rozhodnutie predvádzať tu na zámku bolo prirodzené", vyjadrila sa v interview pre magazíny dizajnérka Virginie Viard. Zámok bol projektovaný Diane de Poitiers, francúzskou šľachtičnou a prominentnou dvorankou (bola tiež kráľovská milenka a poradkyňa kráľa Henricha II. ) a Caterina de' Medici. Združoval inšpiratívne dámy ako aj Katherine Briçonnet, ktoré ho obývali a preto sa nazýval tiež "Le Château des Dames" – dámsky zámok. Je to zámok v ľudskom meradle.
Znak Caterina de' Medici bol monogramom zloženým z dvoch prepletených písmen C , presne ako tých, ktoré sú v značke Chanel" povedala kreatívna riaditeľka Virginie Viard, ktorá vedie značku po smrti legendárneho dizajnéra Karla Lagerfelda.
"Nevieme, či slávna Coco Chanel bola priamo inšpirovaná Caterinou de' Medici , ale je to pravdepodobné, pretože tak veľmi obdivovala ženy renesancie. Jej vkus pre čipkované sukne a estetiku niektorých z jej klenotov pochádzajú odtiaľ. V podstate, toto miesto je súčasťou histórie Chanel." Coco Chanel uviedla tento legendárny znak módneho domu Chanel v roku 1921 pri predstavení slávneho parfému Chanel N°5.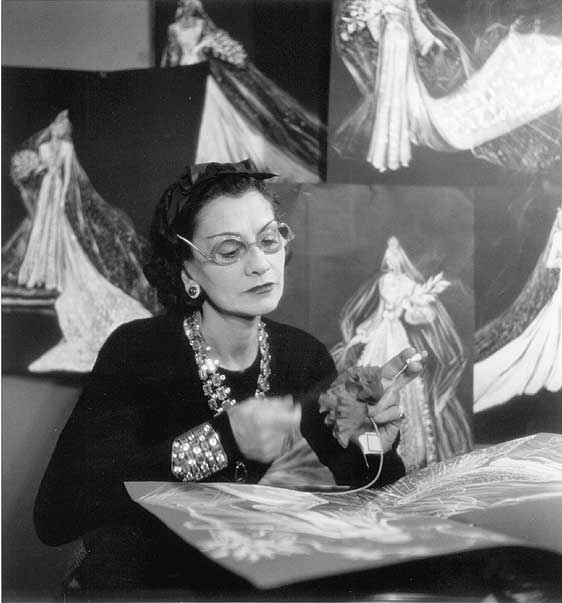 Gabrielle Chanel (Coco) a slávny dizajnér Karl Lagerfeld, ktorý v dizajne pre módny dom Chanel nadviazal na jej tradíciu.
Prehliadka kolekcie Métiers d'art má tradíciu, ktorá sa teda odvíja od samotnej Coco Chanel. Je to Pre-Fall kolekcia, ktorú módny dom každoročne predvádza mimo oficiálneho kalendára módnych show v decembri a to od roku 2002. Už od vekov, kedy túto iniciatívu vyvinula slávna Coco Chanel, spája tradičné módne remeslá na ich podporu s aktuálnym módnym smerovaním značky Chanel.
CHANEL – KOLEKCIA Métiers d'Art 2020/21
Módnu show otvárala talianska modelka Vittoria Ceretti v ružovom looku.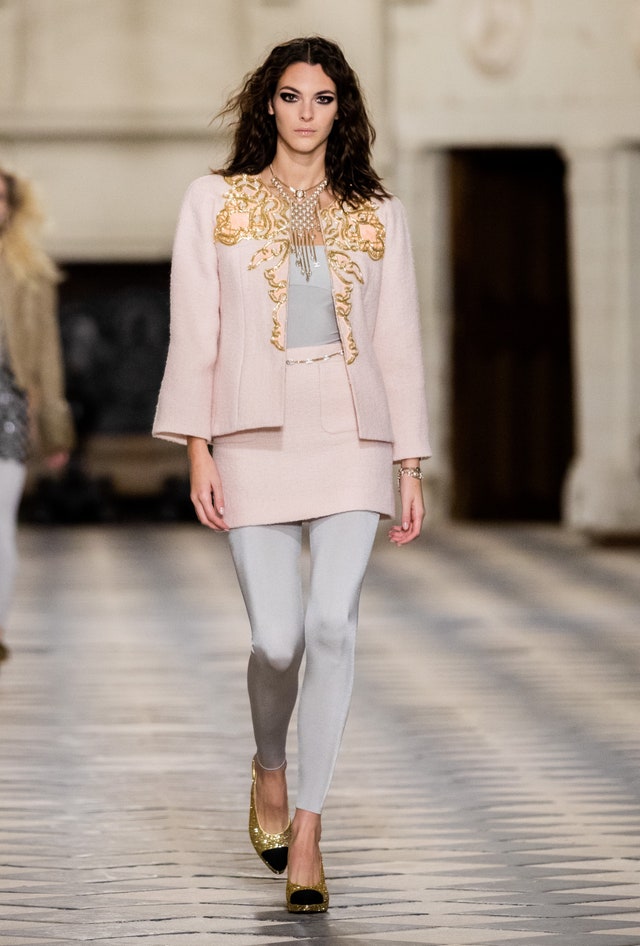 Vzácne blejzre najnovšej kolekcie sú navrhnuté v kombinácii s flitrovanými minisukňami tón v tóne alebo v kontraste.
Pod outfitmi sa objavili strečové kombinézy ako nový prvok kolekcie a to aj v kombinácii k elegantnejším outfitom.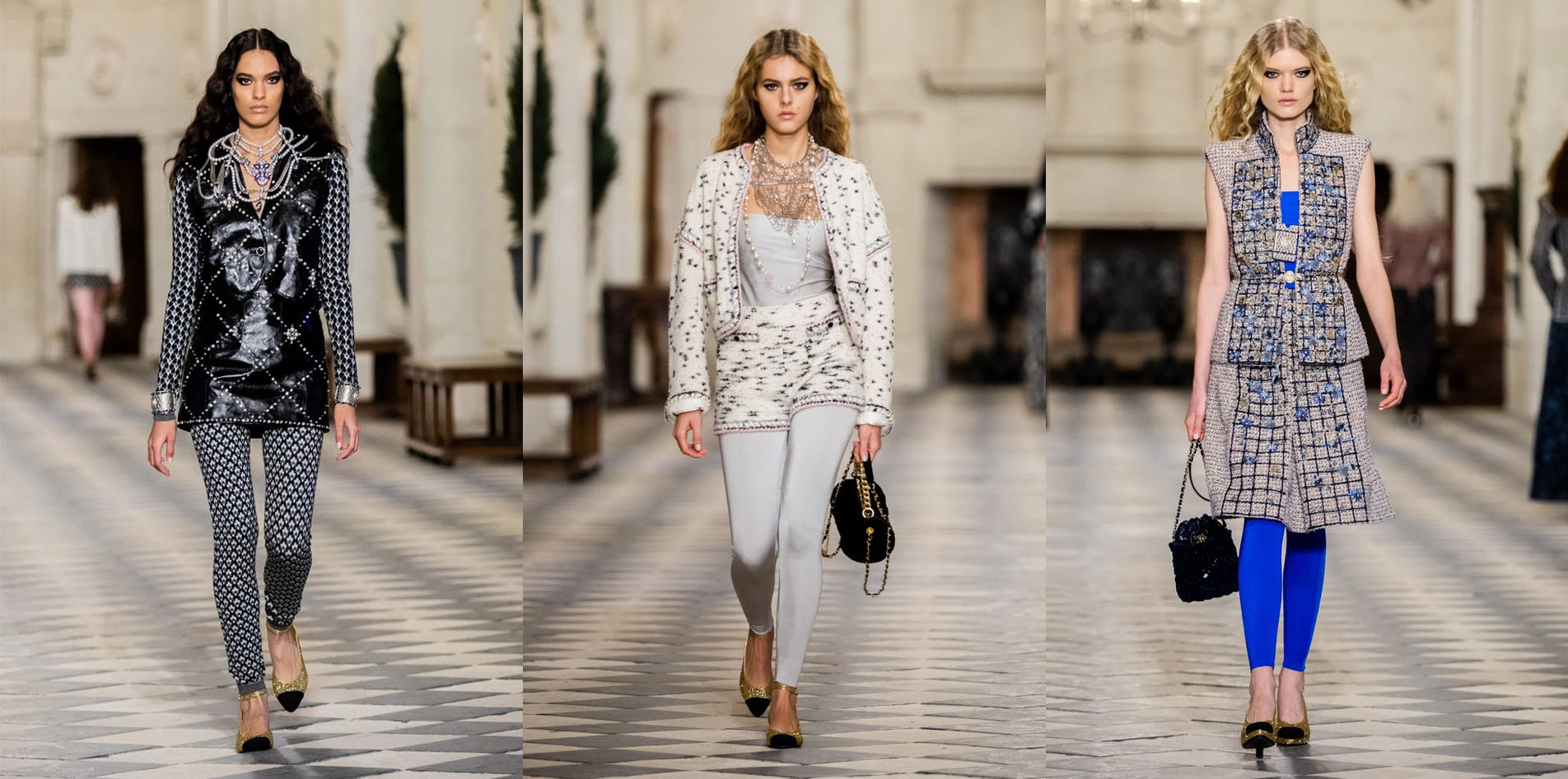 Hrá sa s presahom, s prekrývaním odevov aj pri kontrastných štýloch. Prekrytia, vrstvenia sa použili aj pre vonkajšie oblečenie. Ďalšia trendová novinka tejto kolekcie je, že plášte sa nosia cez kabáty.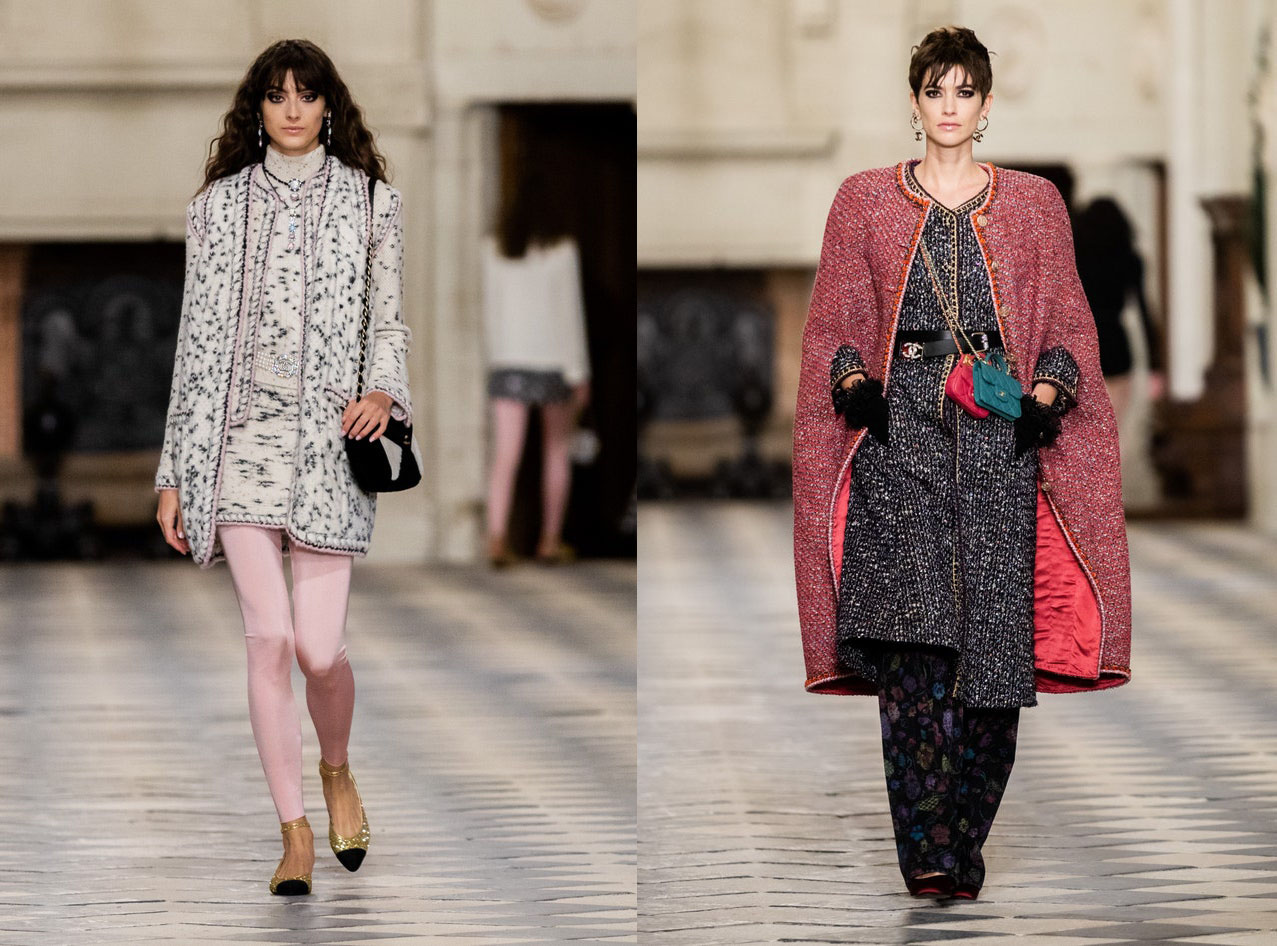 Dominantnou témou Pre-Fall kolekcie Chanel 2020/21 Métiers d'Art je šach, šachovnicový motív, ktorý sa stal protagonistom sukní, kabátov a šiat. Šachovnicová je aj podlaha, po ktorej kráčali zaujímavé a silné ženy ako slávna Angelika z rovnomenného filmu. Dizajnérka sa pohráva tiež s motívom pepita.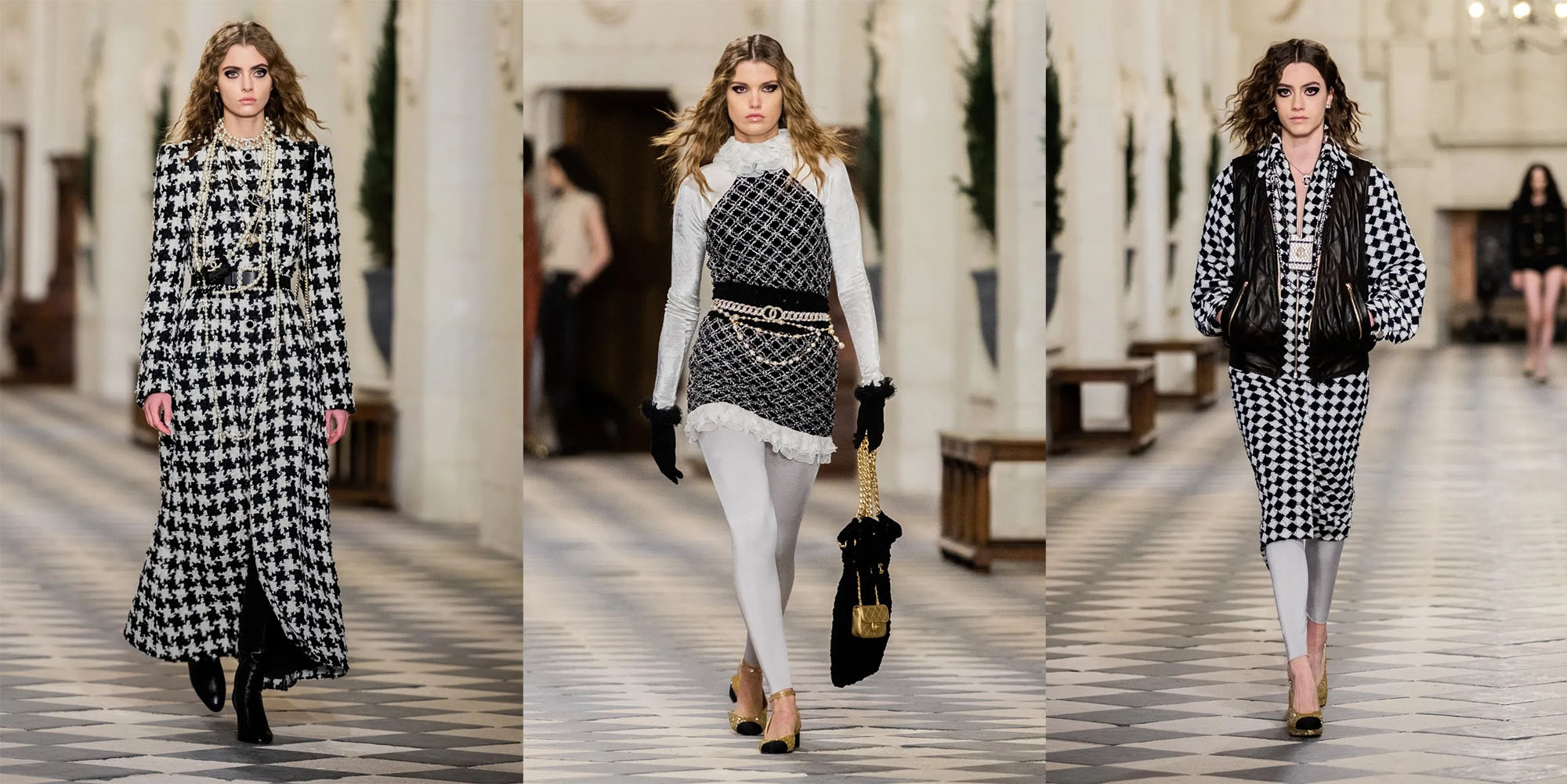 MATERIÁLY
Koža robí oblečenie súčasným a vyniká v zmesi a v zladení so vzácnymi a jemnými látkami. V kolekcii sa objavila značne čierna, ktorá tiež vychádza z historickej inšpirácie nositeľky Caterina de' Medici , ktorá sa do nej zahaľovala po smrti kráľa Henri II. Ručné výšivky, kvetinové výšivky a zdobenia preberajú inšpiráciu z krásnych kvetinových záhrad tohto francúzskeho zámku.
Nechýbala téma úpletov s prepracovanými trikotovými výtvormi.
Čipka , zamat, kožušina a handmade nášivky a ručné zdobenia tvorili vzácny súbor pre honosné oblečenie.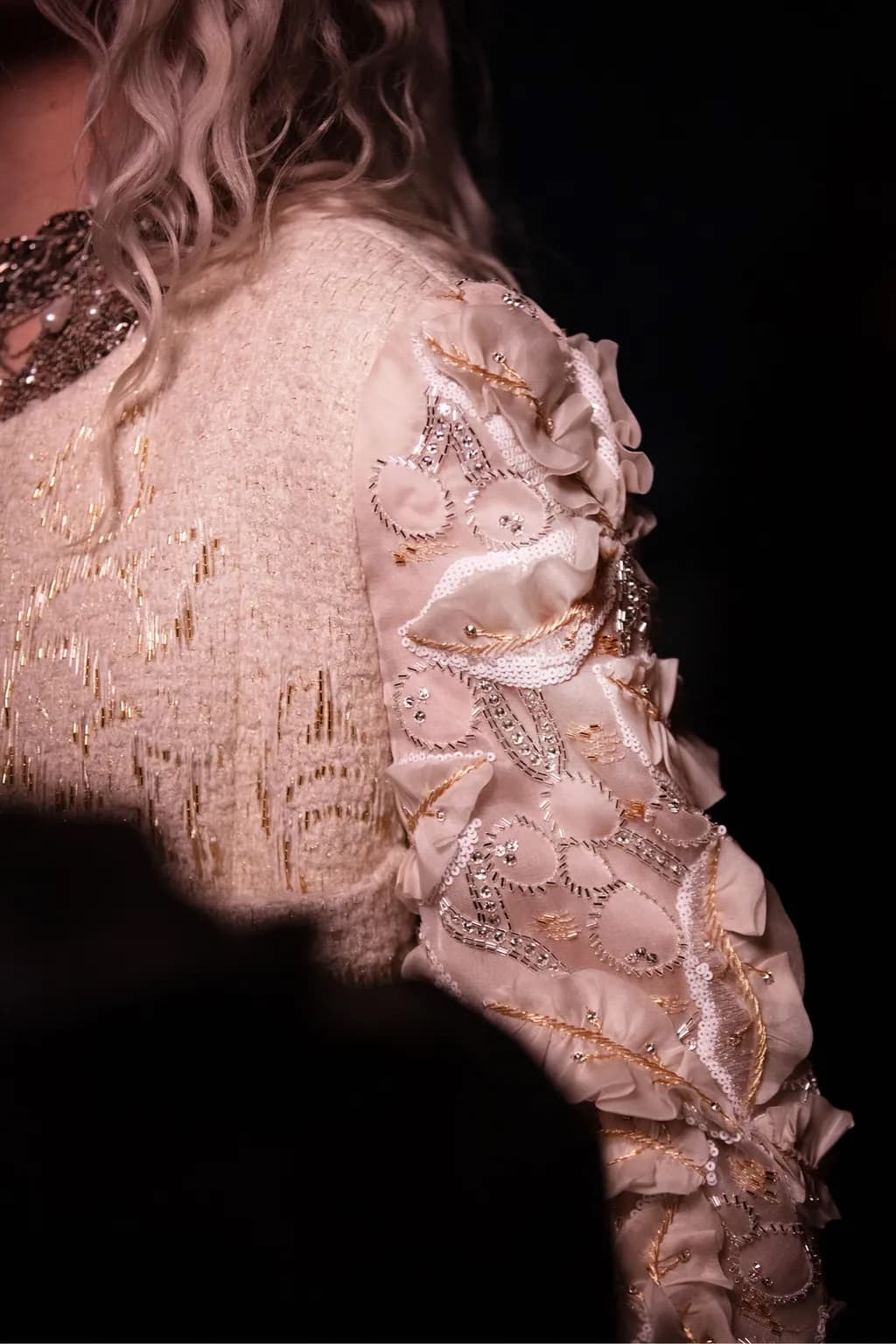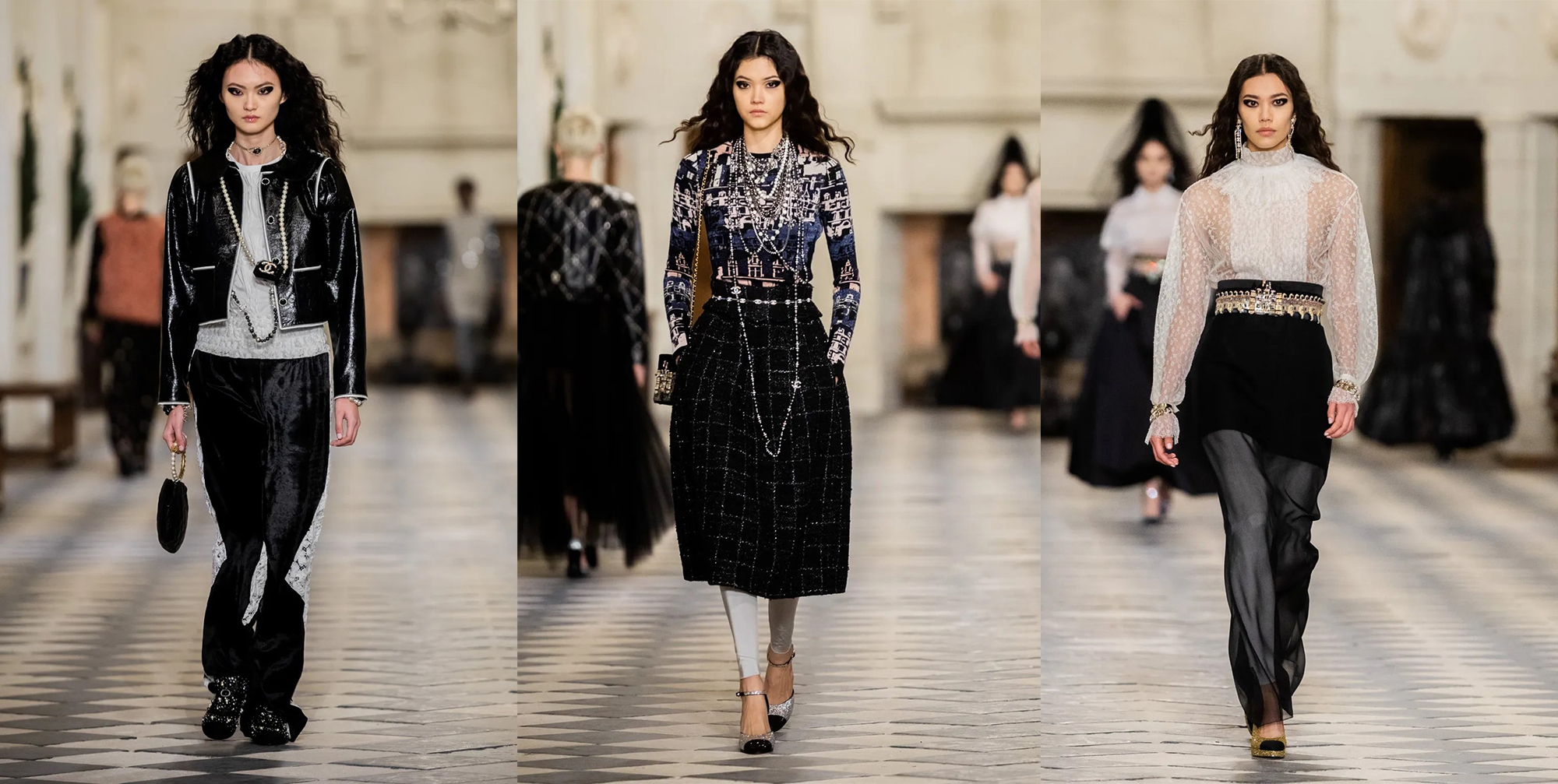 Dizajnérka Virginie Viard sa pohráva tiež s priehľadnosťou na šatách a sukniach a táto časť kolekcie tvorí odvážnu a snovú zmes. A to je vlastnosť celej Pre-Fall kolekcie Chanel 2020/21 Métiers d'Art .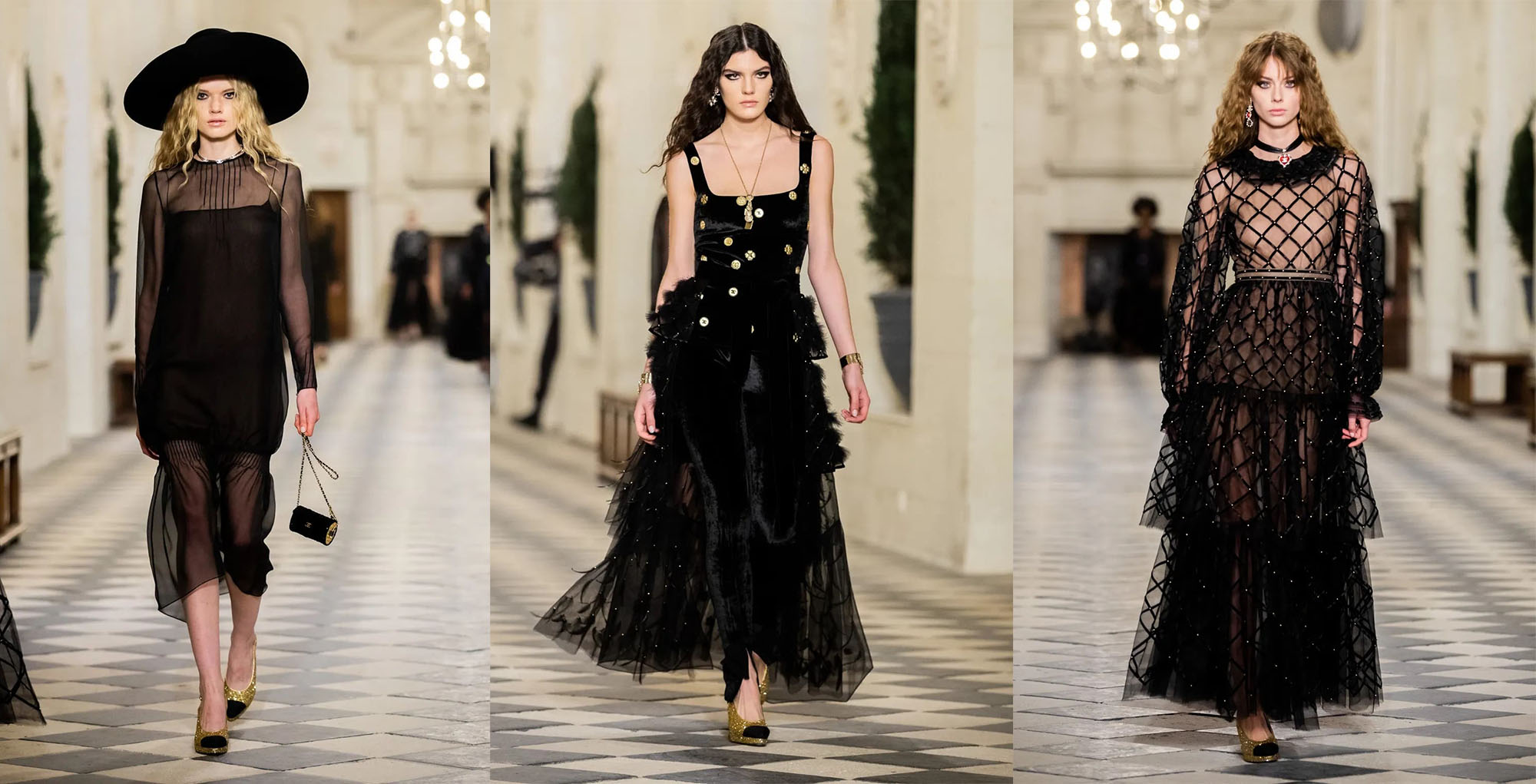 Denim sa stáva sofistikovaným vo verzii couture. Odrazil sa na sukniach a šatách s potlačou.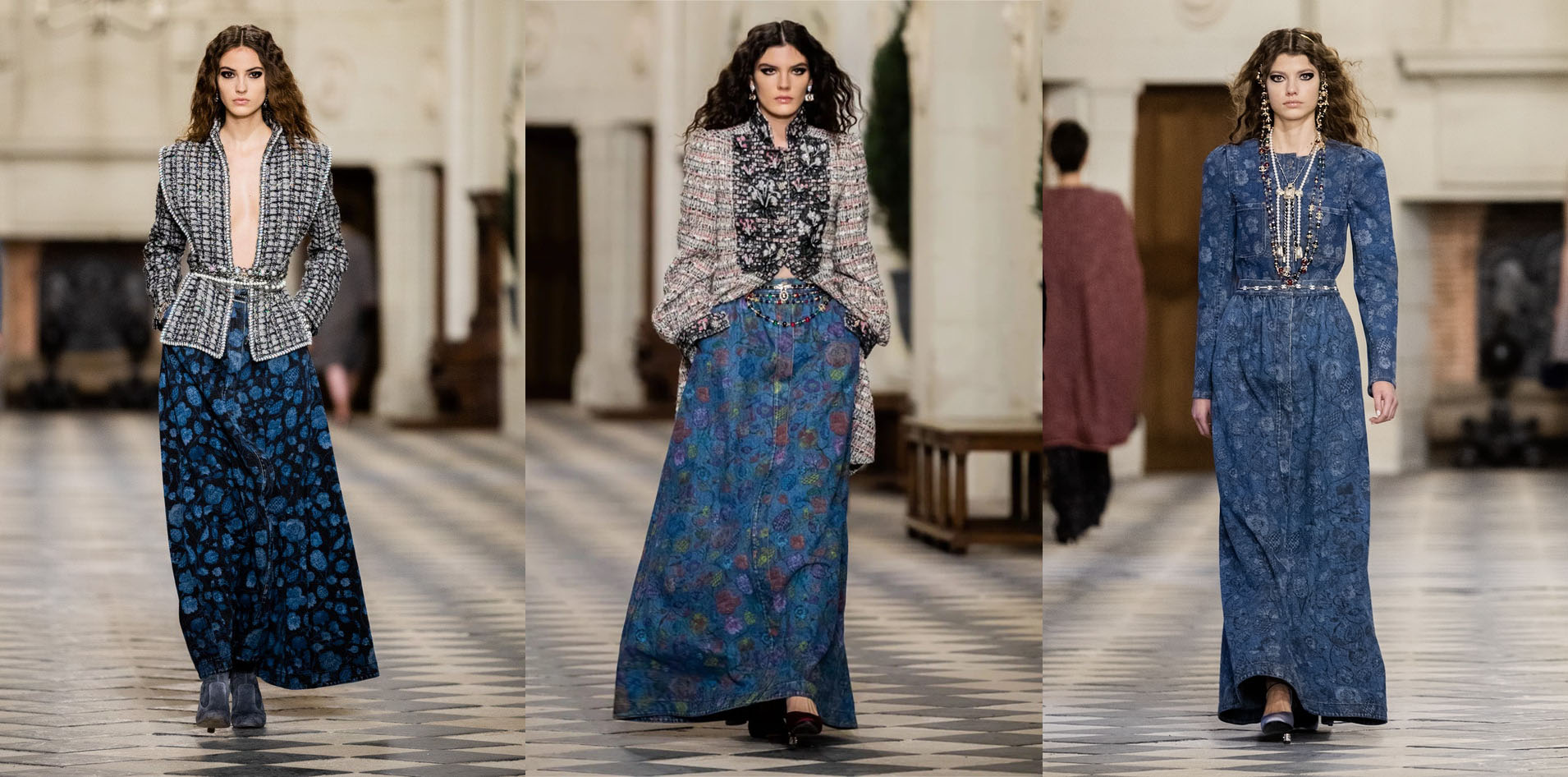 Ďalší trend, ktorý sa objavil na prehliadke kolekcie je odkaz, nenosiť nič pod vzácnymi bundami.
DOPLNKY
Kolekcia predstavila maxi vzácne opasky, ktoré reprezentujú zámok Château de Chenonceau.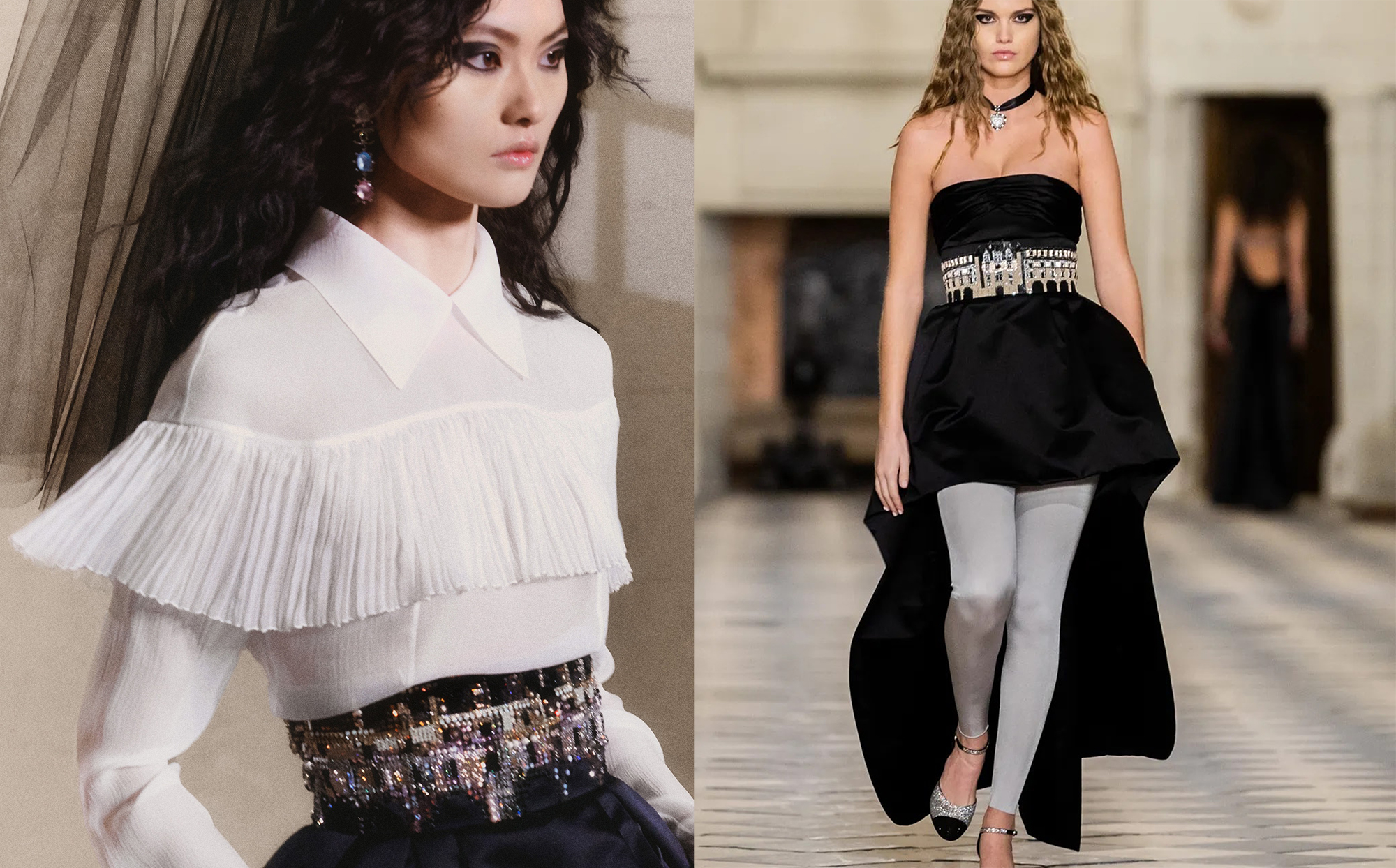 Zaujímavou trendovou novinkou z radu doplnkov sú čelenky s bohatými príveskami šperkov.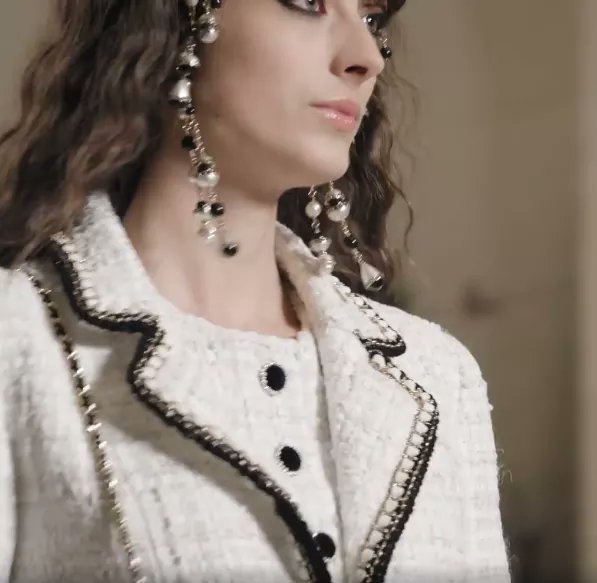 Na móle zažiarili ako klenoty očarujúce mikro kabelky, ktoré jednoducho musíte mať !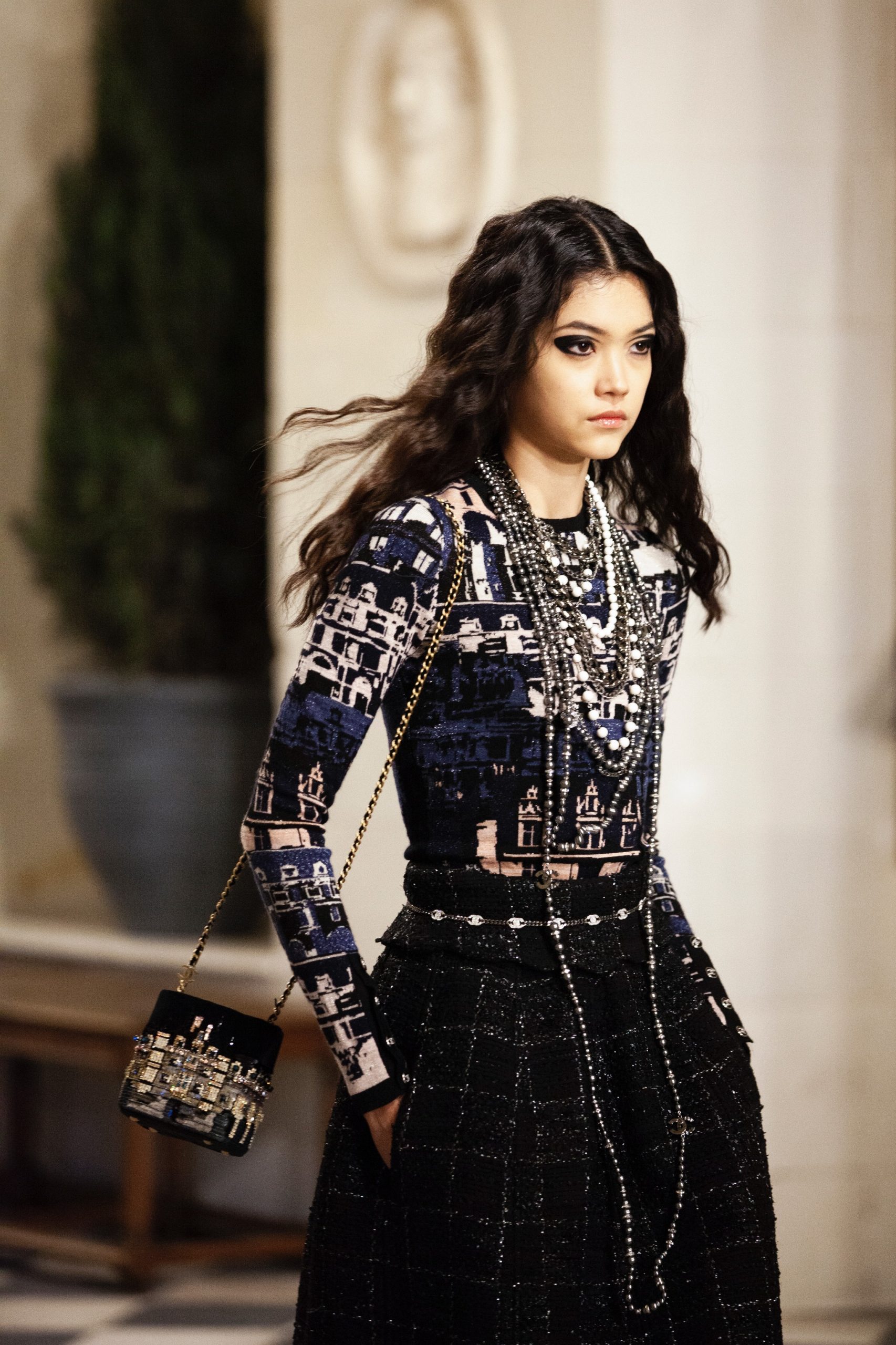 Dvojfarebné trblietavé topánky boli čerešničkou tejto prepracovanej Chanel kolekcie s dedičstvom poctivej remeselnej výroby citeľnej na každom skvostnom kúsku.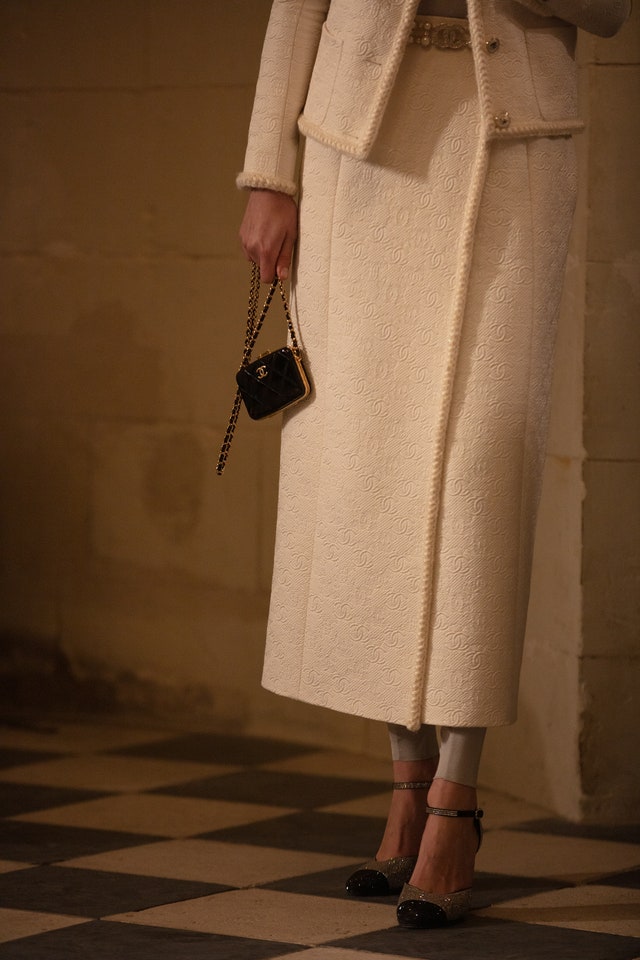 Sledujte Facebook stránku blogu: Mya Mirell Fashionista a Instagram: mya_mirell .
zdroj obrázkov: runwaymagazines, Vogue It, Chanel, Juergen Teller, twitter