Chiara Ferragni – instagramová kráľovná, fashion digitálna vládkyňa médií, jej začiatky a hviezdy rast
Chiara Ferragni, talianska módna blogerka, svetová celebrita, ktorá pravidelne zapĺňa stránky rôznych svetových magazínov. Úspešná influencerka, instagramová star a podnikateľka sa z nenápadnej nevinnej blondínky stala svetoznámou ikonou, sledovanou miliónmi fanúšikov. V súčasnosti má na instagramovom konte 16 miliónov sledovateľov, čo je prináša nemalé zisky. A nielen to. Mladá Talianka, 31 ročná matka ročného syna Leona má prácu snov, o akej sa jej spočiatku ani nesnívalo. Robí presne to, čo ju napĺňa a teší a robí to najlepšie, ako vie. Jej hviezda stúpala rýchlo, stala sa jednou z najvplyvnejších žien v oblasti módy. A ja vám jej hviezdny rast priblížim v druhom pokračovaní článku o vplyvnej Talianke (prvý čítaj tu na blogu ).
Chiara Ferragni a herečka Sarah Jessica Parker počas Intimissimi módnej show, Taliansko
CHIARA FERRAGNI – HVIEZDA POMALY STÚPA
Chiara Ferragni bola pôvodne talianska študentka práva, ale jej vášeň pre módu a zdieľanie vlastných outfitov online v správnom čase rastu sily sociálnych médií pred 10 rokmi, z nej zakrátko urobilo digitálnu influencerku svetového formátu. Dnes žije medzi Talianskom a Amerikou, kam cestuje spolu so svojou rodinou, ktorej zariadila famózny život. Jej biznis prerástol v súčasnosti do rodinného. Ako sa to všetko udialo? Poodostriem vám tajomstvo prvopočiatku jej úspešnosti.
Úspech naštartoval moment, kedy Chiara Ferragni nastúpila na silnú loď digitálnych médií, sociálnych sietí a začínajúcich internetových influencerov v čase cih rozvoja , čo jej obrovsky nahralo do karát. V súčasnosti je už sila sociálnych médií masívne rozšírená. Dnes sú vaši followersi vašou menou. To vie už asi každý, kto sa snaží preraziť a udržať v zabehnutom biznise. Influenceri a sociálne siete sú v súčasnosti vaše nové médiá.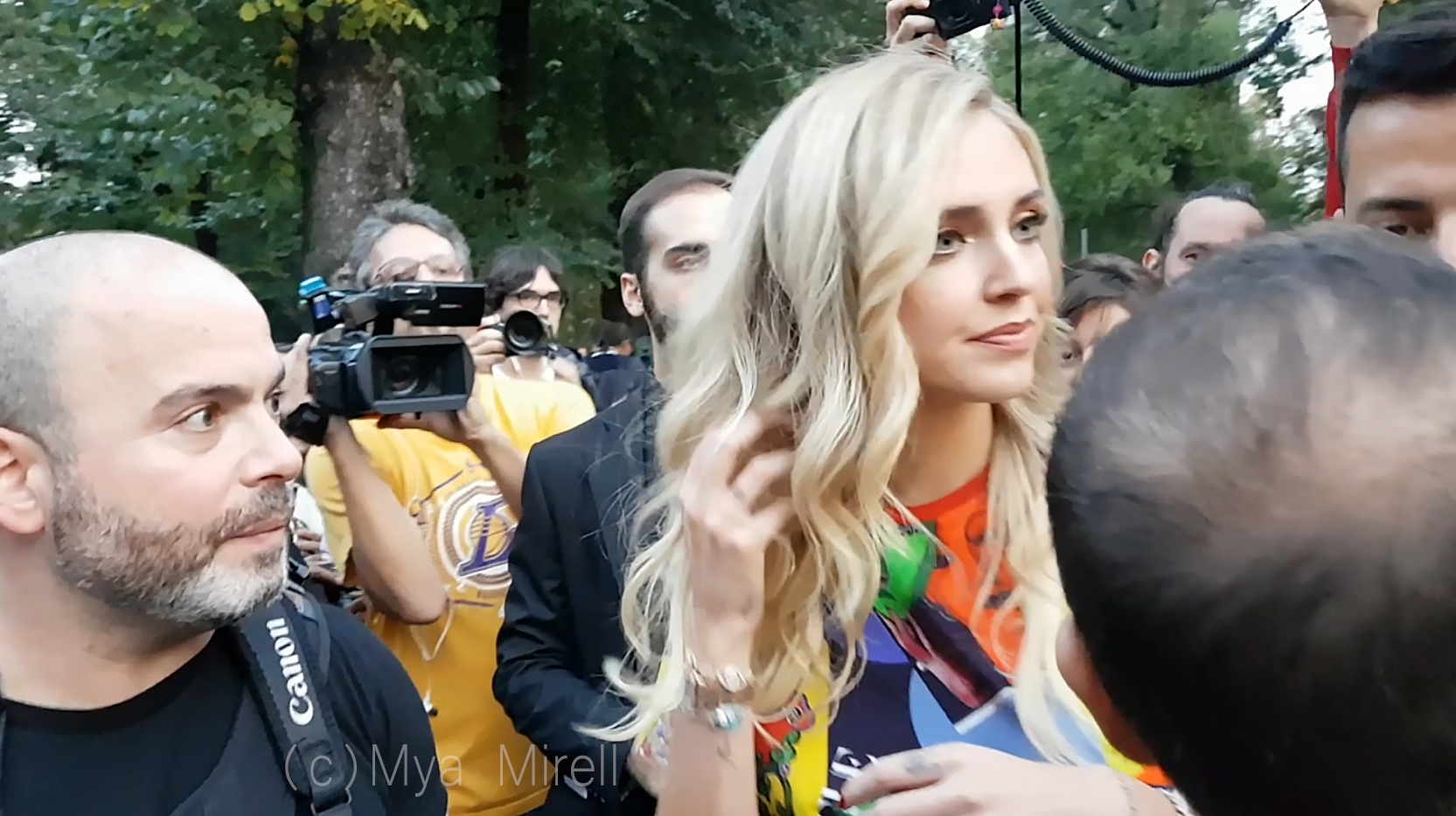 Počas Milan Fashion Weeku som Chiaru zachytila nespočetne krát a toto je fotografia z videa z prehliadky značky Versace, ktorá sa zapísala do módnych dejín ako jedna z najúžasnejších udalostí. Na túto módnu show boli prizvané top-modelky 90. rokov okrem mladých modeliek – Naomi Campbell, Helena Christensen, Cindy Crawford, Claudia Schiffer a Carla Bruni pri príležitosti oslavy výročia uplynulých 20. rokov od úmrtia slávneho Gianniho Versaceho, ktoré usporiadala riaditeľka značky Versace, jeho sestra Donatella Versace. Keď sa zjavili topmodelky alebo aj Chiara Ferragni, dav, paparazzi, fanúšici, bol nezastaviteľný. Video si môžete pozrieť na mojom youtube kanáli mya mirell (dajte odber) a na facebook stránke blogu s názvom Mya Mirell Fashionista v kategórii Videá tu: https://www.youtube.com/watch?v=iBFUki_0U6Y
Za posledných pár rokov jej spočiatku nevinný prvý blogový počin v roku 2009 theblondesalad.com, ktorého bola zakladateľkou a editorkou, presiahol mieru úspešnosti natoľko, že ju vyhľadávajú svetové firmy a stala sa tvárou mnohých značiek. Zdieľanie jej vlastných outfitových kreácií a obdivovaných módnych kúskov si zakrátko všimol napríklad aj magazín Elle Italia. Prvotný jej zámer teda nespočíval vo vytvorení biznisu. Chiara Ferragni chcela prezentovať vlastný štýl a zaujať tých, ktorí by v tom vedeli nájsť prípadnú inšpiráciu.
Stránka Theblondesalad.com dosiahla čoskoro obrovskú sledovanosť a instagram, ktorý ešte nebol v tom čase natoľko populárny, prelomila zakrátko po jeho začiatku v roku 2013 číslom 2 milióny sledovateľov. Najprv iba zdieľala fotografie, ktoré sa jej páčili a zabávala svojich fanúšikov. Ak sa to aj niekomu nepáčilo a jej áno, tak to aj tak uverejnila. Samozrejme stúpol aj počet jej tzv. hejterov, negatívnych komentátorov, čo k takémuto číslu sledovateľov priamo-úmerne patrí. Zlé jazyky hovoria, že cestu mala ľahkú kvôli tomu, že nikdy nebola chudobná. Nenarodila sa v chudobe a peniaze generujú peniaze, píše sa v mnohých komentároch. Otec je zubár a matka spisovateľka a novinárka a mala aj dobré kontakty a propagáciu.
Jej sila však spočívala najmä v tom, že bola už vtedy priekopníčkou v niečom, čo sa teraz premenilo na masívny záujem a biznis na sociálnych médiách. Sociálne médiá nabrali za posledné roky na sile a prostredníctvom nich je možné budovať biznis, ktorý sa Chiare podaril vytvoriť v megalomanských rozmeroch. Chiara sa svojou šikovnosťou už vtedy naučila ovládať jazyk digitálneho veku. Video o jej začiatkoch a živote si môžete pozrieť tu: https://www.youtube.com/watch?v=KXikymxj744
Samozrejme svoju sledovanosť prikorení dosť často aj provokatívnymi fotkami, ktoré sa v dnešnej dobe stali istým štandardom záruky sledovanosti a úspechu.
Móda je pre ňu pocit najlepšieho výberu samej seba. Nikdy vraj neplatí za šaty, ktoré jej neprinesú nejaký úžitok. Táto nezávislosť je kľúčom jej sily.
Jej módny blog sa teda z prvotne zamýšľaného koníčka preklopil do obrovského módneho biznisu. V súčasnosti má Chiara Ferragni aj vlastnú módnu značku, je úspešnou podnikateľkou. Vygeneruje približne 6 miliónov eur ročne, najväčšmi z predaja svojej značky, reklamy a poradenských služieb. Má vlastnú líniu topánok s vtipným dizajnom, žmurkajúcim očkom zdobených jej podpisom. https://www.instagram.com/p/BpkL_l0jmLk/
V septembri roku 2017 počas Milan fashion Weeku, sezóna jar/leto 2018, otvárala v mekke módy svoj butik, ktorý rozšírila o novú kolekciu mikín a ruksakov. Milan Fashion Weeku sa pravidelne zúčastňujem a tak som sa bola pozrieť na túto udalosť aj ja. V okolí bolo samozrjem množstvo novinárov, fotografov a fanúšikov ako vždy všade, kde sa Chiara objaví. Viac sa dozvieš z fotiek na facebook stránke tohto blogu Mya Mirell Fashionista v albumoch Milan Fashion Week.
Ako každý módny dizajnér tak aj Chiara vie, že ázijský trh je dôležitý a tak plánuje expandovať do Číny s avizovanými 20 obchodmi. Od októbra 2017 sa stala prezidentkou CEO TBS teamu (skratka od The Blonde Salad, názov blogu, ktorý je za všetkým). Na základe jej podoby jej bola dokonca vyrobená bábika Barbie.
Jej úspech a raketový vzrast čoskoro zaujal aj Harward biznis školu, kde sa stala biznis modelom, názorným príkladom úspechu a prvou módnou blogerkou, ktorá bola kedy vybratá. Je prototypom novej digitálnej ekonomiky. Študovaný bol každý aspekt jej úspechu a objavila sa tiež preto v zozname Forbes 30. najvplyvnejších mladých ľudí vo veku pod 30 rokov. Vzhľadom nevinná blondínka dokonca na Harwarde dvakrát prednášala. Chiara Ferragni je sebavedomá mladá žena podporujúca feminizmus a mladé matky v biznise, nakoľko je toho úspešným príkladom.
Team Chiari Ferragni tvorí pár ľudí, pôvodnú stránku theblondesalad teraz zastupuje a vedie aj jej staršia sestra Francesca Ferragni fungujúca na instagrame pod prezývkou fraferragni, mama Marina di Quardo a mladšia sestra Valentina Ferragni a zhruba ďalších 20 ľudí pracujúcich na jej značke. K teamu patrí aj kamarát Manuele Mameli glam artist, ktorého si brala so sebou aj na poslednú návštevu Prahy koncom novembra na dva dni pri príležitosti fotenia novej kampane pre Lancome.
Vďaka úspešnosti blogu a správnemu načasovaniu sa stala rýchlo módnou ikonou, street style ikonou a prvou priekopníčkou a módnou blogerkou, ktorá sa objavila aj na titulke magazínu Vogue z nie modelingového sveta.
Zakrátko sa jej začali sypať ponuky na spoluprácu od rôznych firiem a značiek, ktoré si ju začali čoraz viac všímať. Momentálne jej blog zarába obrovské peniaze z reklamy a sprostredkovaných predajov. Jedná sa rádovo až o multi milióny, teda v skutku obrovský biznis. Dnes žije medzi Talianskom a Amerikou, kam cestuje spolu so svojou rodinou, ktorej zariadila famózny život. V Talianskom Miláne žije vo vychytenej luxusnej oblasti City Life, v obytnej budove komplexu z dielne Zaha Hadid architects, kde obýva dvojpodlažný terasový byt. Svojich fanúšikom pravidelne zásobuje videami vlastného života, ktoré zdieľa na sociálnych sieťach. Dnešný svet digitálnej éry z nej preto urobil fashion a digitálnu vládkyňu médií, instagramovú star.
Ing.arch. Miroslava Vaňharová
Facebook stránky: Mya Mirell ,
Mya Mirell Fashionista
Instagram: mya_mirell a myamirell