Paris Fashion Week – 27. september 2021 – 5. október 2021, Miu Miu, Rochas, Givenchy, sezóna Jar/Leto 2022, časť I.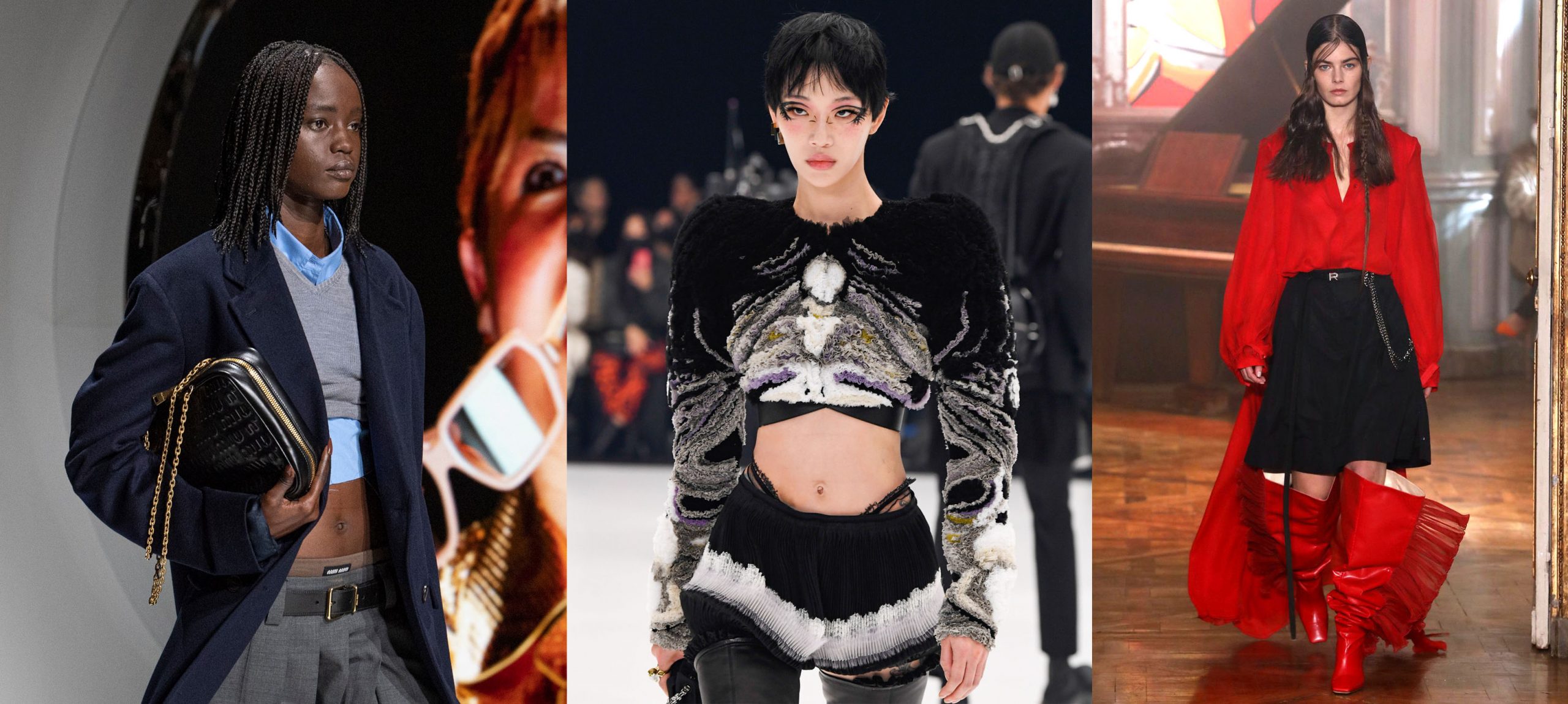 Za posledných 18 mesiacov a posledné tri sezóny módy, pojem tradičný týždeň módy prakticky neexistoval. V dôsledku prebiehajúcej pandémie Covid-19 a sociálnych obmedzení, ktoré s ňou súvisia, návrhári nemohli organizovať prehliadkové móla tak, ako sme ich kedysi poznali, pričom mnohé módne domy prešli na digitálne formáty predvedenia svojich kolekcií alebo hostili módne šou bez publika. Ukázalo sa dokonca, že niektorí dizajnéri tento nový koncept prehliadok dokonca úplne opustili. Móda a nielen tento svet utrpela značné škody a stagnácie, i keď z radov talianskych dizajnérov bolo možné badať nesmierne snahy o znovu oživenie módnej scény.
Mesiace september a október 2021 však zaznamenali znovu nabiehajúci nástup na klasické módne formáty a uvedenie módy opäť do života. Konečne sa uskutočnilo viac osobných prehliadok, než aké sme už veľmi dlho nezažili. Napriek tomu, že sa plány ešte stále nevracajú k úplnému normálu, uvoľnenie obmedzení v štyroch hlavných metropolách módy – New York, Londýn, Miláno a Paríž, umožnilo, aby sa týždeň módy uskutočnil vo fyzickom prostredí. Mnoho návrhárov sa na móla vrátilo prvýkrát od marca 2020.
Program svetových týždňov módy sa začal v septembri 2021 v New Yorku, kde nebolo o módne šou núdza, pretože najlepšia móda sa ukázala na Met Gala, na udalosti, ktorá bola odložená na pondelok 13. septembra. (článok o Met Gala najlepších lookoch čítajte v histórii tohto blogu). Módna šnúra prehliadkových týždňov potom z New Yorku zamierila do Londýna, Milána a Paríža, kde bolo cítiť veľké vzrušenie z opätovného návratu módy na prehliadkové móla, z predvedenia kolekcií debutových návrhárov a tiež z krásnej pocty zosnulému Alberovi Elbazovi v Paríži, kde sa jeho návrhom poklonilo 40 dizajnérov so zbierkou jemu venovanou.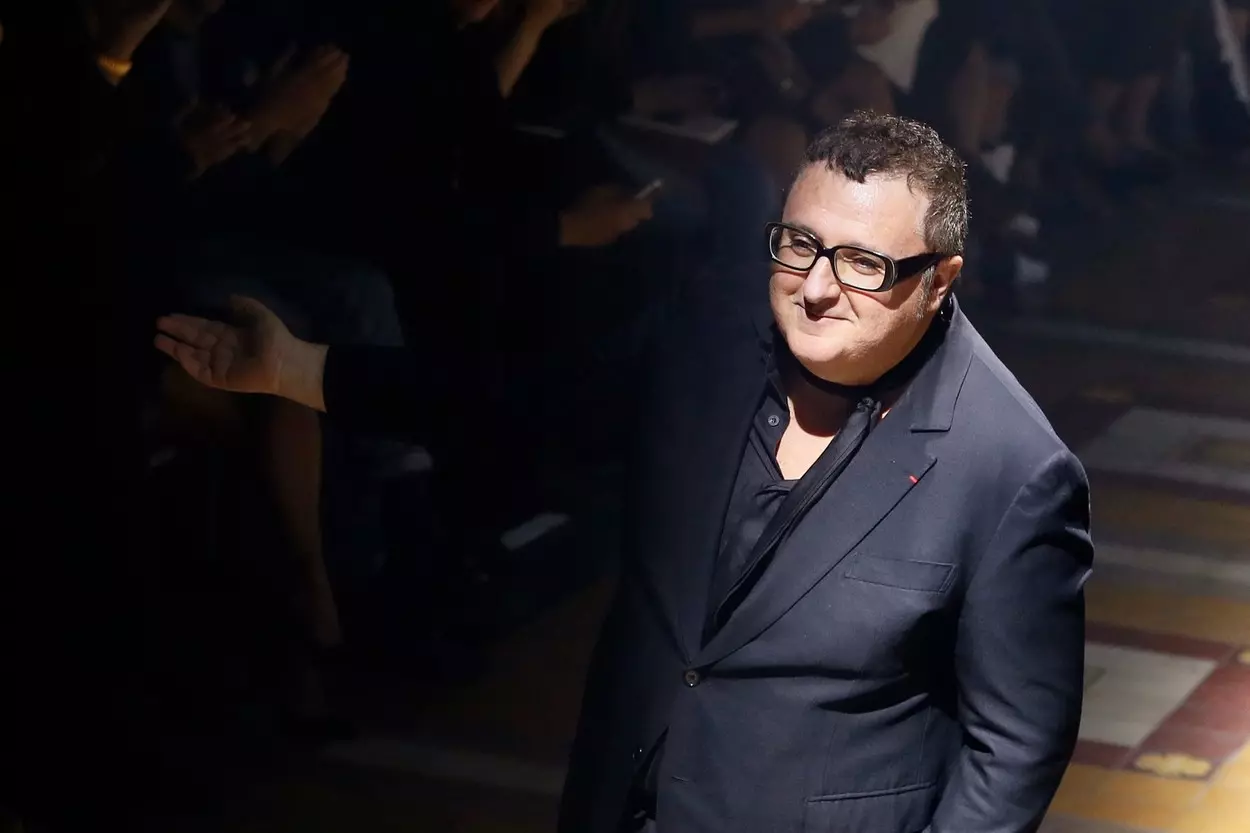 Po úspešnom Milan Fashion Weeku sa teda pozrime na Paris Fashion Week, kde sa udiali veľkolepé šou, prehliadky kolekcií pre sezónu Jar/Leto 2022.
Rôzne značky sa zamerali na rôzne aspekty. Módny dom Balenciaga sa vydal netradičnou cestou a svoju kolekciu predviedol prostredníctvom epizódy Simpsonovcov. Módna značka Chanel oslávila 80-te a 90-te roky plavkami s logom, zatiaľ čo Miu Miu prehodnotila trend nízkych nohavíc od začiatku 20. rokov. Na inom mieste sa Jonathan Anderson pohrával so zábavnými motívmi na odevoch a doplnkoch pre značku Loewe, zatiaľ čo Nicolas Ghesquière predstavil pre Louis Vuitton siluety inšpirované 19. storočím.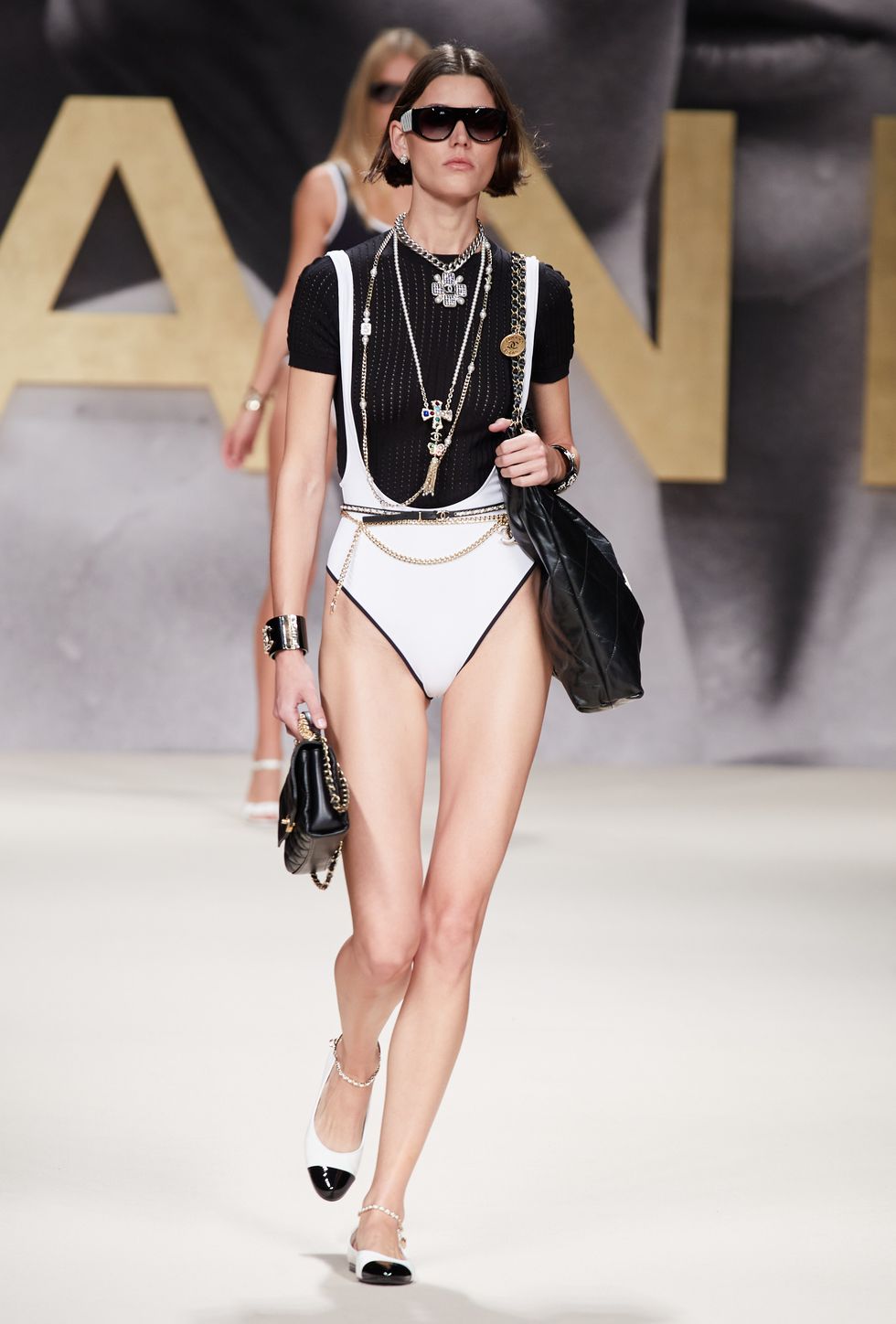 Chanel, Paris Fashion Week – Spring / Summer 2022
Pozrime si prvé z najzaujímavejších módnych šou a najnovších trendov z mól Paris Fashion Weeku pre sezónu Jar/Leto 2022.
MIU MIU
Miu Miu otvorila módnu šou krátkym komediálnym filmom vystresovanej kancelárskej pracovníčky, ktorá sa vyhrážala, že nožnicami odnesie jej neposlušné papierovanie. Pracovný šatník pani Prada čerpal z motívu školských uniforiem. Na móle sa predviedli Miu Miu tuhé kaki skladané sukne, námornícke svetre, biele košele a sivé ponožky. Surové lemy, hacknuté nožnicami, prišli na dlhé šortky. Kolekciu doplnili zdobené pastelové saténové šaty.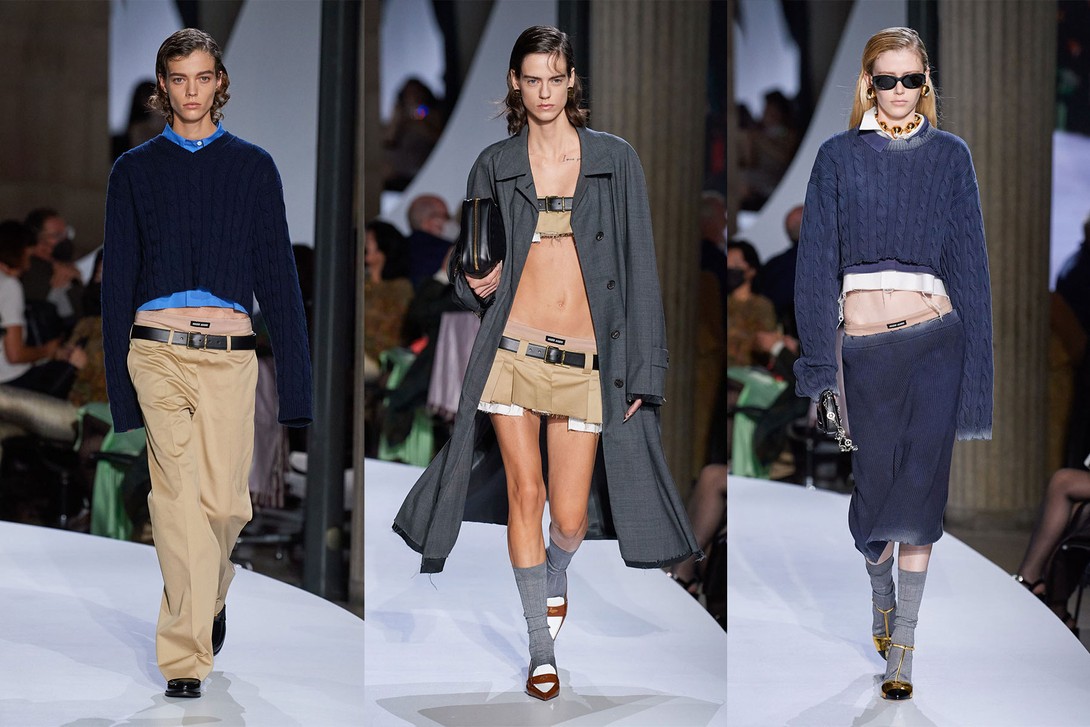 Jednoducho povedané, Miuccia Prada vie, o čo ide. Módna legenda zvolala novú triedu hviezdičiek- Halle Bailey, Rowan Blanchard, Bella Poarch. Šou nazvala "Cvičením v odkazovaní a skúmaní reality pomocou existujúceho na vytvorenie nového".
Diváci mohli vidieť, ako sa škriepka úspornosti a divoká svojvoľnosť stredoškolských uniforiem pokazila (alebo aj nie?), a spôsob, ako definovať "novosť" bez toho, aby ste zahodili to, čo už v našich skriniach je. "Všetci máme oxfordské košele a chinos nohavice od dávnych čias na prerobenie, nie ?" domnieva sa dizajnérka.
Talianska návrhárka Miuccia Prada sa teda pre sezónu Jar/Leto 2022 ponorila do kancelárskeho oblečenia a v kolekcii, ktorá sa vrátila do začiatku 20. storočia predstavila dominantné nízko posadené nohavice a mikro minisukne. V štýle Lotty Volkovej, modelky vykračovali po móle v ostrihaných svetroch a bandéach topoch sotva zakrývajúcich poprsie. Šortky a kabáty po kolená dostali korporátno-ležérny vzhľad s odretými lemami, čo kontrastovalo s kvetinovými šatami, ktoré sa objavili v prehliadke neskôr.
Miu Miu tiež odhalila nadchádzajúcu spoluprácu New Balance 574 v béžových a bielych farebných prevedeniach modelov.
ROCHAS
V meste Rochas je nové meno, úplne nové meno. Potom, čo Alessandro Dell'Acqua roky dohliadal na módny dom, Charles de Valmorin, čerstvý absolvent École de la Chambre Syndicale de la Couture Parisienne, bol najatý, aby prevzal kormidlo vo veku 24 rokov.
Charles De Vilmorin je teda nové dieťa a posledný kreatívny riaditeľ v dome Rochasových. 24-ročný začal s trblietavými šatami plissé lamé a nasledovali červené a oranžové šaty s volánmi, ktoré načrtli ruky. Vilmorinov podpis na jeho rovnomennej etikete Haute Couture sú jeho rozmarné kresby, ktoré transformuje do potlačí, ktoré zdobia šaty a kabáty. Tu prišli podobné kúsky ako dekonštruovaná košeľa zapletená na ramenách a šaty a topy bandeau, ktoré boli skrútené a zakryté.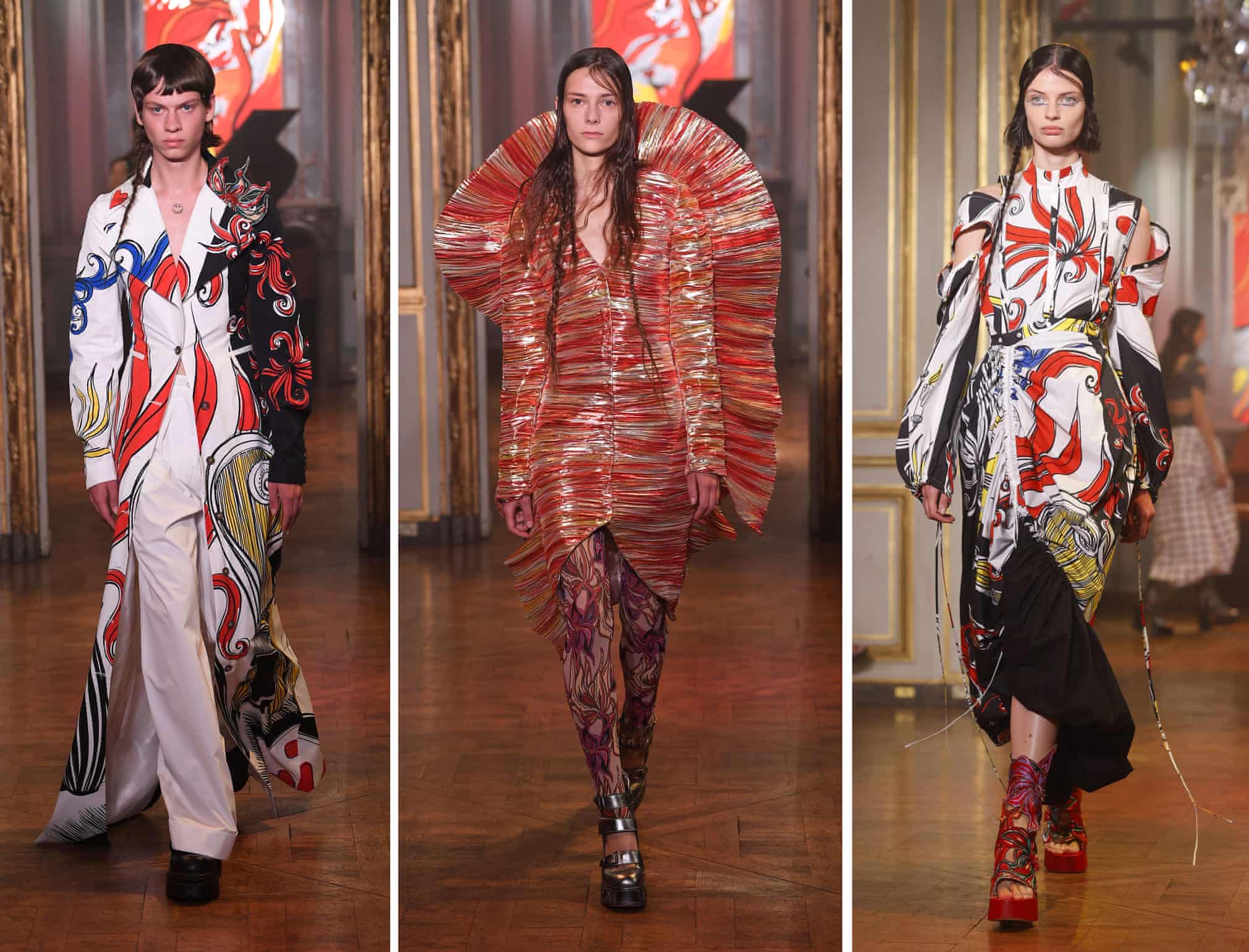 Fotografia: Rex/Shutterstock
Jeho debutová kolekcia a prvá módna show na móle sa zdali byť zápasom o skúmanie viacerých tém. Začalo to plameňmi, takmer naznačujúcimi stúpajúci fénix, potom sa módne predstavenie premenilo o do skupiny rób a výber vlastnoručných kresieb a potlačí návrhára. Prehliadka bola ukončená štúdiou asymetrie a dekonštrukcie. Všetky modely sa spojili vo farebnej palete pripomínajúcej plameň, posiate neutrálmi a kovmi. Zdalo sa, že návrhár testoval vody a skúšal v Rochas veľkosť, aby zistil, ako zapadá do všetkých aspektov módneho domu. Boli tam elegantné momenty hodné červeného koberca a ďalšie, ktoré vyzerali, že sú primárne pre poučných pútavých influencerov. Módna šou sa zamerala na Valmorina a jeho vývoj.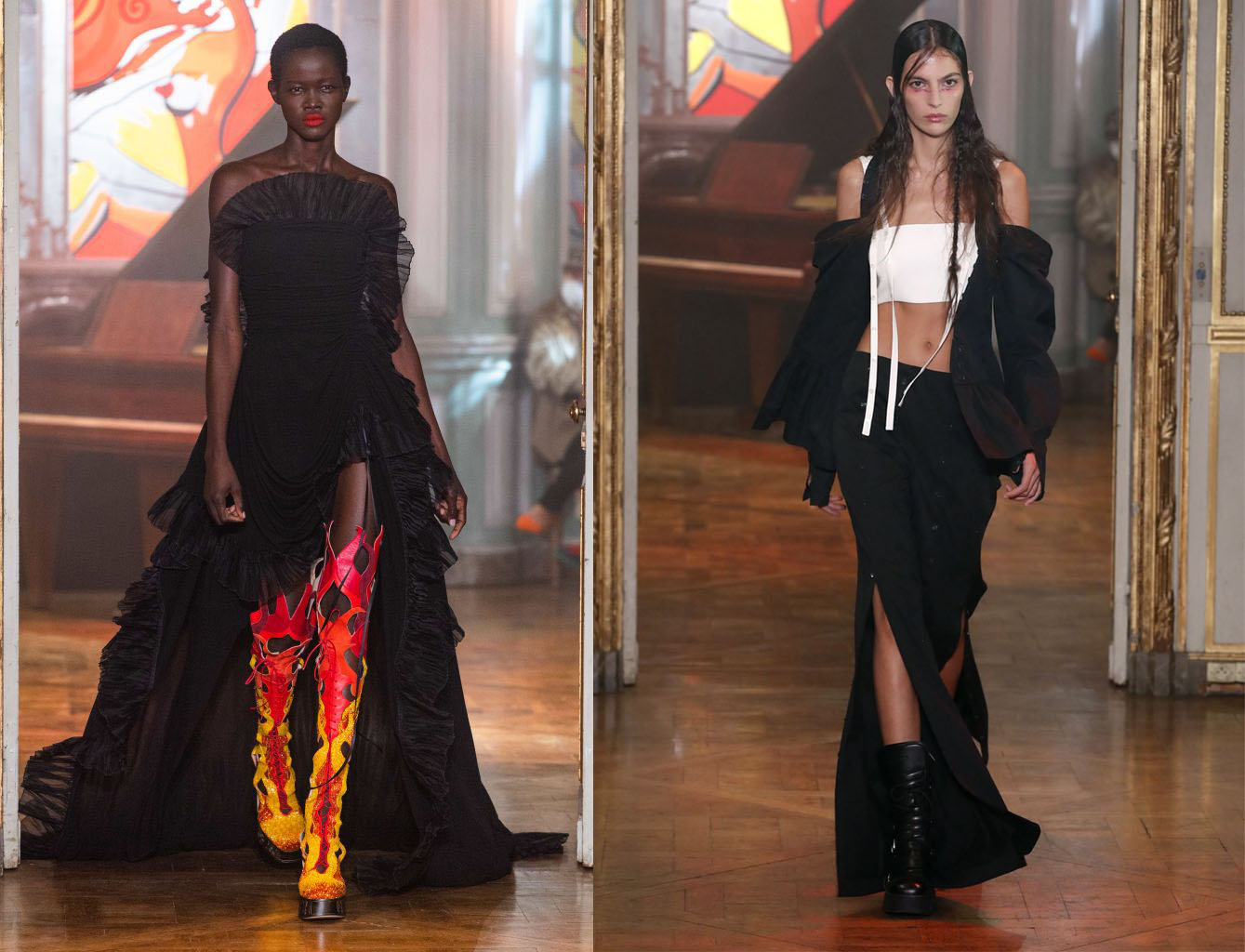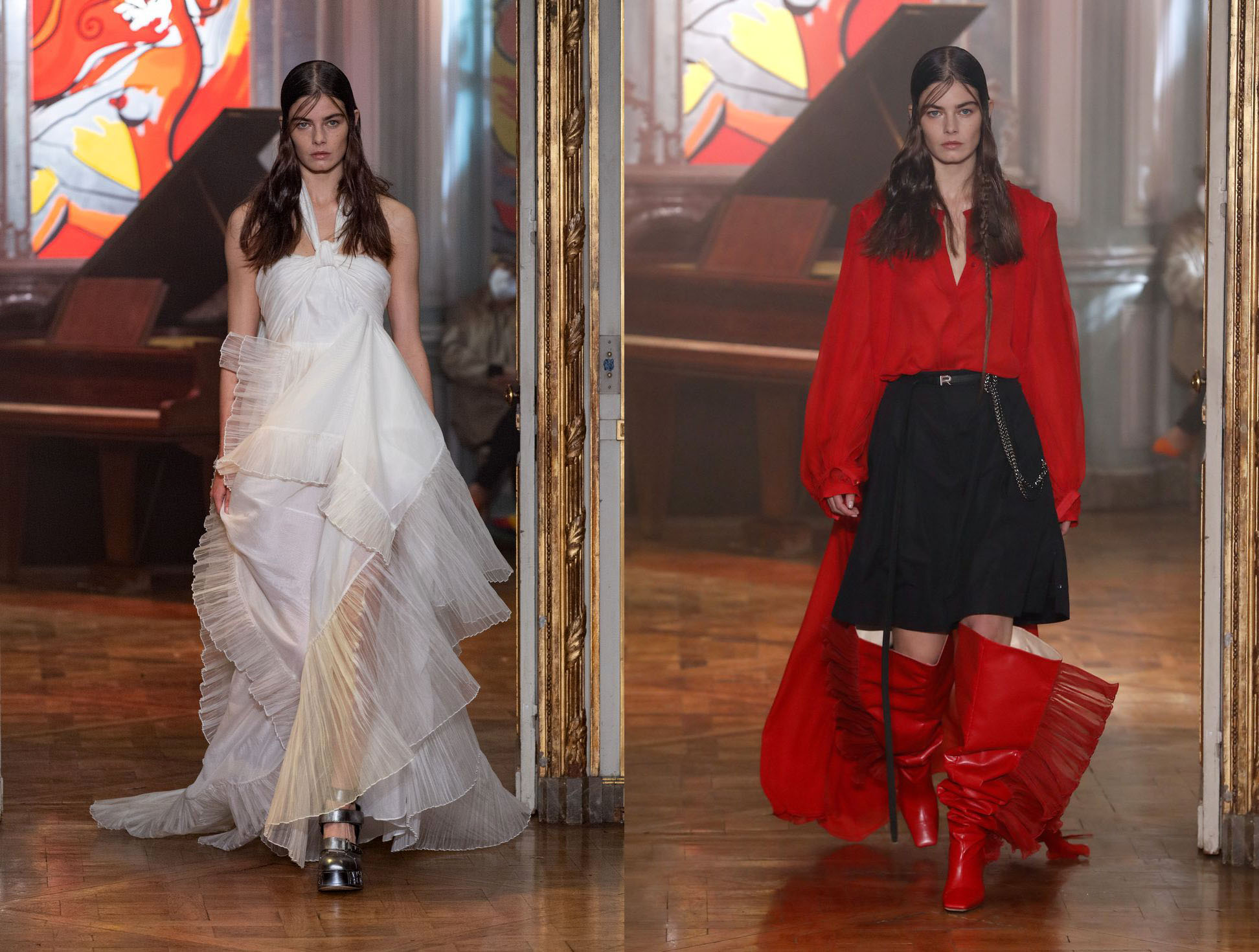 GIVENCHY
Od prevzatia oprát v Givenchy značke v júni 2020 dizajnér Matthew M Williams odovzdal štyri kolekcie, ale toto bola jeho prvá prehliadka na móle a so živým publikom. Jeho vízia módneho domu Givenchy zahŕňala neformálne tenisky, vysoké čižmy nosené s peplum kabátikmi zdobenými volánmi a so sukňami. Matthew Williams vo svojej najnovšej kolekcii predstavil šaty, zahalené ako hmla v spodnej časti, aby "preskúmali napätie medzi extravaganciou a disciplínou" .
"Pri kolekcii jar/leto 2022 som chcel nadviazať na tradíciu histórie Givenchy a zároveň sa skutočne pozerať do budúcnosti," povedal o novej kolekcii kreatívny riaditeľ Matthew M Williams. "Aby som to dosiahol, pracoval som s ľuďmi, ktorých obdivujem, z rôznych odborov, ktorí majú skutočne jedinečné perspektívy, vrátane výtvarníka Josha Smitha, ktorého ikonické dielo je súčasťou celej zbierky, a hudobníka Young Thuga, ktorý pre show vytvoril celú partitúru. spolupráca a táto kolekcia ponúka ľuďom mimoriadne pohlcujúci a špeciálny zážitok. "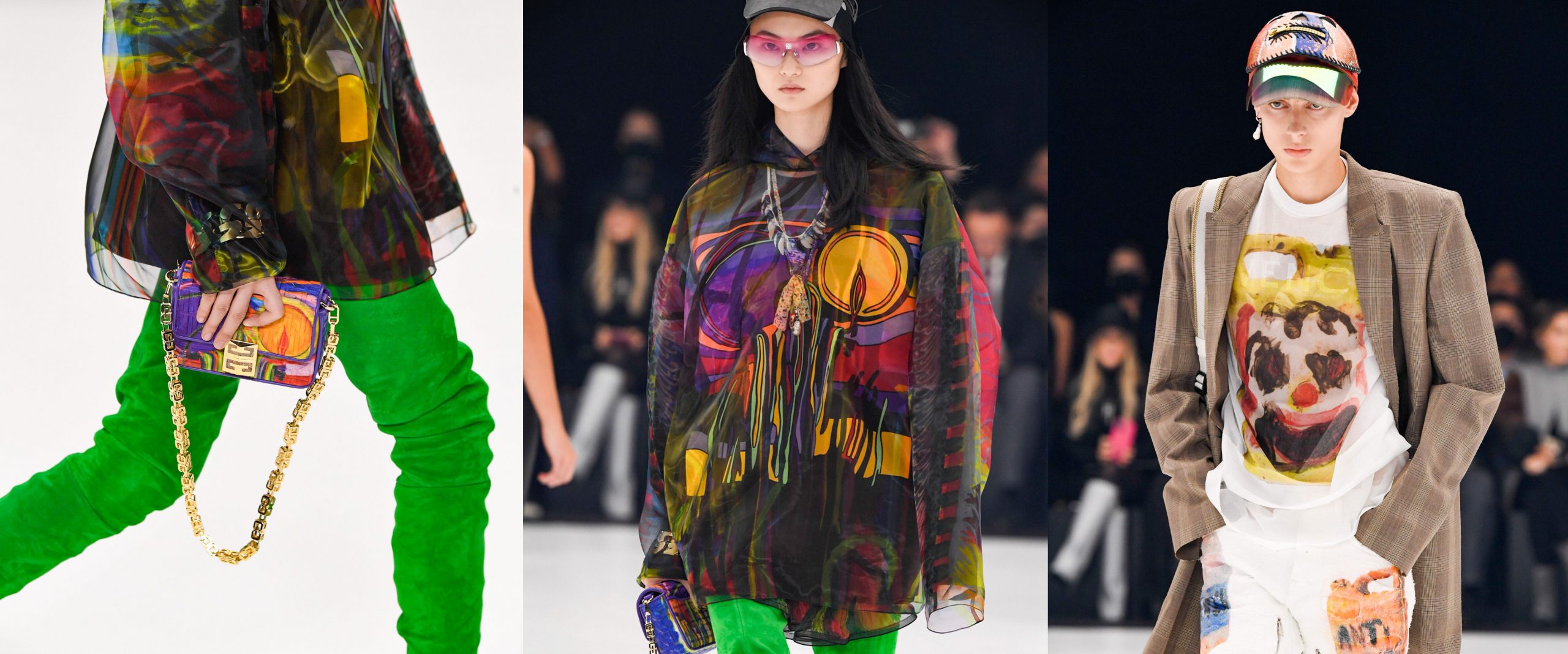 V spolupráci s výtvarníkom , americkým umelcom Joshom Smithom sa jeho umelecké diela objavili na kusoch oblečenia do mesta, zatiaľ čo náhrdelník z ostnatého drôtu vyvolal kontroverzie pre jeho asociácie podobné slučkám. Tragédie veru nie sú trendy a Williams každopádne nepotrebuje šokovú taktiku. Ako dokazuje táto kolekcia, návrhár už vie, ako si vyslúžiť pozornosť verejnosti.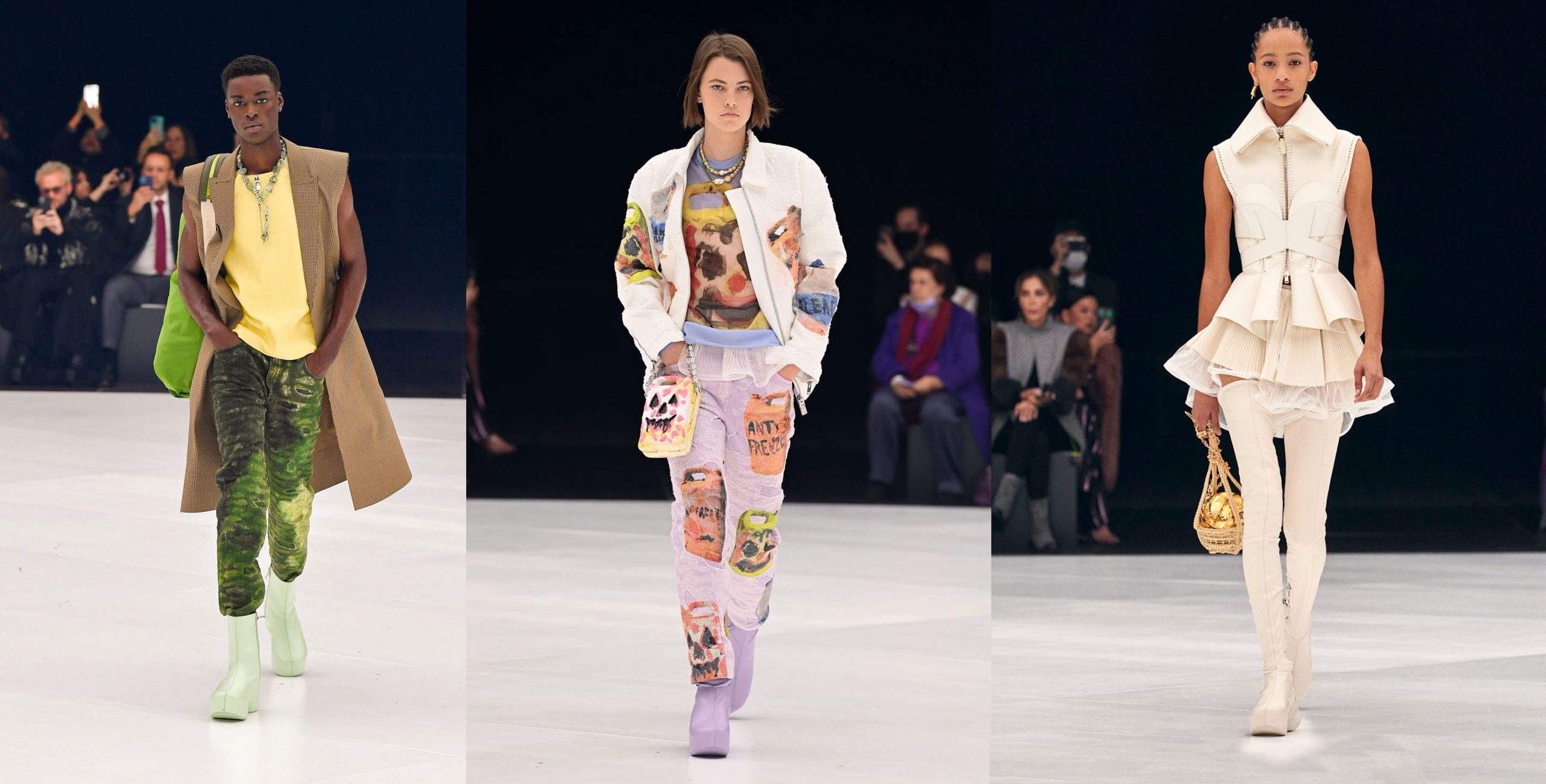 Josh Smith, ktorý svoju nedávnu galerijnú šou nazval "Emo Jungle", preniesol svoje podpisové snímky vrátane špinavej kosačky a vlnitých bielych kostí na úpletové modely Givenchy.
images: © Vogue, pinterest, Givenchi, Rochas, Miu Miu, getty images, profimedia. cz
Follow Facebook page: Mya Mirell Fashionista and Instagram: mya_mirell.