CRISTIANO BURANI, Milan Fashion Week – Móda Ženy, 18. – 24. september 2018, kolekcia jar/leto 2019, 23.september 2018
CRISTIANO BURANI
Flemish Revolution, to je názov novej kolekcie módneho návrhára Cristiano Burani, ktorú predstavil počas predposledného dňa milánskeho týždňa módy – Milan Fashion Week, dňa 23. septembra 2018. Tohto módneho návrhára som už predstavila, rovnako nájdete na tomto blogu v predošlých článkoch a na niektorých slovenských módnych portáloch. Jeho predošlú kolekciu pre jar/leto 2018 s názvom "Electro Hawai" , video, ktoré som natočila, si môžete pozrieť na facebook stránke Mya Mirell Fashionista v kategórii Videá.
Cristiano Burani sa dlhší čas zdržoval aj v Amerike a tento jeho pobyt ho poznačil v tvorbe. Znaky novej kolekcie pre sezónu jar/leto 2019 sú kombináciou striktných pravidiel minulosti s dnešným Los Angeles pouličným štýlom. Určená je pre mestský a súčasný look. Video z prehliadky si môžete pozrieť na mojej facebook stránke blogu Mya Mirell Fashionista v kategórii Videá a tiež tam nájdete aj ostatné fotografie z Milan Fashion Weeku.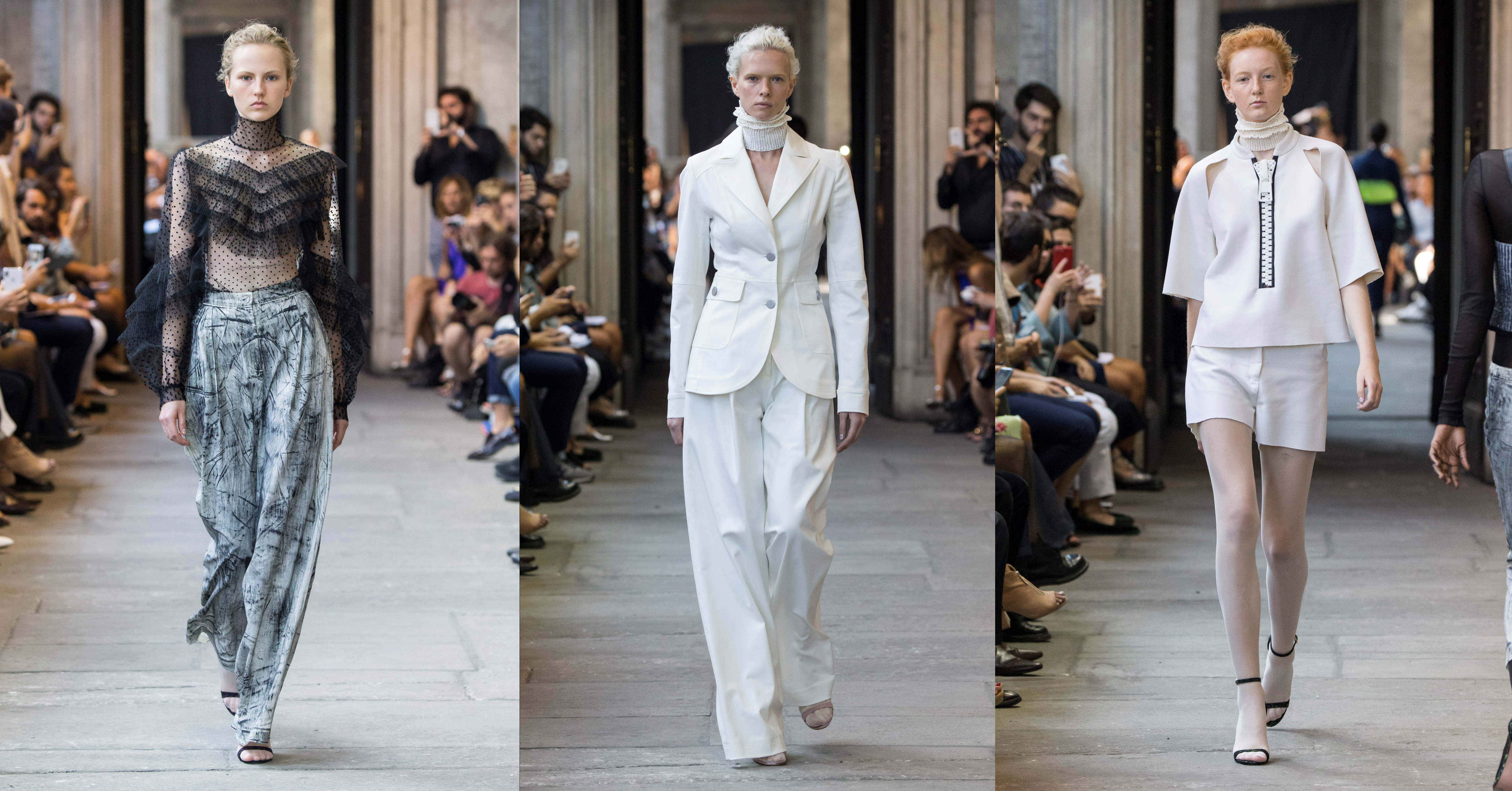 Ramená nadmerného objemu, zvýraznený pás, dôraz na nohy s hlbokými rázporkami, sukne prevažne midi dĺžky to je charakteristická viac vedomá a menej nápaditá nová ženskosť kolekcie jar/leto 2019 Christiano Burani. Ručná tvorba tzv. hand made dizajn sprevádzal celú kolekciu Christiana Burani pre sezónu jar/leto 2019. Abstraktný dizajn aplikovaný ručne na materiáloch ako saténový taft v rôznych monochromatických a farebných zapúšťaných kombináciách vytváral unikátny look každého predvedeného prvku kolekcie.
Biely denim pomaľovaný náhodnými ťahmi štetcov pripomína maliarsku stenu, potlač s efektom prasklín na materiáloch je dosiahnutá zapustenými farbami.
Topy z transparentných materiálov s nariasením do podoby vtáčieho peria na dekolte aj rukávoch so stojáčikovým golierom či plysované goliere boli ďalším prvkom novej kolekcie Cristiana Burani.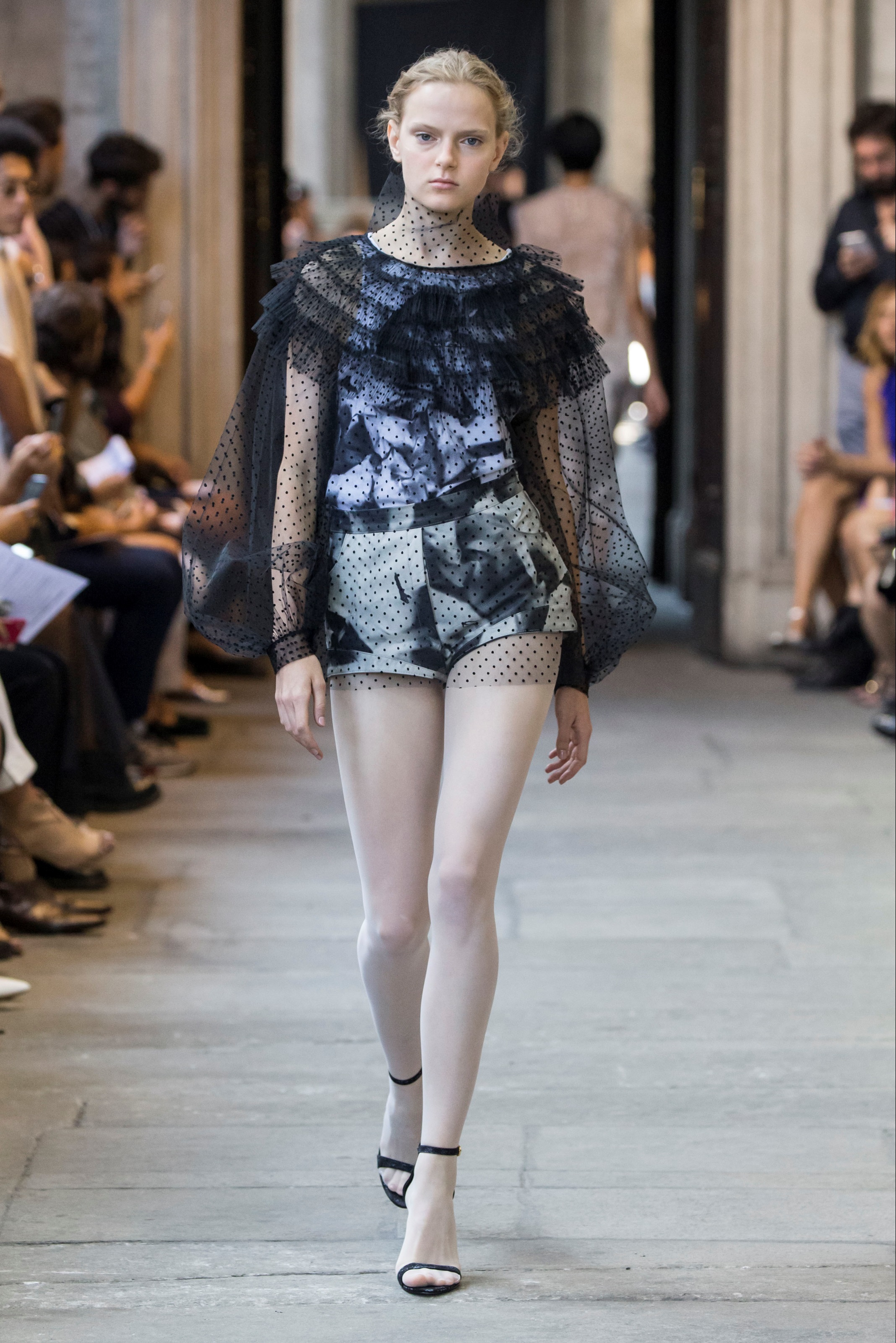 Zipsový lem na bundách ako efektný nový prvok, ktorý Cristiano Burani vytvoril na niektorých modeloch plynulo prechádzal do kapucne a bol ukončený veľkým zipsom. Nápadité a vtipné riešenie, ktoré ozvláštnilo niektoré modely novej kolekcie 2019 Cristiana Burani.
Mohli sme vidieť ľahké vlnené nohavice z tzv. tropickej vlny, z ľahkej merinovlny, inak nazývanej aj cool wool vzdušného strihu s faldami. Nohavice mali široký strih.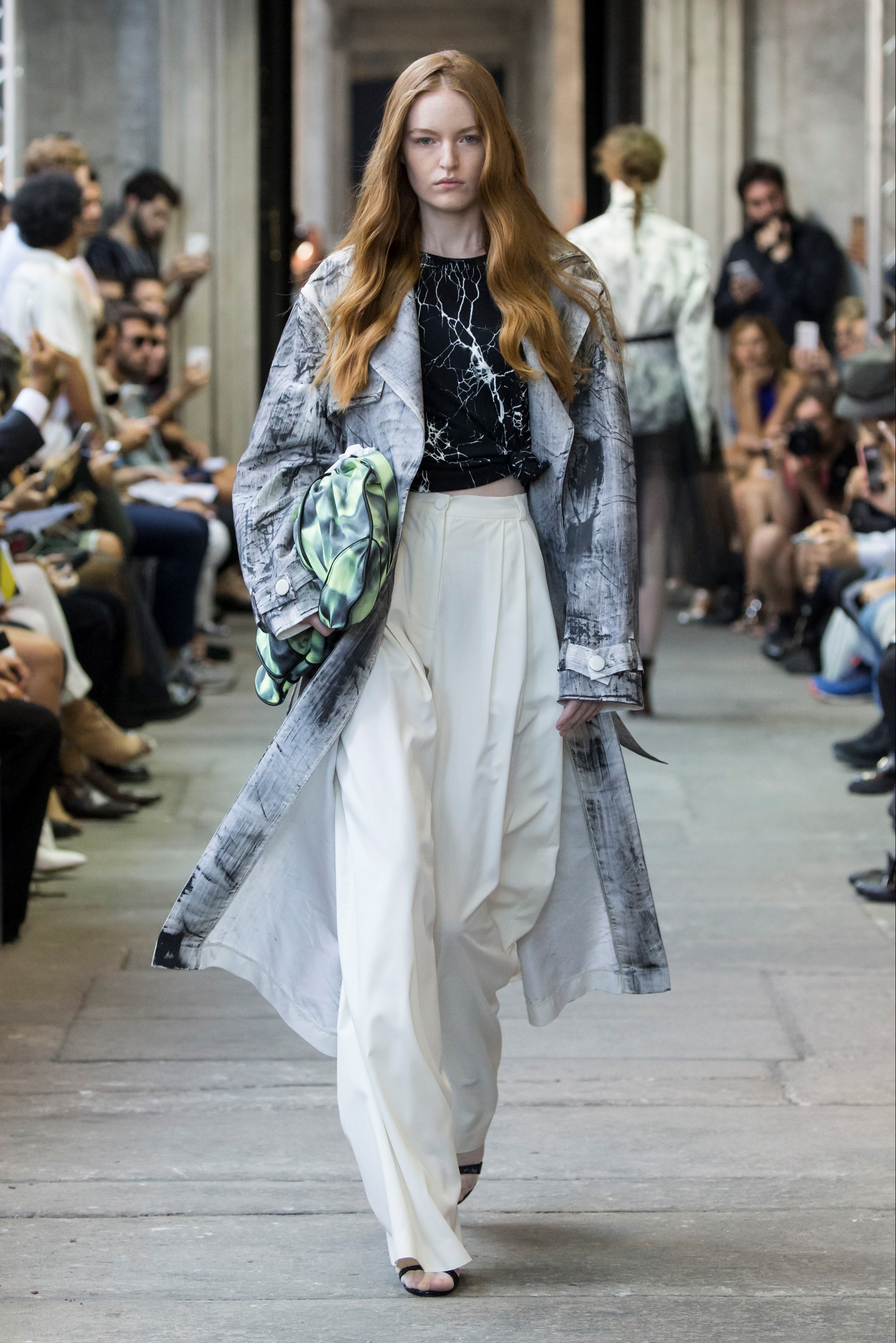 Efektne vyzeral nazberaný a potom nedbalo zatočený polyamid zamat na asymetrických šatách s jedným rukávom a padavým golierom voľného strihu, opäť batikovaný vzor. Taktiež aplikovaný na dlhých spoločenských šatách s dvoma hlbokými prednými rázporkami.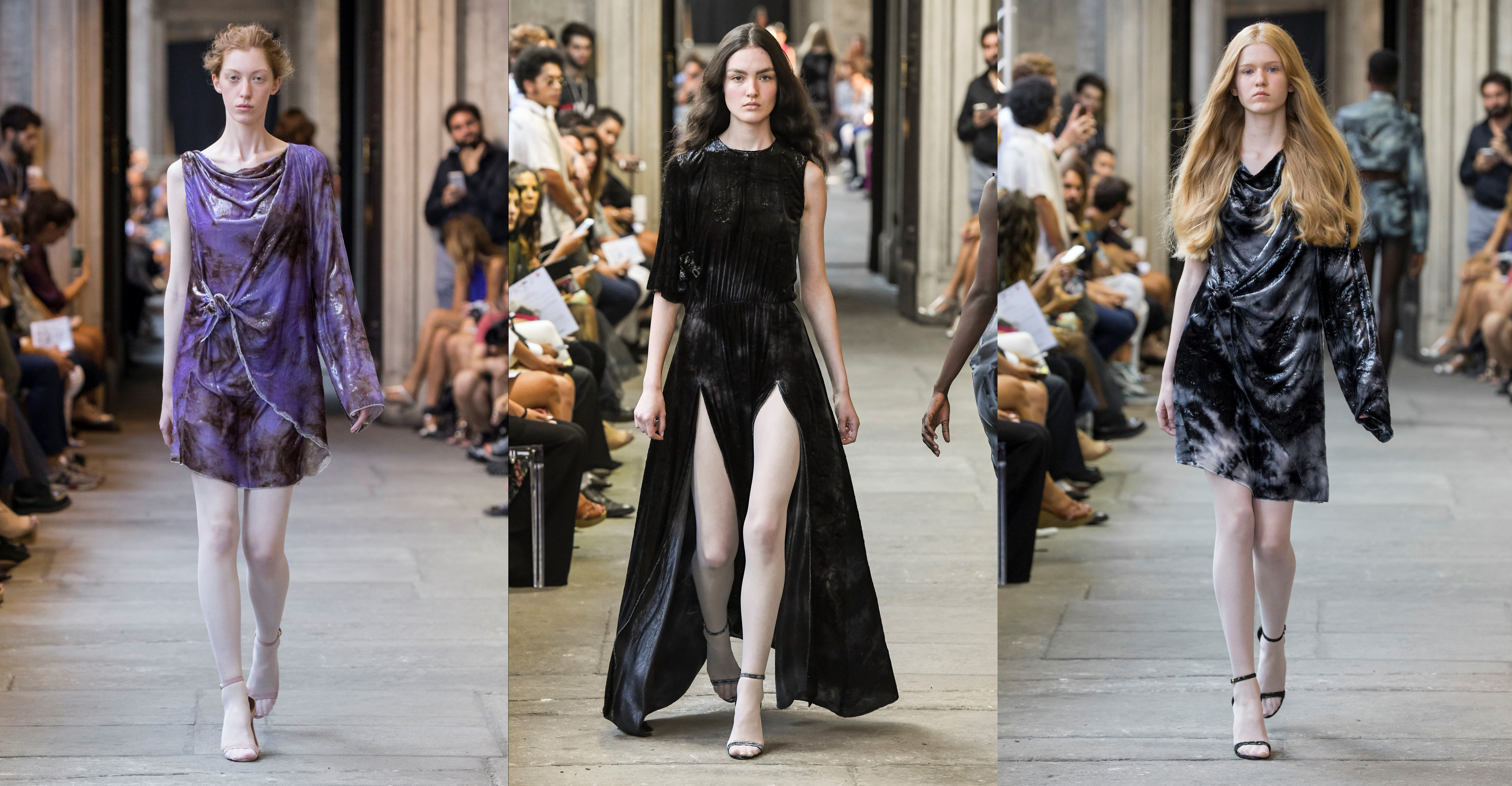 Zjednocujúce a opakujúce sa prvky kolekcie tvorili plysované a nazberané stojáčikové detaily na golieroch. Neprehliadnuteľný bol biely háčkovaný model unikátneho dizajnu s lemom v podobe veľkého zipsu prechádzajúceho plynule do kapucne. Na modely z tohto materiálu vyzeral o to efektnejšie.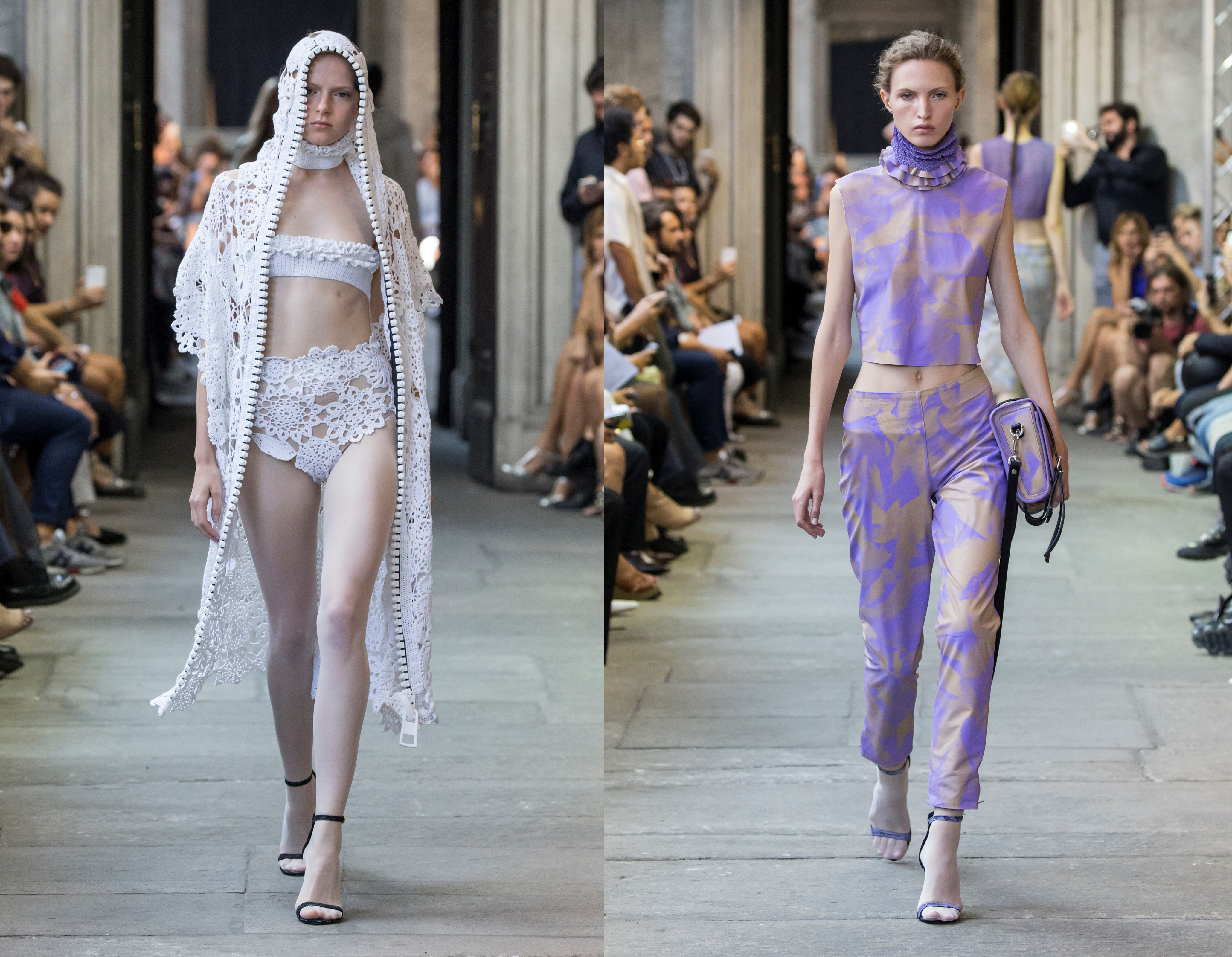 Denim zapúšťaného vzhľadu s mramorovým výzorom, zips nadrozmernej veľkosti ako ozdobný prvok a biele pančušky predstavil návrhár Cristiano Burani v novej kolekcii pre jar/leto 2019.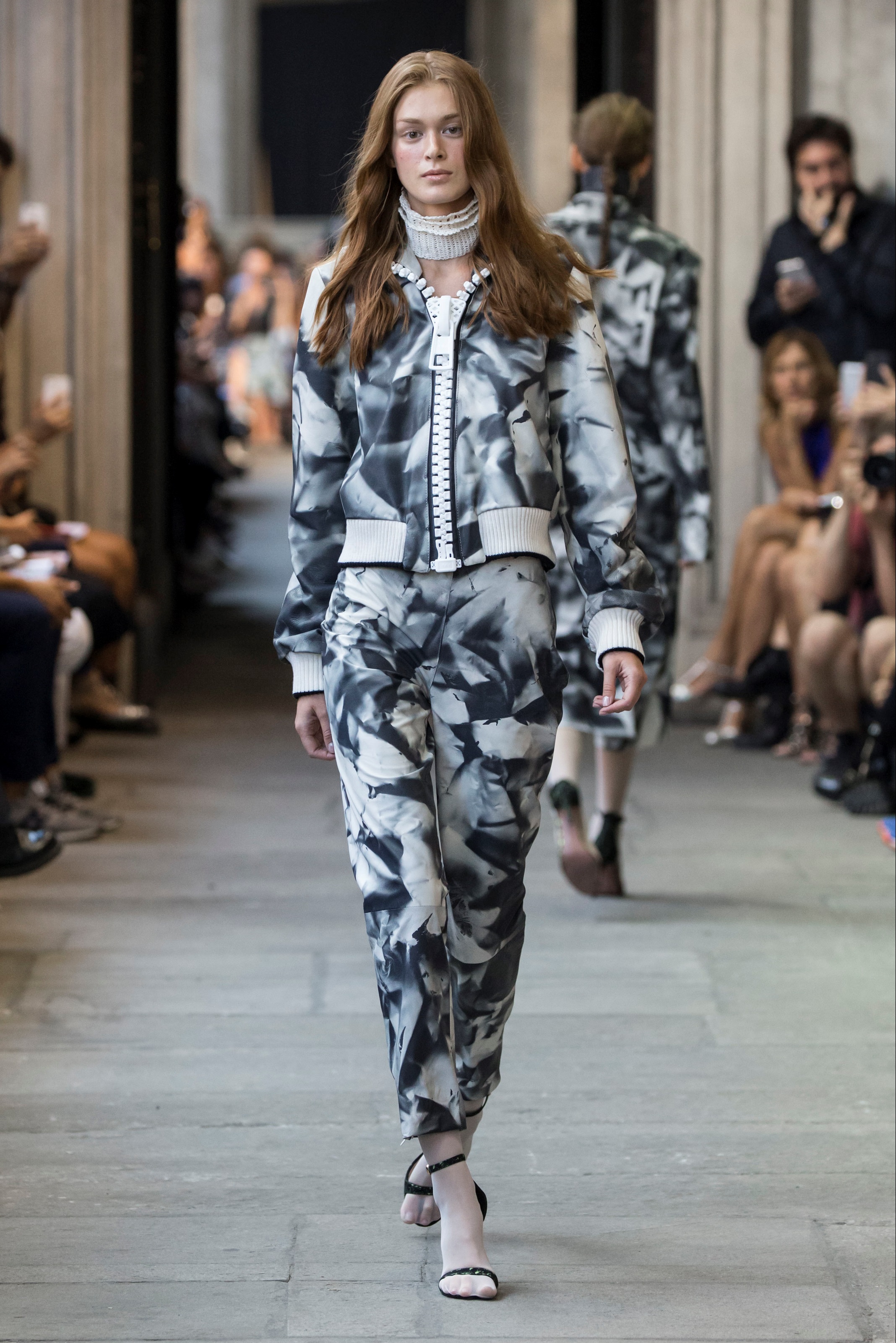 Zapúšťaný batikovaný denim sa vyskytoval v kolekcii hojne v rôznom farebnom prevedení. Modely bez rukávov mali zvýraznené ramená.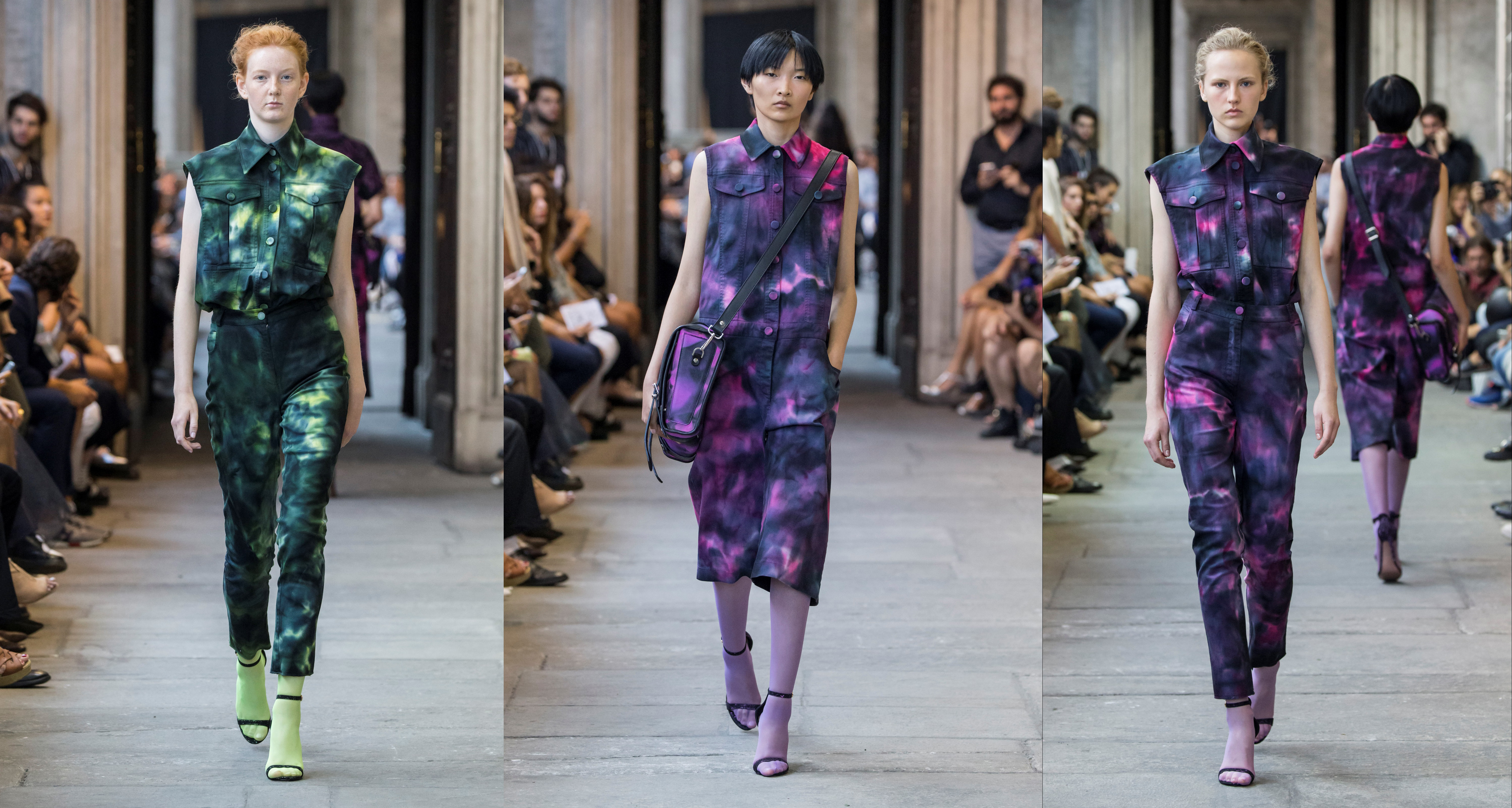 Transparentné materiály sa stali novým trendy prvkom pre sezónu jar/leto 2019 predvedeným dizajnérmi počas Milan Fashion Weeku, september 2018.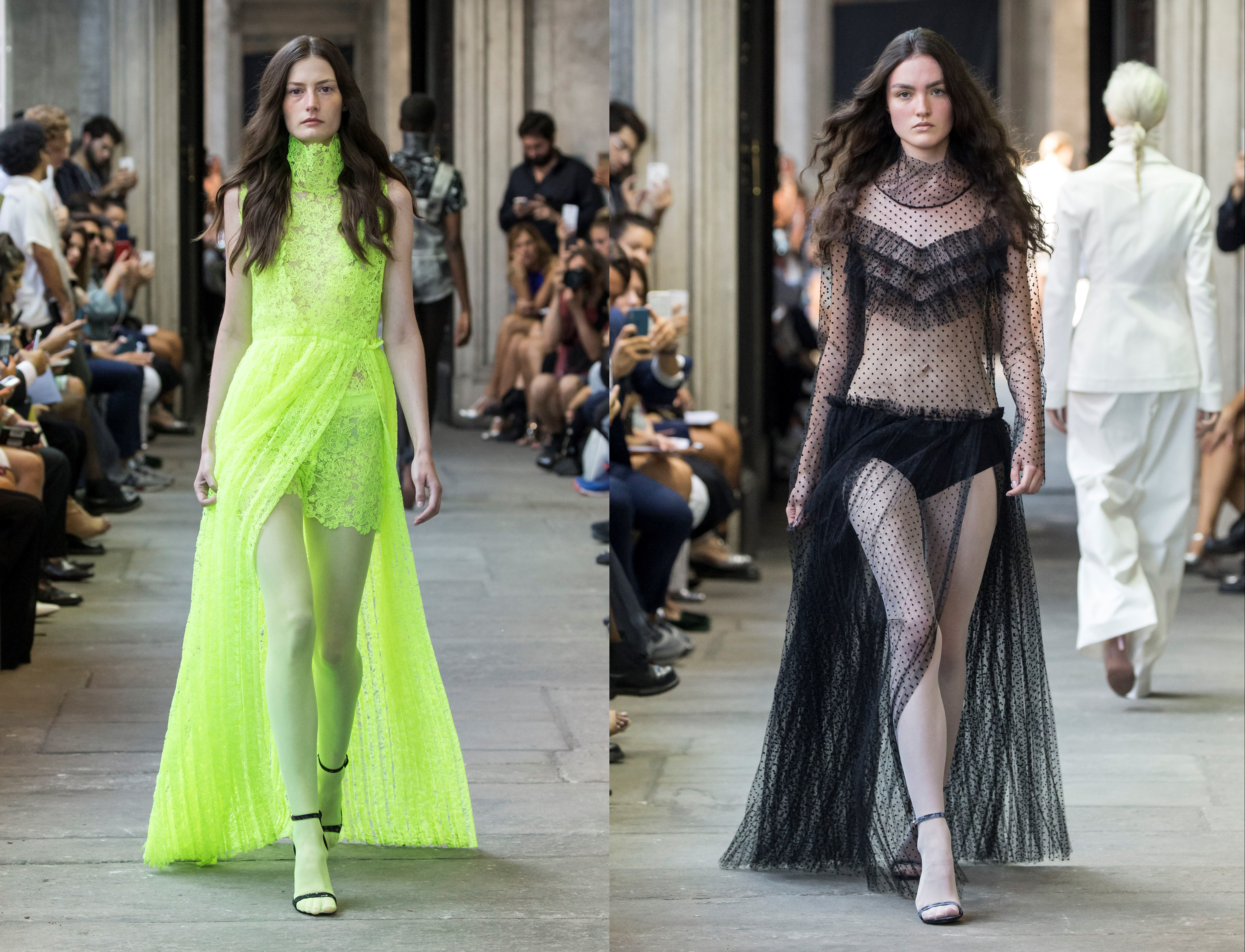 Biely denim s fŕkaným vzorom alebo vzorom popraskanej steny, vyšúchaného vzhľadu, batikovaného zapúšťaného kriedového vzoru dopĺňali biele silonové pančušky. Biela bola spojovacím prvkom na transparentných materiáloch. Transparentné materiály sa tiež stali novým trendy prvkom pre sezónu jar/leto 2019 z pera módnych návrhárov Milan Fashion Weeku.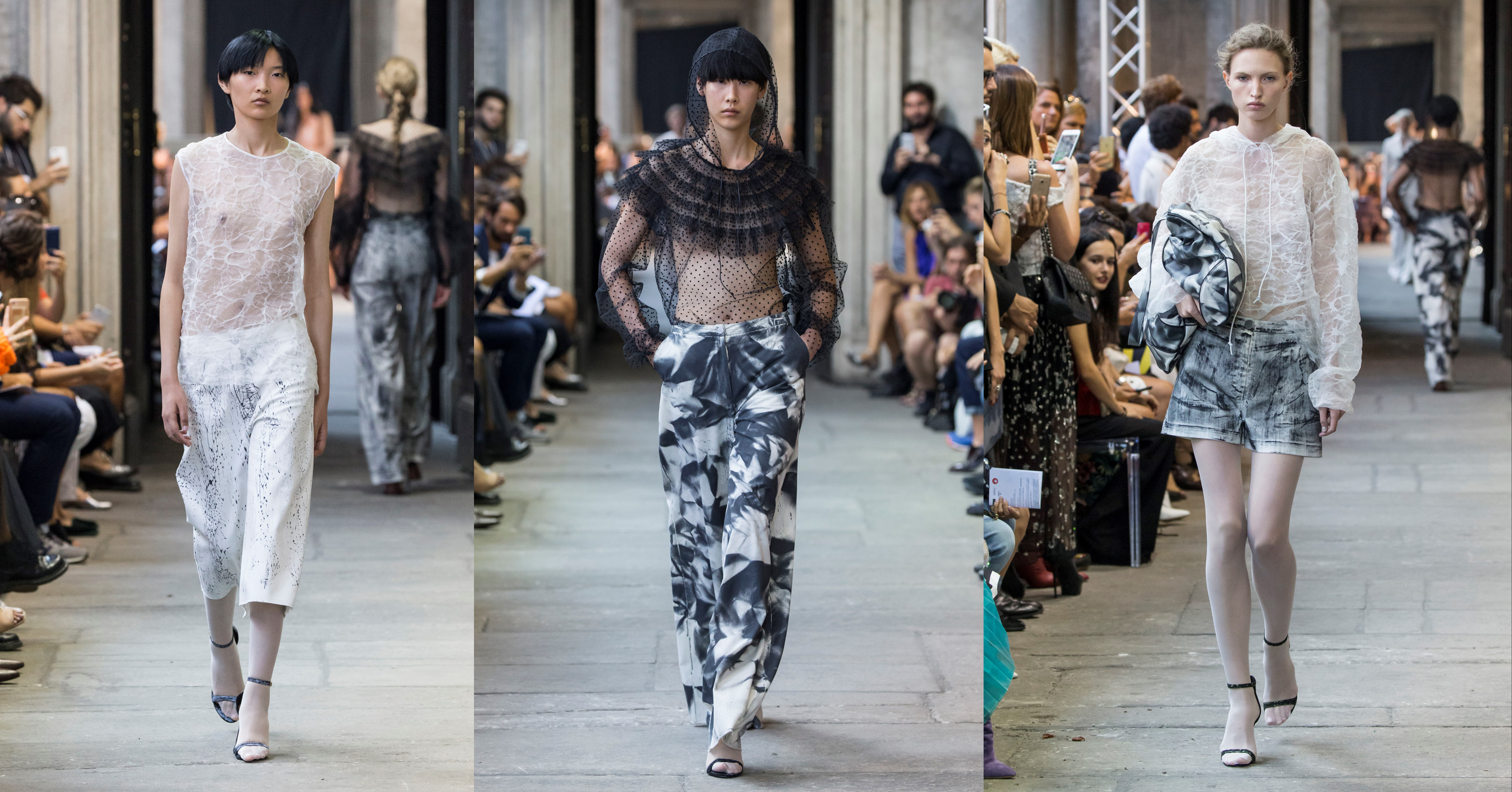 Cristiano Burani v novej kolekcii spojil markantné prvky ako stojáčikové goliere na topoch, hlavný materiálový prvok tvoril denim s abstraktným hand made vzorovaním v kombinácii s transparentným materiálom šifón a čipka a pančuškami dopĺňajúcami výsledný outfit. Plysované detaily sa objavili na sukniach a stojáčikových golieroch, nariasenie do podoby vtáčich perí na dekolte a rukávoch.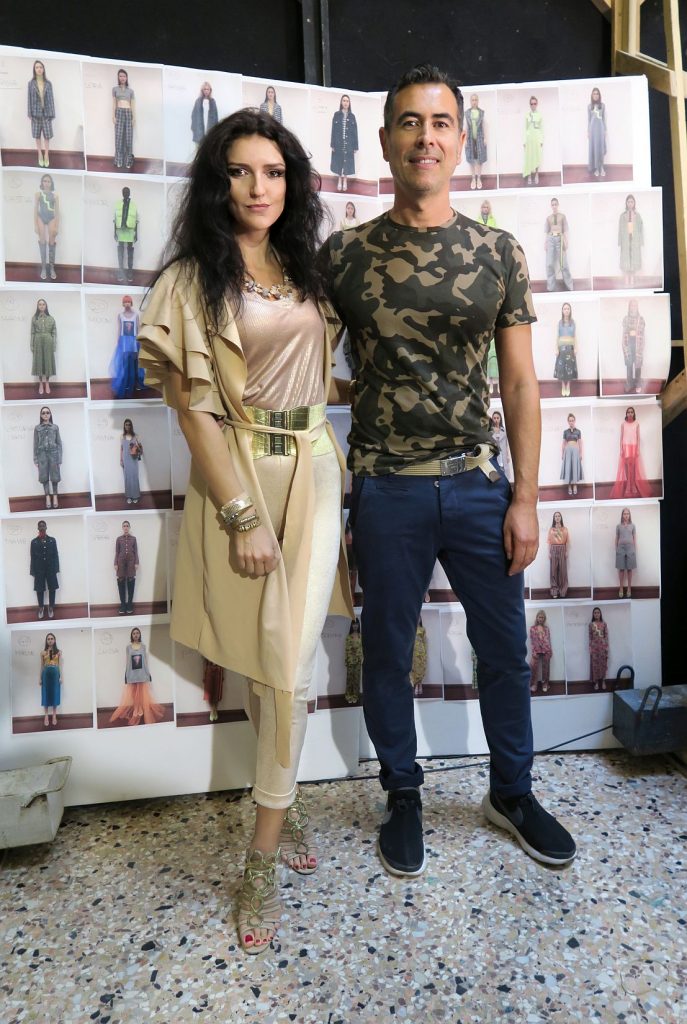 S návrhárom počas Milan Fashion Weeku, v zákulisí po predvedení kolekcie s názvom Electro Hawai pre sezónu jar/leto 2018.