Svetoví módni dizajnéri vzdali spolu s magazínom Vogue hold legendárnemu Karlovi Lagerfeldovi
Americký magazín Vogue postavil do centra pozornosti ikonického dizajnéra Karla Lagerfelda, ktorý na obálke svojho májového vydania (05/2023) predstaví 10 vzhľadov – majstrových výtvorov, ktoré v Palais Royal v Paríži nafotila módna fotografka Annie Leibovitz.
Legendárny dizajnér Karl Lagerfeld navždy zostane ikonickou postavou v módnom priemysle, ktorý svojím pôsobením výrazne ovplyvnil. Z tohto sveta navždy odišiel 19. februára 2019 a pri príležitosti výročia jeho úmrtia a uctenia si jeho tvorby, ktorej vplyv na módu stále badať , sa módny svet rozhodol vzdať hold jeho tvorbe.
Karl Lagerfeld zmenil a ovplyvnil módny priemysel držiac titul kreatívneho dizajnéra niekoľkých najikonickejších módnych domov ako Chanel , Fendi aj Chloe. Rovnako pracoval aj na svojej rovnomennej značke. Odkaz jeho tvorby citeľný v móde je žijúci dodnes.
"Bol mimoriadne inteligentný, intuitívny a rýchly; zvedavý a otvorený všetkému. Mohli by ste s ním diskutovať o akejkoľvek téme a mal by zaujímavý pohľad… Ale najzaujímavejší bol uhol, cez ktorý veci videl, s ním by sa každá jedna časť rozhovoru mohla premeniť na novú myšlienku… Pamätám si, ako som mu povedala, že som zúrivá, pretože môj syn Louis – mal vtedy 11 rokov – nakreslil graffiti vo výťahu našej budovy. Prvá otázka, ktorá mu prišla na um, bola: "Ah tak? A bolo to krásne?" "Povedala som: 'Áno, Karl, je to celkom pekné, ale je to naozaj nočná mora, ktorú treba vymazať ! … "Na druhý deň bol môj syn najatý, aby vytvoril graffiti umenie pre spoluprácu, ktorú sme mali s Macy's." — Caroline Lebar, vedúca imidžu a komunikácie značky Karl Lagerfeld .
Vogue oslavuje legendárneho Karla Lagerfelda titulkou pre Máj 2023, ktorú nafotila módna fotografka Annie Leibovitz. Hviezdami módnej obálky sú supermodelky – osláviť jeho prínos vo svete módy sa rozhodlo desať jeho najobľúbenejších modeliek a jedna hosťujúca hviezda – Naomi Campbell, Natalia Vodianova, Shalom Harlow, Liu Wen, Amber Valletta, Adut Akech, Anok Yai, Devon Aoki, Gigi Hadid a Kendall Jenner a legendárna karlova mačka Choupette.
Styling mal na starosti Alex Harrington, výpravu Mary Howard. Beauty je dielom vlasovej stylistky Jawary a vizážistky Fara Homidi.
Pred slávnostným galavečerom Met Gala, ktoré sa uskutoční 1. mája 2023, predstavilo 10 vybraných návrhárov svoje sartoriálne pocty venované nezabudnuteľnému Karlovi Lagerfeldovi.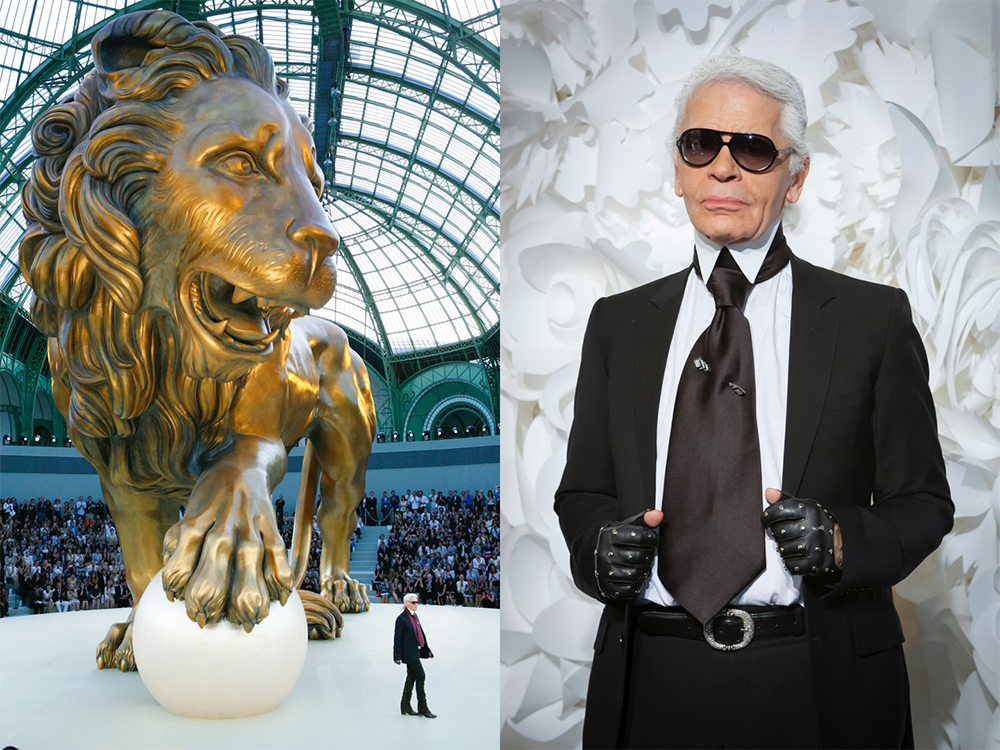 DIZAJNÉRI – OSOBNÉ ROZHOVORY A POHĽADY NA VZŤAH S KARLOM LAGERFELDOM
Módny magazín Vogue sa v májovom čísle (05/2023) venuje svetovému dizajnérovi Karlovi Lagerfeldovi a poskytuje tiež rozhovory a osobné pohľady s desiatimi dizajnérmi, ktorí odkrývajú anekdoty na ich vzájomné vzťahy. Vyjadrili sa taliansky dizajnér Pierpaolo Piccioli zo značky Valentino, Thom Brown, talianska dizajnérka Donatella Versace, Jun Takahashi zo značky Undercover, Christopher John Rogers, John Galliano z módneho domu Maison Margiela, Olivier Rousteing z Balmain, Chitose Abe zo Sacai, Gucci a Simone Rocha. Pozrime sa na legendárne príbehy spojené s Karlom Lagerfeldom, ktoré formovali a okorenili svet módy :
PIERPAOLO PICCOLI O KARLOVI LAGERFELDOVI
"S Karlom sme sa zoznámili začiatkom 90. rokov vo Fendi – bolo to ako príchod hviezdy do kancelárie. Istým spôsobom prinášal novinky zo sveta, rozprával nám o veciach, ako napríklad o tom, že novou krásou je škaredosť. Tieto manifesty boli absolútne ostré a podané bez akýchkoľvek pochybností. Od Karla som sa tiež naučil nepovažovať nič za samozrejmosť. So všetkým sa dá pracovať. So všetkým sa dá tvoriť. Vždy na mňa veľmi zapôsobil Karlov výskum moderny. Bol posadnutý modernou, touto myšlienkou zobrazovať to, čo je súčasné. Nikdy nebol nostalgický. Módny vzhľad, ktorý som vytvoril pre fotenie s magazínom Vogue ako poctu Karlovi Lagerfeldovi je zmesou jeho slov, modernosti a ostrosti jeho pohľadu." – taliansky dizajnér P.P. Pierpaolo Piccioli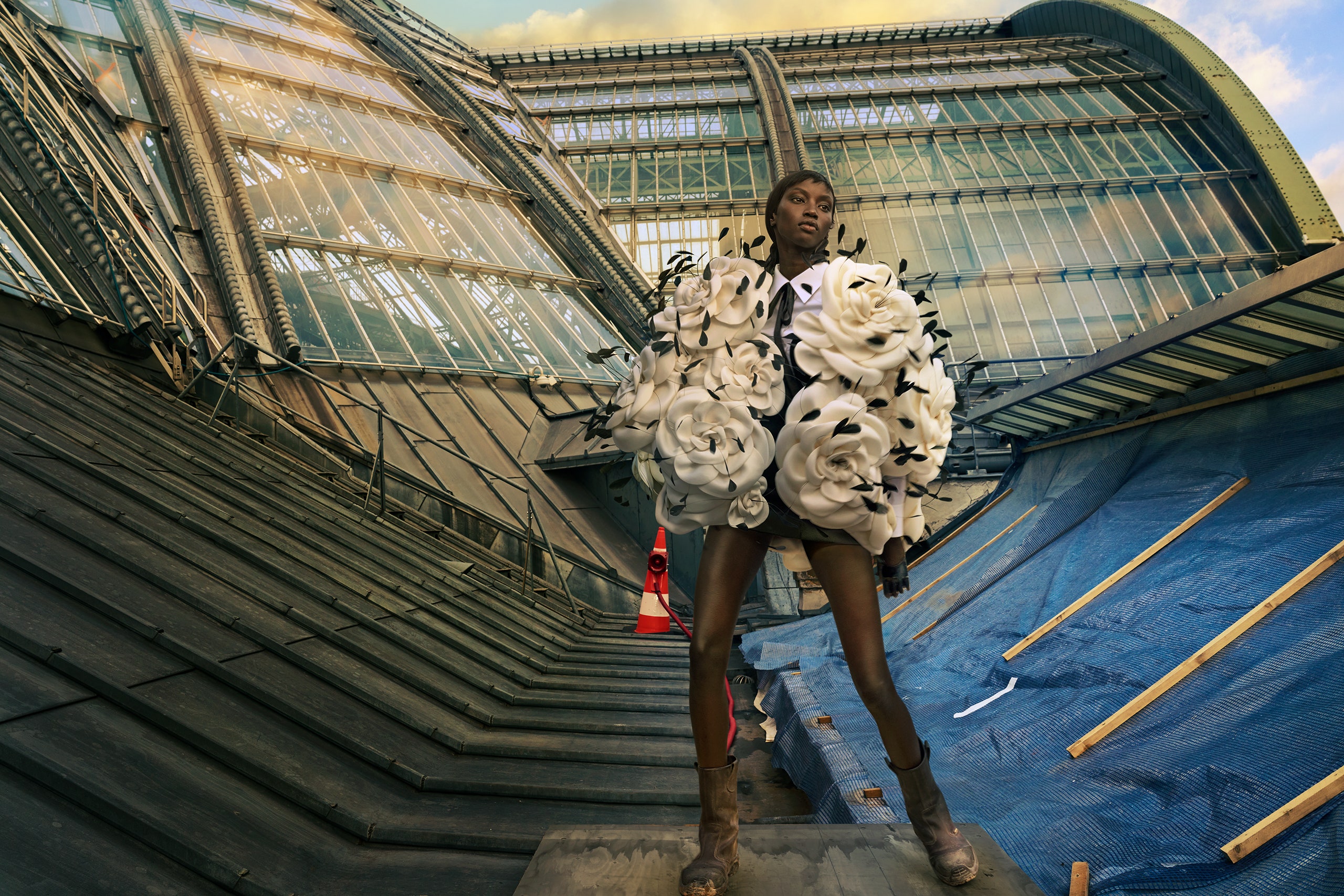 Módni návrhári Pierpaolo Piccioli a Valentino obliekli modelku Anok Yai do výrazného 3D modelu s kvetmi.
DONATELLA VERSACE – POCTA KARLOVI LAGERFELDOVI
"Karl bol Gianniho (Gianni Versace – zosnulý legendárny taliansky dizajnér) veľmi dobrý priateľ. Naozaj sa mali radi a navzájom sa rešpektovali. Gianni nebol typ človeka, ktorý by mal veľa priateľov a Karl tiež nie, ale boli prepojení. Stále som Giannimu hovorila ": "Prosím – chcem sa s ním stretnúť." Tak ma raz večer vzal ku Karlovi domov a ja som bola očarená."
"Pre dizajnérov dnes Karl Lagerfeld znamená veľa a najmä pre mňa. Páči sa nám jeho rebelantský duch. Dal by dokopy veci, ktoré naozaj nedávali zmysel, len aby vám ukázal, že môžu dávať zmysel. Nebral sa tak vážne, ale to géniovia nikdy nerobia. Bolo to ako keby každé módne predstavenie, ktoré urobil, bolo jeho prvé. Rád mal okolo seba aj ženy, ktoré mu dodávali silu. Ich prítomnosť bola veľmi dôležitá. Chcel vedieť, čo si ženy myslia o tom, čo robí. "– talianska dizajnérka D.V. Donatella Versace #Versace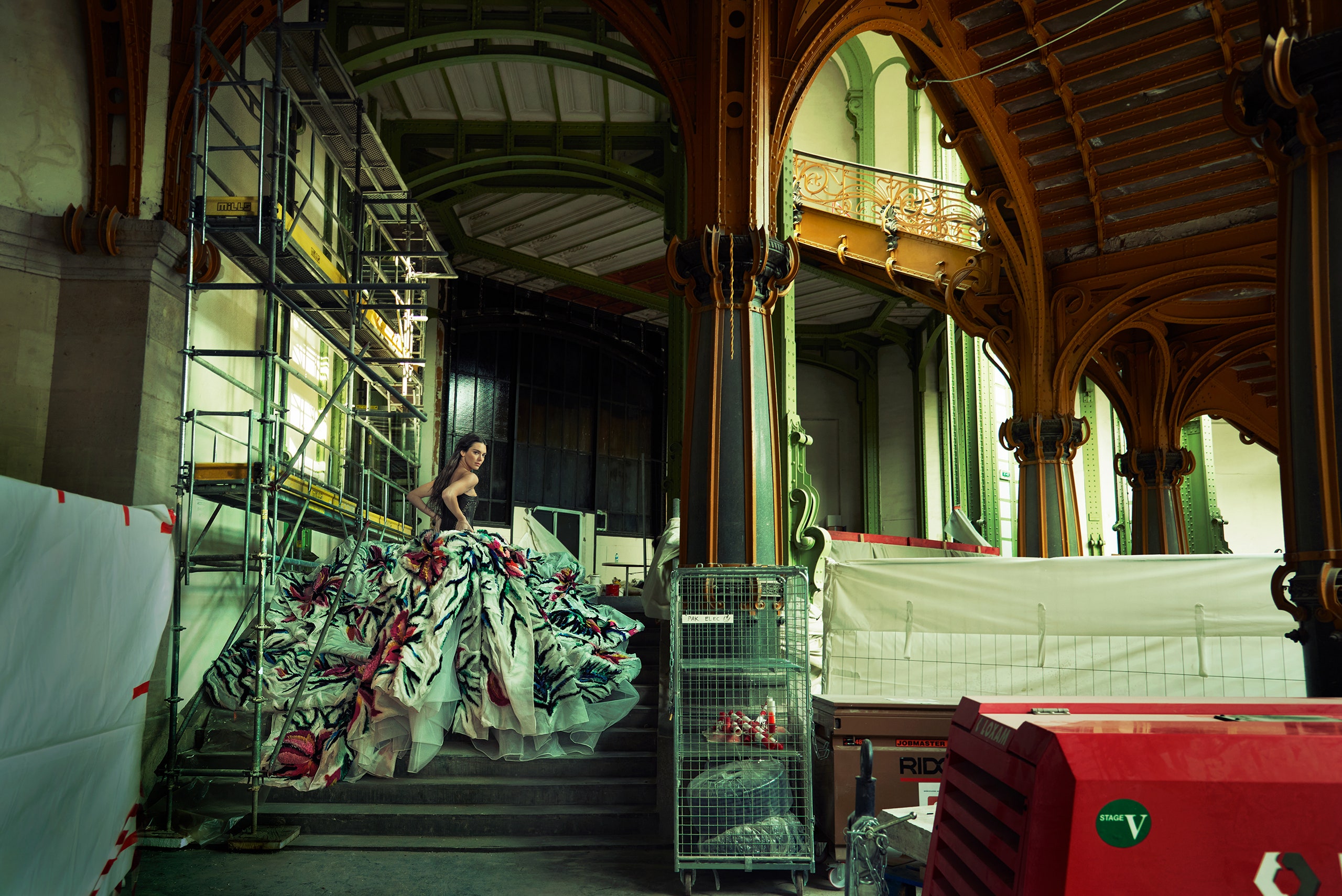 Donatella Versace vytvorila na počesť Karla Lagerfelda v jeho duchu model s bohatou sukňovou časťou, ktorý predviedla americká modelka Kendall Jenner.
OLIVIER ROUSTEING
"S Karlom som sa prvýkrát stretol v roku 2011 : "Ty si nový chlapec #Balmain?" opýtal sa ma. "Povedal som áno. Kedysi som bol chlapec Balmain – vitajte v móde! O pár mesiacov neskôr sme spolu sedeli na večeri a rozprávali sa. Nechcel som sa s ním rozprávať o jeho práci a tak som sa spýtal: "Aký je život mimo práce, Karl, ten vieš, mimo Chanelu?" A on odpovedal: "Na to sa nepýtame, pretože práca je môj život, práca je moja láska." Vždy bol mojou najväčšou životnou inšpiráciou. Nesledoval módu – vytváral módu a spájal módu s popkultúrou. Karl bol priekopníkom – kráľom všetkého, o čo sa dnes snažíme. A nikdy sa prestal byť zvedavý na život. Vzhľad, ktorý som vytvoril, je poctou jemu – pozrel som sa na to, čo robil v Balmain: zdôraznenie malého pásu, väčšie ramená, hra s gombíkmi." – O.R.Olivier Rousteing.
Jedna z najpozoruhodnejších aktuálnych fotografií vo Vogue je s modelkou Naomi Campbell, ktorá drží Choupette, milovanú mačku pána Lagerfelda.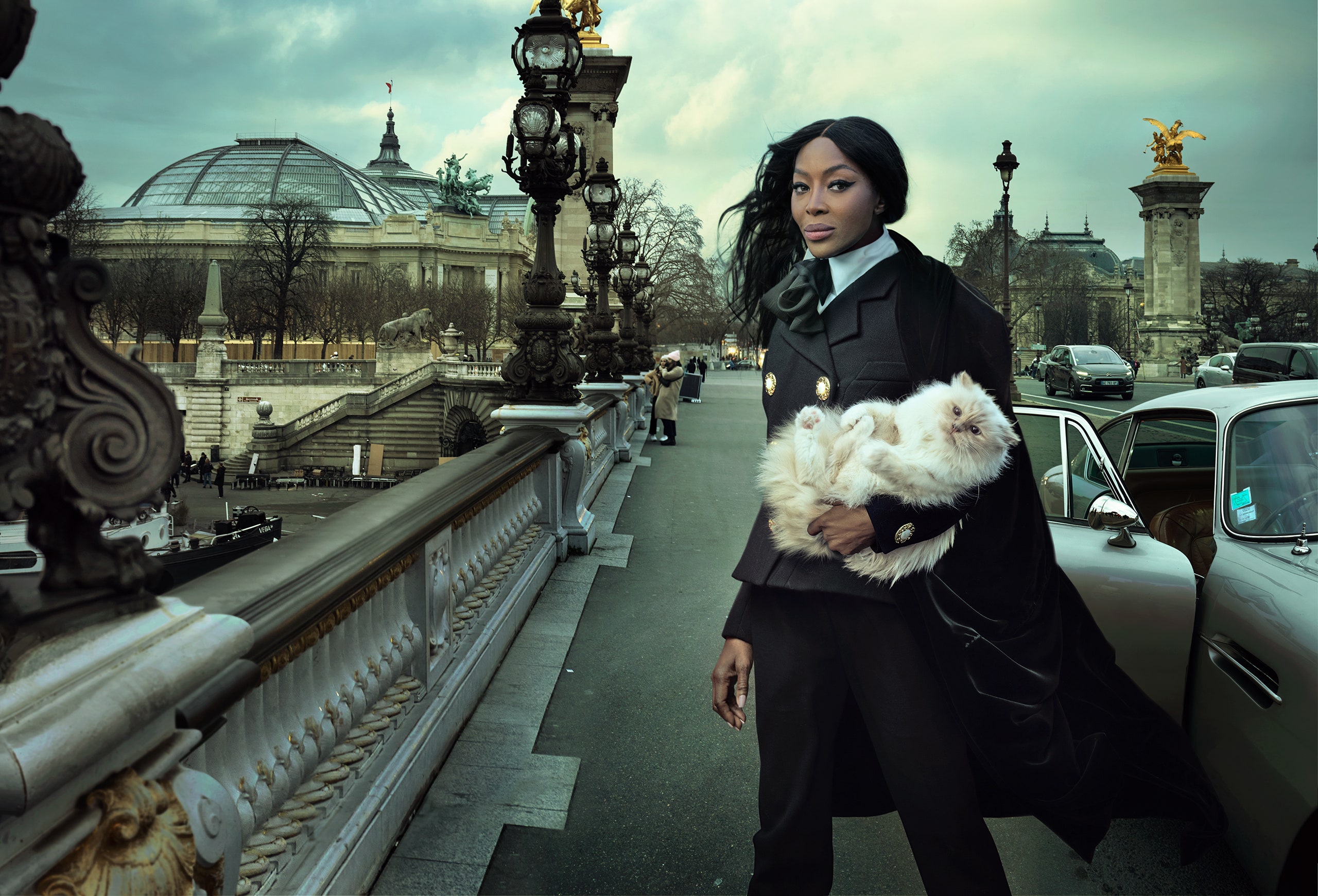 Olivier Rousteing, značka Balmain a pocta Karlovi Lagefeldovi . Predviedla a nafotila topmodelka Naomi Campbell, ktorá drží Lagerfeldovu milovanú Choupette. Makeup pre Naomi Campbell vytvorila Angloma.
"Čo bol Warhol pre umenie, bol Karl Lagerfeld pre módu. Je jediná osoba, ktorá vie spraviť bielu a čiernu farebnou." modelka Claudia Schiffer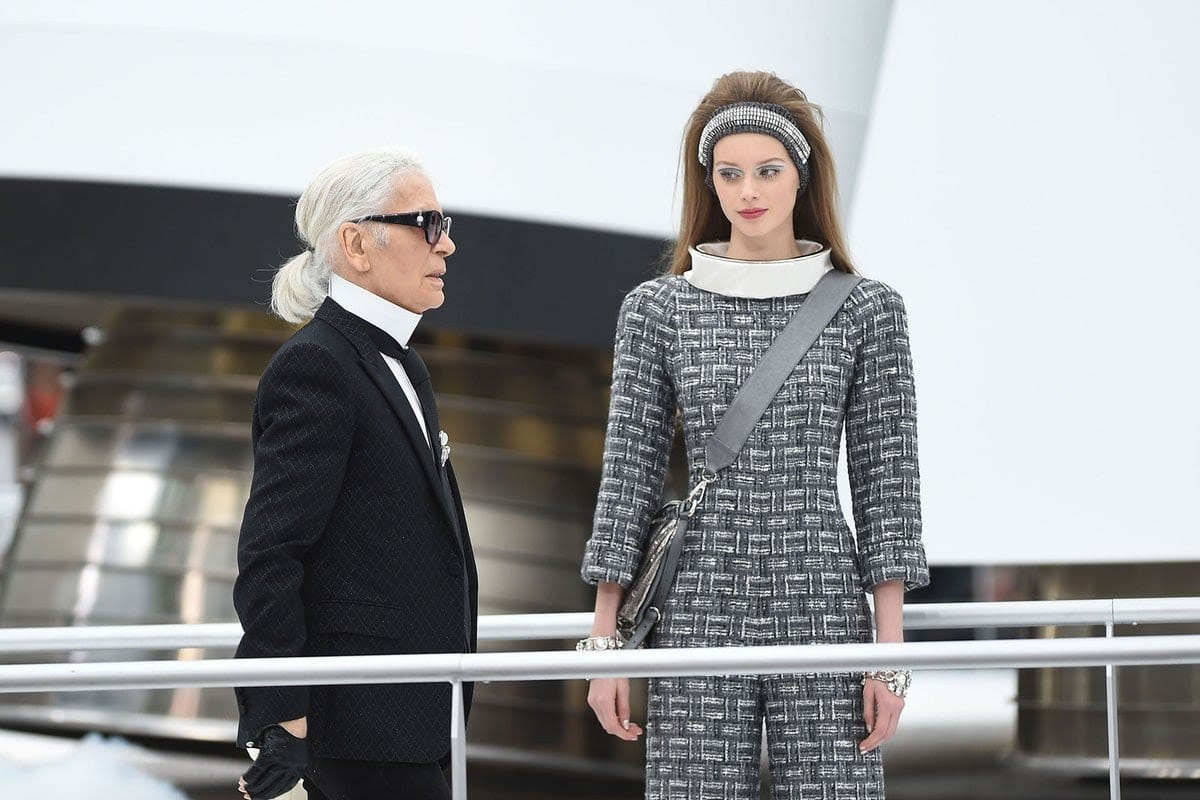 THOM BROWNE – POCTA KARLOVI LAGEFELDOVI
"Karl miloval kultový parížsky butik Colette a moja značka sa tam predávala. Kúpil si sivý oblek, krištáľovú aktovku, deku, košeľu a kravatu, odfotil sa v nich a poslal mi ich. Mám ju vo svojej kancelárii – je pre mňa veľmi výnimočná. V priebehu rokov sa Karl stal osobnosťou, ale to vďaka práci, ktorú vykonával, boli to dekády tvorenia. Jeho práca bola dokonalou kombináciou krásneho dizajnu a nádherného remeselného spracovania. Kvalita zodpovedala koncepčným nápadom. Jeho genialita pramenila z toho, že vedel, pre koho navrhuje. Miloval som jeho používanie tvarov: tvarované ramená a proporcie, ktoré boli pre mnohých ľudí jedinečné, možno avantgardné, takže som sa chcel pohrať s touto myšlienkou a s látkami domu Chanel." – T.B. Thom Browne.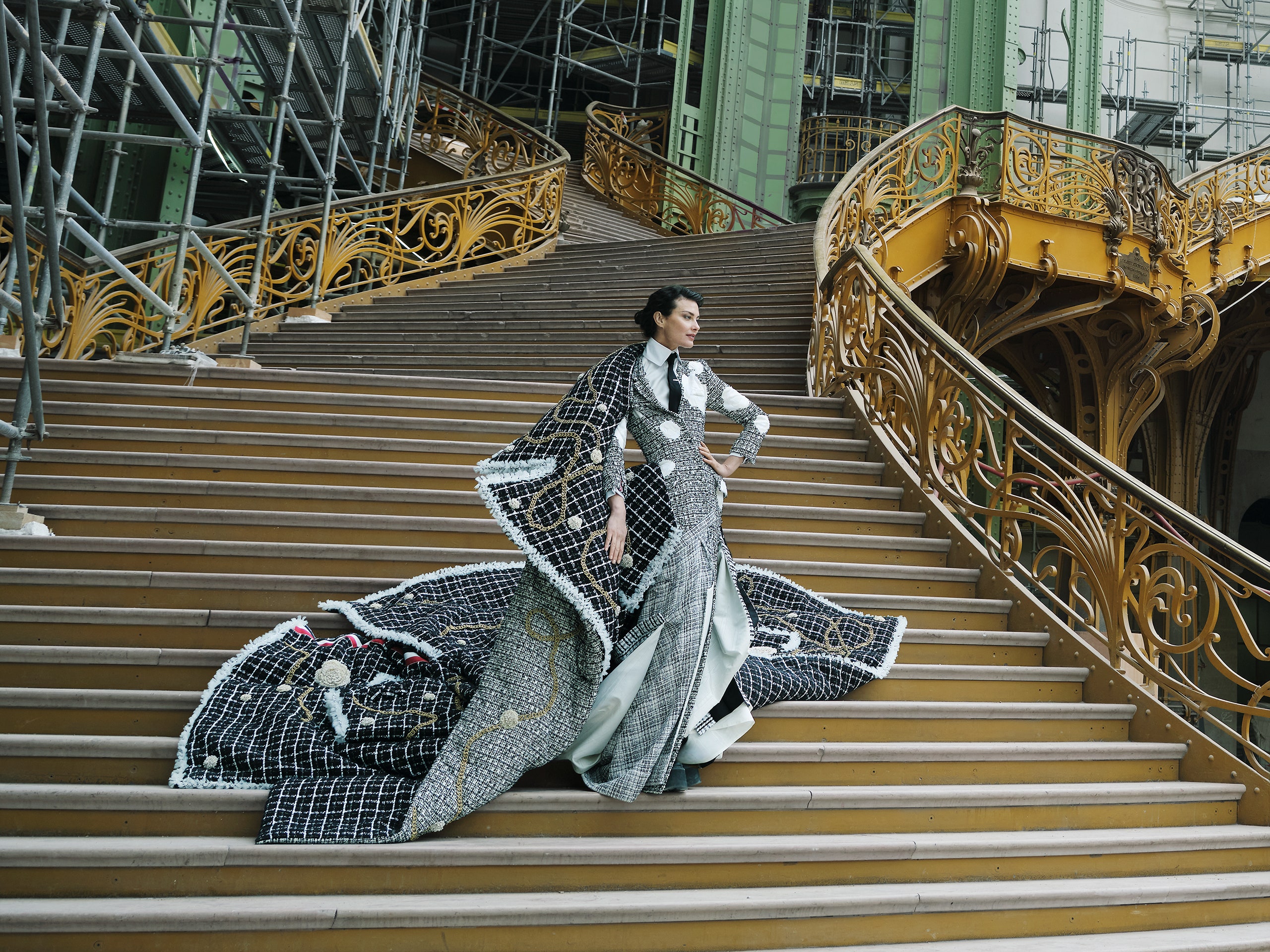 Modelka Shalom Harlow na veľkom schodisku parížskeho Grand Palais.
JUN TAKAHASI O KARLOVI LAGERFELDOVI
"Je úžasné, ako sa Karlovi podarilo dosiahnuť tak veľa a tak dlho. Keď začal prepracovávať značku Chanel a v priebehu rokov postupne menil jej vzhľad, bolo to naozaj svieže. Zachytil atmosféru každej doby a vplietol ju do návrhov značky Chanel, čím ich rozvíjal. Pokúsil som sa reinterpretovať to, čo robil Karl v čase, keď prevzal vedenie značky Chanel – premýšľal som, čo by sa stalo, keby som sa pokúsil o to, čo robili Karl aj Coco. Je to kvintesenčný oblek Chanel, ale je v ňom niečo, čo nedokážete celkom presne pomenovať – tmavý pop a punkové akcenty, s odhalenými švami alebo rozstrihnutými na kúsky." – J.T.Jun Takahashi, japonský módny návrhár pracujúci pod značkou Undercover .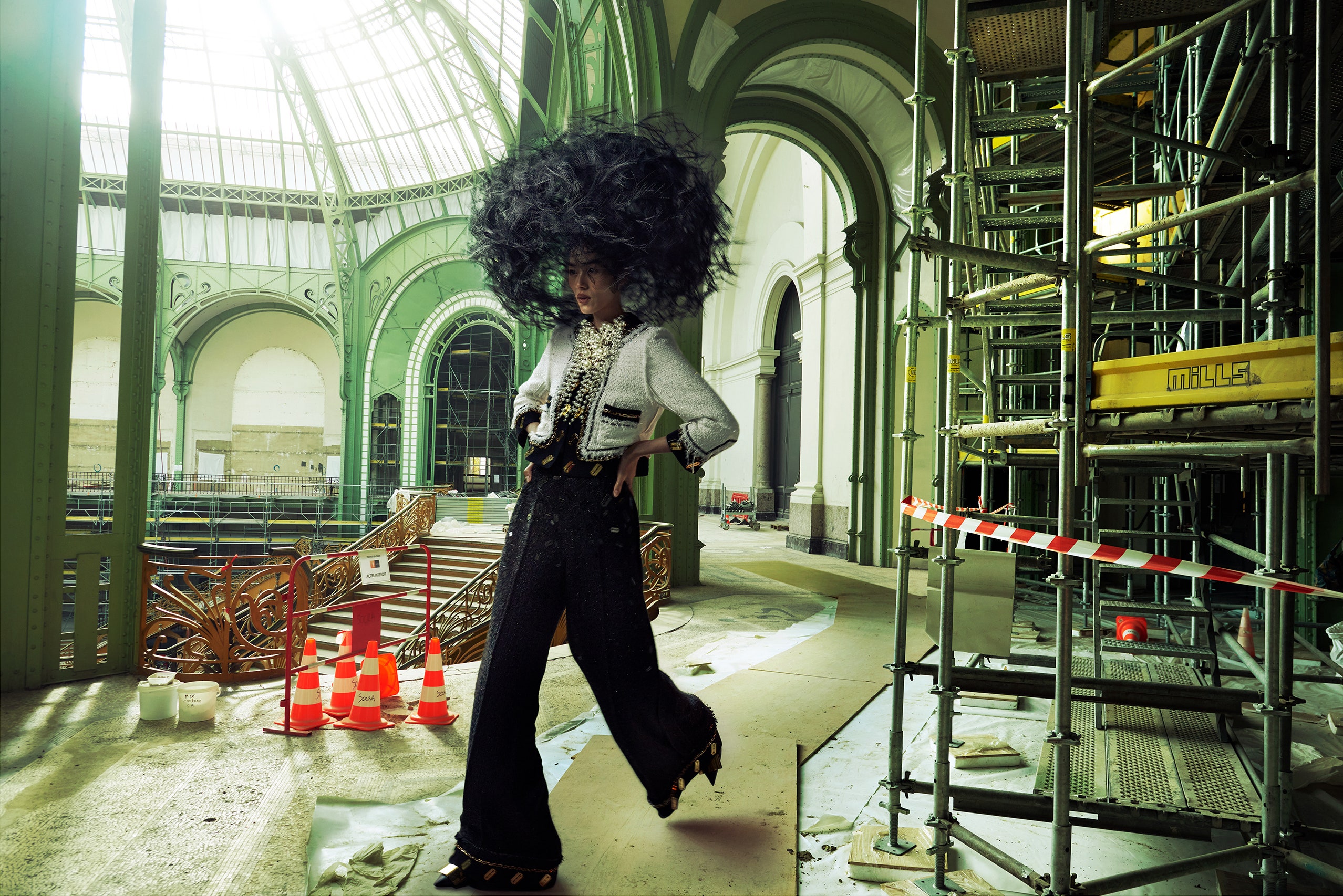 SIMONE ROCHA – POCTA KARLOVI LAGERFELDOVI
Írska módna návrhárka Simone Rocha obliekla modelku Devon Aoki do šiat s obrovskou šifónovou pokrývkou hlavy s perlovým náhrdelníkom od Maison Margiela. Vytvorila tak model, ktorý má vzdať hold Karlovi Lagerfeldovi.
GUCCI – POCTA KARLOVI LAGERFELDOVI
Modelka Gigi Hadid pózovala pre májové vydanie magazínu Vogue v parížskom Grand Palais v tvídovom saku značky Gucci vyšívanom perlami a posiatom kryštálmi s typickým "lagerfeldovým" bielym golierom a čiernymi rukavicami. Modelka si zaspomínala na prehliadky s veľkolepou scenériou ako boli ulice Paríža postavené ako reálne v Grand Palais , alebo na prehliadku raketových lodí a Titanicu, kde vnútrajšok lode bol pripravený na párty. Takéto veľkolepé módne predstavenie vedel pripraviť divákom iba sám Karl Lagerfeld.
CHRISTOPHER JOHN ROGERS
" Pozrel som sa na jeho prácu pre Fendi, ktorá bola síce veľmi rozsiahla, ale vždy sa týkala techniky a premýšľal som o všetkých tých zákulisných konštrukciách, ktoré sa podieľali na couture kúskoch tohto domu. To je v popredí toho, čo som tu navrhol. Bolo to náročné na prácu: Je tu viac ako 250 kusov organzy, hodvábny faille, spodná sukňa, korzet s kosťami. Jedna z mojich najobľúbenejších Karlových kolekcií je Haute Couture Chanel z jesene 2006. Boli tam džínsy a vysoké čižmy a myslím, že vtedy sa veľa ľudí čudovalo: "Čo to je?! " S pribúdajúcim vekom som ocenil jeho prácu v tom zmysle, že aj keď nie je pre každého, je vždy pre zákazníka a pre neho. Je symbolom dlhovekosti, autenticity, remesla – a zmyslu pre humor v móde bez ohľadu na to, čo sa deje vo svete. Skutočne si vytvoril svoj vlastný jazyk. " – dizajnér C.J.R. Christopher John Rogers .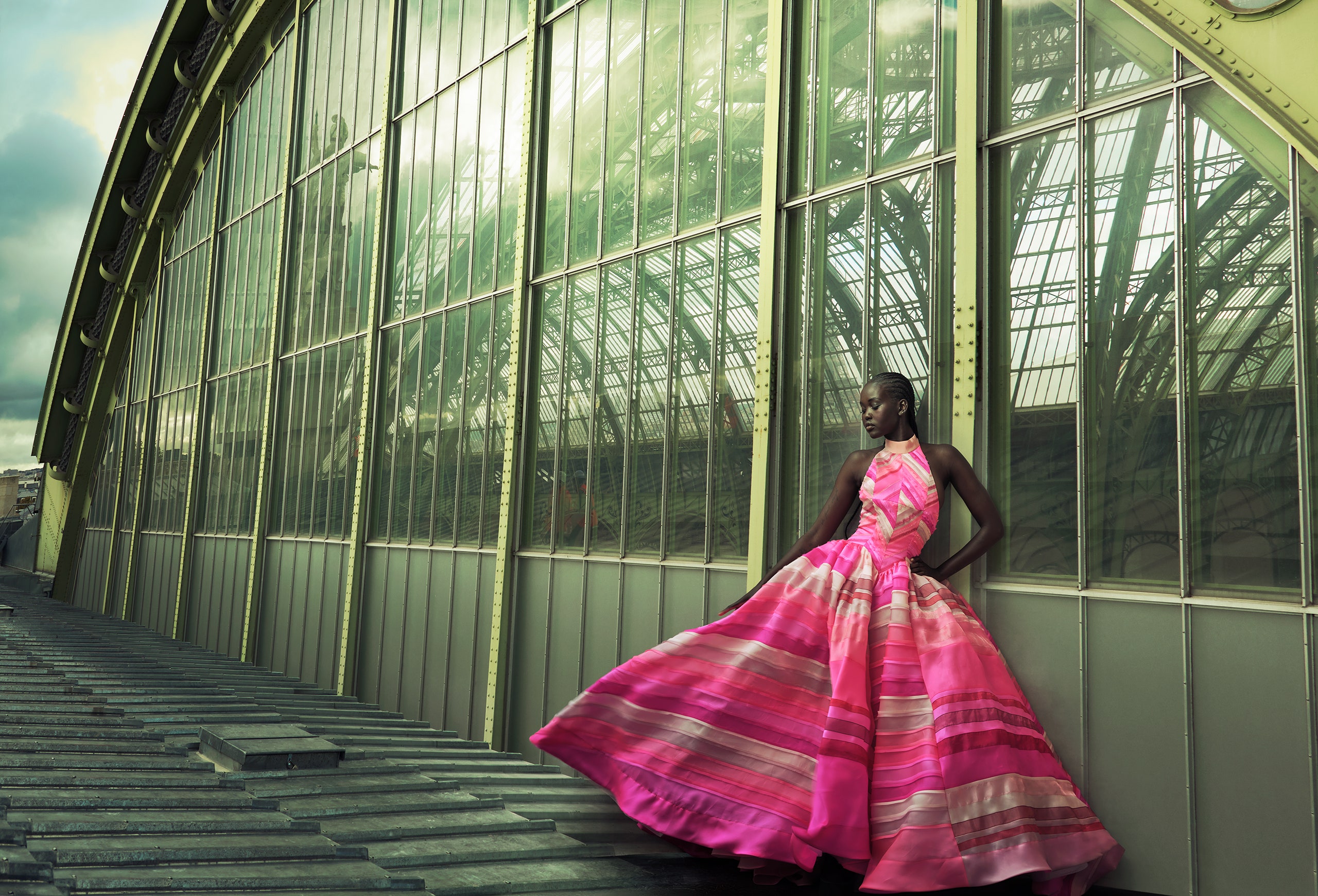 JOHN GALLIANO
"Moja prvá prehliadka Chanel bola ohromujúca – dobrodružstvo, zlomyseľnosť, encyklopedické znalosti o móde akéhokoľvek obdobia, akéhokoľvek storočia. Karl bol ako dub, čím chcem povedať, že v ňom bola obrovská múdrosť. A páčilo sa mi, ako každé svoje vyhlásenie zakončil otázkou non? – ako otáznik, aby vás zaujal, aby zistil, aký je váš názor. Na toto jeho nie? ste museli byť pripravení! Počas jeho pôsobenia v #Patou som sa zameral na jeho posadnutosť čiarou. Bodky sú výrezy, elipsy – premietali sme ich do modelu a skončili vystrihnuté všade tam, kde projekcia dopadla na povrch šiat. Flitre boli novým spôsobom vyšívania: vystrihli sme ich, potom sme ich ponorili do horúcej vody, aby boli poddajné, a potom do mrznúcej vody, aby držali tvar. Sú naozaj zábavné, ale dúfam, že so všetkými prísnymi požiadavkami couture." –J.G. John #Galliano .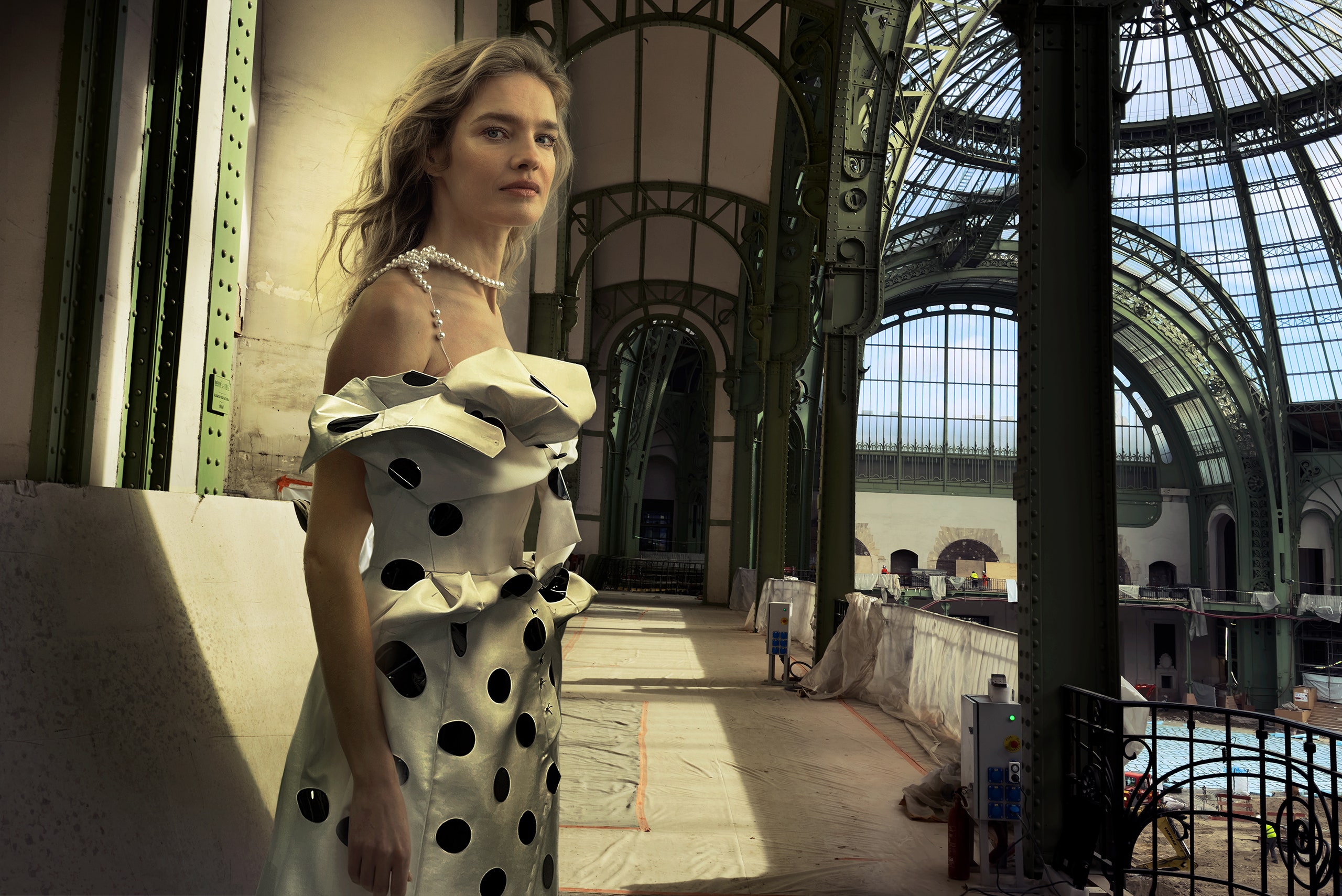 Módni návrhári John Galliano a Maison Margiela vytvorili bieločierny bodkovaný model, ako poctu Karlovi Lagerfeldovi – predviedla a nafotila modelka Natalia Vodianova,
CHITOSE ABE
"Karl hovorieval": "Móda nie je umenie – je to biznis." "Vždy som na to myslel, keď som viedol Sacai. V dnešnej dobe nie je práca návrhára len o navrhovaní oblečenia, a to je niečo, čo Karl videl už dávno – bol ako módny kyborg. Od začiatku bol skvelým návrhárom, ale bol dobrý aj v tvorbe vlastného imidžu. Keď si spomeniete na Karla, je to biela košeľa, niekedy kravata a nejaký tvrdý šperk. Snažil som sa to zachytiť , nie reprodukovať, ale hybridizovať v štýle Sacai a premeniť na elegantné šaty." – C. A. Chitose Abe .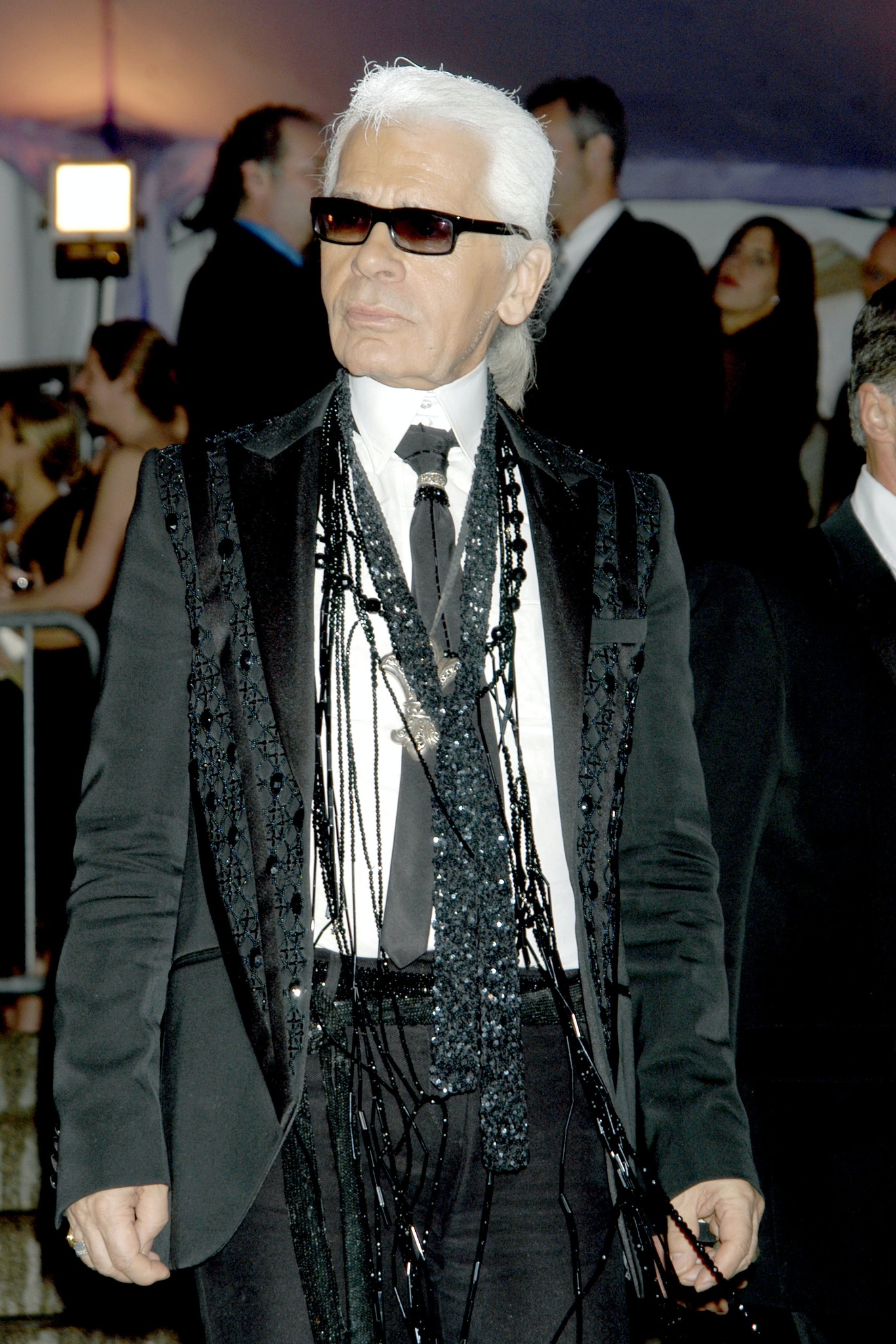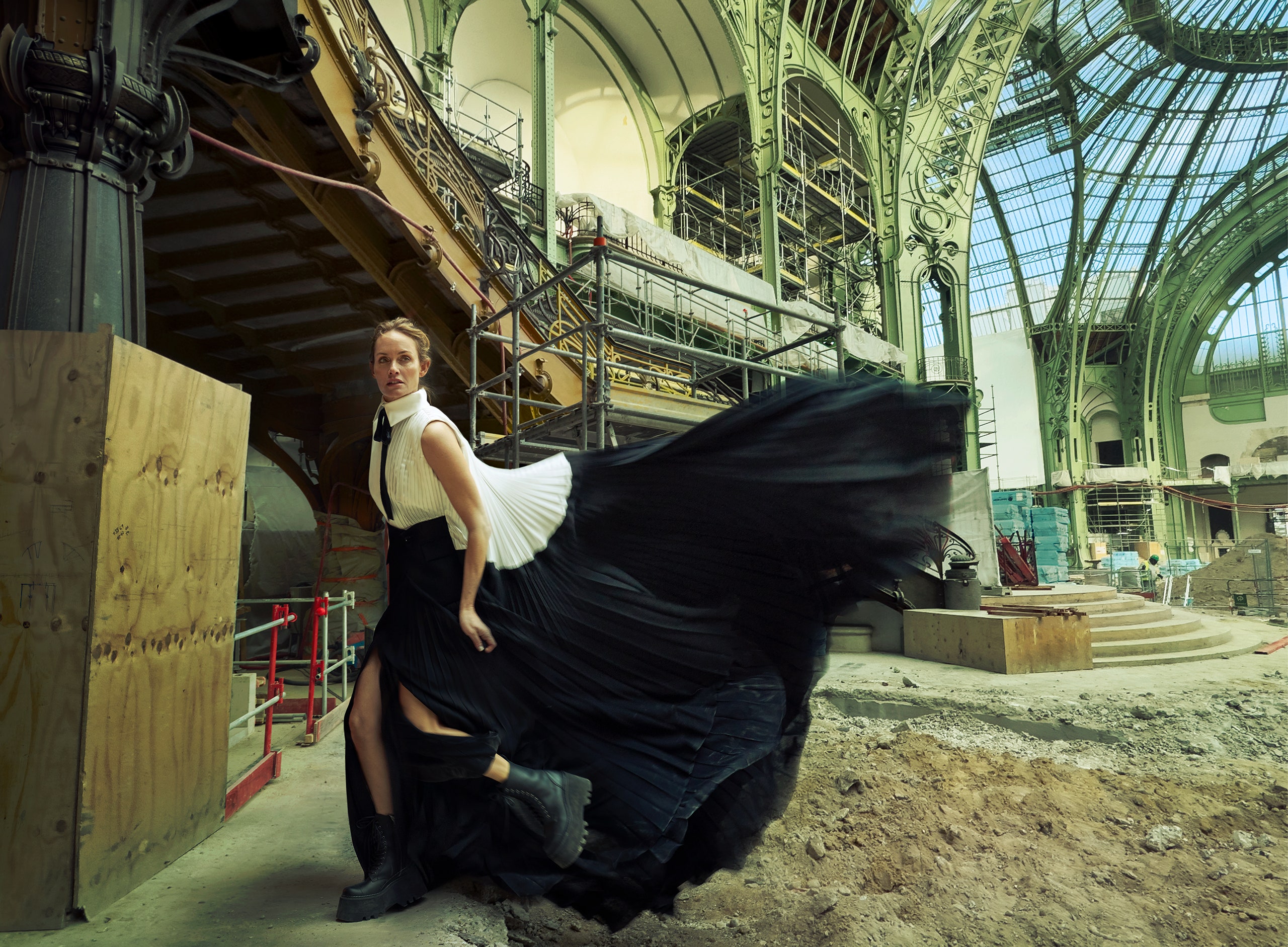 MET GALA 2023 A VÝSTAVA VENOVANÁ KARLOVI LAGERFELDOVI – LÍNIA KRÁSY
V septembri 2022 sa ukázalo, že Met Gala v roku 2023 poctí zosnulého Karla Lagerfelda témou "Karl Lagerfeld: Línia krásy". Samozrejme, bude sa konať súbežná výstava, ktorá predstaví prácu dizajnéra počas jeho 65-ročnej kariéry.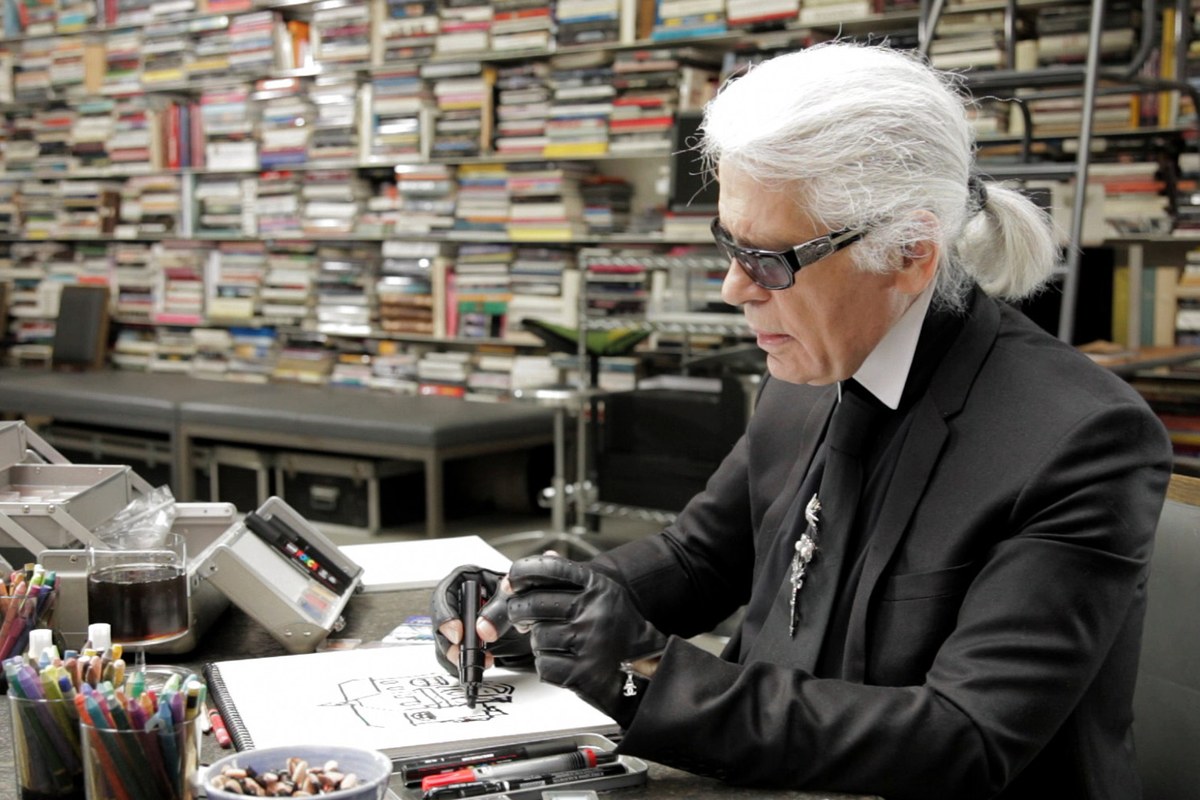 Vystavených bude asi 150 kusov z čias Lagerfelda v Balmain, Patou, Chloé, Fendi, Chanel a jeho rovnomenná značka, ako aj sprievodné náčrty predstavujúce dizajnérovu "jedinečnú metodológiu". Výstava bude otvorená 5. mája, v piatok po galavečere, a potrvá do 16. júla 2023.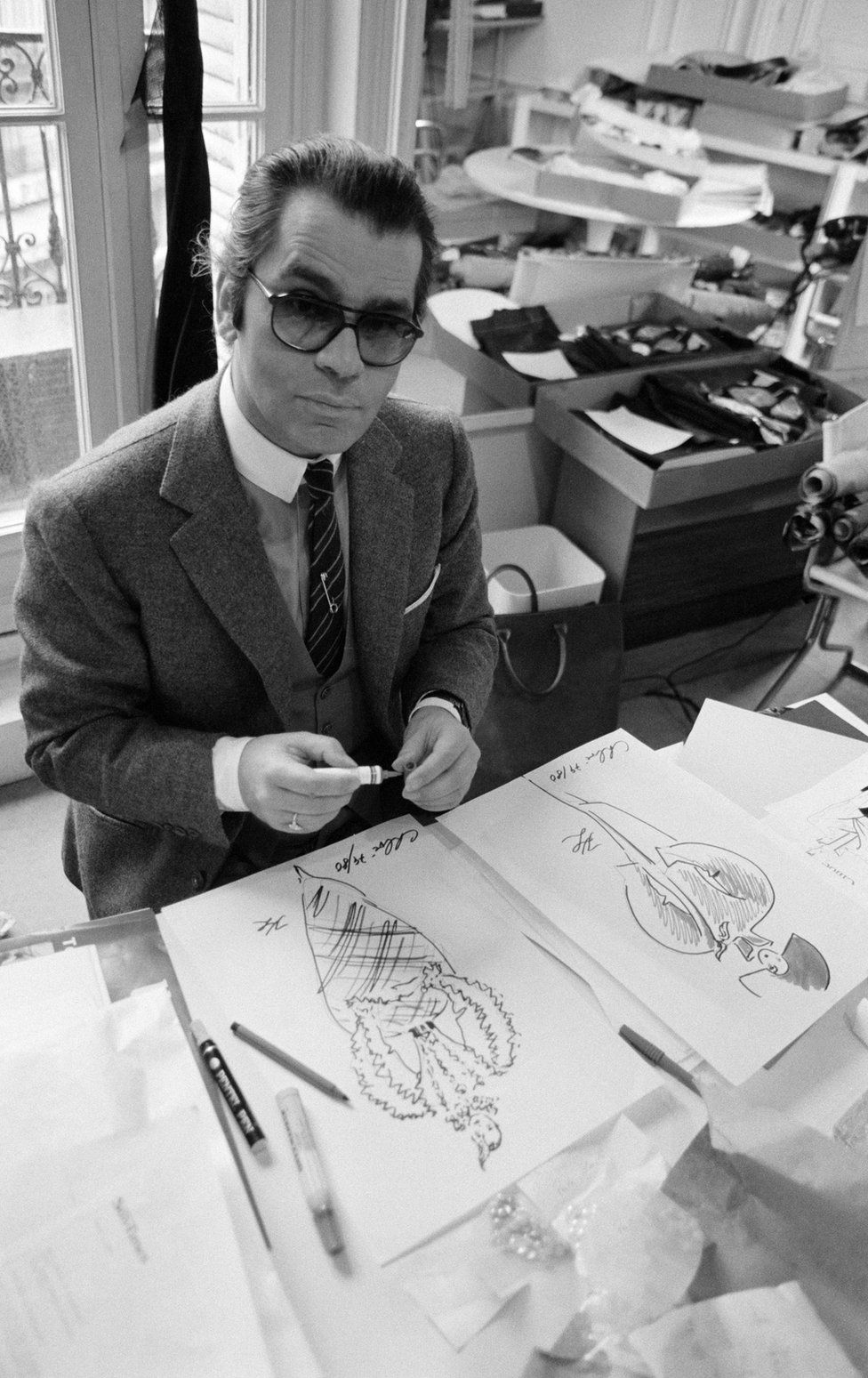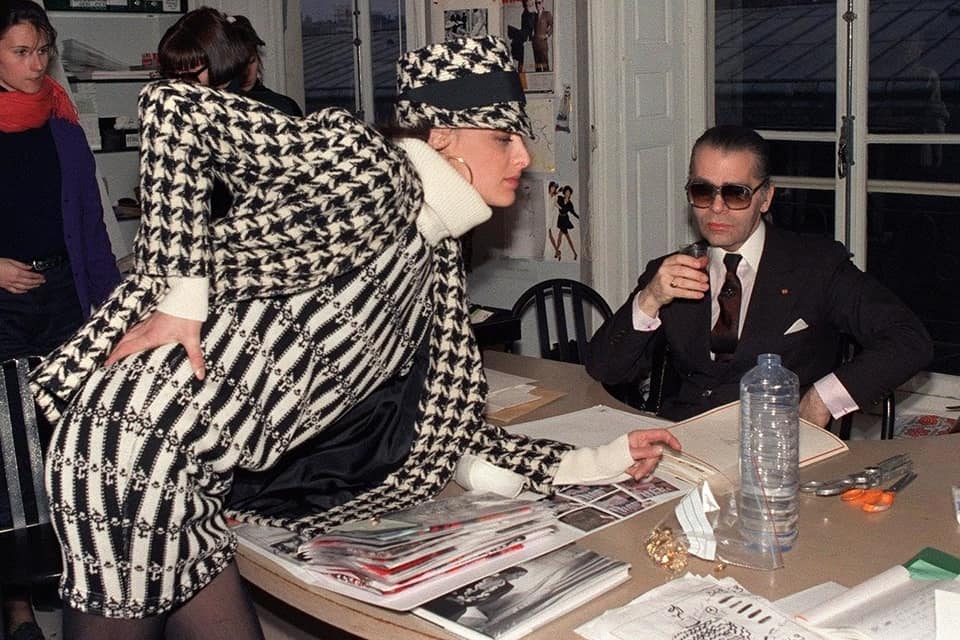 © Karl Lagerfeld, Vogue, getty images, schutterstock, pinterest
Sledujte Facebook stránku: Mya Mirell Fashionista a Instagram: mya_mirell .