Dolce and Gabbana škandál – PR najväčší omyl , bojkot značky a otázka jej existencie
Dolce and Gabbana. Luxusná talianska značka s 30 ročnou tradíciou udávajúca svetové módne trendy. Úspechy, ktoré doposiaľ žala na módnom poli začali v roku 1986, kedy módni návrhári tejto značky, Domenico Dolce a Stefano Gabbana usporiadali prvú módnu show, prehliadku dámskej módy. Šikovnosť, kreativita, dravosť, taliansky temperament a čaro sa skĺbili v jedno a stali sa svetovo známou značkou. Postupne sa dizajnérske duo prepracovalo aj k pánskej kolekcii a doplnkom, k návrhu plaviek, spodnej bielizni, okuliarom, parfémom a krivka úspešnosti stúpala prudko nahor. Na prehliadkach tejto značky ste sa razom ocitli v sicílskej noblese, zalialo vás oslnivé slnko opulentného luxusu s talianskou gráciou zrkadliacou taliansku kultúru a šarm, ktorá je pre túto značku príznačná. Honosný opulentný štýl, vrcholne prepychový snúbiaci sa s premršteným zdobením, okázalým luxusom, hýriaci farbami a doplnkami, je charakteristickým znakom Dolce and Gabbana po dlhé roky. Rozpoznateľný na prvý pohľad, ľúbivo okázalý, taliansky šik štýl ktorý milujú milióny vyznávačov talianskeho módneho domu Dolce and Gabbana, symbolu luxusu a noblesy. Dlhoročné snaženie a oslavu talianskej módy spojenú s čínskou kultúrou chceli návrhári zavŕšiť 21. novembra 2018 megalomanskou show pripravovanou v Číne.
NAJVAČŠÍ PR PREŠLAP V HISTÓRII
Mala to byť jedna z najveľkolepejších módnych show, prehliadka Alta Moda poriadaná v Shanghai. Vyše 500 modelov predvádzajúcich prekrásnymi aj ázijskými modelkami, známymi aj novými, ktoré mali predviesť to najlepšie zo značky chystané za posledné obdobie v unikátnej show. Avizovanú módnu prehladku uvádzali tri reklamné spoty. Video publikované na čínskej sociálnej sieti Weibo, kde sa ázijská žena pokúša jesť paličkami v čínskej reštaurácii s historickým pozadím typické talianske jedlá pizzu, špagety po gigantickú pochúťku – sicílske canolo, však vyvolalo v čínskej populácii veľký šok a zdesenie. Video si môžete pozrieť tu: https://www.youtube.com/watch?v=boaDDu_QHz4
Modelka vyznieva vo videu mierne naivne až hlúpo, neznámy hlas ju poúča, ako má dané jedlá jesť paličkami, čo je dosť nemožné a v istých pasážach má video dvojzmyselný sexuálny podtext. Potom, čo sa jej nepodarilo nabrať paličkami gigantické talianske canolo (koláč), neznámy hlas odporúča, ako vniknúť dnu paličkami, ak je sústo stále príliš veľké . Video značne rozčúlilo čínsky národ, najmä jedenie jedál paličkami a tento typ humoru ich vrcholne pobúril. Negatívne komenty šokovaných Číňanov sa začali len tak sypať.
Čína vyhlásila, že ide o urážanie ich tisícročnej kultúry a tradícií, neznalosť čínskej kultúry a zosmiešňovanie. Obvinila značku z rasizmu a sexizmu. Módna show bola zrušená, návrhárom odobraté víza a Čína pristúpila k ostrým krokom. Značka bude z krajiny vykázaná. Mnohé online portály skupiny Yoox Net-A-Porter sa ju rozhodli nepredávať. Patria sem známe online platformy Yoox, Net-A-Porter a Mr.Porter, ktoré predávajú luxusnú dizajnérsku módu. Rovnakým spôsobom sa rozhodli postupovať aj čínske megaportály ako Alibaba, JD, Secoo, VIPshop a Netease.
V reakcii na zrušenú módnu show uverejnila módna značka Dolce and Gabbana následne video so záverečným ospravedlnením v čínštine. Video si môžete pozrieť tu: https://www.youtube.com/watch?v=7Ih62lTKicg
Ospravedlnenie však nie je a nebolo prijaté čínskou populáciou, ktorá vraj nezabúda a nie je toho schopná. Vo videu sa vraj návrhári dostatočne neospravedlnili najmä za to, čo prišlo potom a išlo iba o oznámenie faktu, že módna show bola s poľutovaním zrušená. Uverejnené boli aj ospravedlňujúce správy na oficiálnych stránkach značky Dolce and Gabbana, no ani to nie je evidentne dostačujúce – viď. oficiálny instagramový profil značky Dolce and Gabbana.
TALIANSKY JEDNODUCHÝ HUMOR A KAMEŇ SVÁRU
V skutočnosti malo ísť o taliansky nadľahčený humor, jemne flirtujúci s rovinou koketne sexi, zrejme nedomyslený a nie veľmi vhodný pre danú krajinu, čínsku mentalitu a komunistickú Čínu. Pôvodným zámerom bolo vtipné podanie zblíženia sa talianskej a čínskej kultúry, kde sa modelka mala cítiť pri jedení talianskych jedál ako v Taliansku a pritom v Číne, čo mali evokovať paličky. Práve paličky sa stali kameňom sváru, ktorý nakoniec vyústil v ostrú hádku jedného z návrhárov. Stefano Gabbana, ktorý je už dlhšie kritizovaný pre svoje nepremyslené urážlivé výroky na instagrame sa pustil do ostrej výmeny názorov s modelkou Michaleou Tranovou. Modelka mu oznámila, že video je poburujúce a vrcholne nevhodné a show bude zrušená. Diet Prada, populárny instagramový portál o móde publikoval printscreen celej komunikácie medzi návrhárom Stefano Gabbana a modelkou, pričom behom sekundy nastala virálna smršť. Tá razom zmietla a metie so sebou značku, ktorá sa teraz potáca v základoch. (viď. instagramový portál Diet Prada) Horliví čínski komentátori vo svojom hanlivom úsilí a zničení značky neustále pokračujú na všetkých frontoch, sociálnych sieťach.
Osobne ma zaráža fakt, že nikto sa nepozastavil nad tým, ako je možné publikovať súkromné správy verejne a prečo sa tieto veci dejú opakovane bez zrejmých postihov. Ďalším mojím názorom, ktorý som vyjadrila aj na portáli Diet Prada a oficiálnych stránkach Dolce and Gabbana je postoj k danej modelke, ktorá by už u akéhokoľvek módneho návrhára pri mojej hypotetickej úvahe nemala mať prácu. Nielen, že je nedôveryhodná, možno bažiaca po prudko a jedno-jednoznačnej uchopitelnej sláve, prazdroji celej zverejnenej komunikácie, lebo iný zmysel to publikovať nemalo. Svojím konaním si musela byť istá a vedomá dôsledkov, ktoré týmto nastanú, najmä v dobe takejto sily sociálnych médií. Položiť celú značku, čo takmer hrozí a dlhé roky budovania a práce na jej vzraste, kráse, ktorú za ten čas priniesla, to množstvo svetových modeliek, čo pre ňu predvádzalo (Eva Herzigova, Helena Christensen, Carla Bruni, Bianca Balti, Chiara Scelsi, Barbara Pavlin, Sara Sampaio, Ashley Graham atď.) , a svetových ikon a dív vrátane Sophia Loren, či Monica Bellucci, ktorá otvárala poslednú septembrovú show, je podľa mňa silná trúfalosť. Veci sa dajú riešiť aj inak, nie verejne a osobne by som do problému zainteresovala právnikov. Týka sa to totižto budúcnosti enormného počtu, masy ľudí, ktorí túto značku tvoria ako tím a ktorí teraz mnohí o prácu prišli. Ďalši problémy, ktoré nastali čítaj v článku nasledujúcom. Návrhár môže byť vždy vymenený, ale značka ako taká môže ďalej pokračovať bez otrasených základov. Terajšia situácia je taká, že značku vo všeobecnosti odsúdilo množstvo ľudí a ázijská populácia zahájila bojkot s cieľom likvidácie. Otázkou tiež ostáva, či na tomto nemajú záujem aj iné skupiny, ktorým to môže hrať do karát. Rôznych bojov aj v módnom poli a nevraživosti až závisti je tiež dosť, ako vidno z likov aj známych módnych návrhárov, ktorí sa zo vznknutej nelichotivej situácie tešia.
Naspäť k danej kauze. Módny návrhár Steffano Gabbana v súkromných správach ostro inzultoval modelku a následne aj Čínu a čínsku kultúru. To, čo si možno ani nemyslel, náročky drzo a provokatívne napísal, aby danú modelku urazil. Každý vie, čím je čínska kultúra preslávená, za čo jej patria plusy a vďaka celého sveta ale aj mínusy, čím sa vyznačuje súčasná moderná Čína, kde vládne komunizmus, kontrola, netolerantnosť a nesloboda a že nie práve z ich úst nemôžu zaznievať vety o rasizme a intolerancii. Taktiež sú známe udalosti, za ktoré sa Čína bez okolkov nikdy neospravedlnila, rôzne kauzy a prešlapy z minulosti, ktoré plynulo prešli do stratenia. V mojom ponímaní a videní – značku atakujú Číňania do pŕs sa bijúci šlachetní a tolerantní národ, ktorí ma doma svojich problémov viac než dosť. Zlodej kričí chyťte zlodeja. Triezvy človek vie reálne zhodnotiť situáciu. Návrhár si preto isté svoje osobné frustrácie a nezhody s modelkou a možno s fungovaním čínsko-talianskeho biznisu (pretože najmä o tom v tomto vzťahu Taliansko – Čína vždy ide), vylial nevhodným drsným konštatovaním v osobných správach a šikulka to okamžite využila.
Táto komunikácia, ktorá uzrela svetlo sveta vďaka modelke Michaela Tranova je teda výsledkom, prečo sa všetko toto deje, nie iba samotné video. V nej sa jej návrhár pýtal, či si skutočne myslí, že by boli tak hlúpi a uviedli do obehu rasisticky ladené video pred pripravovanou obrovskou show. Z tohto jasne vyplýva, že si toho značka nebola vedomá. Išlo o PR omyl a obrovské zlyhanie, nenaštudovanie si čínskych tradícií a zvyklostí. Spustil pritom ostrú vlnu urážok smerovanú na modelku a celkovo na Čínu a čínsky národ a mentalitu.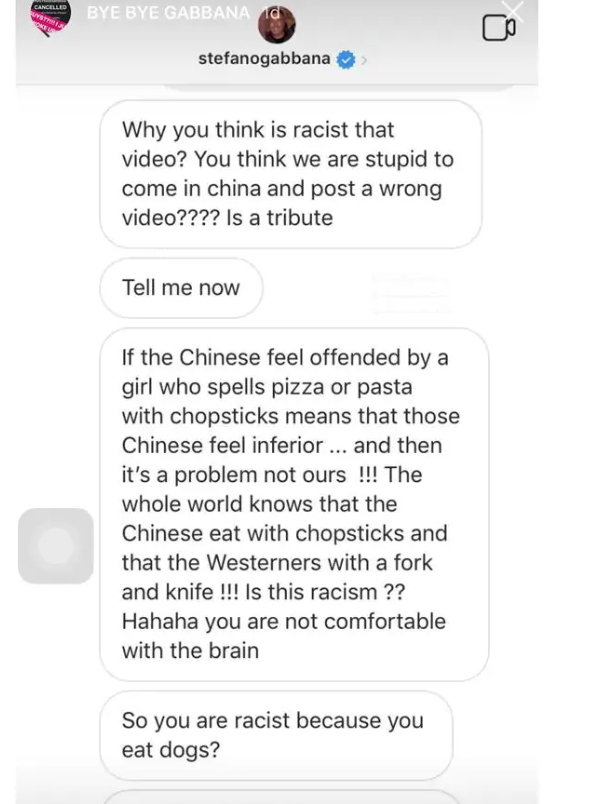 Ak sa vraj Čína cíti byť urazená dievčaťom z videa, ktorá je tradičné talianske pokrmy paličkami, potom sa Číňania musia tváriť ako nadradený národ. Predsa celý západný svet vie, že Číňania jedia paličkami a ostatní príborom, preto nemôže byť video rasistické. Doložil, že asi nerozmýšľa normálne a bonusovú vetu, ktorá to celé zaklincovala: Ste teda rasisti, lebo jete psov? Zverejnením tejto komunikácie a názorov Stefano Gabbana vyvrcholila vlna agresie zo strany ázijskej populácie, ktorú následne rozpútal. Evidentne si však nebol vedomý faktu, ktoré spomínam neskôr, že už len pichať paličkami do jedla je v čínskej kultúre neprípustné, v ich zmýšľaní považované za urážlivé, hanlivé a rasistické. K tomu sa pridružili ostatné fakty, video sa odohrávalo v reštaurácii s historickým nábytkom, teda aj paličky boli myslené z toho obdobia (paličky sú čínska kultúrna dlhoročná tradícia a preto sú rôzne tipy), modelka vyzerá hlúpo a paličkami sa také jedlá nejedia, čo stále Číňania argumentujú a toto ich vraj dehonestuje a nepovažujú to za humor.
Video bolo odobrané čínskou agentúrou, lebo môj úrad je stupídny ako nadradenosť Číňanov, pokračoval Stefano Gabbana. Ak by bolo na mne, ja by som ho nikdy nezmazal. A v mojich ďalších interview poviem, že Čína je krajina hovien a pridal emotikony a dovetok: China ignorant dirty smelling mafia – Čína ignorantská špinavá smradľavá mafia.
Modelka Michaela Tranova neváhala a celú túto nevhodnú komunikáciu zverejnila prostredníctvom spomínaného portálu Diet Prada (zvyšok môžete si dohľadať) a potom nastalo virálne peklo.
Po prevalení škandálu Stefano Gabbana prvotne uviedol, že tieto konverzácie nie sú jeho a že jeho osobný instagramový účet bol prelomený hackermi. Samozrejme tento pokus o hľadanie ospravedlnenia nevyšiel. Na margo PR agentúry značky Dolce and Gabbana a jej absolútneho failu, zlyhania dodám : Skutočne PR team značky a reklamných spotov by sa mal zamyslieť nad ich významom a následkami. Tento nápad nebol šťastný publikovať v čínskej kultúre, akokoľvek by sme sa na to pozerali, odhliadnuc od vyjadrení jedného z návrhárov.