Vlna odporu k značke Dolce and Gabbana atakovala módnych kritikov
Škandály zažíval módny svet postupom času rôzne. Za posledné obdobie sa však problémy často spojovali so značkou Dolce and Gabbana najmä vďaka ostrým výrokom jedného z návrhárov. Stefano Gabbana, ako je známe, si servítku pred ústa nedáva a svojím neuváženým vyjadrením viackrát urazil niektoré svetové celebrity. Problém takéhoto rozsahu (čítaj predchádzajúci článok Dolce and Gabbana – pomalé zomieranie v Číne), kedy sa značka Dolce and Gabbana vďaka opätovnému škandálu Stefano Gabbana contra Čína a veľkého PR fau paux silno otriasa v základoch, zrejme nečakal nikto. Celý módny svet ostal ako obarený a viaceré módne magazíny zaujali vyčkávaciu pozíciu. Niektoré portály sa ihneď kriticky vyjadrili a zaujali jasný postoj. Problém naberal na obrátkach a na návrhárske duo Domenico Dolce a Stefano Gabbana sa zosypala negatívna lavína komentov a odporu, ktorá neutícha. Behom krátkej chvíľky zmietla so sebou značku a jej 30 ročná existencia a budúcnosť sa poriadne otriasla v základoch. Viaceré médiá rozoberajúce túto kauzu sa vyjadrili, že značka je vo vážnych problémoch a nateraz sa nevie, čo prinesie budúcnosť, ticho sa šepká aj o bankrote. Dolce and Gabbana má vďaka negatívnemu renomé po prevalení škandálu stopku na ázijských trhoch, ktoré tvorili 1/3 ich ziskov. Problém, ktorý prerástol do celosvetového, vniesol negatívny pohľad na taliansku luxusnú značku a následne zasiahol nielen ju, ale aj široké okolie. Zlé svetlo to vrhá aj na Taliansko ako krajinu a Talianov ako národ, ktorý je teraz podrobený ostrým komentárom ako odvetu za urazenie Číny talianskym módnym návrhárom. Taktiež na Taliansko-Čínske vzťahy a prípadnú ekonomiku.
Celá táto kauza je dokonalá ukážka toho, ako sa v priebehu jednej minúty zo značkys 30 ročnou tradíciou môže stať značka s minulosťou, ktorá čelí obrovskej vlne kritiky a je bojkotovaná nielen ázijskou populáciou. K bojkotu sa pridali aj ľudia z ostatných krajín. Dokedy vlna odporu vydrží, či prehrmí po pár mesiacoch, rokoch, sa uvidí, v ázijských krajinách sa však hovorí o úplnom vyhostení značky z krajiny a nahradení inými. Na stranu Číny sa pridali aj ďalšie známe tváre, ľudia z módneho biznisu alebo show biznisu a konanie návrhára Stefano Gabbana ostro odsúdili. V jeho neprospech hrajú aj prešľapy z minulosti a škandalózne vyhlásenia, ktorými sebe aj značke urobil zlé renomé a toto všetko sa nabalilo a dostalo nálepku Karma. Týmto jednoduchým odkazom počastovala návrhára talianska módna ikona, blogerka a svetová influencerka Chiara Ferragni, ktorá má s ním už dlhšie vykopanú vojnovú sekeru. Pridali sa aj ďalšie celebrity a ich fanúšici a jeho posledné roky trúfalého počínania, výroky ostro odsúdili.
Osobné vyjadrenia a pocity publikované verejne bez rešpektu a kriticky až neslušnou formou (minulé kauzy Stefano Gabbana), sú preto veľmi nebezpečnou zbraňou najmä v súčasnosti pri obrovskej sile sociálnych médií. Stačí, aby sa vyjadril niektorý silný influencer proti a prinesie so sebou ďalšiu vlnu, ktorá postaví protivníkov do pozície kto z koho. A v tomto biznise ide o nemalé peniaze, reputáciu, celý team ľudí, pričom šmahom sekundy môže byť všetko dlhoročné úsilie vymazané a pochované.
VYJADRENIE VOGUE ČÍNA
Okamžite po prevalení škandálu značky Dolce and Gabbana s nevhodným videom a urážlivými hanlivými výrokmi na adresu Číny zareagovali čínske úrady a zainteresované inštitúcie. Šéfredaktorka magazínu Vogue Čína, ako uviedol portál WWD, Angelica Cheung sa vyjadrila, že východné značky, ktoré hľadajú možnosti preniknutia do Číny, by sa mali mať na pozore pred čínskym kultúrnym jemnocitom.
Myslím, že to je varovný prst aj pre ostatných návrhárov, keďže väčšina módnych domov si roky budovala svoje siete na ázijských trhoch, odkiaľ prúdili značné zisky. Každý sa preto má teraz na pozore a nedovolí si ázijskú populáciu ničím pohnevať. Aktuálne môžeme vidieť veľký príval ázijských modeliek v modeloch európskych návrhárov a rovnaký varovný prst zaznamenala a reflektovala dávnejšie aj Amerika. Tá v minulosti medzi prvými situovala väčšinu svojich tovární na výrobu značiek práve v krajinách s lacnou pracovnou silou a toto je výsledok. Dopad tohto kroku však už asi pochopila predtým. Čína ako krajina expandovala, ekonomika prudko narástla a s ňou kúpyschopnosť obyvateľstva, ktorá teraz môže určovať ekonomický rast, či úpadok práve tej ktorej značky, krajiny, ktorá si tam vybudovala továrenskú základňu. Vyhrážky Číny na adresu značky Dolce and Gabbana k tomu jasne smerujú, značku vraj môžu položiť. Čína vyzýva na bojkot celej ázijskej a ostatnej populácie voči značke, zároveň si uvedomuje svoju silu a dvíha varovný prst voči podobným konaniam na výstrahu. Dolce and Gabbana je vraj v Číne mŕtva, pred butikmi značky museli byť nasadení policajti a značka sa nebude predávať ani na internetových portáloch. Svoje brány im tak úplne zavreli. Čo prinesie budúcnosť, uvidíme.
Každopádne návrhári usporiadali iba 17 dní po prevalení škandálu, 8. decembra 2018 ďalšiu módnu show v Miláne, kde bolo pozvané komorné publikum stálych priaznivcov a čuduj sa svete, aj z ázijských krajín. Nie všetci sa teda ostro odklonili od návrhárskeho dua a ukázali značke chrbát a svoju silu. Krásu a taliansky noblesný šik štýl teraz bude Dolce and Gabbana predvádzať v miestnych vodách. Na margo stále neutíchajúcej post traumatickej situácie a rozbúrených vôd, ktoré neustále víria horliví čínski komentátori, sa vyjadril návrhár Domenico Dolce pri uvedení milánskej módnej prehliadky iba krátko: Čína je včerajšok, dnes je iný deň. Je to nová renesancia. Citácia prebratá z magazínu Vogue co uk z článku módnej kritičky, žurnalistky Suzy Menkez. Video si môžete pozrieť tu: https://www.thenational.ae/lifestyle/fashion/watch-dolce-and-gabbana-make-a-triumphant-return-with-milan-show-1.800772
NEGATÍVNE DOPADY
Škandál tejto značky a azda najväčšie PR fau paux v histórii zachvátilo celý tím ľudí pracujúcich na najveľkolepejšej módnej show, ktorá bola zrušená s následkami do budúcnosti. Tá je nateraz neistá. Čínsky trh, ktorý prinášal 1/3 ziskov, je nedostupný a iniciovaný bojkot má za cieľ značku položiť.
Problém sa preniesol aj na ostatných zainteresovaných ľudí v módnom biznise. Kritizovaní sú aj módni novinári, editori, kritici módy za to, že sa zúčastnili poslednej módnej show v Miláne, že značku prezentujú, podporujú a že sa nepostavili rázne proti nej bojkotom. Vlna týchto komentárov nemá konca kraja. Virálne video a celá táto situácia sa stala predmetom reakcií celého sveta. Každý druhý jednotlivec, mám pocit, sa cíti byť oslovený touto situáciou a má potrebu sa vyjadriť. Dokonca aj ten posledný najnepovolanejší človek. Vznikol nespočet falošných čínskych profilov, ktoré majú za cieľ neustále hanlivo inzultovať všetky siete Dolce and Gabbana, hrdinovia z poza počítačovej anonymity, ktorí rozpútavajú vojnu medzi fanúšikmi a odporcami. Ľudia sa rozdelil na dva tábory, akoby vznikla internetová III. svetová. Na tomto príklade je jasne vidieť, čo dokáže sila sociálnych médií a aké negatíva so sebou prináša.
Negatívna vlna kritiky zasiahla aj mnohých módnych žurnalistov, kritikov módy ako novinárku Suzy Menkez, ktorá na svojom instagrame zdielala 11. decembra 2018 tento odkaz: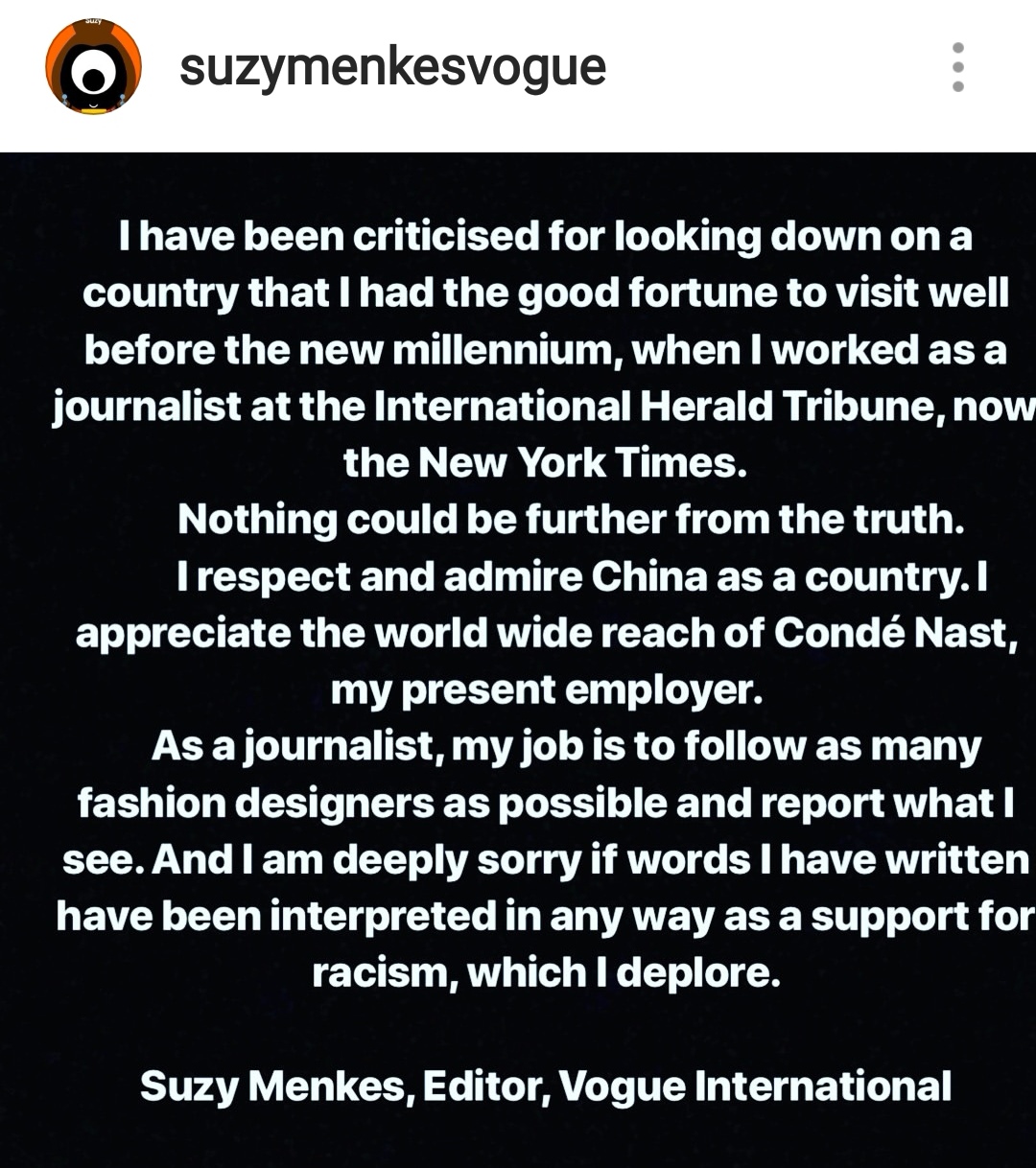 Suzy Menkez pracuje dlhé roky ako odborníčka na módu, novinárka a kritička, ktorá sa módnych prehliadok aj značky Dolce and Gabbana pravidelne zúčastňovala. Zlé jazyky odporcov teraz zasypávajú jej profily výčitkami a urážkami, najmä tí, ktorí sa postavili do bojovej pozície.
Taktiež profil známeho módneho kritika, taliansku ikonu , Simone Marchetti, ktorý sa stal tento mesiac šéfredaktorom magazínu Vanity Fair Italia (čítaj predošlý článok – Simone Marchetti – nový šefredaktor Vanity Fair) a dlhé roky so značkou spolupracoval, písal články, zaujímal prvé rady tzv. front row na ich prehliadkach, neobišla záplava negatívnych komentov. Simone poskytol na svojom instagrame verejne takúto odpoveď: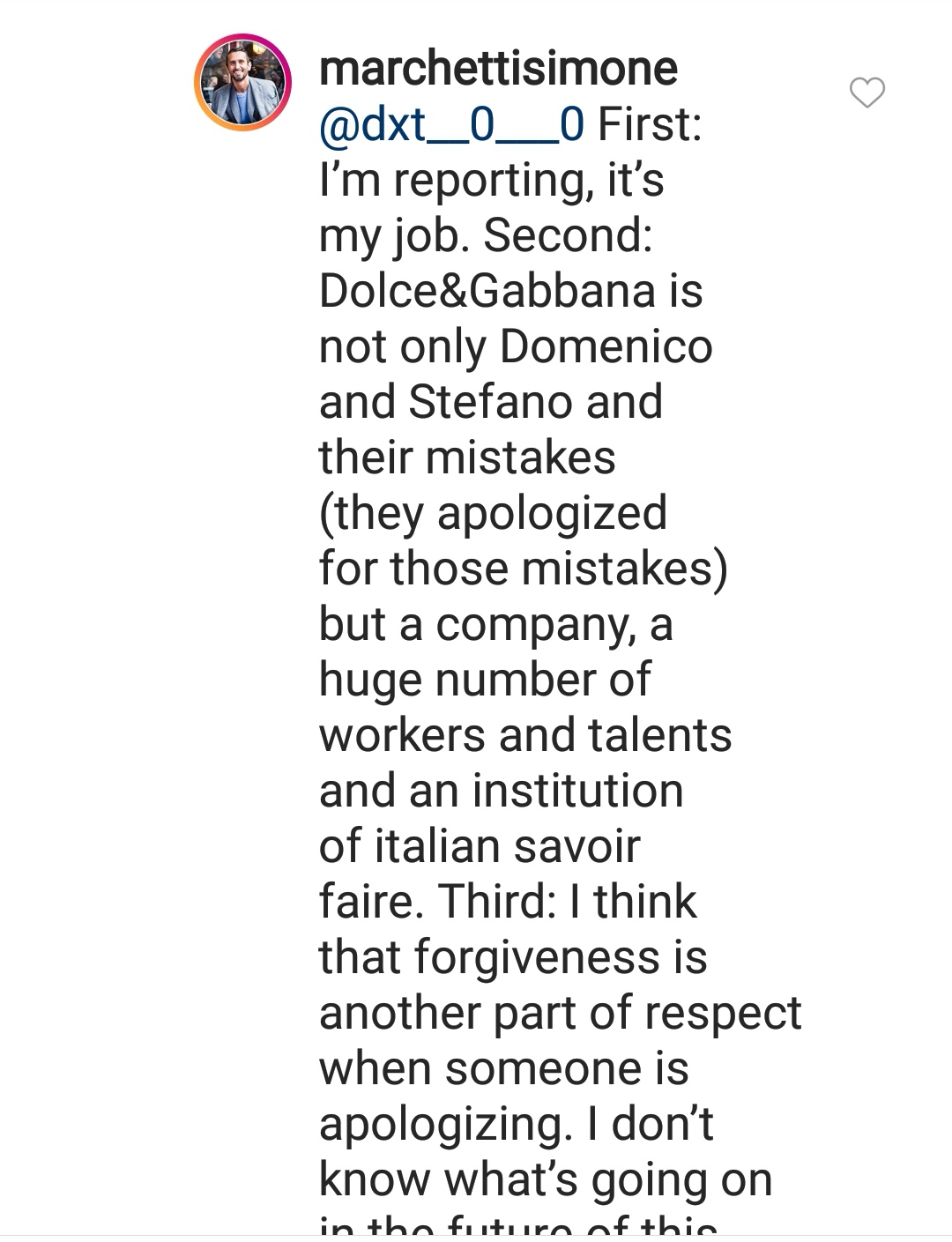 REAKCIA MÉDIÍ
Škandálom sa zaoberajú mnohé média, ktoré zareagovali ihneď a to : Washington Post – bez komentára so zdieľaním ospravedlňujúceho videa a strohého opisu problému. Video si môžete pozrieť tu: https://www.youtube.com/watch?v=iRcjTyypKbw
Guardian News uverejnením ospravedlňujúceho videa: https://www.youtube.com/watch?v=QIcwxy4vJfs
Ďalej kanáli CNBS International Tv, ktorý situáciu rozobral so záverečným vtipným komentom, že logo značky skutočne pripomína to, čím ho teraz Číňania častujú po premenovaní D&G – teda dog v preklade pes alebo Dead and Gone alebo Dolce and Garbage : https://www.youtube.com/watch?v=CyHiWbTctPk&t=16s
Portál DW English, ktorý situáciu rozobral podrobne s hypotetickými závermi: https://www.youtube.com/watch?v=594Q9CJQbD4
Vyjadruje sa k situácii komentárom, že značka Dolce and Gabbana je vo veľkých problémoch.
Módny návrhár značky Stefano Gabbana mal v minulosti na svedomí niekoľko rôznych nešťastných výrokov, čo sa mu teraz vracia ako spomínaná karma od Chiary Ferragni. Návrhári sa ako gayovia, ktorí tvorili v minulosti pár vyjadrili, že sú proti tomu, aby si gay páry zaobstarávali deti, lebo sú vraj umelým produktom. Tento výrok pobúril viaceré gay páry, ktoré už deti majú ako Eltona Johna, Rickie Martina alebo aj lesbičku Martinu Navrátilovú.
BBC news prinieslo pred 3 rokmi reportáž, v ktorej Elton John vyzýva k bojkotu proti tejto značke: https://www.youtube.com/watch?v=BxaBSBooy7c
K tomuto bojkotu sa pridali aj ďalšie celebrity, spevák Rickie Martin, ktorý má dvojičky, lesba Martina Navrátilová, ktorá sa vyjadrila, že všetky veci od Dolce and Gabbana hádže do koša a ostatní s tým, že nebudú podporovať gayov hejtujúcich do vlastných radov. Negatívny postoj zaujali aj speváčka Courtney Love Cobain či Victoria Beckham. Na obranu Selena Gomez, ktorú Stefano Gabbana nazval prednedávnom škaredou, sa postavili mnohé ďalšie celebrity ako Miley Cyrus. Je zrejmé, že Stefano Gabbana má na rováši neuvážených urážlivých vyjadrení z minulosti viacej.
Či je ten alebo onen názor správny je otázne, každopádne tým, že svoj názor proti deťom vyslovili návrhári verejne, si dosť poškodili meno a tento šrám sa teraz opäť zjavil. Podobný bojkot značky sa teda už odohral v roku 2015 v Londýne, kedy nastala vlna protestov s podobným vyvrcholením kvôli spomínaným vyhláseniam. Značka tento bojkot prežila, ale tento november sa ocitla v ešte väčších problémoch.
Okamžite na súčasnú poburujúcu situáciu vznikli mnohé humorné videá zo strany ázijských kreatívnych odporcov značky, kde muž zo západnej civilizácie je typicky čínske jedlo nožíkom a vidličkou. Tiež vtipné obrázky a srandy na adresu Dolce and Gabbana.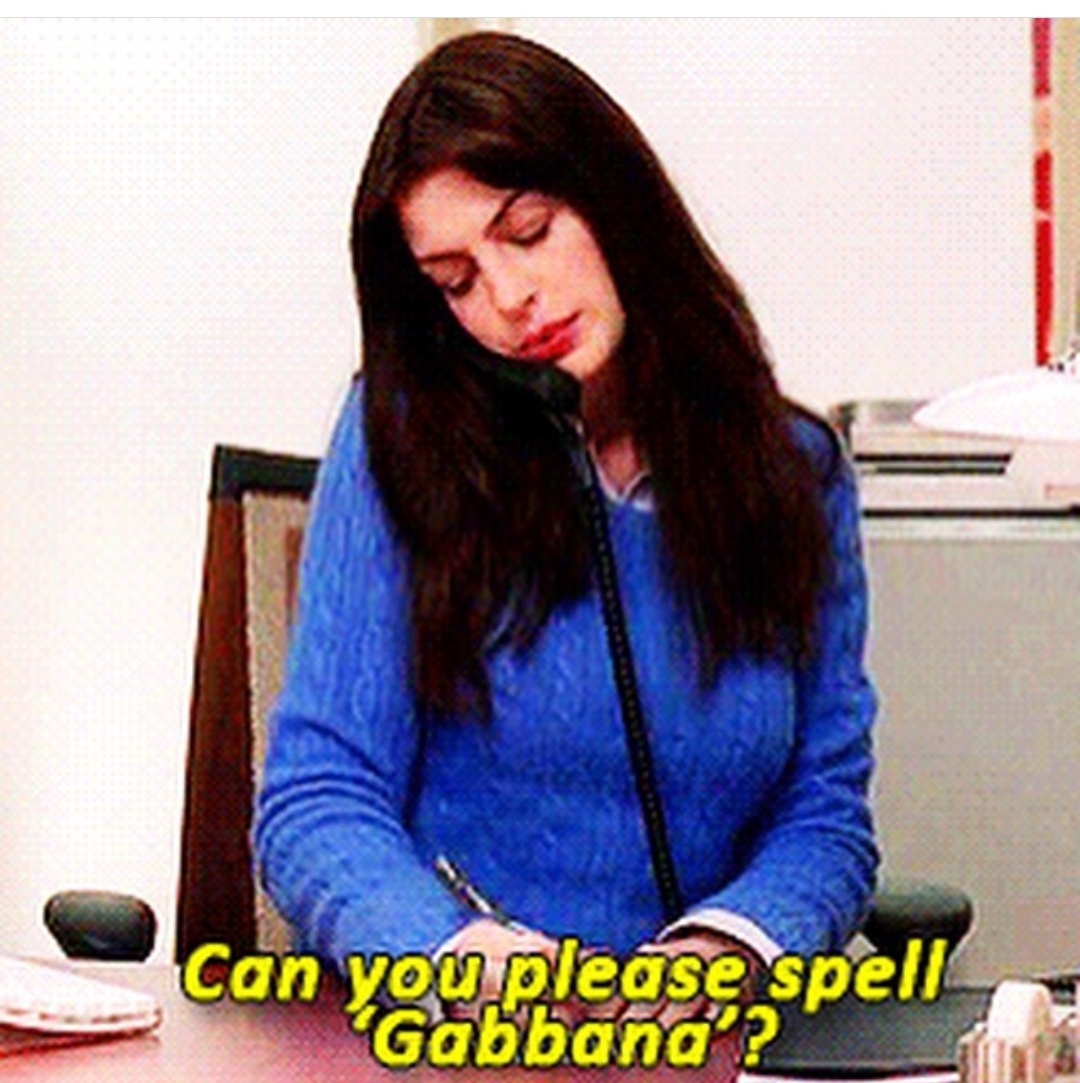 zdroj: instagram
Čínske celebrity na obrázku, ktoré sa mali zúčastniť veľkolepej módnej show v Shanghani, svoju účasť ihneď po prevalení škandálu zrušili a pridali nasledovný komentár – nezúčastníme sa tejto udalosti a budú krvácať. Práve tieto čínske celebrity som zachytila vo februári 2018 počas Milan Fashion Weeku po prehliadke značky Dolce and Gabbana na videu, kde skutočne vidno, aká nadšená panika a davová psychóza nastala, keď sa zjavili ázijské celebrity. Rozvášnený kričiaci dav mladých fanúšikov takmer zvalcoval talianskych policajtov a že Číňanov vie byť skutočne dosť, si môžete pozrieť tu: https://www.youtube.com/watch?v=48PVwUZdTu0
Toto nadšenie sa v Miláne zrejme už neopakuje. Uvidíme, čo prinesie február 2019 a nasledujúci Milan Fashion Week a prehliadka Dolce and Gabbana, koľko ázijských fanúšikov módy tam stretnem.