Emporio Armani , Milan Fashion Week – Móda Ženy, 18. – 24. september 2018, kolekcia jar/leto 2019, 20. september 2018
Armaniho extravagancia, prehliadka uskutočnená na letisku Linate, bola veľkolepá. Kolosálna prehliadka tejto značky sa uskutočnila 20. septembra 2018 neskoro večer netradične priamo na milánskom letisku Linate. Vynikajúca módna akcia, ktorá sa udeje raz za život s maxi logom presne na odletovej dráhe. Reklama k pripravovanej módnej show na to upozorňovala, Giorgio Armani sa objavil na fotografiách na letisku.
Prehliadku začali muži so surfovacou doskou pod pazuchami a ukončil ju Robbie Williams live koncertom oblečený v škótskom kilte s flitrovaným sakom. Bola to zároveň pocta nedávno zosnulému spevákovi George Michaelovi. Video z prehliadky si môžete pozrieť na tomto linku: https://www.youtube.com/watch?v=LVgsOn64spM&t=1s
Kolekcia pre sezónu jar/leto 2019 bola presýtená letným nádychom mora vďaka ľahkým textúram, odtieňom, výšivkám a reflexným splývavým materiálom.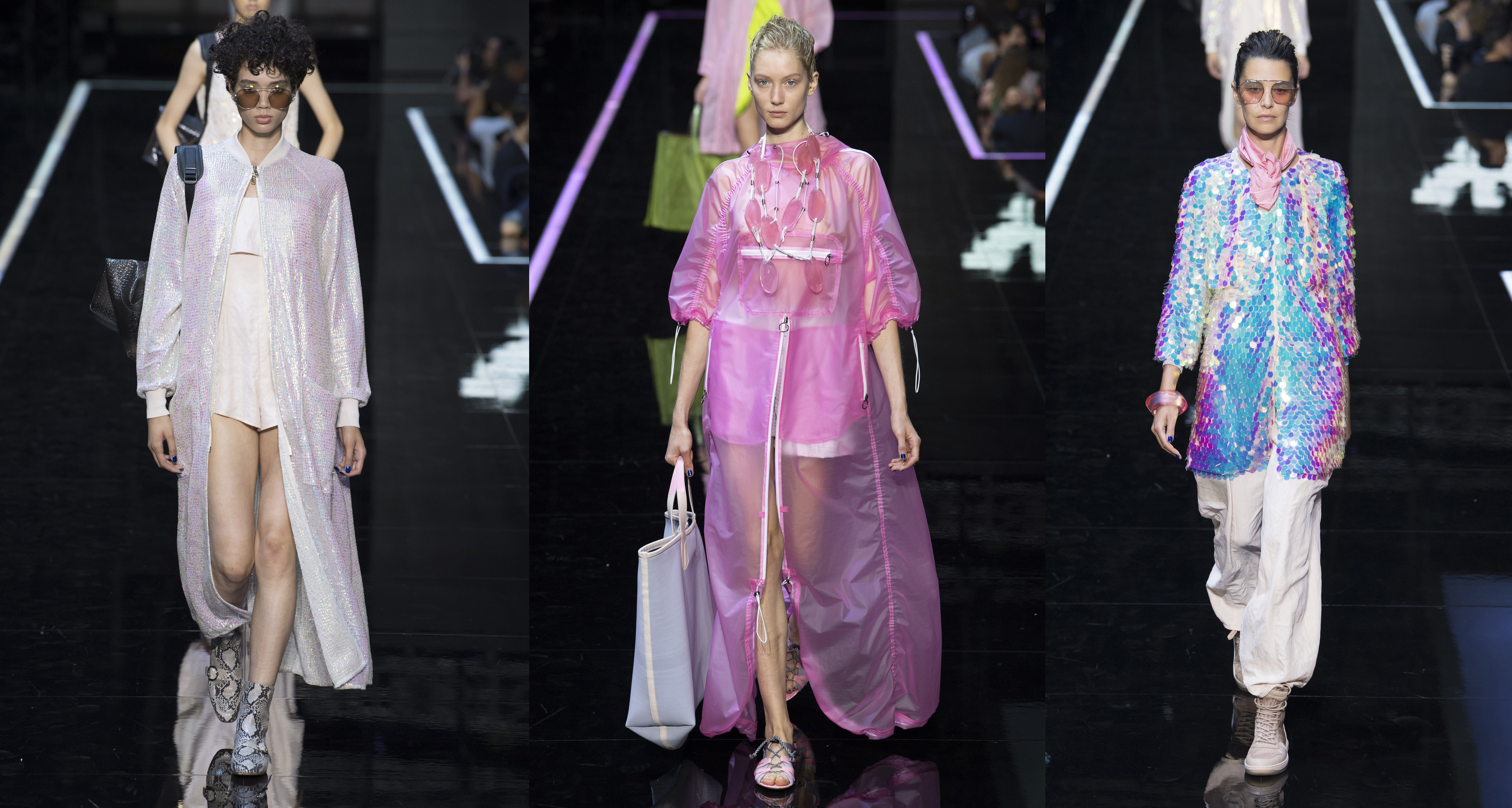 EMPORIO ARMANI – Milan Fashion Week, kolekcia Jar/Leto 2019, zdroj: Vogue com
TRENDY EMPORIO ARMANI
Pre sezónu jar – leto 2019 predstavila značka Emporio Armani trendy v podobe extra luxusnej cesty medzi high tech materiálmi, plastickými materiálmi, metalickými hodvábmi a jagavými iskrivými precíznymi výšivkami.
V záverečnej časti prehliadky sa objavili jagavé flitrované materiály a modely so strapcami.
Trendom pre nasledujúcu sezónu jar – leto 2019 budú aj kombinézy, s čím prišli taktiež ostatné značky ako Fendi, Alberta Ferretti či Prada. Popruhy, opasky s prackami pripomínajúce bezpečnostné pásy z lietadla, kombinézy, high tech materiály, technické materiály prevedené v kolekciách na športový štýl sa stávajú trendami pre nadchádzajúcu sezónu značky Emporio Armani.
Značka Emporio Armani prišla tiež s výzvou nebojme sa farieb. Svietivé žiarivé farby budú vládnuť letu 2019.