Ermanno Scervino – očarujúca zimná kolekcia 2021/2022 s nádychom ženskosti a rafinovanej krásy zloženej z kontrastov a harmónií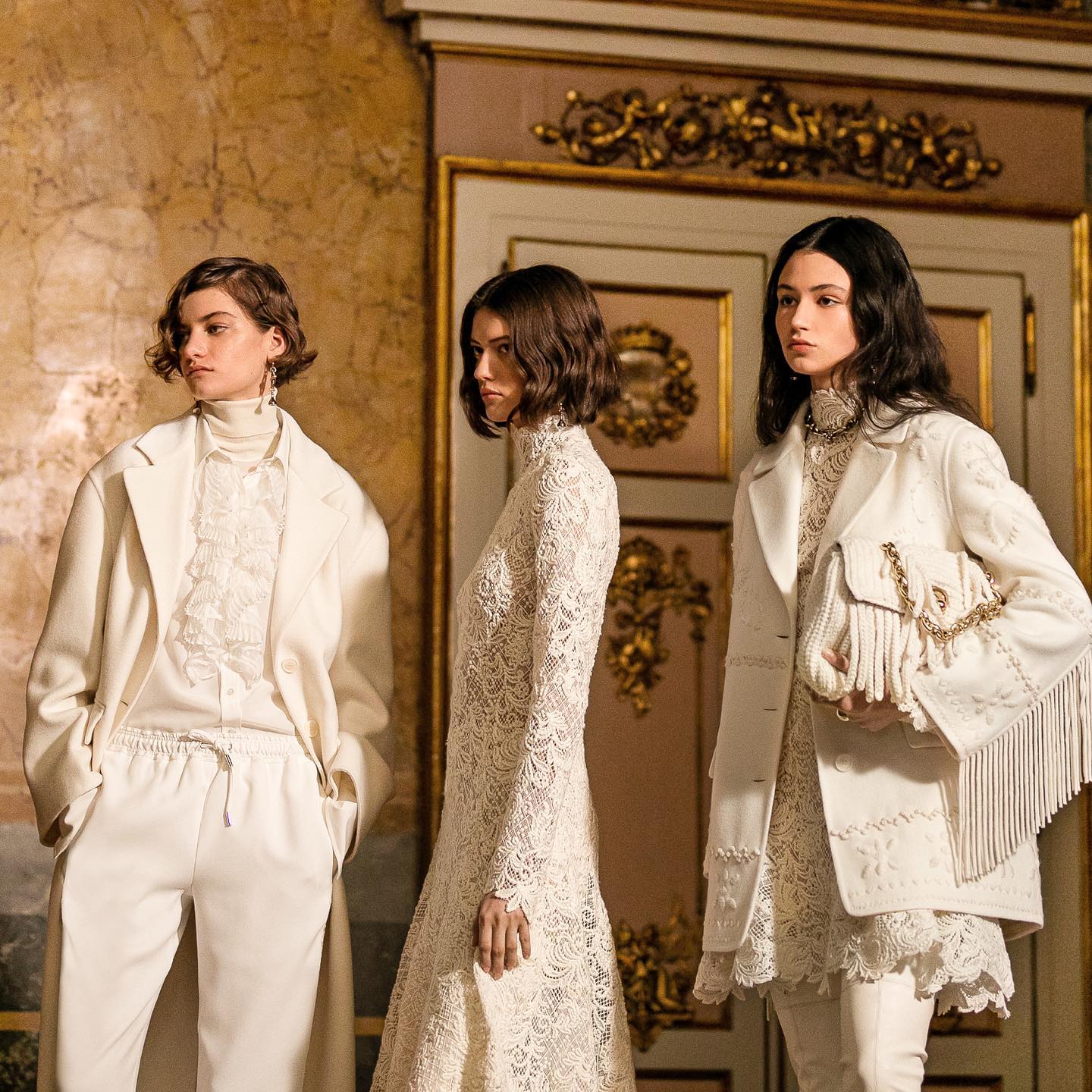 Hľadanie krásy je podľa značky Ermanno Scervino nevyhnutným poslaním, ktorého sa nemožno zriecť ani v takej ťažkej dobe, ako je tá súčasná. Radosť a dôležitosť potešenia z obliekania, zdobenia a páčenia sa predstavuje taliansky dizajnér Ermanno Scervino v ľúbivej kolekcii pre zimnú sezónu 2021-2022.
Scervino sa pre tentokrát zrieka vzorcov, oslavuje najvyberanejšie a najúžasnejšie remeselné zručnosti v lexikóne zloženom z kontrastov a harmónií, neúnavne hovorí o ženskej kráse a zakoreňuje ju v súčasnosti pracujúc na presných líniách, dotykových povrchoch, rafinovaných a neočakávaných detailoch.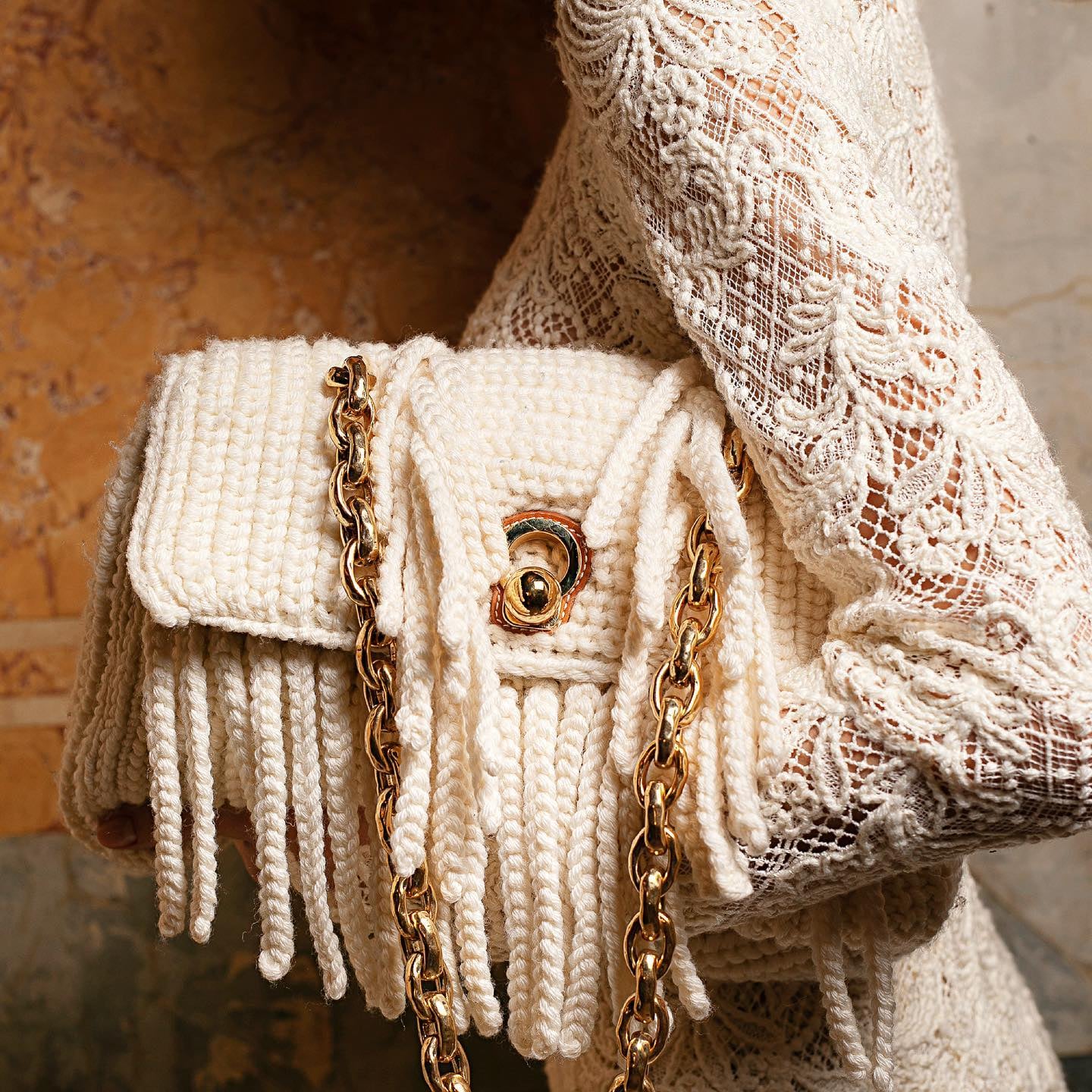 Remeselná zručnosť značky sa zračí v nádhernom vyhotovení ručne vyšívaných kabátov a príjemných úpletov nosiacich sa cez Scervino typické makramé a kožené šaty.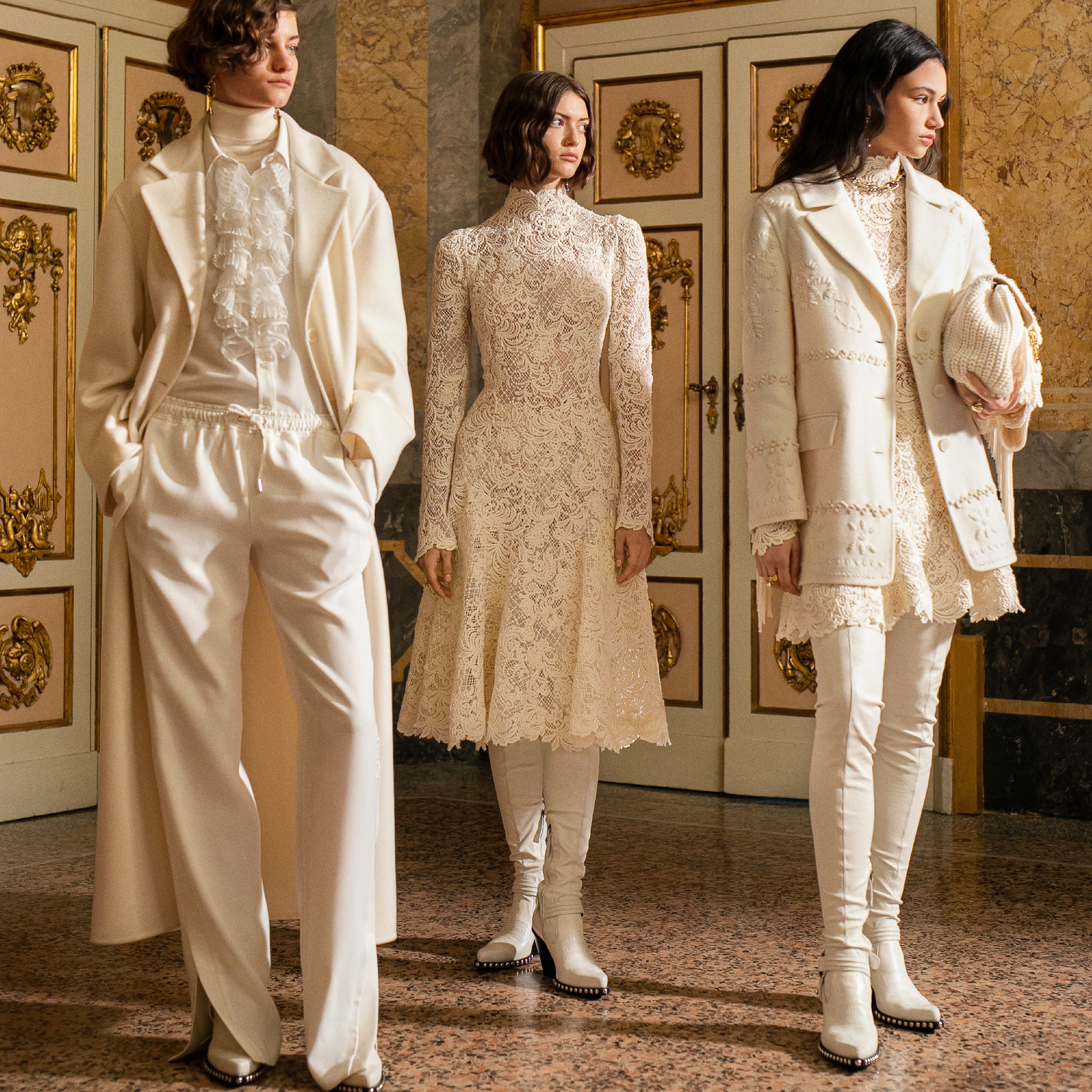 V tejto sezóne sa najrafinovanejšia vzácnosť stretáva so svetom športu, otvára sa pragmatizmu ulice, pričom nestráca nič zo svojej sofistikovanosti.
Je to komentár k aktuálnosti obliekania, k splývaniu, potieraniu bariér a rozdielov a k miešaniu príležitostí a spôsobov. Napätie protikladov, prvý princíp štylistickej dynamiky Ermana Scervina, sa tak stáva dialógom medzi dňom a nocou, zvnútra a zvonka, bytostným a vyšívaným, hutným a prchavým, plynulým a robustným.
"Nechápem, prečo sa vzdať krásy a páčenia sa sebe, ale toto sú ťažké časy. Takže mojou myšlienkou bolo, aby ženy vyzerali dobre bez toho, aby im to bolo nepríjemné. Krása môže byť vyjadrená a predvádzaná so skromnosťou," vyjadril sa Scervino počas prehliadky tejto kolekcie v rámci Milan Fashion Weeku.
Dokonca aj obľúbená čipka je v zimnej kolekcii Ermanno Scervino 2021-22 vyrobená z mäkkej kože, rovnako ako páperové bundy, ktoré sú počas dňa dokonca spárované s tričkami s čipkovanými kryštálmi.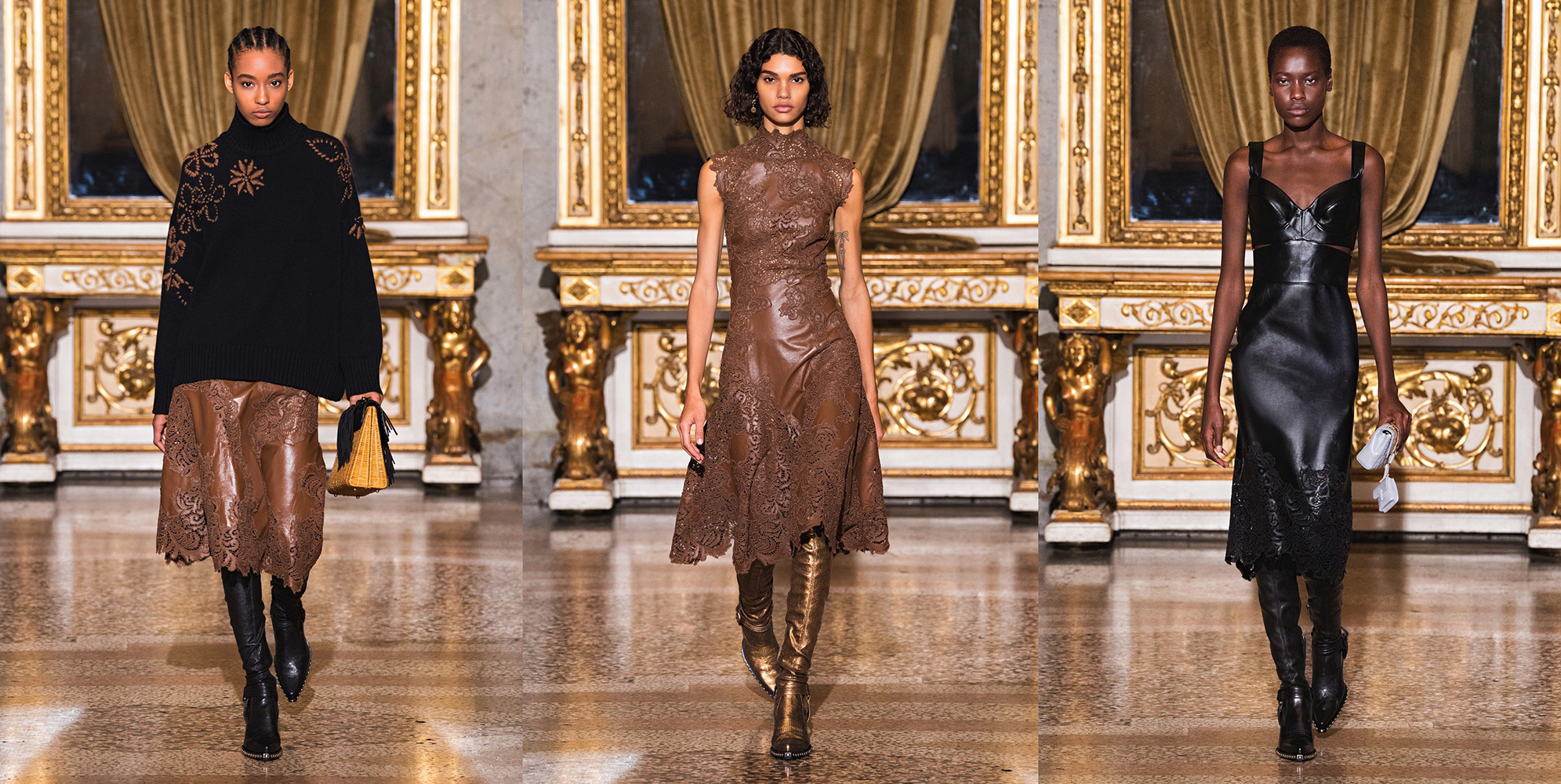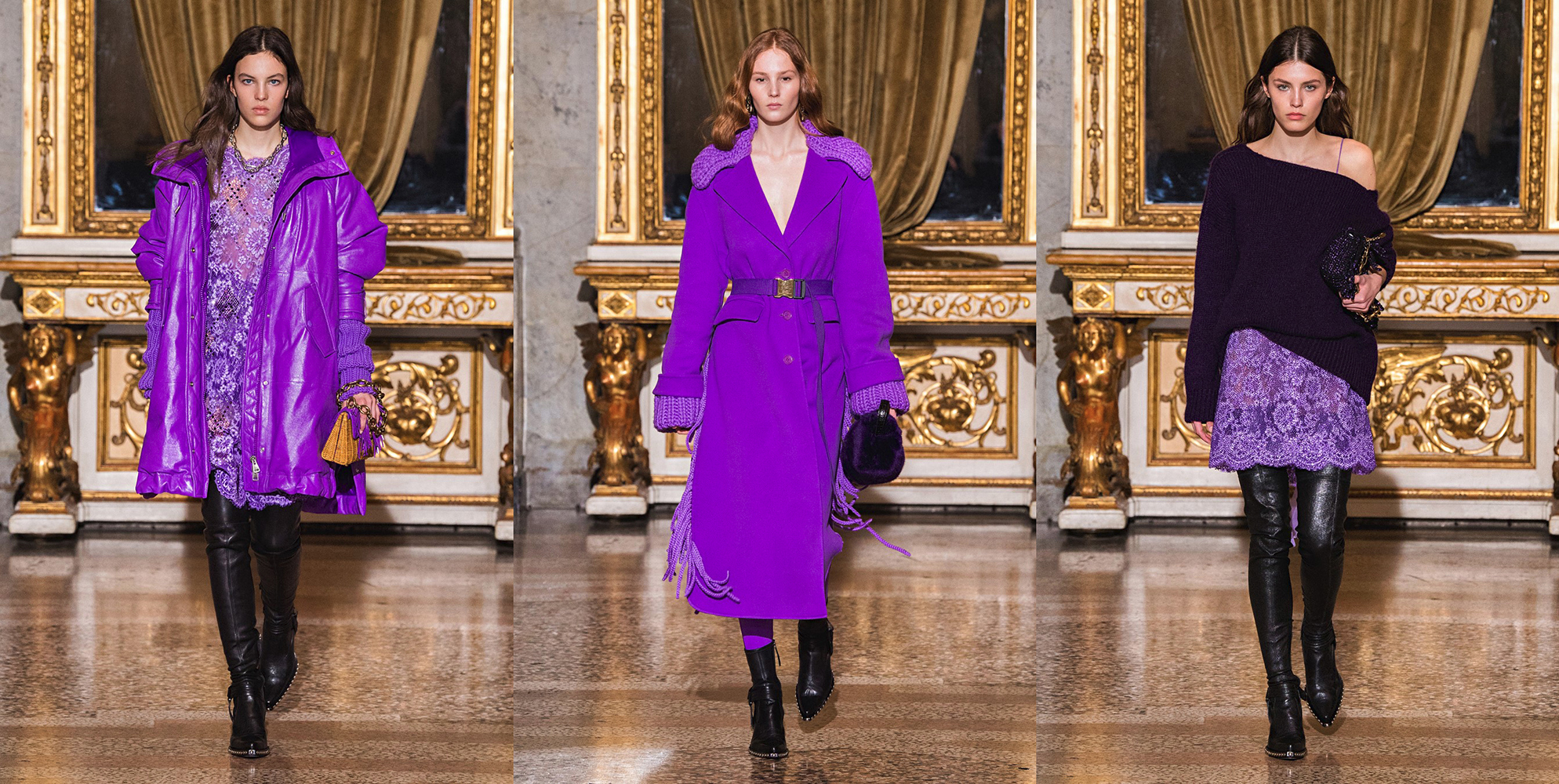 Ermanno Scervino pracoval v zimnej sezóne 2021-22 s jemnejšími siluetami a väčšími objemami a to najmä vo vrchnom oblečení, pričom spájal ženskosť, krajčírske a športové prvky.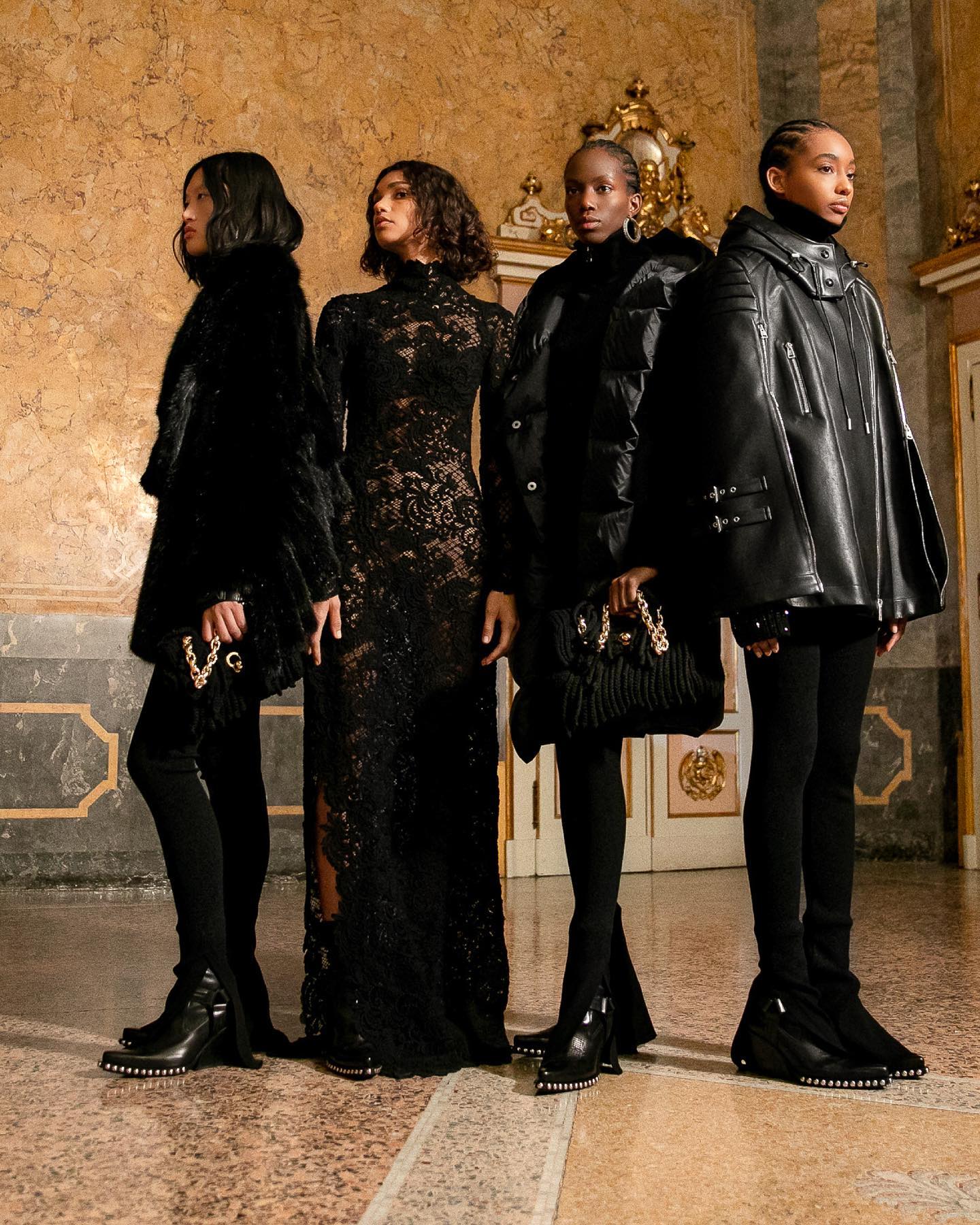 Očarujúcou kolekciu Jeseň/Zima 2021-22 značka demonštruje inovatívne schopnosti. Môžeme identifikovať nové vzory a novinky ako vrchné oblečenie, saká, pletené veci, košele, šaty, sukne, nohavice, všetko dobre zladené s obuvou a taškami.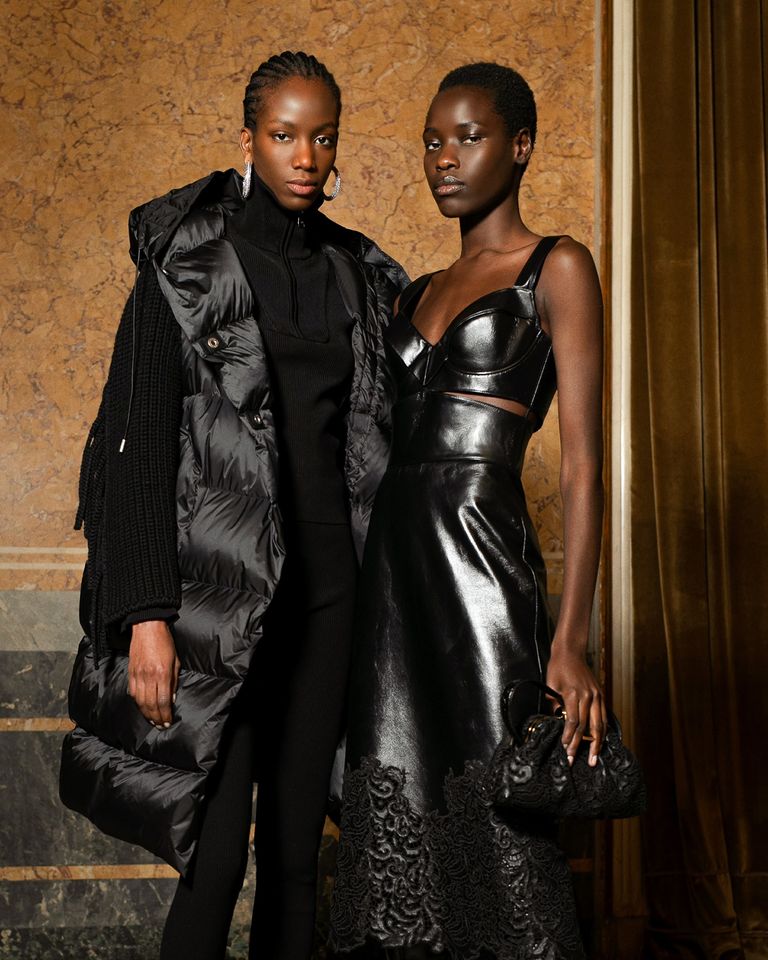 Presné krajčírstvo má nové proporcie: kabáty sa predlžujú, obleky kombinujú blejzre a bermudy, dokonca aj v smokingovej verzii.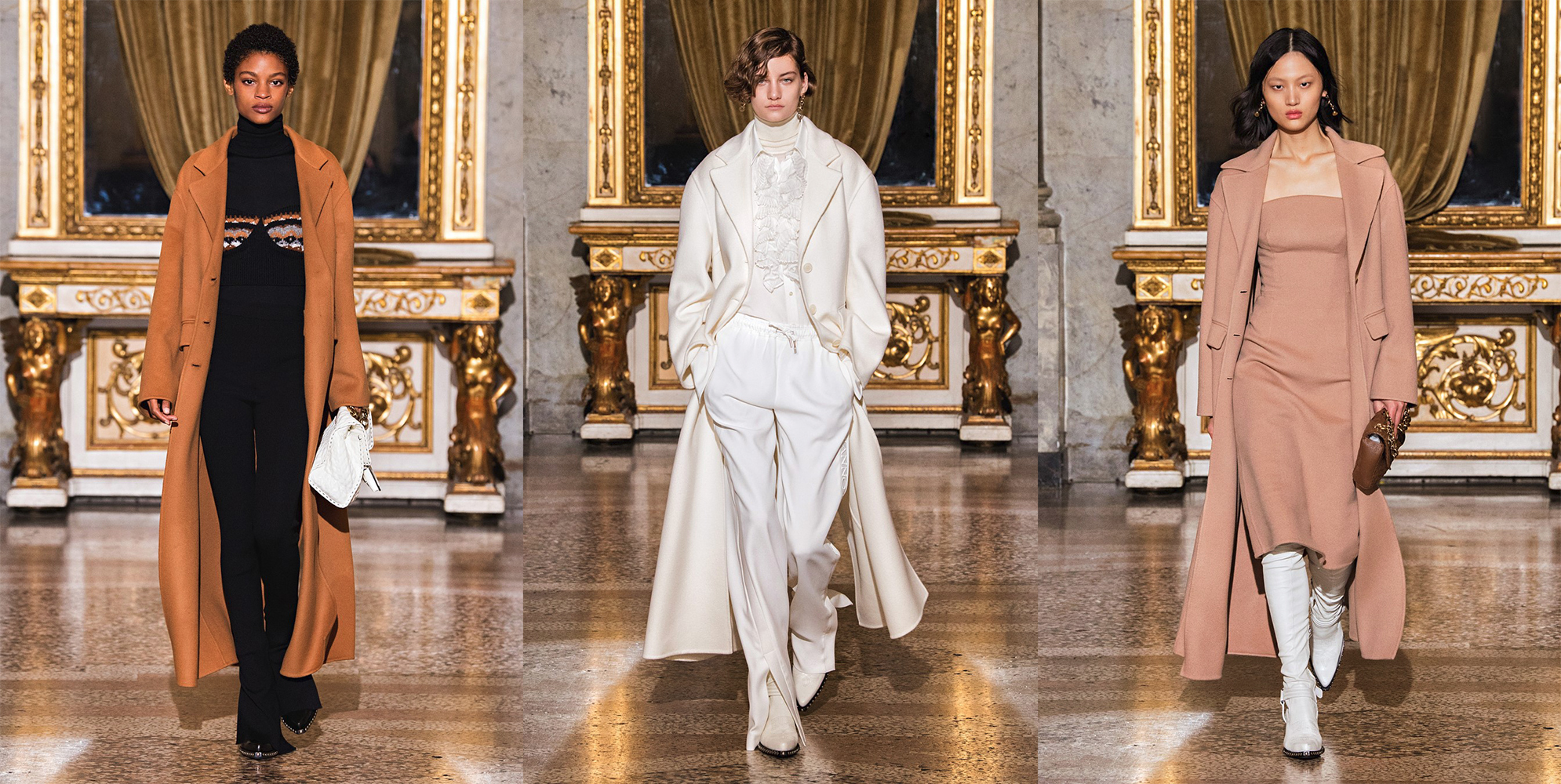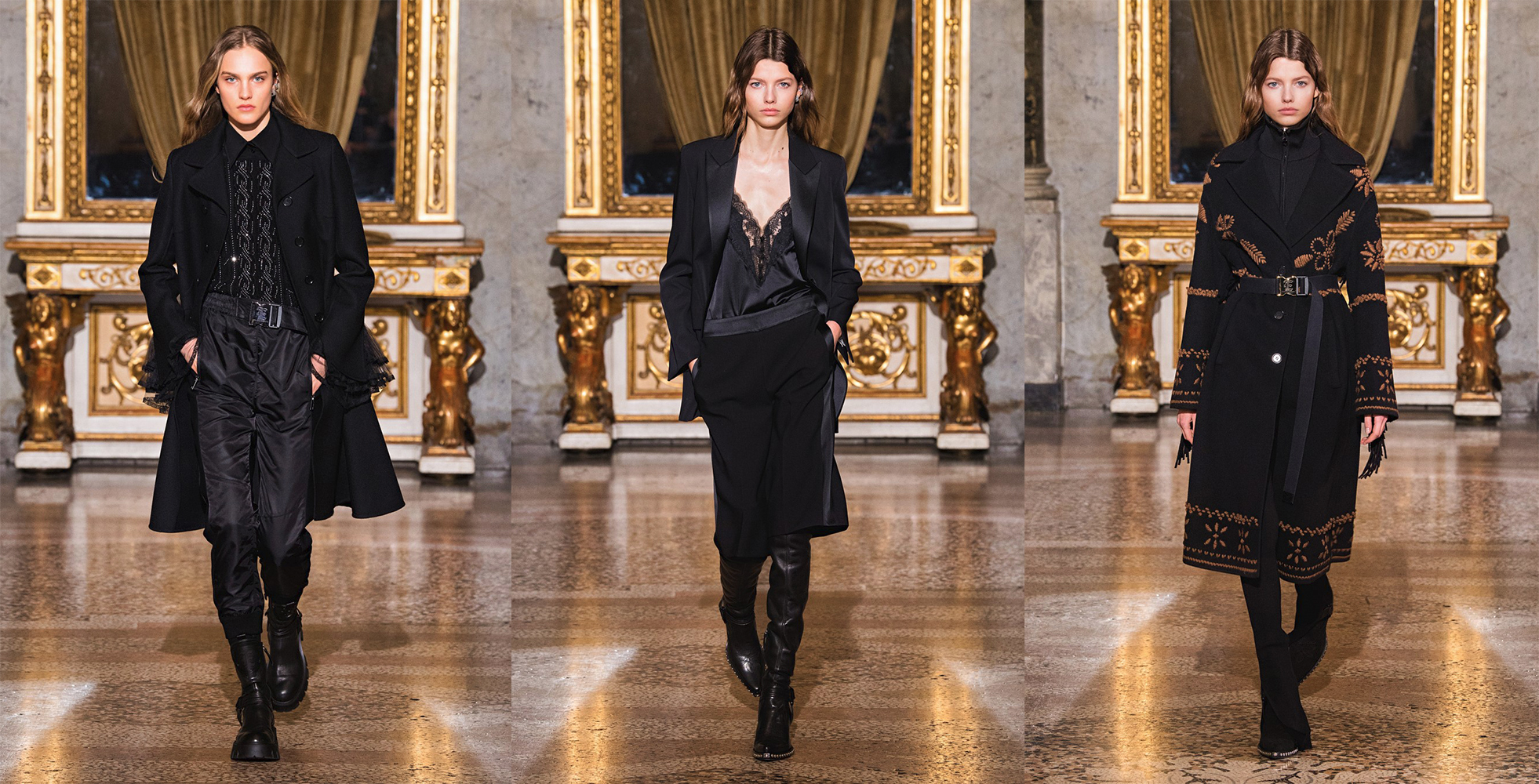 Hrubá niťová výšivka zdobí dvojité paletá a kabátiky z ovčej kože v kolekcii prechádzajúce do maxi kardiganov.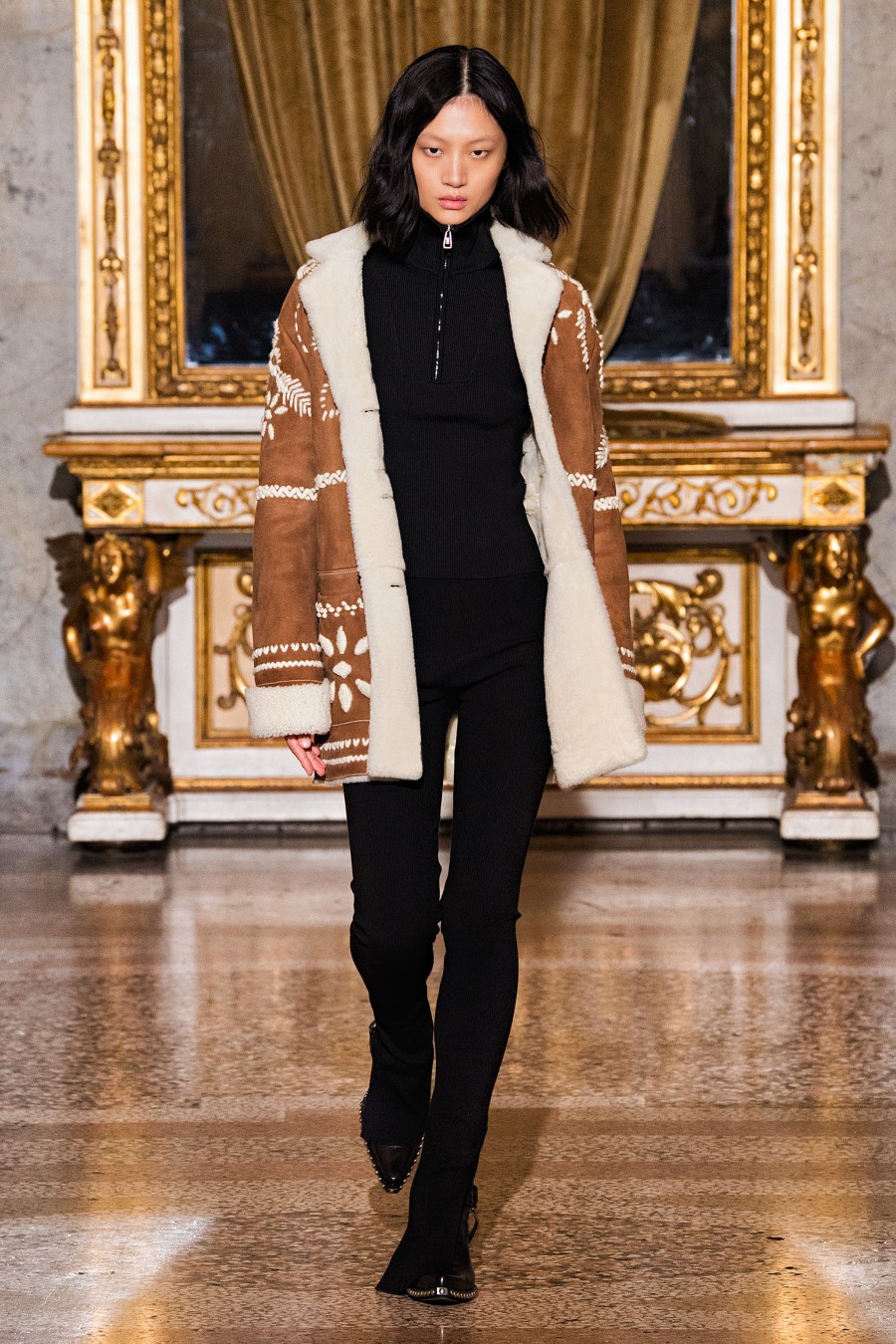 Vlnené strapce tancujú všade a dodávajú pohyb. Pletenina, hrubá, dotknutá zábleskami lurexu alebo prekrížená žiarivými kryštálmi, je v zimnej kolekcii Scervino 2021-22 dôležitá: pulóvre, bundy a tašky majú pohodlné postave lahodiace strihy a uchopiteľné tvary.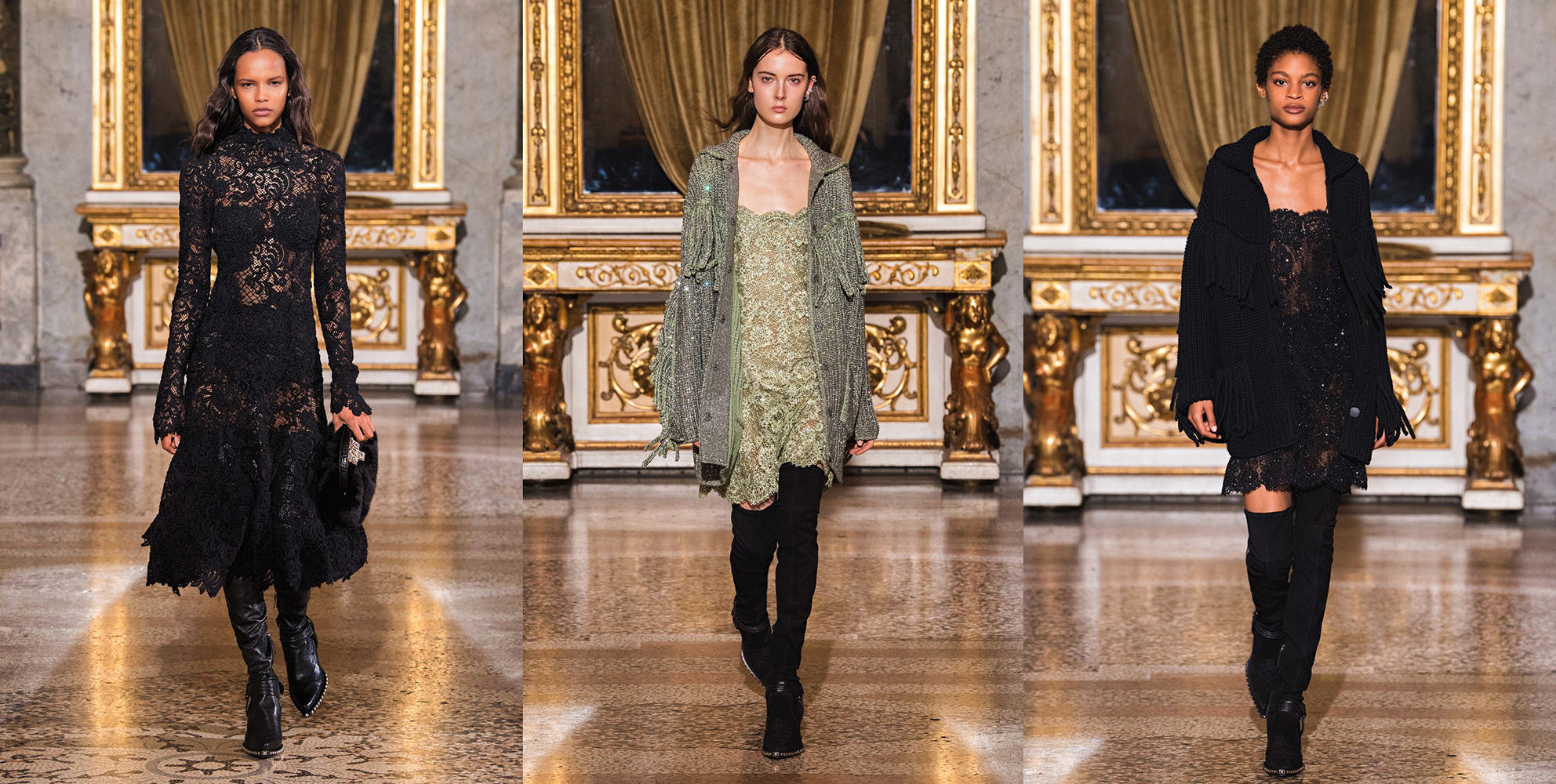 Výnimočnými kúskami, ktoré očaria každú dámu z kolekcie Ermanno Scervino – Zima 2021/22 sú kabáty a peleríny so strapcami, ktoré sú zdobené ručne vyšívanými motívmi, mohutné vlnené úplety s háčkovanými strapcami na nosenie cez plisované alebo flitrované sukne a kožené šaty so zložitými strihmi podobnými čipke.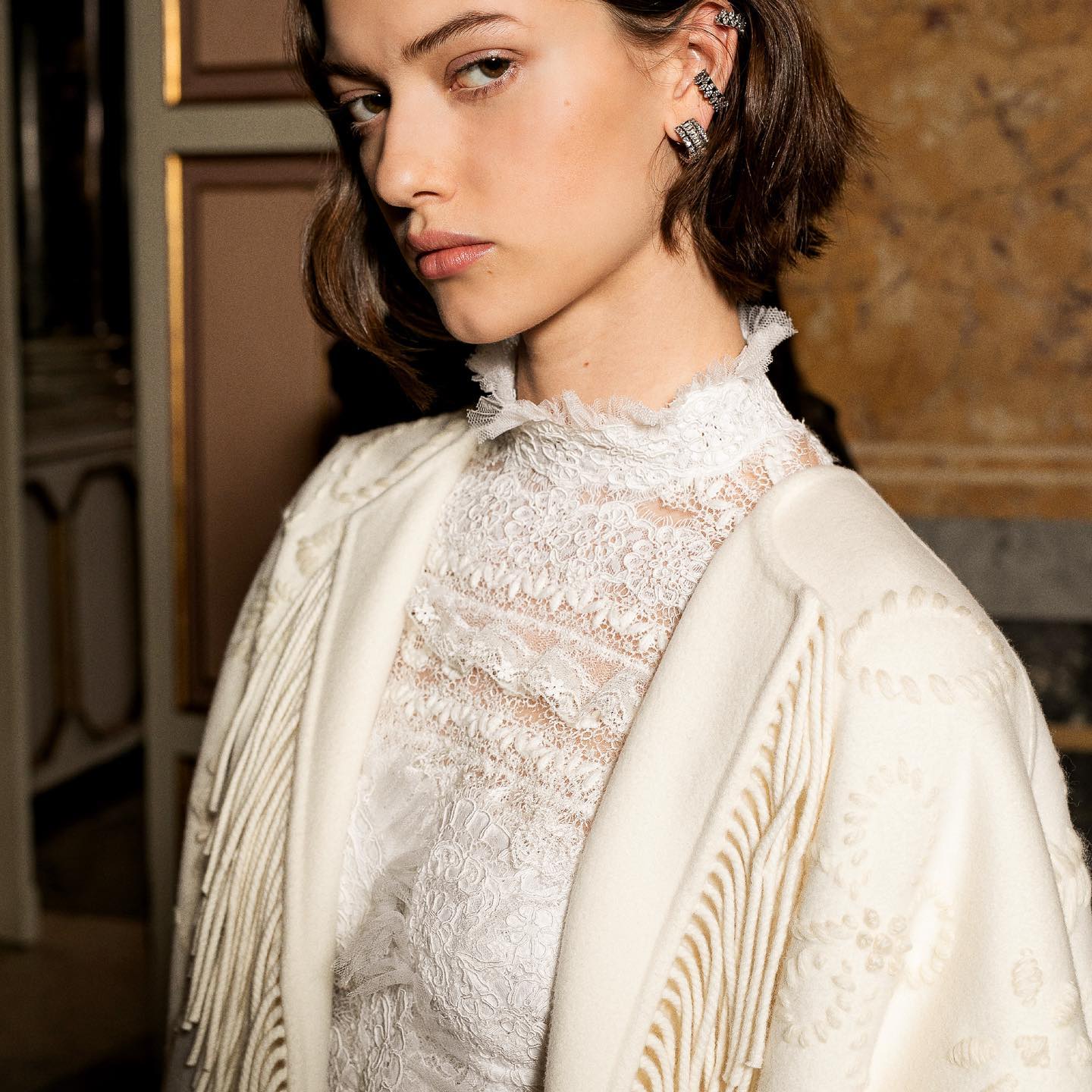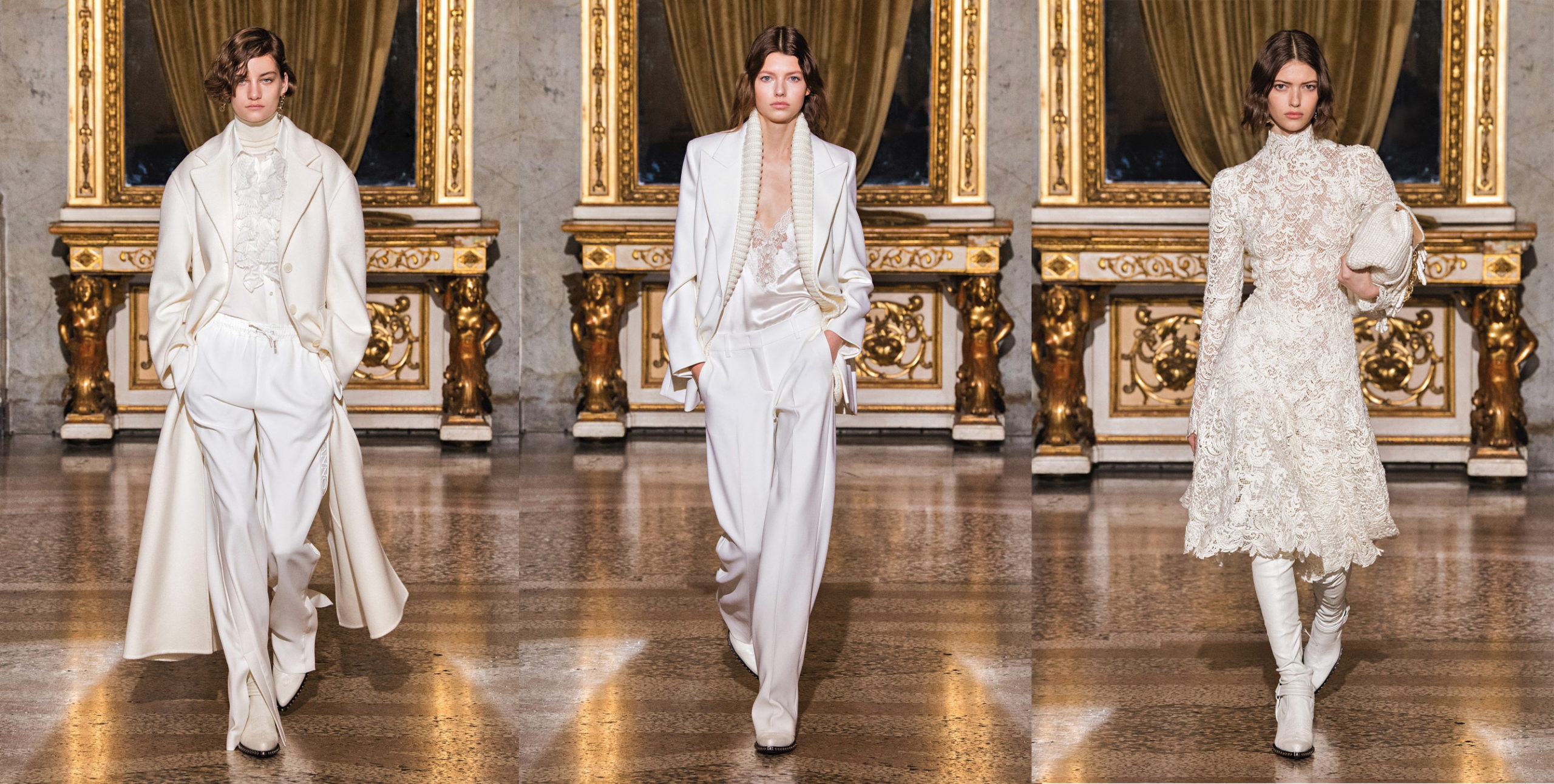 Čipka, bouclè, vlna a koža sú šikovne zmiešané a prelínajú sa so zručnosťou a vytvárajú protipóly textúr, ktoré sprevádzajú chromatickú cestu neutrálnych tónov, v ktorých tabak, zelená, ružová a fialová vynikajú popri obľúbenej sivej, bielej a čiernej.
Hrubý sveter, ktorý sa dotýka odleskov alebo lurexu prekríženého svietiacimi kryštálmi, je dôležitým prvkom.
Medzi pohodlné kúsky kolekcie, ktoré chcel taliansky dizajnér zaradiť do svojej ponuky patrí dizajn nafúknutých búnd a nohavíc so sťahovacou šnúrkou, ktoré niesli jeho meno na boku, čo však bolo v rozpore s celkovou sofistikovanosťou zostavy. Nohavice s bočnými pásmi pripomínali lyžiarske či tréningové prvky.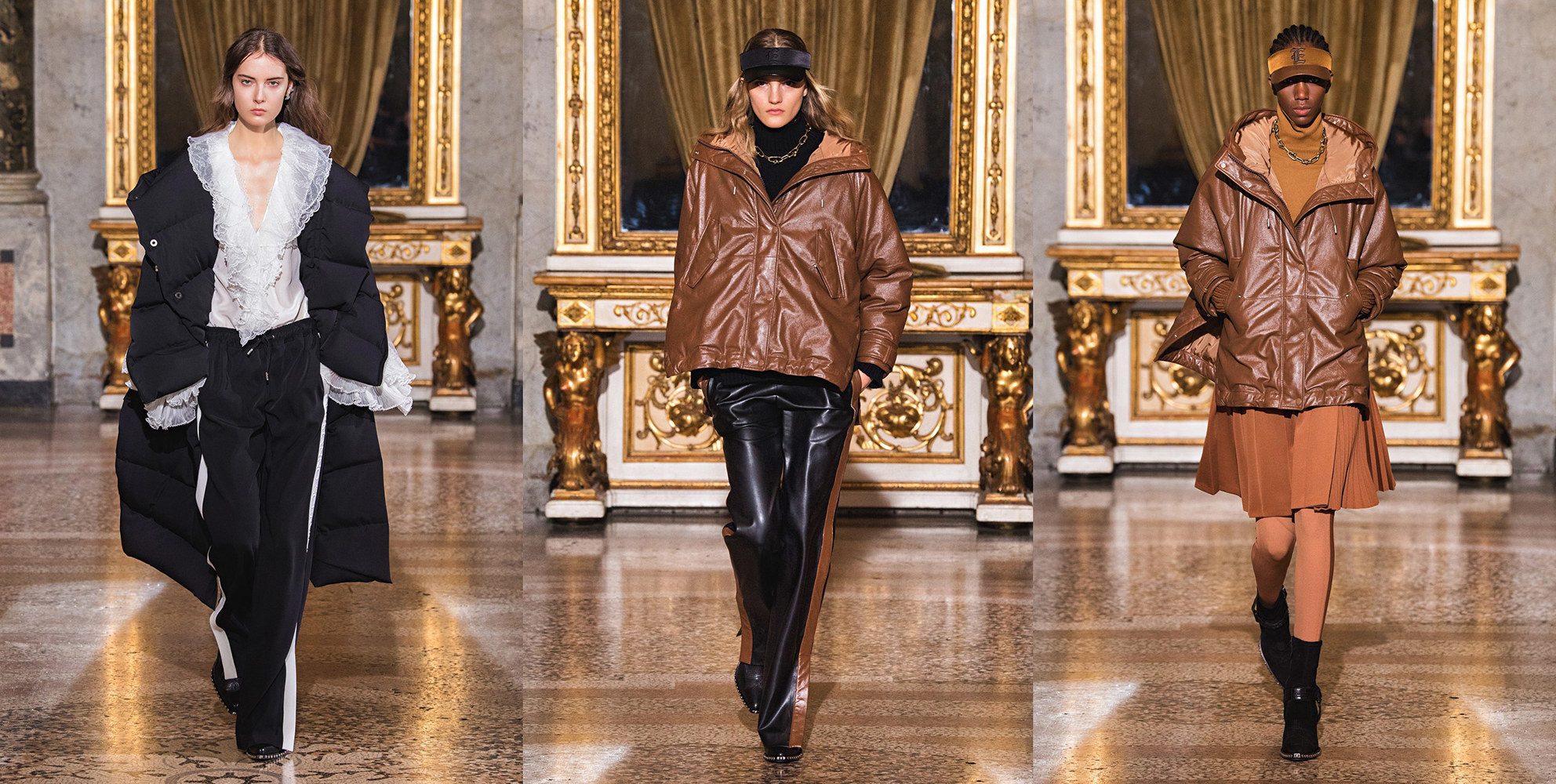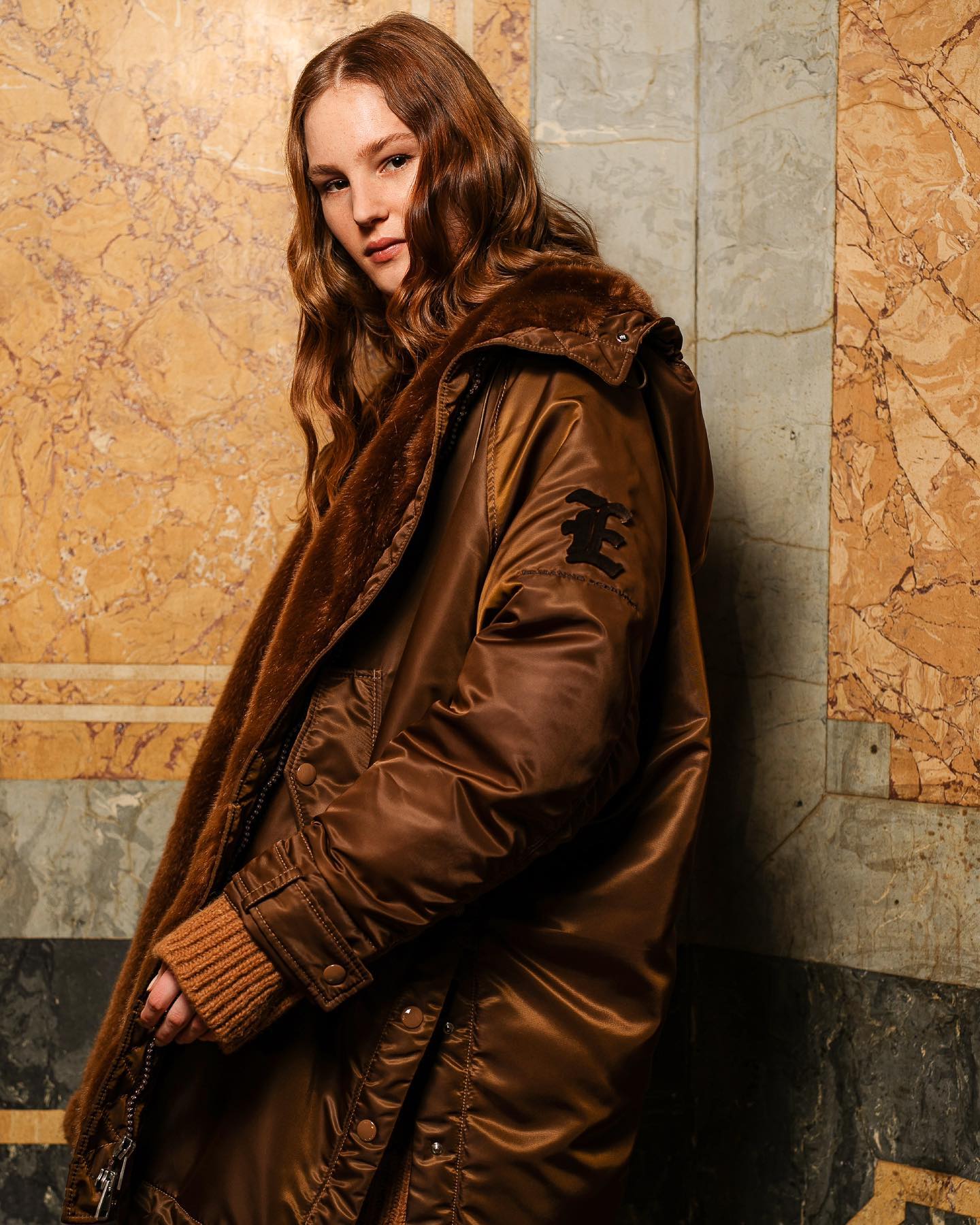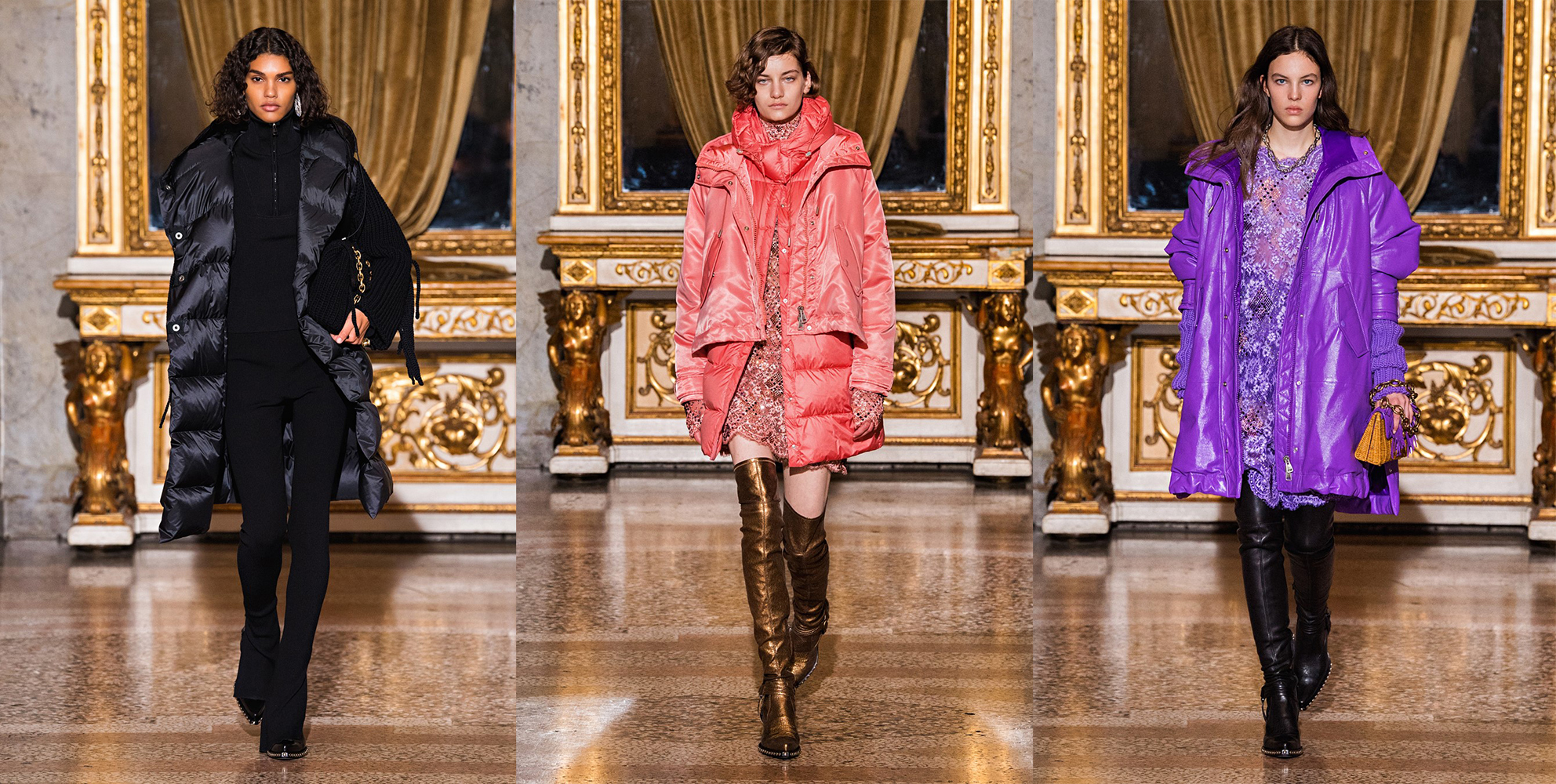 ERMANNO SCERVINO – VÝVOJ ZNAČKY
Ermanno Scervino Maison, založená v roku 2000 vo Florencii, sa stala synonymom kvality Made in Italy a medzinárodného štýlu. Dizajnér Ermanno Scervino žil a dýchal atmosférou najúžasnejších miest 70. a 80. rokov, od Paríža, svojho druhého domova, po New York Andyho Warhola, od Londýna po boho-chic Ibizu.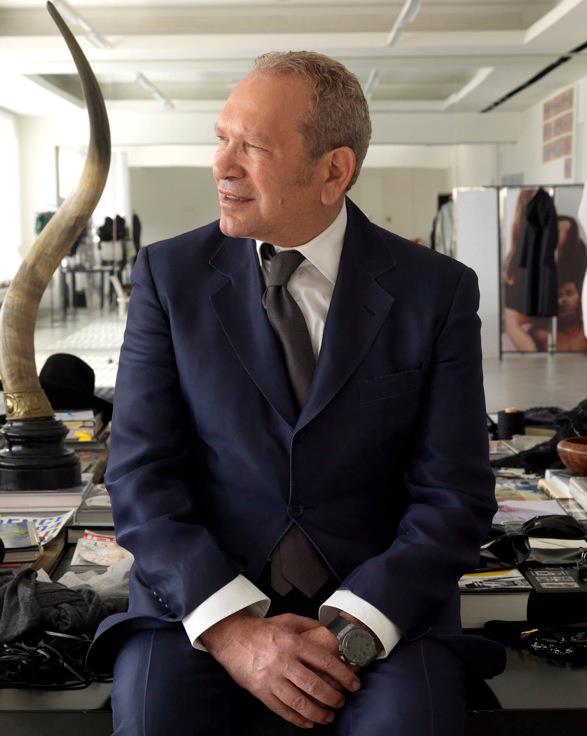 Nakoniec spolu s Tonim Scervinom, súčasným generálnym riaditeľom značky, založil svoju spoločnosť vo Florencii a našiel tú najskúsenejšiu taliansku šikovnosť. Ako jediná na svete dokáže zaručiť dokonalosť, vďaka ktorej sa stanú skutočnosťou sny aj tých najkrajších a najnáročnejších žien.
V roku 2007 vytvoril Ermanno Scervino sieť dielní združených do jedného celku so sídlom vo Florencii, čo mu umožnilo rozvíjať svoje kolekcie úplne nezávislým a florentským spôsobom.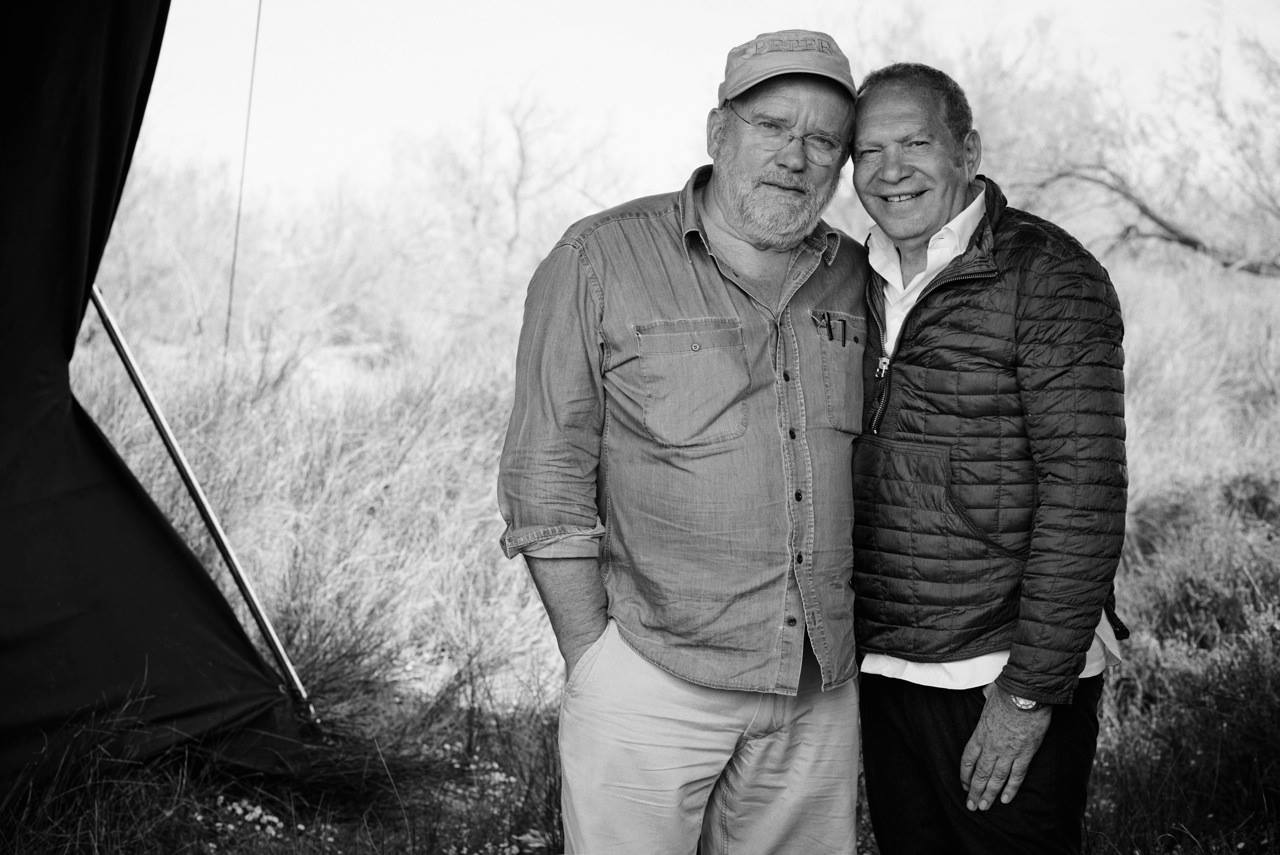 Ermanno Scervino with photographer Peter Lindbergh
Od ručne kreslených návrhov, cez návrhy na figurínach až po prvé strihanie vzorov, realizácia kolekcií zostáva plne pod kontrolou dizajnéra a jeho tímu, bez plytvania časom a bez priestoru na chyby. Výsledkom je, že bezchybná kvalita značky Ermanno Scervino, ktorá bola vždy jeho hlavnou prioritou, spĺňa tie najvyššie štandardy kvality dizajnu.
Značka Ermanno Scervino sa umiestňuje na popredných priečkach trhu v oblasti luxusných konfekčných produktov.
obrázky: © Ermanno Scervino
Sledujte Facebook stránku: Mya Mirell Fashionista a Instagram: mya_mirell .