Fashion LIVE – módne podujatie, 17. – 19. október 2018, Bratislava, Slovensko
DRUHÝ DEŇ FASHION LIVE
Druhý deň prehliadkového maratónu sa predstavili mladí talentovaní študenti Ateliéru odevného a textilného dizajnu z Ústí nad Labem, české dizajnérky Kateřina Geislerová a Tereza Vu. Z pánskej módy bola zastúpená značka Blažek. Najviac očakávaným menom bol Boris Hanečka, ktorý najskôr predstavil kolekciu v spolupráci s Danou Vodou a na záver večera vystúpil sám so svojou novou kolekciou a šialenou módnou teatrálnou show.
ATELIÉR ODEVNÉHO A TEXTILNÉHO DIZAJNU Z ÚSTÍ NAD LABEM
Vo svojej kolekcii reaguje na spoločenské dianie. Zaujímavo sa trafil do trendov, ktoré vyvstali z Milan fashion Weeku zo septembra 2018, kedy značky ako Fendi, Prada, Max Mara, Armani, Alberta Ferretti, Filla a iné predstavili v rôznych prevedeniach v kolekciách bezpečnostné pásy, ktoré sa stali trendy opaskami, cargo nohavice, bundy, mikiny, dlhé vetrovky z nylonu, šuštáku nastavili parašutistický trendy štýl. Prvý a posledný obrázok mi týmto štýlom pripomína značky Fila a Fendi.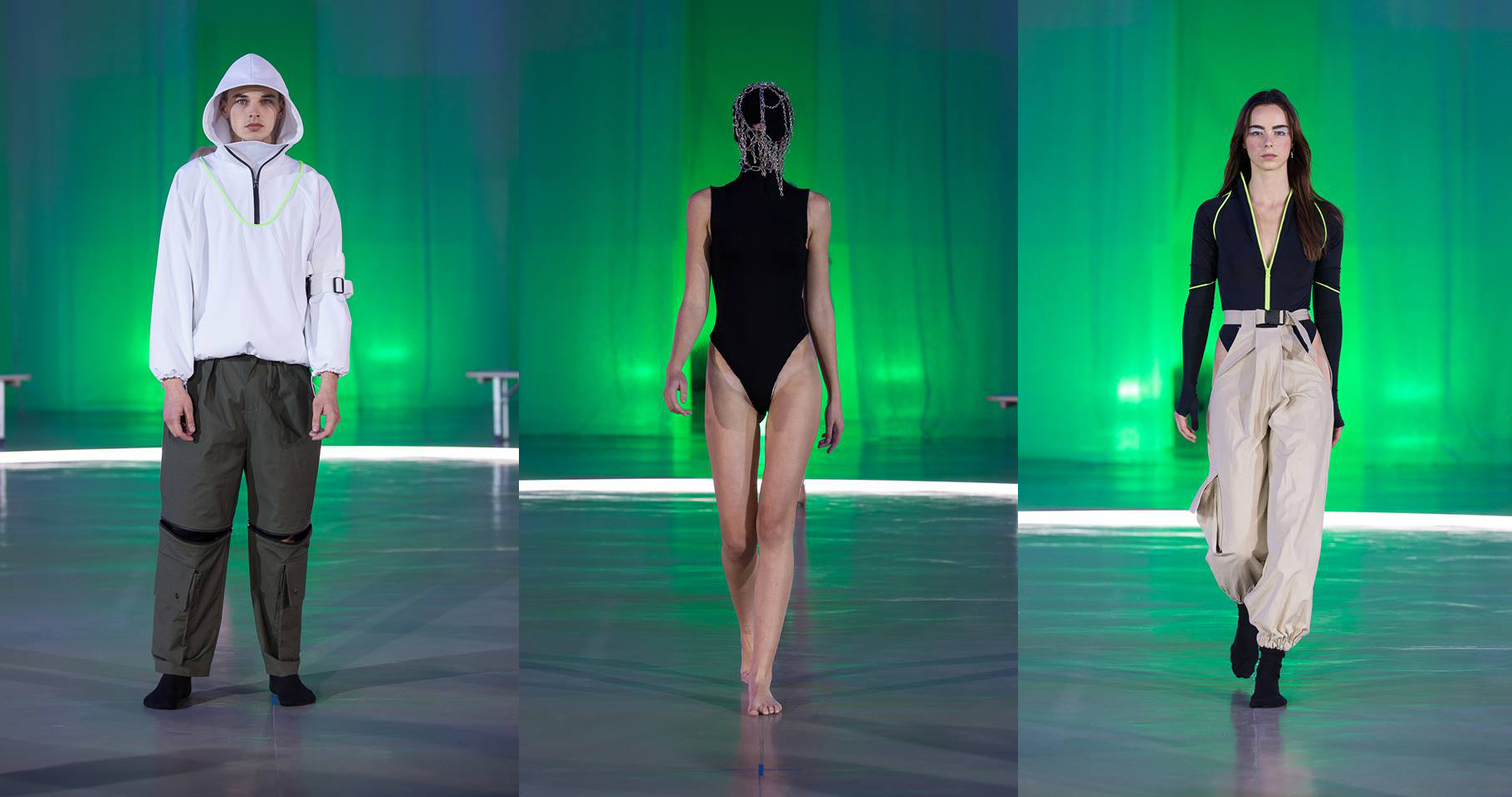 KATEŘINA GEISLEROVÁ
Česká dizajnérka, ktorá pôsobí v Prahe sa predstavila s kolekciou, ktorá oslavovala 15 výročie jej tvorby. Uviedla teda najcharakteristickejšie kúsky, ktoré odzrkadľovali jej doterajšiu tvorbu a smerovanie. Zvolila ženské strihy, mali sme možnosť zhliadnuť kostýmy, pri ktorých sa pohrávala s rozhraním medzi mužským a ženským štýlom.
Očami uchopiteľné kvalitné precízne krajčírstvo a zaujímavé strihy boli známkou kvality jej novej kolekcie. Z materiálov uplatnila vlnené kostýmové materiály.
V tvorbe vyznáva tradičné krajčírstvo. Jej kolekcia bola veľmi zaujímavá na strihy aj farby. Mne sa páčilo hneď niekoľko modelov, ktoré boli na rozhraní mužsko-ženských strihov, zvýšených pásov a s nádychom ženského glamour a práve to ma vrátilo do minulosti.
Miestami mi napadlo porovnanie pri zhliadnutí modelov nohavíc so sukňovým pásom taká paralela v mysli na novinku od kráľa módy Giorgio Armani z roku 2015, kedy uzavrel týždeň módy v Miláne hybridným typom sukňových nohavíc. Spredu vyzerala sukňa podobne ako separátna časť na nohaviciach v kolekcii u Kateřiny, ale vzadu bola šikovným strihom spojená s nohavicami. Prikladám fotografiu z kolekcie jeseň/zima 2015 Giorgio Armani len na oživenie, na margo ako zaujímavý fakt.
TEREZA VU
Premiéru na slovenskom módnom podujatí Fashion LIVE mala aj česká návrhárka Tereza Vu. Video z módnej prehliadky si môžete pozrieť na facebook stránke blogu s názvom Mya Mirell Fashionista v kategórii Videá. Dizajnérka predstavila kolekciu rafinovaného spodného prádla so šatami zasadenú do éry 17.-18. storočia z Francúzska, kedy vládol Ľudovít XIV. Luxusné hodvábne materiály, satén, žoržet, brokát a šifón s krajkou skombinovala tak, aby vyzdvihla predovšetkým ženskosť v každom modeli. V úvode predstavila kolekciu spodného prádla, ktoré nieslo znaky historického Francúzska,
v závere pridala nádherné ženské šaty z hodvábnej organzy. Farby prevládali živé a jasné, najmä zlatá, ktoré reprezentovali vtedajšiu dobu moc, slávu a postavenie panovníkov.
BORIS HANEČKA A DANA VODA
Očakávaným vrcholom večera bolo spoločné vystúpenie už zohraných dizajnérov a tiež následne očakávaná kolekcia Borisa Hanečku. Zaujímavé dizajnérske duo Boris Hanečka a Dana voda reprezentujúce prepojenie generácií, sa na tomto podujatí spoločne predstavilo už po tretíkrát. Video z módnej prehliadky si môžete pozrieť na facebook stránke blogu s názvom Mya Mirell Fashionista v kategórii Videá s názvom Boris Hanečka a Dana Voda.
Je viditeľné, že spoločne to dizajnérom v skutku ide. V ich tvorbe badať súznenie a harmóniu. Kolekcia s názvom Insomnia vychádzala z pocitov, túžieb a cítenia odzkradľujúc kontrast svetla a tmy. Na modeloch bolo cítiť zosobnené snenie, jemnosť a ženskosť prevedená v šatách z vrstveného tylu, pleteninách a tógach prepásanými remeňmi. Štýl, ktorý je im vlastný a vzájomná súhra, ktorá viditeľne ladí. Vydarená spolupráca, ktorej treba zatlieskať. Modelky mali výborne zvolený styling a kolekcia zožala úspech.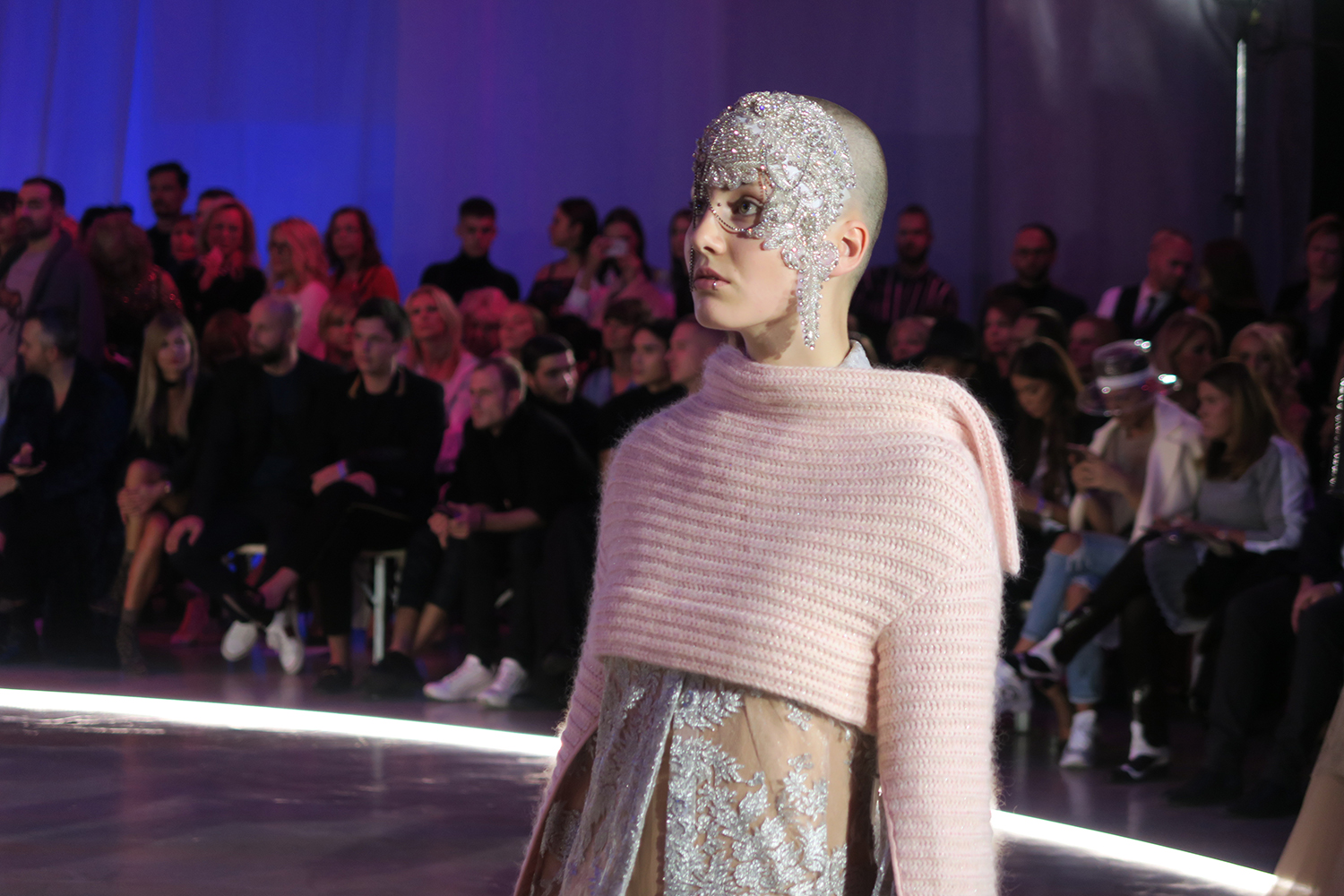 Vďaka výbornému osvetleniu na tomto módnom podujatí, z ktorého som bola nadšená, sa mi podarilo zachytiť takýto záber z uchvacujúcej módnej prehliadky Borisa Hanečku a Dany Vody. Modelky boli prekrásne nastylované, šperková maska a zdobenie na hlavách krásne korešpondovala so šatami a jemnosťou a nežnou farebnosťou pleteniny. Zo zadu je model tiež nádherný – viac fotografií si môžete pozrieť v albume Fashion LIVE – september 2018 na facebook stránke Mya Mirell Fashionista.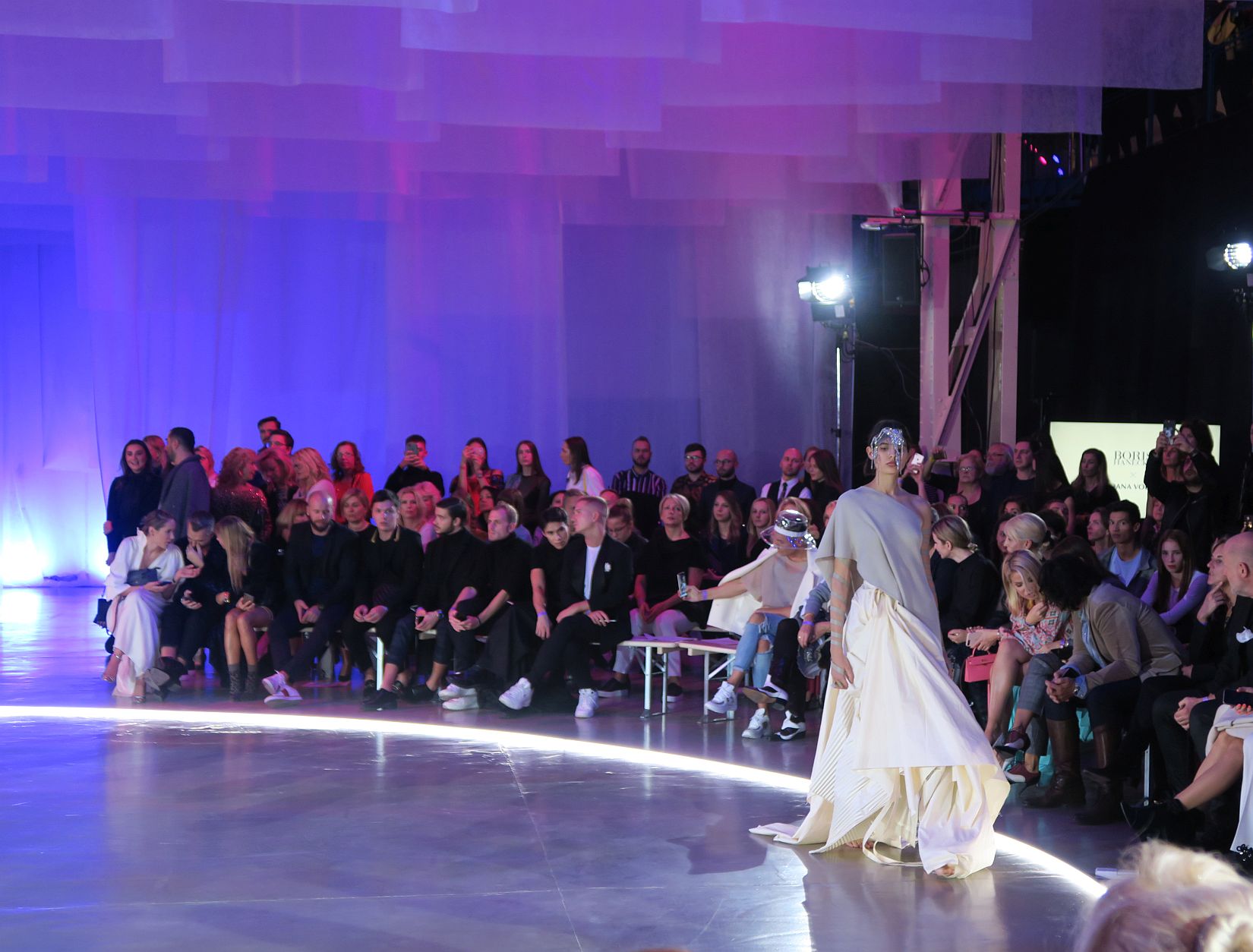 Ostatné fotografie a video z prehliadky si môžete pozrieť na facebook stránke blogu s názvom Mya Mirell Fashionista.
BORIS HANEČKA
A teraz už samotný vrchol večera Boris Hanečka, očakávaný, obľúbený s davom fanúšikov a obdivovateľov a tentokrát i kontroverzný. O Borisovej novej kolekcii, ktorej sa osobitne venujem sa dočítate v nasledujúcom článku s názvom Fashion LIVE – Deň II, Boris Hanečka, 18. október 2018.