Lesk a sláva šialenosti, glória glória – psychedelická módna show, Fashion LIVE, Boris Hanečka, 18. október 2018, Bratislava, Slovensko
DRUHÝ DEŇ FASHION LIVE – BORIS HANEČKA
Slovenský módny návrhár Boris Hanečka je presláveným dizajnérom s množstvom obdivovateľov a fanúšikov aj z radov slovenských celebrít, ktorí si nenechali ujsť jeho samostatnú prehliadku 18. októbra 2018 a Starú Tržnicu úplne zaplnili. Počas druhého prehliadkového večera Boris divákom naservíroval skutočnú módnu show v pravom slova zmysle, podobnú aká sa vída na svetových týždňoch módy. Zvolil si zaujímavý názov kolekcie Au podľa chemického prvku a netradičné expresívne prevedenie s teatrálnym predstavením, ktoré prítomných divákov doslova ochromilo. Na naše pomery dosť nevídaný vizuálny módny zážitok a tak sa nečudujem, že prehliadka zožala obrovský aplauz. Po jej zhliadnutí som tiež s nadšením uvítala fakt, že na našu scénu prišlo konečne niečo, čo už bolo viac než nutné a tak šokujúco odlišné.
Či už ale konkrétna forma prevedenia, timing/načasovenie a samotná kolekcia neniesla miestami znaky neoriginality, je na zváženie. Pripomínať nám to môže rôzne. Ostatne, všetko už bolo vymyslené, ako sa hovorí, je len na návrhárovi, ako svoju predstavu podá a odprezentuje. Studnica možností a kombinácií prevedenia je bohatá. Konečne však nabiehame na teatrálnu približovaciu vlnu svetových módnych týždňov. To je asi fakt, ktorý mi pri tejto show prebehol mysľou, okrem toho hraničného pocitu kritického balansu a jeho dozvukov. Kritické módne hlasy zo susedného Česka však pomerne rýchlo a ostro vyjadrili negatívne hodnotenie a nezdieľali nadšenie, ktorým burácalo prítomné publikum z Hanečkovej kolekcie, ani zo štýlu prevedenia. Ozvala sa ostrá kritika, že kolekcia hraničí s gýčom, no podobné zlaté okázalé trendy vyvstali aj od svetových módnych návrhárov. Ostatne aj pre túto sezónu badať rôzne podobné výstrelky.
Myslím si však a opätovne vyjadrujem názor, že v našich podmienkach bola takáto forma módnej show už doslova žiadúca a je na samotnom dizajnérovi, ako sa so vzniknutou posttraumatickou situáciou, ktorú evidentne spôsobil v mysliach odbornej aj laickej verejnosti a prítomných divákov, teraz popasuje. Boris Hanečka je však bravúrny módny návrhár, ktorý zaiste zvládne aj tento risk, kedy sa pustil odvážne na ostrie hrany expresivitou teatrálnej módnej show, divokými materiálmi a farbami a celkovo odklonom od svojho štýlu. Poďme však ku kolekcii.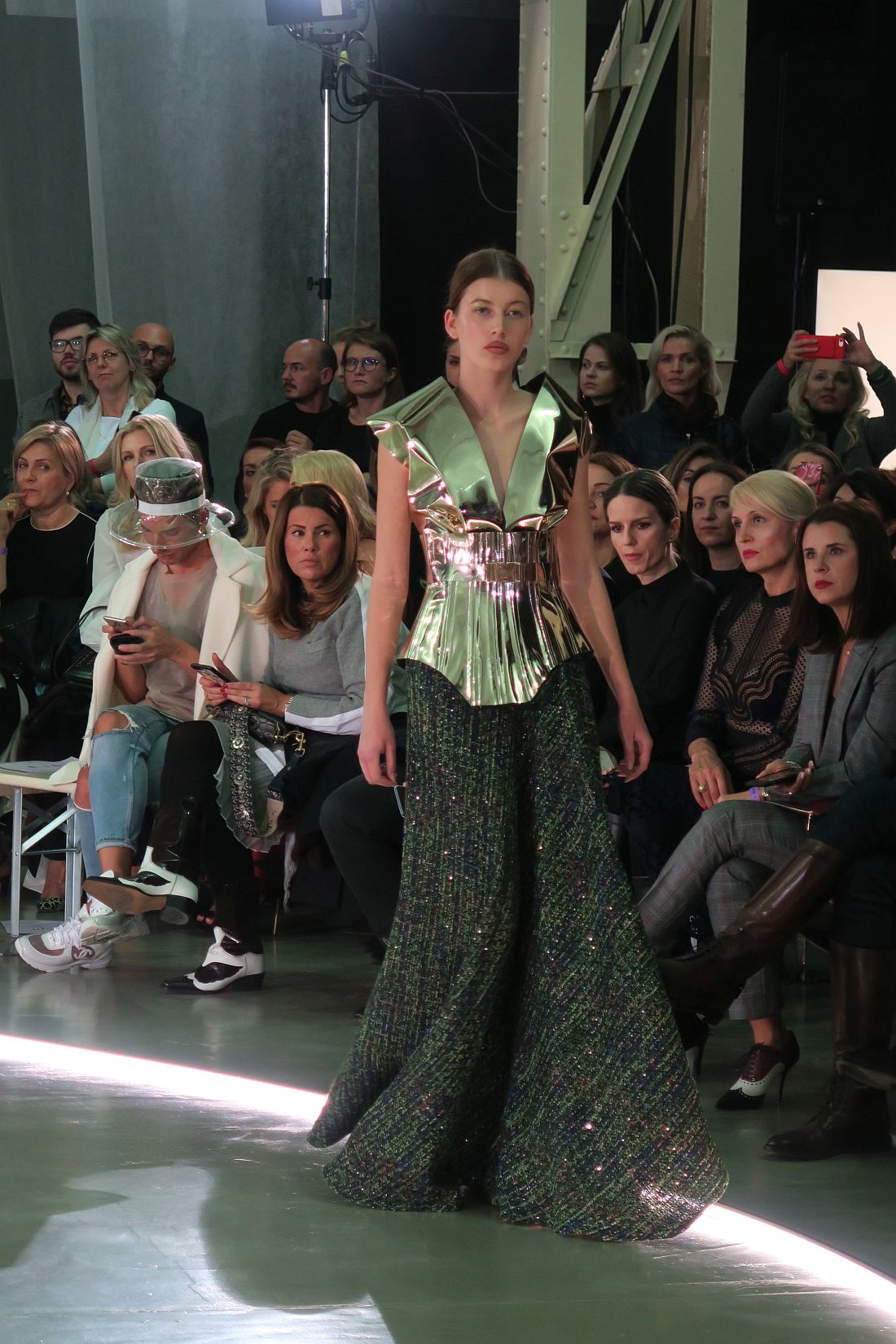 Čo bolo inšpiráciou, bude asi nečakané po uvedených súvzťažnostiach, ale návrhár sa vyjadril, že to bola antická mytológia a kráľ Mydas a staré zlaté časy pretransfomované do zlatých materiálov. Videli sme zlatú strednú cestu, zlatý rez, dokonca aj zlatokopku. Zlato – Au, pojem, ktorý bol reflektovaný v kolekcii a prehadzovaný z každého uhlu pohľadu. Hneď v úvode prehliadky bolo badať strihy a priblíženie sa tejto idei. Svoju mytologickú zlatú víziu osadil do prostredia psychiatrickej liečebne, akoby oddychu pre ľudí utrápených dobou, rýchlymi prchavými cieľmi, neuspokojivými métami, ktoré dosiahli, no šťastie nikde, snažia sa s urputným pachtením dosiahnuť, baženie sa za zbytočnosťami a možno reflexia na márnotratnosť doby. Prchavé neisté idei, ktoré nenapĺňajú vraj mnohé ženy, odhalená ženská duša, ako som pochopila, ktorých je vraj okolo Borisa navôkoľ dosť. Taká paralela, pripodobnenie realite dneška, odkaz frustrovaným ženám, ktoré sú po výslednej ceste ku svojim túžbam a snom nenaplnené, prešli istú cestu a márne, ale pre ktoré existuje aj isté vykúpenie a oddych v pokoji psychiatrickej liečebne, čo mi príde celkom zábavné a myšlienkovo zakotvené v reálnom fungovaní moderného sveta. Boris Hanečka si je aj vedomý, že touto svojou doslova psychedelickou zvláštnou show si zabalansuje na ostrí hrany a nepochopenia.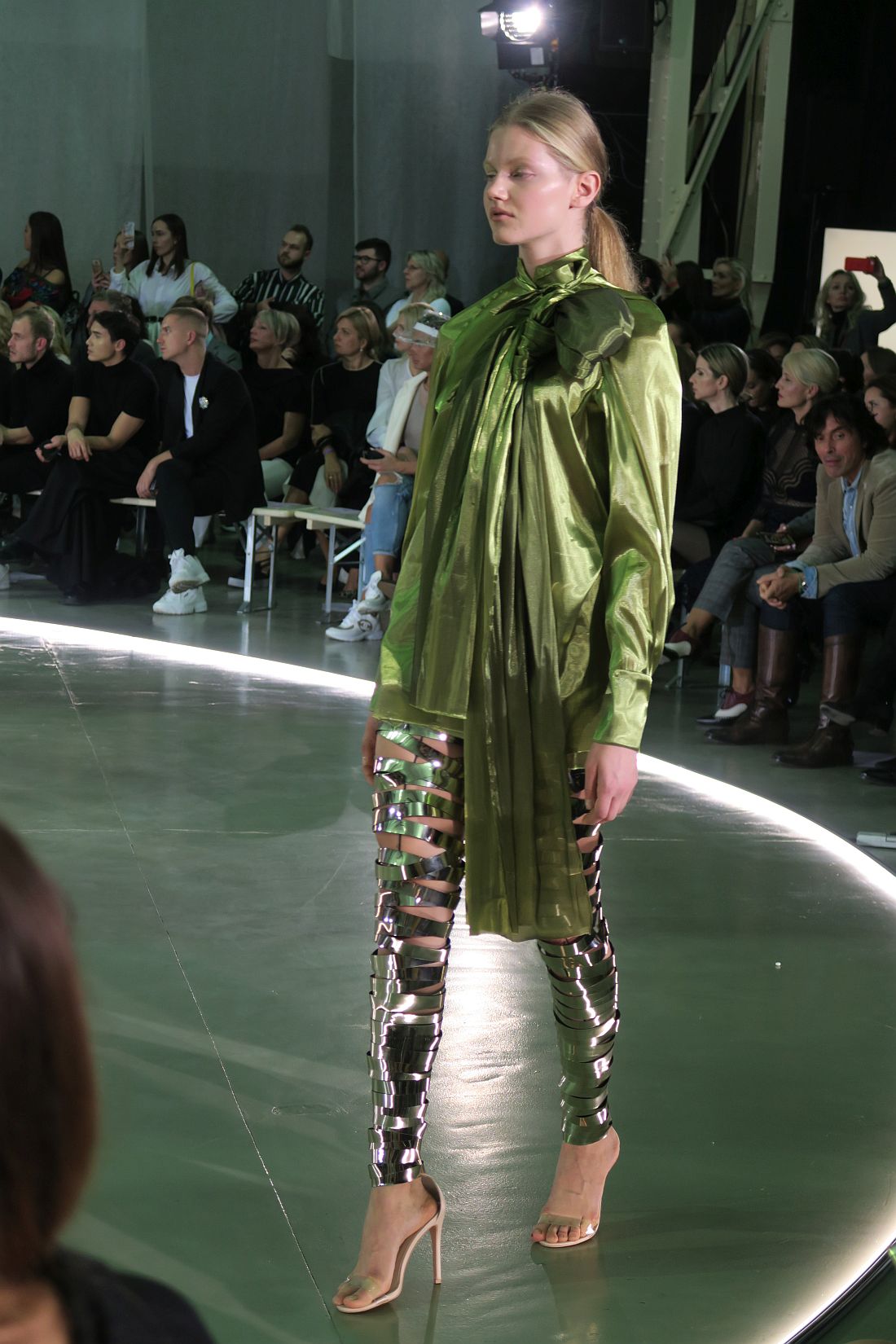 Módny návrhár Boris Hanečka zvládol vytvoriť úžasné nápadité kreácie s komplikovanými strihmi z ešte komplikovanejších materiálov, čo je majstrovsky obdivuhodné, ktoré mali za cieľ šokovať, zaujať a byť zasadené do celkového myšlienkové konceptu psychedelickej show plnej tranzu a poblúznenia, opojenia z medikamentov. A toto sa podarilo bravúrne. Lesk a sláva šialenosti, oslava gýču a povrchnosti doby !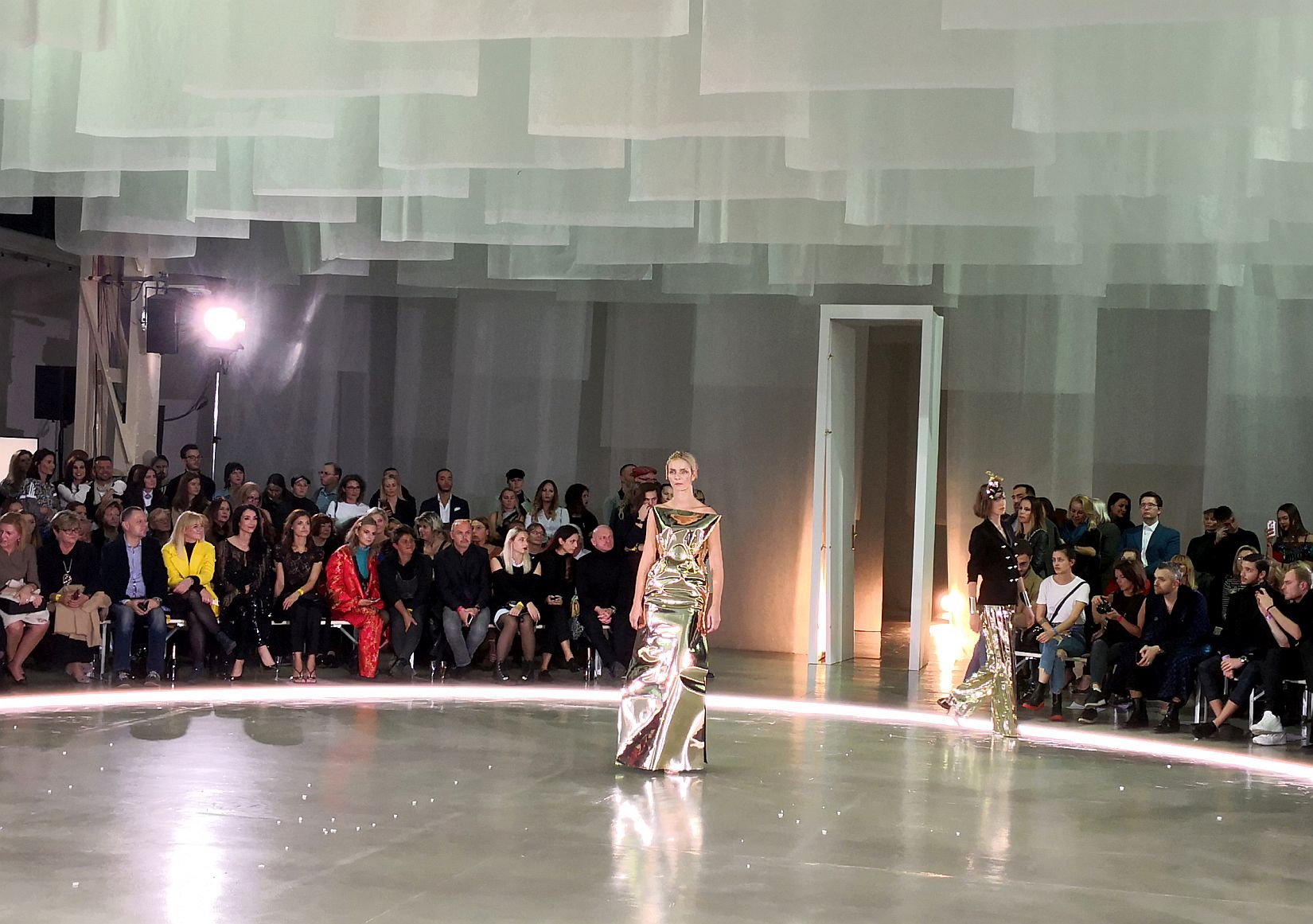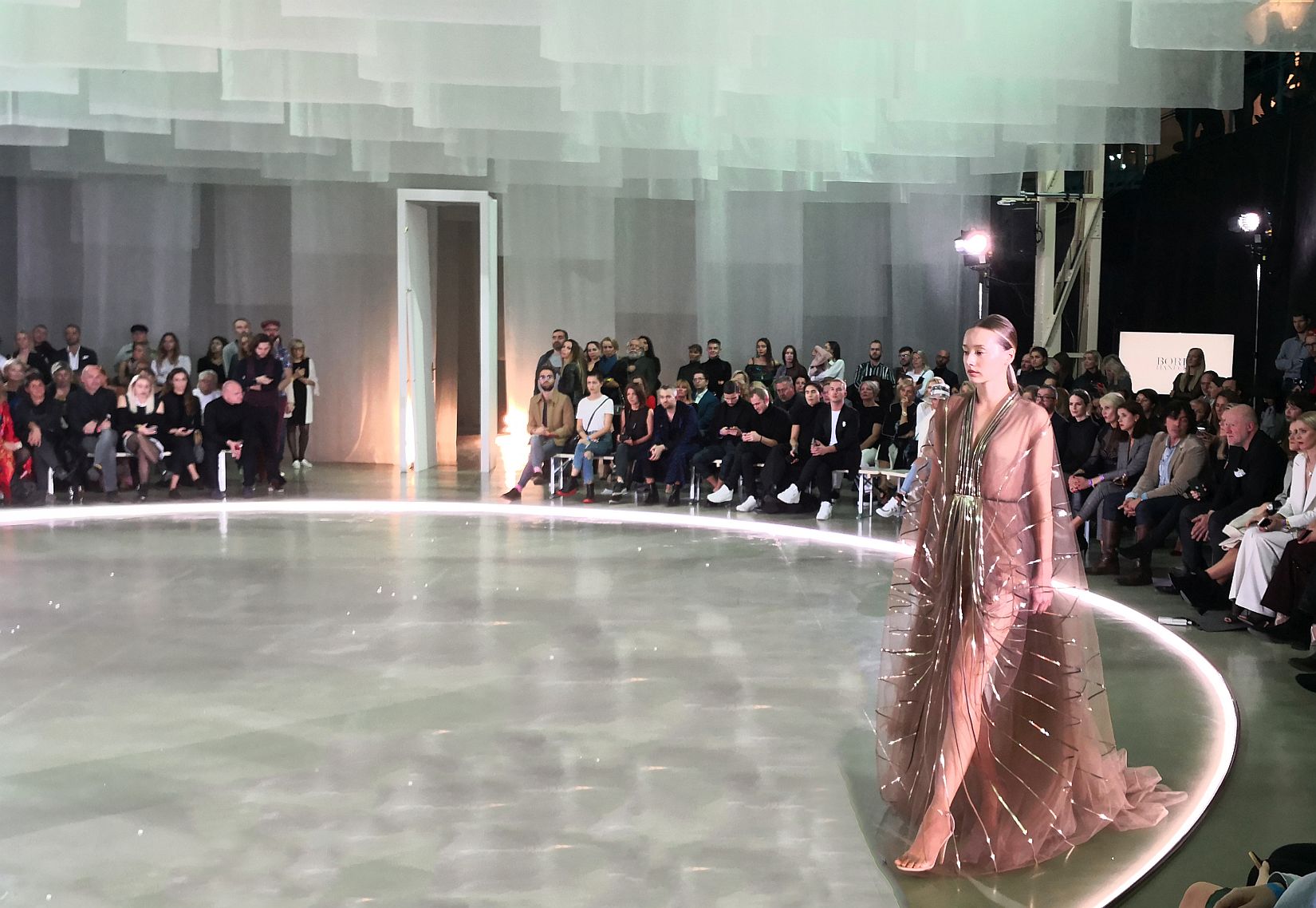 Prehliadku osadil tematicky do prostredia psychiatrickej liečebne. Teatrálnu módnu show podčiarkol choreografiou, kedy modelky kráčali v modeloch spomalene za zvuku desivej hudby v doprovode zriadencov chápajúc z psychiatrickej liečebne, odetých v bielych modeloch.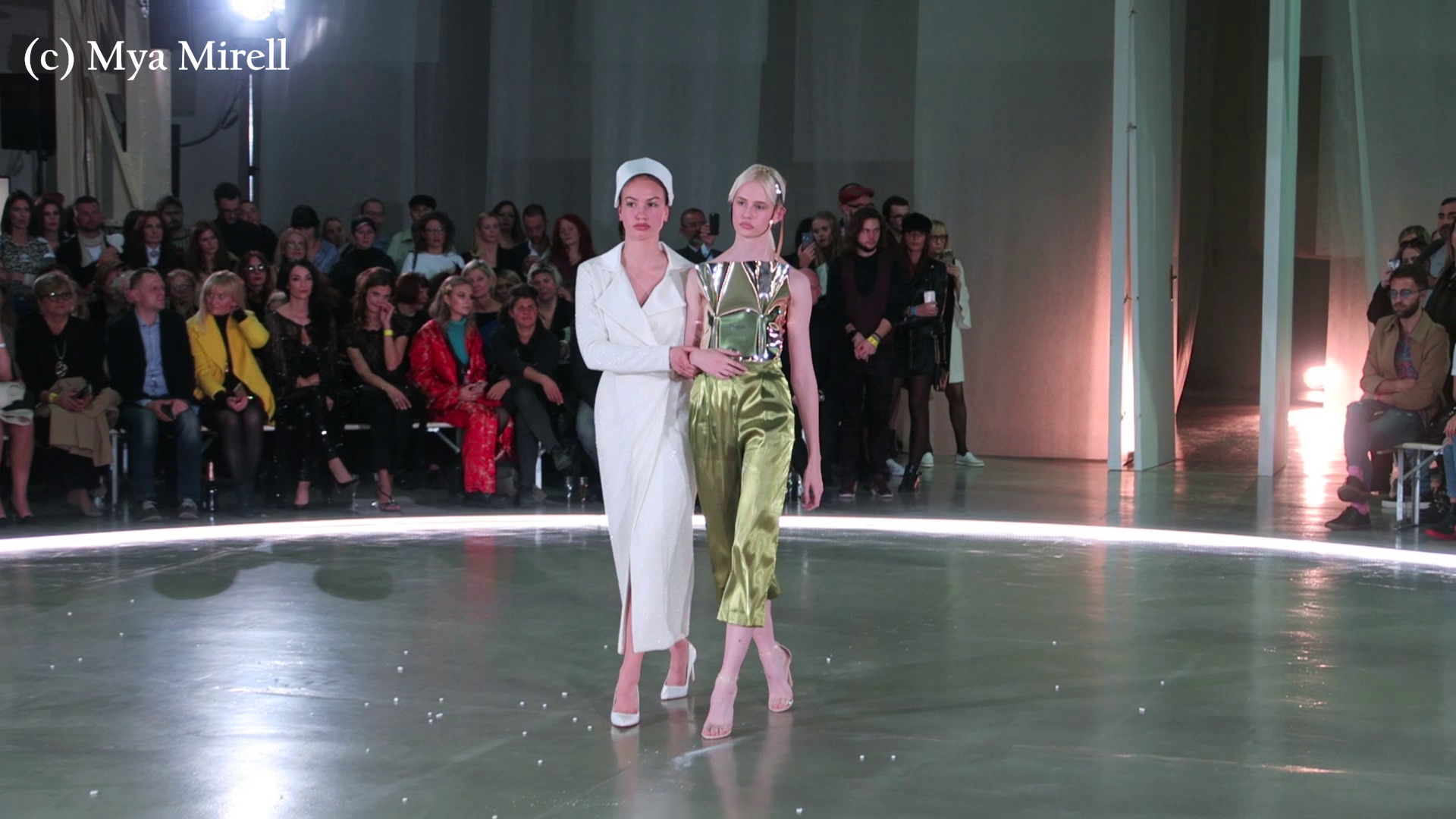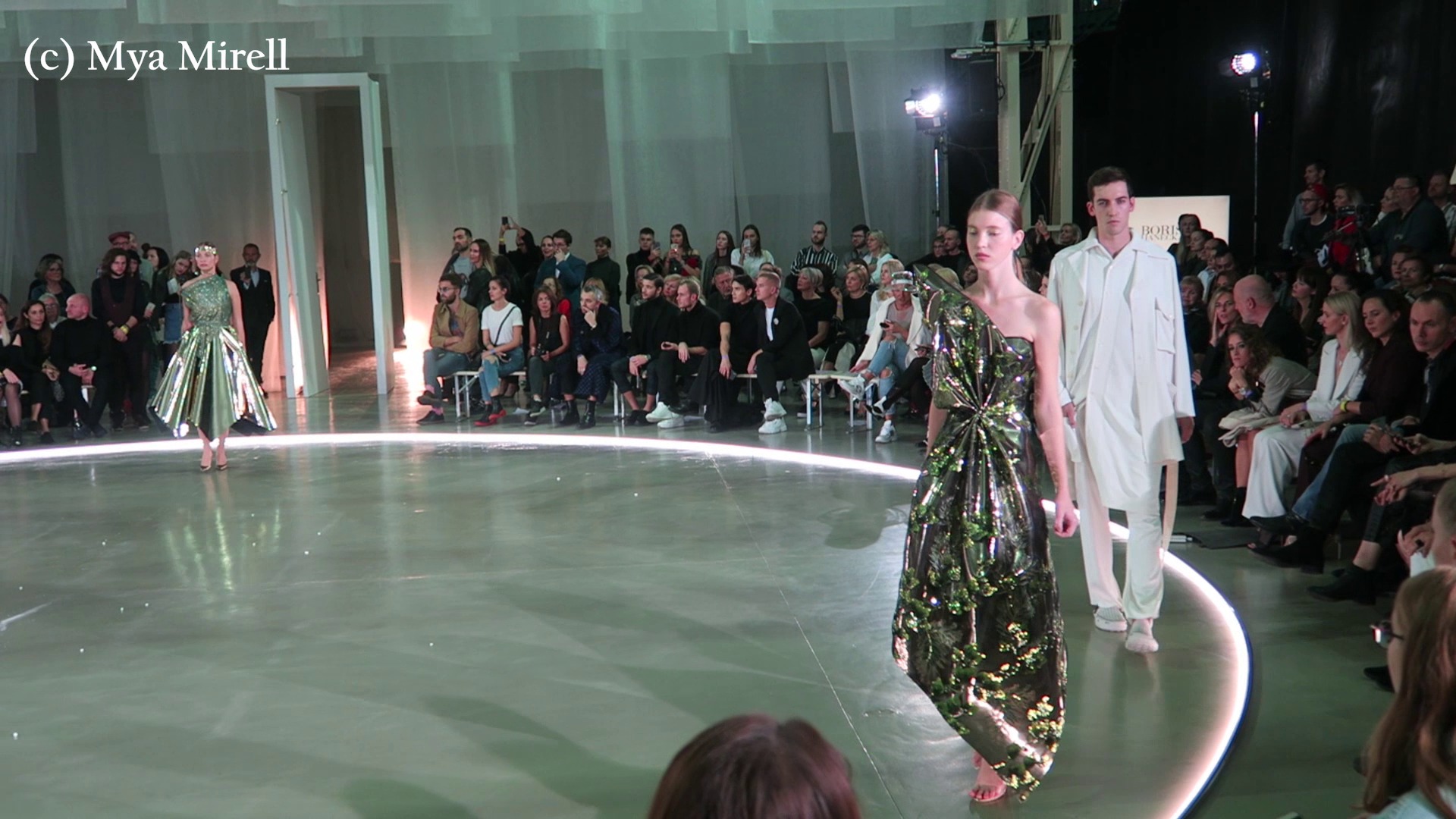 Glória, glória ! Lesk a sláva šialenosti. Reflexia na súčasnú rýchlu dobu prchavých cieľov, povrchných chvíľkových uspokojení, hľadanie šťastia a pokoja. Ukotvenie v pokoji, nájdenie samého seba, vykúpenie.
Kolekcia pridala ešte na opare šialenosti materiálmi – fólie, flitre, plast, akoby lesklý zlatý kov sa na modelkách ani nepohli a tie sa v tom zvláštne pohybovali a jagali sa v lesku tejto bizarnosti. Dokonalé zvládnuté divadlo bláznovstva.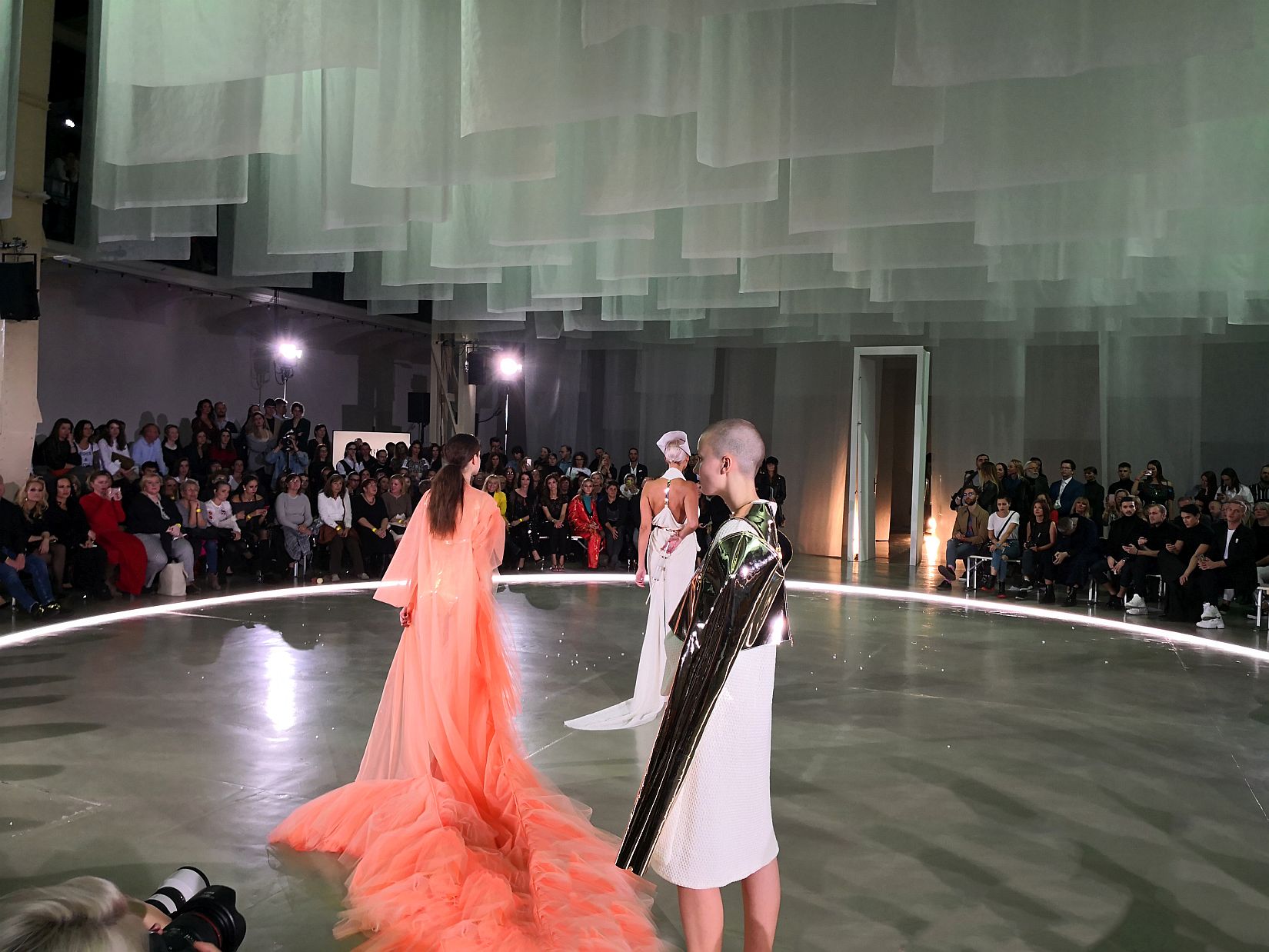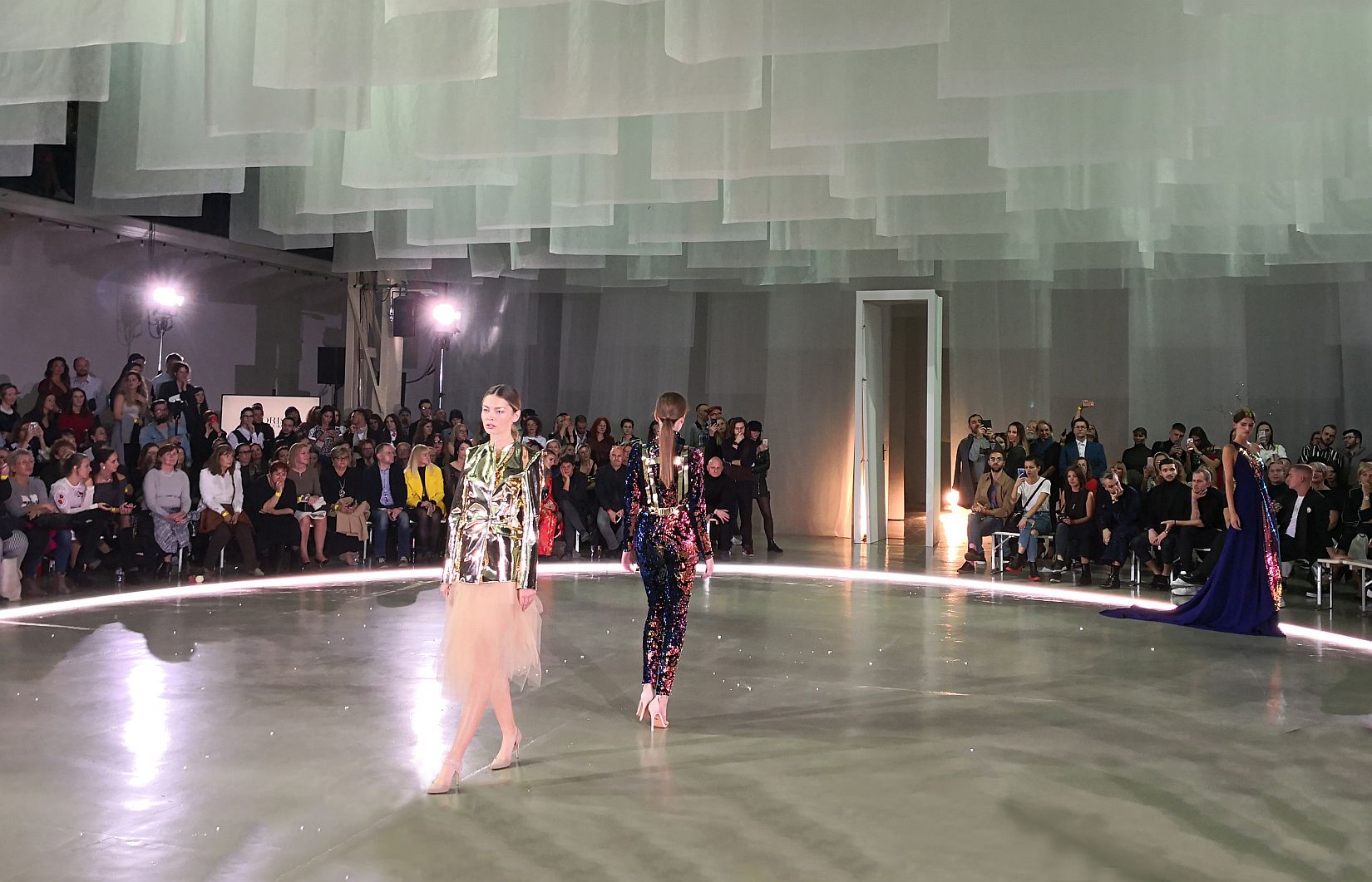 Hrozivo pôsobila psychiatrická zriadenkyňa korpulentných kyprých tvarov, ktorá hrala svoju rolu vyšinutej zdravotnej sestry s nepríčetným a nepríjemný pohľadom tak vynikajúco, až som jej to úplne uverila. Miestami prebrala nechápajúce publikum šialeným činom, či krikom.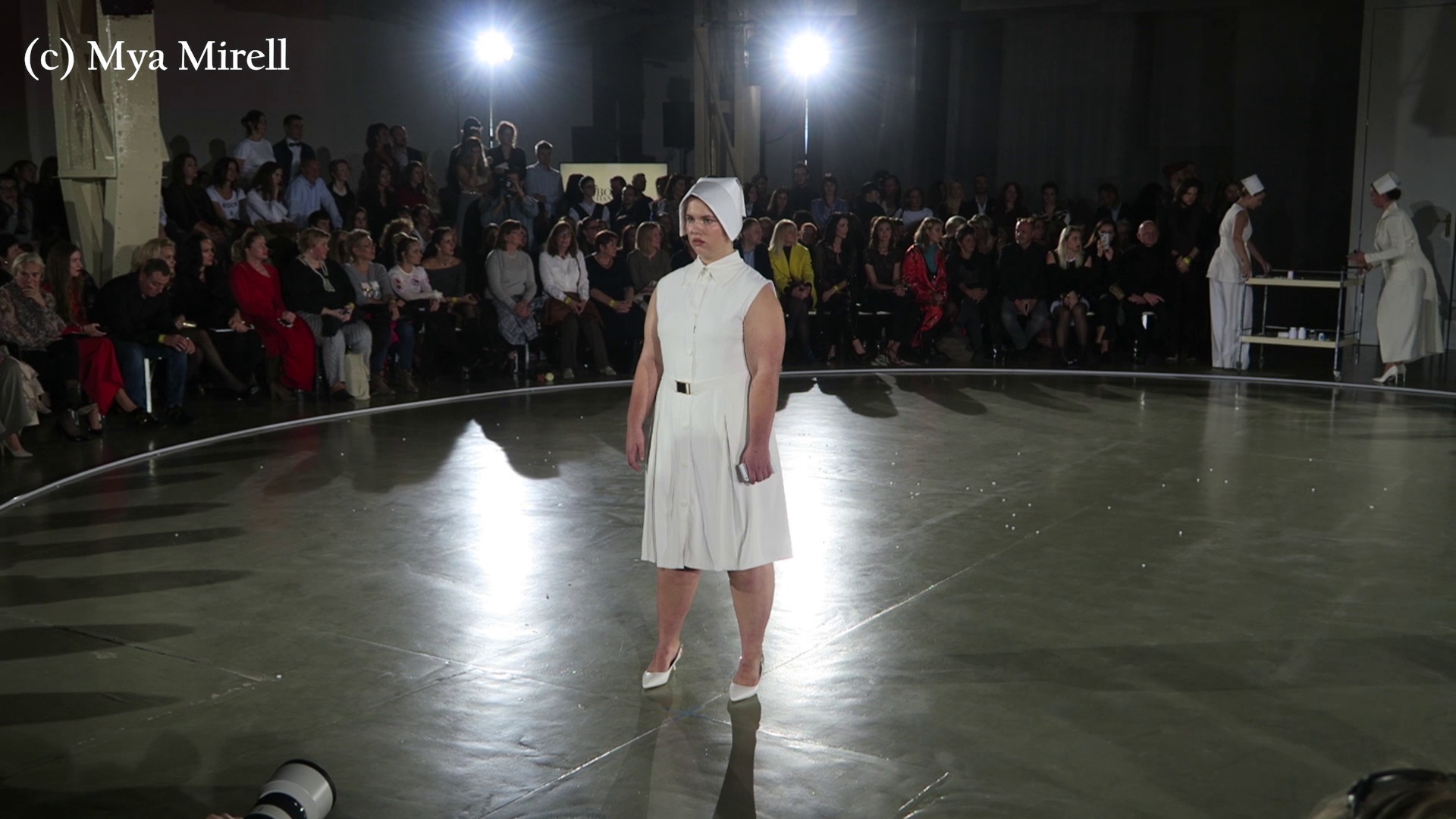 Prvotný šok sme zažili hneď v úvode show, kedy sa diváci ešte len začali pomaly orientovať v deji, kde zhodila nemocničný stolík s liekmi a silno plesla po chrbáte kolegyňu. Vyzeralo to veľmi dôveryhodne a tiež bolestne, vtedy publikum prekvapene zhíklo. Rozbité injekcie, rozsypané pilulky, sestrička ako Popoluška zbierajúca v chaose lieky, vytvárali bizarnú atmosféru v duchu Hanečkovej psychiatrie.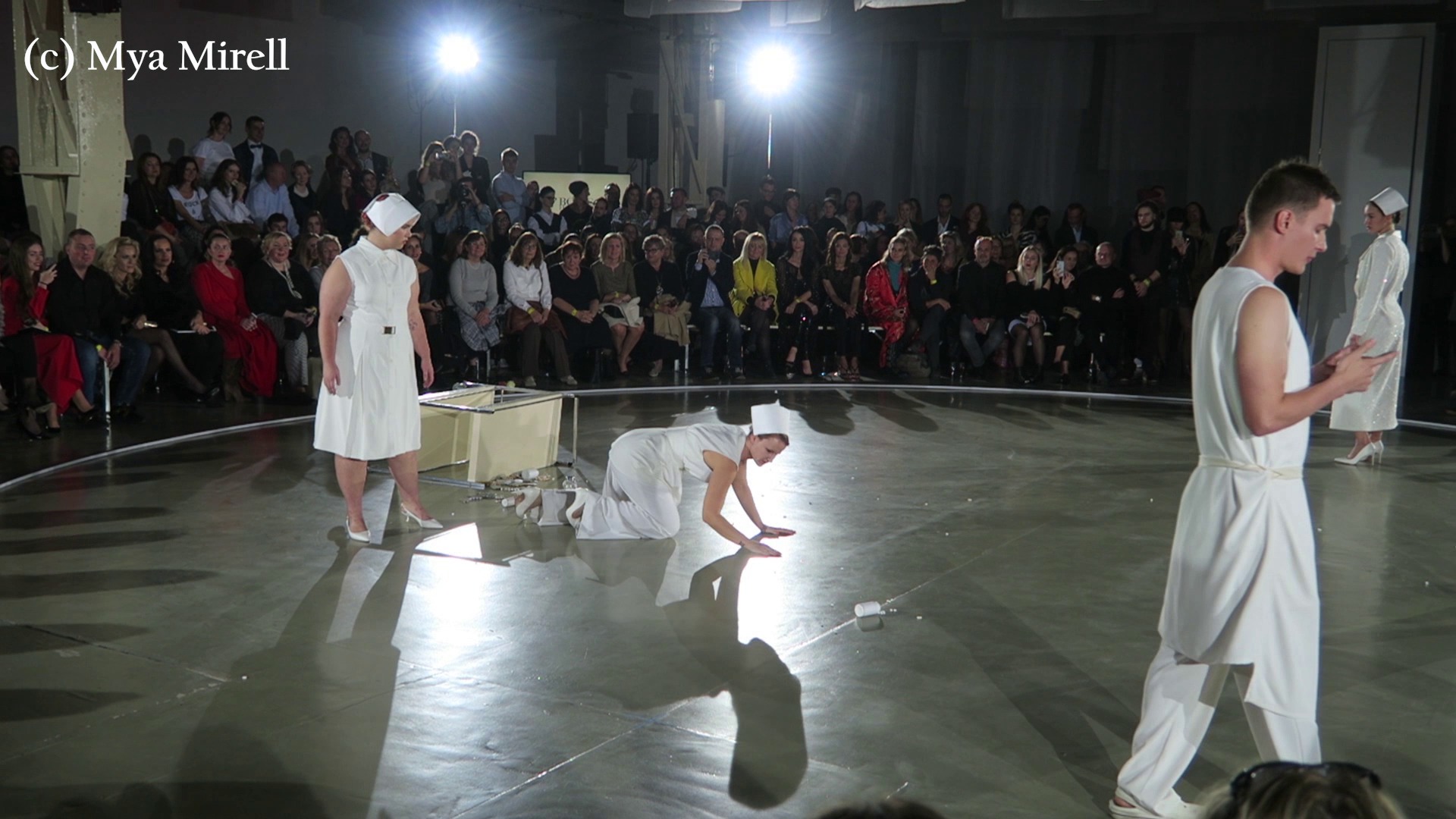 Ďalšie šokujúce a do deja zapadajúce prvky tvorili doplnkové kulisy ako zlatý invalidný vozíček na móle, na ktorom sestrička tlačila modelku ,
a záverečná klietka na hlave modelky Denisi Dvončovej, ktorá ju držala iba jednou rukou a pomáhala si pritom zubami okusujúc bydlo ako roubík. Obdivuhodný výkon modelky, musím uznať, dúfajme, že klietka nebola príliš ťažká a zuby jej ostali. Aj keď aj šaty s nadstaveným dáždničkom, aj klietku som už tiež niekde videla.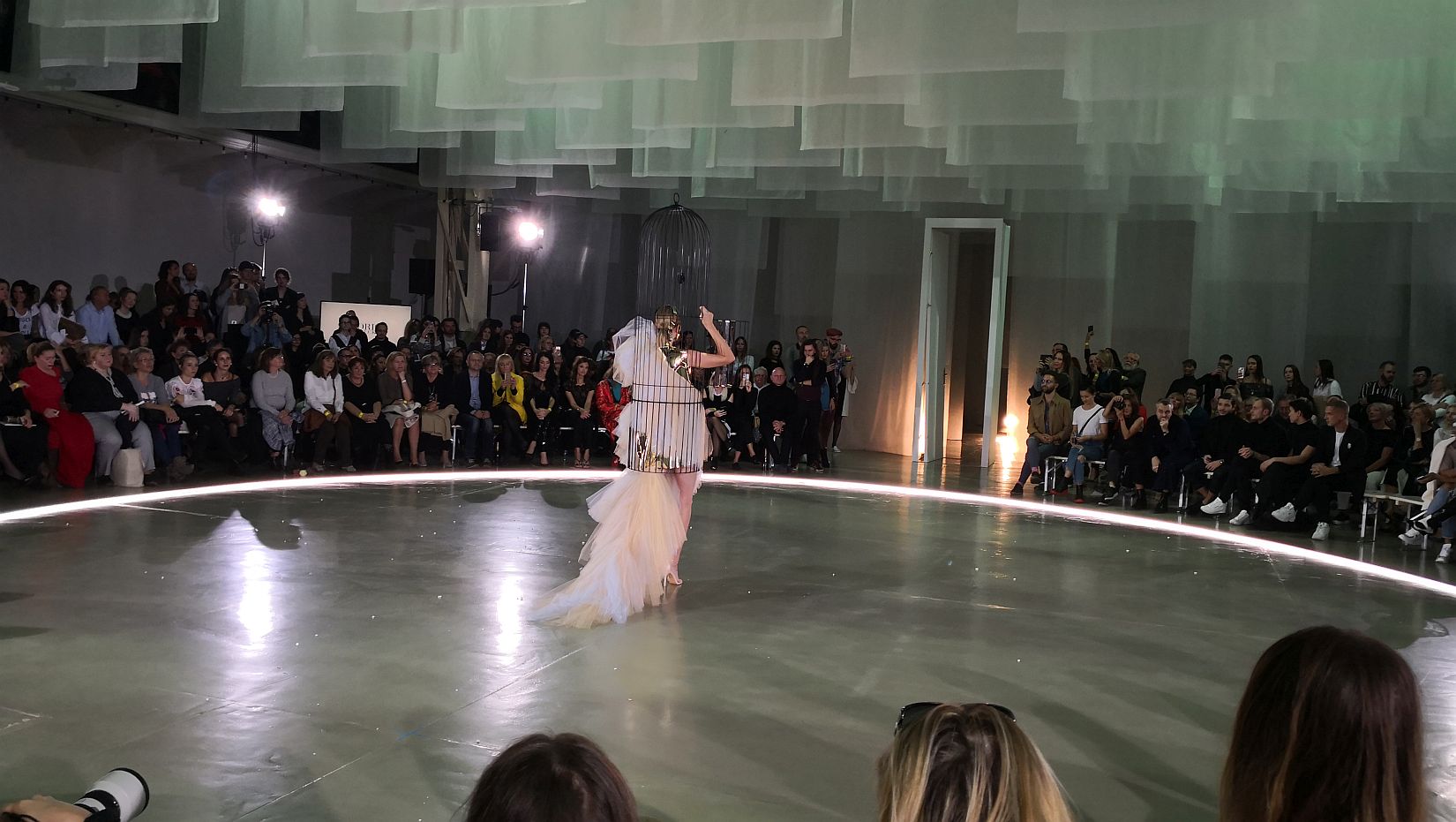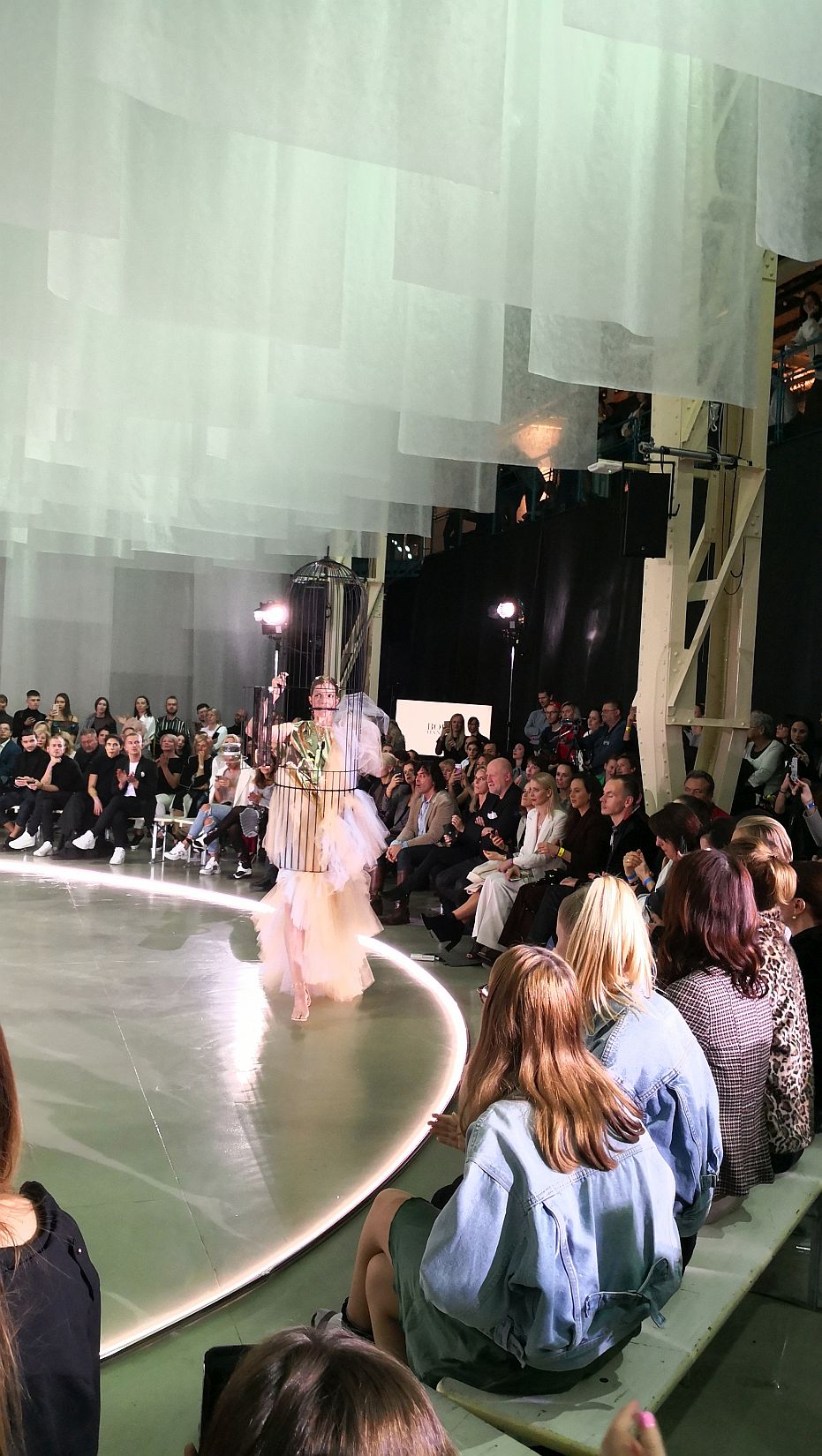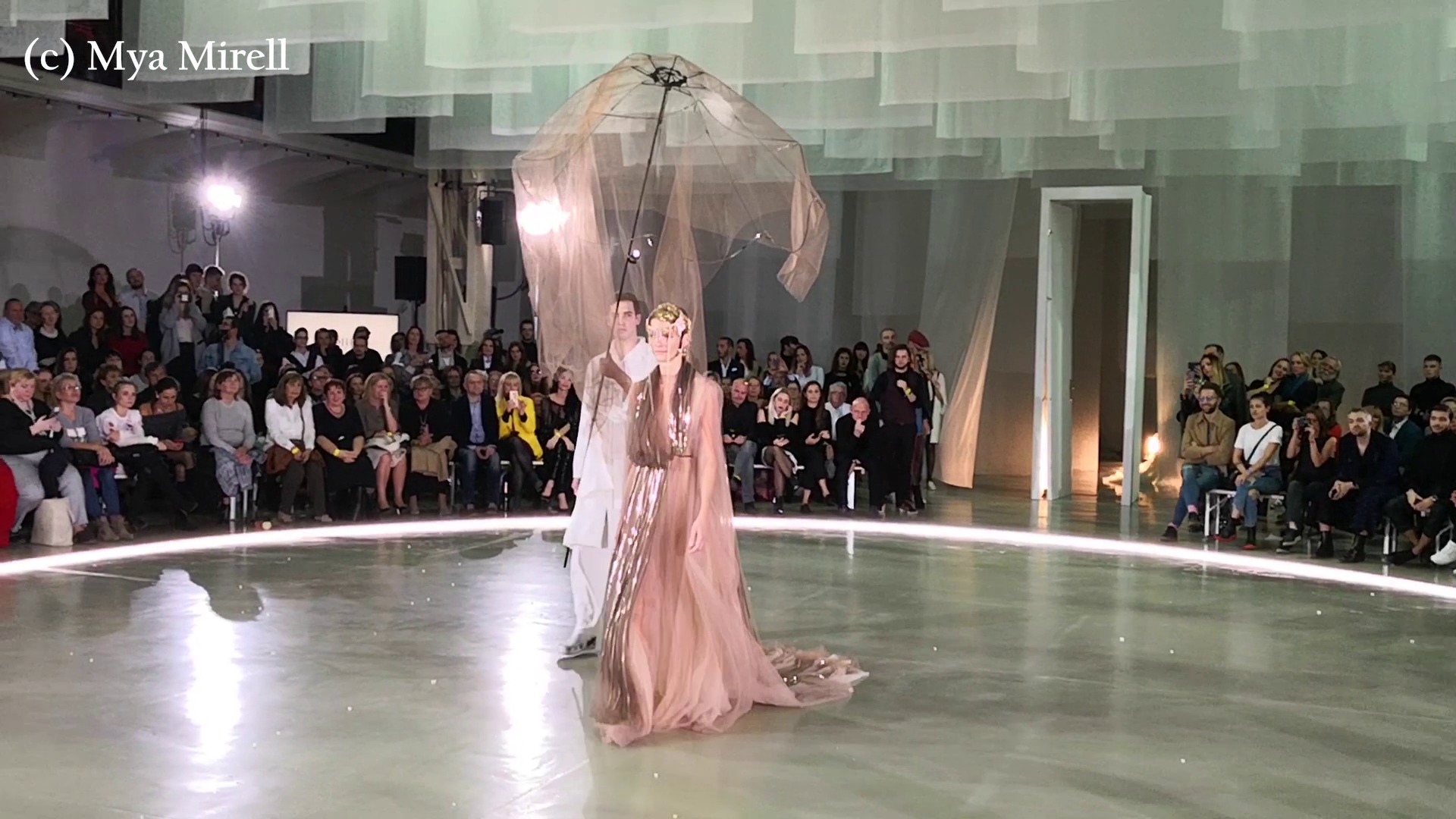 Len na septembrovom Milan fashion Weeku 09/2018, sa v závere Moschino módnej prehliadky blysli šaty, ktoré predviedla modelka Gigi Hadid, ktorej 3D vlečku podobne ako jemnučké šaty pridržiavali a niesli pomocníci. Klietky, kovové veci, svietniky, kolesá, vešiaky a iné bizarnosti sme na hlavách modeliek mohli tiež vidieť na prehliadke značky Moschino v kolekcii jeseň 2017, ktorá doslova šokovala svojou šialnosťou. A kto videl už film, ktorý príde síce v našich končinách do kín až v januári o návrhárovi Alexandrovi McQueenovi a pozná jeho kolekciu, viac asi tieto znaky oslovia znalých ako laikov, neubráni sa dojmu , že podobností by sa dalo nájsť viac. Ale tak isto nie sú ničím nové ani farebné modely z posledného dňa, ktoré majú u nás taký úspech, kde sa s farbami pohráva napríklad aj Taliansky návrhár Emilio Pucci okrem iných, či sukňu ako zvrchný diel na nohaviciach od slávneho kráľa módy Giorgio Armani. Na túto tému by sa dalo diskutovať a prirovnaní hľadať veľmi dlho.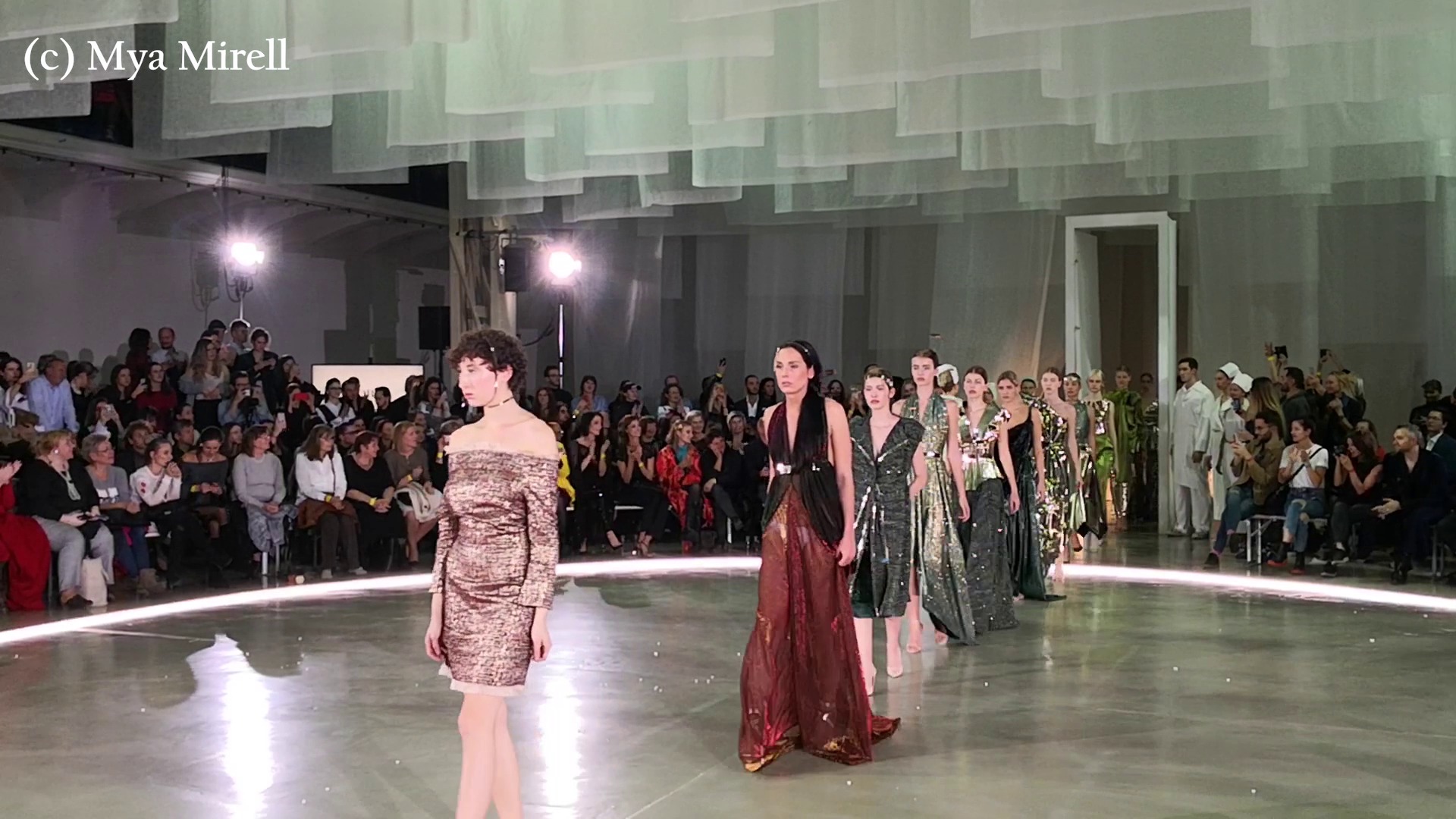 Záverom však myslím, že nebyť príliš pomalého timingu, miestami až rozvláčneho, kedy trošku diváci strácali trpezlivosť a pozornosť pokryvkávala, sa mi celá táto nápaditá show na rozdiel od českého kritického hlasu, aj keď s uvedenou paralelou, páčila. Spočiatku som mala rozporuplné pocity, ktoré niesli jediné slovo gýč, no ideové vysvetlenie návrhárovej koncepcie to ostie noža otupilo a balans sa zastabilizoval. Módna show by bola viac oživením, nebyť miestami veľmi spomaleného predvedenia, čo jej vo výsledku nepomáhalo. No na záver je každý generál. Slovenské publikum však tento návrhárov odvážny počin a vybočenie z istého štýlu počas záverečného defilé nadšene odmenilo burácajúcim aplauzom. Boris Hanečka tomu celému ešte nasadil korunu, keď sa na konci zjavil ako vyšinutý doktor, či pacient s plyšákmi v náručí, ktorému museli pomáhať a potmehútsky s úsmevom túto svoju rolu aj s ľahkosťou zahral.
Pozitívnym odkazom a zrkadlom pre nás všetkých, azda nielen ženy, je fakt, že existuje vykúpenie z tejto nekontrolovateľnej nezastaviteľnej hektiky a plytkosti doby, ktorá smeruje k šialenosti vtedy, keď prehodnotíme svoje sny a túžby a zastavíme sa premýšľaním na ceste životom za šťastím pokľudným vychutnávaním si všadeprítomného krásna. Moje myšlienky a komentár sú reakciou na pocit, ktorý vo mne prehliadka opakovaným zhliadnutím a analýzou vyvolala a rada si prečítam, vypočujem rôzne iné. A ja si už len k tejto šialenosti idem opätovne pustiť song od Lady Gaga a Eltona Johna – Artpop….Freee my mind… !
Facebook: Mya Mirell Fashionista