"Smrť obleku" – Výstava Fashioning Masculinies londýnskeho múzea V&A skúmajúca vývoj pánskeho oblečenia, 19. marec 2022 – 6. november 2022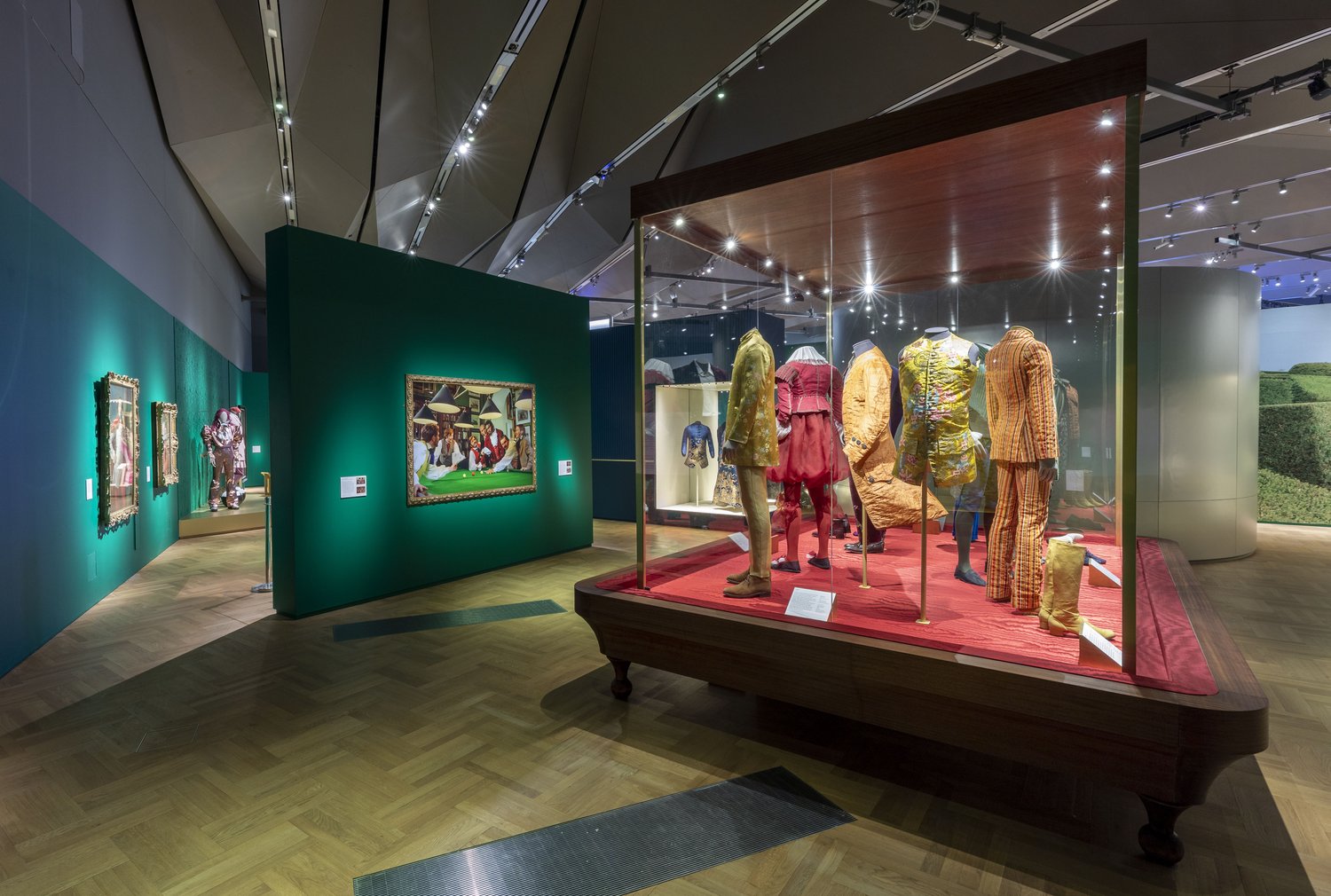 Od Harryho Stylesa v šatách po rodovo neutrálne obliekanie, výstava Fashioning Masculinities zahŕňa minulé a súčasné trendy. Nová výstava v londýnskom Victoria and Albert Museum má za cieľ prepojiť modernú pánsku módu do svojej povestnej minulosti.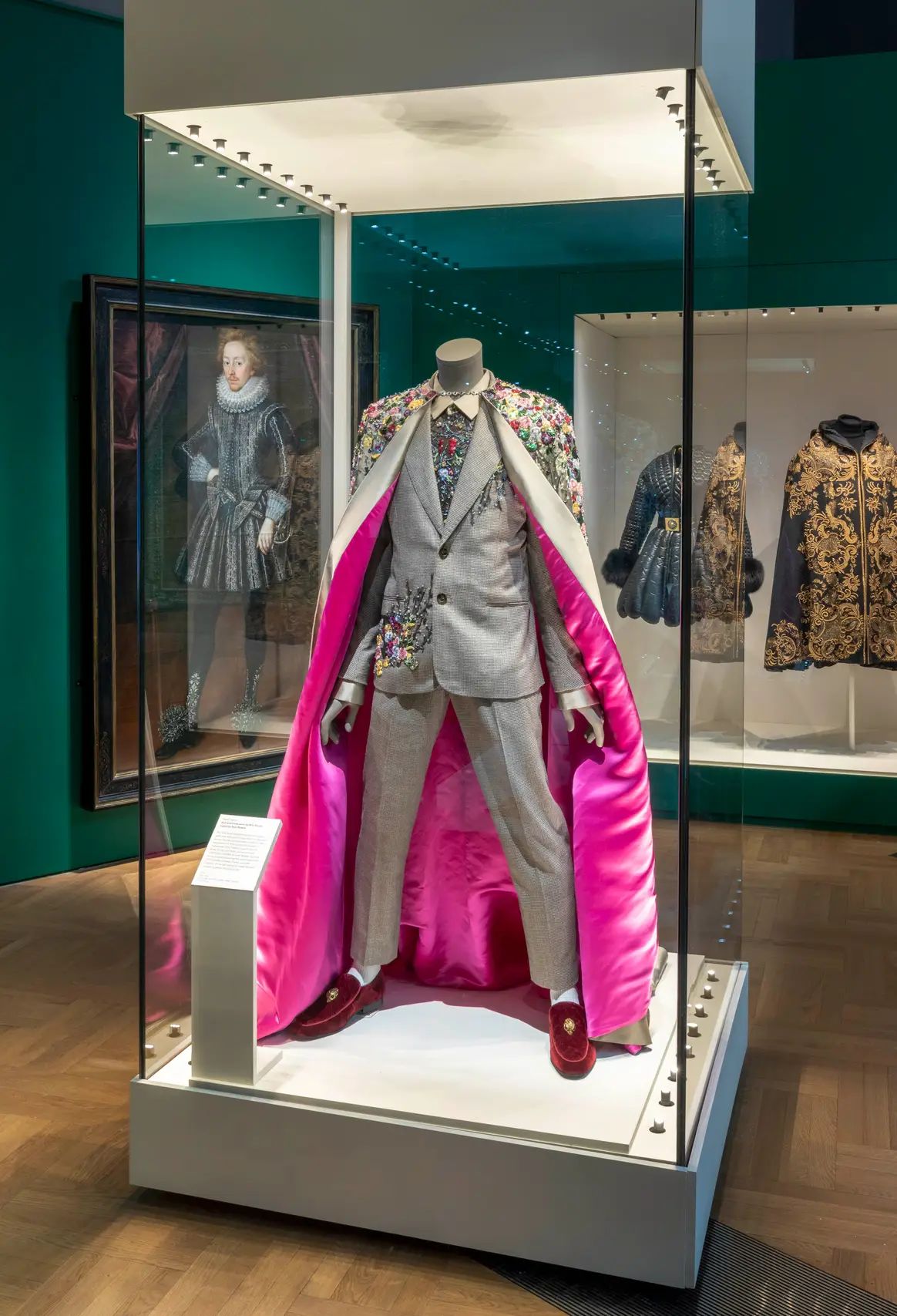 The Art of Menswear – výstava umenia pánskeho obliekania, ktorá sa otvára 19. marca 2022, predstaví množstvo súčasných módnych návrhárov (Versace, Calvin Klein, Martine Rose) spolu s historickými príkladmi spôsobu obliekania mužov (od Bowieho po Beau Brummell). Pre verejnosť je otvorená do 6. novembra 2022.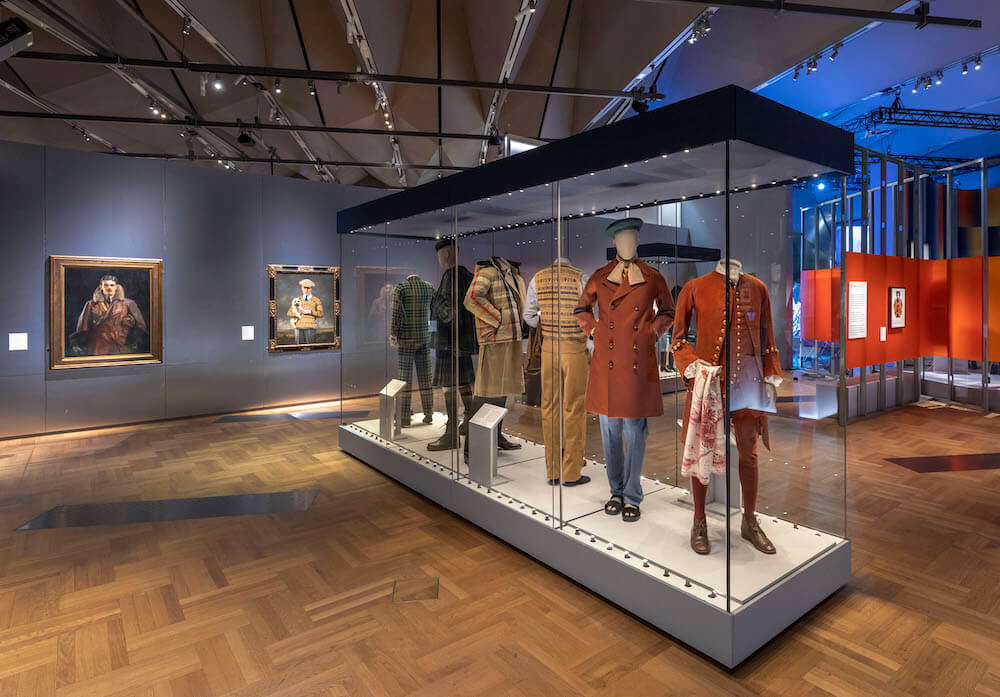 Súčasný vzhľad etablovaných dizajnérov a vychádzajúcich hviezd sa spája s historickými pokladmi zo zbierok a významných pôžičiek V&A múzea – s klasickými sochami, renesančnými maľbami, ikonickými fotografiami a silným filmom. Výstava sa posilnila práve portrétovaním. Historické portréty zmiešané s kabátcami, rukavicami a najúžasnejšími vyrezávanými kravatami Grinling Gibbons, ktoré kedysi vlastnil Horace Walpole. Zvyšok výstavy tvorili akési najväčšie hity, no s niekoľkými béčkovými a modernými remixami.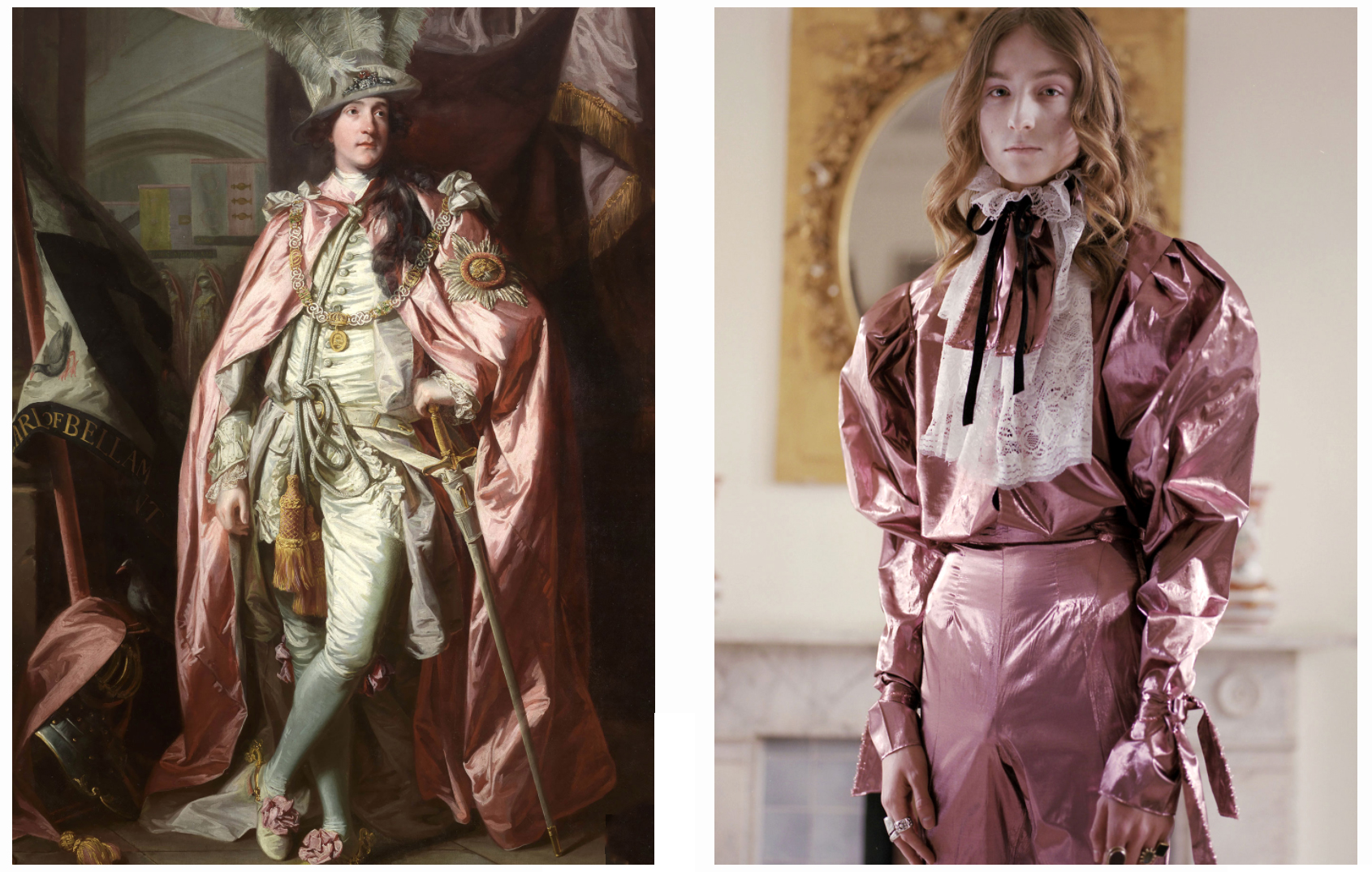 "Táto výstava nie je chronologická," vysvetlila Claire Wilcoxová, jedna zo spolukurátoriek výstavy. "Postavili sme vedľa seba minulosť so súčasnosťou a pokúsili sme sa ukázať paralely v spôsobe, akým sa muži obliekajú."
Výstava sa uskutočnila v spolupráci s módnou značkou Gucci, ktorá sa stala jej sponzorom. Dizajnér Alessandro Michele, odkedy začal v roku 2015 pôsobiť ako kreatívny riaditeľ značky, hlása, že móda sa stáva rodovo neutrálnejšou a oddeľuje pánske oblečenie od toxickej maskulinity.
Dizajnér značky Gucci, Alessandro Michele a Harry Styles, nová múza Gucci módneho domu. Model z dielne Gucci zhotovený pre Harryho Stylesa.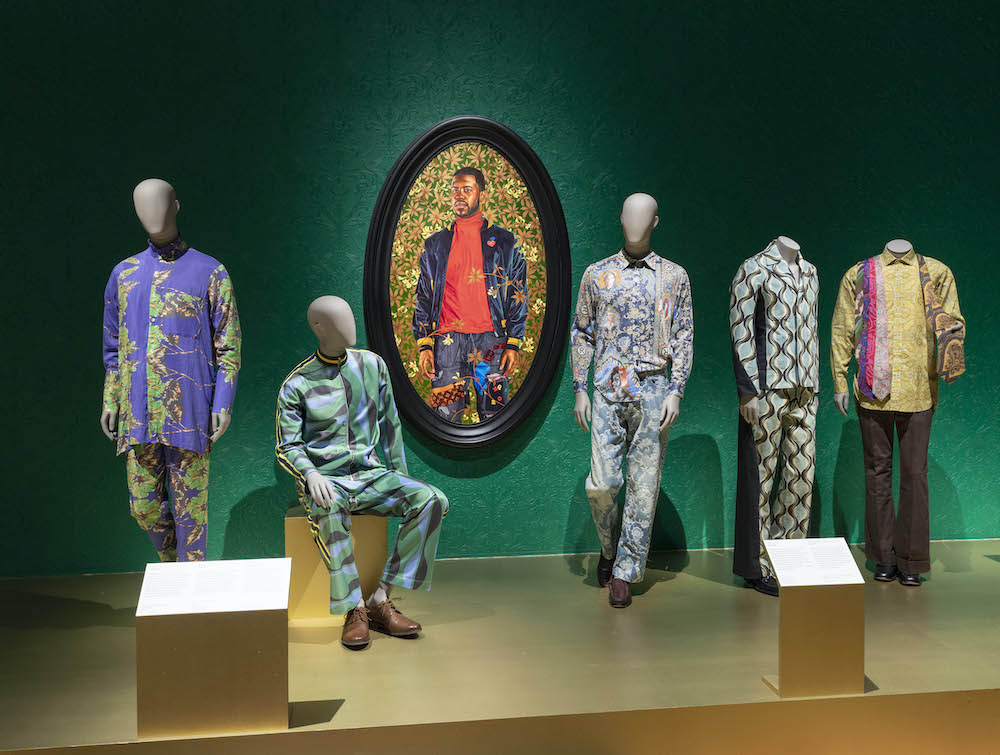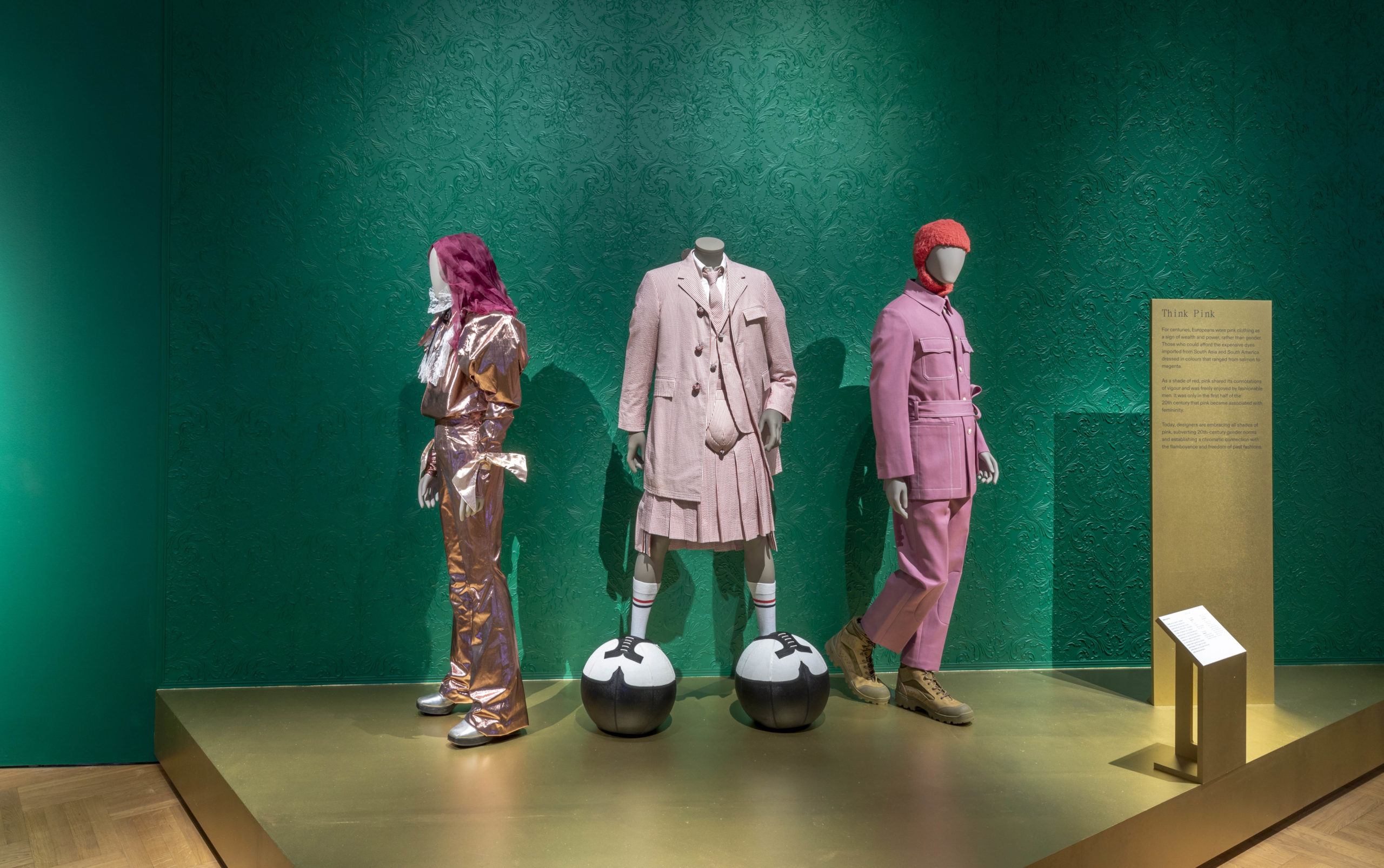 V úvode ku knihe, ktorá sprevádza výstavu Fashioning Masculinities, píše: "V patriarchálnej spoločnosti je mužská rodová identita často formovaná prudko toxickými stereotypmi… Akékoľvek možné odkazy na ženskosť sú agresívne zakázané." "Existuje súčasná otázka viditeľnosti, ale ak sa vrátite späť, existuje história z 19., 18. a dokonca 17. storočia, kedy ľudia neboli rodovo konformní a namiesto toho sa vyjadrovali cez svoje oblečenie," povedala Rosalind McKever, Wilcoxovej spolukurátorka. Claire Wilcox dodala, že pohľadom späť výstava Fashioning Masculinities ukázala, že "mužská móda fungovala spôsobom, ktorý je oslobodzujúci. Oslobodenie, ktoré je možné aj dnes."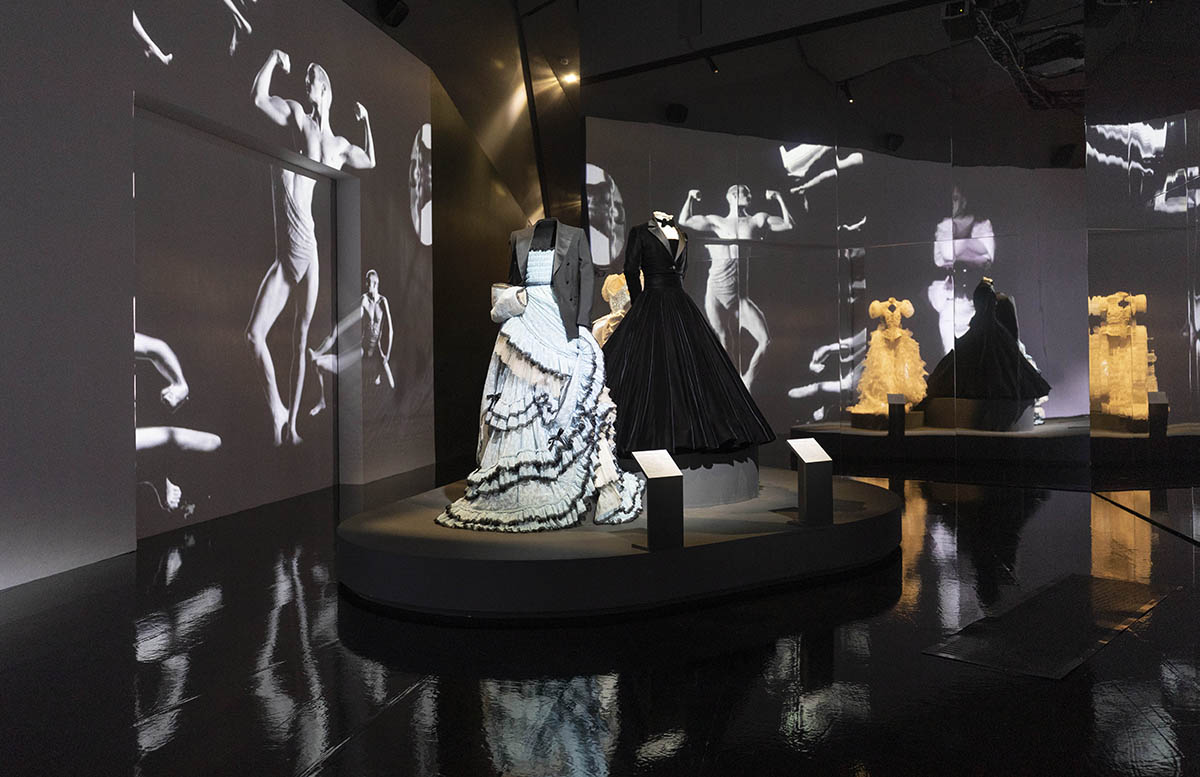 Výstava sa snaží ukázať, že muži vždy vyjadrovali svoju rodovú identitu prostredníctvom oblečenia. Najnovšia prehliadka Múzea Victoria & Albert, Fashioning Masculinities – The Art of Menswear, dúfa, že z maskulinity odstráni toxicitu a dá svetu pánskeho oblečenia nový pohľad.
Je neuveriteľné, že ide o prvú veľkú výstavu V&A, ktorá oslavuje "silu, umenie a rozmanitosť mužského oblečenia a vzhľadu". Predstavuje približne 100 vzhľadov a 100 umeleckých diel, klasické sochy, renesančné maľby, ikonické fotografie a silný film , ktoré sú tematicky vystavené v troch galériách a vyznačuje sa extravaganciou až po jemnú eleganciu zákazkového šitia podľa vitality dnešnej medzinárodnej módnej scény, všetky modely vyrábané a prerábané v priebehu storočí.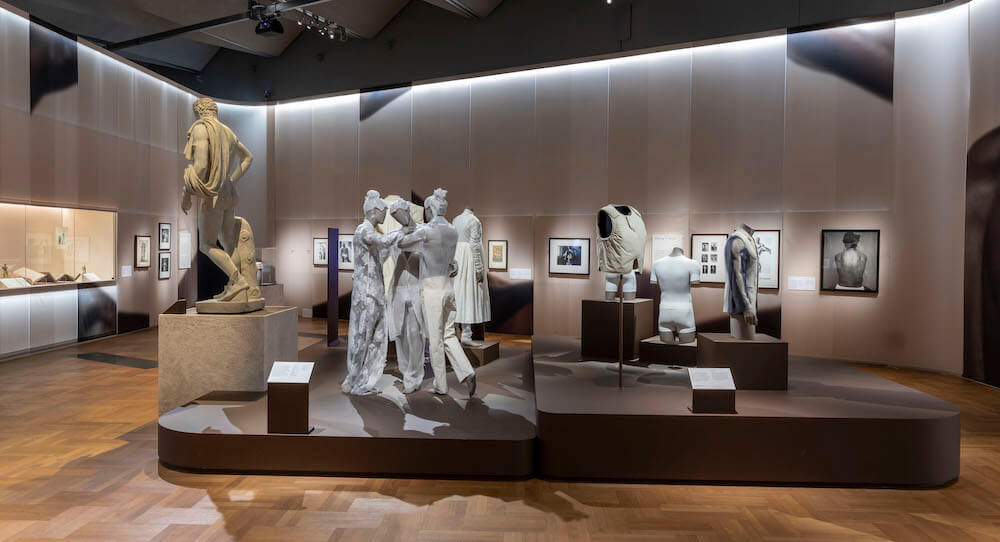 Prehliadka bude sledovať, ako sa pánsky odev v priebehu stáročí vyrábal a prerábal a ako dizajnéri, krajčíri a umelci a ich klienti , vytvorili a predvádzali mužnosť a rozoberali ju vo švíkoch.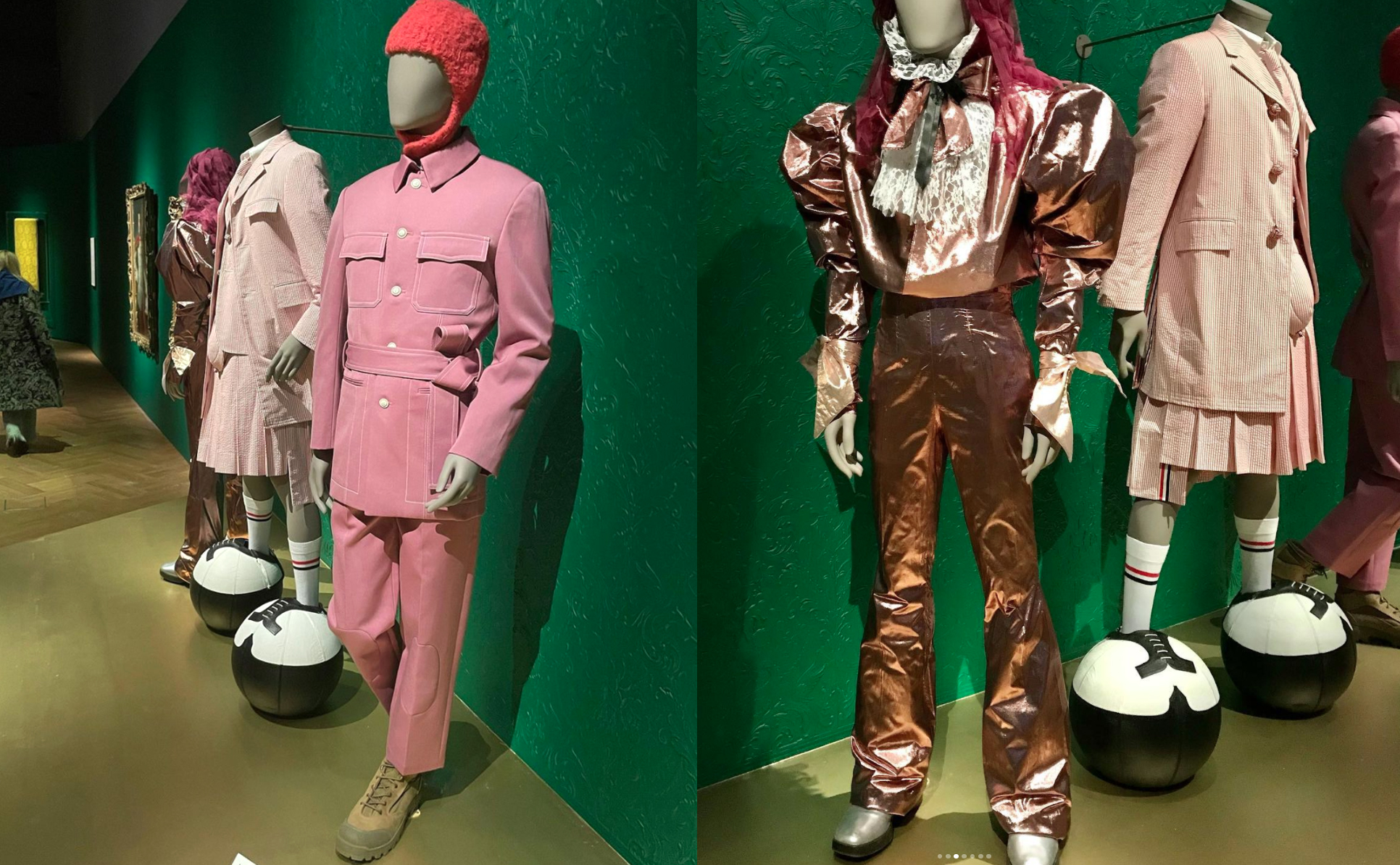 100 VZHĽADOV A 100 UMELECKÝCH DIEL TEMATICKY VYSTAVENÝCH V 3 GALÉRIÁCH
Claire Wilcoxová a Rosalind McKever, spolukurátorky výstavy Fashioning Masculinities – The Art of Menswear, sa nechali počuť: "Mužská móda zažíva obdobie bezprecedentnej kreativity. Už dlho je to silný mechanizmus na podporu konformity alebo vyjadrenia individuality. Skôr než o lineárnu alebo definitívnu históriu ide o cestu naprieč časom a pohlavím. Výstava spája historický a súčasný vzhľad s umením, ktoré odhaľuje, ako sa predvádzala maskulinita. Bude to oslava mužského šatníka a všetci sú pozvaní, aby sa pridali."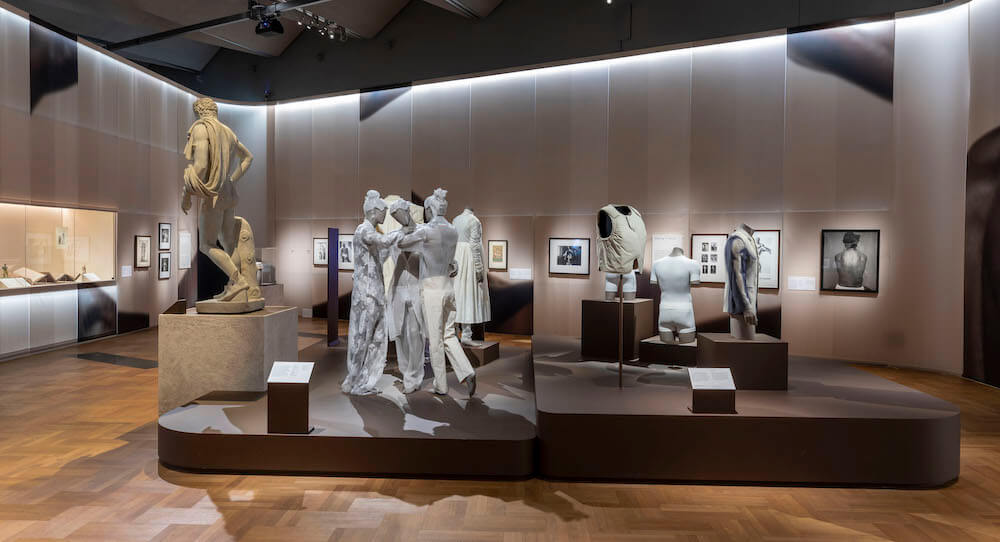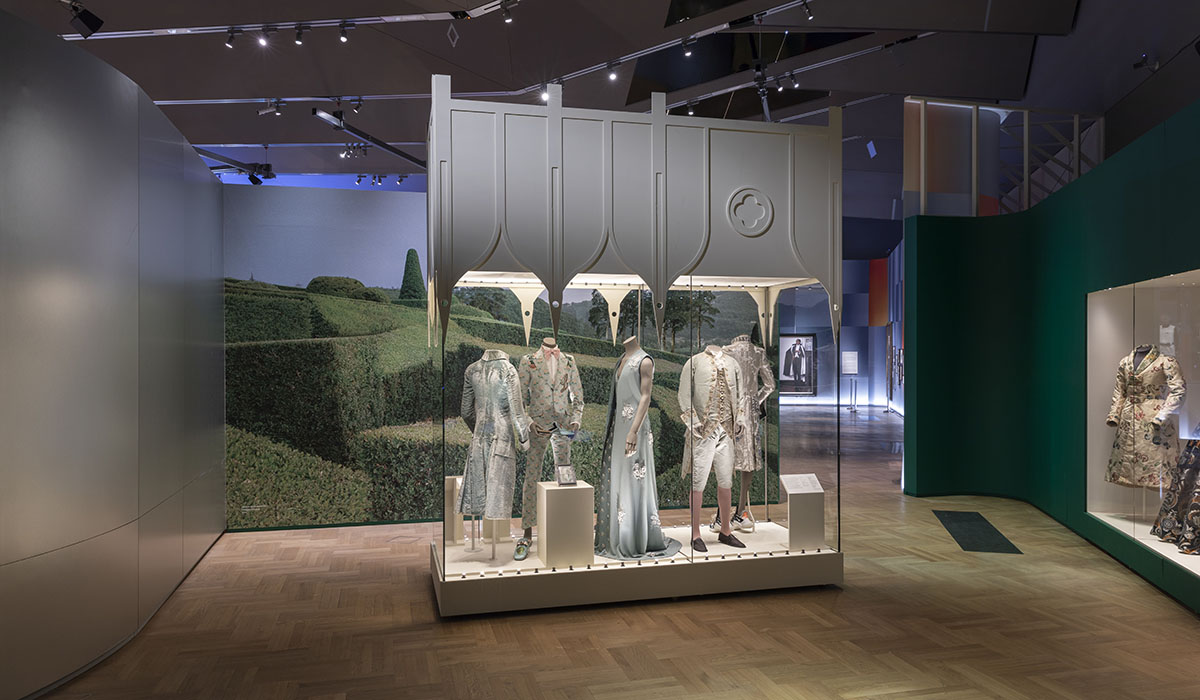 Prehliadka predstaví okolo 100 vzhľadov a 100 umeleckých diel od renesancie až po súčasnosť. Súčasné vzhľady od módnych návrhárov ako Harris Reed, Craig Green, Grace Wales Bonner a Raf Simons budú vystavené spolu s historickými predmetmi zo zbierok V&A, ako sú obrazy Sofonisby Anguissola a Joshua Reynolds, súčasné umelecké diela od Roberta Longa a Omara Victora Diopa, a úryvok z čisto mužského baletného predstavenia "Spitfire" od Matthewa Bournea.
Fashioning Masculinities sa otvorí kompletom Craig Green Jar/Leto 2021 v dekonštruovanom obleku, ktorý odkazuje na konštrukciu a dekonštrukciu mužského tela a konvencií mužnosti, čo je téma, ktorá bude ústrednou témou celej show. Nasledovať budú tri hlavné galérie – Undressed, Overdressed a Redressed s výstavným dizajnom JA Projects.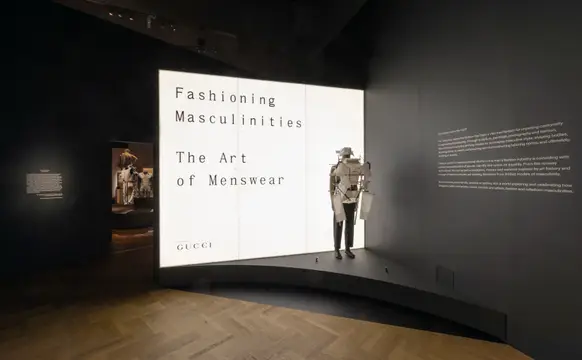 3 GALÉRIE – UNDRESSED, OVERDRESSED A REDRESSED
Ako vyjadrenie mnohých rozhovorov o pánskej móde je výstava rozdelená do sekcií. Prvá časť UNDRESSED – Vyzlečená, skúma mužské telo, čiastočne prostredníctvom diskusií o spodnej bielizni a pýta sa, ako vyzerá ideálne mužské telo v roku 2022? "Umiestnením historických odevov vedľa súčasných vidíme, že typ tela, ktorý možno považovať za módny, sa neustále mení," povedala Wilcox. "A v danom čase existuje množstvo 'ideálov'."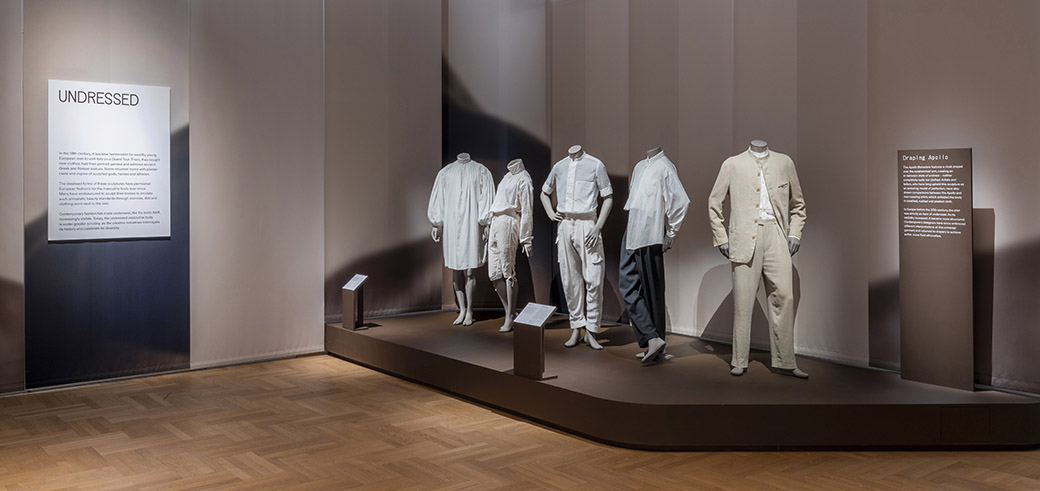 Galéria Undressed bude skúmať mužské telo a spodnú bielizeň v utopickej vysnívanej scenérii.
Sadrové odliatky Apollo Belvedere a Farnese Hermes, ktoré zdôrazňujú tradíciu zobrazovania idealizovaných mužských tiel zahalených do textílií, ktoré viac odhaľujú, ako zakrývajú, budú postavené vedľa moderných a súčasných zobrazení tela z potlačí a fotografií Davida Hockneyho, Lionel Wendt, Zanele Muholi a Isaac Julien na reklamu Calvina Kleina.
Vystavený bude aj film Spitfire (1988) Matthewa Bournea v podaní tanečníkov New Adventures, ktorý sa odohráva vo svete reklamy na pánsku spodnú bielizeň a fotenia katalógov na zásielkový obchod, zatiaľ čo súčasné kolekcie zdôraznia, ako dizajnéri používajú priehľadné látky na ich vytváranie. Fascinácia módy telom podporuje zmenu mužských ideálov od evokovania klasických drapérií cez tvarovanie tela ako je vidieť na odevoch od Jeana-Paula Gaultiera až po oslavu rozmanitosti tela.
Vyzlečení zakončia prehliadku sochou Augusta Rodina Age of Bronze a Tiresias, predstavením Cassilsa, v ktorom umelec svojím telesným teplom roztopí neoklasicistické torzo vytesané do ľadu.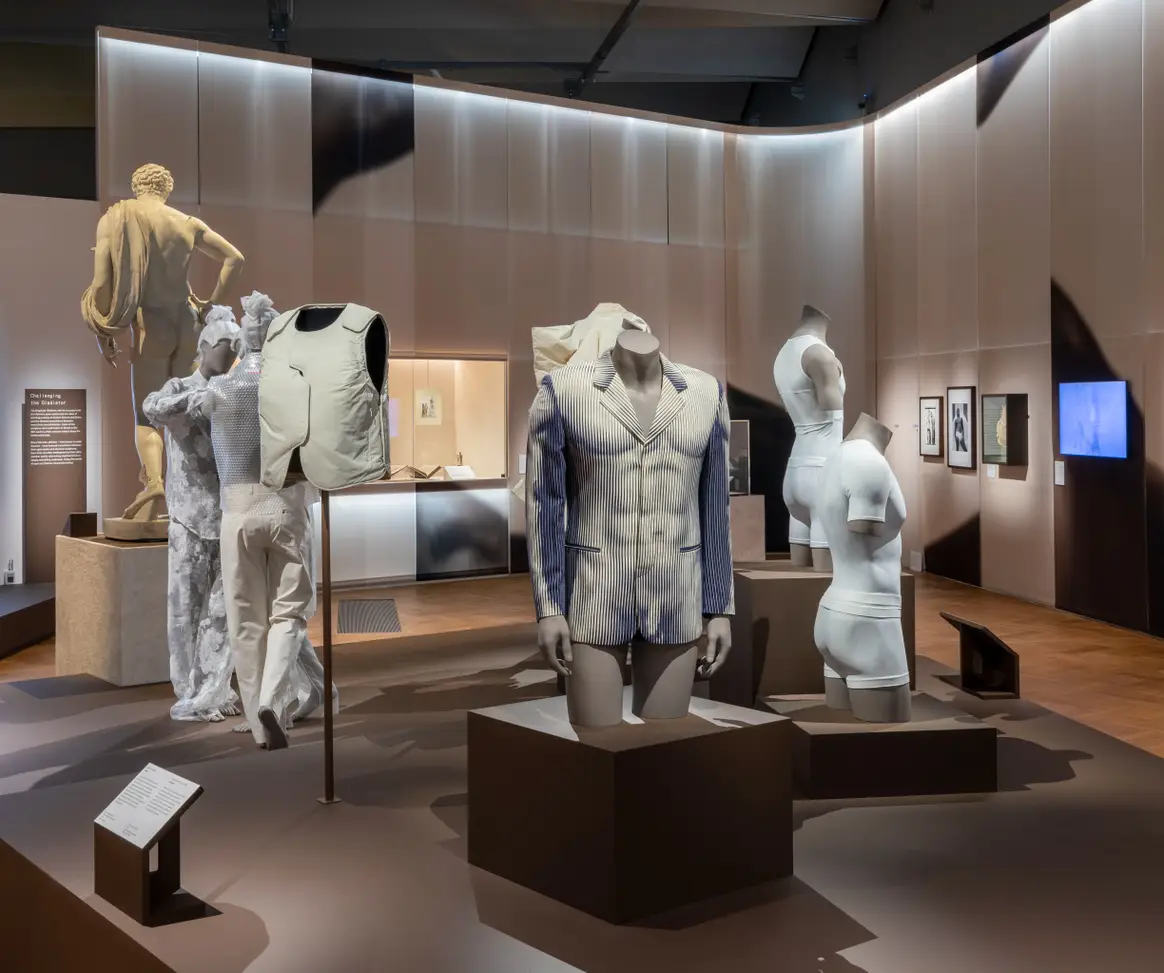 Mužská energia, dobrá alebo zlá, chýba. Prvá miestnosť "Vyzlečená" pôsobí zmätene a plocho a v skutočnosti do konania nevnáša nič sexuálne. Nie je tu žiadna túžba a malá objektivizácia. Je to rozdiel medzi mužskou krásou a mužnosťou. Jedno je oveľa jednoduchšie vizualizovať ako druhé.
Druhá Galéria a časť s názvom OVERDRESSED vezme návštevníkov do elitného mužského šatníka v prepychovom, pohlcujúcom priestore s dvornou majestátnosťou, ktorý sa vyznačuje nadrozmernými siluetami, bohatými farbami a bohatými materiálmi. Overdressed bude skúmať elitný mužský šatník, ktorý stelesňujú nadrozmerné siluety, honosné materiály ako hodváb a zamat v odvážnych farbách a symbolické vzory vyjadrujúce postavenie, bohatstvo a individualitu. Sekcia, ktorá vychádza zo synergií naprieč storočiami, bude obsahovať pancierové náprsníky až po hodvábne fajčiarske obleky, dlhé plášte až po stuhy a čipky, vrátane dreveného rezbárskeho diela Grinlinga Gibbonsa napodobňujúceho benátsky ihličkový nákrčník, vystavený popri skutočnej čipke, a plášť Dolce & Gabbana.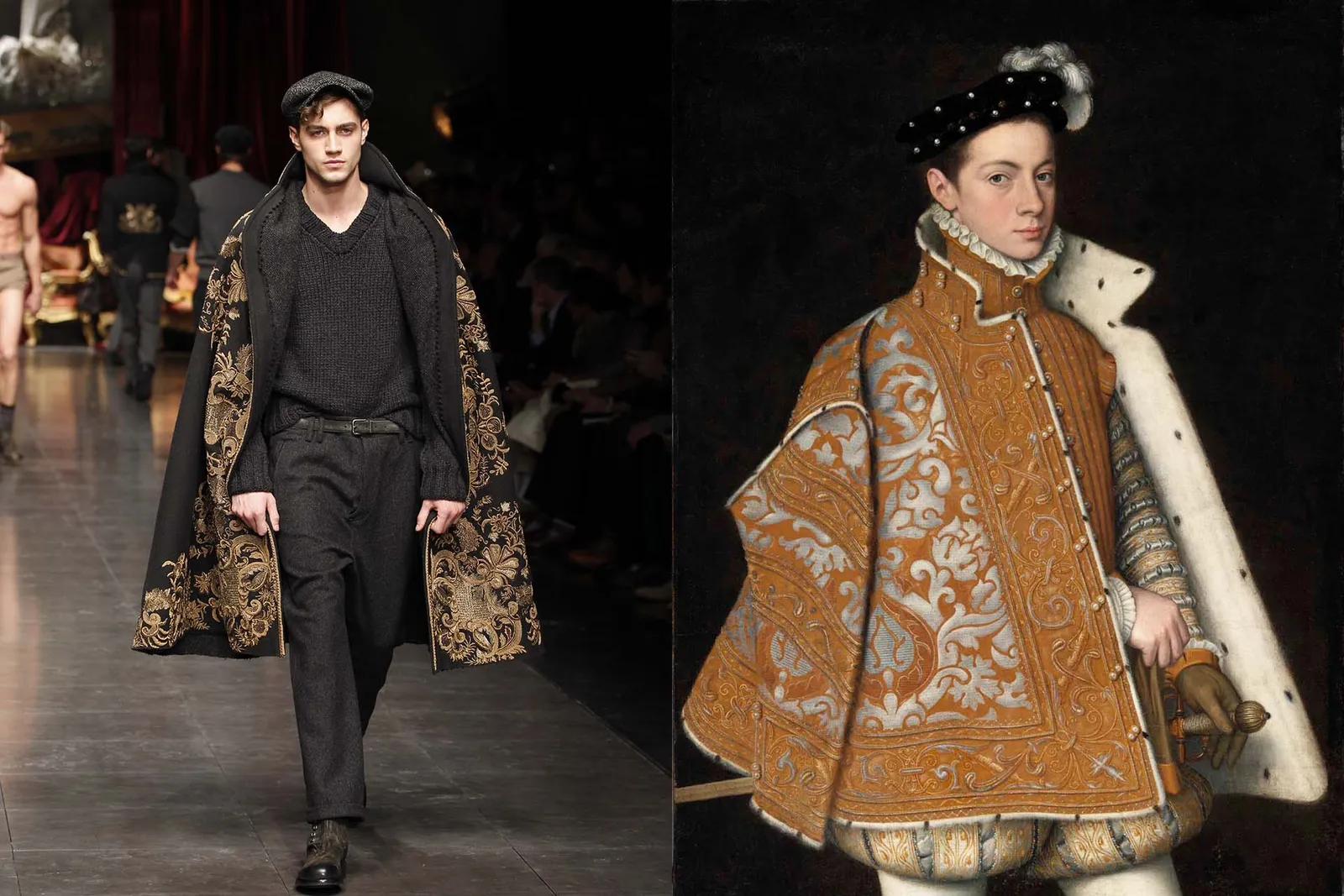 Pánska módna prehliadka značky Dolce and Gabbana , Jeseň/Zima 2012-2013 a portrét princa Alessandra Farneseho od Sofonisba Anguissola z roku 1560.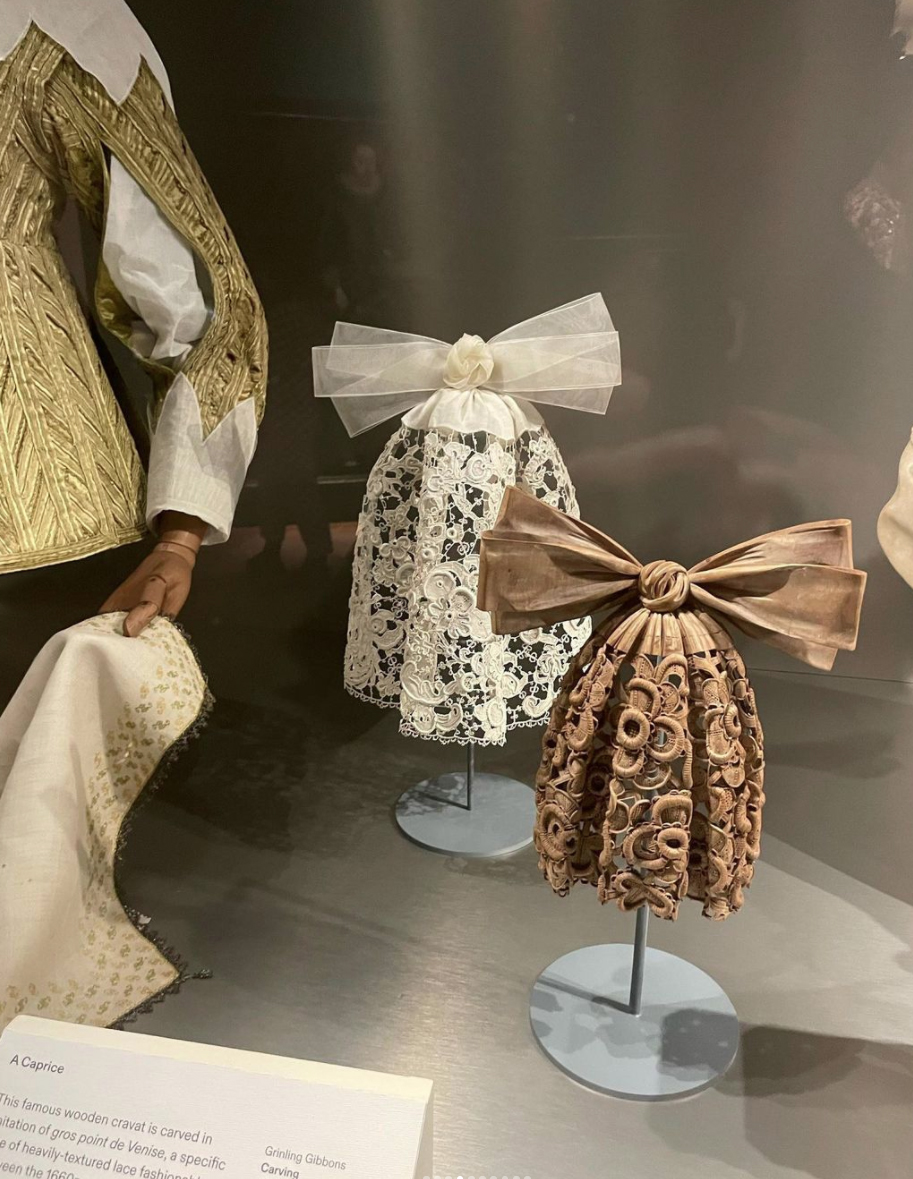 Zatiaľ čo sa nedávne pánske trendy, ako sú crop topy alebo oživenie vrkočov, stretli s výsmechom, Fashioning Masculinities ukáže, že ani toto nie je zďaleka nový fenomén. "Móda je vždy kritizovaná – všetko nové je považované s podozrením," povedala kurátorka výstavy Claire Wilcox. "Potom sa stáva súčasťou lexikónu módy. Dnes má pánske oblečenie takú bohatú fascinujúcu históriu, z ktorej možno čerpať, a nič nie je za hranicami, či už ide o odev so sukňou alebo crop top, ale nevidím, že by sa dnes stalo niečo, čo sa v histórii ešte nestalo."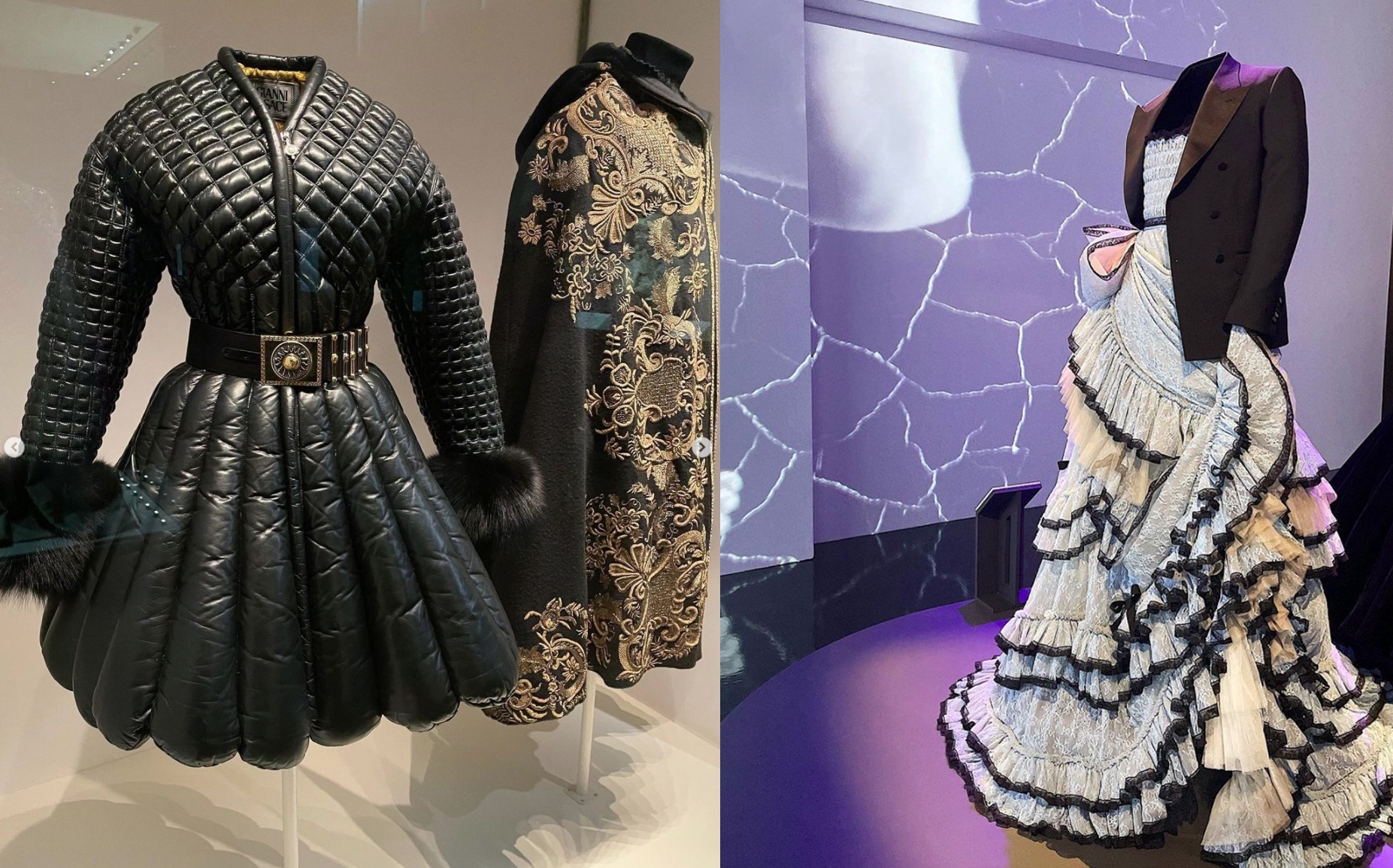 Tretia Galéria – REDRESSED bude skúmať konštrukciu a rozpustenie obleku, pričom dizajn výstavy sprostredkúva myšlienku prebudenia mesta. Redressed bude spájať modernú mužskú uniformu obleku, od Beau Brummell až po súčasnú módnu dráhu a otvorí sa úvahou o anglickom vidieckom krajčírstve a pôvode obleku s historickými odevmi z kolekcie V&A múzea zobrazenými spolu so súčasnými reimagináciami, vrátane kiltu od Nicholasa Daleyho. Následne príde preskúmame, ako vojenské oblečenie ovplyvnilo civilné obliekanie.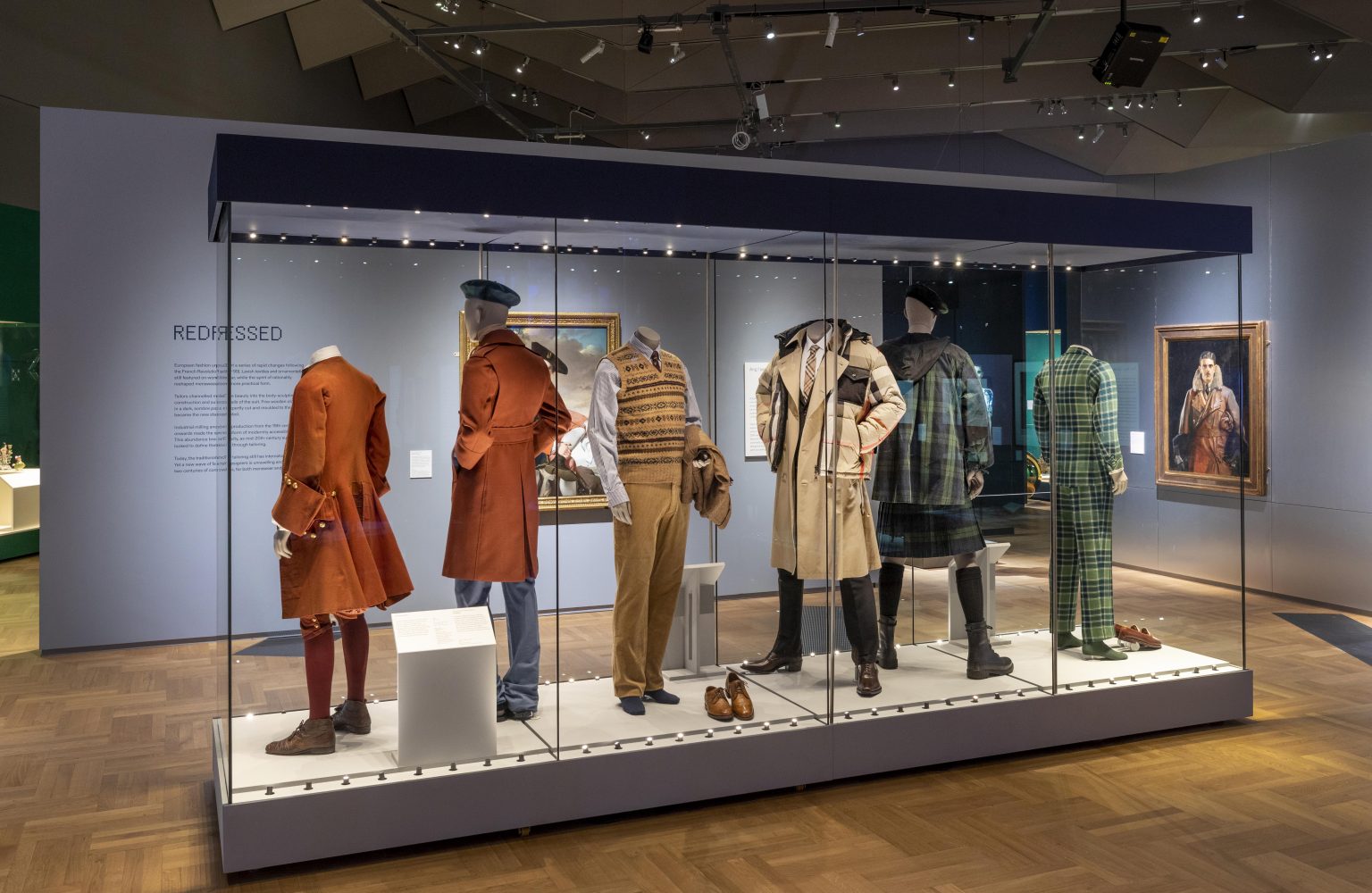 Redressed, obsahuje mnoho slávnych dvojdielnych kusov, vrátane módnych "mop top" oblekov Beatles a zameriava sa na minulosť a budúcnosť obleku. Bude tiež zahŕňať aj maľby a rozsiahle fotografie zobrazujúce meniace sa štýly a postoje, od Oscara Wilda, Clauda Cahuna a Cecila Beatona až po The Beatles a Sama Smitha.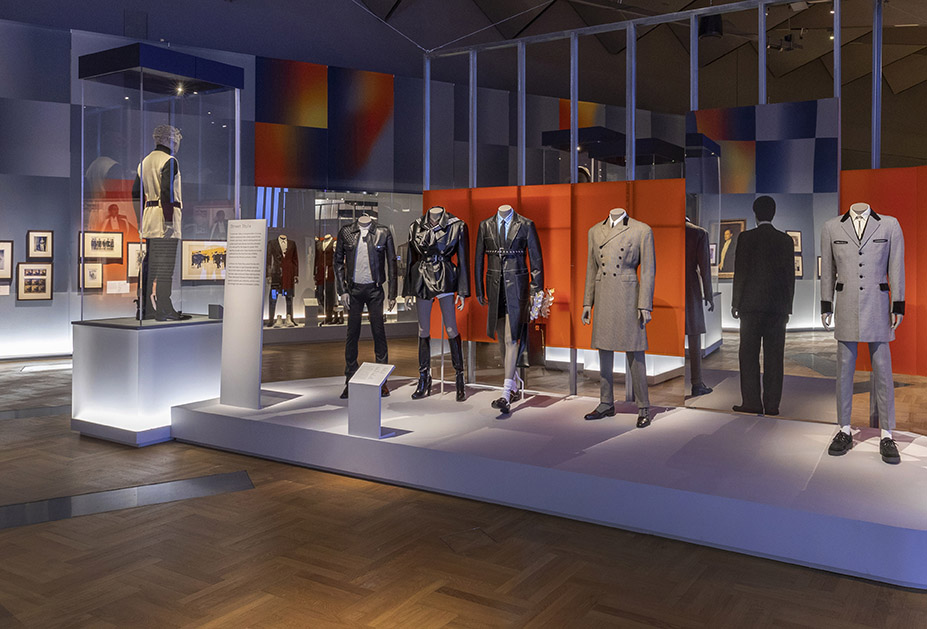 Napriek rozsahu módnych maskulinít kurátori tvrdia, že pánsku módu len zbežne preleteli. "Nebolo možné odzrkadliť celé pánske oblečenie na jednej prehliadke," povedala Wilcoxová. "Dúfame, že toto je prvá z mnohých."
V 20. storočí množstvo masovo vyrábaných oblekov viedlo k tvorivosti, pretože Mods, Teddy Boys a všetky druhy subkultúr chceli definovať svoj štýl prostredníctvom krajčírstva, ktoré bolo na výstave preskúmané prostredníctvom odevov a fotografie. Časť o koži ukáže, ako dizajnéri ako Tom Ford pre Gucci a Donatella Versace preniesli svoj záujem o kožu na nové miesto, zatiaľ čo séria kabátov od polovice 19. storočia až po súčasnosť bude zahŕňať príklady Prady, Alexandra McQueena a Raf Simonsa.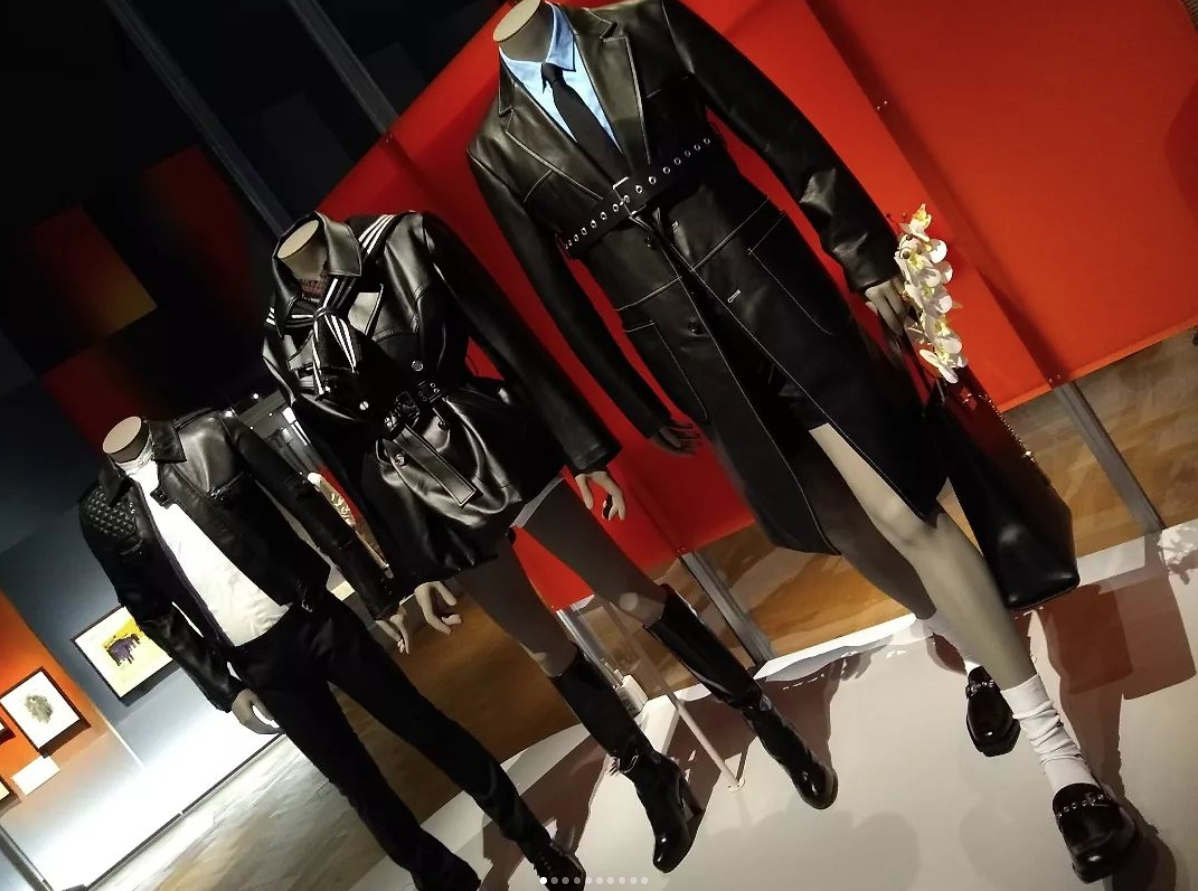 Nová vlna módnych návrhárov od Ricka Owensa cez JW Andersona po Comme des Garçons po Lesibu Mabitselovú rúca konvencie v oblasti pánskeho oblečenia aj mužnosti.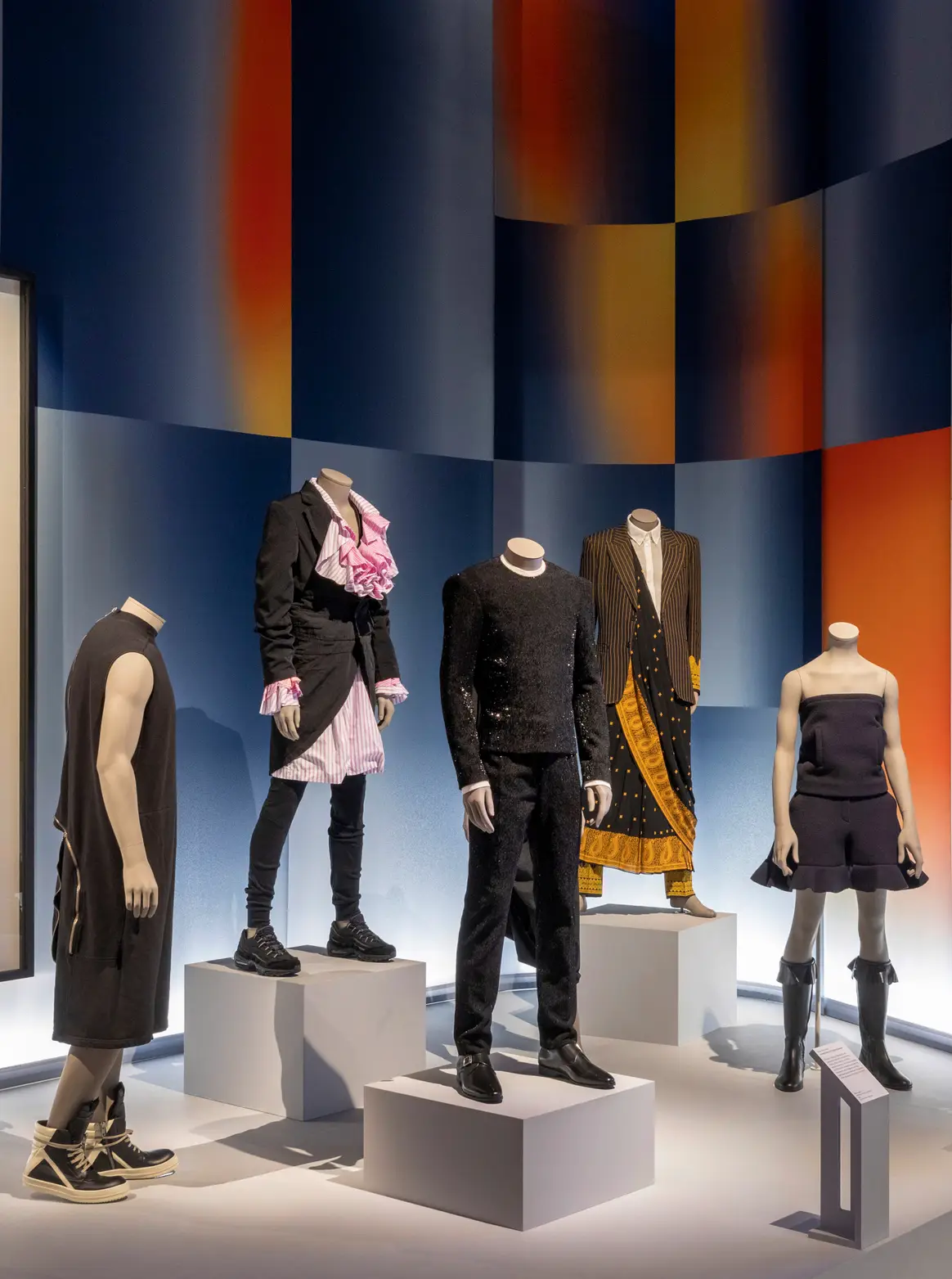 FINÁLNE TRI RÓBY – ZDORAZNENIE MNOHORAKOSTI MUŽSKÉHO OBLIEKANIA, PROTEST PROTI SPOLOČENSKÝM STEREOTYPOM
Pred oficiálnym otvorením múzeum odhalilo, že vo finále výstavy budú tri róby, ktoré sa stali virálnymi vďaka svojim nositeľom – smokingová róba herca "Pose" Billy Portera od Christiana Sirian, ktoré mal oblečené na Oscaroch v roku 2019, model od Alessandra Michele, dizajnéra Gucci s prispôsobeným sakom pre speváka Harry Stylesa (ktorý sa stal hviezdou obálky amerického magazínu Vogue 2020) a svadobné šaty Bimini Bon-Boulash, vlastným menom Tommy Hibbitts, ktoré obliekol na finále RuPaul's Drag Race UK .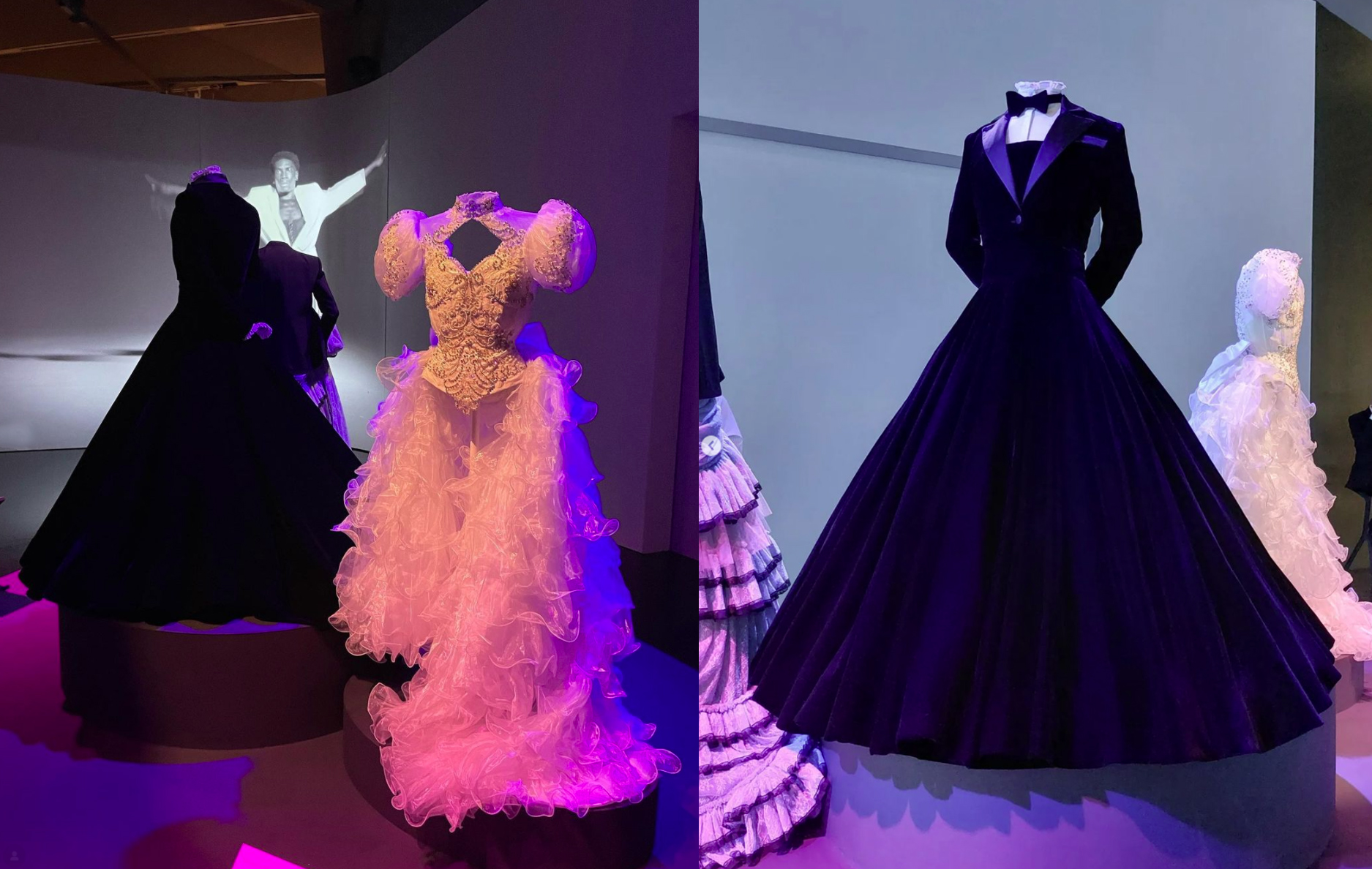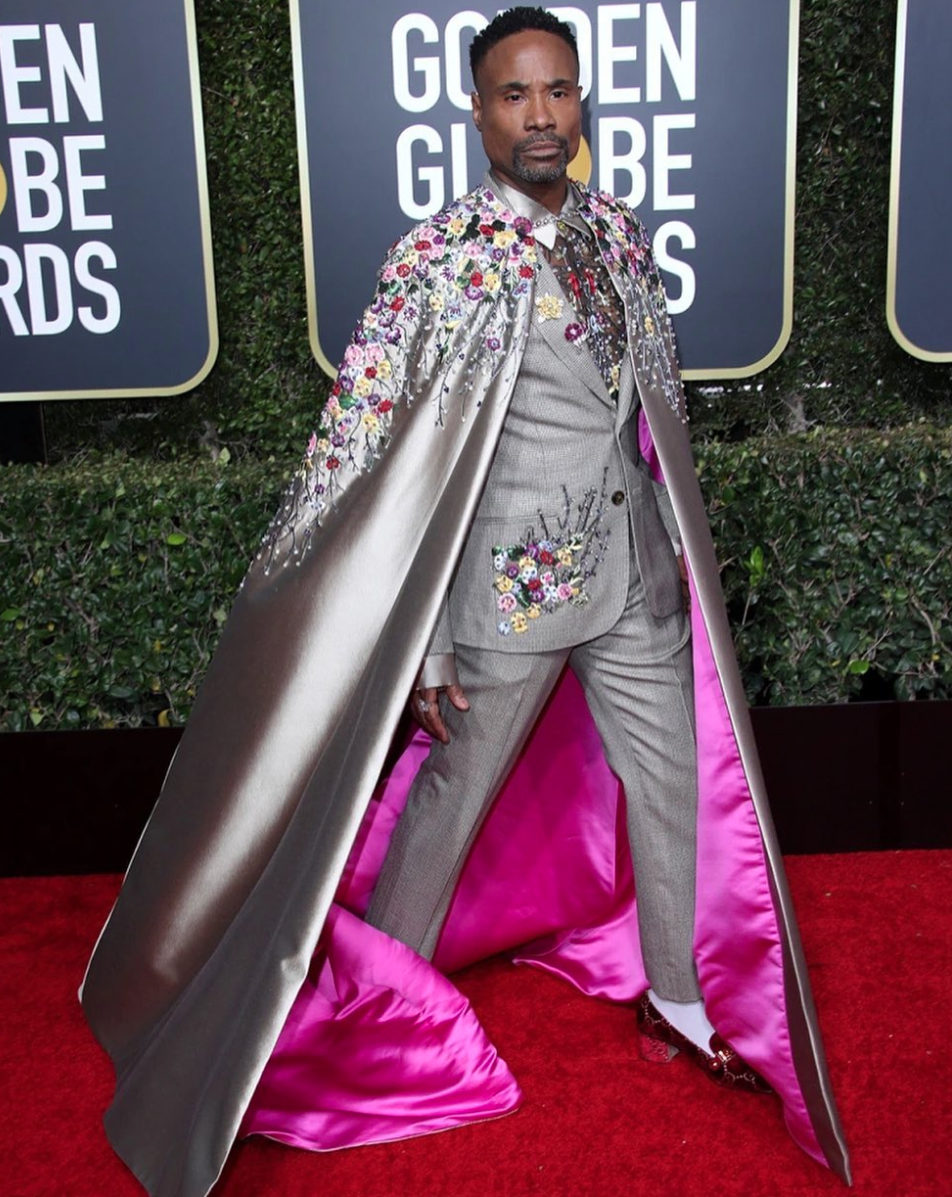 Tieto tri odevy boli vybrané pre ich značný vplyv na vzdorovanie spoločenským stereotypom v populárnej kultúre. Porterova smokingová róba od Christiana Siriana sa prvýkrát objavila na oscarovom červenom koberci v roku 2019.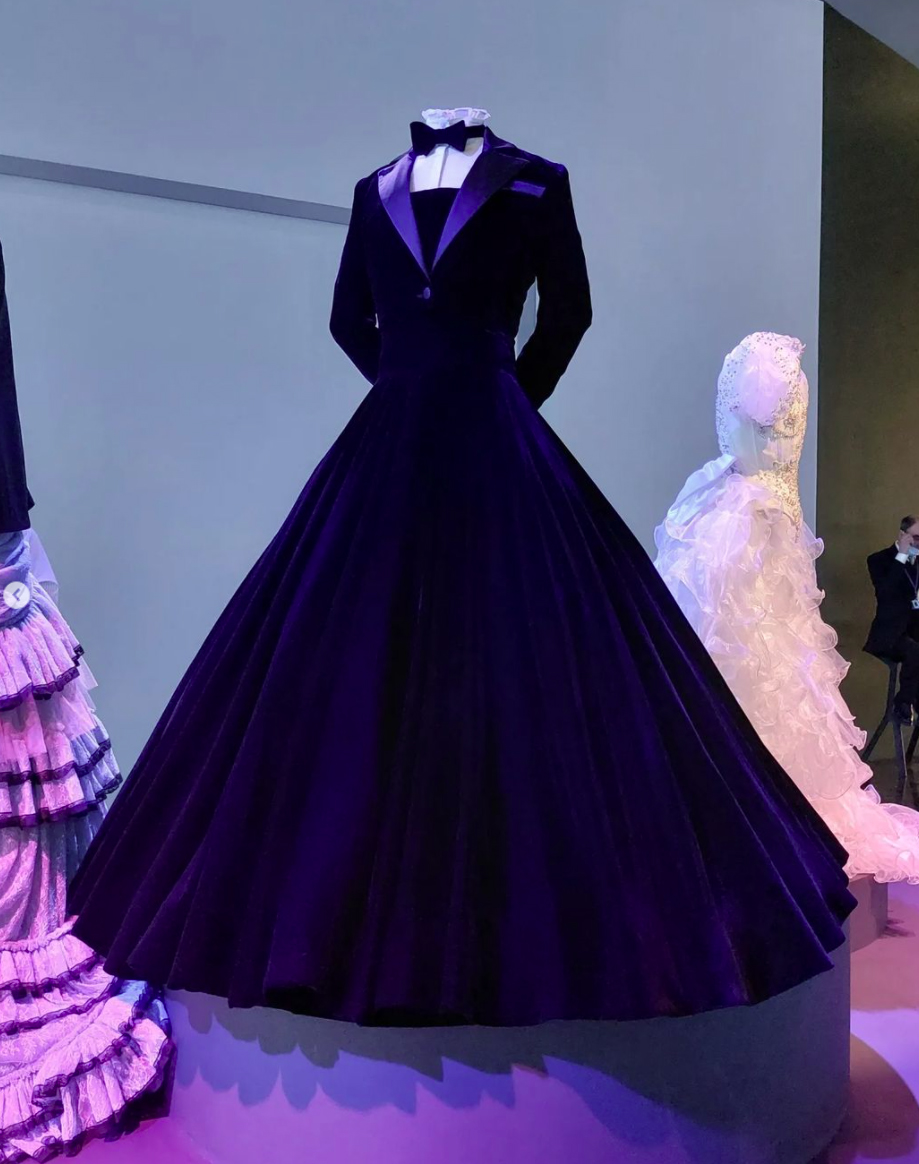 Šaty Harryho Stylesa ušité na mieru vyrobil módny návrhár Alessandro Michele, kreatívny riaditeľ značky Gucci a zažiarili na obálke magazínu American Vogue 2020.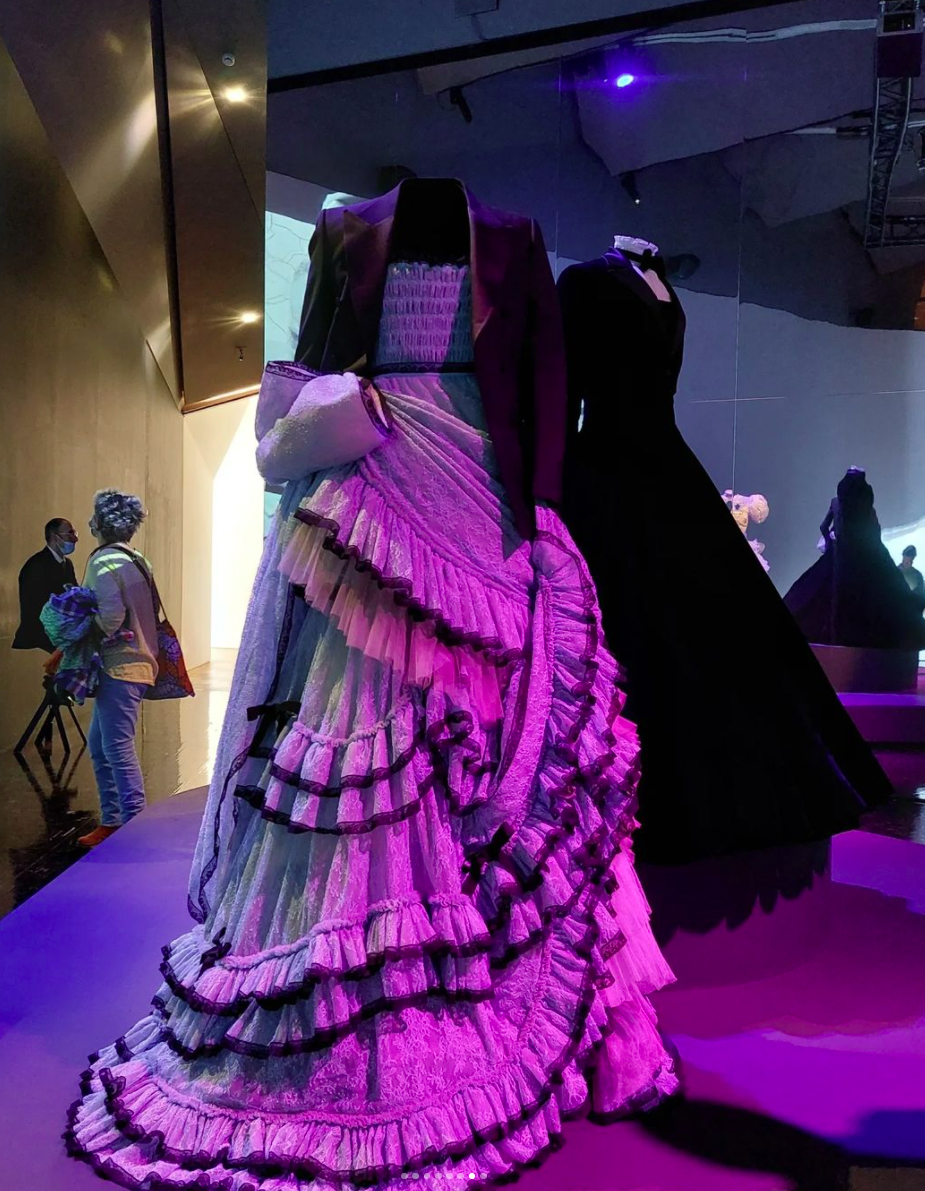 Hibbittsove šaty sú svadobné šaty od Elly Lynch, ktoré mal na sebe pre finále sezóny 2 "Ru Paul's Drag Race UK." Všetky tri vzhľady sú po prvýkrát vystavené v múzeu v Spojenom kráľovstve.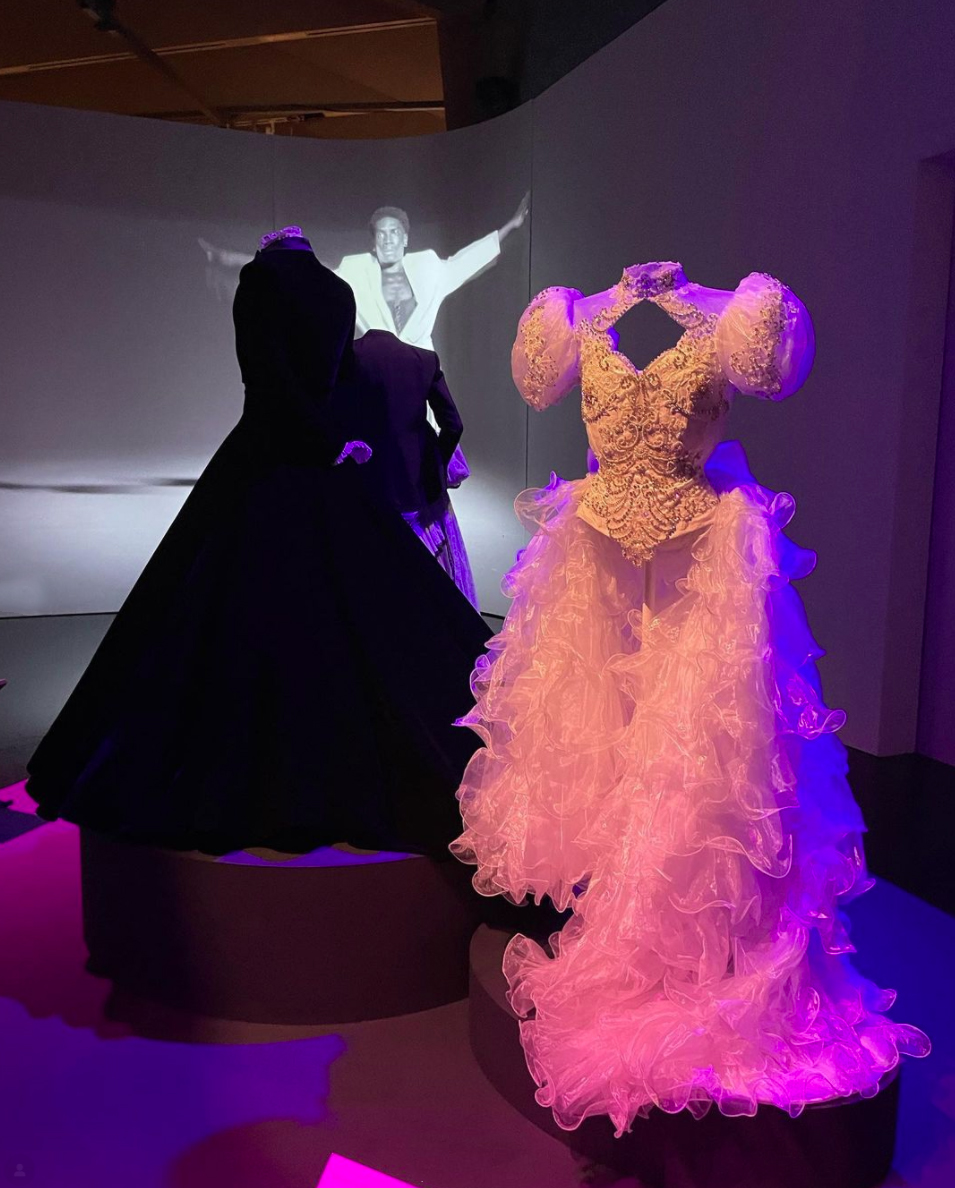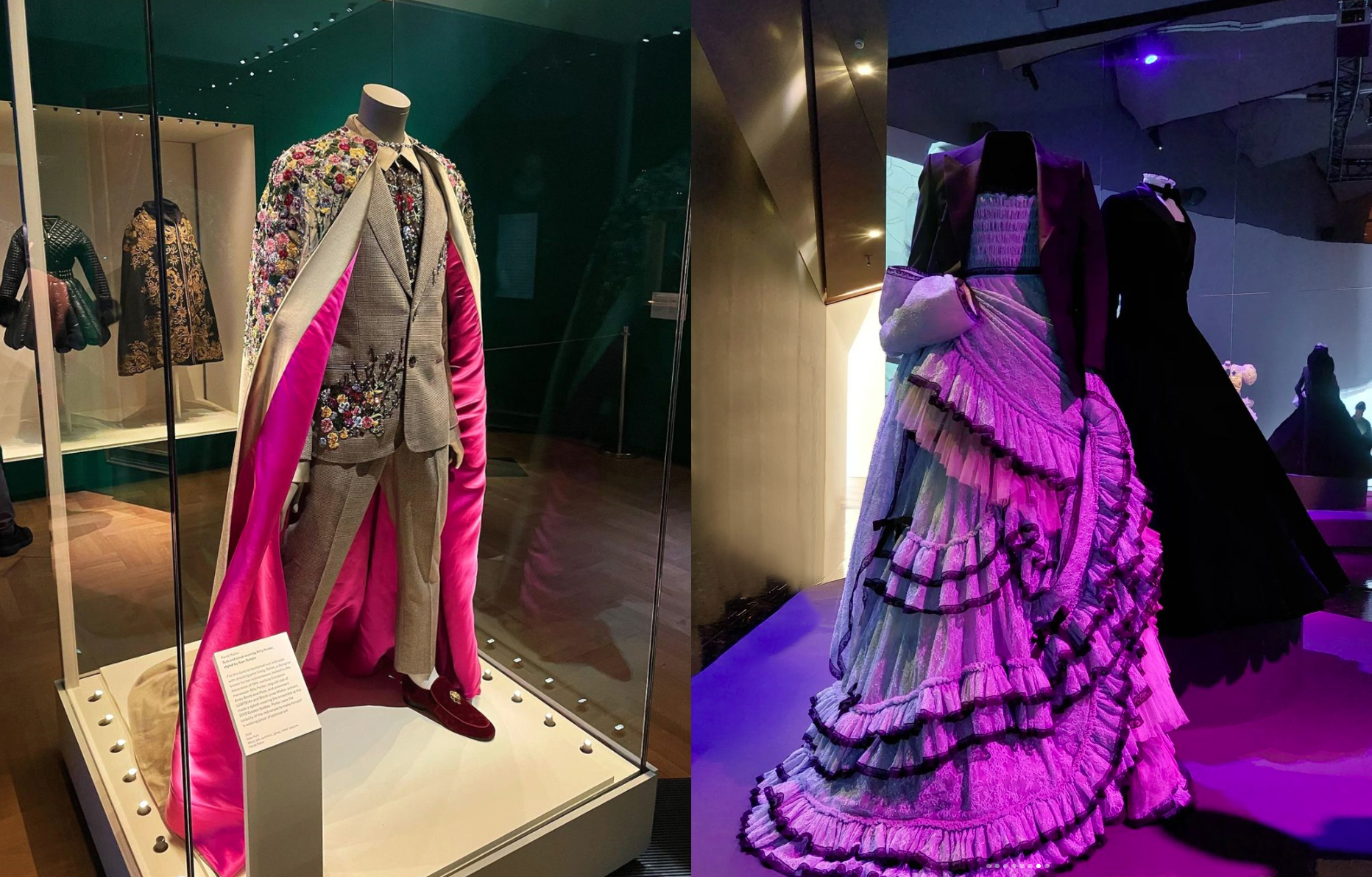 Je iróniou, že miestnosť s najmužnejšou energiou bola posledná miestnosť, v ktorej sú šaty Billyho Portera, Harryho Stylesa a Bimini s čiernou lesklou podlahou a filmovou projekciou. Bolo to súčasné, sebavedomé a povznášajúce, zatiaľ čo Anna Wintour urobila konečné rozhodnutie pridať sako šité na mieru k salónnym šatám Gucci so vzhľadom Harryho Stylesa v magazíne American Vogue. No, i to je móda mužnosti !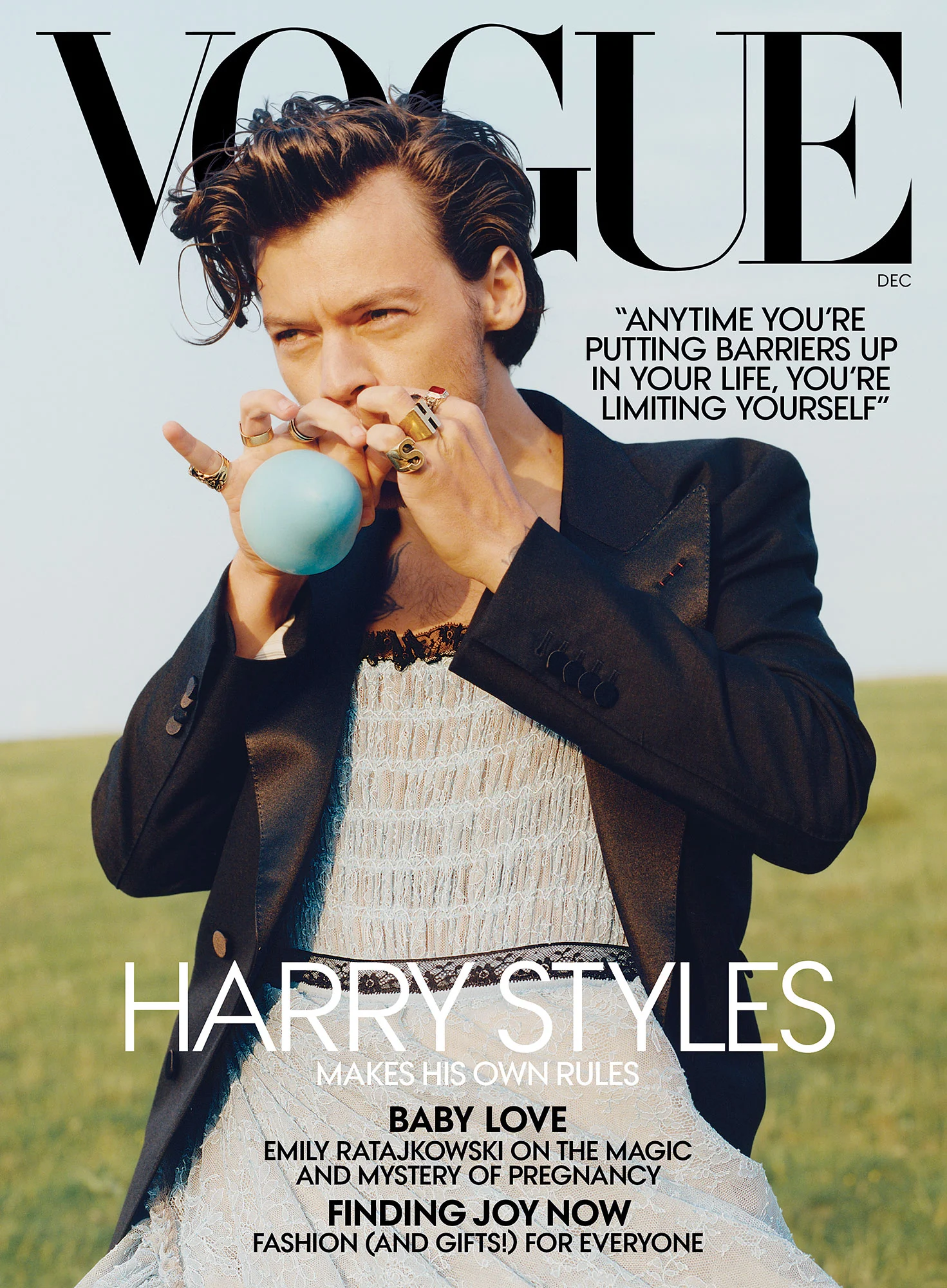 Prvýkrát bude tiež vystavený aj čierny flitrovaný oblek Haider Ackermann, ktorý mal na sebe Timothée Chalamet počas premiéry filmu Duna na filmovom festivale v Benátkach v roku 2021, spolu s ďalšími kľúčovými vzhľadmi, ktoré nosili módne ikony ako Sam Smith, David Bowie a Marlene Dietrich, zdôrazňujúc mnohorakosť mužského sartoriálneho sebavyjadrenia, obliekanie za hranicou binárneho.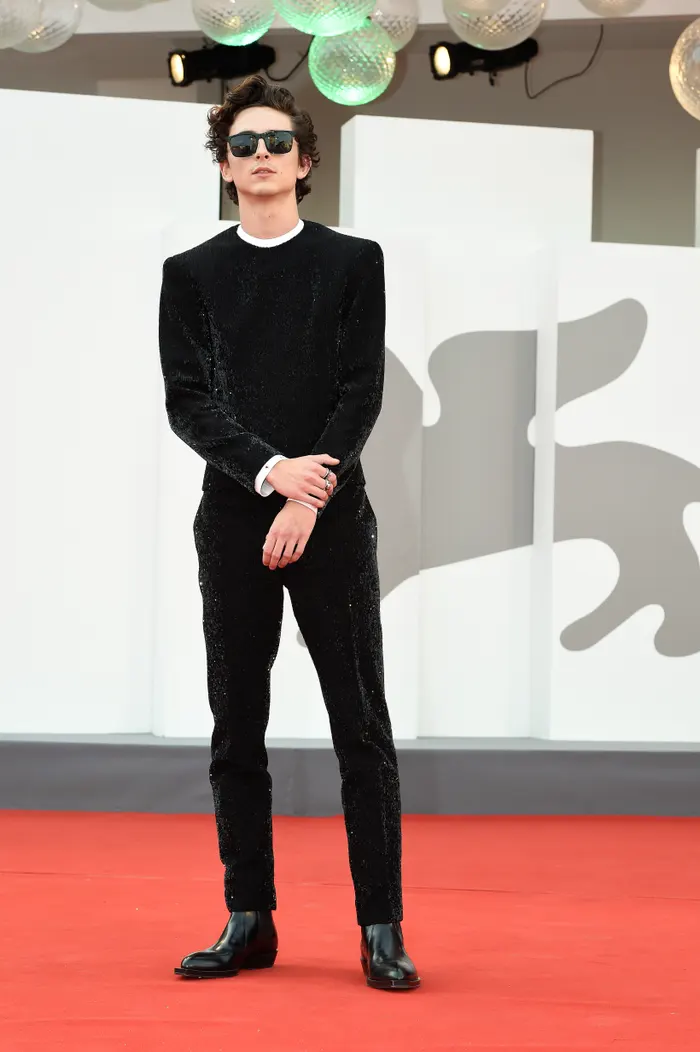 Pohlavie je ako noc a deň alebo svetlo a tma, neustále sa mení. Je do značnej miery zavedené, že muži môžu dnes nosiť ružovú. Dokonca aj Niccolò Machiavelli zaznamenal vtip Cosima staršieho , že "dva metre ružovej látky dokážu urobiť gentlemana".
obrázky: © vamuseum, pinterest, getty images, usmagazine. com, vogue. co.uk, walpaper magazine. com, V&A; Fashioning Masculinities: The Art of Menswear, tatler. com
Sledujte Facebook stránku: Mya Mirell Fashionista a Instagram: mya_mirell .