FENDI – kolekcia Jar/Leto 2020, Milan Fashion Week, Móda Ženy, 19. september 2019
Nechajte zažiariť slnko počas prekrásneho letného dňa na vašom outfite ! Tento lightmotív sa nesie novou kolekciou značky FENDI pre sezónu Jar/Leto 2020 , ktorá vás prenesie do slnkom zaliatych talianskych pláží a pravého talianskeho sicílskeho leta. Prehliadku v mojom zostrihanom módnom reporte a video s pozvanými celebritami prichádzajúcimi na módnu show si môžete pozrieť na facebook stránke blogu Mya Mirell Fashionista a tiež Instagrame mya_mirell .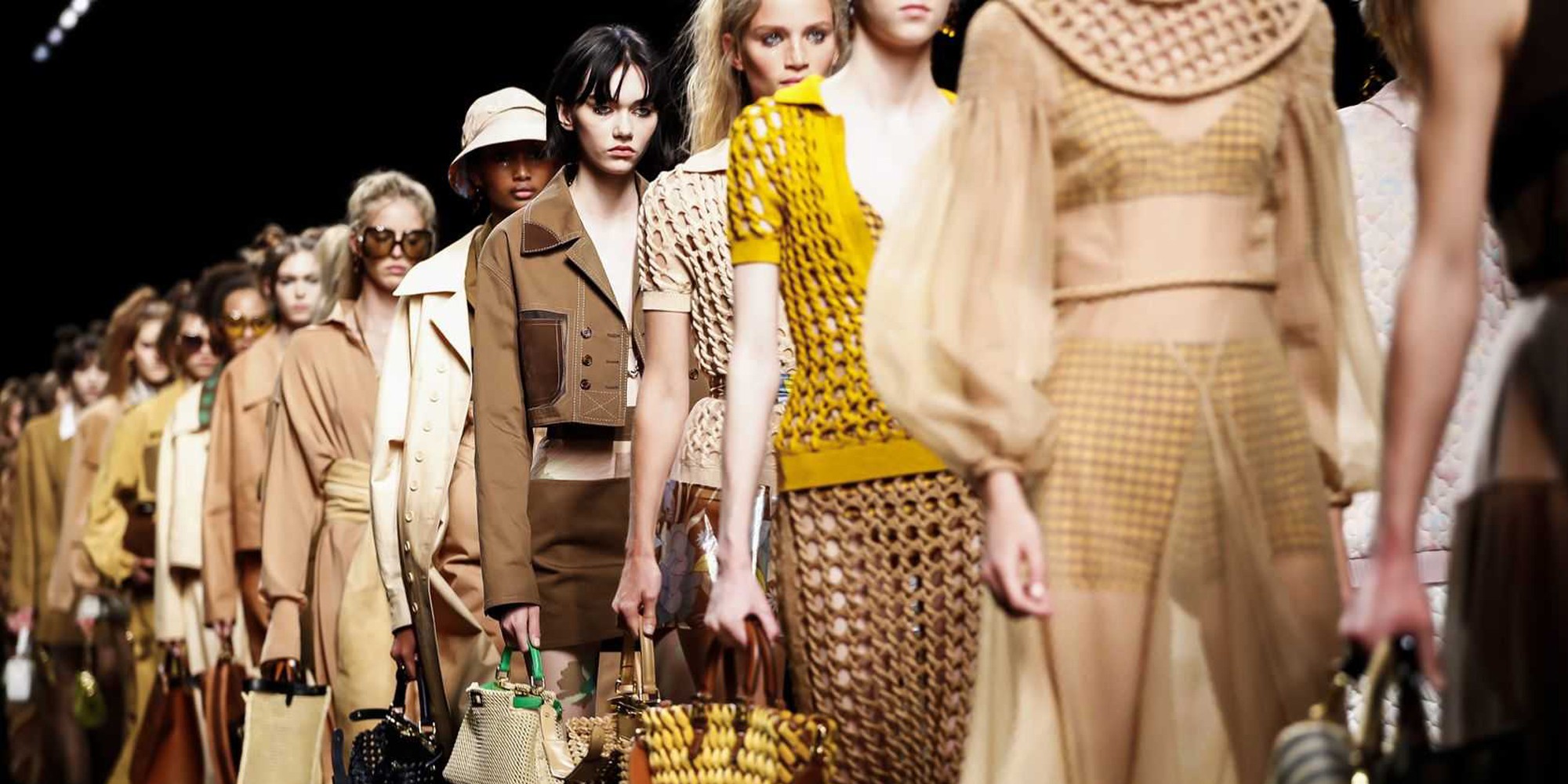 "Leto a slnečné dni ma uvádzajú do úplne inej nálady, viac otvorenejšej k zážitkom a vtedy pociťujem viac slobody". Vyjadrila sa návrhárka Silvia Venturini Fendi, ktorá riadi rodinnú firmu po smrti legendárneho módneho mága KARLA LAGERFELDA.
"Keď sa leto približuje, moj stav mysle sa mení". A ako to pretransformovať do oblečenia, Silvia Venturini Fendi poznamenala: "Emócie jednoduchých vecí, oblečenia a jednoduchých materiálov, ktoré mi pripomínajú leto".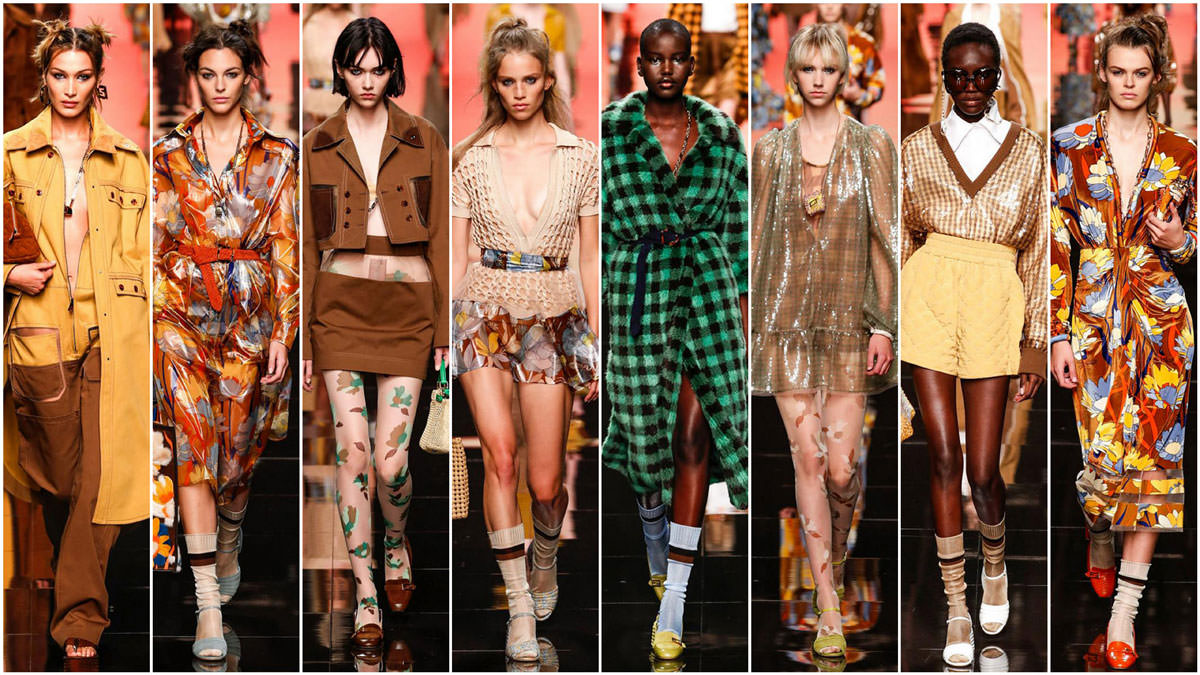 KOLEKCIA FENDI – JAR/LETO 2020
Slnko vyšlo nad Fendi novou kapitolou, prvou kolekciou pre sezónu Jar / Leto 2020 vytvorenou bez dlhoročného legendárneho kreatívneho riaditeľa a dizajnéra KARLA LAGERFELDA. Módna show, konaná počas septembrového prehliadkového módneho týždňa Milan Fashion Week, Móda Ženy, sa konala tradične na ulici Via Solari, 19. septembra 2020.
Do najnovšej kolekcie značky FENDI boli zakomponované 70. roky v športovej rade, ktorá zahŕňala krátke sukne, šortky v kombinácii s bohato zastúpenými prvkami zvrchných odevov.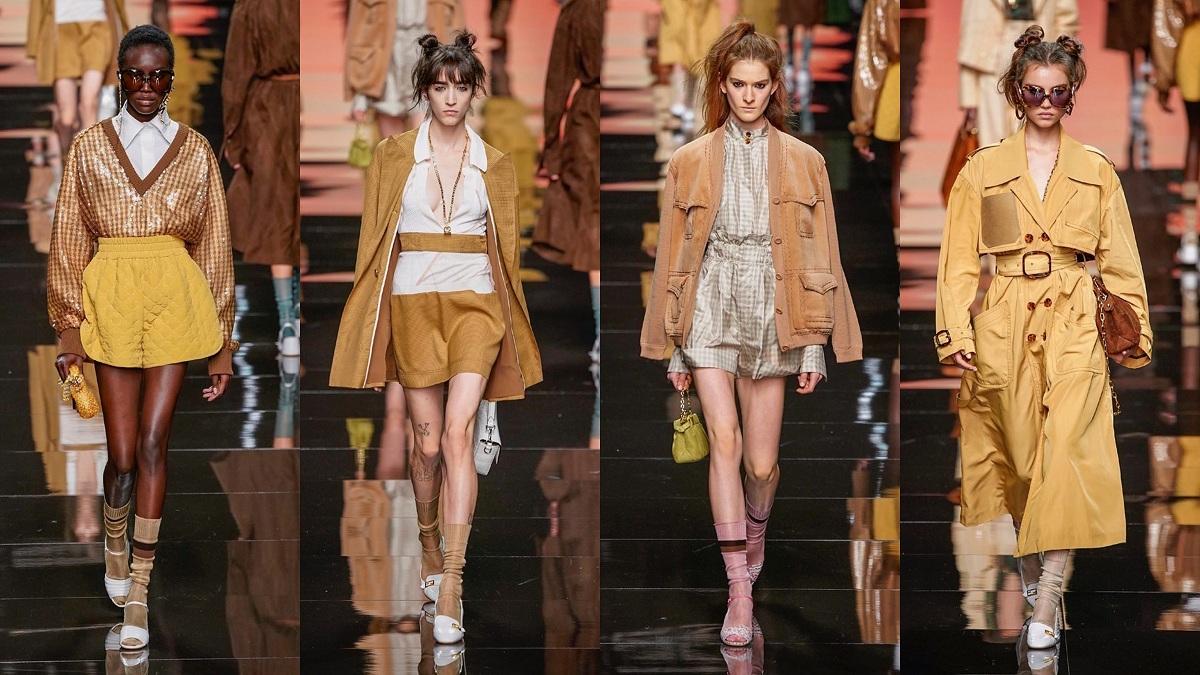 Niektoré outerwear (vrchné odevy) prvky boli odvodené z úžitkovej funkcie oblečenia do práce, iné mali nádych oblečenia na noc, i keď nie so sexi nádychom, v letnej kolekcii Fendi 2020 nájdeme hlavne kombinovateľné kúsky v pastelových farbách zo saténu a nylonu.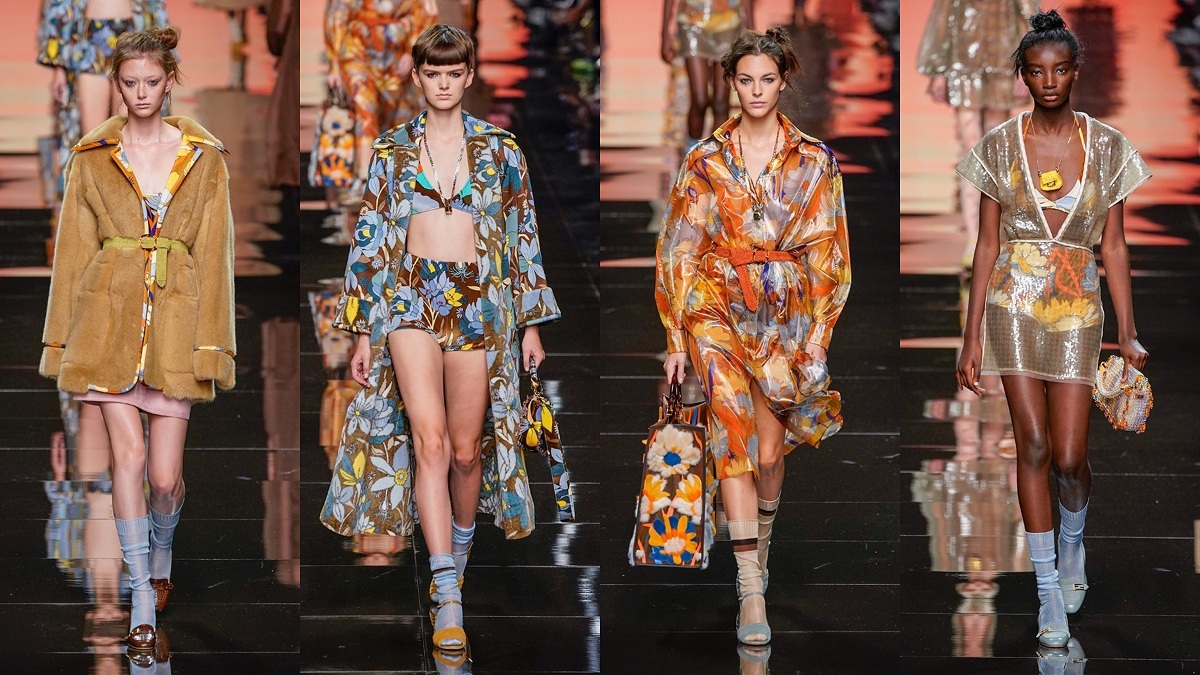 Inšpirované boli americkou herečkou Mary Tyler zo 70. rokov a jej slávnym seriálom Mary Tyler Moore.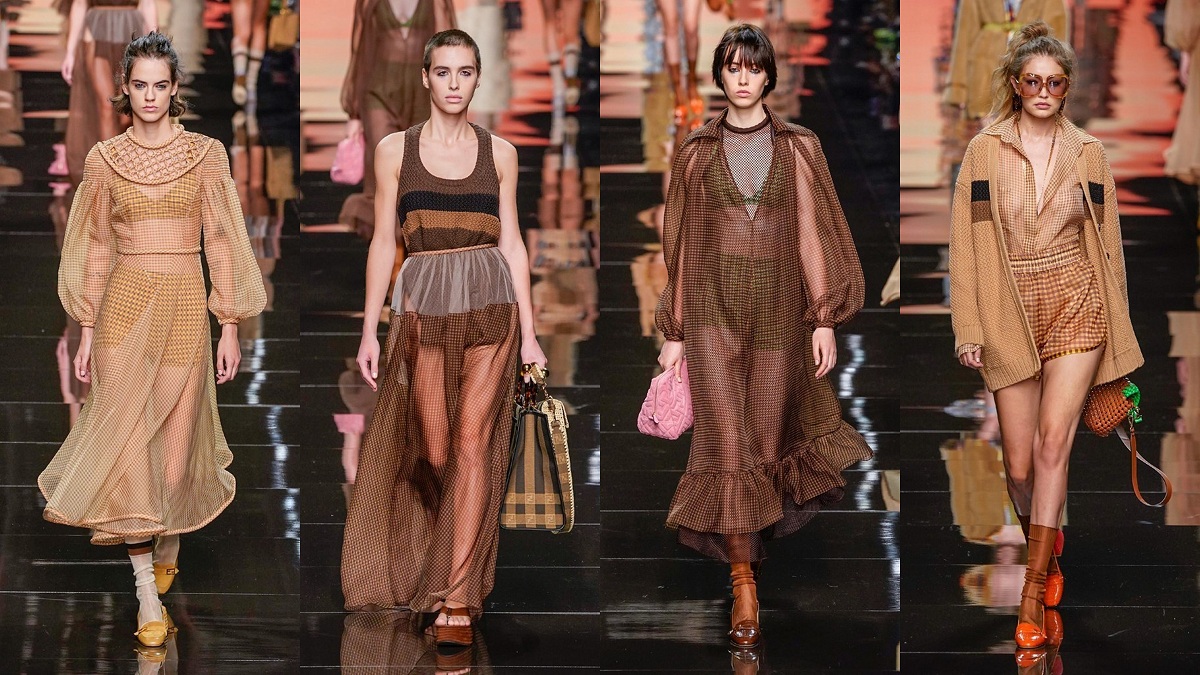 Kolekcia pre Jar / Leto 2020 je tak teplá ako žiariaca radosťou ako prvý deň leta a sním prichádzajúce tóny karamelovej, horčicovej, sladkej ružovej s klenotmi smaragdu, fuchsiovej a nebesky modrej.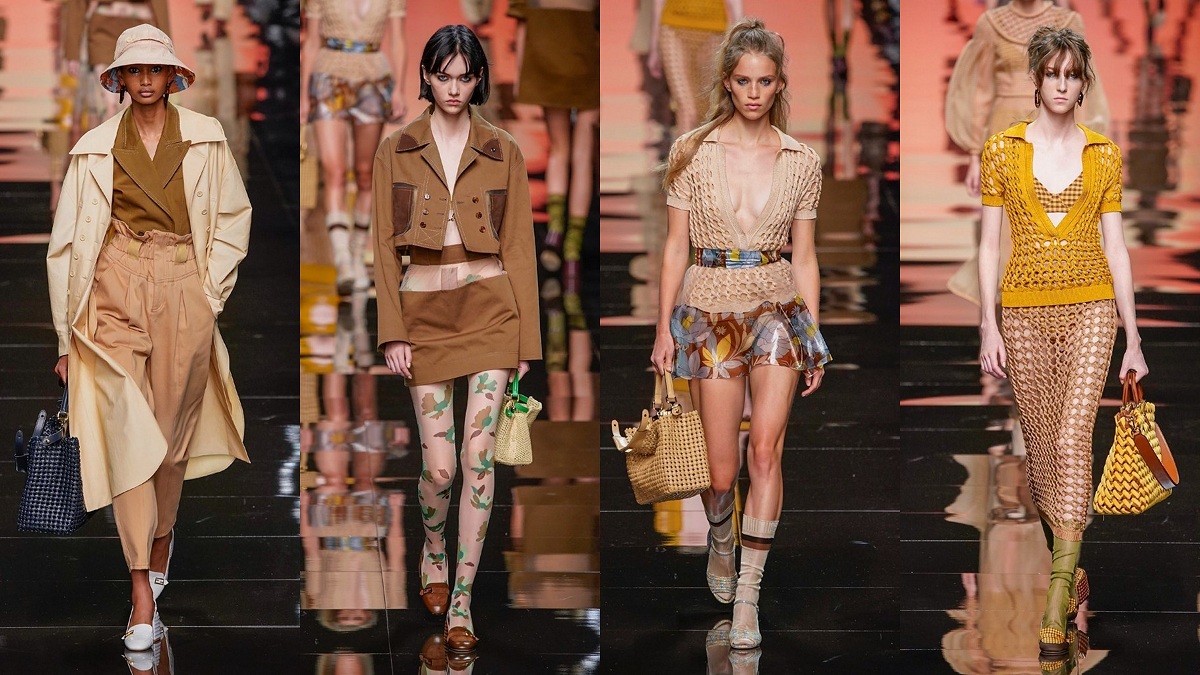 Módna návrhárka Silvia Venturini Fendi tentokrát pripravila módnu show na dlhom lesklom prehliadkovom móle s polo eliptickým slnkom, z ktorého žiary vychádzali modelky predvádzajúce Fendi outfity. Osvetlené teplými tónmi oranžovej, orieškovej a žltej žiary slnka, modelky predviedli najnovšiu letnú kolekciu Fendi 2020 za zvuku soundtracku Michel Gauberta zosilujúceho energickú letnú náladu.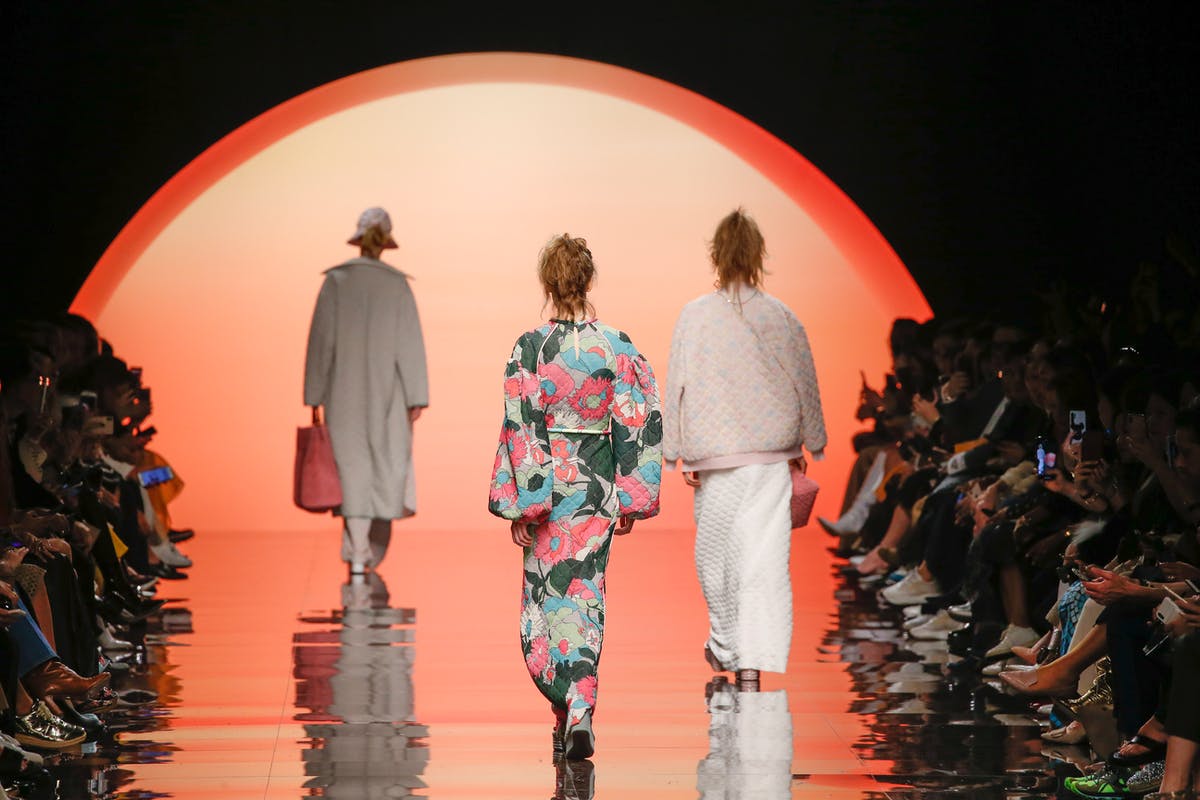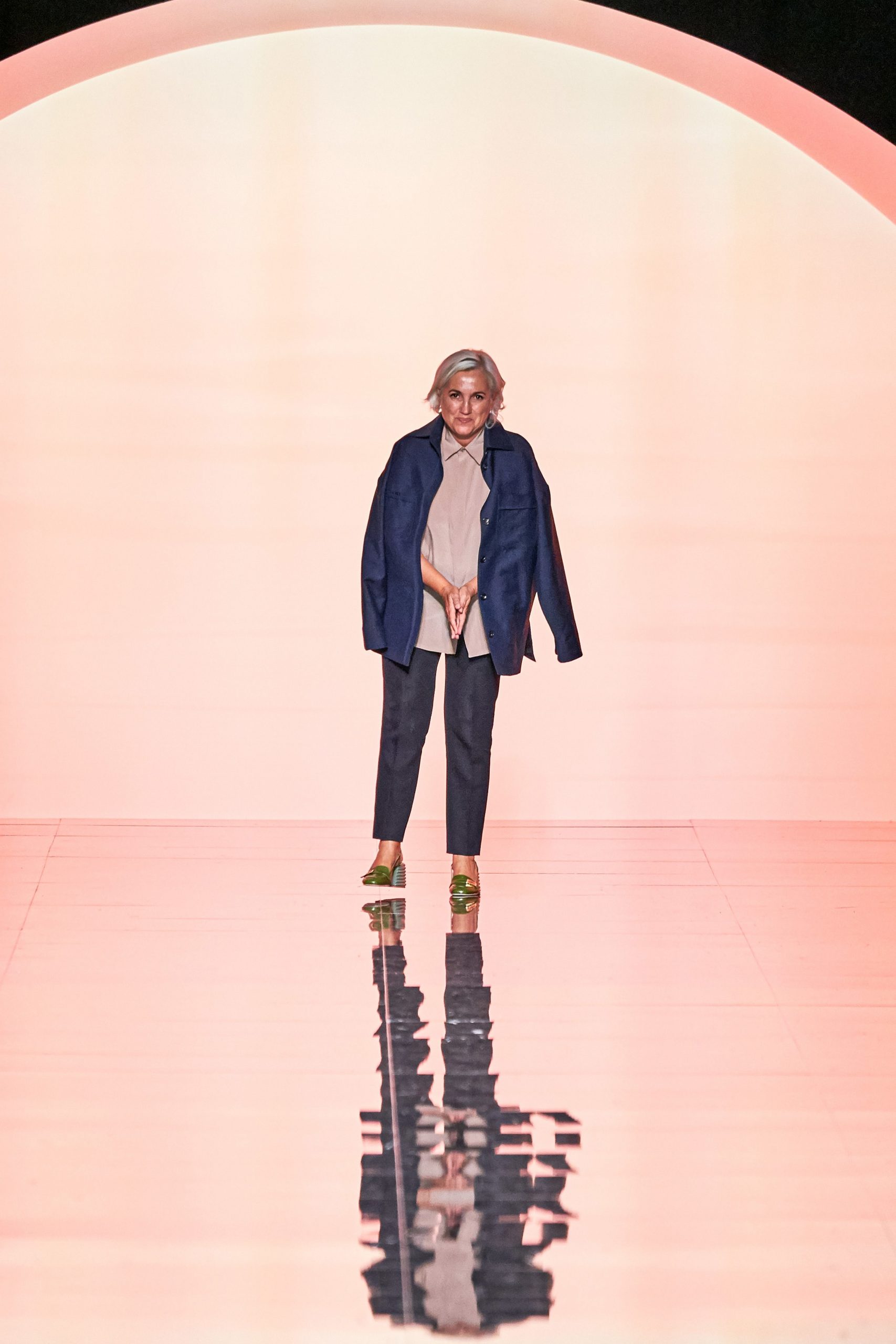 FARBY , MATERIÁLY A POTLAČE
Farebná paleta kolekcie Fendi pre Jar/Leto 2020 variovala od jemných pastelov k sýtym zlatým farbám pripomínajúcim západ slnka. Zvýraznila bizarné farebné potlače v zhlukoch, ktoré spolu častokrát vyzerajú skvelo, v široko dostupných materiálových prevedeniach zamat, satén, nylon.
Hýriace potlače sa stali nosným prvkom súčasného trhu, pričom v kolekcii značky Fendi boli stlmené tradičným luxusným faktorom. Objavili sa retro kvetinové potlače prekryté s okvetnými lístkami rezanými laserom , priesvitné flitrové pepito, transparentné materiály, háčkované modely, obláčikové prešívania a froté tkaniny, všetko dokonale sediace na dávnu románsku cestu, či slnkom pobozkanú dovolenku na ostrove Capri.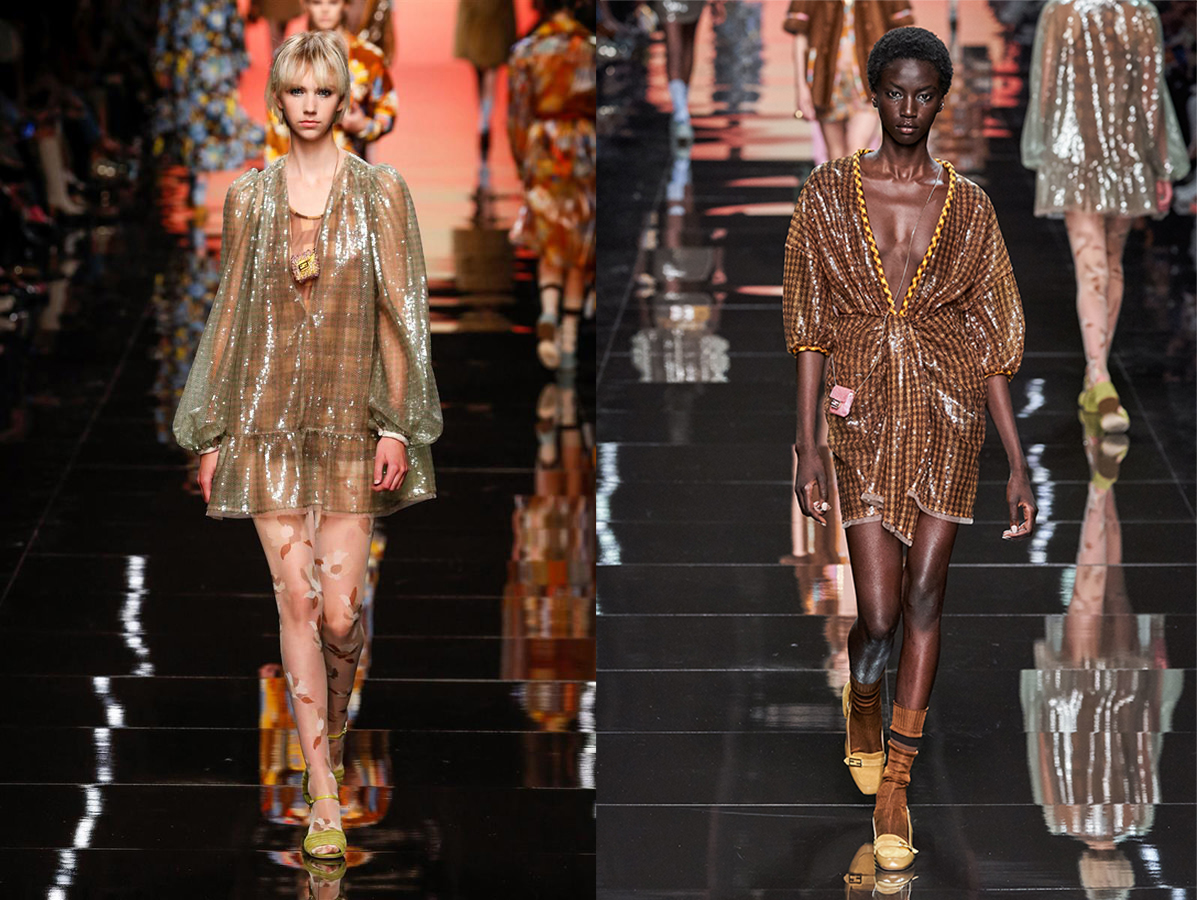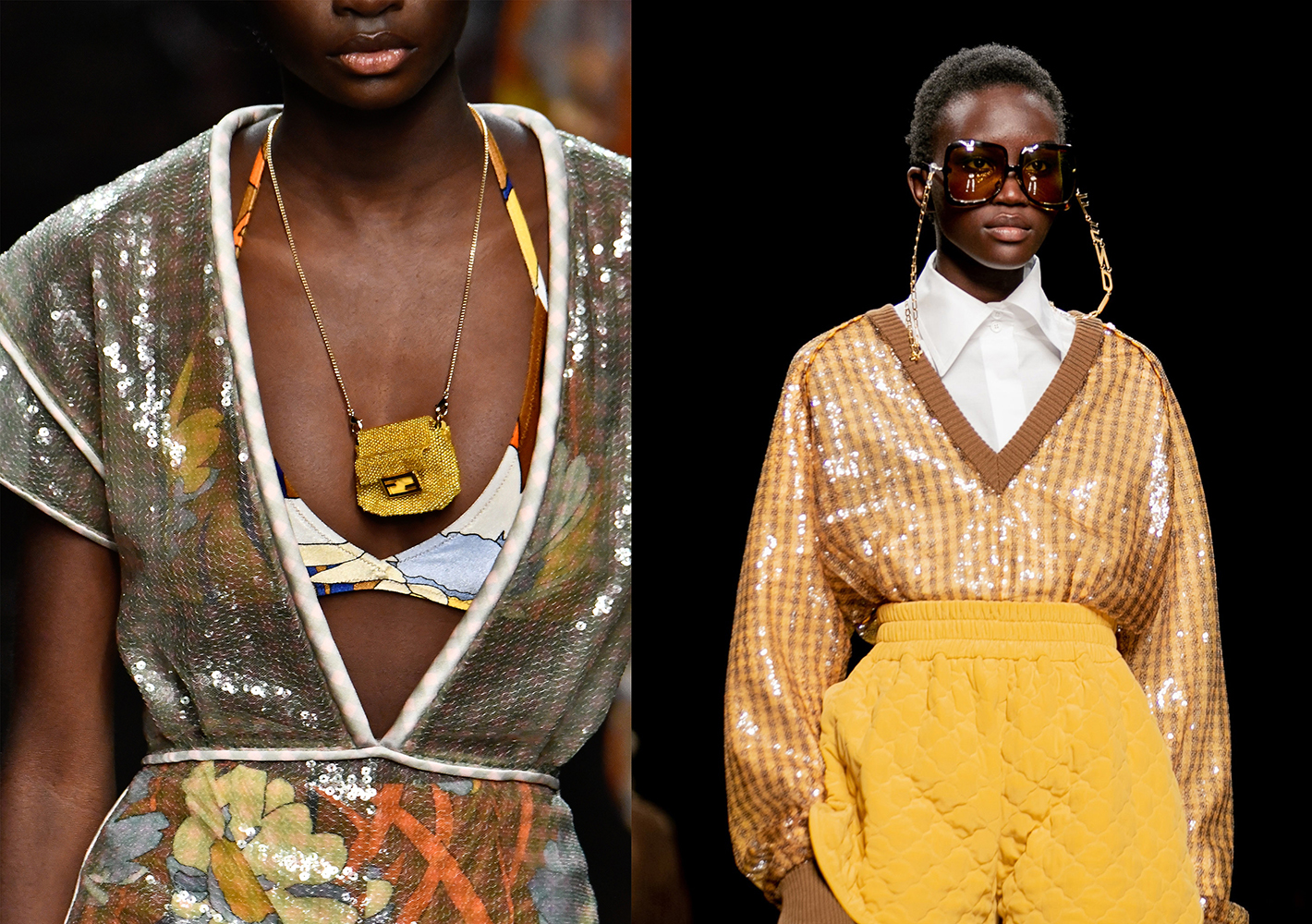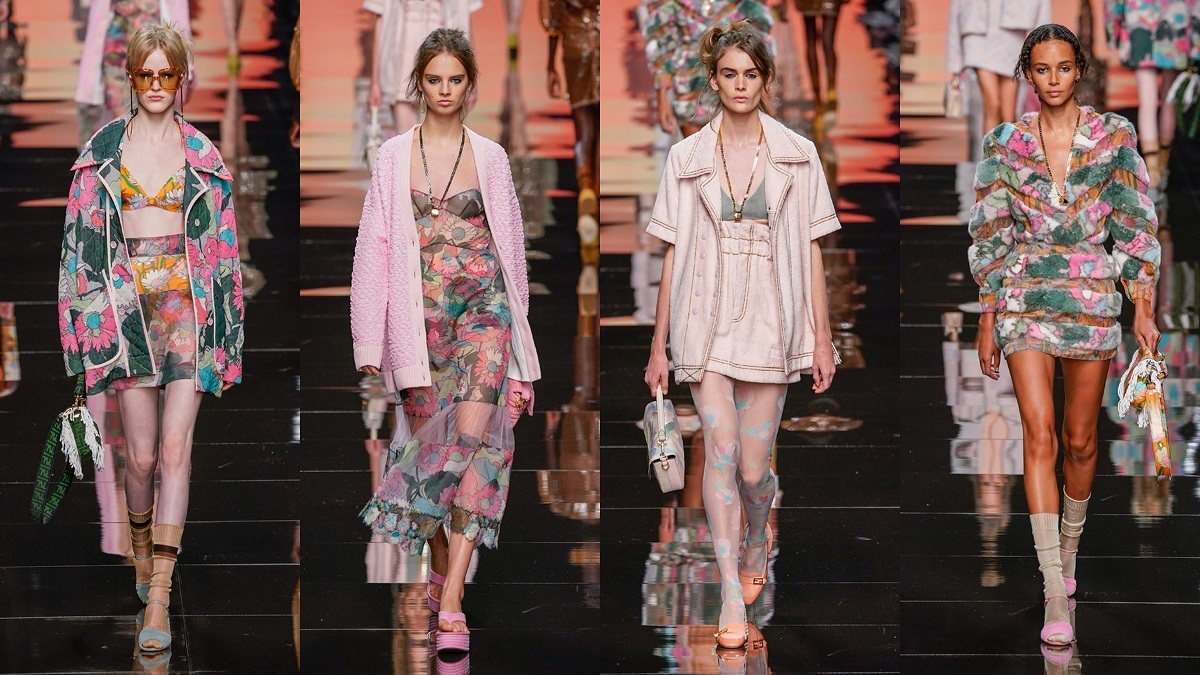 Nechýbali tropické potlače, pralesné motívy, florálne, ktoré sa stali novými trendami pre Jar/Leto 2020 a ktoré sa takisto objavili aj v kolekciách ostatných talianskych módnych značiek v letnej sezóne Milan Fashion Weeku.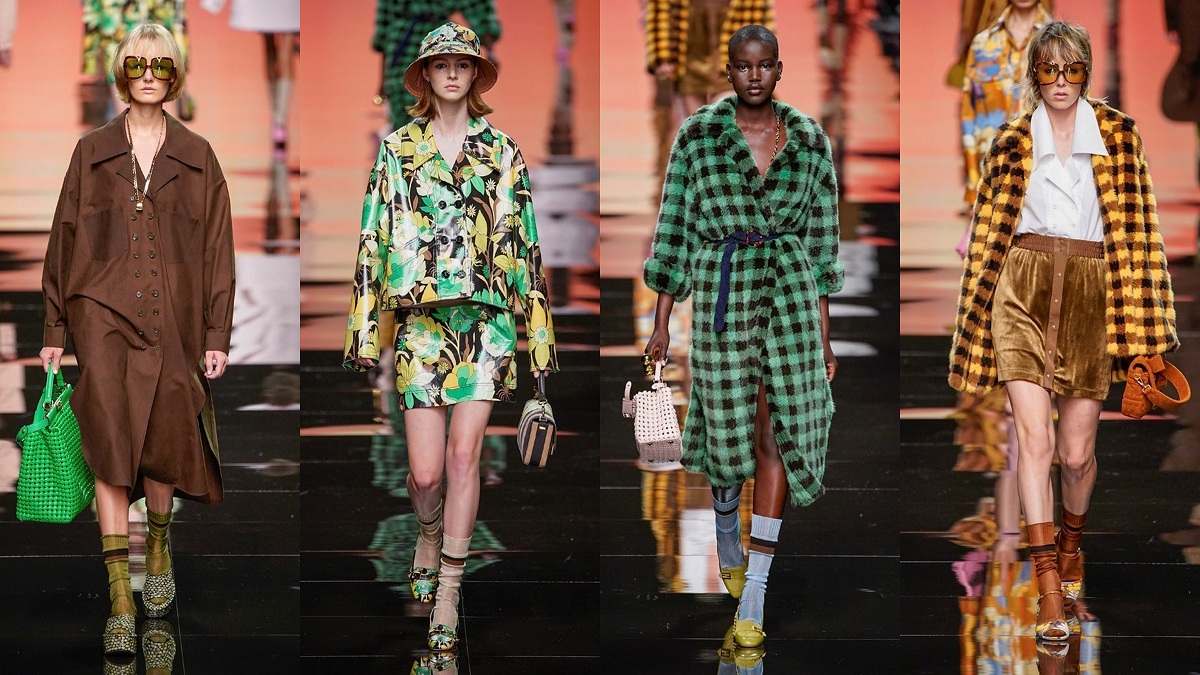 Nasiaknutý teplom talianskeho východu slnka, najnovšia kolekcia FENDI Jar/Leto 2020 navrhnutá dizajnérkou Silviou Venturini Fendi dláždi cestu hravému bohatstvu letných dní.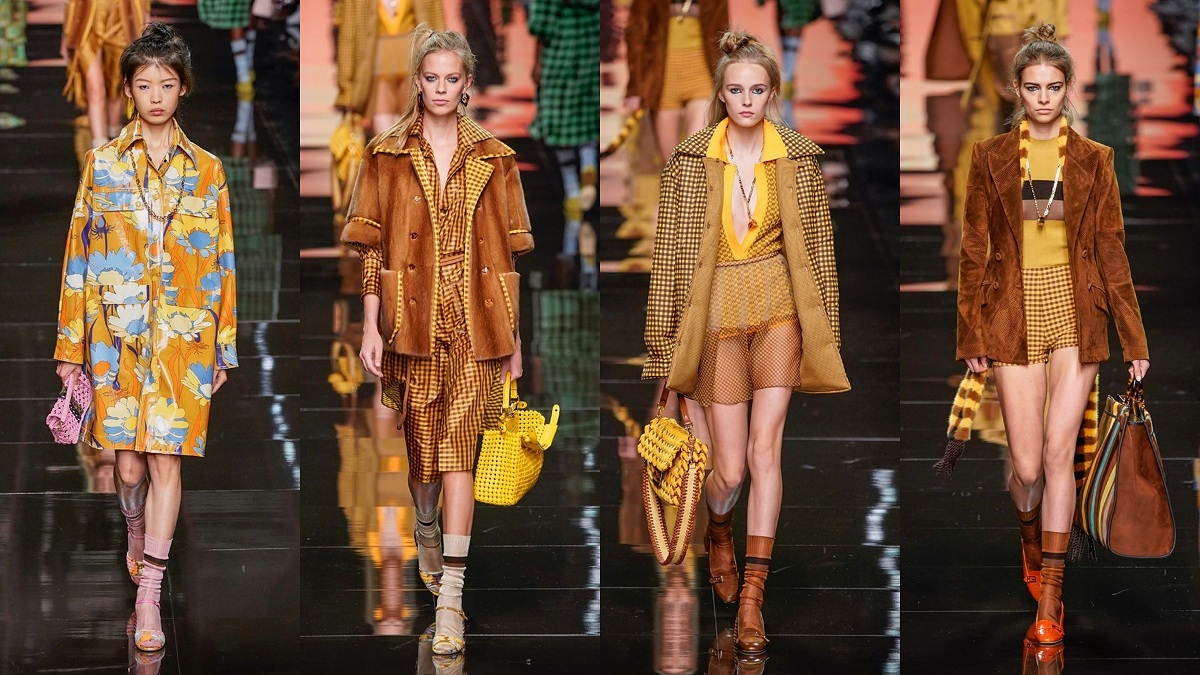 Slnečná paleta vytryskla do prenikavých živých farieb od zábleskov najsvetlejšej ružovej, po medovú a orieškovú. Predvádzali najžiadanejšie modelky, sestry Bella Hadid a Gigi Hadid ako aj iné hviezdy, Talianka Vittoria Ceretti.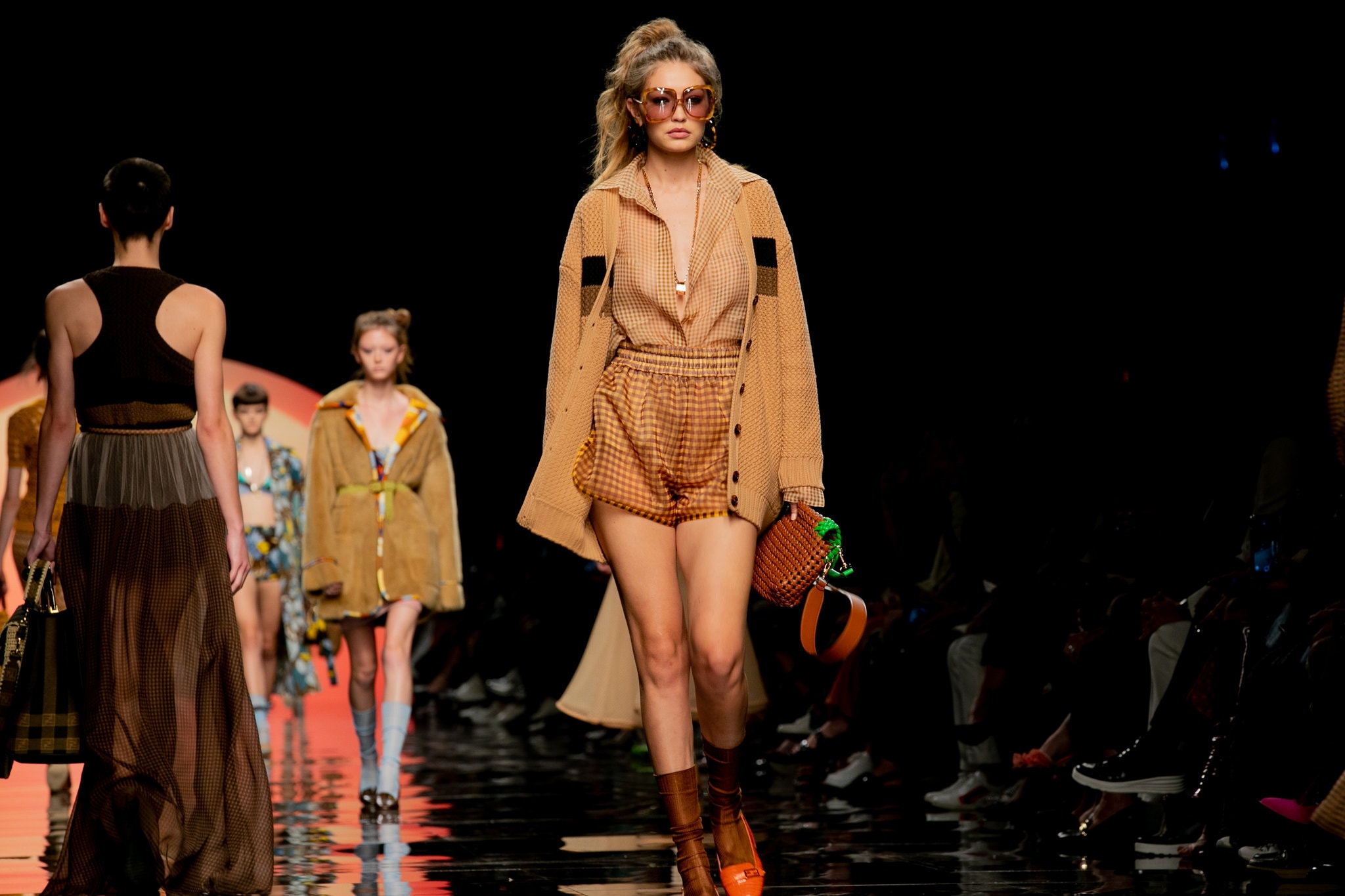 Modelka Gigi Hadid – prehliadka značky Fendi, kolekcia Jar/Leto 2020, 19. september 2019, Miláno, Taliansko, obrázok hore.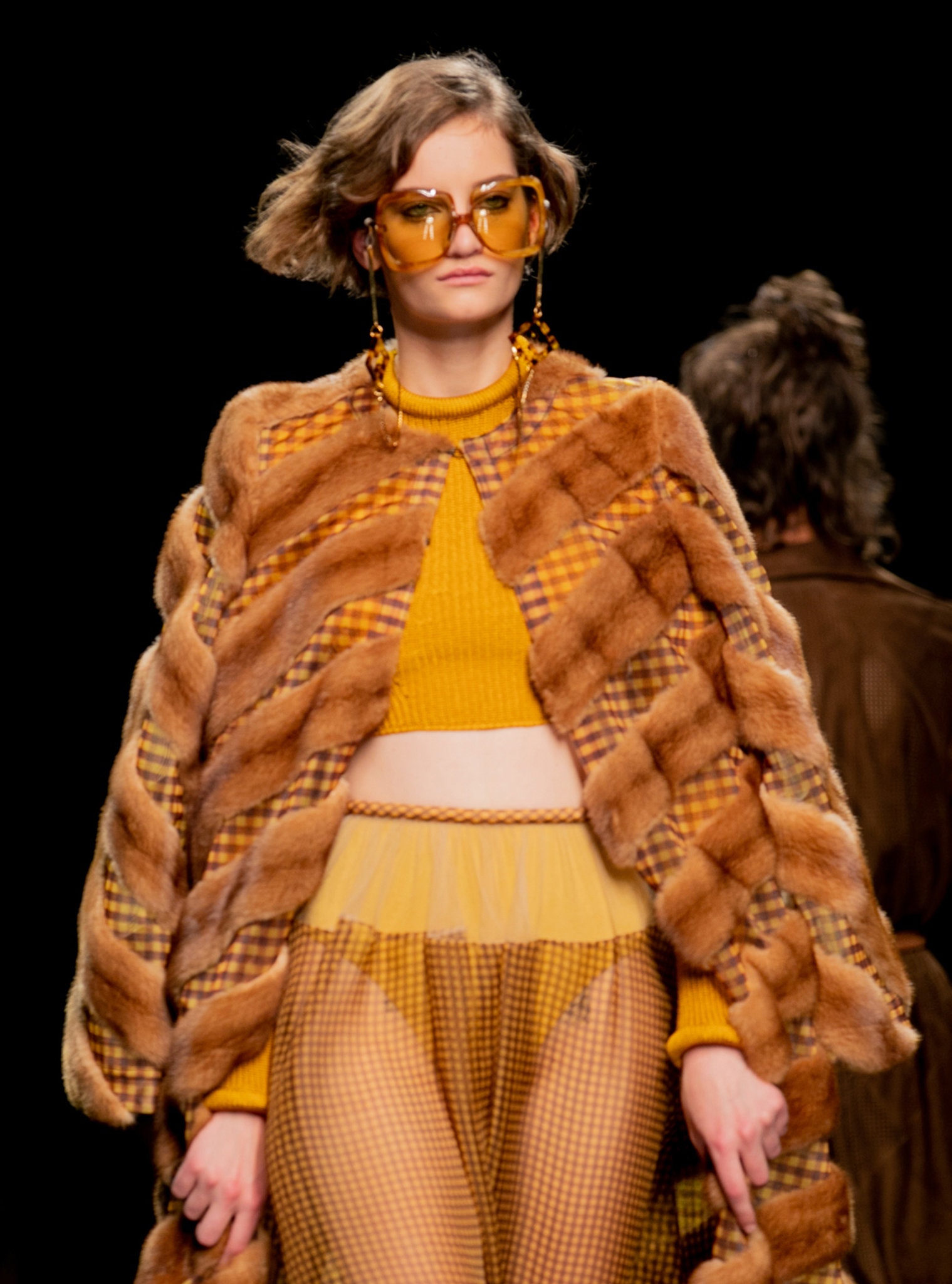 Florálne potlače a éterické textúry sa prepletajú v magické kúzlo s kreáciami ktoré predvádzajú nenapodobiteľné Fendi majstrovstvo v paletách zemských okrov a pastelov.
Od plyšových kockovaných plášťov a búnd po prešívané materiály, lakované kvetinové plášte, vynikajúce úplety a beachové oblečenie s vintage akcentami odkazujúcimi na neskoré roky 60, začiatok rokov 70tych, to je kolekcia s kaleidoskopom textúr, ktoré zmixovali Fendi tradíciu s okamihami letnej rebélie.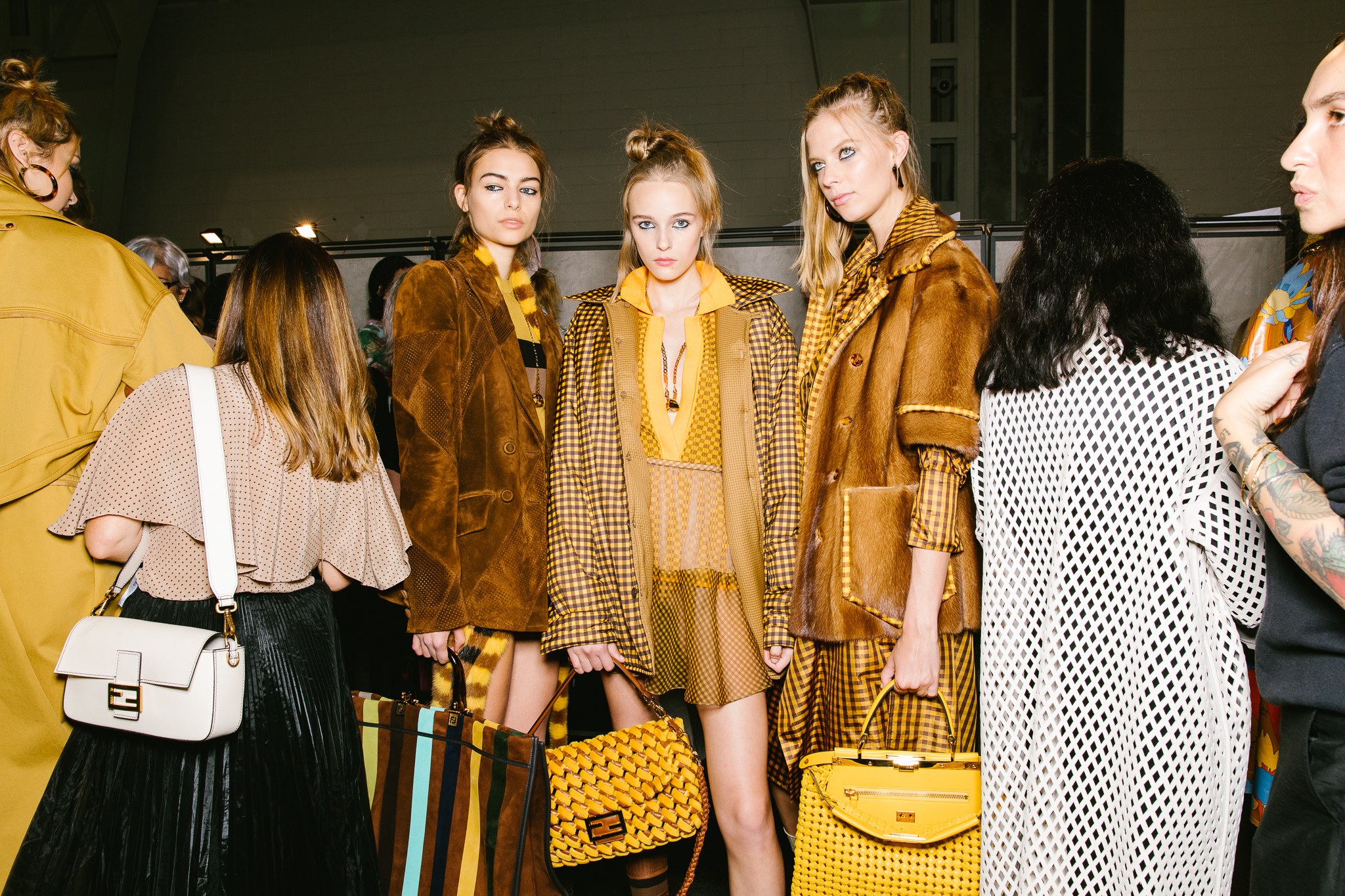 Fendi žena má pôžitok z tepla, slnka a užíva si typické talianske leto.
Súbory kvetov, rozrušenia v podobe grafickej geometrie a zmyselná hra priehľadnosti, dierkovania, tkanín a pletenín. Kaleidoskop textúr a tónov zmixovala značka Fendi s tradíciou a okamihami letnej rebélie zrkadliacej sa v kolekcii Jar /Leto 2020.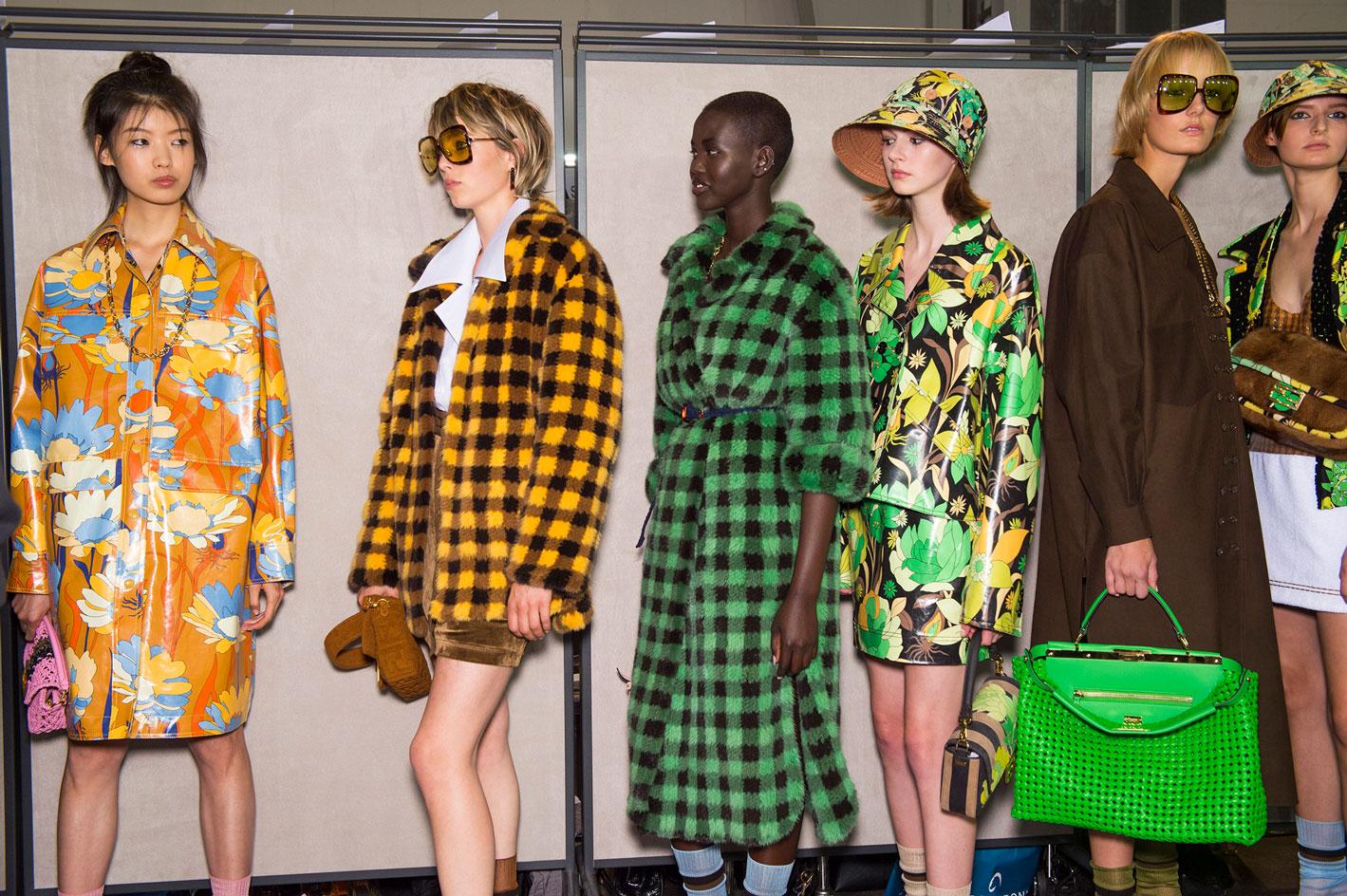 Doplnky najnovšej kolekcie Jar / Leto 2020 oživili prírodné materiály ako kompakt rafia materiál, mrežová koža a ozdobné plátené FF fendi logo. Kabelky typu baguette pokrývajú kvetinové motívy a nové typy rúčok kabeliek tote sú ukončené leštenou telacou kožou a semišovými pásikmi. Priliehavé podkolienky ladia so zrazenými mokasínami na nízkom podpätku s remienkom a vpredu otvorenými kvetinovými sandálami.
Novú kolekciu Fendi Jar/Leto 2020 dotvárali veľké hranaté retro okuliare a náušnice s logom Fendi.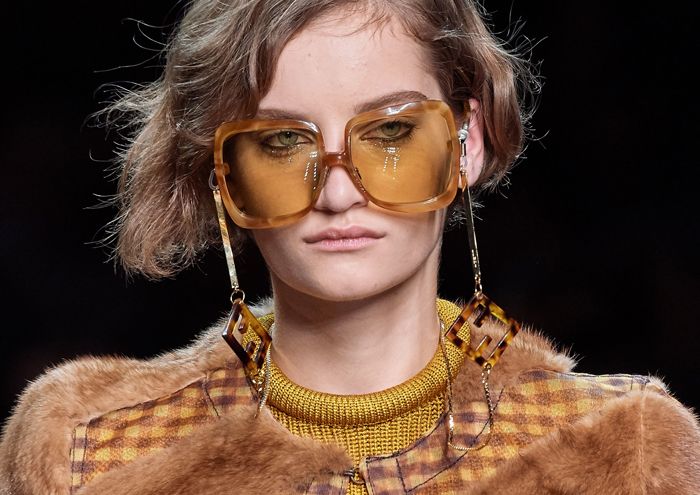 Posledné úpravy: Pre letnú sezónu 2020 pripravila značka Fendi premyslené rafia mikro trendy a značke vlastné Peekaboo kabelky (moderné a funkčné luxusné kabelky pre každý deň) , ktoré boli zväčšené do prehnaných veľkostí a ručné tkaniny od farebných rafia po béžové odtiene.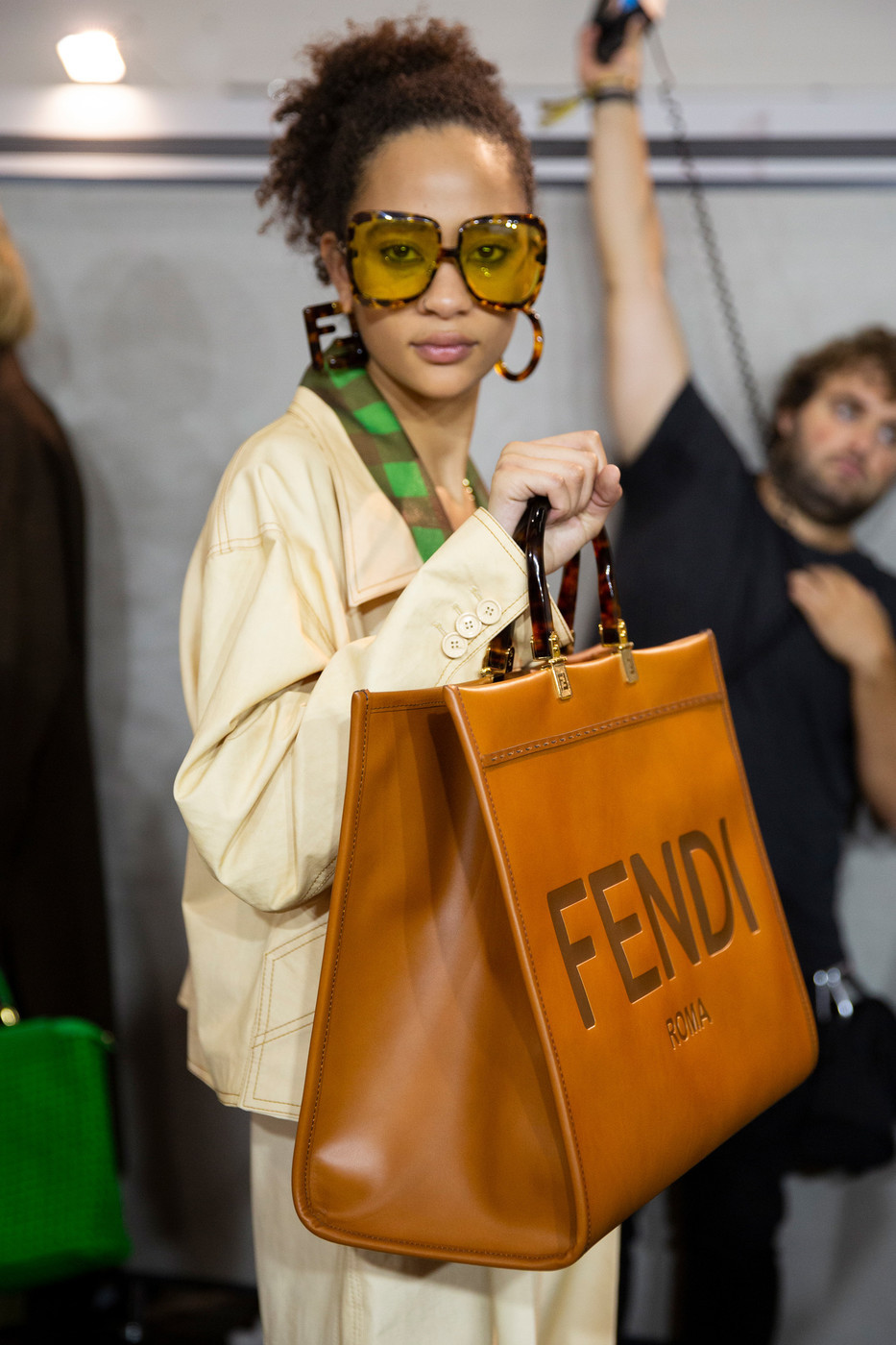 Čo si teda vziať na Fendi dovolenkový hit list ? Bronzové zamatové šaty s gýčovými rastlinnými potlačami a hlbokým výstrihom, vypchatý plášť medu s tylovou mini sukňou, transparentné šaty so zvonovými rukávmi a županové plášte. A nezabudnite si pribaliť opaľovací krém ! Sicílske leto a pravá talianska letná atmosféra na vás už čaká !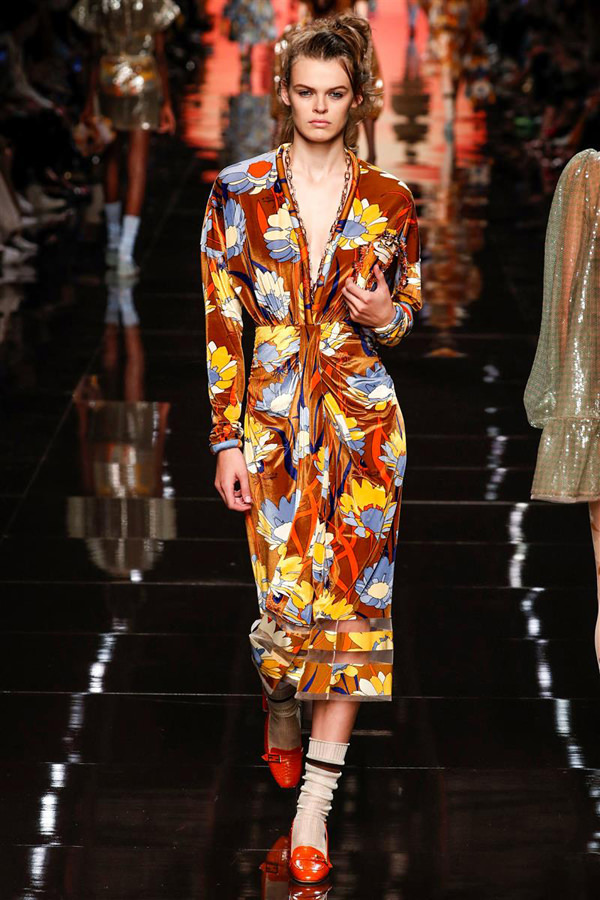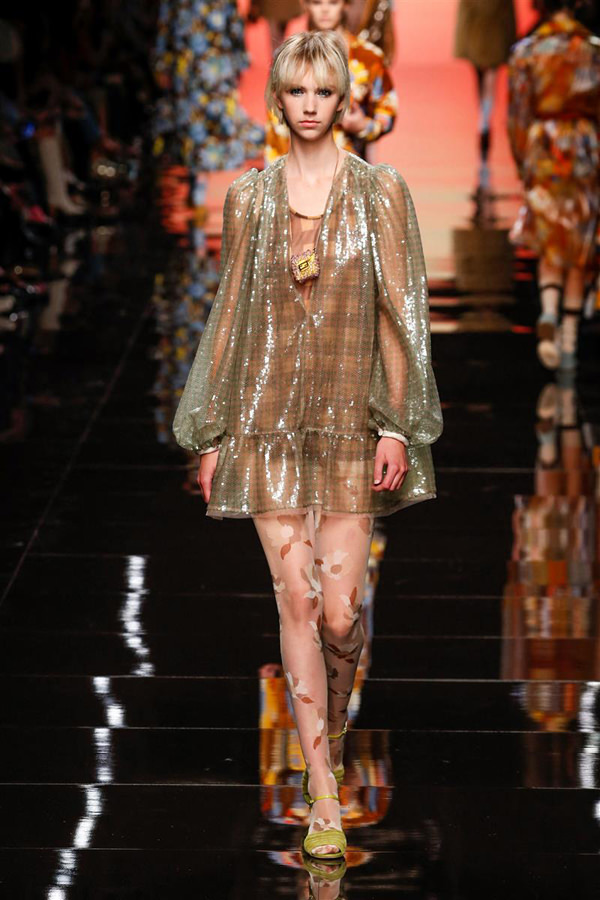 zdroj obrázkov: Fendi, schutterstock, getty images, Vogue
Sledujte instagram mya_mirell, kde v insta stories uvidíte moje zaujímavé módne videá. Taktiež stránku blogu na facebooku s názvom Mya Mirell Fashionista, ktorá je venovaná móde a Milan Fashion Weeku.