Fendi – kolekcia Jar / Leto 2021, óda na tradíciu, remeslo a odraz času stráveného doma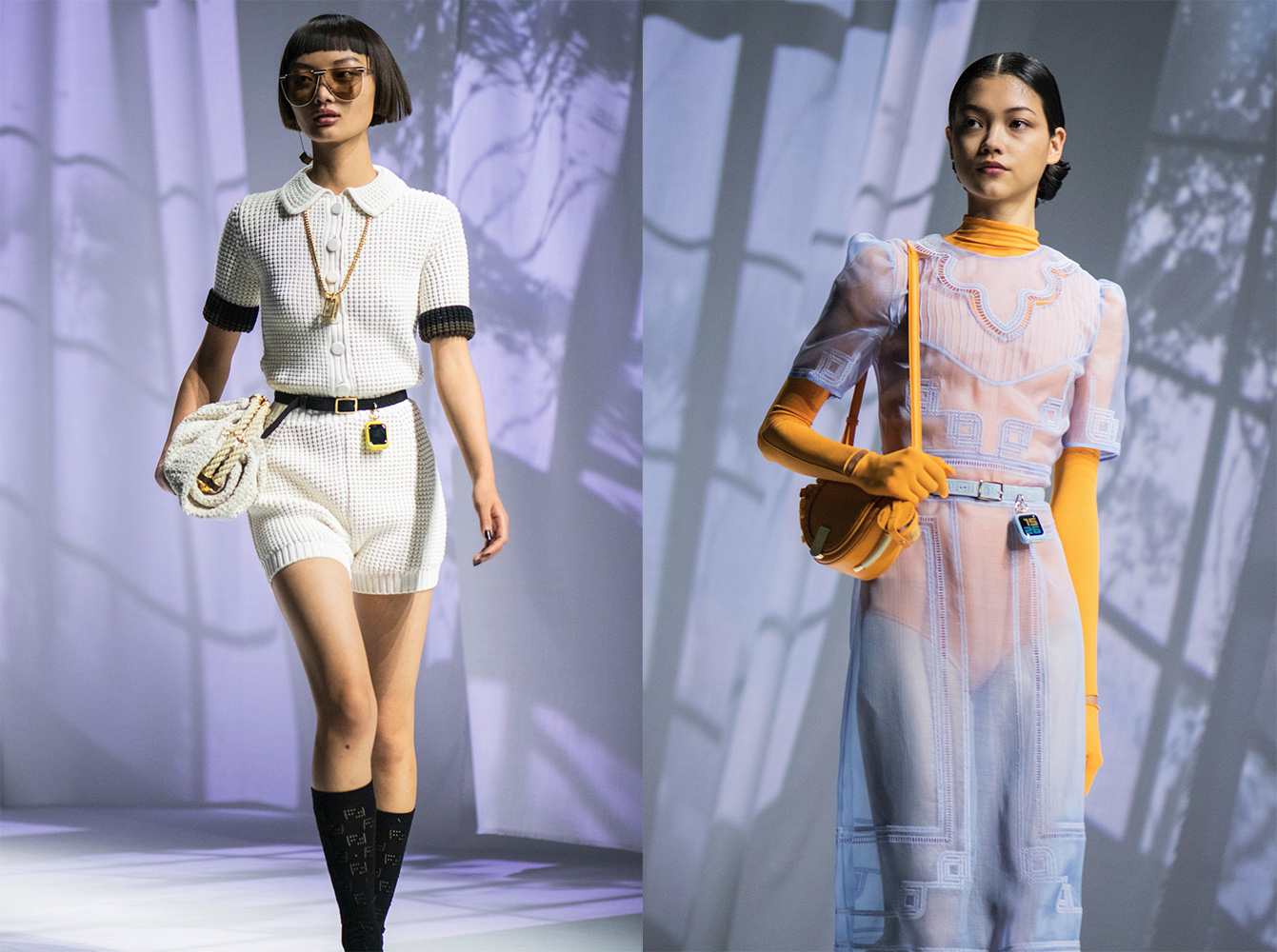 "Oblečenie, ktoré uznáva závažnosť okamihu, rozpráva príbehy o prísnosti talianskeho remesla a emóciách našich univerzálnych skúseností," uvádza sa v tlačovej správe po prehliadke kolekcie Fendi, Jar/Leto 2021, predstavenej počas letnej sezóny Milan Fashion Weeku.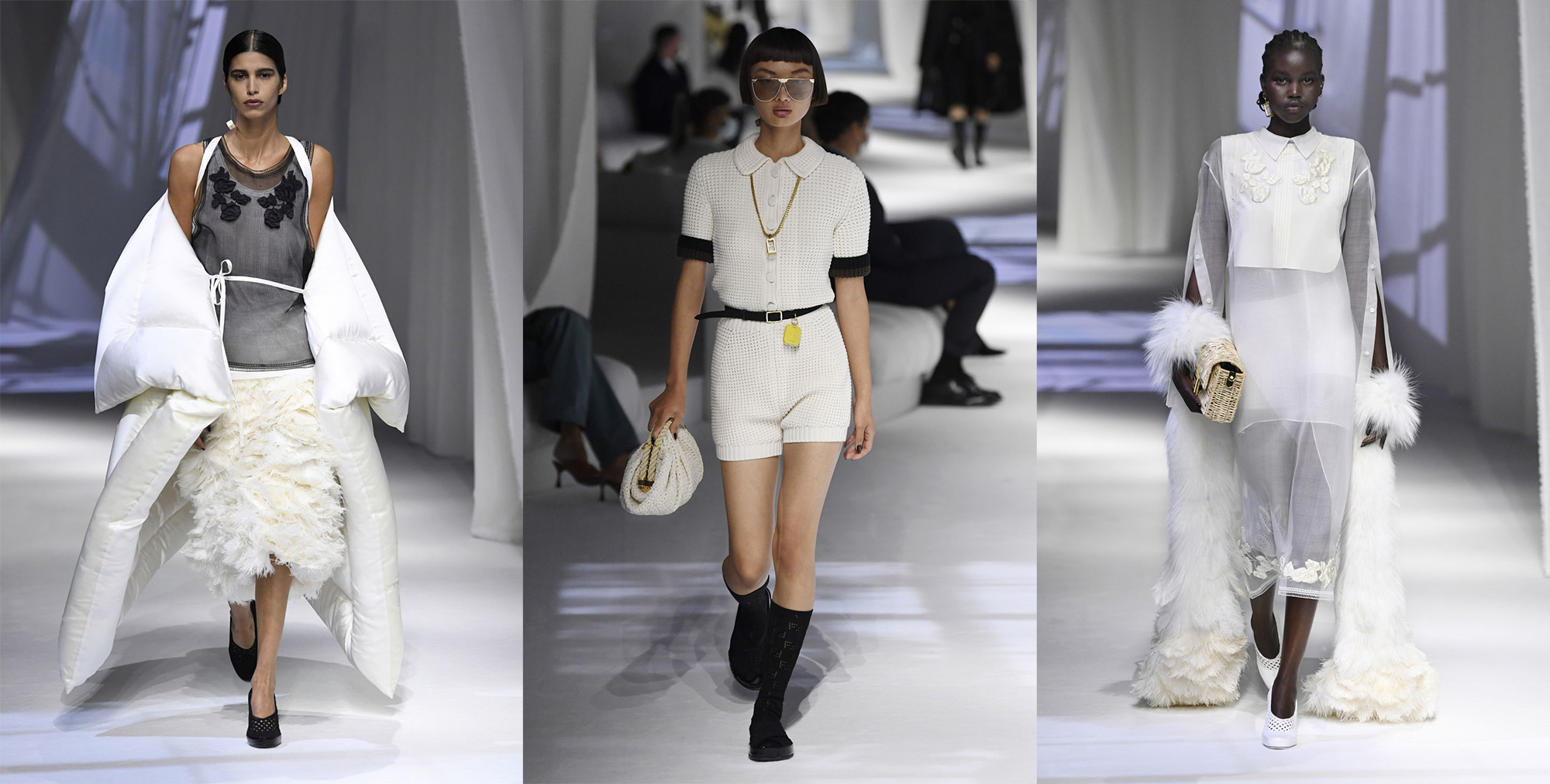 Spoločná prezentácia Fendi kolekcie muži a ženy pre Jar/Leto 2021 znamenala návrat živých prehliadok na móla v Miláne. Po tom, čo sa Taliansko dostalo z mesiacov zablokovania v roku 2020 v dôsledku celosvetovej koronavírusovej pandémie, sa do kedysi známeho prostredia na mólo za prísnych protipandemických opatrení vrátila značka Fendi. Nová sezóna a odkaz Fendi letnej kolekcie 2021 bol pre dizajnérku Silviu Venturini Fendi odrazom času stráveného doma.
Bolo to "spracovanie Fendi dizajnu použité za neskutočných okolností," povedala návrhárka počas septembrovej prehliadky kolekcie na Milan Fashion Weeku. Značka zdokonalila svoje dedičstvo a remeselné spracovanie, nad čím počas koronavírusovej pandémie dlho premýšľala.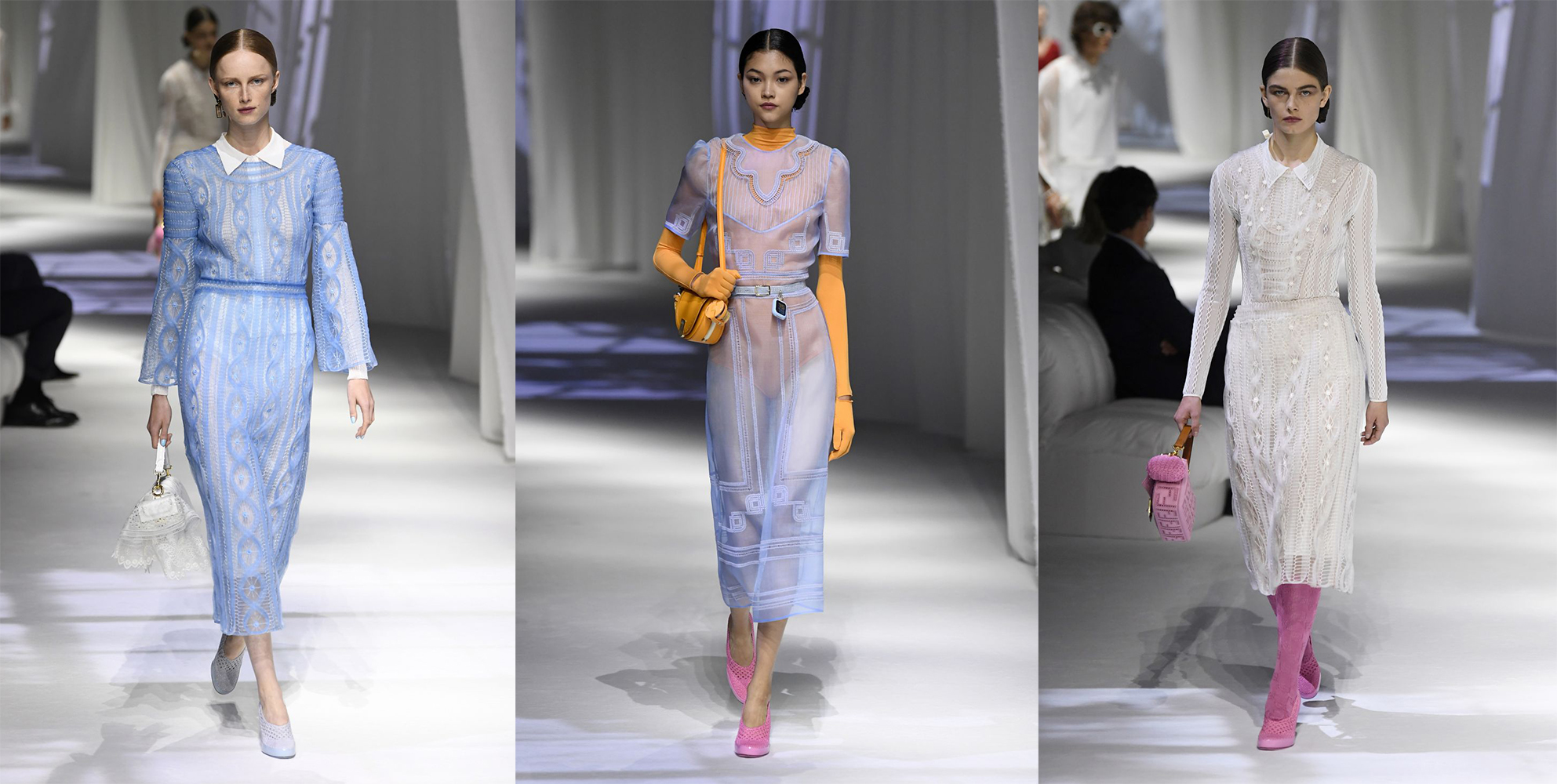 FENDI JAR/LETO 2021 – RODINNÉ HODNOTY, VÝZNAM RODINY A REAKCIA NA POBYT V KARANTÉNE
Kolekcia Fendi pre ženy a mužov Jar/Leto 2021 je zmesou spomienok, ktoré navrhla dizajnérka Silvia Venturini Fendi. Módna návrhárka ponúka pohľad do hlbín svojej inšpirácie a odhaľuje: "Čas strávený s rodinou, generácie, ktoré sa opäť stretli doma v Ríme – čo je katalyzátorom tichej introspekcie, kedy pri okne alebo v záhrade možno sledovať okolitý svet." Potlače zdobené čírymi siluetami sú inšpirované fotografiami zachytenými z okna dizajnérkinej spálne.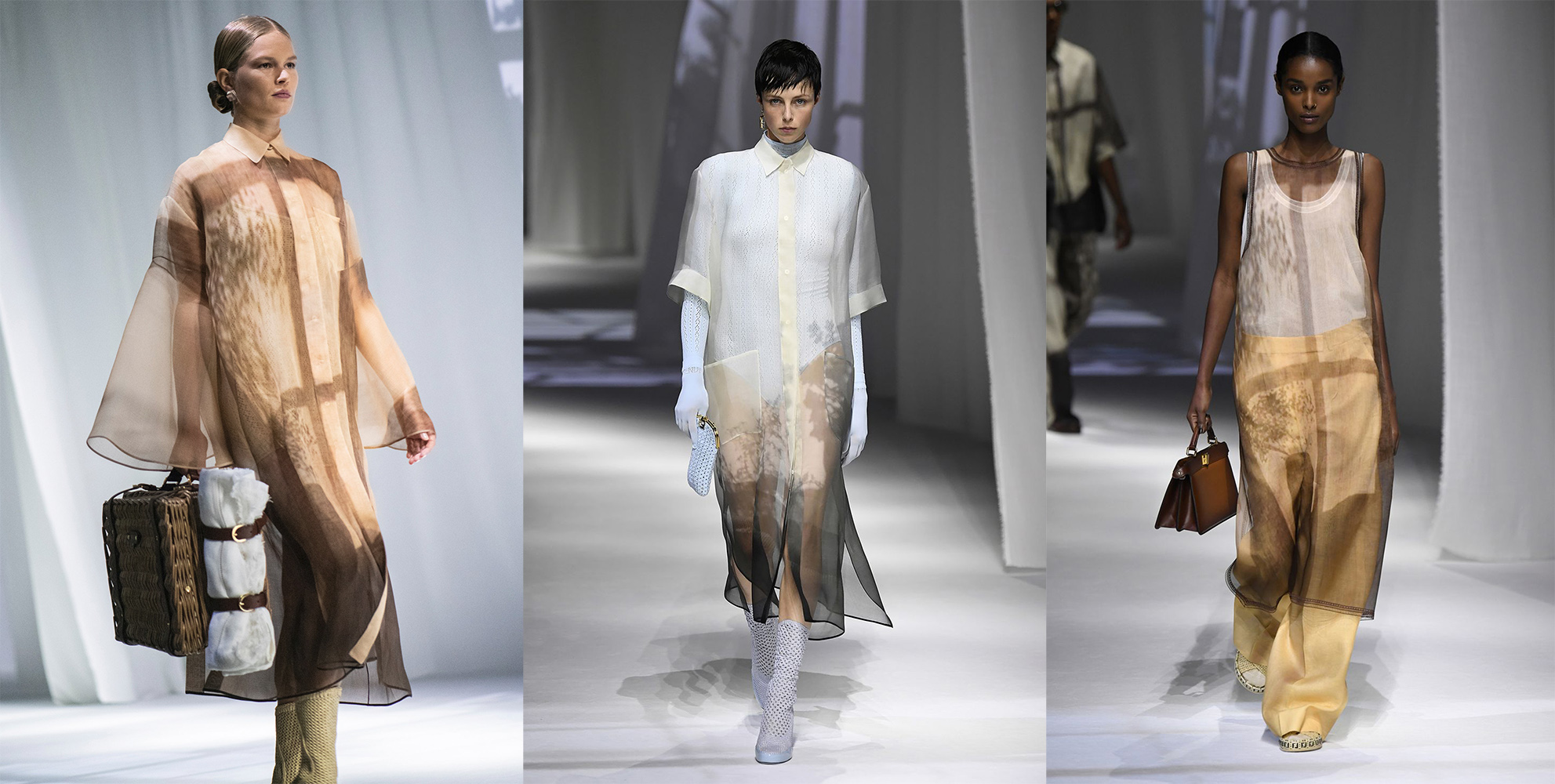 Na prehliadke predvádzali modelky rôznych vekov a figúr, mature modelky, pluss size modelky ako Ashley Graham a na móle sa tiež blysla modelka Eva Herzigová.
Kolekcia je ladená je do jemných pieskových odtieňov pšenice, mlieka a medu s výraznými infúziami nebesky modrej, kardinálnej červenej a čiernej. Video a sprievodné obrázky, ktoré zachytil fotograf Nick Knight, vzdávajú hold domovu, času a tradícii.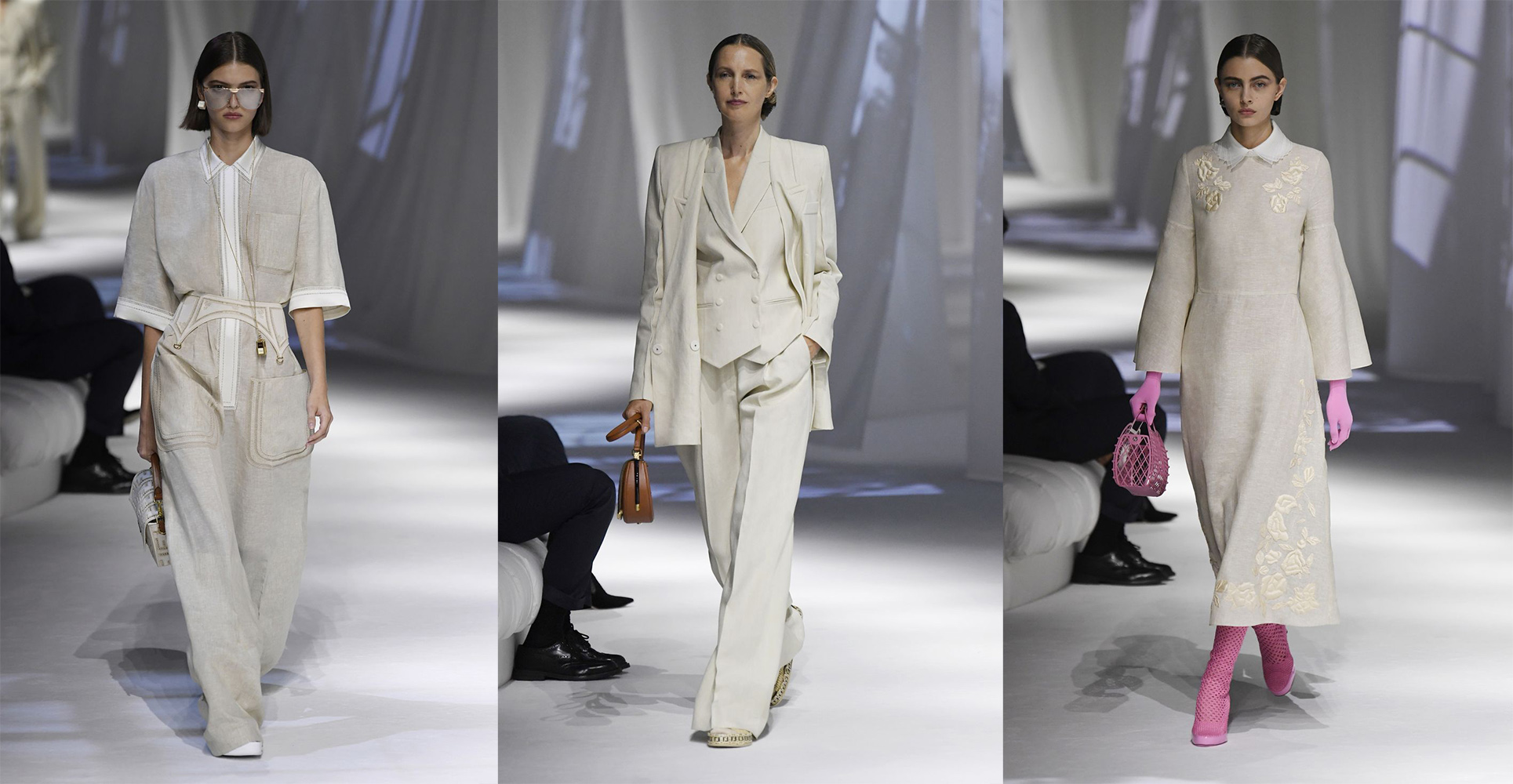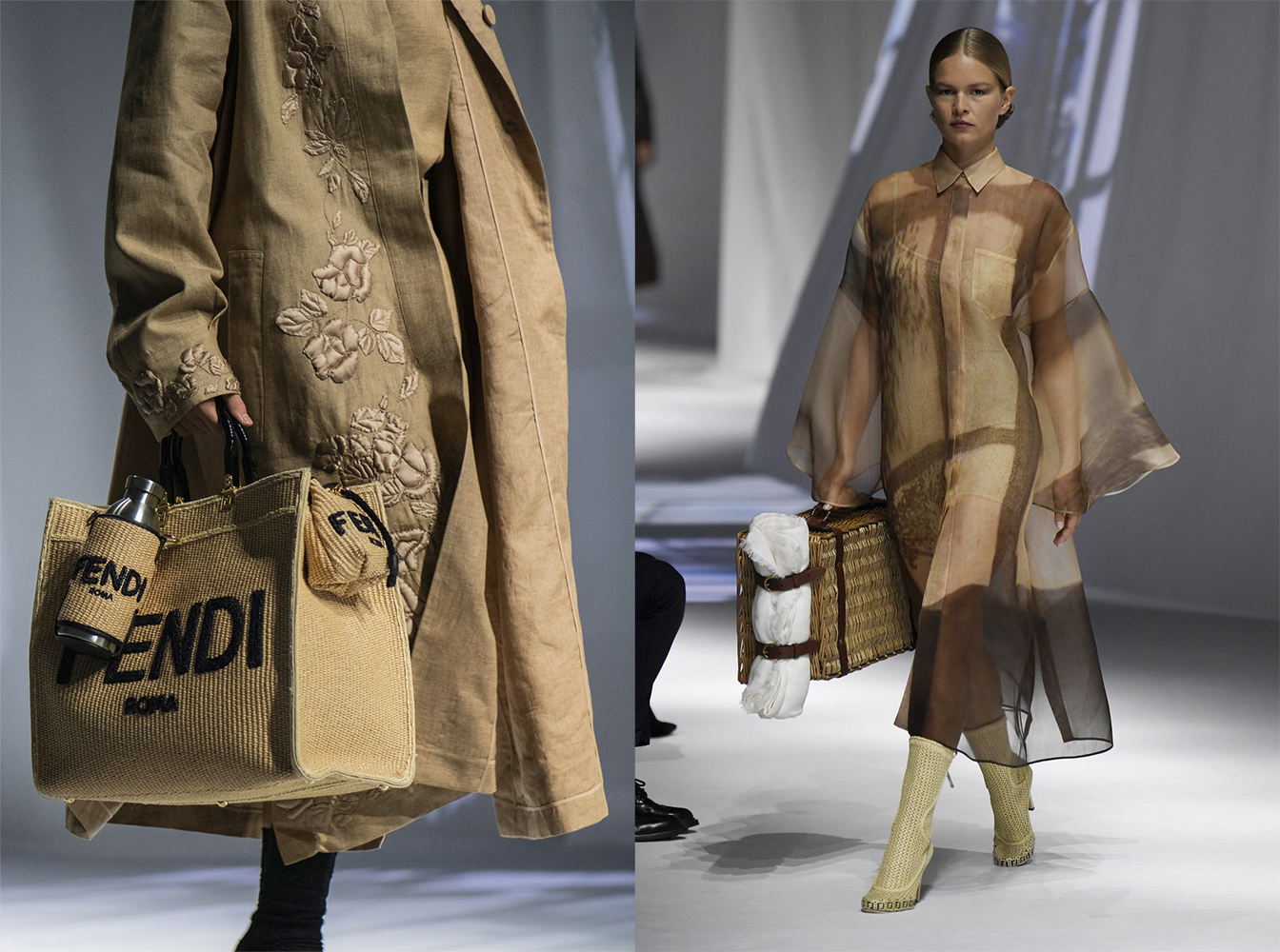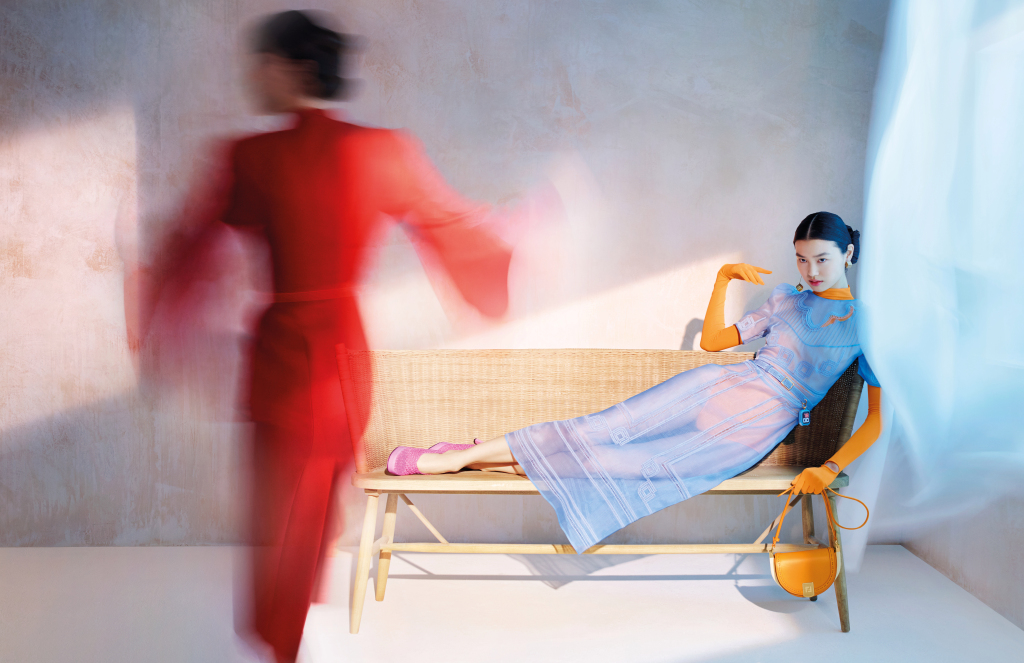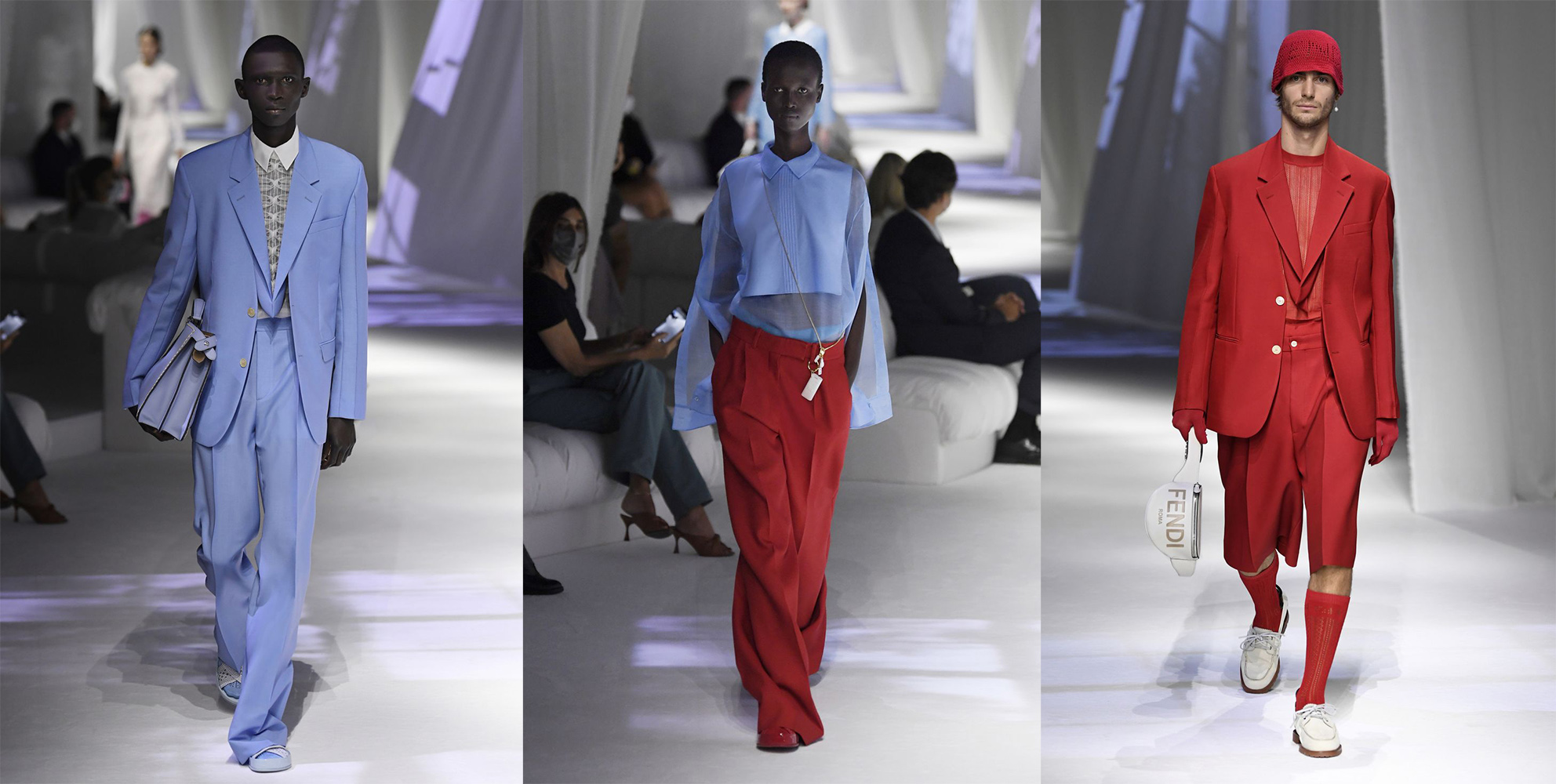 Módnu scénu prehliadky rámuje malá miestnosť s vlniacimi sa bielymi závesmi a domácimi prvkami, ako je drevená posteľ a stoličky. Digitálne "okno" premietané cez stenu odhaľuje pohľad do vonkajšieho sveta, kde sa modrá zamračená obloha stretáva s hlavným sídlom spoločnosti Maison v Ríme, Palazzo della Civiltà Italiana.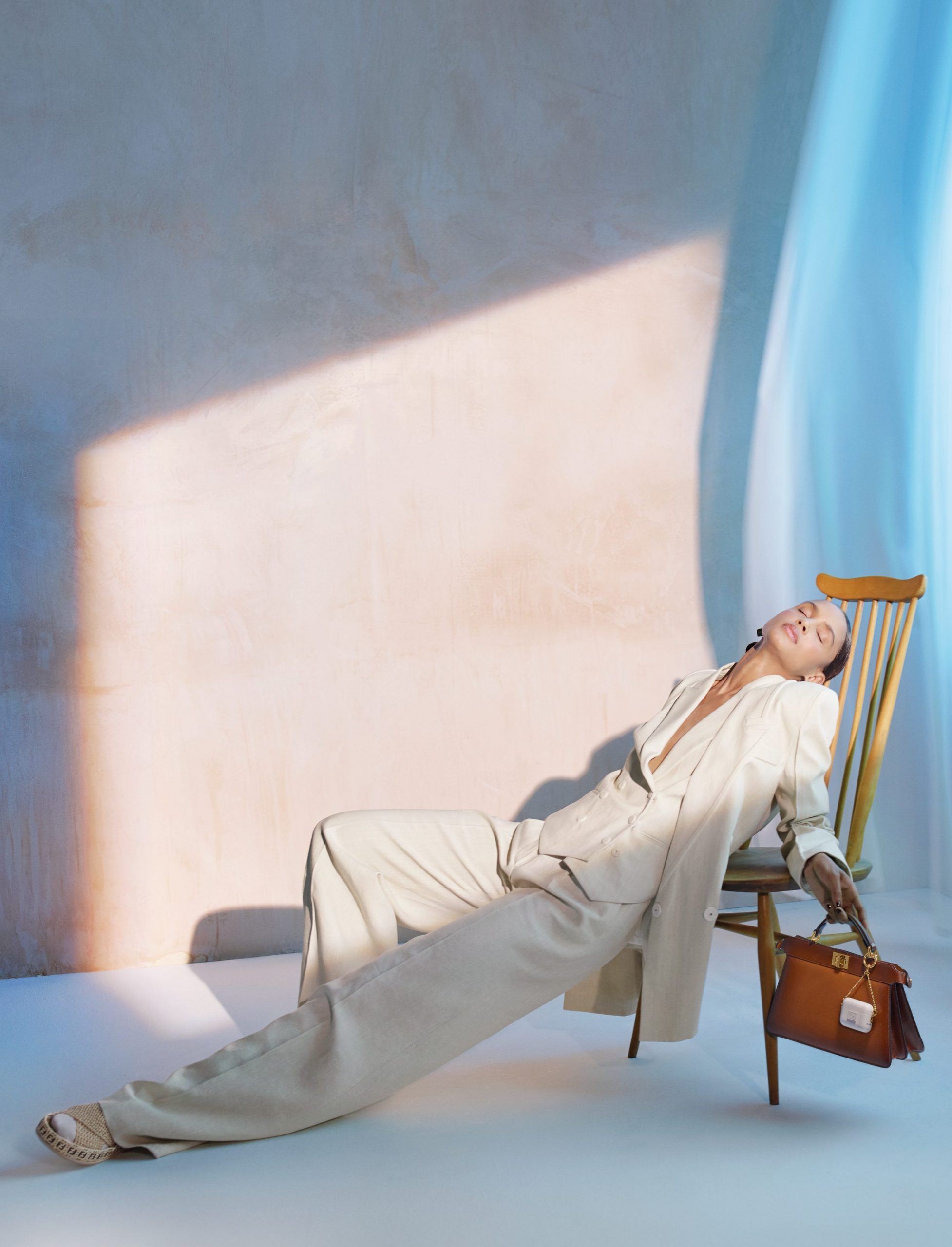 Kolekcia Jar/Leto 2021 je v jej ponímaní o rodinných hodnotách a hodnotách, ktoré stoja za módou.
Taliansky luxusný módny dom Fendi s bohatou históriou, ktorá siaha po generácie, ktorú dlhé roky viedol a pozdvihol legendárny dizajnér Karl Lagerfeld, predstavila v kolekcii Jar/Leto 2021 opätovne význam rodiny. Na móle sa počas prehliadky letnej kolekcie Fendi 2021 predviedli skutočné rodiny s matkami, otcami, sestrami a synmi.
Priama interpretácia tohto obrazu sa odrazila v čistej farebnej palete, v materiáli ako ľan a v bielych bavlnených nočných košeliach v kontraste s hravými tónmi žiarivých cerulov a fuchsie.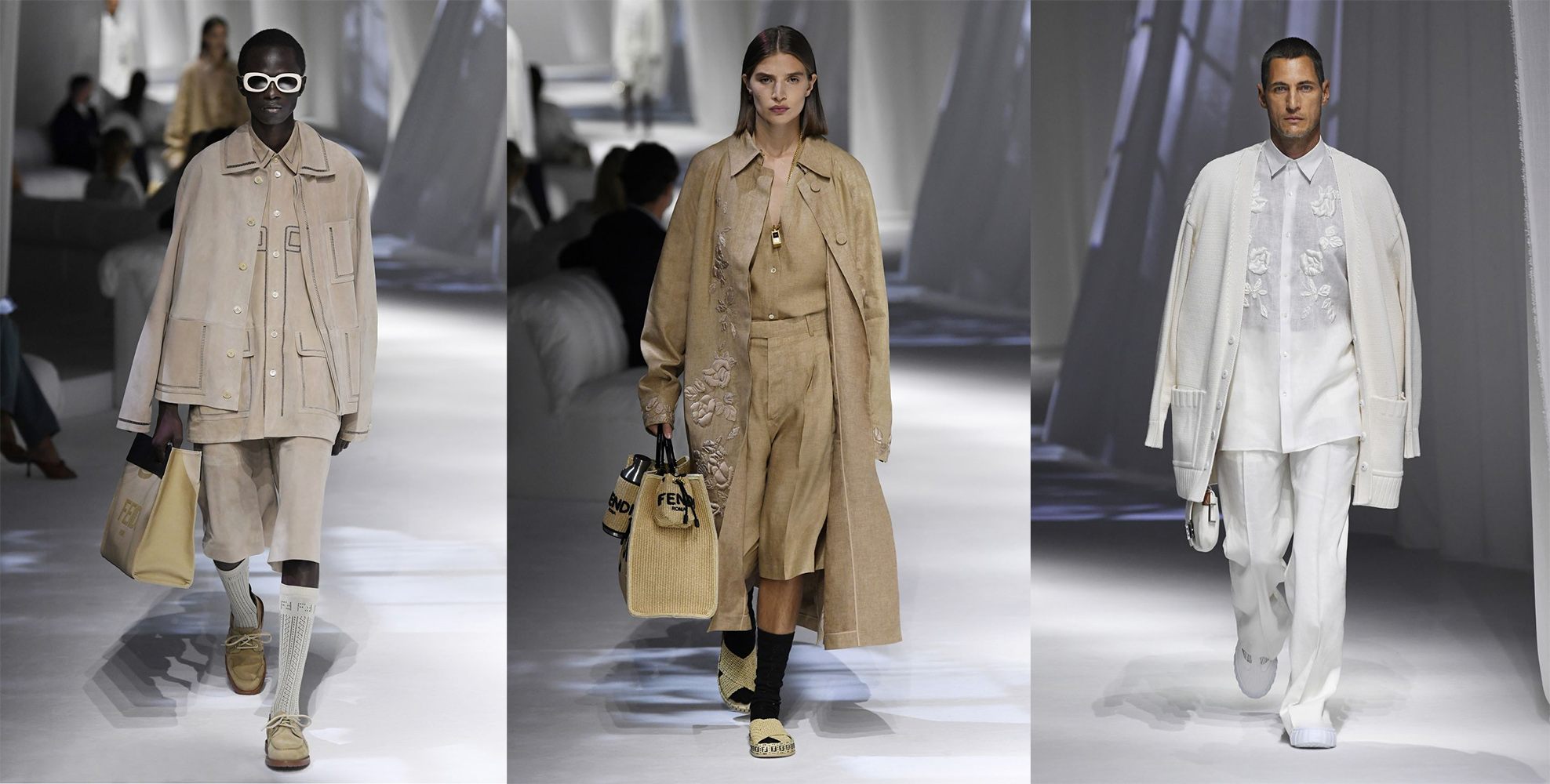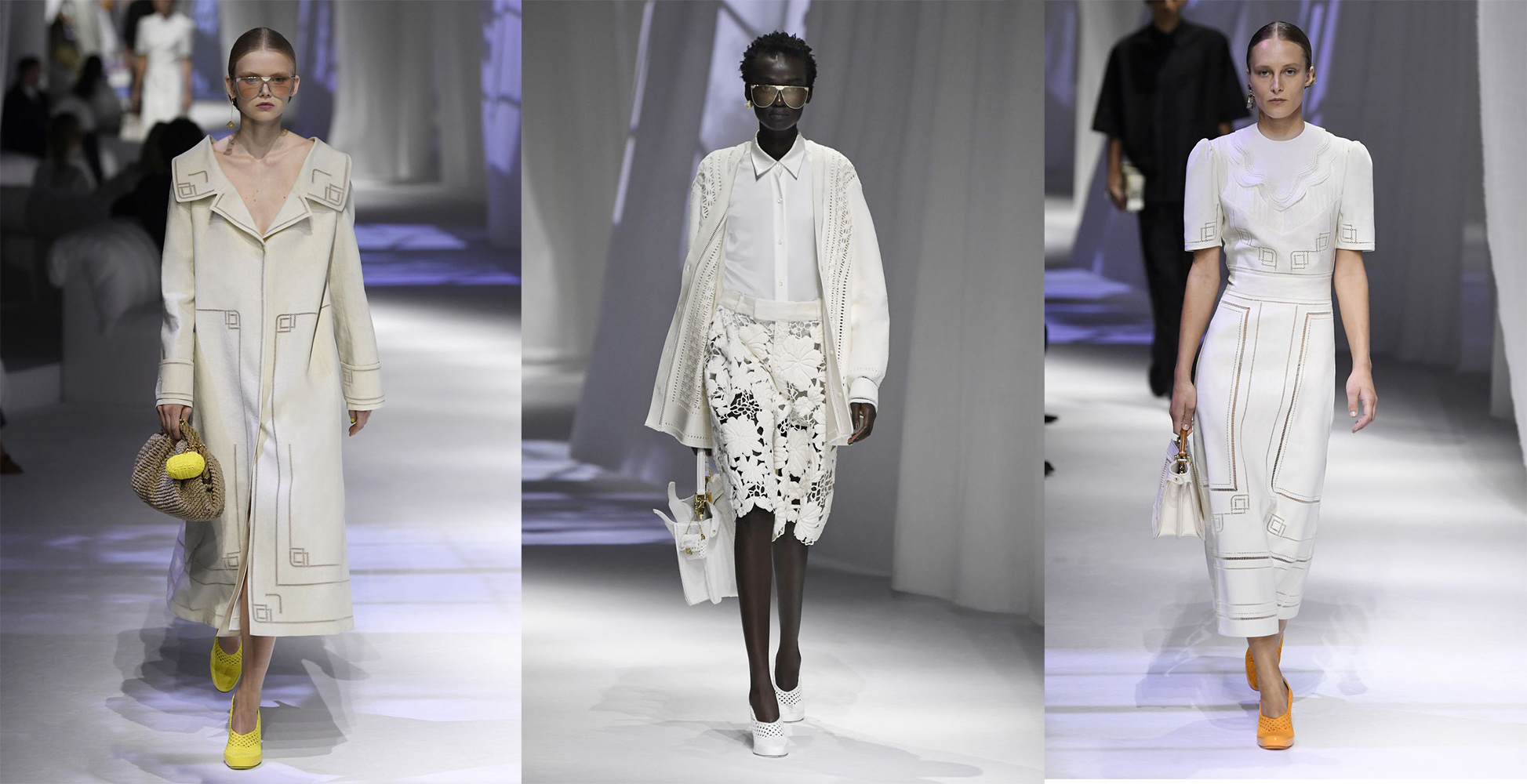 Heslá typu "zostaň doma" sa ukázali ako najzreteľnejšie v podobe prikrývok prepracovaných ako vesty alebo bundy a ktoré ťahala po podlahe modelka Paloma Elsesser.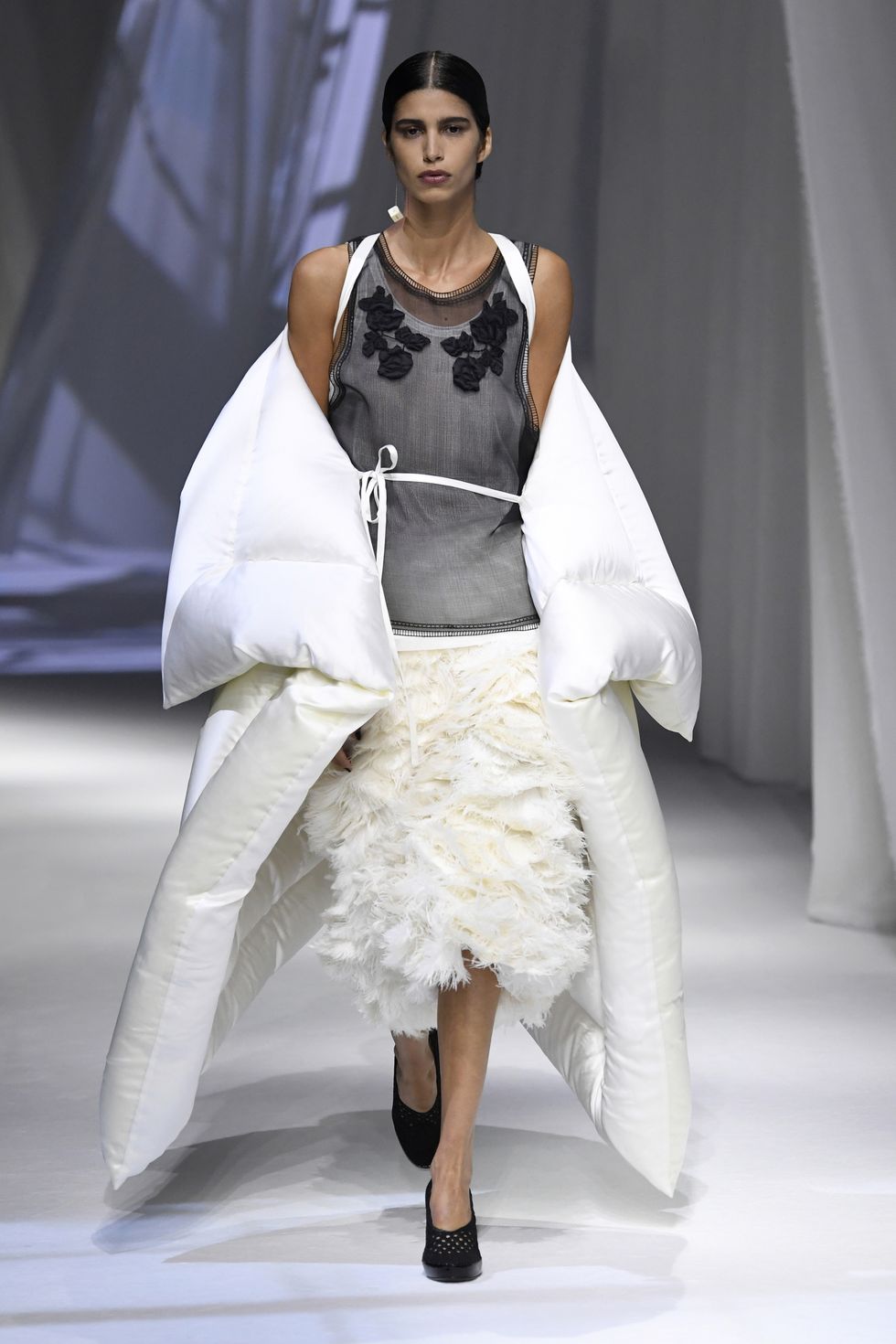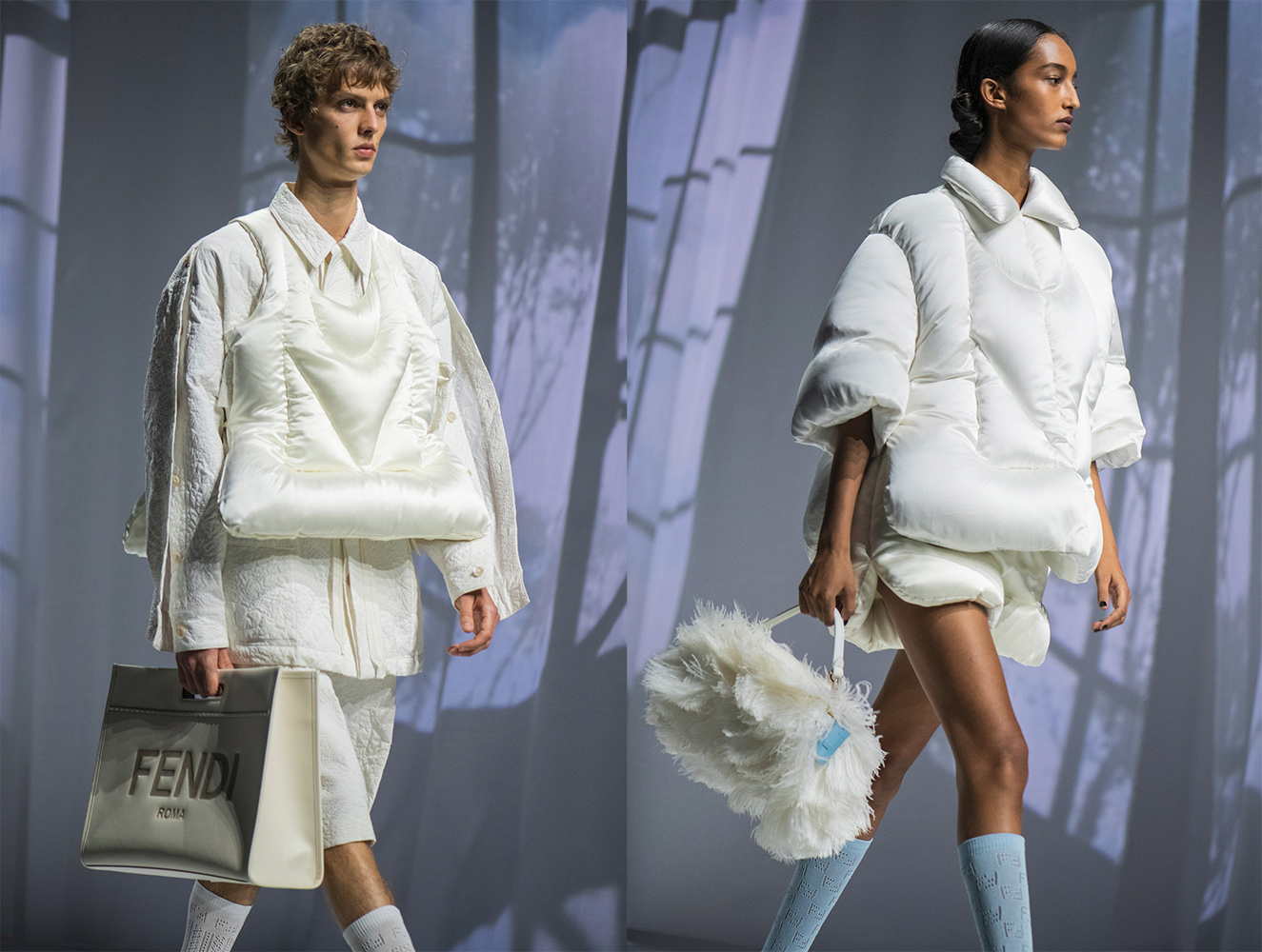 Na pobyt v karanténe bolo uspôsobené aj príslušenstvo. Ponožky sa nosia s papučami, ako by to mala otcovská postava, plastová taška na trhu je reinterpretovaná z laserom rezaného PVC a miniatúrna bageta je zakrytá v babičkinom obrúsku.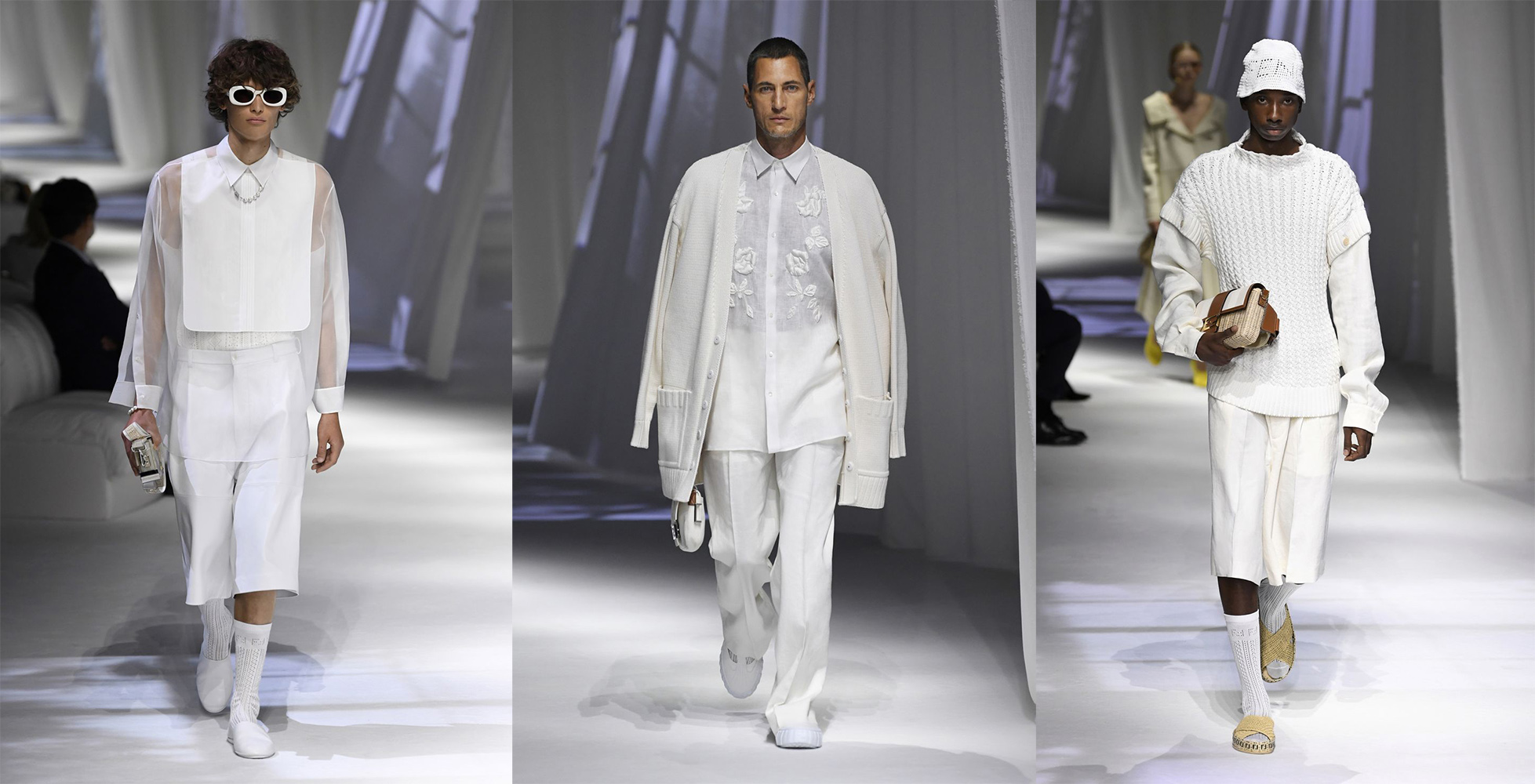 POSTEĽNÁ BIELIZEŇ – CENTROM POZORNOSTI
Posteľná bielizeň sa stáva stredobodom pozornosti a odráža pohodlie a dôveru domáceho života, popretkávanú dotykmi bavlny, peria, kožušiny a eiderdownu, prešívaním zjemňujúcimi formálne štruktúry.
Šaty zo zástery z lesklého, ťažkého a luxusného Made in Italy hodvábu (silk duchesse), vyšívaného tylu a gazaru, pôsobia majstrovskými detailmi.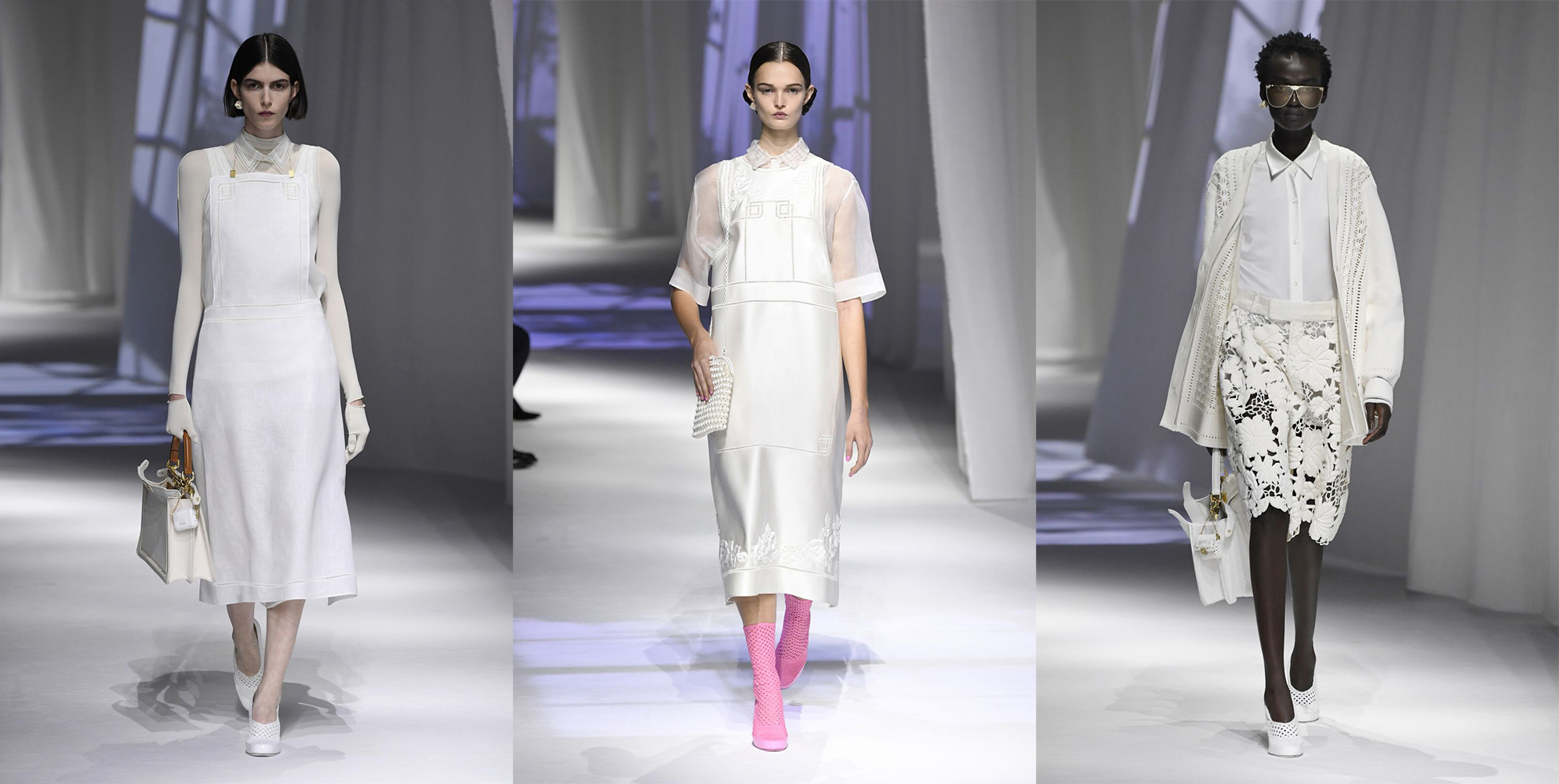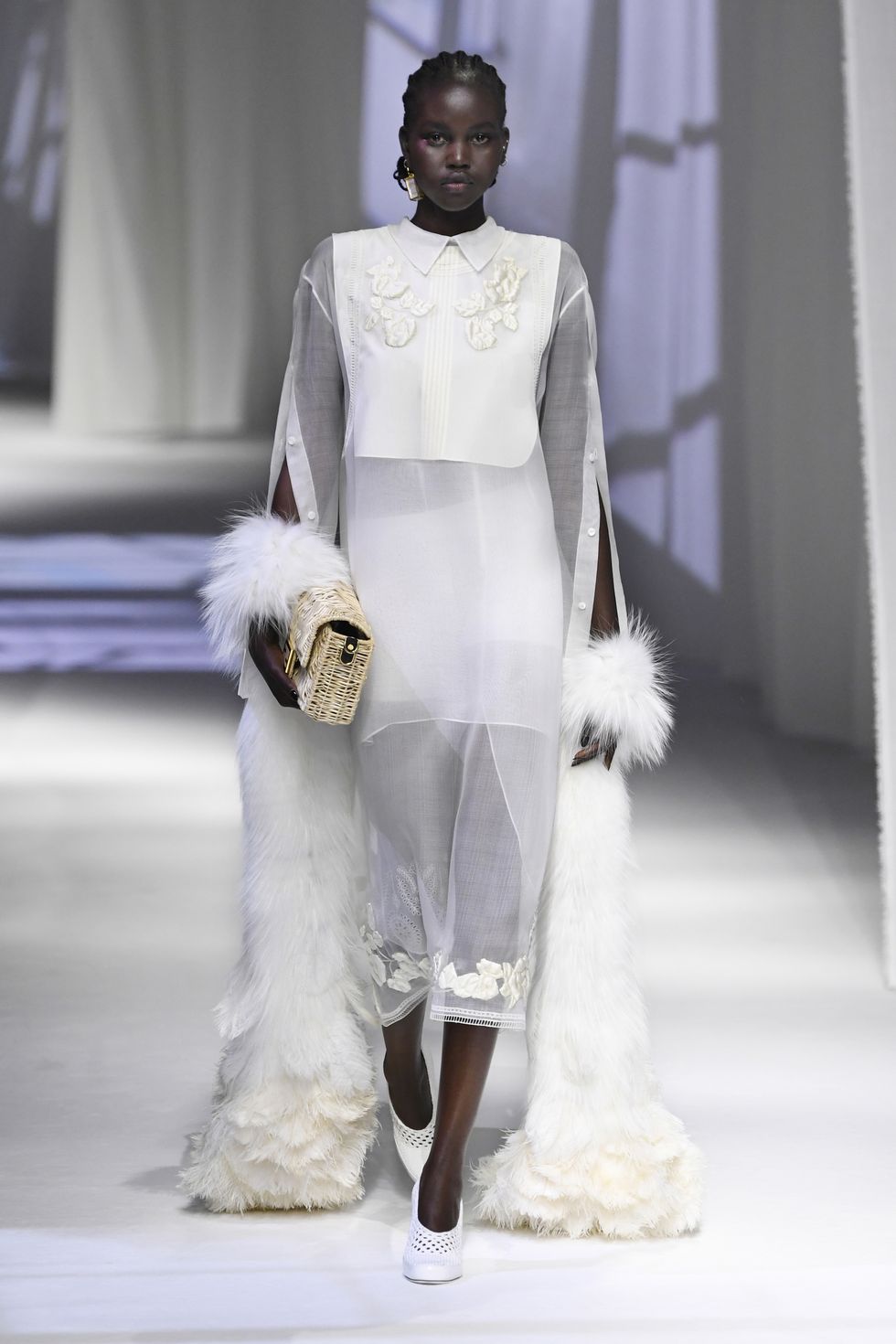 Vyšívané hodvábne závoje plávajú nad taškami Bagette a Peekaboo v kvetinovej kožušine a bavlnenom ajouré alebo prešívanej koži s logom FF.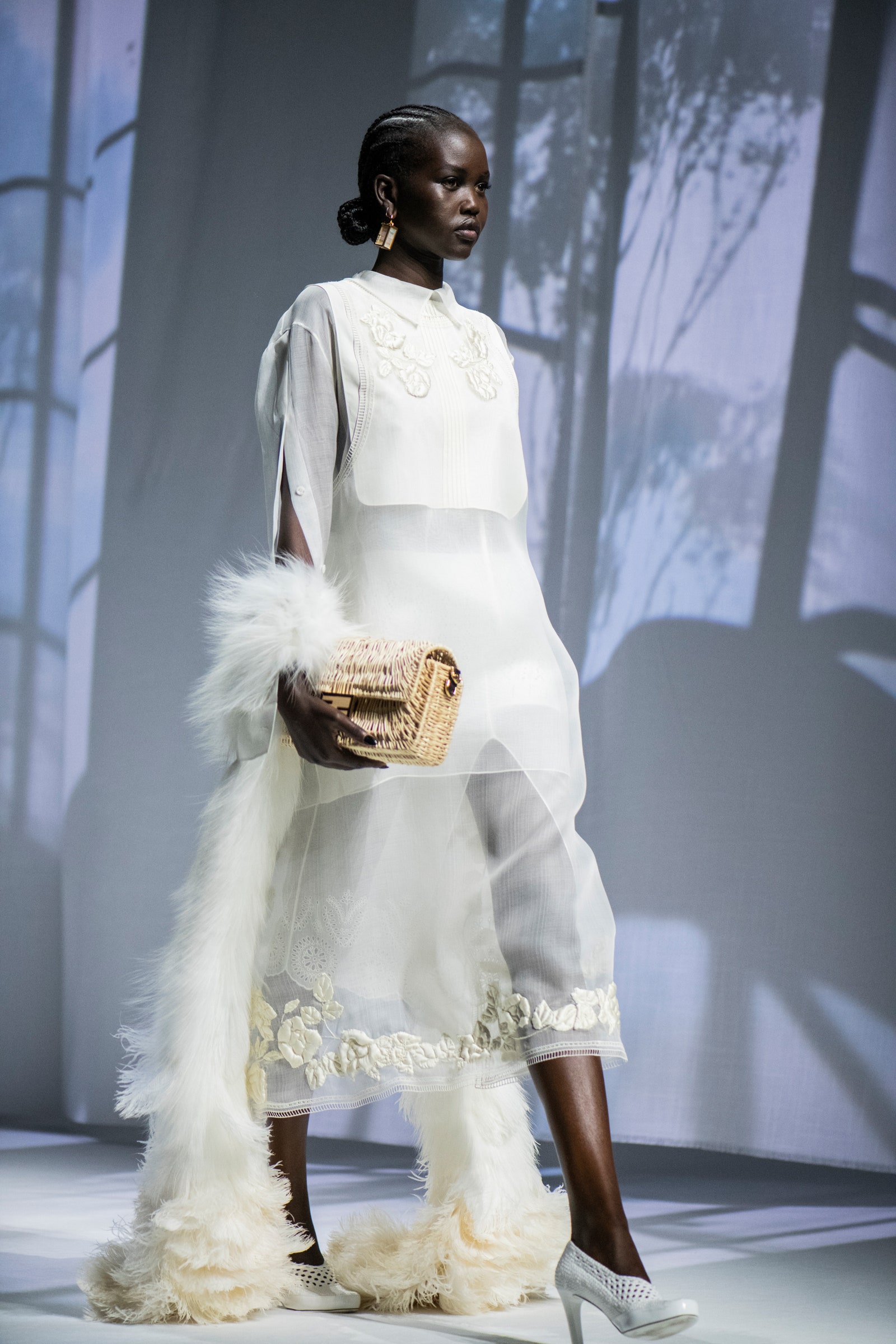 Kolekcia Fendi, Jar/Leto 2021 je plná tkaných textúr – od košíkov na trh , konštruovaných a recyklovaných PVC materiálov, cez napínacie mriežky až po ručne tkané členkové topánky z materiálu rafia.
HOLD REMESELNEJ TRADÍCII
Projekt kabelky bagette oceňuje jedinečnú spoluprácu s miestnymi remeselníkmi v celom Taliansku vrátane regiónov Abruzzo a Marche, ktoré sú známe tým, že zvládajú zložité a tradičné techniky. Čistá bagette kabelka vyrobená ručne v lokalite Abruzzo postavená z čipky tombolo aquilano (paličkovaná čipka vyrobená v Aquile, v hlavnom meste Abruzza), oslavuje metódu zdokonalenú benediktínskymi mníškami od 15. storočia. Štruktúrovaná bageta tkaná v prameňoch prírodnej vŕby od Marche sa inšpiruje košmi miestnych rybárov.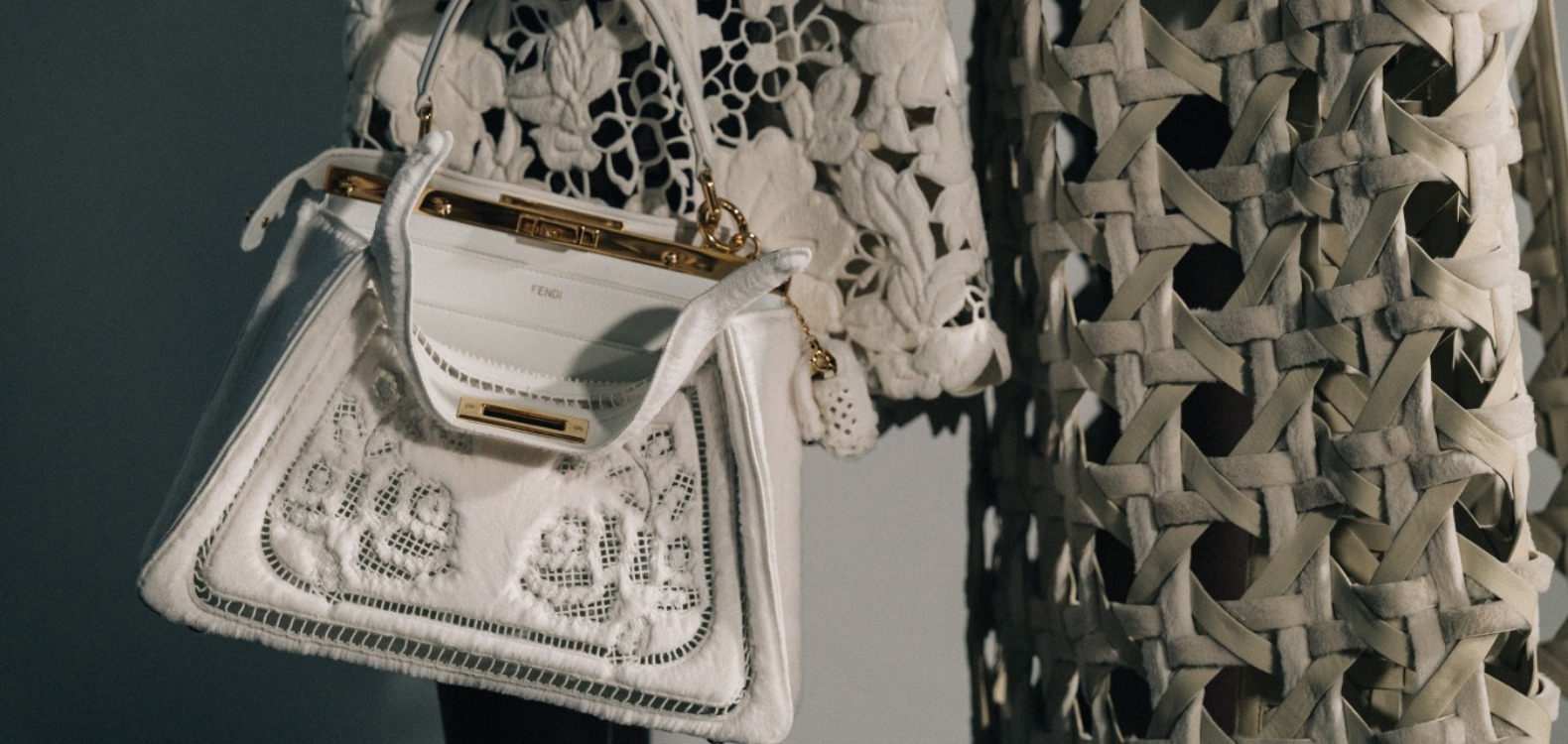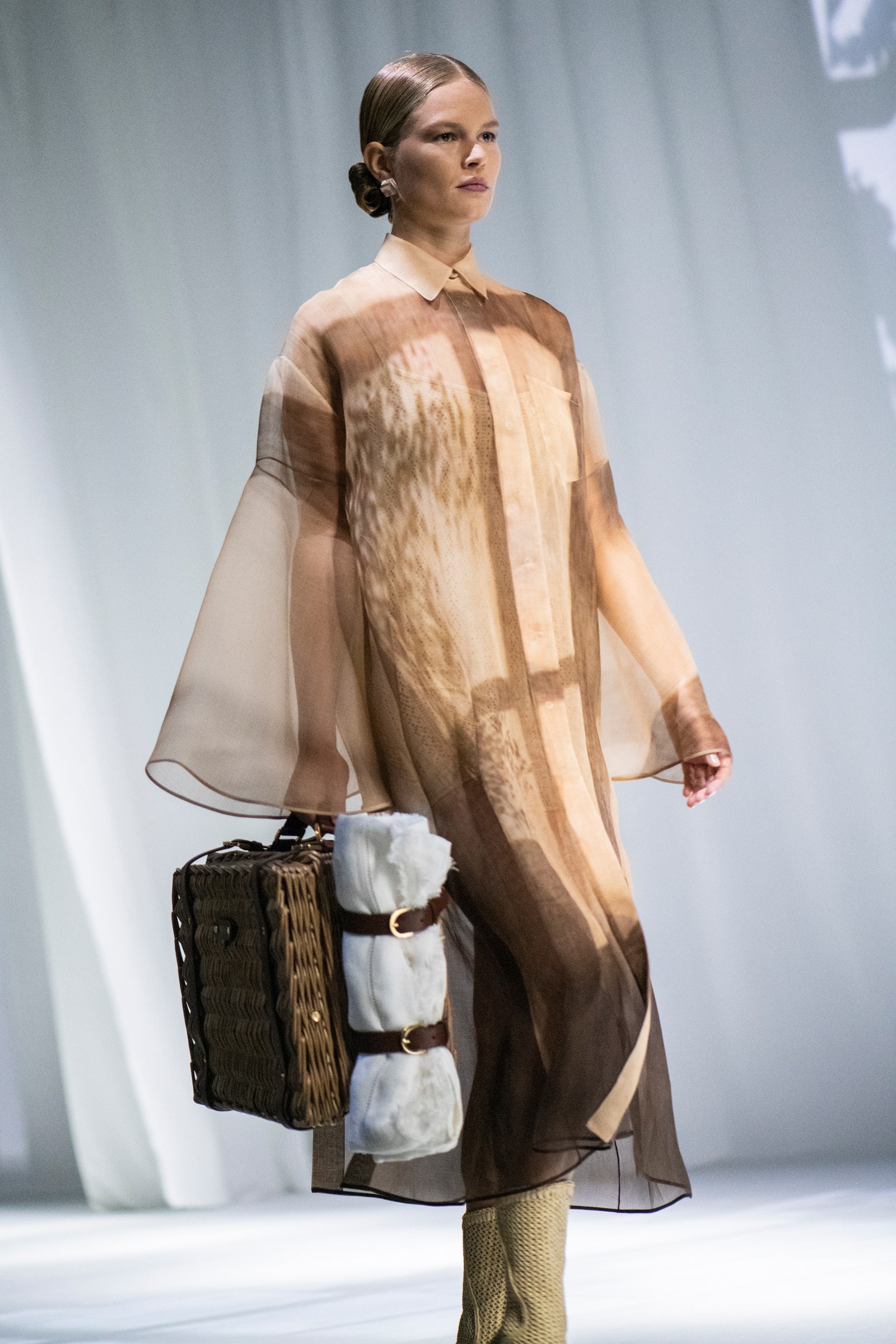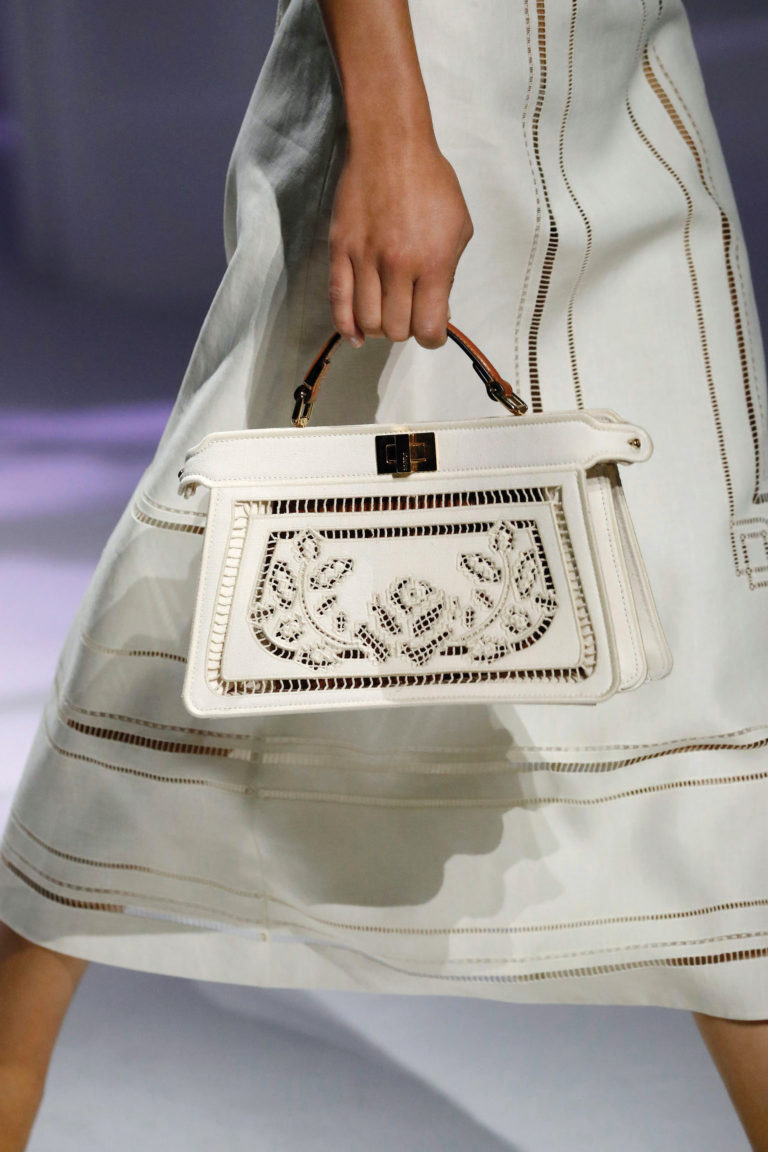 K ďalším remeselne spracovaným kúskom v lentej kolekcii Fendi 2021 sú jedinečne skonštruované laserom rezané a bezfarebné zástery.
Druhú iteráciu zbierky kapsúl "technologických šperkov" Fendi x Chaos predstavujú pastelovo namáčané doplnky.
V predvečer Silviinho prechodu na pánske oblečenie Fendi , prevzal kormidlo dámskeho oblečenia Fendi dizajnér Kim Jones v debutovej prezentácii, ktorú predviedol 27. januára 2021 (čítajte v histórii na tomto blogu) .
foto: © Fendi, getty images, shutterstock
Sledujte Facebook stránku: Mya Mirell Fashionista a Instagram: mya_mirell .