Fragiacomo – prezentácia a koktail party Edgy romance, kapsulová kolekcia, Milan Fashion Week, 21. september 2018
Milan Fashion Week je očakávanou módnou udalosťou, na ktorú sa teší celý módny svet ako aj na ostatné týždne módy. Oči módnych expertov a nadšencov sa upierajú na kolekcie svetových návrhárov, novinky a trendy, ktoré počas módnych show svetových dizajnérskych domov vyvstanú. Prehliadkový týždeň ženskej módy – Moda Donna (woman´s fashion) sa koná v septembri a vo februári a okrem samotných módnych prehliadok Milan Fashion Week ponúka aj množstvo ďalších eventov, prezentácií, koktail parties a iných atraktívnych udalostí, po ktorých prahne každá hladná módna duša. Môžete tu stretnúť svetové celebrity z módneho sveta a zo showbiznisu. Tieto týždne módy bývajú rozhodne zaujímavé, vždy niečím iné, nabité na rôzne udalosti a prinášajú neočakávané zážitky. Ja osobne si odnesiem z Milána počas týždňov módy vždy nové nezabudnuteľné zážitky, každý je niečím iný a každý obohatí môj zažitý módny svet. Samotné módne prehliadky a tieto akcie sú však viazané na pozvánku. Aj počas tohtoročného septembrového Milan Fashion Weeku (september 2018, Jar 2019) sa konalo niekoľko prezentácií, prednášok a koktail parties a opäť som mala možnosť zúčastniť sa rôznych z nich. Snom každej módou žijúcej fashionistky, expertky, je tiež stretnúť známe svetové celebrity, čo sa mi na každom Milan Fashion Weeku podarí, pretože je bohatý na program, kde uvidíte rôzne známe tváre a zaujímavosti a to je na ňom tiež atraktívne.
Prinášam Vám prezentáciu značky Fragiacomo, ktorá sa konala počas Milan Fashion Weeku dňa 21. septembra 2018 na ulici Via Turati v butiku Fragiacomo. Naplánovaná bola pred očakávanou večernou prehliadkou značky Versace, čo bolo časovo náročné, ostatne ako všetky módne prehliadky a akcie, ktoré sa s vyčerpaním podarí zvládať od rána do večera počas týždňa hektického módneho maratónu prehliadok. Značka Fragiacomo oslavovala uvedenie prvej kapsulovej kolekcie navrhnutej novým kreatívnym riaditeľom Alessio Spinelli, prezentácia bola spojená s koktail party Edgy Romance.
Moje video z tejto udalosti, kde som zachytila aj slávnu taliansku módnu ikonu Chiaru Ferragni so sestrou Valentinou si môžete pozrieť na facebook stránke blogu s názvom Mya Mirell Fashionista, kde nájdete aj ostatné fotografie a videá z Milan Fashion Weeku zo septembra 2018 aj z iných ročníkov.
Chiara Ferragni v strede a návrhár Federico Pozzi Chiesa (značka Fragiacomo) pri pózovaní počas Fragiacomo prezentácie kapsulovej kolekcie a koktail party, Miláno, Milan Fashion Week, 21. september 2018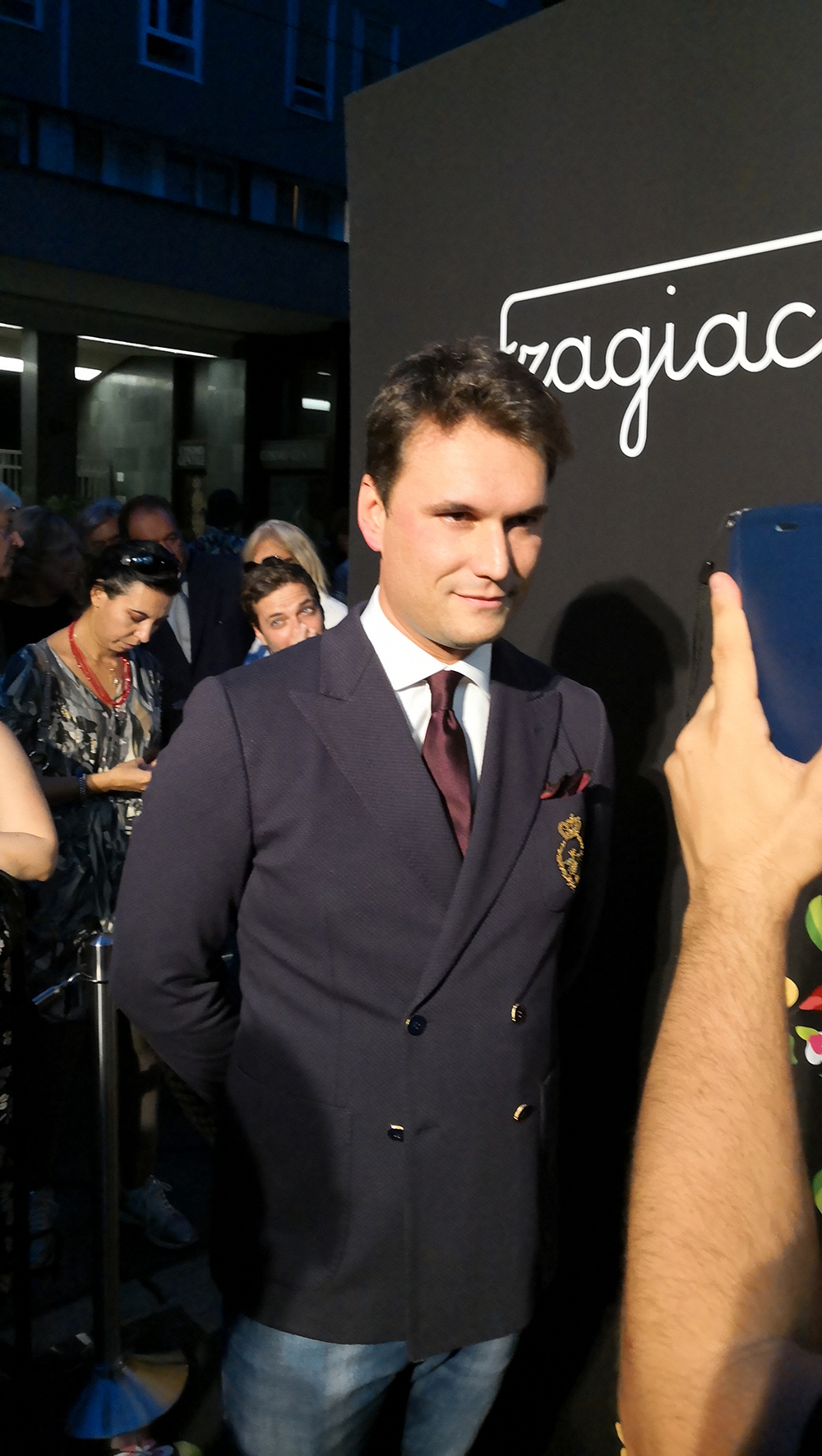 Kapsulová kolekcia bola inšpirovaná návrhárovým extrémne dramatickým a zmyselným štýlom. Špeciálnymi hosťami večera, ktorí ocenili novú kolekciu a smerovanie štýlu značky, boli medzi prvými slávne Talianky, sestry Chiara a Valentina Ferragni (fotografie z videa). Hlavný predstaviteľ značky Federico Pozzi Chiesa, CEO, vítal významných hostí a pred zrakmi početnej verejnosti prezentoval dôležité novinky – prvú kapsulovú kolekciu navrhnutú návrhárom Alessio Spinelli, ktorá bola ihneď k dispozícii prostredníctvom sociálnych médií dostupná v kryptomene.
Fragiacomo je aktuálne prvým luxusným módnym domom, ktorý uskutočnil takúto technologickú možnosť . Večer Edgy-Romance bol predovšetkým prezentáciou práce rímskeho návrhára a jeho prínosu pre značku dramatizáciou klasických foriem a pozdvihnutím pútavosti vďaka hre kontrastov, ktoré priniesli nový štýl plný rafinovanej elegancie. Link na Fragiacomo značku, kde nájdete aj oficiálne fotografie z tejto akcie a novú kolekciu pre rok 2019 je tu: http://fragiacomomilano.com/edgyromance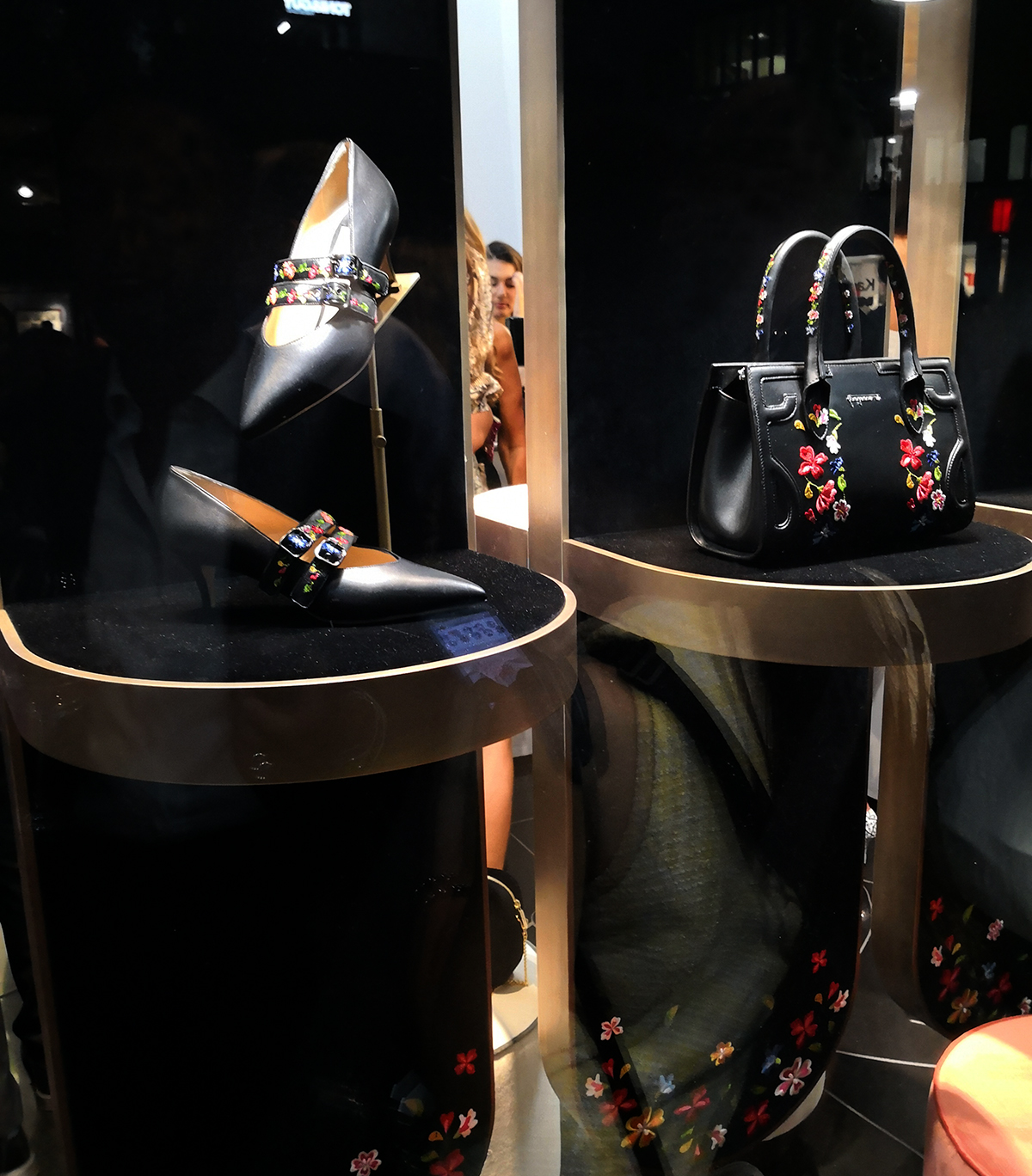 Na prezentácii značky Fragiacomo bola hlavným hosťom spomínaná slávna talianska blogerka, podnikateľka, módna influencerka a ikona Chiara Ferragni so sestrou Valentinou. Mediálny rozruch a záujem nastal samozrejme okamžite. Chiara je milá a distingvovaná mladá pani, teraz matka polročného syna Leona, ktorá je jednou z najslávnejších módnych ikon a celebrít. Prišla oblečená v outfite z poslednej kolekcie značky Versace (kolekcia z Milan Fashion Weeku, z februára 2018) a postavu po pôrode mala ukážkovú. Stretnúť Chiaru Ferragni je snom každej módnej blogerky, fashionistky aj u nás, no Chiara ma početných fanúšikov najmä v Taliansku a všade vo svete. Ostatne stačí si pozrieť množstvo jej sledovateľov na instagrame a jej životopis, kde sa z mladej celkom milej blondínky hľadajúcej si svoj štýl vykľula krásna svetová módna ikona, podnikateľka, influencerka, ktorá si vybudovala meno, disponuje značným majetkom a vďaka svojmu menu, ktoré je jej značkou a devízou zarába obrovské peniaze. Všade, kde sa zjaví, nastáva panika a vzrušenie. Fanúšikovskú základňu má bohatú a dostať sa k nej býva na módnych prehliadkach obyčajne obtiažne pre kričiaci a šalejúci dav. Takto to vyzerá, keď sa zjaví Chiara – pozrite si video z jej instagramu s názvom chiaraferragni: https://www.instagram.com/p/BqaZ8UwhYHC/
Chiara Ferragni je distingvovaná mladá dáma bez manierov, milá a v rámci času ochotná aj poskytnúť rozhovor, dať slušnú odpoveď a zapózovať. To všetko, čo sa udialo za posledný čas, niektoré kauzy rozmazávané najmä talianskymi médiami a sociálnymi sieťami, na základe čoho je pranierovaná obyčajne v Taliansku, je častokrát dobre mierený mediálny ťah. Aj na tejto akcii bolo zhruba tisíc ľudí, no všetko prebiehalo kultivovane bez neodbornej verejnosti, fanúšikov, ktorí o jej ďalších akciách mimo módnych prehliadok našťastie nevedeli, čakali na ňu až na prehliadke značky Versace.
Po koktail party nasledovala očakávaná prehliadka slávneho talianskeho módneho domu Versace na úplne inom mieste, kam som sa ponáhľala aj ja, avšak som to o dosť zmeškala. Tento farebný model, kolekcia Versace, jeseň/zima 2018-19 vysokej blondínke Chiare veľmi nesedel a v oblasti dekoltu ju značne deformoval. Chiara je však známa módna ikona, ktorá prezentuje okrem svojej značky bez výhrad aj rôzne svetové a iné značky, ktoré ju rovnako ako média milujú a živia jej aj vzájomnú popularitu. Na tejto prezentácii bolo ale veľmi málo priestoru aj pre samotné celebrity a tak som rada, že som urobila aspoň zopár fotografií a video.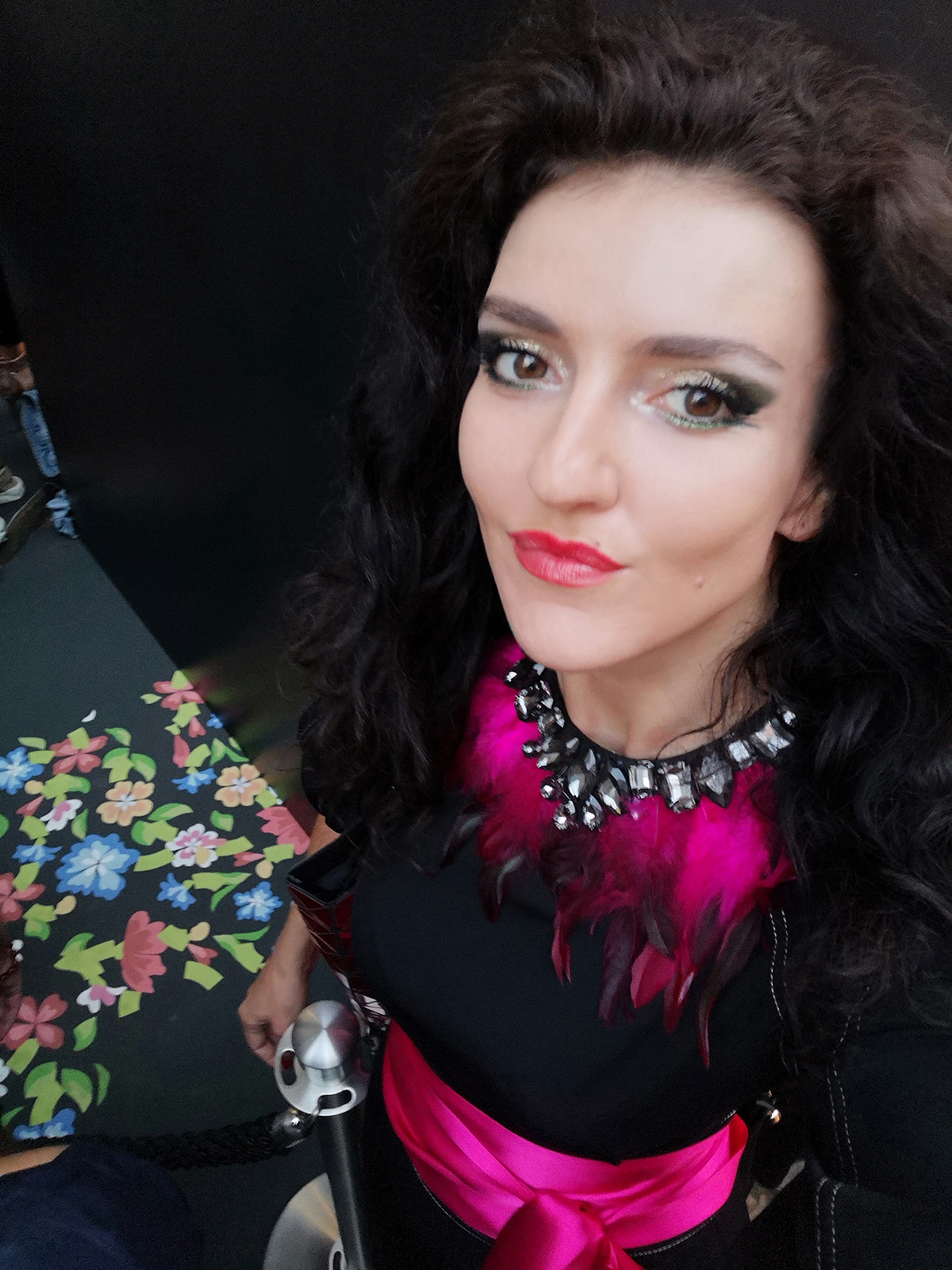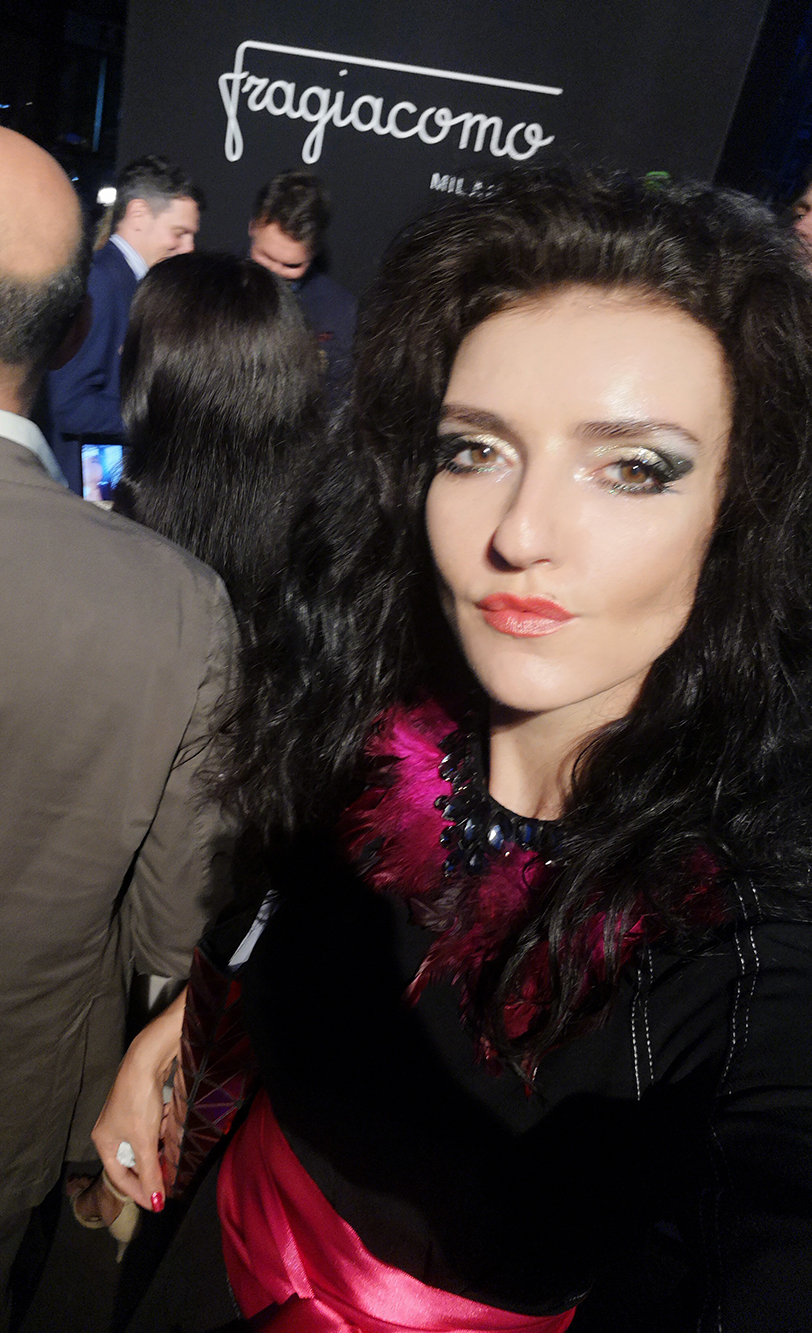 Chiara Ferragni pri fotení s návrhárom. Priestor bol stiesnený a mať v ruke proseco, fotiť a točiť bolo dosť náročné. Ostatné fotografie nájdete na facebook stránke blogu Mya Mirell Fashionista a postupne publikované podľa jednotlivých dní z Milan Fashion Weeku na instagrame: mya_mirell.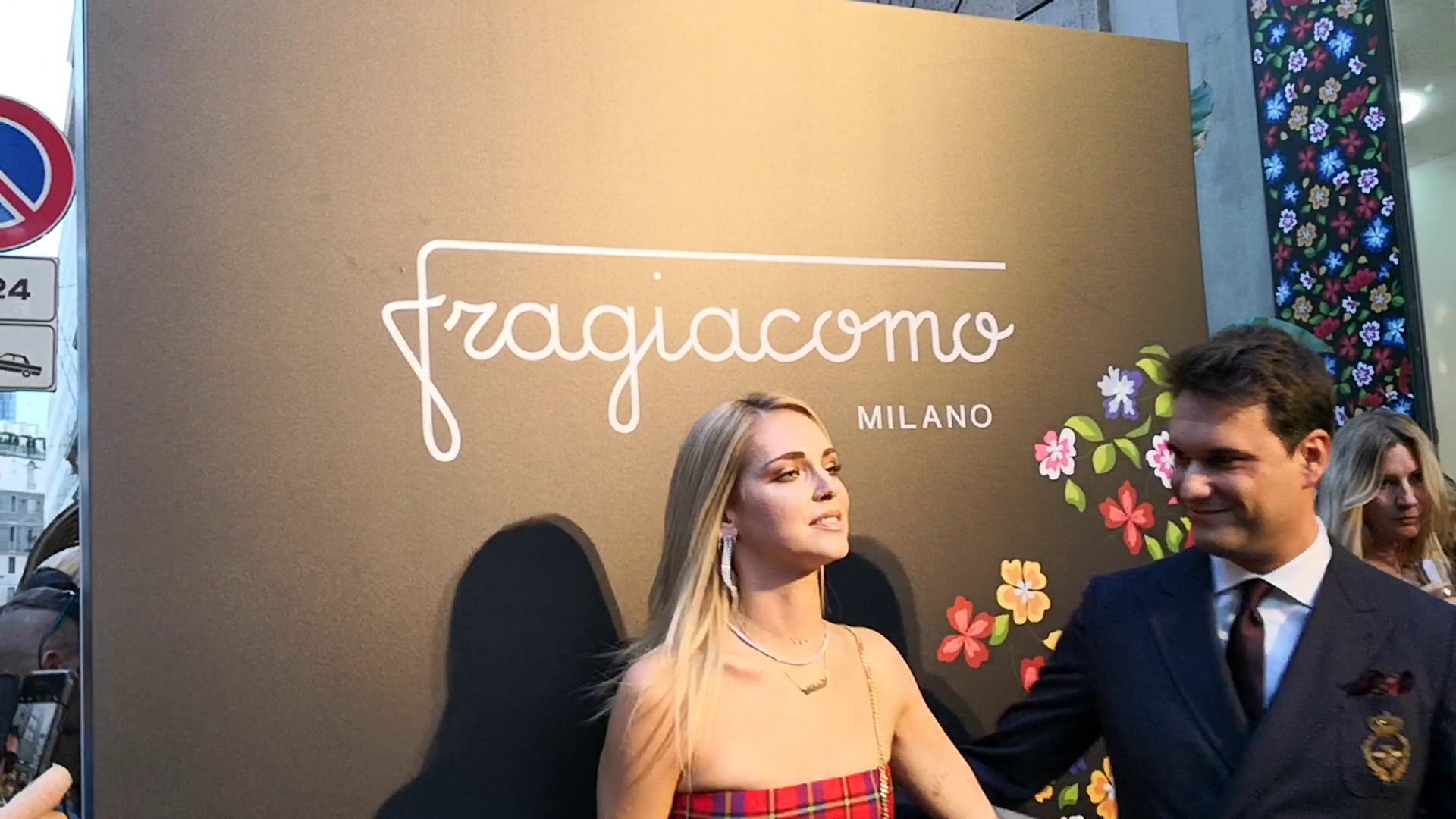 Vnútri butiku boli vystavené krásne topánky, kabelky a aj najnovšia kolekcia pre rok 2019.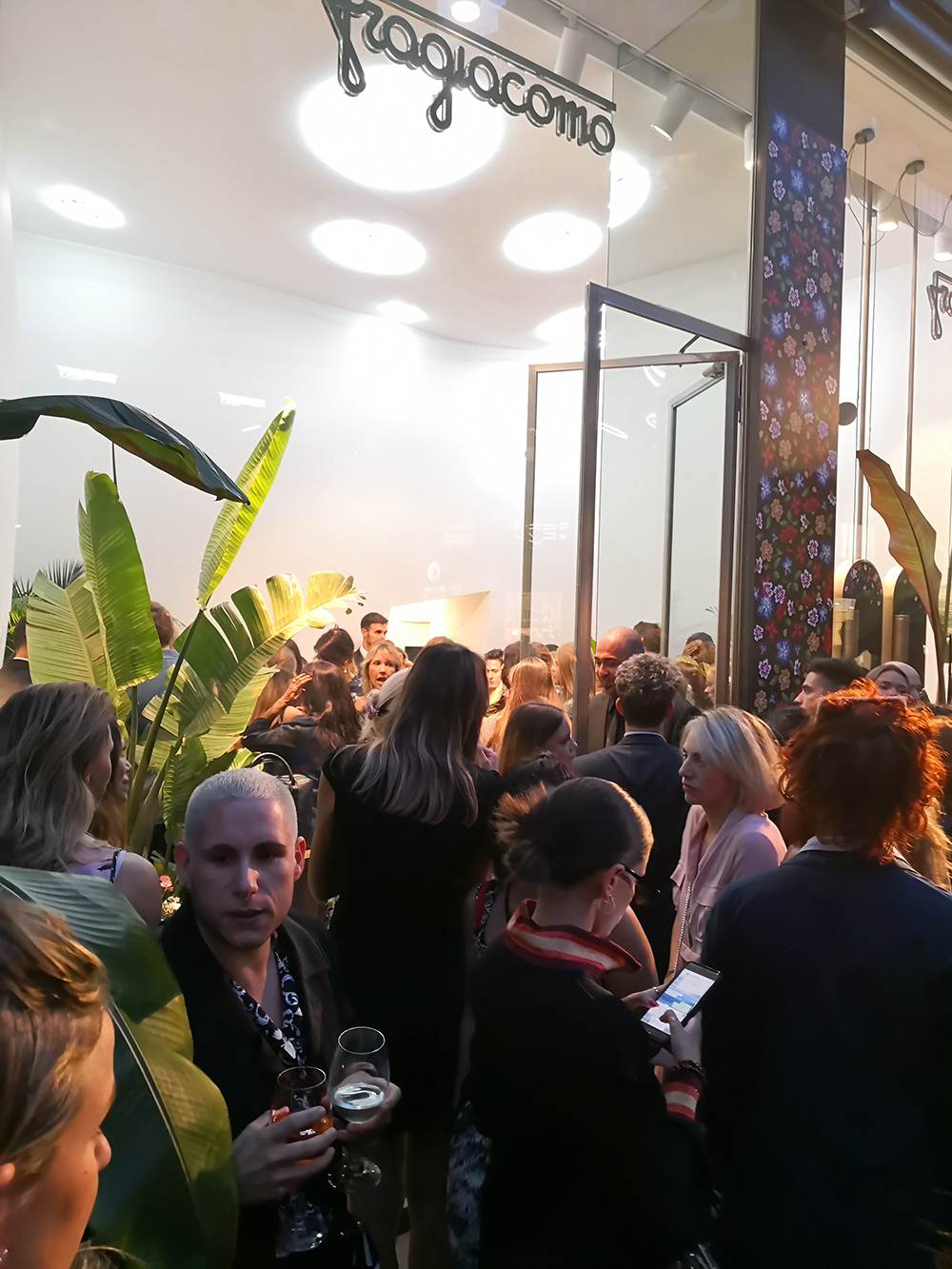 O tejto udalosti písali aj rôzne talianske média ako magazín Amica.it. Link je tu: https://www.amica.it/2018/09/22/fragiacomo-la-nuova-caspule-presentata-milano/?refresh_ce-cp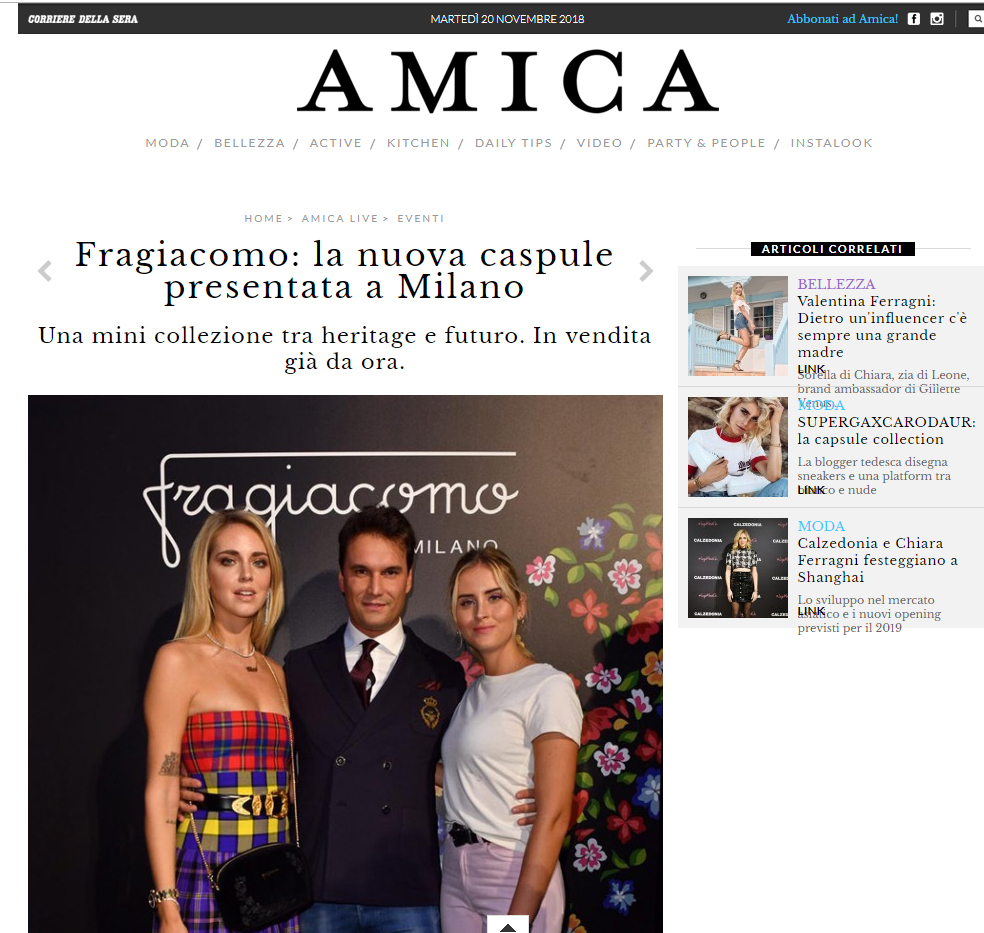 Ďalej Corriere della sera. Link je tu: https://www.corriere.it/economia/18_settembre_22/acquisto-criptovaluta-scarpe-lusso-la-prima-volta-fashion-week-milano-7c4421dc-be6b-11e8-b1b9-790a44cac897.shtml?refresh_ce-cp
tiež portál Fashion Week Online, link je tu: https://fashionweekonline.com/fragiacomo-spring-2019-milan-fashion-week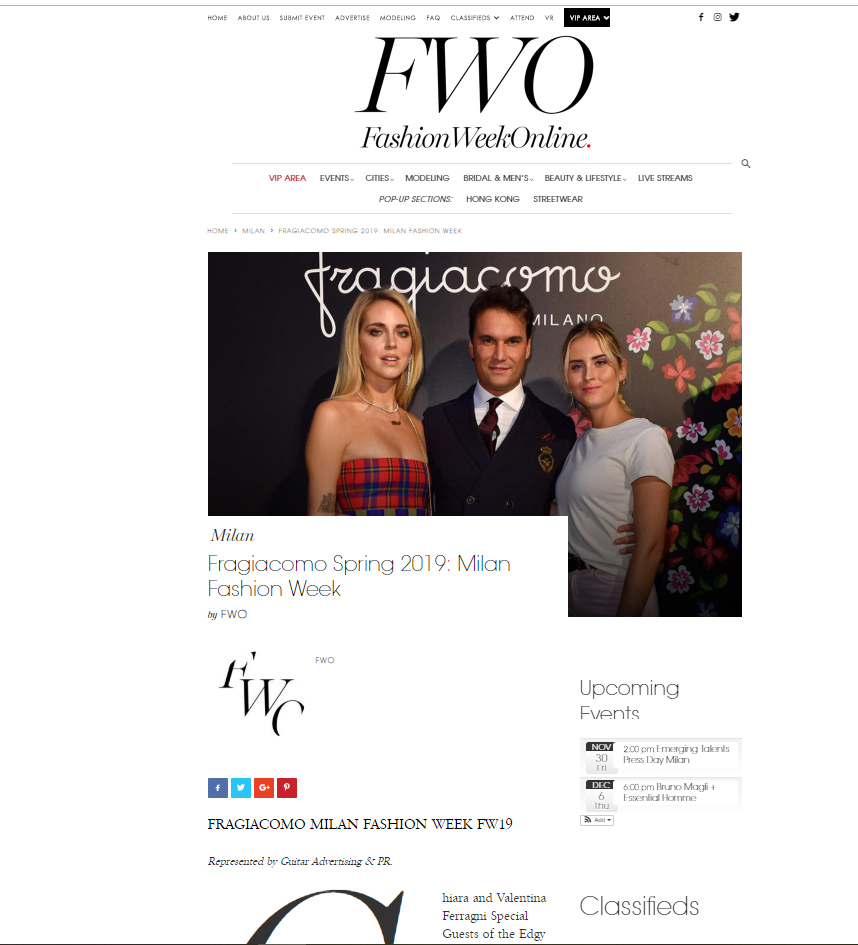 a magazín Lusso Style, link je tu: https://www.lussostyle.it/fragiacomo-presenta-la-capsule-collection-che-si-compra-con-le-criptovalute/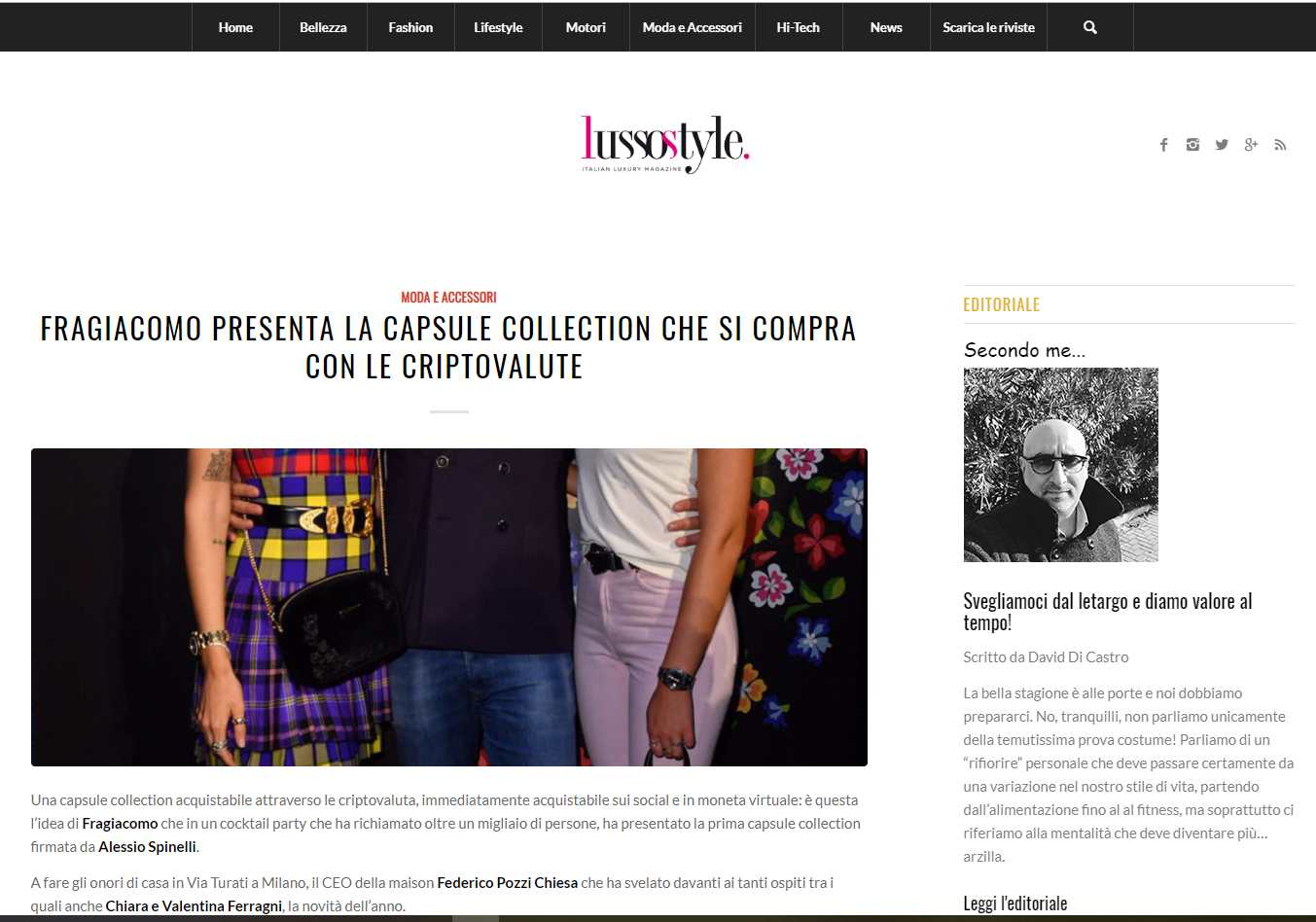 Značka Fragiacomo bola založená na kreativite a intuícii Dante Fagiacomo v roku 1956, ktorý skombinoval všetky odborné znalosti s kvalitou Made in Italy k vytvoreniu topánok, koženého tovaru a luxusných doplnkov. V roku 2010 bola značka kúpená Federicom Pozzi Chiesa a bratom Massimom. Cieľom bolo medzinárodné uvedenie na trhy podporované cielenou stratégiou s konštantným dohľadom nad produktami a štýlom Federica Pozzi Chiesa, prezidentom značky a CEO a Massima Pozzi Chiesa, člena výboru. Vďaka novému smerovaniu bola v roku 2013 otvorená nová vlajková loď, butik o rozlohe 120 m štvorcových na ulici Via Turati, navrhnutý architektom a dizajnérom Sergio Calatroni. O dva roky neskôr, v júli, bol otvorený druhý butik v Ríme na ulici Via Delle Carrozze a nasledovala inaugurácia showroomu na ulici Via Montenapoleone. Značka Fragiacomo sa tiež usadila na strednom východe otvorením ďalšieho obchodu v Teheráne s plánmi budúcej expanzie do Európy. V priebehu času značka rozvinula niekoľko spoluprác, ako napríklad jednu s René Caovilla módnym domom v roku 1980 a mnohé iné až po súčasnosť, kde je dizajn kolekcií zverený Alessio Spinelli.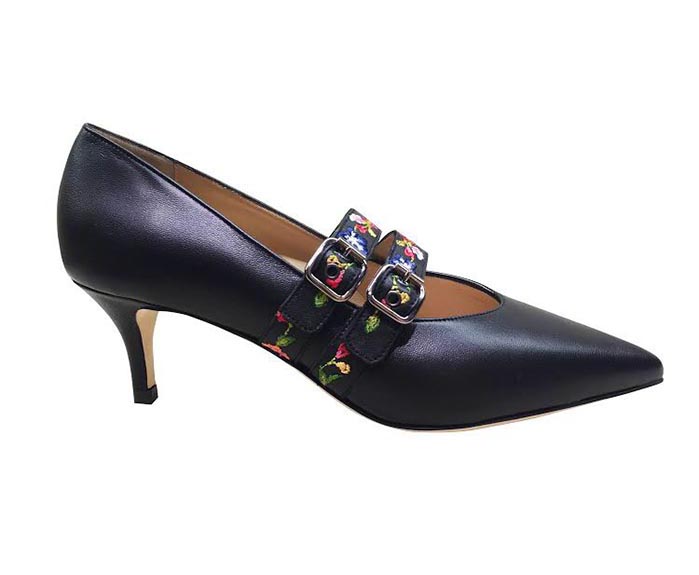 Fragiacomo kapsulová kolekcia, jeseň/zima 2018-19, Milan Fashion Week, september 2018, Jar 2019, zdroj: fashionweek online
Fragiacomo kapsulová kolekcia, jeseň/zima 2018-19, Milan Fashion Week, september 2018, Jar 2019, zdroj: fashionweek online
Talianska blogerka, módna ikona, celebrita, influencerka Chiara Ferragni na Fragiacomo prezentácii počas Milan Fashion Weeku, 21. september 2018, zdroj: fragiacomomilano com
Takto som Chiaru zachytila v outfite Versace ja. Fotografia je z videa, video si môžete pozrieť na facebook stránke blogu s názvom Mya Mirell Fashionista v kategórii Videá.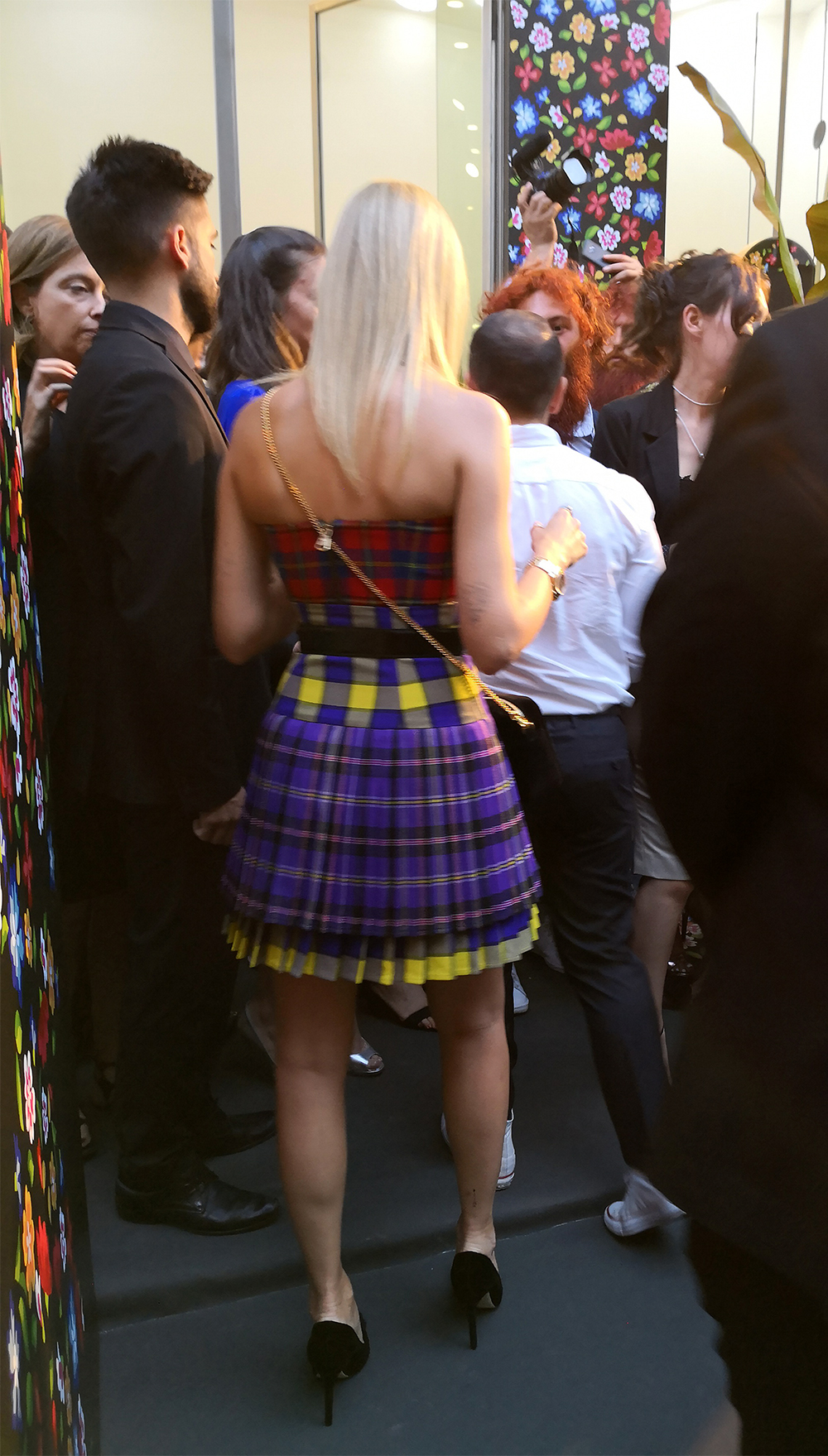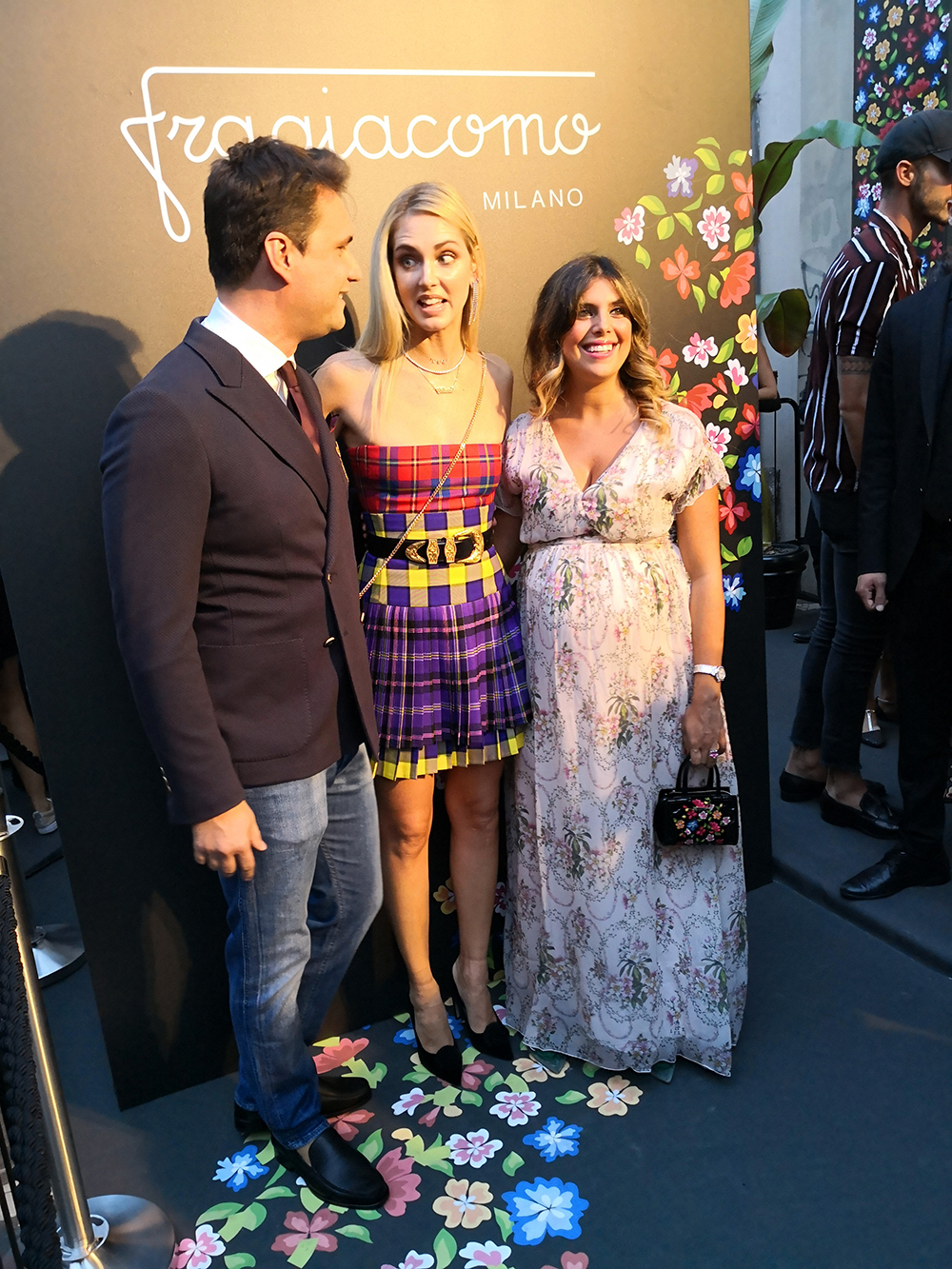 Kolekciu pre rok 2019 nájdete na stránke fragiacomomilano com.
Facebook: Mya Mirell Fashionista