Femme Fatale shooting – monochromatic fashion dress, elegant tights with stripe on the back side, fashion highheels, Paris, Versailles, France
Francúzska elegancia a šarm je celosvetovo známa. Šik štýl francúzskych dám má niekoľko podôb. Červený rúž, čierne mačacie očné linky na svetlej pleti poklepkanej jemne púdrom sú znaky looku pravej francúzskej mademoiselle. Čo však u nich v šatníku rozhodne nájdete, sú kvalitné kúsky, ktoré dokonale priľnú postave a dajú sa vzájomne kombinovať. A nemusí sa pritom jednať o množstvo outfitových kreácií, plné skrine, ale väčšinou ide o nositeľné a elegantné kúsky.
Francúzky sú krásne, lebo sú ženské a pôsobia nežne. Pri francúzskej žene prvé čo vidíte, je žena, až potom si všimnete šaty. Vo Francúzsku rozhodne neuvidíte, aké značky nosia ženy na prvý pohľad . To by bolo príliš prvoplánové, snobské. Francúzsky štýl spočíva nielen v obliekaní, ale aj v celkovom vyžarovaní a spôsoboch. Je to viac ako len to, ako kombinovať šaty. Vaše ladné správanie, spôsoby, štýl držania tela a chôdze, samozrejme spôsob reči, to všetko z vás môže urobiť pravú mademoiselle chic – madam šik. Potom aj oblečenie, spôsob, ako ho nosíte, ladnosť , make-up a ženské zbrane, vás môžu premeniť na snovú osudovú ženu, La Femme Fatale.
ŠIK PARÍŽANKA
Jednou z najznámejších celebrít a módnych ikon je rozhodne Carine Roitfeld, bývalá šéfredaktorka Vogue Paris, ktorú mám možnosť stretávať počas Milan Fashion Weeku vždy vkusne a štýlovo oblečenú. Jej postava je bezchybná a štýl francúzskej elegantnej dámy sa pozná, je jednoducho neprehliadnuteľný.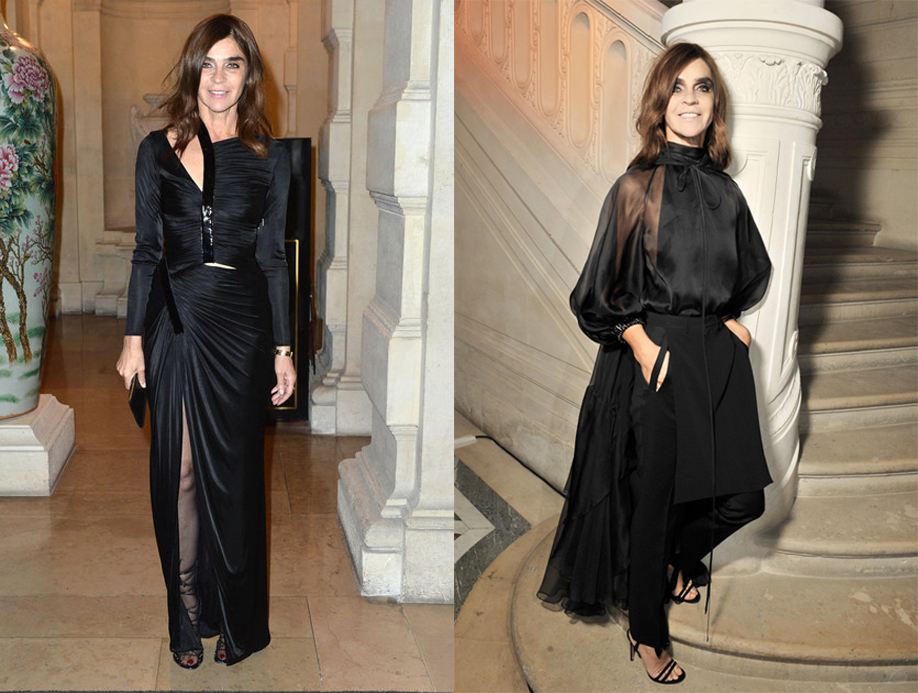 V tomto čiernom outfite s efektne zvoleným akcentom ako čerešničkou na torte v podobe zelených lodičiek prišla na prehliadku značky Versace počas Milan Fashion Weeku v septembri 2017, sezóna jar/leto 2018 . Skvostné lodičky milujem a tak ma zaujali ako aj jej outfity počas týždňov módy. Carine vždy prekvapí nejakým špičkovým vyberaným módnym kúskom.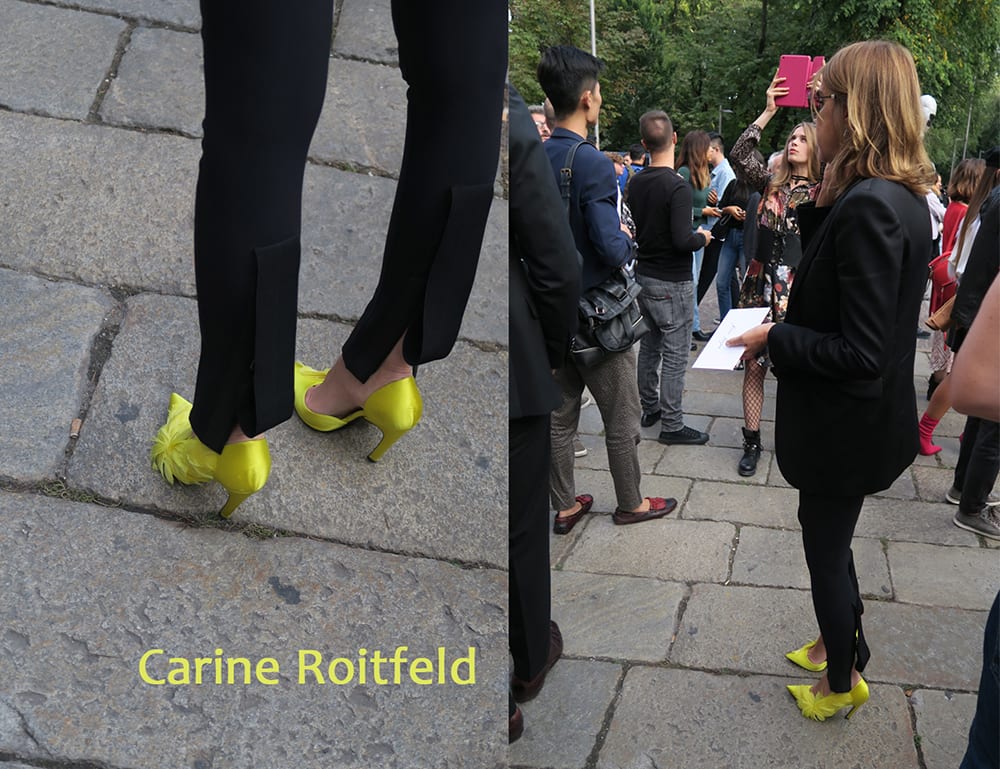 PARÍŽ
K svetovým mekkám módy patrí rozhodne Paríž. V októbri 2018 sa skončil ďalší týždeň módy, na ktorý sa upierali zraky módnych expertov a nadšencov z celého sveta, Paris Fashion Week – jar 2019, kedy sa priamo v uliciach odohrávalo módne divadlo fashionistov z rôznych končín sveta. To však môžete vidieť a rozhodne to pravé parížske aj pri návšteve Paríža a prechádzkach jeho najvychytenejšími bulvármi a ulicami. Vdýchnite tú čarovnú atmosféru, keď sa pôjdete poprechádzať napríklad na Avenue des Champs–Élysées a načerpajte trošku francúzskej elegancie.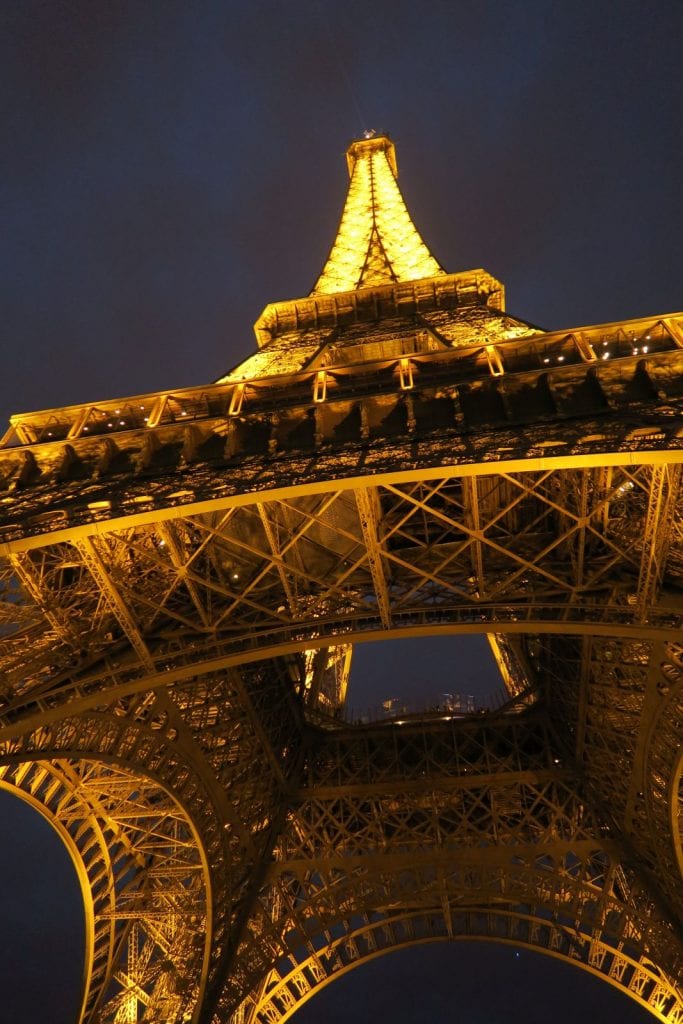 Ako teda vyzerať ako pravá Parížanka? Osudová žena La Femme Fatale?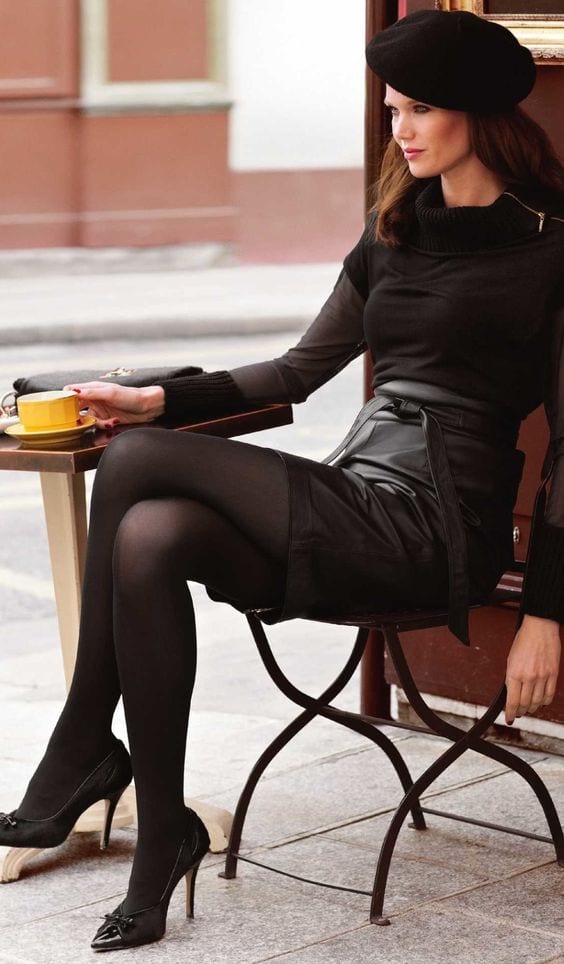 Pozrime sa na niekoľko tipov a inšpirácií outfitov, ktorými zaručene očaríte ako pravá dáma s vyberaným francúzskym štýlom. V týchto rôznych typoch oblečenia som si užila Paríž aj ja ako pravá Parížanka, osudová žena la femme fatale, časť I.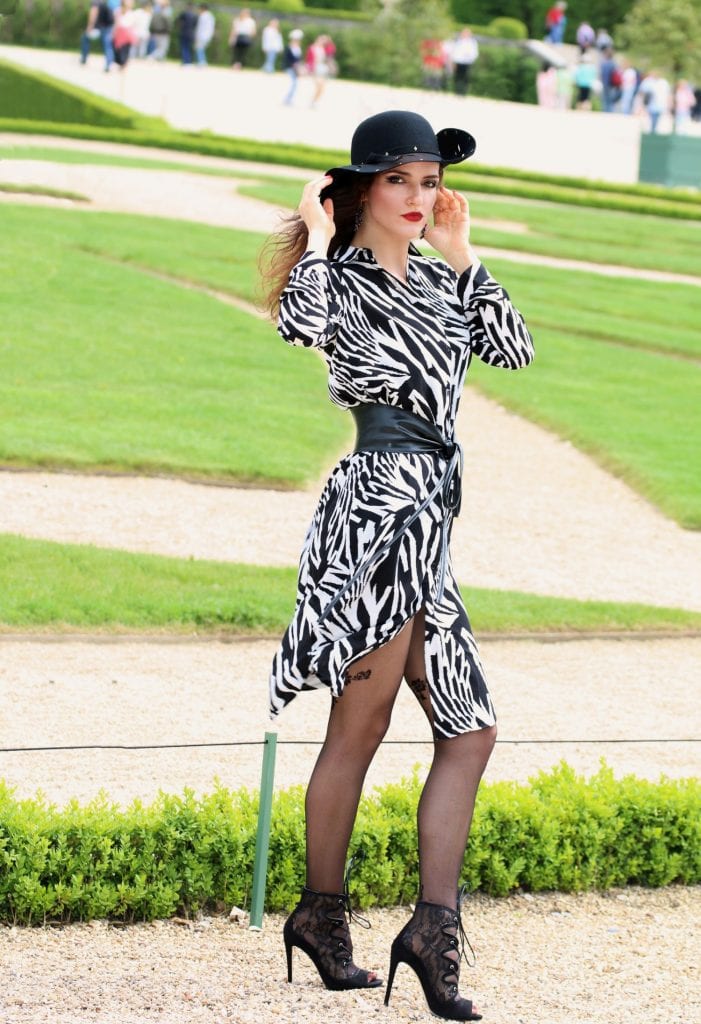 Prvý outfit francúzskeho šik štýlu tvoria: čierna a biela, zaručená istota, pančušky s jemným prúžkom, ako dáma predsa nedám na pančušky dopustiť, ženskosť zvýraznená voľnými šatami s koženým opaskom, nič násilne vypasované, čipkované šnurovacie ihličky a klobúk, k tomu ladná chôdza a podmanivý make-up. Magické červené pery sa snúbia s celkovým zmyselným očarujúcim lookom.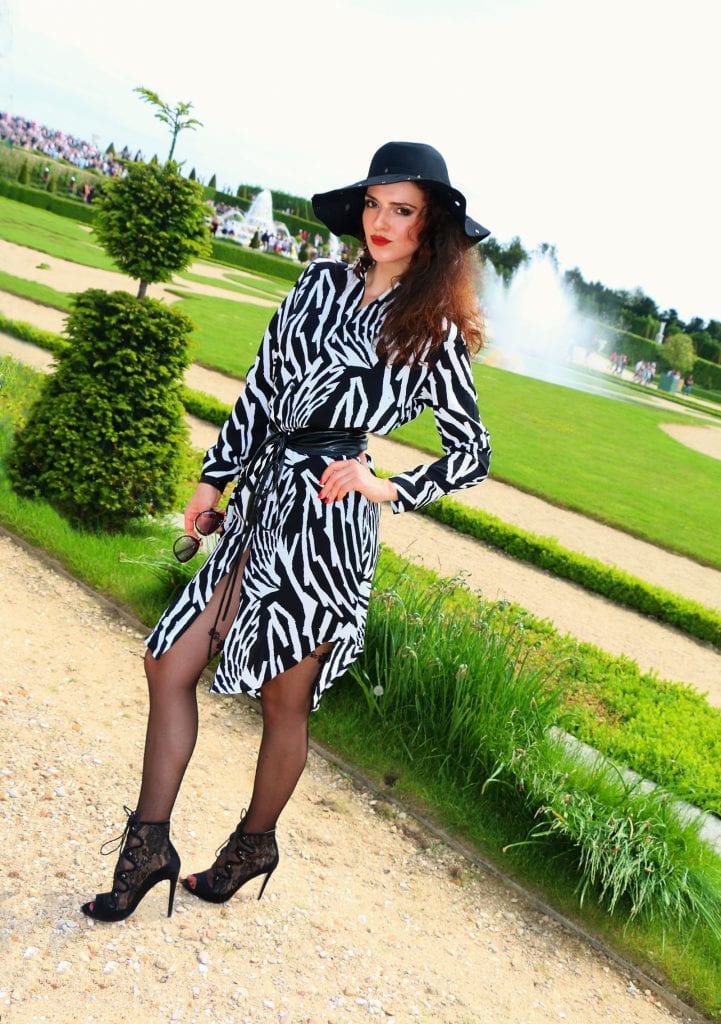 CASUAL CHIC
Parížsky šik štýl, to nie je iba výrazný look osudovej femme fatale, ihličky a vzhľad luxusnej elegantnej štýlovej dámy s podmanivým nedobytným výrazom. Francúzske dámy vedia presne, ako zaujať aj počas bežného dňa. Základom je pôsobiť nenútene, upravene s vhodne zvoleným make-upom, ktorý takmer nie je badať, pôsobia preto naturálne, no krásne a upravene súčasne. Tomu zodpovedá aj oblečenie, ktoré sadne postave ako uliate.
K vytvoreniu francúzskeho štýlu na bežné nosenie by ste sa mali riadiť top piatimi pravidlami: 1. nakupujte kvalitu, nie kvantitu, 2. investujte do spodného prádla, nie je rozhodne nič horšie ako rysujúce sa obrysy nevhodne zvoleného prádla pod šatami 3. minimalizujte doplnky, 4. myslite na detaily 5. vždy dbajte na svoj vzhľad.
Zvoľte jednoduché šaty, ľahko kombinovateľné prvky outfitov, prirodzený make-up, no nezabudnite pritom na rúž, Francúzky majú pripravené počas dňa v kabelke rôzne farby rúžov, pridajte ladnosť v chôdzi a "voilá" parížsky štýl je na svete.
K neutrálnym perám na bežné nosenie môžete zvýrazniť oči, dôležité je mať vždy prirodzene upravené vlasy. Pamätáte si na Vanessa Paradis….
Vanessa Paradis ako mladá sladká Francúzka, ktorá žala úspechy vďaka svojej detskej nevinnej tváričke, medzierke medzi zubami, nádherným prirodzeným vlasom, šarmantnému vyžarovaniu s krásnym hlasom.
Francúzska nenútená športová elegancia: červená na perách je Francúzkam vlastná.
FARBY
Nielen povestná čierna je farbou francúzskeho šik štýlu. Francúzske ženy majú radi aj farby. Rozhodne parížska modrá ale aj červená by vám preto v šatníku pravej Parížanky nemala chýbať.
Carine Roitfeld, štýlová Francúzka, módna ikona, bývalá šéfredaktorka magazínu Vogue Paris vie zažiariť okrem klasickej čiernej aj v prekrásnej bielej.
Moje podanie francúzskeho štýlu v Paríži na zámku Versailles vo farebnej verzii: klobúk, pančušky, elegancia, biela, čierna a parížska modrá tam je.
Dlhé čiernobiele zebrované šaty sa dajú výborne skombinovať s krásnou parížskou modrou v podobe trench coatu na štýl pravej Parížanky a efektne doladiť kabelkou.
Jednou zo zimných farieb, ktoré mám rada a v ktorej som si užila fotenie je smaragdová zelená. Druhý štýl môjho parížskeho looku pozostával z nohavíc s prúžkom nad členky s výrazným vyhrnutým lemom, dlhá košela/šaty s koženým opaskom a neodmysliteľné čipkované podkolienky so vzorom k čiernym perforovaným remienkovým lodičkám. K tomuto oblečeniu si môžete obliecť aj sako.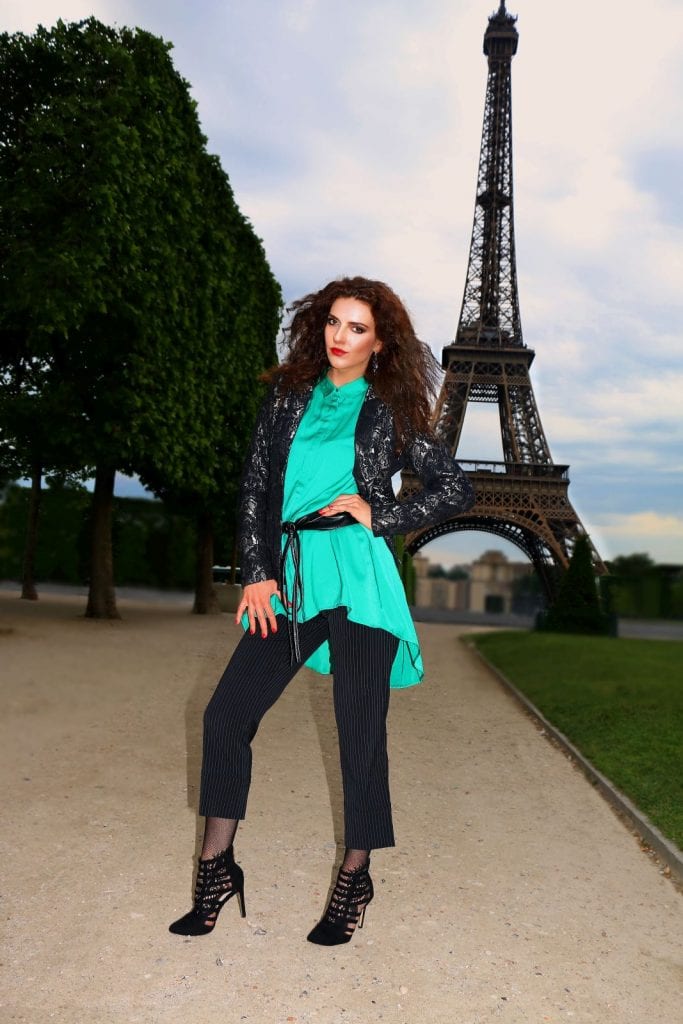 V zámku Château de Versailles som trošku šantila ako pravá Francúzka. Nohavice s odhalenými členkami dajú efektne vyniknúť čipkovaným ponožkám, ktoré k mojej predstave pravej francúzskej dámy jednoducho neodmysliteľne patria rovnako ako vysoké exkluzívne čipkované lodičky so šnurovaním.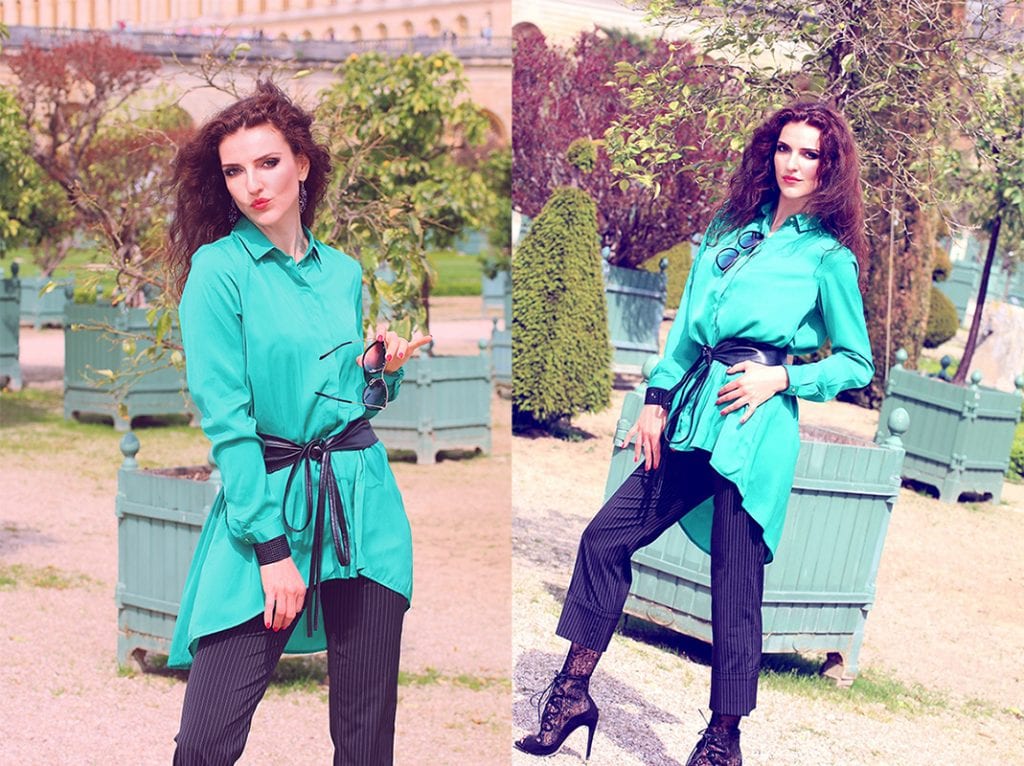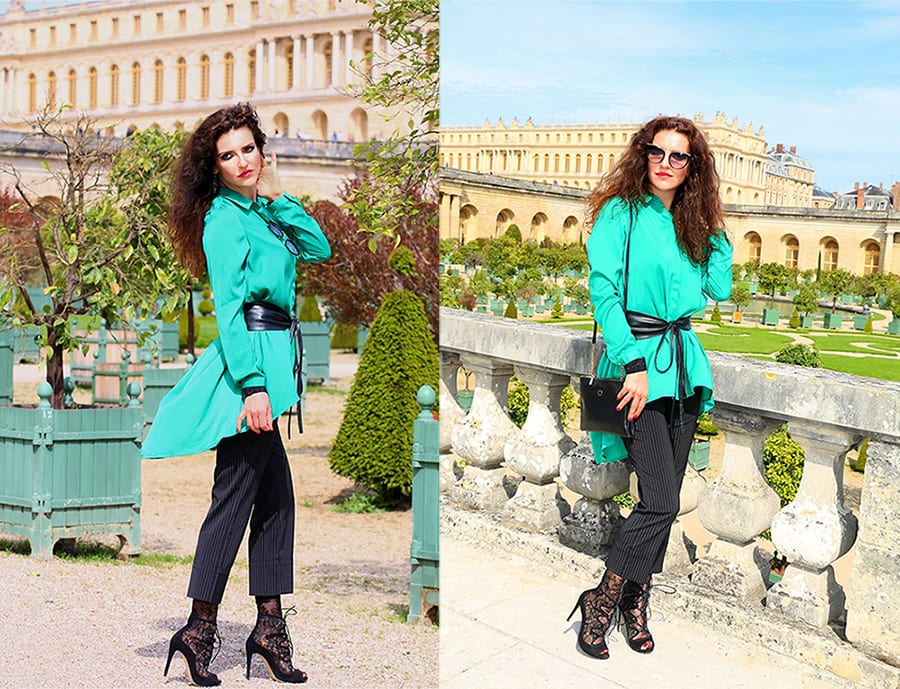 SILA NOHAVICOVÝCH KOSTÝMOV
Pruhy a prúžky na kostýmoch sú elegantnou voľbou, ktorou nič nepokazíte. Aj v prípade, že sa snažíte vytvoriť parížsky šik štýl. Rovnako ako stála klasika čierna a biela. Eleganciu a ženskosť zvláda súčasne, môžete skombinovať aj rôzne časti oblečenia a skúsiť vrstvenie.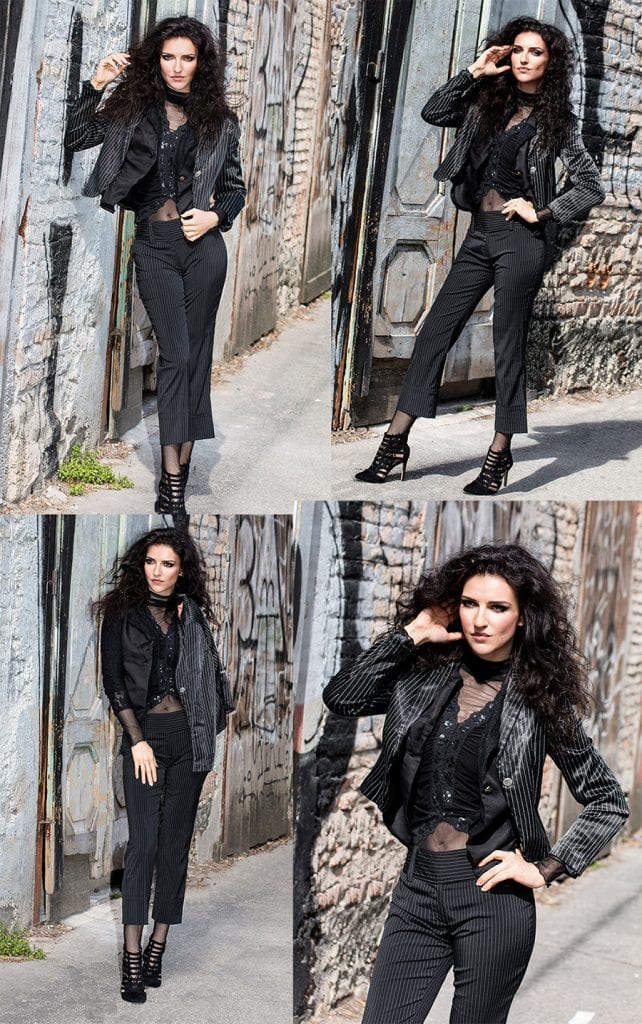 ČIERNA A BIELA KLASIKA
Aktuálna kolekcia z Parížskeho týždňa módy, október 2018, Chanel a modelka Kaia Gerber.
Olivia Palermo presne vie ako narábať s rôznymi štýlmi. Elegancia jej veľmi svedčí. Kombinácií bielej a čiernej predviedla hneď niekoľko.
Príklad jednoduchého outfitu klasickej francúzskej elegancie v bielo-čiernom prevedení.
Facebook: Mya Mirell Fashionista