Elisabetta Franchi – Milan Fashion Week, kolekcia Jar/Leto 2020, Móda Ženy
Talianska módna dizajnérka Elisabetta Franchi vzala modelky na glamour plavbu na luxusnú jachtu a zaodela ich do námorníckych klobúkov a žiarivých celých plavkových kostýmov letnej kolekcie 2020.
Elisabetta Franchi svojimi módnymi kolekciami vyžarujúcimi ženskosť, šarm a eleganciu očarila doposiaľ mnoho žien a stále si získava pozornosť a srdcia ďalších.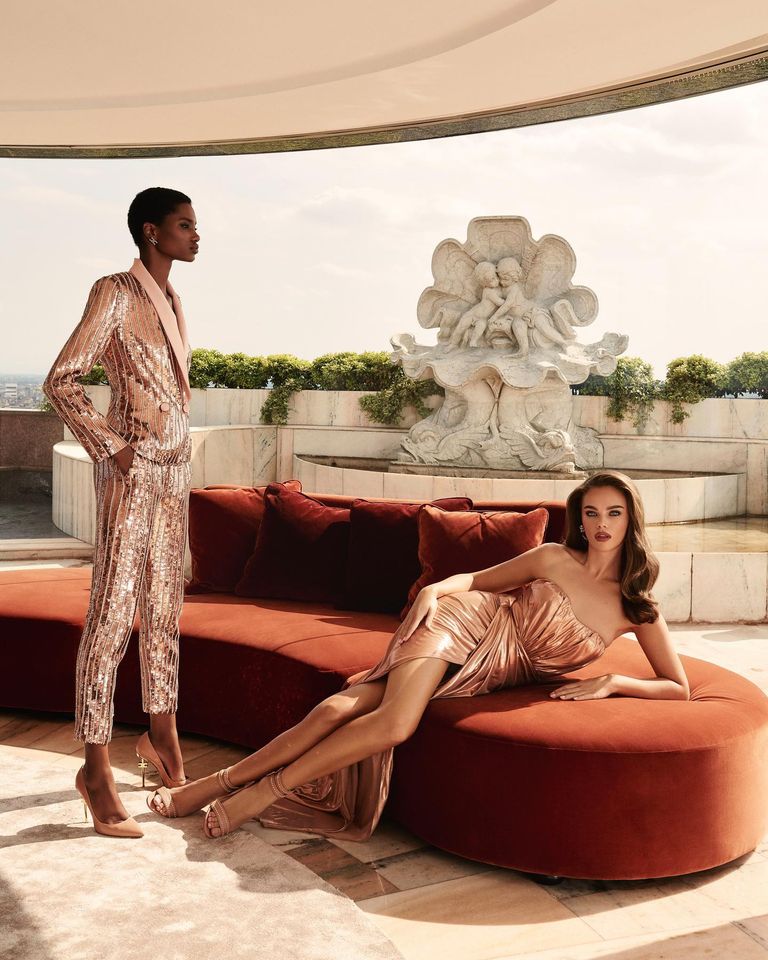 Leto sa nám pomaly končí, ale v tomto posunutom a spomalenom čase máme šancu prežívať a vnímať všetko inak. Spomalenie zažilo azda každé odvetvie v ekonomike a neobišlo ani dizajn, umenie a samotnú módu. Módny svet zažil v čase svetovej pandémie obrovskú stagnáciu a prezentácia najnovších kolekcií módnych domov a
dizajnérov sa konala formou online streemovaných digitálnych prehliadok. Niektoré prebehli opatrne na reálnych miestach vo fyzickej rovine s obmedzeným počtom divákov, pozvaných hostí, no každý dizajnér zvolil osobitý prístup v tomto kultúre a umení neprajnom čase. Nekonali sa ani tradičné prehliadky módnych týždňov prezentované v Paríži a v Miláne, mužská móda je naplánovaná spoločne so ženskou na septembrový týždeň módy Milan Fashion Week, ktorý ohlasuje svoj nový ročník v pôvodnom čase. Toto spojenie prehliadok kolekcií prináša opäť niečo nové, čo tu ešte nebolo a to v kombinácii opäť s online streemom.
Pozrime sa na tvorbu ďalšej talianskej dizajnérky Elisabetta Franchi, ktorá svoju letnú kolekciu odprezentovala v termíne každoročne sa konaného Milan Fashion Weeku, v letnej sezóne. Septembrový módny týždeň – 09/2019 sa konal ešte v pôvodnom čase pre pozvaných hostí zo sveta a pre talianske osobnosti za účasti módnych nadšencov, fotografov a novinárov a medzi inými predstavil aj letnú kolekciu 2020 Elisabetta Franchi.
KOLEKCIA JAR/LETO 2020
Počas prehliadky kolekcie Jar/Leto 2020 preniesla Elisabetta Franchi divákov na pomyselnú letnú námornícku plavbu. na luxusnú jachtu nasmerovanú k vyhľadávaniu nových destinácií.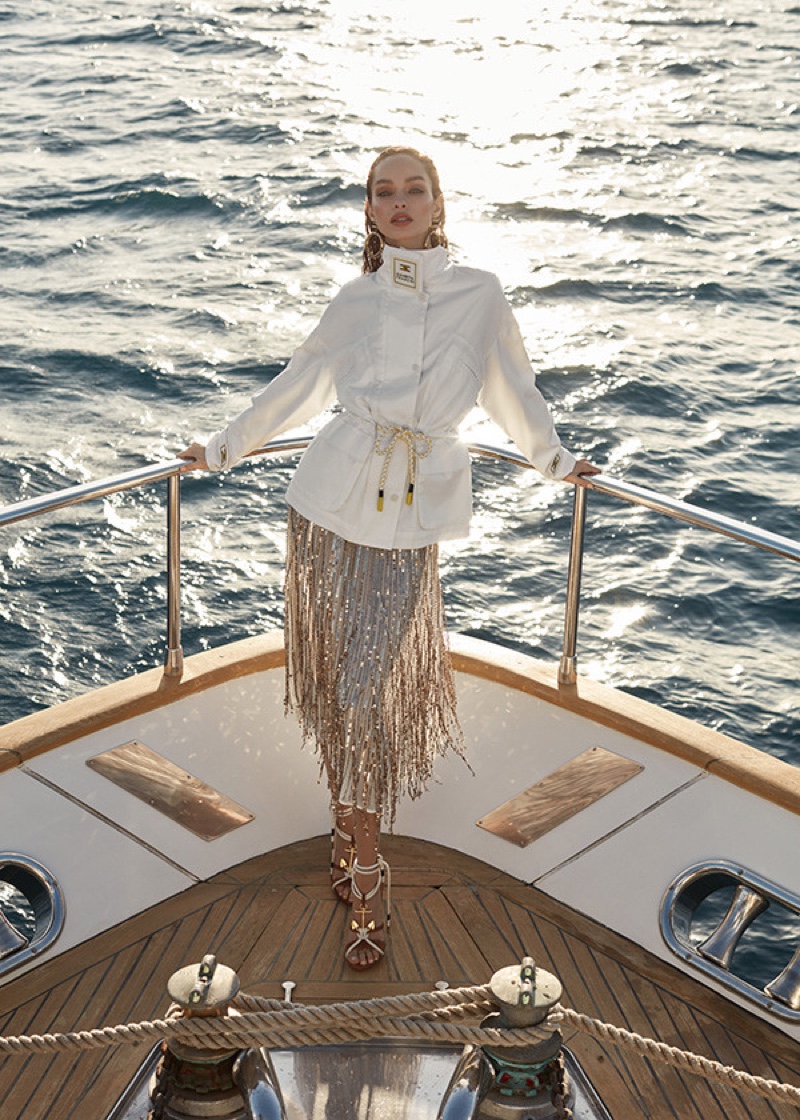 Vyberme sa na letnú plavbu na módnych vlnách s dizajnérkou Elisabetttou Franchi a predĺžme si snové leto.
Neutíchajúce momenty a spomienky letnej atmosféry sa zračia v najnovšej kolekcii Elisabetta Franchi 2020, v modeloch, v ktorých cítiť pompéznosť a gráziu štýlu, ktorý pre tentokrát predstavoval námornícky.
Modelky ako protagonistky pôvabnej show na transatlantickej promenáde pre Jar/Leto 2020 predstavili s pôvabným walkingom na móle slobodného ducha Elisabetta Franchi kozmopolitnej ženy, ženy cestovateľky, dynamickej duše objaviteľky nových horizontov s dôrazom na luxus a zmysel pre detail.
Kozmopolitná žena cestovateľka, objaviteľka nových horizontov, milovníčka luxusu, zmyslu pre detail a glamour štýlu, to je žena Elisabettta Franchi 2020.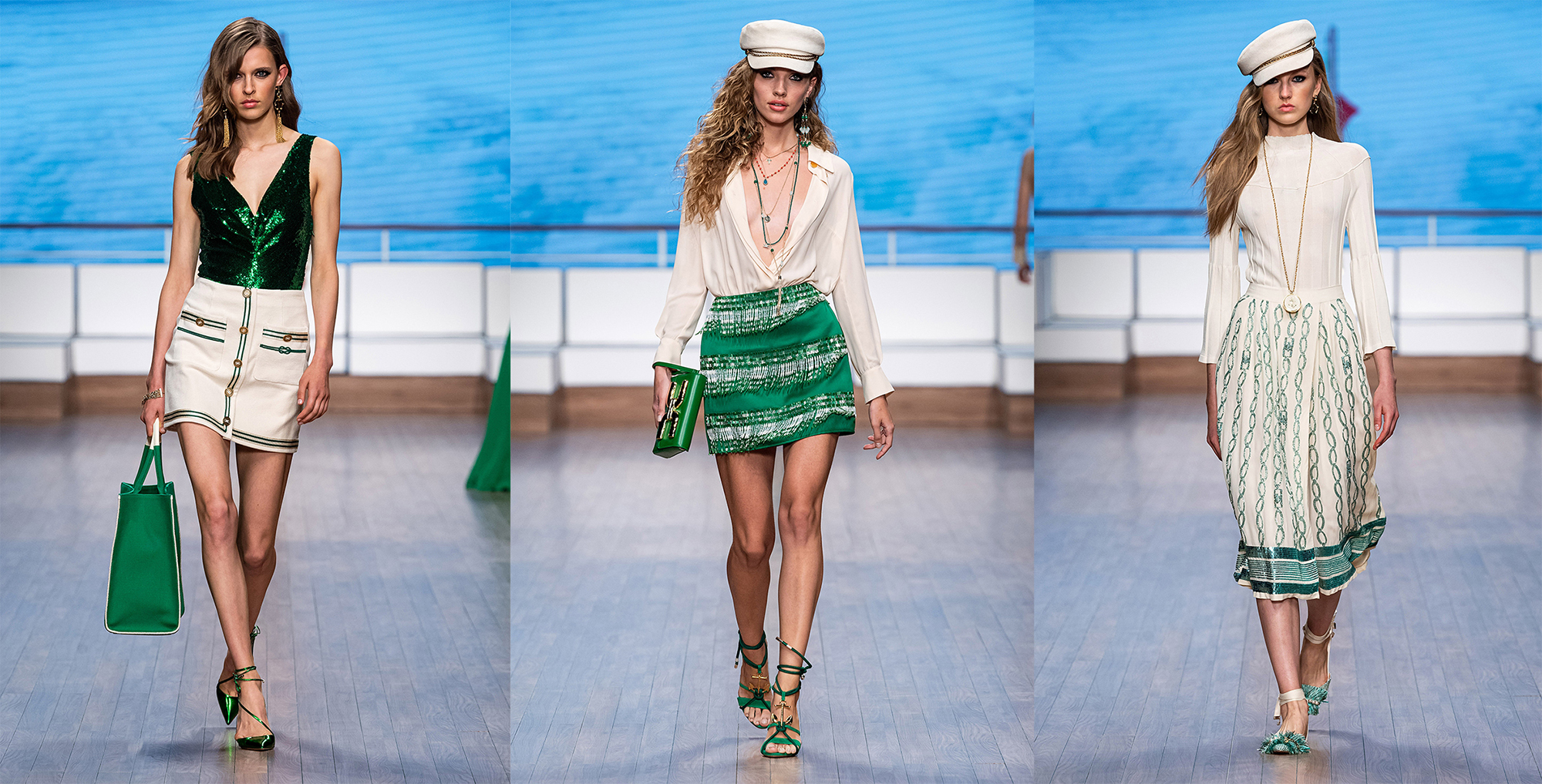 Talianska návrhárka vie, ako zapáliť módnu vášeň a túžbu u žien. Jej šarmantné modely jemne rafinované a sexi sú zároveň plné ženskosti a elegancie a za ten čas stihli očariť mnohé.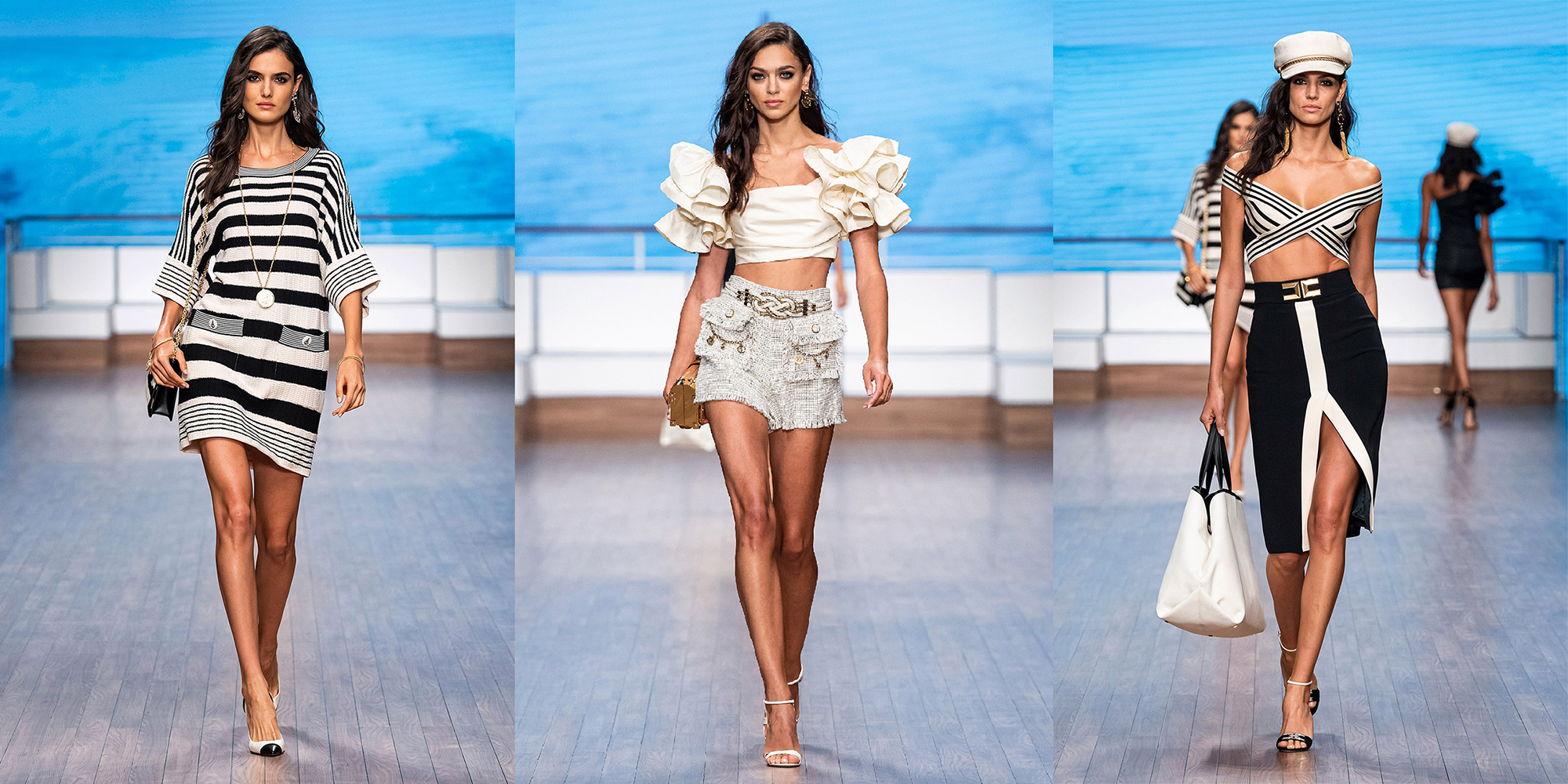 Blejzre najnovšej kolekcie Leto 2020 vzdali hold námorníckym uniformám a vejúce látky sa stali pripomienkou leta, ktoré nekončí a ostáva navždy v spomienkach.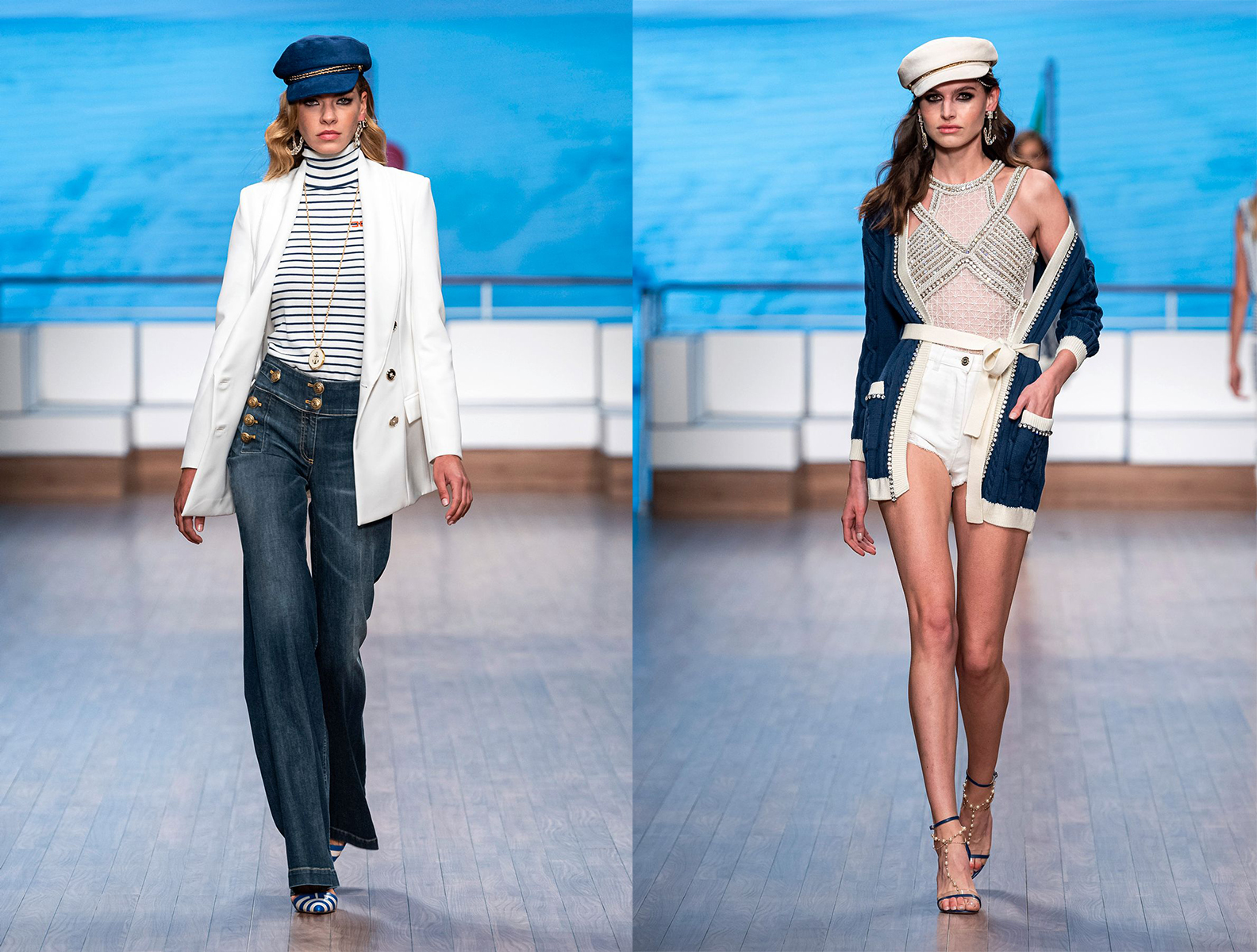 Námornícke modely s pokrývkami hlavy, šiltovkami, klobúkmi, doplnkami a plavkovými setmi zrkadlia túžbu a spomienky na neutíchajúcu letnú atmosféru.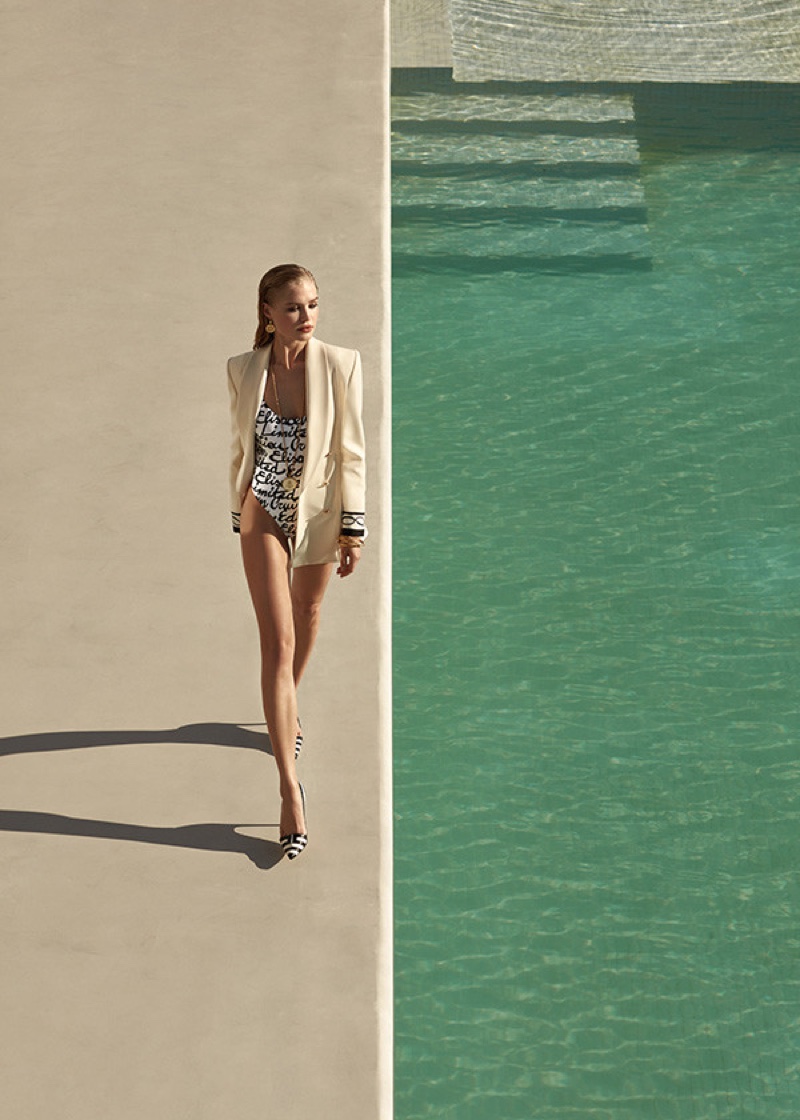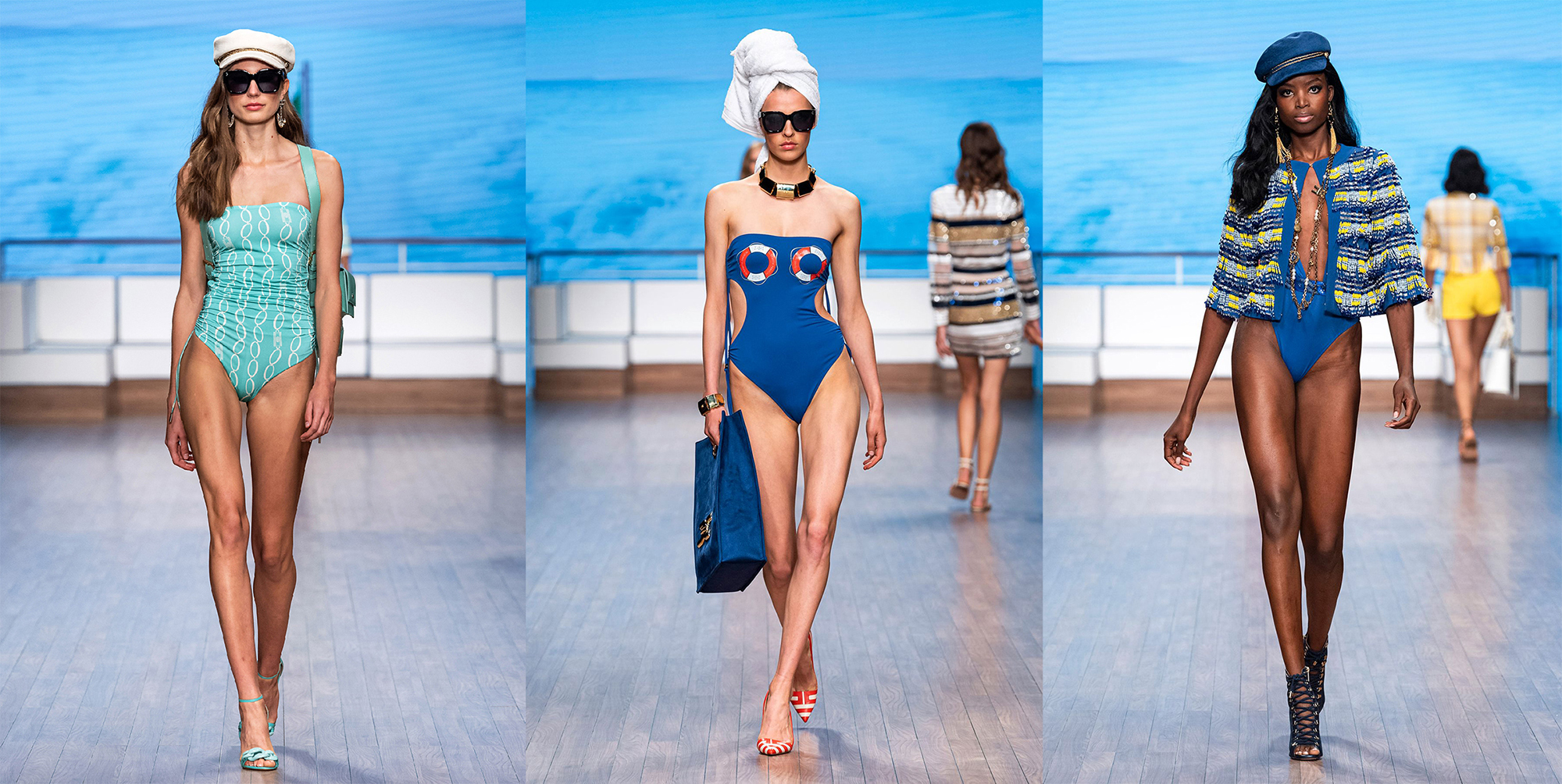 FARBY
Farebná paleta modrej, od zmyselnej kobaltovej po tiffany s novými dotykmi mentolovo-modrej pripomínala farbu a elementy mora. Západ slnka priniesla žltá.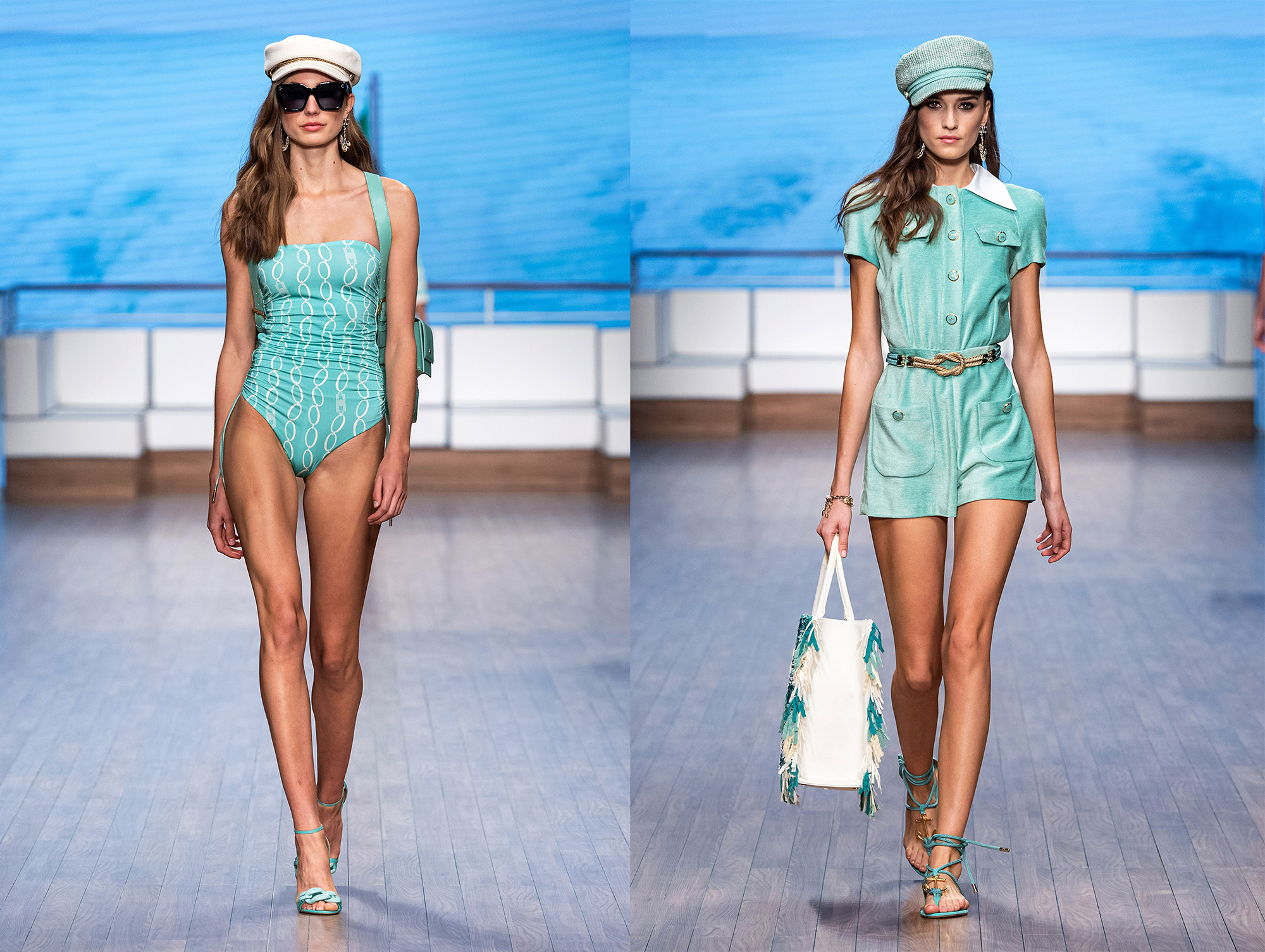 Jachta pristála na brehu a paprsky objímali telo v modeloch zrkadliacich kľukatý pohyb vĺn a jagajúci sa odraz slnka.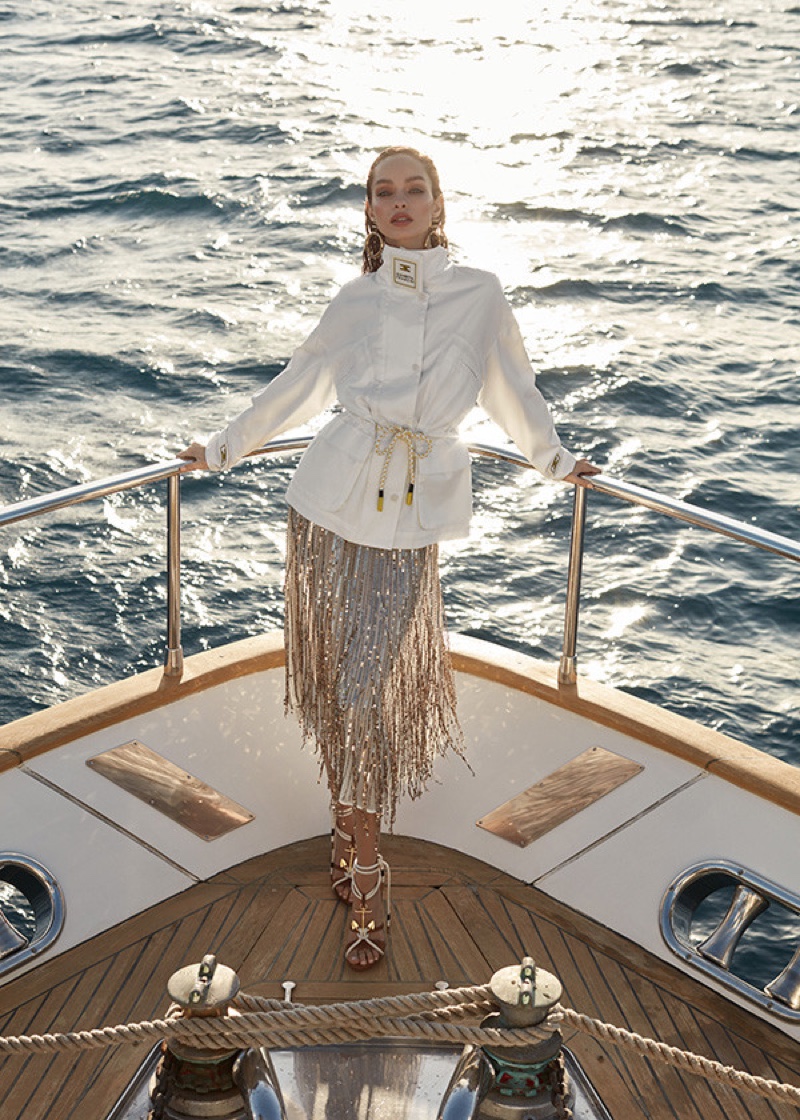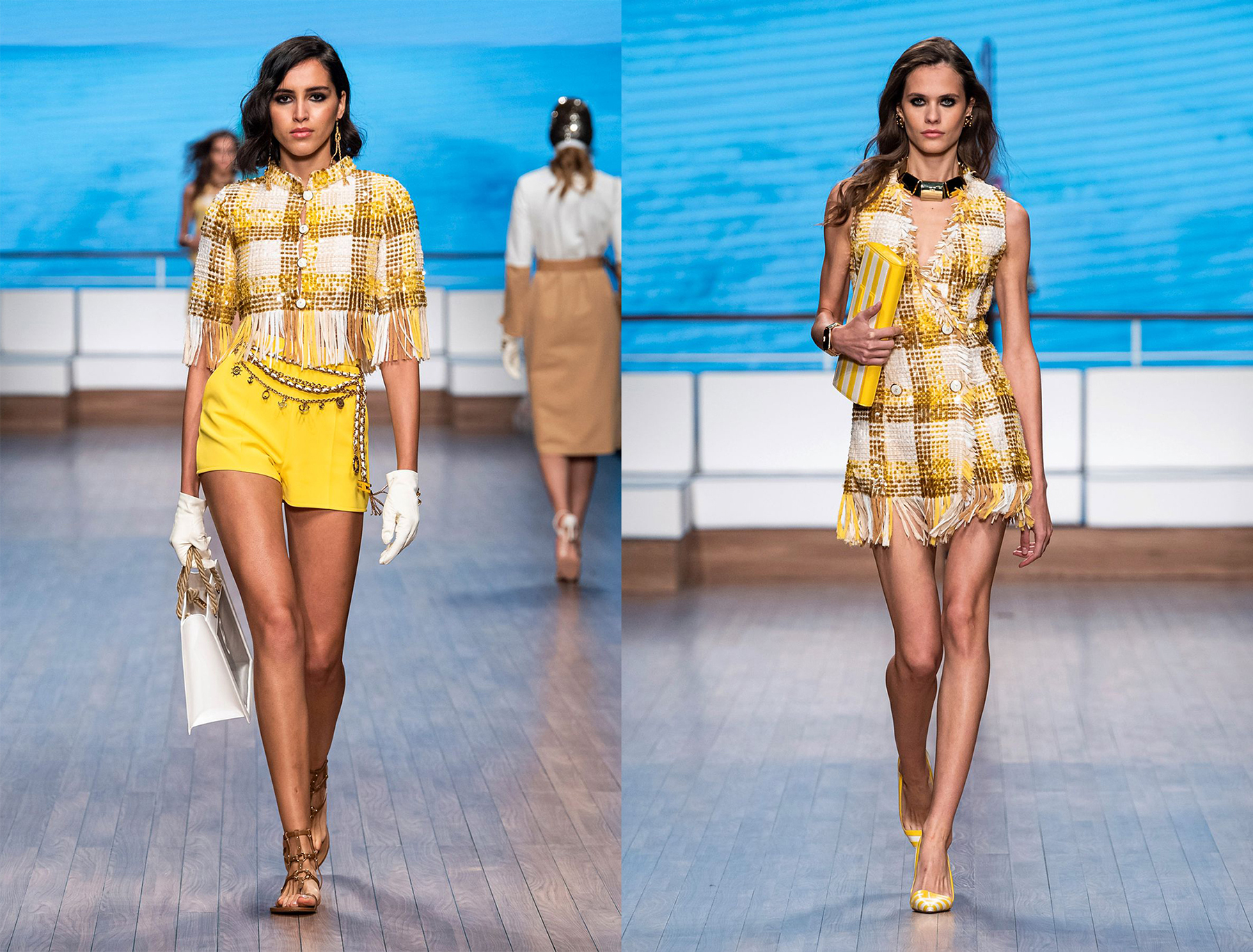 DOPLNKY
Outfity boli okrášlené kotvami, retiazkami a pletenými šnúrami ako námorníckymi prvkami, ktoré dávali štruktúru ramenám, striedajúc sa s drahými kameňmi pre ženu, ktorá si nevie predstaviť život bez glamour looku.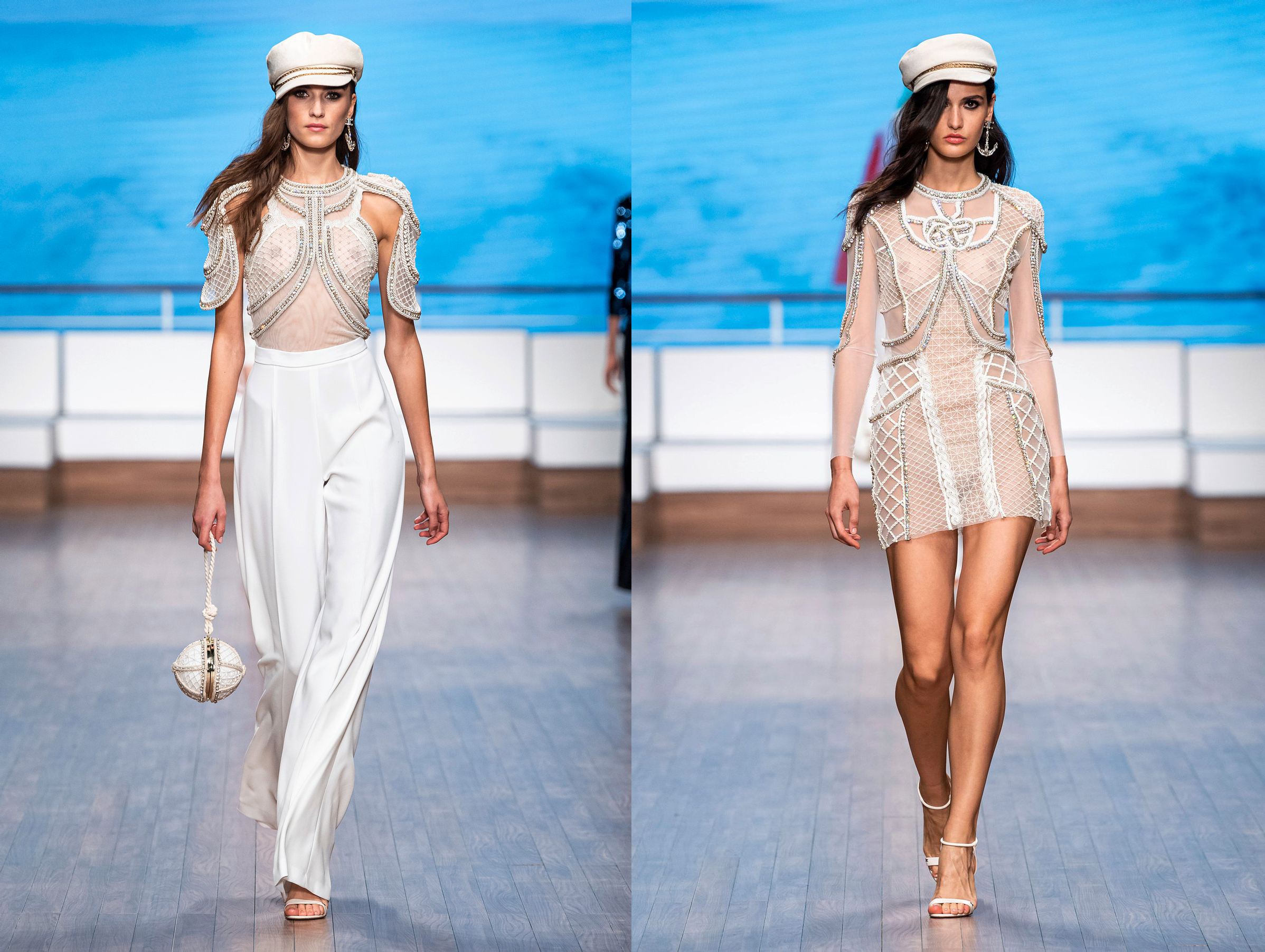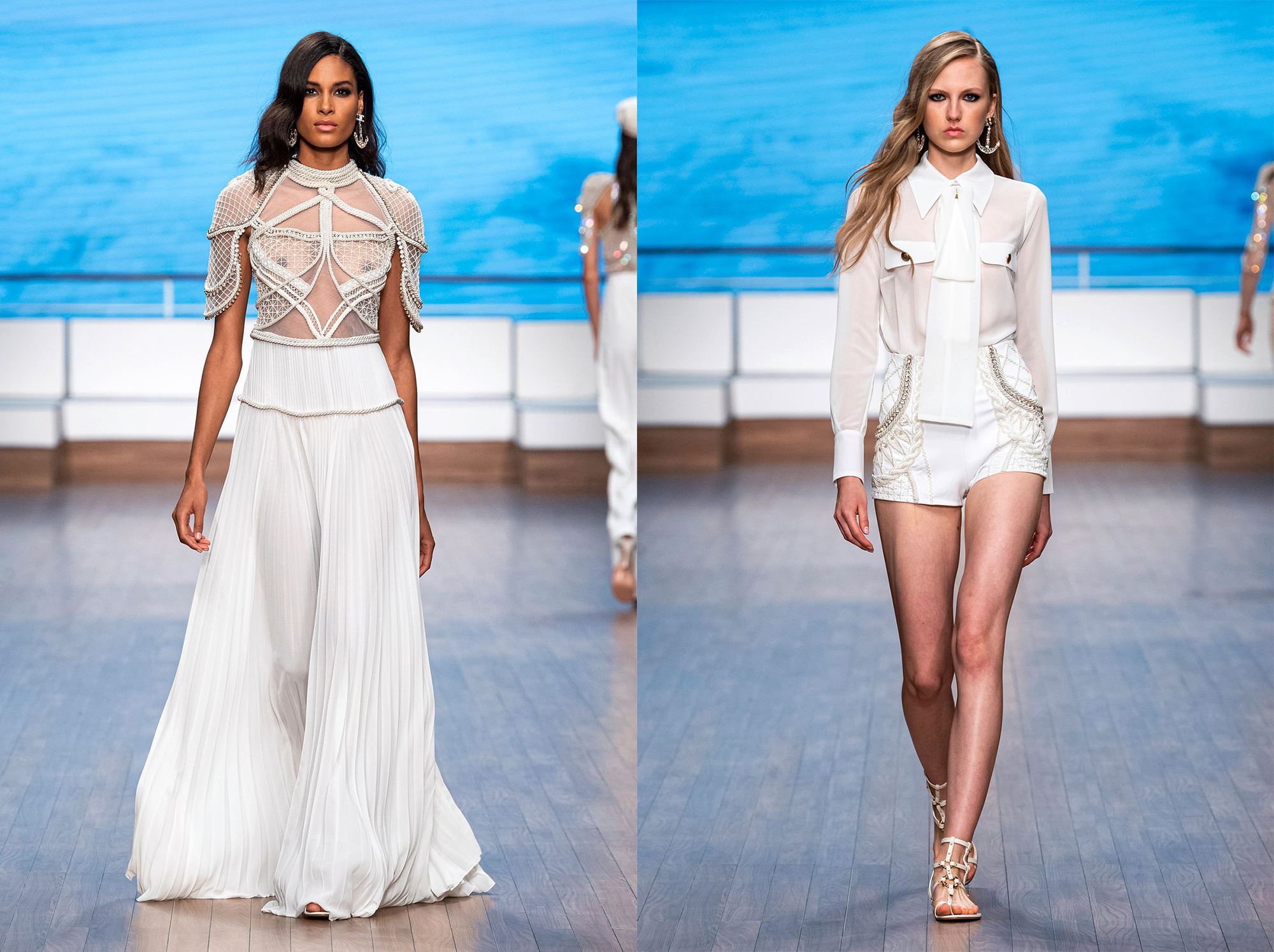 Doplnky sú esenciálnymi zložkami, ktoré robia špeciálnym každý moment tejto cesty. Objavili sa klobúky so širokým okrajom, maxi slamenné vlasové klobúky a čelenky, šatky do vlasov, kabelky z rafia materiálu, zlaté náramky a retiazky a tiež námornícky inšpirované prívesky.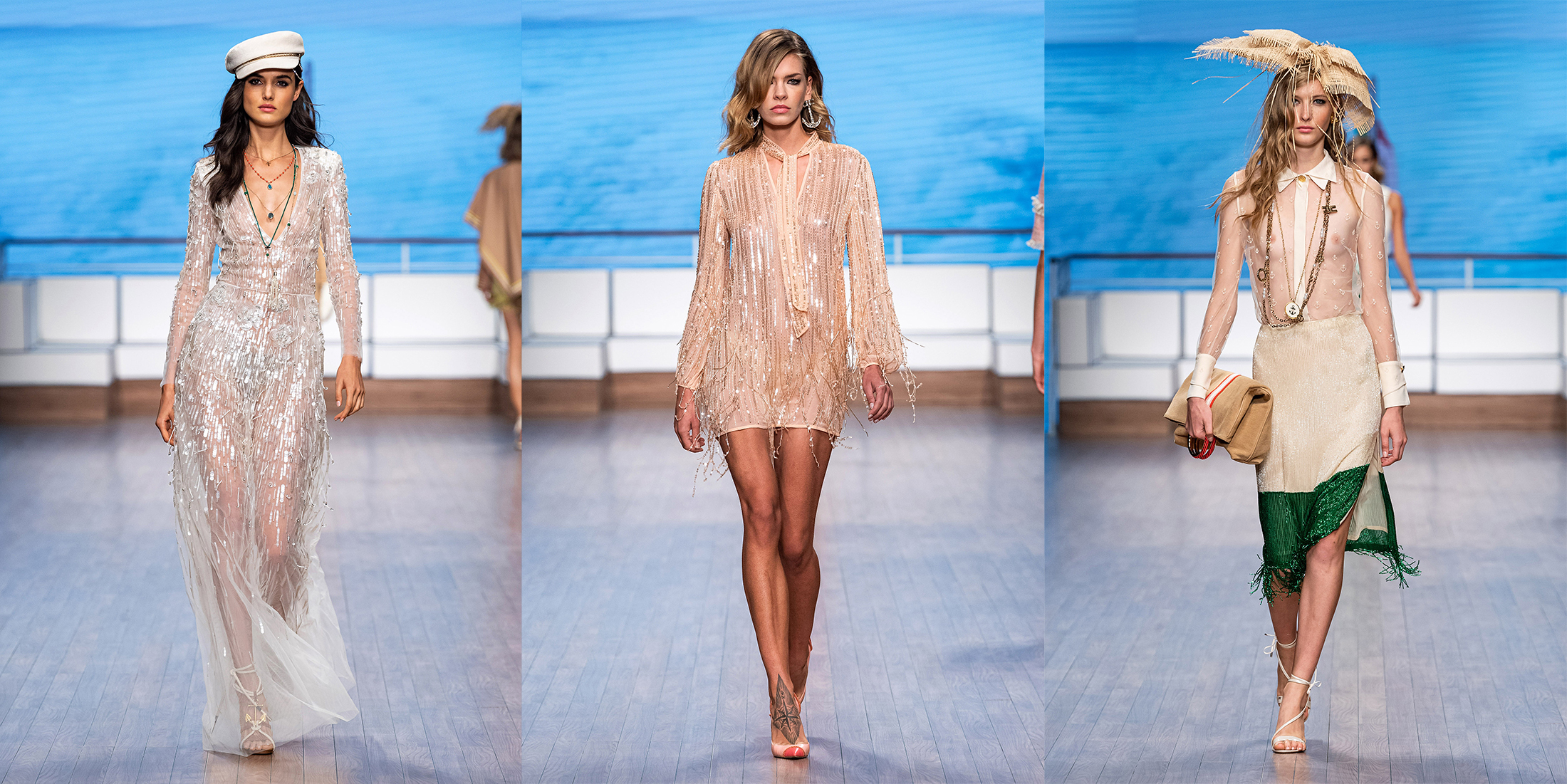 Najvyššie topánky kontrastovali s úplne rovnými sandálami povrdzujúcimi presvedčivý štýl ikony Elisabetta Franchi, ktorá nikdy neopustí svoju zmyselnosť.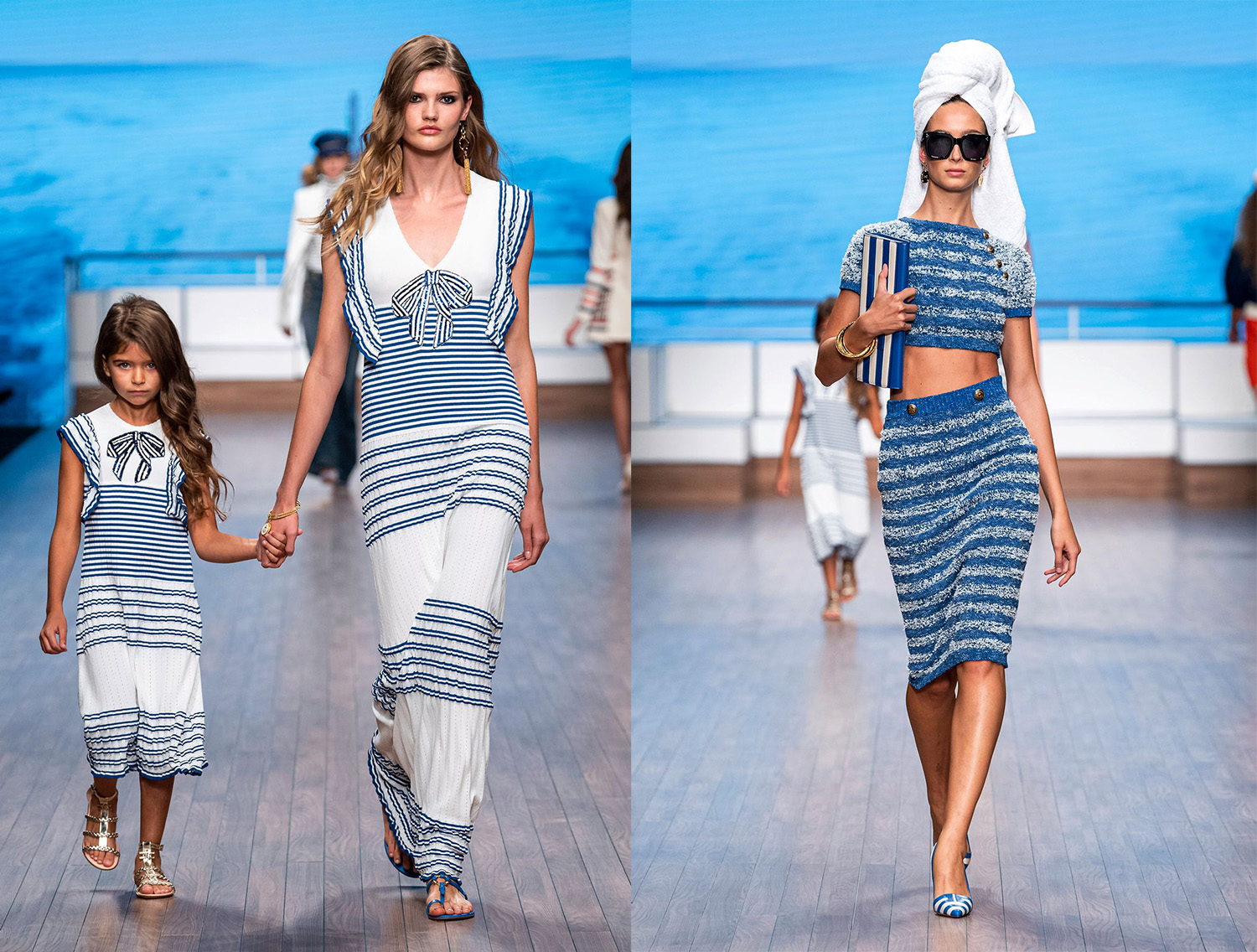 zdroj obrázko: Elisabetta Franchi, Vogue IT, Elisabetta Franchi spring-summer 2020 campaign, getty images