Zlaté Glóbusy – 78. ročník udeľovania filmových a televíznych cien, Los Angeles, New York, 28. február 2021, časť II.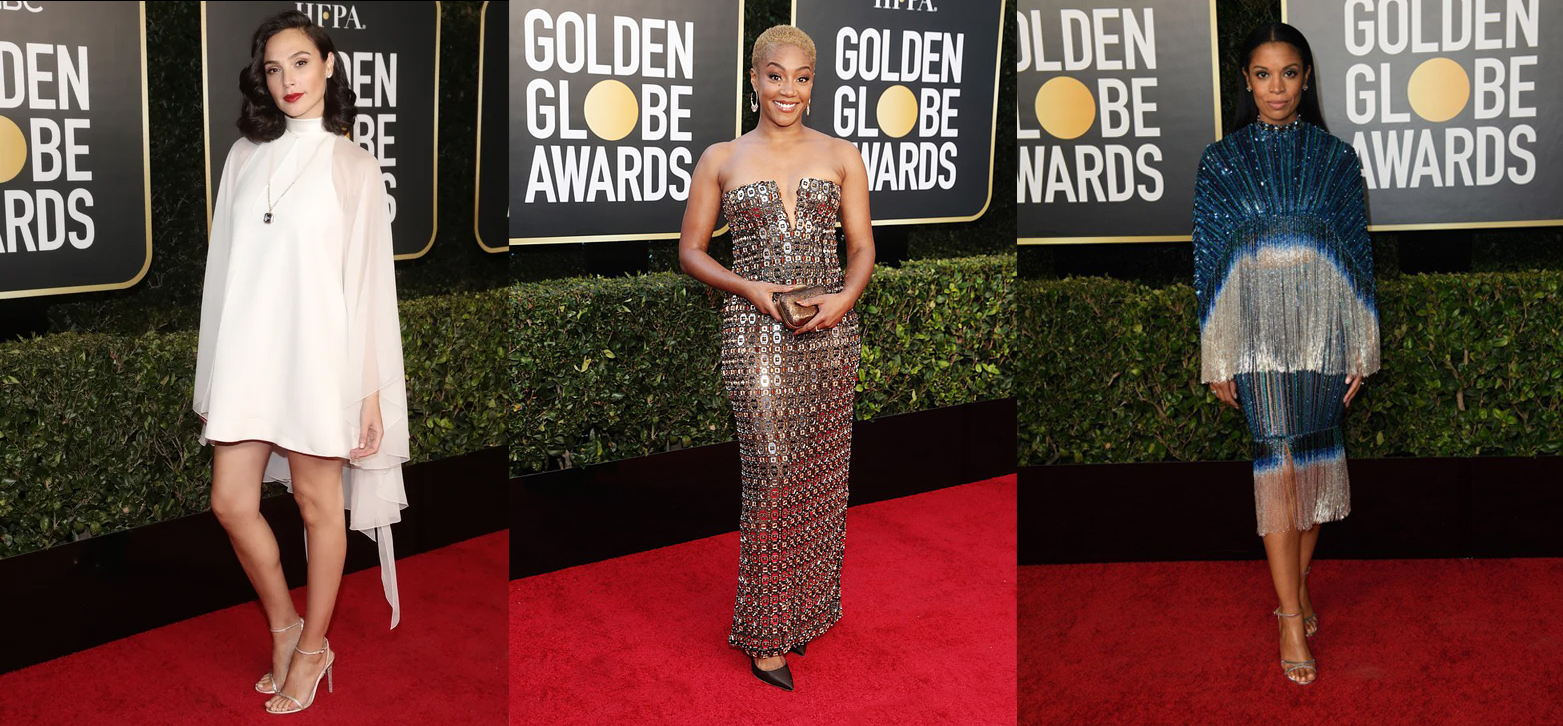 Zlaté Glóbusy 2021 odštartoval tento rok s menším oneskorením, ale predsa. 28. februára 2021 sa v noci z nedele na pondelok uskutočnil v Los Angeles a v New Yorku 78. ročník filmových a televíznych cien, ktoré posudzuje a vyberá Hollywoodska asociácia zahraničnej tlače. Večerom, ktorý sa udial za účasti obmedzeného počtu hviezd, sprevádzali komičky Tina Fey a Amy Poehler z dvoch oddelených pódií.
Filmové a televízne hviezdy sa pripájali do rozhovorov prevažne online z celého sveta z pohodlia svojich karanténnych domov. Niektoré celebrity, ako napríklad Michael Douglas a Catherine Zeta-Jones, Jane Fonda, Margot Robbie alebo víťazka minulého ročníka, herečka Renée Zellweger, sa zúčastnili osobne (čítaj I. časť článku Golden Globes 2021 v histórii blogu).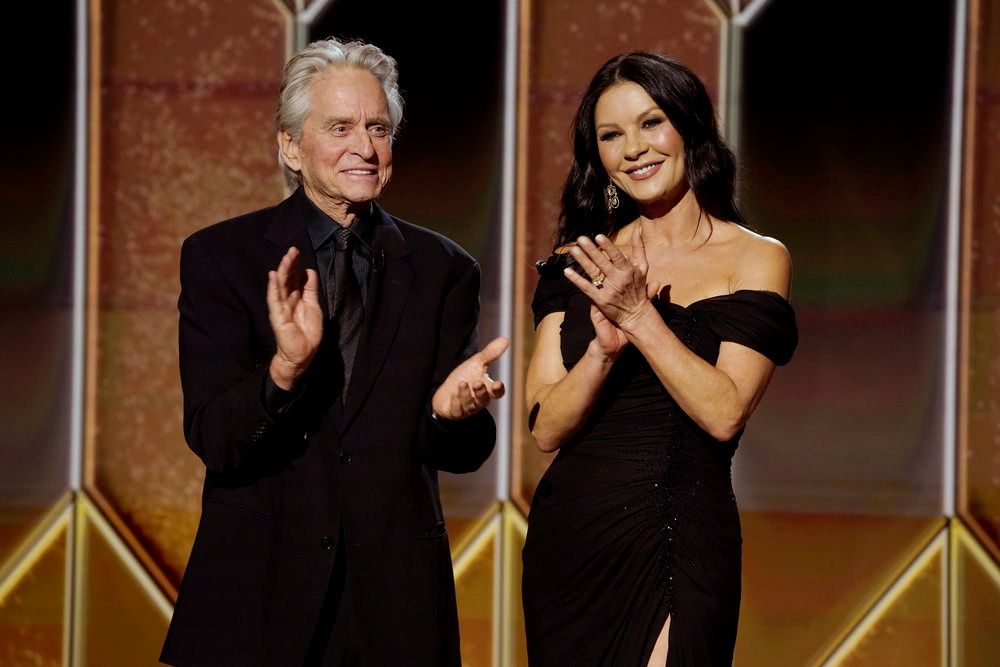 Na galavečere Zlaté Glóbusy 2021 nechýbal ani červený koberec. Hviezdy sa predstavili v róbach od svetových dizajnérov – Dior, Versace, Prada, Givenchy, Oscar de la Renta, Valentino a ďalších.
To najlepšie a najšokujúcejšie z červeného koberca si môžete prečítať tiež v I. časti článku, kde očarili Anya Taylor-Joy, Elle Fanning, Lily Collins, Jane Fonda, Laura Pausini, Julia Garner, Nicole Kidman, Sofia Carson, Cynthia Erivo, Rosamund Pike a Salma Hayek. Azda najväčšmi zaujímavú róbu v nádhernej smaragdovo-zelenej farbe z dielne Dior vyniesla na červený koberec mladá herečka Anya Taylor-Joy : https://www.instagram.com/p/CL29ssuHA5y/
Pozrime sa na ďalšie dámy, filmové a televízne osobnosti a ich výber rób pre galavečer Golden Globes 2021.
KATE HUDSON v modeli LOUIS VUITTON
Elegancia a pôvab snúbiaca sa s luxusným štýlom herečky Kate Hudson. To je čiernobiely look Louis Vuitton, ktorý možno považovať za jeden z najzaujímavejších rób večera.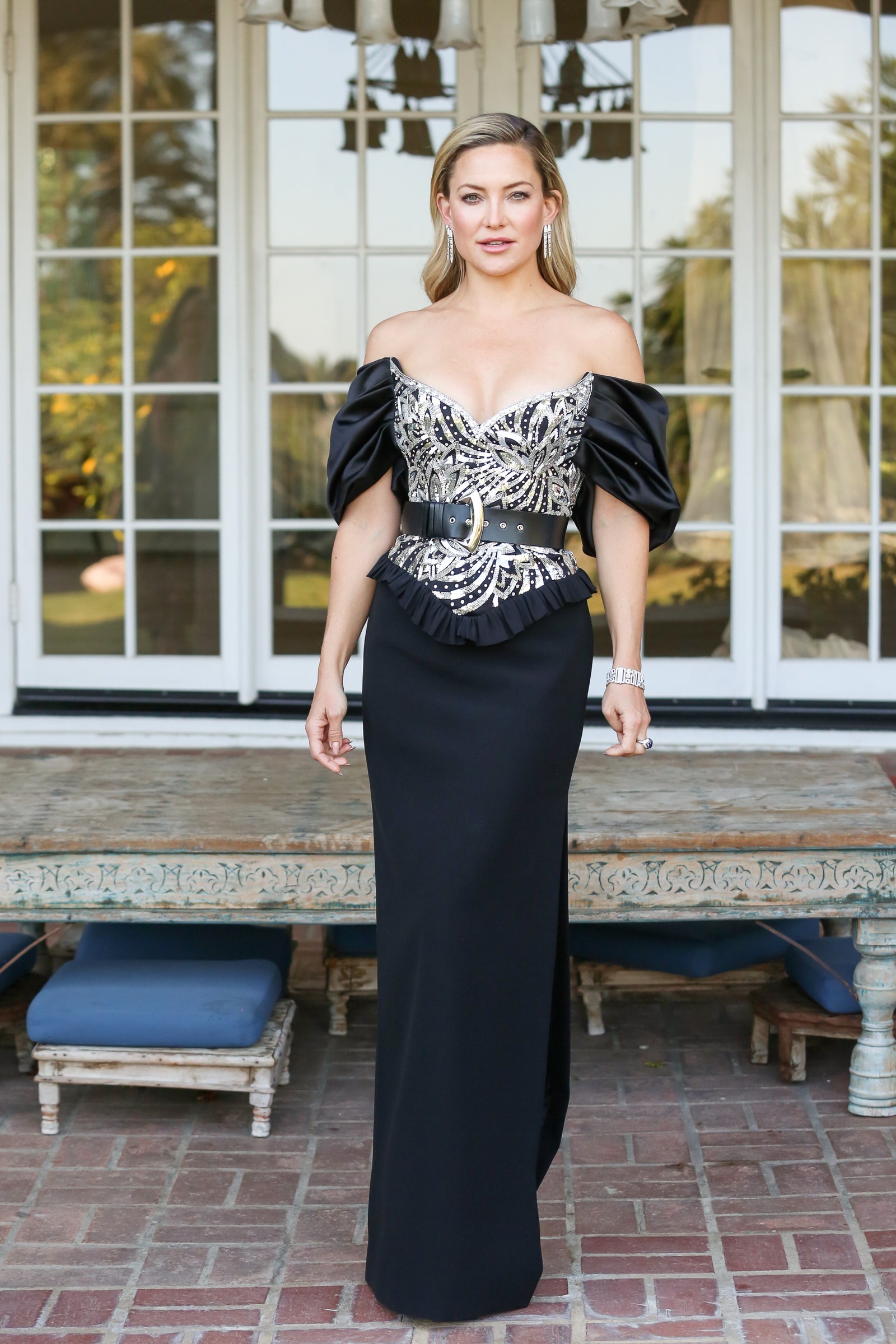 Strih šiat so zdobeným živôtikom, ktorý zvýrazňuje pás podčiarknutý širším opaskom, spadnuté ramená a hlboký výstrih, ktoré dávajú vyniknúť hranatým pleciam a ženskému dekoltu, Kate náramne pristal. Celkový look dotvára na hladko upravený účes a jemné subtílne náušnice. Možno by niekto čakal výraznejší šperk v oblasti dekoltu, ktorý sa zdá byť holý, no Kate usúdila, že šperkom ostáva topová skvostná časť šiat. A urobila uvážene, tento look je jednoducho dokonalosť sama o sebe.
GAL GADOT v modeli GIVENCHI HAUTE COUTURE
Tieto mini šaty sú zaiste hodné titulu prekrásna žena. Gal v nich ukázala nádherné nohy a všetkým oznámila, že je tehotná a čaká svoje tretie dieťa. V bielom modeli voľných šiat z dielne Givenchi Haute Couture so stojáčikom pôsobila pôvabne a nežne.
Elegantný biely model šiat herečka doplnila retiazkou s príveskom od Tiffany & Co . 48-karátový dvojfarebný zoisit so smaragdovým brúsením zasadený do 18-karátového zlata medzi takmer tisíc diamantov sa vynímal a leskol v svetlách podujatia Zlaté Glóbusy 2021. Šaty zdobili taktiež jemné remienkové sandále s kamienkami. Výsledný efekt, Gal vyzerala jednoducho famózne.
EMMA CORRIN v modeli MIU MIU
Herečka Emma Corrin sa počas tejto slávnostnej noci stala víťazkou a odniesla si ocenenie za stvárnenie princeznej Diany v snímke THE CROWN ako najlepšia herečka v televíznej dráme. Bolo to jej prvé veľké víťazstvo a zároveň prvý zvrat v sérii ocenení. Čiernobiely zamatový dizajn šiat, ktorý na podujatie zvolila, bol jemnou poctou princezninmu obľúbenému štýlu 80. rokov so širokými ramenami.
Aj keď sa Emma Corrin osobne nezúčastnila slávnostného filmového večera, svojím vzhľadom priniesla veľa drámy na červený koberec. Odetá v róbe Miu Miu inšpirovanej klaunami Pierrot zapôsobila ako ďalšia z hviezd, ktorá zvolila unikátny model skvostne sa vynímajúci na takomto type podujatia. Dlhú róbu s volánovým golierom a nadýchanými ramenami zdobili výrazné kamienky a šperky značky Cartier.
AMANDA SEYFRIED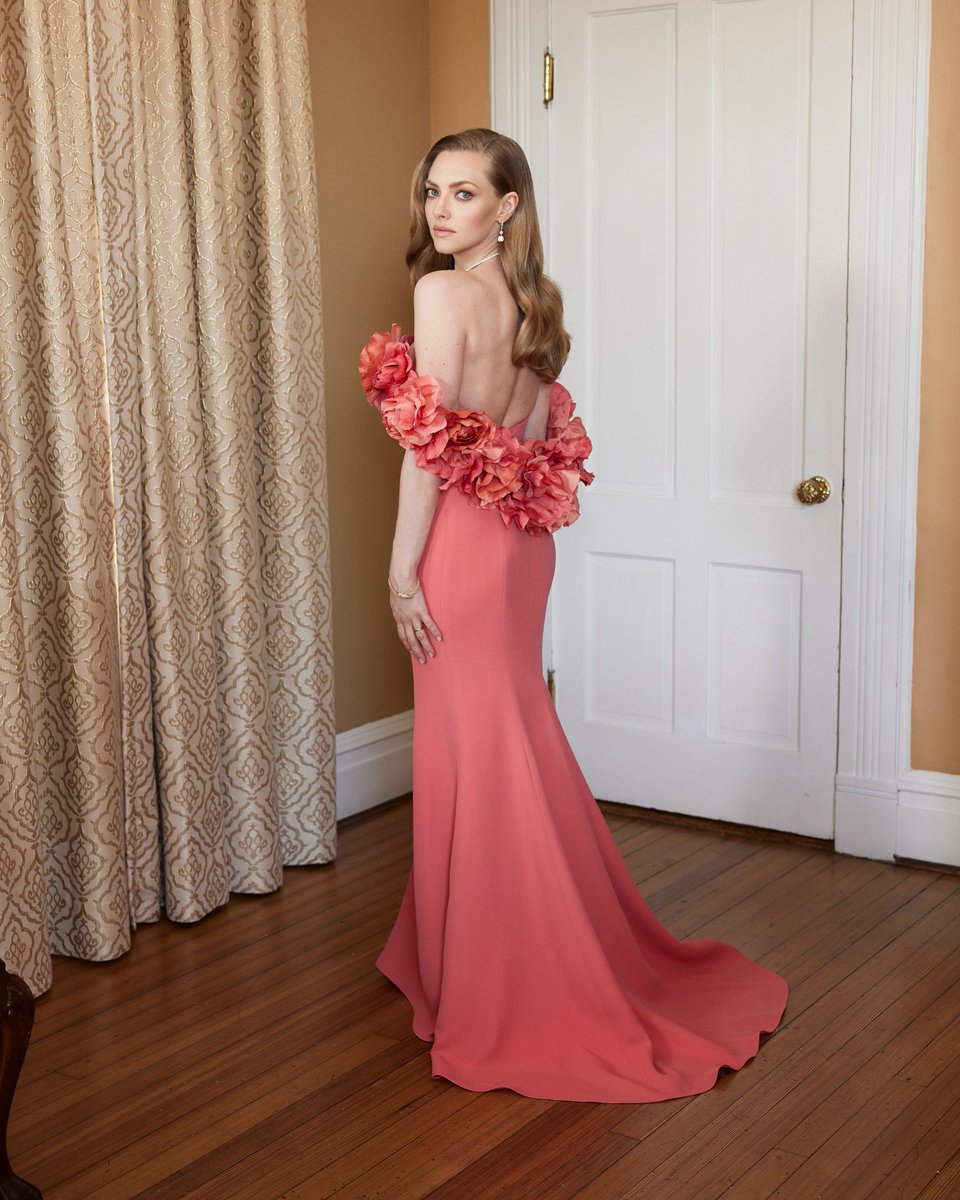 Zdá sa, že počas tohto moderného ceremoniálu sa dostal do pozornosti starý hollywoodsky glamour štýl, ktorý v šatách Oscar de la Renta oslávila tiež herečka Amanda Seyfried. V róbe s padajúcim dekoltom skrz plecia vzadu odhaľujúc chrbát, s dlhou vlečkovou sukňou a obtiahnutým živôtikom zdobeným ručne vyrobenými kvetmi, pôsobila čarovne. Jednotlivé lístky kvetinového lemu vrchnej topovej časti boli pritom vyrábané samostatne . Nežná dievčenská krása herečky s krásnymi veľkými očami sa tak v tomto koralovom modeli naplno rozvinula. Finálny výzor doplnila Amanda Seyfried jemnými hodinkami značky Jaeger-LeCoultre.
MAYA RUDOLPH v modeli VALENTINO
Kvetinový model širokých tunikových šiat z dielne Valentino Collezione Milano od Pierpaola Piccioli vyzeral skvostne na móle a modelkách, no Maya Rudolph si veru nevybrala dobre. Za podpory stylistky Rebecca Grice padla jej voľba na tento kaftan model.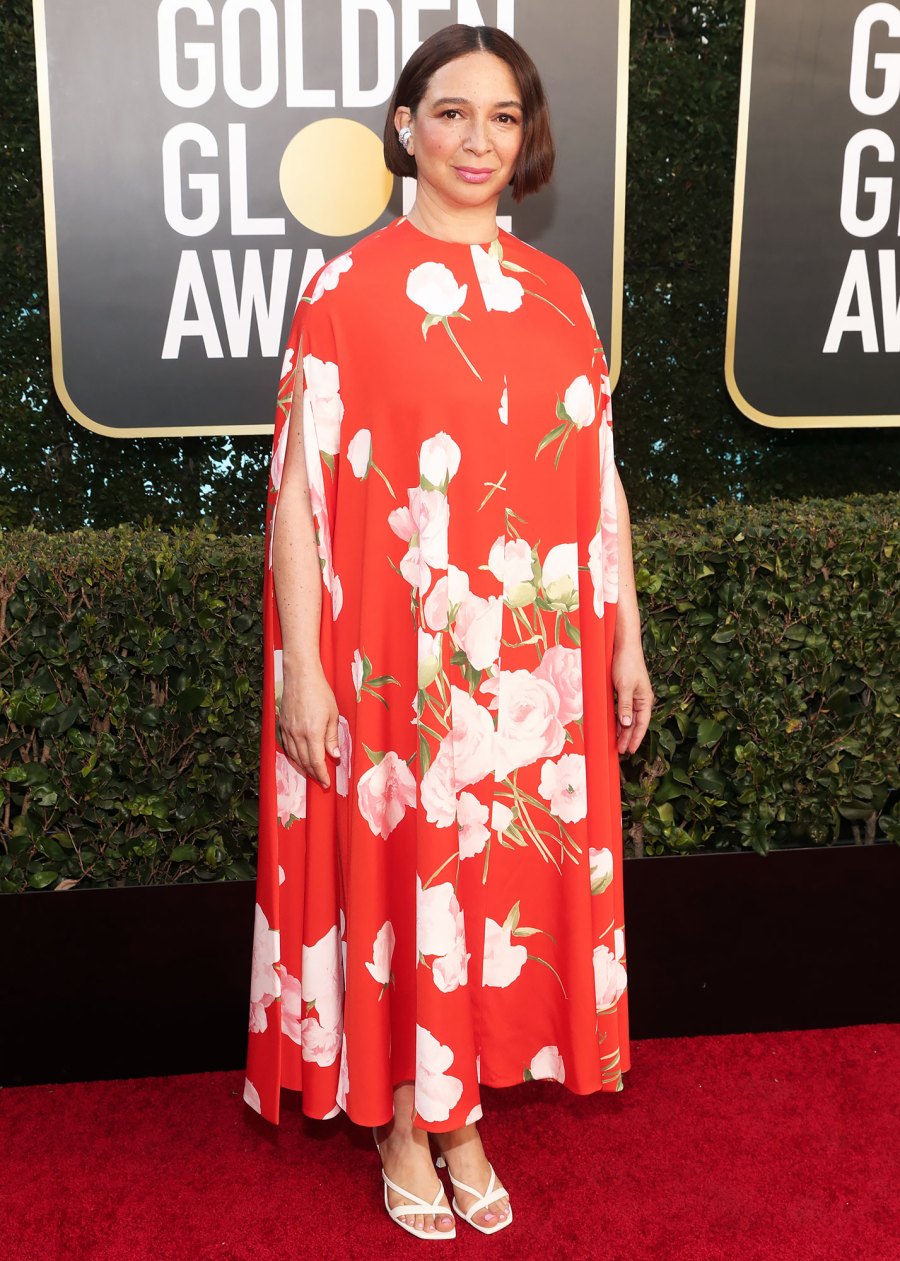 Jednoduchému strihu šiat však niečo predsa len chýba. Pri takomto type postavy akosi stratil na dievčenskej hravej šarmantnosti s nádychom veselosti a optimizmu, ktorá žiarila z móla, alebo je to iba chvíľkový pocit z fotografie. Každopádne rušivým momentom pri tomto výbere plášťového typu kaftanových šiat sú spadnuté ramená. Celkový smutný look podčiarkuje akoby prevesená róba ťažiaca postavu.
Prirodzený svieži make-up s jednoduchým účesom na jednej strane zahladeným na ucho však pekne podopieral túto čarovnú dievčenskosť, ktorú mali kaftanové šaty priniesť. Jediným šperkom sa tu stáva dvojitá diamantová náušnica, ktorá síce žiari, no akcentom je prirodzená výraznosť samotného modelu šiat. Mya Rudolph zrejme obľubuje tunikové typy oblečenia, pretože ju v nich vídať často. No azda jediné, ktoré jej najviac pristali, boli medené na Oscaroch 2020 . Tento look teda vo výsledku neočaril, no herečka ani zďaleka nie je sama, ktorej to tentokrát nevyšlo.
EMERALD FENNEL v modeli VALENTINO
Žltá róba z dielne Valentino, kolekcia Valentino Milano od talianskeho dizajnéra Pierpaola Piccioli, tak obľúbeného u hviezd, ako bolo vidno v tento slávnostný galavečer, očarila i herečku Emeral Fennel.
Emerald v žltej róbe pôsobila slávnostne aj dramaticky ba presvedčivo až virtuózne. Jemná farba na danom materiály pôsobí mierne netradične tak, ako vyžaruje farba, štýl vlasov z looku herečky z fotografie. No k netradičnému večeru, ktorý sa prvýkrát dial v online rovine, dokonale zapadne. Dramatickosť, ktorá sa tiahla celým podujatím, či to galavečer ustojí na dvoch pódiách s prepojením do online roviny, Emerald dokonale podčiarkla . Herečka poňala svoju vizáž s vážnosťou dámy, čo jej osobnostne veľmi pristane.
TIFFANY HADDISH v modeli ALBERTA FERRETTI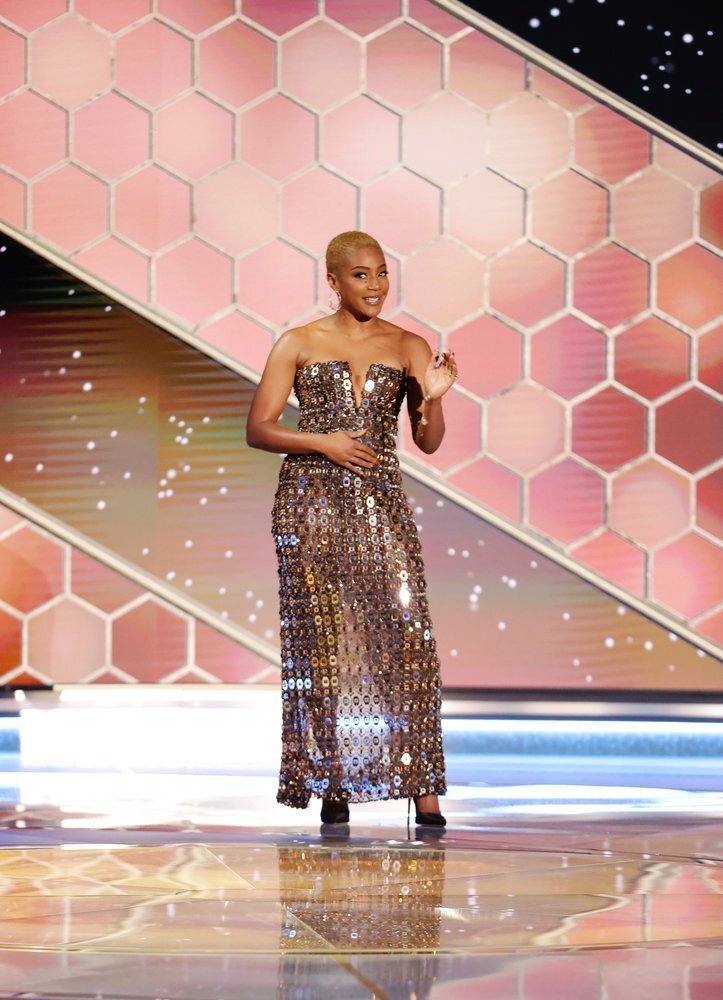 Viac trblietok na červený koberec filmového večera Golden Globes 2021 a závan tradičného party optimizmu v tomto smutnom pandemickom čase priniesla herečka Tiffany Haddish. Zvolila model z dielne talianskej dizajnérky Alberta Ferretti, ktorej modely sú obľúbené práve na červených kobercoch. Nie nadarmo má Alberta Ferretti prezývku dizajnérka celebrít. Dámy z celého sveta milujú jej šifónové jemné rozviate šaty a celkovo Ferretti dizajn, ktorý ženy skrášľuje a premieňa v prekrásne Divy večera (čítajte o tejto dizajnérke a jej kolekciách z Milan Fashion Weeku na blogu v histórii) . Tiffany Haddish si však zvolila iný model, výrazne zdobený na jemnej transparentnej látke, s korzetovým dekoltom kombinovaným s hlbokým výstrihom, ku ktorému zvolila ihličkové lodičky a okrúhle náušnice. A prečo nie !
BRYCE DALLAS HOWARD
Flitrové šaty Bryce Dallas Howard boli jedným z najväčších neúspechov na tohtoročnom ceremoniáli.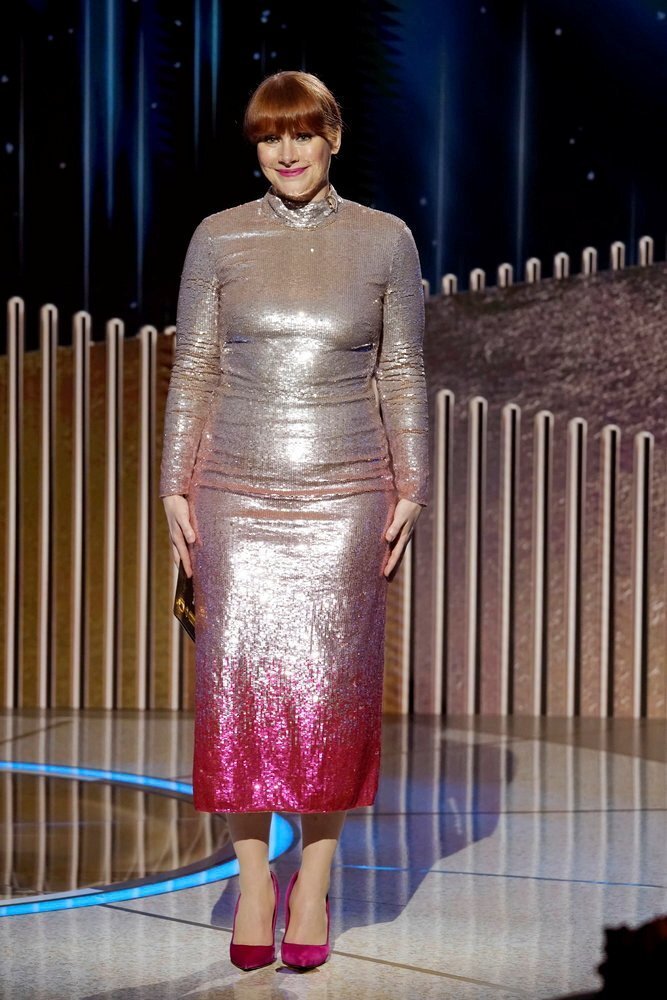 Aj keď si herečka ako poctu udržateľnej móde zvolila dizajn Temperley London a lodičky Alexander McQueen z uplynulej sezóny , výsledný efekt na tomto type postavy zožal značnú kritiku. Tá sa objavila predovšetkým na twitteri, kde si komentátori nedávali priveľmi servítku pred ústa a na milej Bryce Dallas nenechali jednu nitku suchú. Jej look opísali ako všetko možné, od tapisérie po vrece na zemiaky.
Ja budem o niečo miernejšia, celkový look by mohol vyzerať krajšie v možno o jedno číslo väčšom modeli so sťahujúcim prádlom predovšetkým a s vhodnou podprsenkou zvýrazňujúcou hornú potlačenú partiu oproti bokom. Jednoznačne "hurkovitému" výzoru treba predísť výberom vhodnejšieho materiálu, rozhodne sa treba vyhnúť jemným elastickým látkam a rovnako saténu, v ktorom vynikne každá, aj minimálna nedokonalosť na aj perfektnej postave. Zvoliť iný strih a model šiat by bolo ale ideálnejšie. Nie všetko čo sa blyští a po čom nám oko piští, je to pravé orechové. Tento typ šiat by rozhodne nemusel zožať takú vlnu kritiky na inom type postavy, ako ich kritické pohľady rozniesli, no na Bryce Dallas by bol vhodnejší model šiat napríklad herečky Catherine Zeta Jones. No to už snáď v budúcnosti stylisti a samotná Bryce vyriešia lepšie na nejakom ďalšom ročníku slávnostného galavečera.
KRISTEN WIIG v modeli PRADA
Ďalším prekvapením v nie pozitívnom zmysle bol výzor herečky Kristen Wiig, ktorá sa rozhodla priniesť na červený koberec niečo iného , sviežeho a zvolila model z dielne Prada.
Šaty mentolovo-zelenej farby s výraznou "a" líniou krátkeho strihu s korzetovým topom a symetrickými mašľami po bokoch, mali byť závanom budoir štýlu. Ten nebýva na červenom koberci až tak častý, i keď budoir vibrácie na vhodnom modeli môžu zanechať famózny dojem. Nebolo by na tom nič zlé, keby model minišiat herečke celkovo sadol. Naopak, Kristen v ňom pôsobila dievčensky vyrastene, ba až plážovo uvoľnene. Azda to bude aj príliš krátkym strihom šiat, čo podporil aj príliš krátky stih vlasov.
CATHERINE ZETA-JONES v modeli DOLCE & GABBANA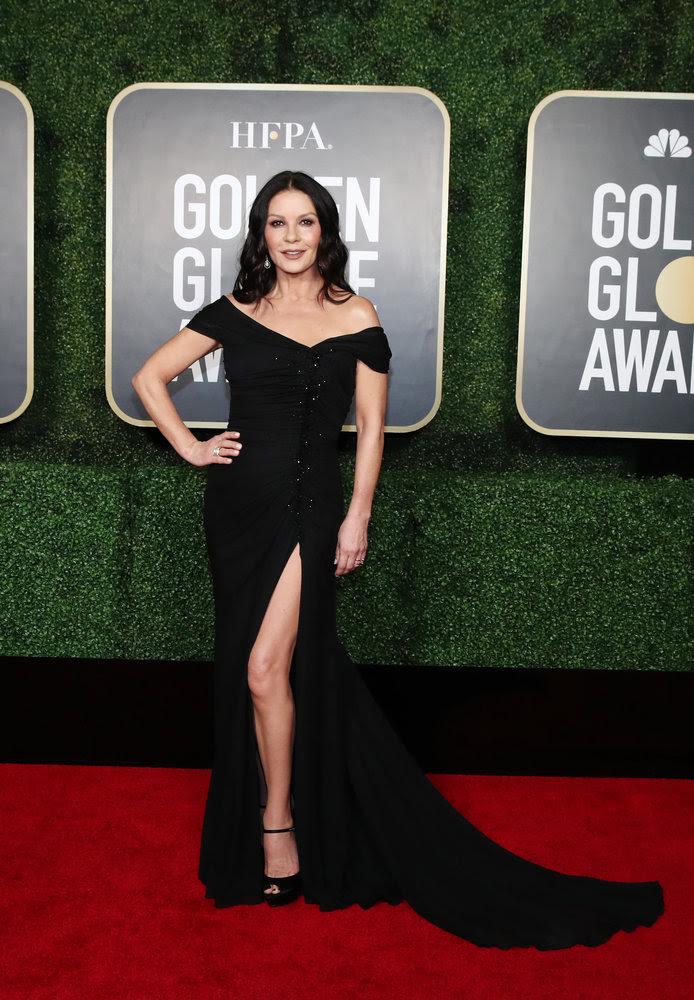 Sexi a elegantný vzhľad herečky Catherine Zeta-Jones spôsobila navonok jednoduchá čierna róba talianskej značky Dolce and Gabbana, ktorá na nej vyzerala famózne. Čierne šaty zaručene nič nepokazia, no nemusia ani spôsobiť ošiaľ , ako sme neraz boli svedkami na predošlých ročníkoch. Rafinované detaily, rozparky a výzor Catherine však priniesli očakávaný glamour spoločenský look, ktorý prebil viaceré nešťastné voľby tohto galavečera. K modelu šiat zvolila Catherine kombinované lodičky na platformovej podrážke s otvorenou špičkou a remienkom a klenoty značky Chopard. 51-ročná tmavovlasá herecká Diva, ktorá je v skvelej forme priniesla na červený koberec klasický hollywoodsky pôvab, po ktorom fanúšikovia červeného koberca túžia.
SUSAN KELECHI WATSON v modeli GEORGES HOBEIKA
V neposlednom rade na podujatí Golden Globes 2021 zažiarila herečka Susan Kelechi Watson, ktorá obliekla strapcové šaty od libanonského módneho návrhára Georges Hobeika. Model priniesol nový závan, iný zaujímavý look, o aký sa druhé hviezdy večera snažili a aký tento červený koberec nemal.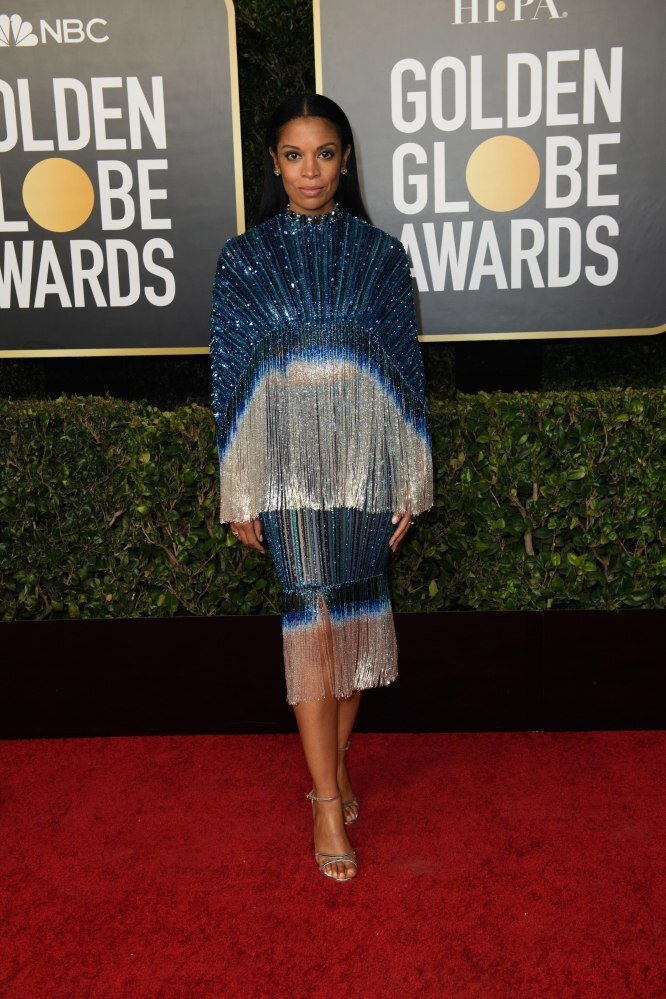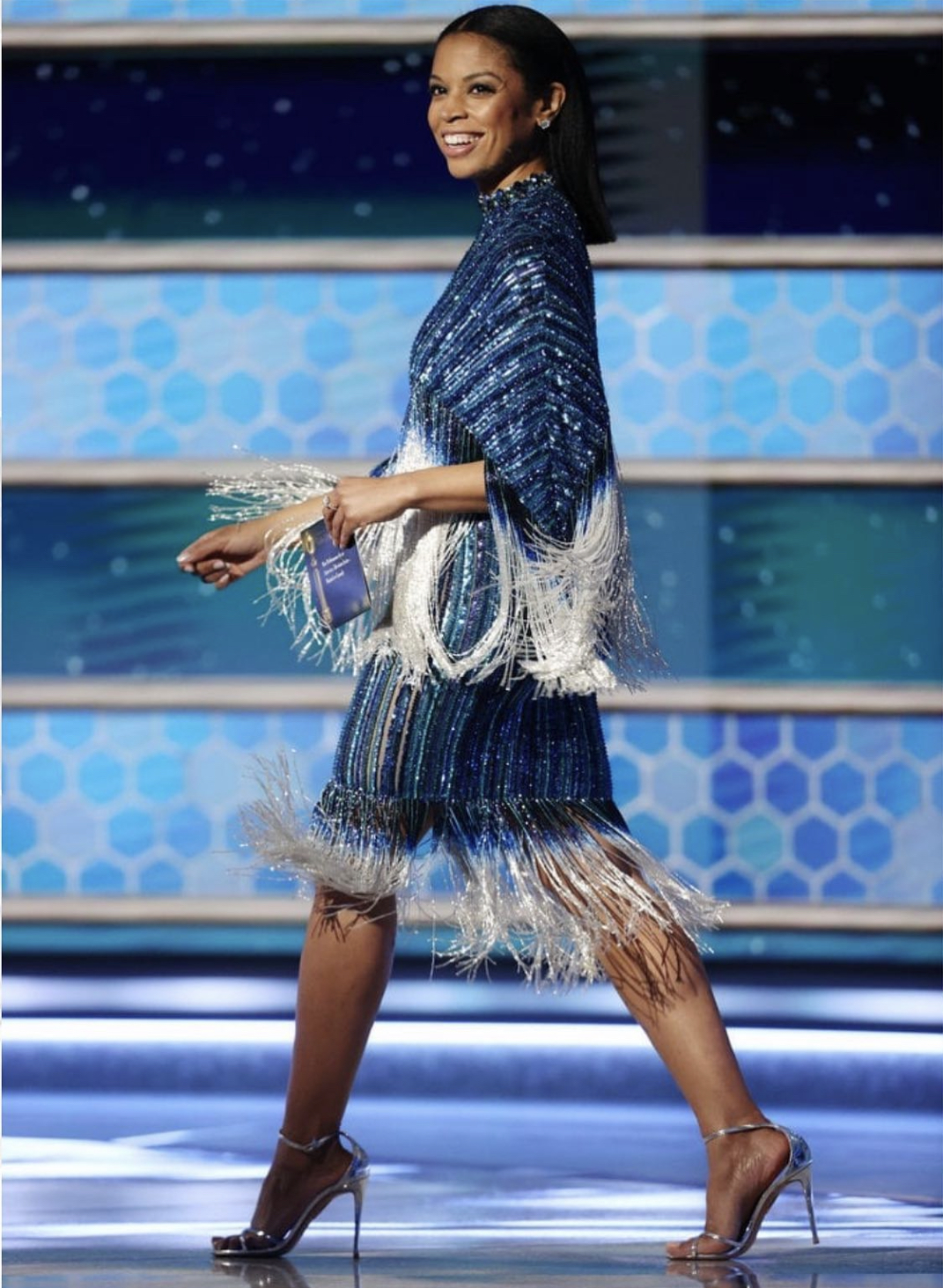 zdroj obrázkov: shutterstock, getty images, pinterest, Vogue, NBCU
Prvú časť článku o róbach z červeného koberca Golden Globes 2021 čítajte v histórii na tomto blogu. Sledujte Facebook stránku: Mya Mirell Fashionista a Instagram: mya_mirell .
© AUTORSKÉ PRÁVA VYHRADENÉ