Zlaté Glóbusy – 78. ročník udeľovania filmových a televíznych cien, Los Angeles, New York, 28. február 2021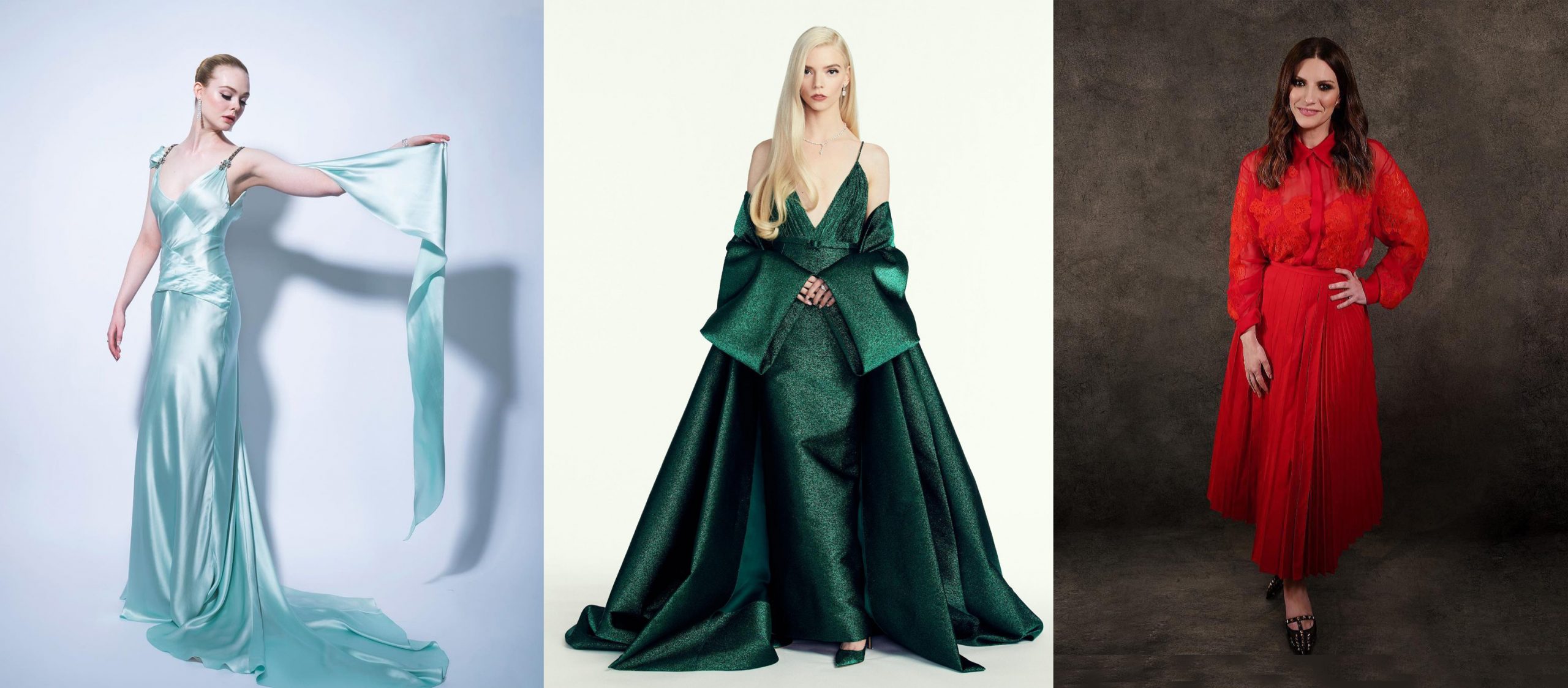 Tohtoročné podujatie Zlaté Glóbusy 2021 odštartovalo s menším oneskorením, ale predsa. V noci z nedele na pondelok, 28. februára 2021, sa v Los Angeles a v New Yorku uskutočnil 78. ročník filmových a televíznych cien, ktoré posudzuje a vyberá Hollywoodska asociácia zahraničnej tlače.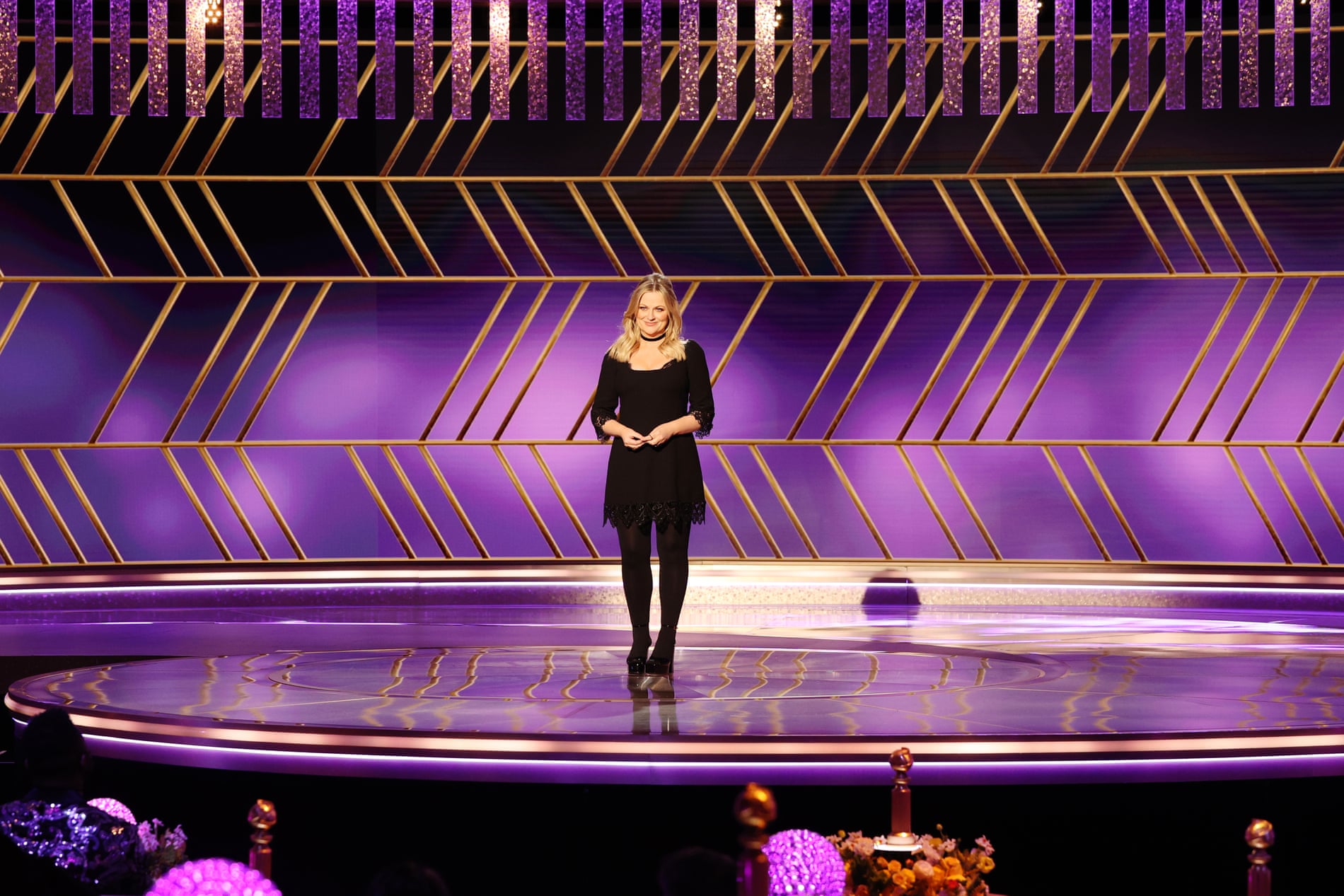 Večerom sprevádzali komičky Tina Fey a Amy Poehler, každá však z oddelených pódií. Pandémia a opatrenia zariadili, že sa tento večer udial na
dvoch miestach súčasne, čo je nevídané, no bolo rovnako zábavné, za účasti obmedzeného počtu hviezd a prevažne v online rovine. Poehler ostala verná Hollywoodu, Fey oslovila divákov z Rockefellerovho centra v New Yorku. Dámy toto moderovanie dokonale zvládli a spolu s realizačným teamom predstavili inovovanú podobu filmového večera Zlaté Glóbusy.
Filmové a televízne hviezdy sa pripájali do rozhovorov online z celého sveta z pohodlia svojich karanténnych domov. Niektoré celebrity, ako napríklad Michael Douglas a Catherine Zeta-Jones, Jane Fonda, Margot Robbie alebo víťazka minulého ročníka, herečka Renée Zellweger, sa dokonca zúčastnili osobne.
Táto zaujímavo spracovaná virtuálna udalosť však vo výsledku ani tentokrát nestratila na lesku a ďalší ročník Zlatých Glóbusov opäť očaril. Nechýbal ani červený koberec.
Priblížme si hviezdy Golden Globes 2021 z povestného červeného koberca a ich skvostné róby od svetových dizajnérov – Dior, Versace, Prada, Givenchy, Oscar de la Renta, Valentino a ďalšie, ktoré obliekli a predviedli zo svojich domov.
ANYA TAYLOR-JOY v róbe DIOR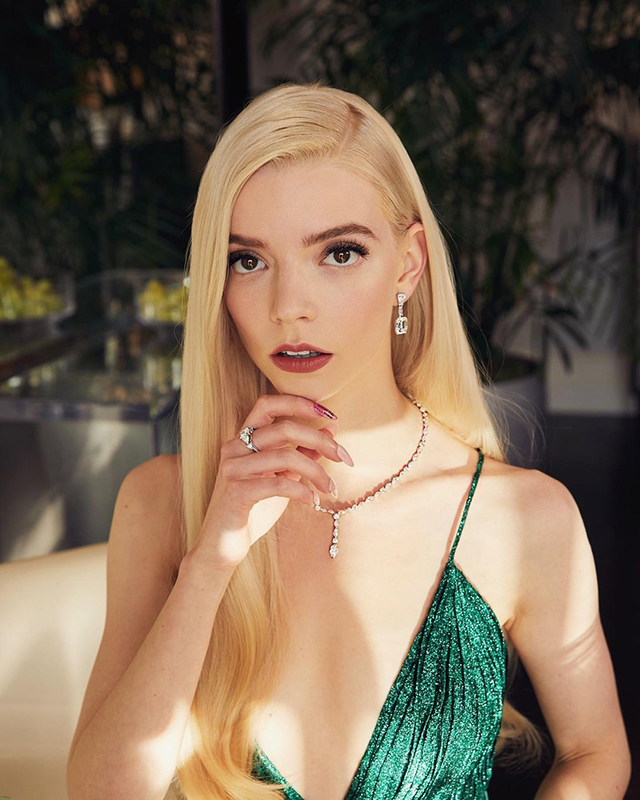 Mladá herečka Anya Taylor-Joy na slávnosť udeľovania Zlatých Glóbusov nemohla prísť osobne , no na tento večer sa naladila úplne tak, akoby tam fyzicky bola. V nádhernej róbe smaragdovo-zelených šiat od módneho domu DIOR , talianskej dizajnérky Maria Grazia Chiuri, nafotila niekoľko profesionálnych záberov a virtuálnych videí, ktoré boli online streemované.
Vlasy, na aké ste možno boli zvyknutí z televíznej série The Queen´s Gambit, v ktorej kráska zažiarila ako super inteligentná hráčka šachu, prekvapili azda všetkých. Dlhá blond hriva s jej alabastrovo bielou pokožkou a skvostnou, z pliec padavou róbou s plášťom, vytvárali look éterického anjela. Dvadsaťštyri ročná americká kráska ešte viac schudla a týmto svojím krehkým zjavom s veľkými očami dobíja svet filmu. A pokojne by mohla aj modelingu. Róba z dielne Dior bola k jej osobnosti fantastickou voľbou.
Televízny seriál The Queen´s Gambit vyhral v kategórii Najlepšia miniséria a herečka získala cenu za Najlepšiu herečku v minisérii.
Prajem jej nové úžasné role, aby sa jej naplno tak darilo, ako v preslávených šachoch a v tento galavečer s lookom za plný počet bodov.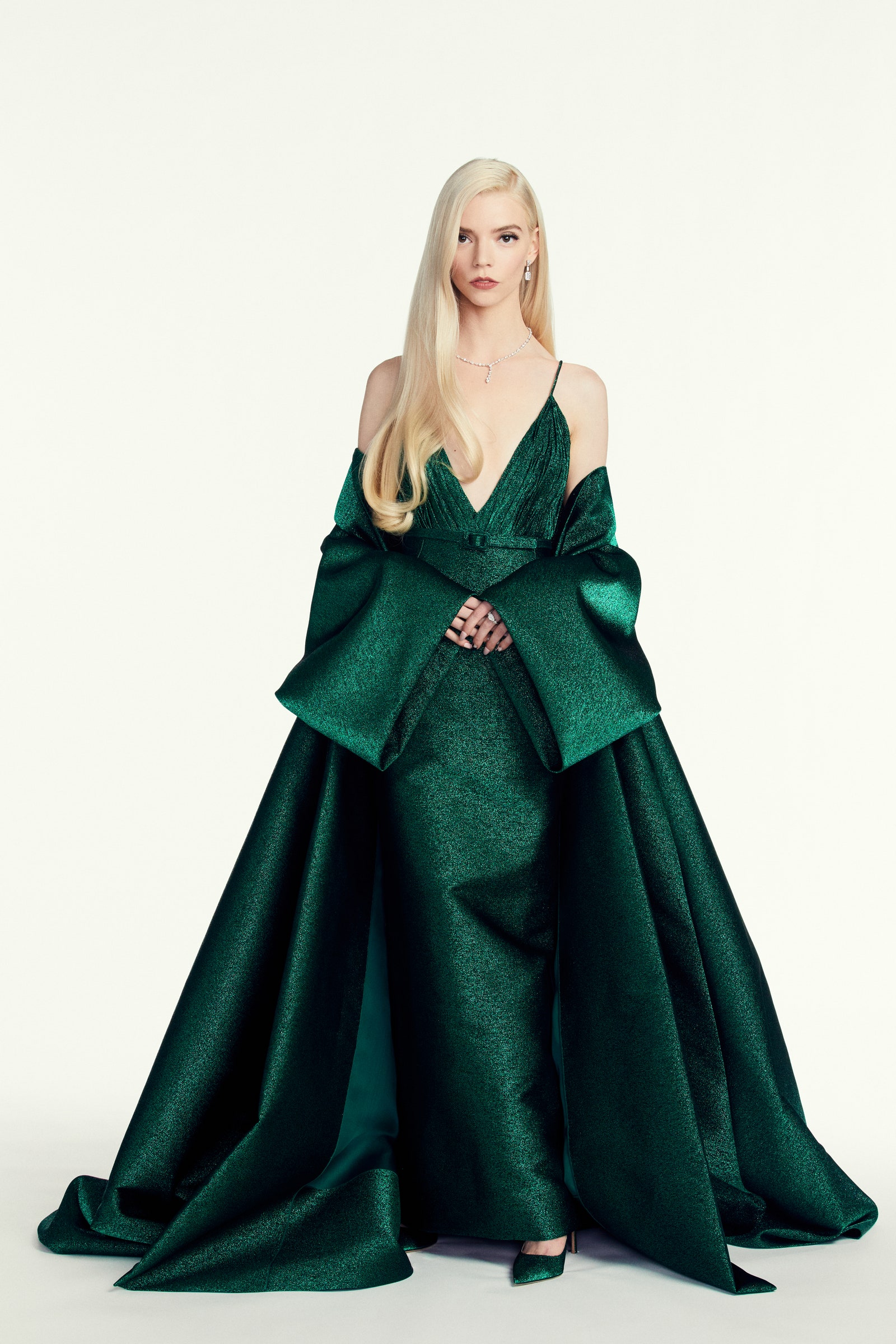 Pozrite si video na Instagrame, kde Anya žiari naživo v plnej kráse. Potlesk samozrejme patrí aj talianskej dizajnérke Maria Grazia Chiuri, kreatívnej riaditeľke módneho domu Dior, ktorá to so ženami a ženskou krásou jednoducho vie. Jej nádhernú róbu na svadbu obliekla okrem mnohých známych tvári aj talianska podnikateľka , blogerka a influencerka Chiara Ferragni.
Ale posuňme sa od Anyi o niečo ďalej k ostatným dámam večera a ich výberu rób.
Na tohtoročnom filmovom ceremoniáli Golden Globes 2021 sme mohli vidieť akoby všehochuť. Možno práve preto, že móda sa poslednú sezónu zamýšľa tiež nad šatníkom, ktorý by najviac priblížila ľuďom, často sa vyskytujúcim doma. Módne kúsky herečiek boli preto rôznorodé a neoklieštené striktne slávnostnými pravidlami a víziami.
ELLE FANNING
Herečka Elle Fanning nominovaná za seriál Veľká prítomných divákov očarila dokonalou voľbou od talianskeho módneho domu Gucci zo saténu v ľadovej modro-zelenej farbe.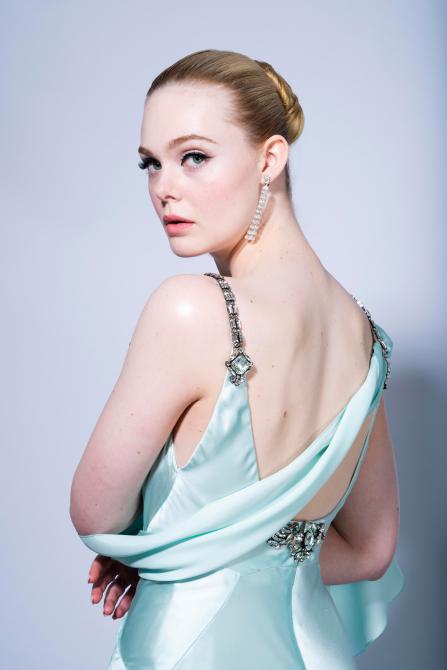 Model splývavý na tele ako vánok jej náramne pristal. Vyzerala v ňom ako jemná labuť pomaly roztvárajúca krídla pripravená na nový život. A ten nás dúfam čoskoro čaká až opadne tento akoby dlhotrvajúci zlý sen.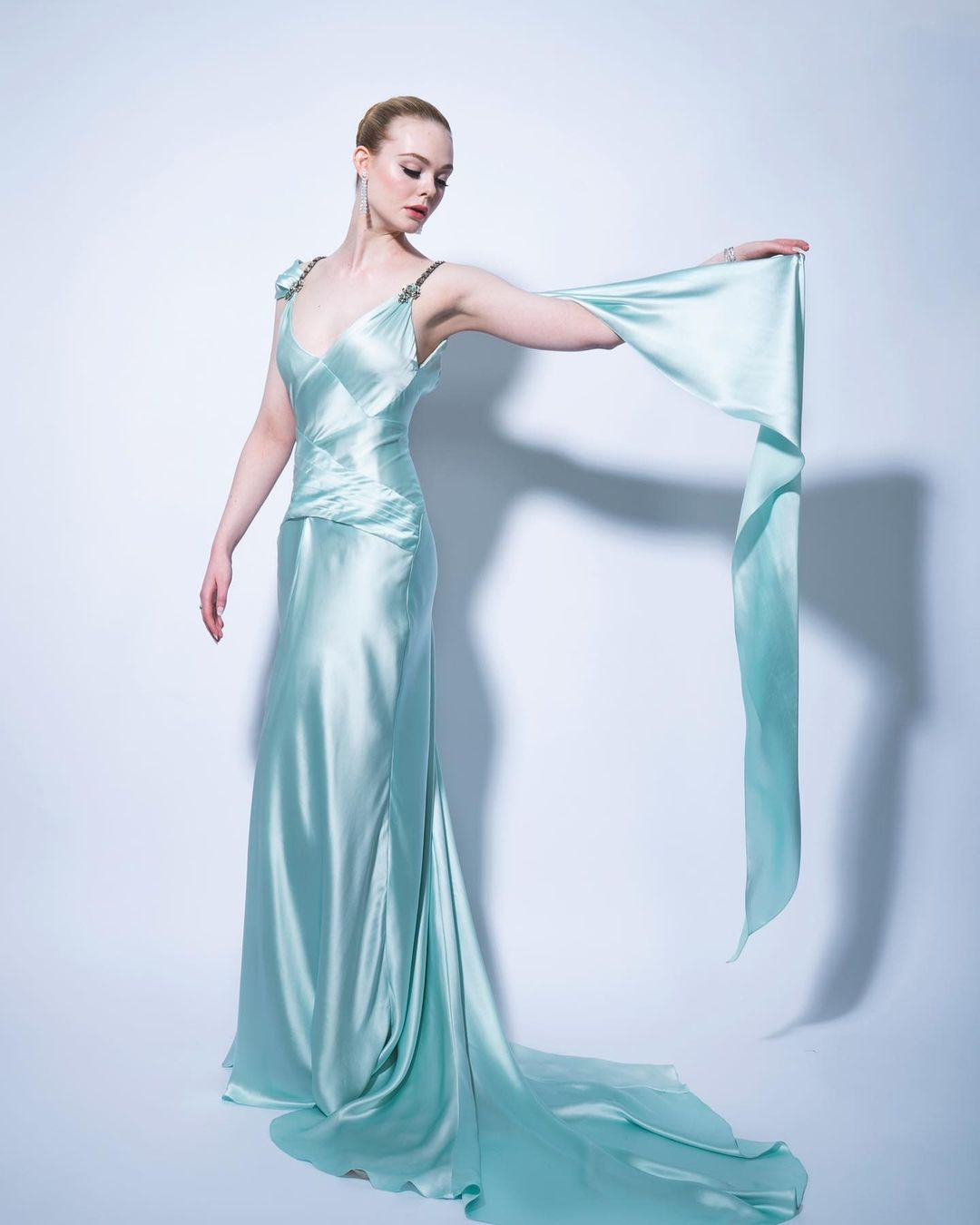 LILY COLLINS
U mladých herečiek ešte ostaneme. Herečka Lily Collins bola spolu s jej kolegyňou Elle Fanning ďalším sviežim vánkom večera. Dievčatá sa nechali nafotiť profesionálne, pričom zábery boli zdieľané prostredníctvom sociálnych sietí a streemované online počas galavečera.
Optimistické nežné kreácie spolu s dievčenskosťou akoby navodzujú pocit slobody. Lily Collins v asymetrickom modeli z dielne Saint Laurent od Anthony Vacarello pôsobí na fotografiách vonku so slnečným svitom pôvabne, uvoľnene a bezstarostne.
Herečka s rovnými vlasmi a trochu inou vizážou na štýl parížskeho chic looku pravej Parížanky, s ktorým ohurovala v seriáli Emily in Paris, strhla pozornosť predovšetkým mladšieho publika. Zábavná mládežnícka rola jej pasovala ako uliata a prakticky ju ani nemusela hrať. Vyzerala v nej herecky ako ryba vo vode. Ďalší nádejný talent je zrejme opäť na svete.
Model šiat Saint Laurent, ktorý Lily Collins zvolila na galavečer Golden Globes, trochu zmenená vizáž a celkový netradičný look z nej spravili mladú dámu večera. Šaty dopĺňali šperky značky Cartier.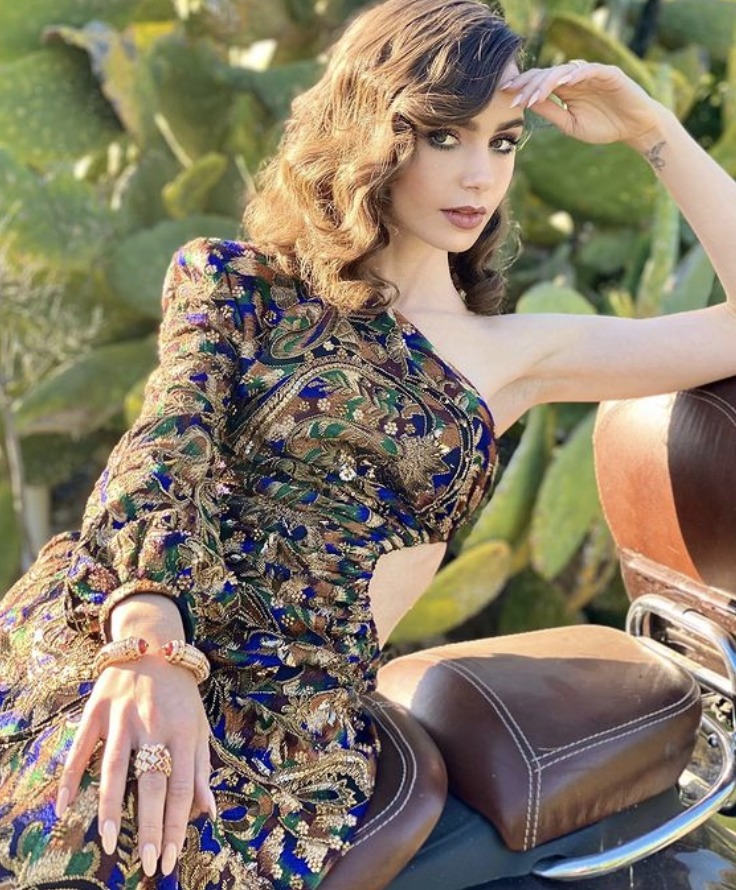 Sviežosť a šarmantná grácia z Lily Collins prekypujú samým priehrštím.
JANE FONDA
Červený koberec bol na herecké osobnosti a ich modely tentokrát výrazne skromnejší, no svoje hviezdy si našiel. Jednou z nich a jednou z najlepšie oblečených hviezd bola nestarnúca vitálna Diva, herečka a aktivistka Jane Fonda, ktorá si odniesla cenu Cecil B. DeMille Award za celoživotné dielo. Akosi sa človeku nechce veriť, ako ten čas letí, no nezabudnuteľná Jane, ktorú si každý pamätá z mladosti, pritom nestráca na pôvabe.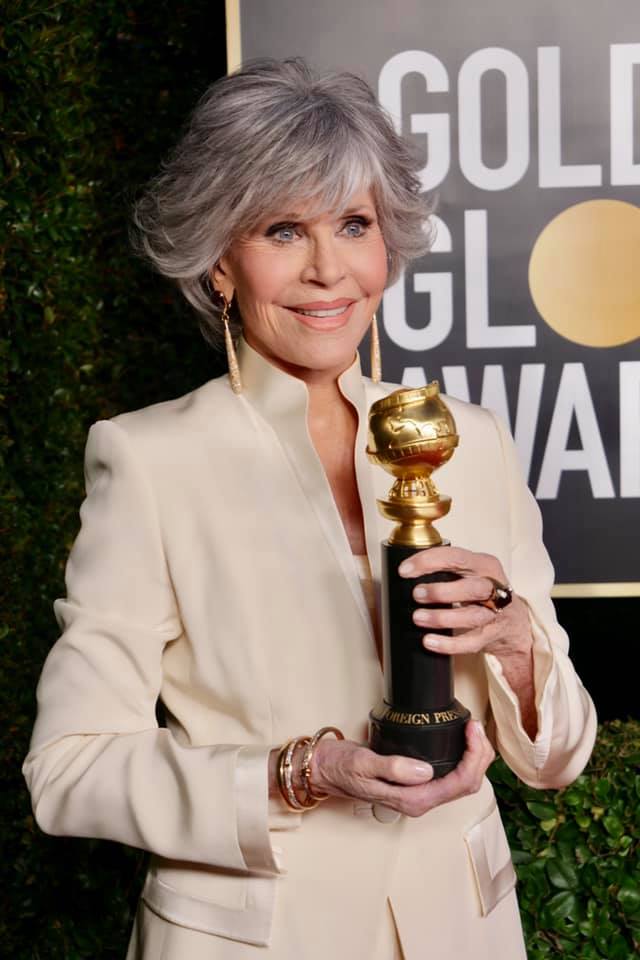 V elegantnom krémovom modeli od Richarda Tylera 83-ročná herečka svižne vyrazila na pódium a všetkým vyrazila dych. Diváci na nej mohli oči nechať. S touto vizážou sa naskytla otázka: "Je toto skutočne 80-ročná žena?" Pri pohľade na jej fotky z 80-tych rokov a jej 80-ročné terajšie fotografie jednému ostáva rozum stáť. Zastavil sa snáď čas ?
Jane je zástankyňou udržateľnosti v móde, ochrankyňou planéty. Založila organizáciu Fire Drill Fridays, v ktorej je veľmi aktívna a preto si na tento večer obliekla model, ktorý oprášila zo skrine. Rozhodnutie nič nové už pár rokov nekupovať ostalo neporušené.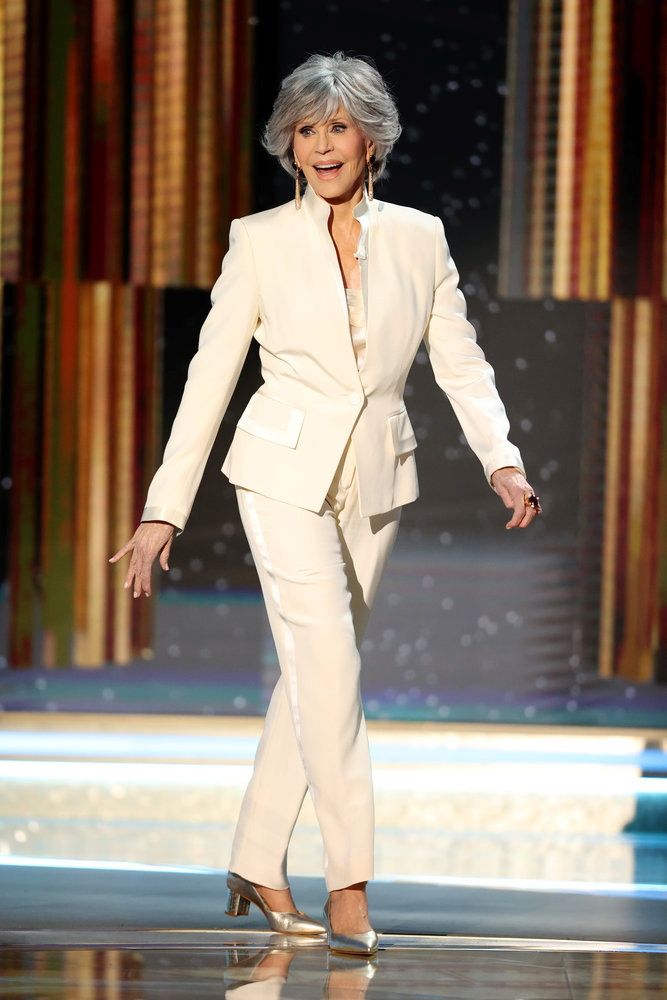 Jane Fonda nám na tomto zábere dáva pocit, akoby ani žiadna pandémia nebola. Bodaj by sa jej optimizmus a elán, ktorým oplýva pretavil na toto celosvetové svorné želanie.
LAURA PAUSINI v modeli VALENTINO
Dievčensky aj žensky krásne vyzerala talianska speváčka Laura Pausini v modeli Valentino Roman Palazzo od Pierpaola Piccioli. Ostatne moja obľúbená speváčka, ktorá v tomto červenom modeli uchvátila ako žeravé slnko. Stylista Andrea Mennella odviedol bravúrnu prácu, keď vybral pre Lauru túto snovú dokonalosť. Účes prirodzene pôsobiacich vlasov s cestičkou na stred, ktorý Laura roky nosí, make-up a celkový outfit vo výraznej červenej, brunetku ešte viac zvýraznil.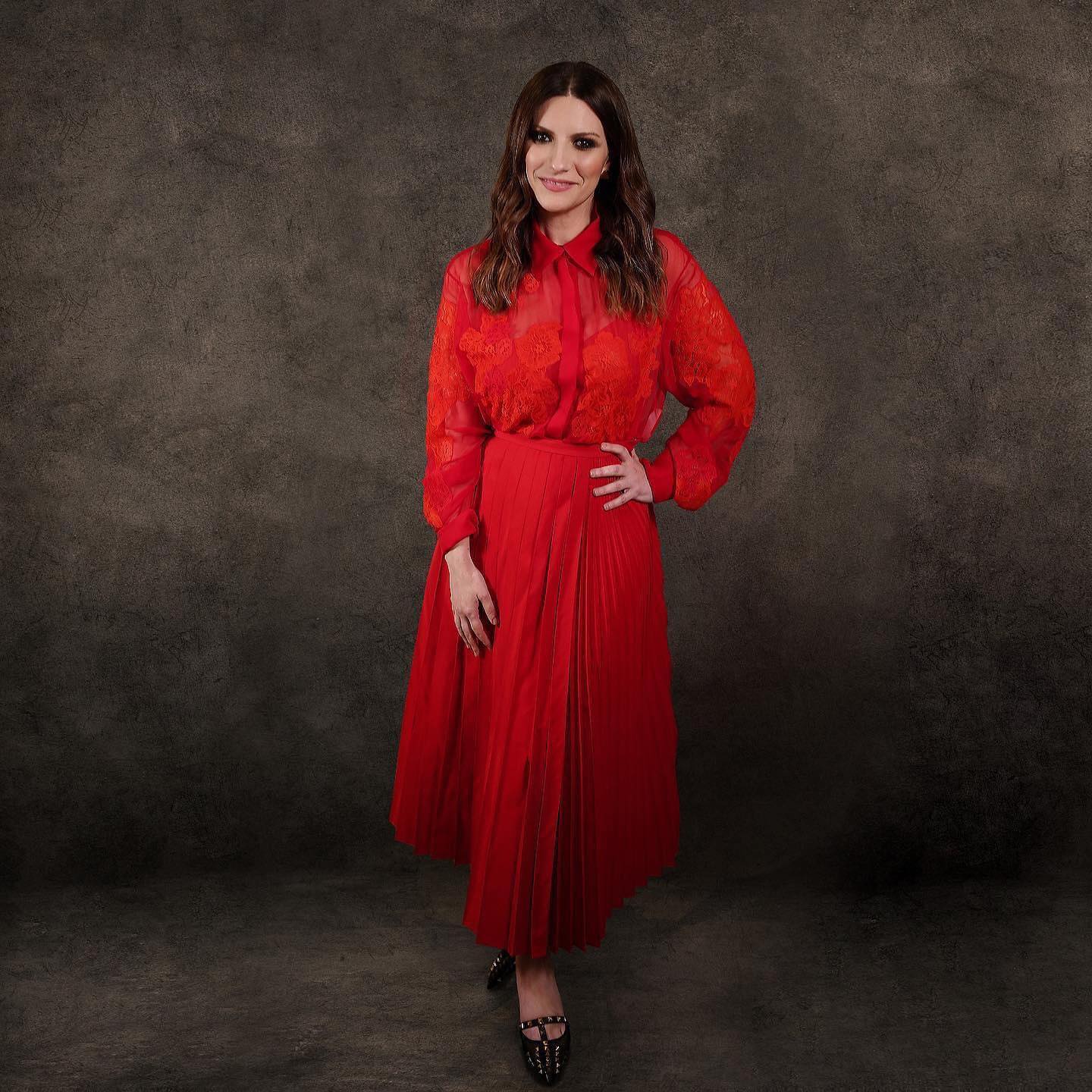 A čo viac, Talianka si odniesla cenu za Best Original Song (najlepší originálny song), a zaslúžene. Jej najnovšia pesnička Io si (Ja áno) z filmu La Vita Davanti a sé (Život pred sebou), anglicky – The Life Ahead, kde si zahrala talianska herecká Diva a symbol talianskej krásy Sophia Loren , je prenádhernou senzuálnou baladou. Napísali ju Diane Warren and Niccolò Agliardi, pozrieť a vypočuť si ju môžete tu: https://www.youtube.com/watch?v=imjSm7FNmwE&feature=emb_logo
Ostatne, odporúčam vám pozrieť si tento film s talianskou hereckou ikonou Sophiou Loren, ktorá ma neprestáva udivovať ani vo vyššom veku a spoznať krásu hlasu Laury Pausini. Film režíroval Sophiin syn Edoardo Ponti a odohráva sa v Taliansku. Trailer filmu si môžete pozrieť tu: https://www.youtube.com/watch?v=En1jkf34xjc&feature=emb_logo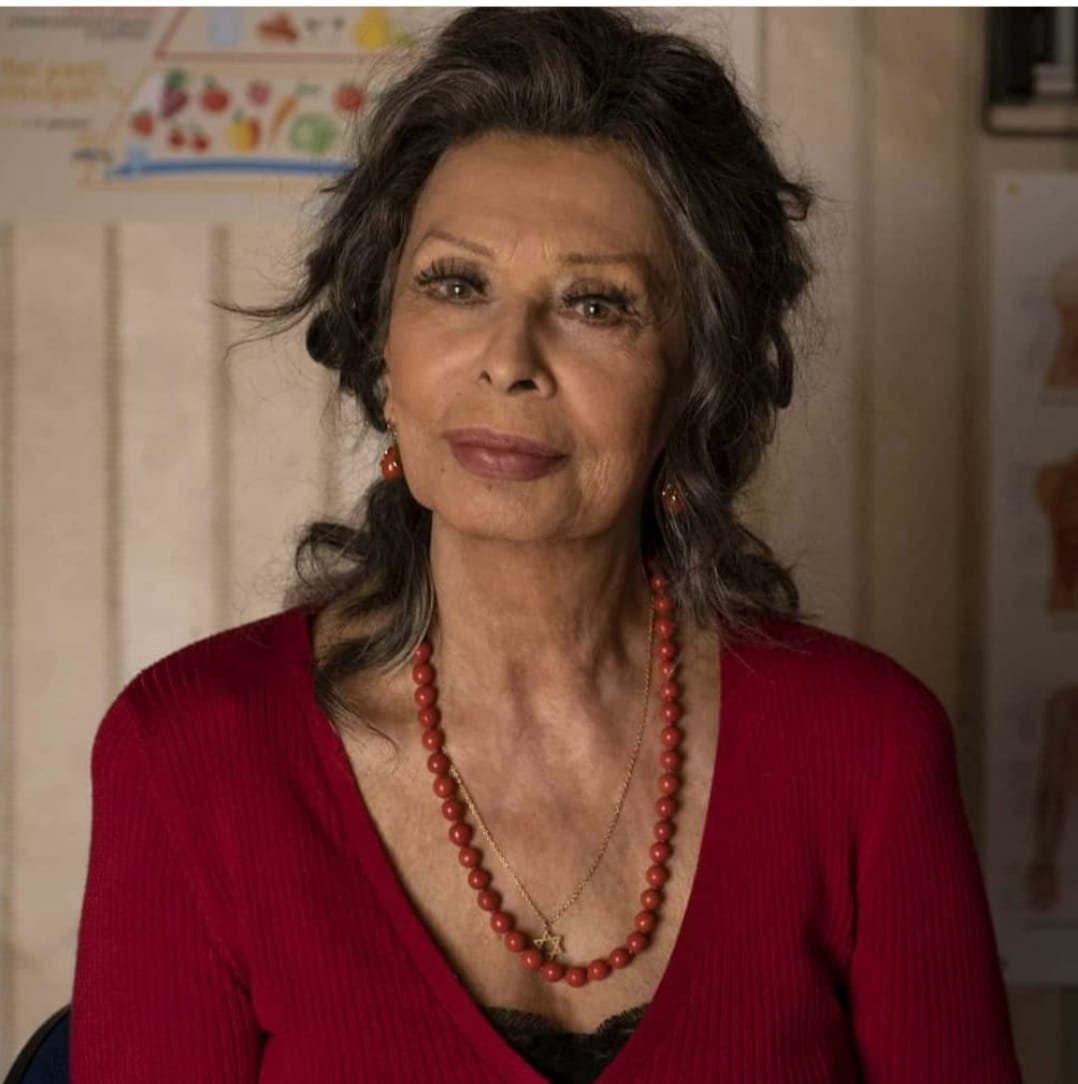 Za mňa je tento look talianskej slávnej speváčky viac než perfektný !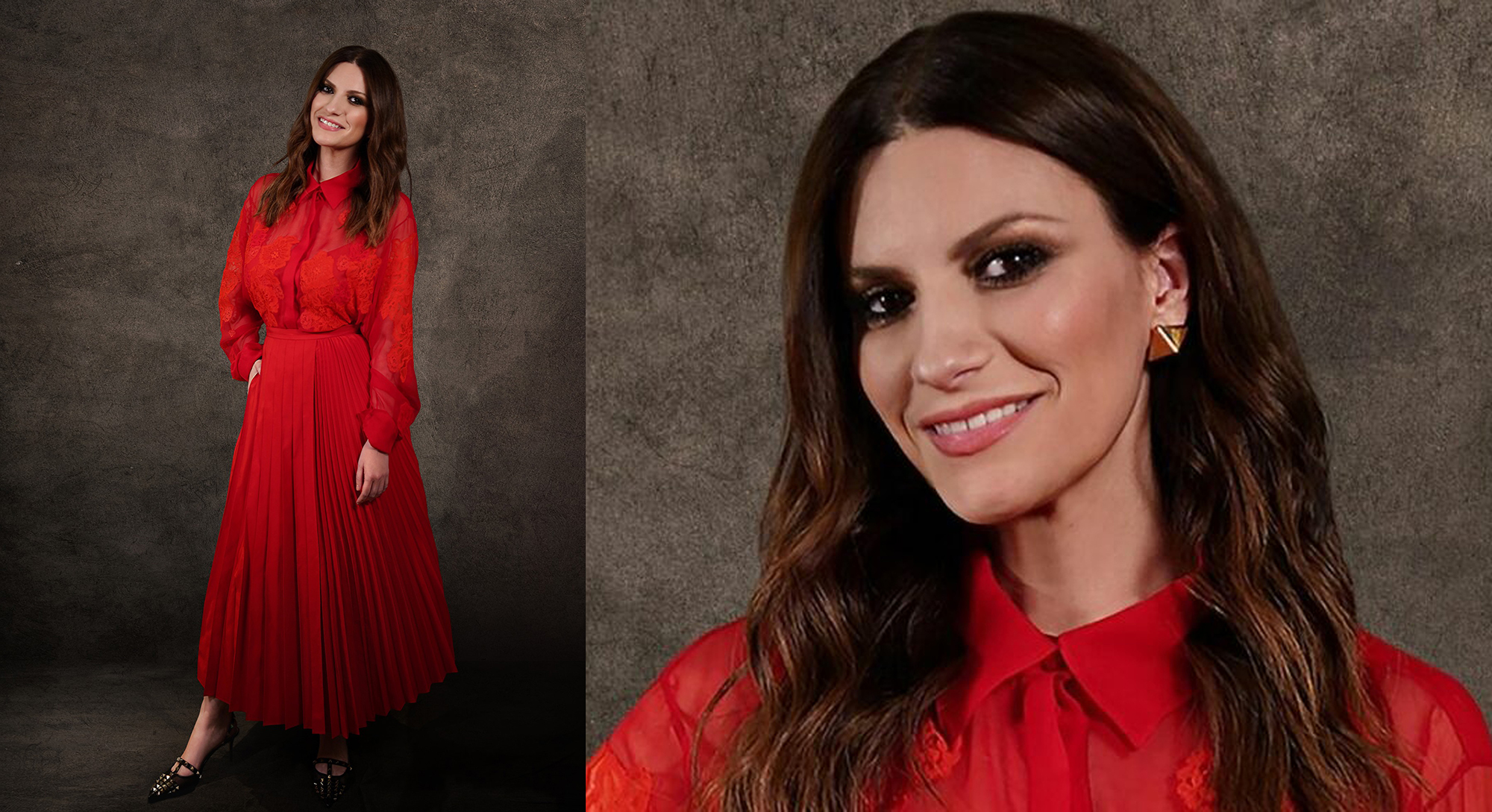 "Nikdy som nesnívala vyhrať Golden Globes, nemôžem tomu uveriť", povedala Pausini. "Venujem túto cenu všetkým tým, ktorí chcú a zaslúžia si byť videní a tomu mladému dievčaťu, ktoré vyhralo Sanremo 28 rokov dozadu, nikdy som nedúfala, že sa dostanem tak ďaleko" , povedala Laura.
Speváčka taktiež vzdala hold talianskej kolegyni, herečke Sophii Loren : " Všetka moja vďačnosť a úcta patrí herečke Sophii Lorenovej, bolo mi cťou dať hlas vašej postave, odovzdať také dôležité posolstvo, privítanie a jednotu".
"A tiež Taliansku, mojej rodine a všetkým, ktorí ma vybrali a počúvajú moju hudbu a urobili zo mňa to, čím som dnes."
JULIA GARNER v modeli PRADA
Zatiaľčo toto je prvý Juliin Zlatý Glóbus, herečka na červenom koberci nie je žiadnym nováčikom. Špeciálne od čias, kedy vyhrala cenu Emmy Award za rolu Ruth Langmore v roku 2019 a tiež minulý rok.
Jemná éterická diva, Julia Garner zažiarila počas Golden Globes v odvážnom modeli Prada s hlbokým výstrihom po brucho. Tento si, ako sama hovorí, zamilovala tak, ako sa jej páčia módne kúsky z dielne Prada. Na podobné udalosti by sa síce nemali nosiť šaty typu morská panna, alebo príliš odhaľujúce telo, no tento model je niečo medzi.
Šaty z dielne talianskeho módneho domu Prada pod taktovkou Miuccia Prada, rozhodne ostanú ako jeden z najpamätnejších okamihov červeného koberca posledných pár rokov. Model je svojrázny, výnimočný , tak výnimočný , ako role krásnej Júlie a preto si ho môže smelo dovoliť.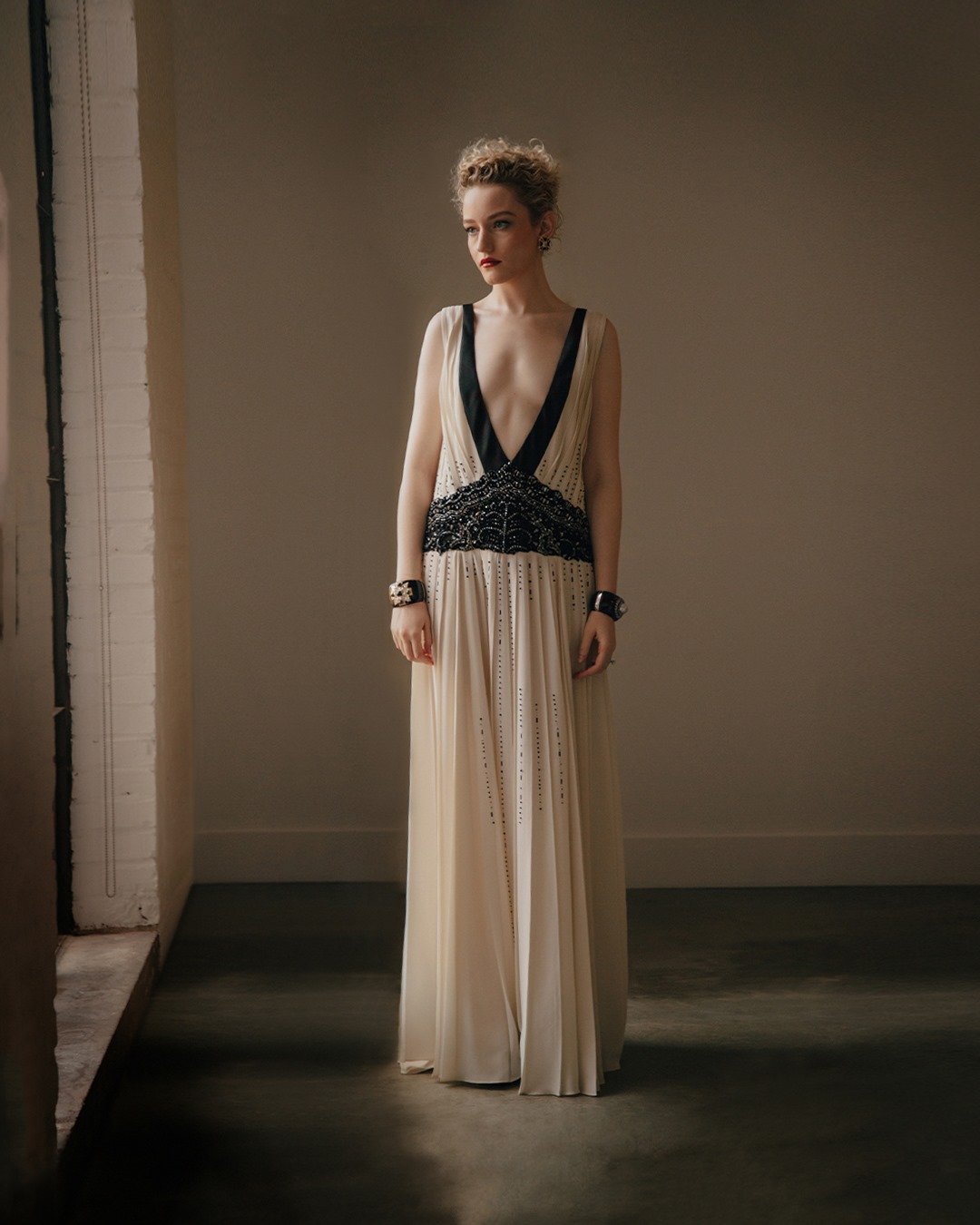 Make-up artist Hung Vanngo nádherne Julie zvýraznil široké husté obočie a pery, pričom kučery boli upravené do drdola. Táto vizáž ladila s éterickým výzorom šiat a podčiarkla herečkine šarmantné dievčenské fluidum.
NICOLE KIDMAN v modeli LOUIS VUITTON
Elegantná dáma, austrálska herečka Nicole Kidman očarila eleganciou ostatne ako takmer vždy na každej udalosti. Na jej štíhlej súmernej postave sa dokonale vynímajú akékoľvek modely a zdá sa, že pri výbere nesiaha vedľa. Ruka vizážistov a stylistov k výrazu šiat upravila vlasy na pôvodný štýl Nicol, ktorá tak pôsobila dievčenským dojmom ako roky dozadu. Jej prirodzene kučeravé vlasy neboli konečne vyrovnané , ale naopak k netradičnému večeru tiež netradične roztopašné. Mám silný dojem, akoby z oka vypadla herečke Connie Nielsen z filmu Gladiátor. K tomuto looku so šatami Louis Vuitton so zlatými vyšívanými reťazami stačí vždy perfektnej Nicole dodať iba nežný úsmev a o dokonalosť je postarané.

SOFIA CARSON
Veľmi peknú róbu od Giambattista Valli Haute Couture hodiacu sa k slávnostnému večeru udeľovania filmových cien zvolila Sofia Carson. Obrovské mašle sme tu už mali, no niektoré sa minuli výrazom. Minulý ročník so zlatým mašľovým modelom, ktorý vyrážal dych a klal oči, prestrelila salónka Jennifer Lopez. Avšak tento model s mašľou a vlečkou na tak skvelej postave jemnej dámy bez jedinej inej chybičky s dokonalou vizážou vyvoláva jednohlasný potlesk.
CYNTHIA ERIVO v modeli VALENTINO HAUTE COUTURE
34-ročná hviezda, Cynthia Erivo sa predstavila v oči ťahajúcom modeli z dielne Valentino Haute Couture od Pierpaola Picccioli. Stylista Jason Bolden zrejme usúdil, že viac je to najlepšie a tak sa Cynthii nedá uprieť, že bola jednoznačne neprehliadnuteľnou hviezdou filmového večera. Herečka sa opäť raz postarala o pamätný a tentokrát extravagantný look.
Herečky a herci sa fotili online vo svojich róbach a priblížili svoje karanténne hniezdočká.
ROSAMUND PIKE v modeli MOLLY GODDARD
Nadýchané róby so záplavou tylových volánov a vrstvených sukní sú síce skvostnými modelmi prehliadkových mól, no máloktorej žene v realite presne tak pristanú. Na prestížnych galavečeroch s nimi zažiarili dámy ako Sofia Carson v 2020-tom a najmä speváčka Lady Gaga, ktorá sa blysla v rôznych nadýchaných róbach. Vyrovnať sa tejto vysoko nastavenej latke, je teraz problém.
Herečka Rosamund Pike síce vsadila na expresivitu a dievčenskosť, no mierne prestrelila. Tento model akosi nevyšiel, alebo dáva Rosamunde divákom čas si zvyknúť. Určite si na nej však viem predstaviť , vzhľadom k typu postavy aj aktuálnemu účesu, niečo jednoduchšie, čo by ju zošľachtilo ku kráse. Zvolené topánky vypaľujú ešte viac utýrané oči a doklepávajú túto karnevalovú stylingovú nádielku. Nuž, nie každý pokus vyjde, aj keď mal byť možno len pocitovým intuitívnym výstrelom naslepo. kde prvé je to pravé orechové. Niekedy to však hviezdam nevyjde a to i v prípadoch, kedy na nich pracujú tí najlepší svetoví stylisti a vizážisti.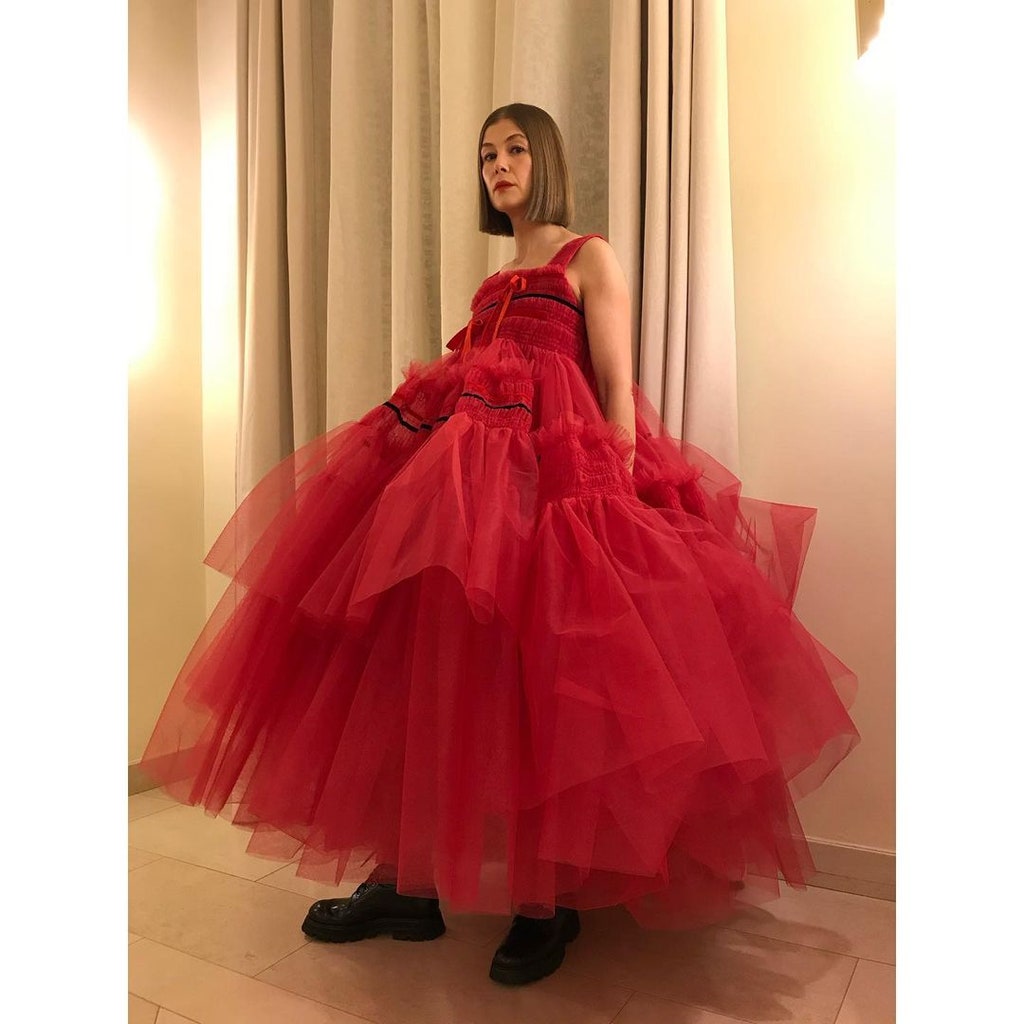 Rosamund Pike si však odniesla cenu ako Najlepšia herečka v komédii či muzikáli za I Care A Lot.
SALMA HAYEK v modeli ALEXANDER McQUEEN
Herečka Salma Hayek celkom prekvapila výrazným, ale elegantným červeným modelom Alexander McQueen . Po jej obvyklých expresívnych kreáciách, kde vstupujú do popredia jej veľké ženské prednosti, je tento počin vcelku milým módnym očarením. Salma Hayek sa často objavuje taktiež v Miláne počas Milan Fashion Weeku aj so svojím partnerom a je milovníčkou Gucci kúskov. A na tie veru treba doslova módne dozrieť a vcítiť sa do "ugly chic" módneho štýlu a šialených Gucci kreácií. Salma s tým však nemá najmenší problém a vtesná sa aj do mini modelov, čoho sme boli v minulosti svedkom. Tentokrát vsadila na šarmantú ženskú krásu a jemnú zmyselnosť a netreba jej ani inak zvlášť ukazovať odhalené výstrihy. Za tento počin dávam krásnej brunetke palec hore . Salma pridala rozžiarený úsmev a ďalšia hviezda večera bola na svete .
zdroj obrázkov: shutterstock, getty images, pinterest, Vogue. Laura Pusini, Vanity Fair,
Ďalšiu časť článku o róbach z červeného koberca Golden Globes 2021 čítajte na tomto blogu. Sledujte Facebook stránku: Mya Mirell Fashionista a Instagram: mya_mirell .
© AUTORSKÉ PRÁVA VYHRADENÉ