Z nedele na pondelok (26. – 27. 1. 2020) prebehlo v losangelskom Stamples Center udeľovanie hudobných cien Grammy 2020 v 85 kategóriách, ktoré jednoznačne ovládla americká speváčka Billie Eilishová. Stala sa absolútnym víťazom vo všetkých hlavných kategóriách – album roku, najlepšia pieseň, najlepšia nahrávka aj objav roku. Mladá speváčka ocenenie neočakávala, čo vidno na jej zaskočenom výraze tváre.
Prekvapením večera bola niekdajšia prvá dáma spojených štátov Michelle Obamová, ktorá si za autobiografický bestseller Becoming a jeho následnú audioverziu taktiež odniesla cenu Grammy.
Pozrime sa na výber outfitov, v ktorých zažiarili prítomné hviezdy, i na najviac šialené kreácie z červeného koberca prestížneho už 62. ročníka galavečera Grammy 2020.
BILLIE EILISH – GUCCI
18-ročná speváčka si síce odniesla množstvo ocenení, ale v modeli Gucci, ktorý zakryl všetky ženské krivky, by sme azda len márne hádali, či ide o dievča, pokiaľ by nezložila rúšku. Speváčka zvolila túto značku aj pri vystúpení počas galavečera.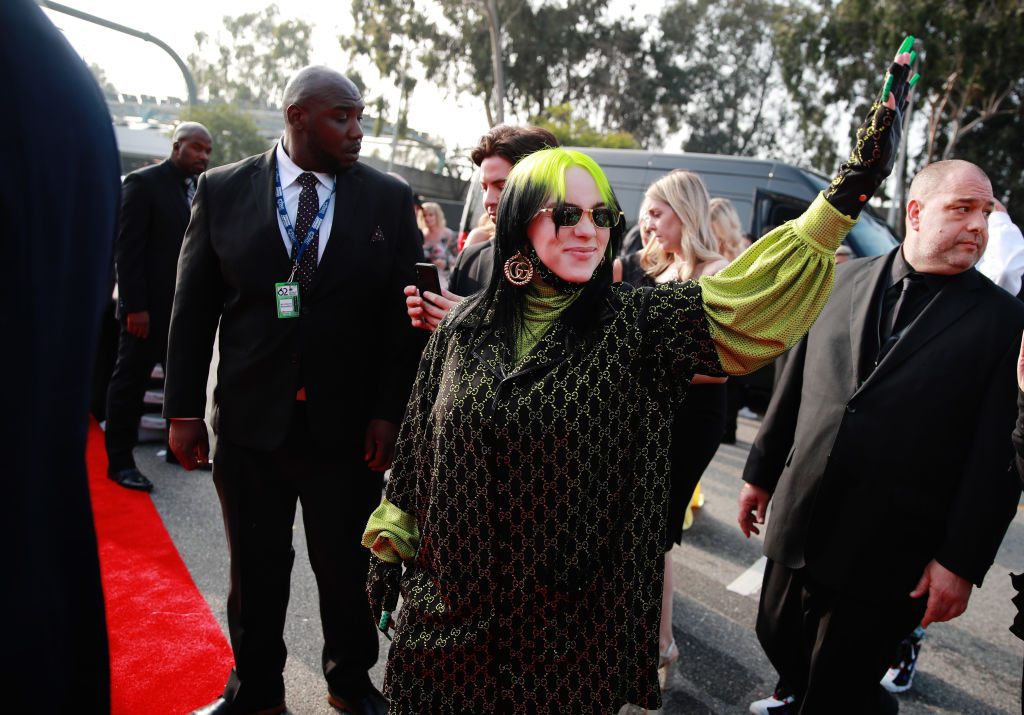 ARIANA GRANDE – GIAMBATTISTA VALLI
Jednoznačnou princeznou večera bola speváčka Ariana Grande, ktorá si na tento ročník Grammy Awards zvolila princeznovskú honosnú róbu, úplný protipól tých minimalistických. Pre tých, ktorí obľubujú volány a výrazné nadýchané šaty, "bold štýl", bola mladučká Ariana jednoznačnou kráľovnou večera. V hľadisku sedela akoby utopená v nadýchaných obláčikoch šiat, no chutná, pravá pop princezná.
A pretože sa nemohla rozhodnúť, ktorú róbu na galavečer zvoliť, predviedla aj druhú z dielne SCHIAPARELLI, tak isto s nadýchanou sukňovou časťou.
ALICIA KEYS – VERSACE
Večerom sprevádzala speváčka Alicia Keys, ktorá nezabudla tak ako aj ostatné hviezdy spomenúť tragické úmrtie basketbalovej legendy Kobe Bryant s dcérkou. Metalické šaty s kovovým odleskom asymetrického strihu v oblasti dekoltu s kamienkovým zdobením pochádzali z dielne ateliéru Versace od návrhárky Donatella Versace, ktorá obliekla viacero hviezd.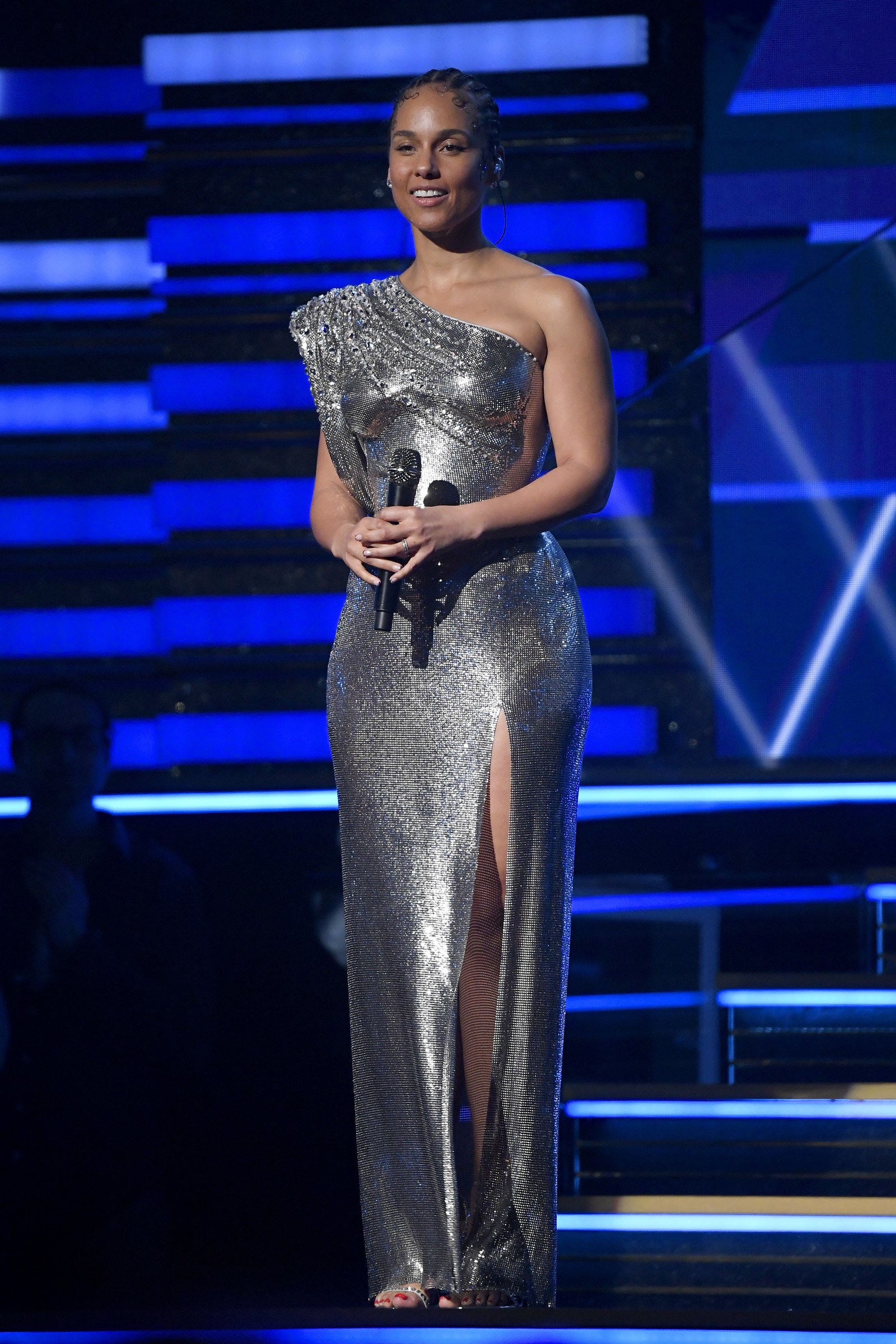 LIZZO – VERSACE
Raperka menom Lizzo bola nominovaná v ôsmych kategóriách a odniesla si tri ceny. Výber šiat padol rovnako na značku Versace. V prvom bielom modeli vyzerala korpulentná americká hviezda elegantne ako zo starej hollywoodskej éry, začo jej patrí obdiv za najlepší glam štýl. Podobný model vyniesla pred 20. rokmi speváčka Britney Spears, no rozhodne neplatí, že dámy objemnejších tvarov, nemôžu vyzerať rovnako famózne a elegantne. Lizzo je toho príkladom, v tomto modeli pôsobila anjelsky nádherne. Donatella v tomto prípade predviedla absolútne majstrovstvo značky Versace a paradoxne trefu do čierneho.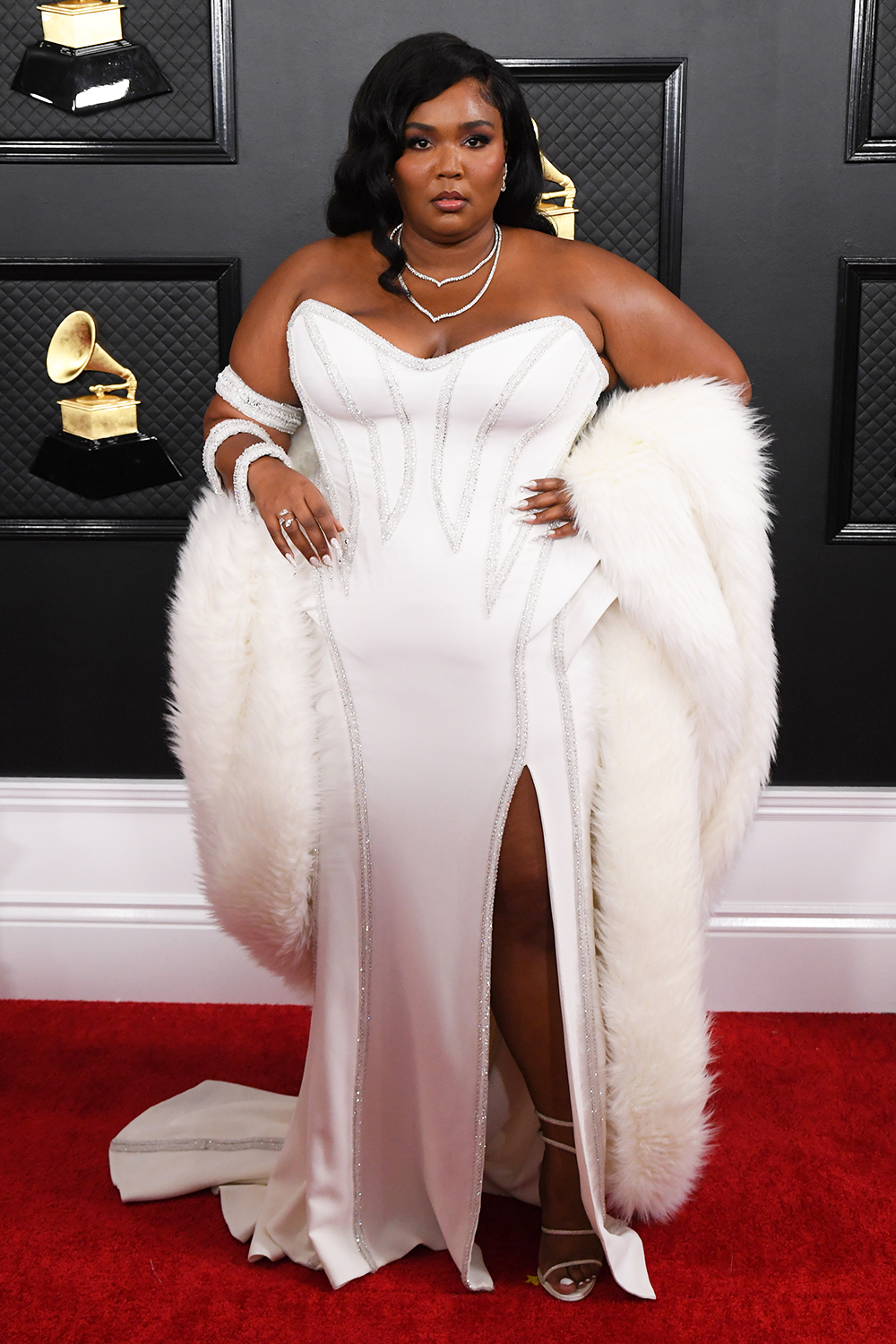 foto: David Fisher / Shutterstock, 26. január 2020
Spevácka hviezda Lizzo značne korpulentných tvarov svoje obliny rada vystavuje na obdiv, čo predviedla aj v tanečnej kreácii vo svojom vystúpení počas galavečera. No i jej ďalší model od módneho domu Versace zvolený na galavečer, vďaka transparentnosti materiálu odhaľoval väčšinu tela, čo v jej prípade nebola veľmi dobrá voľba. Ostatne posúďte sami.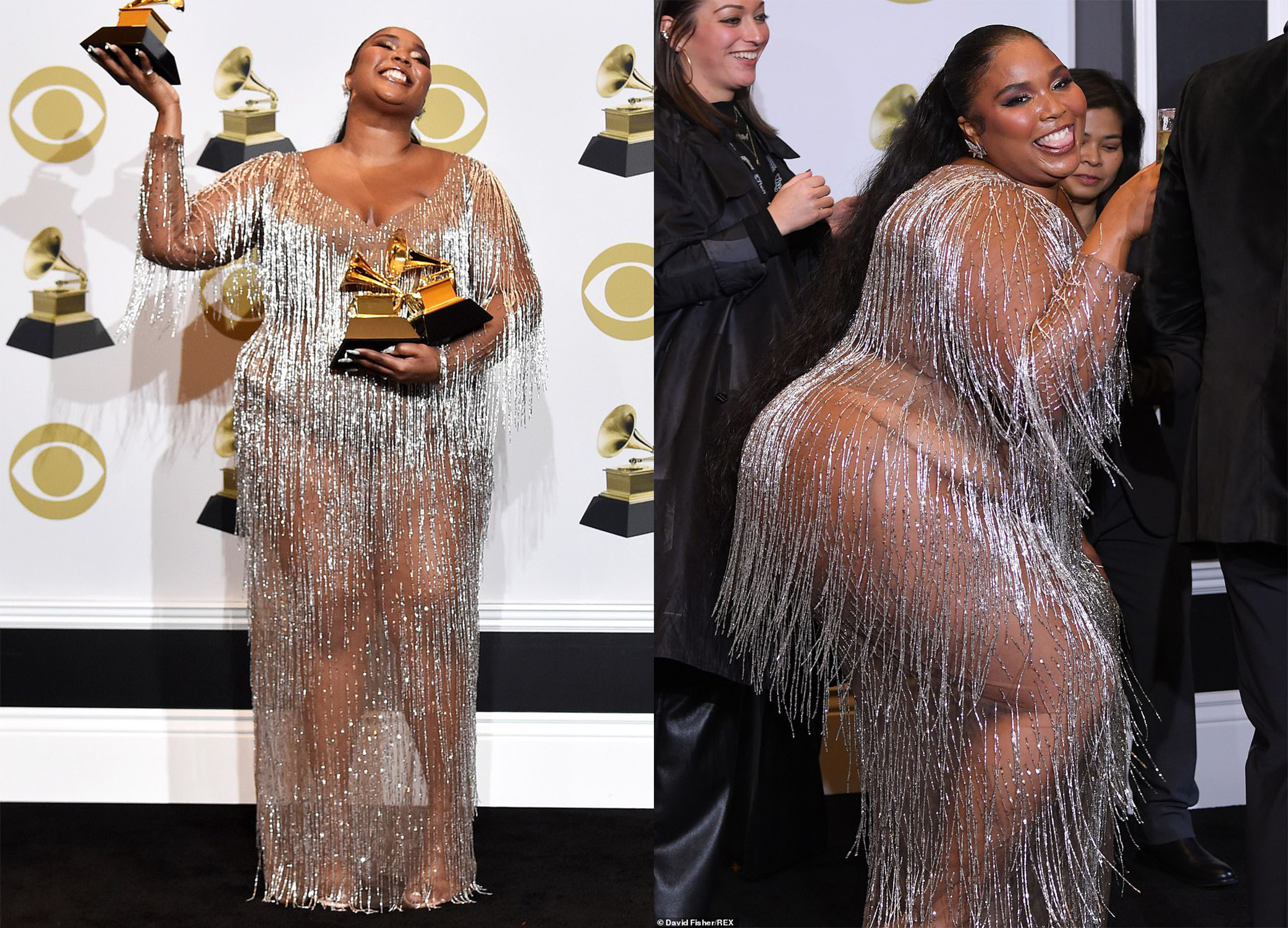 Lizzo počas speváckeho vystúpenia v tanečnom modeli.
Modelky ALESSANDRA AMBROSIO – BALMAIN, HEIDI KLUM – DUNDAS, GRACE ELISABETH – GIUSEPPE DI MORABITO
Polo transparentný model zdobený kryštálikmi s dlhými rukávmi a hlbokým výstrihom stále výborne vyzerajúcej modelky Heidi Klum, v ktorom zažiarila počas Grammy 2020, patril k najodvážnejším róbam večera. K šatám zvolila doplnky – sandále od Giuseppe Zanotti a šperky značky Lorraine Schwartz.
Úplný opak k nadýchaným zdobeným róbam zvolila modelka Alessandra Ambrosio s jednoduchým, čierno-bielym modelom od Balmain, ktorý ukázal z časti jej vypracované nohy v lodičkách Gianvito Rossi a pol tela. Čierno-biely architektonicky riešený mix medzi šatami a šortkami z bieleho saténu spolovice zahaľoval dlhý plášť, ku ktorému korešpondovali náušnice Tasaki. Z tohto modelu ovšem sála rozpačitý dojem. Najmä rovný strih šortkového overalu nepôsobí pri pohybe, fotení z rôznych uhlov pekným dojmom, zo zadu odhaľuje časť zadku a skracuje nohy. Nepôsobí to na mňa ani sexi ani rafinovane, tak nejako neurčito, nedokonalo, nedokončene, i keď modelka je krásna.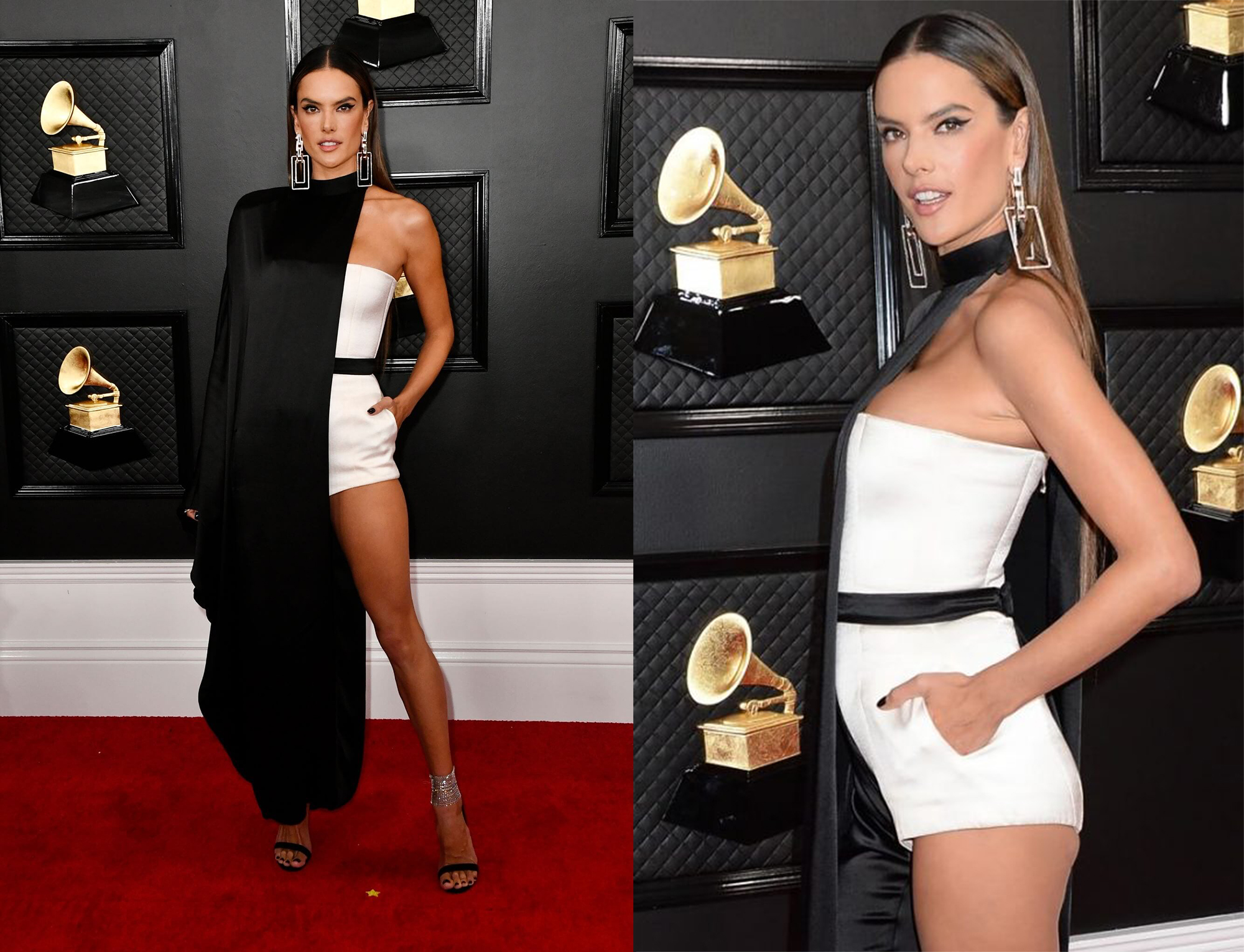 Sexi trojicu modeliek dopĺňala mladá americká kráska Grace Elisabeth v ultra glam šatách od Giuseppe di Morabito – na fotografii v strede. Grace Elisabeth stretávam často počas Milan Fashion Weeku, kde je možné ju osloviť na ulici po prehliadkach a vždy zachytím nejaké nové fotografie alebo video. Patrí k modelkám s prirodzenou krásou, ktorá žiari aj bez make-upu a vždy dobre vyzerajúcim, ochotná zapózovať i poskytnúť rozhovor. (Môj fashion report nájdete na facebook stránke blogu s názvom : Mya Mirell Fashionista v albumoch Milan Fashion Week a video s Grace vo Video kategórii, tiež na instagrame: mya_mirell ).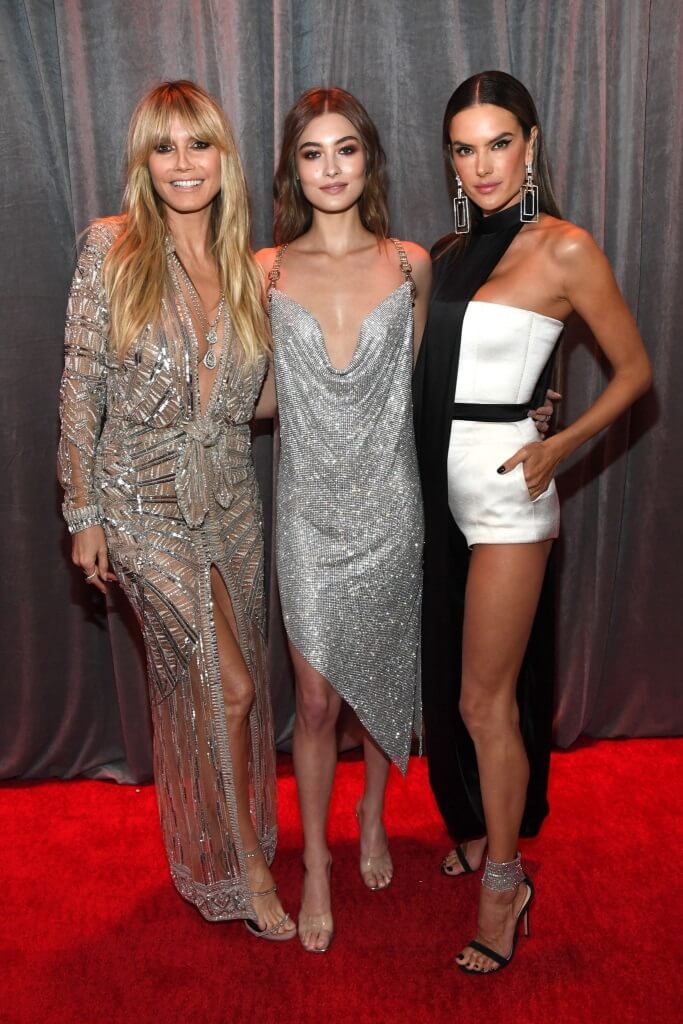 V jednoduchosti je krása, ovšem na tomto galavečeri som ju nenašla v nijakom jednoduchom modeli. Osobne si myslím, že i keď je Grace modelka, ktorá oplýva unikátnou prirodzenou krásou, tento model šiat jej v oblasti dekoltu veľmi nepristane vzhľadom na ultra štíhlu postavu. Tiež strih nemá náznak formy, ktorá by jemne definovala ženské krivky a na tejto eklektickej postave vyzerajú šaty so široko posadenými ramienkami ako zavesené vrece alebo plachta na šnúre.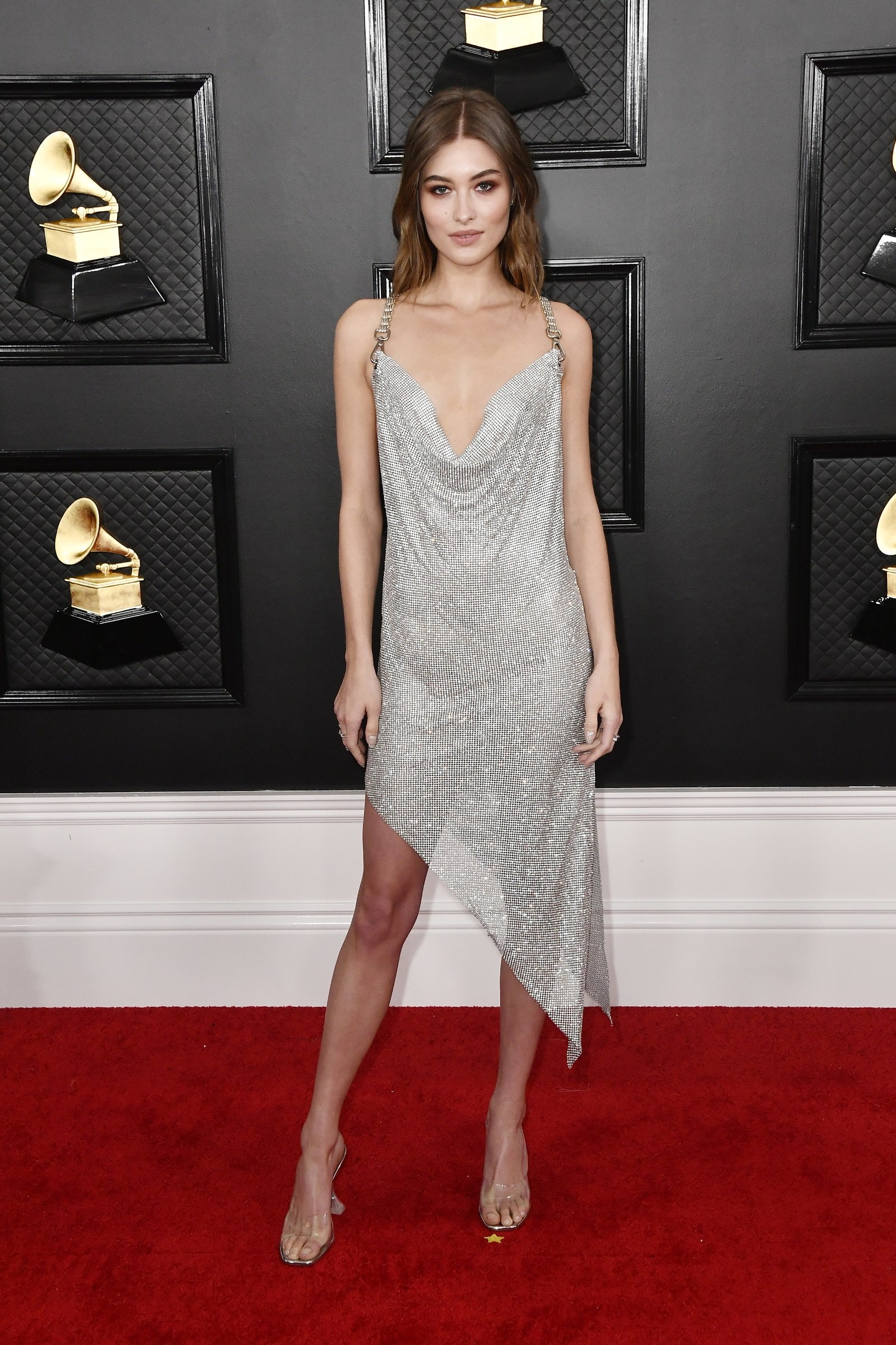 CARDI B – MUGLER
Hviezda Cardi B, ktorá rada šokuje a provokuje svojím zjavom, vyzerala v priesvitných jemných šatách so zdobením a zaujímavými rukávmi od značky Mugler na počudovanie famózne a na chvíľku ako éterická dáma.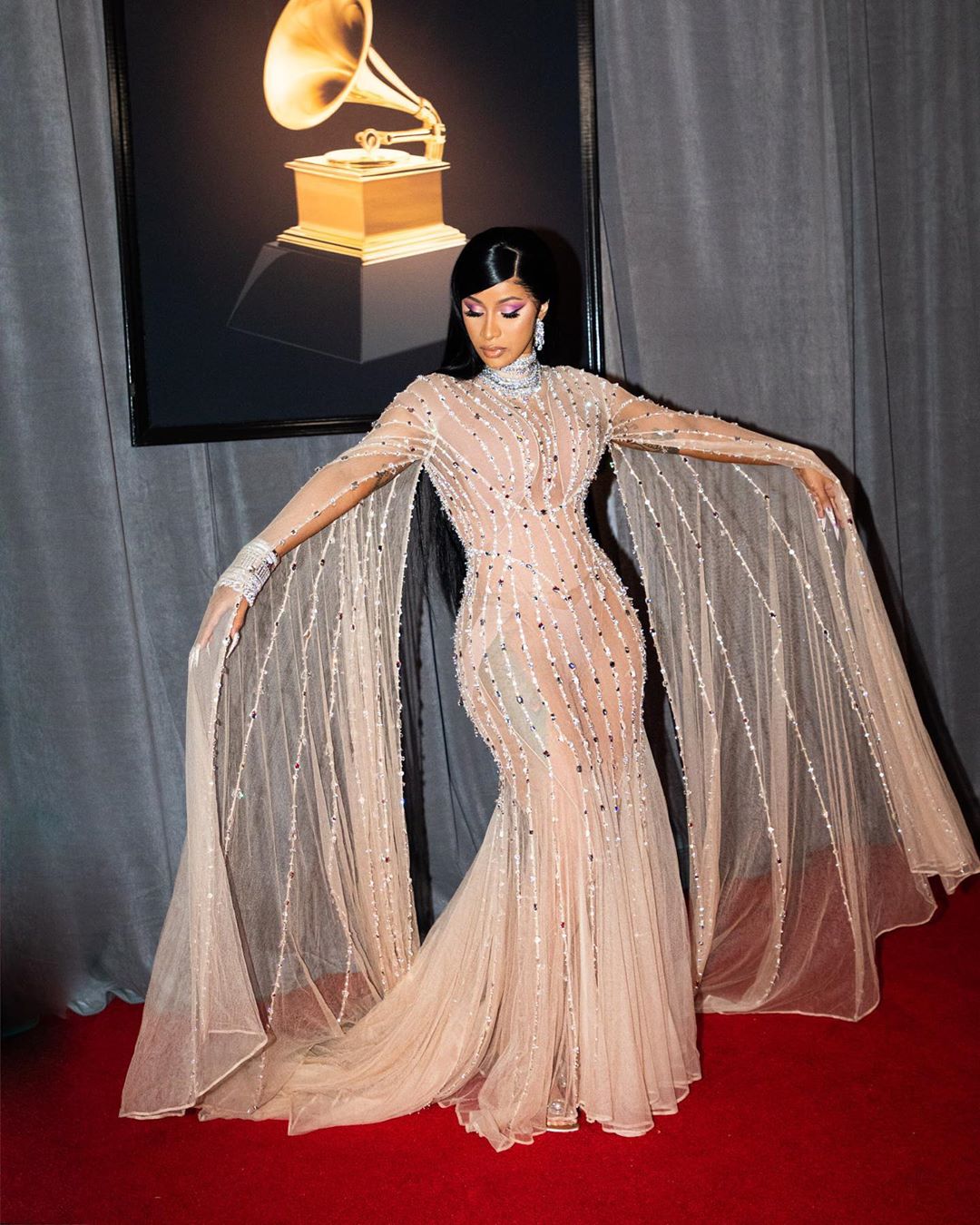 Svojej povesti a povahe však neostala nič dlžná a predstavila aj svoju pravú tvár, na ktorú sa pozrieme v závere článku.
DUA LIPA – ALEXANDER WANG
Pred pár dňami v jednoduchých krémových šatách počas udeľovania filmových cien SAG Awards zažiarila herečka Jennifer Aniston. Tento trend sa zdá, stáva obľúbený. Dua Lipa predviedla podobný štýl jednoduchých šiat, znovuzrodených 90-tych rokov. No nijako zvlášť neočarila. Model pôsobí až príliš fádne na tento typ udalosti.
GWEN STEFANI – DOLCE and GABBANA
Speváčka Gwen Stefani pôsobí stále rovnako, akoby nestarla. V mini šatách od Dolce and Gabbana posiatych mušličkami (shells – v angličtine) navyše vyzerá ako dievčatko. Na galavečeri ju doprevádzal partner Blake Shelton (priezvisko Shel..) a preto si Gwen zvolila šaty so zmysluplnou výpovednou pridanou hodnotou, posiate mušličkami (shells), azda ako jediná hviezda. Celkom zaujímavý dievčenský look hviezdy, ktorá má neuveriteľných 50 rokov.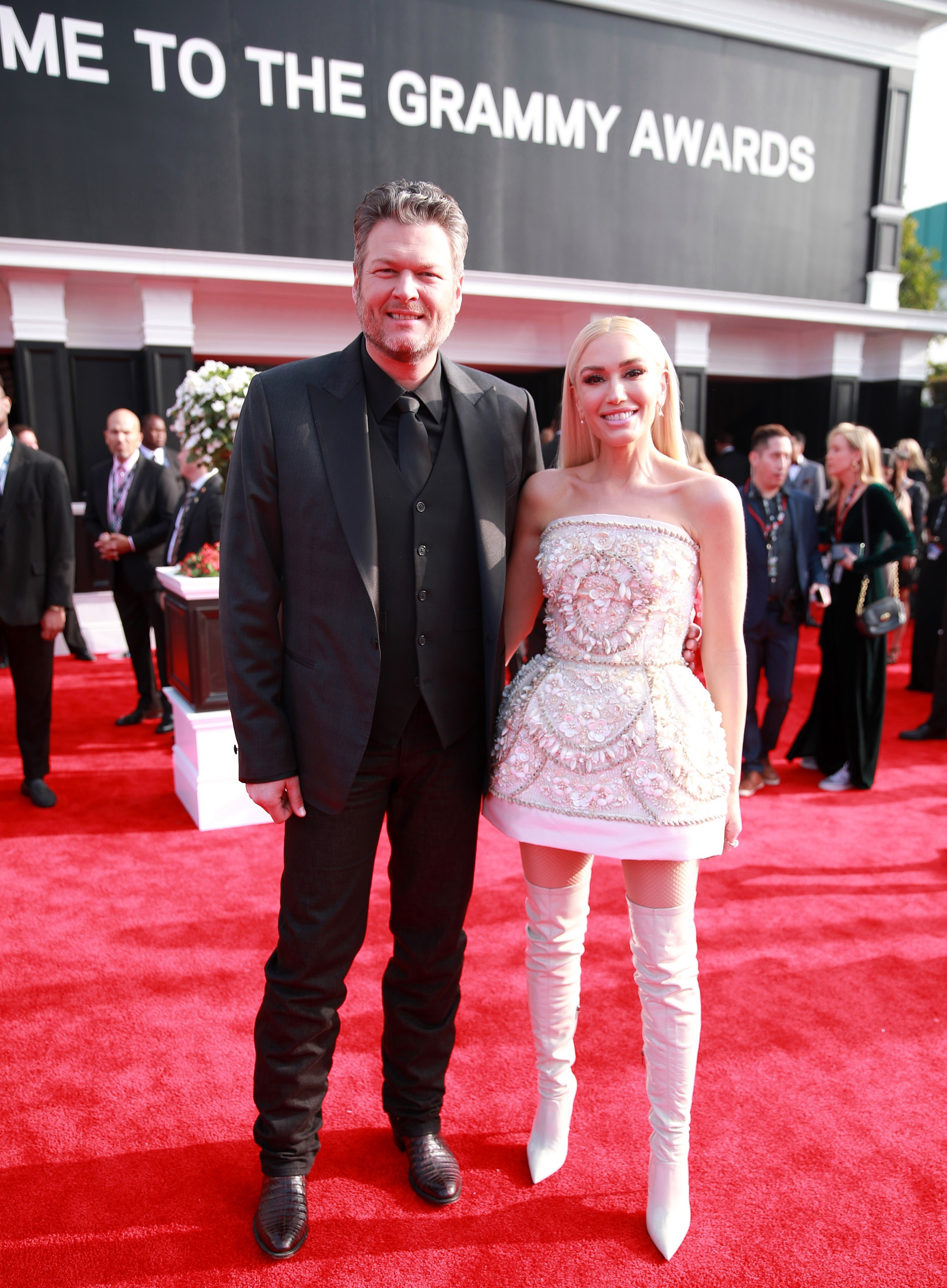 Počas večera vystriedala ešte jedny šaty, rovnako krásne a tiež z dielne módneho domu Dolce and Gabbana.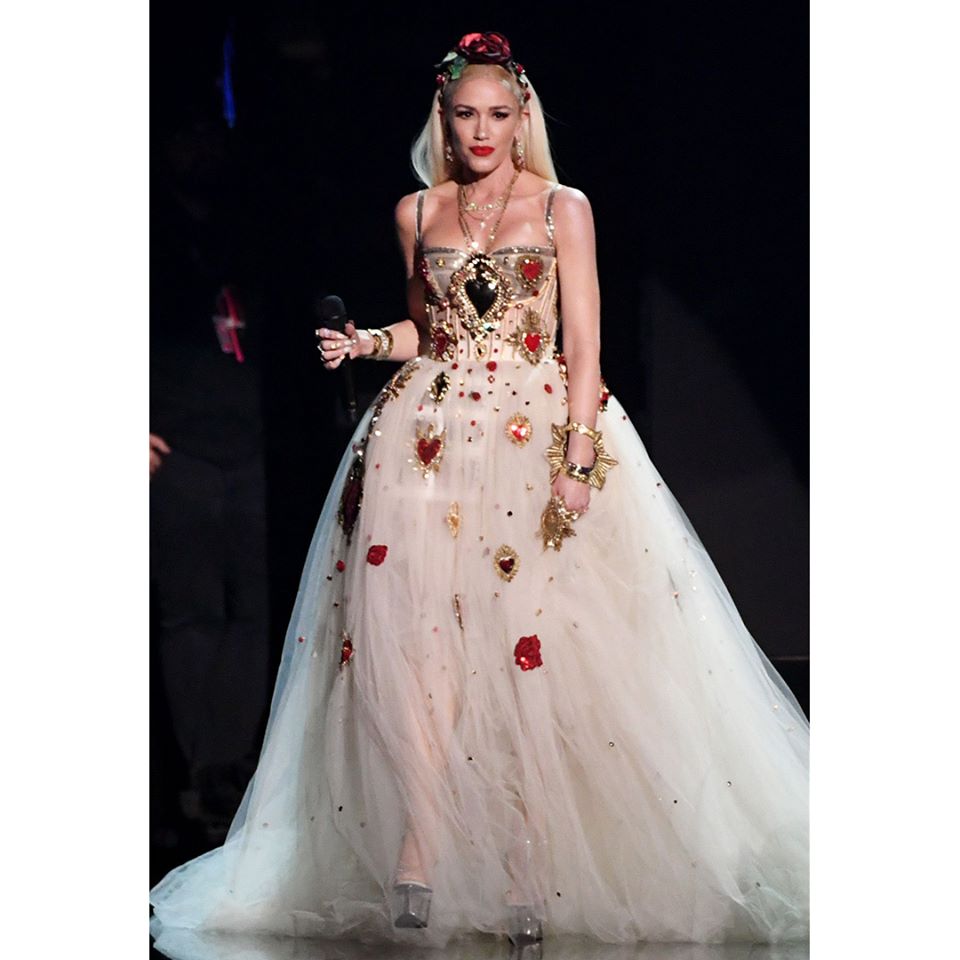 JONAS BROTHERS s manželkami – NICK a PRIANKA CHOPRA
Sexi róbami sa to na podobných akciách len tak hemží. Na tomto galavečeri dámy ohurovali hlbokými výstrihmi, ktoré viac odhaľovali, ako zahaľovali, ale všetko až na jednu hviezdu v predvečer Grammy 2020, ostalo pod únosnou hranicou sexi glam looku. Nick s Priyankou Chopra vyzerali spolu zladene. Róba od Ralph and Russo, ktorú zvolila indická herečka a speváčka vďaka hlbokému výstrihu až pod pupok priťahovala pohľady. Pokiaľ sa všetko podarilo držať pod kontrolou, model pôsobí na mňa veľmi elegantno-zmyselným, honosným a ženským dojmom.
CHRISSY TEIGEN – YANINA COUTURE
Modelka sa objavila na titulke Sports Illustrated. Zvolila sexi oranžový model z prehliadkového móla s dramatickými volánovými rukávmi, ktoré sa stávajú túto sezónu taktiež trendovými na červených kobercoch. K celkovému looku doladila aj žiarivý make-up. John Legend bol zvolený za najviac sexi muža planéty. Preferuje predovšetkým pastelové farby oblekov, no tentokrát zvolil vcelku matúci šedý oblek s plisovanou asymetrickou časťou na jednej polovici saka, ktorá bola zároveň dlhšia. Osobne mám z tohto modelu rozpačité pocity. Podčiarkujú to navyše robustne pôsobiace čierne topánky.
KEYSHIA KA´OIR – GUCCI
Absolútne zaujímavý zladený pár bola Keyshia Ka´Oir v Gucci očarujúcich čiernych šatách bez rukávov a ozdobným nariasením. Raper ozvláštnil oblek doplnkami – okuliarmi a kamienkovým zdobením výstrihu a výraznými šperkami na krku.
JAMEELA JAMIL
Hviezda žiarila ako krásna nočná obloha v strapcových zaujímavo riešených šatách, ku ktorým prispôsobila očný make-up. Nádherná modro-fialová farba a krása Jameely priťahovali zraky prítomných. Fialová navyše s červenou vyzerajú famózne a tak Jameela zažiarila na červenom koberci najviac.
NAJŠIALENEJŠIE OUTFITY GRAMMY – ZÁPLAVA GÝČU, ODHALENÉ PRSIA A HOLÉ ZADKY
Gýčovú nádielku – kryštálmi posiaty tyrkysový overal s klobúkom so strapcami, ktoré sa automaticky odhŕňali potlačením gombíka s platformovými kamienkovými topánkami naservíroval divákom Billy Porter. Doteraz akosi nemôžem prísť na chuť tomuto mužovi s veľmi zvláštnym vkusom a róbami.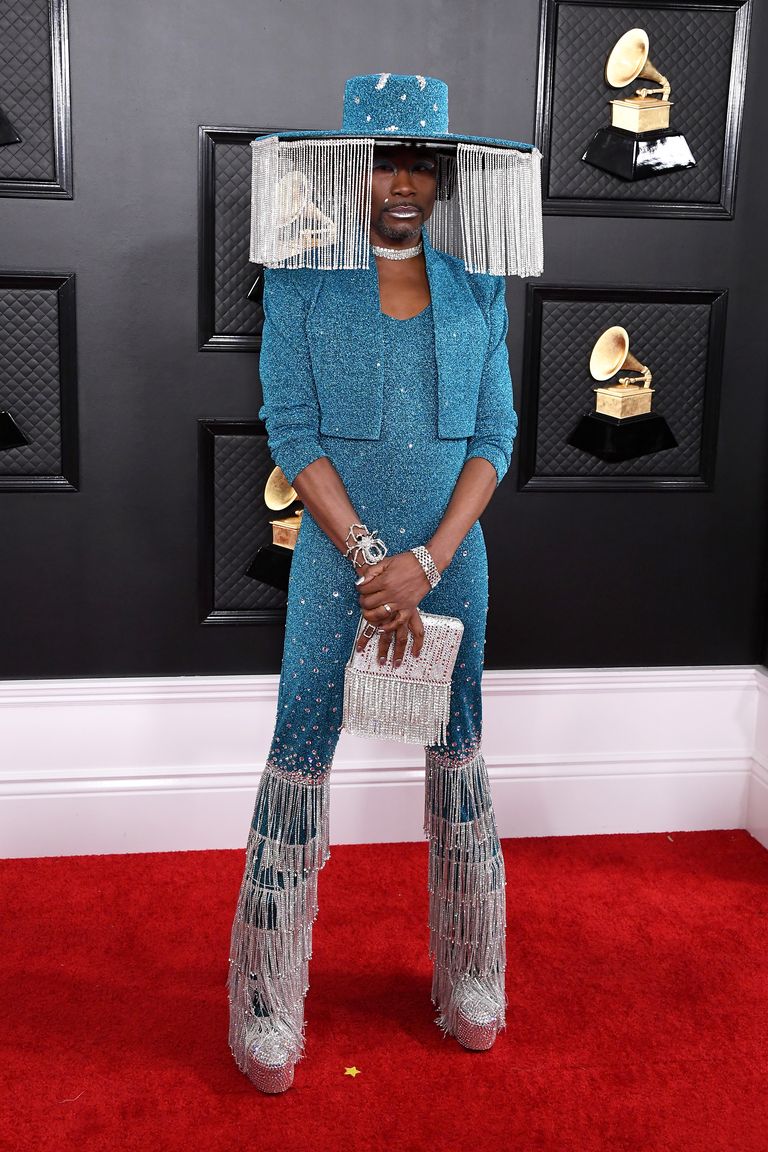 Klobúk zaujal na tomto modeli viaceré média, možno ako luster zo 60. rokov by bol aj pre mňa zaujímavý.
CARDI B – NICOLAS JEBRAN COUTURE
Prsia von v akomkoľvek tvare a veľkosti boli bez ostychu vystavované a predvedené, najmä chvíľku zdalo sa byť nežnou hviezdou Cardi B, ktorá však na afterparty v predvečer Grammy vyrazila zrak všetkým pri zmysloch prítomným divákom výrazne vulgárnymi šatami odhaľujúcimi celý neforemný, ohavne pôsobiaci dekolt. Ten mala počas fotenia, ako vidno vo videu na youtube z galavečera Grammy 2020, problém udržať v istých medziach znesiteľnej únosnosti a slušnosti, ktorú už dávno prekročila, v čom jej pomáhal partner. Jej neforemné vyliezajúce prednosti bez okolkov zakrýval rukami.
Zdá sa mi, že ženy sa za posledné roky snažia o najzaujímavejšie šaty odhaľovaním rôznych partií tela a najmä dekoltu popieraním fyzikálnych zákonov a gravitácie a hlavne podľa vzoru J.LO, ktorá v roku 2000 predviedla ikonický model jemných šiat z dielne Versace a spôsobila tým prvotný ošial a internetové ovácie. Tie následne znovuzrodila pomocou Donatelly Versace počas septembrového Milan Fashion Weeku (09/2019), Móda Ženy na prehliadke tejto značky ich jemným inovovaním, čím spôsobila opäť ošiaľ a doslova rozbila internet. Jej chôdza po móle v sexi šatách so sexi figúrou s krivkami, na aké sme u Jenn zvyknutí, očarila nielen módnych nadšencov. Na túto spevácku hviezdu a módnu ikonu sa však novodobé umelé celebrity nechytajú a tieto pokusy považujem za viac než trápne teátro.
Trápnosť prilepiť kúsky látky na rozchádzajúce sa prsia v priamom prenose na červenom koberci počas fotenia sa len tak nevidí, minimálne o ničom neviem z histórie. Toto si snáď môžu dovoliť iba novodobé celebrity a ich americká suverénnosť. Ostáva len dúfať pre nás ostatných stále pri zmysloch, že tieto rýchlokvasené celebrity, tzv. influenceri, nebudú trvalým a dlhotrvajúcim príkladom pre mládež, ktorá ich nateraz obdivuje.
Osobne si myslím, že akákoľvek módna udalosť a galavečer takéhoto formátu si vyžaduje eleganciu, noblesu, má dať vyniknúť módnym kreáciám, ktoré sa na ňu pýtajú, povoľuje ženskú zmyselnosť a sexi glam štýl v prístojných hraniciach, jemnú teatrálnosť v podobe expresívnych rób, i výstrelky vrámci oslavy hravosti módy a módneho umenia, ktoré by inak neboli nositeľné a najmä vynesené na svetlo sveta a obdiv verejnosti. Avšak vonkoncom nepripúšťa vulgárnosti podobného razenia praktizované priamo pred zrakmi prítomných a rovno pred fotografmi zachytávajúcimi hviezdy na červenom koberci. Za mňa sa v podaní "hviezdy" Cardy B predviedla americká hanba a vulgárnosť na červenom koberci v priamom prenose. Neviem si toto predstaviť počas Oscarov, Benátskeho filmového festivalu a akejkoľvek módnej udalosti.
Čo malo byť zámerom týchto šiat z dielne NICOLAS JEBRAN COUTURE , ktorým chýba akýkoľvek náznak koncepcie časti dekoltu, pýtam sa ?! Chcel to byť snáď pokus tvorcu o extrémne zvýraznenie kriviek, akoby nedbalým výstrihom v tvare srdca, ktorý podčiarkne umelé boky nositeľky? Alebo skôr jednoducho prvý a jasne čitateľný plán, vulgárnosť na prvom mieste, ktorá odzrkadľuje vulgárnosť doby, nositeľky, dravosť , poukazuje na jej vlastnosti… Našla by sa tu diskutabilná odvážnosť, ak by som sa veľmi hlboko zamýšľala, hlbšie ako jej ten výstrih, lebo ženskosť a nežnosť, ako to srdiečko, mi tam akosi nevychádza. K tomu tie ohavné dlhé nechty, nálepky na bradavkách, vulgárny výraz tváre pri fotení na videu a zúfalý pokus udržať od seba idúce volejbalové lopty prilepené na kúskoch látky v trhline šiat. Celkový výzor pôsobí, akoby túto hviezdu dotrhal jedným šmahom tlapy medveď pri prechádzke lesom a pritom ešte "prolítla křovím". Ale vo finálne jej to vôbec nevadilo. Napokon, nabudúce možno príde hore alebo aj dole bez, nechajme sa prekvapiť.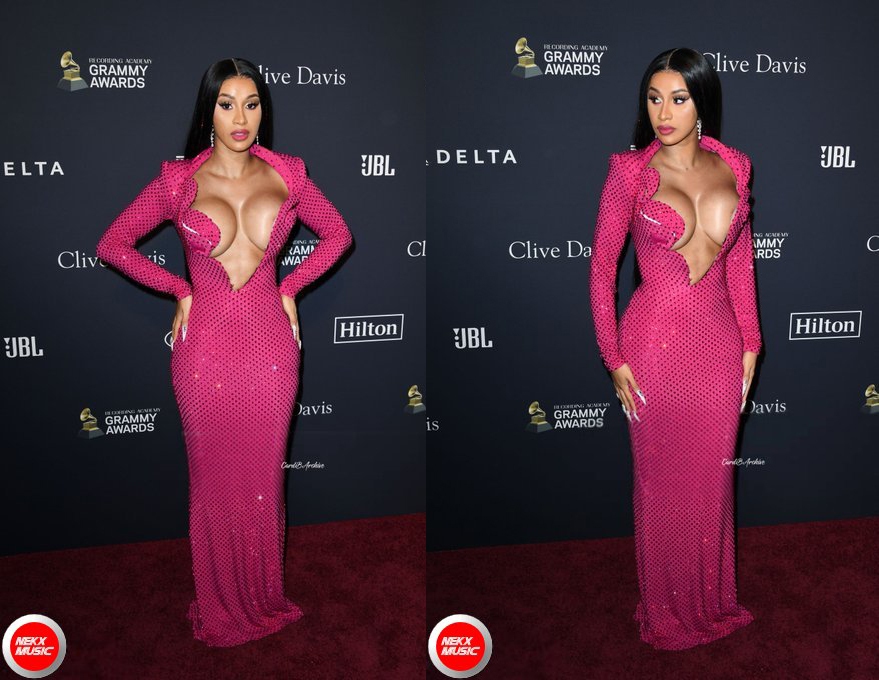 Prsia von boli zámerne priznané a ponechané na obdiv aj v šedom retro kostýme z dielne návrhárky Vivienne Westwood, ktorý akosi ostal sám o sebe nepovšimnutý. No v tomto prípade našťastie dekolt zahaľovala aspoň ružová podprsenka Agent Provocateur ladiaca s lodičkami.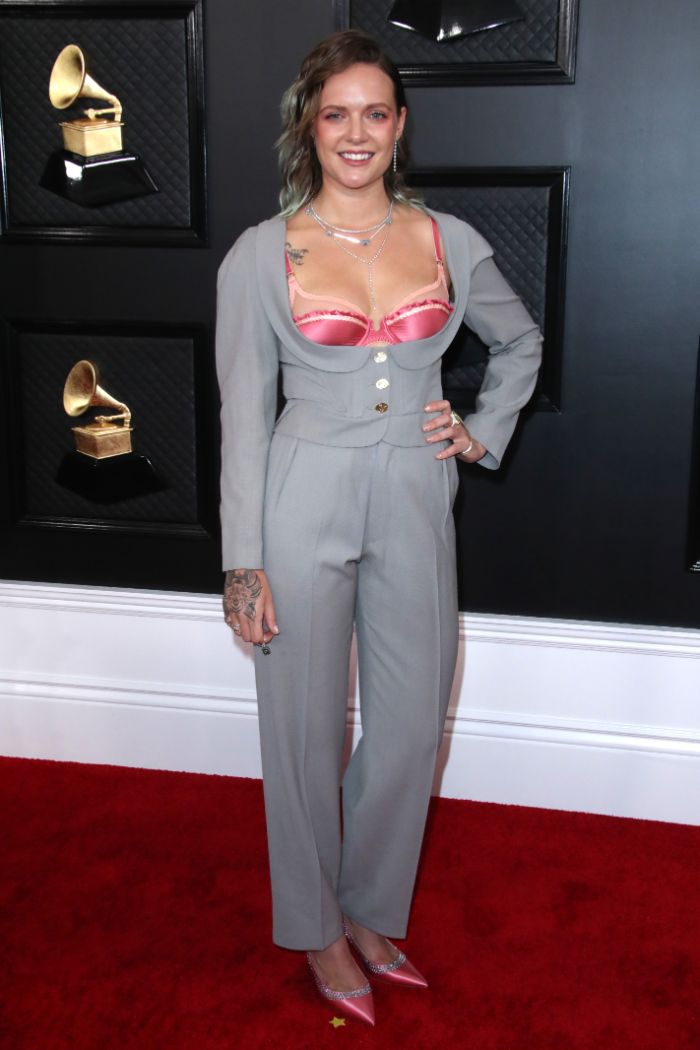 SHAUN ROSS a youtuberka NIKITA DRAGUN zvolili podobne zvláštne perlovo zdobené šaty. Vcelku podivne pôsobiace modely pripomínajú akési morské tvory, morské šupiny, mimozemšťanov, no účel zaujať a odlíšiť sa niečím úplne netypickým, to splnilo. Toto módne počínanie charakterizujem ako módny pokus o teatrálnosť spadajúci do kategórie módna umelecká kreativita, hravé módne výstrelky, creepy fashion. I to má svoje miesto a odvážnych nositeľov na podobných udalostiach.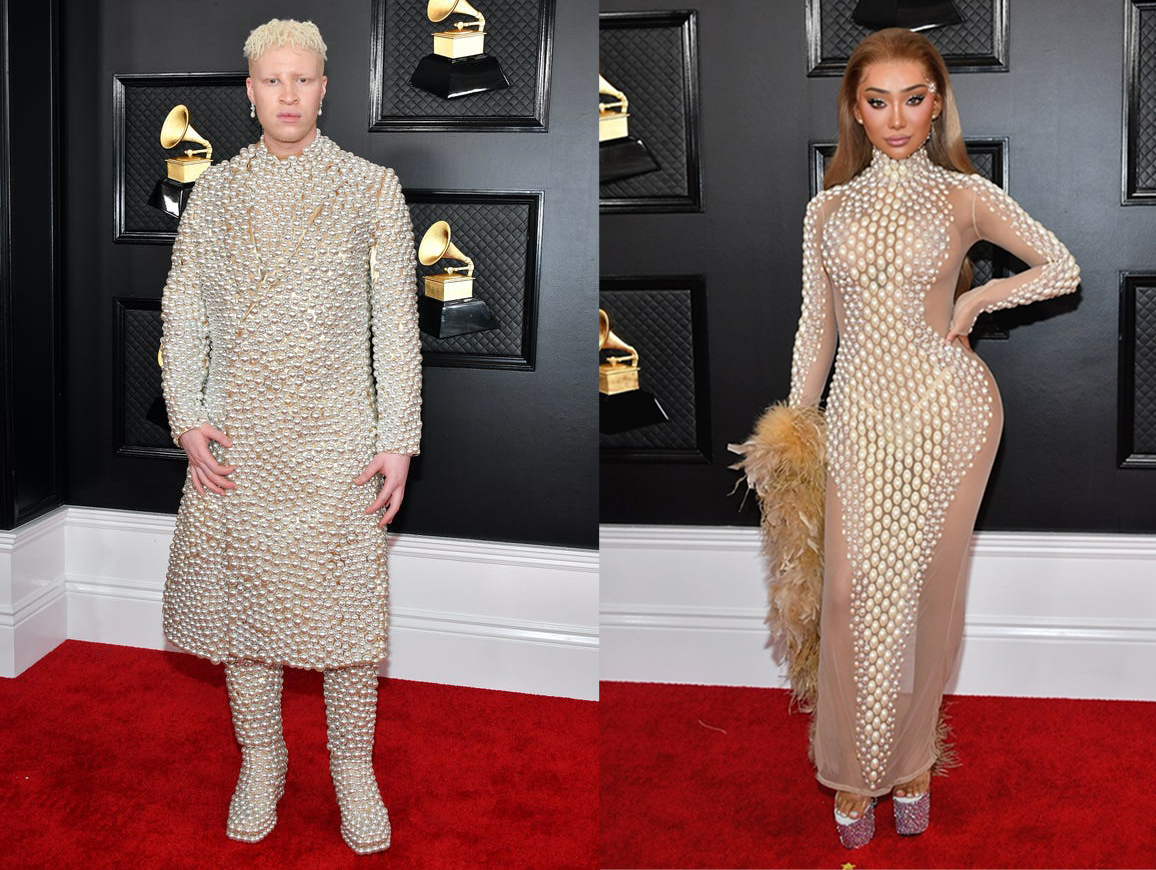 O ostatných nevydarených outfitoch, outfitoch, ktoré nezaujali a neprístojných, či šialených lookoch sa dočítate v ďalšom článku na pokračovanie.