Gucii Love Parade – očarujúca estetika kinematografie zlatého veku, oslava 100. výročia talianskej značky na Hollywood Boulevard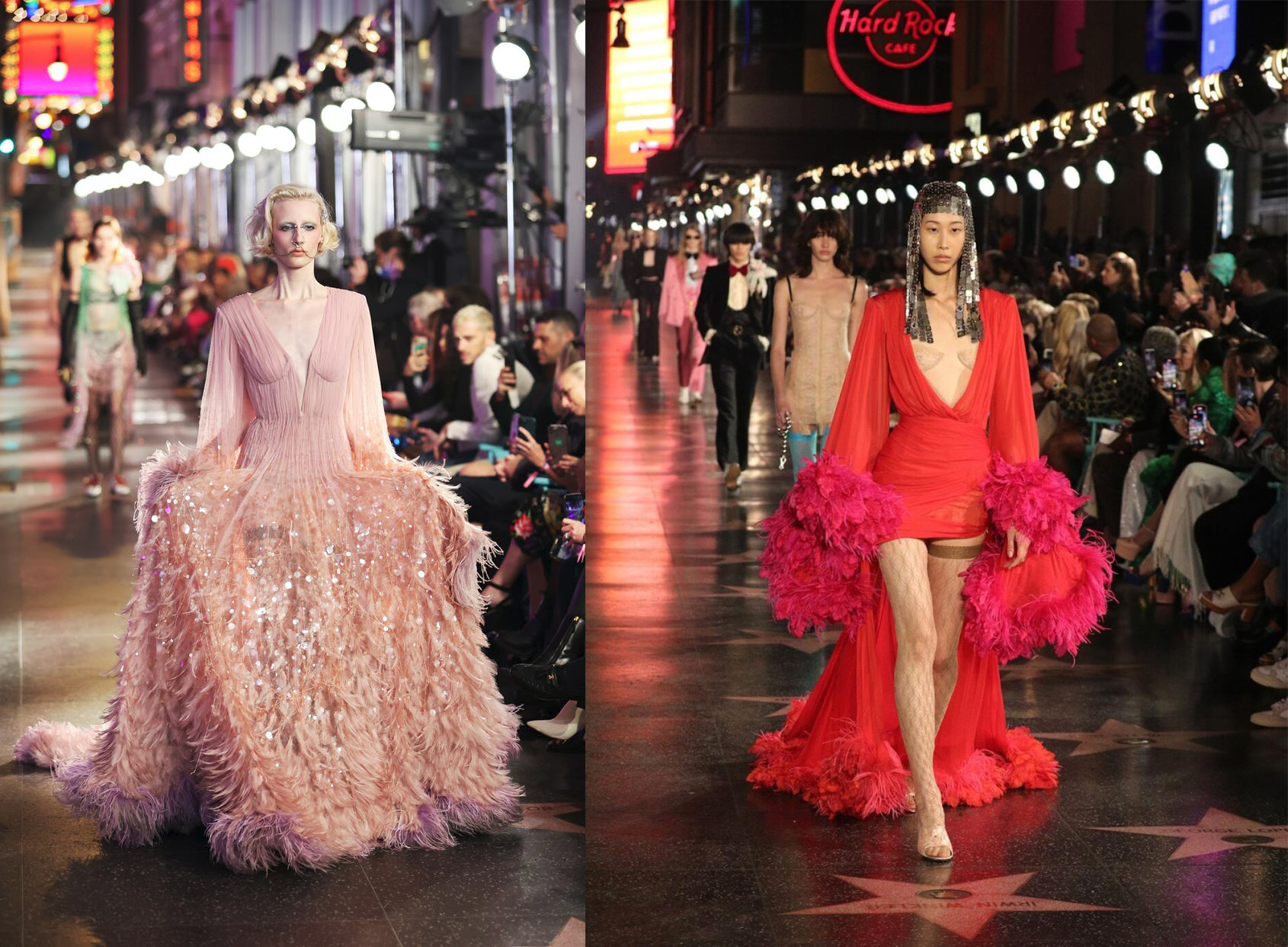 Prehliadky talianskej značky Gucci dizajnéra Alessandra Michele sú známe svojimi filmovými rozmermi, ktoré nikdy neboli tak pravdivo citeľné, prenikajúce všetky zmysli a polapiteľné, ako počas módnej šou Love Parade, ktorá sa konala 2. novembra 2021 v Los Angeles. V najnovšej Michelovej opakovane utkvelej predstave, v bezsezónnej melodráme, pricestoval kreatívny riaditeľ Gucci z Milána do Los Angeles, aby predviedol kolekciu talianskeho módneho domu. To, čo v skutku priniesol, bola "dokonalá podívaná" s flitrami, pierkami a všetkým tým, čo k tomu patrí. Časť Hollywood Boulevard bola na noc zatvorená, modelky sa pripravovali v Graumanovom čínskom divadle a celebrity omdlievali zo všetkých uhlov na miestach, kde boli usadené na režisérskych stoličkách.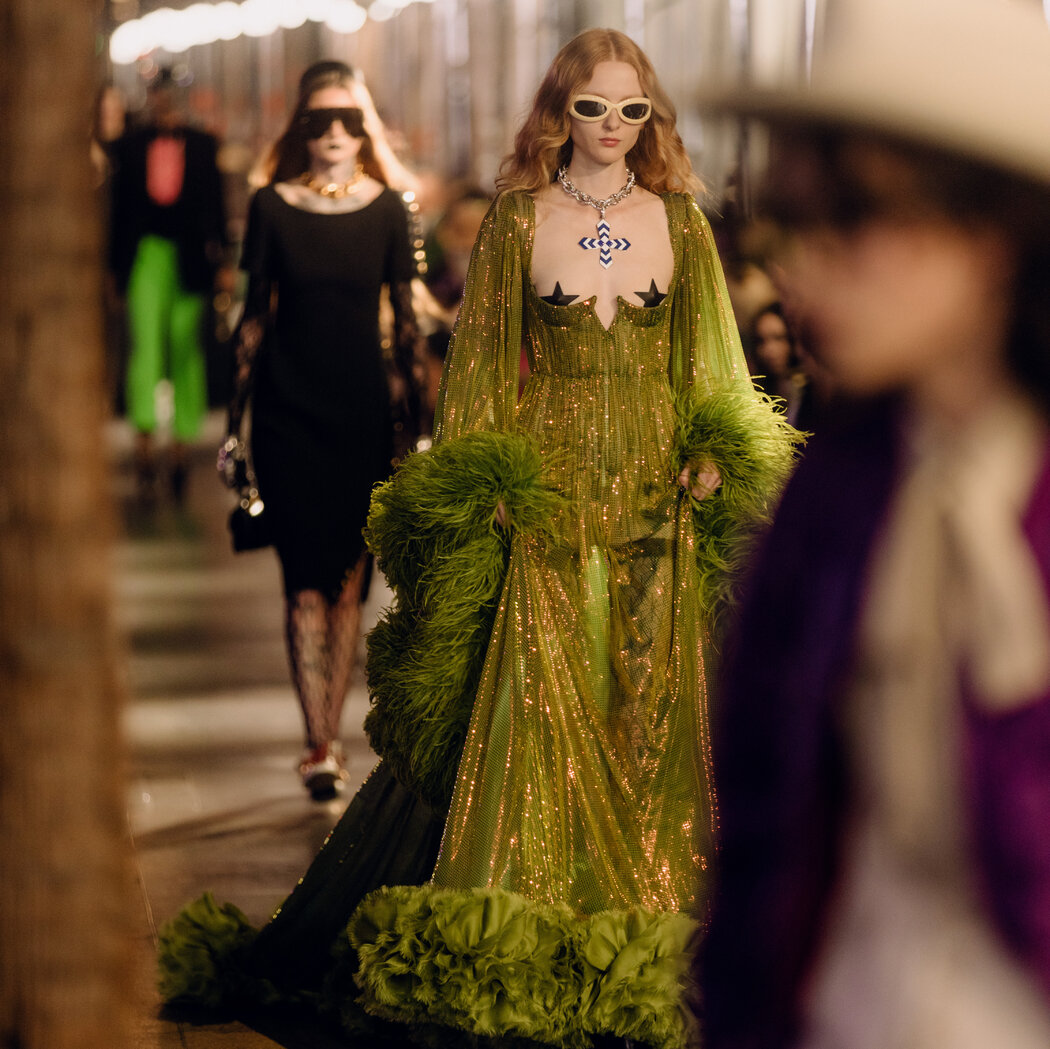 Módny večer bol nabitý filmovými hviezdami, vrátane Jareda Leto, Macaulayho Culkina, Mirandy July, Jodie Turner- Smith, Dakoty Johnson, Billie Eylish a Gwyneth Paltrow pretvárajúcej svoj ikonický Gucci smoking z čias Toma Forda v prvom rade a na predvádzacej dráhe. Tú osvetľovali trblietavé svetlá Hollywood Boulevard dotvárajúce excelentné pozadie: "HOLLYWOOD vyzeral ako jasná a žiarivá hviezda," napísal taliansky dizajnér Alessandro Michele vo svojich poznámkach k prehliadke a vysvetlil očarujúcu estetiku kinematografie zlatého veku, ktorá je často súčasťou jeho kolekcií.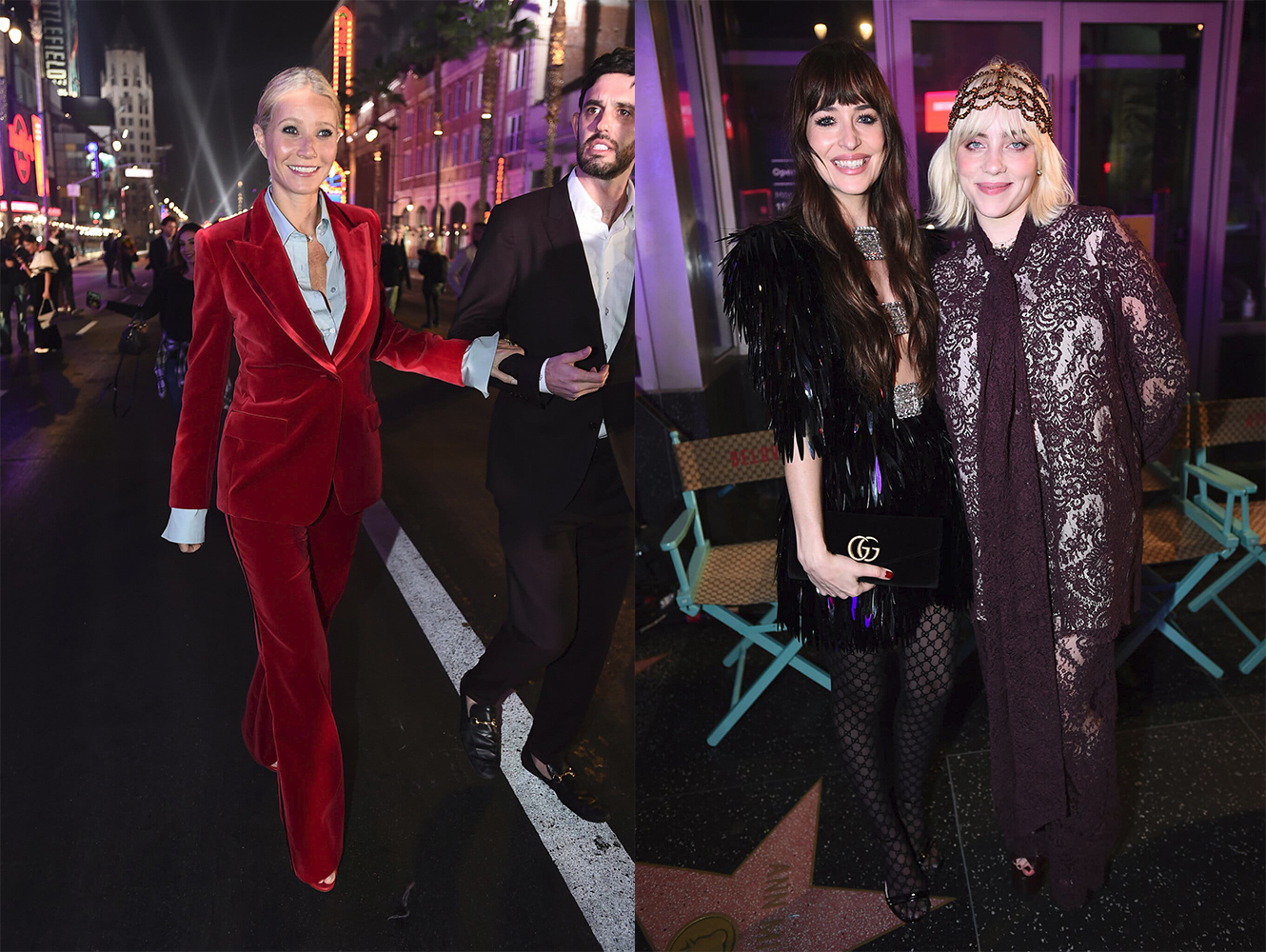 Gwyneth Paltrow, Dakota Johnson a Billie Eilish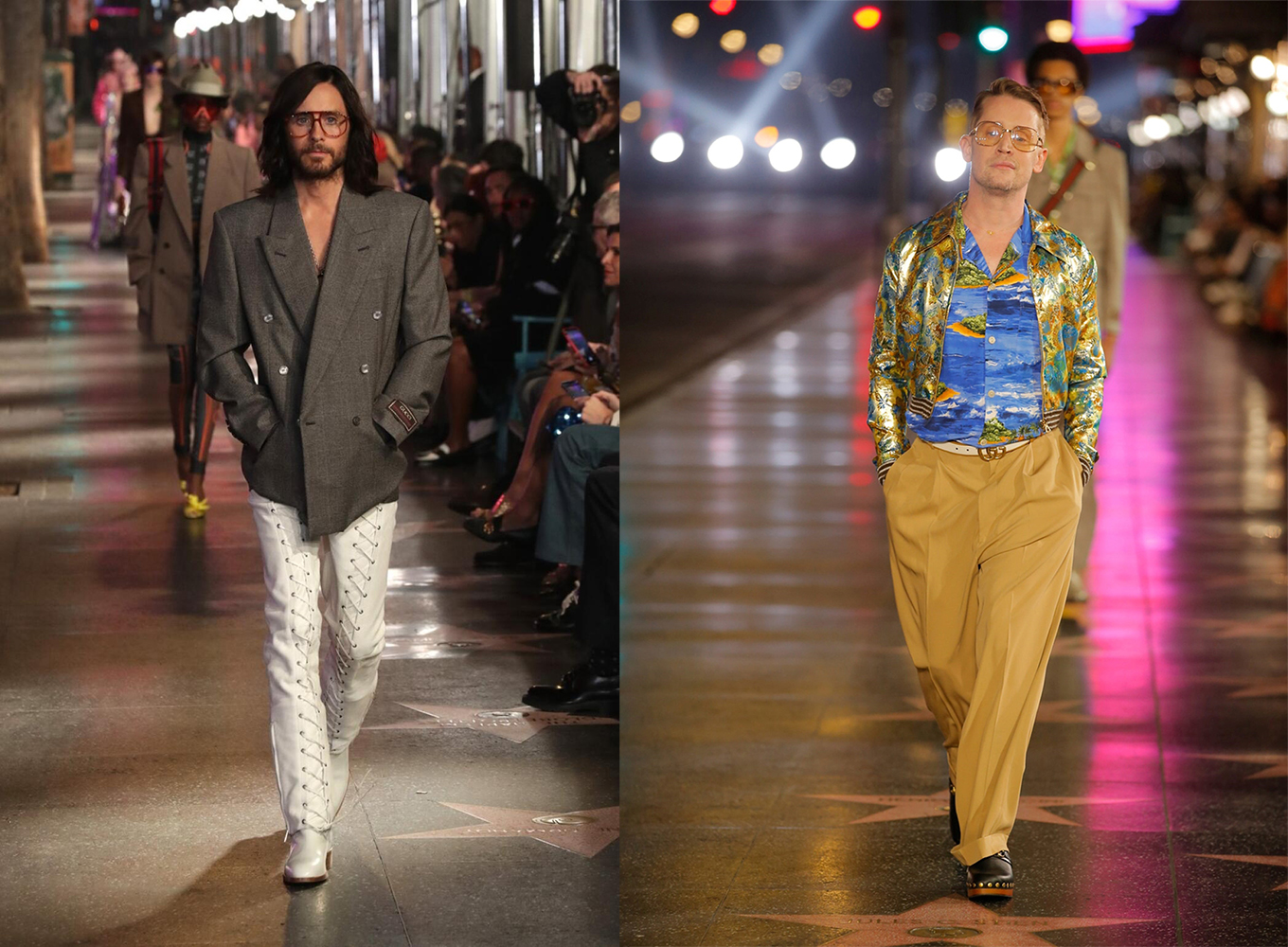 Macaulay Culkin si zahral rolu flitrovaného Huntera S. Thompsona v havajskej košeli, v hlavnej úlohe po boku Gucciho obvyklého klanu, herca Jareda Leto, ktorý je tvárou značky, Jeremy Pope, Steve Lacy, St. Vincent, Phoebe Bridgers a ďalších. Gucciho košele čerpali z fantastického sveta Rómeo a Júlie od Baza Lurhmanna, Culkinova havajská košeľa bola skombinovaná s kaki nohavicami, zlatou bundou, žltými okuliarmi a hnedými drevákami .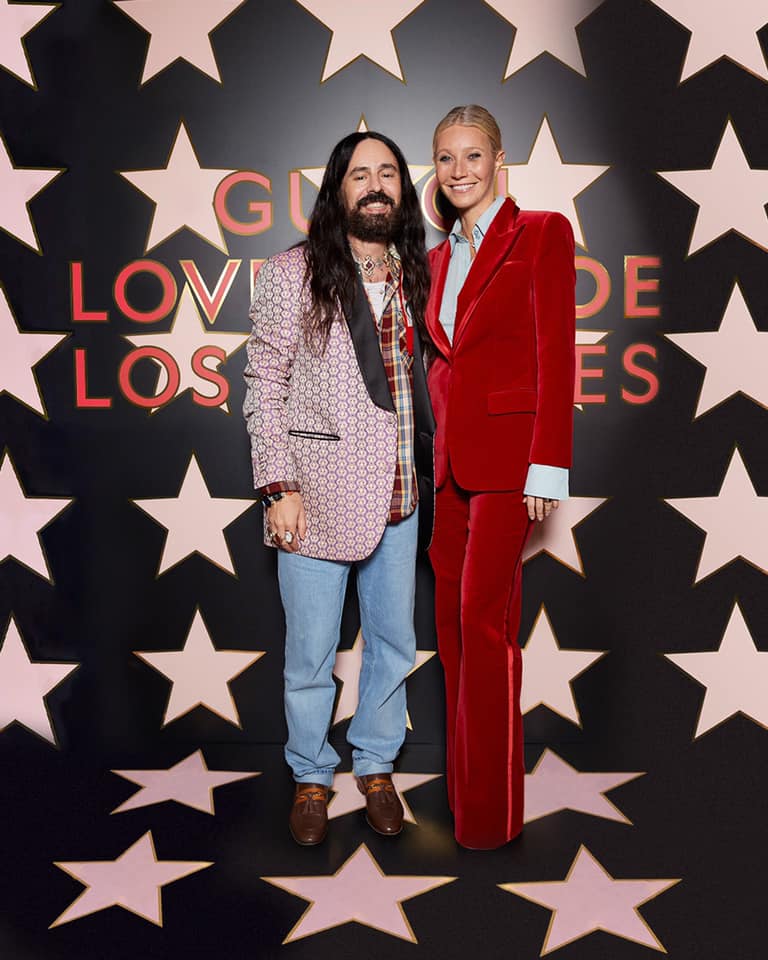 Taliansky dizajnér Alessadro Michele a herečka Gwyneth Paltrow.
Na režisérskych stoličkách sedeli hostia vrátane Miley Cyrus, Billie Eilish, Gwyneth Paltrow (v novej verzii červeného obleku Gucci AW96 z éry Toma Forda, ktorý mala na MTV VMA v 96-tom ) a hollywoodskej kráľovskej rodiny Anjelica Huston.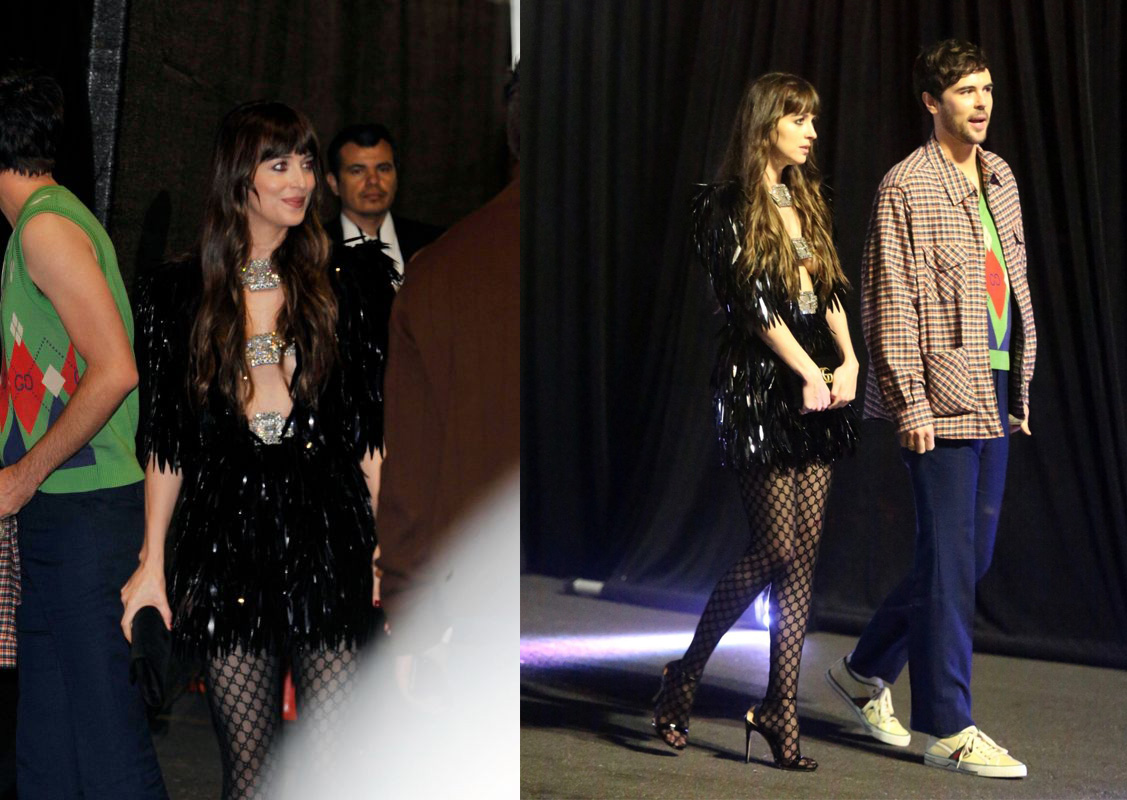 herečka Dakota Johnson
speváčka Miley Cyrus
HOLLYWOOD – TOVÁREŇ SNOV
Prečo práve Hollywood? Pre najnovšiu kolekciu Gucci hľadal dizajnér svoju mamu, ktorá kedysi pracovala vo filmovom priemysle ako asistentka v produkčnej spoločnosti. Kreatívny riaditeľ značky Gucci, Alessandro Michele, ktorý vyrastal na predmestí talianskeho Ríma, bol inšpirovaný príbehmi, s ktorými sa jeho matka delila vo svojich skúsenostiach s prácou vo filmovom priemysle. Príbehy vznešenosti, pôvabu a slávy vydláždili cestu pre výstavu farieb a oslavy života Gucci najnovšej módnej šou Love Parade. Ako dieťa mu rozprávala najrôznejšie historky o dianí v takzvanej "továrni snov":
"Pamätám si všetky tie príbehy, ktoré mi rozprávala, aj detaily a iskry o tej továrni na sny. Bola tam alabastrová jemná bledosť Marilyn Monroe a jej diafánny hlas," povedal Alessandro. "Boli tam čierne saténové rukavice Rity Hayworthovej a zamatové vlasy Veronicy Lake, ako aj očarujúca príťažlivosť Rocka Hudsona a závratnej transformačnej sily Kim Novak. Všetko mi to pripadalo ako v rozprávke."
Tieto detské ikony a mnohé ďalšie hviezdy strieborného plátna, vytvorili portréty v celej kolekcii zosnovanej do očarujúcej módnej šou Love Parade. "Tieto podvratné príbehy mi pomohli prekonať všednú šedivosť," "To bol môj útek, moja dezercia."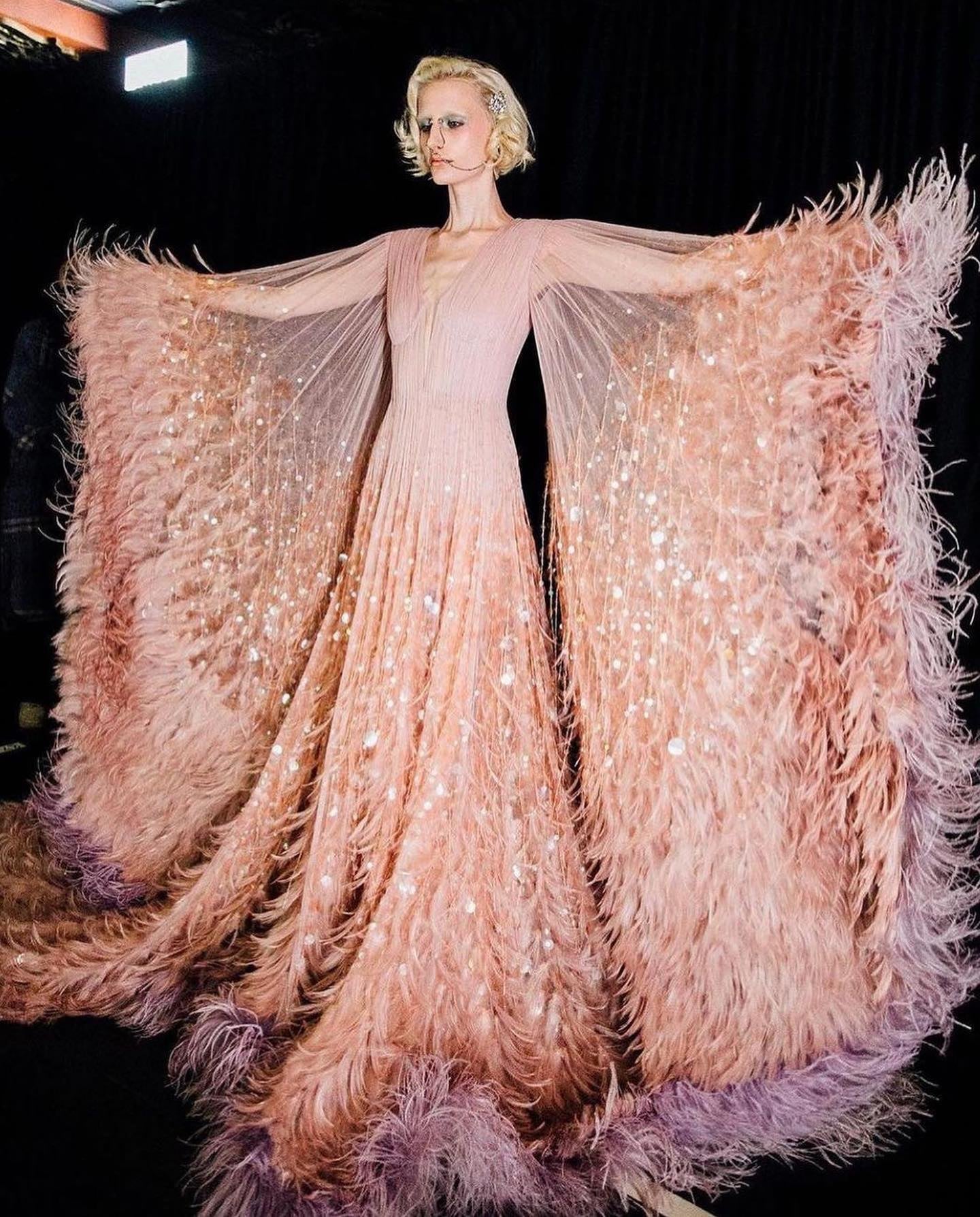 Taliansky módny dizajnér Alessandro Michele prevzal vládu nad Gucci módnym domom v roku 2015.
Alessandro Michele už dlho charakterizuje svoju verziu Gucci ako fantazmagorickú krajinu predstierania, nekonečnú telenovelu zachytenú niekde medzi tanečným hedonizmom začiatku 70. rokov a nadmernou extravaganciou rokov 80-tych. Jeho psychedelické módne šou predstavené počas Milan Fashion Weeku sú vždy extrémnym módnym zážitkom, v ktorom sa snúbi krása charakteristického Gucci sálajúceho ugly chic štýlu.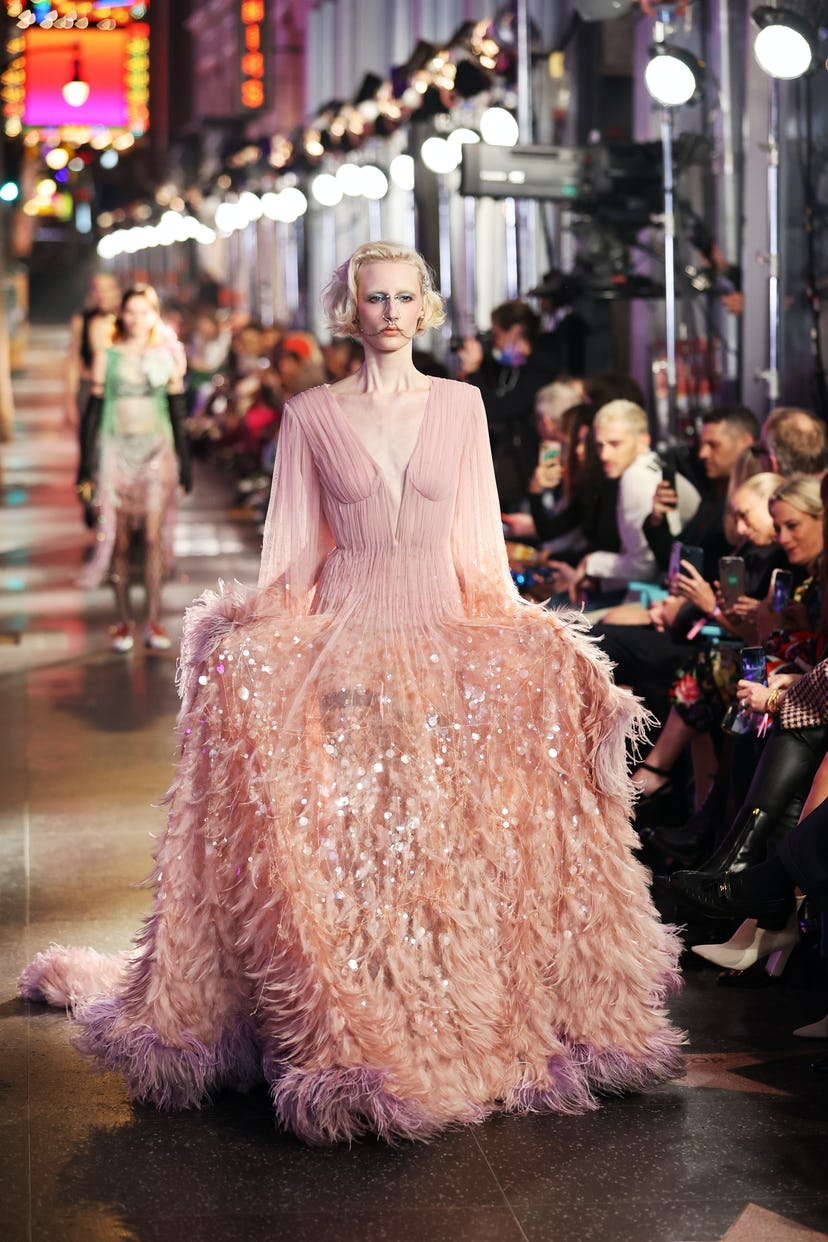 Na Love Parade značky Gucci, oslave 100. výročia značky, sa dizajnér zameral na Hollywood a Chodník slávy premenil na svoju prehliadkovú dráhu. Pôdu pre celoživotnú afinitu k starému Old Hollywood glamour pripravila mladému dizajnérovi práve jeho matka pracujúca vo filme. Dizajnér tak v ranej mladosti nadobudol poetiku o pominuteľnej moci, ktorú má v rukách Hollywood a v poznámkach pre módnu show uviedol:
"Tento bulvár hviezd dokonale podporuje moju neskrotnú lásku ku klasickému svetu," povedal Alessandro Michele. Návrhár sa však teraz rozhodol odkloniť od plastickej povrchnosti Hollywoodu a namiesto toho pripomenul hercov a herečky ako hrdinov gréckeho mýtu.
"Hollywood je predsa grécky chrám obývaný pohanskými božstvami. Herci a herečky sú tu uznávaní ako hrdinovia mýtu, hybridné bytosti so schopnosťou udržať božskú transcendenciu a zároveň smrteľnú existenciu, imaginárnu aj skutočnú. Sú to idoly novej súčasnej kozmogónie, stelesňujúce pretrvávanie posvätna. Afrodita, Theseus, Pandora a Medusa stále žijú na hollywoodskom Olympe."
Najnovšia módna prehliadka Gucci s názvom Gucci Love Parade prevzala ikonický Hollywood Boulevard v Los Angeles skrz výstavnú šou, ktorá stelesnila pravé kúzlo starého Hollywoodu.
Prehliadka 115 lookov mala určitú nadčasovosť a zahŕňala eklektickú prítomnosť celebrít s nezameniteľnou tvárou značky, hercom Jaredom Leto.
Kolekcia z prehliadky Love Parade obsahovala množstvo flitrových show topov a skvostov, ktoré sa pravdepodobne objavia na červenom koberci pri udeľovaní cien v roku 2022. Mnohostranné stereotypy Hollywoodu boli všetky reprezentované Gucciho módnou fraškou.
Nová kolekcia ponúkla širokú škálu pútavých kompletov, ódy na farebné osobnosti Hollywoodu. Odevy zahŕňali na mieru šité dvojradové blejzre spárované s volánovými blúzkami a vestami s hlbokým strihom, krajčírske šitie a umenie, saténové obleky vo viacerých farbách, zamatové obleky, svetlozlaté saténové šaty s plisovanými akcentmi , pierkové boa po zem, tropické súpravy, nápadné róby s operenými detailmi a oveľa viac.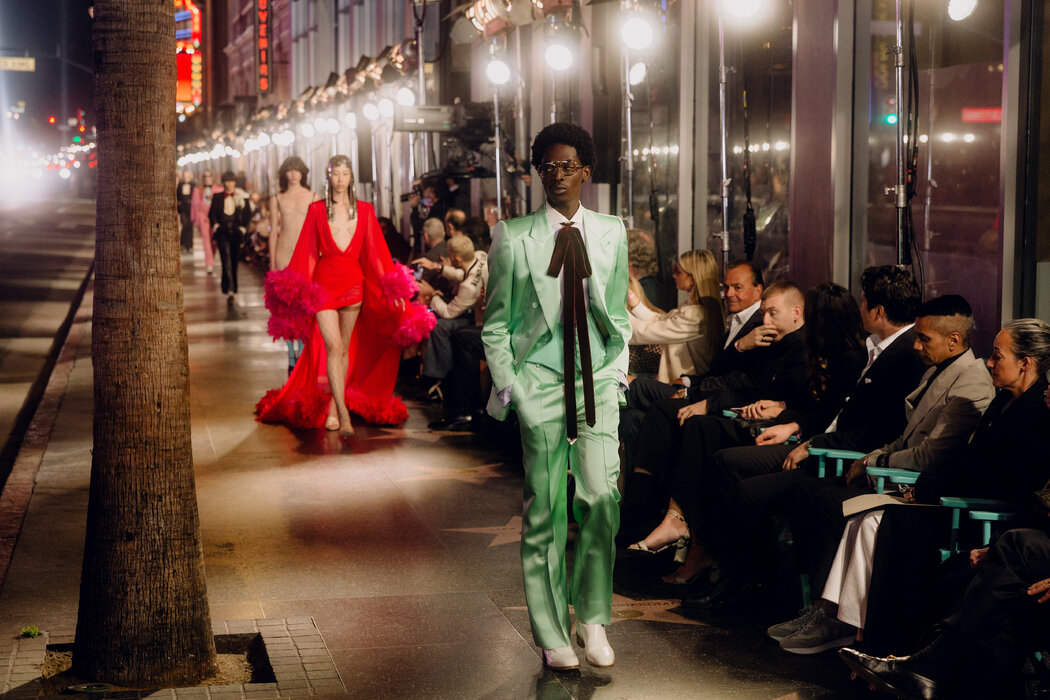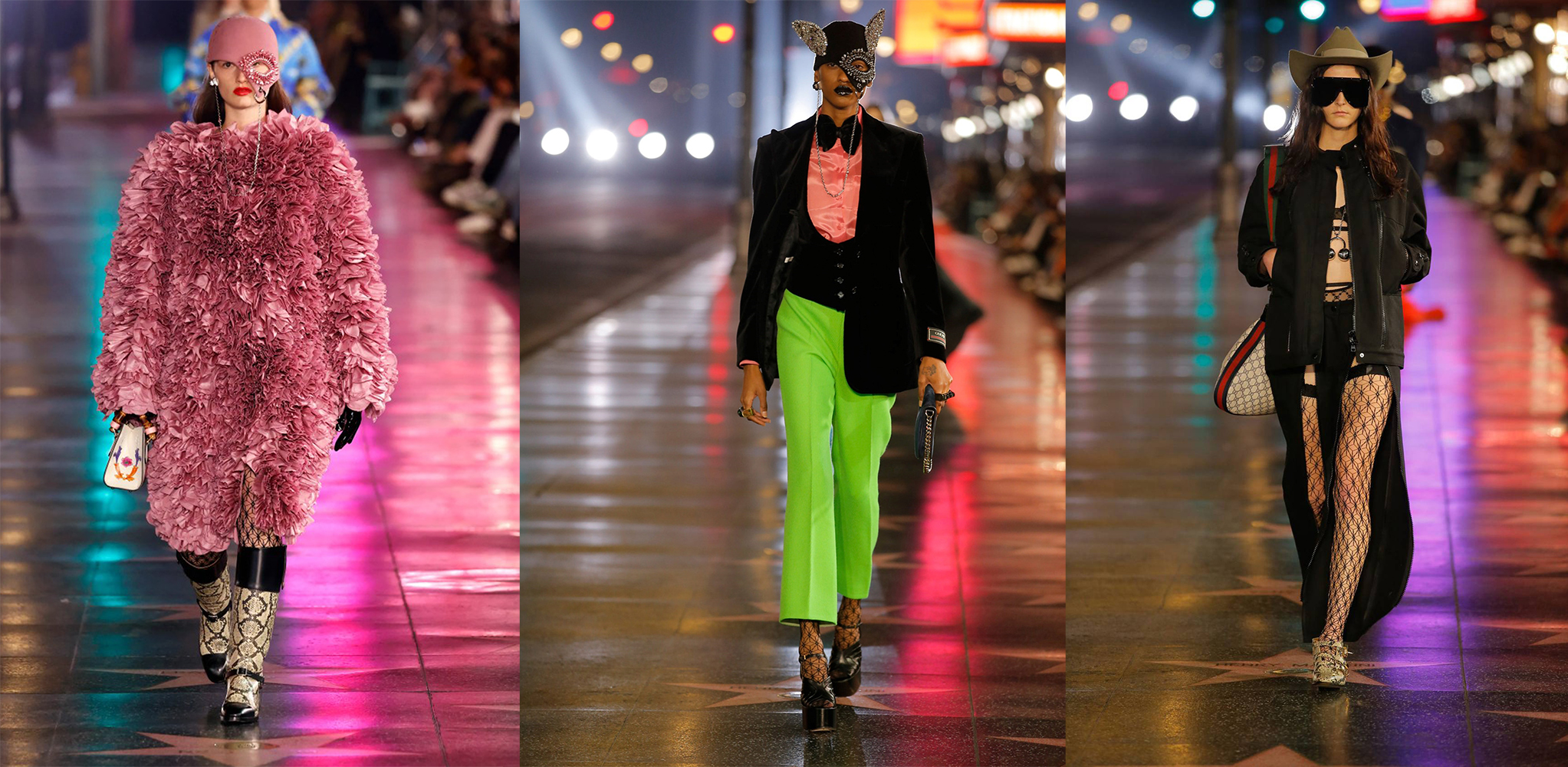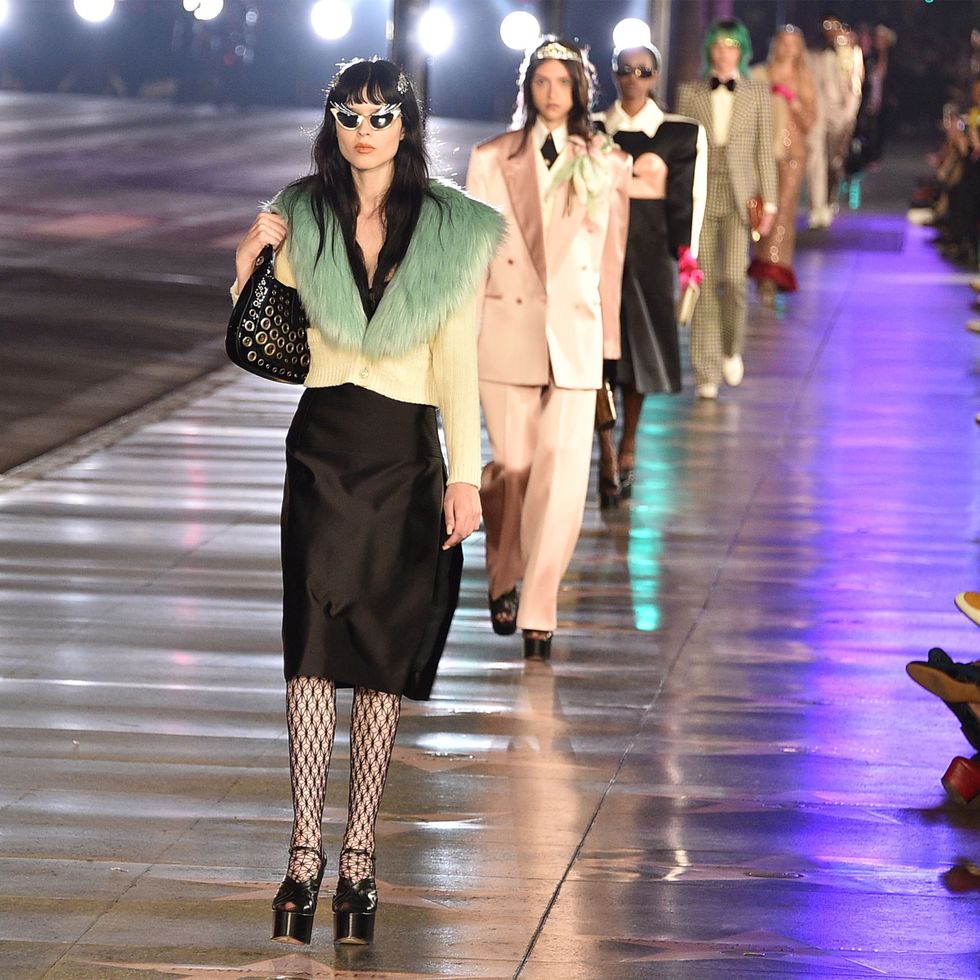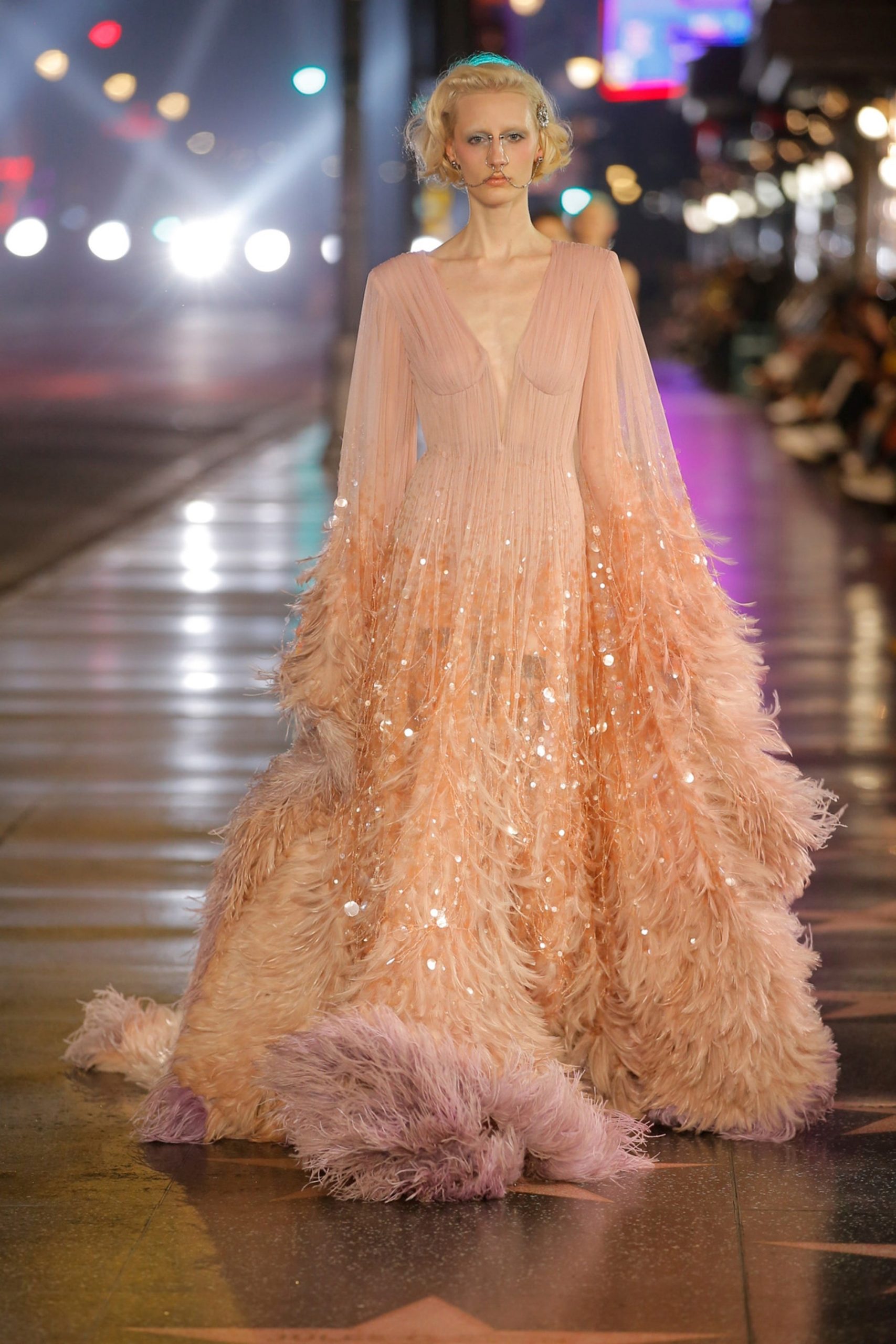 Alessandro Michele, známy svojim maximalistickým prístupom , pričom nie je viazaný na tradície starého sveta, vidí módu ako spôsob, akým ľudia komunikujú svoju pravú podstatu – spôsob, ktorý sa neustále mení s ročnými obdobiami a časom.
Módny a filmový priemysel sú pritom úzko prepojené. Či už ide o ikonické štýlové momenty v kultových obľúbených filmoch alebo oslavy celebrít s kreatívnymi dizajnérmi na Met Gala, tieto dva svety sa prelínajú už od ich zrodu. S oddanými fanúšikmi vrátane Harryho Stylesa a Dakoty Johnsonovej ukázal Alessandro Michele v najnovšej šou moderné prevedenie talianskeho domu plného výstrednosti a volánových blúzok.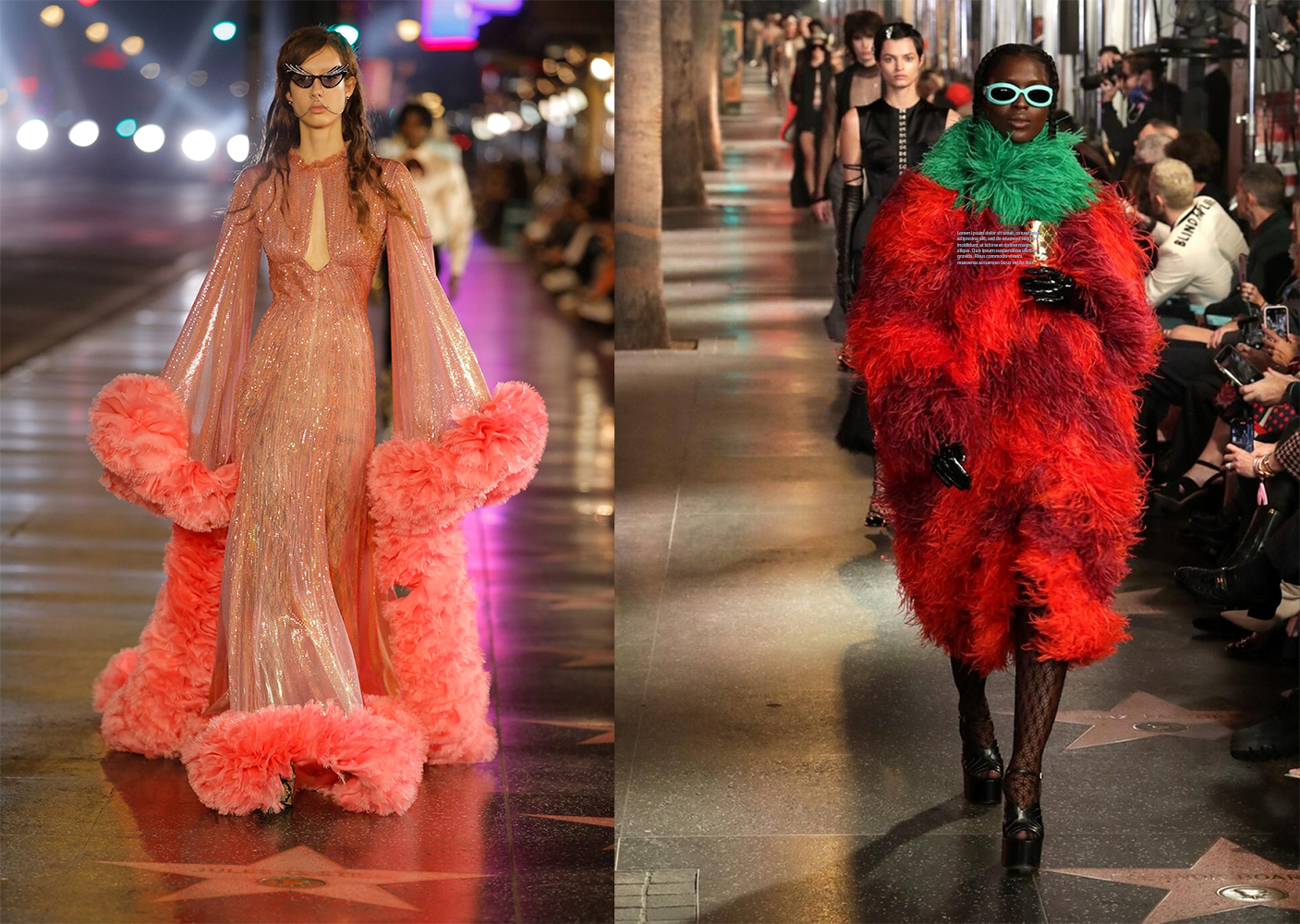 Marilynine čierne saténové rukavice boli spárované so zlatými spodnými šatami. Objavili sa aj v čipkovanej verzii, ktorá dopĺňala odstupňované čipkované šaty, ktoré mala na sebe Quannah Chasinghorse a so šnúrkami v kombinácii s ružovým slipom a diadémom na Tess McMillan, ktoré ladili s plesovým lookom Sissy Spacek Carrie.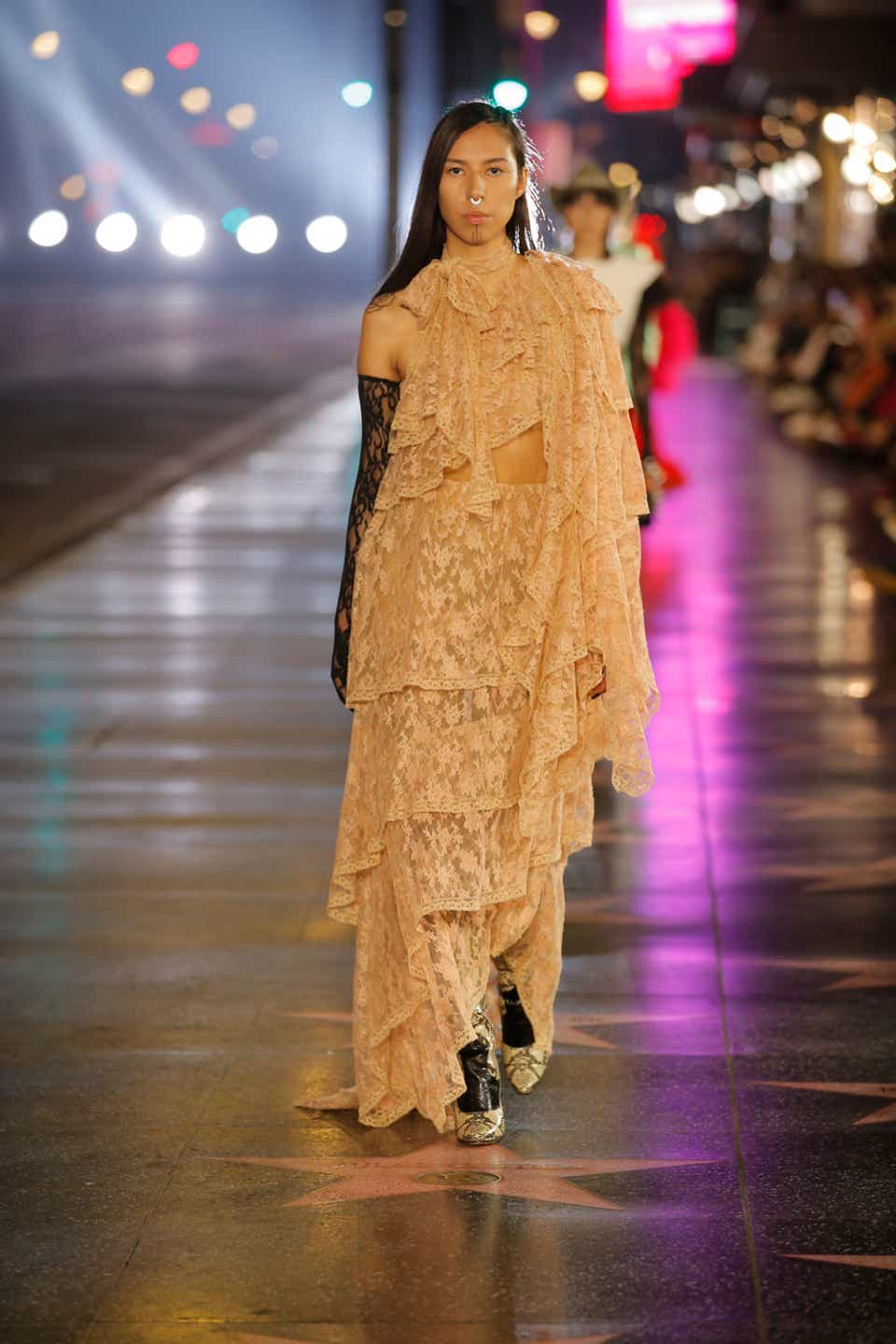 Krajčírstvo inšpirované pánskymi odevmi, ktoré preslávila Marlene Dietrich, bolo opakujúcim sa motívom, vrátane jej ikonického smokingu, aktualizovaného v ružovej farbe.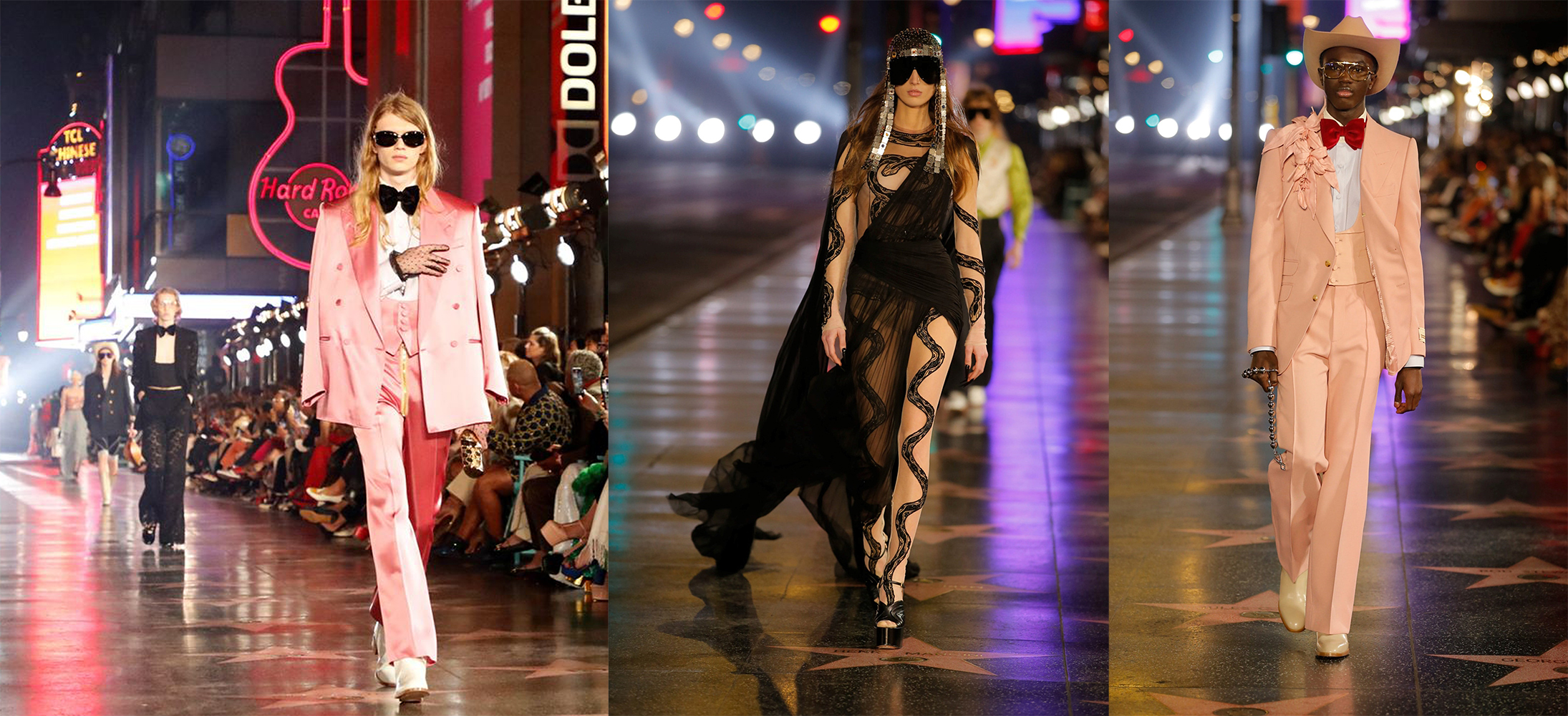 Ďalšou Gucci témou módnej šou Love Parade bola plesová noc s trblietavými čelenkami posadenými na hlavách, žuvačkovými ružovými saténovými plesovými oblekmi s kvetinovými živôtikmi pripnutými na hrudi, mätovo zelenými kožušinovými štólami a výrazne vyšívanými a flitrovanými róbami, ktoré zametali podlahu.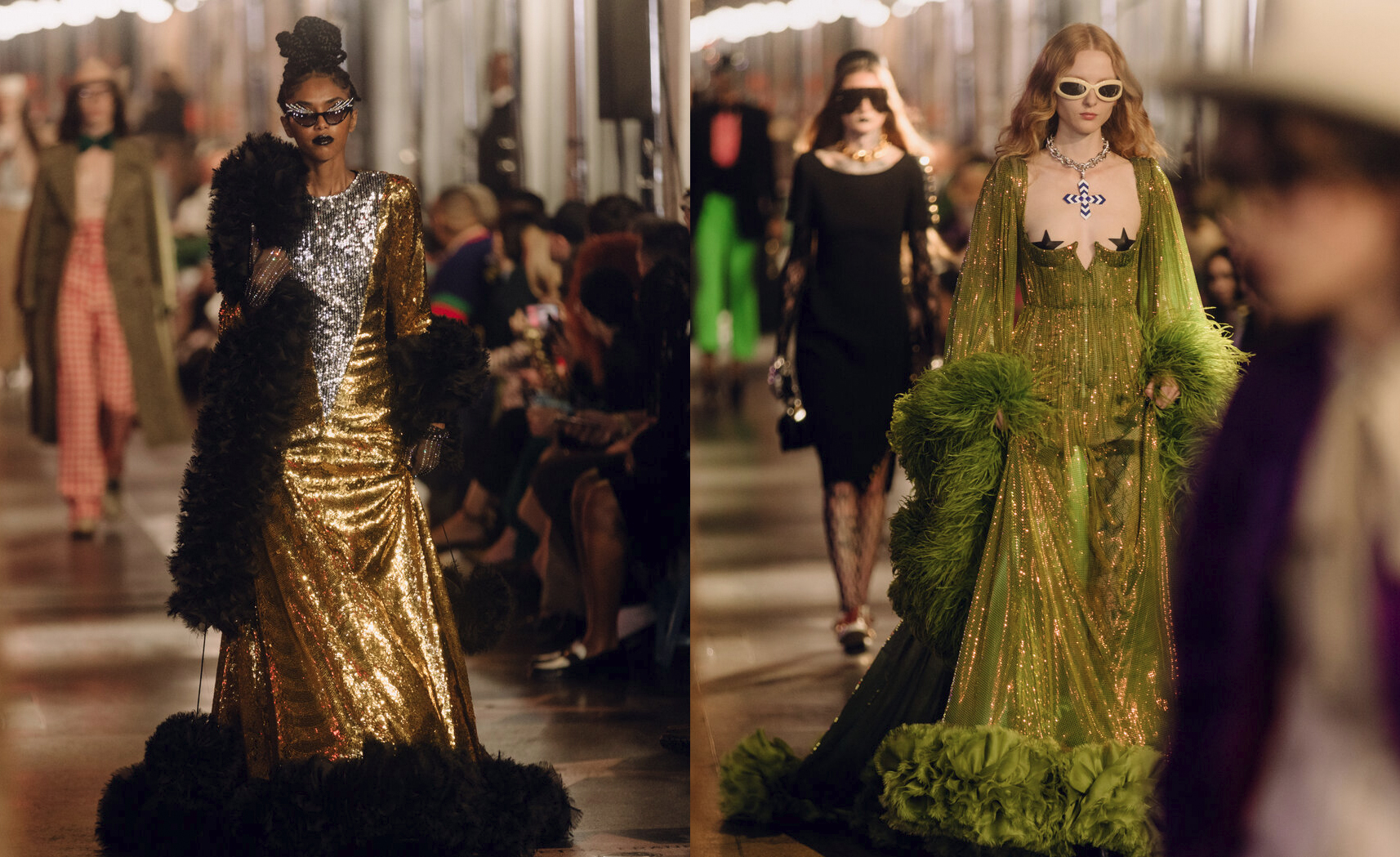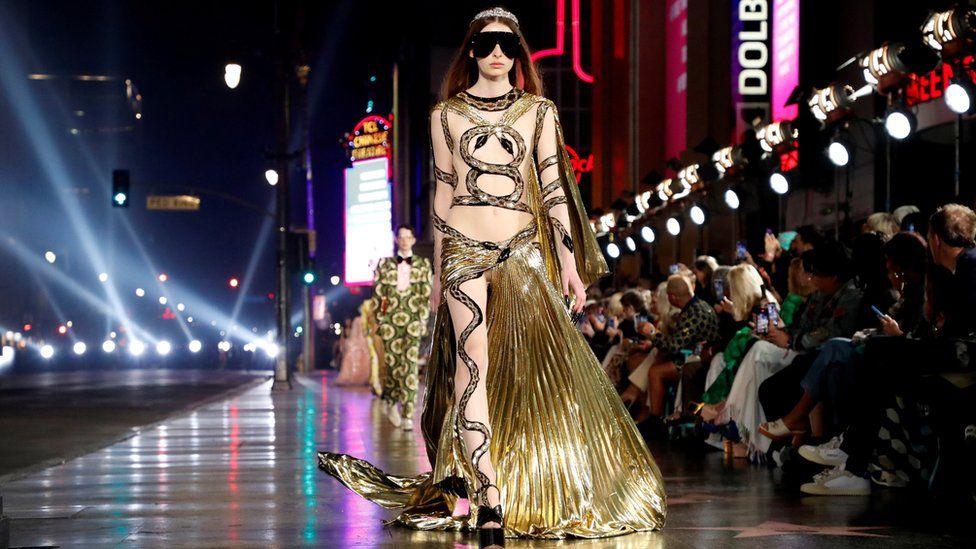 Nechýbali ani sexi momenty s koženými rukavicami v štýle BDSM, spodnou bielizňou ako vrchným oblečením v čipkovaných šatách a pančuchami s nahými živôtikmi. Prišli hlboké červené minišaty s trblietavou pokrývkou hlavy v štýle Kleopatry a dráma nasledovala aj pri plisovaných zlatých šatách prepletaných hadími motívmi.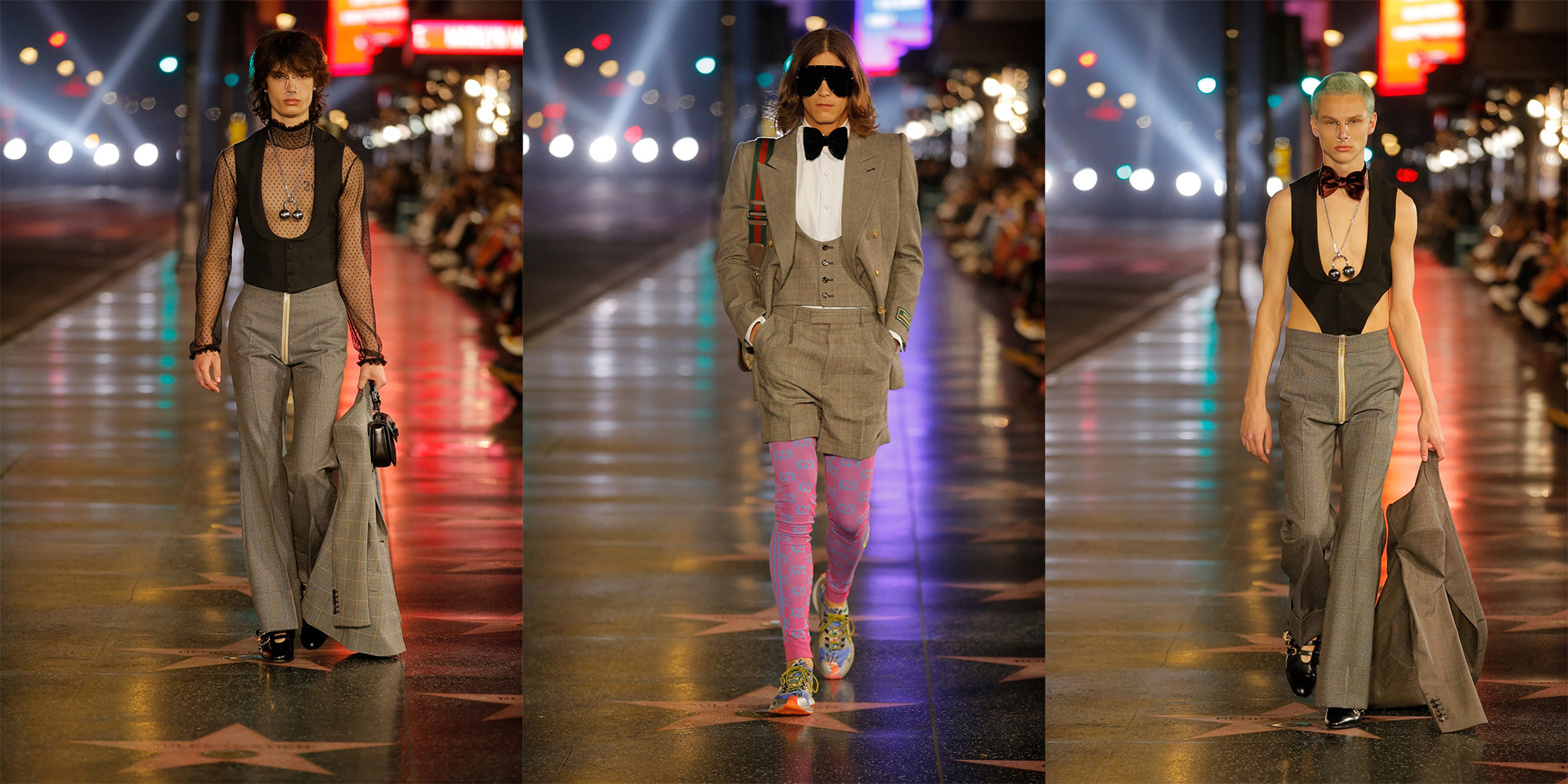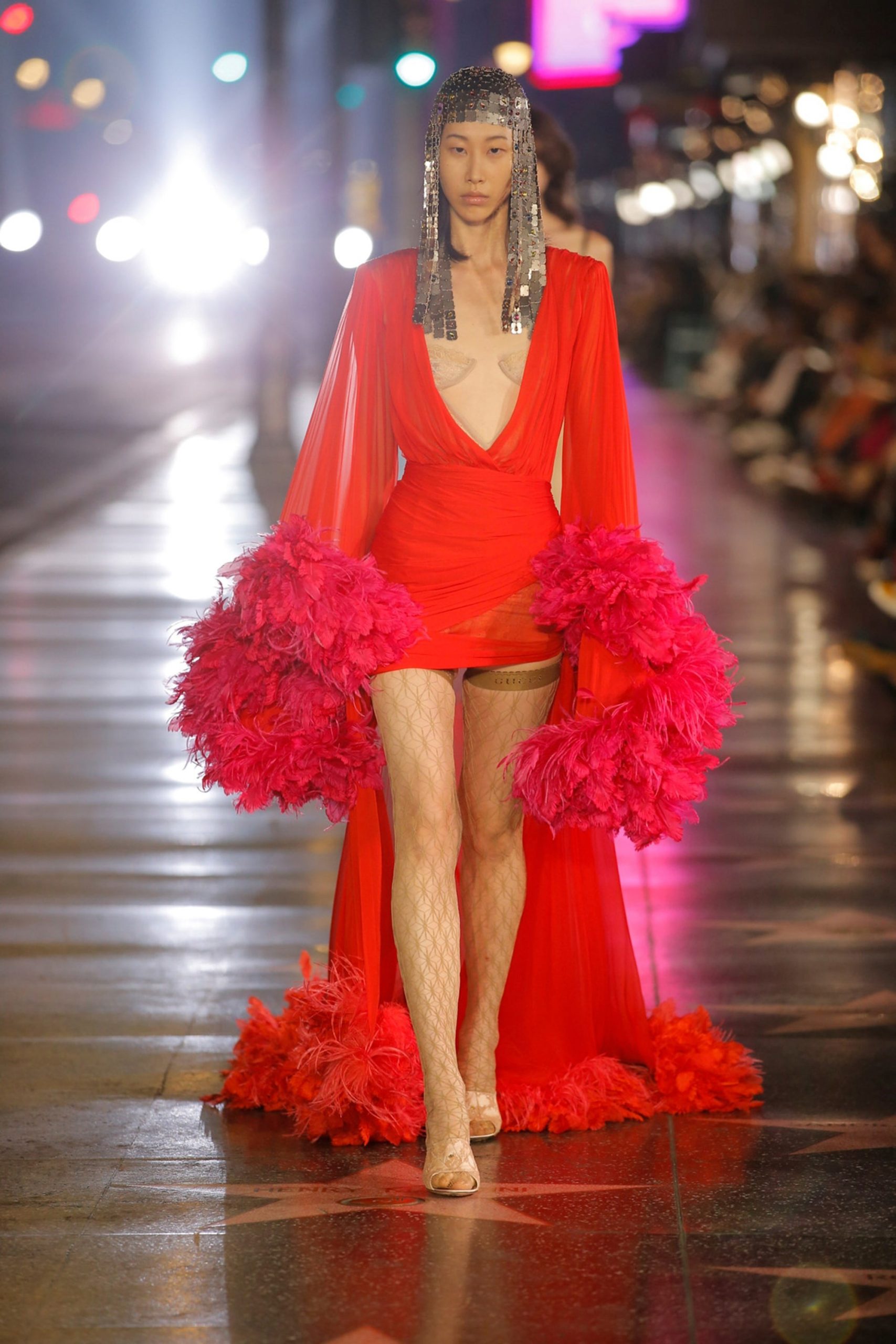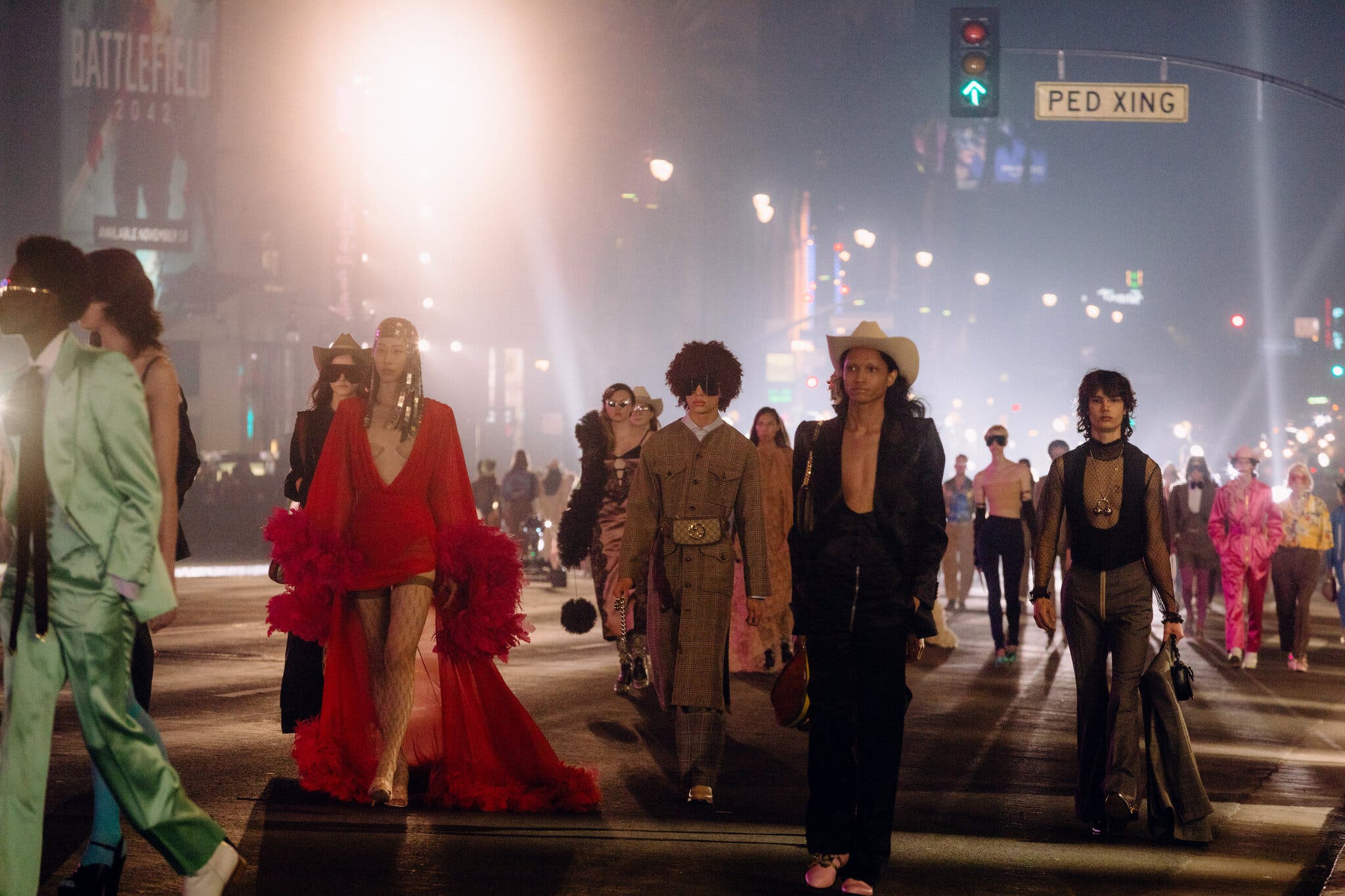 Cyklistické šortky Gucci dodali trochu podvratnosti v kolekcii, opäť v kombinácii s hranatým sakom, či sa objavili neónové detaili na pánskych legínach so sakom a slnečnými okuliarmi, ktoré doslova chránili celú tvár. Celkom vhodný model do aktuálnej pandemickej situácie.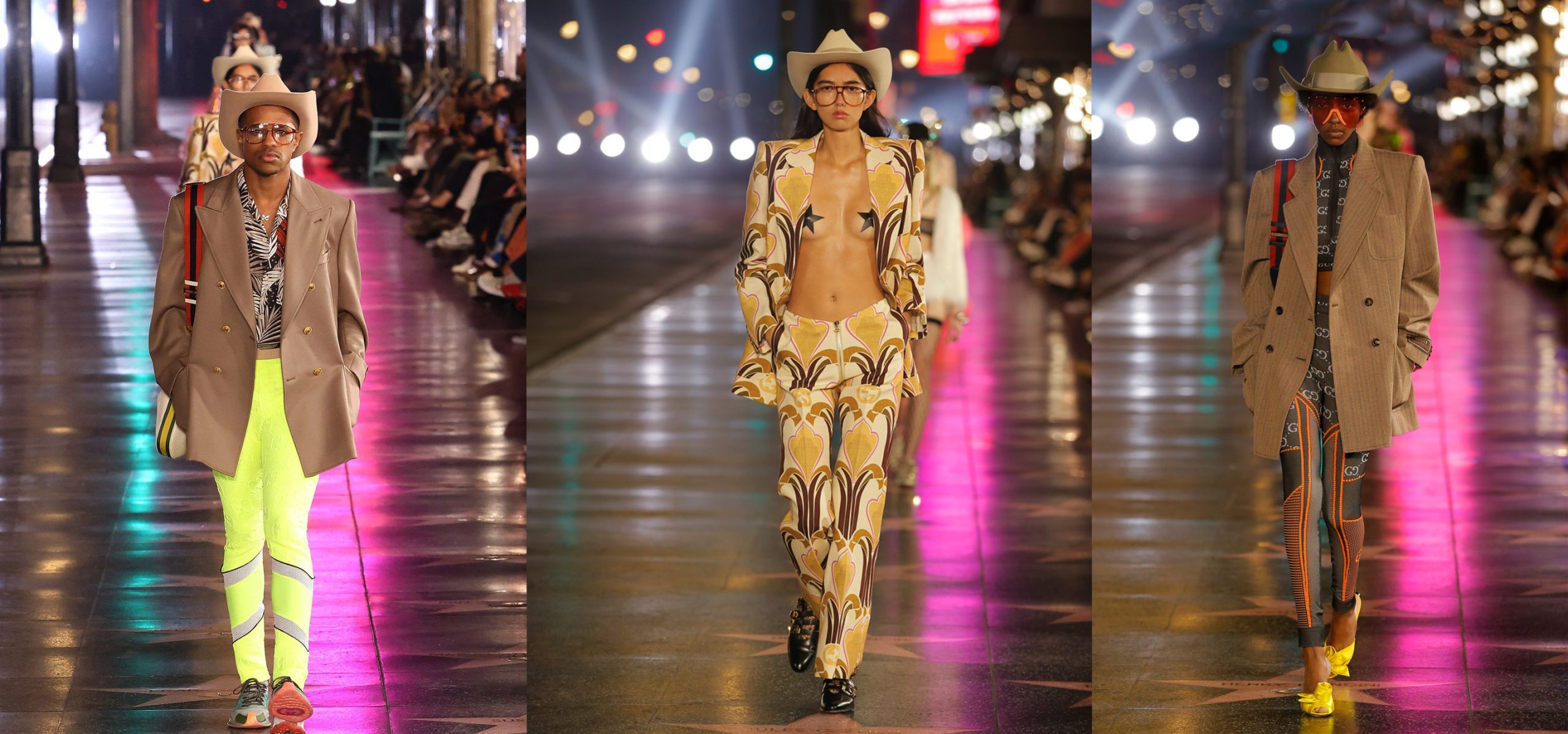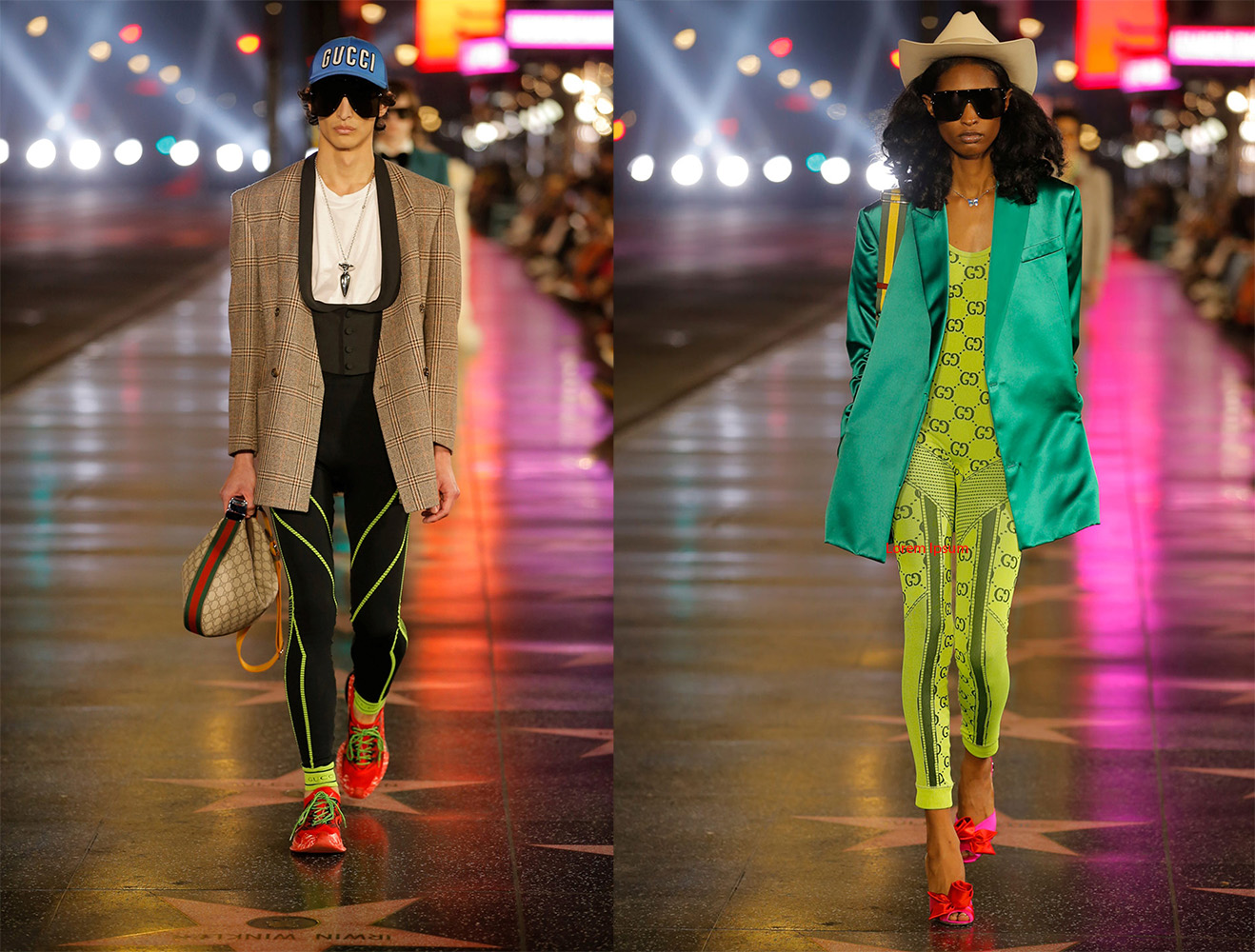 S extrémnymi pierkami, flitrami a starostlivými výšivkami vyniesol Gucci vpred svoj vysnívaný stav, zhmotnil svoju nodobú predstavu s modelkami, ktoré v dramatickom finále rozmarne pochodovali po bulvári. Tentoraz však Michele zaviedol svojich divákov do reality a úplnej predstavy, rovnako ako pri jeho detstve a božskej transcendencii, ktorú si túto sezónu tak zamiloval.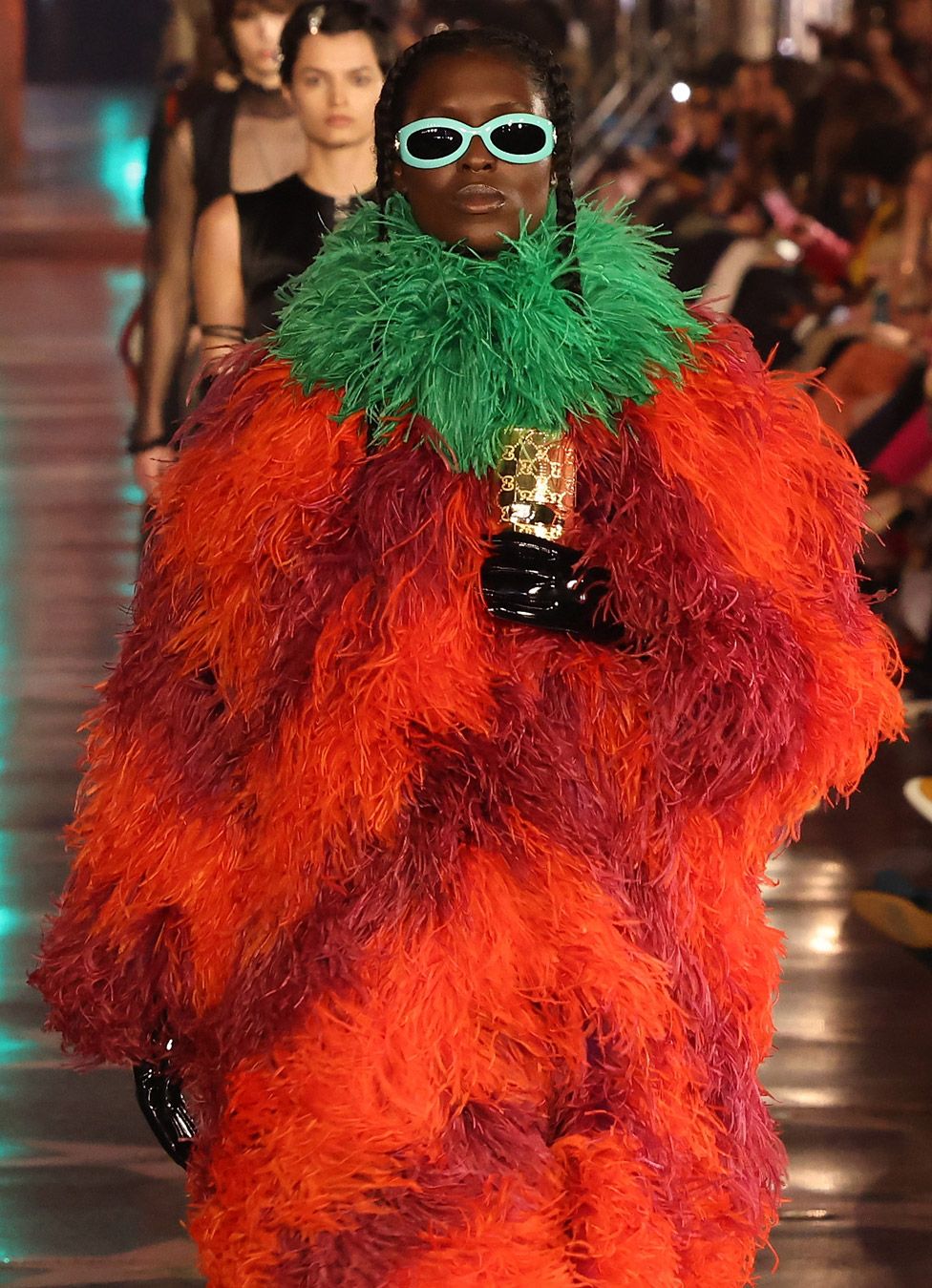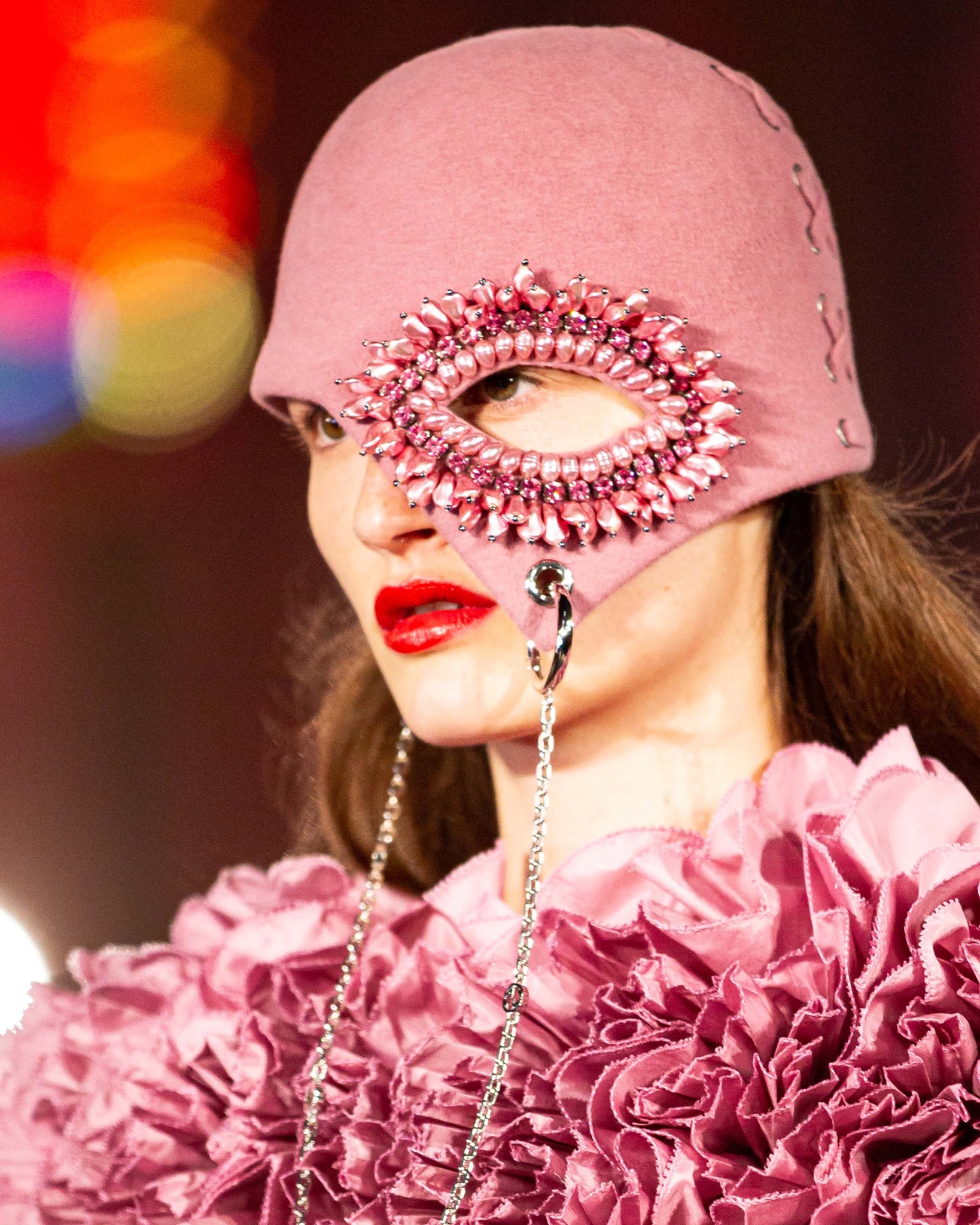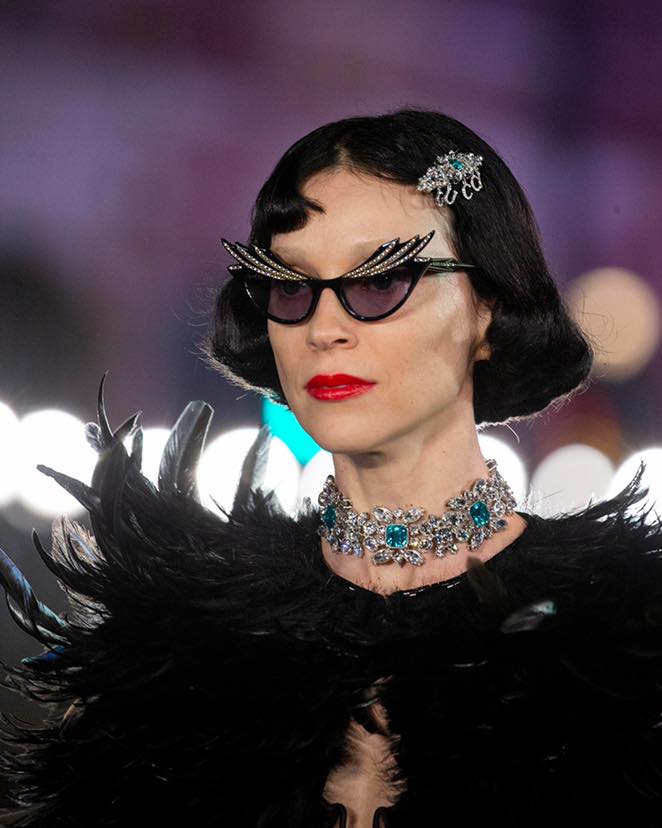 Po skončení promenády sa v zákulisí zhromaždila tlač, aby počula dizajnéra hovoriť o svojej inšpirácii pre toto neuveriteľné módne predstavenie. "Nedávno som premýšľal o tom, do akej miery je značka, pre ktorú pracujem, spojená s kinom," povedal Alessandro Michele. "Zatiaľ čo iné značky majú korene v aristokracii a buržoázii, Gucci má korene v kine…takže po uzamknutí to bolo ako ísť domov, toto miesto vybral osud."
obrázky © Gucci, GQ Italia, getty images
Sledujte Facebook stránku: Mya Mirell Fashionista and Instagram: mya_mirell.