MÓDA Z BAFTA 2020 AWARDS – CENY BRITSKEJ FILMOVEJ AKADÉMIE, NAJÚŽASNEJŠIE MOMENTY A MÓDNE KREÁCIE VEČERA
Ďalšie predoscarové ceny sú rozdané a udialo sa tak na filmovom galavečeri BAFTA 2020. Ceremoniál BAFTA je britským ekvivalentom Oskarov a pokračovaním Zlatých Glóbusov – Golden Globes.
73. ročník BAFTA – Ceny britskej filmovej akadémie, sa konal v magický dátum 2.2.2020 v slávnej londýnskej Royal Albert Hall. Na udalosti sa zišli veľké osobnosti z filmového sveta , známe tváre Hollywoodu. Najväčšími hviezdami večera sa však stali princ William s manželkou Kate Middleton. Udeľovali sa prestížne ocenenia , ktoré si prebrali herci Joaquin Phoenix, Renée Zellweger a Laura Dern za jednotlivé kategórie. Úspech zožala aj vojnová dráma 1917 od režiséra Sama Mendesa, ktorá si odniesla až 7 cien a stala sa tak filmom roku.
Tento rok azda najpálčivejšie vystúpila do popredia otázka ochrany životného prostredia, udržateľnosti a to sa dotklo aj módneho biznisu a dizajnérov. Tí na to samozrejme reagujú vo svojich kolekciách už dávnejšie. Na pozvánke na filmový galavečer BAFTA 2020 sa preto kládol dôraz práve na dress code a to v zmysle udržateľnosti. Odovzdávanie cien na tomto ročníku malo byť symbolom karbónovej neutrálnosti v zmysle čo najmenšieho dopadu na prírodu a tak aj červený koberec bol plne recyklovateľný.
Zraky všetkých módnych nadšencov sa aj na tomto podujatí ako na predošlých upierali na prítomné hviezdy a ich róby, ktoré predviedli na červenom koberci. Po predošlých filmových eventoch, ktoré boli pre mňa miernym sklamaním treba povedať, že niektoré prítomné hviezdy tu konečne pozitívne prekvapili. Výber celebritných rób pôsobil nenútenejšie a o to viac im pristali, hviezdy predviedli zaujímavý štýl i noblesu. Výber toho najlepšieho vám ponúkam v krátkom zhodnotení:
Galavečer BAFTA 2020 prekvapil, hviezdy ako vidno sa nebáli farieb a farebná paleta bola očividne favoritným zámerom. Predviedli tak úžasné farebné kreácie, ktoré sme na predošlých galavečeroch nevideli. Najmä nie takýto famózny model v podaní Jodie Turner Smith.
JODIE TURNER SMITH – GUCCI
Absolútny wow efekt spôsobila tehotná herečka Jodie Turner Smith, ktorá zažiarila a to doslova v nádhernej žltej róbe Gucci s flitrami na červenom koberci. V kombinácii s jej tmavou pleťou a nekonvenčnosťou hodnotím tento model na plných 10 bodov.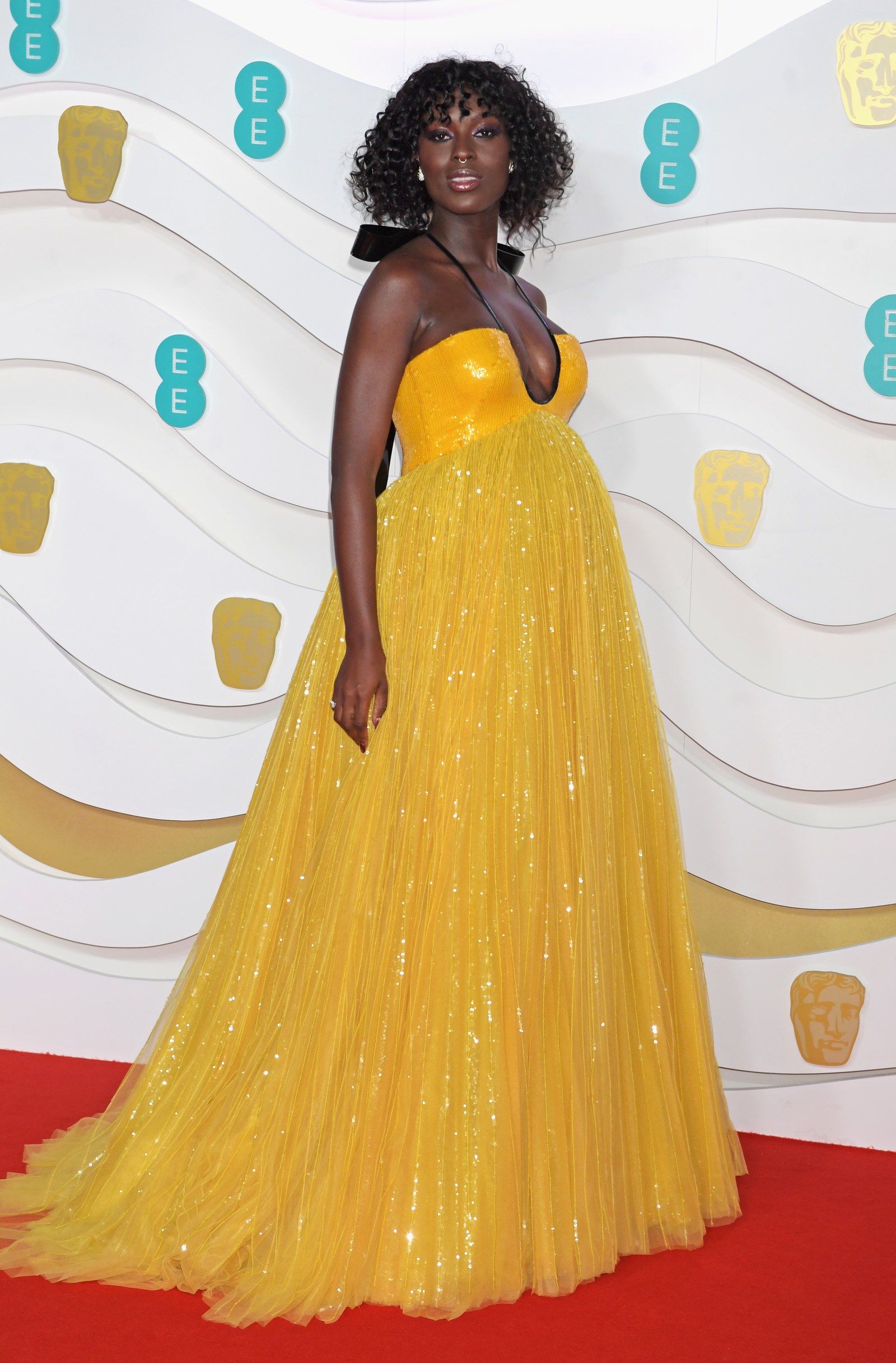 Vyrazený dych vďaka Gucci šatám za nekonvenčnosť, žiarivosť, odvážnosť, predvedenú gráciu a živú radosť spôsobila Jodie Turner Smith. Asi sa budem opakovať, keď pripomeniem, že žltá je moja najobľúbenejšia farba, ale na červenom koberci by som ju veru v tak fantastickom prevedení nečakala.
CHARLIZE THERON – DIOR COUTURE
Herečka Charlize Theron po predošlých filmových galavečeroch, kde zvolila veľmi konzevatívny look, v ktorom pôsobila nežensky a upnuto, stavila konečne na svoju ženskosť a predostrela svoju krásu v plnej paráde. Prišla v nádherných farebných plisovaných šatách sýtej fialovej farby od módneho domu Dior s hlbokým dekoltom. Farba, strih aj celkový look Charlize bol ohromujúci. Rovnako účes, ktorý nebol príliš uhladený a nepôsobil konečne formálne, ale viac žensky, zvýraznil jej pravú krásu. Šarmantná blondínka bola nominovaná za najlepšiu herečku v hlavnej roli za film Bombshell. A ja len držím palce.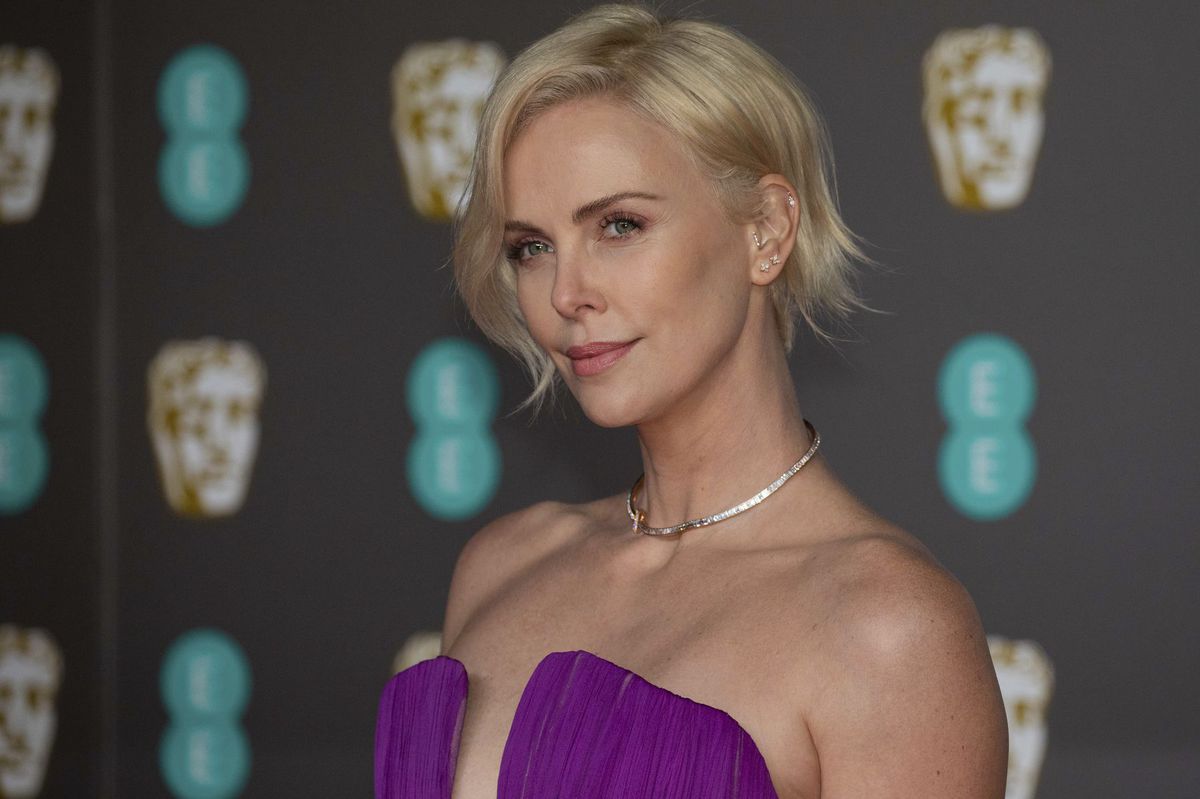 Jemná a zdravá pleť Charlize Theron pridala tomuto looku na celkovom pôvabe. Decentne zvýraznené oči s koralovým nádychom blondínke svedčia, ovšem chýba mi tam jemný ťuk linkou na podporenie tvaru oka. Toto nenásilné prirodzené líčenie bolo však tiež akýmsi nutným dress codom, ktoré dodržali vcelku všetky hviezdy.
KATE MIDDLETON – ALEXANDER McQUEEN
Princ William s manželkou Kate Middleton ako čestní hostia a patróni tejto udalosti dokonale zvládli stanovený dress code a otázku udržateľnosti. Kate zažiarila v šatách od Alexander McQueen, ktoré mala na sebe už viackrát a tento outfit jej veľmi pasoval. Kráľovský pár sa galavečera zúčastňuje pravidelne a tento ročník bol pre nich v poradí desiaty. Kate mala nádherný účes a zvolené šperky korešpondovali so zlatou výšivkou na šatách. Vojvodkyňa sa na tomto podujatí stala nekorunovanou kráľovnou večera spomedzi všetkých prítomných hviezd.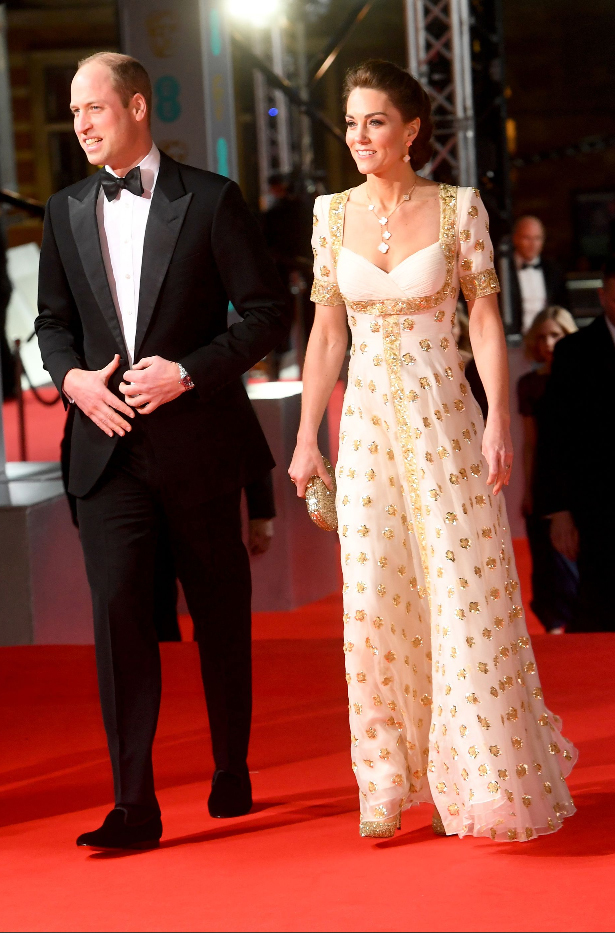 SCARLETT JOHANSSON – VERSACE
Po nezdarnom pokuse Scarlett Johansson očariť v červenom modeli Vera Wang s nezbednými prsiami na Golden Globes 2020 (moje hodnotenie), zavítala herečka na galavečer BAFTA v tomto nádhernom outfite z dielne Versace. Blondínka sa pýši označením najsexi herečka súčasnosti, s čím nesúhlasím (môj názor), no aj tento look ako aj nádherné petrolejové šaty od Armani Privé na SAG Awards, jej opäť veľmi pristal. Jej typu postavy, pleti aj vyžarovaniu pristala tak farba, ako aj sexi ženský rafinovaný strih bohato zdobenej ružovej róby Versace zvýrazňujúci krivky.
Scarlett teda nebola ekologická, pretože róba sa pýšila bohatým flitrovým zdobením a nádherným pštrosím perím na sukňovej časti, no vyzerala famózne. Vpredu mali šaty výrazne krojený sexi dekolt, ktorý jej až tak nesedel, ale udržal všetko tak, ako mal a vzadu bol odhalený chrbát. Je vidno, že Scarlett na svojej nízkej postave popracovala a je vo forme a tak je rada ozdobou večierkov. Tento model jej svedčil ďaleko viac ako červená róba od Vera Wang. Teraz pôsobí jej vzhľad dievčensky a zdravo fit a preto niet divu, že sa v takýchto sexi róbach cíti úžasne. U mňa má o bodík menej za tetovanie, ktoré kazí celkový nádherný look a presvitá práve cez vykrojené detaily.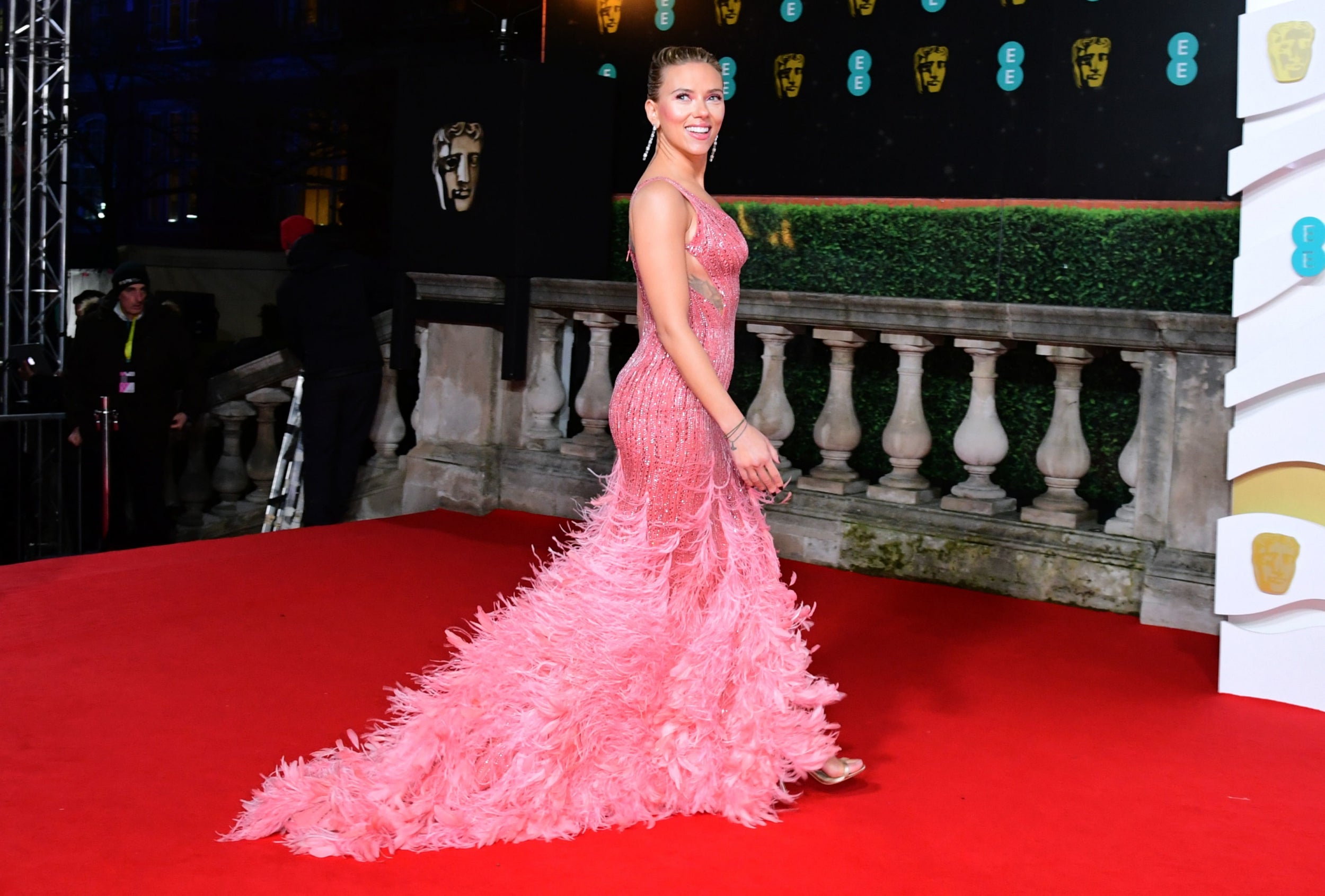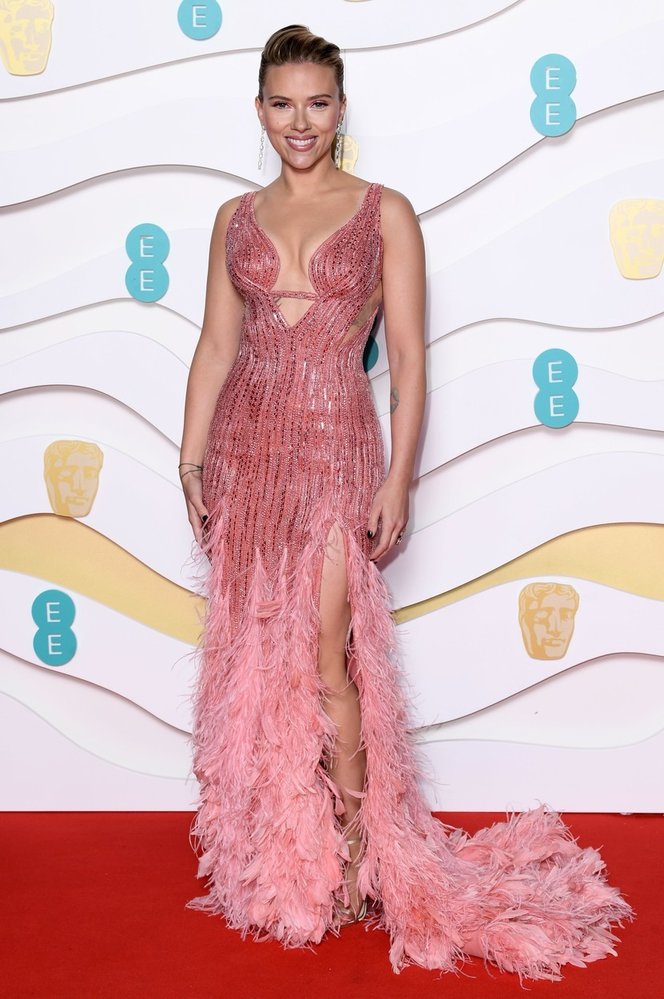 Účes Scarlett Johansson konečne nebol príliš uhladený nad čelom ako na Golden Globes 2020 a ladil s rozvoľneným pierkovým lemom sukne, i keď stále nie som s ním akosi stotožnená. Neviem, či by sa v jej prípade nedalo popracovať na hairstylingu o niečo lepšie. Scarlett pôsobila uvoľnene, v modeli sa evidentne cítila dobre a to len potvrdzuje pridaný úsmev. Dôvod na to má, veď už o pár dní sa budú konať slávne Oscary, kde zabojuje hneď o dva.
TATIANA KORSAKOVA – YANINA COUTURE
Očarujúcou krásavicou večera sa stala krehká ruská herečka Tatiana Korsakova. V bohatej volánovej róbe rusko-francúzskeho dizajnu Yanina Couture zavítala na červený koberec s gráciou ladnej červenej labute. Doplnky tvorila kabelka od Jimmy Choo a zelený náhrdelník od Davida Webba. Za mňa veľmi vydarená farebná kombinácia zelená s červenou, ktorú obľubujem, no zvolené psaníčko mi k tomu mierne neladilo. Náhrdelník tiež možno mohol byť o niečo subtílnejší. Každopádne herečka spôsobila na červenom koberci, s ktorým splývala, vlnu wow ošialu, zaplavila internet a zažiarila ako skutočná Diva.
V zaujímavej červenej róbe s vlečkovou sukňou prišla aj VICK HOPE.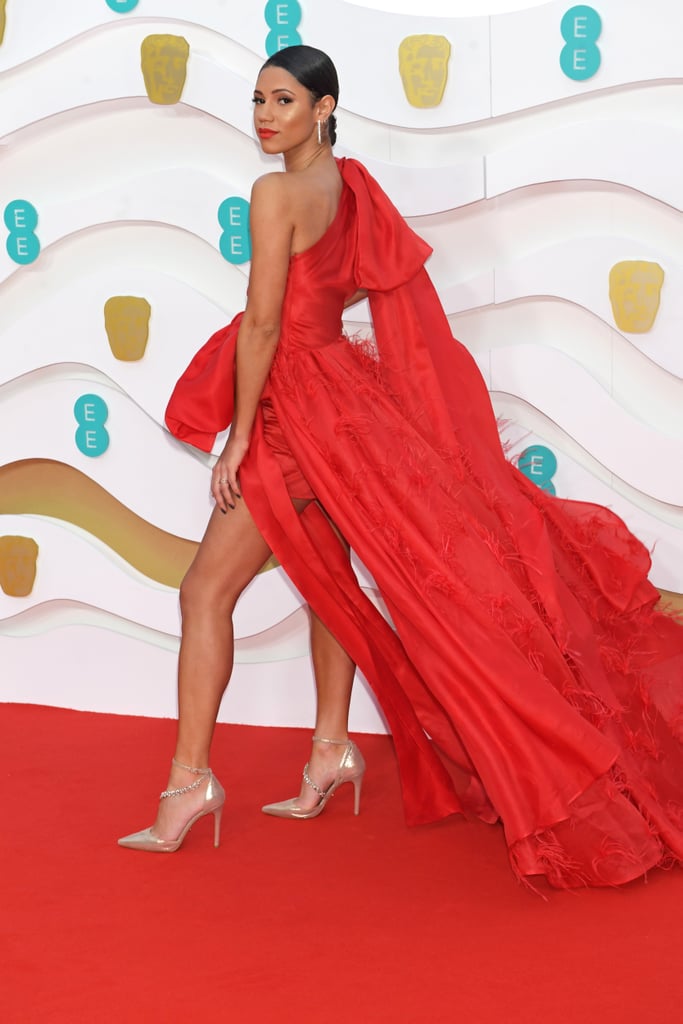 JOAQUIN PHOENIX – STELLA McCARTNEY
Herec Joaquin Phoenix tiež absolútne dodržal stanovený dress code a stavil na udržatelnosť v obleku od dizajnérky, ktorá sa sama roky zaoberá touto problematikou v módnom biznise. Oblek od Stella McCartney nosí na každé prestížne filmové podujatie. O nedávnej tvorbe návrhárky Stella McCartney a jej najekologickejšej kolekcii sa dočítate tu na blogu v článku s názvom : Najzaujímavejšie prehliadky Paris Fashion Weeku – Alexander McQueen, Stella McCartney , Maison Margiela, Givenchy, Jar / Leto 2020, časť II.
Fotografia: David Fisher/BAFTA/Shutterstock (10543636z)
RENÉE ZELLWEGER – PRADA
Ružová farba hrala zrejme prím pri vyberaní outfitov na BAFTA 2020 a túto nežnú farbu si zvolila aj herečka Renée Zellweger. Po predchádzajúcich filmových galavečeroch, kde sa mi Renée vo vybraných modeloch nepáčila, naopak v jemnom ružovom saténovom modeli Prada na tomto evente zažiarila. Pôsobila v ňom nežne, ostatne tak ako i v tých predošlých, ale tento tubový strih šiat jej dokonale sedel a príliš ju neupínal. Zvolený účes vkusne dotvoril jej celkový ženský elegantný old Hollywood look. Rozhodne očarujúca vizáž, ktorá predčila jej predošlé nezdary. V jednoduchosti je jej skrytá krása a jednoduchosť nepotrebuje dramatickú nadýchanú sukňu. Renée to veľmi dobre vie a tentokrát jej to vyšlo na plných 10 bodov bez chybičky. Jediný problém mám azda s tým stále rovnako vyzerajúcim úsmevom, ktorý na mňa pôsobí ako grimasa.
Prirodzený slušivý a elegantný účes, ktorý konečne herečke ladil so zvoleným outfitom bol už len čerešničkou na torte v jej dokonalom looku. Nahé líčenie, prirodzene pôsobiaca pleť, len jemne zvýraznená krása pridalo herečke na noblese a elegancii. A šperky? Na túto udalosť nevidíme veru žiadne honosné šperky v závratných číslach akými sa pýši predovšetkých Jennifer Lopez, začo jej aj ostatným dámam tlieskam. Renée zvolila art-deco náramky a prsteň od Davida Webba.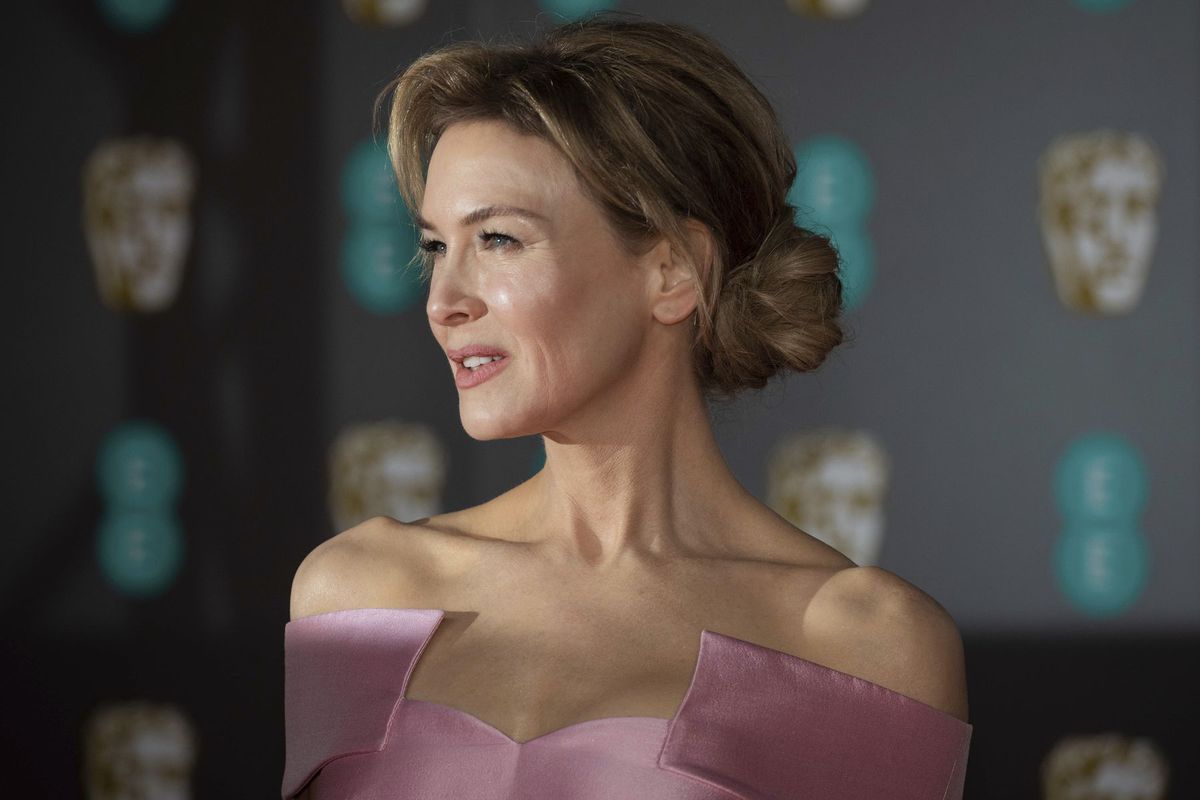 Zdroj: SITA/AP, Vianney Le Caer
VANESSA KIRBY – VALENTINO
Vanessa Kirby zvolila kombináciu dvoch skvelých elementov a to flitre a pierka. Komplet z dielne Valentino s burgundy tmavou sukňou končiacou na spodnom leme pierkami, doplnený flitrovým topom, je absolútne očarujúci. K tomuto looku netreba ani žiaden komentár, celkové pôsobenie hovorí samo za seba.
ROONEY MARA – GIVENCHY
Čierny glam štýl zvolila herečka Rooney Mara, ktorá v týchto nádherných šatách od Givenchy pôsobila síce smutne, ale ako veľmi očarujúca smutná princezná. Na niektorých iných fotografiách už pridala aj jemný úsmev. Krehká krása sa zračí v tomto modeli, kde všetko krásne vytvárajú najmä rukávy a balónový typ sukne s mini zdobením. Veľmi zaujímavý a elegantný večerný look, ktorý dokonale dotvára herečkin účes.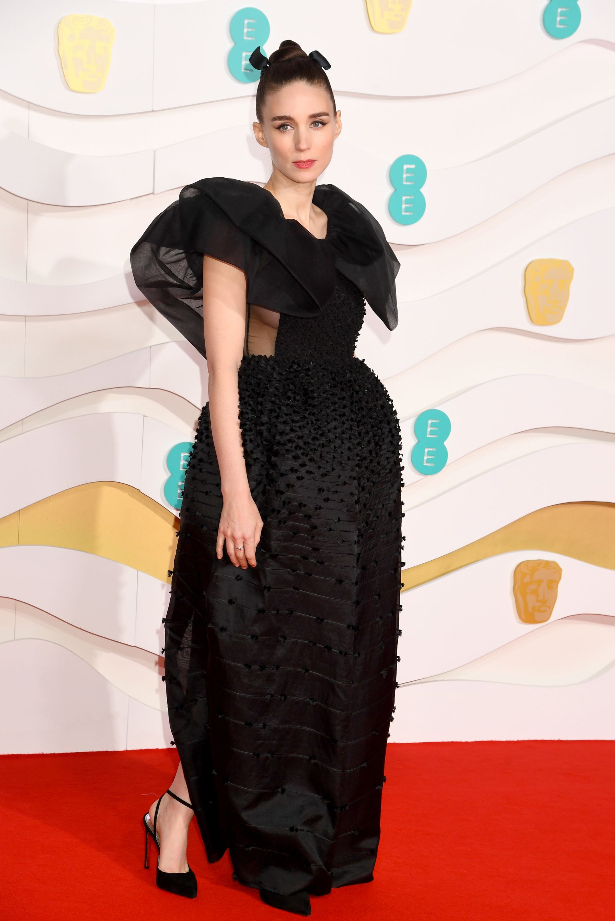 FLORENCE PUGH – DRIES VAN NOTEN
Frorence Pugh zavítala na galavečer BAFTA 2020 v extravagantnej róbe Dries Van Noten z poslednej kolekcie z Paris Fashion Weeku pre sezónu Jar/Leto 2020. Nie je to teda celkom model v štýle dress codu udržateľnosti, ale veľmi zaujímavý. Tento model ma očaril ihneď na prehliadke a dočítate sa o ňom v predchádzajúcom článku na tomto blogu s názvom : Dries Van Noten – Paris Fashion Week, kolekcia Jar/Leto 2020. Na tejto herečke sa mi však nezdal veľmi impozantný. Herečka je nízka a tiež vzhľadom na jej typ postavy, to nebola príliš vhodná voľba. Dokumentujú fotografie spredu.
Nič to ale nemení na skutočnosti, že má u mňa body za invenciu, nekonvenčnosť, farebnú expresivitu, životnú radosť, ktorá z toho modelu srší.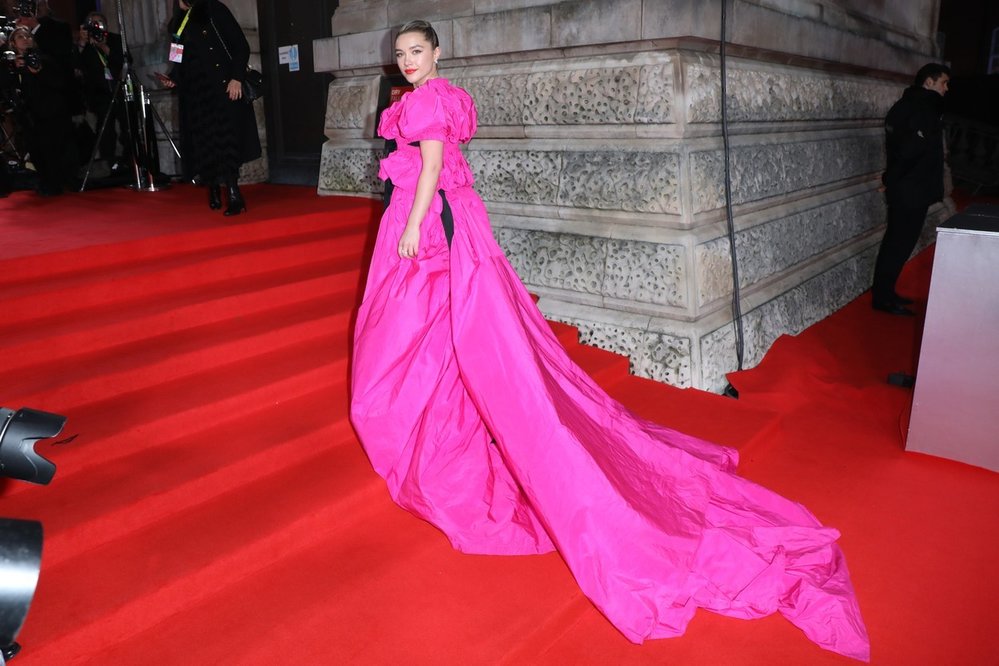 MARGOT ROBBIE – CHANEL HAUTE COUTURE
Austrálska herečka stavila na čiernu róbu z dielne Chanel Haute Couture, z kolekcie Jar / Leto 2020 v ktorej nemohla nič pokaziť. Na mňa tento look pôsobil trochu smutne . V Chanel modeli šiat s čipkou v oblasti rukávov, ramien a okolo pásu a s odhalených chrbtom bola elegantná, ale aj jemne sexi. Nebola až tak očarujúca a wow efekt sa nekonal, no rozhodne je toto jej lepší výber, aký predviedla na predošlých filmových eventoch.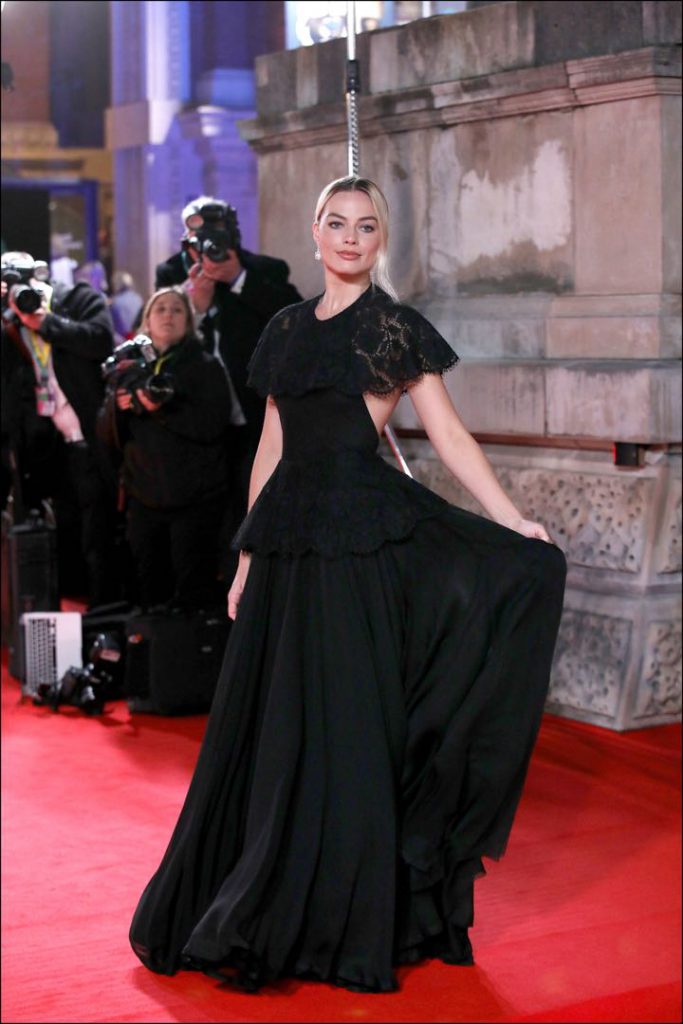 A na záver si myslím, že najviac ekologickí boli Páni herci, herecké legendy AL PACINO a ROBERT DE NIRO v ležérnom looku od ARMANI. Vzhľadom k veku patrí týmto pánom obdiv za to, že sú neustále aktívni a schopní podať kvalitný výkon.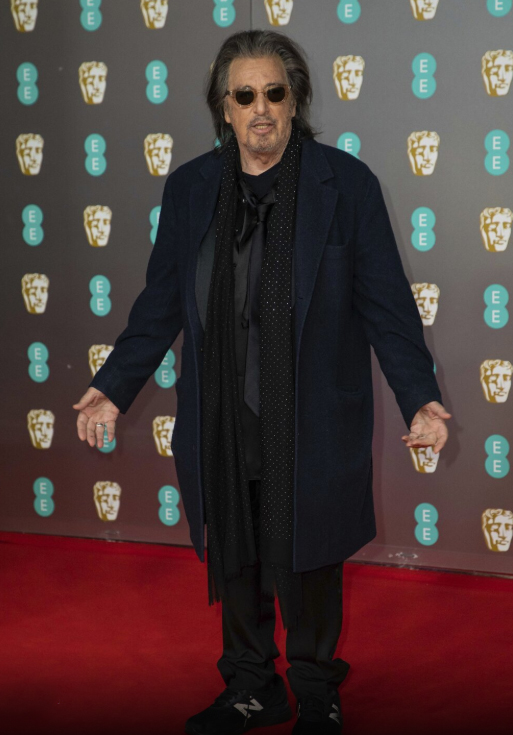 Al Pacino si dokonca ani veľkú hlavu z topánok nerobil. Ostatne BAFTA 2020 trvala na tom, aby si prítomné celebrity nedávali šiť nové luxusné róby na mieru, ale aby zvolili niečo menej náročné aj vzhľadom k životnému prostrediu.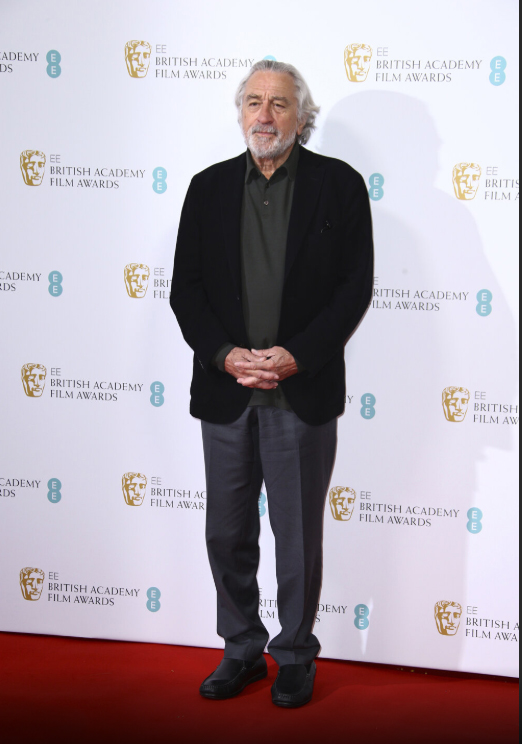 zdroj obrázkov: Getty Images, shutterstock, pinterest
Sleduj ma tiež na:
2 Instagramy: myamirell ,
mya_mirell
Facebook: Mya Mirell Fashionista,
Mya Mirell