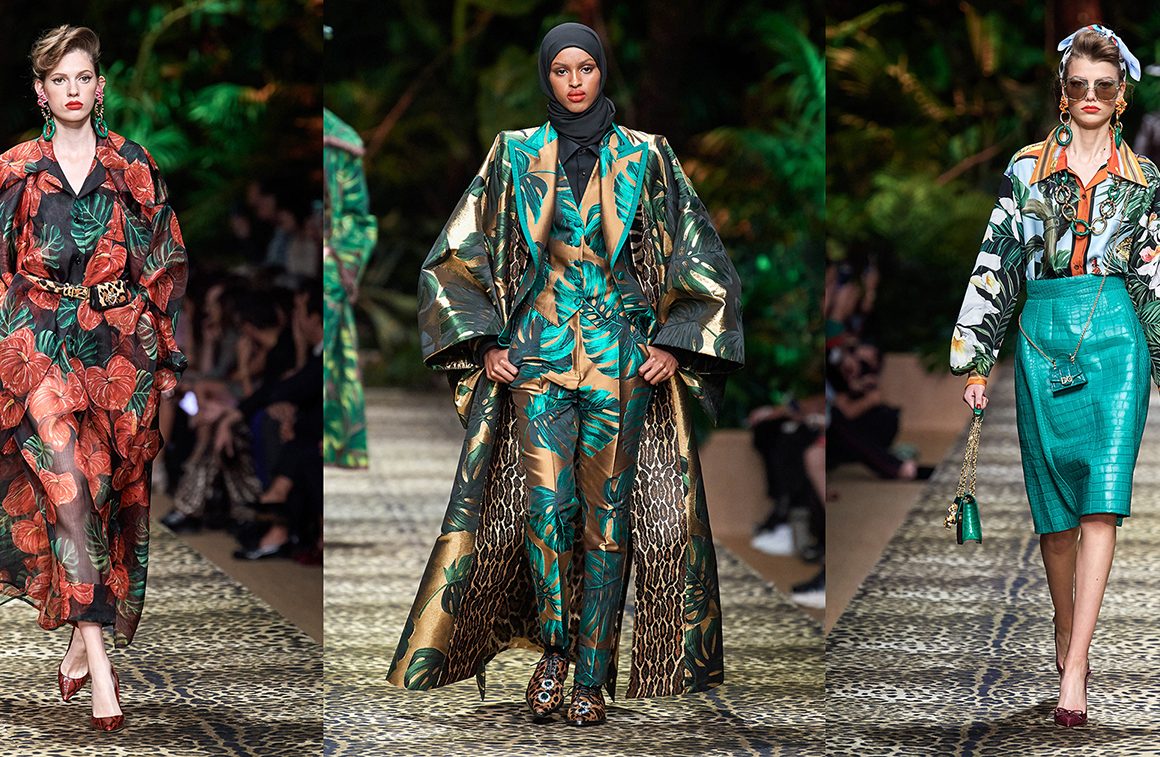 Džungľa a pralesné motívy ako nové trendy pre Jar / Leto 2020 – Milan Fashion Week, safari štýl, potlače v kolekciách značiek Versace a Dolce and Gabbana
Džungľa a pralesné motívy boli hlavnom témou prehliadok talianskych dizajnérov Milan Fashion Weeku pre sezónu Jar / Leto 2020 v septembri 2019. Objavili sa tak v kolekcii módneho domu VERSACE, kde na móle zahviezdila svetová celebrita a módna ikona JENNIFER LOPEZ, ako aj u ostatných dizajnérov.
VERSACE
Absolútnou hviezdou milánskeho módneho týždňa sa v septembri 2019 stala speváčka a módna Diva JENNIFER LOPEZ, ktorá strhla pozornosť celého sveta v šatách značky VERSACE. Nová verzia slávnych šiat, v ktorých sa blysla v roku 2000 na udeľovaní cien Grammy, doslova rozbila internet. Jej chôdza po móle, tzv. catwalk a dychberúci sexi look vypracovaného tela, bol strhujúci a najbombastickejší zážitok Milan Fashion Weeku, aký priniesla iba značka Versace.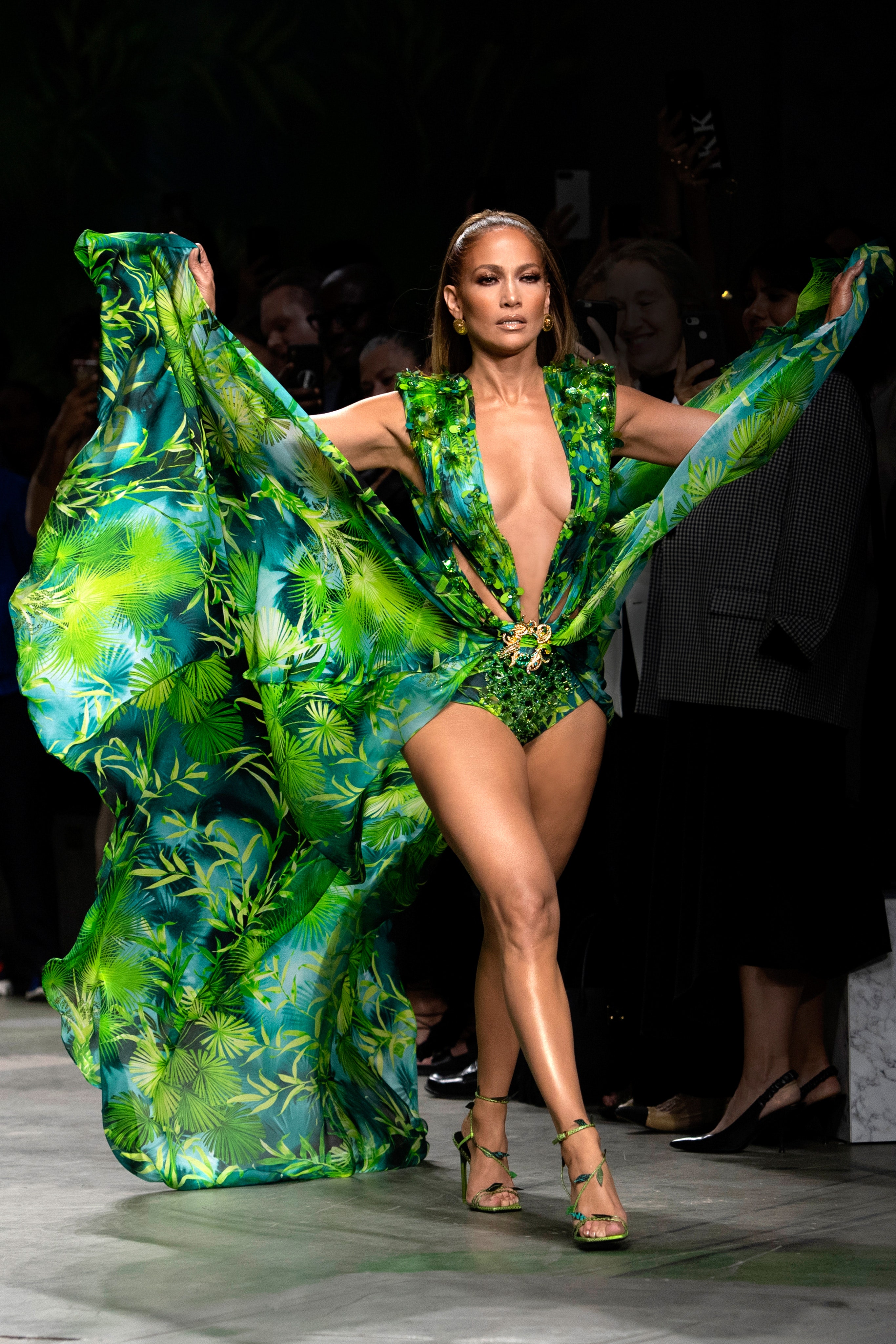 Módna návrhárka DONATELLA VERSACE (na foto vpravo) už roky pracuje so speváčkou Jennifer Lopez. Aj pre túto letnú sezónu 2020 nafotila Jennifer novú kampaň v spolupráci so značkou Versace (čítaj nasledujúci článok tu na blogu).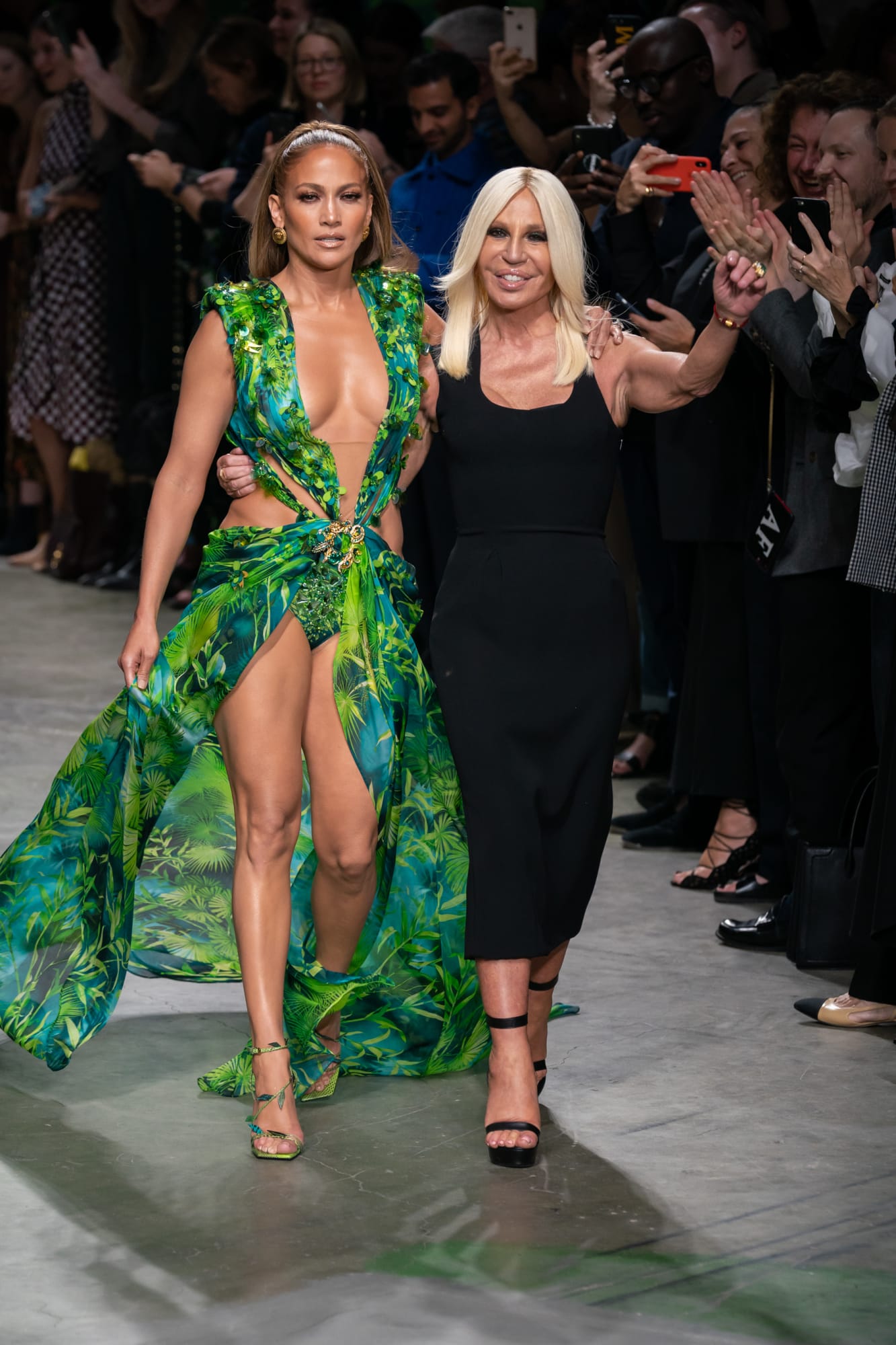 V jarno-letnej sezóne 2020 sa teda pripravte na závan tropickej sviežosti a ľahkosti, ktorá zavíta do našich šatníkov.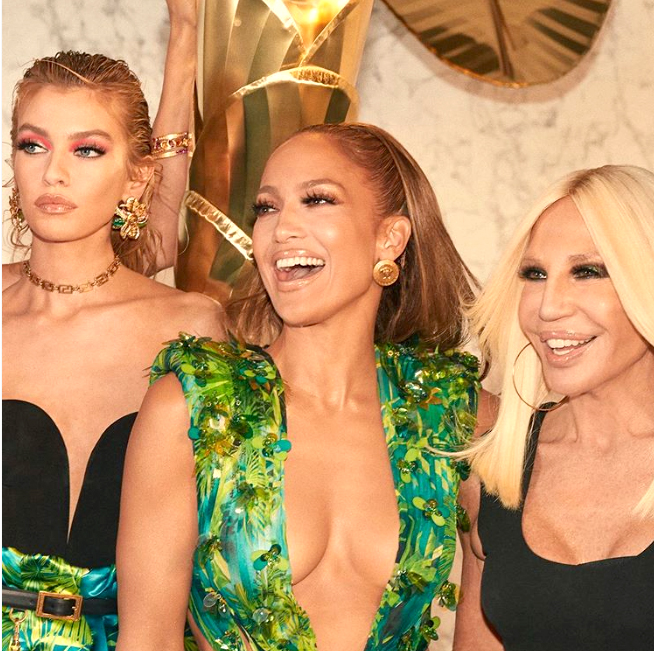 zdroj: instagram Versace
Preslávené šaty a zábery spred 20. rokov sexi latino krásky v pôvodnej verzii šiat Versace vtedy obleteli svet a stali sa pamätnou módnou kreáciou tak, ako aj nedávna prehliadka Versace z roku 2017 na počesť 20-ročného výročia úmrtia brata Gianniho Versace (čítaj článok tu na blogu v článku : Versace – Jar / Leto 2018, Milan Fashion Week, 22.september 2017).
Model týchto šiat bol zaradený do zoznamu kultových módnych kreácií a Jennifer akosi zázrakom nestratila na kráse, pôvabe ani na mladosti.
zdroj: getty images
Už v tom čase spôsobila o 20 rokov mladšia spevácka a módna diva svetový rozruch a virálny ošial. Tento sexi model s hlbokým dekoltom odhaľujúcim pupok z priesvitného materiálu a tropickou potlačou, ktorú teraz značka vynovila, si stiahlo rekordných 600 000 ľudí. A keďže google obrázky v tom čase neexistovali, skolabovala aj stránka a samotný internet. Od toho času sa datuje vznik prvých google images (obrázkov) a to vďaka Jennifer Lopez. Tento model sa zapísal do módnych dejín a šaty patria k najikonickejším šatám módneho domu Versace.
Šaty z kolekcie Versace – Jar/Leto 2020 – na fotografii vľavo v porovnaní so šatami spred 20. rokov na udeľovaní cien Grammy.
Šaty z kolekcie Versace – Jar/Leto 2020, ktoré predviedla Jennifer Lopez na prehliadke značky Versace a na fotke spolu s návrhárkou – na fotografii vpravo, v porovnaní so šatami spred 20. rokov na udeľovaní cien Grammy – fotografia vľavo.
VERSACE – KOLEKCIA JAR/LETO 2020
Prehliadka značky Versace sa konala počas Milan Fashion Weeku, v septembri 2019 v piatok večer. Donatella pripravila divákom opäť nevídané módne divadlo v podobe šiat s divokou exotickou potlačou, ktoré vynovila.
Pralesné potlače, florálne vzory a krikľavé farby budú hrať jarnú a letnú sezónu 2020 prím. V podaní značky VERSACE modelky predviedli šaty, nohavice, šortky, bundy, saká, kostýmy a doplnky.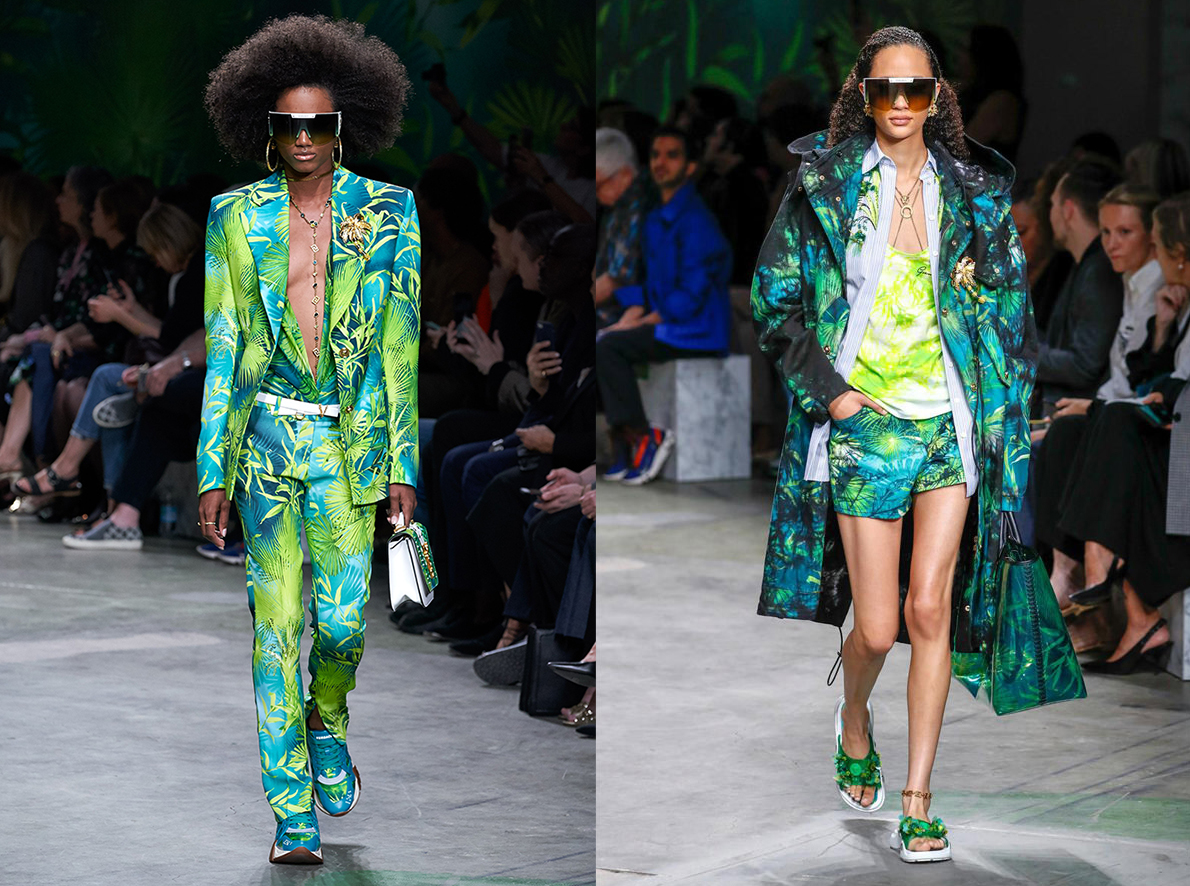 Pridajte svojmu šatníku vyšší level a nechajte sa inšpirovať čierno-zelenými flitrovými koktailovými šatami z dielne kolekcie dizajnérky Donatelly Versace pre Jar / Leto 2020.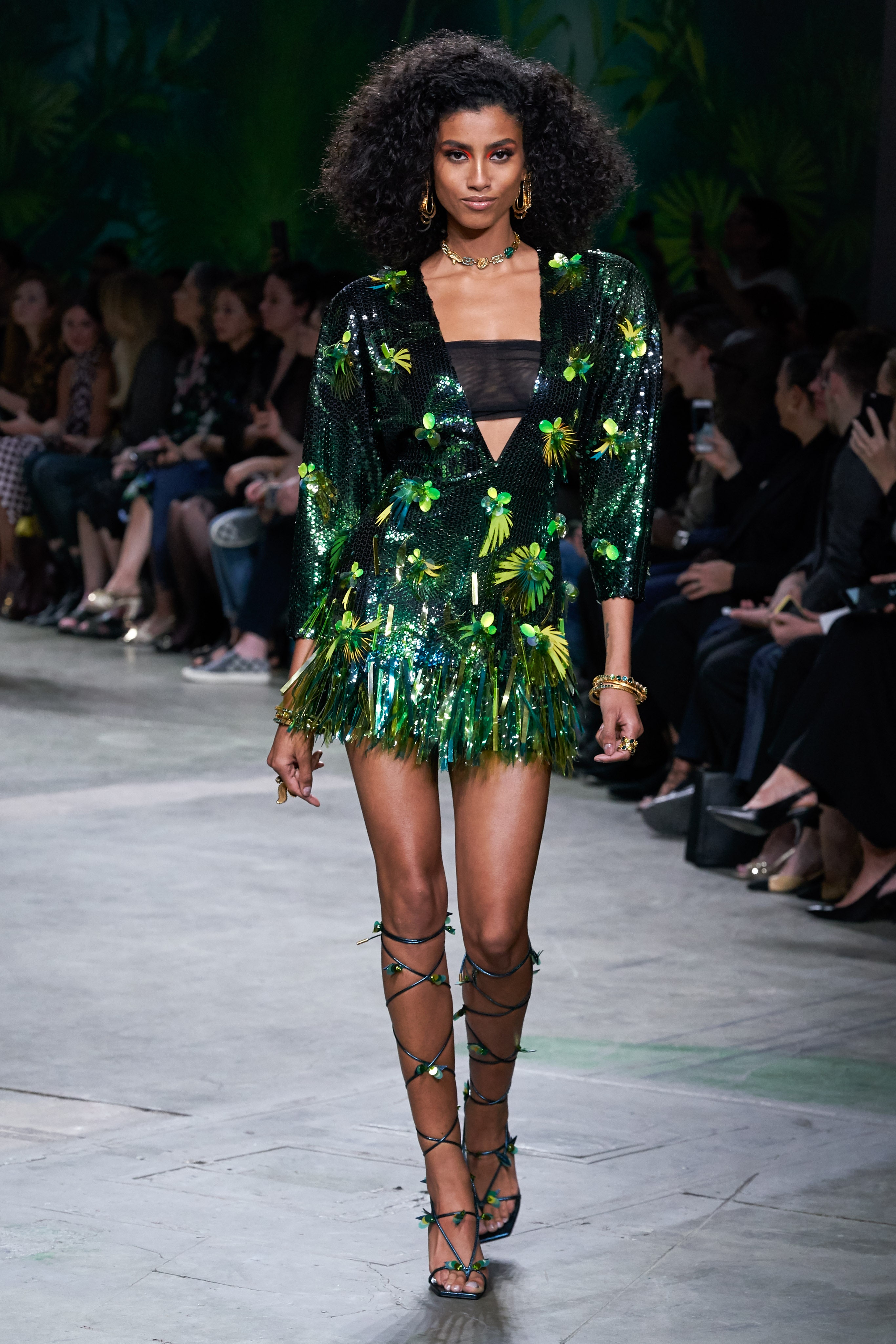 Zelené tóny a dramatický sexi look party šiat s flitrami a zdobenými detailami tvorili novú divokú exotickú kolekciu značky VERSACE pre Jar / Leto 2020. Šaty sa dočkali úpravy a niekoľkých vynovení – boli viac odhaľujúce ako zahaľujúce, bez rukávov, so zdobeniami v oblasti ramien či v intímnych partiách zahaľujúce transparentnosť, s hlbokým dekoltom a výraznými rozparkami.
Backstage – zo zákulisia prehliadky značky VERSACE – modelka Kaia Gerber v čiernych mini koktailových šatách najnovšej kolekcie Jar / Leto 2020.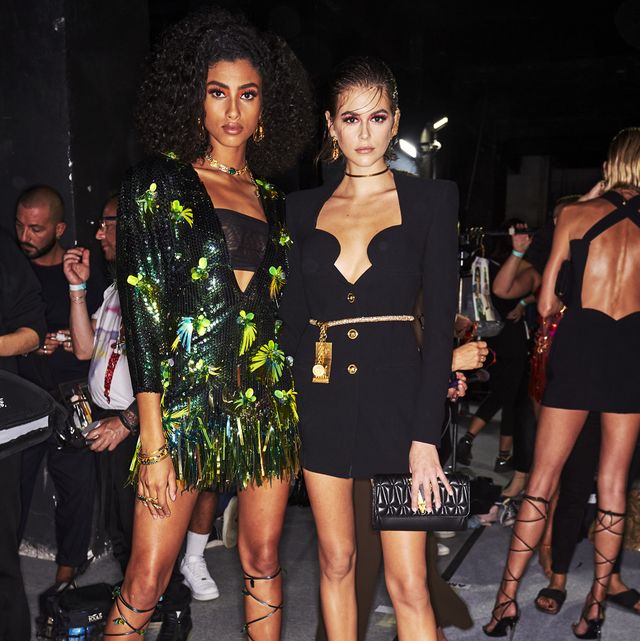 Pre módny dom VERSACE je príznačný ultra glam štýl. Čierna a zelená s florálnymi výšivkami a zdobeniami sa stali nosnými prvkami kolekcie tejto značky, ktorú tvoria neprehliadnuteľné, zmyselné a flirtom vábiace šaty.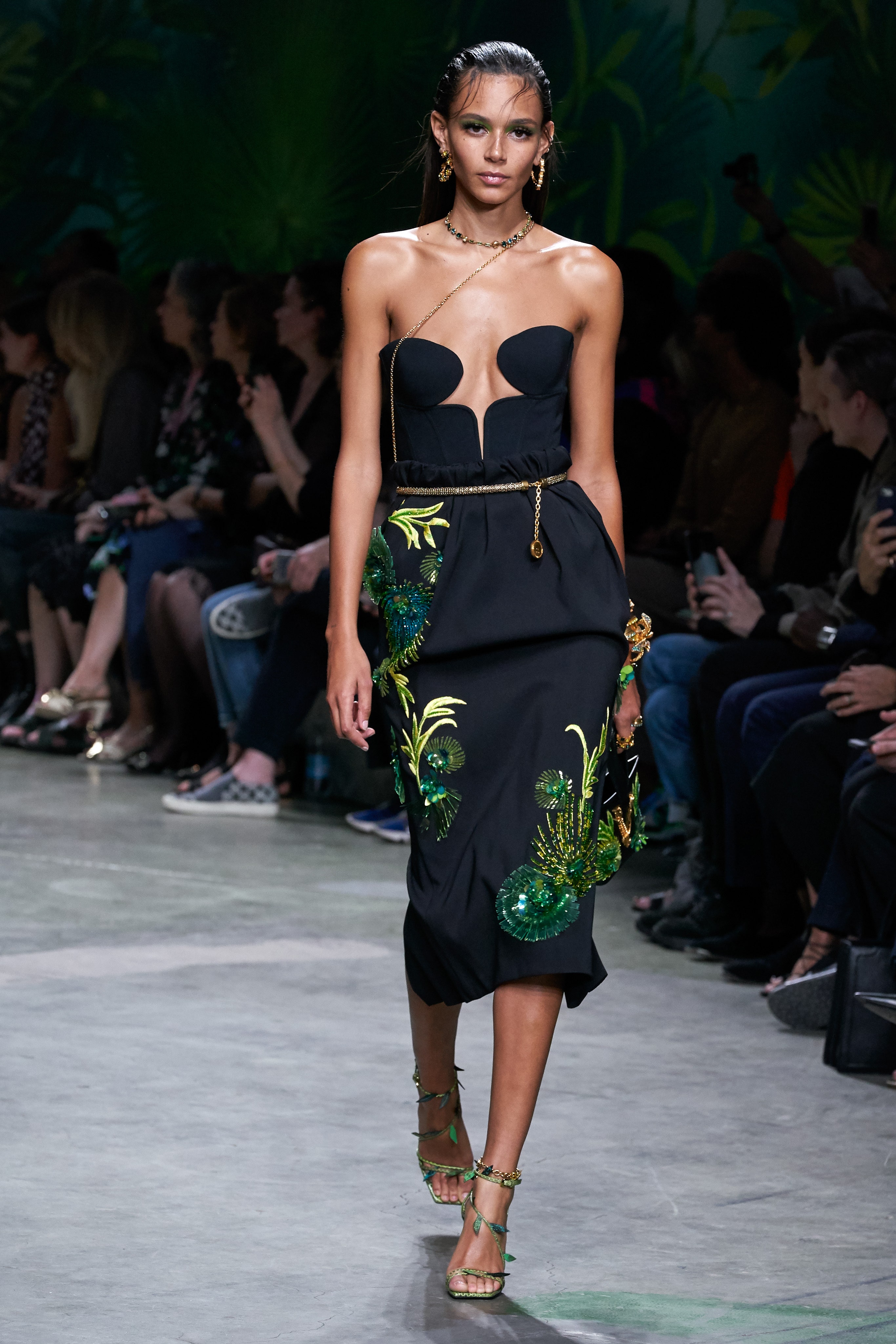 V horných partiách len tak tak zakrývajú, čo je potrebné a preto je nutné vyzbrojiť sa poriadnou dávnou odvahy.
DOLCE and GABBANA
Pralesná téma sa objavila aj v kolekcii talianskeho dizajnérskeho dua, módnej značky DOLCE and GABBANA.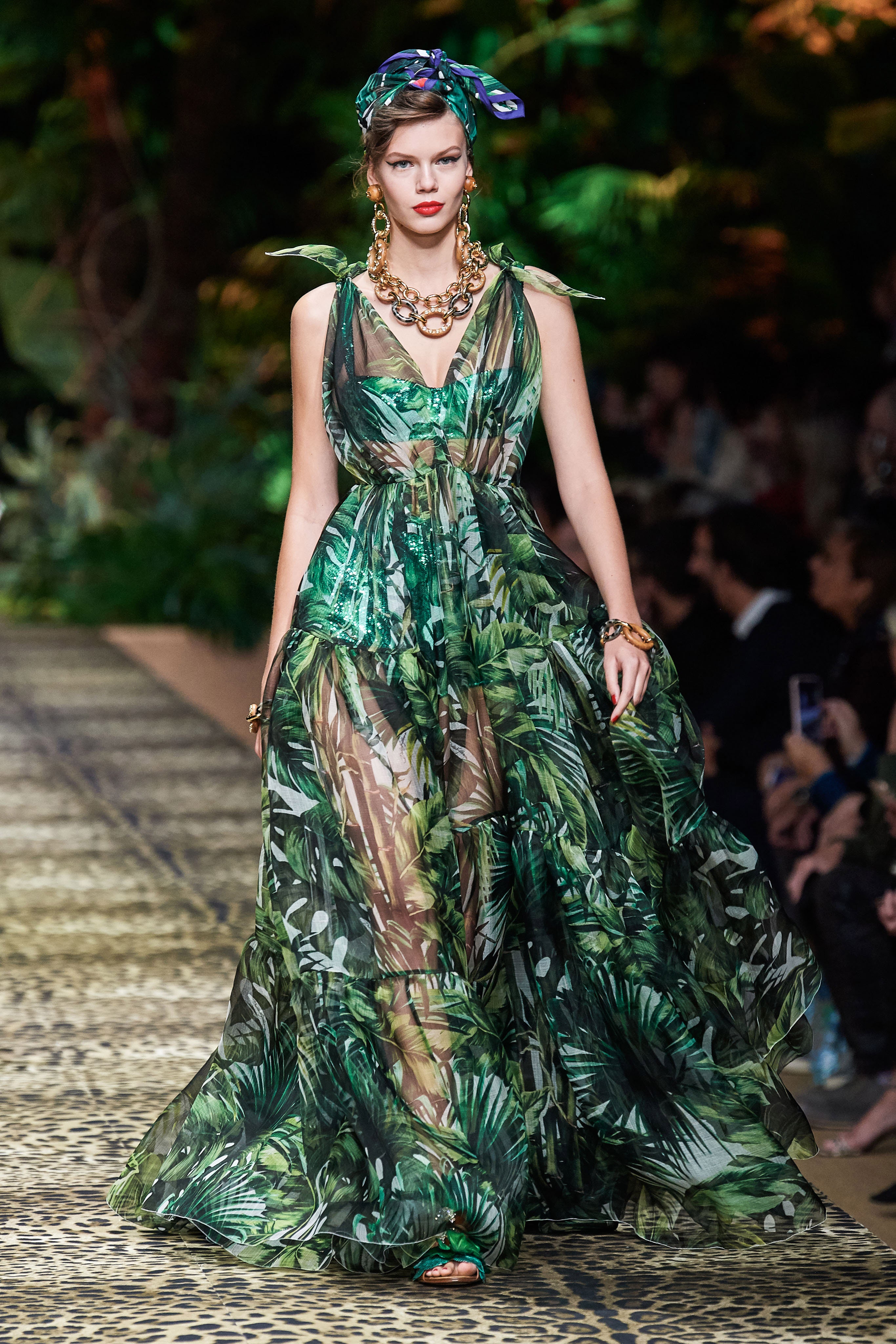 Zvieracie potlače, tropické potlače, šatkové vzdušné šaty a safari štýl nieslo 124 lookov sviežej kolekcie tejto značky pre sezónu Jar / Leto 2020.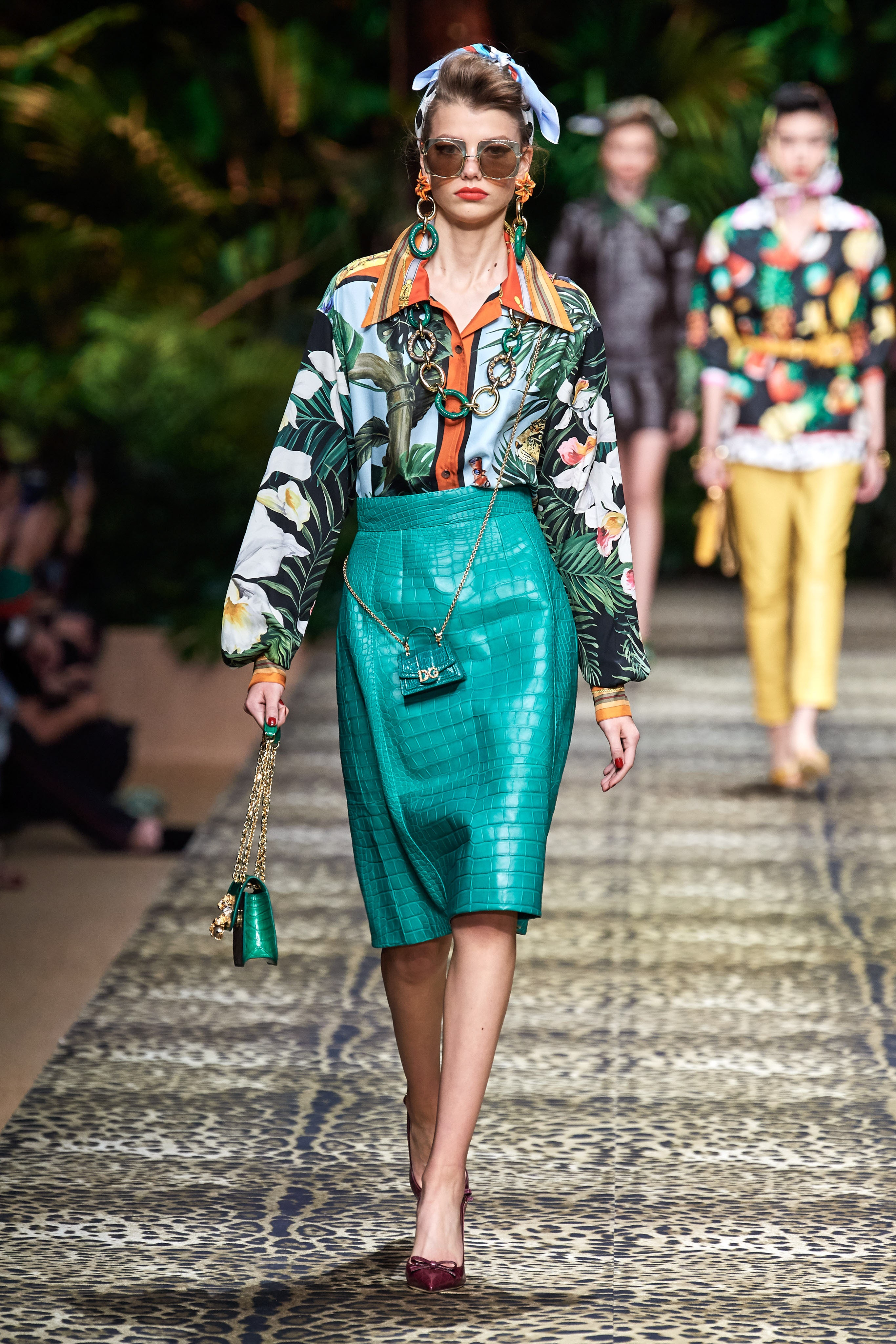 Máme sa veru na čo tešiť, dizajnéri so vzormi vôbec nešetrili. Prírodu, ktorej krehkosť a vzácnosť si čím ďalej uvedomujeme, aj následkom katastrof za posledné roky, si môžeme toto leto pripomínať na šatách s bohatými vzormi a mať ju tak na očiach a v šatníkoch neustále na pamäti.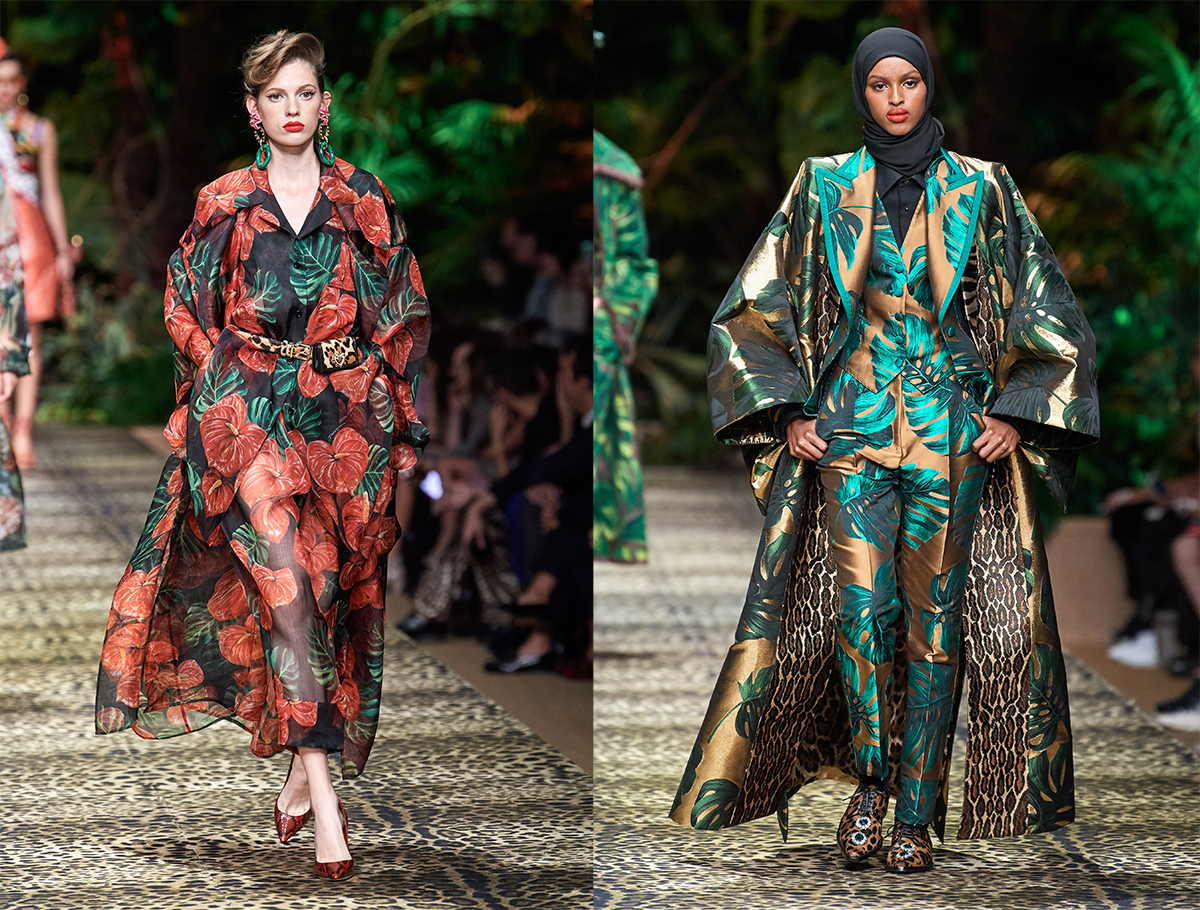 Talianski aj fracúzski dizajnéri sa zamerali posledné roky taktiež na enviromentálnu udržateľnú a ekologickú módu. Mnohé značky už aj upustili od používania pravých koží.
Pralesné potlače, safari vzory, sviežosť a oslava prírody – to sú nové trendy pre sezónu Jar/Leto 2020 z milánskeho módneho týždňa.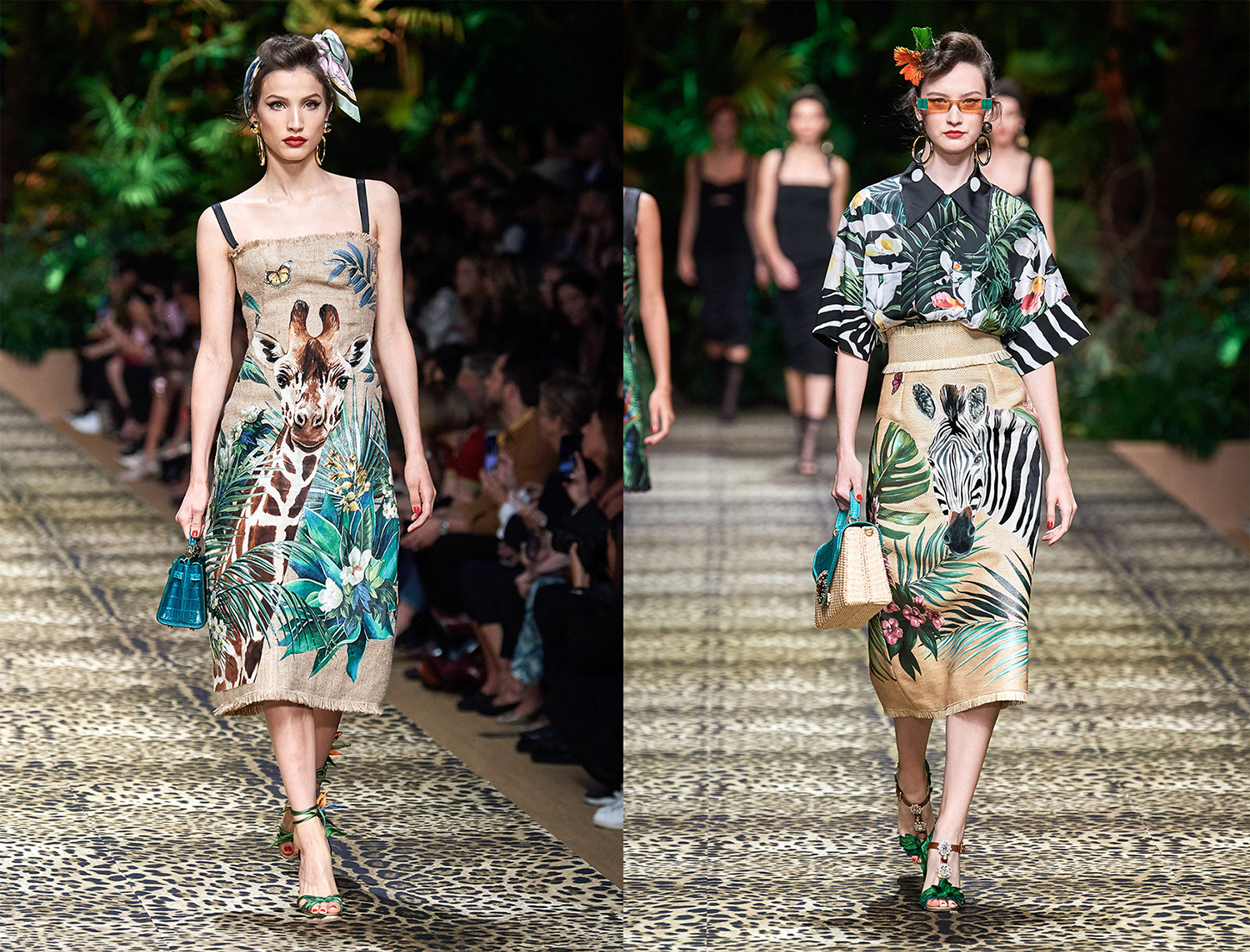 V kolekcii značky Dolce and Gabbana pre sezónu Jar / Leto 2020 opäť nechýbali zvieracie motívy, zebrované a leopardie vzory aj v podobe jednoliatych lookov od hlavy po päty.
Značka Dolce and Gabbana pre jarno-letnú sezónu 2020 uviedla aj nositeľnú športovú módu v podobe safari štýlu. Modelkám to na móle v tomto looku nesmierne pristalo. Po prehliadke som ich fotila a točila vonku , viac si môžete pozrieť na facebook stránke blogu s názvom : Mya Mirell Fashionista a Instagrame: mya_mirell .
zdroj obrázkov: Vogue com, Versace, Dolce and Gabbana
Sledujte instagram mya_mirell, kde v insta stories uvidíte moje zaujímavé módne videá. Taktiež stránku blogu na facebooku s názvom Mya Mirell Fashionista, ktorá je venovaná móde a Milan Fashion Weeku.