Jennifer Lopez predviedla sexi postavu v troch outfitoch – Fausto Puglisi, Cavalli, Zuhair Murad, Vax Live koncert, Los Angeles, 2. máj 2021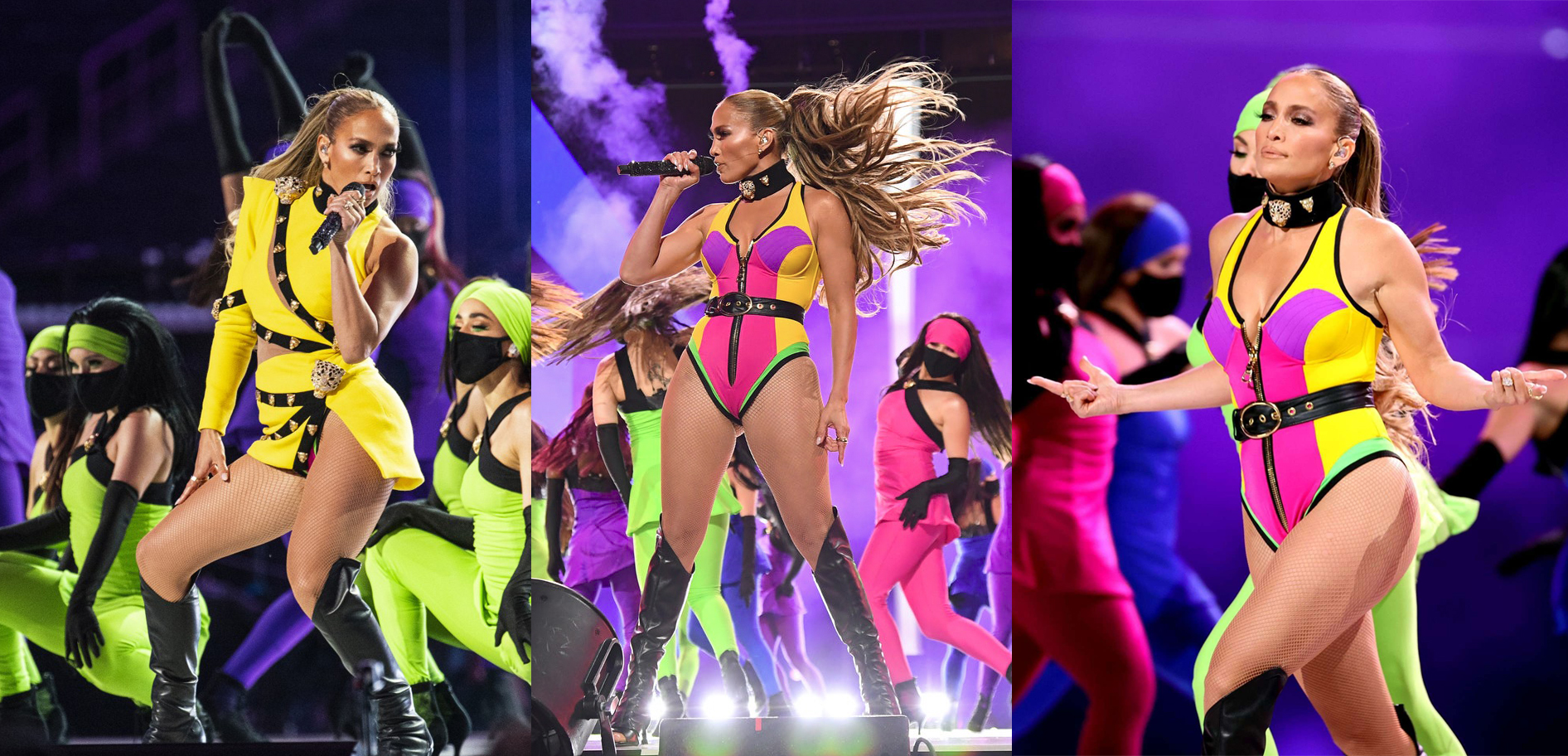 V nedeľu večer, 2. mája 2021 sa konal na štadióne SoFi v Los Angeles koncert pred živým publikom, kde sa medzi početnými celebritami predviedla aj spevácka a módna diva Jennifer Lopez. Zdá sa, že Jennifer objavila elixír večnej mladosti a opäť to dokázala na pódiu vo Vax Live, kde sa objavila v lepšej forme ako kedykoľvek predtým s tromi vlastnými outfitmi. Triumfálny výstup bol vo veľmi tesnej trikolórnej kombinéze od talianskeho dizajnéra Fausta Puglisi pre Roberta Cavalliho v kombinácii s náhrdelníkom tesne okolo krku zdobeným ikonickými zlatými levmi.
Krátky záznam z koncertu si môžete pozrieť na Facebook stránke talianskeho dizajnéra Roberta Cavalli : https://www.facebook.com/RobertoCavalli/videos/10158080531578061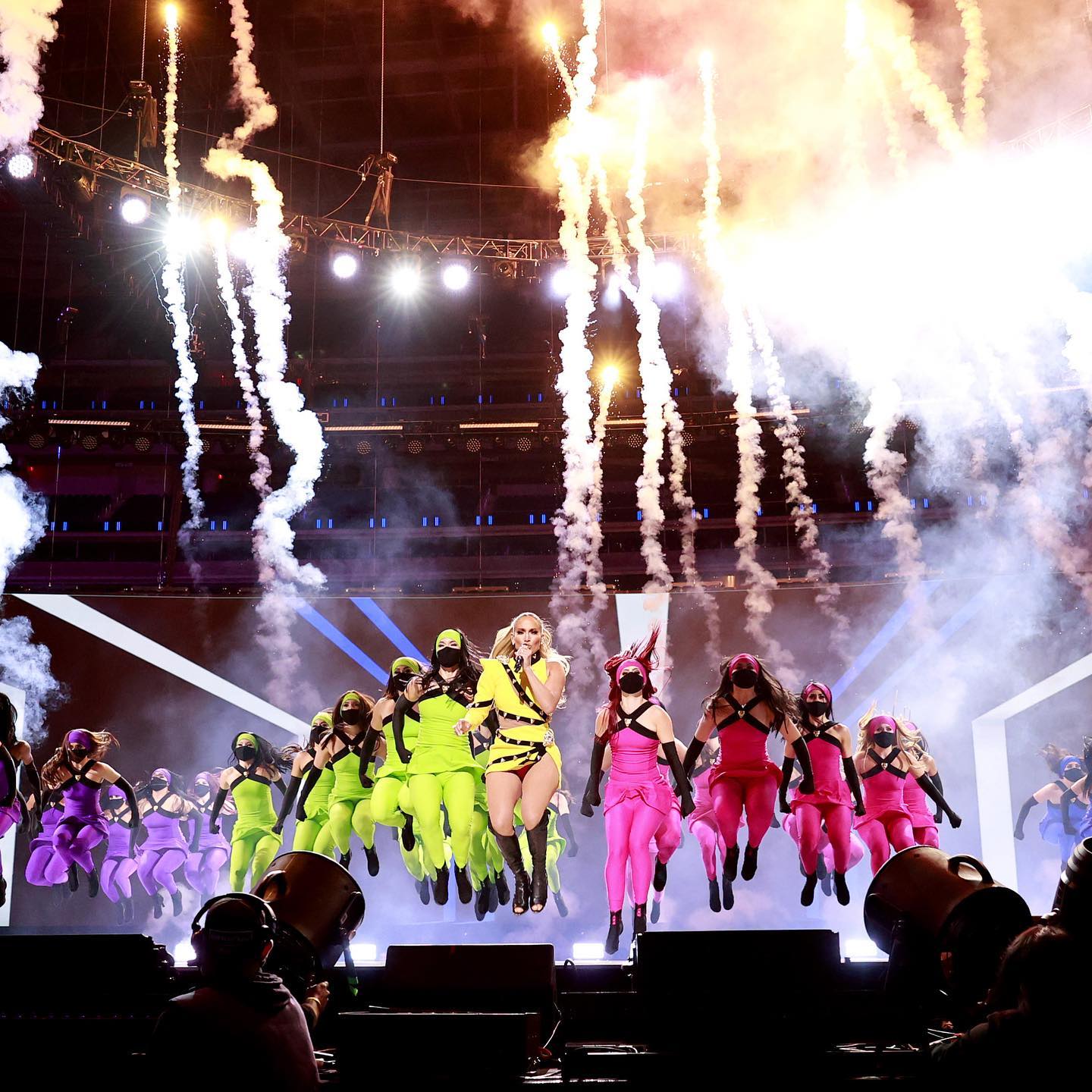 Už zostáva len päť dní od 2.5., kedy budú môcť fanúšikovia 8. mája 2021 sledovať očakávaný program Global Citizen VAX LIVE : The Concert To Reunite The World (koncert k znovuzjednoteniu sveta) . Jennifer Lopez z prvého úvodného vystúpenia zdielala prostredníctvom sociálnych sietí niekoľko zákulisných momentiek. Pre svoje vystúpenie na VAX Live si vybrala tri rôzne vzhľady od rôznych dizajnérov, v ktorých vyzerala famózne.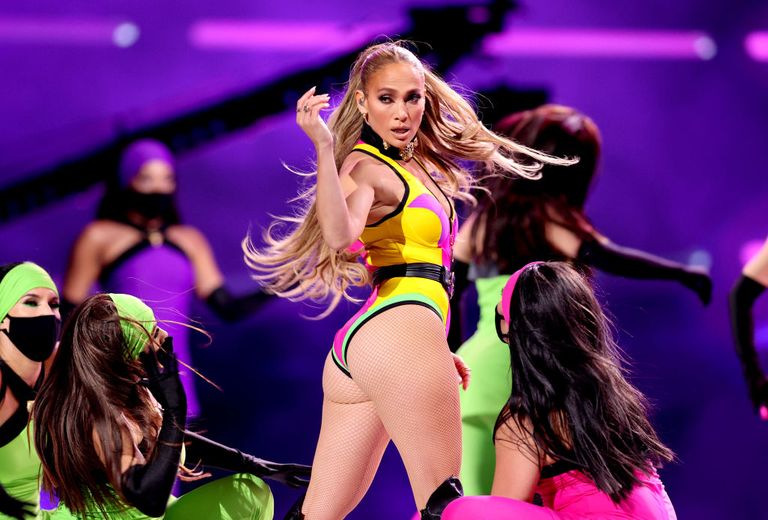 Jennifer Lopez bola medzi protagonistami koncertu Vax Live, ktorý sa konal 2. mája 2021 v Los Angeles s cieľom vyzvať na rýchlejšiu a jednotnejšiu protikovidovú očkovaciu kampaň. Pri tejto príležitosti vydala zo seba maximum, čo sa týka štýlu a predviedla nové super módne kreácie a maxi rozšírenia. Spevácka hviezda sa vracia k maxi predĺženiam, jej veľmi dlhý a nadýchaný chvost je nevyhnutnosťou a trendom pre jar 2021.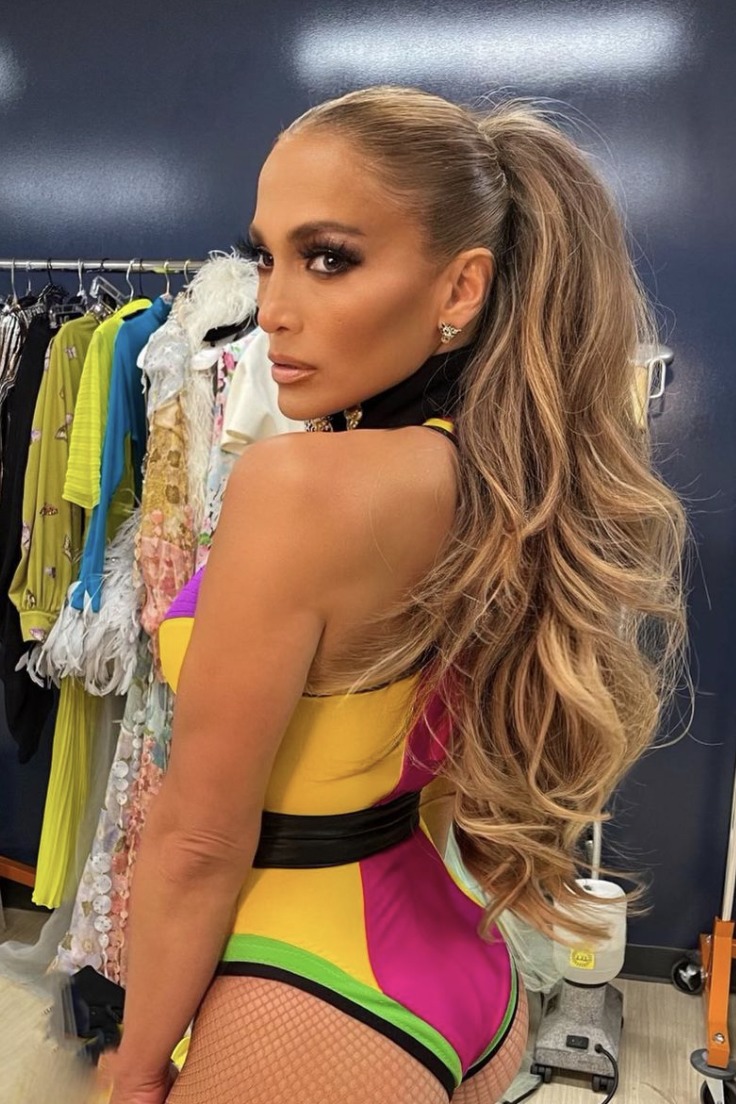 "Keď hojdáte konský chvost … viete, že sa chystá ísť dole. Nenechajte si ujsť @glblctzn #VaxLive o 5 dní ! " Uviedla zo zákulisia Lopez vo svojom príspevku na Instagrame. 51-ročná speváčka sa v pondelok podelila o pár momentiek z koncertu, v ktorých najskôr ukázala dva z troch outfitov z jej predstavenia. Na jednom zábere ukazuje sexi telo v obtiahnutej farebnej kombinéze s obojkom na krku a hustým konským chvostom. Na ďalšej odhalila žlté minišaty od talianskeho dizajnéra Roberta Cavalli v kooperácii s Faustom Puglisi a ranú škicu Cavalli, kde predstavuje dizajn týchto šiat strihaných presne na mieru Jennifer.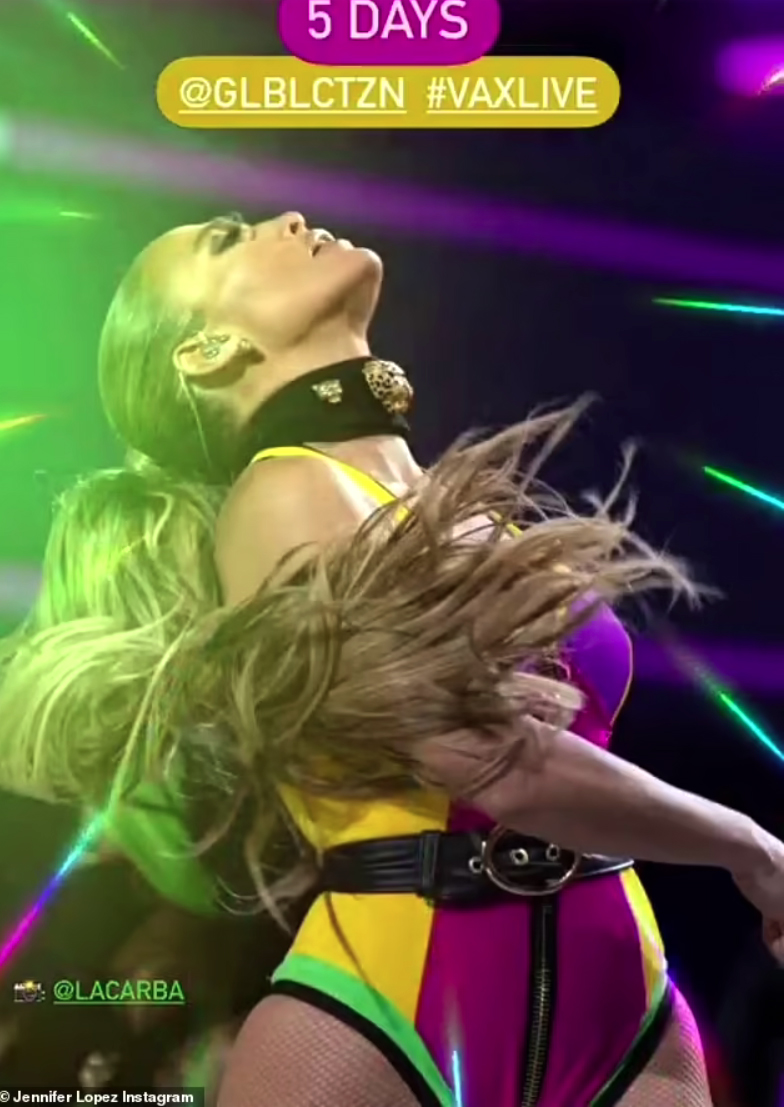 J.Lo sa chváli snovým copom. V poslednej dobe bola Jennifer Lopez videná v štýle pohybujúc sa medzi dlhým bobom a "prírodnými" kučerami. Tie sme mohli vidieť aj počas Milan Fashion Weeku, v sezóne Móda Ženy, kde bilboardy s jej podobizňou s krátkymi romantickými vlnami zdobili milánsku metropolu. No pre návrat na pódium sa rozhodla zmeniť vzhľad vlasov. Stavila na svojho dôveryhodného kaderníka Chrisa Appletona a vrátila sa k veľmi hrubým maxi predĺženiam. Vlasy nosila zvlnené a zviazané do vysokého chvosta. Účes je taký nádherný, že samotný kaderník na sociálnych sieťach 2x nerozmýšľal, že by ho nazval "chvostom našich snov". Stručne povedané, J.Lo možno prekročila vek 50 rokov, ale je naďalej krásna a diktuje zákony v oblasti štýlu. Módne či vlasové kreácie v jej podaní sa stávajú rýchlo horúcimi trendami .
Vax Live: The Concert To Reunite The World je benefičným koncertom, ktorého cieľom je vyzvať na rýchlejšiu a jednotnejšiu protikovidovú očkovaciu kampaň. Bude sa vysielať 8. mája 2021 na YouTube a v rôznych amerických sieťach, ale hviezdy, ktoré sa show zúčastnili, už zdieľali ukážky svojich exkluzívnych vystúpení. Zúčastnili sa herec Ben Affleck, Sean Penn, princ Harry, speváčka Selena Gomez, ale zaujať pozornosť verejnosti svojím glam štýlom mala predovšetkým Jennifer Lopez. Okrem skvelého výkonu predviedla aj nový vzhľad vlasov s maxi predĺženiami, čo sa okamžite stáva trendom Jari 2021.
ŽLTÉ MINI ŠATY FAUSTO PUGLISI – DIZAJN PRE ROBERTO CAVALLI
Hviezda zverejnila postupne všetky outfity na svoj profil na Instagrame a vyzvala svojich sledovateľov, aby sledovali ďalší Vax Live, 8. mája 2021. Outfitom, ktorý najviac zažiaril a z diaľky lákal, boli asymetricky strihané ultra mini svietivé šaty s kontrastnými profilmi a rozparkami všade na tele, ktoré pre Roberta Cavalliho vytvoril kreatívny riaditeľ, taliansky dizajnér Fausto Puglisi. Fausto Puglisi už v minulosti vytvoril hviezdne outfity, ktoré sa zapísali do histórie a to napríklad aj pre speváčku Madonnu, ktorej na vystúpenie navrhol povestný plášť s kapucňou.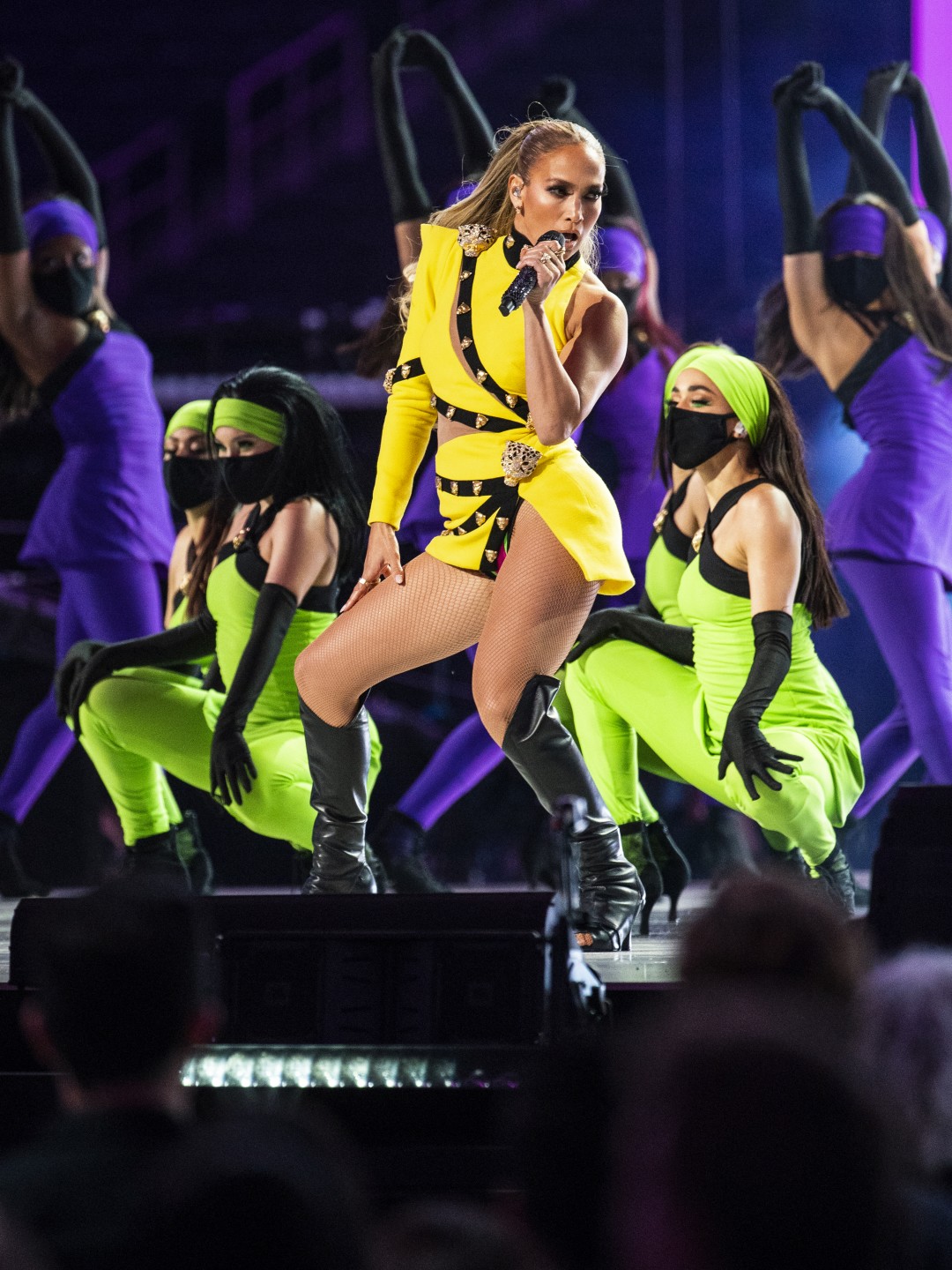 zdroj: latimes .com
Jennifer Lopez vystúpila na pódiu SoFi Stadium s hitom 2016 Ain´t Your Mama s množstvom tanečníkov s oveľa odlišnejším a farebnejším súborom. Svoju druhú pieseň predviedla v jasno žltých minišatách s odhaleným ramenom, na ktorých boli ozdobné levie hlavy s klenotmi. Look doplnila sieťovanými pančuchami s čiernymi koženými čižmami na podpätkoch po kolená a vlasy stiahla do masívneho dlhého chvosta.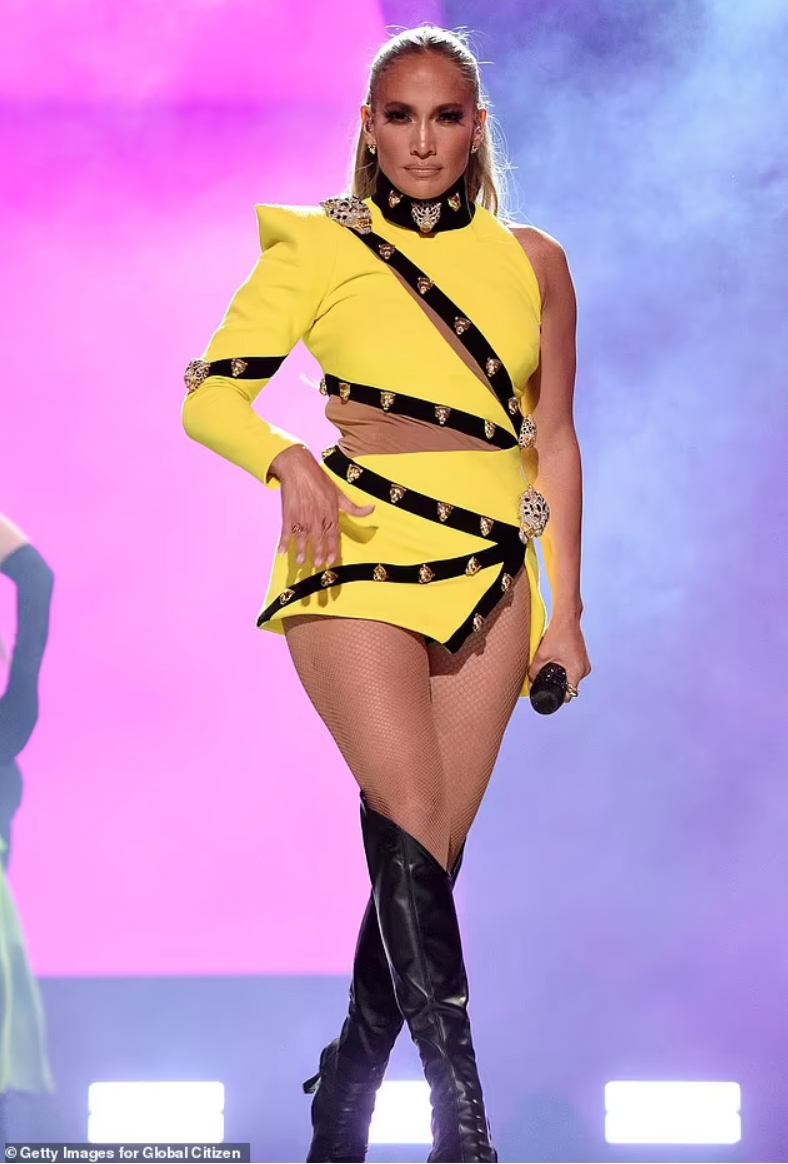 Po triumfálnom výkone v tesnej trikolórnej kombinéze sa hviezda zjavila na pódiu v žltých mini šatách s čiernymi profilmi. Model bez jedného ramena s polstrovaným ramenným popruhom a vykrojenými rezmi pozdĺž siluety bol modelom na zákazku, ktorý vyrobil taliansky dizajnér Roberto Cavalli. V kombinácii s farebným oblečením tanečníkov vytvoril dúhový efekt.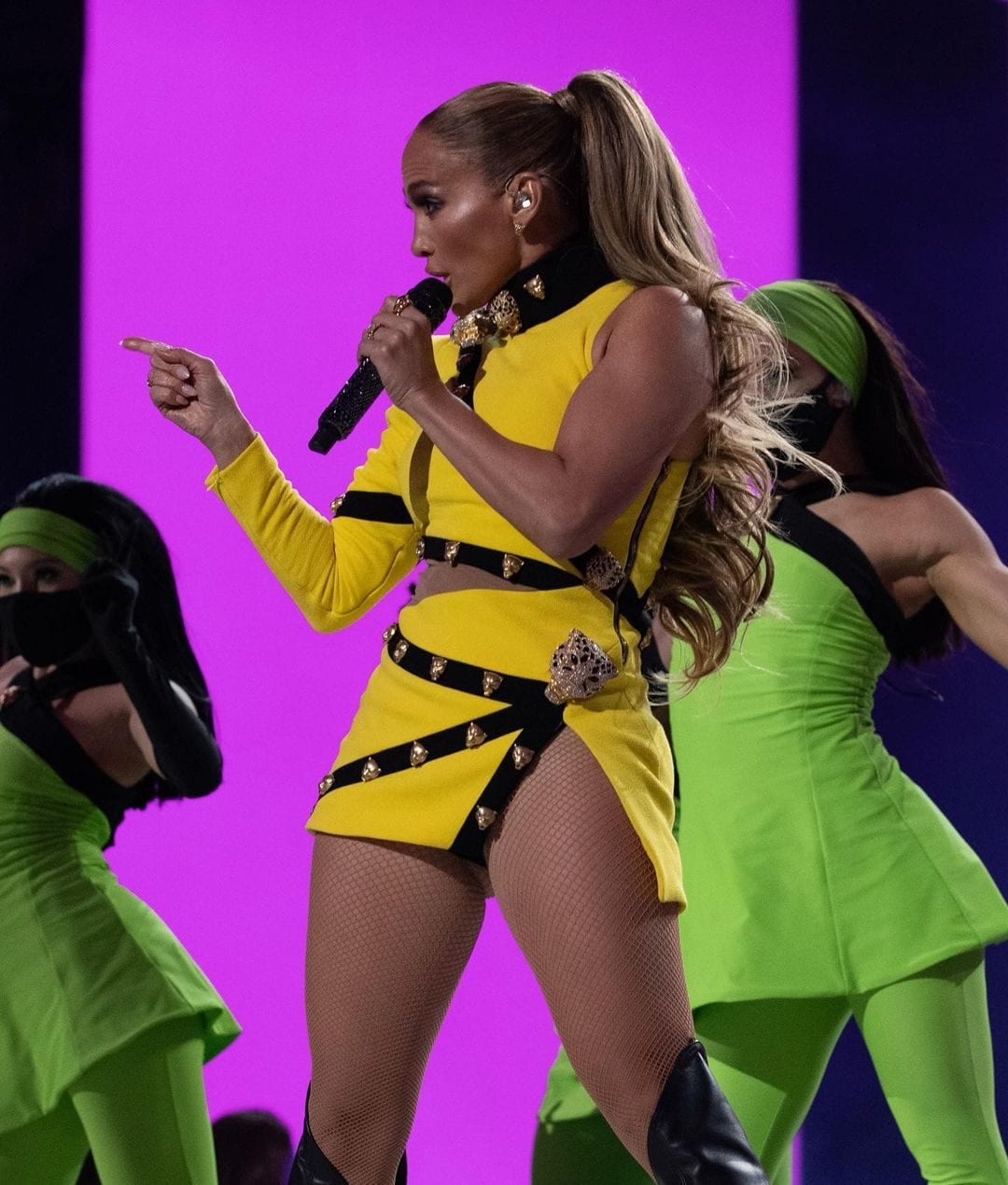 Jennifer zdielala svoje looky v príbehu a fotkách na svojom Instagrame. Odhalila jeden zo svojich troch outfitov – žiarivo žlté minišaty od Roberta Cavalli. Speváčka a tanečníčka tiež zdieľala hrubý náčrt šiat samotného Cavalliho ešte predtým, než ich definitívne vytvoril.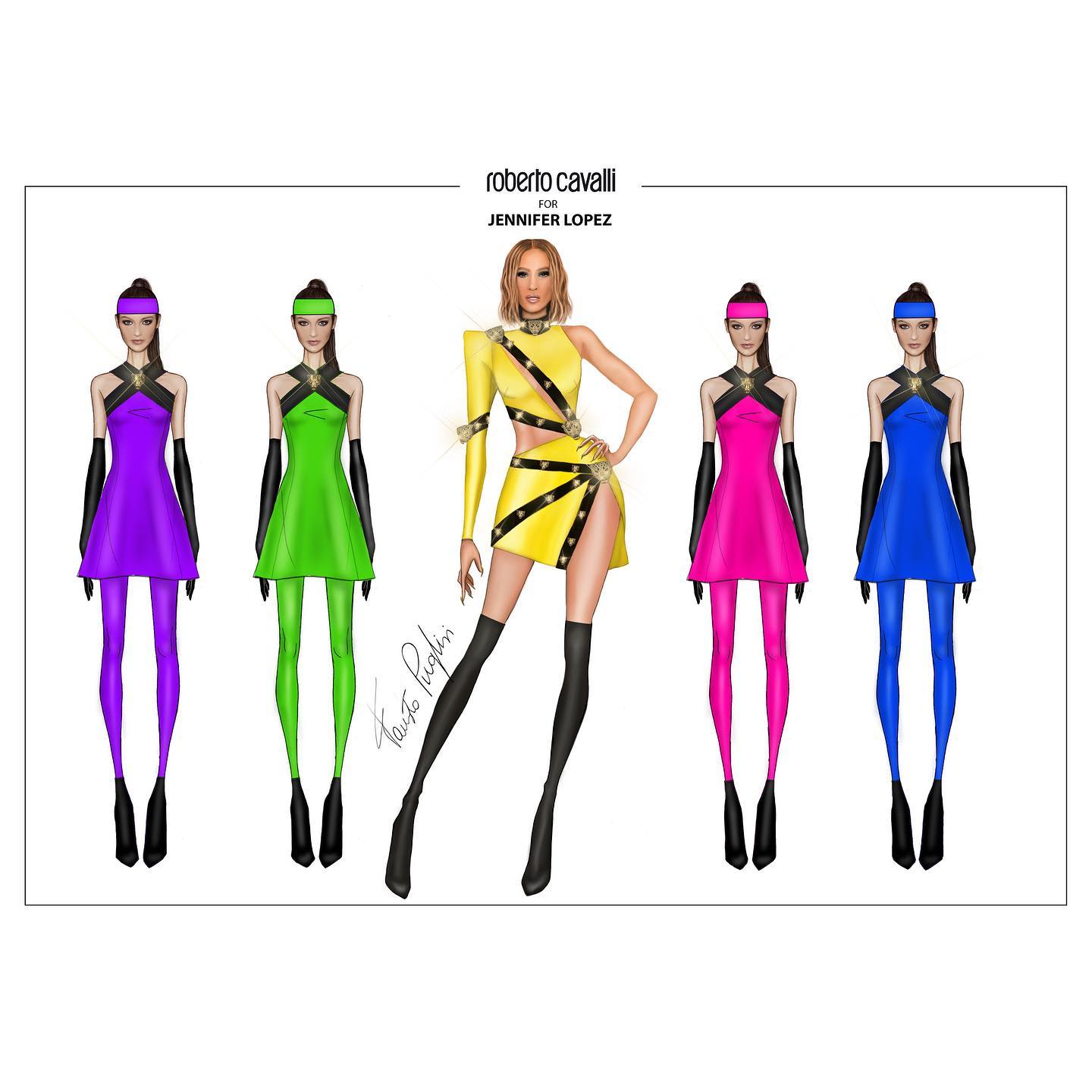 Jennifer Lopez mala pre tento vzhľad za sebou dosť veľký tím, ktorý jej pomáhal s výberom. Spevácka diva vystúpila na pódium na podujatí Global Citizen VAX LIVE v ultra mini žltých šatách bez jedného ramena, ktoré navrhol taliansky dizajnér Fausto Puglisi pre Roberta Cavalliho a ktoré následne upravil Rob Zangardi. Táto kooperácia vydareného dizajnu, zdá sa, priniesla opäť strhujúci úspech ako pri prehliadke Versace ikonických šiat a stiahla na seba pozornosť celého sveta, médií a zaznamenala masívny instagramový ošiaľ.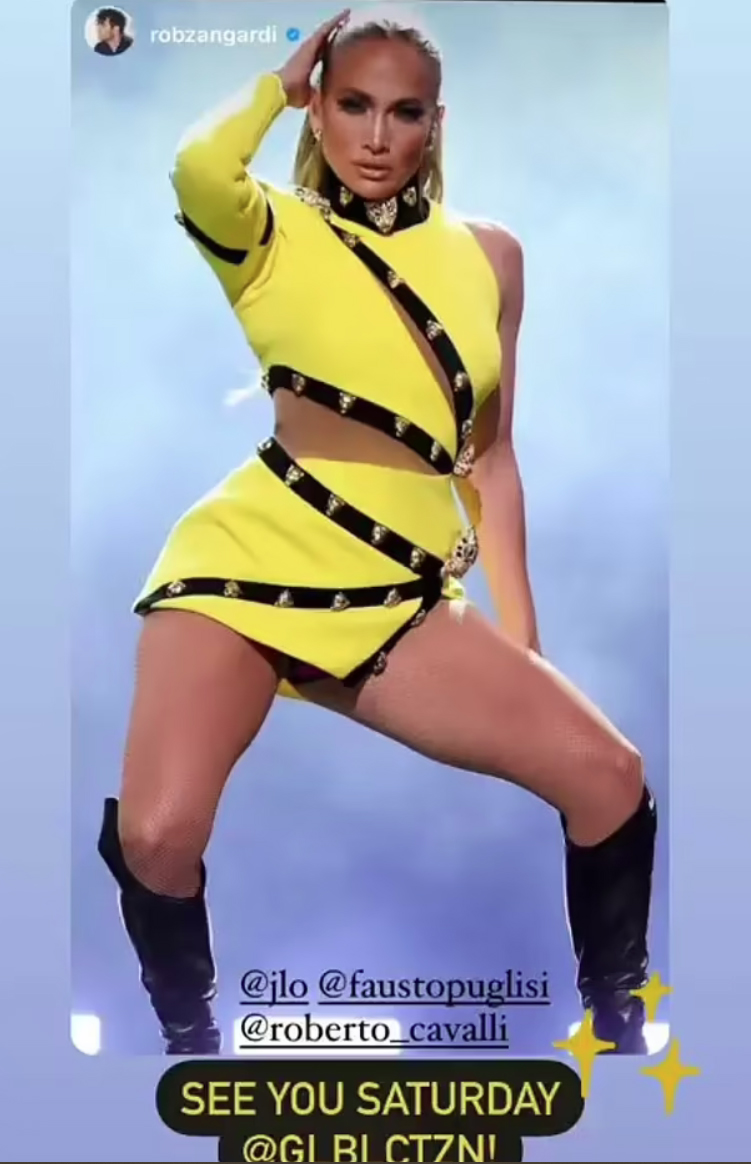 zdroj: robzangardi instagram
Šaty zdobili leopardie hlavy na čiernych asymetrických lemoch, ako aj nahé výrezy zo sieťoviny a odvážne delenia a prierezy tohto dizajnu.
TRETÍ OUTFIT VEČERA – NEÓNOVÁ KOMBINÉZA
Jennier Lopez počas vystúpenia neskôr šaty strhla, aby odhalila ďalší zo šokujúcich pozornosť pútajúcich lookov a to neónovú žiarivú kombinézu .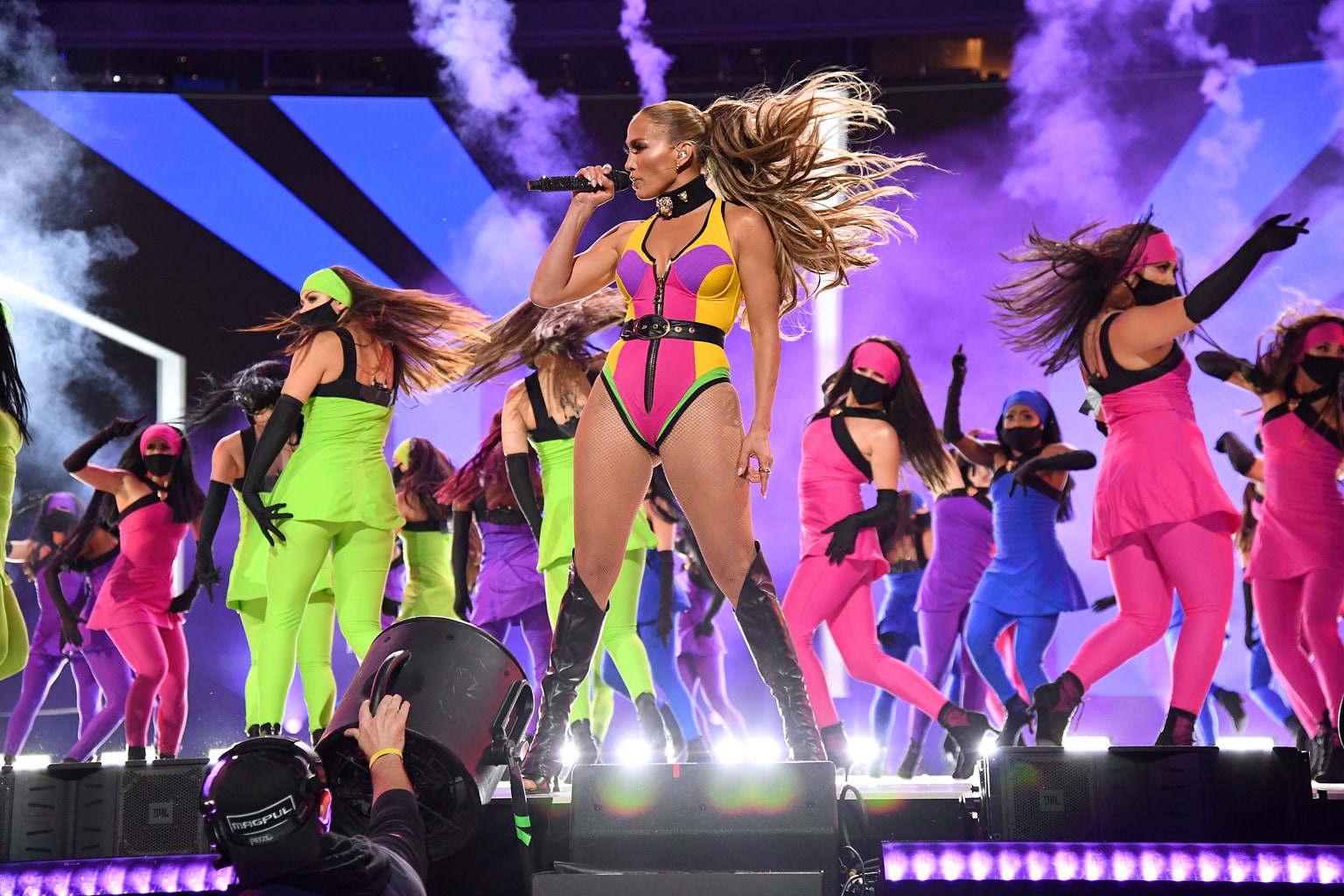 Jej tretí a najfarebnejší vzhľad noci nastal, keď vystupovala a tancovala na hit Saweetie's Pretty B *** h Freestyle so súborom maskovaných tanečníkov v pestrofarebných outfitoch. Lopez mala na sebe dúhovú kombinézu so zábleskami žltej, fialovej, purpurovej a zelenej farby s rovnakým čiernym golierom s postavami levích hláv. Svoj vzhľad doplnila taktiež sieťovanými pančuchami a čiernymi koženými čižmami z hudobného čísla Ain't Your Mama.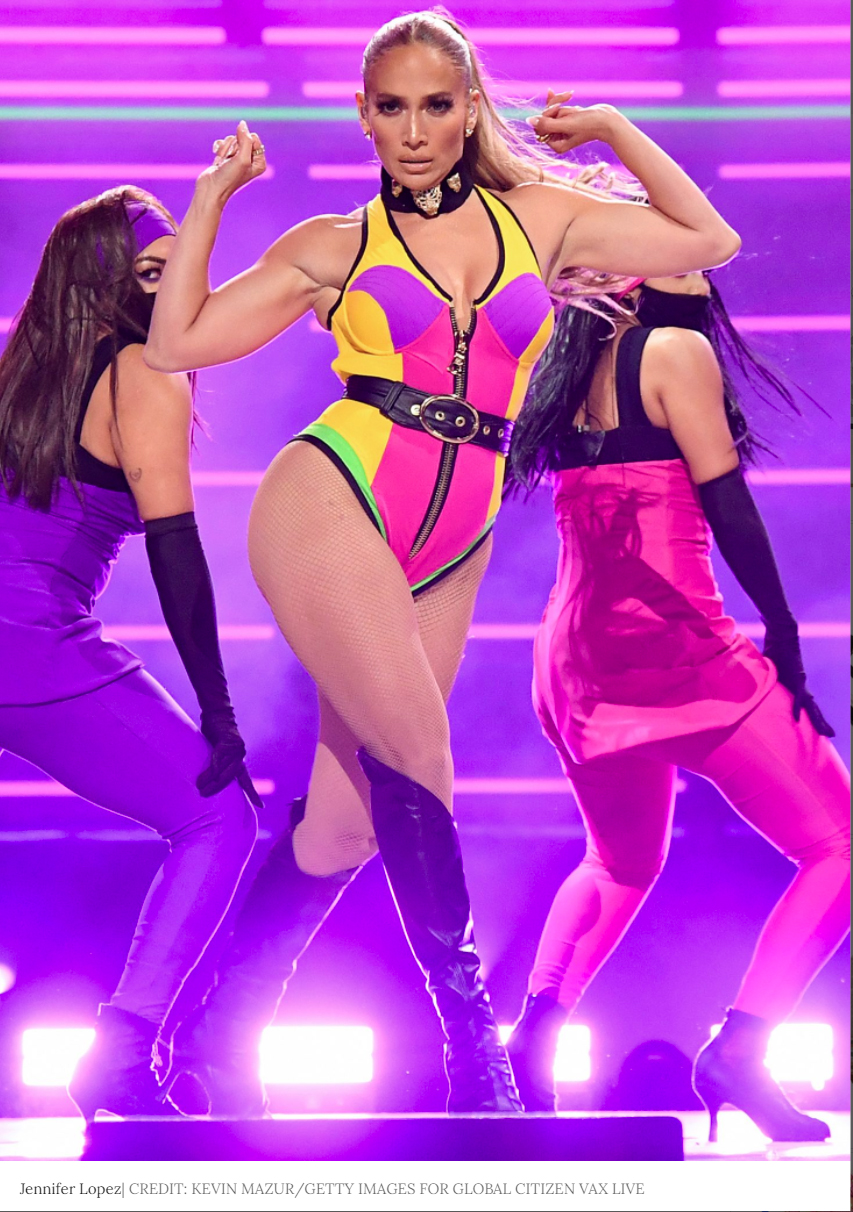 MÓDNY KLENOT VEČERA – ZUHAIR MURAD LOOK
Skutočným klenotom večera však bol skvostný overal oblečený do finále, nádherná kreácia od Zuhaira Murada pokrytá trblietavými flitrami a strapcami s rukávmi a plášťom zdobeným kaskádou pierok. Krátku ukážku tohto modelu a speváckeho výkonu Jennifer si môžete pozrieť na facebook stránke libanonského módneho návrhára Zuhair Murada: https://www.facebook.com/zuhairmuradpage/videos/3930945176981508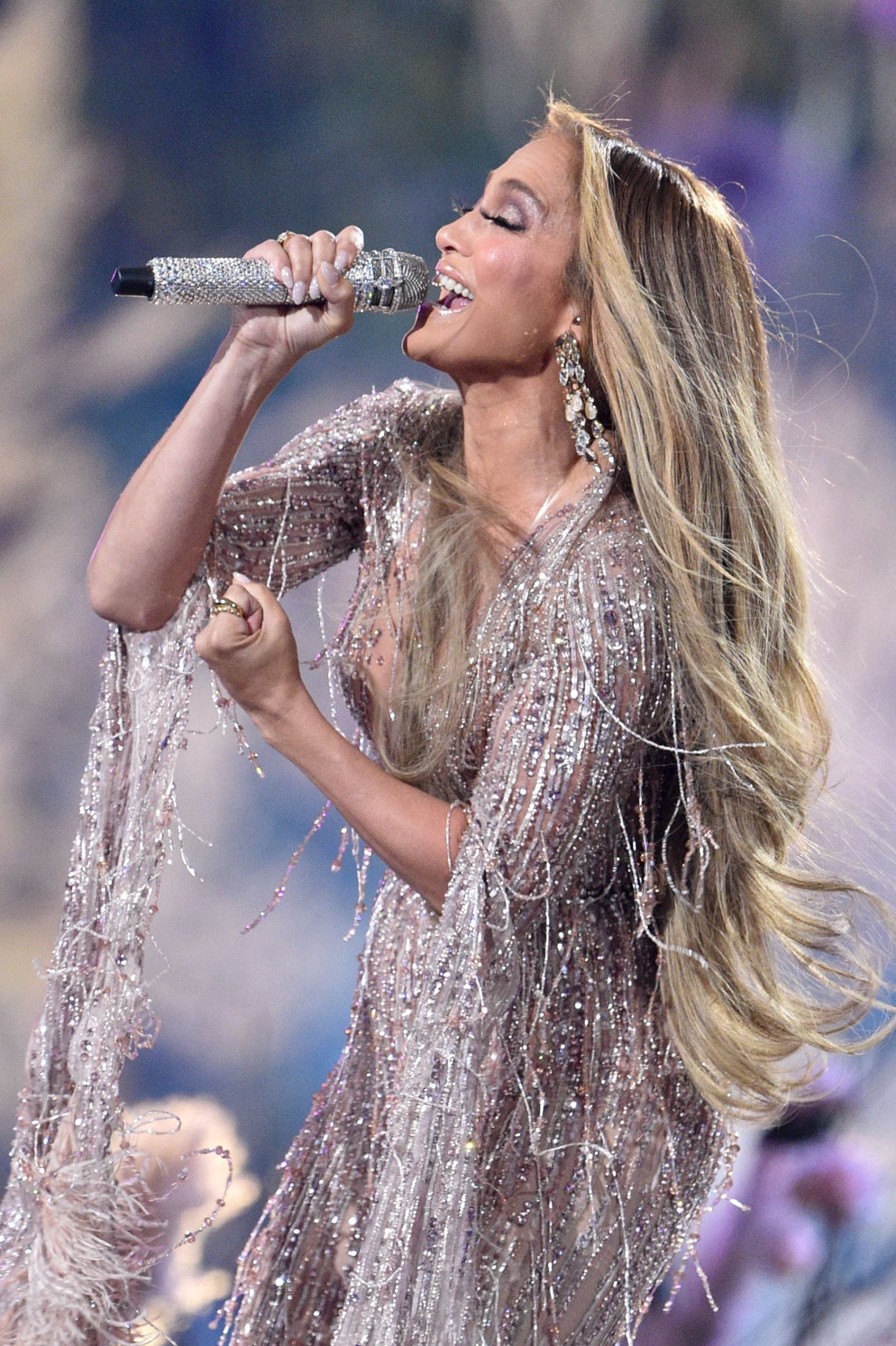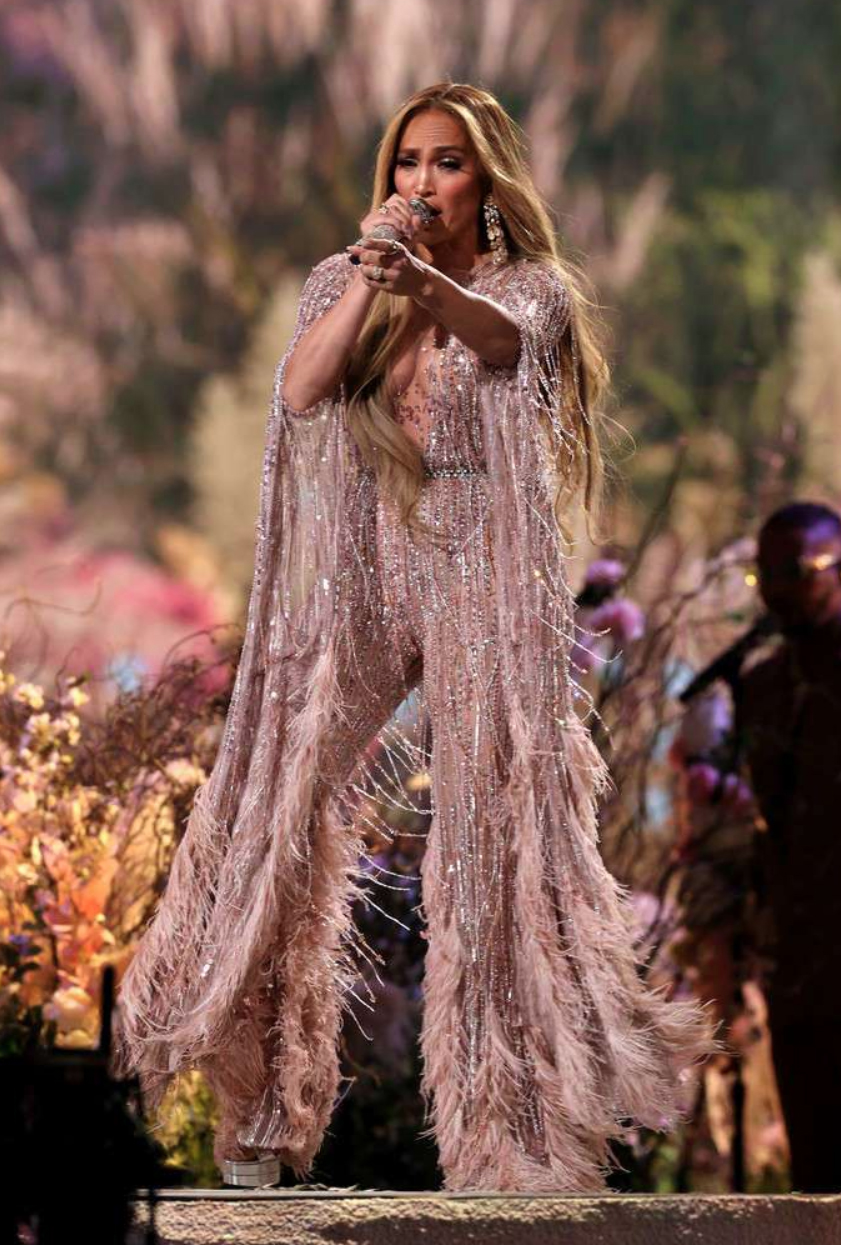 Počas svojho nedeľného vystúpenia Jennifer najskôr na pódiu zaspievala ikonickú pieseň Sweet Caroline od Neila Diamonda, ku ktorej sa pripojila aj jej matka Guadalupe. Lopez prezradila, že jej matka túto pieseň zvykla spievať.
Ikonickú pieseň zaspievala v skvostnom strapcovom overale ozdobenom pierkami od Zuhair Murad, zatiaľ čo jej matka vystúpila v blúzke s bodkami a čiernymi nohavicami.
zdroj obrázkov: pinterest, instagram Jennifer Lopez, Roberto Cavalli, Zuhair Murrad, getty images
Sledujte Facebook stránku: Mya Mirell Fashionista a Instagram: mya_mirell .
© AUTORSKÉ PRÁVA VYHRADENÉ