Jennifer Lopez – zvodná a sexi módna ikona v kolekcii značky Versace pre Jar/Leto 2020
Spevácka latino-hviezda Jennifer Lopez pretavila svoju preslávenú krásu, vitalitu a sex-appeal v módnu ikonu talianskej značky Versace, pre ktorú zažiarila v roli modelky a stala sa tiež tvárou kolekcie Jar/Leto 2020.
Jennifer Lopez, ktorá sa predviedla ako absolútna bezkonkurečná módna diva na prehliadke tejto značky počas Milan Fashion Weeku, v septembri 2019 (čítaj v predošlom článku – ) , kde v šatách tropickej letnej kolekcie strhla pozornosť divákov a sveta, sa stala hviezdou celého fashion weeku a internetu. Tento módny zážitok pritiahol pozornosť celého sveta a jej "catwalk" chôdza v sexi šatách sa stala virálnou.
Svoje telo povestnej bohyne tak predviedla nielen na móle, ale aj v najnovšej kampani pre túto značku v letnej kolekcii 2020, ktorej sa stala tvárou.
Jennifer je neustále vyhľadávanou hviezdou mnohých mnohých značiek, o čom svedčia aj jej ďalšie úspešné kampane napríklad pre Guess, Loreal a iné.
Jennifer Lopez tvárou kampane Guess, Jar/Leto 2020 nafotenej v Kalifornii, v Santa Monice. Fotografka Tatiana Gerusova mala zámer vyzdvihnúť jej ženské krivky pridaním štipky retro looku. Tento štýl s kratšími vlasmi s miernymi lokňami speváčke náramne pristane.
Mlado vyzerajúca a stále vo forme Jennifer sa roky precízne stará o svoje telo pravidelným cvičením a tiež vhodnou stravou, čo ukazuje celému svetu. Svoj režim a rituály prezradila nejednému magazínu, ktoré odkazujú na jej zaručené diéty a cvičebné programy. Jenn nezanedbáva ani pleť a jej cvičebné, fit a beauty inštruktáže sú v hľadáčku mnohých žien, ktoré k nej vzhliadajú. Speváčka, neustále v pohybe, na móle, na pódiu, alebo v roli herečky, je rozhodne inšpiratívnym príkladom povestnej vety: "Vek je len číslo. "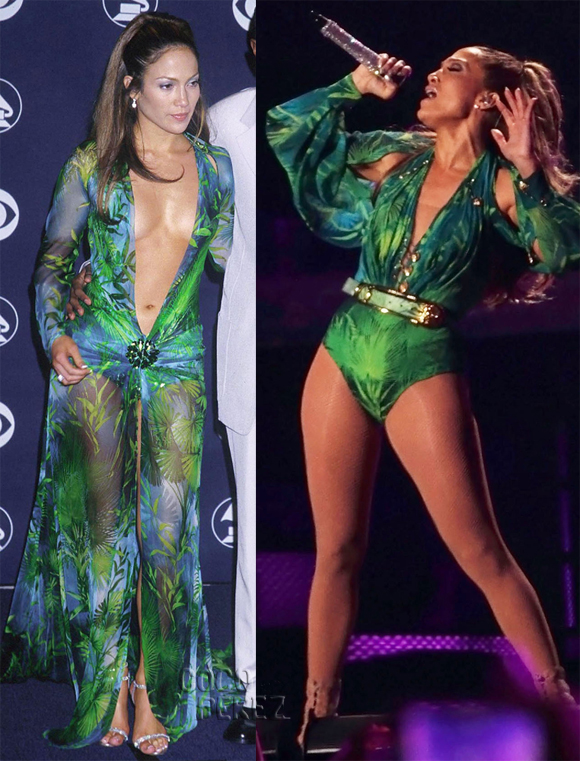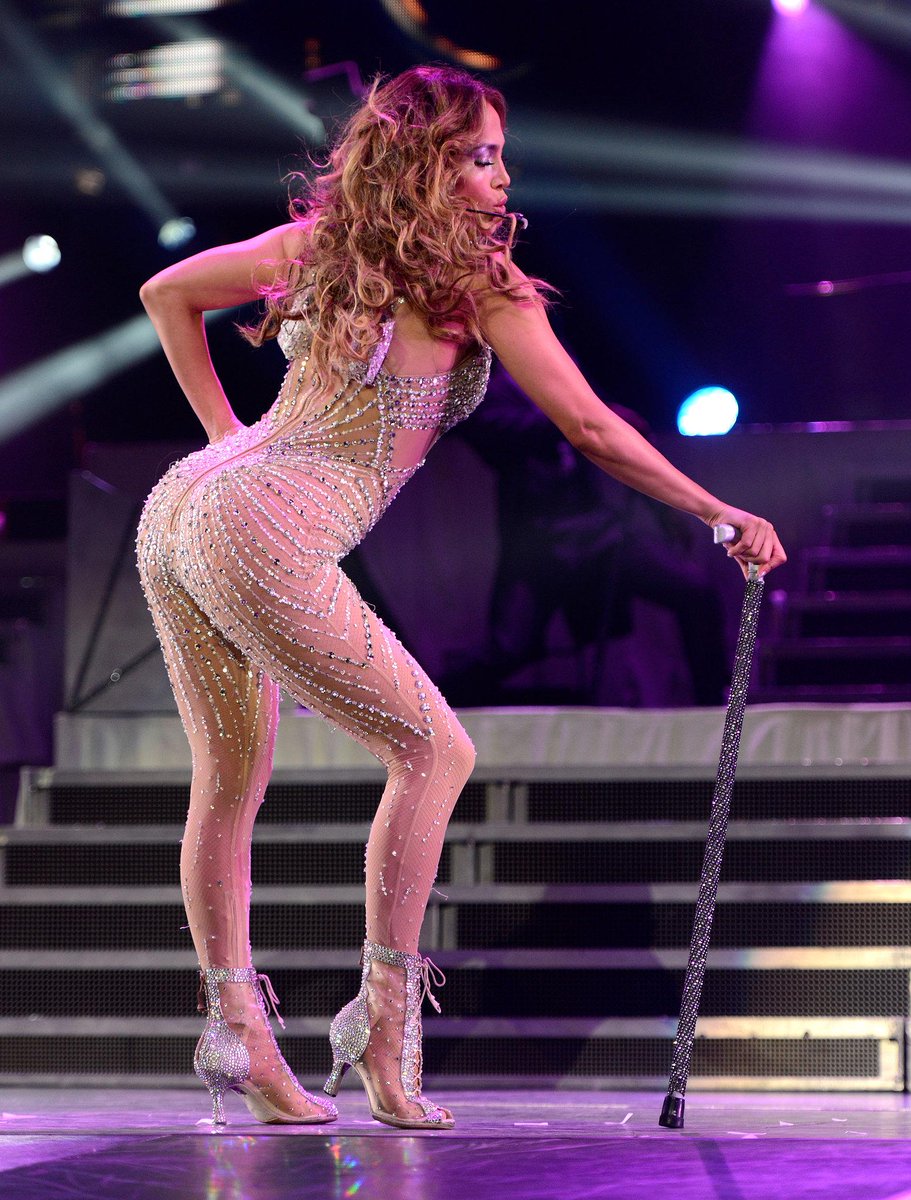 Dlhodobé priateľstvo módnej dizajnérky Donatelly Versace a latino-americkej speváčky Jennifer Lopez malo vždy hviezdny scenár a aj tentokrát vyústil do ďalšej vydarenej spolupráce.
Šaty spred 20 rokov z galavečera Grammy (foto vľavo) a šaty z kolekcie Versace, Jar/Leto 2020 s hlbokým dekoltom odhaľujúcim až pupok z priesvitného materiálu a tropickou potlačou, ktoré slávia svoj comeback (foto vpravo).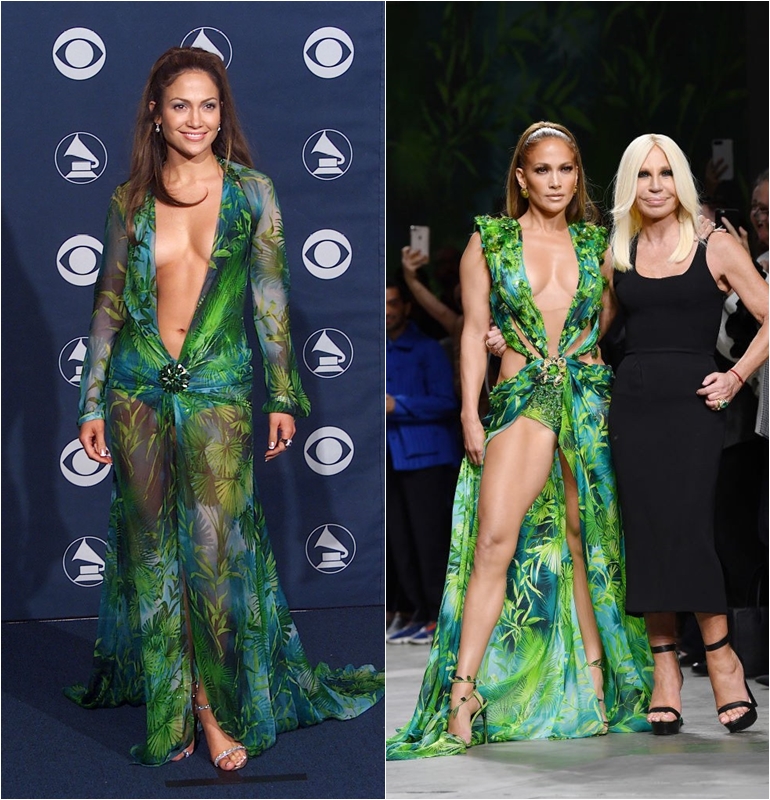 Jennifer sa objavila v provokatívne nafotenej kampani v najnovšej kolekcii značky Versace pre sezónu Jar/Leto 2020.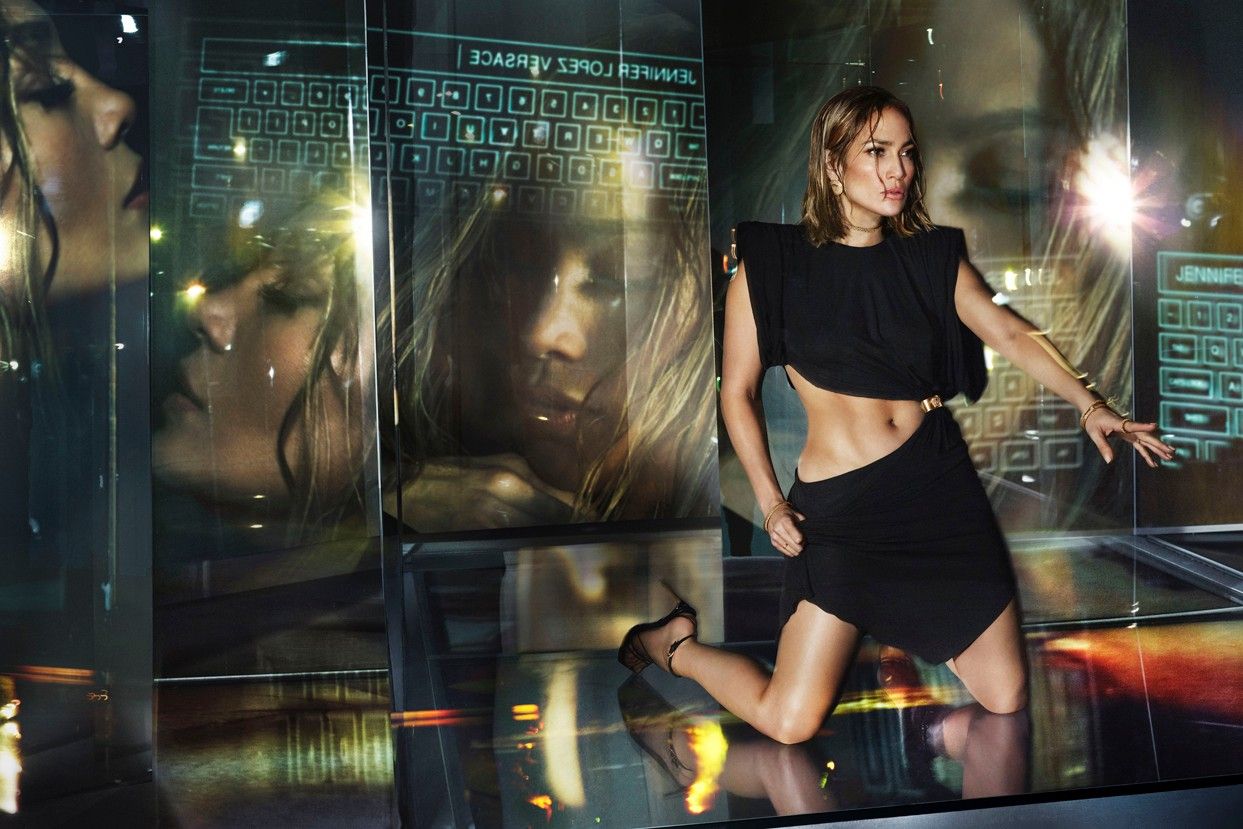 Tieto šaty predviedla na prehliadke počas Milan Fashion Weeku, v septembri 2019 aj známa ruská modelka Irina Shayk.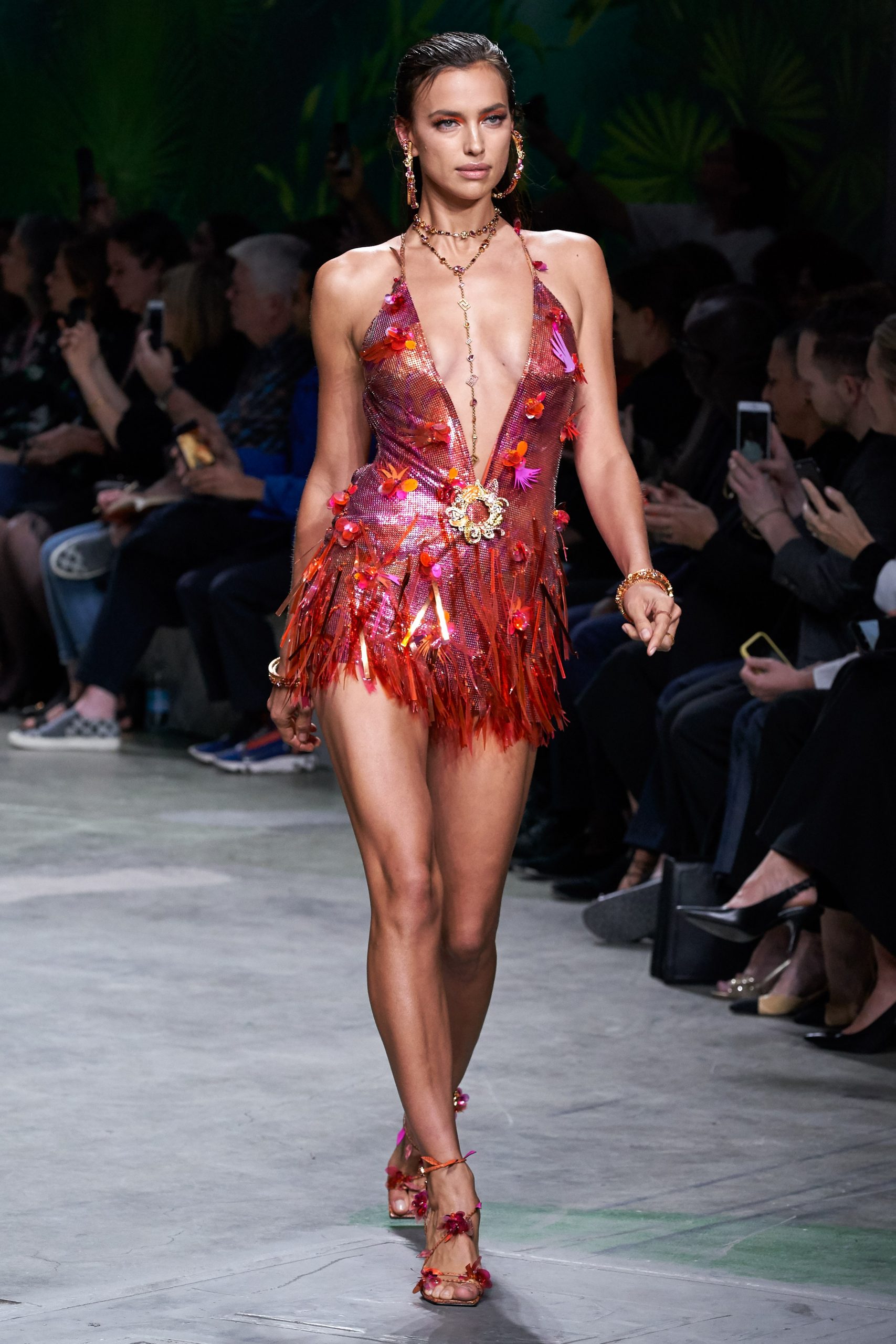 Život celebrít je neustále v hľadáčiku fotografov, paparazzi novinárov a zaplňuje titulky bulvárnych magazínov, načo si vyťažená a vyhľadávaná speváčka musela za tie roky chcieť či nechcieť zvyknúť. Aj to je daň za slávu celebrít. Kampaň pre značku Versace, ktorej sa stala sexi tvárou má skrytý podtext, ktorý hovorí práve o tom, že život celebrít je neustále pod drobnohľadom, čomu pomáha aj digitálna doba, ktorej žijeme. Prináša pohľad do ich súkromia, ktoré je čoraz ťažšie skryť a verejný aj súkromný život sa začínajú prelínať.
V minulosti tomu však tak nebolo. Pamätníci roku 2000 si môžu zaspomínať, že v tom čase nájsť na googli ľubovoľnú fotografiu bolo nemožné. Google obrázky neexistovali, až do času 43. ročníka udeľovania cien Grammy, kedy speváčka Jennifer Lopez spôsobila virálny ošial v šatách z dielne Versace. Boli to ostatne tie isté sexi šaty s hlbokým dekoltom odhaľujúcim až pupok, z priesvitného materiálu a tropickou potlačou, ktorú teraz značka vynovila a slávia opäť svoj comeback. A to aj vďaka Jennifer. Stali sa jednými z najikoničkejších šiat módneho domu Versace, ktoré sa tak, ako jej pôvodná foto a terajší catwalk po móle po 20.rokoch, zapísali do módnych dejín. Jej prvotné šaty z cien Grammy spôsobili celosvetový ošial, kedy ich z oficiálnych stránok Grammy stiahlo 600 000 ľudí a mnoho ďalších ich vyhľadávalo na googli. Ten takýto nápor nezvládol a mal za ciel prelom a vznik prvotných google images (obrázkov), ktorých prapôvodcom je práve Jennifer Lopez.
Slávne šaty z najnovšej kolekcie Versace, Jar/Leto 2020 (vľavo) a šaty z galavečera Grammy , spred 20 rokov (foto vpravo).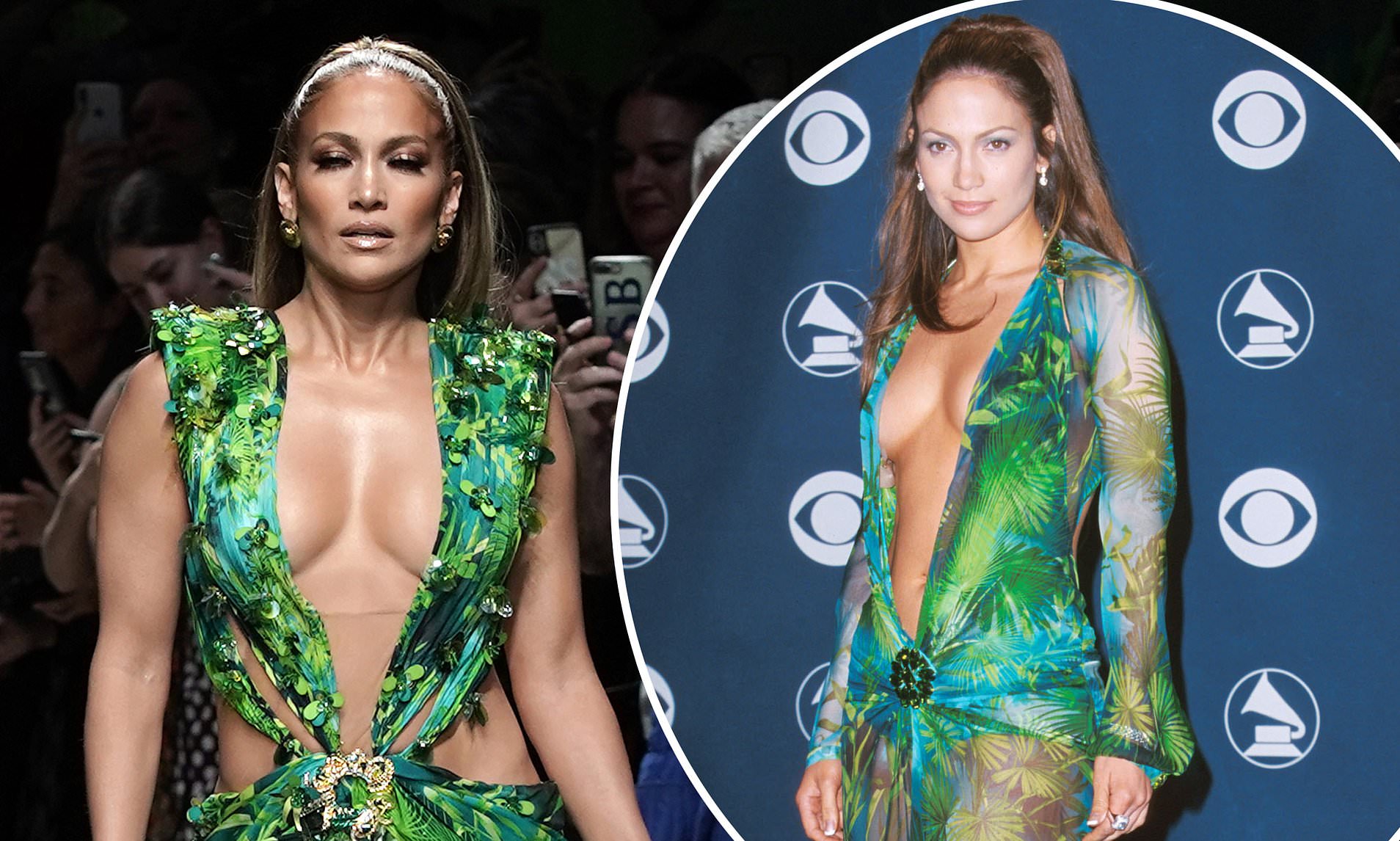 Spolu s Jennifer Lopez sa v kampani objavila aj jedna z komerčne najúspešnejších modeliek súčasnosti Kendall Jenner. Kendall taktiež obliekla šaty kolekcie 2020 pre Jar/Leto .
Speváčka sa vyjadrila, že spolupracovať so značkou Versace je pre ňu niečo ako priniesť svetu posolstvo, ktoré značka prináša svetu a splnený sen. Ostatne rokmi overená spolupráca je zakaždým ovenčená dlhotrvajúcim aplauzom.
Spevácku Divu nafotilo duo známych a úspešných fotografov Mert Alas a Marcus Piggot pracujúcich pod značkou MERT & MARCUS . Ich hľadáčikom prešli svetové hviezdy a ikony ako herečky Penelope Cruz, Rachel Weisz, modelky Bella Hadid, Kate Moss, Naomi Campbell, Giselle Bundchen či speváčky Rihanna a Madonna. Výsledkom ich úspešných projektov a spoluprác sú kampane pre slávne značky a magazíny – Gucci, Burberry alebo Vogue Italia.
Modelka Kate Moss pre Vogue Nippon/Japan, Londýn 2011, Mert Alas & Marcus Piggott
Sexi Jennifer Lopez zažiarila ako stelesnená dokonalosť v mnohých kampaniach a obliekala šaty známych značiek.