Šaty naše každodenné – jesenná outfitová inšpirácia, steet style
Šaty elegantné, zmyselné, zvodne sexi, klasické, tubové, zahaľujúce, vyzývavo odhaľujúce, letné, šifónové, jemné ako vánok, dlhé, tajomne vinúce sa po postave s elegantnou gráciou podčiarkujúce zahalené krivky ponechané predstavám… To všetko sú moje obľúbené šaty, ktoré s radosťou nosím. A myslím, že všetky ženy, ktoré neobľubujú tepláky aj na bežné nosenie, sú v tejto vete obsiahnuté. Šaty naše každodenné, bez ktorých si nevieme my ženy elegantné, ženy zmyselné, extravagantné, šik Dámy predstaviť život, rozhodne tvoria markantnú časť nášho šatníka.
Či už je leto, či zima, milovníčky šiat si vedia na šaty vždy nájsť tú správnu náladu a príležitosť a podľa toho volia druh. Ja som po našom tzv. "šatoholik" , znie to zaujímavo toto nové slovo bez dĺžňa na o, to by som vytvorila opäť významovo iné slovo, no asi veľa žien je v tomto ponímaní so mnou za jedno.
Preto aj na bežný deň, chcem vyzerať pekne, zaujímavo a volím modely, v ktorých sa tak aj cítim. Častejšie ako zvoliť dvojkombináciu nohavice a topová časť, siahnem po šatách. Šaty patria k mojim favoritným outfitom a preto ich nosím azda najčastejšie.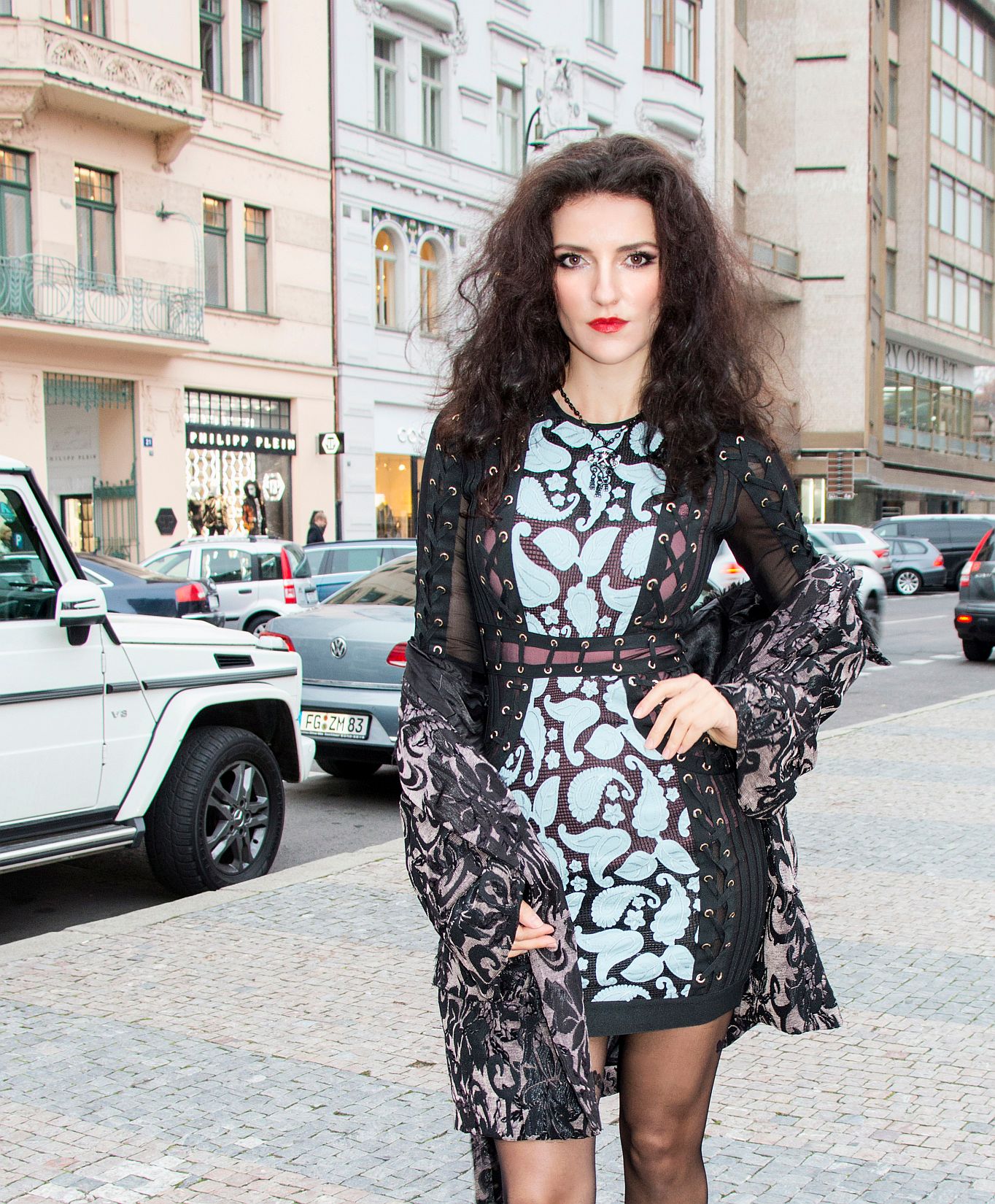 Tento model je trošku z iného súdka. Nie je určený úplne na bežný deň, pre svoj výrazný vzhľad a kombináciu vzorov, materiálov a zdobení, no niekto sa v nich môže vo vhodnom prostredí tak cítiť, ostatne prečo nie. V takom Miláne a v inej svetovej metropoli nie je nečakané vyjsť si vo výraznom outfite bez toho, aby na vás ukazovali prstom, alebo sa pýtali, kam idete, ako sa mi to stáva na Slovensku.
Slovenky sú krásne ženy, majú vkus, no stále sme v niečom generačne
poznačený ako národ, ktorý musel byť dlhé roky ticho a človek nevytŕčaj z radu. Niektoré dámy svoju krásu nevedia podporiť, boja sa a radšej volia síce klasickú eleganciu v čiernej, šedej a tlmených farbách, čo je patrične vhodné a žiadúce k mnohým okolnostiam, no po celý čas nevybočia z tohto "šedo-myškovského" radu. Majte na pamäti, že odievanie sa neustále do tmavých farieb má dopad aj na psychické vyžarovanie, cítenie sa človeka, farby majú totiž výrazný vplyv práve na našu psychiku. A to aj na oblečení. Vziať si na seba občas nejaký ten expresívny módny kúsok, výrazný alebo farebný, v ktorom zažiarite, nie je morálny prehrešok ani ťažká úloha. Ženy dokážu byť krásne v akomkoľvek veku a veľkostnej kategórii.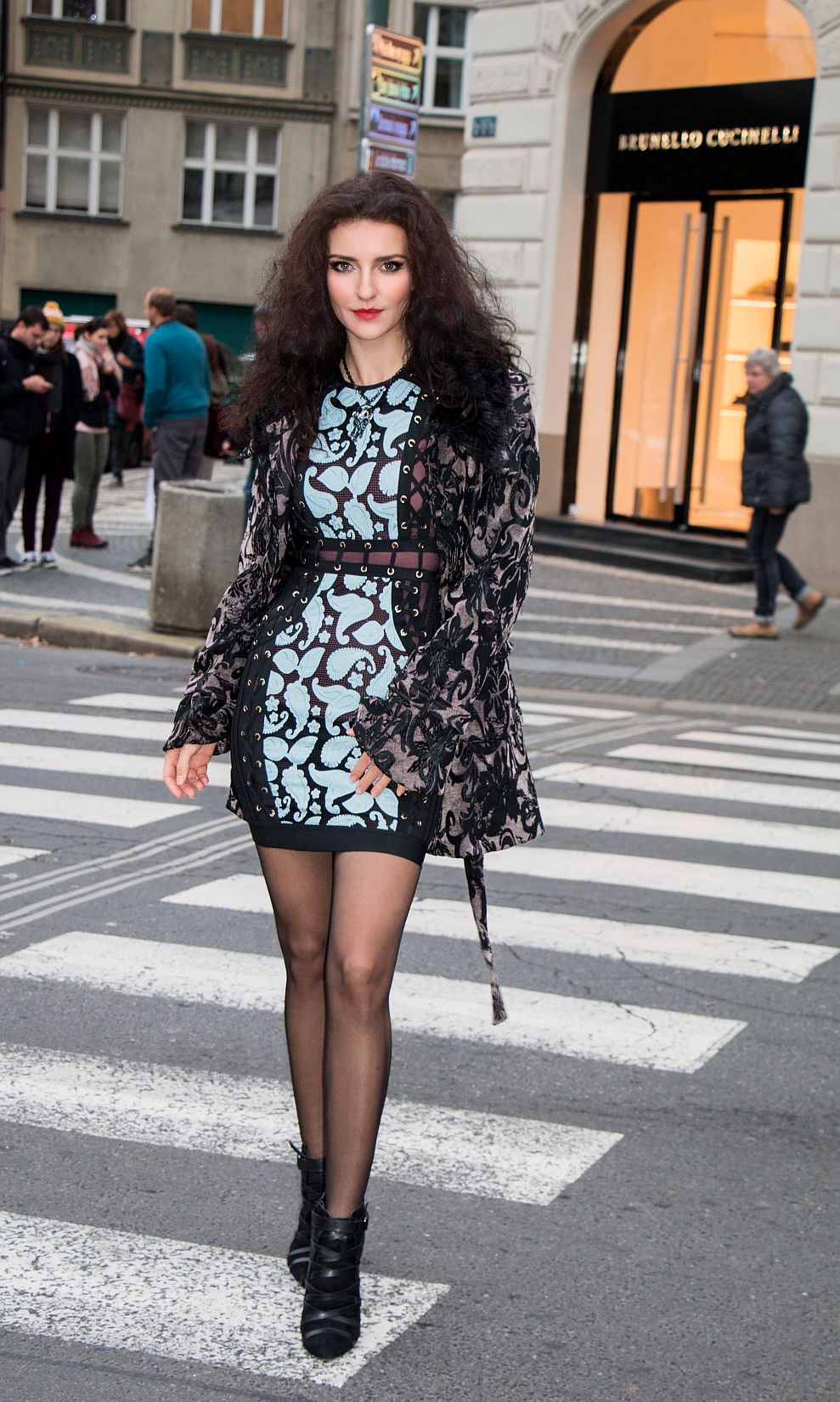 Nová generácia toto už vníma inak, i keď absolútny protipól bez patričnej brzy v zmysle "robím a nosím si čo chcem, ako chcem a kde chcem", je problém týkajúci sa práve nej . Ale to už som odbočila z témy výrazovo smelého jesenného modelu šiat v uliciach veľkomesta k filozofovaniu, politickému zabrdnutiu a mentalite súčasnosti.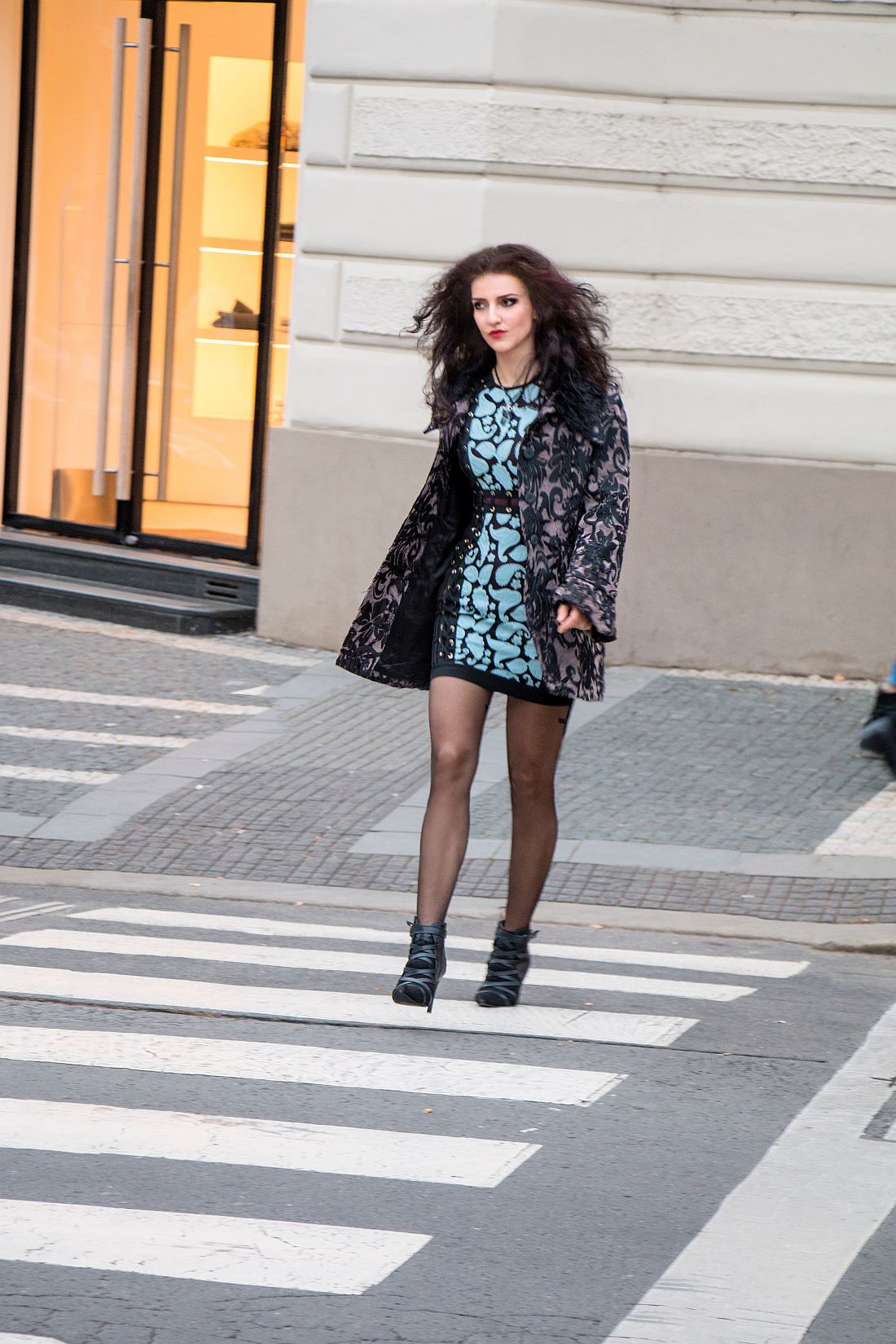 Šaty sú z hrubšieho pevnejšieho materiálu, preto tento look radím k jesenným outfitovým inšpiráciám. S kabátikom v jednotnej farebnosti vynikne samotný model najkrajšie (nie práve v mojom prípade). 🙂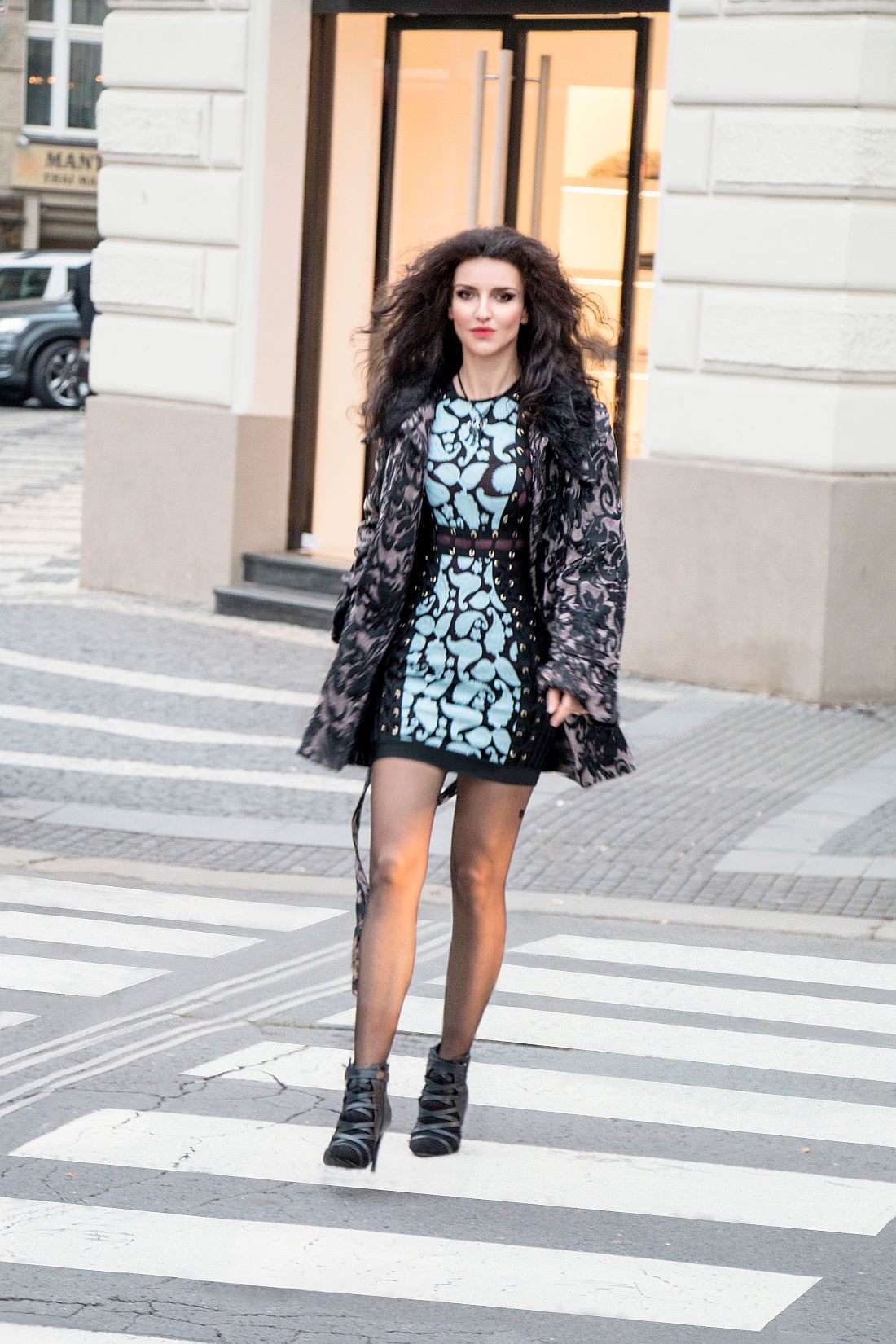 Materiál je mierne elastický, skôr pevnejší ako elastický, ale tým zaručuje, že dokonale sadnú postave, ktorú držia a obopnú s dôrazom na ženské krivky. Tento typ modelu svojím strihom sedí najmä postavám tvaru presýpacích hodín.
Transparentné vloženie doplňujúceho materiálu je aplikované v oblasti pásu a vo vertikálnej rovine cez prsia, pričom toto panelové členenie je podporené šnurovacím zdobením. Malý zvodný detail vytvoril povestnú čerešničku na torte, sexi šmrnc a pritom všetko čo má byť, ostáva zahalené. A preto sa mi tak páčia, zvíťazil výrazný vzhľad, dokonalý komfort pri pohybe aj po dlhý čas, luxusný dizajn a vo finále z vás spravia luxusnú dámu.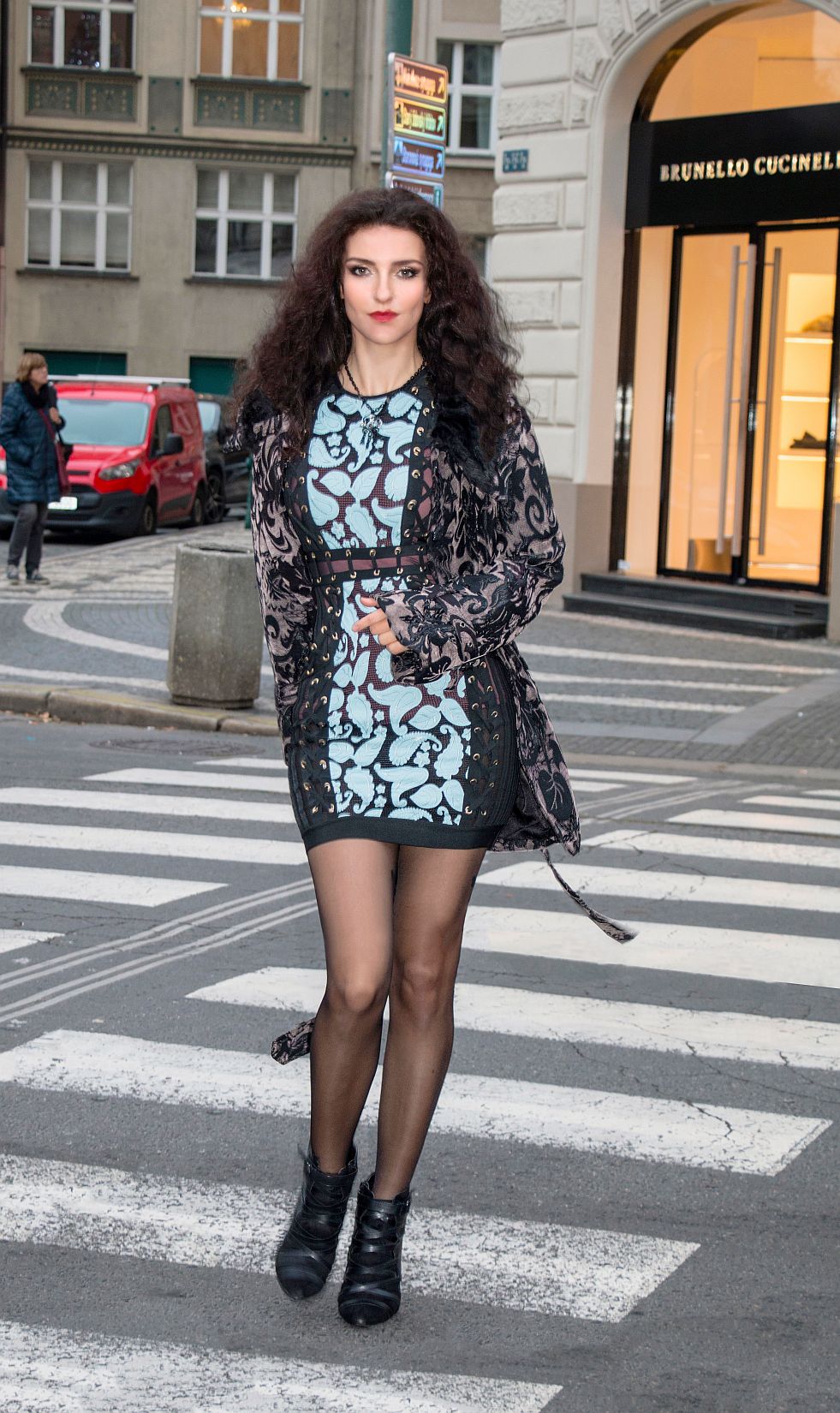 Šaty majú na frontálnej časti imitáciu abstraktného kvetinového motívu v bledomodrej farbe.
Efektné šnurovanie je aplikované aj na rukávoch a po bokoch šiat. Panelové členenie v oblasti pásu, akoby "prestrihnutie", podporuje tento efekt ešte viac. Tvaruje, modeluje postavu zvýraznením pásu, vytvára akoby dvojitý vzhľad, opticky klame a vábi okolitú pozornosť. Tieto šaty rozhodne "nezapadnú prachom" , neuniknú pohľadom na ulici ani počas nejakej vhodnej udalosti.
Ako to už na svetových fashion weekoch býva, podľa posledných trendov z prehliadkových mól nastavených dizajnérmi, kombinácia vzorov, potlačí a materiálov je dnes v móde. Dnes neplatí pravidlo menej je viac, naopak, akosi sa aj v uliciach svetových metropol, kde vládnu módou svetoví fashionisti, blogeri, pretláča trend z prehliadkových mól – kombinovanie a vrstvenie v zmysle rôznorodosti. A do očí bijú farby, ktorými to tam len tak hýri. A to čím viac, tým lepšie, čím pestrejšie, tým zaujímavejšie. Samozrejme sa jedná o outfity, kde je pridanou hodnotou zaujímavosť, efekt a originálnosť.
Ja som sa v tomto ľubivom, hravom spájaní fashion prvkov, materiálov, textúr a potlačí roky predtým našla. Na silu sa to priučiť nedá, človek musí byť aj tak trochu osobnostne exhibicionisticky nastavený, no jestvujú príležitosti, kde si to môžete vyskúšať. Nie je to preto pre mňa nič nové, naopak, vítam túto výzvu a svojimi kombinovanými outfitmi v uliciach Milána počas Fashion Weeku takto módu rada "oslavujem".
Tak smerom k oslave módy a najmä oslave ženskosti, vykročme tou nežnou, žensky hebkou nohou milé žienky, dámy v opätkoch v krásnych šatách s radosťou zo života vpred !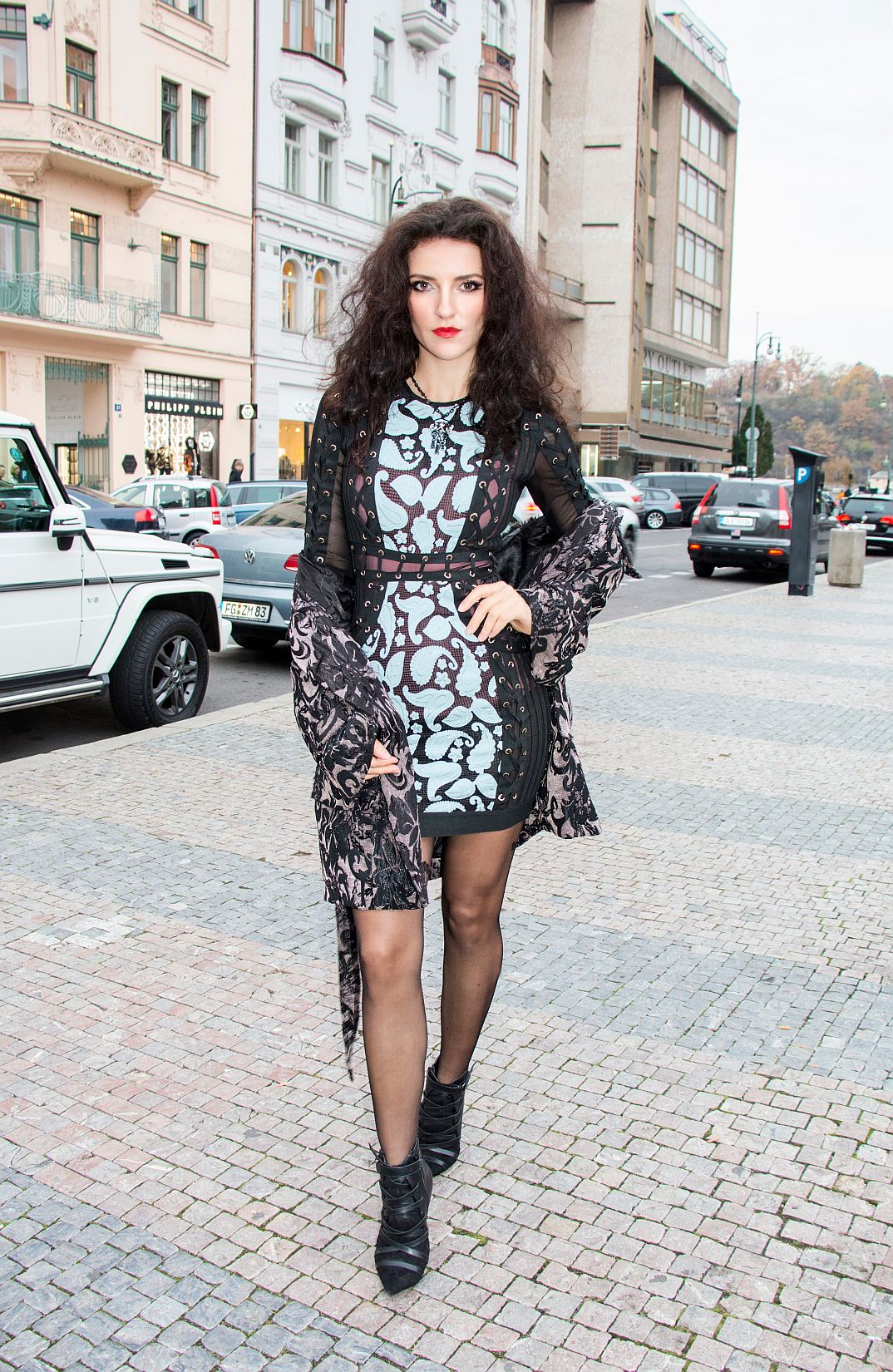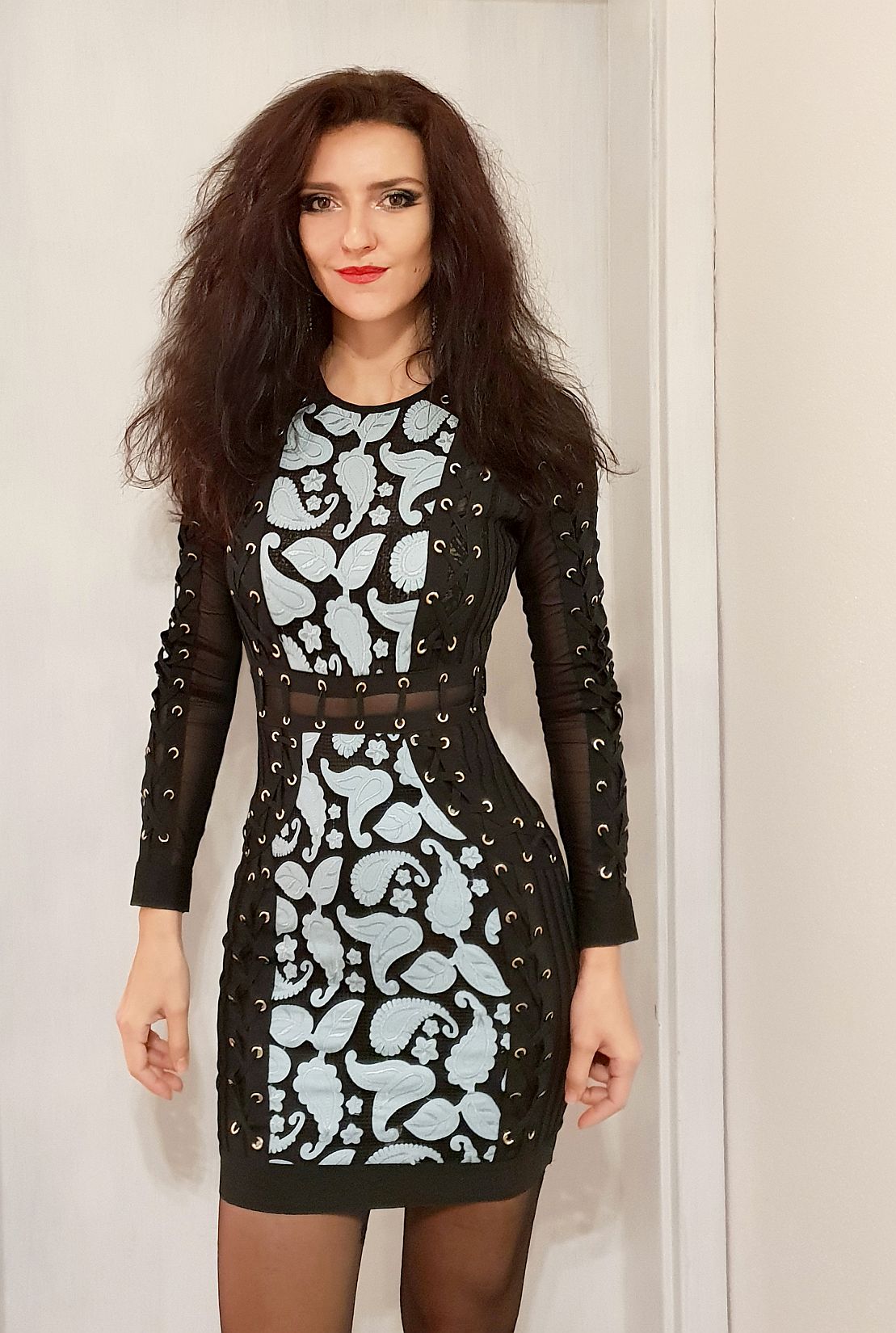 Sleduj ma na:
2 Instagramy: myamirell ,
mya_mirell
Facebook: Mya Mirell Fashionista,
Mya Mirell