"Čo bol Warhol pre umenie, bol Karl Lagerfeld pre módu. Je jediná osoba, ktorá vie spraviť bielu a čiernu farebnou." Claudia Schiffer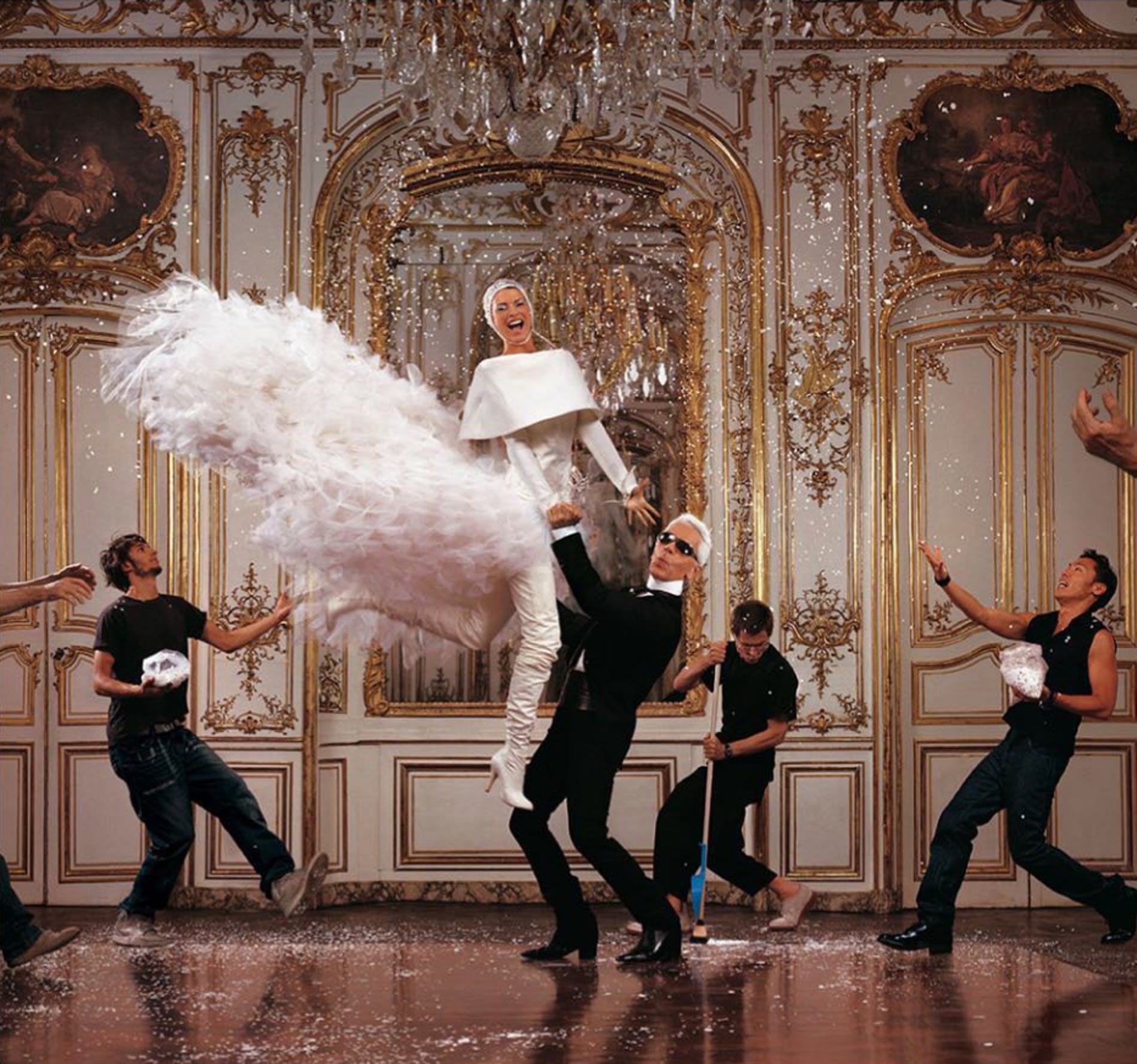 Legendárny dizajnér Karl Lagerfeld navždy zostane ikonickou postavou v módnom priemysle, ktorý výrazne ovplyvnil. 19. februára 2019 pri príležitosti druhého výročia jeho úmrtia stále badať jeho vplyv na módu a cítiť odkaz žijúci dodnes.
Karl Lagerfeld zmenil a ovplyvnil módny priemysel držiac titul kreatívneho dizajnéra niekoľkých najikonickejších módnych domov ako Chanel , Fendi aj Chloe.
Karl Lagerfeld bol plný energie a multitalent. Jeho hviezda sa zrodila v 60-tych rokoch, kedy sa rozhodol osamostatniť, pričom sa jeho meno zakrátko stalo značkou, známkou elegancie, unikátnosti a kreativity. Na čo siahol, to pozdvihol, znovuzrodil a doviedol k úspechu. Preto bol aj oslovovaný k mnohým spoluprácam v oblasti módy a umenia. Zdá sa, že jeho nevyčerpateľná energia a láska k móde a dizajnu ho sprevádzala po celý jeho kreatívny život. Módou žil, dýchal aj skonal.
Uplynuli už dva roky od smrti tohto legendárneho módneho mága a tak si pripomeňme nezabudnuteľné dizajnérske kreácie a fascinujúce prehliadkové looky, ktoré sa navždy zapísali do dejín módy.
Claudia Schiffer a Cindy Crawford – prehliadka značky Chanel, Paríž 1993
Legendárny dizajnér Karl Lagerfeld známy pre svoj nezameniteľný vzhľad – elegantný look, vlasy učesané dozadu, dlhý chvost na zátylku, vysoký golier a rukavice bez prstov, nebýval vždy taký chudý a vo forme. Na prehliadke značky Chanel v roku 1993 s ikonickými topmodelkami 90. rokov Claudiou Schiffer a Cindy Crawford mal zopár kíl navyše a zvykol používať vejár. Práve topmodelky 90. rokov Kate Moss, Linda Evangelista and Claudia Schiffer, sa spájajú hrdo s menom Karl Lagerfeld, no dizajnérovými rukami prešli aj ďalšie najvychytenejšie modelky a známe tváre počas rôznych dekád. Výnimkou nie sú ani známe tváre ako Vanessa Paradis, speváčka Lily Allen, Lilli Rose Deep, či obľúbená modelka neskorších období Cara Delevingne. Jeho prispôsobivá osobnosť zmenám spoločnosti a móde a stále sršiaca energia ženúca ho neustále vpred zariadili, že módnym svetom plával ako neohroziteľný a stabilný velikán zažívajúci rôzne éry a udávajúci trendy.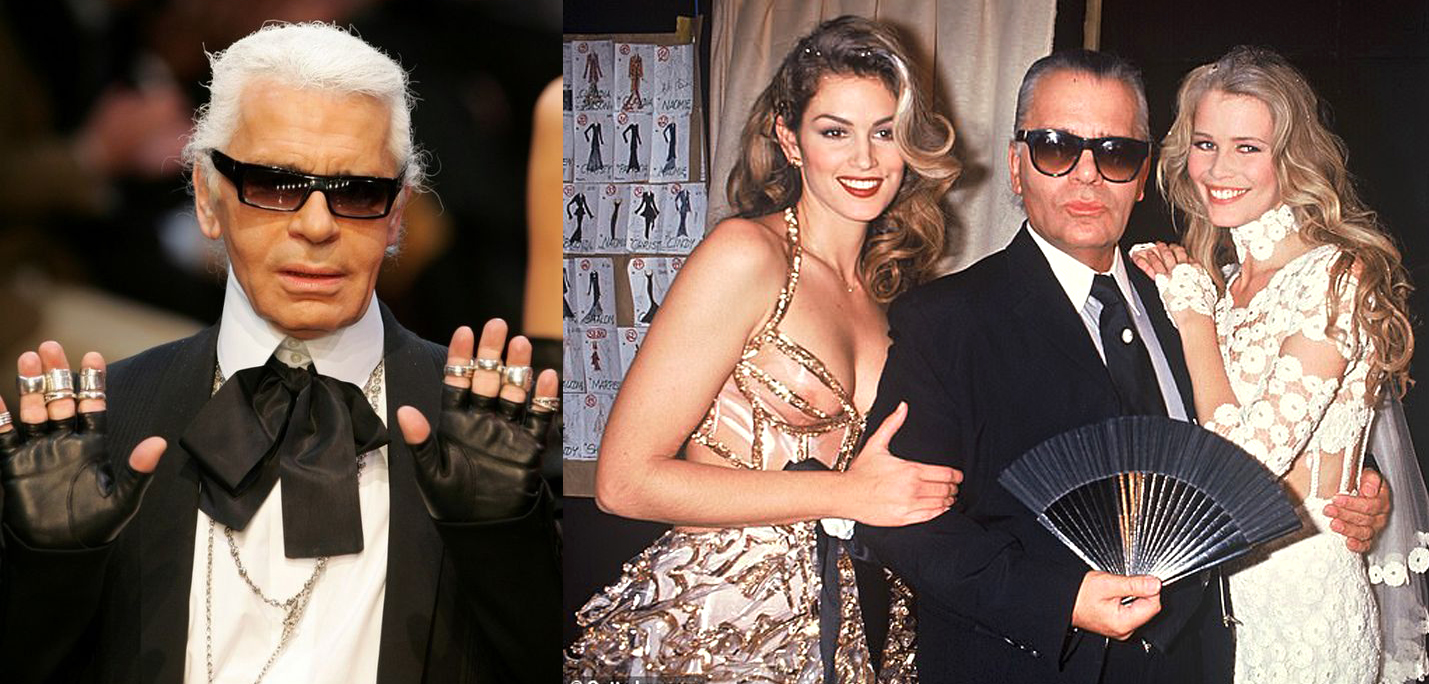 obrázok: Rindoff Petroff/Castel/Getty Images
"Karl bol môj magický prach. Zmenil ma z plachého nemeckého dievčaťa v supermodelku", vyjadrila sa modelka Claudia Schiffer na Instagrame v čase jeho úmrtia. "Naučil ma veľa o móde, štýle a prežití v módnom biznise. Čo bol Warhol pre umenie, bol Karl pre módu. Karl je nenahraditeľný. Je jediná osoba, ktorá vie spraviť bielu a čiernu farebnou ! Budem mu neskonale večne vďačná. "
Claudia Schiffer predvádzala pre Karla Lagerfelda a slávu s jeho modelmi zažívala v roku 1994. https://www.instagram.com/p/BuENxFuAVpV/?utm_source=ig_embed
Lagerfeld sa raz prešiel na móle so supermodelkami Cindy Crawford, Helena Christensen and Claudia Schiffer.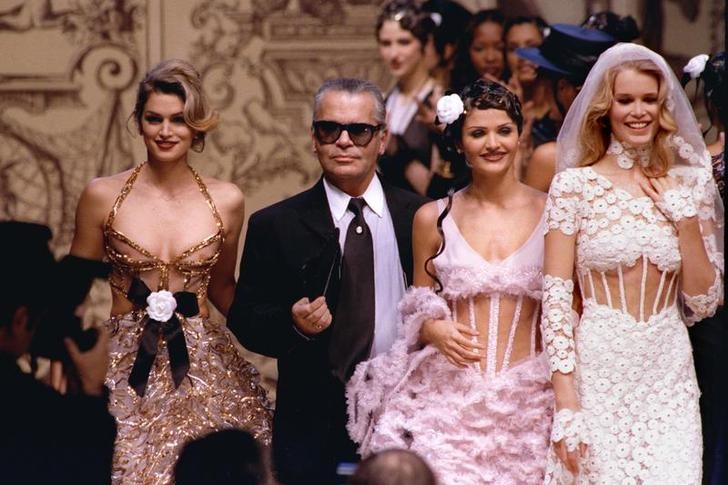 obrázok: Reuters
Naomi Campbell, prehliadka Chanel, Jar 1994 a Kate Moss, prehliadka Chanel, Jeseň / Zima 1997-1998
Nezameniteľný dizajn s Lagerfeldovým rukopisom a slávne modelky 90-tych rokov, to sú historické momenty módy navždy zapísané do dejín. Ďalšie modelky po boku Karla Lagerfelda popri Claudii Schiffer a Cindy Crawford boli tiež Naomi Campbell a Kate Moss.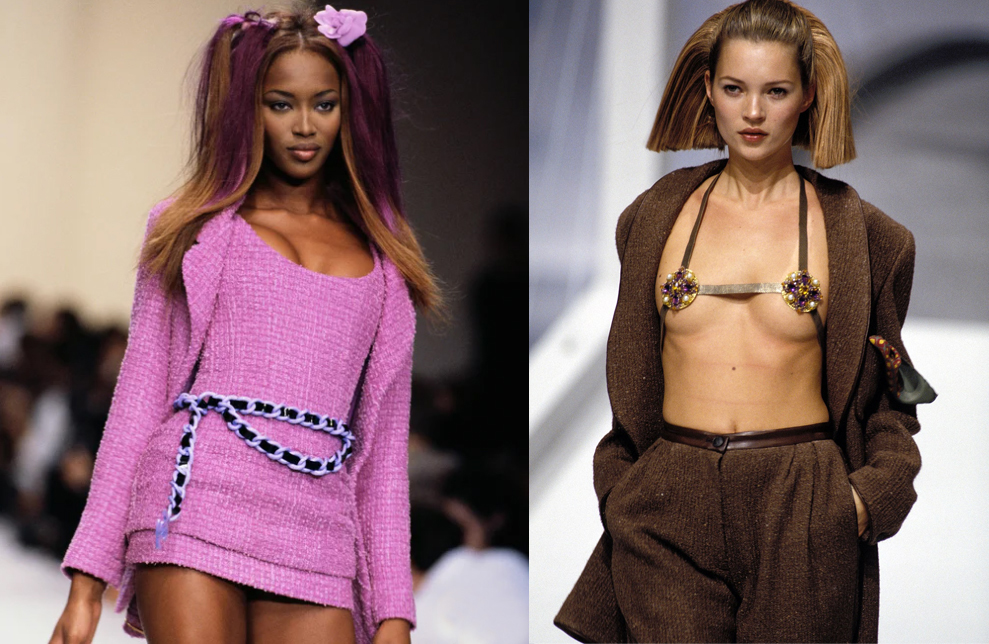 Foto: Michel Arnaud/Corbis/Corbis, getty images
Hula hoop kabelka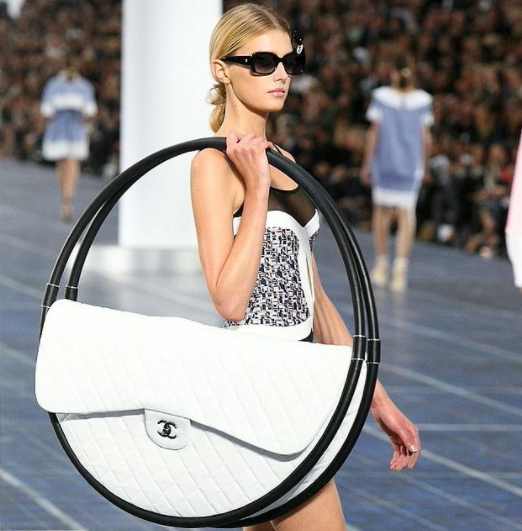 Jeden z najprovokatívnejších nezabudnuteľných dizajnov Karla Lagerfelda je hula-hoop kabelka z prehliadky Chanel, Jar 2013. Pri pohľade na tento model sa natíska jasná otázka, ako sa asi táto kabelka nosí? Lagerfeld to mal však premyslené. Jednoducho ju vraj strčíte do piesku a vyberiete z nej veci. Jednoduché, nie ?
Lilli Rose Deep – Chanel, Jar 2017
Očarujúce šaty s volánmi od Lagerfelda obliekla vo finále prehliadky značky Chanel, Jar/Leto 2017 nežná Lilli Rose Deep. No kto by z nej dokázal spustiť oči.
Viacvrstvové perly a dramatické pierkové róby
Čo sa týka dizajnu módnych doplnkov, bol Karl Lagerfeld extrémne talentovaný. Vytvoril prehlásený módny kúsok, ktorý sa obliekal s vrstveným perlovým náhrdelníkom. K dramatickým módnym kúskom vyšperkovaným o detail sa radí aj róba modelky Kaia Gerber lemovaná pierkami.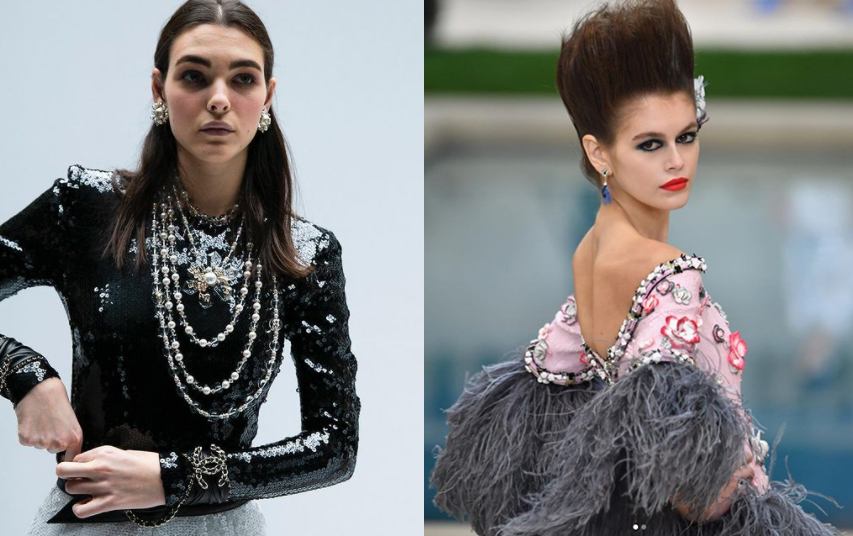 Tvorca loga
Karl Lagerfeld bol prehlásený tvorca loga. V roku 1980 po nástupe do čela módneho domu Chanel vytvoril ikonické logo pre tento módny dom pozostávajúce z prekrížených písmen C, ktoré zdobí modely značky.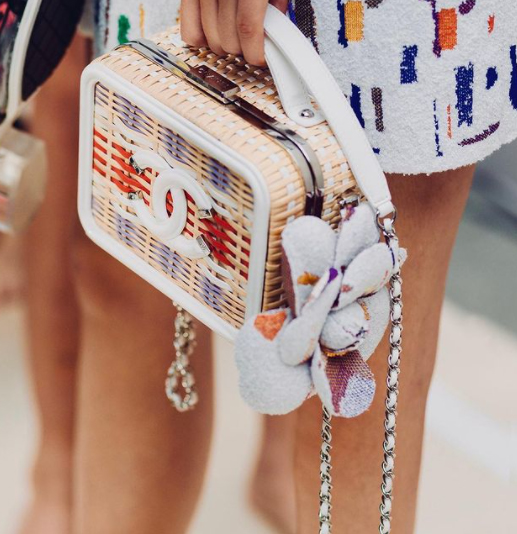 Talianskej luxusnej značke Fendi, do ktorej čela nastúpil v roku 1965, vytvoril neskôr logo s písmenami F.
Fendi – prehliadka na Fontane di Trevi, Rím, 2016
Silvia Venturini Fendi, jedna zo sestier rodinnej firmy Fendi a Karl Lagerfeld, kreatívny dizajnér, ktorý stál na čele tejto značky dlhých šesť dekád, usporiadali v júni 2016 nezabudnuteľnú módnu show pri príležitosti 90.výročia značky v Ríme a to priamo vo Fontáne di Trevi. Prítomní hostia mohli na chvíľu zažiť ten preslávený sladký život – "La Dolce vita".
Chanel – prehliadka Jar 2019
Milovaný nezabudnuteľný dizajn, jednoduchý a jednoducho perfektný, označený logom. To bol dizajn módnej prehliadky Chanel pre Jar 2019, ktorá sa odohrala pod holým nebom na umelej pláži. Bola to zároveň posledná show pod Lagerfeldovým vedením, čo vtedy ešte nik netušil, pričom na móle sa vedľa neho zjavila jeho budúca nástupkyňa Virginie Viard.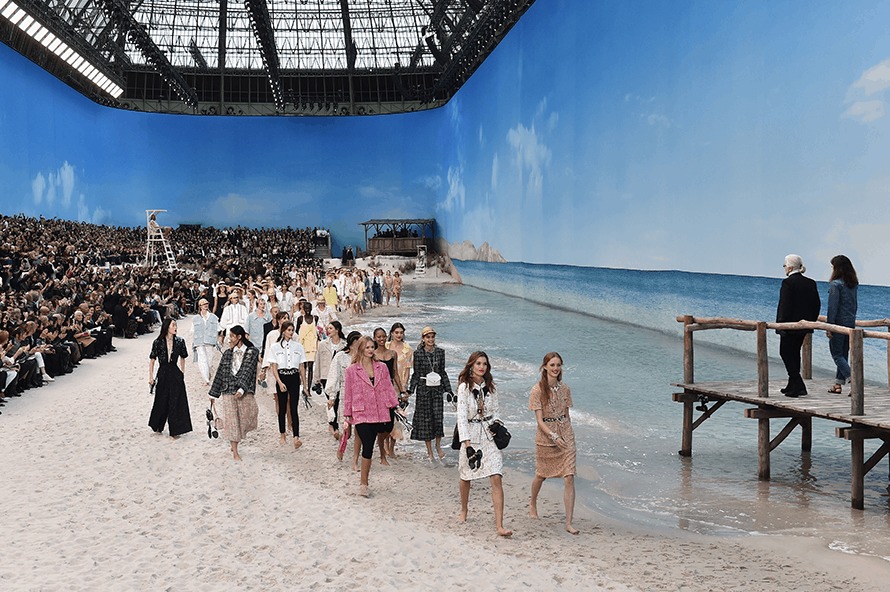 Vplyv na mužský dizajn
Hoci je dizajnér Karl Lagerfeld známy pre dámsku módu, svoju pozornosť a víziu vložil aj do pánskej módy. Prvá a posledná kolekcia pre mužov v značke Fendi, bola kolekcia pre Jeseň/Zimu 2019 – 2020. Kolekcia z kože a kožušiny obsahovala ženské znaky zlatých doplnkov a náhrdelníkov a rolákové a v-výstrihy zo 70-tych rokov.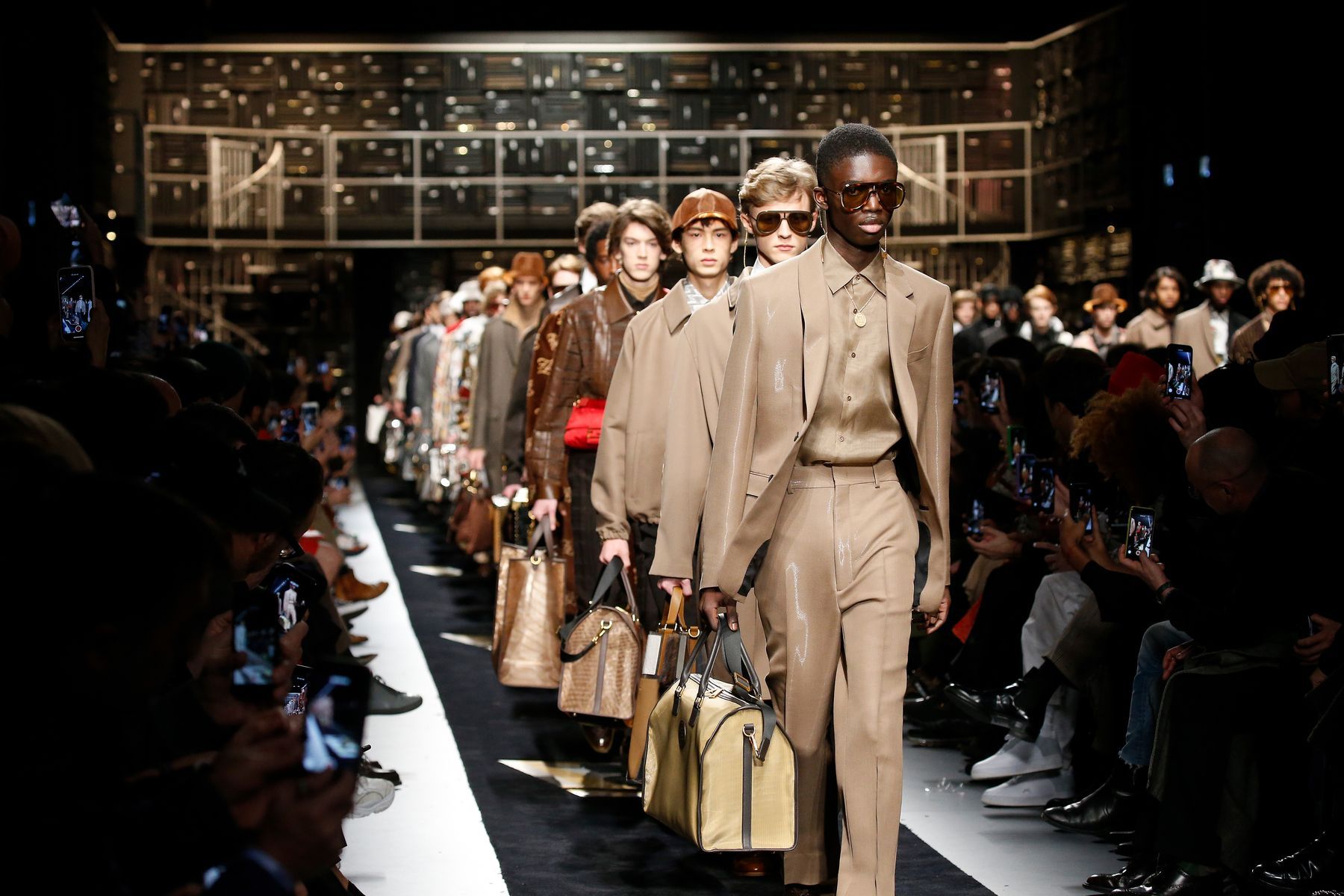 obrázky: fendi, chanel, instagram
Predádzajúce články o legendárnon dizajnérovi Karlovi Lagerfeldovi, jeho živote, čítajte v histórii na tomto blogu. Sledujte Facebook stránku: Mya Mirell Fashionista a Instagram: mya_mirell .
© AUTORSKÉ PRÁVA VYHRADENÉ