Karl Lagerfeld, zrodila sa dizajnérska hviezda
Karl Lagerfeld. Meno, ktoré je najviac skloňované v posledných dňoch, meno zrodené pre lesk a slávu. Ikonická legenda módy, pozoruhodná osobnosť s neskutočnou energiou, kreativitou a talentom 20. a 21. storočia, ktorá sa vryla do módnych sŕdc mnohých, nás navždy opustil 19. februára 2019 vo veku 85 rokov.
Jean-Paul Goude, Linda Evangelista a Karl Lagerfeld od Jean-Paul Goude
Karl Otto Lagerfeld, preslávený módny dizajnér sa stal legendou, karikatúrou a jeho tvár poznal celý svet. Jeho 64 ročná kariéra v módnom biznise mala viac generačný presah. Vytvoril univerzálny módny jazyk, ktorý sa páči aj mladým. Navrhoval pre svetové hviezdy, speváčky Madonnu, či Kylie Minogue, kostýmy pre ich koncertné turné a jeho modely s obľubou nosili herečky a osobnosti svetového formátu, ktoré ich vyniesli aj na červenom koberci.
Chanel módna show, Paríž, Ready to Wear kolekcia, Jeseň / Zima 2011
NIELEN MÓDNY NÁVRHÁR
Dizajnér, ktorý predčil samého seba, väčší ako život , pôsobil aktívne v oblasti módy neuveriteľný čas do vysokého veku, avšak definíciu módy presiahol natoľko, že ho jeho sláva posunula k rôznym oblastiam. Pracovne vyťažený a zapálený pre módu, ktorej zasvätil život bol až do posledných chvíľ, len pár dní pred svojím skonom dolaďoval podrobnosti poslednej kolekcie značky Fendi predvedenej v Miláne počas Milan Fashion Weeku, 21. februára 2019. Potvrdila to kreatívna riaditeľka Fendi Silvia Venturini Fendi. Dva dni po jeho skone s jedinou myšlienkou na krásu a bohatosť kolekcie.
Zdá sa to až neuveriteľné, koľko kolekcií zvládal vytvoriť tento módny génius, rozprával pritom módnymi jazykmi typickými pre značky, pre ktoré pracoval. Novátorský vizionár s fenomenálnym zmyslom kreativity obohatil módny svet prínosom a nezabudnuteľným mimoriadnym dedičstvom ako jeden z najväčších dizajnérov našej doby.
Karl Lagerfeld sa profesne neobmedzoval iba na módu, pracoval aj ako divadelný a kostýmový dizajnér, taktiež fotograf, navrhol kolekciu fliaš na coca colu light, bez ktorej si nevedel predstaviť život,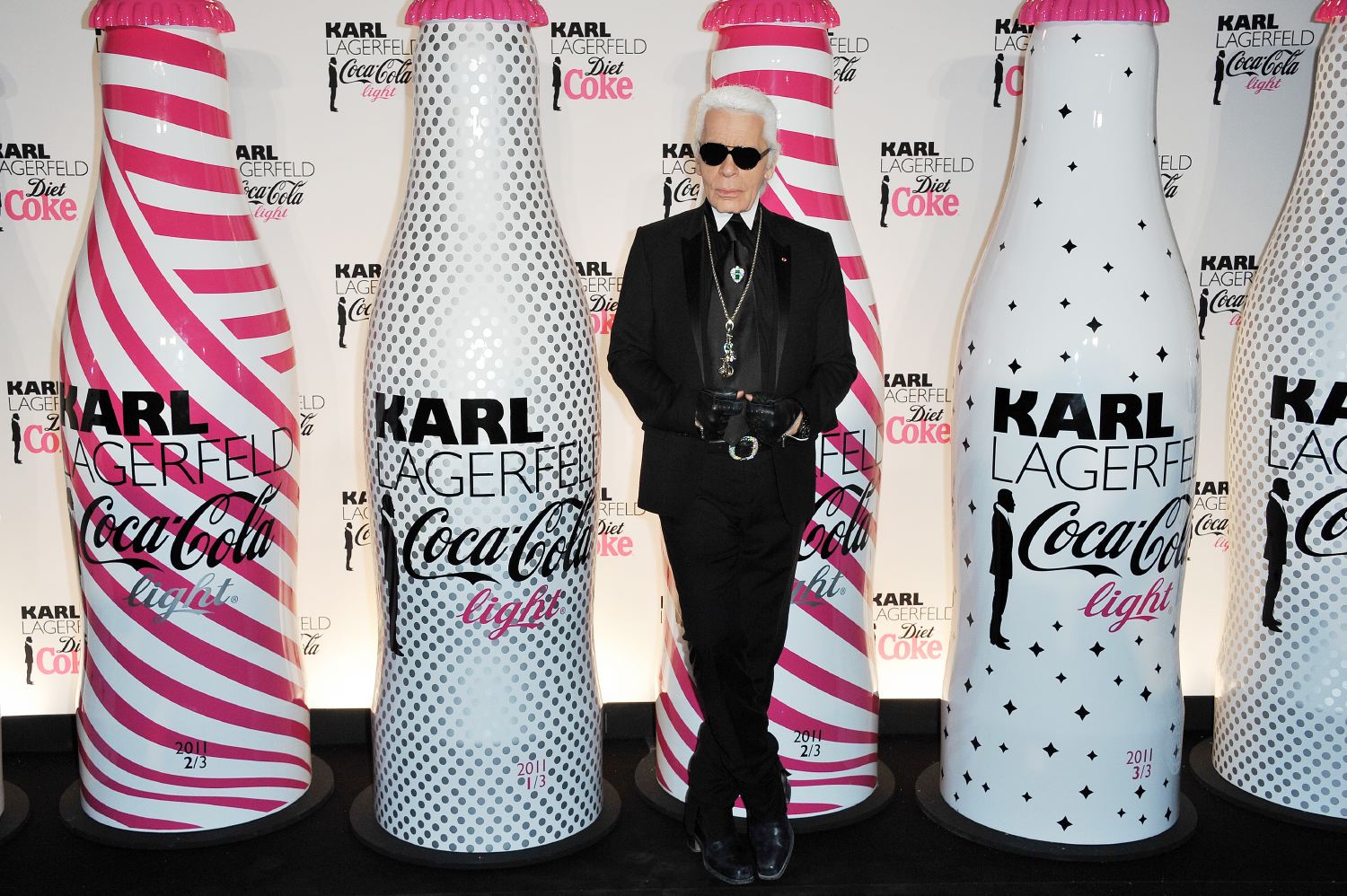 zdroj: zimbio com
limitovanú edíciu nanukov Magnum, dokonca nakrúcal krátke módne filmy, bol režisérom a vrhol sa aj na reklamnú kampaň značiek, ktorým pomohol k enormnému rastu a úspechu tak, ako spolu s nimi rástla zároveň sláva jeho mena a značky. Jeho štýlové topánky, okuliare, doplnky, oblečenie, obľubujú zástupy fanúšikov značky Karl Lagerfeld po celom svete.
Navrhol limitovanú edíciu interiérových doplnkov, pohárov, bábiku Barbie, ktorá sa ihneď vypredala, dokonca luxusné BMV. V roku 2011 nafotil slávny kalendár Pirelli. Jeho kreativita nepoznala hraníc a nebola obmedzená po celý čas ani vekom. Zatiaľ čo seniori v jeho veku sa sťažujú na choroby a prežívajú posledné chvíle života na dôchodku, ako vravieval, on aktívne pracoval a preto si so svojimi rovesníkmi nemal čo povedať. Preslávil sa tiež ako fylozof rôznymi aj kontroverznými výrokmi, ako to už pri velikánoch býva.
WORKOHOLIK CELÝM SRDCOM
Jeho život bol preplnený dizajnovými činnosťami, ktoré miloval, pracoval až 16 hodín denne a preto sa zdá neuveriteľné, že jeho deň taktiež trval iba 24 hodín.
Na čo siahol, to posunul k úspechu a preto sa mu dostalo označenia módny mág. Volali ho taktiež cisár. Žil v Paríži ale pôvodom bol Nemec, no doma bol podľa jeho slov všade a nikde. Vlastnil
Ako sa vyjadril v jednom rozhovore, je hladný po informáciách a chcel by vedieť všetko, čo ho zaujíma. Zrejme táto životná energia, entuziazmus ho poháňala neustále vpred. Sám tvrdil, že sa netreba obzerať vzad, náhľady do minulosti neznášal, treba ísť stále dopredu. Nemal rád ani rady, vziať si inšpiráciu zo svojich predošlých návrhov pri tvorbe nových. Vždy sa snažil vytvoriť niečo iné, čo tu ešte nebolo s ohľadom na požiadavky klientov a pritom byť v strehu, teda vedieť, čo tvorí konkurencia. Nie preto, aby si vzal inšpiráciu, ale práve preto, aby nevytvoril niečo podobné a bol vždy o krok vpred. Po skončení prehliadky každej kolekcie bol nadšený vrhnúť sa do práce na novej, čo sa nie vždy stretlo s pochopením jeho pracovného teamu. Zo začiatku bojoval s pomalým tempom u značky Chanel, do ktorej nastúpil ako kreatívny riaditeľ.
Tvoril až 10 kolekcií ročne pre módne domy Chanel a Fendi okrem svojej značky, na ktorej pracoval.
Zdá sa to neuveriteľné, ako toto všetko mohol jeden človek v jeho veku stíhať. V jednom magazíne vyšiel titulok Karl Lagerfeld nemôže byť normálny, lebo to, čo dokáže aj vzhľadom k svojmu veku, nie je možné. Vedci vraj chceli testovať jeho DNA. On sám vyhlásil, že nie je z tohto sveta.
SPOLUPRÁCA SO ZNÁMYMI UMELCAMI
Významnú rolu v jeho živote zohrala aj spolupráca so známymi umelcami. Objavil sa tiež vo filme Andyho Warhola, kde sa niečo filmovalo aj v dizajnérovom apartmáne v Paríži.
Na fotografii v strede v Le Palace nočnom klube so skupinou vrátane Andy Warhola a Paloma Picasso.
Karla Lagerfelda poznal svet ako ikonického renesančného muža, ktorého podoba sa spájala s neodmysliteľnou čierno-bielou kombináciou, úzkeho saka, bielej košele s vysokým golierom, okuliarov, bieleho mozartoveho chvosta a bezprstových rukavíc. Stal sa symbolom elegancie a luxusu.
zdroj: crfashionbook com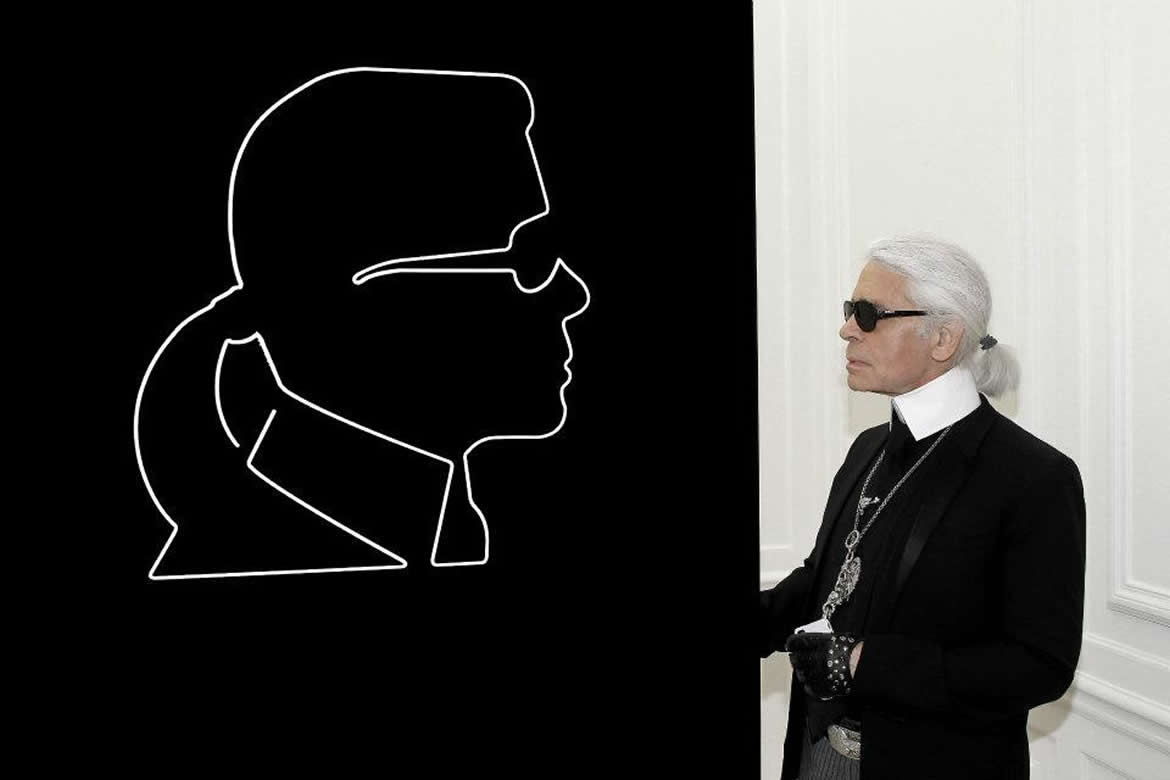 zdroj: pursuitist com
Dizajnér Karl Lagerfeld sa presvávil aj ako filozof. Jednou z jeho citácií je: "Navrhovať je ako dýchať. Ak nemôžem dýchať, mám problém."