Žlté tenisky značky Hogan a moja výhra vďaka Topfashion magazínu a Literix Group, Parížska 17, Praha
Pražský výlet a pobyt v stovežatej krásavici v mesiaci október/november 2018, z ktorého najnovšie fotografie pridám na svoju fan stránku na facebooku Mya Mirell, dopadol viac než úžasne. O tom, že dostanem krásny nečakaný darček, len tak, vďaka magazínu a firmám, ktoré pripravujú rôzne súťaže na sociálnych sieťach, sa mi ani len nesnívalo. A o tomto milom prekvapení a rozkošných teniskách značky Hogan, ktoré som vyhrala vďaka priaznivej konštelácii hviezd, ako ja hovorím, sa chcem podeliť v tomto článku.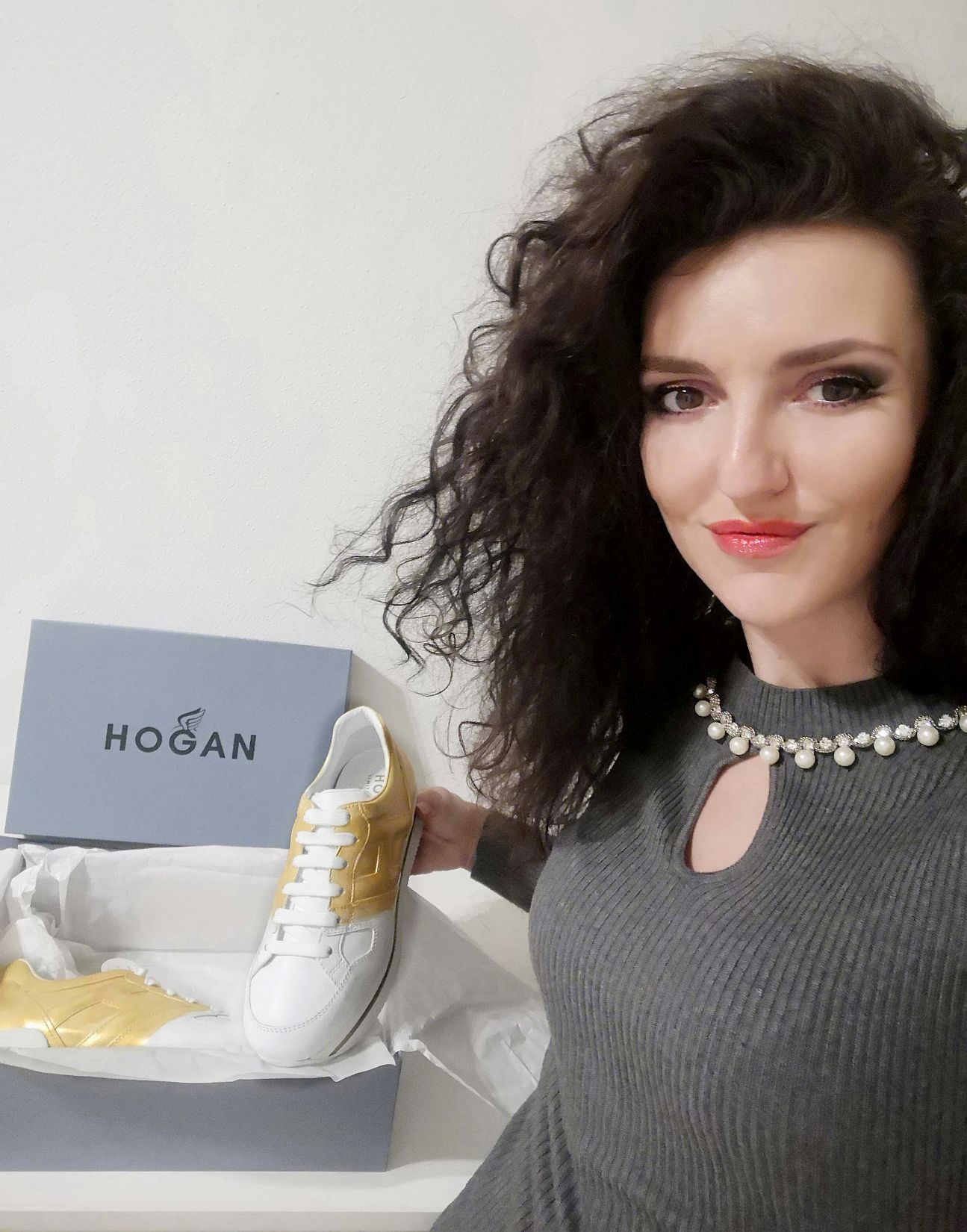 Práve v čase môjho pobytu v Prahe, mi na mojom prvom instagramovom profile mya_mirell cinkla správa, že som vyhrala. Do súťaží som sa nezapájala a niektoré zaujímavé posúvam
iným ľuďom, no vtedy som to skúsila. Ani som nedúfala, žeby som mohla vyhrať. Súťaž poriadal Topfashion magazín, ktorý je známy čitateľom v Čechách a na Slovensku (sleduj na instagrame topfashionmagazine) a keďže módne témy sú mi blízke, tak mi súťaž padla do oka. Topfashion magazín v spolupráci s firmou Literix Group a jej stránkou literix_parizskafashion (sleduj na instagrame), ako som sa neskôr dozvedela, súťaže pripravuje pravidelne.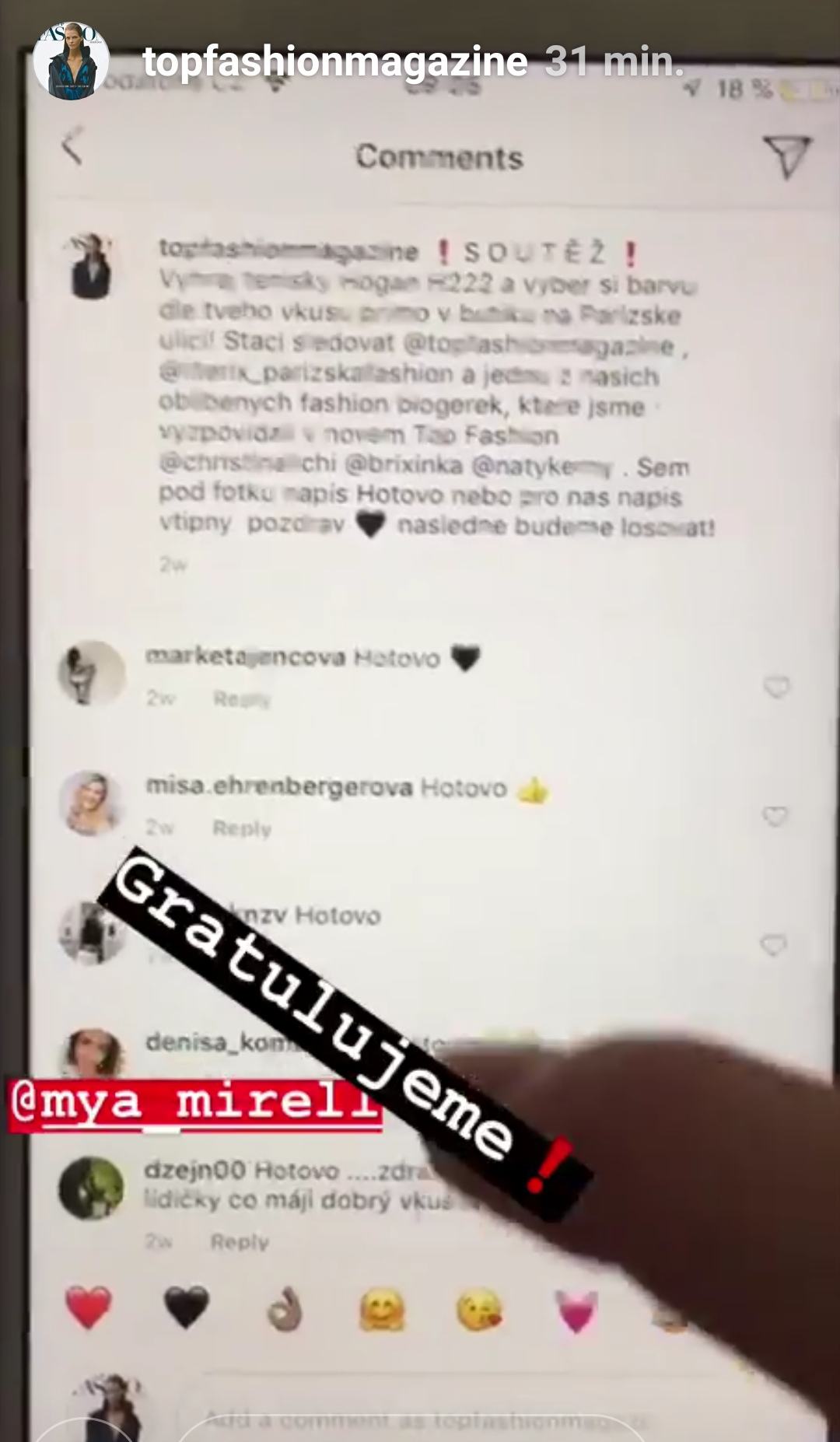 Chvíľu som tomu nemohla uveriť, no keďže som sa nachádzala v Prahe, zavítala som sa do butiku Hogan spoločnosti Literix Group priamo opýtať. Nedávno som sa totižto vrátila z Milána, kde som okrem módnych prehliadok navštívila tradične obchody, pozrela si najnovšie trendy a novinky od svetových módnych domov, známych dizajnérov a samozrejme neobišla ani najznámejšiu nákupnú ulicu Via Montenapoleone. Talianske značky mám rada a prostredníctvom tohto blogu a jeho facebook stránky Mya Mirell Fashionista prinášam rôzne zaujímavosti. Fotografie, najnovšie kolekcie, ktoré tu prezentujú najslávnejšie módne domy uvidíš na mojej facebook stránke Mya Mirell Fashionista v albume Milan Fashion Week, september 2018.
Hogan je talianska značka, ktorej dizajn sa mi páči a je mi veľmi dobre známa. V Miláne sa okrem módnych prehliadok, konajú počas Milan Fashion Weeku aj rôzne prezentácie značiek, koktail party a prezentáciu poriada aj značka Hogan (čítaj predchádzajúci článok Fragocciamo s Chiarou Ferragni – prezentácia a koktail party). Súťaž o talianske nádherné tenisky ma preto oslovila. Prezentáciu značky Hogan som ako mnohé ďalšie zaujímavosti, vďaka krátkosti času nestihla, no taliansku módu sledujem o pravidelných novinkách, ktoré stíham zachytiť z Milána a Milan Fashion Weeku sa dočítate vždy na tomto blogu.
V Prahe môžete talianske módne domy a ich kolekcie nájsť na vychýrenej nákupnej ulici Parížska 17. Je plná výhradne butikov luxusných talianskych produktov pre Českú republiku, nájdete tu známe značky Fendi, Prada, Dolce and Gabbana, Bottega Venetta, Salvatore Ferragamo, Gucci, Bvlgari, Ermenegildo Zegna a iné. Teda všetky tie, čo predvádzajú aj na milánskom týždni módy. Vždy sa tam veľmi rada zastavím, ak som v Prahe a porovnám kolekcie s Talianskom (pozri album Praha na facebooku fan stránke Mya Mirell, kde pribudnú nové fotografie a tiež album Nákupný maniak). No že sa zastavím po výhru, bola nečakaná radostná správa. Rohlíčky byly asi zvlášť dobrě vypečené a konstelace hvězd s mojím ascendetnom a znamením Lva v prížnivé pozici. Inak si neviem vysvetliť, že prstík losovateľa zastal práve na mojom instagram profile. Ako sa hovorí, keď je šťastie unavené, sadne aj … Ale možno prišlo s radosťou. Konečne. Myslím, že som ešte nič podobného nevyhrala. Neuveriteľné sa teda stalo skutočnosťou.
Jeden krásny novembrový piatok som nakráčala v tomto outfite do obchodu Hogan na Parížskej 17, ktorý zastupuje firma Literix Group, líder v predaji luxusných talianskych produktov, ktorému patria ešte butiky Brunello Cucinelli, Dolce and Gabbana a Salvatore Ferragamo. Im patrí vďaka za moju krásnu výhru.
Na vychýrenej ulici pre nákupných maniakov a milovníkov módy, Parížska 17, som si pozrela samozrejme aj ostatné butiky. Milá predavačka v obchode Hogan mi ochotne dala žlté tenisky vyskúšať, pozrela som si najnovšiu kolekciu a dohodli sme sa na spôsobe dodania a mojej veľkosti.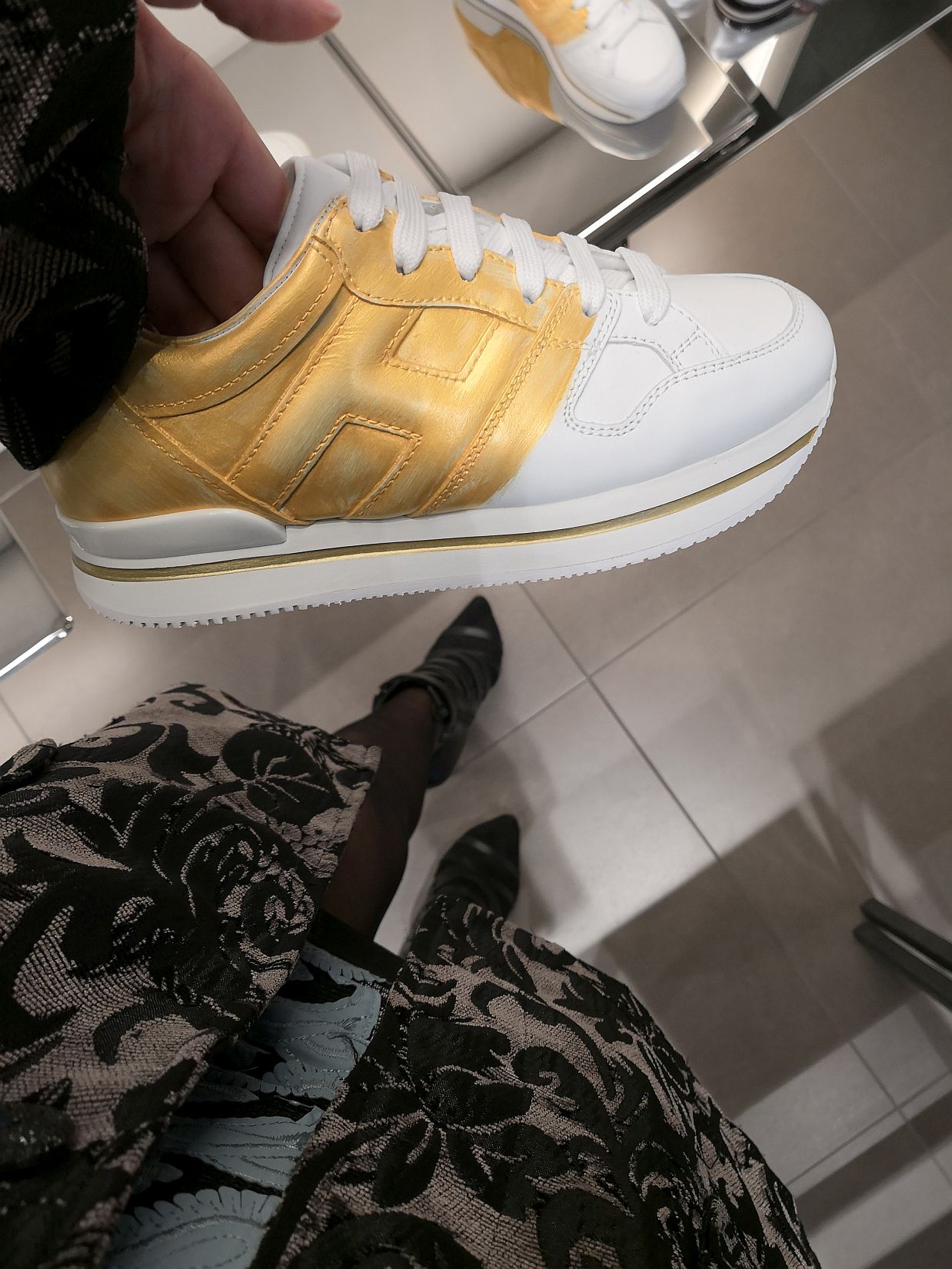 Spokojná, nadšená, unesená a veľmi vďačná Topfashion magazínu a Literix Group (sleduj literix_parizskafashion na instagrame) som odišla.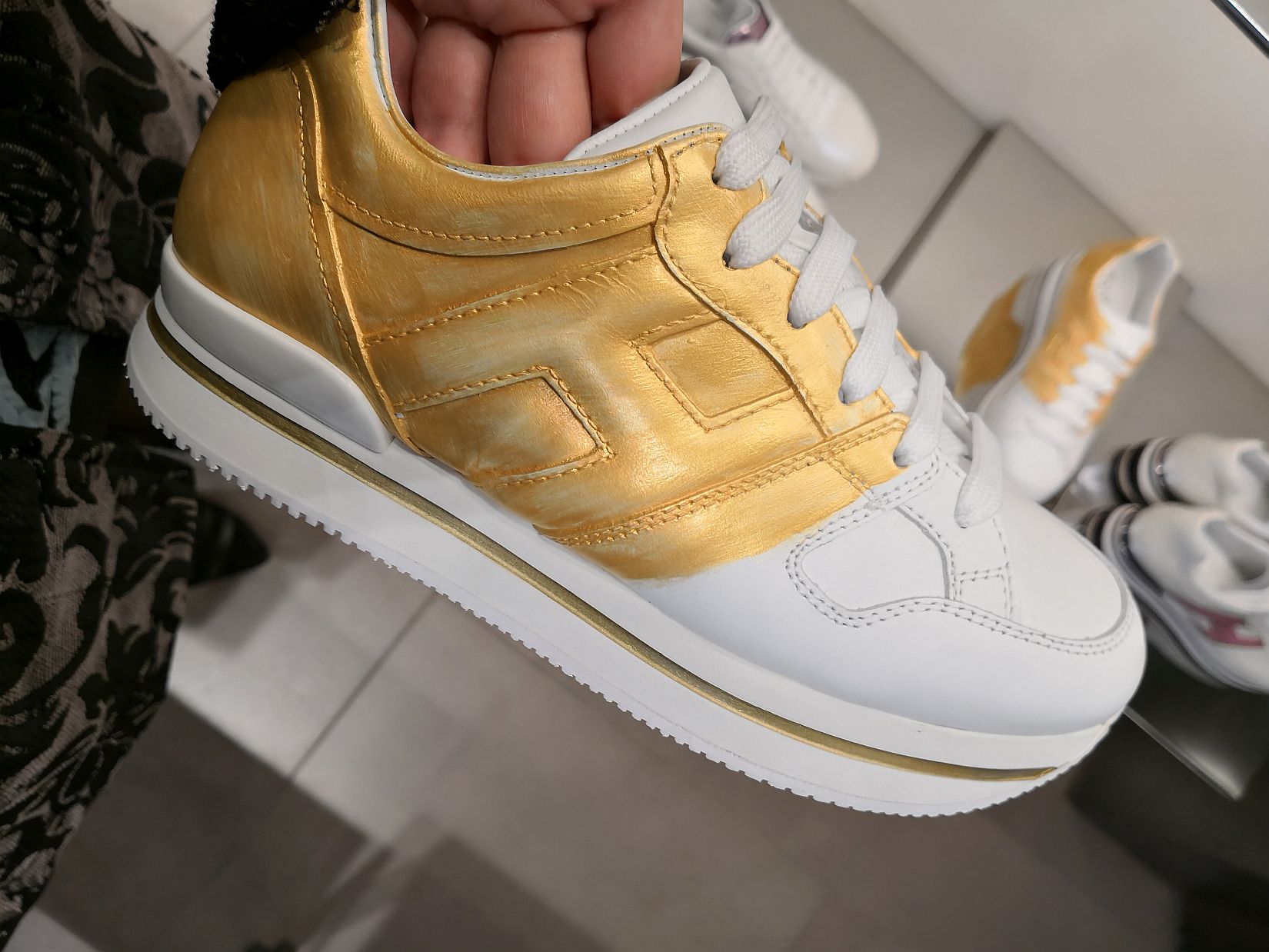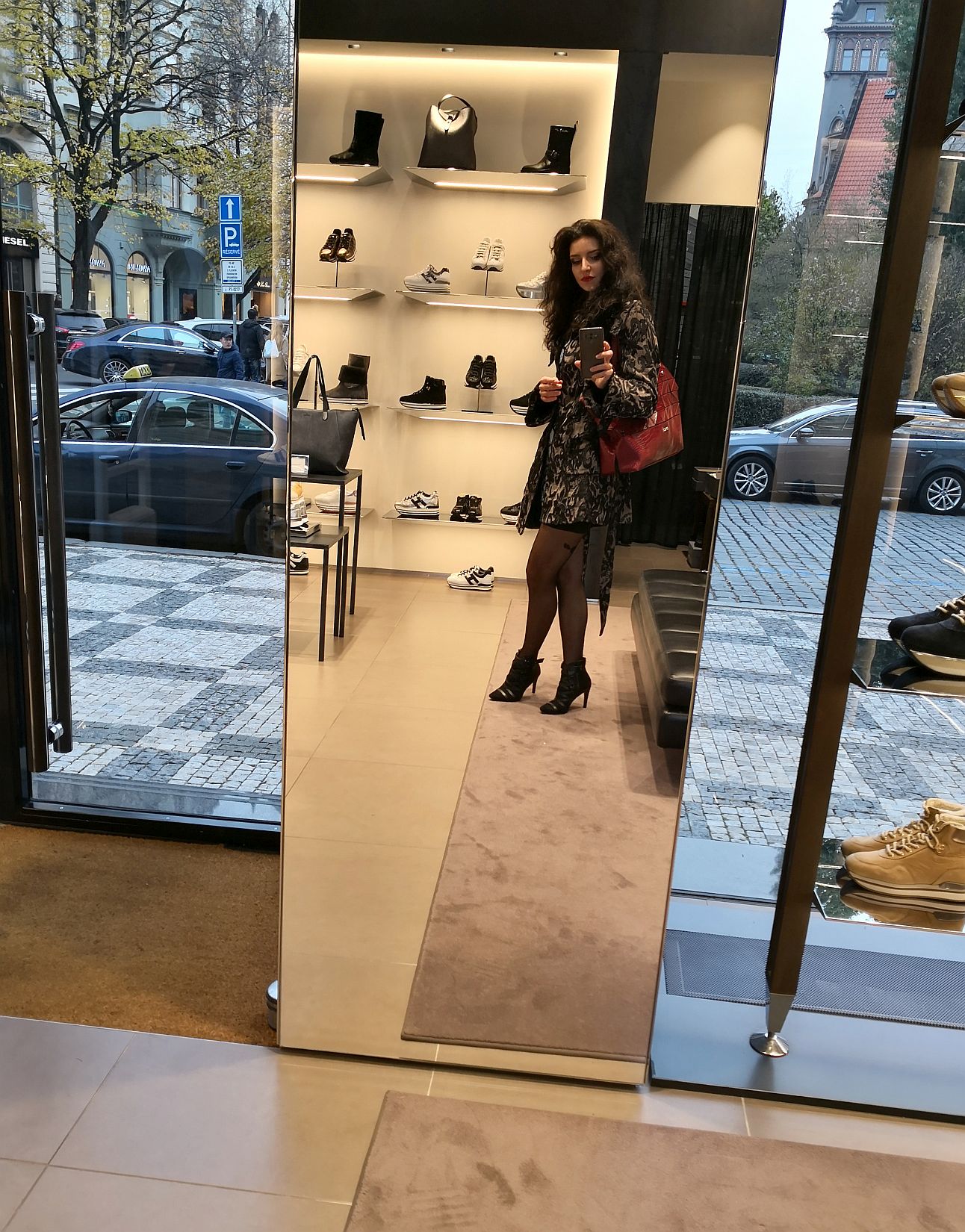 HOGAN
Značka Hogan je odnož talianskej luxusnej značky Tod´s. Tod´s netreba veľmi predstavovať, pravidelne predvádza na týždňoch módy v Miláne. Len kabelka, ktorú som nedávno odfotila a nájdete na facebook stránke blogu Mya Mirell Fashionista, ktorá ma od tejto značky zaujala stála 36 000 eur, následne po zľave menej, viď link: https://www.facebook.com/mirellfashionista/photos/a.969320236508929/1532883973485883/?type=3&theater
Hogan tvorí pohodlnú módu na bežné nosenie, zároveň šik štýl vhodný do mesta a v ponuke nájdete od oblečenia, cez topánky, doplnky, kabelky pre ženy aj mužov. Značka Hogan patrí talianskej spoločnosti Tod Group, ktorej vlastníkom je Diego Della Valle. Táto značka je úplne talianska, čo možno väčšina nevie. Hogan bola sprvoti vytvorená pre dizajn topánok, ale následný úspech ju posunul vpred k vytváraniu kožených kreácií, doplnkov ako kabeliek, funkčných a štýlových zároveň.
Značka bola založená v roku 1986, no prvá tenisková rada uzrela svetlo sveta v roku 1995, kedy vyšla s atletickým modelom. V roku 2004 uviedli na trh radu Olympia, ktorá bola viac elegantná a krehká. Neskôr prišli hippie logo kabelky a štýlové okuliare a kolekcia venovaná celá ženám. Od roku 1986 až po dnes vždy pohodlné Hogan topánky zmenili svoj tvar a dekoráciu, ale štýl je stále rovnaký a v móde v popredí. Neutíchajúci záujem a obľuba o túto značku je symbolom jej elegancie a luxusu. Ženy, muži a deti ju obľubujú, pretože vytvára pohodlnú dizajnovo zaujímavú módu pre všetkých. Ostatne posúďte sami.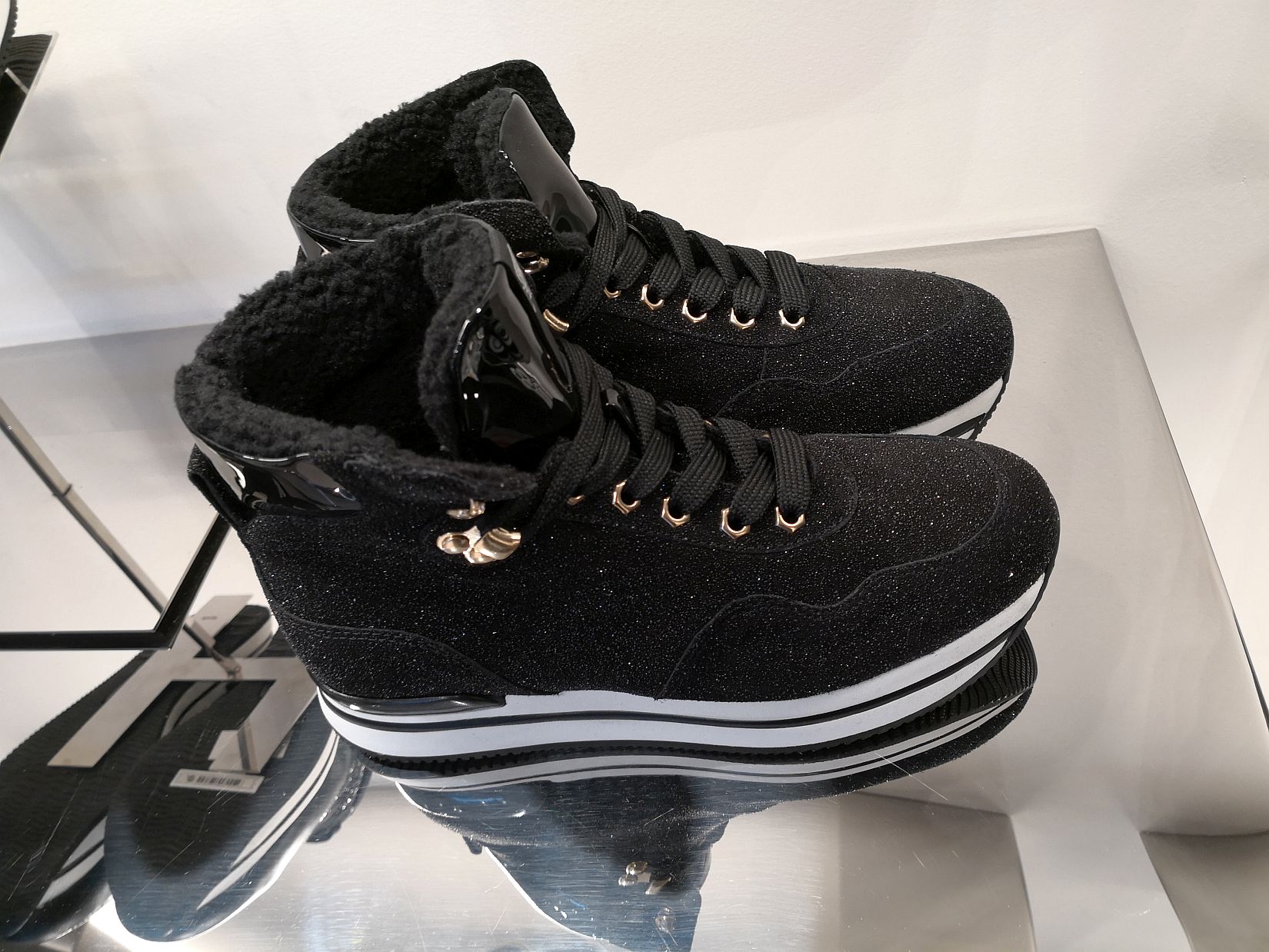 Predavačka ochotne vysvetlila a popísala najnovšiu kolekciu a veruže sa je na čo pozerať. Neformálny štýl značky Hogan vie byť zároveň elegantný. Hogan kolekcia obuvi a značka má za cieľ vytvárať vždy kvalitu a to ju posúva do vyššej cenovej kategórie. Každý malý detail je vypracovaný s mimoriadnou precíznosťou a použité materiály sú špičkovej kvality. Najnovšie modely sú toho dôkazom. Z novej ponuky tejto značky dostupnej v pražskom Hogan butiku na Parížskej ulici ma zaujali tieto prekrásne kúsky. Zamilovala som si šedý trblietavý vesmírny prach na chutnom, teplom modeli zimných topánok s rozkošnou kožušinkou. Taký chodiaci pohodlný v teplúčku zababušený kozmonautík. Ospravedlňujem sa za nadšenie ochrancom prírody, kožušinka je pravá, mohla byť falošná samozrejme.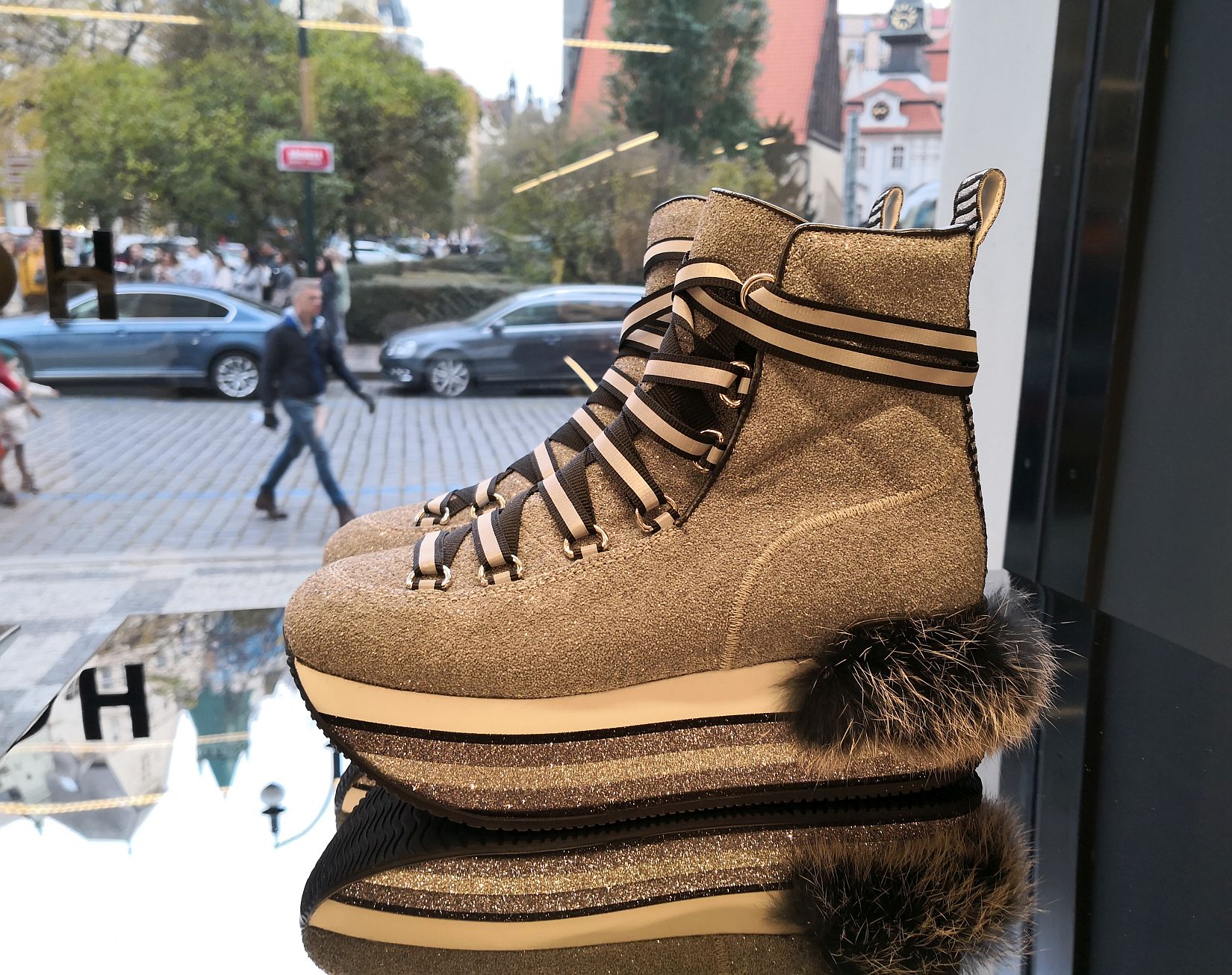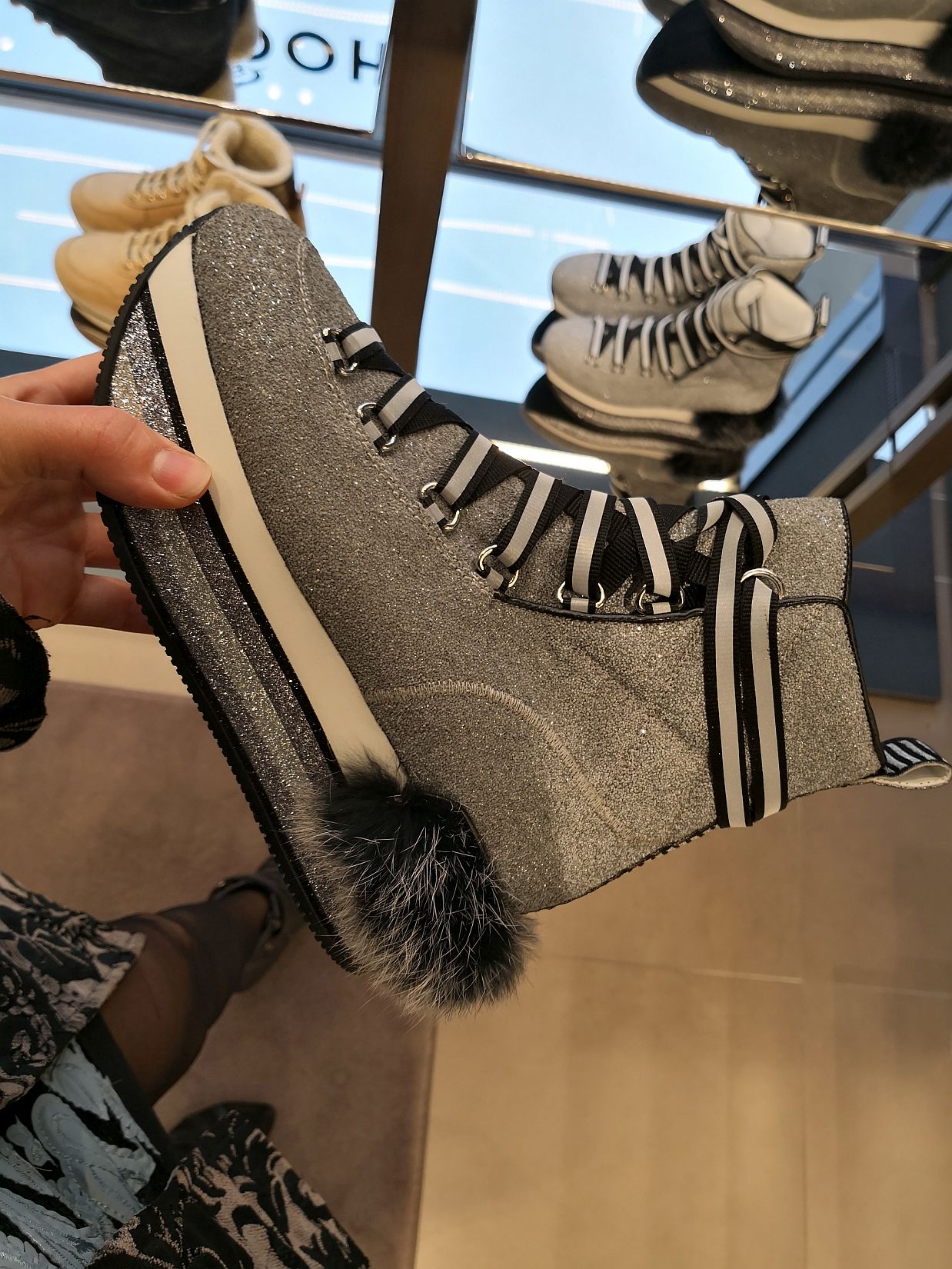 Bez prílišného zásahu do prírody, je tu čierny model bez kožušinky, v ktorom sa jagá celá vesmírna galaxia s hviezdami, príjemný šik mestský model pohodlný na chodenie. Zároveň sú modely na vyššej podrážke, čo je na zimu pohodlné. Myslím, že kolekcia je veľmi zaujímavá, vyzerá byť pre zimu a pohodlie nôh naklonená a nechýba jej ani unikátny očarujúci dizajn.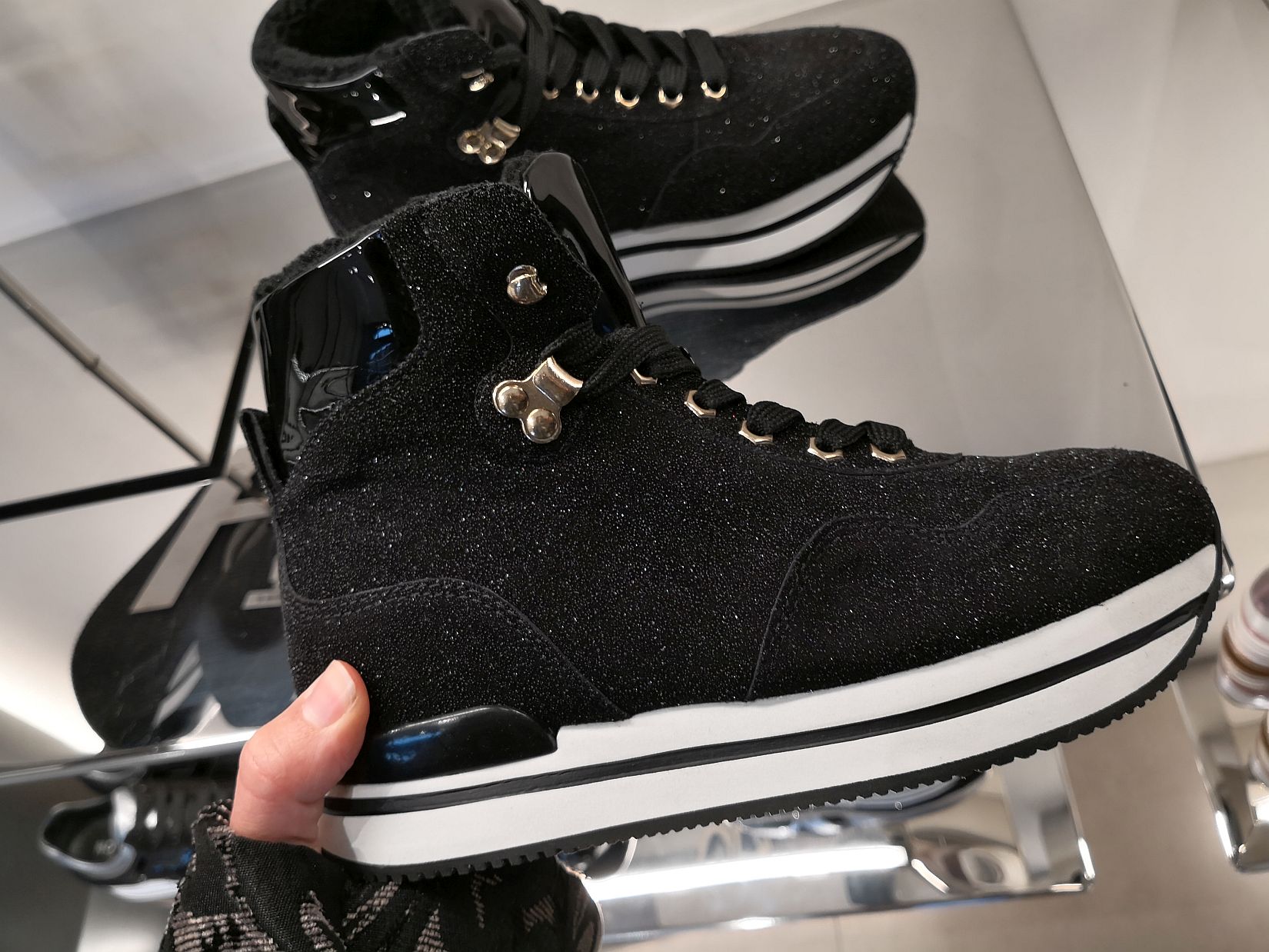 Facebook: Mya Mirell Fashionista