Paris Haute Couture fashion Week, 5. júl 2021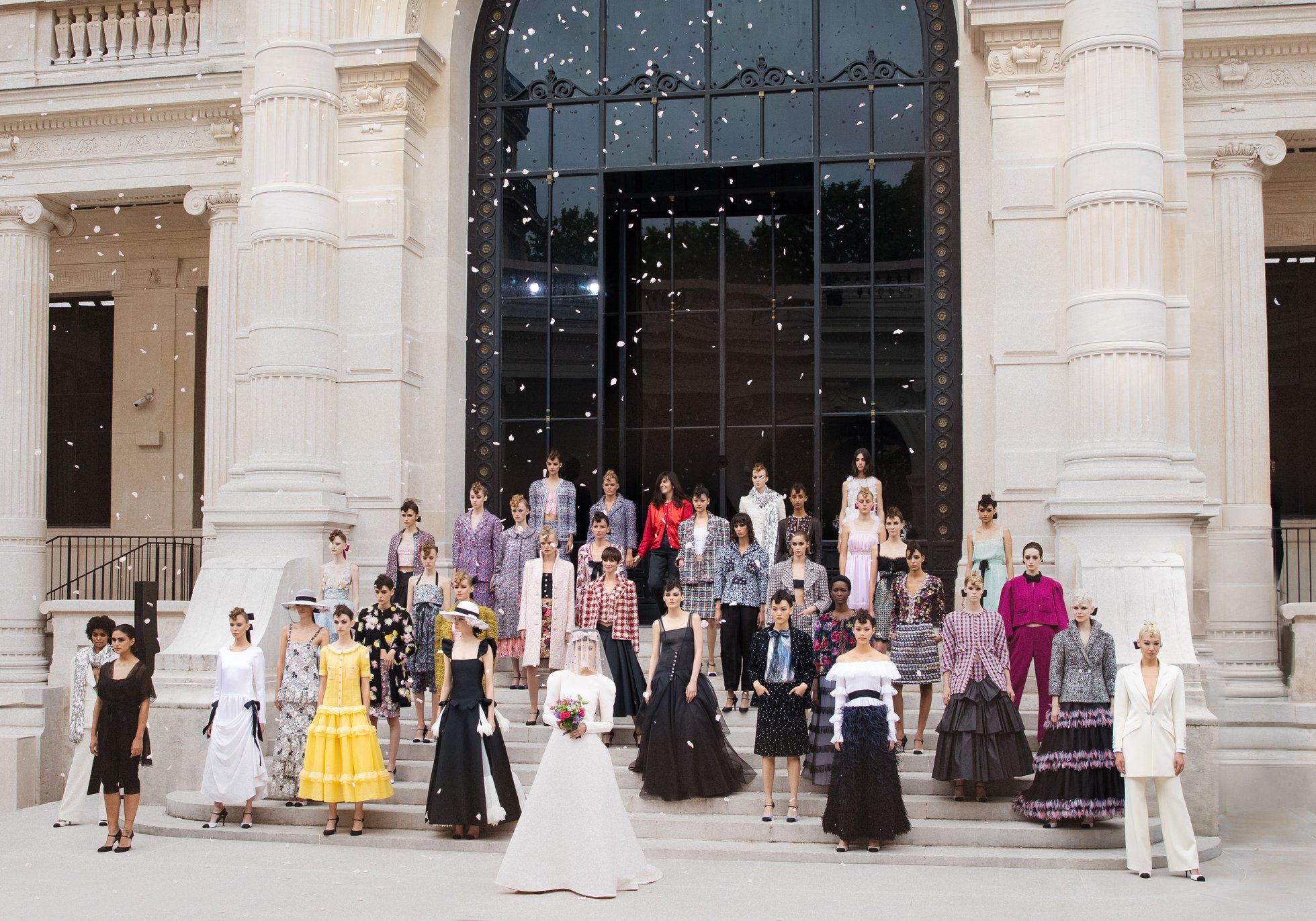 Chanel, kolekcia Jeseň / Zima 2021 – 2022
Už viac ako rok a pol bojuje svetový módny priemysel a predovšetkým haute couture s následkami celosvetovej pandémie koronavírusu, ktoré spôsobili, že sa prezentácie nových kolekcií dejú bez živej módy, módnych šou a tradičných udalostí na červenom koberci. V Paríži sa v týždni módy od 5. júla 2021 zhromaždili pod dlhšom čase dizajnéri haute couture, aby predviedli to najnovšie zo svojho módneho dizajnu. Pozvaní hostia, kupujúci a medzinárodná tlač si prišli pozrieť 33 značiek predvádzajúcich svoje kolekcie opäť tradičnou formou prehliadok na móle.
Niektoré módne domy sa však aj počas rozvoľňovania opatrení, ktoré sa dejú práve teraz v letnom období, rozhodli pre online prehliadky, no tento týždeň módy zdôraznil nutnosť vidieť módne prezentácie osobne. Prehliadky Jeseň – Zima 2021/22 prízvukujú, že na prežitie luxusných módnych domov sú potrebné prehliadkové módne šou a pre dizajn kolekcií a prosperovanie značiek musia byť kolekcie funkčné a nositeľné. Sezóna Jeseň / Zima 2021 -2022 Paris haute couture oslavuje návrat fyzických módnych šou.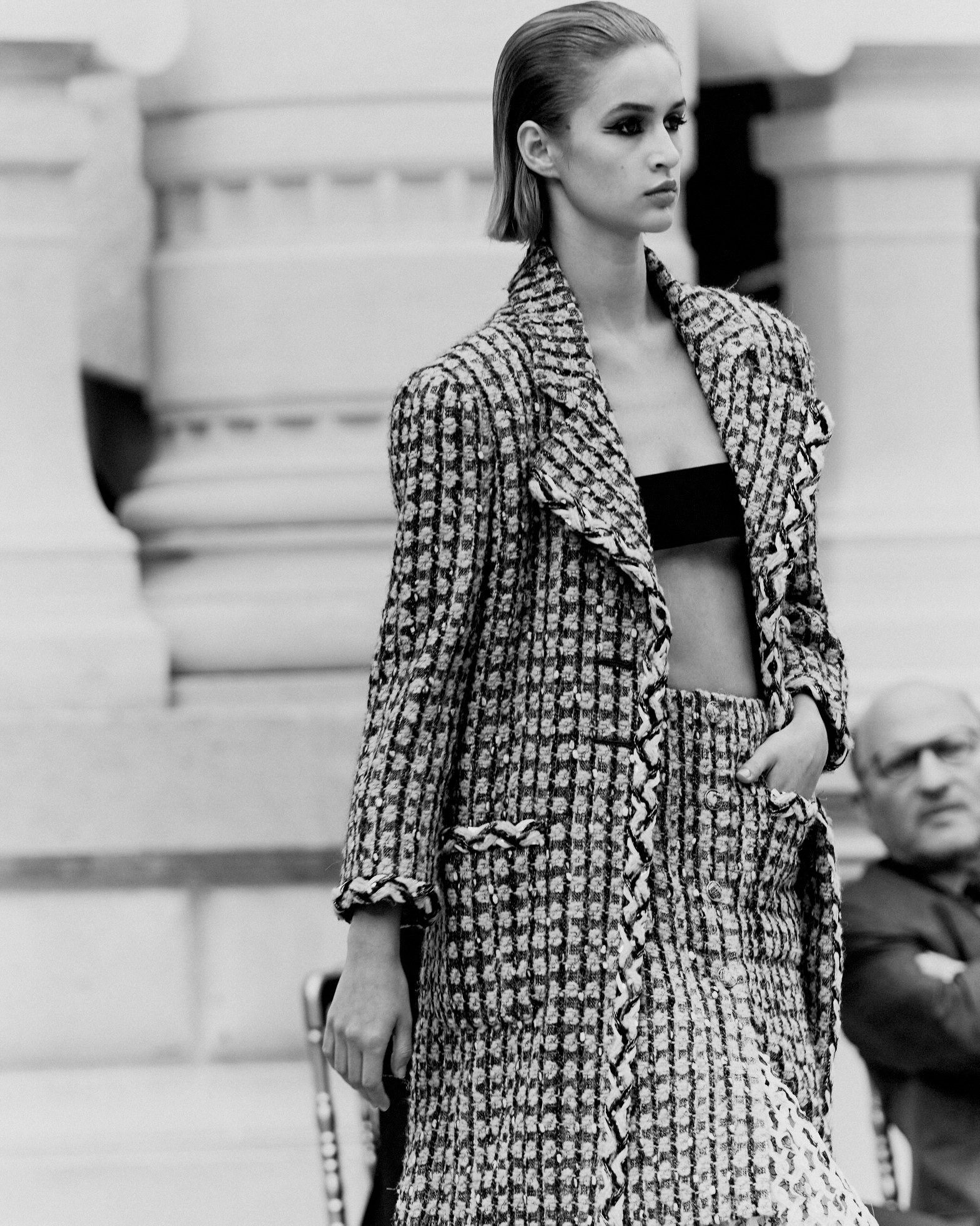 Chanel, kolekcia Jeseň / Zima 2021 – 2022
Paris Haute Couture Fashion Weeku dámskej módy predchádzal týždeň pánskej módy, ktorá mala presne päť predstavení so živým publikom značiek Dior Homme, Hermés, Blue Marble, Louis-Gabriel Nouchi a Officine Générale. Zvyšok módnych šou sa ukázal digitálne za podpory osobných schôdzok a udalostí, ako napríklad kokteil Casablanca organizovaný v hoteli The Ritz Paris alebo piknik na prehliadke Isabel Marant.
PARIS HAUTE COUTURE FASHION WEEK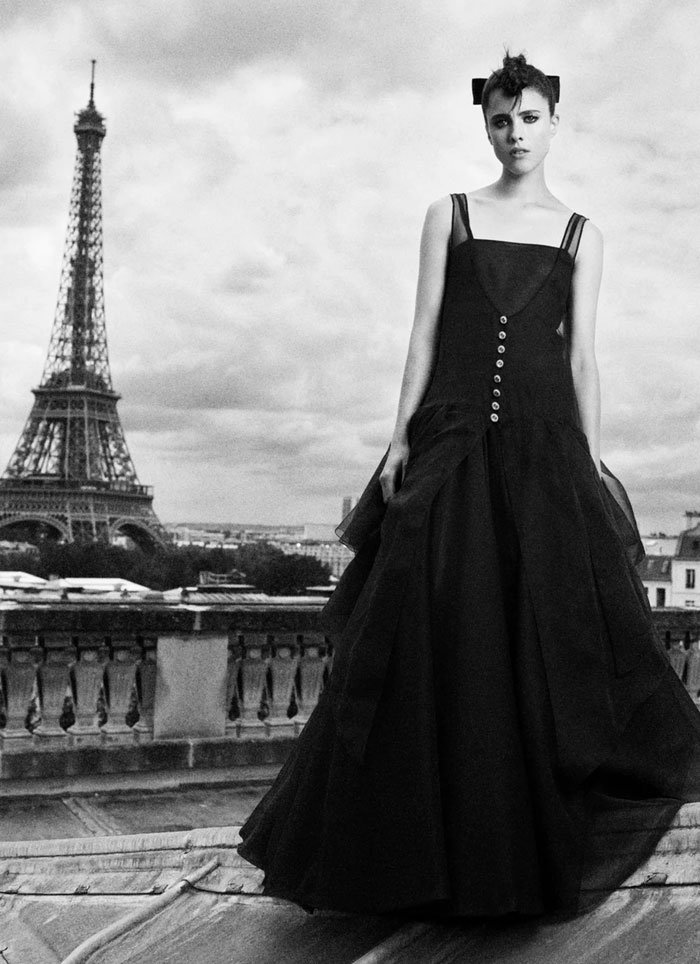 Chanel, kolekcia Jeseň / Zima 2021 – 2022
Na mólach sa počas Paris Haute Couture Fashion Weeku v klasickej podobe prehliadok a v žiari reflektorov predstavili značky Dior, Chanel, Giorgio Armani Privé, Balenciaga, Jean Paul Gaultier, Zuhair Murad, Vaishali S a Pyer Moss, zatiaľ čo módna značka Azzaro Couture vysielala online.
Dovedna 24 značiek od Julien Fournié, Viktor & Rolf až po Imane Ayissiho predvádzali svoje kolekcie digitálne a to aj napriek tomu, že Francúzsko uvoľnilo osobné pandemické obmedzenia. Digitálne prezentácie, ktoré sú lacnejšie a ich realizácia je menej náročná ako na výstavných mólach, sa za posledný rok stali bežnou praxou a mnohí v priemysle si kladú otázku, či sa môžu stať normou. Navyše módny priemysel už dávno prehodnotil isté návyky, ktoré boli nákladné a poškodzujúce životné prostredie, ako napríklad časté cestovanie lietadlom, čiže maloobchodníci sa môžu určite držať digitálnych nákupných platforiem.
Pre značky, ktoré sa rozhodli predviesť svoje kolekcie osobne, sa mesto svetiel stalo celomestským módnym mólom. Medzi výstavné miesta patrili Musée Rodin pre prehliadku haute couture Dior, obchodný dom La Samaritaine, novo zrekonštruovaný hotel de la Marine na námestí Place de la Concorde a múzeum súčasného umenia Bourse de Commerce.
Pozrime sa na francúzsky módny dom a pýchu Francúzska, Chanel a jeho nádielku pre sezónu Jeseň / Zima 2021 – 2022.
Chanel, kolekcia Jeseň / Zima 2021 – 2022
CHANEL – KOLEKCIA JESEŇ / ZIMA 2021 – 2022
Prehliadka módneho domu Chanel sa konala v zrekonštruovanom srdci paláca Palais Galliera a odkazovala na retrospektívu zakladateľky Gabrielle Chanel. Francúzska módna značka, ktorá sa stala luxusným módnym domom aj za výraznej podpory Karla Lagerfelda, módneho mága s nezabudnuteľným vplyvom a talentom, sa datuje do roku 1909. Usporiadanie módneho predstavenia na ikonickom parížskom mieste paláca bolo prejavom sily. "Všetky tieto projekty, ktoré sa dnes dočkajú uskutočnenia, posilňujú jedinečnú pozíciu mesta ako hlavného mesta tvorivosti a módy," uviedol pre denník Women's Wear Daily prezident spoločnosti Chanel Bruno Pavlovsky.
Video z módnej prehliadky si môžete pozrieť na facebook oficiálnej stránke Chanel módneho domu : https://www.facebook.com/chanel/videos/308770627647284
Kolekciu Chanel Jeseň / Zima 2021 – 2022 tvorilo 37 siluet s odkazmi na umelecké impresionistické obrazy z 19. storočia. Virginie Viard, dizajnérka módneho domu naservírovala divákom nadčasové tvídové kabáty postriekané škvrnami od farieb, sukne zdobené vyšívanými kvetmi a pierkami a šaty s čiernymi mašličkami.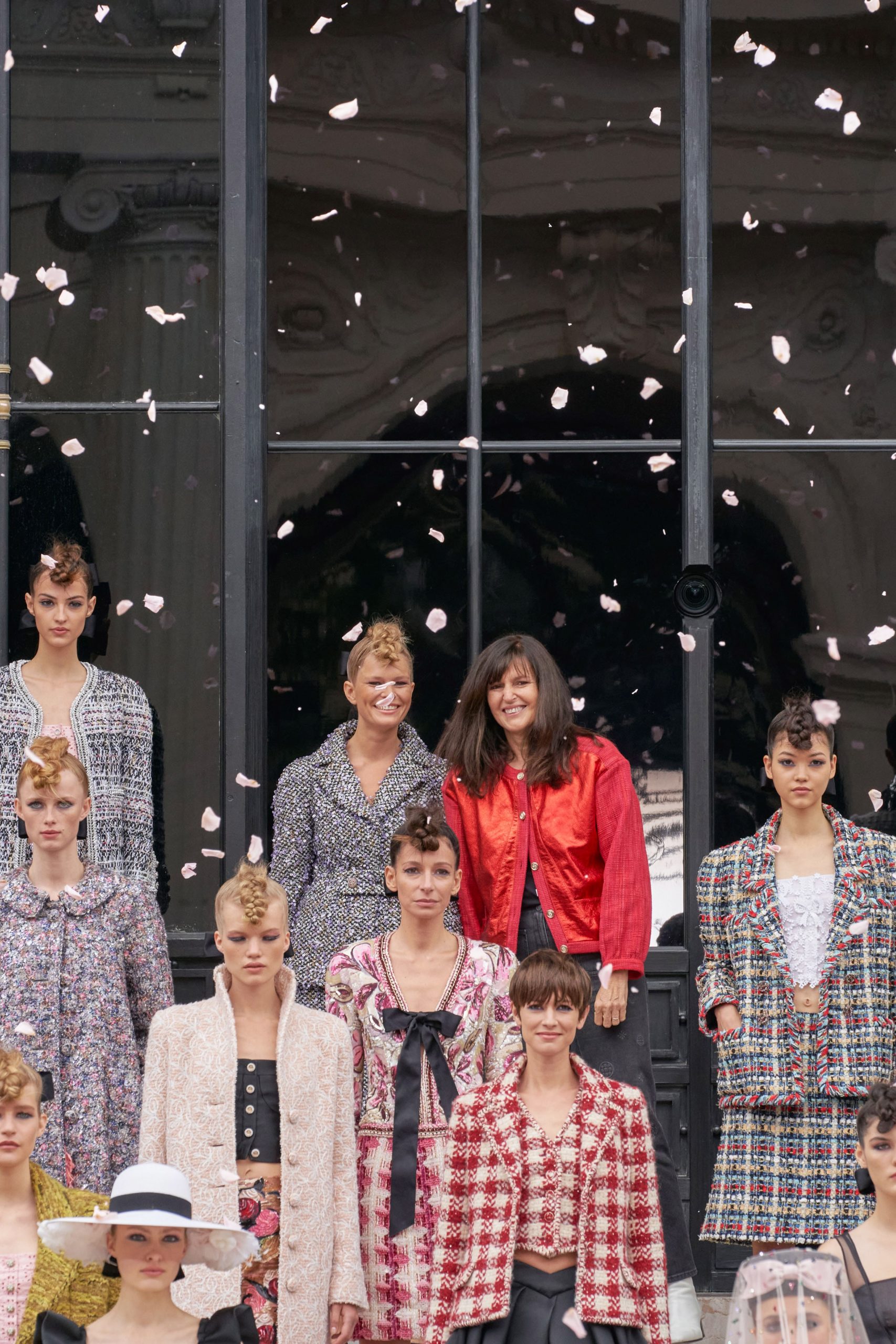 Chanel priesol na Paris Fashion Week chvíľu poézie a jemnosti s bohatou nádielkou farieb , optimistických a radostných, očarujúce modely, kde čerešničkou za záver bola svadobná róba, ktorú predviedla herečka a modelka Margaret Qualley, dcéra herečky a bývalej modelky Andie MacDowell.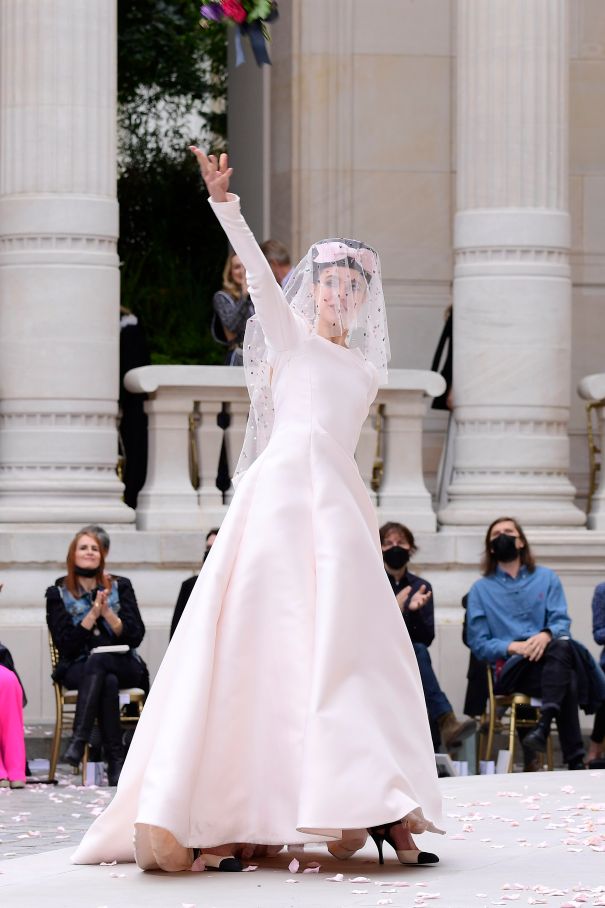 Pokračovanie o módnych kolekciách ostatných dizajnérov z Paris Haute Couture Weeku, čítajte na tomto blogu v článkoch ďalej.
foto: © Chanel, getty images
Sledujte Facebook stránku: Mya Mirell Fashionista a Instagram: mya_mirell .