Prehliadka Ralpha Laurena v New Yorku, Jeseň/Zima 2022-2023 – Óda na newyorskú módu v čiernobielom prevedení
Bola to modelka Gigi Hadid, ktorá otvárala módnu prehliadku Ralpha Laurena Jeseň/Zima 2022 – 2023, ale v skutočnosti sa nikto nepokúsil ukradnúť módny moment Laetitie Casta. 43-ročná francúzska supermodelka a herečka nekonečnej krásy sa vrátila do centra pozornosti a bola hviezdou večera.
"Večer s Ralphom Laurenom", tak sa prehliadka volala, sa konal vo veľkej miestnosti Múzea moderného umenia v New Yorku koncipovanej pre túto príležitosť ako elegantná newyorská obývačka, v ktorej sa nachádza elita osobností, aby oslávila rafinovanosť a eleganciu. Video z prehliadky si môžete pozrieť tu :
Medzi pozvanými hosťami bola aj krásne herečky Jessica Chastain a dcéra Philla Collinsa – Lilly Collins.
KOLEKCIA RALPH LAUREN JESEŇ/ZIMA 2022 – 2023 – ČIERNOBIELY TREND
"Moja módna kolekcia jeseň-zima 2022 2023 je oslavou nadčasového čiernobieleho štýlu" , takto komentuje Ralph Lauren to, čo bolo predvedené na móle v New Yorku. Najvýraznejšie farebné kontrasty zažijete prostredníctvom zvýraznenia elegantných línií a mužských aj ženských siluet. Takto vyzerá totálna čierna a totálna biela paráda na prehliadkovom móle, ale aj outfity s veľmi zmyselným pôvabom, v ktorých sa čierna a biela stretávajú a demonštrujú, ako sa ich esencie absolútne dopĺňajú.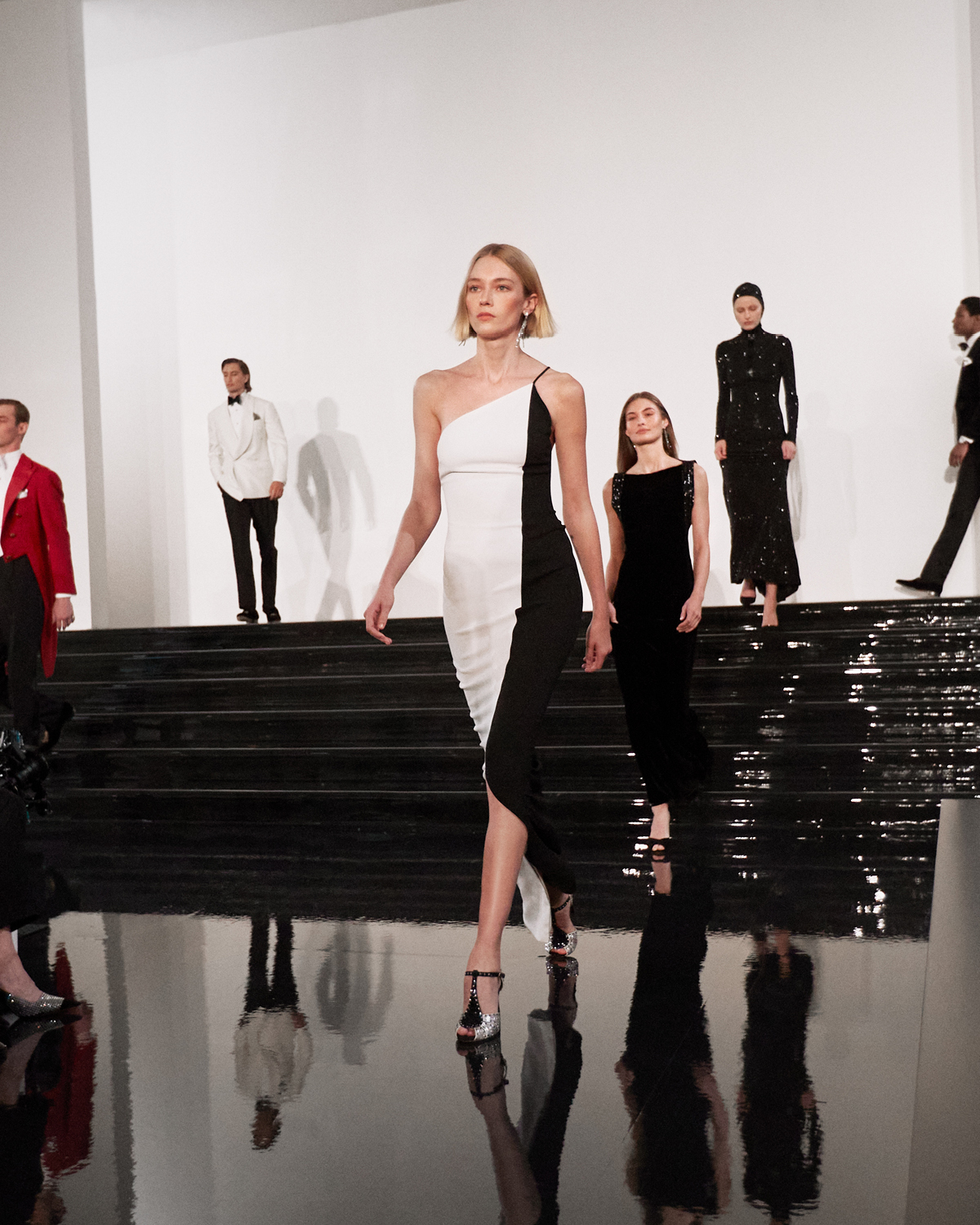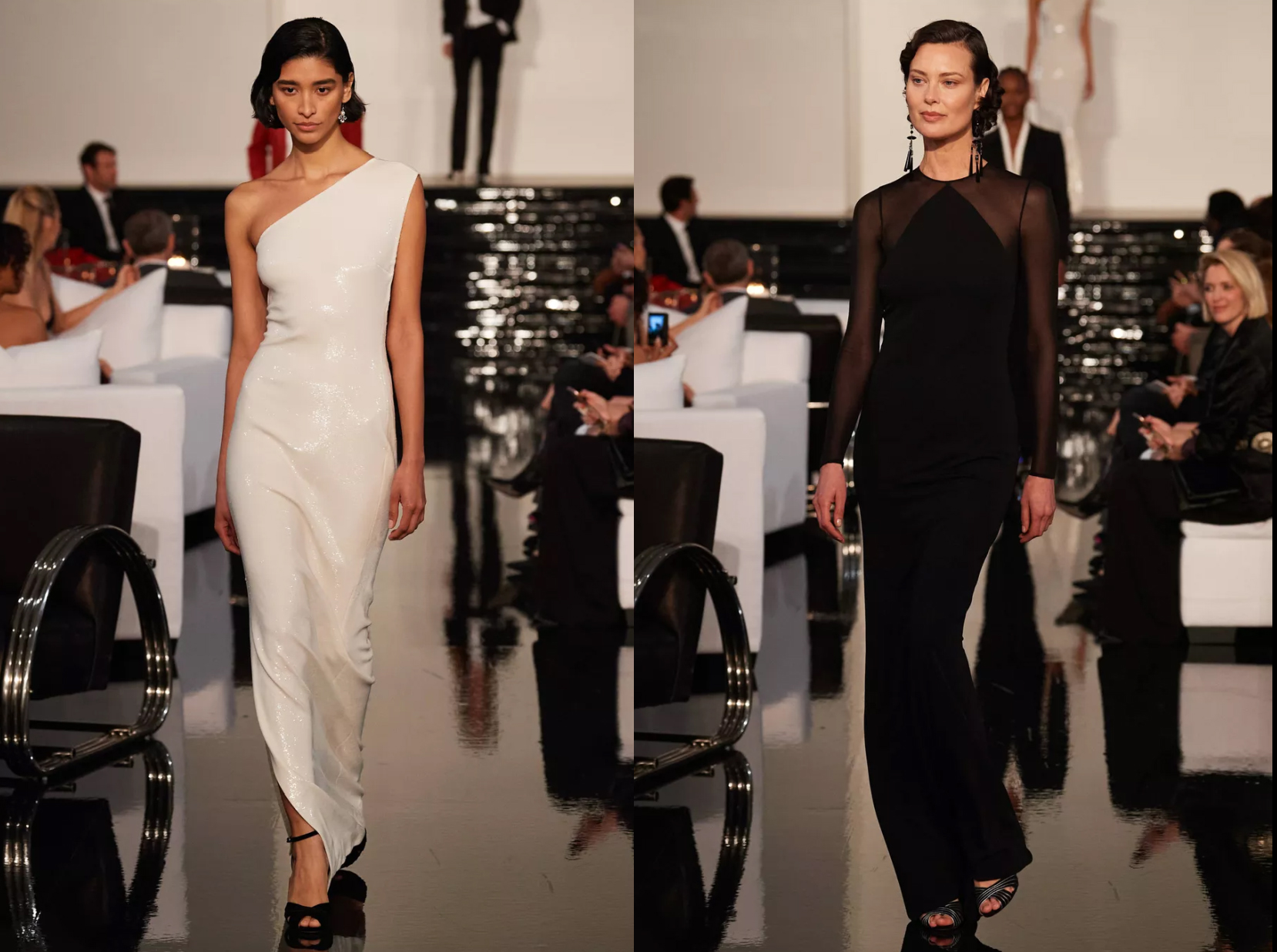 Pre sezónu Jeseň/Zima 2022-2023 sa pripravte na to, že biele košele sa budú nosiť k čiernym sakám a motýliky ako akcenty (mužského) štýlu sú šikovne umiestnené na smokingových oblekoch na veľkolepých spoločenských akciách v mestskom cool štýle .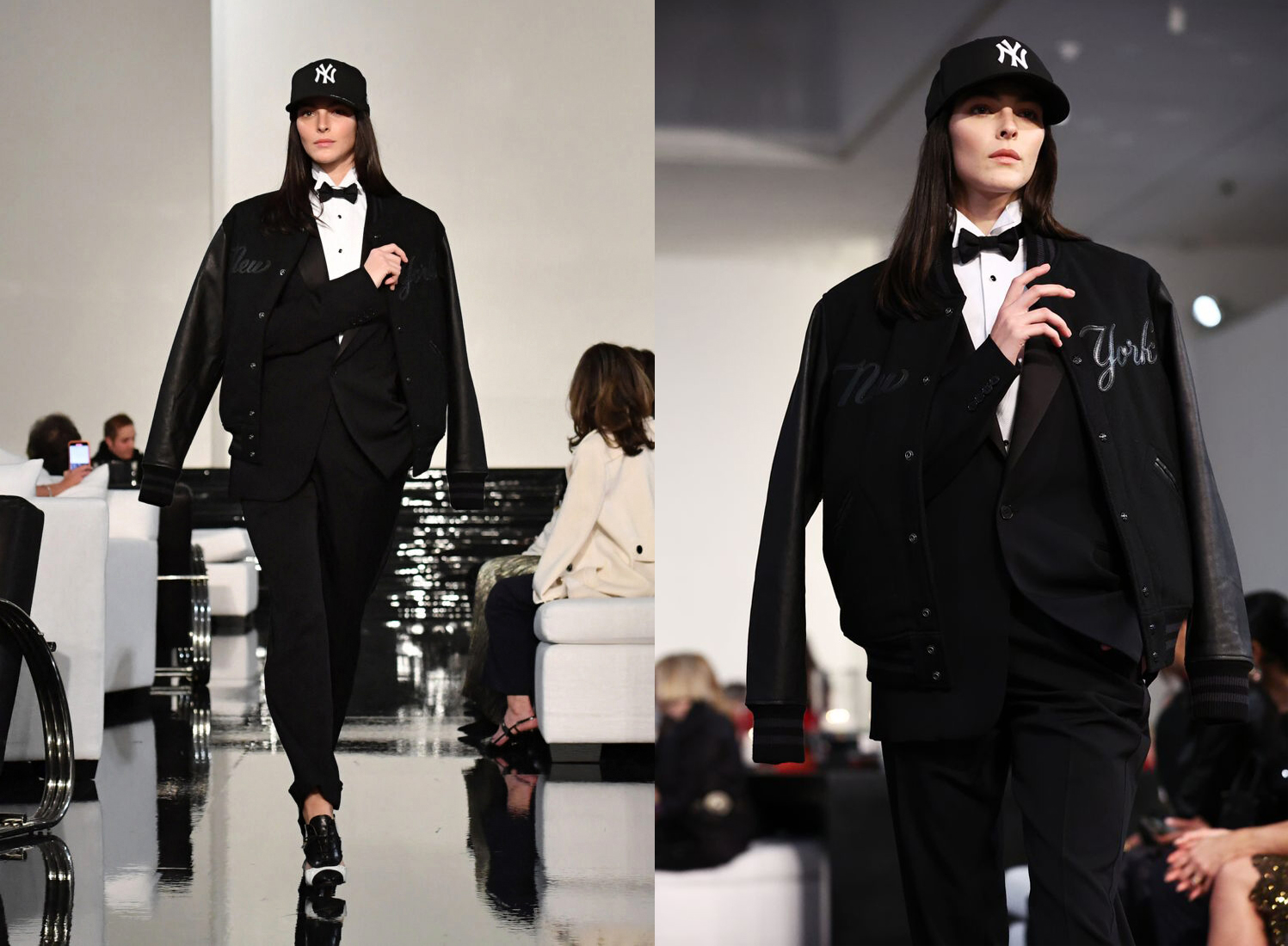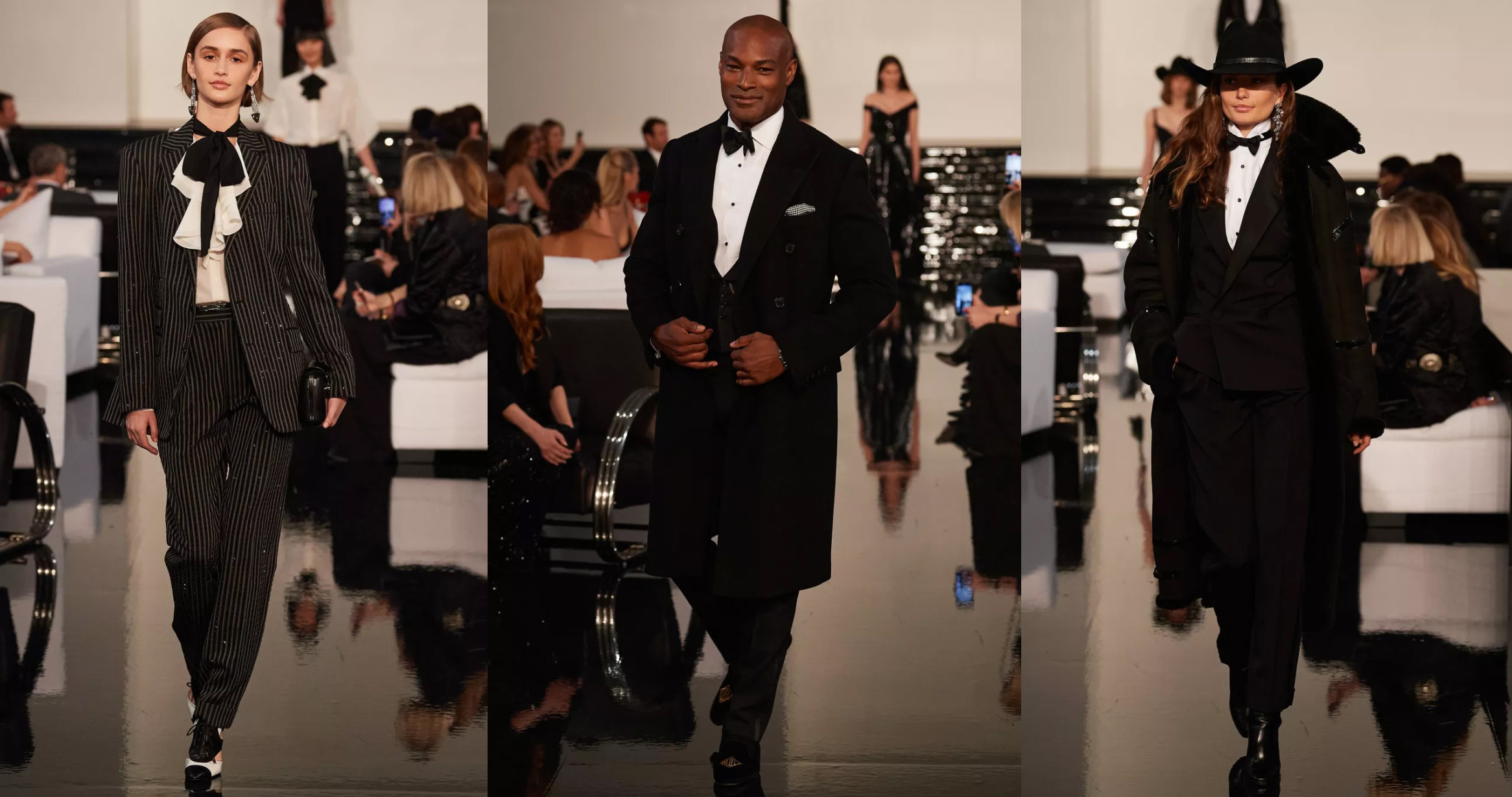 Práve na čiernu deleguje Ralph Lauren zodpovednosť sublimovať ženskú zmyselnosť vyjadrenú večerným lookom – dlhé šaty s puzdrovým siluetom sú charakterizované zaujímavými vystrihnutými detailmi. Aby boli vzácne, ako vo vzhľade, ktorý nosí Gigi Hadid, je prvkom šperku, ktorý spája hornú časť so spodnou.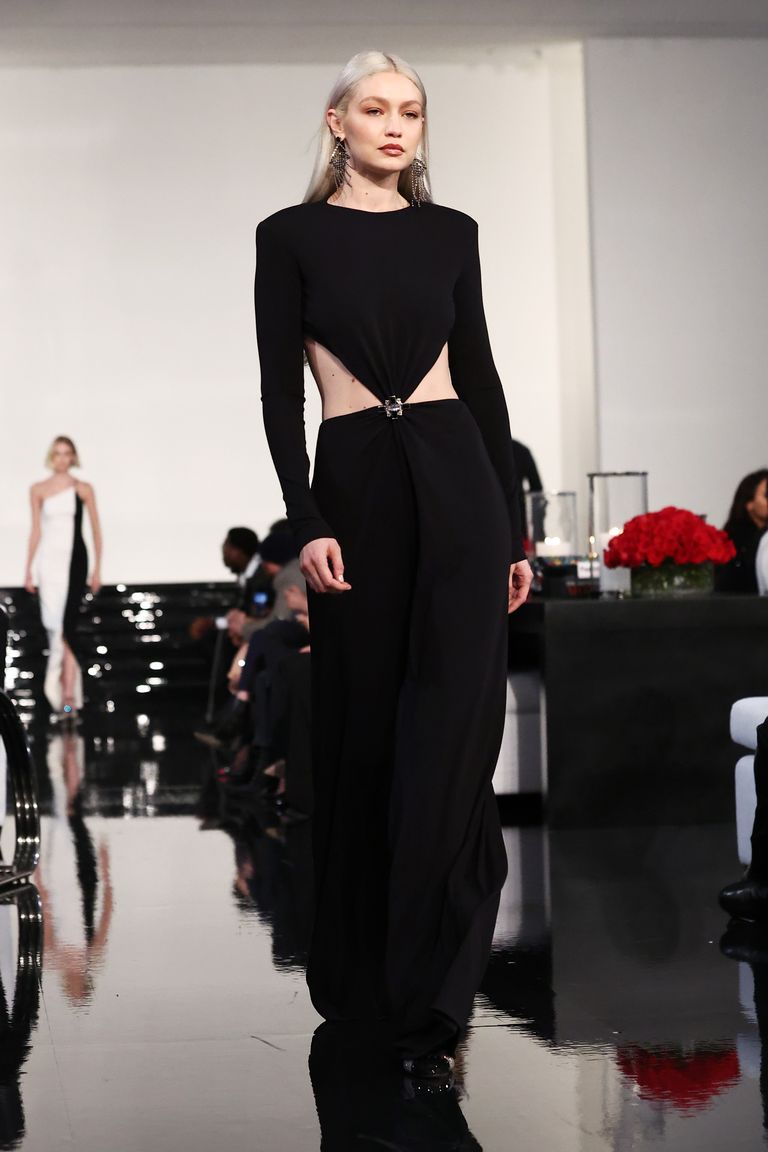 V kolekcii nie je núdza o úplne čierne návrhy, ktoré namiesto toho skúmajú americkú DNA: texaský klobúk je sám o sebe synonymom národnej hrdosti a pripomína vzhľad Ralpha Laurena v podaní Jennifer Lopez, ktorý predviedla na galavečeri Met Gala 2021. Medzi najnerozlučnejšie a dlhotrvajúce trendy patrí tiež kukla, diktát (ktorý zažíva novú renesanciu), ktorému americký dizajnér dodáva iskrivú sofistikovanosť.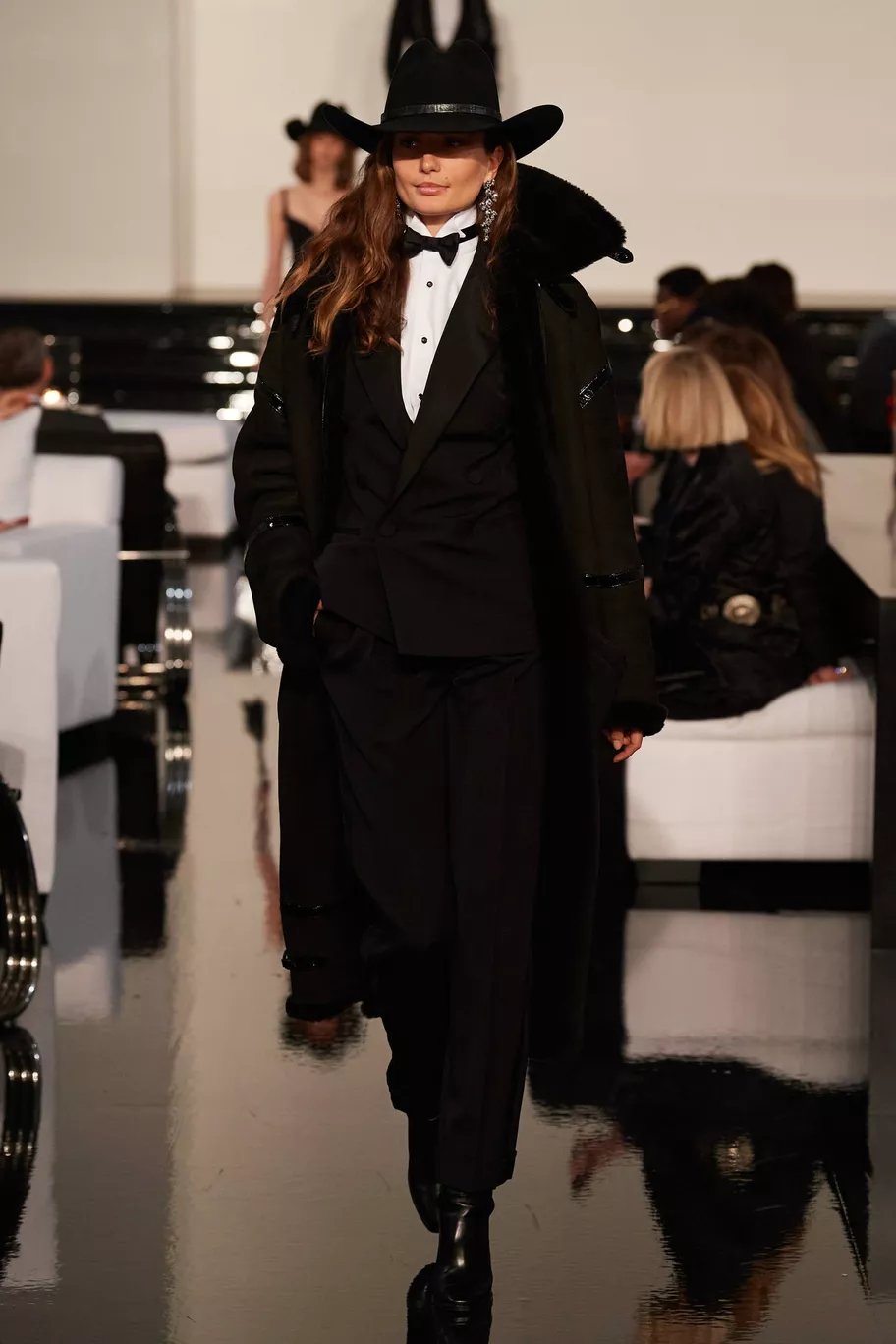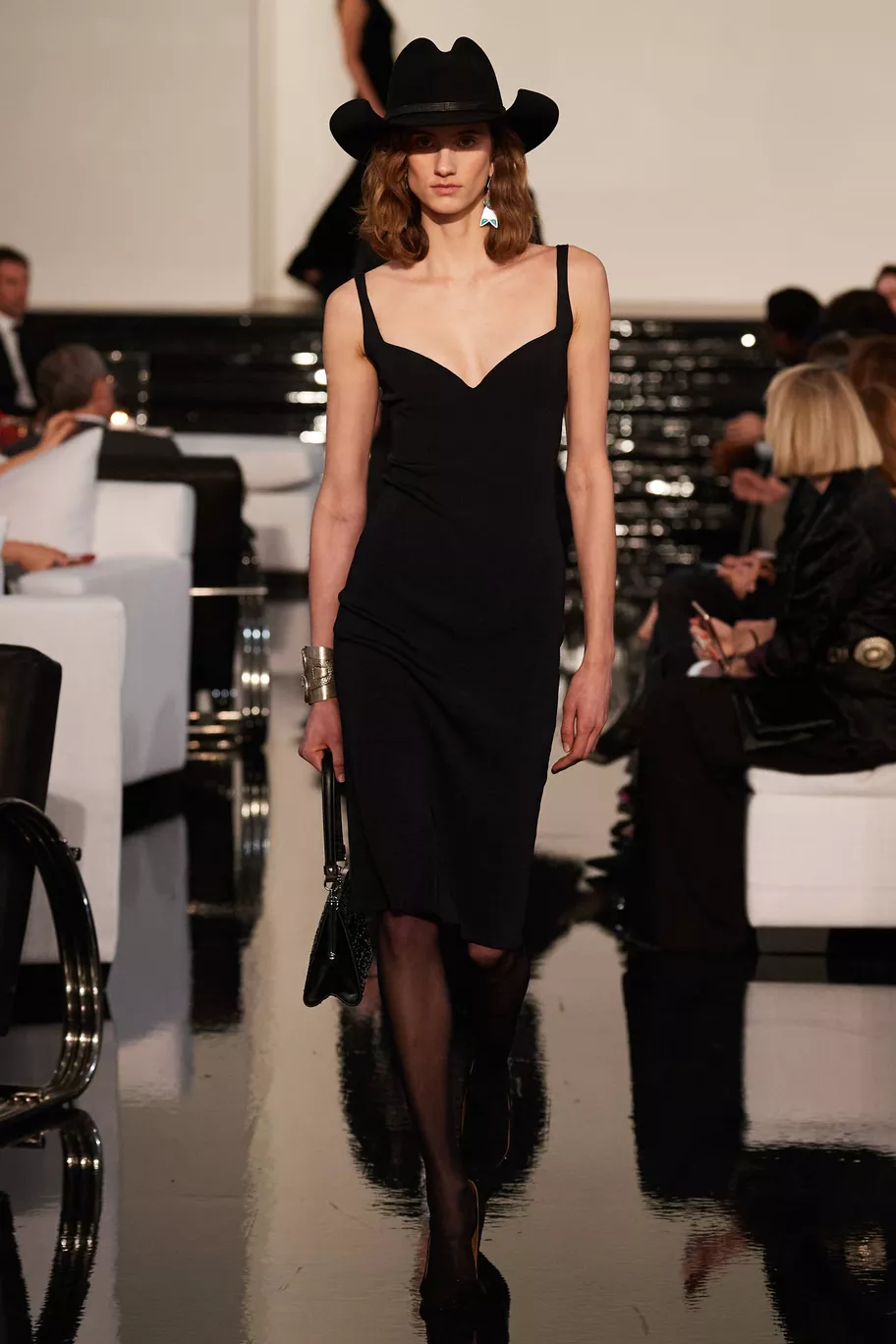 Ralph Lauren experimentuje s čierno-bielym trendom aj prostredníctvom oblekov, keď robí z čiernej a bielej piliere módy pre Jeseň/Zima 2022 – 2023. Sako a sukňa par excellence sa stávajú ženskou uniformou par excellence.
Od pracovného až po večerný outfit sú návrhy rovnako elegantné a neskôr prichádzajú pruhy. Synonymom power dressingu a maximálneho vyjadrenia čierno-bieleho spojenia je prúžkovaný oblek, kde sako a nohavicový kostým symbolizujú formu grácie a elegancie.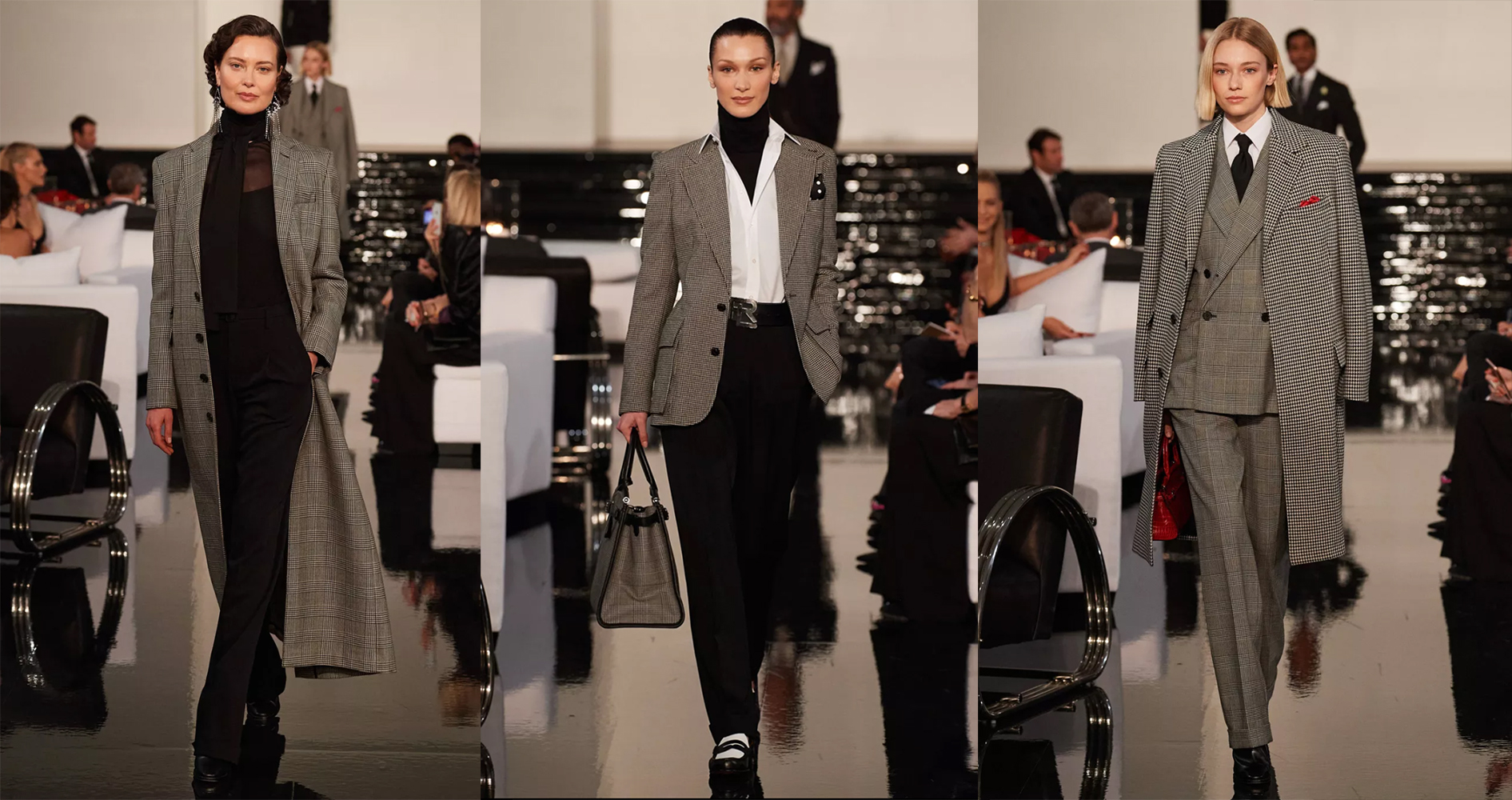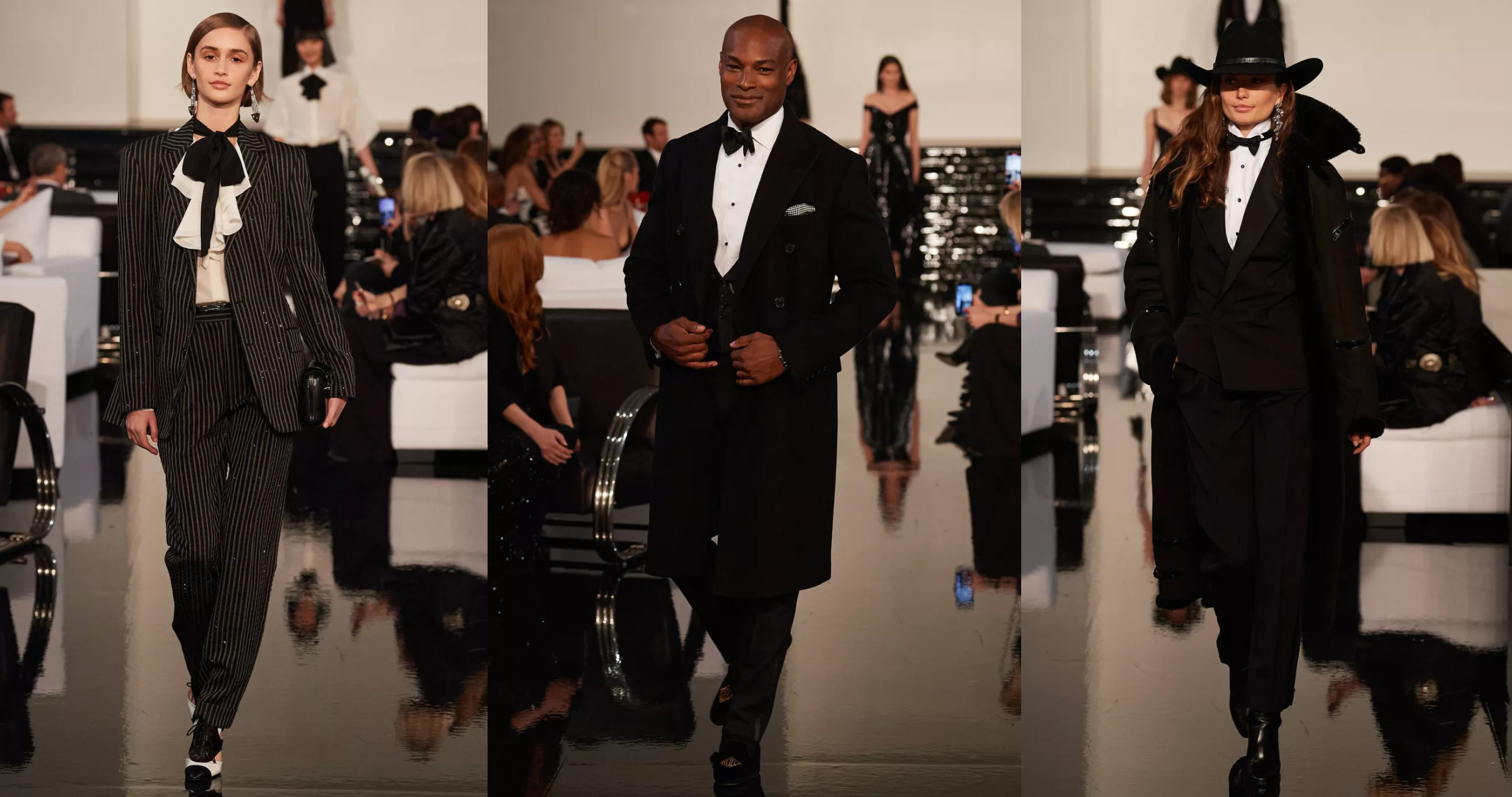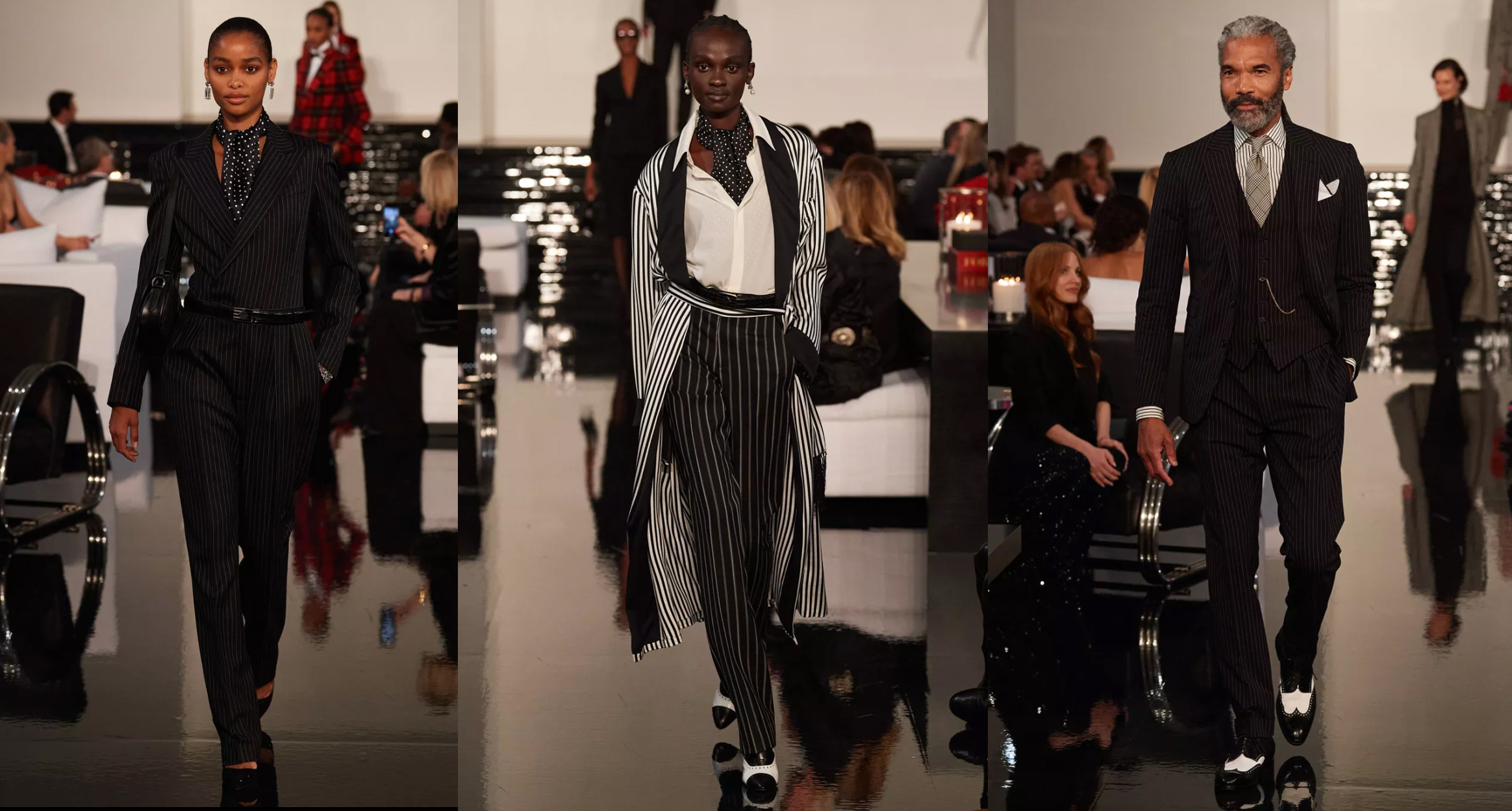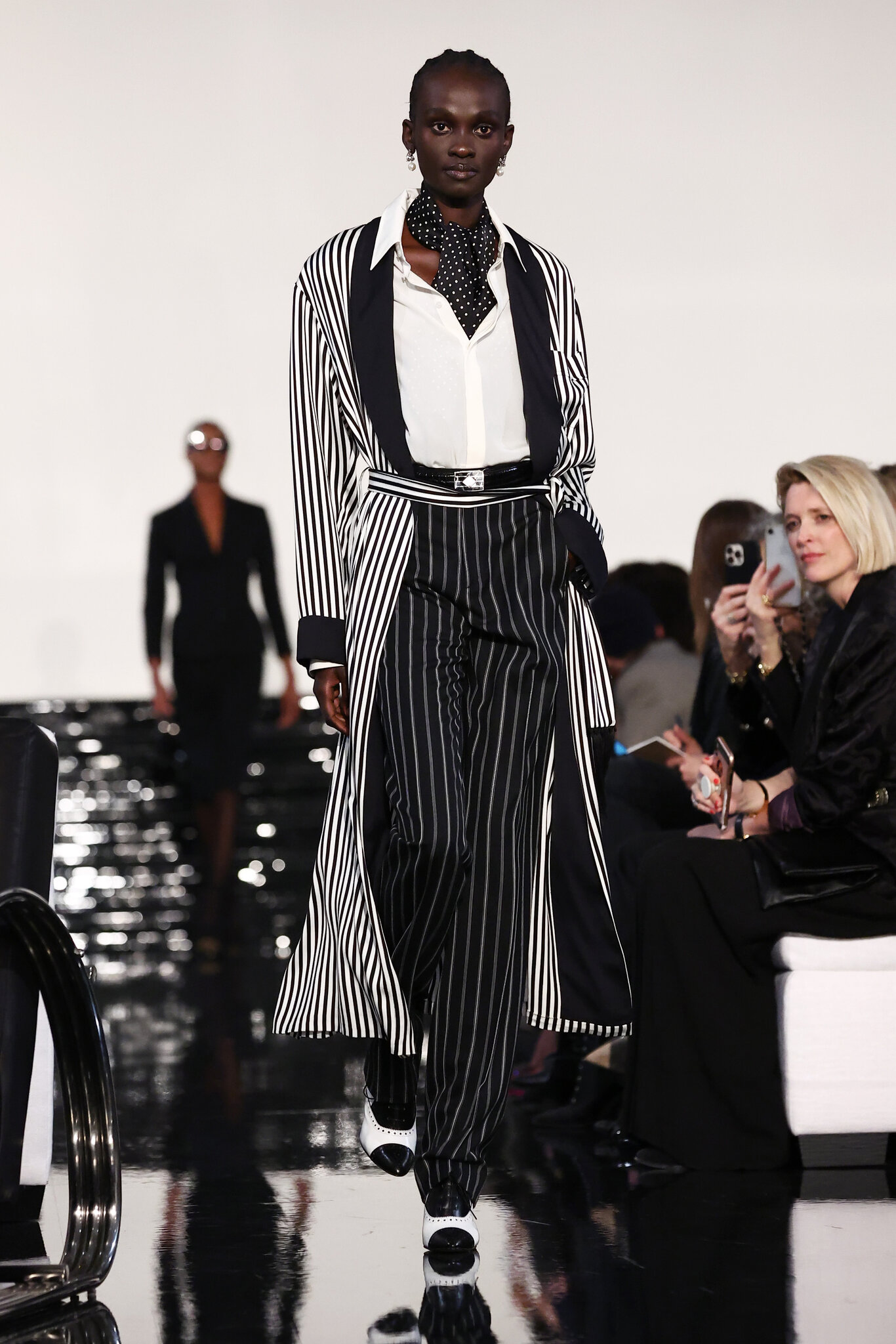 Na koniec, kontrast dvoch polárnych protiľahlých farieb par excellence umožňuje experimentovať s vrstvením textúr – Ralph Lauren tiež kombinuje kožené sako s nohavicami s prúžkami.
Okrem čiernobielych šiat sa prehliadkové mólo stáva aj metaforou pre pocit jednoty (a spolupatričnosti), ktorý prekračuje geografické hranice, a to vďaka modelom prítomným v obsadení módnej show Ralpha Laurena Jeseň/Zima 2022-2023. Na prehliadke tejto kolekcie rozhodne nemohli chýbať dve americké supermodelky Bella a Gigi Hadid.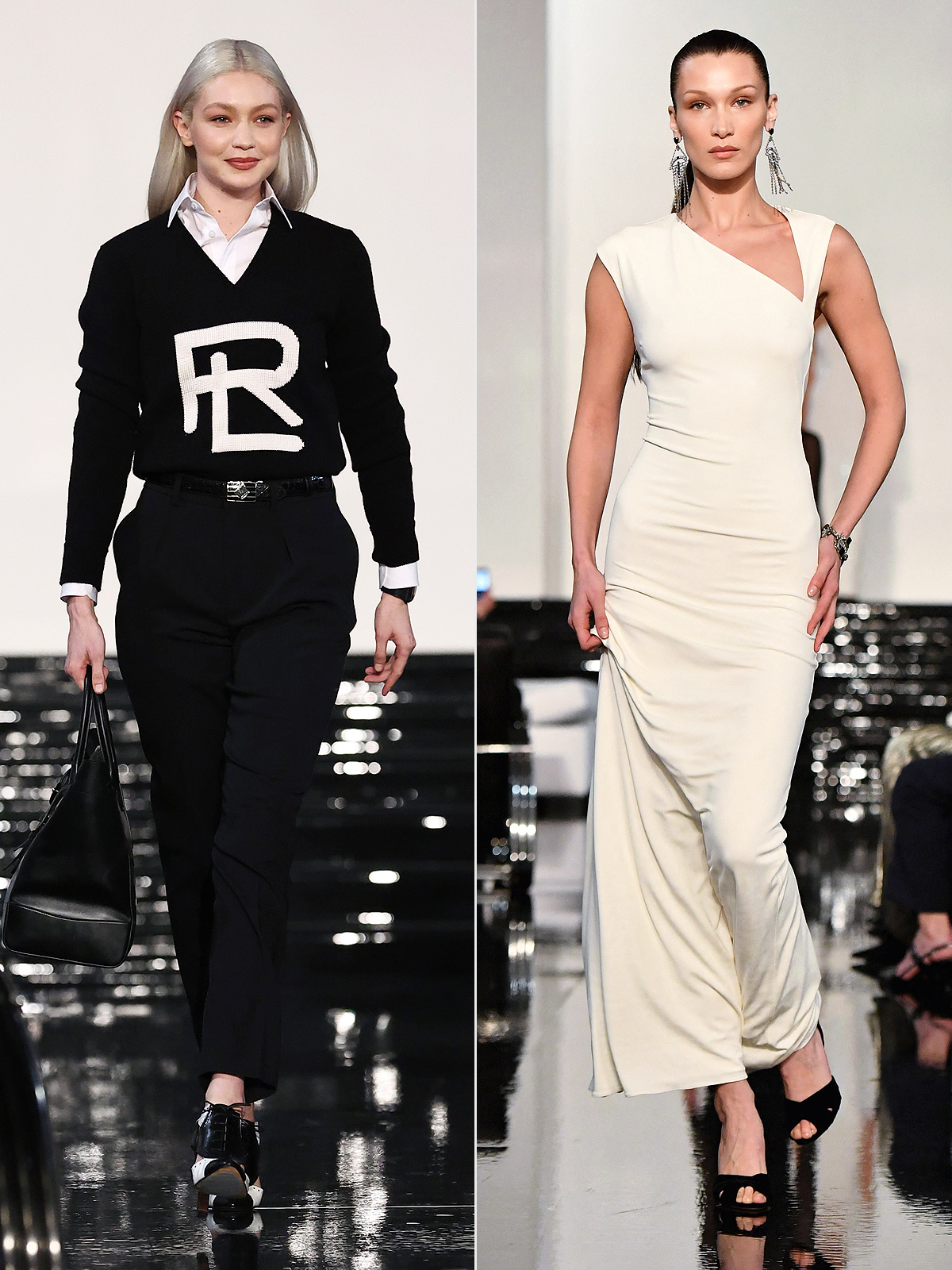 Taliansko na móle reprezentovala modeka Vittoria Ceretti .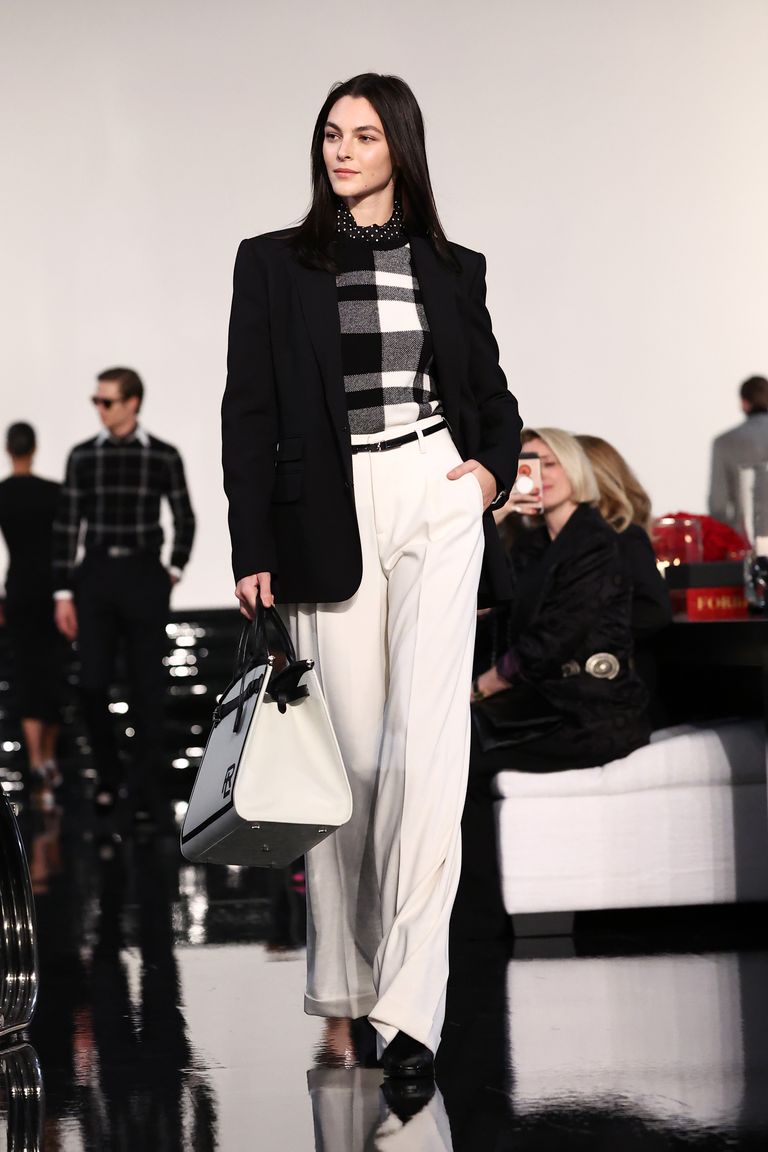 Ako slnko žiarila modelka a herečka Laetitia Casta.
Po vyslovení čierno-bielej výpovede a identifikácii s niekoľkými, no nevyhnutnými nádychmi červenej najmä v károvaných potlačiach, je tu flitrový trend.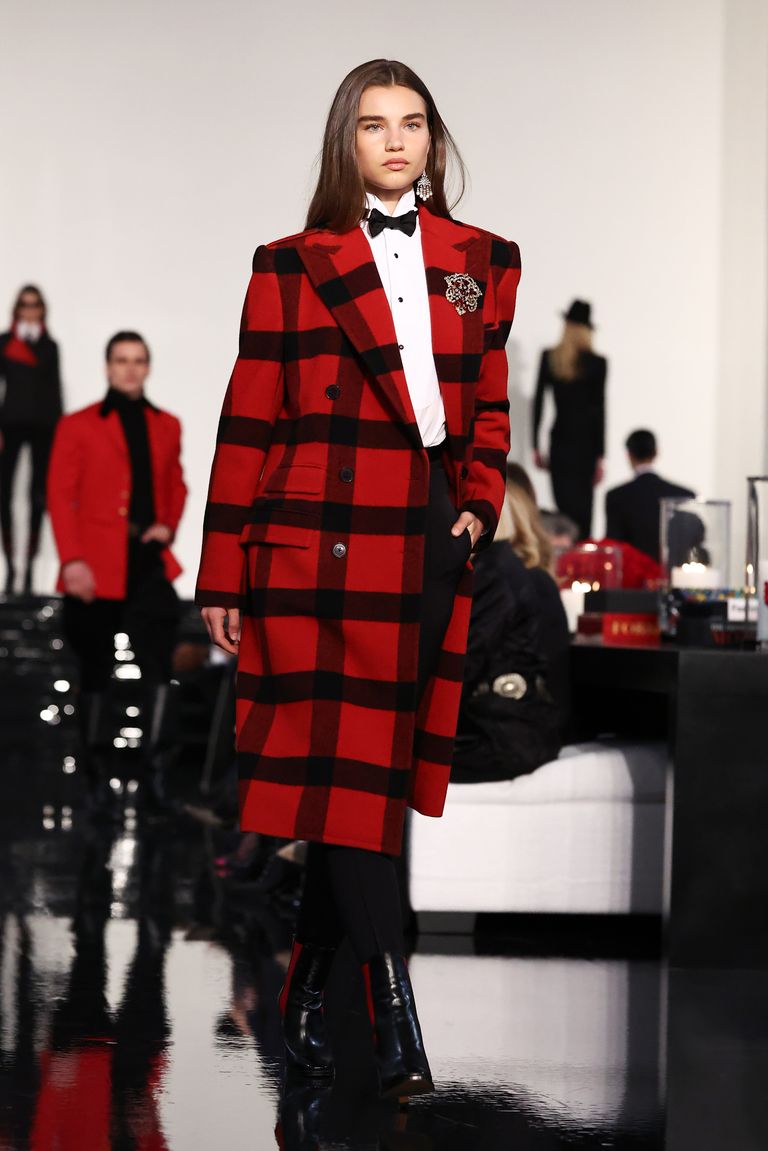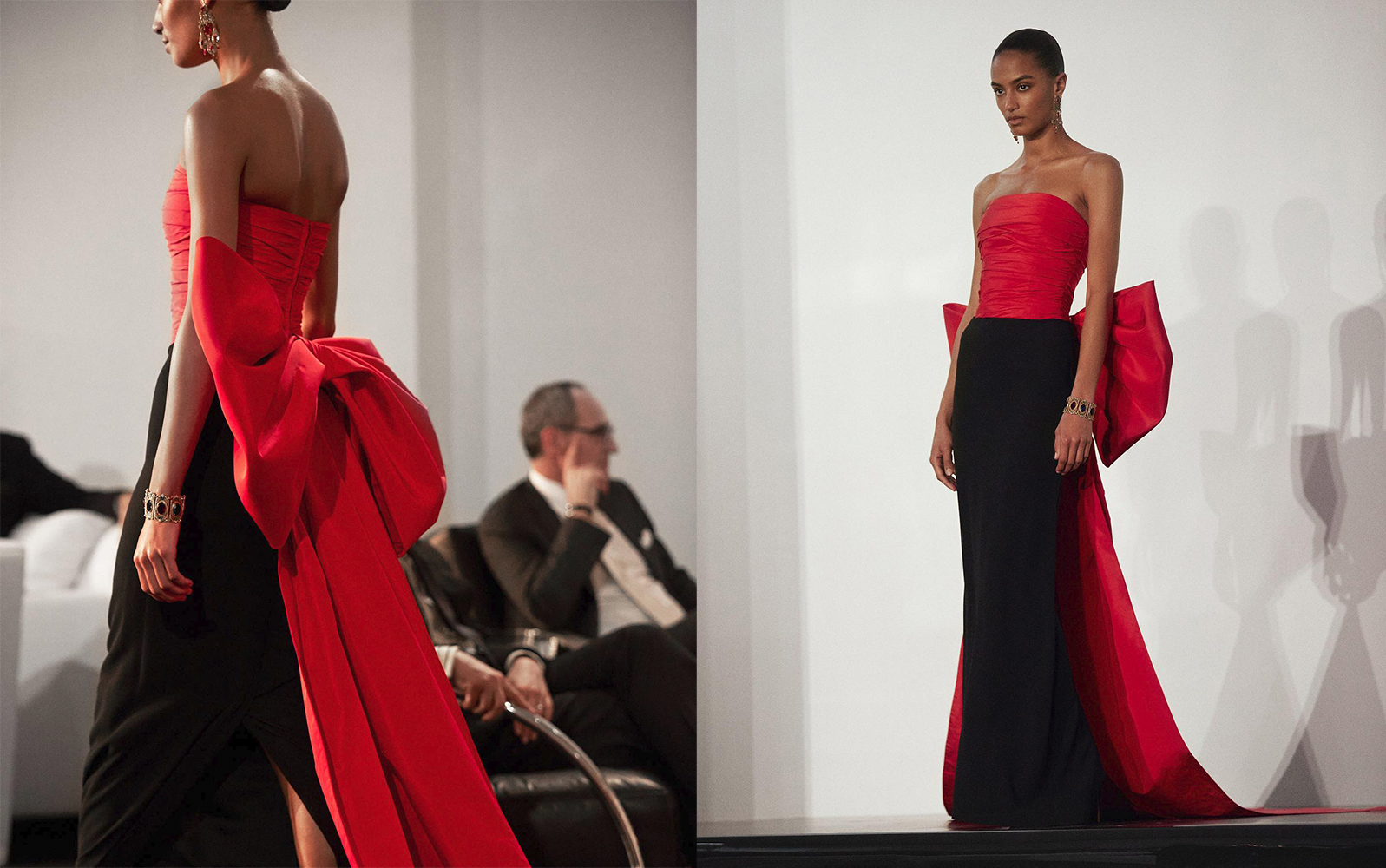 Flitrové modely sa uviedli v celej svojej doslovnej nádhere vo výzore francúzskej supermodelky Laetitia Casta. Pre Laetitia Casta zvolil dizajnér Ralph Lauren veľmi elegantné trblietavé čierne šaty s bardot výstrihom. Totálna čierna, ktorá pozdvihuje ženskosť na ďalší stupeň.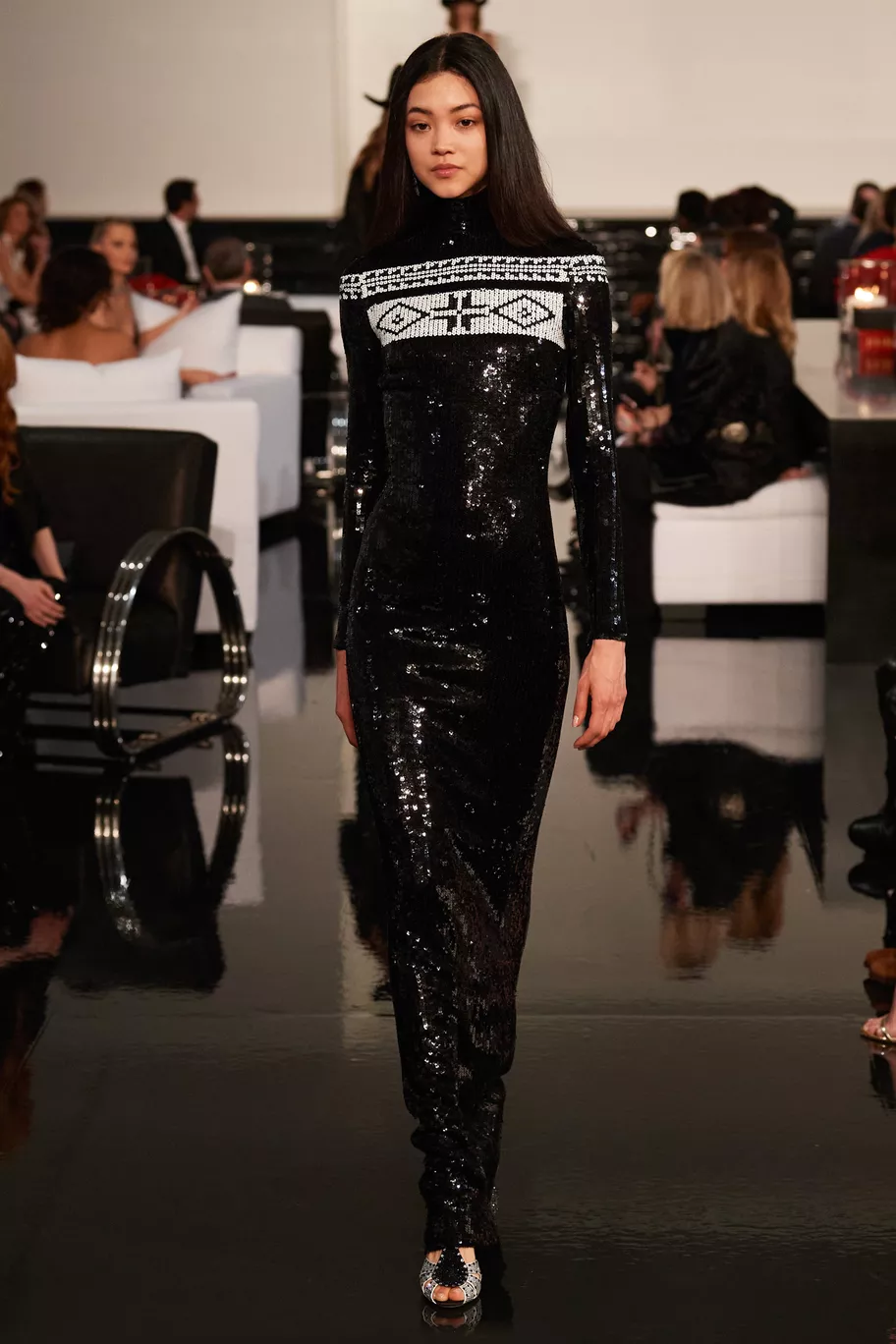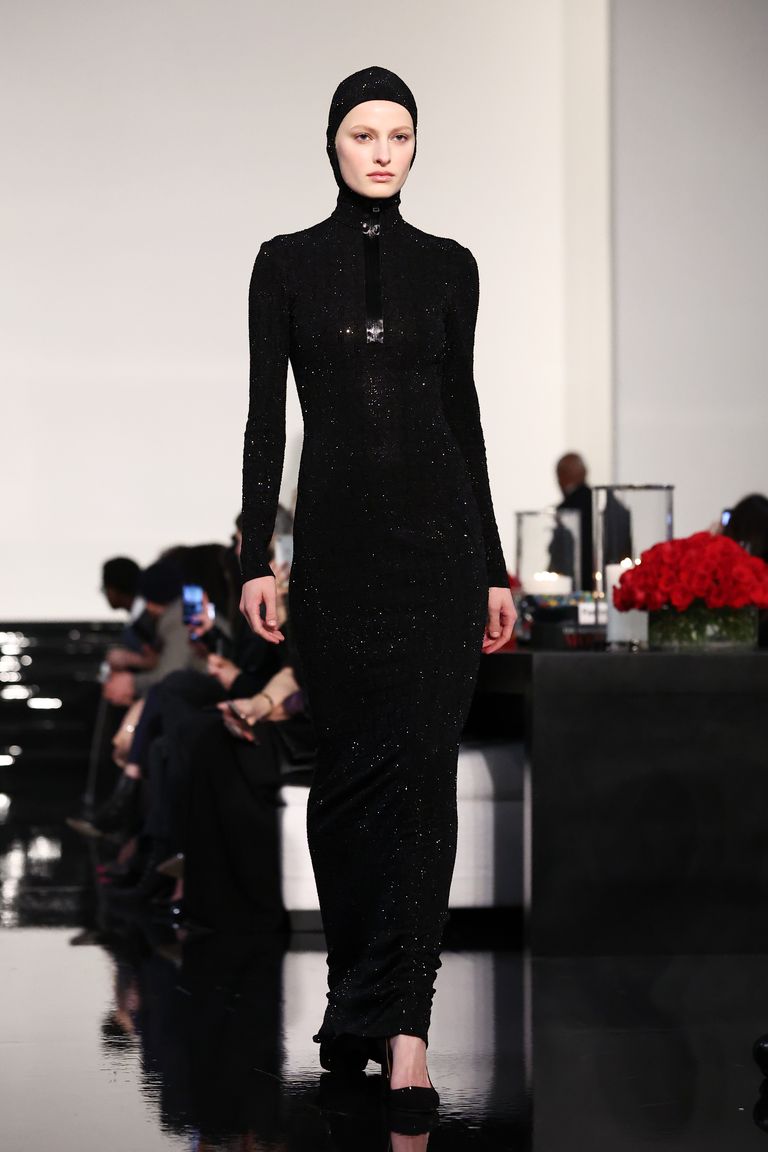 MÓDA RALPHA LAURENA JESEŇ/ZIMA 2022-2023 – NOVÁ STRATÉGIA
Výber prostredia pre módnu prehliadku Ralpha Laurena Jeseň/Zima 2022-2023 bol tiež zásadný a v súlade so stratégiou značky. Napriek tomu, že módny dom vystúpil mimo oficiálneho kalendára New York Fashion Weeku, má v úmysle pozdvihnúť sa a osloviť čoraz viac svojich potenciálnych zákazníkov. "Povznesenie značky je neustále, nikdy sa nezastaví," vysvetlil Patrice Louvet pre Business of Fashion.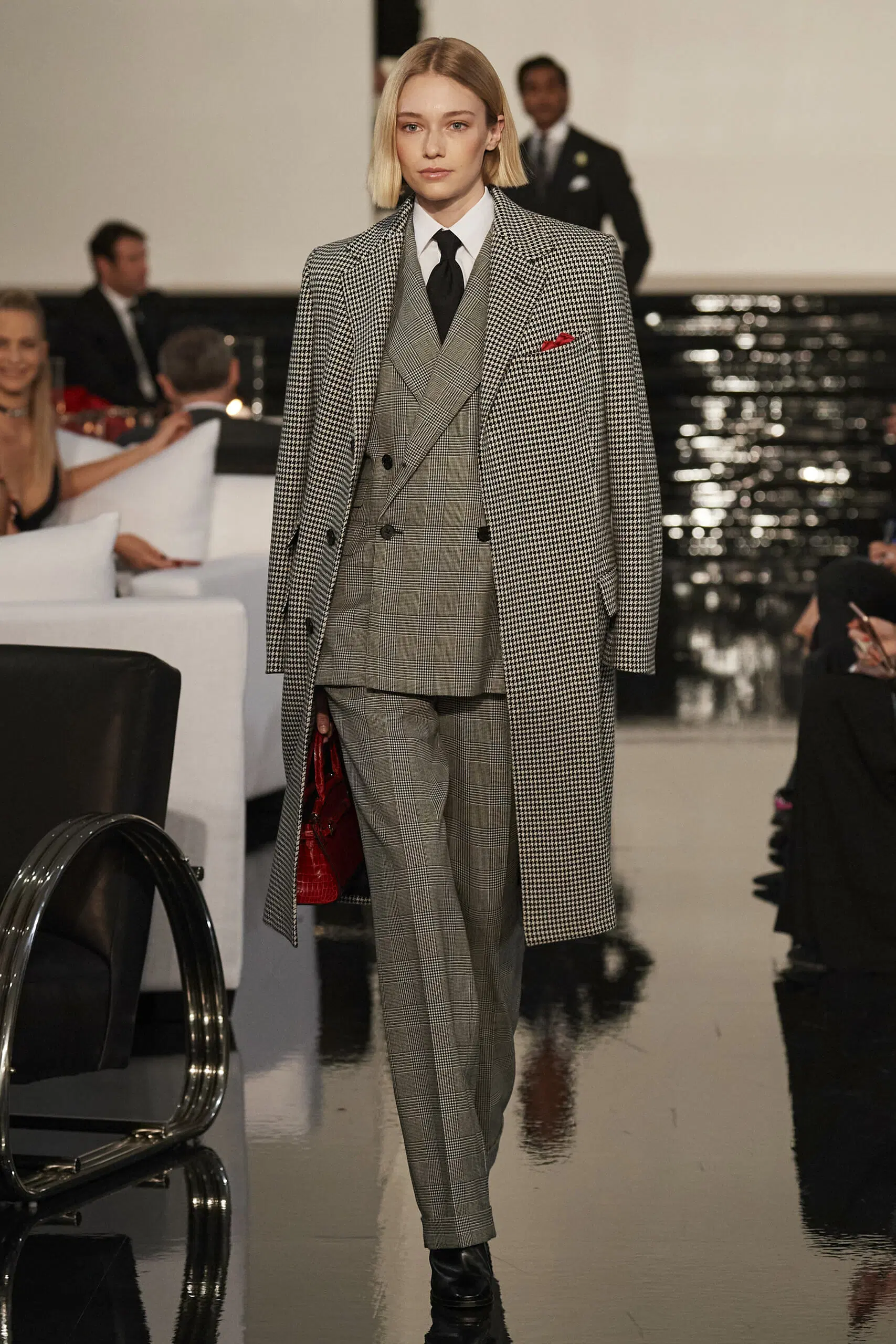 Zdá sa, že stratégia presvedčiť novú generáciu potenciálnych zákazníkov Ralpha Laurena, že produkt má dostatočnú hodnotu na to, aby ospravedlnila cenu funguje. Ak sa teda v roku 2018 zdalo, že sláva značky Ralph Lauren na chvíľu zakolísala, dnes je módny dom potešený novým prístupom, ktorý sa vypláca na predajoch a oslovovaní nových zákazníkov.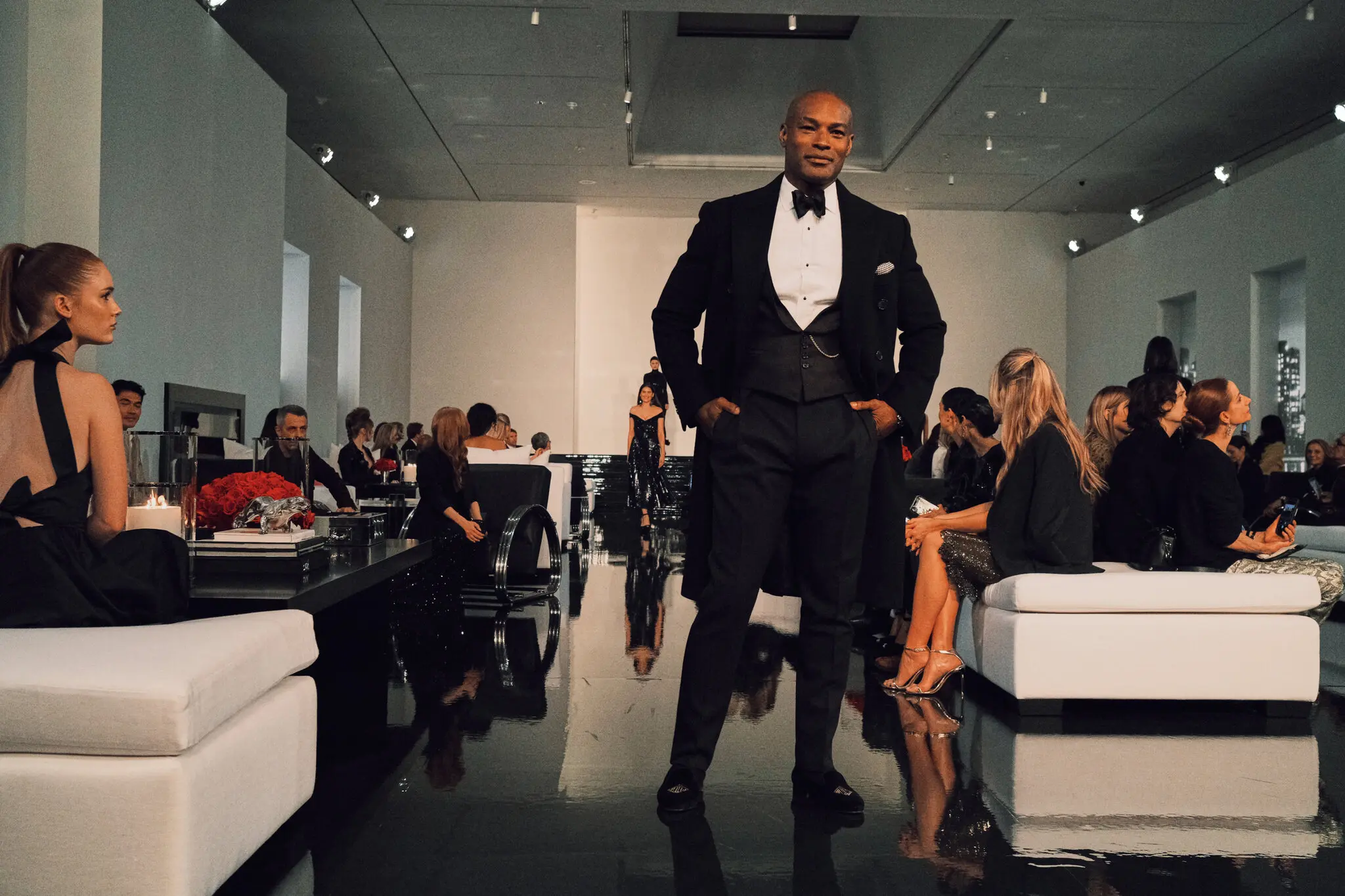 Pri vyvolaní zmyslu pre komunitu a spolupatričnosť v rodinnej obývačke Ralpha Laurena, otvárajúc jej dvere viac ako kedykoľvek predtým svojej medzinárodnej komunite, však Ralph Lauren nevynecháva drámu prítomného okamihu. "Keď som sa pred mesiacmi rozhodol ukázať svoju kolekciu Jeseň/Zima 2022- 2023 s intímnym večerom, na Ukrajine nebola žiadna vojna , hovorí kreatívny riaditeľ. Tragédia a skaza, ktorej sme teraz svedkami, boli nepredstaviteľné. Všetko na čo som myslel, bolo nájsť môj tím po dlhom čase a vás všetkých, aby ste zdieľali pocit nádeje inšpirovaný kreativitou a spoluprácou. S týmto smútkom v srdci kráčame vpred zjednotení v nádeji na mier a na koniec tejto pandémie, aby sme boli opäť spolu. Som tak hrdý, že môžem byť opäť s vami, aby som sa podelil nielen o kolekciu, ale aj o optimizmus života v úcte a dôstojnosti všetkých."
obrázky: © pinterest, getty images, vogue. it, shutterstock
Sledujte Facebook stránku: Mya Mirell Fashionista a Instagram: mya_mirell .