Najvzrušujúcejšie modely z prehliadkových mól londýnskeho týždňa módy – sezóna Jar/Leto 2023, 16. – 20. september 2022, časť II.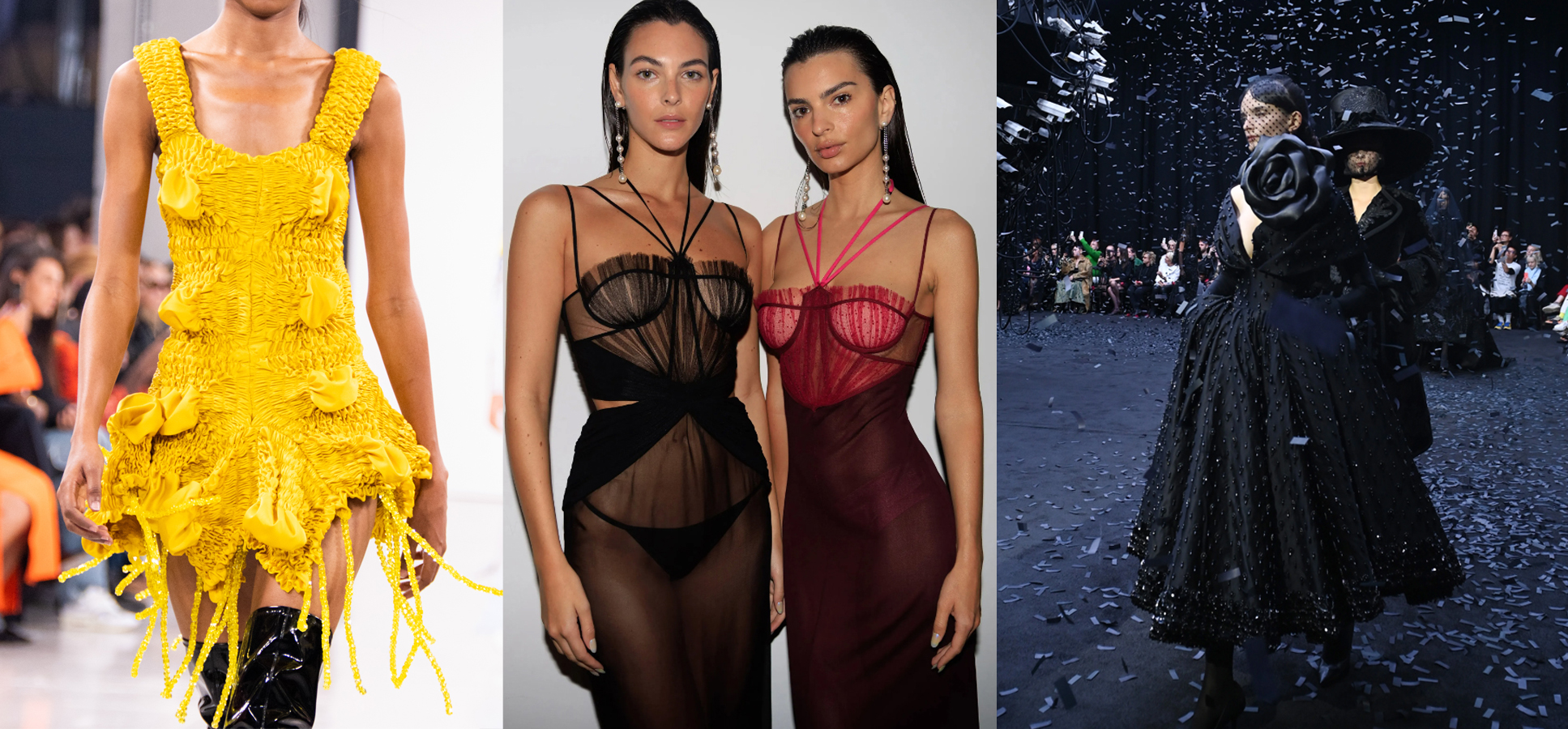 Newyorský týždeň módy odštartoval sezónu svetových fashion weekov, Jar/Leto 2023 a záplava redaktorov, nákupcov a módnych expertov sa presunula do Anglicka na druhú časť módneho mesiaca. A hoci je londýnsky týždeň módy zvyčajne o niečo kratší ako Milan a Paris Fashion Week, posledných pár dní prinieslo vážny úder , kedy sa London Fashion Week prekrýval so štátnym pohrebom kráľovnej Alžbety II.
Keď 8. septembra 2022 skonala kráľovná Alžbeta II., svet sa ponoril do smútku a osud londýnskeho týždňa módy vyzeral neisto. Po dramatických sezónach, ktoré viac ako dva roky komplikovala pandémia, sa módne týždne rozbiehali len veľmi pomaly to vyzeralo, že sa svet módy opäť musí zastaviť. Niekoľko dizajnérov vrátane Burberry, Raf Simonsa a Roksanda sa aj rozhodlo zrušiť či odložiť plánované prehliadky na neskôr ako prejav úcty voči zosnulej britskej panovníčke. Preložených bolo aj mnoho večierkov a to na London Frieze Week na október.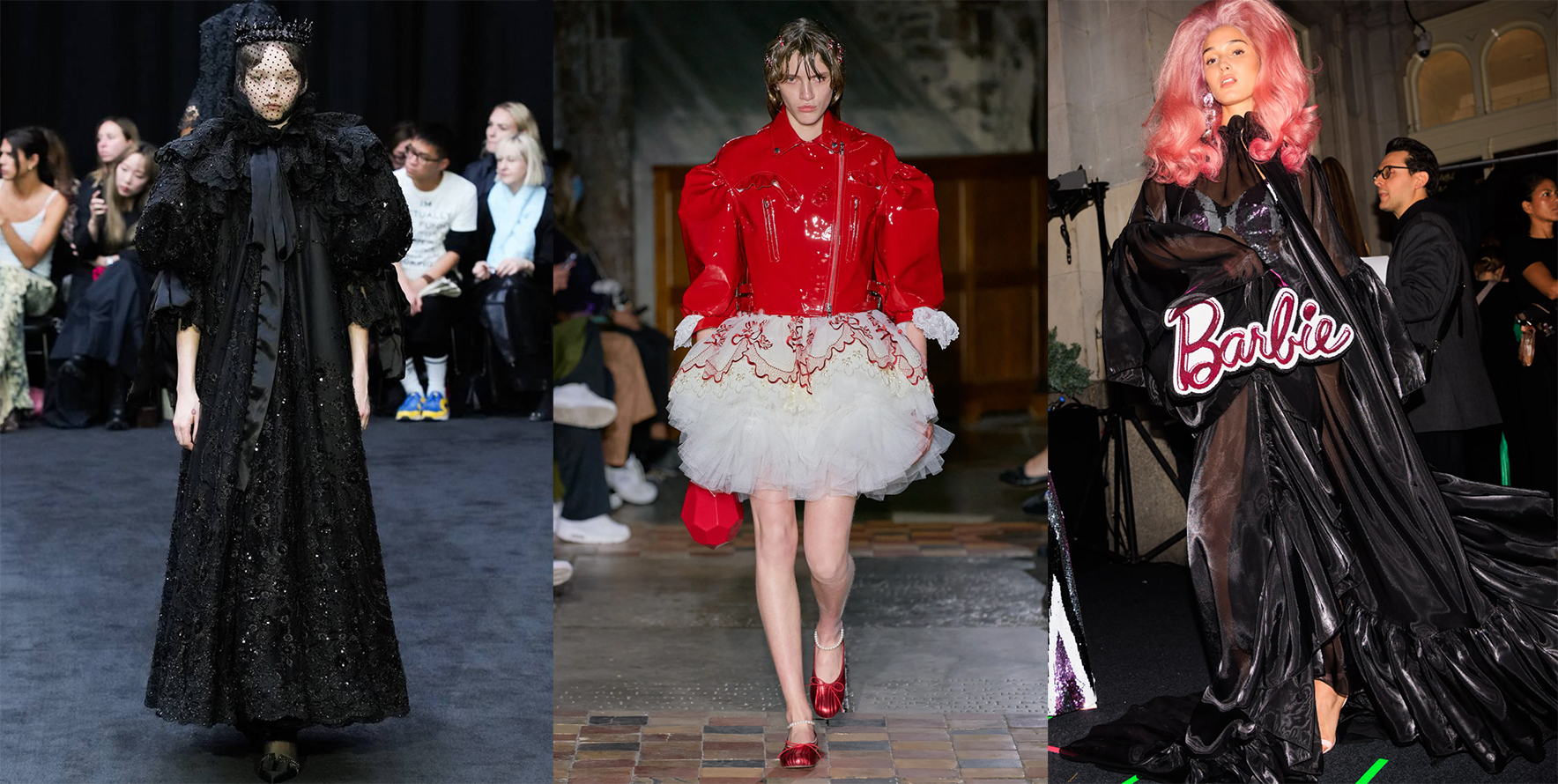 Americký talent Harris Reed, ktorý sa preslávil v Spojenom kráľovstve, však svetu pripomenul, že aj
napriek pochmúrnym správam o smrti kráľovnej Alžbety, je britská módna scéna opäť taká živá ako kedykoľvek predtým a prehliadky by mali s rešpektom pokračovať. "Boli to náročné dva roky…," uviedol Reed na svojom Instagrame a 15. septembra 2022 oficiálne odštartoval jarnú sezónu 2023 . Pridalo sa k nemu mnoho ďalších dizajnérov a spoločne sa dohodli na úctivom pripomenutí si pamiatky britskej panovníčky poctou, ktorú zakomponovali do svojich prehliadok.
Pozrime sa na ďalšie kolekcie dizajnérov londýnskeho módneho týždňa, ktorý prebehol v čase od 16. do 20. septembra 2022 pre sezónu Jar/Leto 2023.
ERDEM
Erdemove najnovšie výtvory skúmali tému zručnosti a oddanosti reštaurovania umenia. Spolu so svojím štúdiovým tímom dizajnér strávil čas s odborníkmi na reštaurovanie v Britskom múzeu, Tate, V&A a Národnej galérii. Kolekcia Erdem, Jar/Leto 2023 vychádzala zo zákulisia práce múzejných konzervátorov. Skúmaním nedokončených fáz rekonštrukcie vytvorili prekvapivé detaily, ako sú rozstrapkané lemy, prekvapivé formy, ktoré vyplynuli zo štúdia spodných konštrukcií a šiat vytvorených pomocou fragmentov rôznych látok.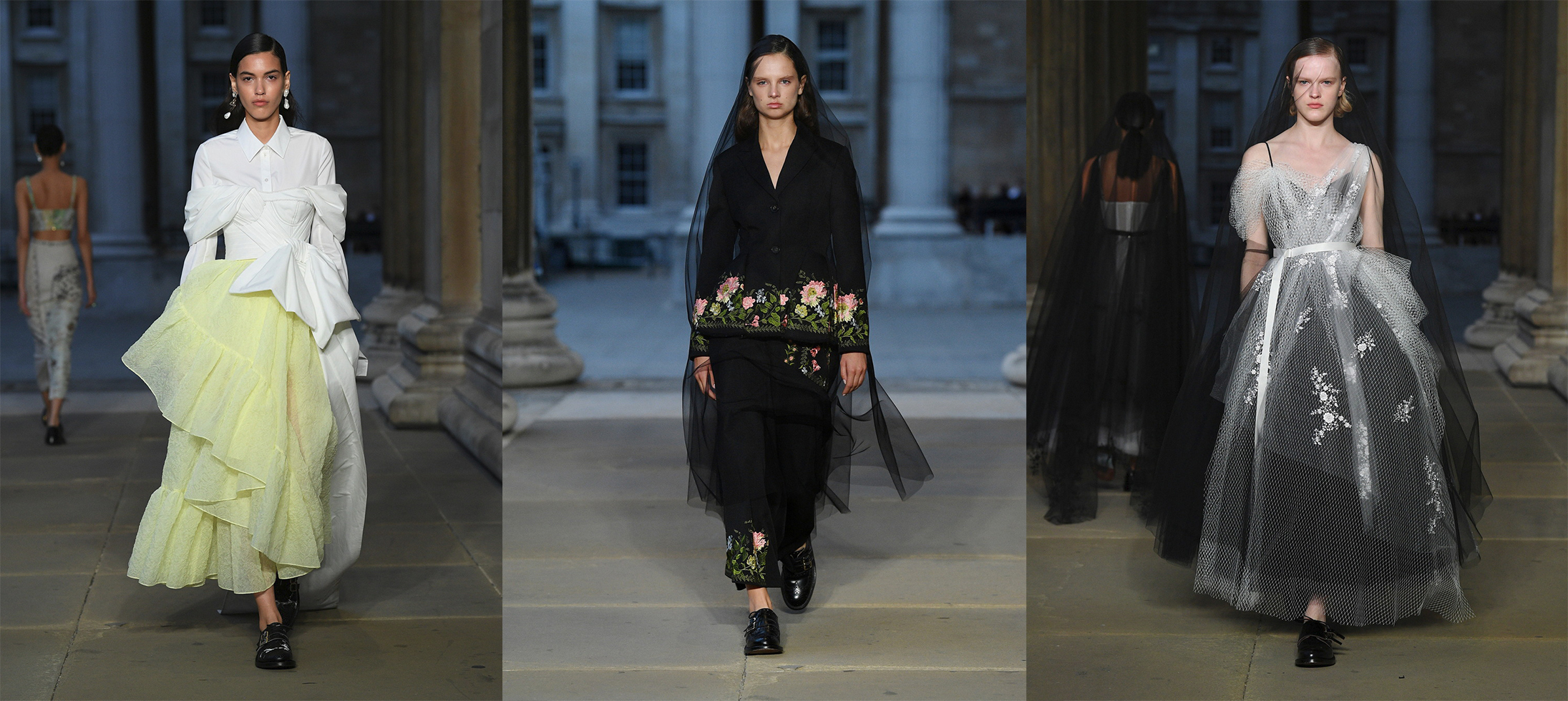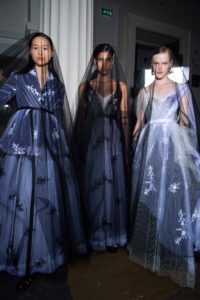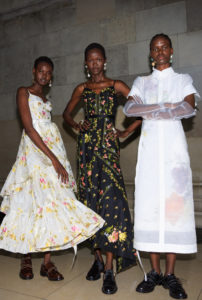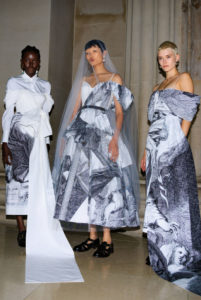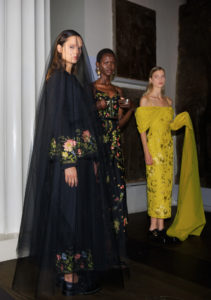 Fotografia: Tristan Fewings/BFC/Getty Images
HALPERN
Pocty ostatných zosnulej panovníčke boli o niečo jemnejšie. V značke Halpern úvodný model nevyšiel bez hudby a bol to práve modrý vzhľad s kapucňou a šatkou, ktorý vzdával hold plesovým šatám z roku 1957, ktoré mala kráľovná na sebe keď zdravila francúzskeho prezidenta Charlesa de Gaulla.
"Modrý vzhľad, ktorý v tichosti otváral show, je poctou Jej neskorému veličenstvu, ktoré pre mňa evokujú vládu, ktorá podporuje kreativitu, otvorenosť a širokú podporu kreatívnej slobody. Tento jedinečný vzhľad je pre mňa spôsob, ako vyjadriť svoju vďačnosť kráľovnej za to, že povzbudzuje dizajnérov, ako som ja, aby sa vyjadrili jediným spôsobom, ktorý poznáme: prostredníctvom sily módy a optimizmu. Vždy bolo mojím étosom, že v časoch temna hľadím na fantáziu módy pre jej optimizmus a silu." Vyjadril sa dizajnér v rozhovoroch pre magazíny o svojej kolekcii.
Módny návrhár Michael Halpern, podnietený spomienkami z detstva na svoju matku v 70. a na začiatku 80. rokov, cez deň bankárku a v noci disko divu, sa pozrel na báječné domáce večierky, ktoré usporiadala v severnej časti štátu New York. Motívom kolekcie Jar/Leto 2023 bolo vyjadrenie detstva Michaela Halperna v štáte New York, kde tón udávali nové predstavy luxusného šatníka, zamatové šaty s leopardím vzorom z čias diskotéky, viacfarebné vzhľady a dizajnér sa pohral aj s plisovaním a skrútením na volánikovom zamate.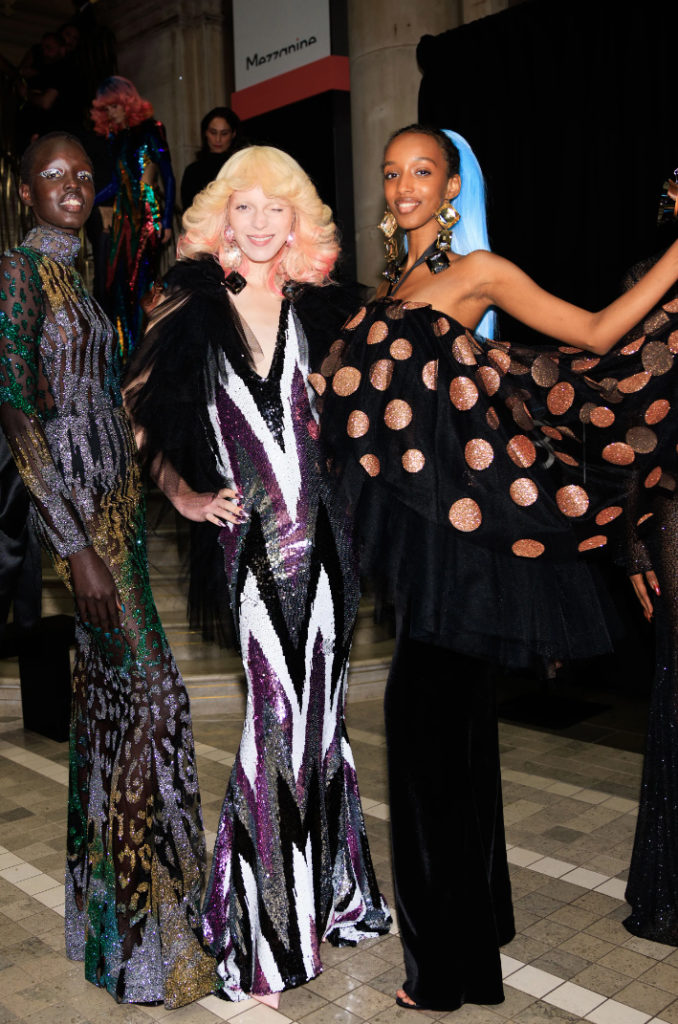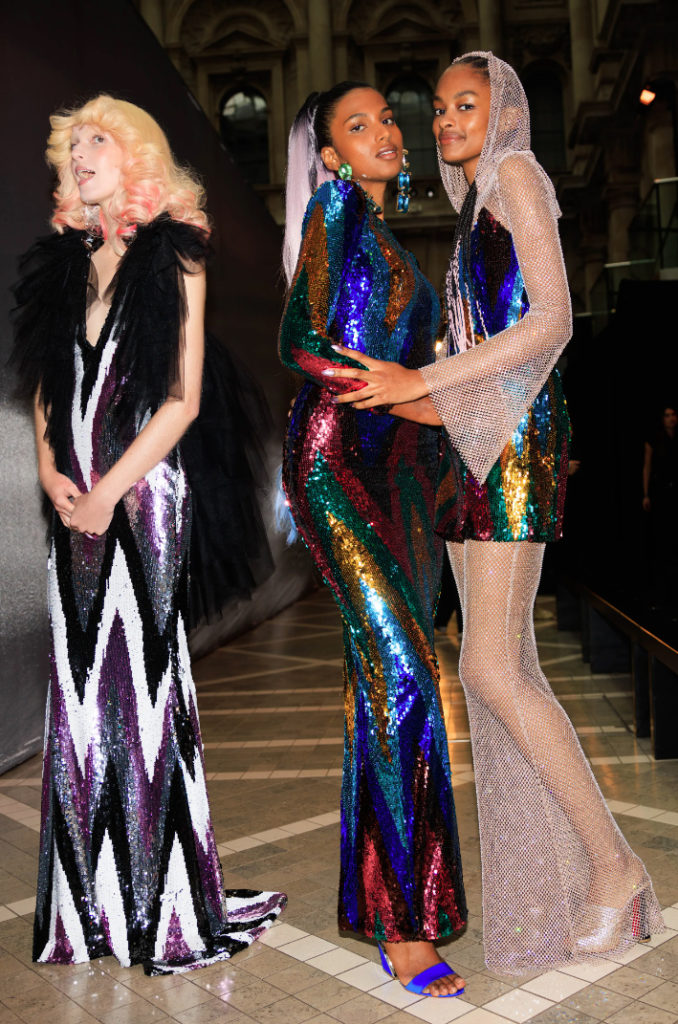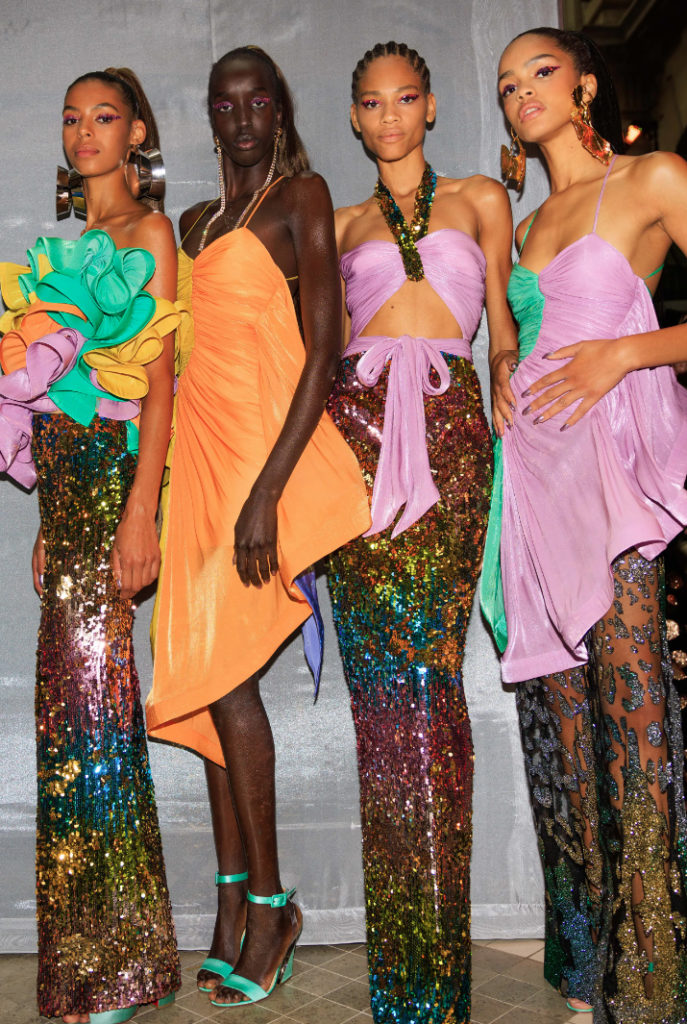 Šaty s klasickým leopardím vzorom boli taktiež nariasené a na sieťovom tyle žiarili výbuchy dúhových farieb. Tylové šaty boli ručne maľované a posiate trblietkami.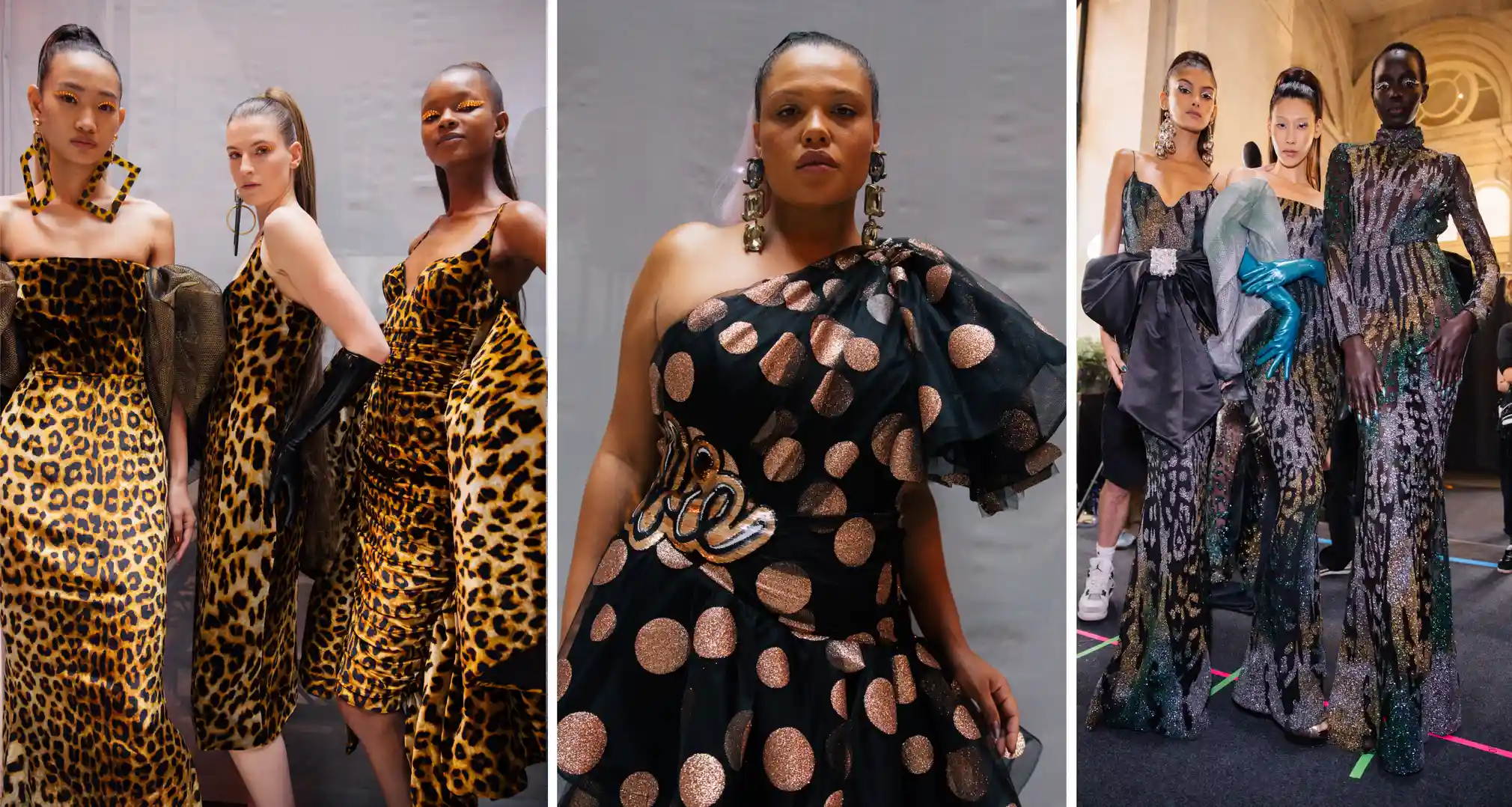 Fotografia: Christina Fragkou
Ďalším motívom kolekcie Halpern, Jar/Leto 2023 bola óda na 60. výročie Barbie Dreamhouse, keď sa módny dom spojil s firmou Mattel, aby vytvorili zábavný, príjemný a penivý riff s viac-je-viac DNA. Kultová bábika s dovolením od Mattela umožnila Halpernovi prístup k šatníkom Barbie pri navrhovaní kolekcie, z ktorej osem vzhľadov bolo venovaných výlučne Barbie. Výsledkom bola kolekcia vzhľadov, ktoré zostali verné bujnosti Halpernovej DNA a zároveň prikývli na vážnosť čias.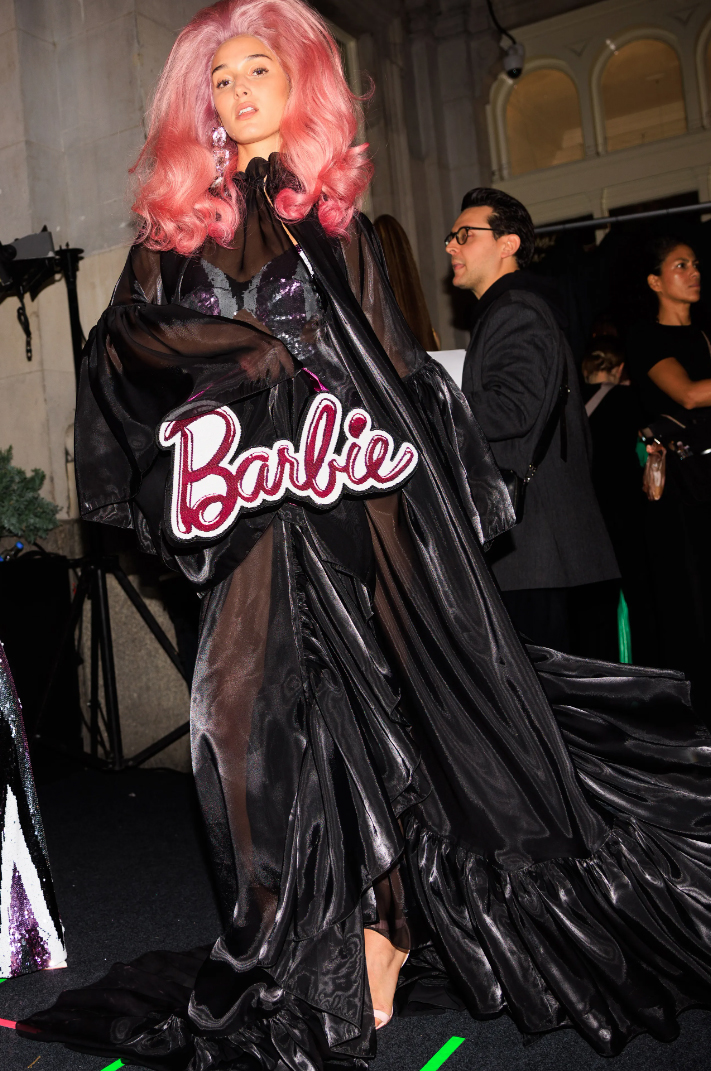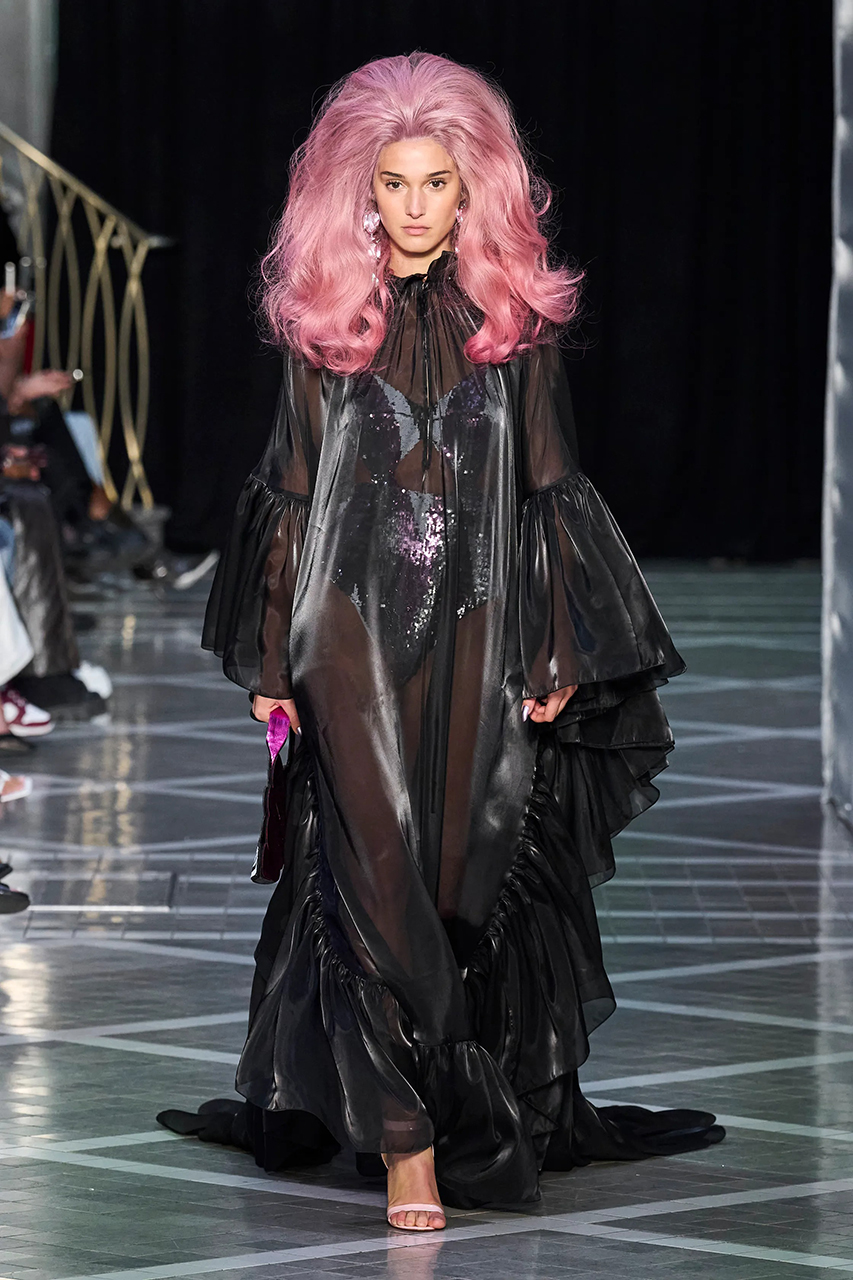 NENSI DOJAKA
Albánska dizajnérka Nensi Dojaka pripravila typické kusy bielizne, ktoré spájajú plynulosť a štruktúru. Strieborné, fialové a ružové látky vyzerali orosené a mokré a flitrami zdobené večerné róby a lakované slipové šaty sa trblietali po móle. Kolekcia, ktorá sa jemne dotýka erotiky, spája lurex a čipku vytvarovanú do bra košíkov, zatiaľ čo leopardí vzor a džínsovina prikývli na 90. roky.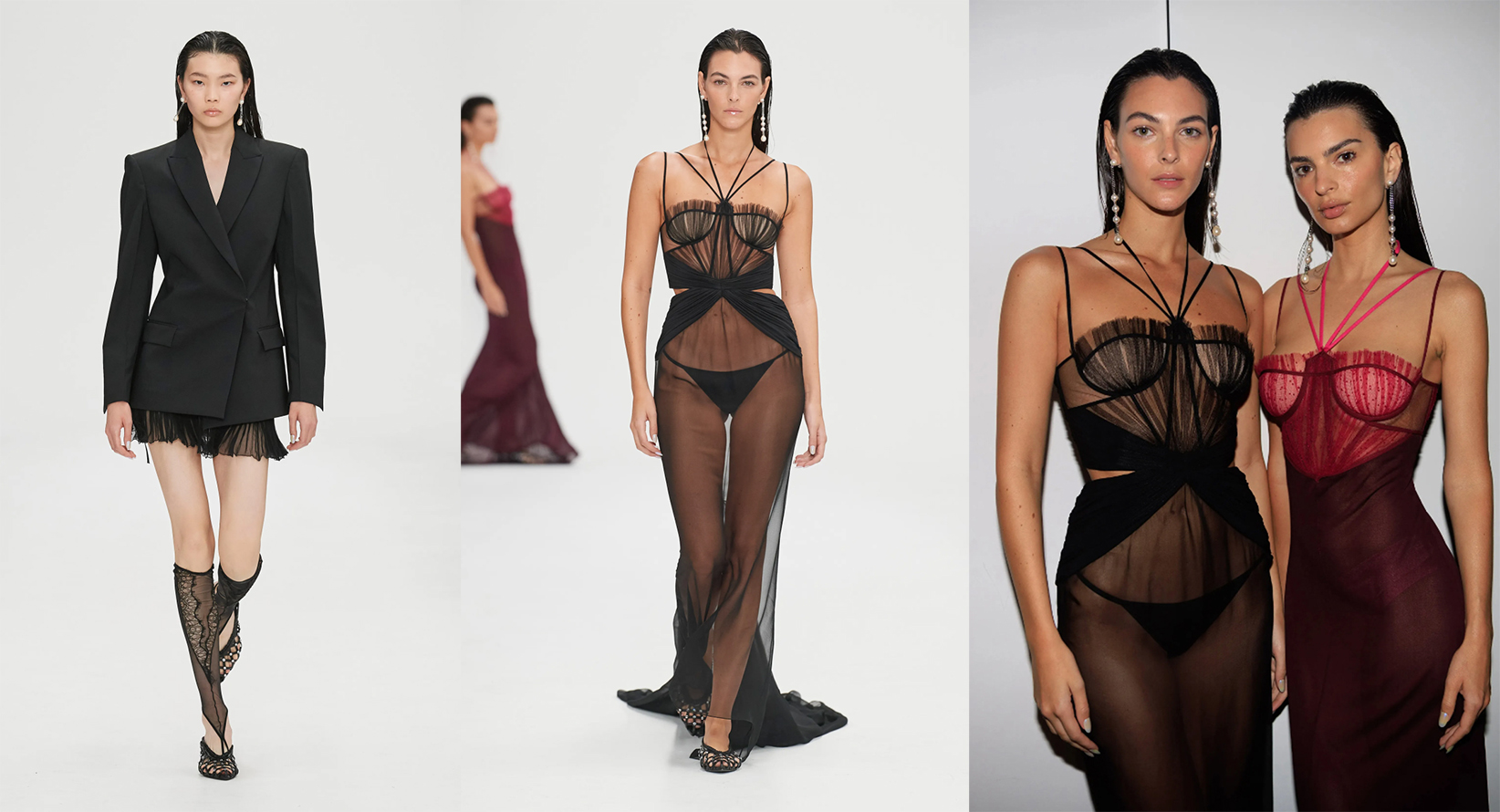 Módna návrhárka sa vyjadrila, že túto kolekciu spojila s obrázkami Grace Jones, ktoré nafotil fotograf Jean-Paul Goude. Predvádzali modelky Vittoria Cerretti a Emily Ratajkowski, ktorá uzavrela prehliadku v merlotových korzetových šatách.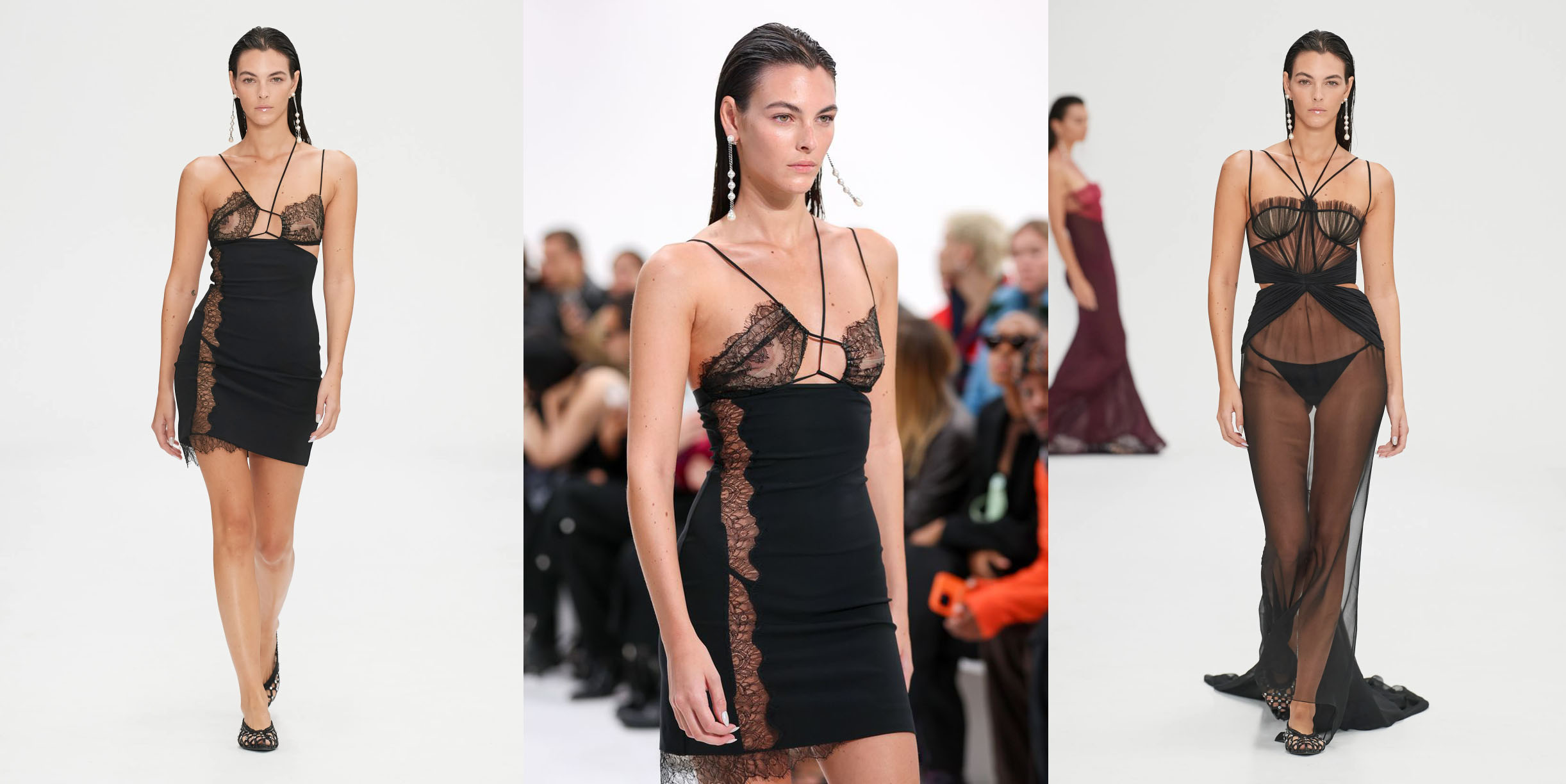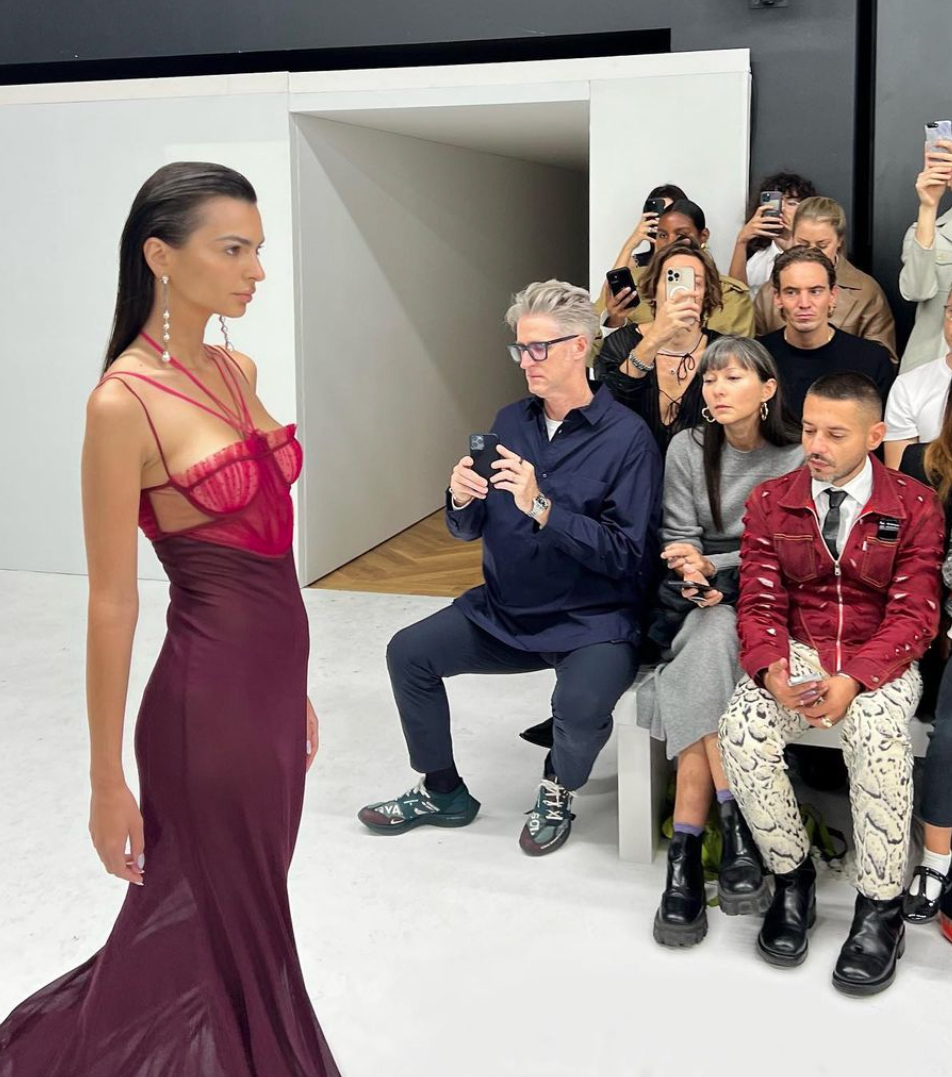 CHRISTOPHER KANE
Vystúpenia Paul & Joe a Christophera Kanea na London Fashion Weeku v sezóne Jar/Leto 2023 označili smrť kráľovnej Alžbety minútou ticha pred samotným začiatkom módnych prehliadok.
Je to už solídnych päť rokov, čo sa z "vychádzkového topu" stal len korzet alebo podprsenka. Christopher Kane sa pozrel na túto problematiku inou optiku a spodnú bielizeň zmenil na vedecký experiment, keď vytvoril plastový korzet z PVC.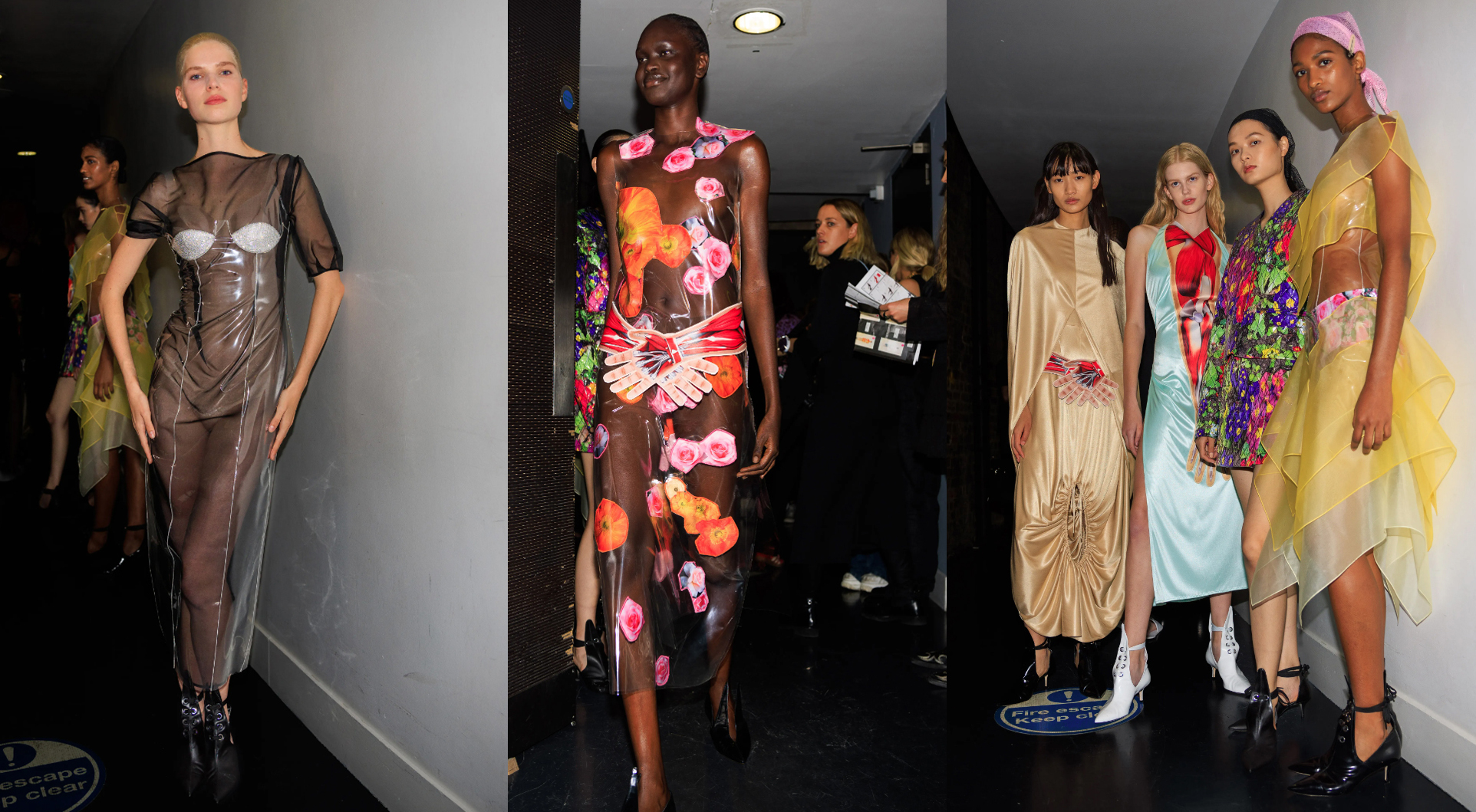 Plastové kostry u Christophera Kanea s priehľadnými výstuhami a namaľovanými žilami pozostávali z PVC , zdôrazňovali strašidelný a fascinujúci spôsob, akým štýl ohýba naše kostry.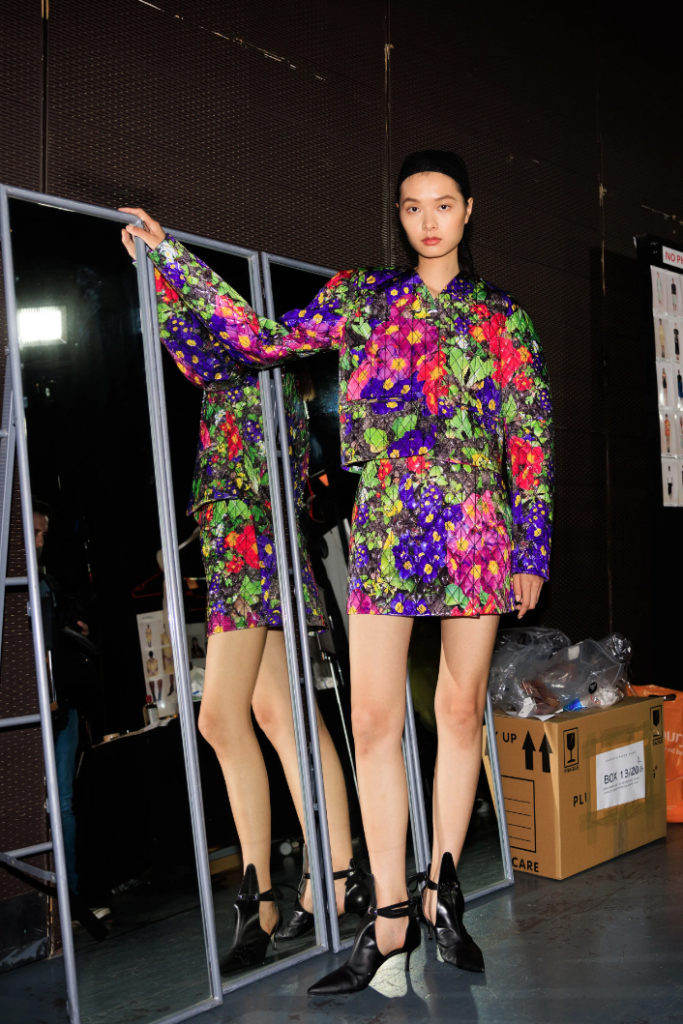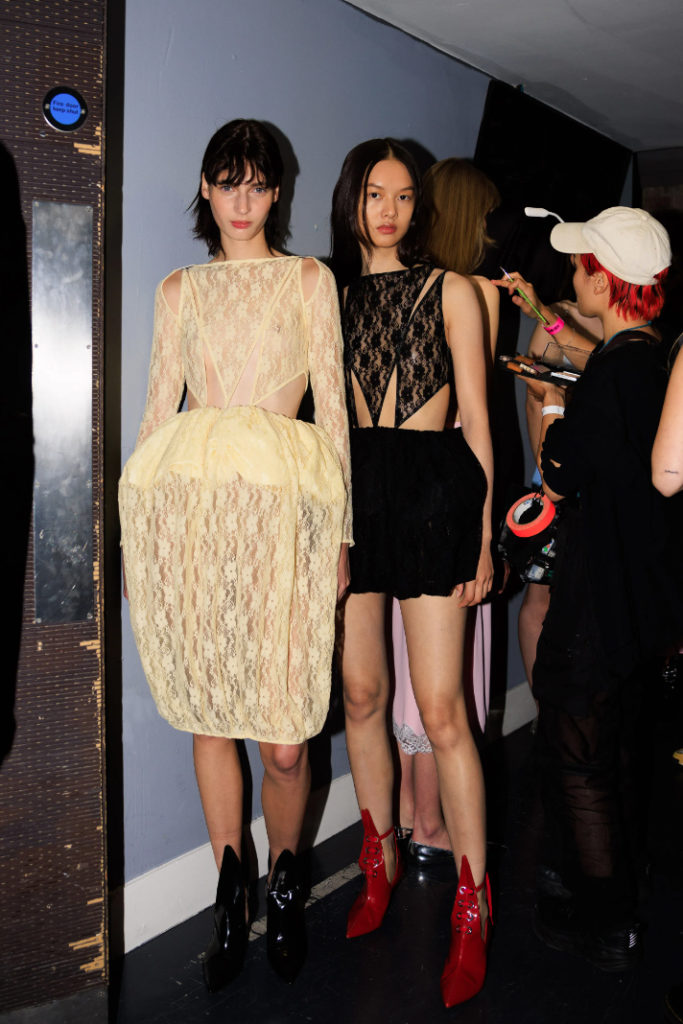 Kolekcia Jar/Leto 2023 obsahovala tiež nadrozmerné modely z úpletu a vystrihnuté Chelsea topánky ako vyjadrenie pohodlnosti a vlastnej osobitosti.
MOLLY GODDARD
Odkedy talianska značka Bottega Veneta ukázala svoju koženo-tylovú plesovú sukňu pre sezónu Jeseň/Zima 2022, sa tento trendový a zdanlivo jednorázový kúsok posunul o niečo ďalej. Dizajnérka Molly Goddard to dokázala fialovo-ružovými šatami, ktoré sa na tele hýbu ako morská pena a vyzerajú ako vysnívaný outfit každého malého dievčatka.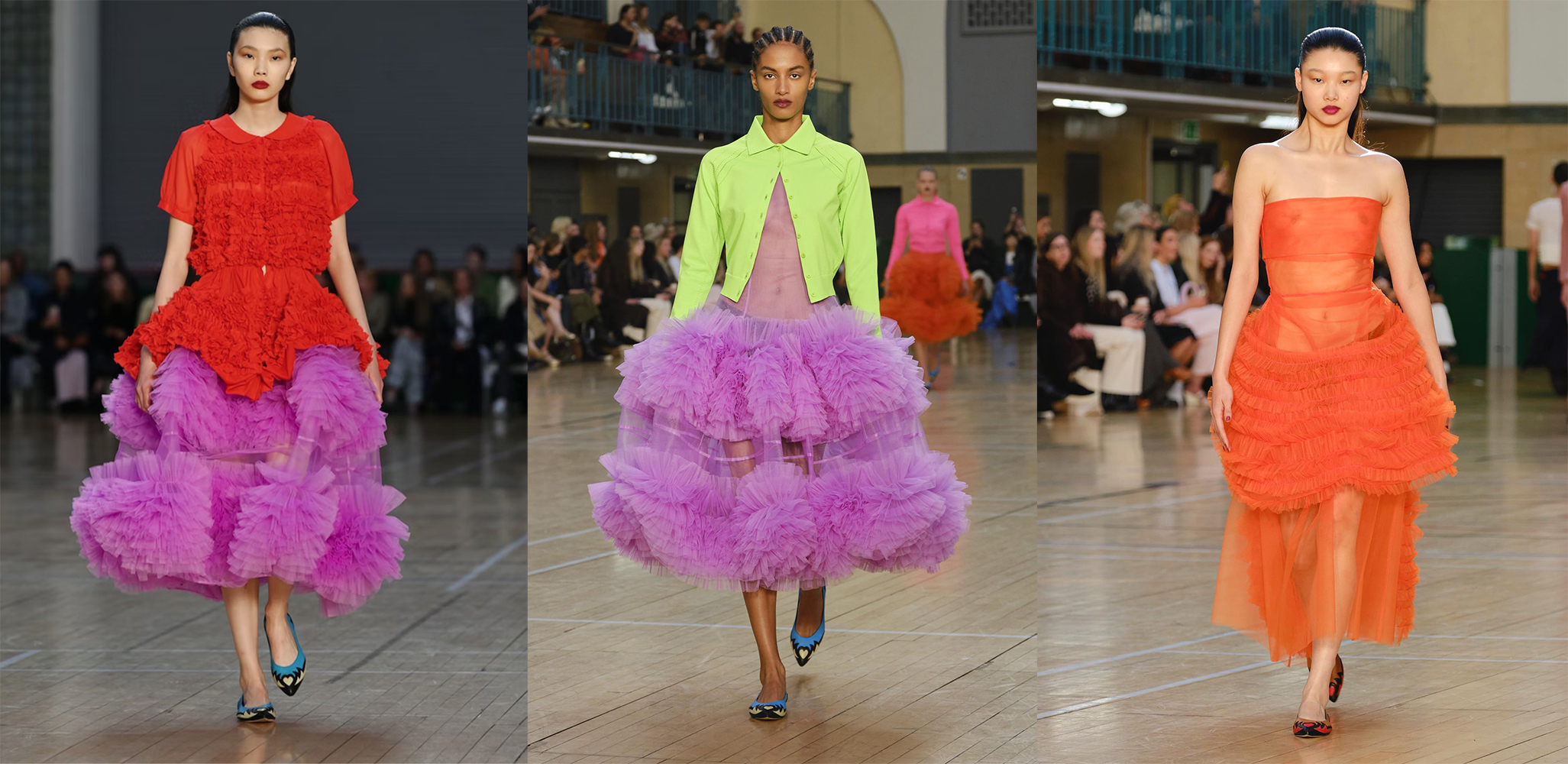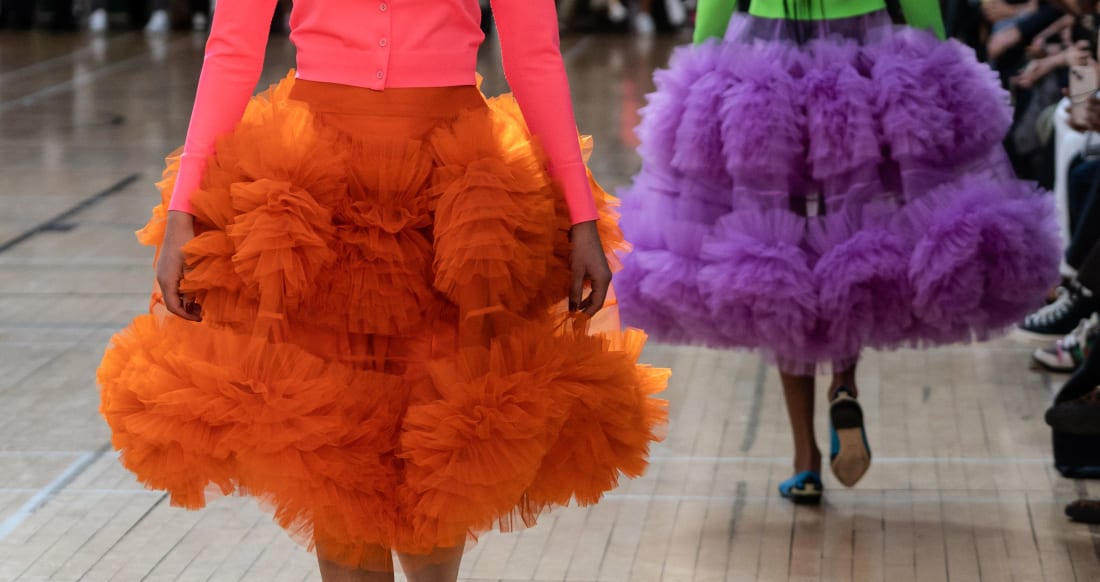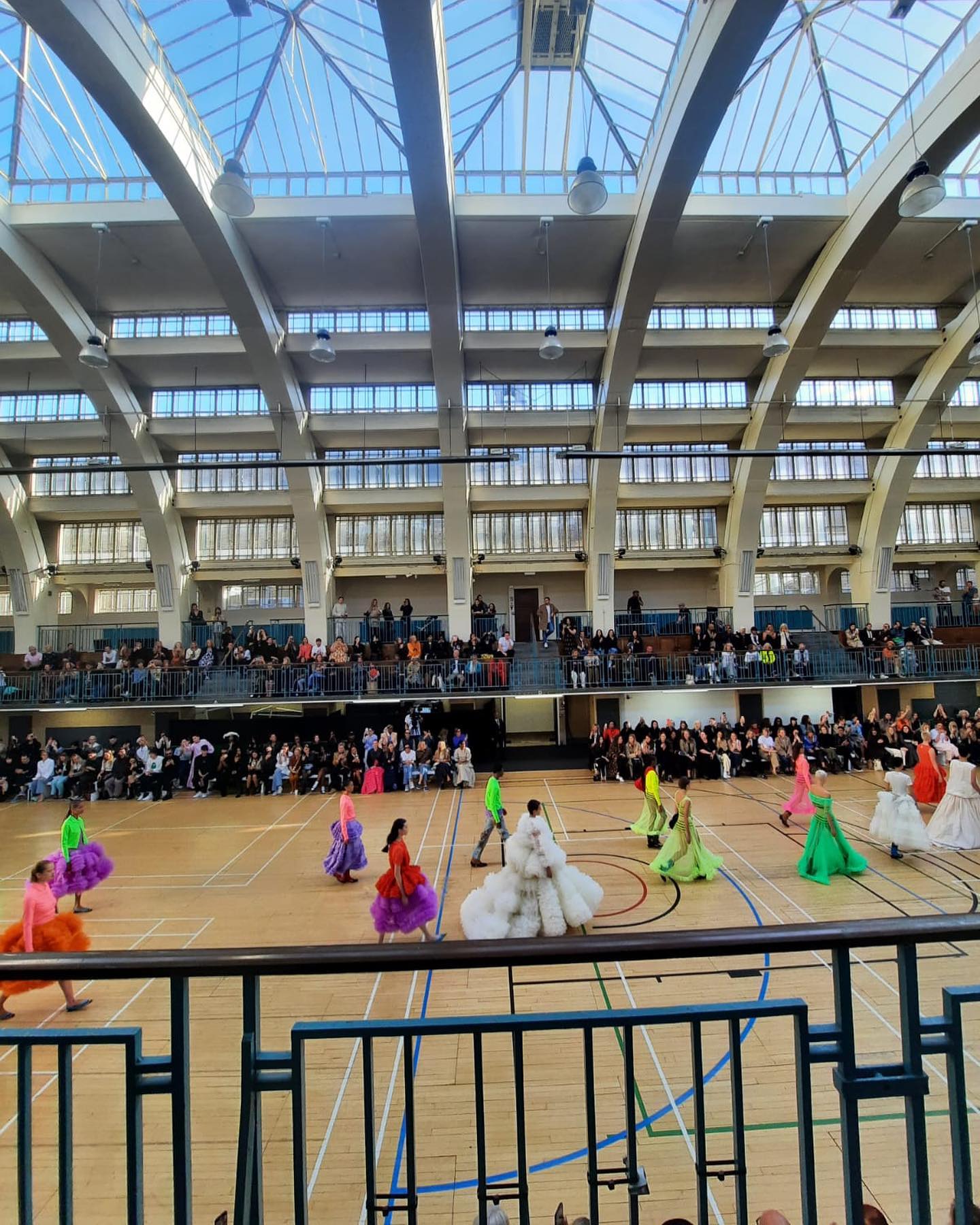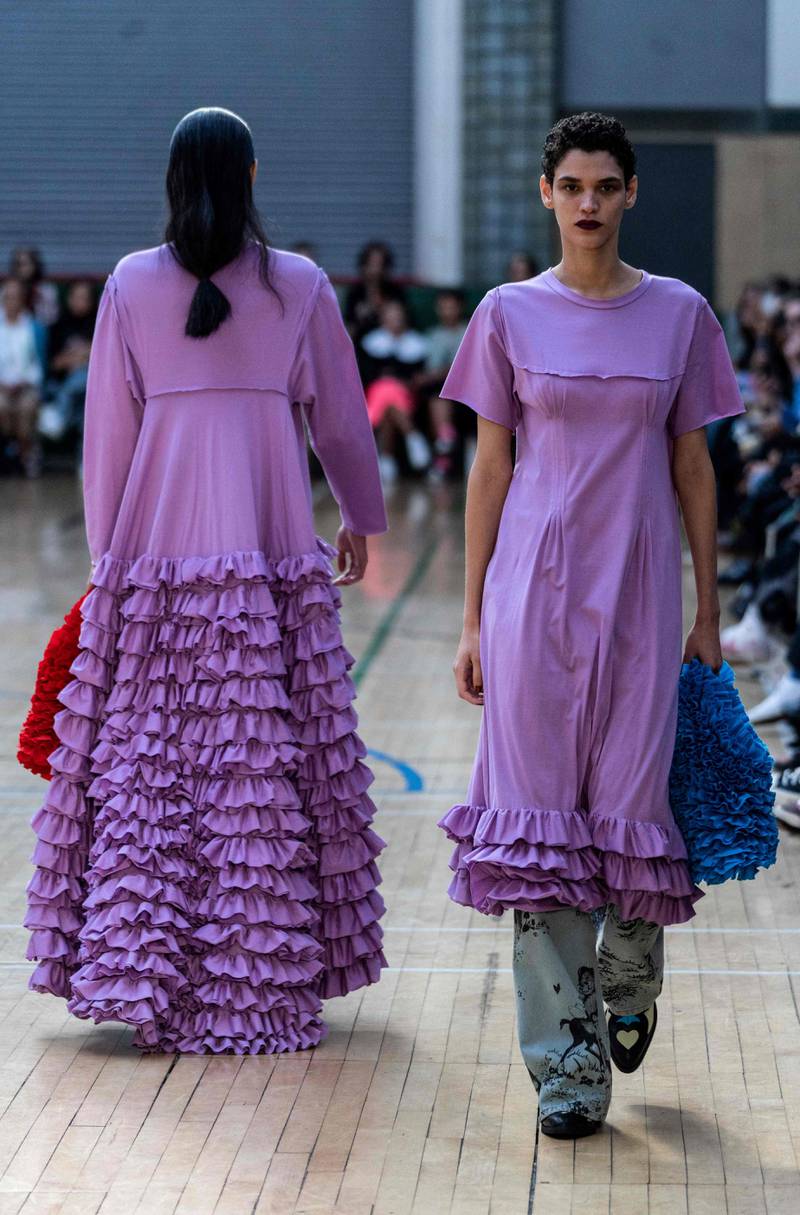 SUZAN FANG
Šaty Susan Fangovej sa vznášali ako papierové šarkany po móle. Dizajnérka zvolila kúsky gázy, zafarbené prúžky, ktoré ručne poskladala, usporiadala do 3D "vzduchových malých zväzkov" látok a "vzdušných kvetov" . Wow moment, ktorým zaujala počas debutu na londýnskom týždni módy.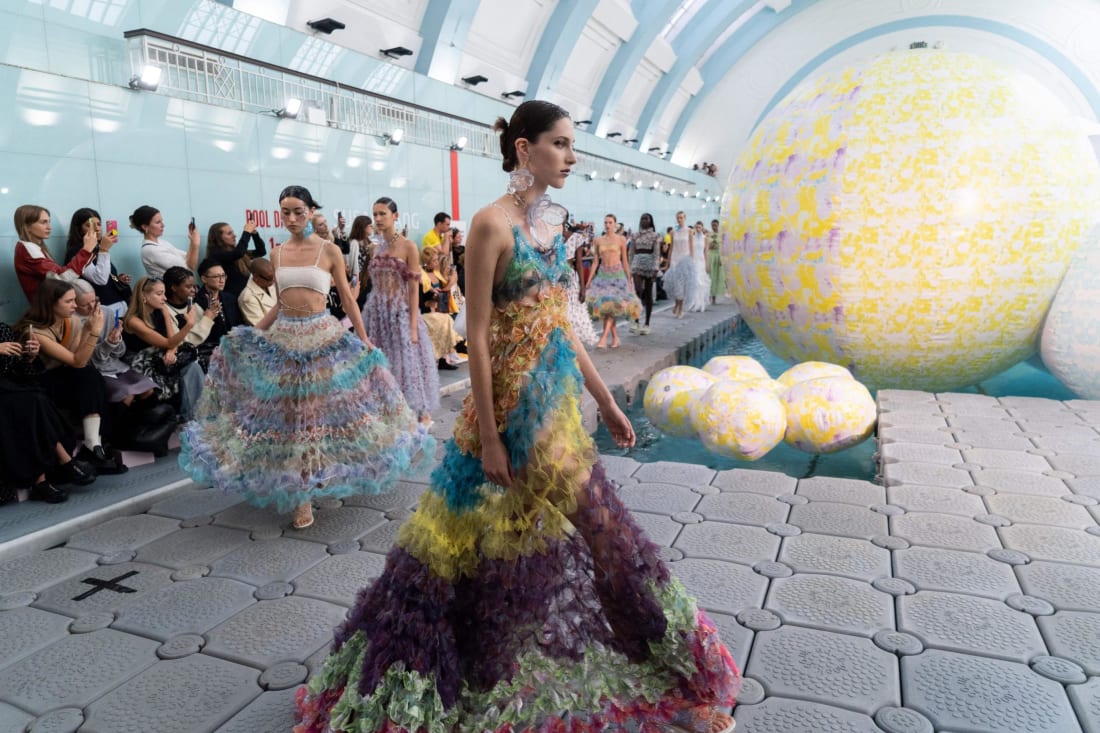 KNWLS UGG
Atmosféra KNWLS , ktorá bola apokalyptická, nervózna, hyper-ženská sa zdala byť v rozpore s príjemnou mäkkosťou značky UGG, vďaka čomu sa ich spolupráca na prehliadkovom móle ešte viac prekvapila. Existovali dva štýly: topánky UGG Classic Tall II posiate zdobením s bronzovými obručami a členkové topánky so štvorcovou špičkou na podpätku s Twinface od UGG.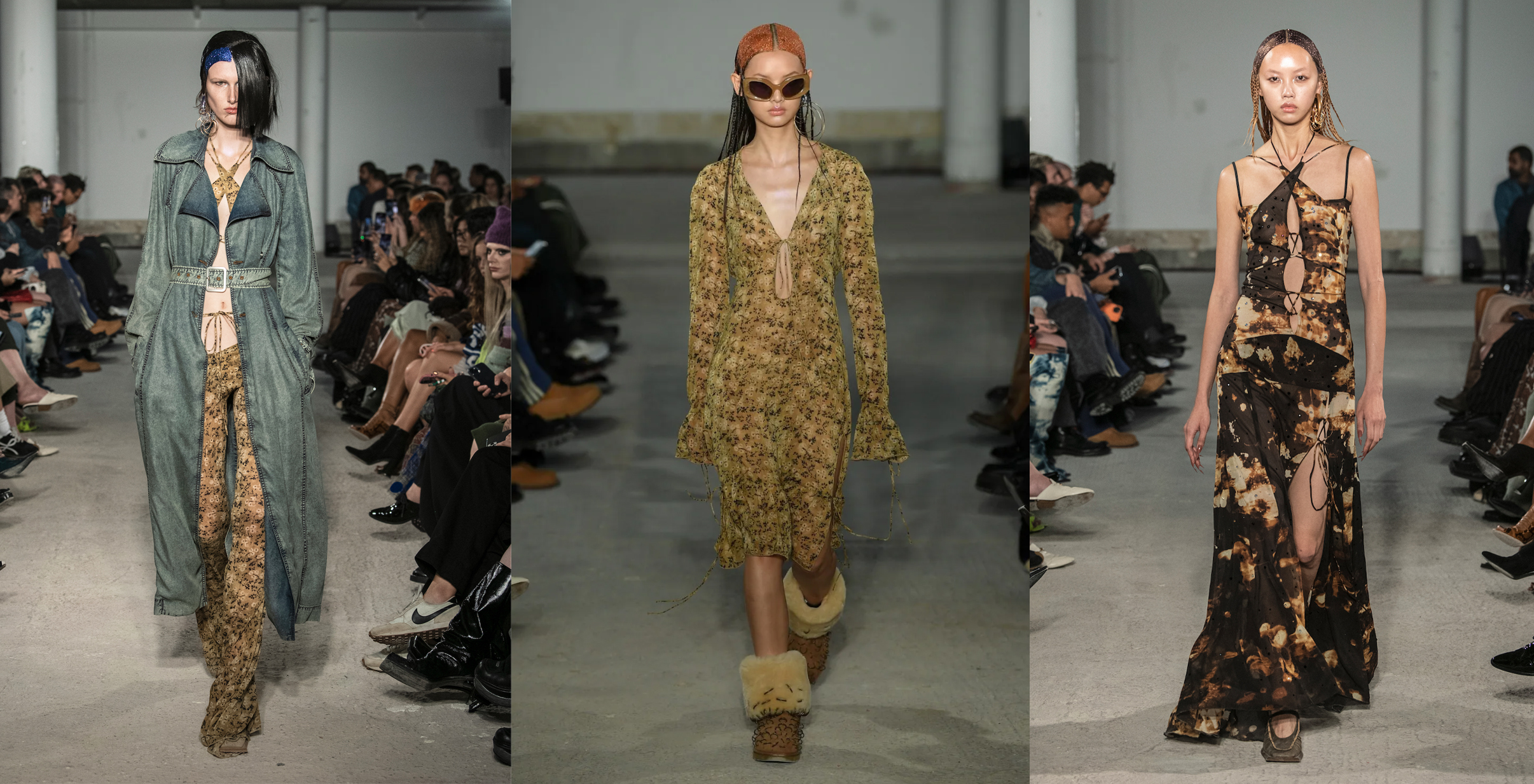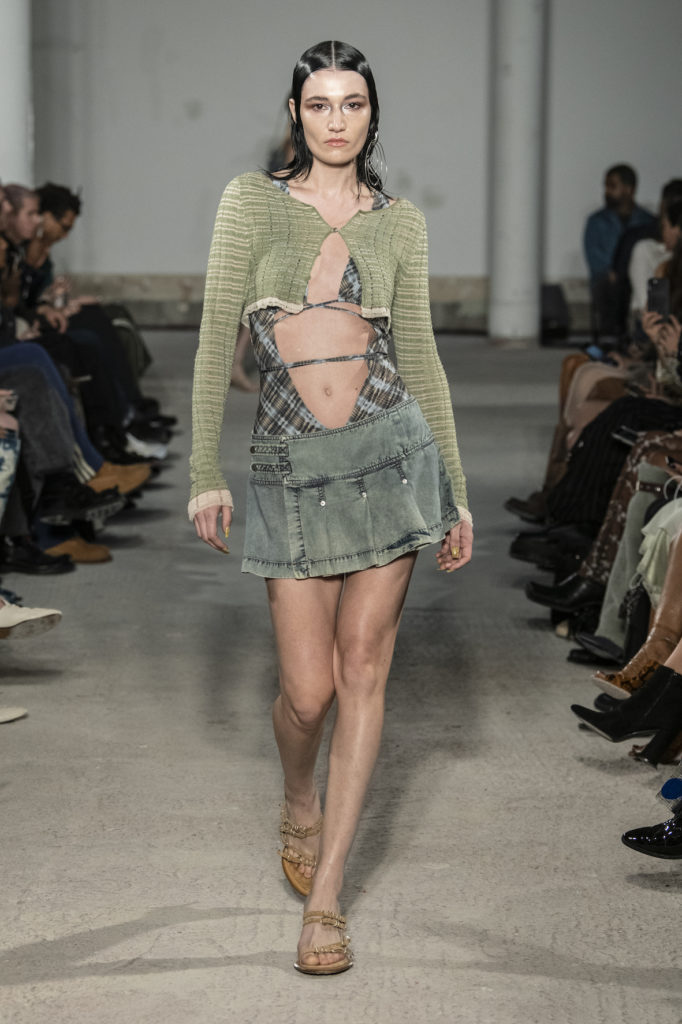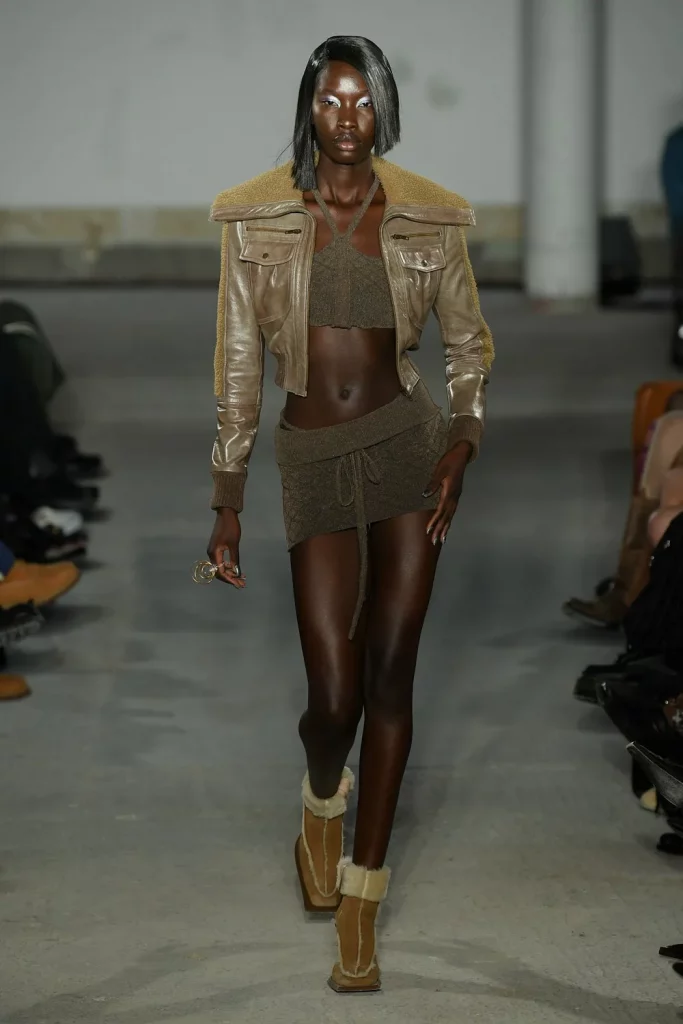 Nakoniec sa londýnsky týždeň módy tešil úspechu a zaujímavým momentom a to vďaka mnohým značkám, ktoré sa spojili, aby naplánovali úctivý spôsob, ako sa podeliť o svoje najnovšie a najlepšie diela a predviesť ich aj po takej smutnej udalosti, akou bola nečakaná smrť kráľovnej Alžbety II.