Najvzrušujúcejšie modely z prehliadkových mól londýnskeho týždňa módy – sezóna Jar/Leto 2023, 16. – 20. september 2022, časť I.
Newyorský týždeň módy odštartoval sezónu svetových fashion weekov, Jar/Leto 2023 a záplava redaktorov, nákupcov a módnych expertov sa presunula do Anglicka na druhú časť módneho mesiaca. A hoci je londýnsky týždeň módy zvyčajne o niečo kratší ako Milan a Paris Fashion Week, posledných pár dní prinieslo vážny úder , kedy sa London Fashion Week prekrýval so štátnym pohrebom kráľovnej Alžbety II.
Keď 8. septembra 2022 zomrela kráľovná Alžbeta II., osud londýnskeho týždňa módy vyzeral neisto. Po dramatických sezónach, ktoré viac ako dva roky komplikovala pandémia, sa svet módy rozbiehal len veľmi pomaly a s ťažkosťami a aj teraz po jej smrti, sa niekoľko dizajnérov vrátane Burberry, Raf Simons a Roksanda rozhodlo zrušiť či odložiť plánované prehliadky na neskôr ako prejav úcty. Preložených bolo aj mnoho večierkov a to na London Frieze Week na október.
Americký talent Harris Reed, ktorý sa preslávil v Spojenom kráľovstve však svetu pripomenul, že aj napriek pochmúrnym správam, je britská módna scéna opäť taká živá ako kedykoľvek predtým a prehliadky by mali s rešpektom pokračovať. "Boli to náročné dva roky…," napísal na svojom Instagrame dizajnér a 15. septembra 2022 oficiálne odštartoval jarnú sezónu 2023 .
Svoju prehliadku Jar/Leto 2023 pritom venoval zosnulej panovníčke Alžbete II. Ako poctu vytvoril kolekciu nadštandardných rób v štýle dramatických halo čeleniek, vyrobených v spolupráci s Vivienne Lake, ktoré boli jeho vizitkou.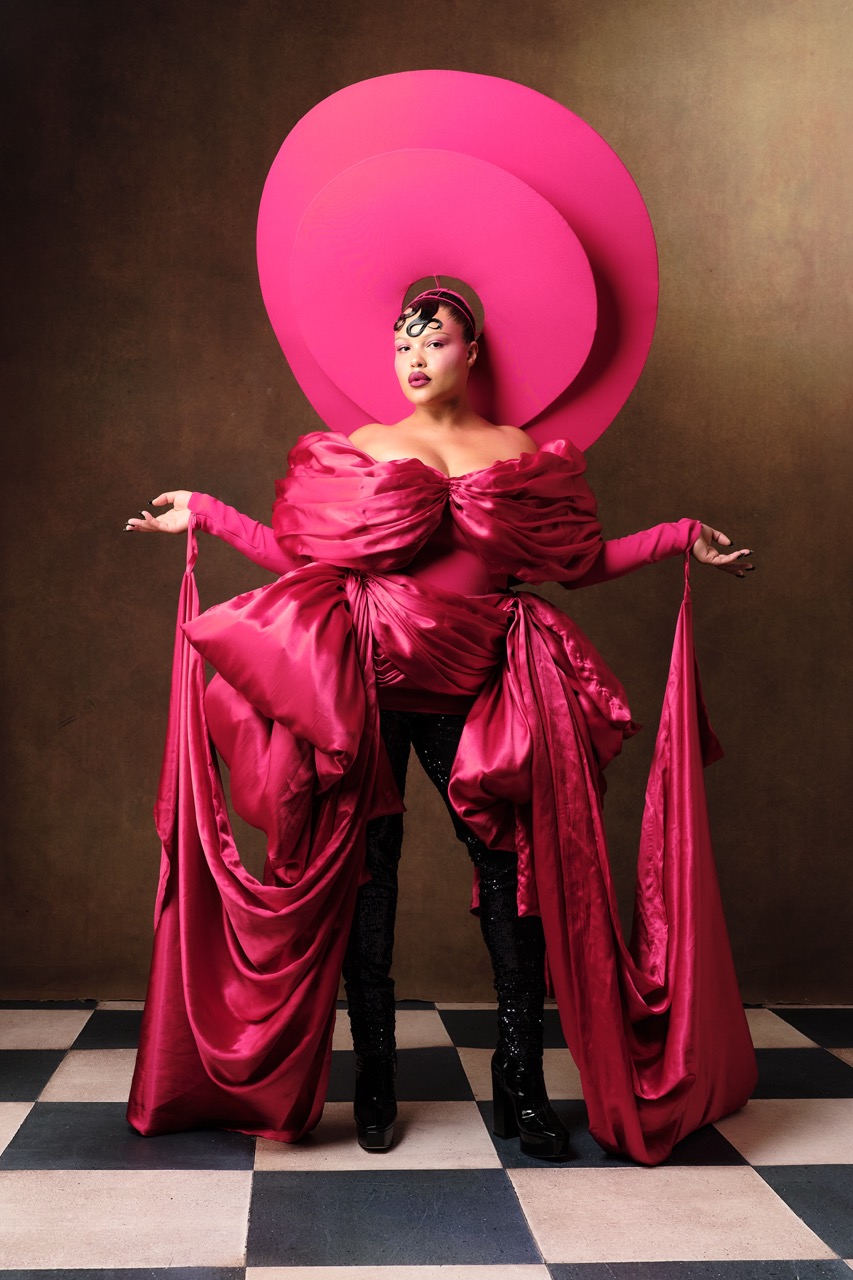 Príprava módnych prehliadok v čase svetových týždňov módy je v New Yorku, Londýne, Miláne a Paríži veľmi drahá a prezentácie stoja neskutočné peniaze. Koniec koncov aj čas, ktorý plánovaným prehliadkam nových kolekcií dizajnéri venujú je vzácny a tak zrušenie módnych šou tak náhle nie je ľahkou záležitosťou. Módne prehliadky dizajnérskych kolekcií sú pritom hlavnou príležitosťou na získanie pozornosti, prilákanie kupujúcich, stylistov, influencerov, na spropagovanie výbehových kolekcií, oslovenie svetových celebrít a ľudí s módnym vplyvom a sú tiež možnosťou získania finančnej podpory do budúcnosti .
Rozbiť a náhle skončiť londýnsky módny týždeň po 6-mesačných prípravách celých teamov ľudí a po sezónach covid obmedzení by opäť narušil kontinuitu módnych týždňov. Pričom je to práve Londýn, ktorý dbá na podporu domácich talentov a podporu módneho odvetvia, ktoré produkujú nové zaujímavé tváre, rastúce talenty a módne hity. Londýnsky módny týždeň chŕli každým rokom nové a nové nádejné talenty.
Program jarnej sezóny London Fashion Weeku musel byť preto pre náhle úmrtie Kráľovnej Alžbety II. prepracovaný a harmonogram skrátený, no aj tak sa bolo na čo pozerať . Od kolekcie inšpirovanej surrealizmom Emilie Wickstead až po poctu Richarda Quinna, kolekcii venovanej zosnulej kráľovnej Alžbete, boli prehliadky pokračovaním toho, čo bolo vidieť aj na newyorských dráhach.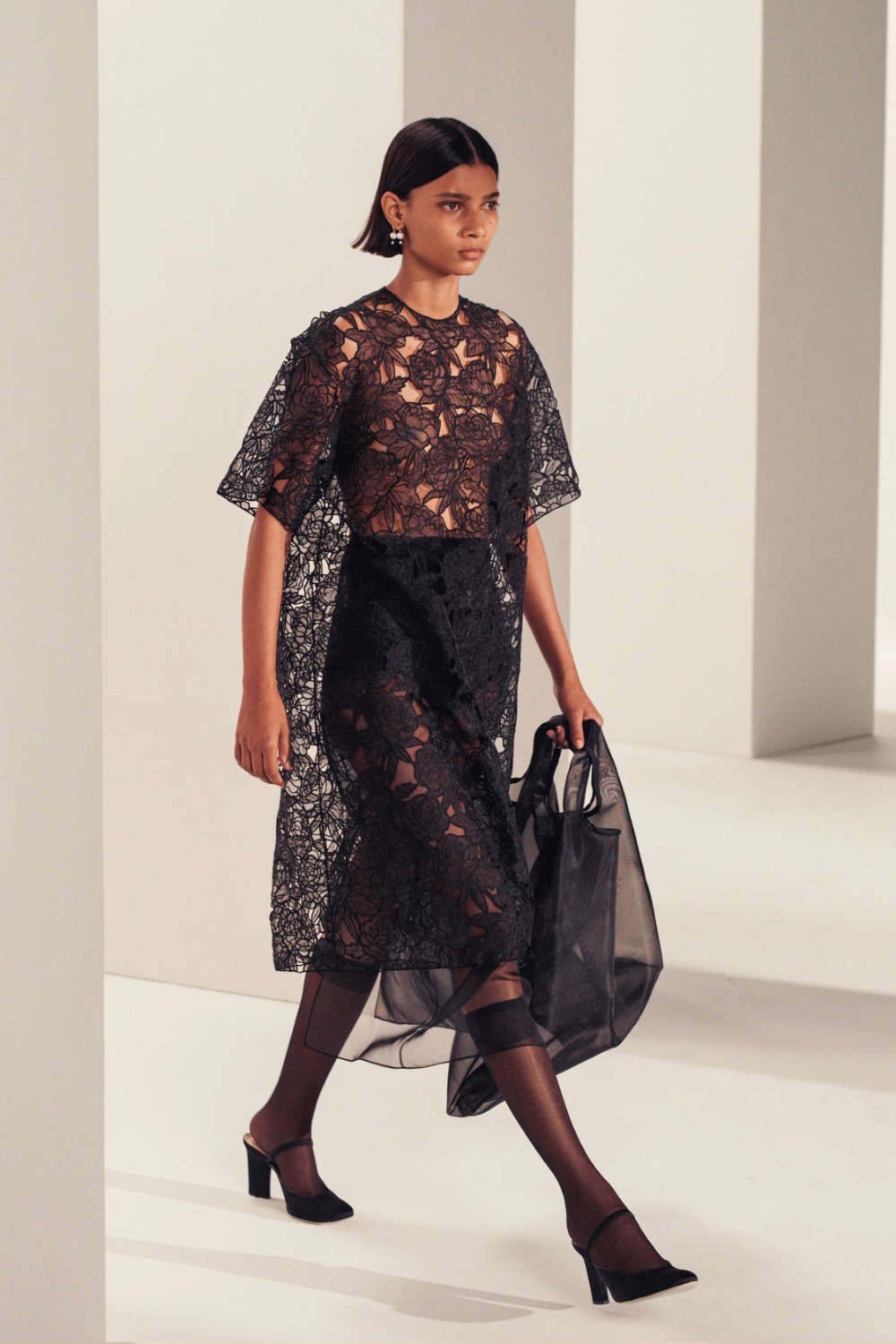 Emilia Wickstead – London Fashion Week, kolekcia Jar/Leto 2023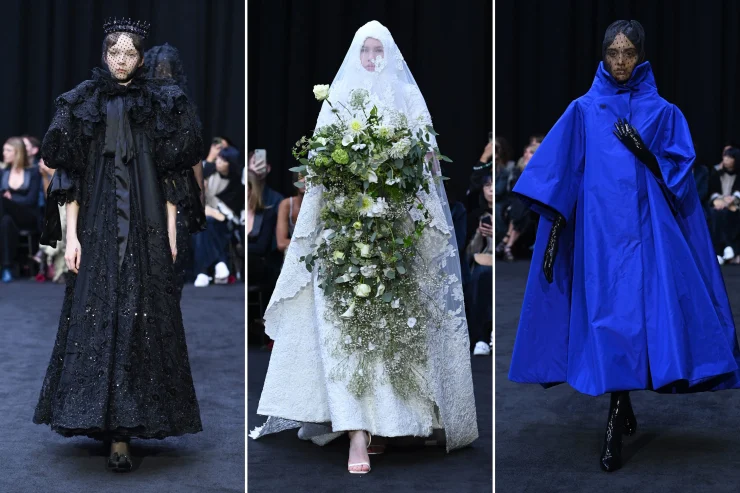 Richarda Quinn – London Fashion Week, kolekcia Jar/Leto 2023
Mnohé módne značky uznali obdobie smútku dojemnými poctami, ktoré včlenili do svojich prehliadok kolekcií. S.S. Daley mal na záver predstavenia sviečkovú vigíliu a prvá polovica Richarda Quinna bola celá v čiernom, pohrebom inšpirovaná kolekcia.
RICHARD QUINN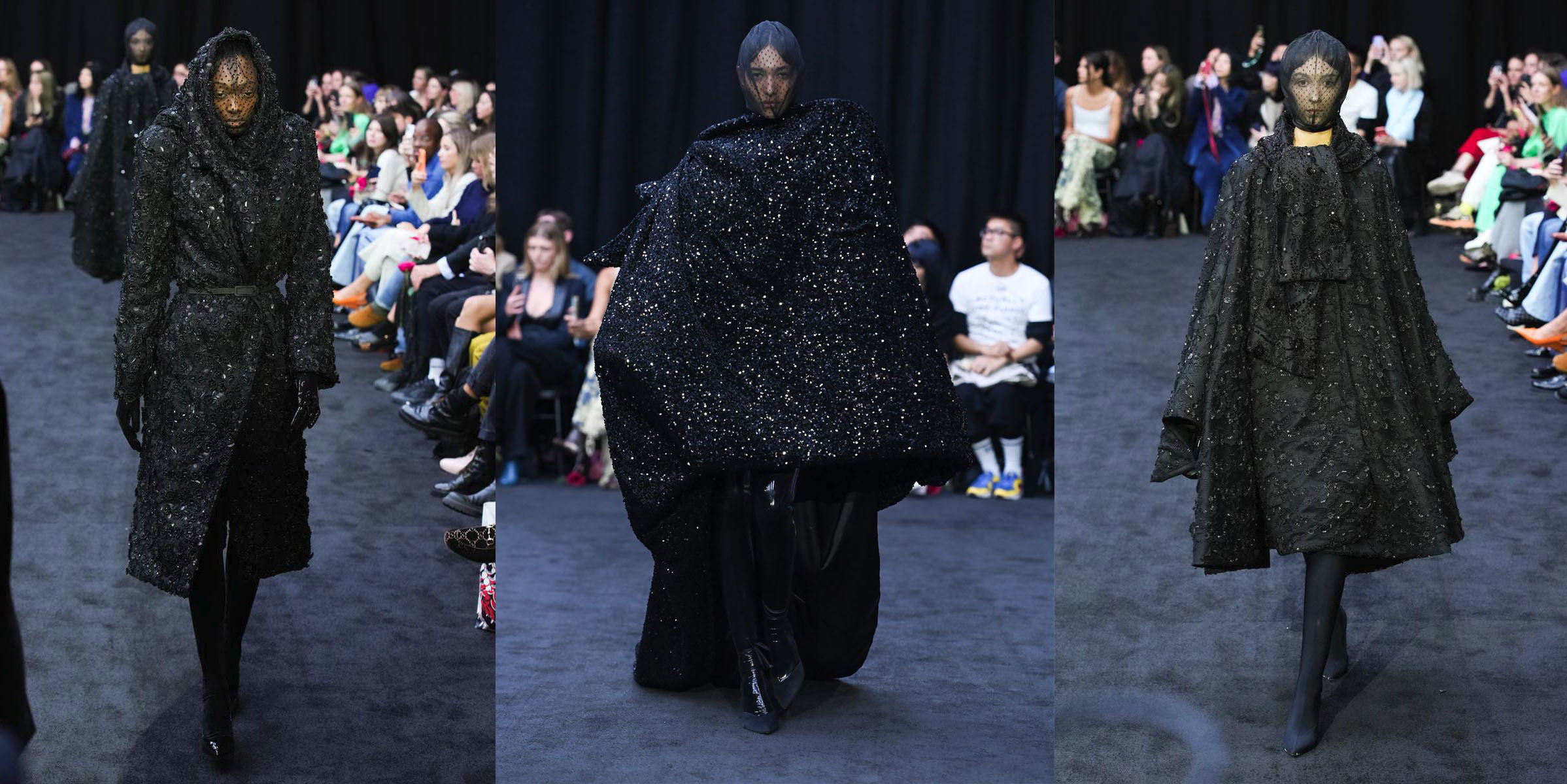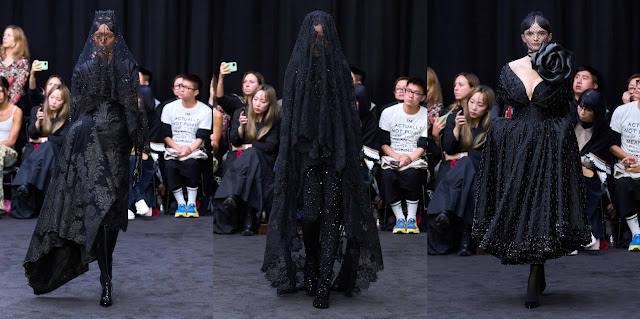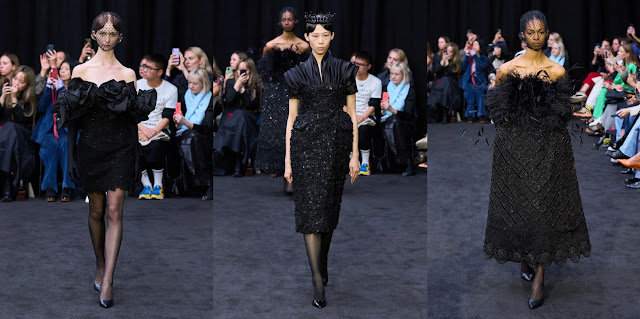 Hlavnými témami boli bublinové lemy (videné u Christophera Kanea a JW Andersona) a prehnané zvonové nohavice (v Halpern a Dilara Findikoglu).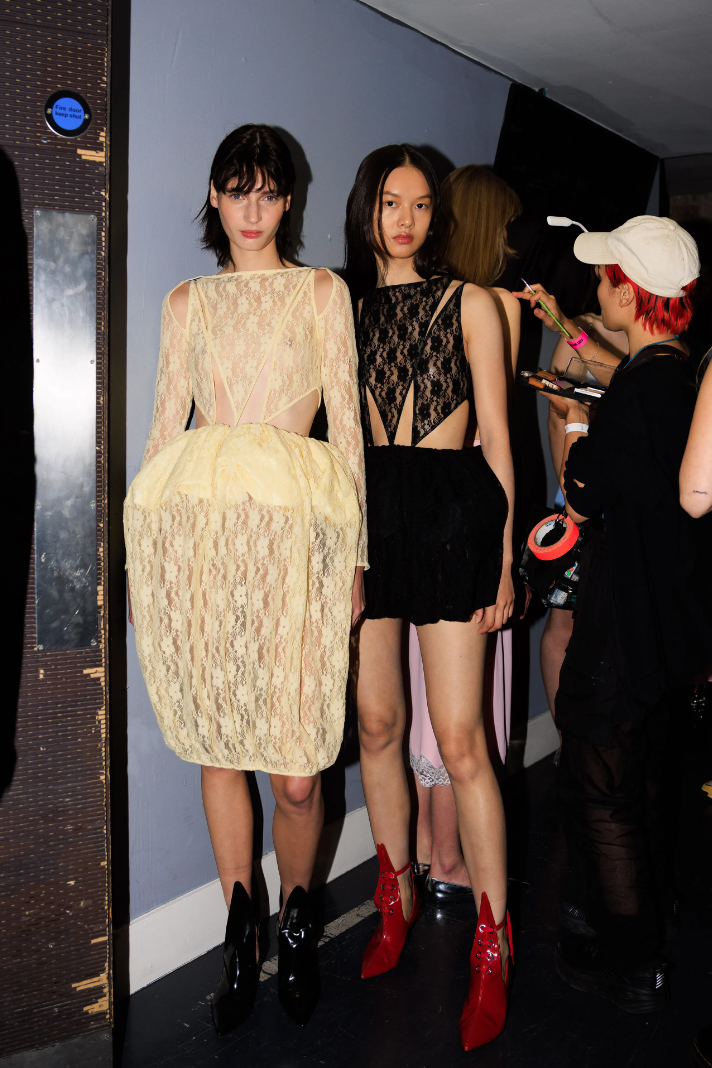 Christopher Kane – London Fashion Week, kolekcia Jar/Leto 2023
JW ANDERSON
JW Anderson sa tiež vráti do mixu Po minuloročnej prehliadke v Miláne, sa JW Anderson taktiež vrátil do módneho varu London Fashion Weeku. Jeho pocta zosnulej panovníčke obsahovala aj priame poklony, vyjadrenia úcty – ako napríklad záverečný model čierneho trička s nápisom "Her Majesty The Queen".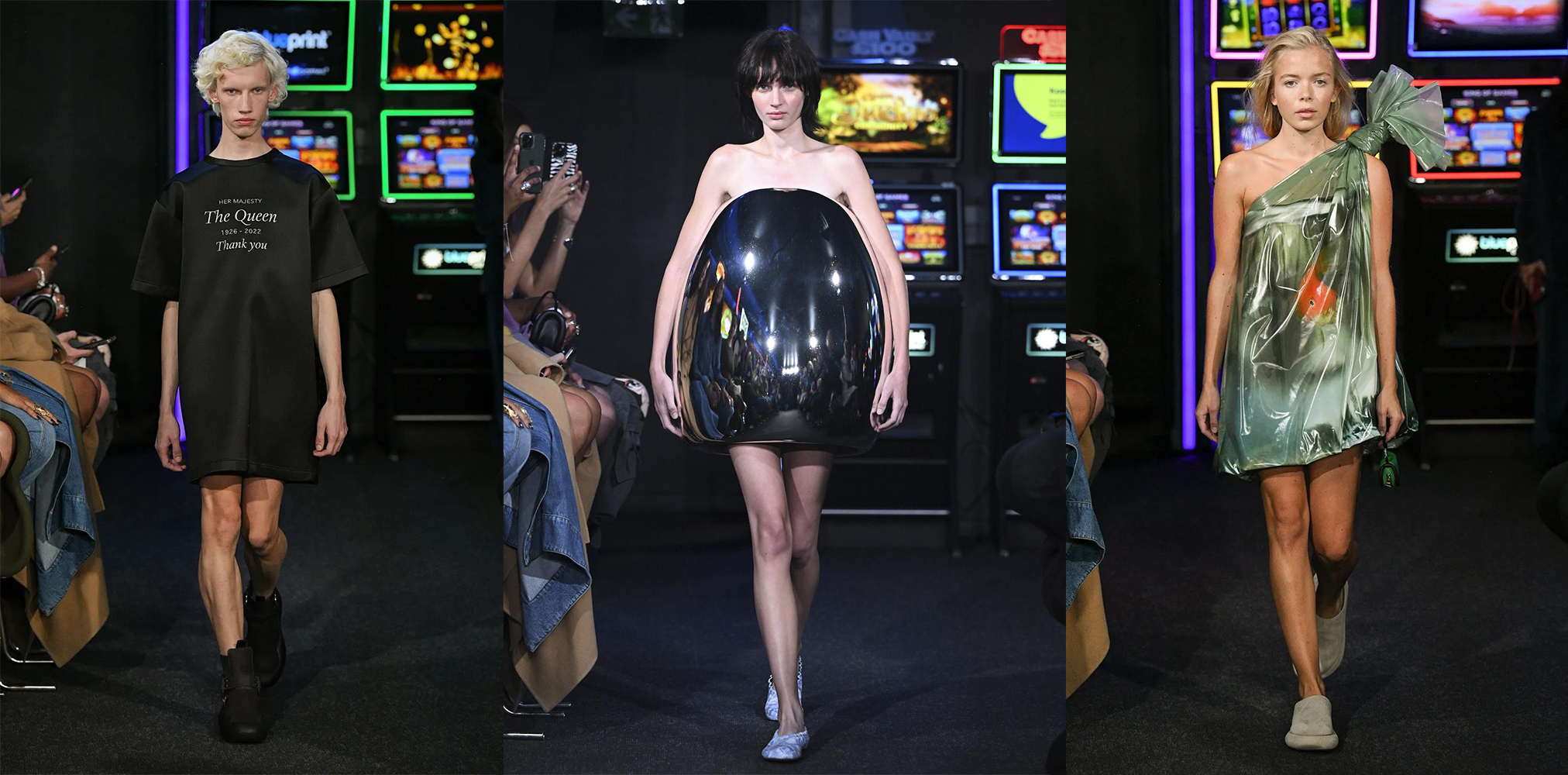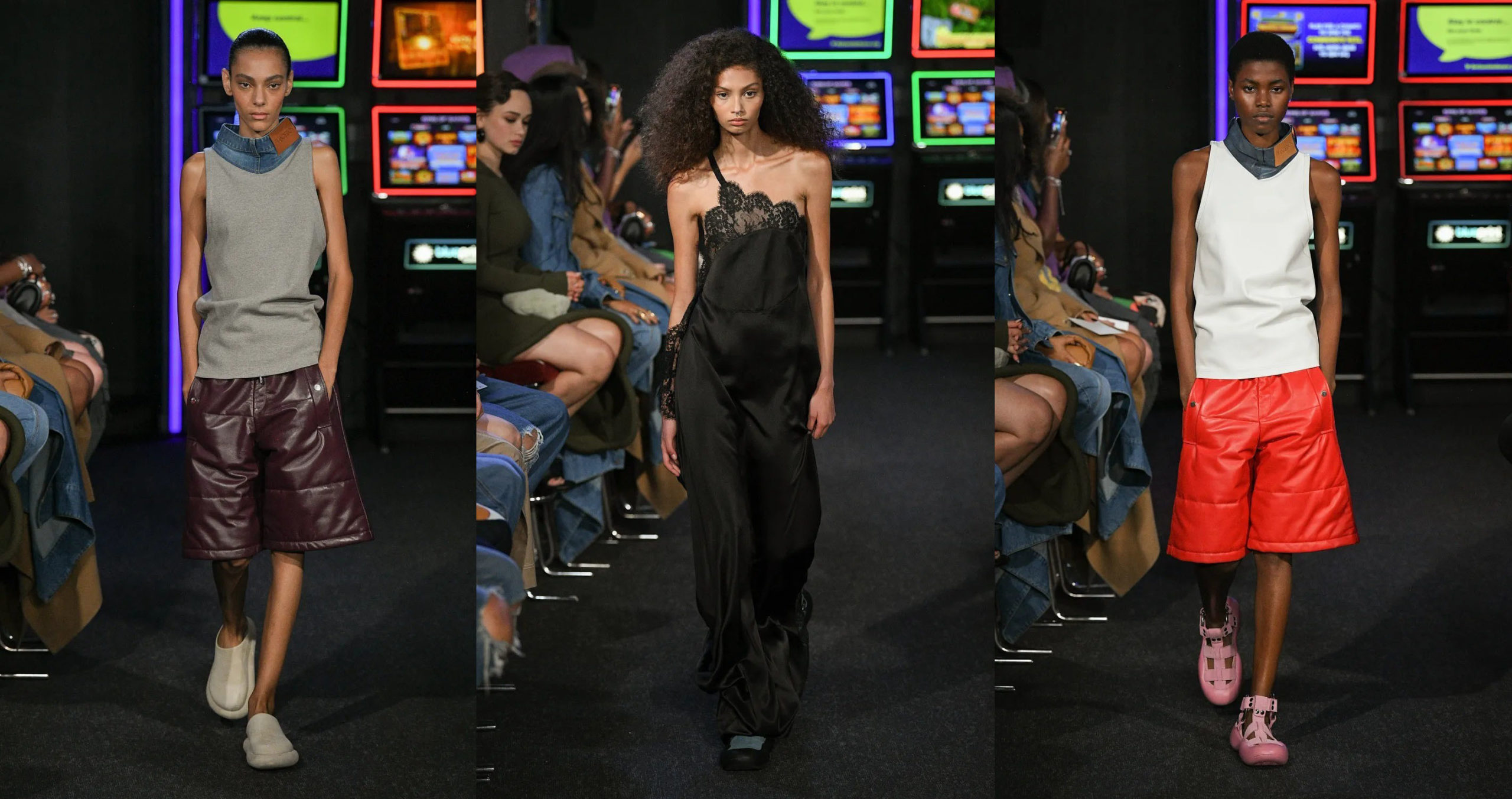 RAF SIMONS
Túto sezónu mal odštartovať London Fashion Week belgický módny dizajnér Raf Simons, ktorý predstavil svoju kolekciu Jar/Leto 2023 v britskom hlavnom meste po prvýkrát.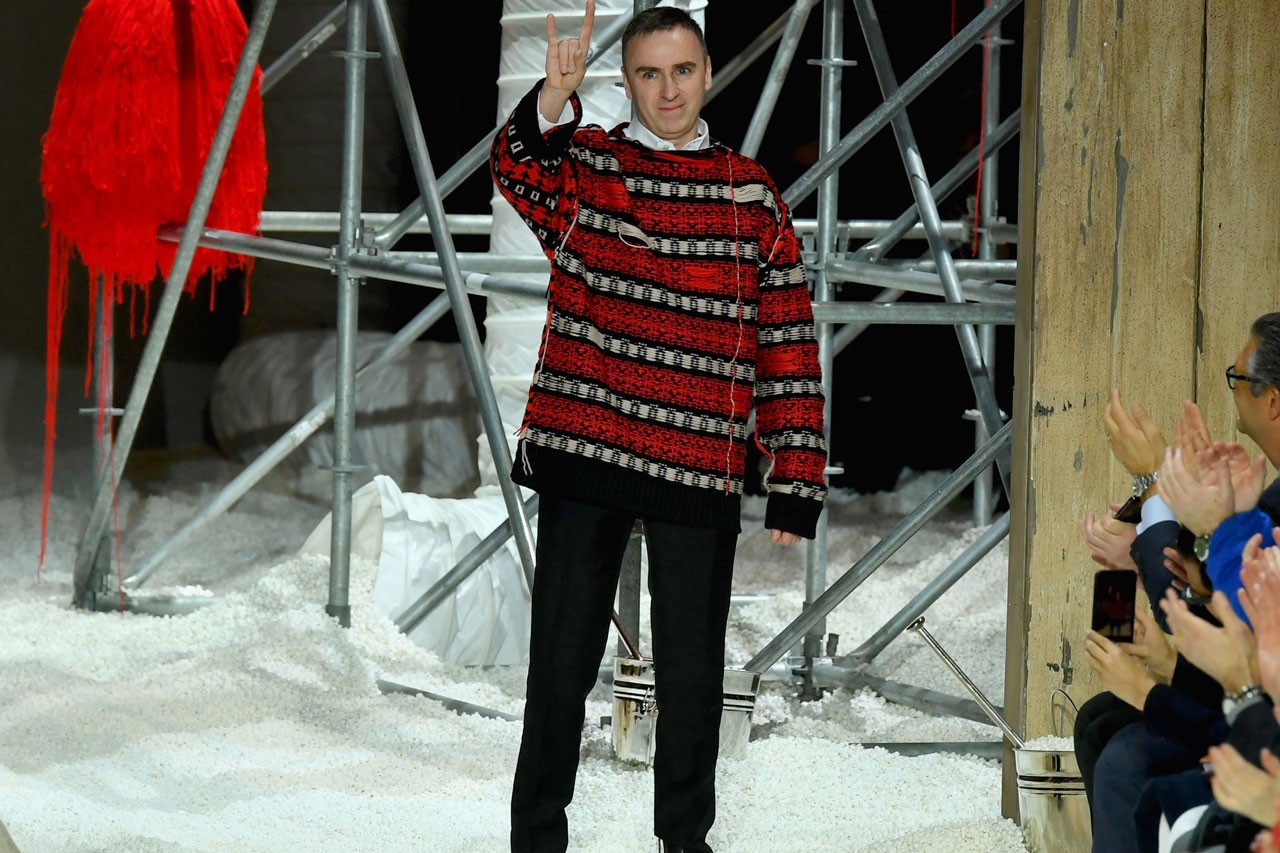 DANIEL W. FLETCHER
Oficiálny harmonogram londýnskeho týždňa módy otvoril víťaz Next In Fashion – Daniel W. Fletcher, ktorého show sa začala minútou ticha na počesť kráľovnej a prvým vzhľadom, plne čiernym oblekom v britskej vlne. Fletcher bol len jednou z mnohých značiek, ktorý sa venovali udalosti odchodu panovníčky Kráľovnej Alžbety II.
BORA AKSU
Vystúpenie Bora Aksu sa podobne začalo minútou ticha, zatiaľ čo sedadlá účastníkov boli ozdobené jednoduchými čiernymi odznakmi na štýl mašle ako vyjadrenie jemného súhlasu k národnému obdobiu smútku.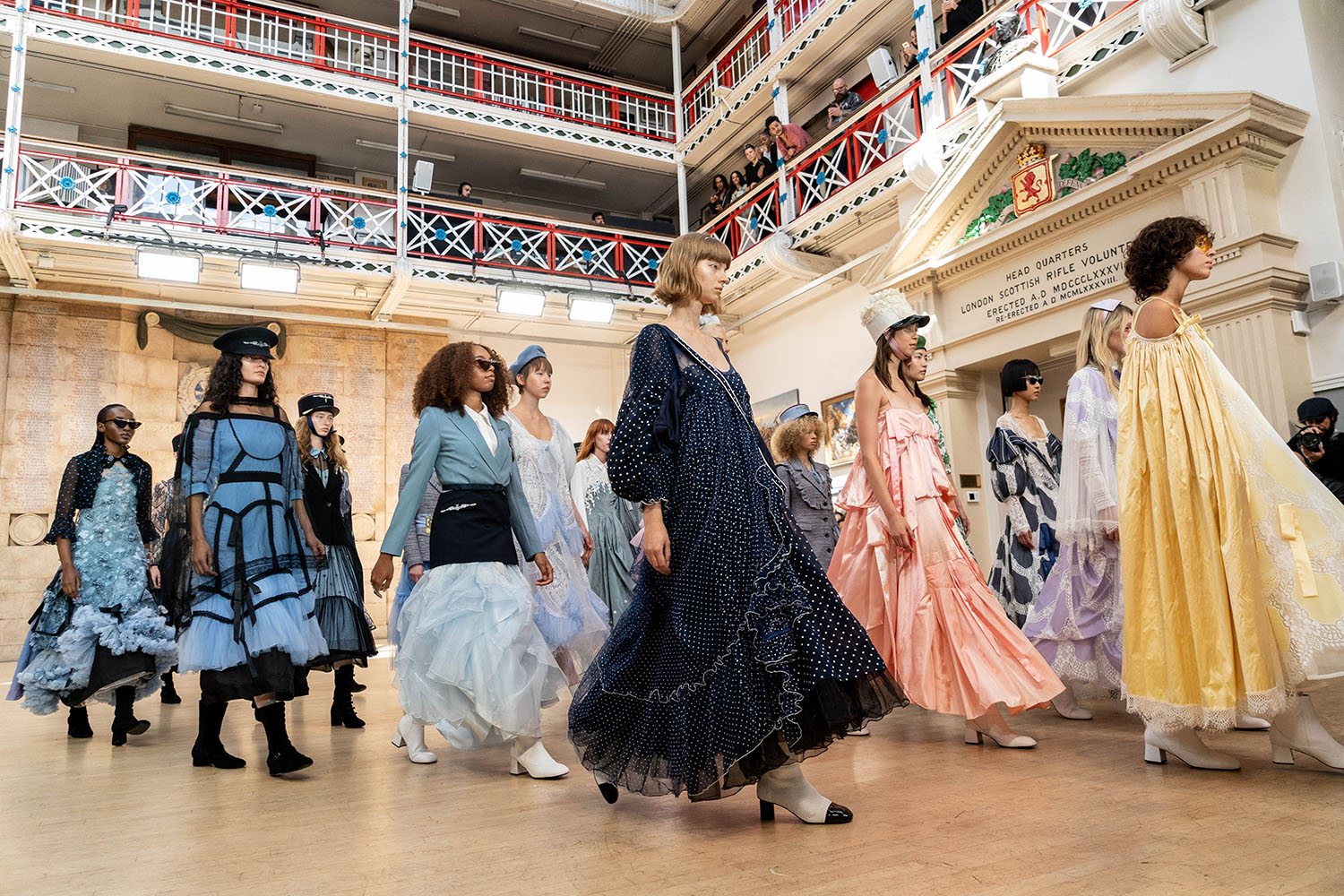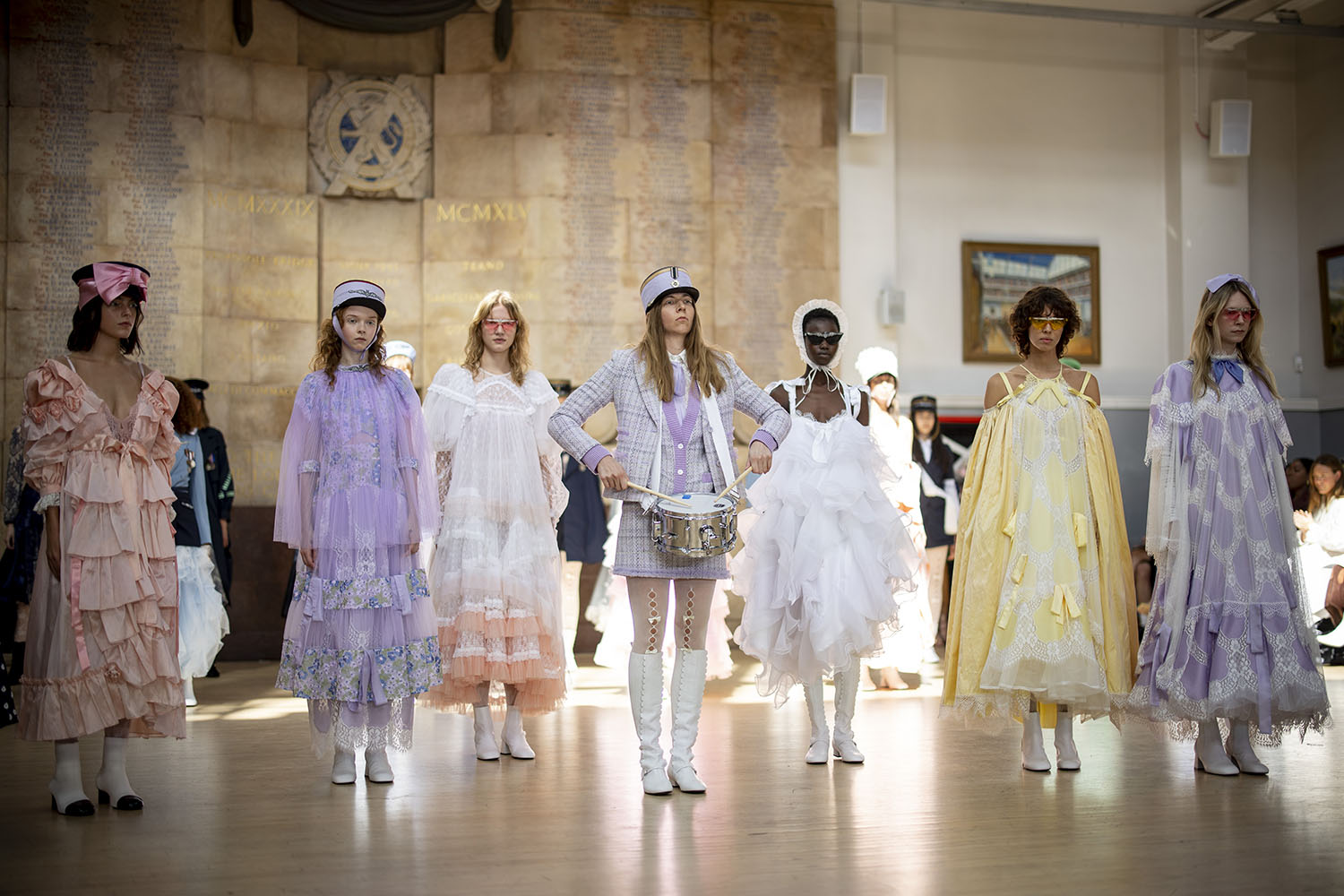 BURBERRY
Po predvedení osobnej prezentácie mimo tradičného kalendára týždňa módy za posledné dva roky sa Burberry vracia do Londýna, kde značka predviedla svoju letnú kolekciu 2023 v sobotu 17. septembra.
Predvádzala aj topmodelka 90-tych rokov Naomi Campbell.
SIMONE ROCHA
Simone Rocha, írska módna návrhárka experimentovala minulý rok s pánskym oblečením a vypredanou kolekciou H&M, pre Jeseň/Zima 2022. Ústrednou témou jarnej kolekcie 2023 bolo miešanie volánov s úžitkovými detailmi na dámskom a pánskom oblečení, na nadrozmerných bomberových bundách a volánoch spodničiek, ktoré sa nosili ako sukne či závoj.
Nezvyčajné popruhy sa používali s nariasenými sukňami, volánmi a košeľami a viseli na nadmerných batohoch. Na šatách sa objavili zložité flitrové kvety a výšivky mašlí.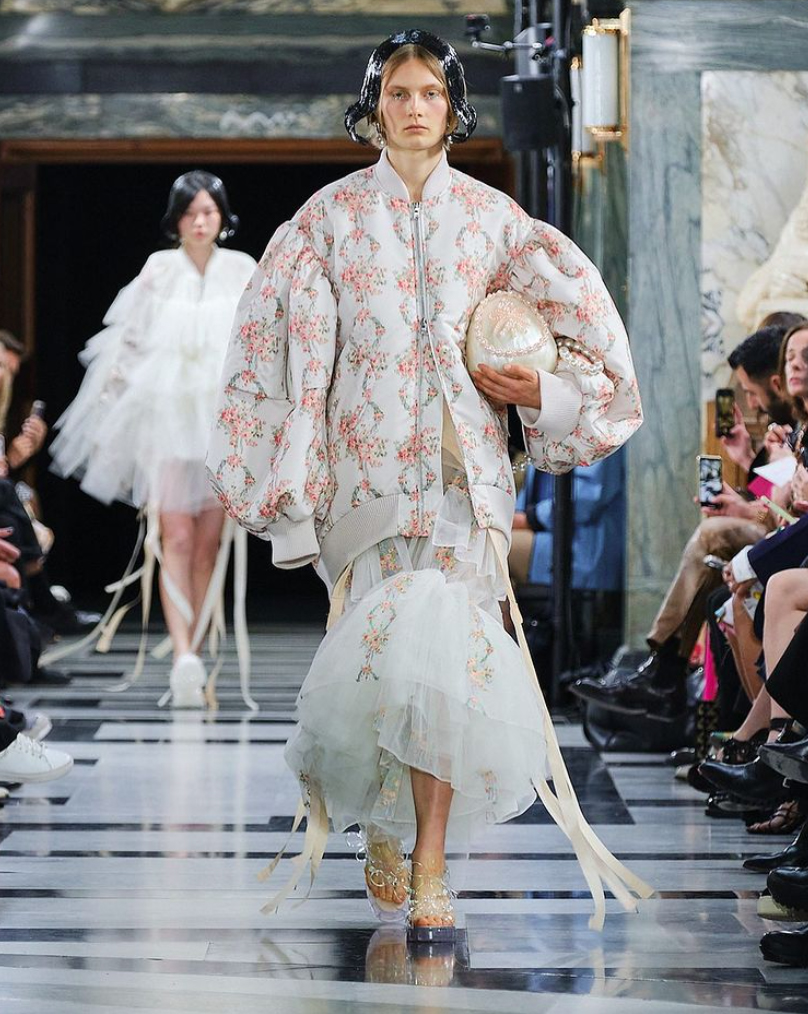 Úchvatné šaty Simone Rocha vyvažujú priesvitné látky objemom a ľahkomyseľnosťou.
FEBEN
Nedávna absolventka magisterského štúdia módy Isabella Blow Feben otvorila počas London Fashion Weeku svoju debutovú prehliadku Jar/Leto 2023 citrusovo žltými šatami, ktoré sa rozliehali na bokoch v jej charakteristickej hodvábnej technike, architektonicky konštruovanej tkanine podobnej brmbolcom.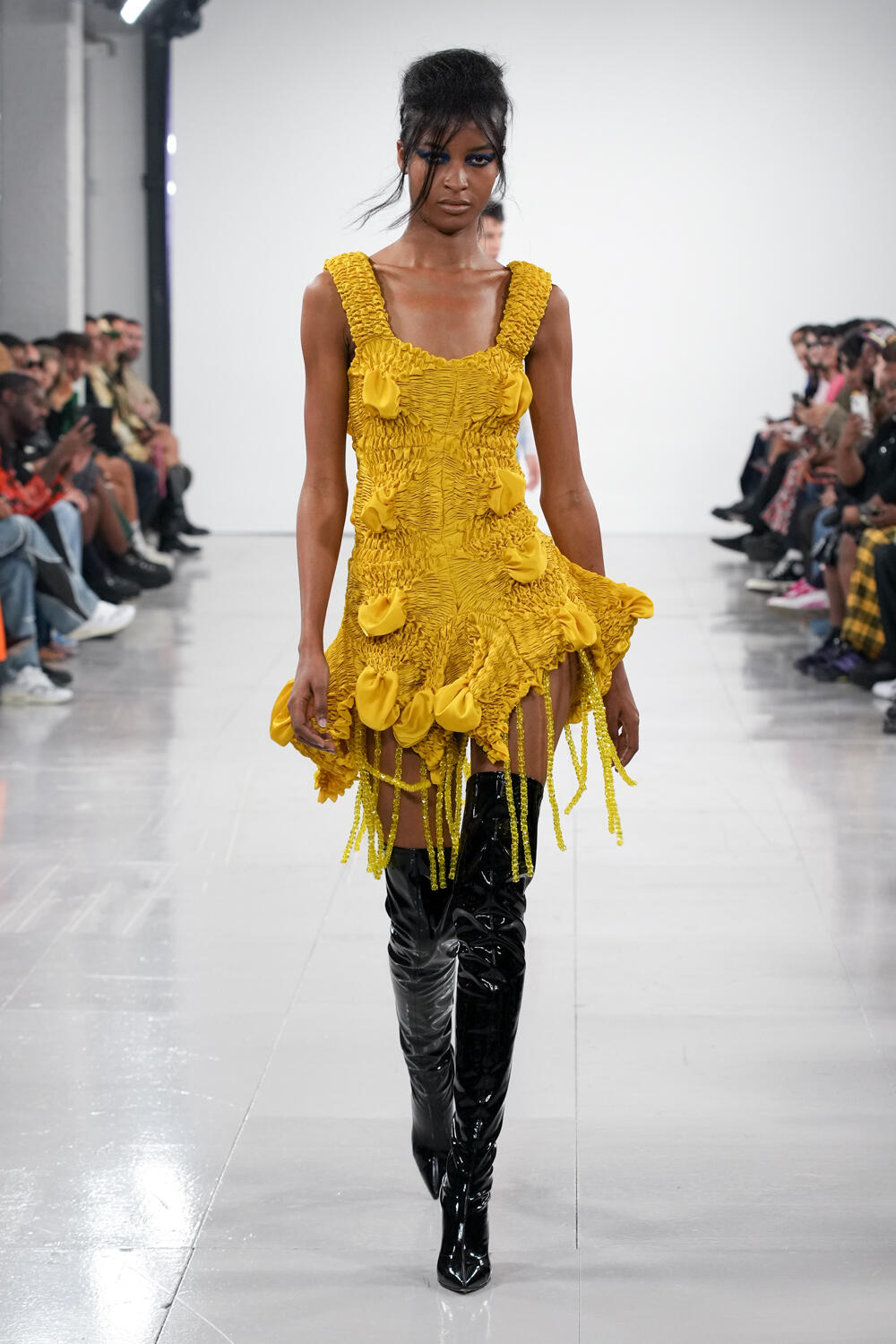 Nasledovali nádherne vytvorené kúsky, ktoré čerpali inšpiráciu z tarotových kariet, s kartami voza, diabla a veže vytlačenými na elegantných, priesvitných stĺpových šatách a motorkárskych bundách. Vedľajšie kúsky kože a mŕtveho PVC sa nosili ako nastrihané minisukne a nariasené asymetrické šaty zdobené vertikálnymi pruhmi ťahanými štetcom.
Fotografia: Shane Anthony Sinclair/BFC/Getty Images, Ben Broomfield, Photo by Niklas HALLE'N / AFP, Vogue, pinterest
Ďalšiu časť k londýnskemu týždňu módy si môžete prečítať v pokračovaní na tomto blogu.
Sledujte Facebook stránku: Mya Mirell Fashionista a Instagram: mya_mirell .