Luisa Beccaria, Milan Fashion Week – Móda Ženy, 18. – 24. september 2018, kolekcia jar/leto 2019, sicílska noblesa, éterická ženská zmyselnosť, jasot a oslava romantických šiat a jari
Ženské, jemné, nádherné, skvostné. To sú slová, ktoré charakterizujú šaty z dielne talianskej módnej návrhárky LUISA BECCARIA. Jej šaty sú určené pre ženy nežné, jemné, krehké. Dizajnérka používa mix pastelových farieb a jemné materiály pre vyzdvihnutie aristokratickej ženskosti v talianskom štýle. Vyšívaný tyl s nejasnými motýľmi, púdrové šaty s farebnými vyšívanými kvetmi a šaty z bavlneného mušelínu s háčkovaným, čipkovaným vložením, to sú znaky tvorby Luisa Beccaria.
Módna prehliadka talianskej návrhárky pre sezónu jar/leto 2019 sa konala 20. septembra 2018 v nádhernom neoklasickom paláci – Villa Reale v priestore nádvoria v záhrade. Celé video si môžete pozrieť na facebook stránke blogu – Mya Mirell Fashionista a na mojom youtube kanáli mya mirell tu: https://www.youtube.com/watch?v=rOnEqCkgMmU&feature=youtu.be
Sedenie pre hostí zhromaždených vonku bolo obsypané lupeňmi kvetov, romanticky štylizované do témy prehliadky so slnečníkmi proti netradične sálavému slnku. Tento týždeň módy – Milan Fashion Week, 18. – 24. september, bolo netradične horúco, až 36 stupňov. Horúco bolo však ešte viac, keď sa začala promenáda skvostných, dychberúcich modelov kolekcie návrhárky Luisa Beccaria.
Nádherné počasie a umiestnenie módnej show do tohto prostredia sa ukázalo ako vynikajúce zosúladenie so záhradnou témou kolekcie, ktorá postavila do kontrastu geometrické mrežové vzory s neusporiadanými kvetinovými motívmi.
KOLEKCIA JAR/LETO 2019
Záhrada patchwork, pestrofarebná, medzi realitou a snom. Hľadanie materiálov a objemov pre novú trojdimenzionalitu. Svieža a prekypujúca radosť z jari, leta, ktorá očarúva. Luisa Beccaria v kolekcii pre jar/leto 2019 oblieka ženu schopnú nájsť ohúrenie v každom detaile, otvoriť oponu každodennosti v univerzálnom vesmíre.
Luisa Beccaria poňala prehliadku svojej kolekcie pre jar/leto 2019 počas milánskeho týždňa módy, Milan Fashion Weeku 2018, v záhrade neoklasickej vily Villa Reale v elegantnom, noblesnom štýle. Za zvuku nádhernej hudby vyšli na mólo éterické modelky, priam princezné, ktoré s gráciou kráčali po záhradnej cestičke pred vilou obsypanej lupeňmi bielych a ružových kvetov. Lupeňe kvetov lemovali aj schody vily, cez ktoré modelky slávnostne prichádzali. Naaranžovanie priestoru prehliadky pre hostí so sedením na bielych poduškách umiestnených na drevených laviciach a schodoch s elegantnými dáždnikmi proti slnku z papiera a dreva, ktorý bol celý romanticky posypaný lupeňami kvetov a presýtený vôňou záhrady a blažnej eufórie z očakávania, pôsobilo snovo romanticky, ako scéna z rozprávky a zároveň bol priestor veľmi fashion aj pre fotografovanie.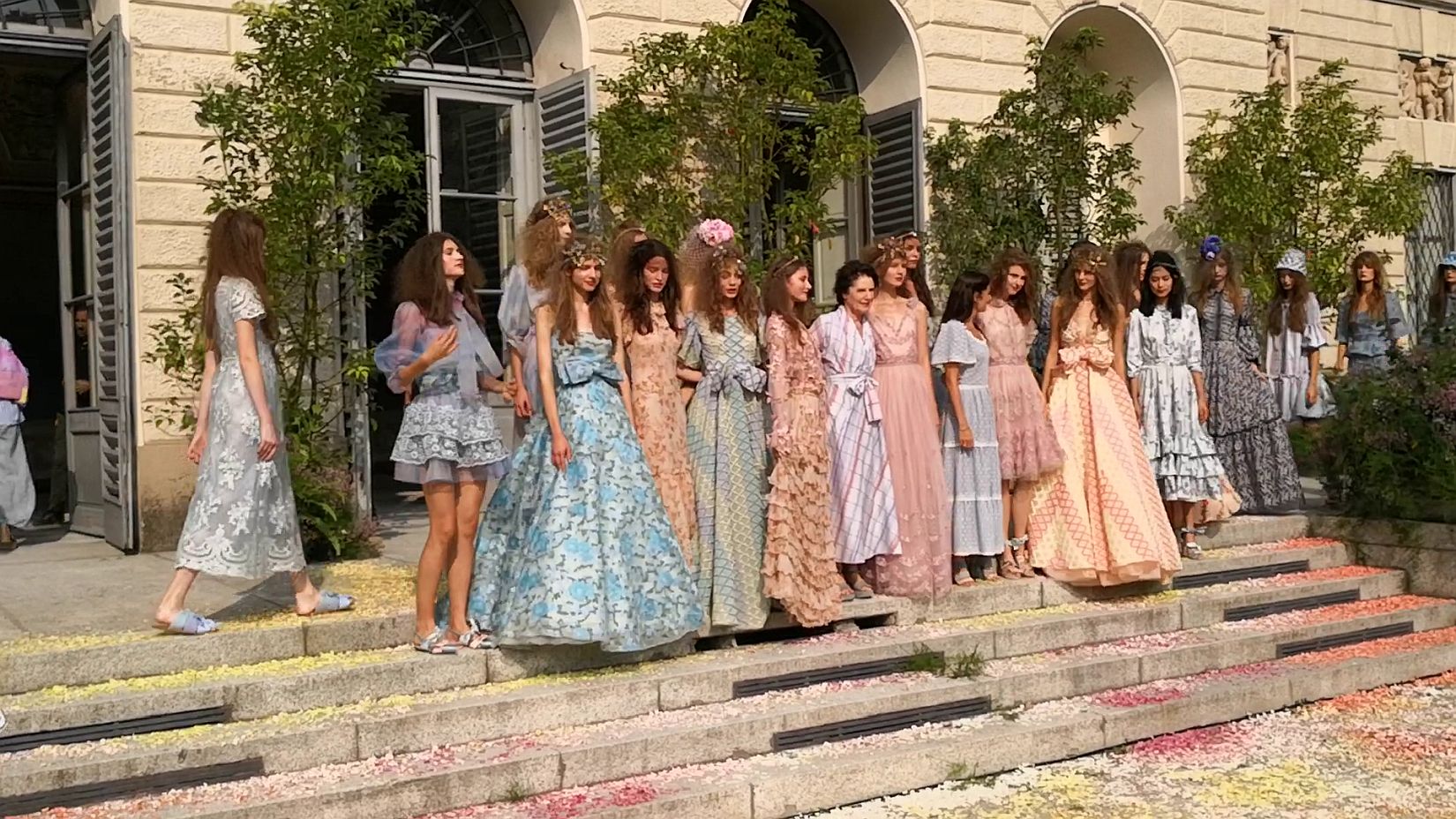 MATERIÁLY A FARBY
Materiály v kolekcii boli mixované medzi sebou od organtínu, tylu cez bavlnu s krajkou, ľan a badateľné jemné dotyky delikátneho brokátu. Jemné veľmi romantické kreácie s prírodnými výšivkami a motívmi kvetov a motýľov v ikonickom štýle značky Luisa Beccaria. Na móle sa vlnili dlhé šaty z ľahučkých nehmatateľných materiálov, snové princesovské šaty, šifón, hodváb, šaty s vrstvením z tylu v rozmanitých oku lahodiacich jemných farbách, s nariasením, volánmi s romantickými mašľami. Nechýbali ani ikonické dlhé kvetinové šaty Luisa Beccaria, mohli sme vidieť elegantné krajčírstvo s patchwork efektom na živôtikoch s nohavicami a kabátikmi, sukne s výšivkami a čipkami na okrajoch a šifónové košielky s mašľami.
Chromatická farebnosť mixuje viac akvarelové farby od všetkých odtieňov ružovej, jemné ťahy štetcom ružovej s oranžovou, tisíc nádychov žltej, až po prechod k vodnému svetu odtieňov zelenej, modrej, azúrovej, zimozelenej a orgovánovej. Tiež boli použité prírodné farby ako biela a béžová.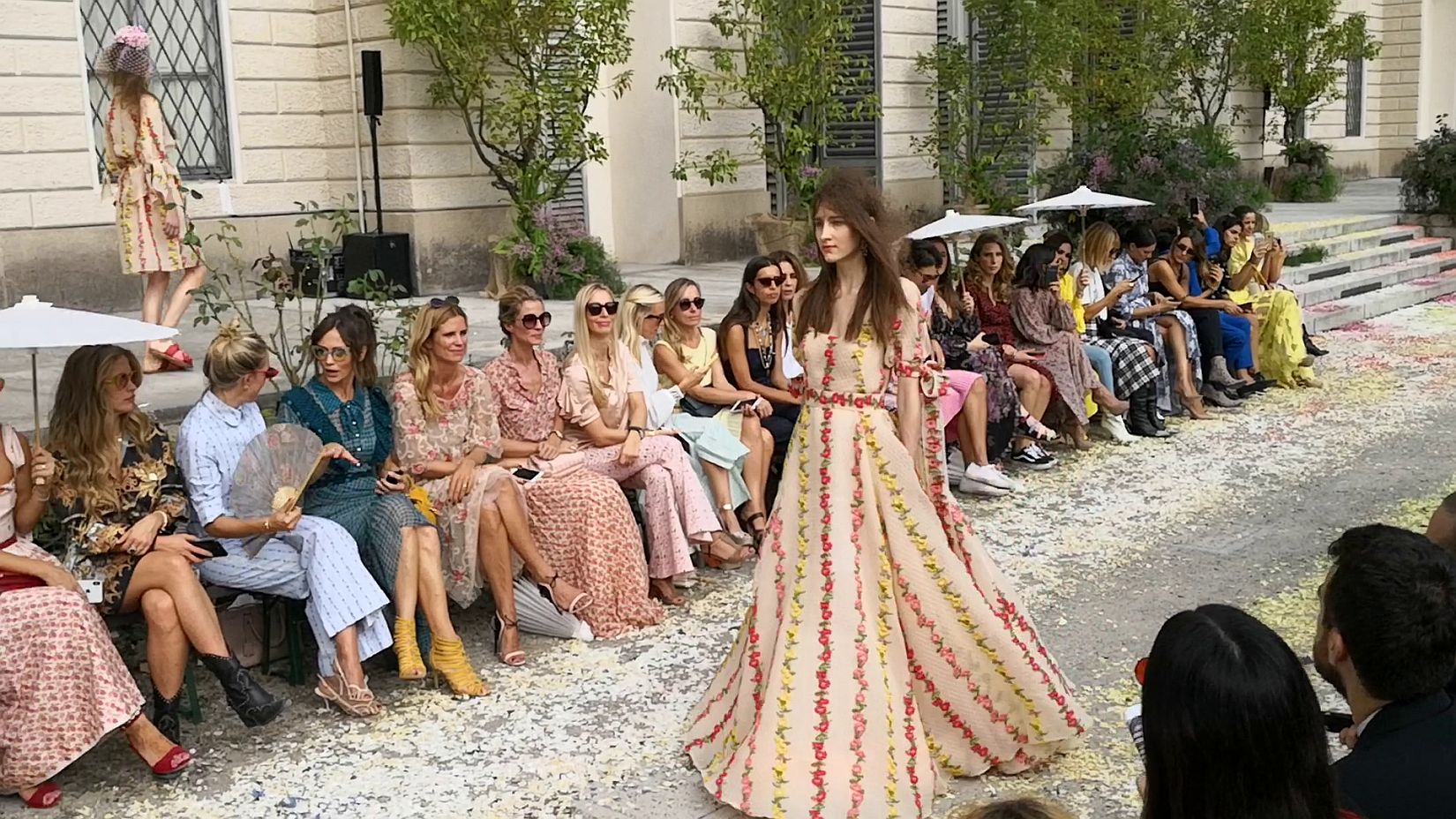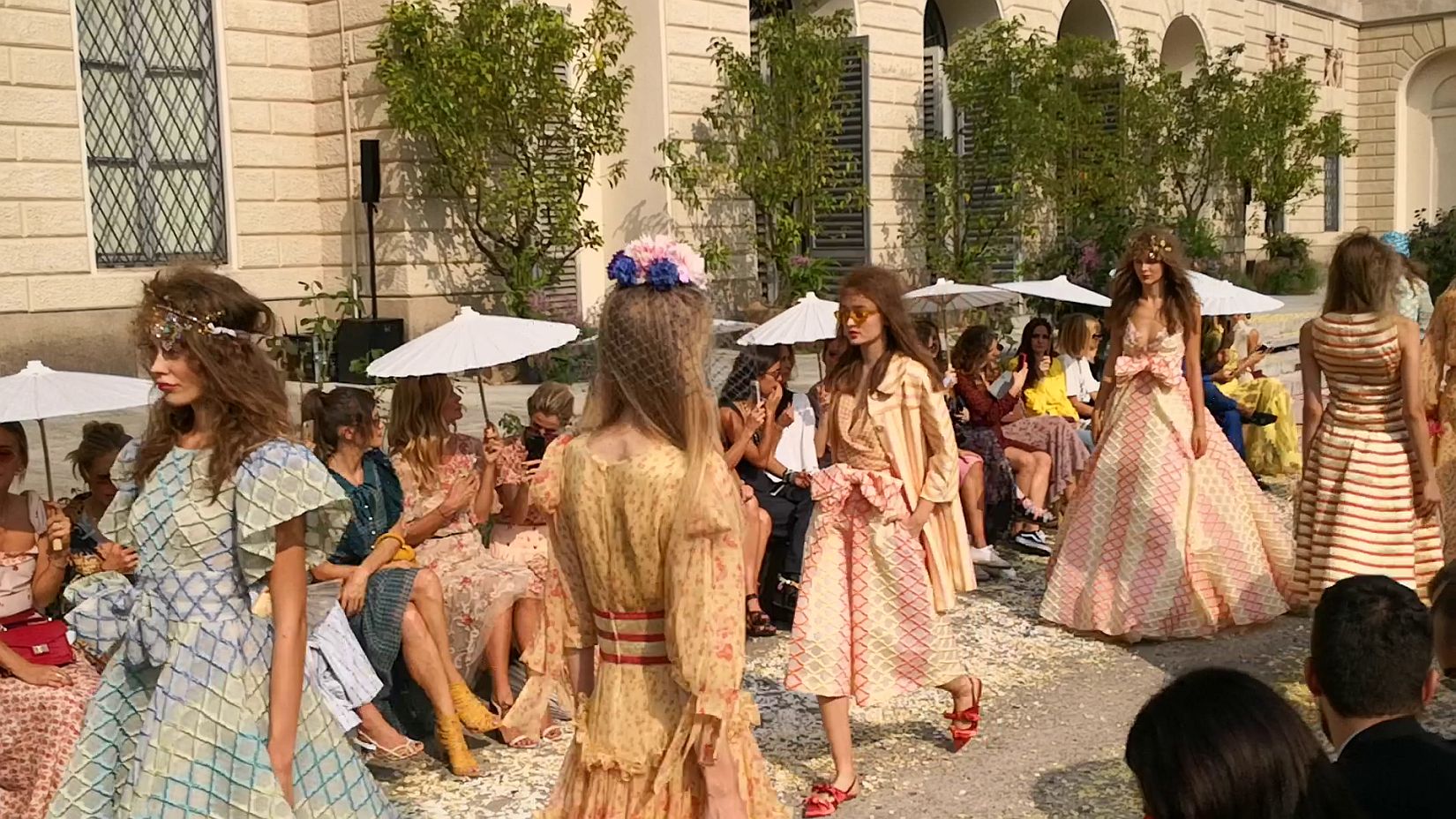 Farebná paleta veľmi romantická a elegantná zložená z pastelových farieb od zelenej, svetlej nebeskej, lososovej ružovej a marhuľovej, lila a citrónovej žltej ladila s nádherou priestoru záhrady a architektúry.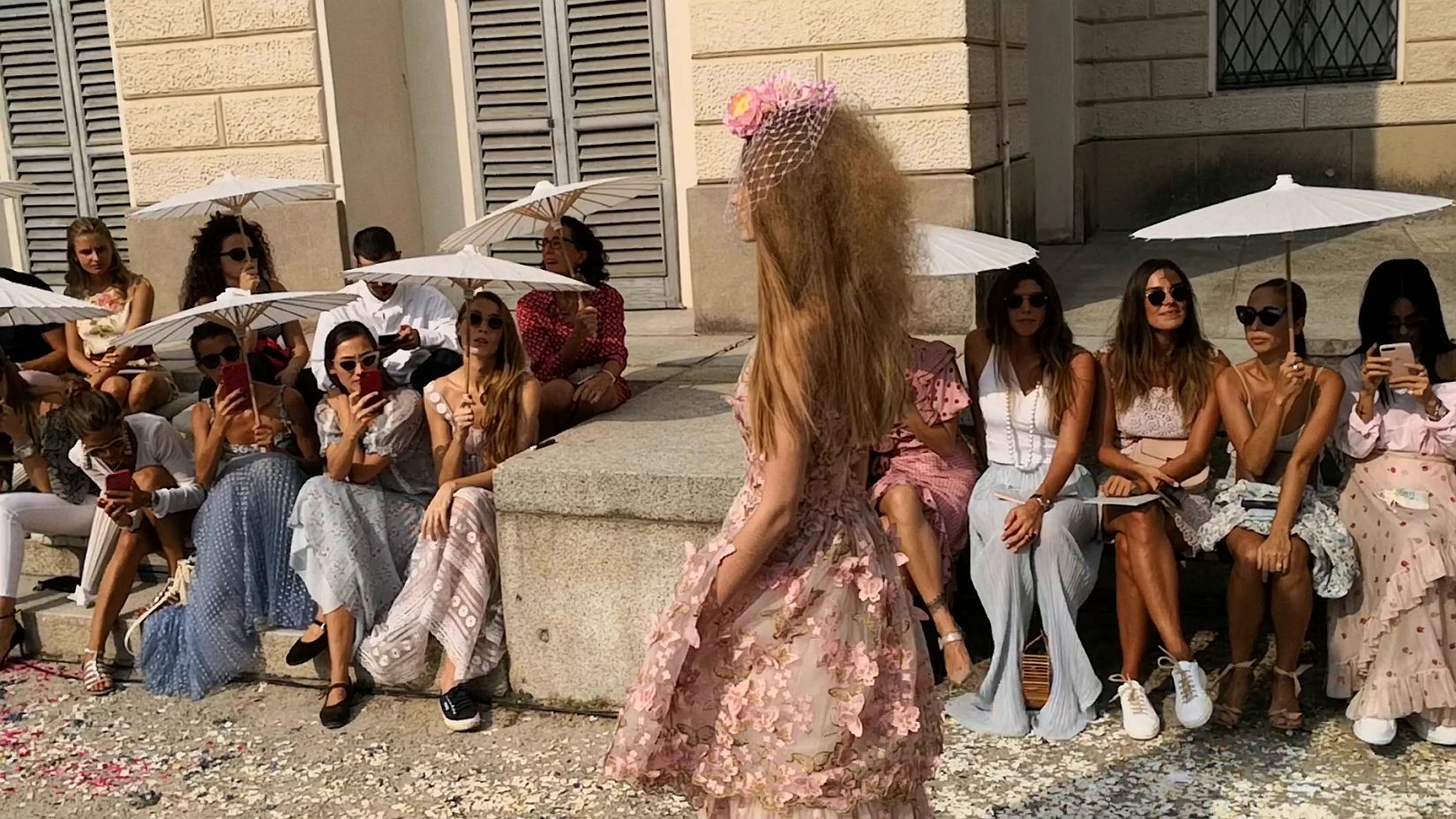 Základom kolekcie je aplikácia kúskov látky na inú látku, fil coupé, ako podklad pre volány, živôtiky a zmyselné sukne. Oslava, jasot romantických šiat s čipkou, patchworkom s motívmi medzi abstrakciou a kvetinovými vzormi, to je lightmotívom kolekcie jar/leto 2019. Všetko je obohatené obrubami, lemami, volánmi s trojdimenzionálnymi výšivkami s kvetmi a motýľmi, ktoré vyzerajú na šatách sťaby živé.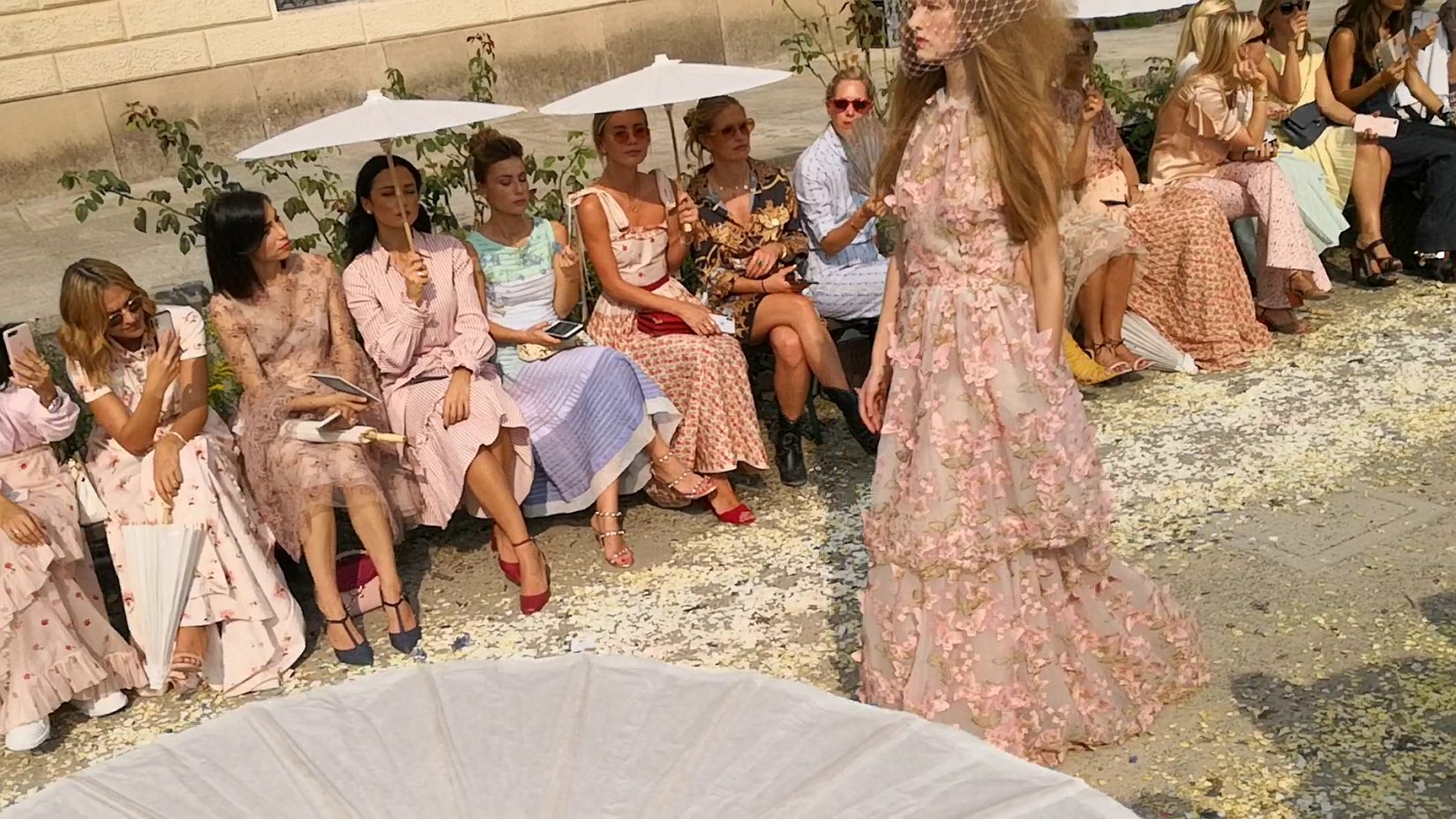 Šaty v ružovej farebnosti brali prítomným divákom dych, vznešene sa niesli po móle a aplikácia motýlích vzorov sa pri pohybe vlnila, akoby poletujúce motýle na šatách obživli.
Kolekcia obsahovala šaty midi s príchuťou folk, :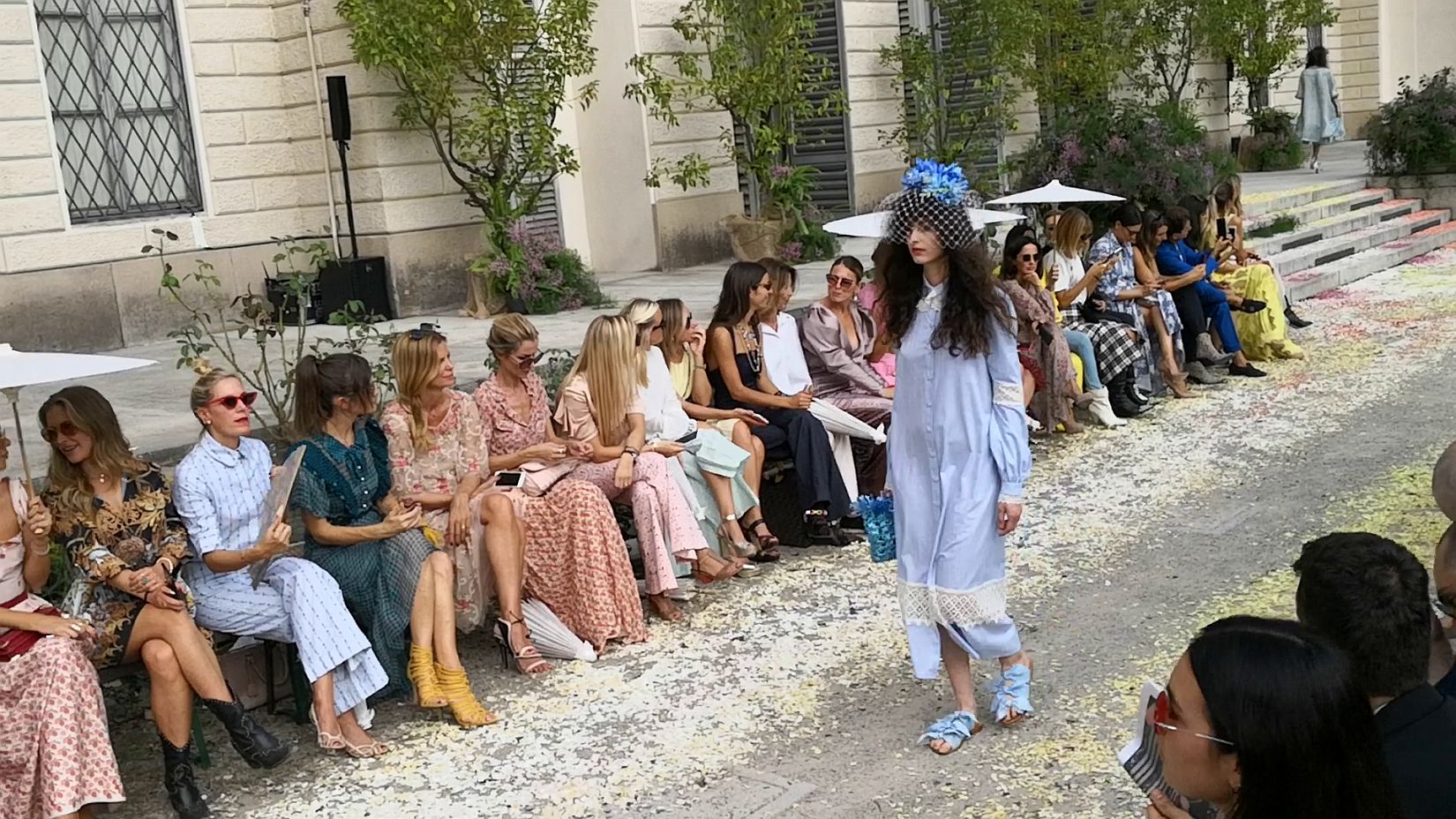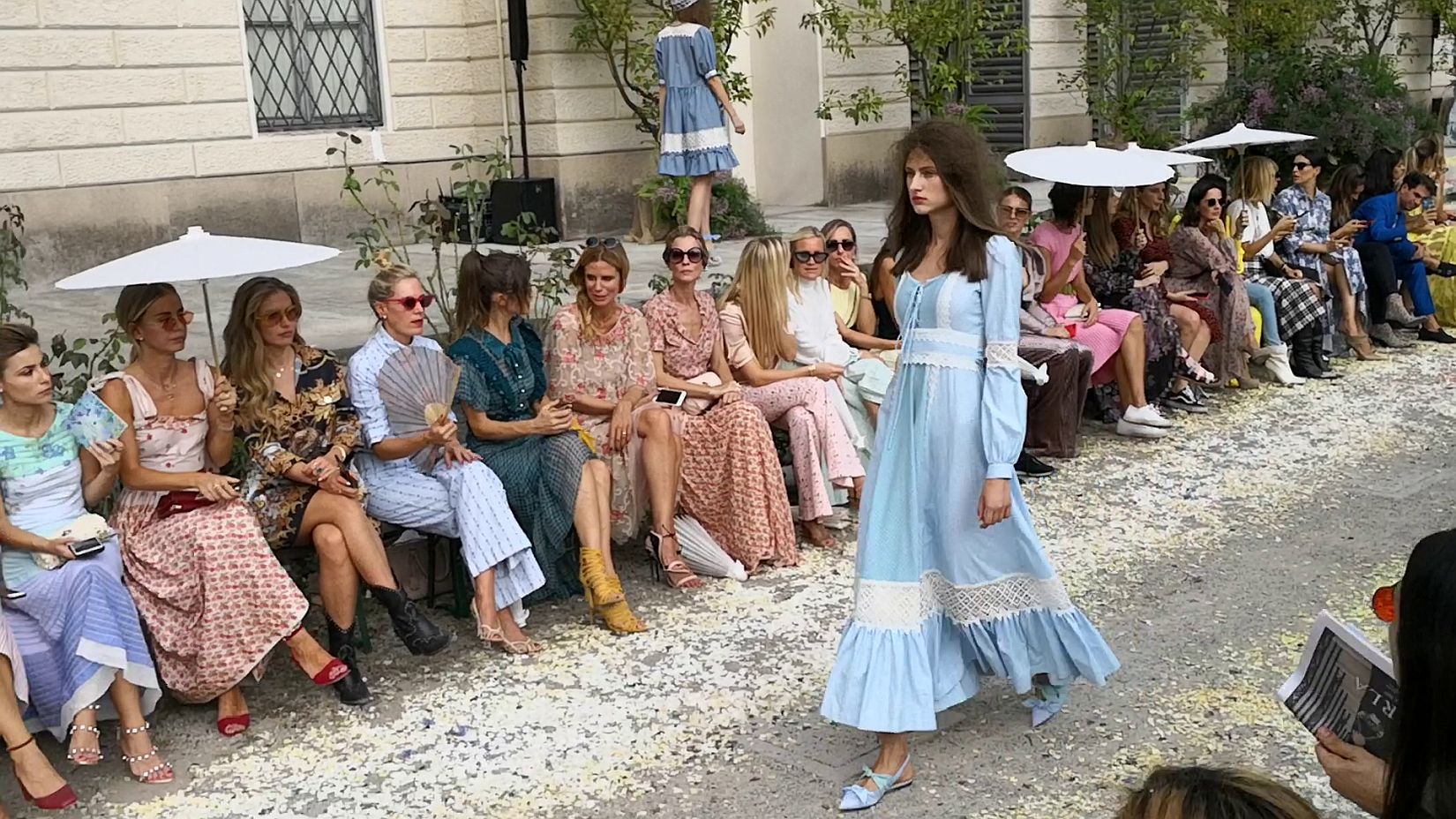 A dlhé šaty s rozvoľnenými princesovskými sukňami s podšívkou z vrstveného tylu, :
Efekt patchwork bol badateľný aj na brokáte pohrávajúci sa s malými nuansami medzi abstrakciou a kvetinovými motívmi .
Zaujímavý bol model dvojradovej sukňe kombinovanej s blúzkou z ľanu s vyšívaním.
Na začiatku prehliadky sme mohli obdivovať dievčenský akvamarínový komplet – nezbedné šortky s crop-topom a mini kabátikom.
Kombinovanie a vrstvenie so sakom na modeli so šortkami s volánikmi a sieťkovaným klobúčikom s kvetmi na hlave pôsobilo dievčenským rozkošným dojmom.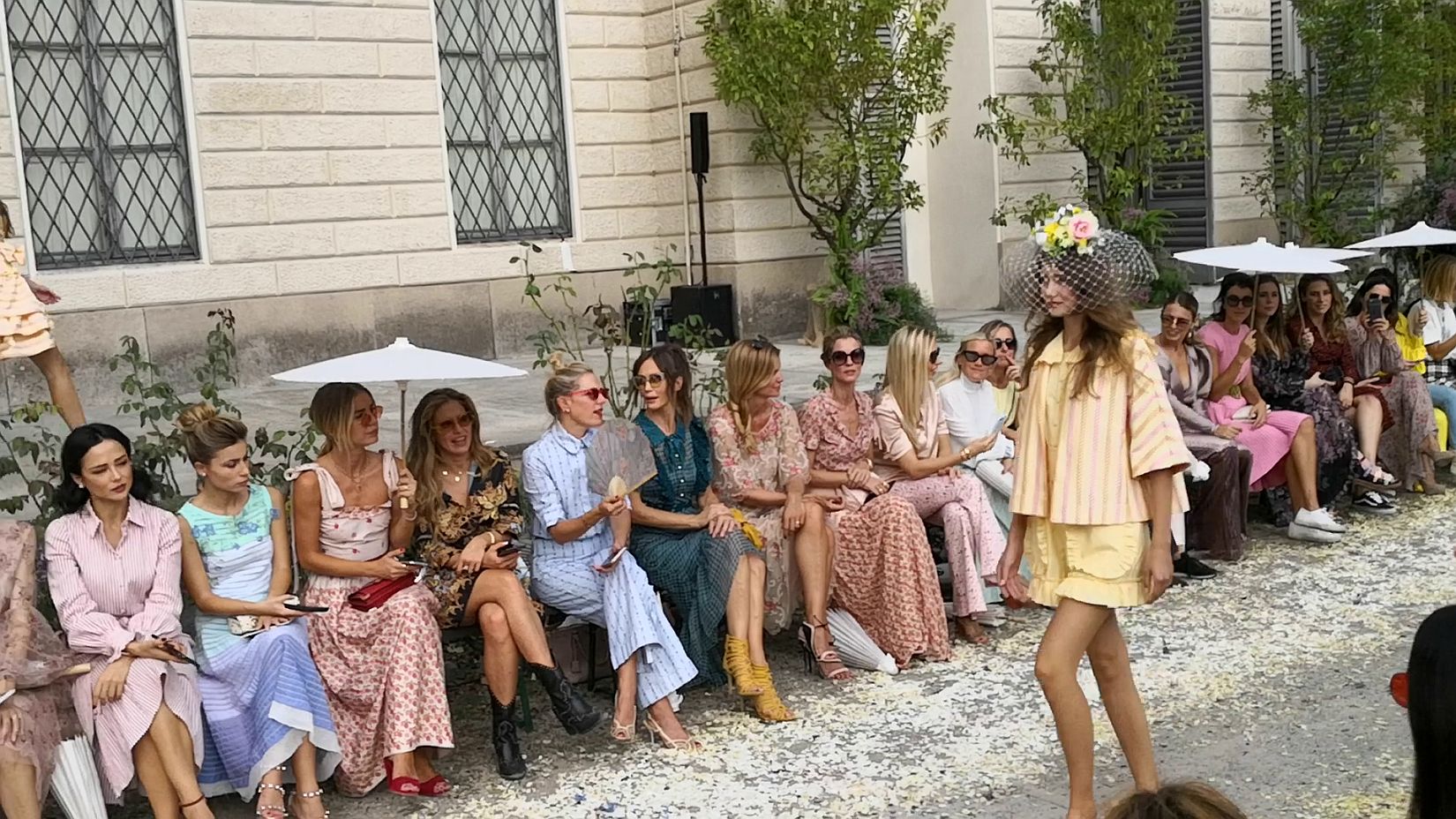 Ružová s marhuľovou a pletený klobúčik so slamenou kabelkou. Riasenie, volány, transparentnosť, ľahkosť materiálov – to je kolekcia Luisa Beccaria, jar/leto 2019.
Prekrásna módna prehliadka bola plná modelov dlhých šiat z jemných transparentných materiálov rozvoľnených strihov s marhuľovými, akvamarínovými odtieňmi, s motívmi mikro kvietkov, motýlikov a s nádhernými doplnkami. Nechýbali pokrývky hlavy – glamour pápežské korunky, závojčeky zo sieťkoviny s kvetinkami a mašľami, stuhami, čiapočky s metalickým zdobením v štýle Luisa Beccaria.
Na nohách mali modelky šnurovacie saténové sandále členkovej výšky s uzlami na priehlavku, mašľami a elegantné baleríny.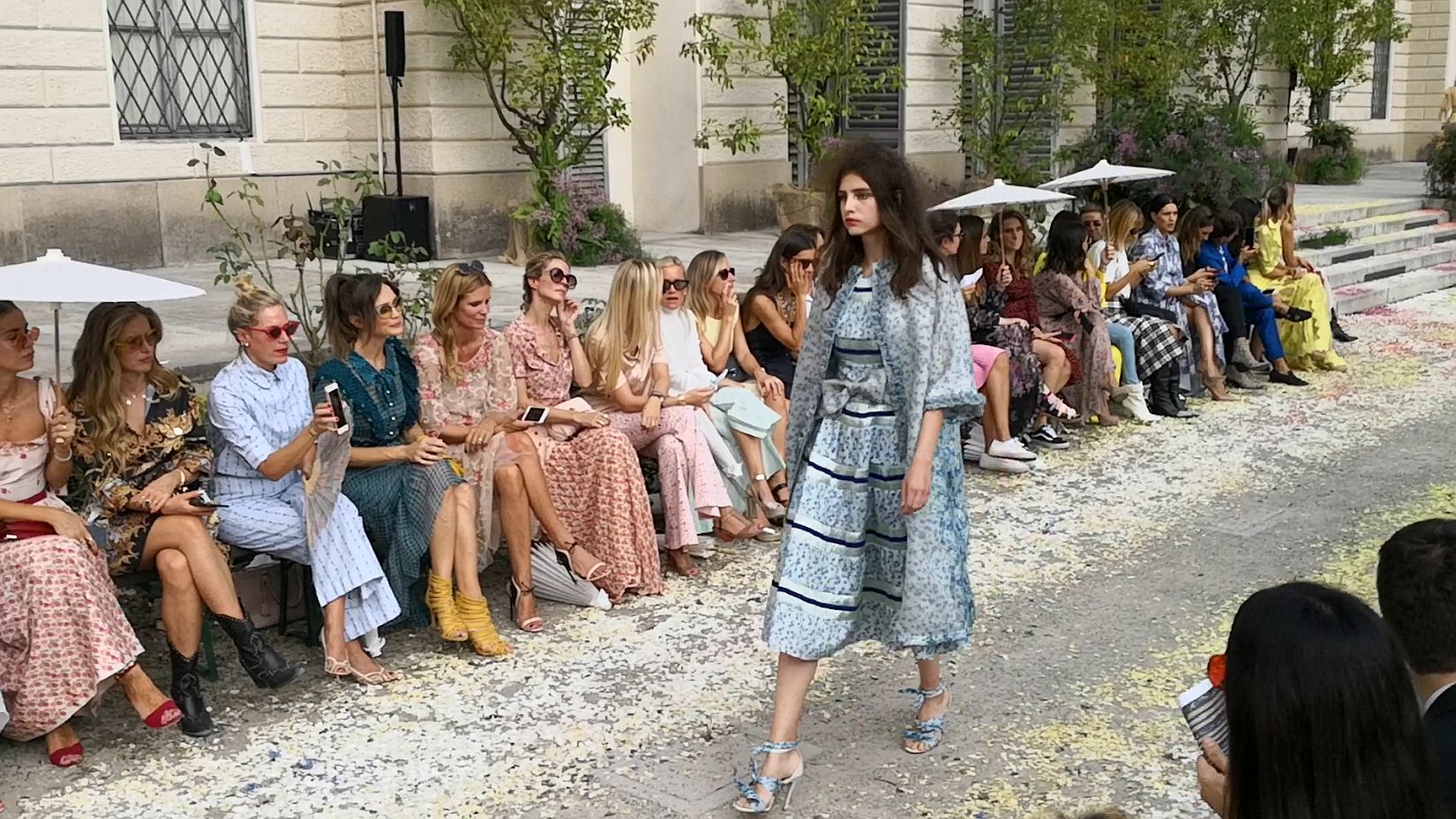 Romantické šaty s vrstvením z tylu zdobené saténovými kvetmi, volánovými sukňami so zašlými motýlími potlačami pôsobili étericko-očarujúcim dojmom.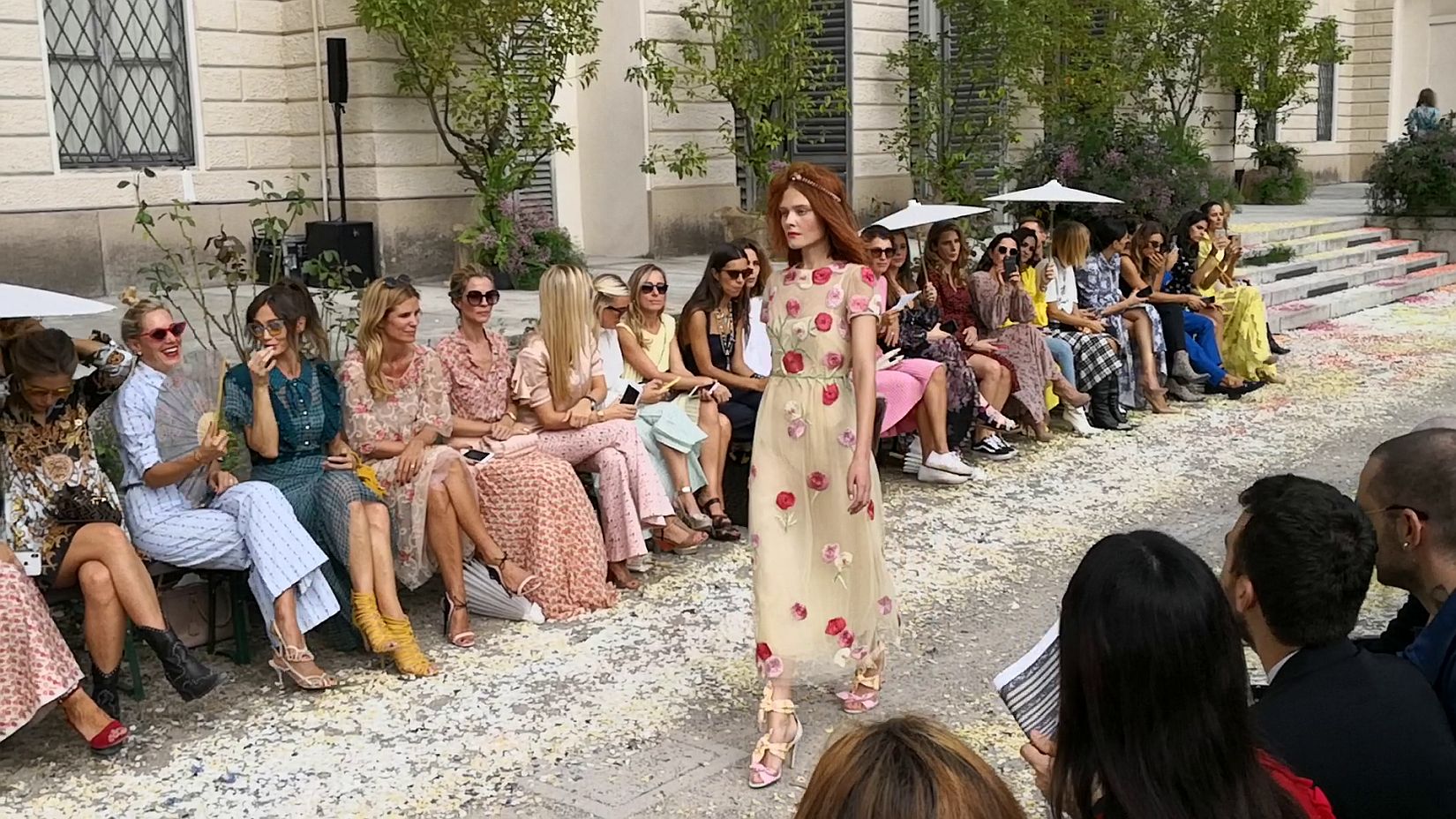 Rozvoľnené línie, siluety a nadýchanosť sú podporené materiálmi a riasením vo volánoch, trojdimenzionálne výšivky s kvetinkami a motýľmi akoby so šatami žili, čo bol zámer.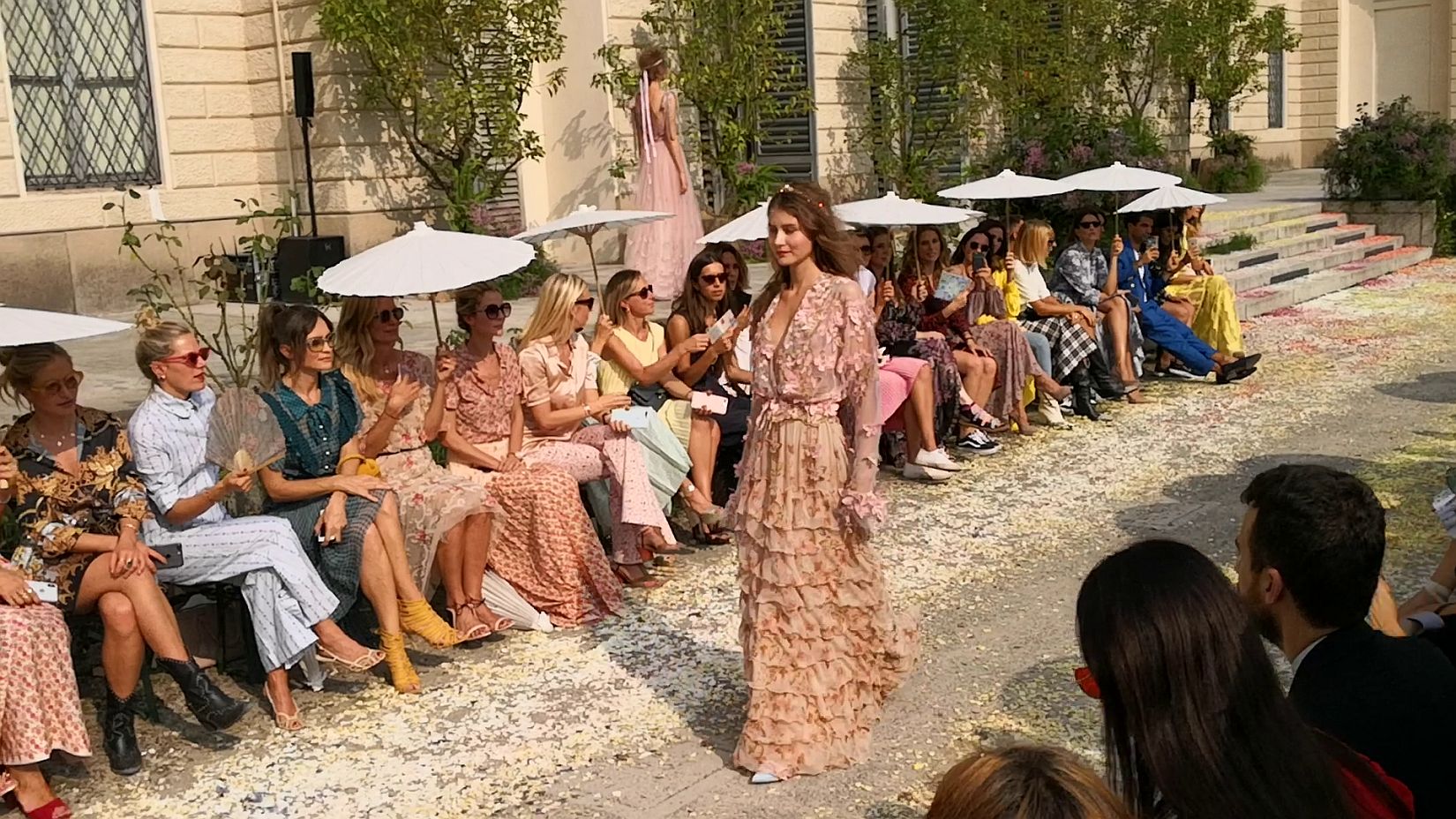 Krásu a pôvab sa módna návrhárka Luisa Beccaria snažila zladiť s netradičným hairstylingom modeliek, nedbalo upravenými vlasmi na štýl našuchoreného vtáčieho hniezda. Prehliadka prebiehala za zvuku soundtracku z filmu Strihoruký Edward. Nezabudnite si pozrieť video na youtube kanáli mya mirell.
Volánmi lemované pyžamové nohavice oblečené v kombinácii so živôtikmi spolu so šatami pôsobili sladko a zároveň moderne.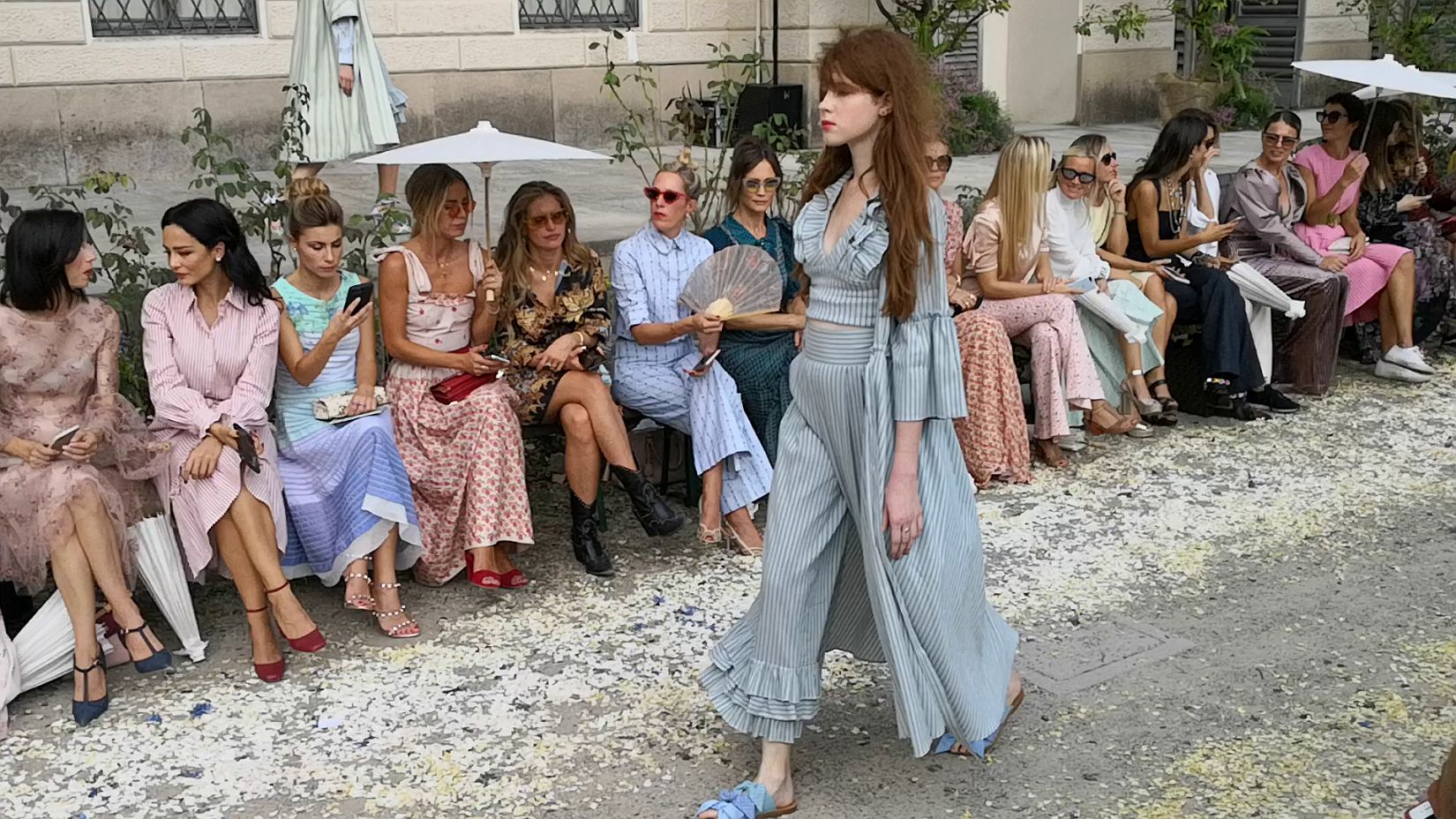 Inšpirácia a kreativita nepozná čas, nepozná priestor. Nemá slová k vyjadreniu, jednoducho sa predvedie. Neutíchajúci hlad fantázie po kráse bol u návrhárky Luisa Beccaria živený zážitkami z maľovania, hudby, poézie, filmov, drámy a dizajnu. Od roku 2006 s dcérou Lucilla Bonaccorsi spoločným dialógom pokračujú v návrhoch kolekcií v duchu stredomorského vplyvu obľúbenej Sicílie, kde sa srdce stretáva s konkrétnosťou Milána.
Facebook: Mya Mirell Fashionista