Lýdia Eckhardt – V Rozprávke, kolekcia jeseň/zima, 9. november 2018, Bratislava, Slovensko
Ponorme sa spolu do rozprávky a zabudnime na chvíľu na starosti bežného života. Pozrime sa na najnovšiu jesennú a zimnú kolekciu prvej dámy slovenskej módy Lýdie Eckhardt – V rozprávke. Prehliadka sa konala 9. novembra 2018 v Bratislave, kde uviedla takmer 100 nových modelov. Slovenská módna návrhárka Lýdia Eckhardt má za sebou už niekoľko desiatok kolekcií, ktoré dlhé obdobie tešia ženy rôznych vekových kategórií. Novou kolekciou predvedenom v hoteli Double Tree by Hilton opäť očarila mnohé dámy. Jej tradícia prehliadok dosiahne onedlho zaokrúhlene číslo 30, teda tridsať rokov tvorby na scéne a za tento dlhý čas si vybudovala zvučné meno, ktoré sa na Slovensku stalo značkou kvality. Video z módnej prehliadky si môžete pozrieť na facebook stránke blogu s názvom Mya Mirell Fashionista v kategórii Videá.
Téma pre dizajn jednotlivých kolekcií sa vždy nesie v duchu zamyslenia, pozastavenia, pousmiatia, hlbokej myšlienky a krásy. Ani najnovšia prehliadka kolekcie, ktorú prítomní diváci mohli vidieť v novembri, nebola výnimkou. Úžasne pripravená scéna nás vtiahla do rozprávky hneď v úvode. Slávnostná atmosféra po zhasnutí svetiel dostala razom nevídané rozprávkové čaro.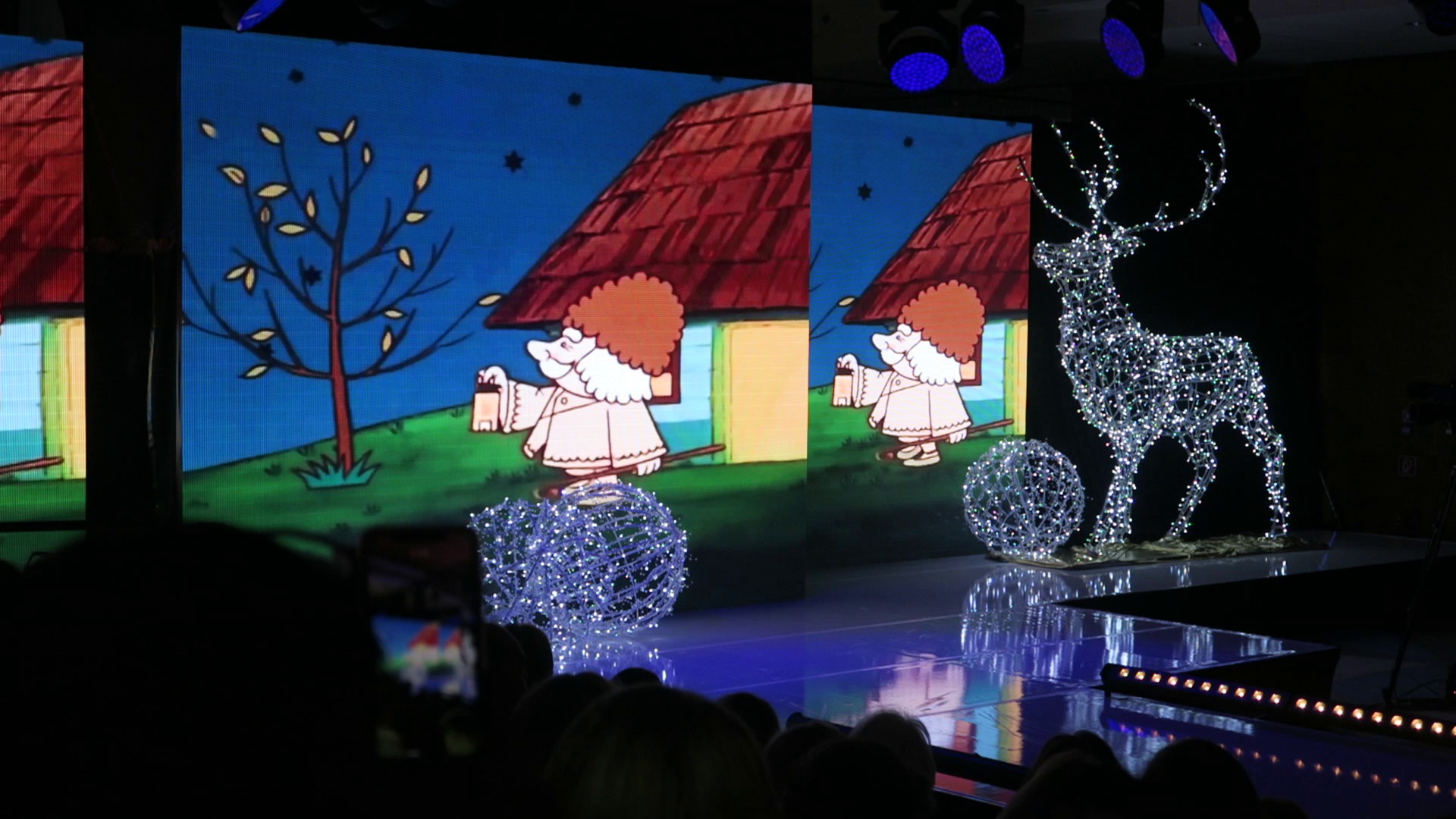 Módnu prehliadku zahájil deduško večerníček, ktorého znelka nás vniesla do detských čias, či mladosti, kedy sa blížil čas uspávania detí. Aké milé a vtipne nápadité, prebehlo mi mysľou. Hneď po odoznení zvučky nás deduško voviedol do prvej rozprávky Ľadové Kráľovstvo.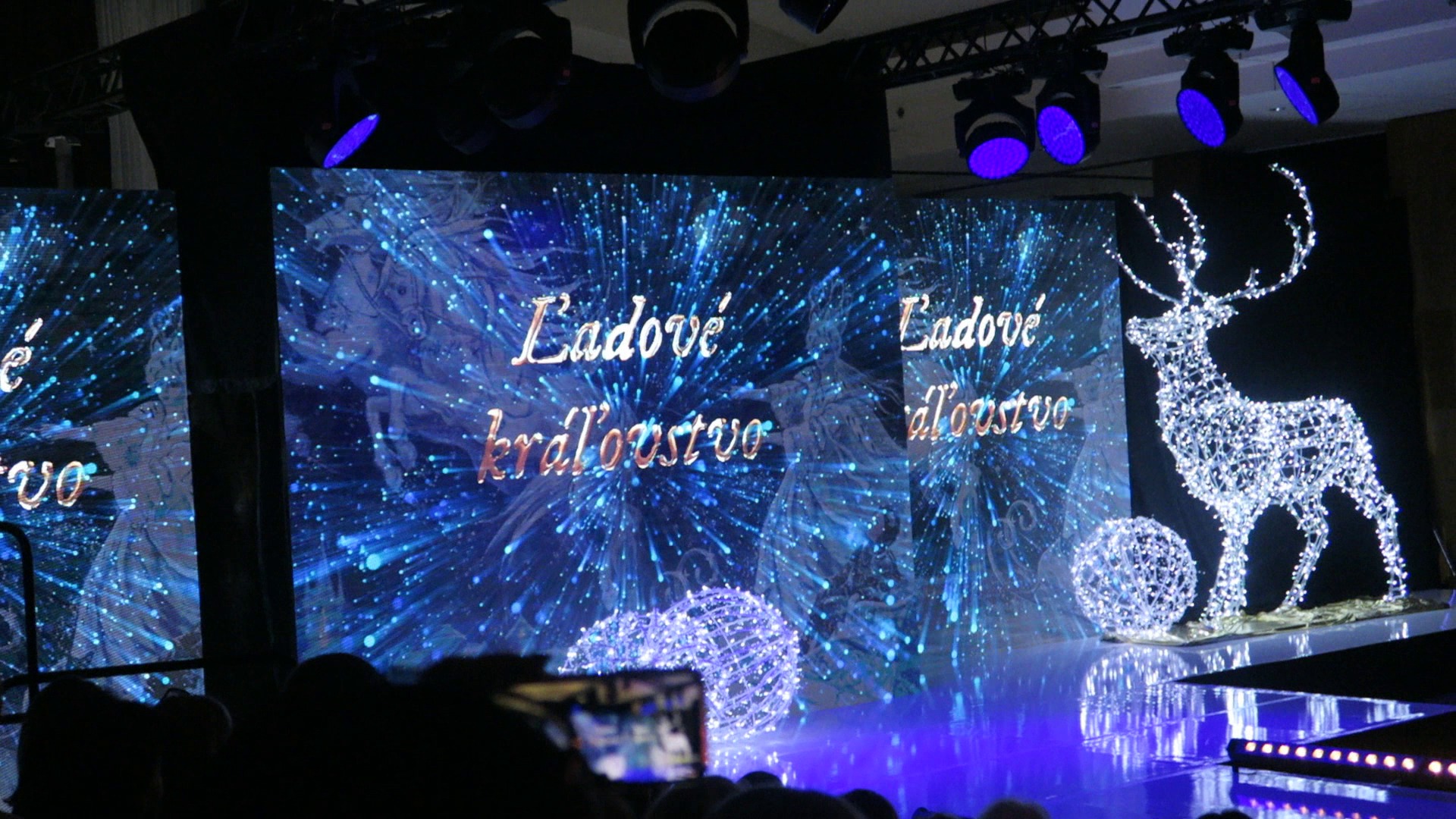 A teraz prišlo to skutočné ľadové prekvapenie. Na scénu sa dokotúľala obrovská ľadová guľa, v ktorej sa odohrávalo nádherné zimné divadlo. Tanečné vystúpenie profesionálnej tanečnice s názvom Fly Sui v snehovej guli s trblietavými čiastočkami, ktorá prešla celým mólom tam a späť, pripomínal živú rozprávkovú bytosť. Bolo to neskutočné umelecké vizuálne tanečné predstavenie. Video z prehliadky si môžete pozrieť na facebook stránke blogu s názvom Mya Mirell Fashionsita v kategórii Videá.
Suine vystúpenia (Fly Sui) nás vniesli do rozprávkového sveta, plného ladnosti , krásy pohybu a pozitívnej energie. Očarila mnohých nielen na Slovensku ale aj v zahraničí , či už v Anglicku, Nemecku ,Egypte a dokonca vystupovala aj s akrobatmi zo svetoznámeho CIRQUE DU SOLEIL. Moja fotografia z videa, kde tanečnica predvádzala nádherné snehové tanečné divadlo.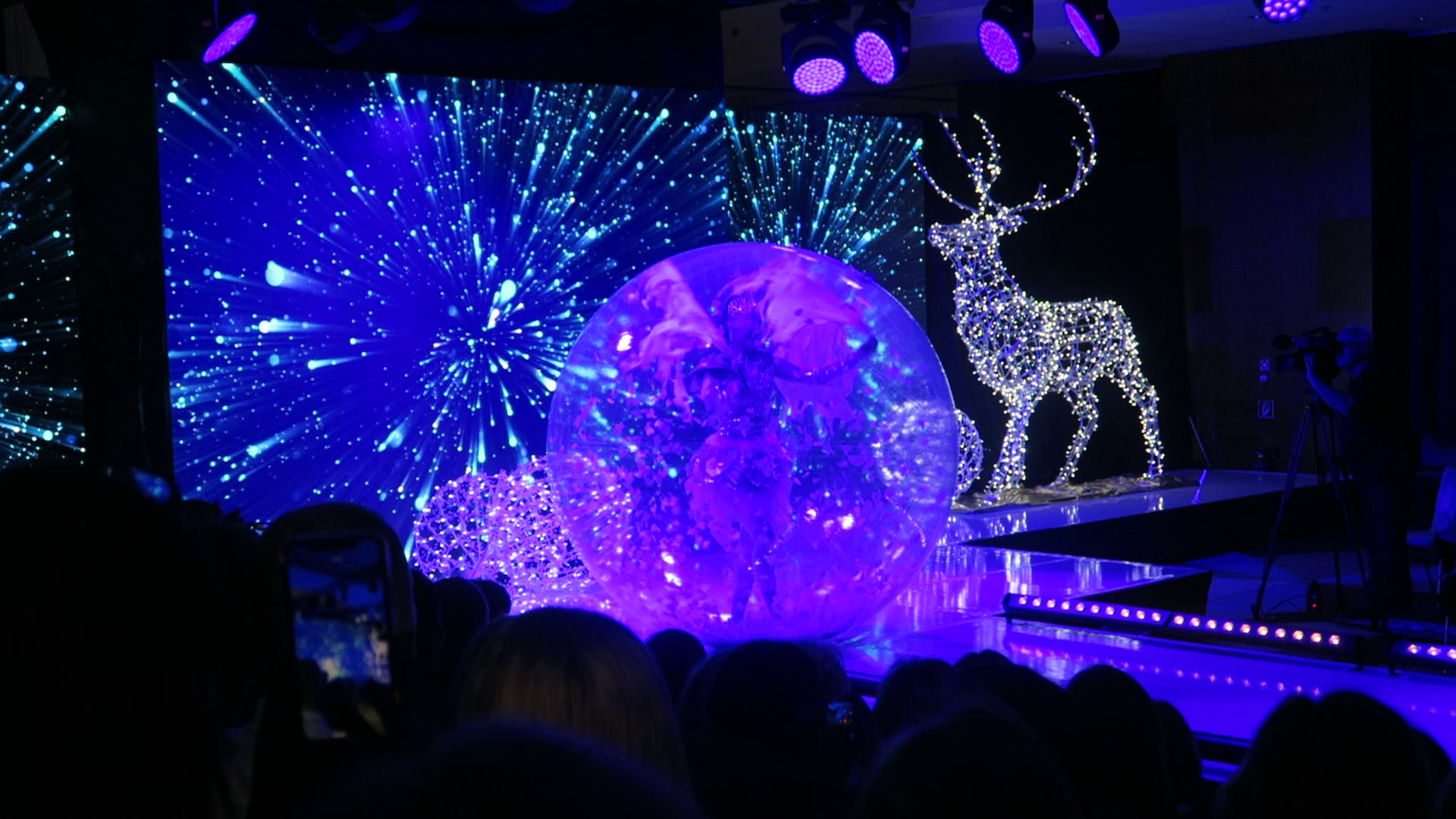 Umenie tanečnica predviedla aj v závere módnej show, kedy na móle rozvírila zaujímavé šaty, ktoré sa razom zmenili na motýlie krídla. A že aj modely z kolekcie Lýdie Eckhardt boli naozaj rozprávkové, o tom sa môžete presvedčiť na facebook stránke blogu s názvom Mya Mirell Fashionista, kde nájdete okrem ďalších fotografií aj úžasné video z prehliadky.
Poďme ale pekne postupne k jednotlivým modelom. Inšpiráciou pri tvorbe zimnej kolekcie boli pre návrhárku rozprávky ako Ľadové Kráľovstvo, Popoluška, Červená čiapočka a mnohé iné. Dominovali krásne pre rozprávku typické farby od jemnejších púdrových, broskyňových odtieňov, cez parížsku modrú a fialovú a modré a lila odtiene. Prehliadka začínala rifľovou kolekciou, ktorá odštartovala po ľadovej obrovskej guli a bola ladená z časti športovo-dievčensky.
Z ľadového kráľovstva oslnila krehko vznešená modrá krása v podobe dlhých šifónových šiat, ktorá sa nádherne vlnila po pódiu.
Modelky boli krásne nalíčené, usmiate a tentokrát mali zaujímavo spletené vlasy do vrkočov po stranách hlavy a každej to náramne pristalo. Ďalšie fotografie nájdete na facebook stránke blogu s názvom Mya Mirell Fashionista v albume Lýdia Eckhardt. Po Ľadovom Kráľovstve kolekcia pokračovala červenou farbou zasadenou do rozprávky o Červenej čiapočke.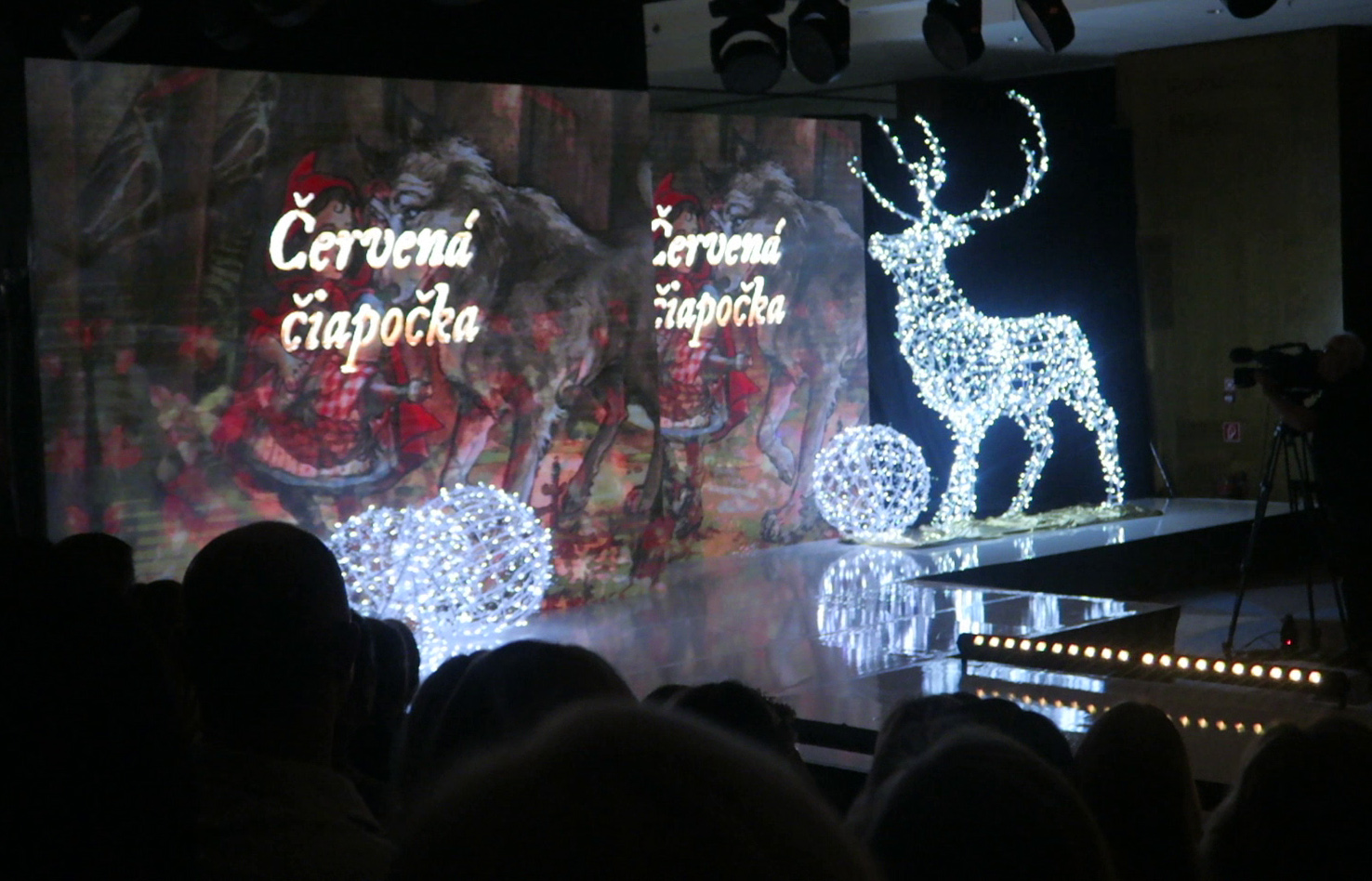 Za zvuku známej francúzskej pesničky sa na móle blysli aj tieto ohnivé červené šaty.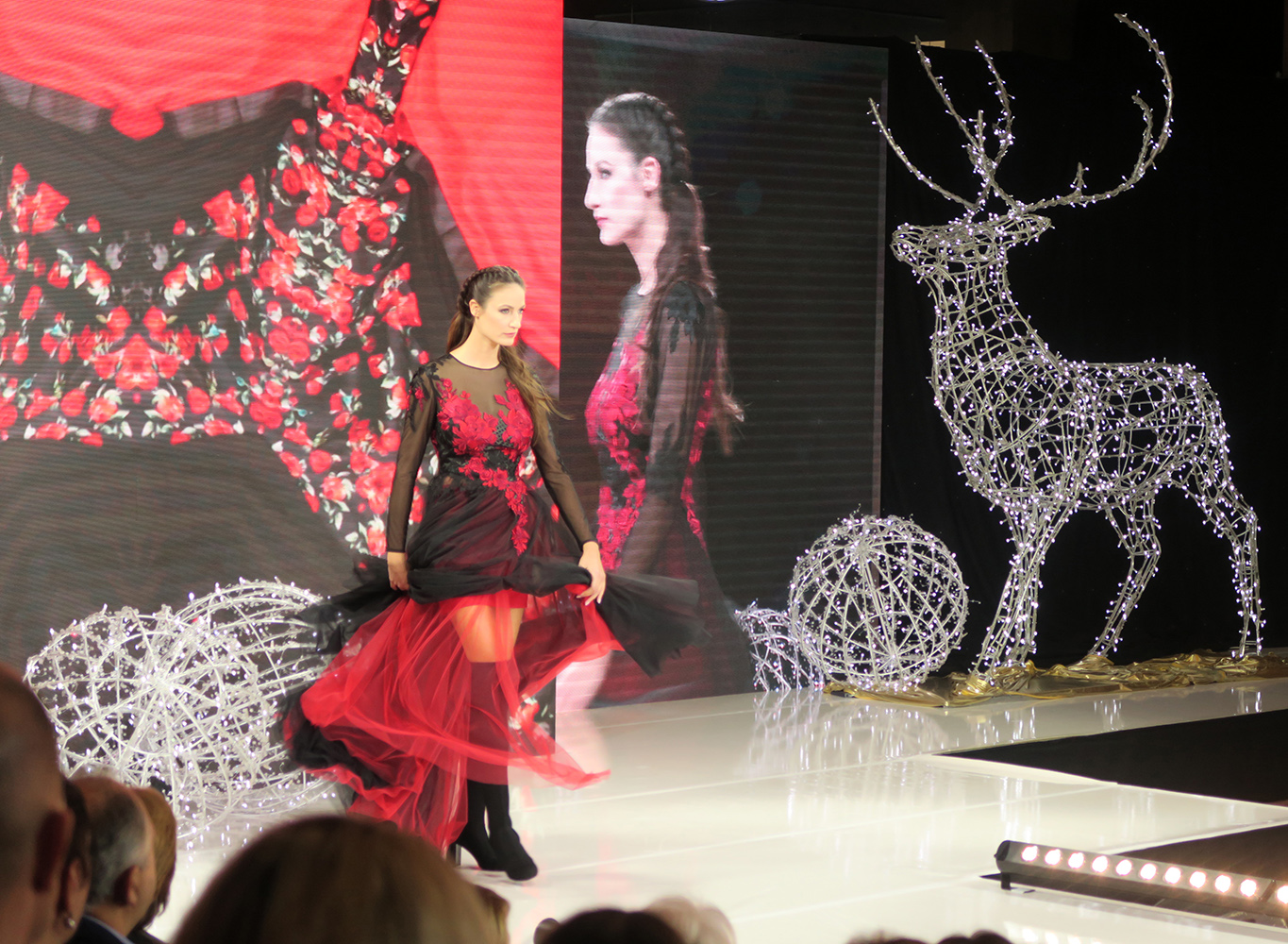 Modelky z rozprávky o Červenej čiapočke predviedli nositeľné modely ladené do farby červenej a čiernej.
Čiapočka bola teda typicky červená a poďme sa preniesť do rozprávky Gumkáči a Káčerovo, kde dominovali farby tmavomodrá a zelená.
Prekrásny modrý kabát s pufovou sukňovou časťou mal aj svoju zelenú verziu.
Medzi pozvanými hosťami v prvej rade sedela aj slovenská Pani herečka Emília Vášáryová, ktorej sa aj tento zelený kabát veľmi páčil.
Mňa konkrétne oslovil nádherný ženský a zároveň jemne zmyselný model s čiernymi vysokými čižmami farebnej kombinácie zelenej a modrej s kontrastnou čiernou a bielou.
Ostatné fotografie z každej témy nájdete na facebook stránke blogu s názvom Mya Mirell Fashionista v albume Lýdia Eckhardt.
Po tajomnej zelenej farbe prišla veselá jemná kolekcia Víly Amálky.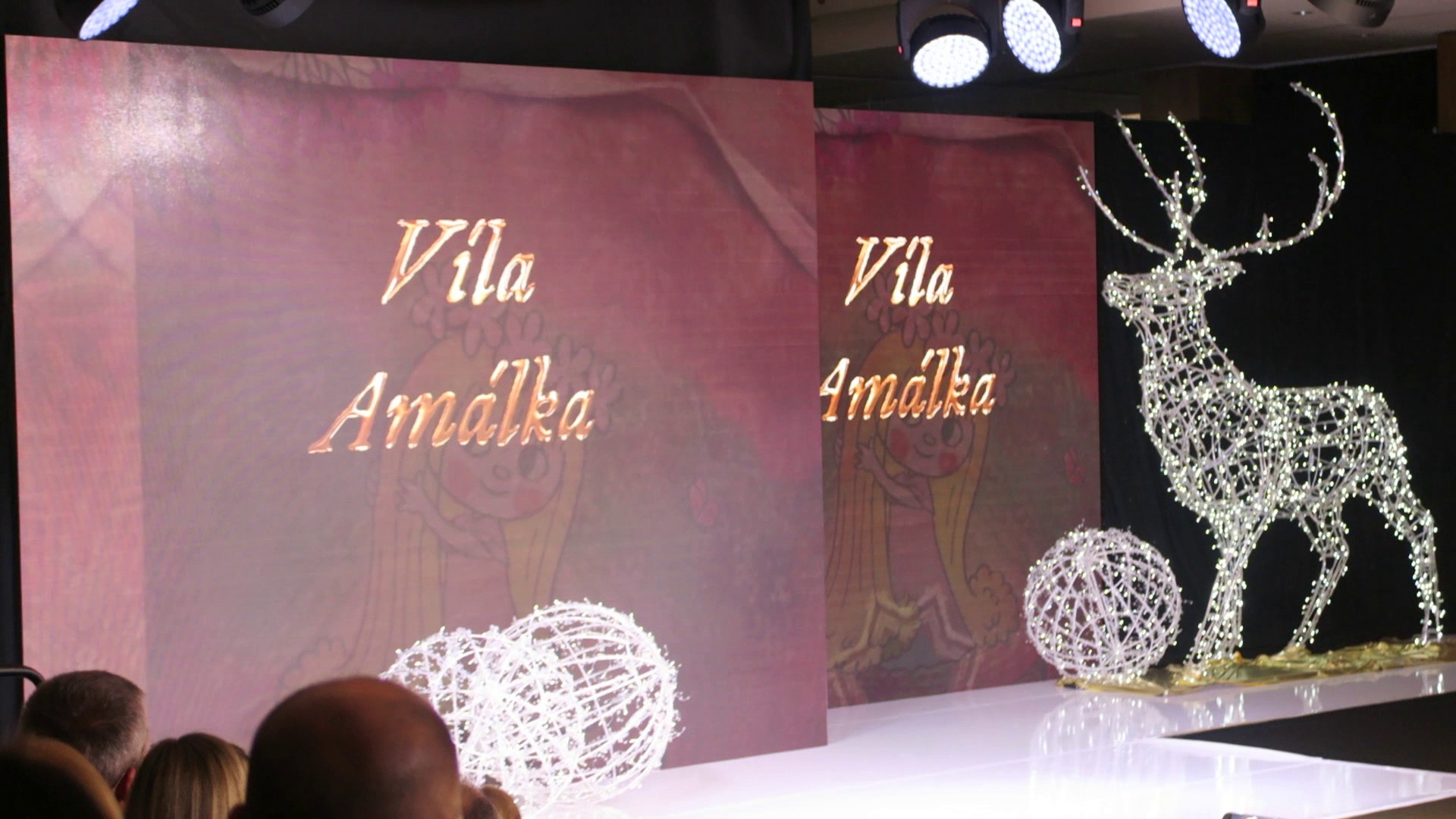 Hebkosť a neha
V tejto časti kolekcie sa striedali jemnejšie farby od púdrovej ružovej na jemných šatách cez dievčenskú pastelovú ružovú na rozkošných modeloch s teplými bundami a školácky krátkymi sukňami.
Nádherné modely sa striedali na pódiu rad za radom. Každá zúčastnená dáma si vedela vybrať ten svoj, pretože návrhárka Lýdia Eckardt svojich zákazníkov pozná dokonale. Presne vie, aký model bude svedčať tej ktorej zákazníčke.
Dámy očaril elegantný model dlhých jemne ružových šiat so širokou sukňou, ktorému nadšene tlieskali.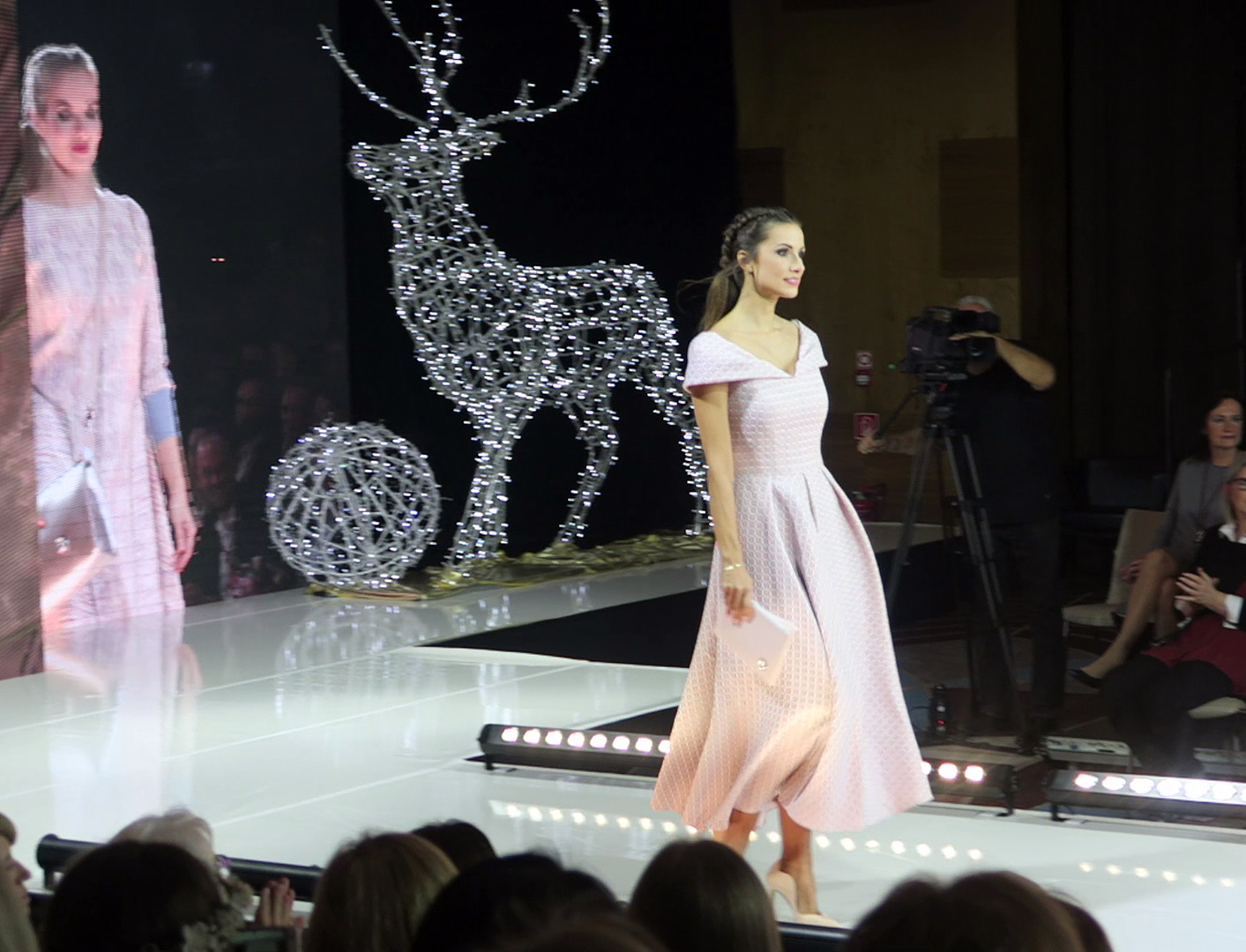 Potom nasledovala prehliadka kabeliek a šiat na ľudové motívy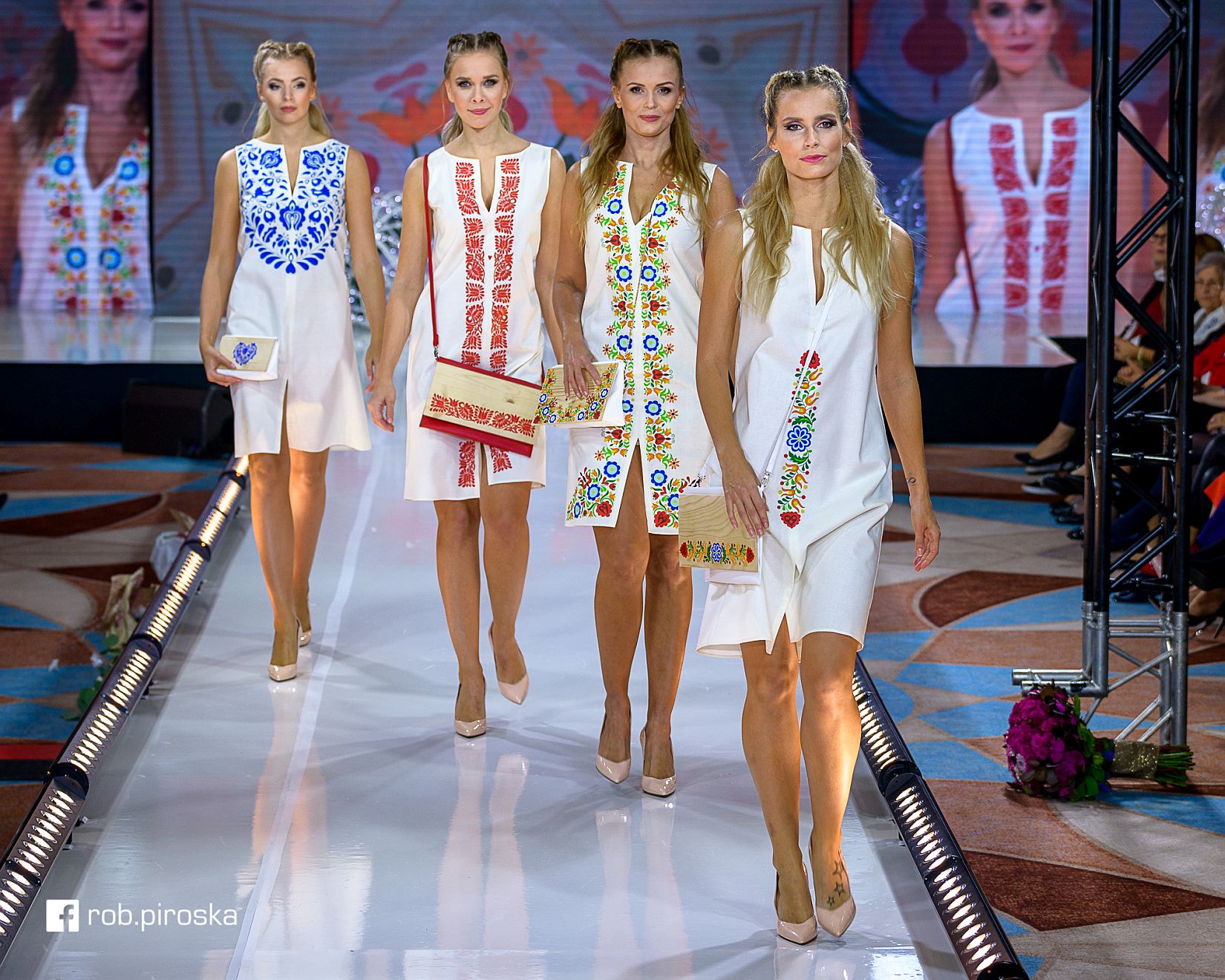 Lýdia Eckhardt – kolekcia jeseň/zima, november 2018 foto: Rob Piroskaa po nej prehliadka topánok značky Fiorangelo. Následne prišla kolekcia modelov ladených opäť vo farbách modrej a fialových odtieňoch.
Nádhernou farebnosťou a ženskosťou ma oslovil aj tento model transparentných šiat.
Módna návrhárka Lýdia Eckhardt považuje slovenské ženy za vnímavé a krásne, ktoré sa chcú páčiť a dobre vyzerať a čoraz lepšie sa obliekajú. V šatníku preferuje kúsky, ktoré sú vzájomne kombinovateľné, nie príliš veľa outfitových kreácií, ale radšej volí nositelné odevy, ktoré svedčia postave dámy. Niečo ako francúzsky štýl, parížsky šik štýl, o ktorom som písala v predchádzajúcom článku, kde v šatníku Francúzok dominujú predovšetkým nositeľné a kvalitné veci. Nejedná sa teda o prvoplánové značkové vychytávky, veľa druhov, ale prvky, z ktorých je možno zostaviť rýchlo vhodný kombinovateľný a praktický šatník. Ten si podľa módnej návrhárky treba budovať a prichystať si outfitové tipy, ktoré môžeme obmieňať, niekedy ozvláštniť doplnkom ako napríklad šatkou a pritom vytvoríme vždy niečo jedinečné.
Zimná kolekcia
Zimu si azda málokto vie predstaviť bez romantického snehu, teplého zababušenia sa do periny či deky, teplého oblečenia príjemného na omak a nosenie, rozprávkovej pohody a teplého čajíka. A takáto atmosféra dominovala prehliadke. Zimné kabáty sme mohli vidieť aj v úvode prehliadky. Rozprávkové modely v prenesenom zmysle slova sa striedali podľa jednotlivých rozprávkových tém, na móle sa vlnili krásne šaty, sukne, komplety, jesenná kolekcia a za ňou prišli aj ďalšie teplé modely.
Teplé zimné modely odhalila rozprávková téma temný Černokňažník.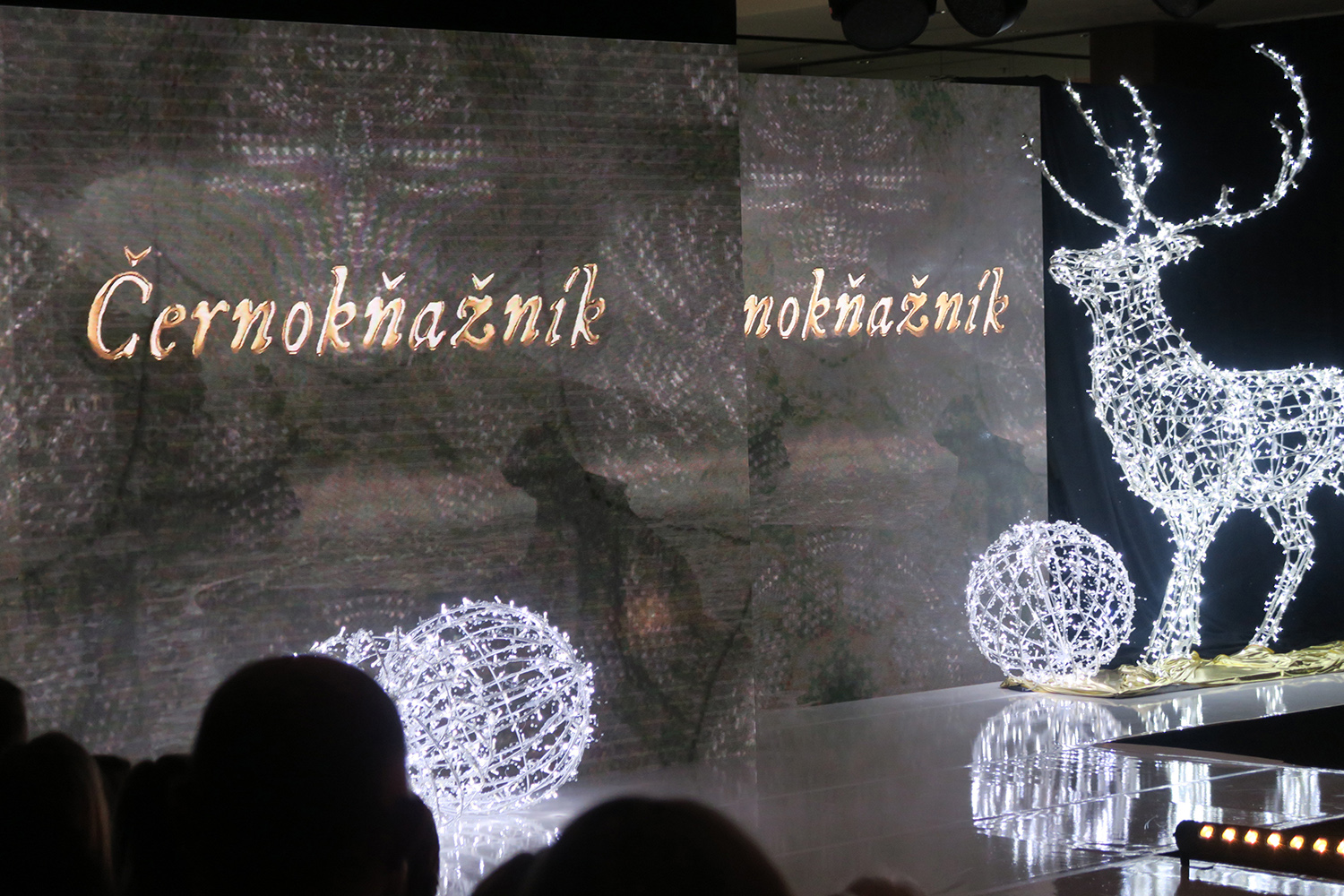 Rozprávka Černokňažník zahalila kolekciu do temnej čiernej oživenej jemnou ružovou, či striebornošedou.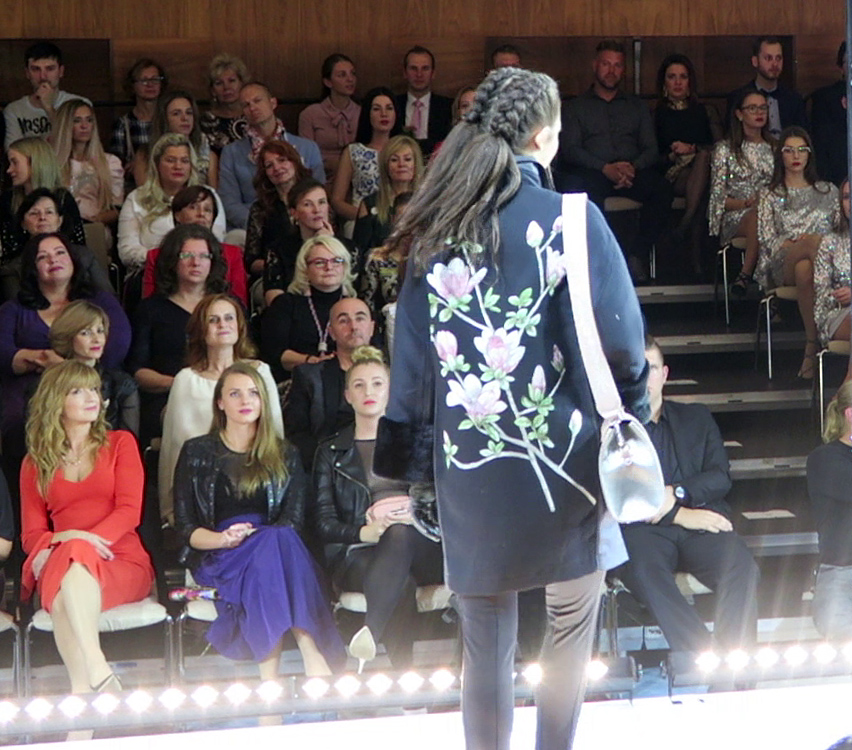 Už ste milé dámy priravené na zimu? Tieto nádherné teplé modely z rozprávky Černokňažník zaujmú kombináciou materiálov, budete neprehliadnuteľné a pritom zahrejú.
Slovenská módna návrhárka Lýdia Eckhardt dala priestor rôznym dizajnérom, od mladej návrhárky hand made kabeliek Dajany Rodriguez, po dievča, ktoré sa venuje prírodným šperkom a ľudovým motívom Šopa dizajn, pričom všetkých predstavila postupne. Topánky, ktoré zdobia nohy modeliek už dlhodobo zaisťuje spolupráca so značkou Fiorangelo.
Kabelky z dielne mladej slovenskej návhráky Dajany Rozdriguez.
Za Černokňažníkom prišla na mólo krehká biela Snehulienka.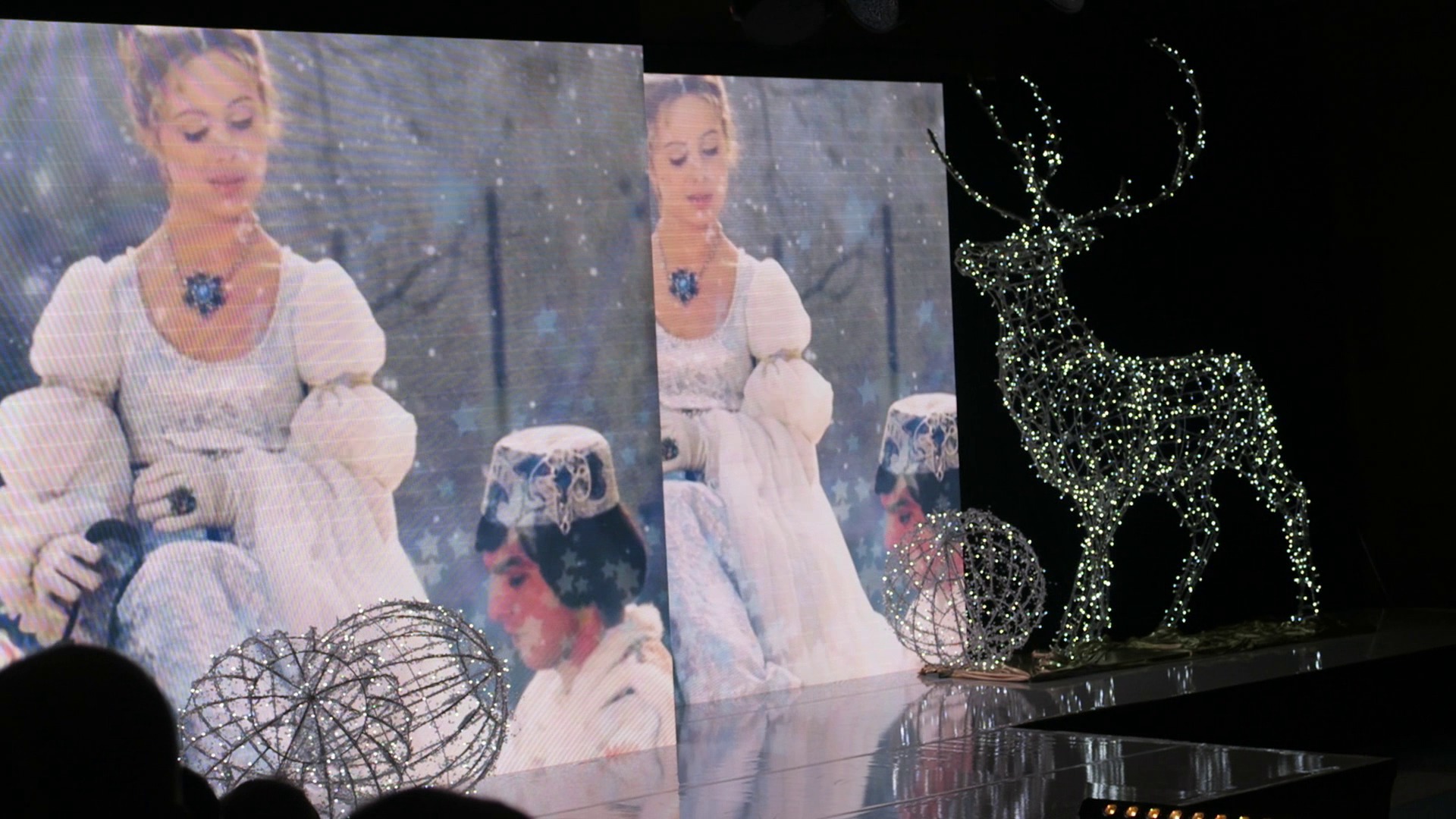 Svetlo sa zmenilo na snehovo-bledomodrú žiaru a na mólo vyšli modelky odeté v nádherných bielych modeloch, nežné krehké ako snehové vločky.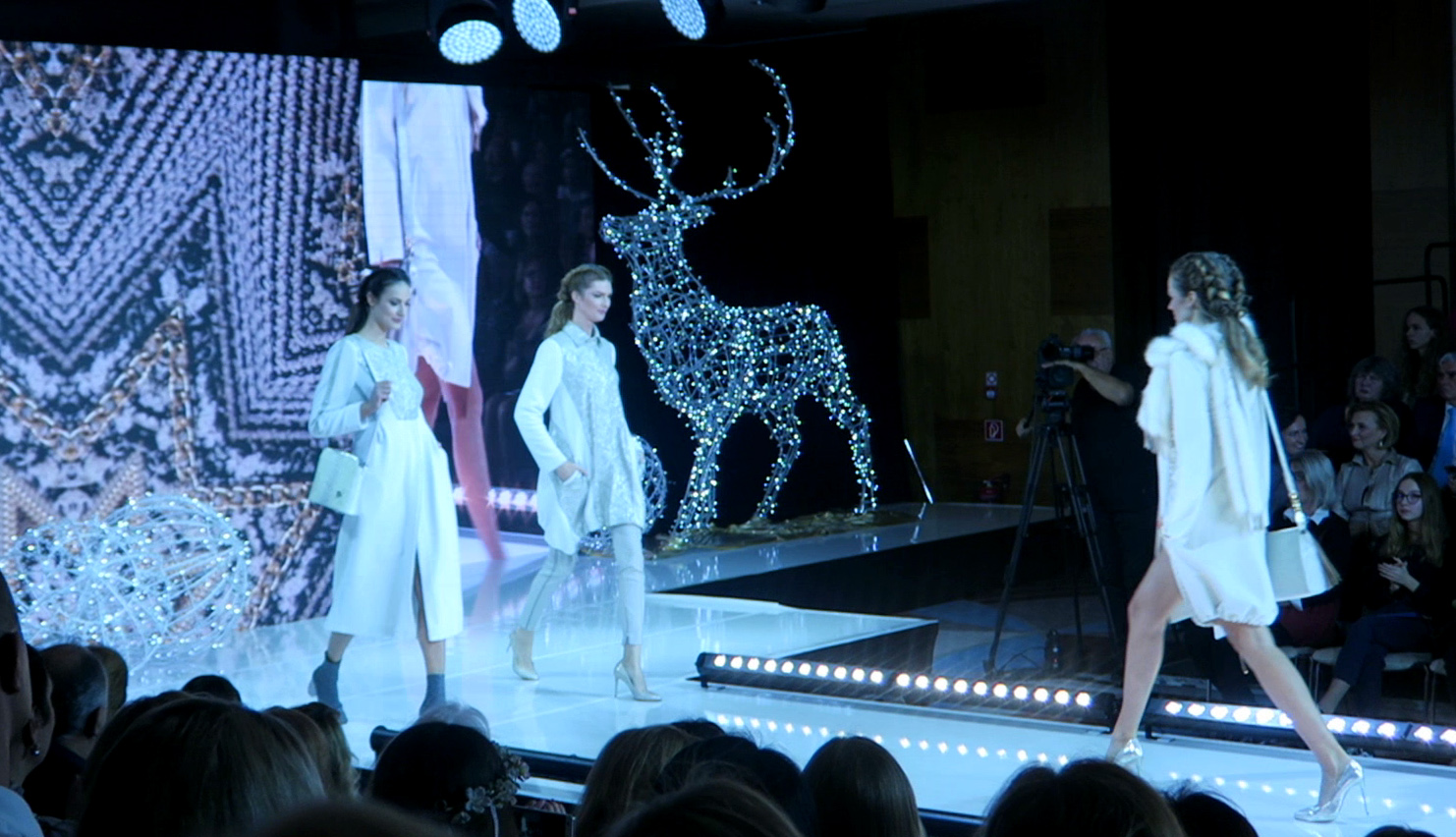 Na samotný záver sme sa preniesli do rozprávkového sna. Opäť zatancovala tanečnica tentokrát v krásnych šatách, ktoré spolu so svetlom vytvárali nádherné umelecké vizuálne divadlo. Diváci ostali doslova unesení.
Tanečnica odišla z móla ako nádherný motýľ.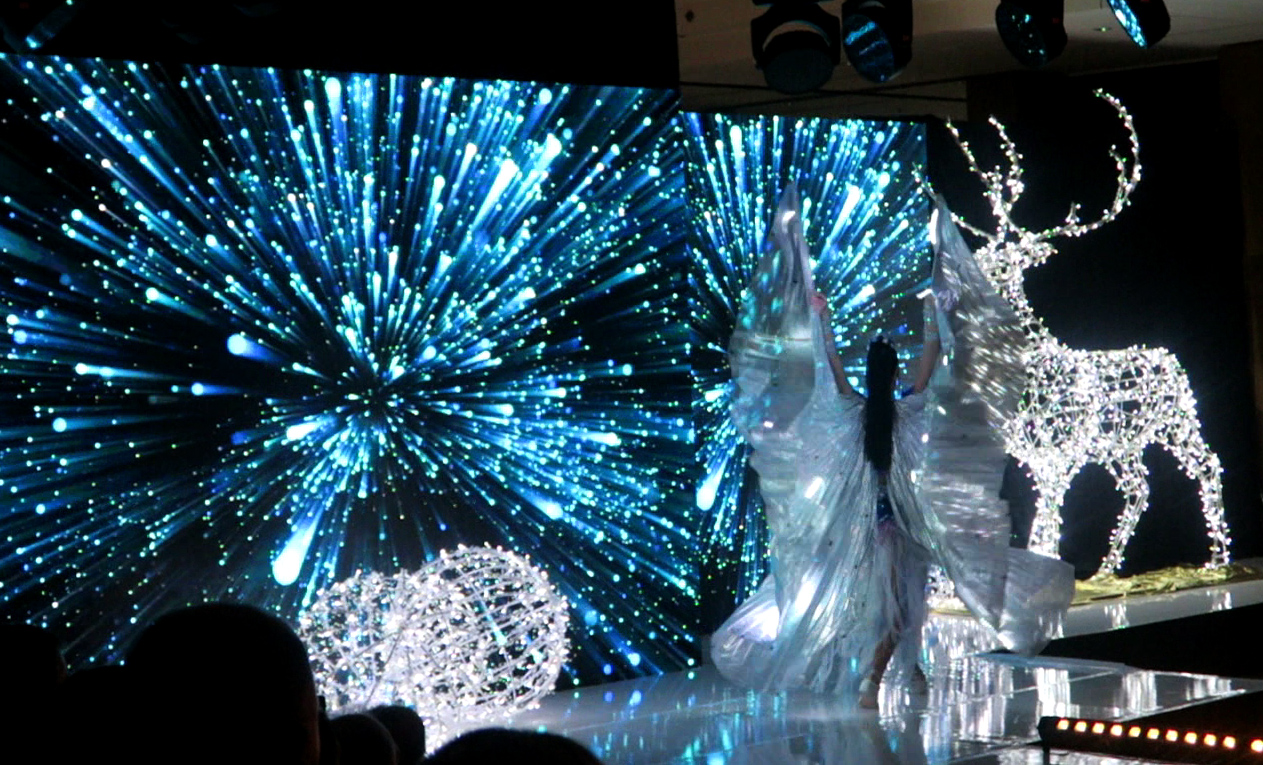 Ku koncu módneho večera modelky predviedli nádherné spoločenské šaty za spevu slovenskej speváčky.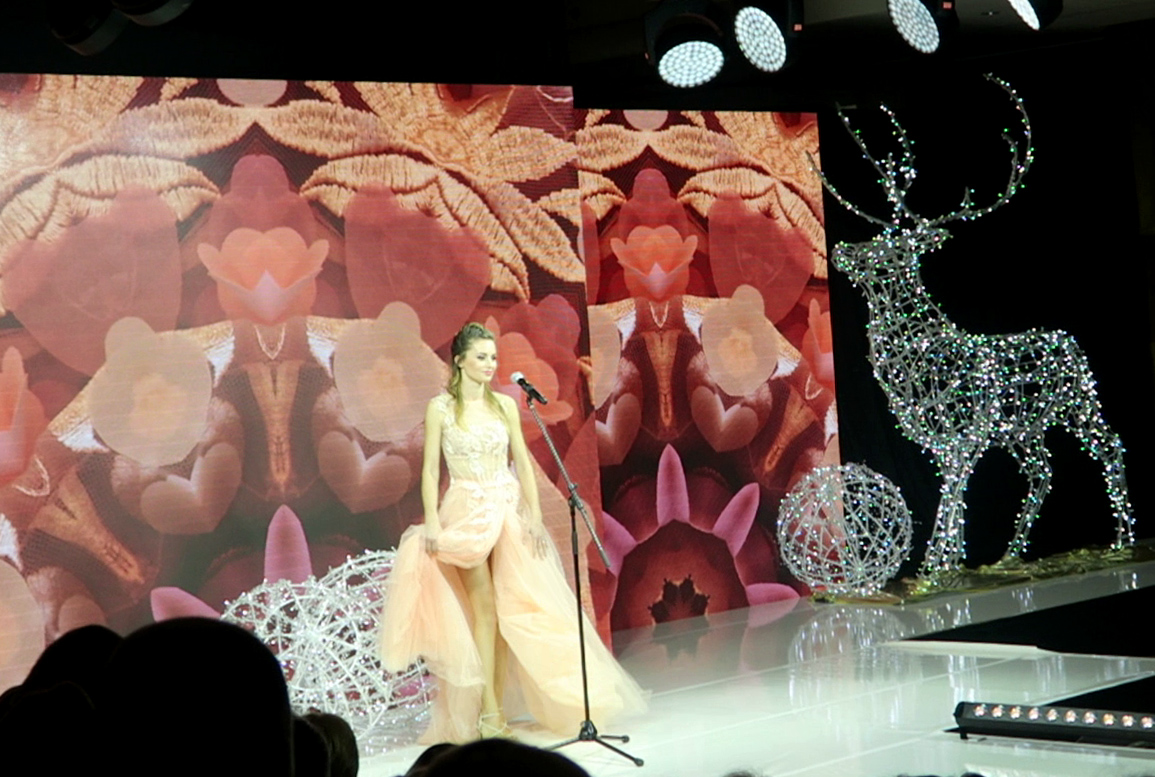 Počas hudobného prednesu sa predstavili modely dlhých spoločenských šiat, ktorým diváci s nadšením tlieskali a na mólo vyšla aj samotná návrhárka. Bol to vynikajúci módny zážitok, no veď uznajte sami, prítomné dámy mohli na prekrásnych modeloch oči nechať.
Medzi účinkujúcimi hosťami sme mohli vidieť úspešnú slovenskú speváčku Máriu Čírovú v broskyňových šatách, ktorá v závere módnej show zaspievala pesničku Unikát. Mladá mamička dnes už dvoch detí svojím očarujúcim hlasom vnáša pozitívnu energiu do každého z nás. Módna návrhárka Lýdia Eckhardt na fotke so speváčkou Máriou Čírovou.
Návrhárka Lýdia Eckhardt tak zožala so svojou novou kolekciou obrovský aplauz a počas tohto neutíchajúceho potlesku jej diváci prinášali kytice kvetov. Módna show tak dostala opäť nové kvetinové romantické čaro.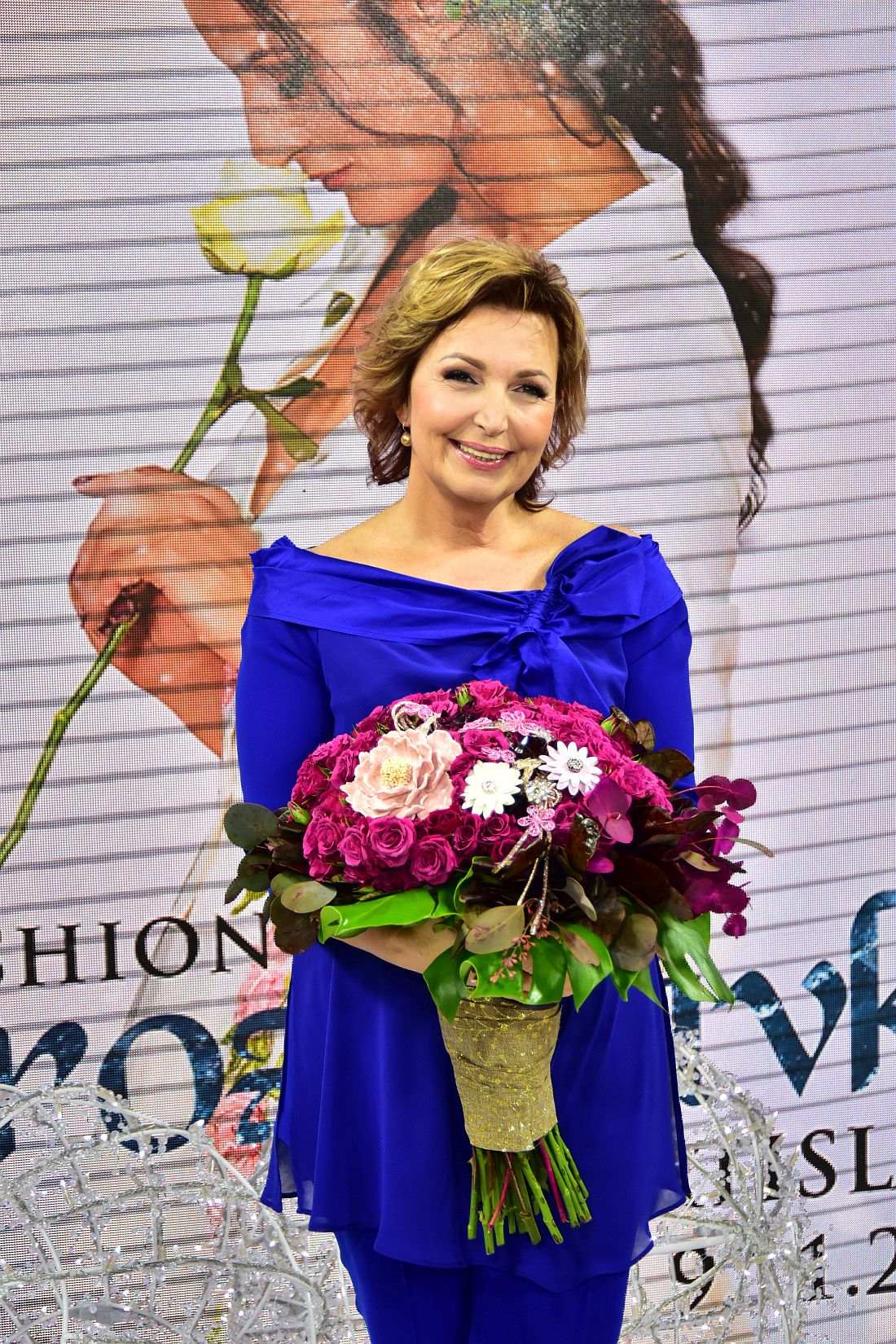 Lýdia Eckhardt na fotografii s tanečnicou Fly Sui.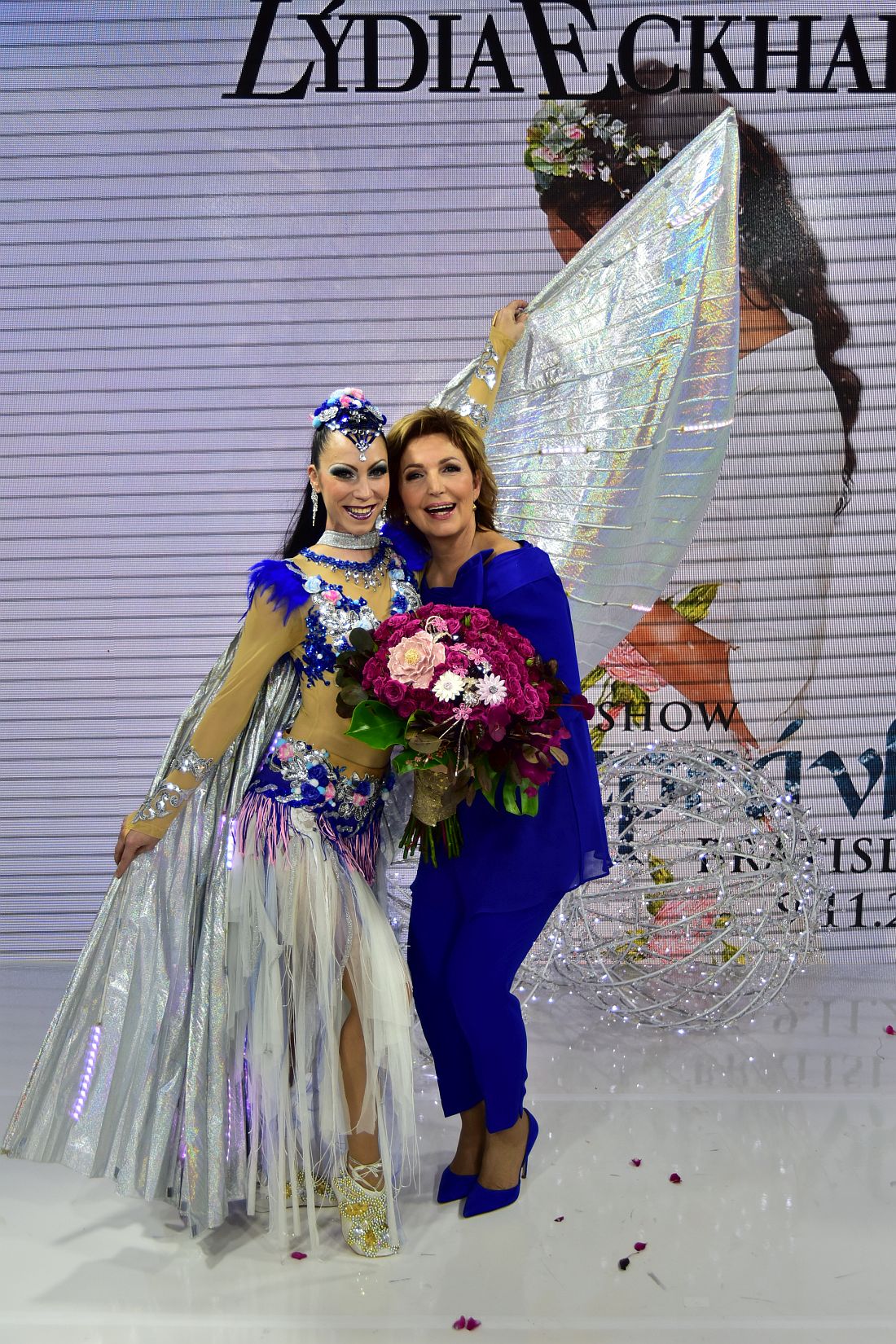 Medzi jednotlivými témami prehliadky boli prestávky s reklamnou vsuvkou, kde návrhárka uviedla kolekciu a predstavila jej jednotlivé prvky a spolupracovníkov. Porozprávala o svojich pocitoch a vytvorila priestor pre zamyslenie. Galavečer sa neniesol teda iba v duchu módy, ale aj zamyslenia, pouvažovania nad jednotlivými nastolenými témami, ktoré sa dotýkajú aj bežného života a v ktorých poodkryla svoje prežité zážitky a pocity aj samotná návrhárka. V jednej prestávkovej pauze sa zamyslela nad anketou, ktorú robila medzi bežnými ľuďmi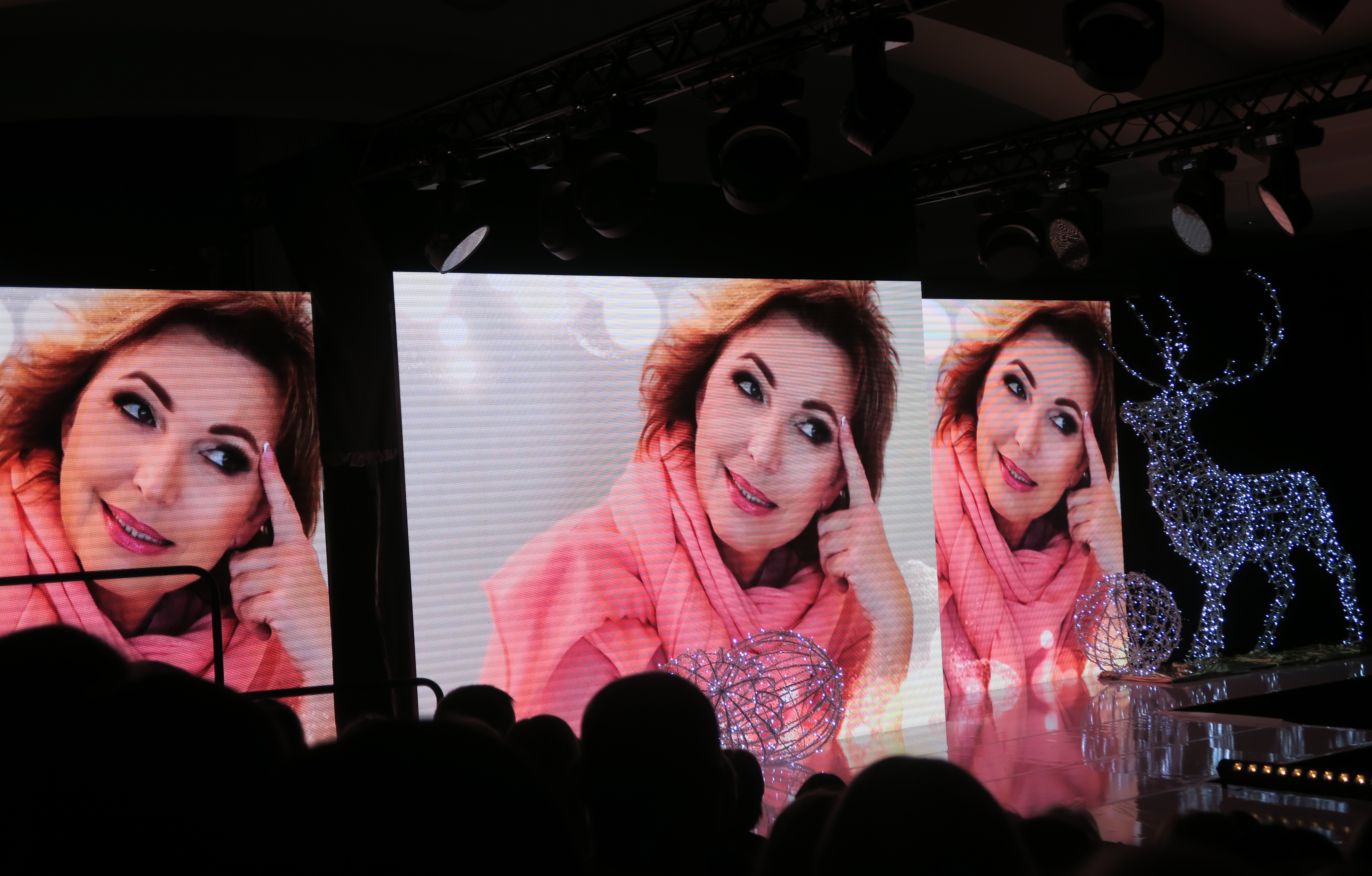 a vyjadrila sa, že názor ľudí na kameru bol zväčša skreslený o domnienku opýtaných, ktorí odpovedali zväčša to, čo by asi chcela počuť. Preto sa rozhodla pre druhú anonymnú formu ankety a tentokrát sa pýtala ľudí, čo by si priali od zlatej rybky. Aké želania by im mala splniť. Najkrajšie prianie premietnuté všetkým prítomným bolo však hlboké. Bez nároku na hmotný mamon, zabezpečenie, materiálne túžby pre jednotlivca a príbuzných, oslnivo ľudské a jednoducho čarovné: "Prial by som si, aby boli všetci ľudia spravodliví, čestní, ľudskejší. Čo viac by sme si mohli želať."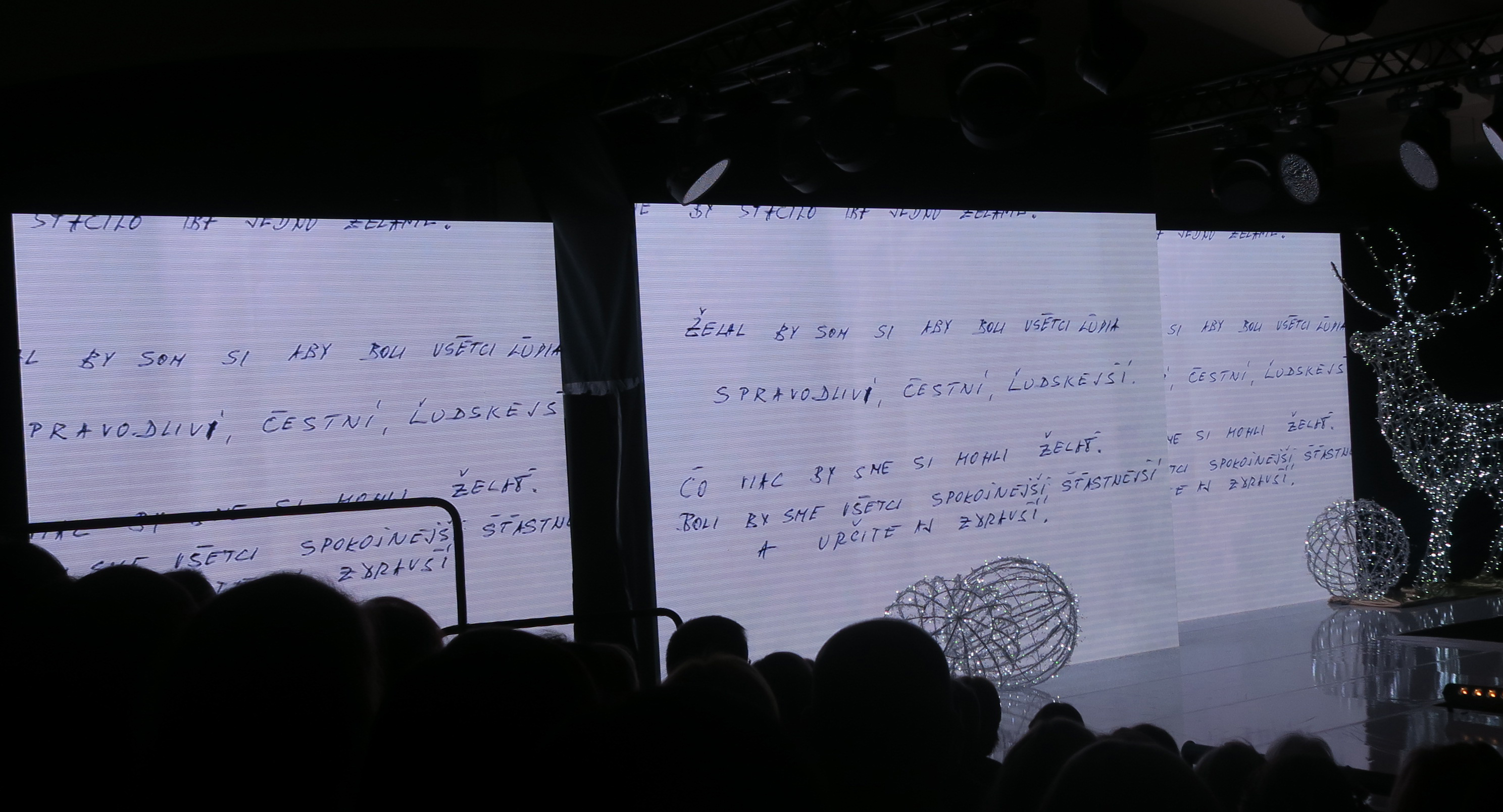 No skutočne milí priatelia, toto je hlboké prianie, ktoré by malo vyvierať z duší každého z nás. A ešte zdravie. Rozprávka je podľa návrhárky vlastne celý náš život, zrodenie života, striedanie dobra a zla, úspechov a neúspechov, šťastia a smútku a nádej, že všetko v živote dobre skončí. Lebo práve nádej nám dáva silu mnohé zvládnuť.
Prehliadka Lýdie Eckhardt bola nesmierne obohacujúca a ja ďakujem, že som mohla byť po rôznych iných módnych show, ktoré som za posledné tri mesiace videla, jej súčasťou.
Facebook: Mya Mirell Fashionista