Fashion LIVE – módne podujatie, 17. – 19. október 2018, Bratislava, Slovensko
MARTIN HRČA
Martin Hrča predviedol počas tretieho dňa slovenského módneho podujatia Fashion LIVE opojenie čiernou na ženských aj mužských modeloch, ktorá prevládala v kombinácii s hrubšími materiálmi. Divákov ponoril do dynamickej až apokalyptickej atmosféry. Jeho mottom kolekcie bola téza " svetlo bez tmy neexistuje". Tento návrhár sa vyznačuje výraznými scénickými prezentáciami kolekcií, historizujúcimi formami až rozprávkovým poňatím modelov. Ani táto kolekcia s názvom ÉTER pre rok 2019 nebola výnimkou. Bola z časti temná, rozdelená na rôzne roviny, na 3 bloky. Temnú apokalypticky ladenú rovinu predvedenú v prvej časti vyvážila vznešenejšia rovina a nová nádej, takzvané znovuzrodenie. Majstrovské strihy, zaujímavé prestrihy, práca s vrstvením a dekoratívnosťou spolu s netradične riešenými šokujúcimi modelmi dotvárajúcimi atmosféru vyvolali aj v priebehu prehliadky a v závere obrovský aplauz. Video z prehliadky a ostatné fotografie si môžete pozrieť na facebook stránke blogu s názvom Mya Mirell Fashionista v kategórii Videá tu: https://www.facebook.com/mirellfashionista/videos/2112695275694545/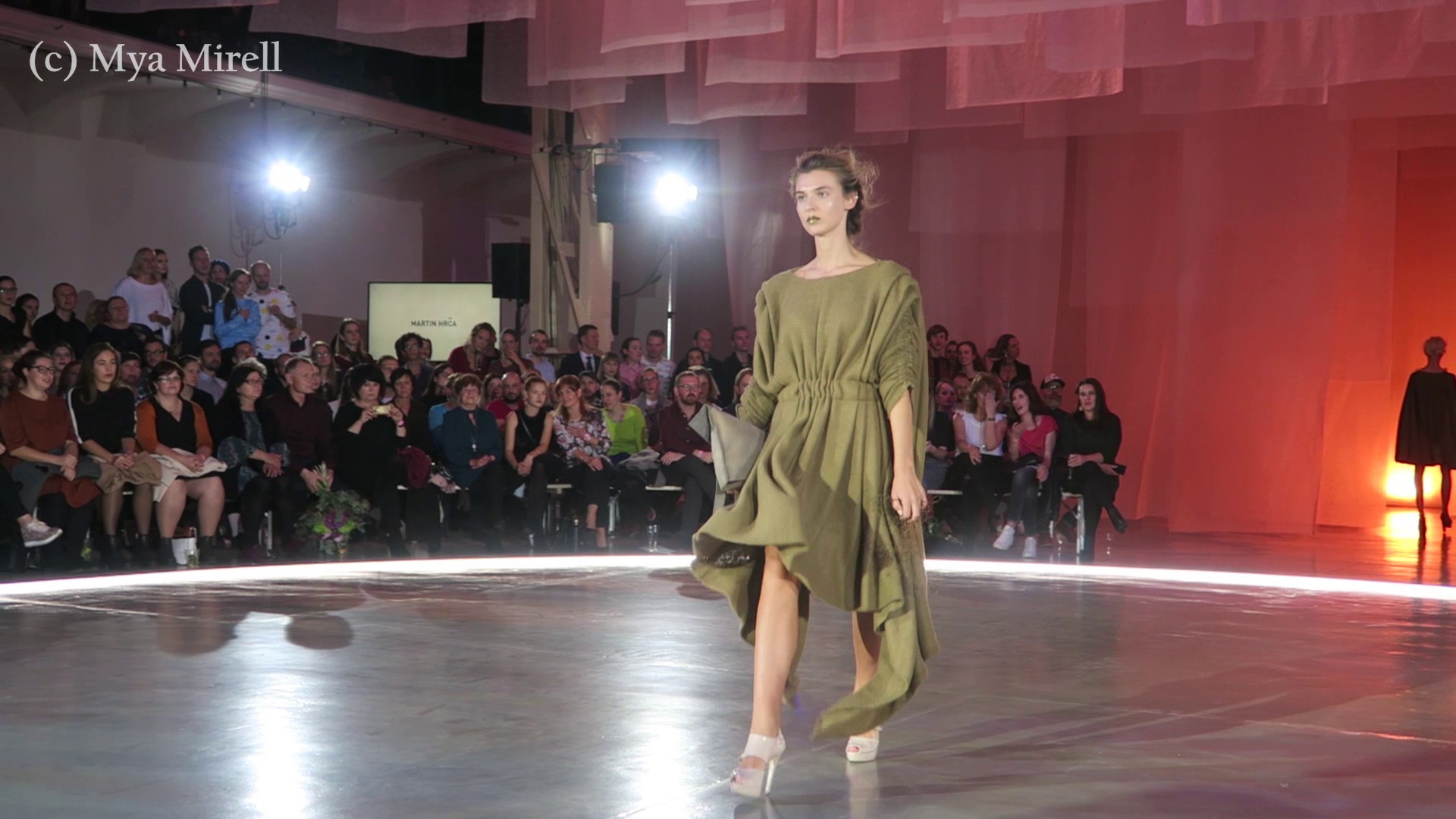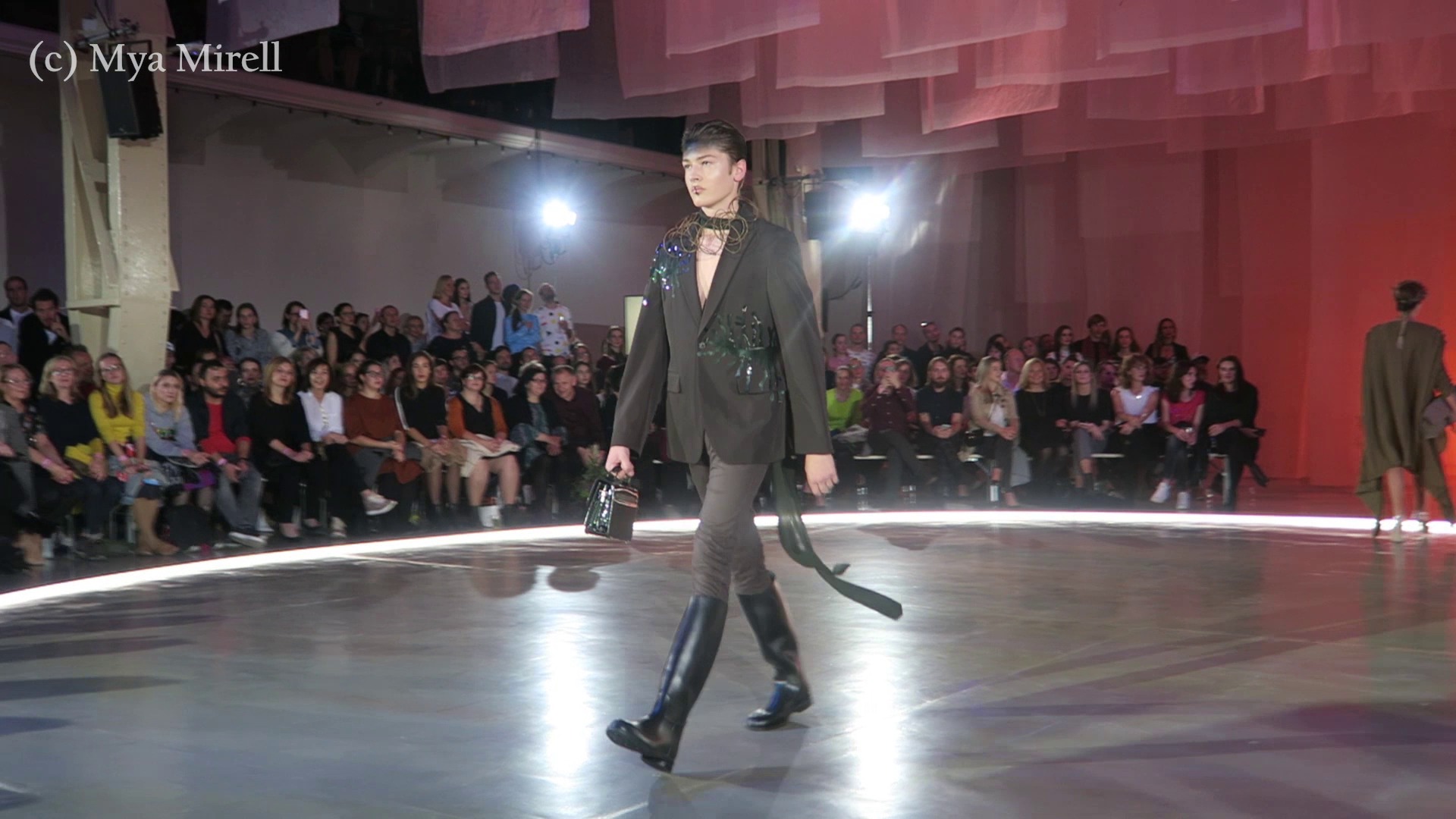 Mňa osobne zaujal čierny kostým s hlbokým výstrihom, previazaním v páse a voľným strihom širokých nohavíc. Pôsobil žensky šik, dýchla na mňa šarmantná elegancia a zvodnosť.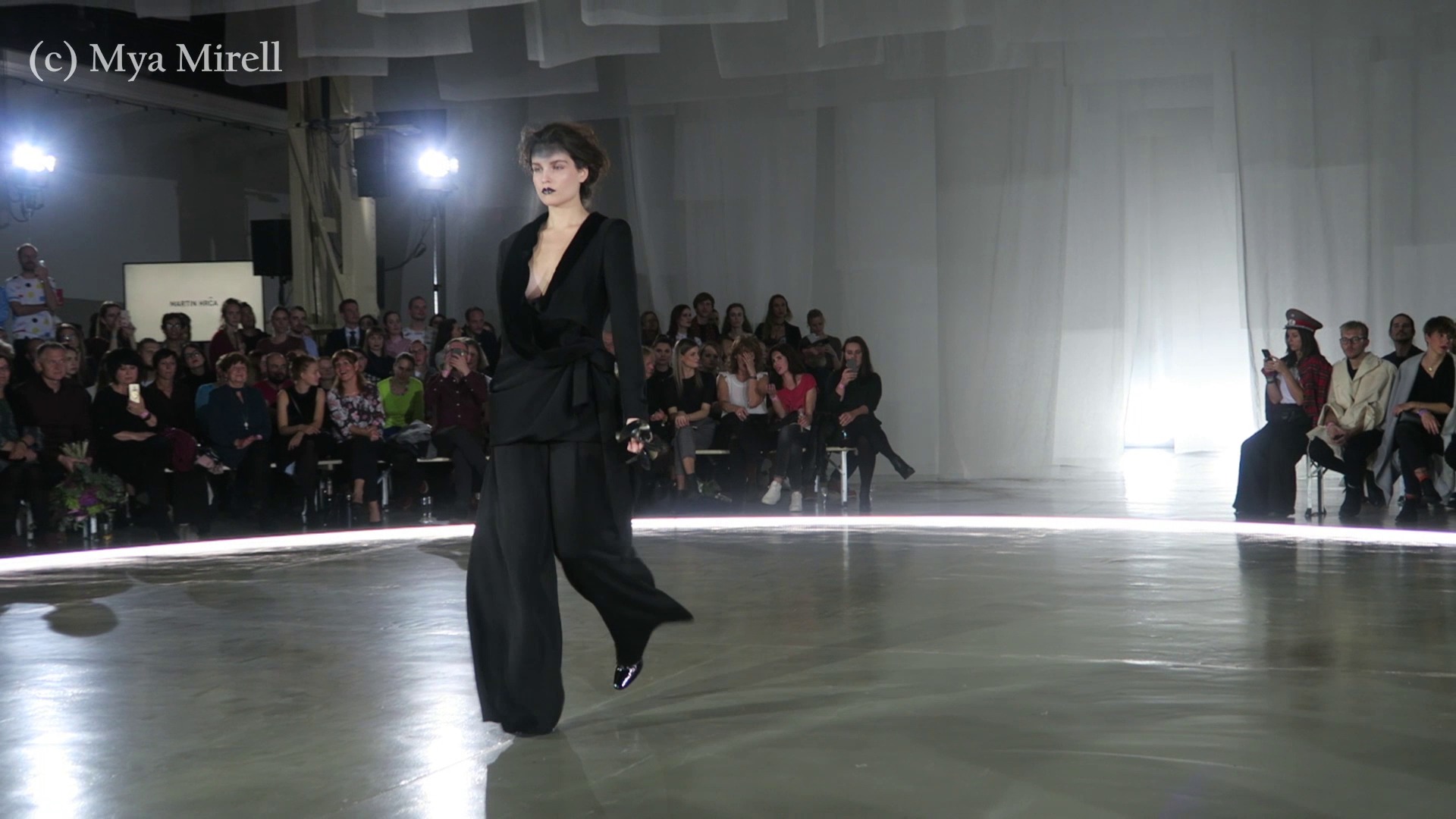 Farby, ktoré návrhár zvolil boli čierna, tmavozelená, petrolejová, modrá a hnedá.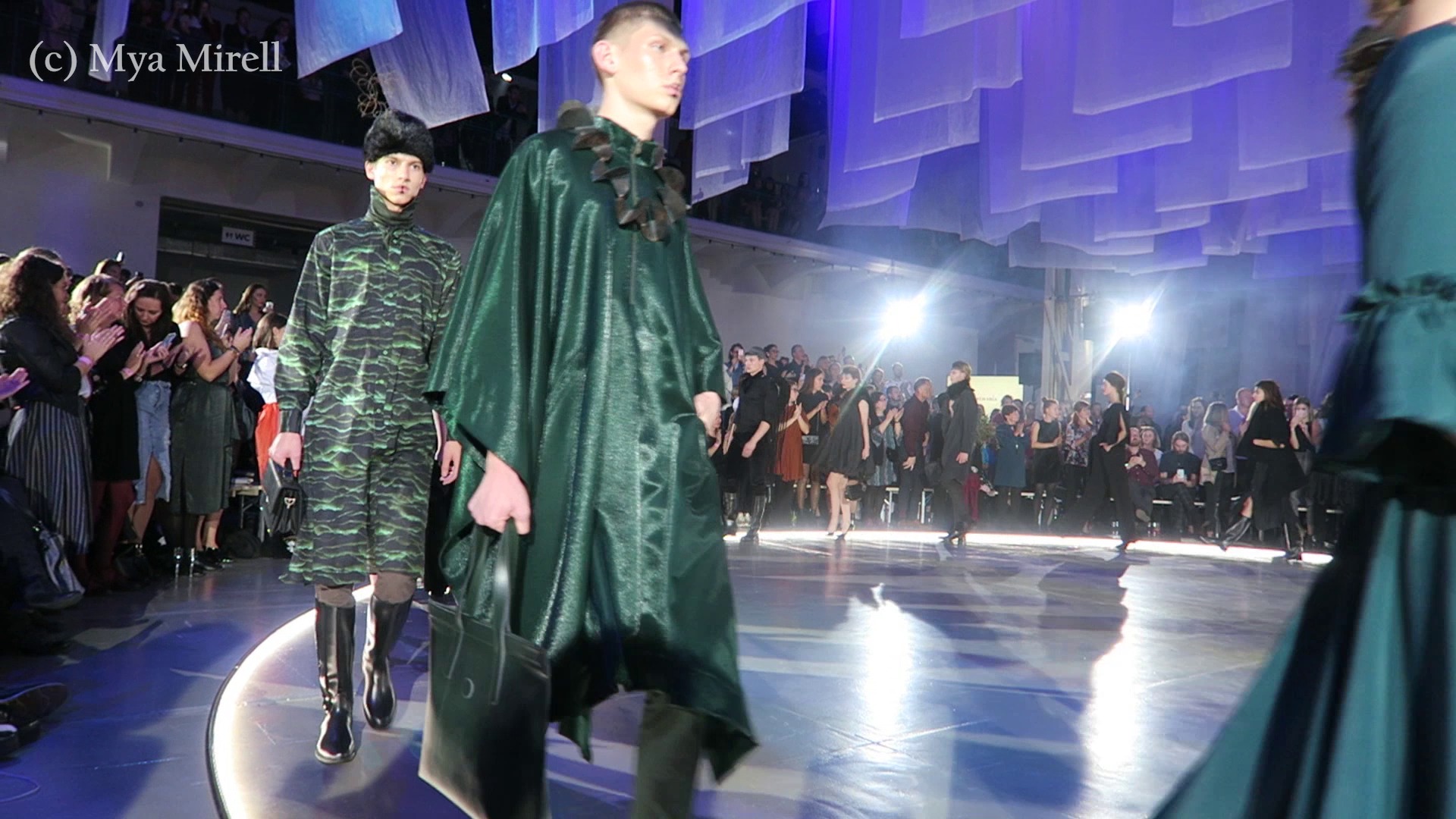 Materiály kolekcie boli netradičné, hrubšie aplikované v zaujímavých kombináciách a bravúrnych strihoch. Videli sme zamat, lurex, drapériu aj hodváb. Vidiecke a folklórne vplyvy sa odrazili aj v tejto kolekcii na niektorých modeloch a viditeľne v podobe čižiem, čiapok, tašiek.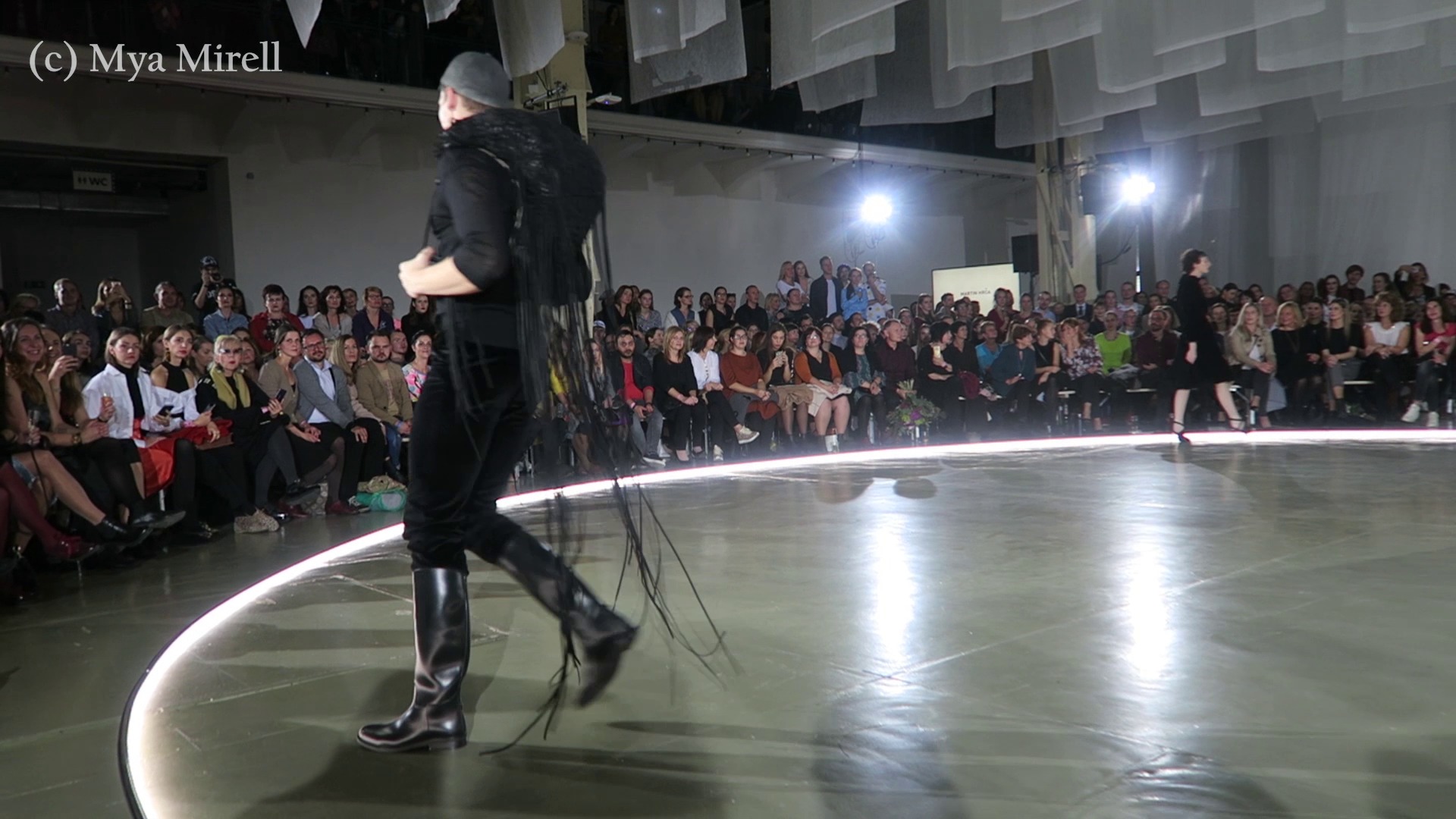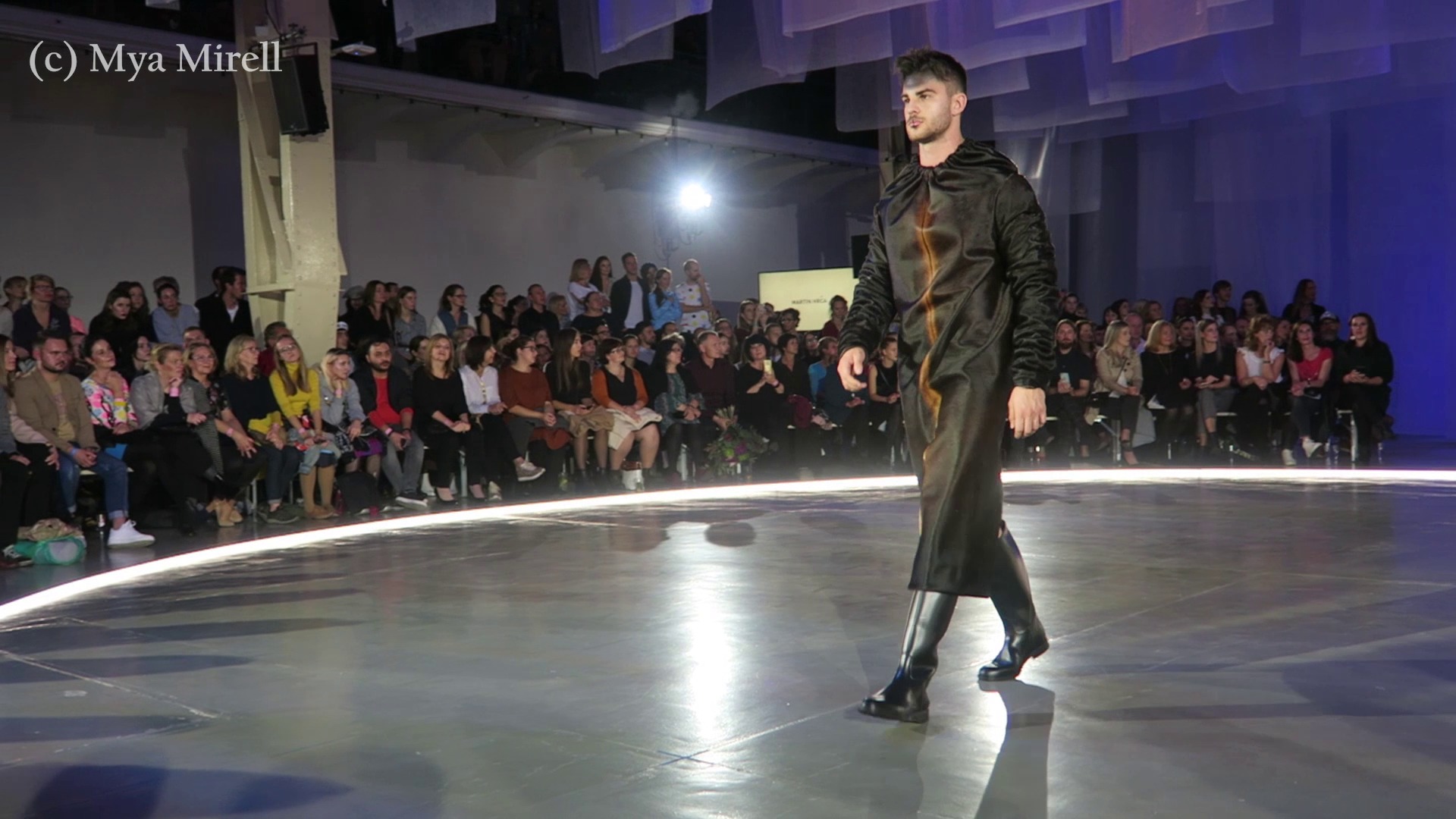 Hrubšie materiály sa objavili na masívnych kabátoch.
Bravúrne strihy a očarujúce modely s majestátnou hudbou a predvedením vyrazili divákom dych. Dramatickosť dodávala aj práca s nariasením a vrstvením.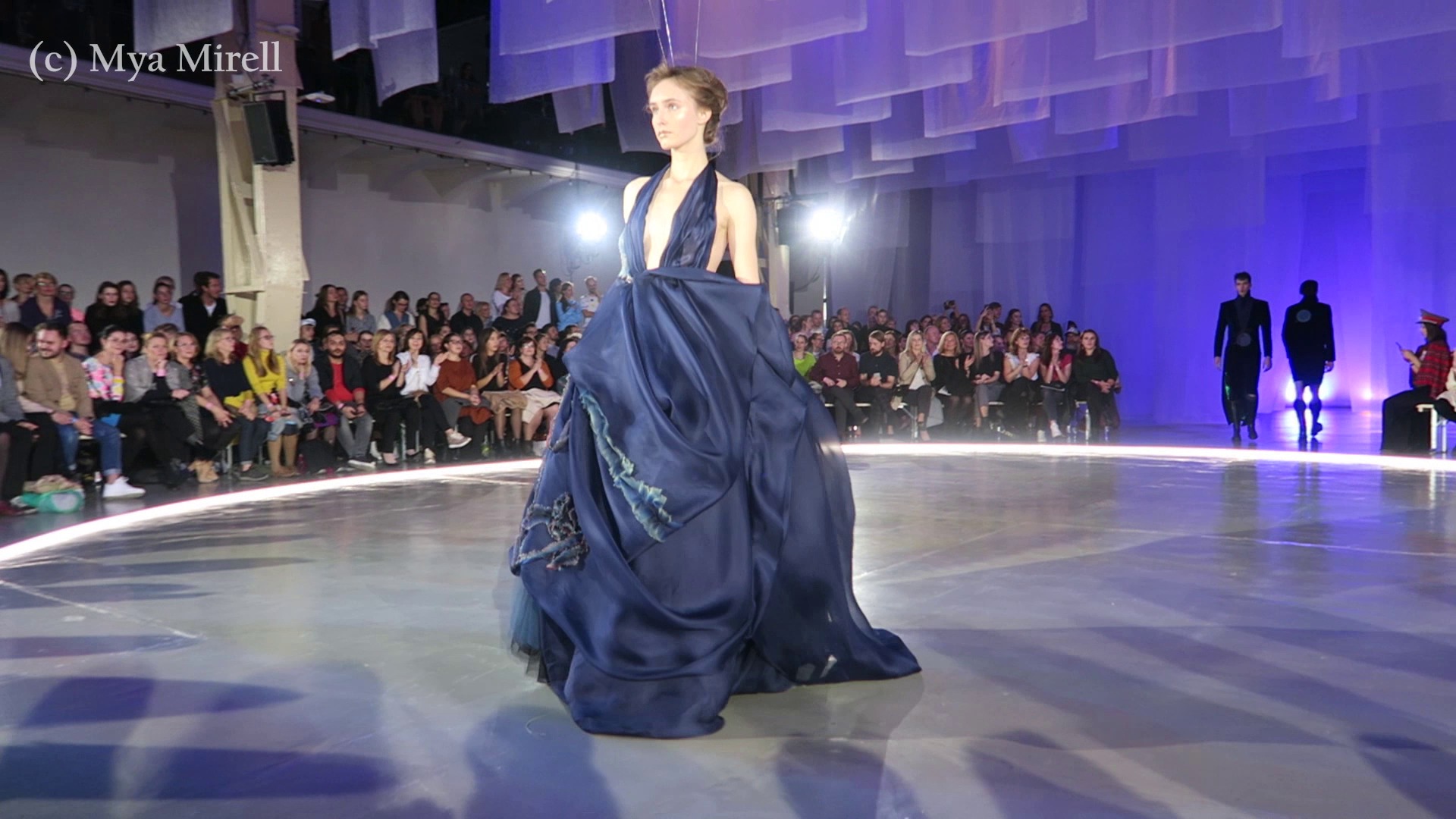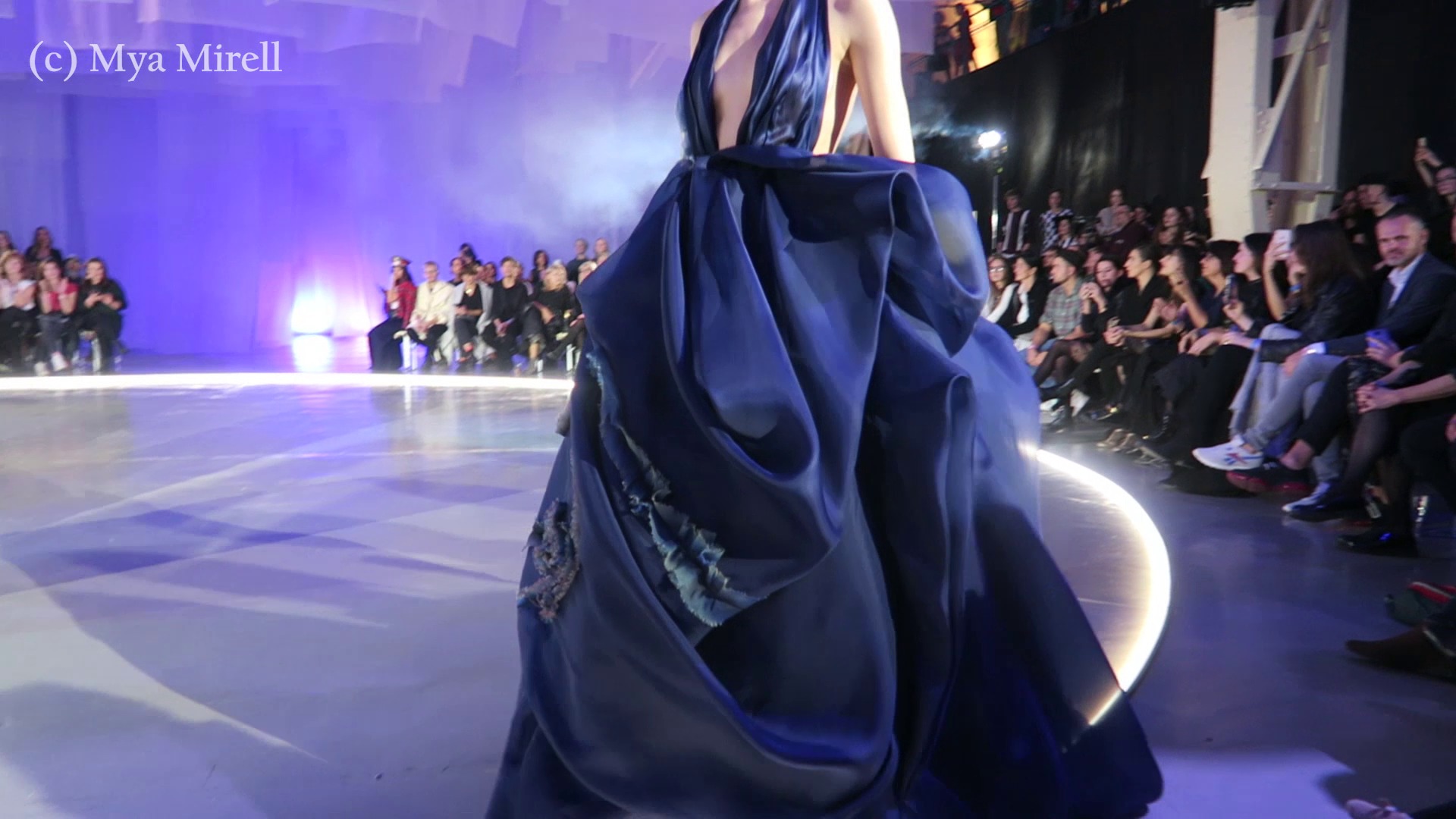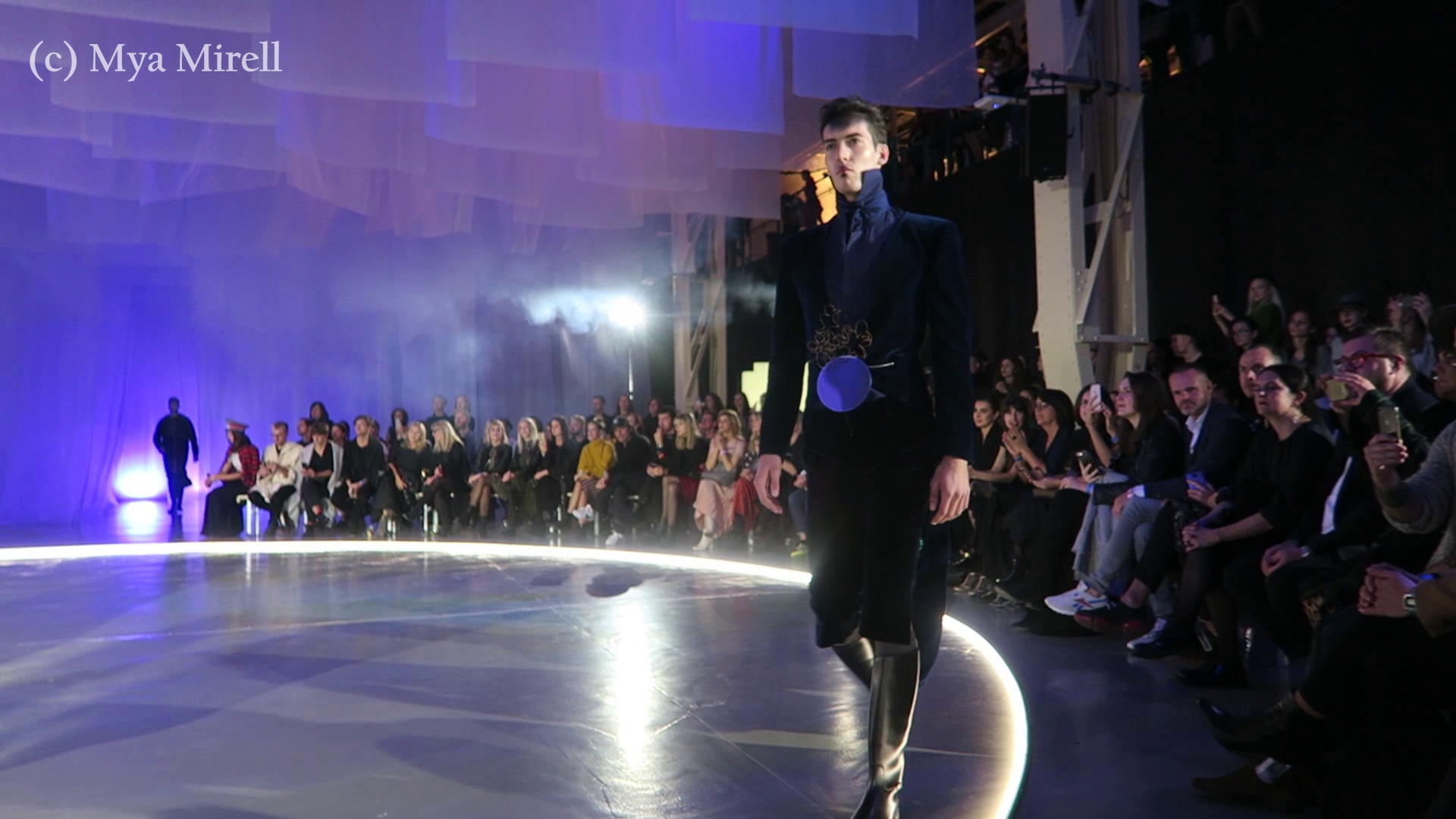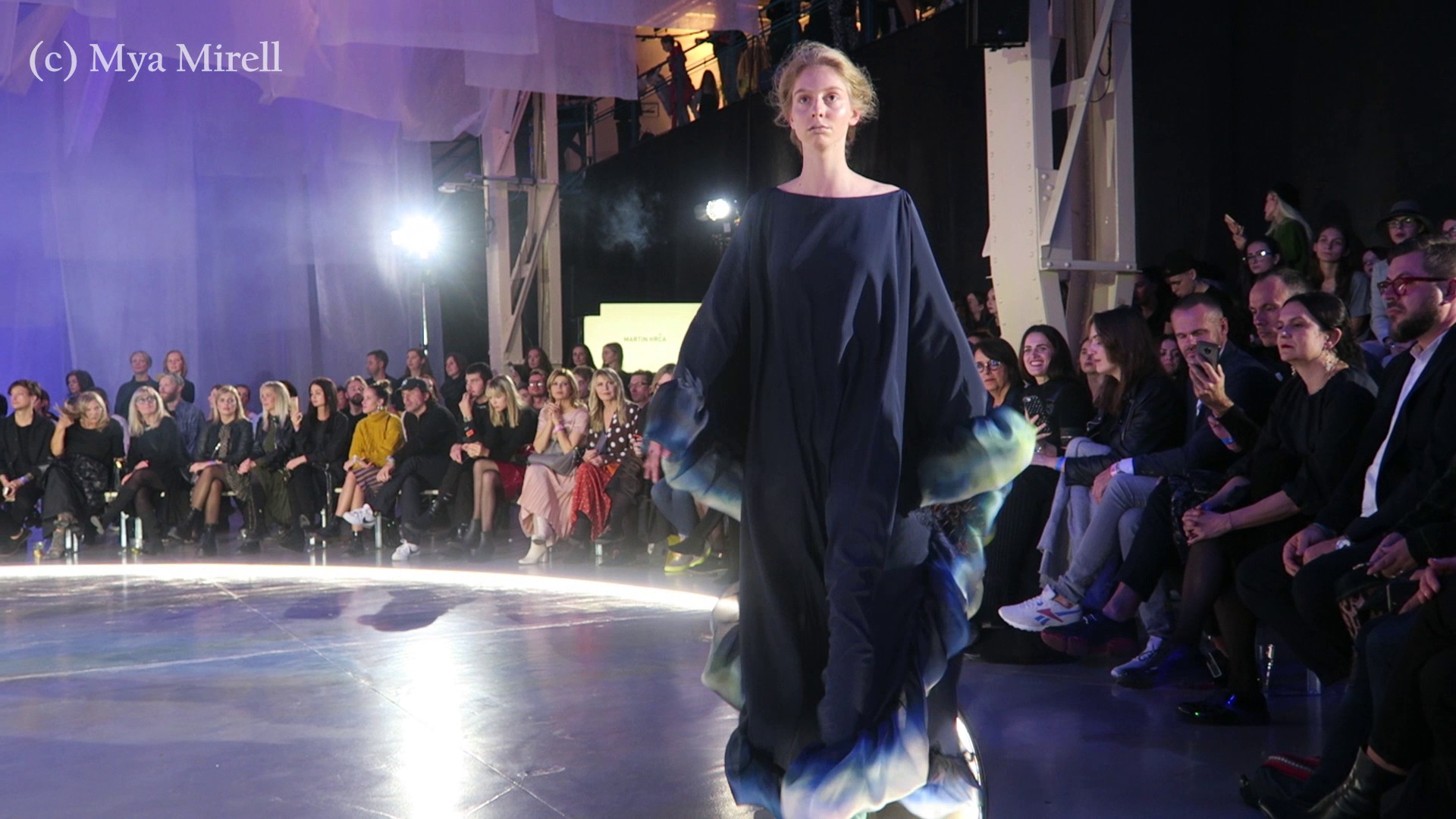 Prehliadka končila veľkým treskom, objavili sa akoby vesmírne hmloviny. Doslova. Diváci mohli obdivovať ku koncu prekrásne dych vyrážajúce umelecké šaty a boli užasnutí dymom, ktorý sa skutočne ako šokujúci a zaujímavý efekt valil spod šedých majstrovsky strihaných šiat. Opar dramatickosti tam skutočne bol. Možno na niekoho príliš uchopiteľne vykreslená atmosféra, ktorú chcel návrhár v závere vyjadriť, možno balansujúca na hrane umeleckosti a gýču, no mne to tam vôbec nevadilo. Pridalo to na forme teatrálnosti, rozprávkovosti, ktorou je návrhárová tvorba charakteristická a oparu dojmovosti, ktorý chcela kolekcia vykresliť a zanechať.
Dramatickosť podporila aj umelecká dekoratívnosť, strih a kombinovanie materiálov tohto skvostného záverečného modelu s dlhou sukňou. Diváci odmenili návrhárové úsilie záverečným standing ovation.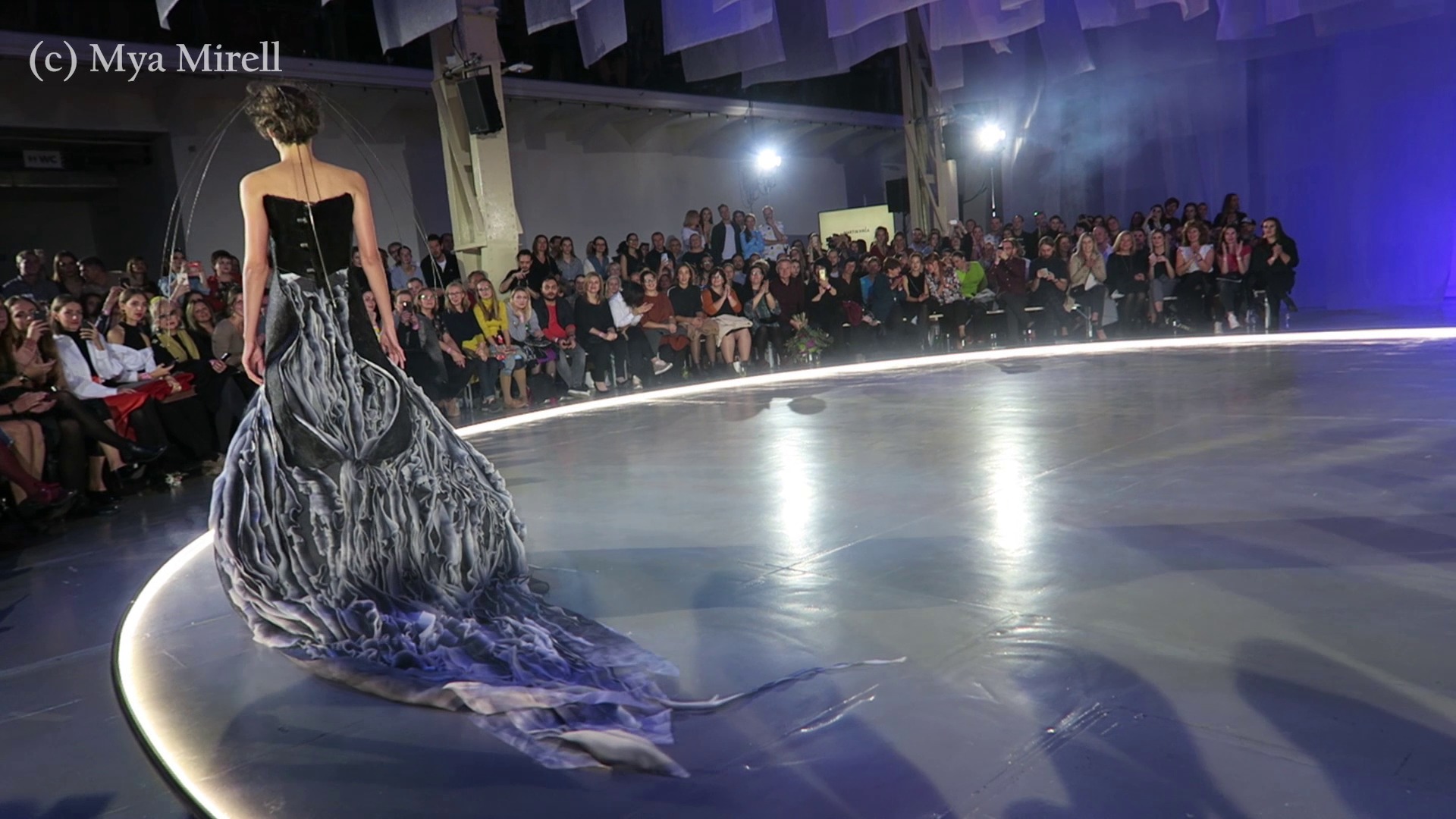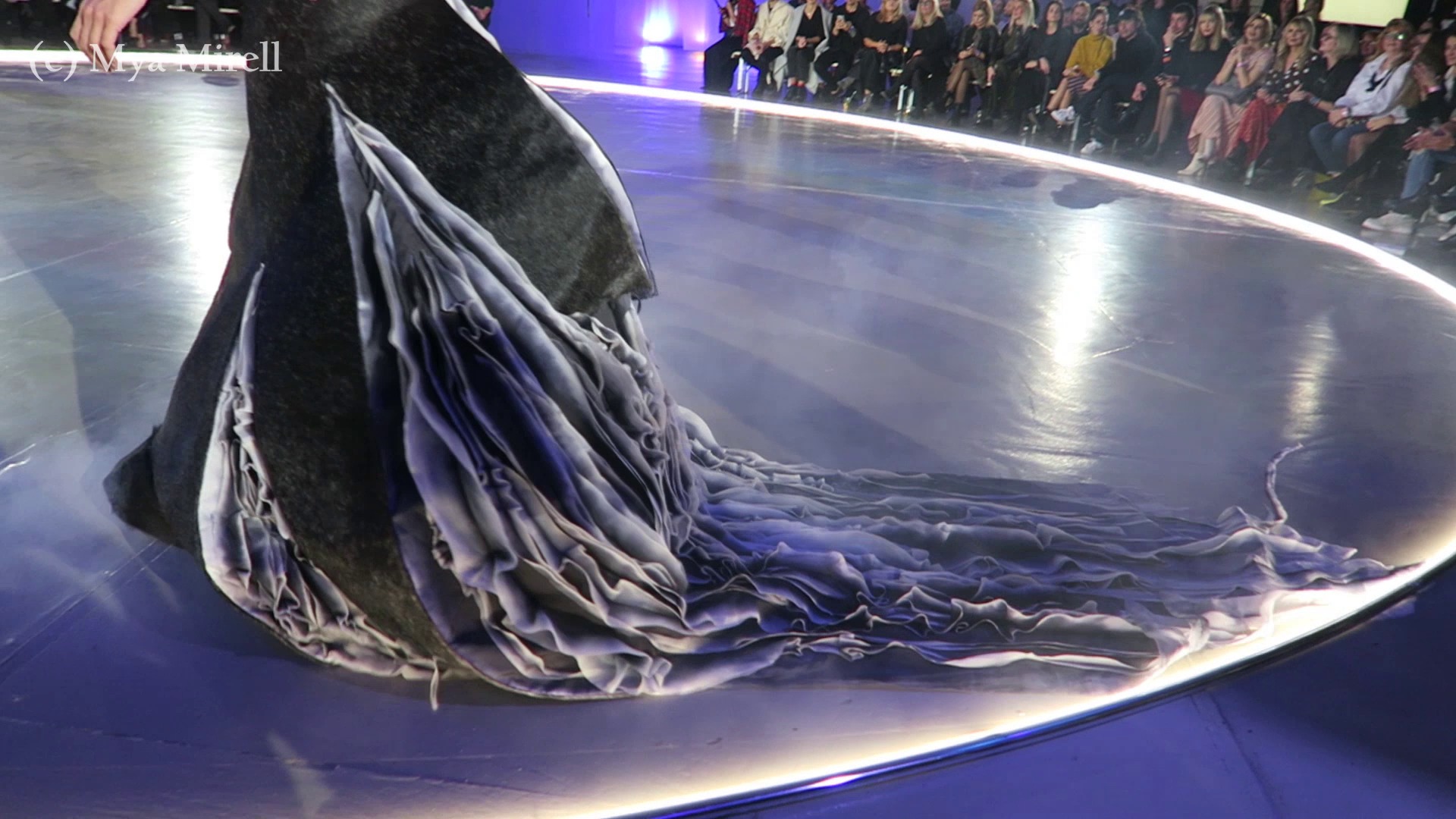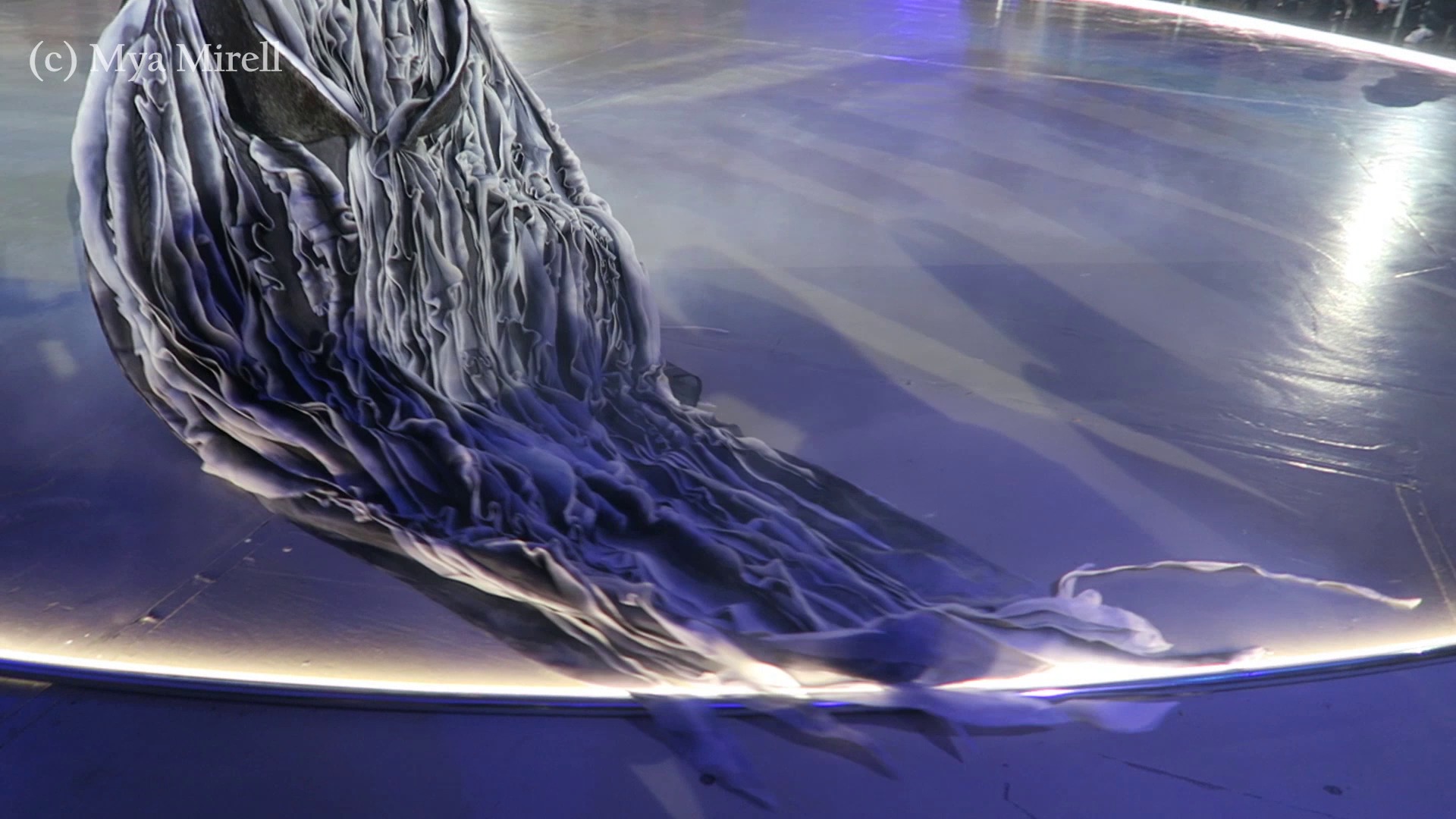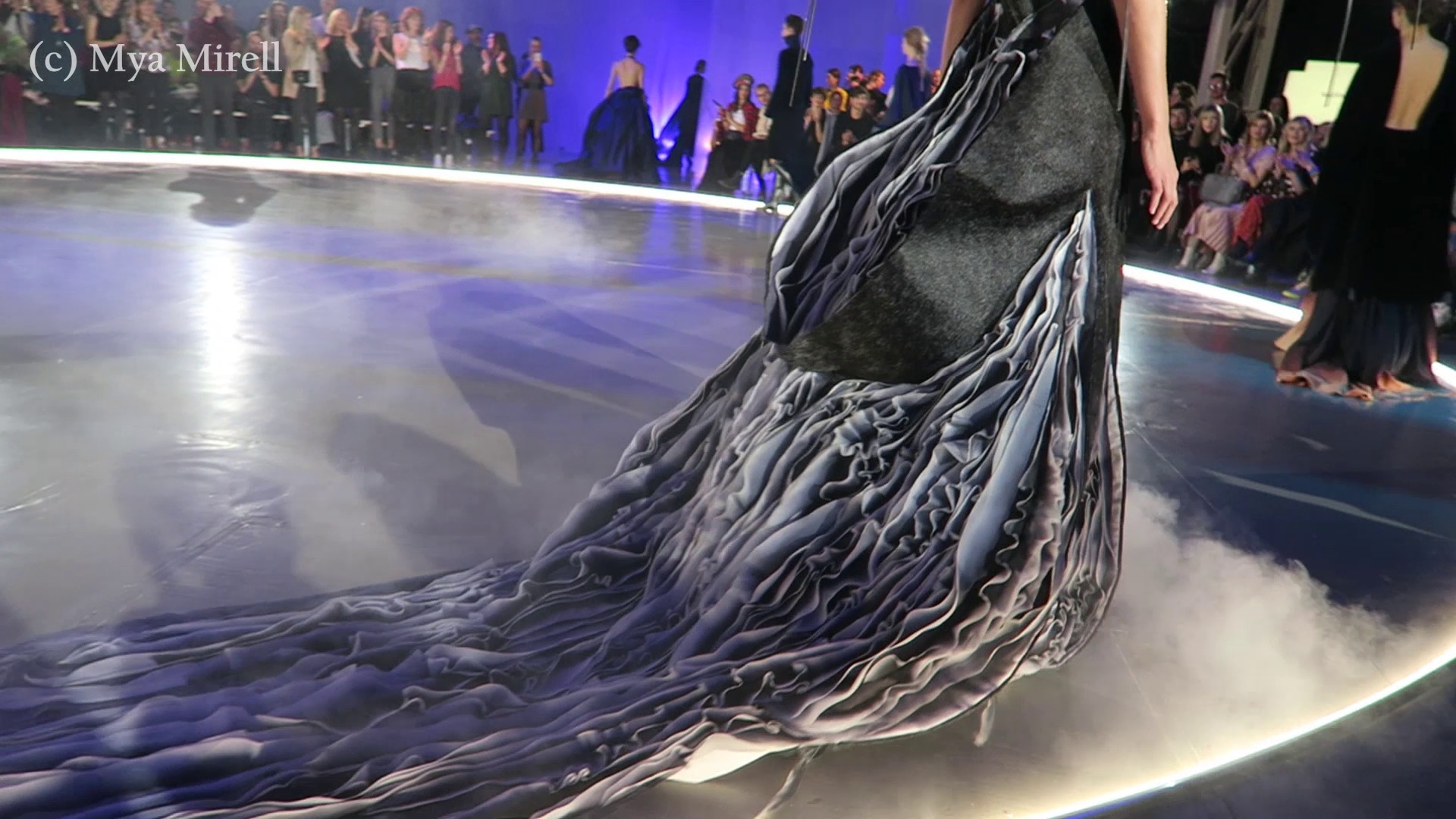 Šperky ku kolekcii vytvorila Kristína Španihelová. Celá koncepcia, zámer predvedenia kolekcie, sa myslím si, vydaril do poslednej bodky, sedel timing, teda načasovanie. Predvedenie modelkami a modelmi s dramaticky zvolenou hudbou bolo zvládnutým módnym predstavením s výbornou atmosférou, dynamikou a svojským rukopisom slovenského módneho návrhára Martina Hrču.