V tomto článku v sprievodcovi na pokračovanie – na potulkách Talianskom – vám predstavím ďalšie nádherné mestečko na jeho juhu, ktoré sa oplatí navštíviť, žažiť a vidieť, mesto Matera.
Matera sa považuje za jedno z najstarších miest na svete. Patrí k trojici najstarších miest na svete, pretože jeho história spadá až do obdobia paleolitu .
Je to najpôsobivejšie mesto Talianska svojím prostredím, zvláštnosťou, históriou, a pôsobením, ktoré vám opíšem.
Matera sa nachádza sa na juhu Talianska v regióne Basilicata, ktorý susedí s Pugliou (slovensky Apuliou), Kampániou a Kalábriou pozdĺž Tyrhénskeho a
Jónskeho mora. Tento región je najmenej rozvinutejší spomedzi regiónov v Taliansku s hlavným mestom Potenza, kde žije približne 70 000 obyvateľov. Krajina je dosť suchá a hornatá a preto patrí k najchudobnejším. Matera ako zveladené mesto turistického ruchu, ktoré priláka dnes už každoročne množstvo turistov, prináša regiónu nemalé zisky a Taliani sú naň právom hrdí.
Ak poznáte známeho talianskeho scénaristu, režiséra, spisovateľa Pier Paolo Pasolini a jeho film Evanjelium sv. Matúša, tak zaiste viete, ako toto mesto vyzerá. Matera sa preslávila v tomto filme ale nielen v ňom. Slávny herec a režisér Mel Gibson si toto mesto vybral pre natáčanie filmu Umučenie Krista a tiež množstvo ďalších filmových scén si vzalo Materu ako mesto za svoju filmovú kulisu. Je to jednoducho jedinečné miesto so zvláštnym vyžarovaním a Taliansko je na neho právom v súčasnosti pyšné. Nájdete tu aj hotel s reštauráciou, ktorej dizajn nesie filmové scény a slávnych hercov (fotografie musím niekde nájsť 🙂 ).
MATERA EURÓPSKE MESTO KULTÚRY ROKU 2019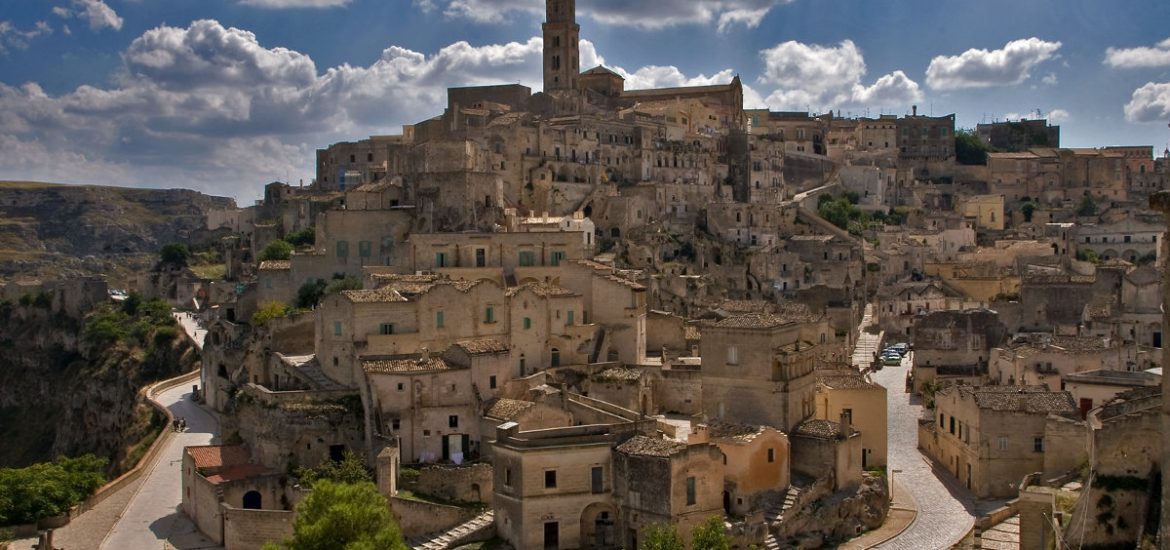 V tomto malebnom mestečku som bola niekoľkokrát a o tom, že stojí za to ho navštíviť, sa musíte prísť presvedčiť samy. Pre tento rok 2019 bolo mesto Matera vyhlásené Európskym mestom kultúry. Toto leto je preto ako stvorené na jeho návštevu, no Matera je pekná počas celého roka. Zaujímavým lákadlom sú určite kultúrne podujatia a múzeá.
Nájdete tu aj wellness v jaskynných priestoroch, ktoré je pôsobivé, jeho strop je nízko v bazéne nad vami a celý priestor je nádherne vysvietený, romanticky čarovný. Vychutnáte si relax, skvelú gastronómiu, zavítať môžete na výstavy a v lete sú poriadané koncerty, či posedenia priamo pod holým nebom, vonku.
Pred časom som tam bola na akcii s talianskym dizajnérom topánok Cesare Paccioti, kedy bolo na námestí a v priľahlom bare usporiadané podobné podujatie, na ktorom bola aj bývalá modelka pracujúca pre značku Armani – Antonia dell´Atte (dáma v modrom tope).
Stojím v čipkovaných čiernych šatách vedľa modelky Antonia dell´Atte a musím povedať, že Antonia i keď sa snažila, spievať veru nevie, nech mi to prepáči. 🙂 Ale bavili sa všetci a spevák v prúžkovanej košeli a klobúku nevyčerpateľne pokračoval ďalej. Dizajnér Cesare v bielych nohaviciach a červených teniskách svojou neskutočnou energiou valcoval celý večer, ostatne južanská krv je južanská krv.
Spievalo sa, tancovalo, jedlo, dokonca som si zatancovala so samotným návrhárom, video mi samozrejme natočili zle, teda nenatočili 🙂 , tak sa zachovala iba chabá fotodokumentácia. (článok nájdete tu na blogu v kategórii Travelling) Bol to úžasne strávený príjemný večer so zaujímavými ľuďmi a ďalšia fantastická spomienka.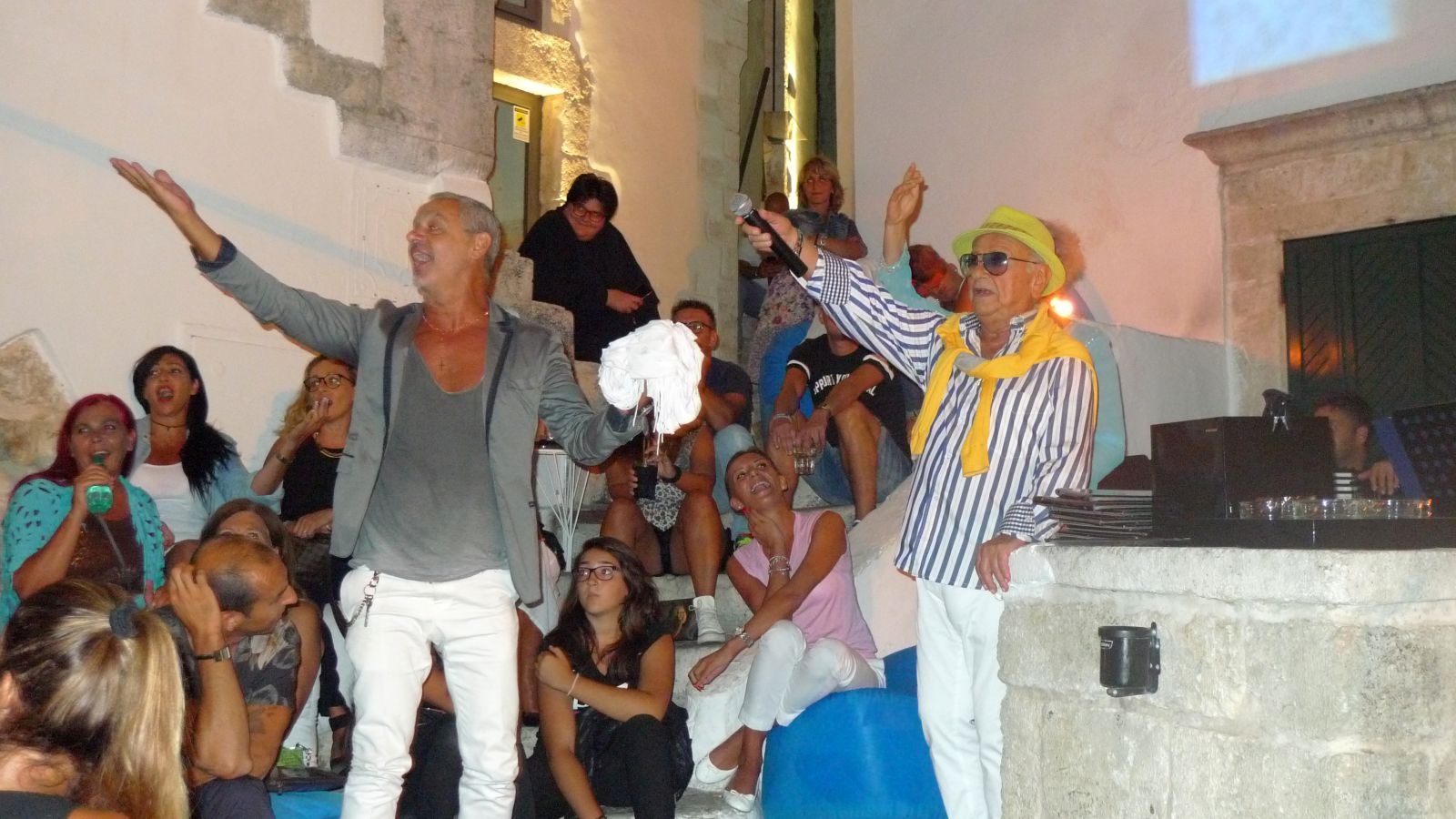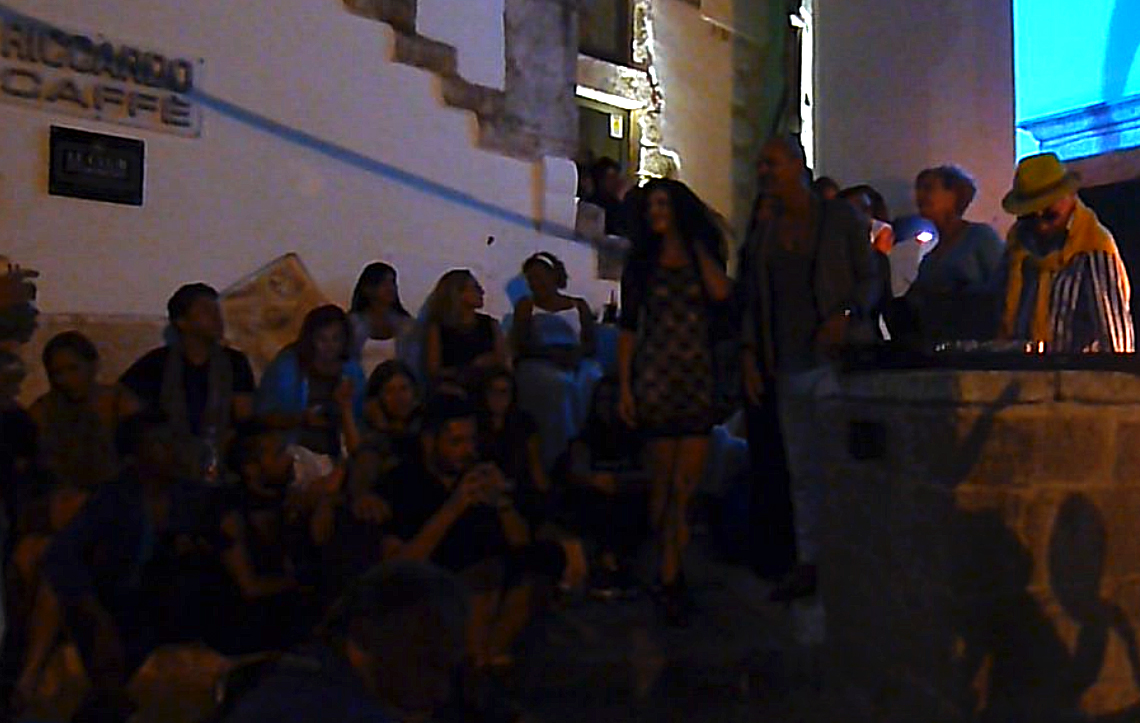 Zažiť Talianov ako sa vedia baviť a spievať, tancovať bez obáv a ostychu, znamená prežiť tú pravú južanskú atmosféru a náturu dovedno s nimi. A to sa mi na nich páči.
Matera je prekrásne mesto a jeho nočná tvár vysvietených domčekov vás ohúri.
MESTO JASKÝŇ A HANBA TALIANSKA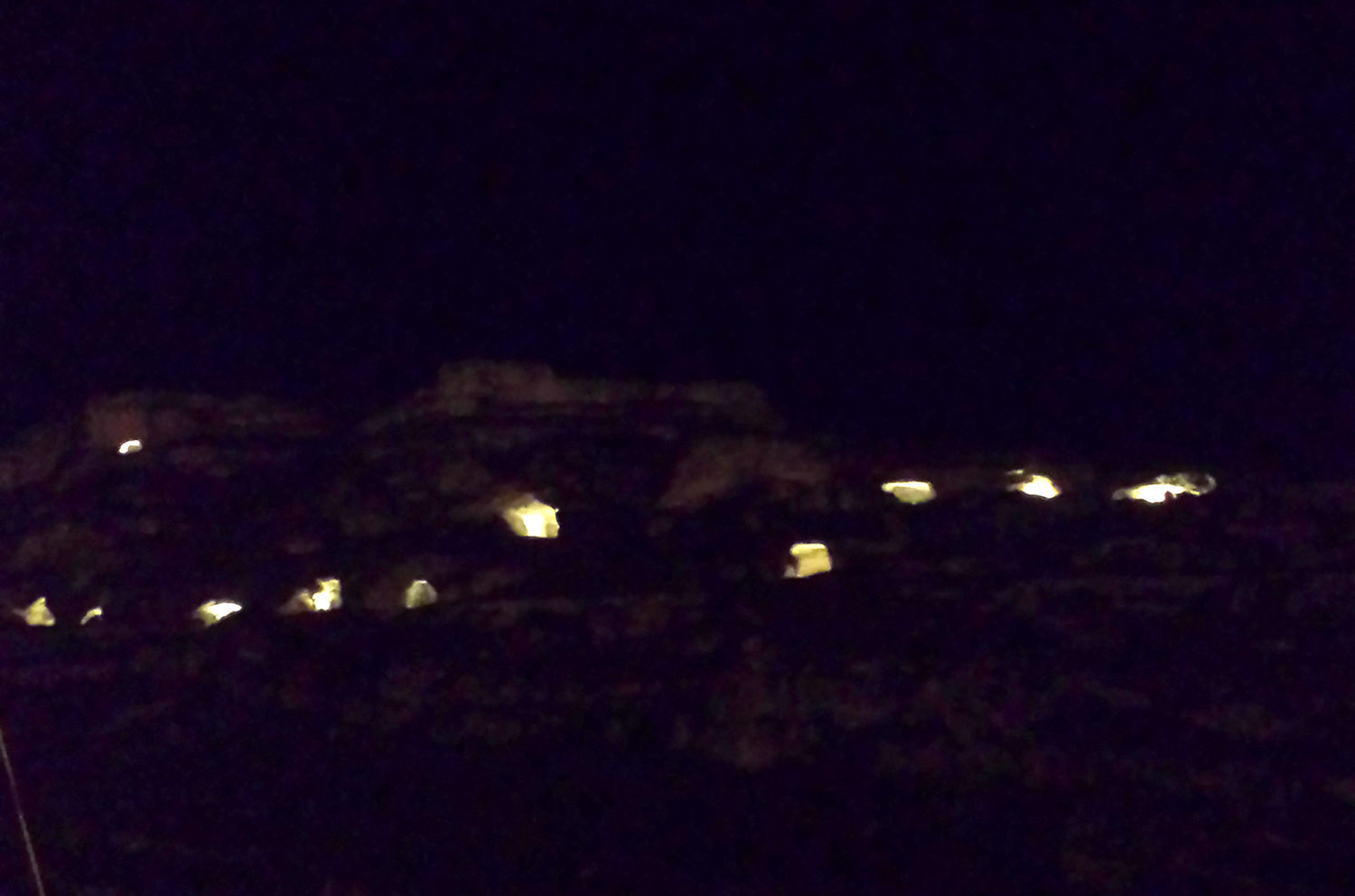 Mesto je historicky zaujímavé tým, že je tu množstvo jaskýň, ktoré obývali už dávni predkovia, usadlíci pred vyše 9000 rokmi. Jaskynné domy si budovali z vápencového tufu, ktoré hĺbili do skál a zvyšné časti dostavali do tvaru suda. Domy boli z architektonického hľadiska bez okien, mali iba dvere, cez ktoré zimné slnko jemne pošteklilo miestnosť, no naopak v lete sa slnko dostalo iba pred dvere. Vynikajúci nápad už vtedajších usadlíkov, ako narábať so svetlom a teplom.
Postupne obyvateľov pribúdalo a s nimi aj počet príbytkov. Do skál sa tesali tiež kostoly. V jednom príbytku dokázalo bývať aj 10 až 15 ľudí plus zvieratá. Domy boli malé a v chudobných jaskynných štvrtiach bolo obyvateľov až príliš. Na skalných príbytkoch bývalo dokopy až 12 000 ľudí. Žili sedliackym životom ako všade inde na svete, no postupom času už nebolo možné viac rozširovať príbytky budovaním do skál. Zúrila tam chudoba, hlad, choroby a ľudia a najmä deti trpeli. Hygienické podmienky boli katastrofálne. Dokonale skľučujúco to popísal taliansky autor Carlo Levi to opísal vo svojom románe – Kristus sa zastavil v Eboli .
Najzaujímavejším faktom je, že ľudia takto vydržali bývať s postupom času v Taliansku až do neskorých 50tych rokov minulého storočia, čo je zarážajúce. Matera sa preto stala hanbou Talianska.
MATERA SÚČASNÁ PÝCHA TALIANSKA – JERUZALEM NA JUHU TALIANSKA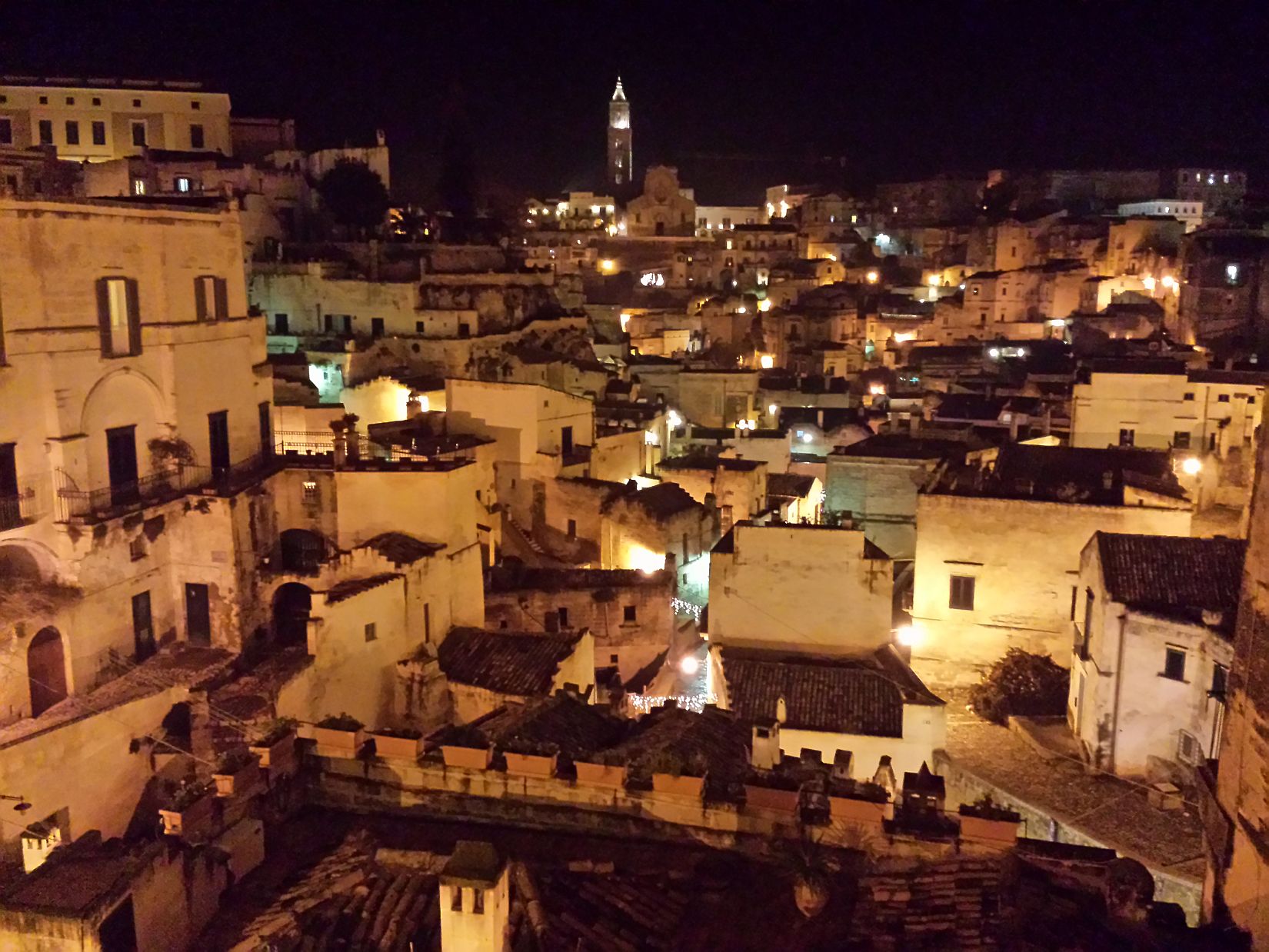 No s hanbou Talianska je už rázny koniec. Talianska vláda vtedy skalné domy zamurovala a rozhodla sa postaviť usadlíkom žijúcim stále stredovekým spôsobom života nové príbytky, sídliská, oproti skalným jaskyniam. Niektorí to privítali, no starší obyvatelia si už nevedeli zvyknúť.
Vďaka talianskej vláde mesto ožilo, zrekonštruovalo sa a postupom času sa stalo turisticky vyhľadávanou a atraktívnou lokalitou s jaskynnými zaujímavosťami. Mesto v súčasnosti láka tak Talianov ako aj množstvo zahraničných turistov.
SASSI DI MATERA – KAMENE MATERY – ZOZNAM SVETOVÉHO DEDIČSTVA UNESCO
Matera má polohu na kopci a domy sú natlačené jeden na druhom aj nad sebou a preto vyzerá toto mestečko zvláštne čarovne, najmä vysvietené v noci. Akoby poskladané na kopci. Mestu sa hovorí aj Jeruzalem na juhu Talianska.
Najstaršou časťou mesta sú Kamene Matery – Sassi di Matera. Tvoria ju 3 štvrte – Civita, kde je kostol, Sasso Barisano a Sasso Caveoso. Po renovácii mesta talianskou vládou, obnove jaskynných domov tu začal postupne vnikať nový život a prišli obyvatelia.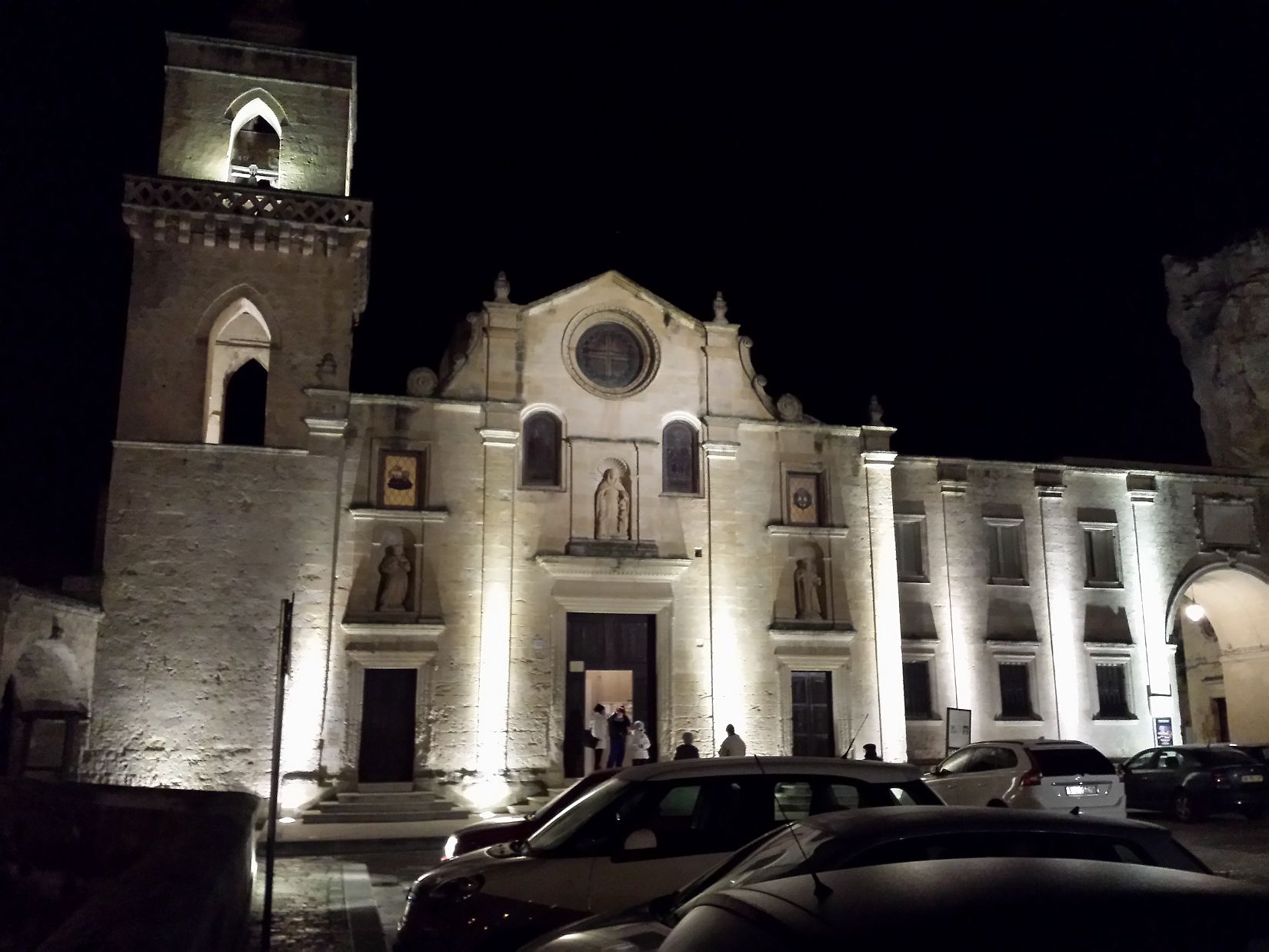 Moje zimné putulky týmto mestom mali opäť svoje čaro a iné návštevné trasy. Mesto je krásne v ktoromkoľvek ročnom období, ovšem treba si dávať pozor na šmykľavých kamenných cestičkách a schodoch. Ja som to ako vždy zvládla aj vo vysokých opätkoch, avšak rizikovým krokom, záber z videa na nočnú Materu som publikovala na svojej osobnej facebook stránke.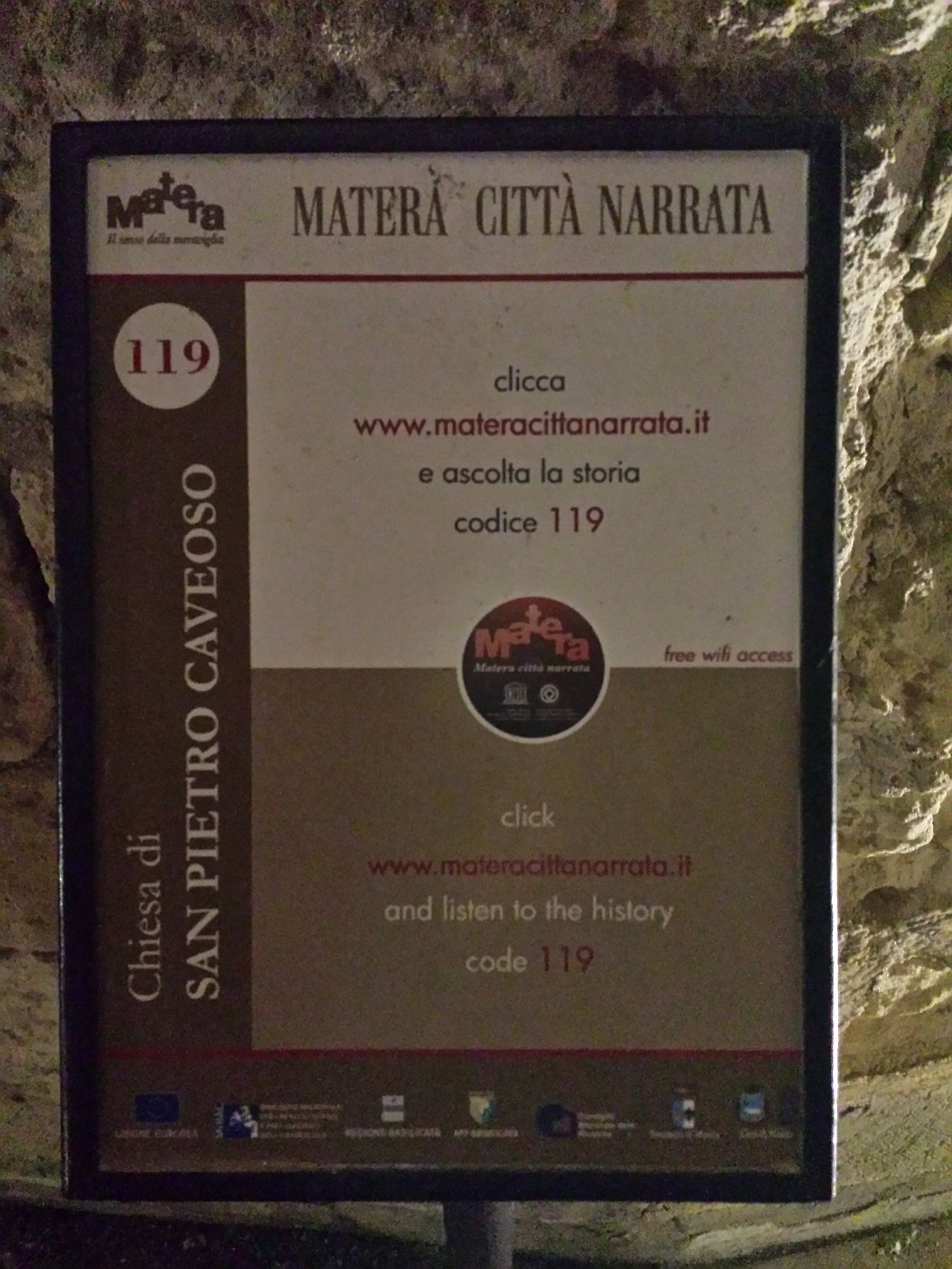 Pohľad na kostol, kde stojím na fotke vyššie a skalné mesto cez deň má úplne inú atmosféru. Nezabudnite si obzrieť množstvo zaujímavých zákutí, architektonických zvláštností, pamätihodnotí, výstav, múzeí, no nechajte sa zlákať aj pohostinnou nočnou atmosférou barov, kaviarní, reštaurácií, či romantickým wellnessom.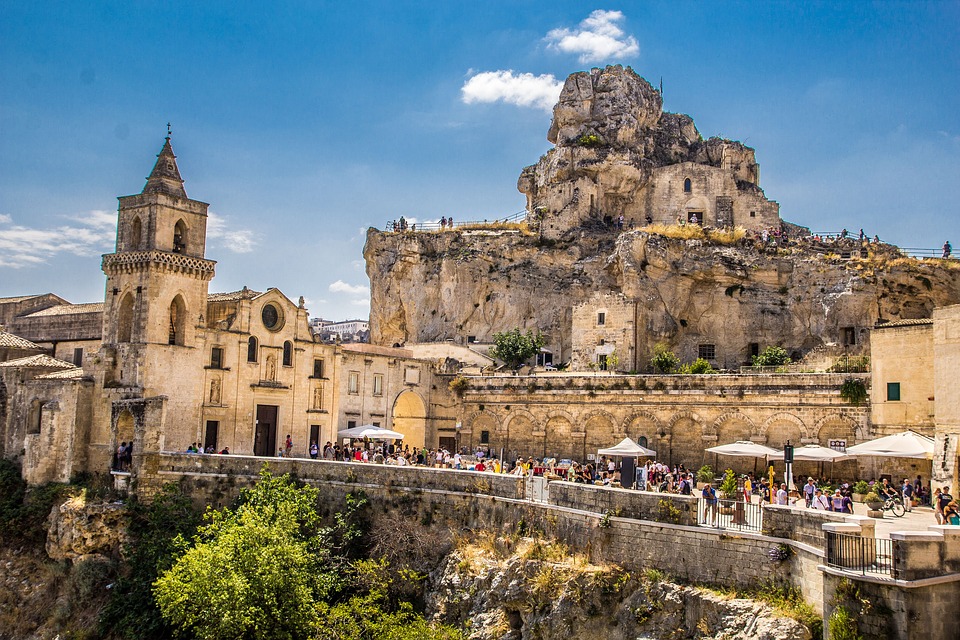 V súčasnosti sú kamenné obydlia vyhľadávaným turistickým lákadlom. Sassi di Matera bola v roku 1993 zapísaná do Zoznamu UNESCO. Kedysi zabudnuté mesto dnes prekypuje každoročným náporom turistov, ktorých okrem kamenných obydlí nádherne vysvietených v noci láka aj malebnosť celého tohto skalného mestečka. Jeho krása je vychýrená široko ďaleko a mesto vás pohostí kvalitnou gastronómiou, milými ľuďmi, kultúrnymi podujatiami a prívetivou atmosférou.
Každá reštaurácia, bar má svoje osobité čaro, dizajn a zvykne sa tam objednávať vopred, či majú na večer voľné miesto pre daný počet ľudí. Ochota, slušnosť, prívetivosť je tu samozrejmosť a ešte sa môžete aj skvele porozprávať, či zoznámiť s novými ľuďmi. Južania sú proste prívetiví a priateľskí.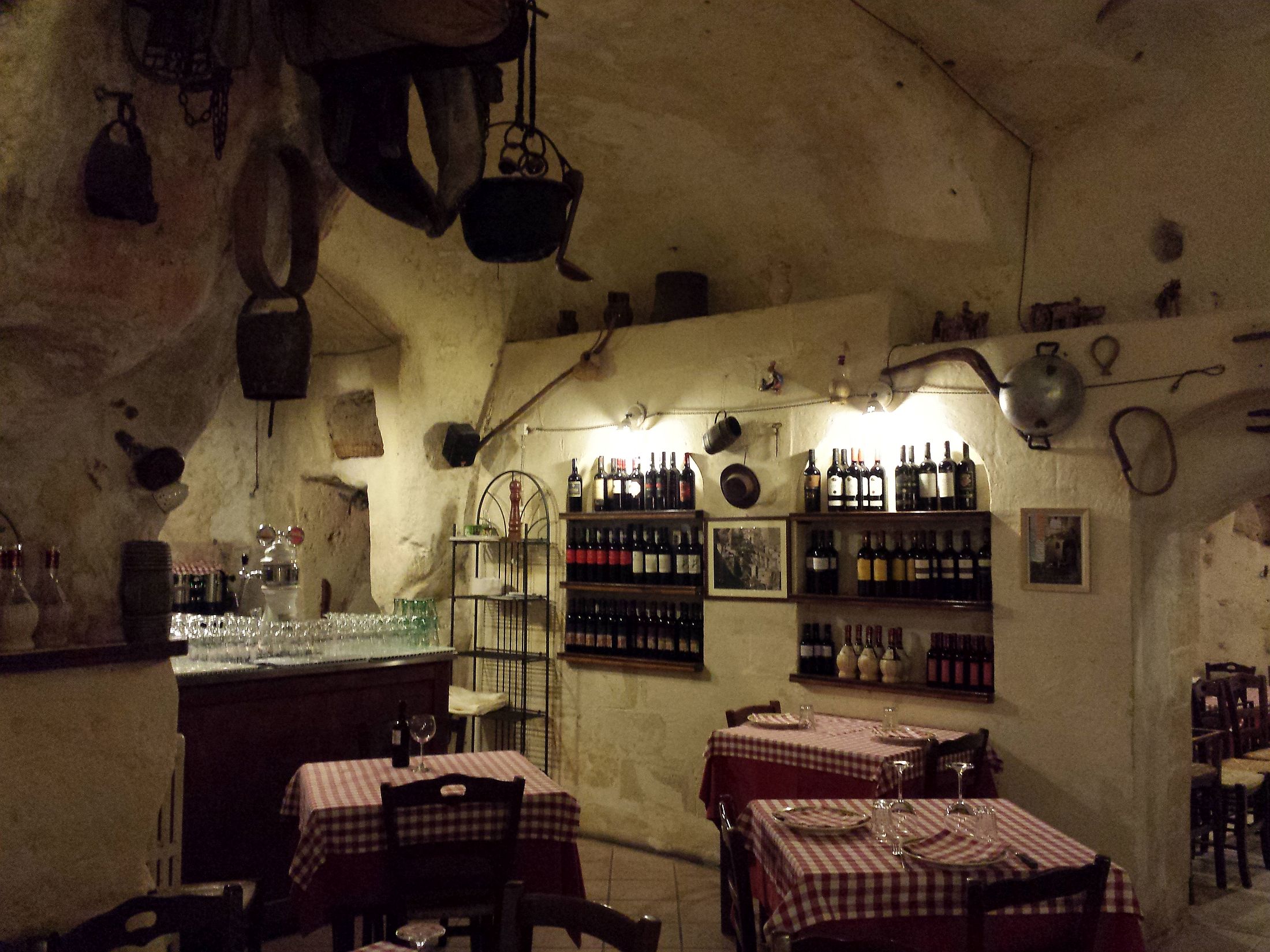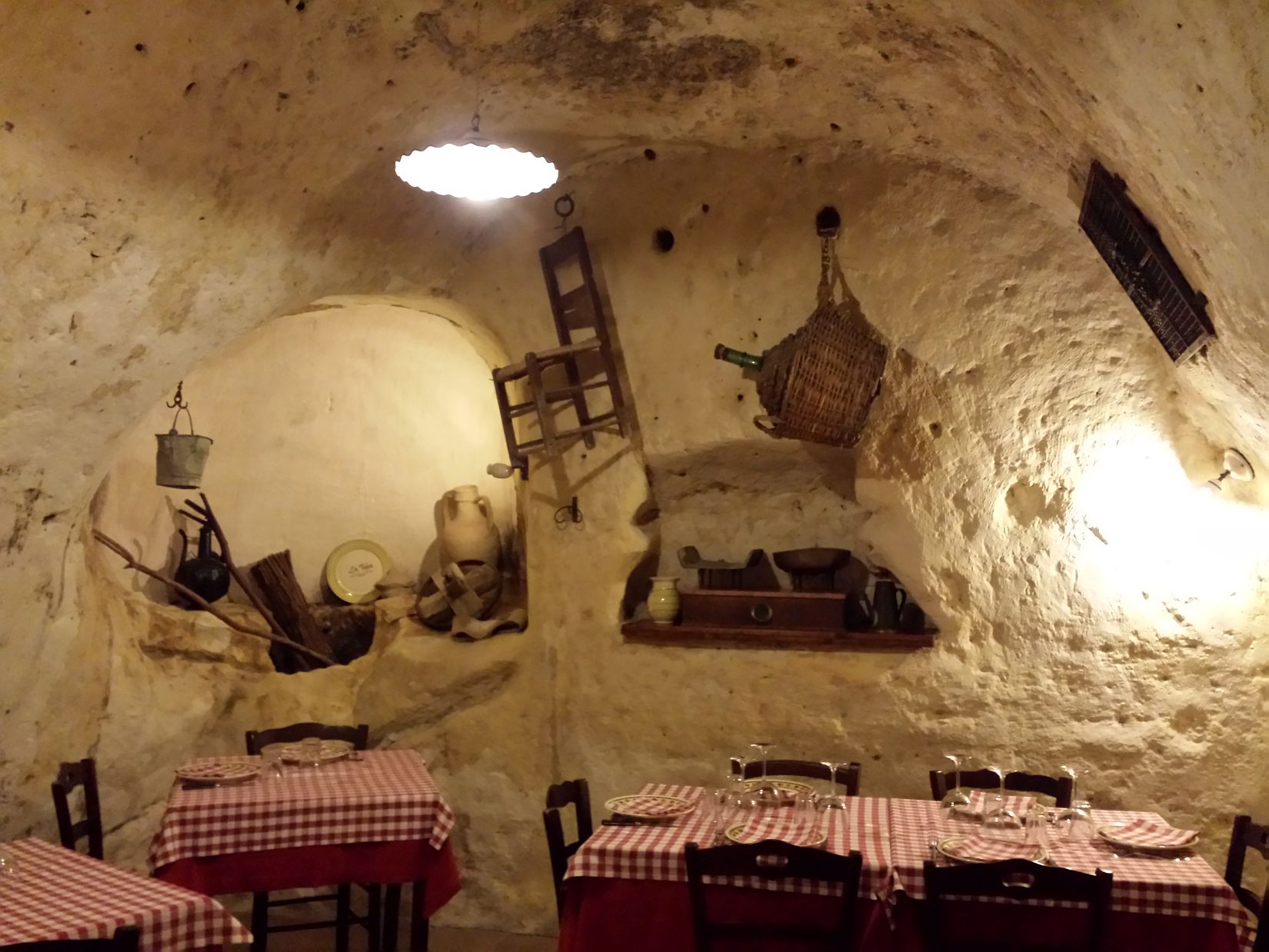 Môžete sa prejsť čarovnými zákutiami, úzkymi kamennými príkrymi uličkami, schodíkmi, večer nádherne vysvietenými, nájdete tu spomínaný oddych, relax, wellness, kaviarne, reštaurácie, obchodíky, je tu množstvo penziónov, hotelov a odnesiete si skvelé zážitky. Nájdete tu aj takéto luxusné možnosti ubytovania, ktoré svojím interiérom moderne dizajnovo zasiahli historických priestorov objektov.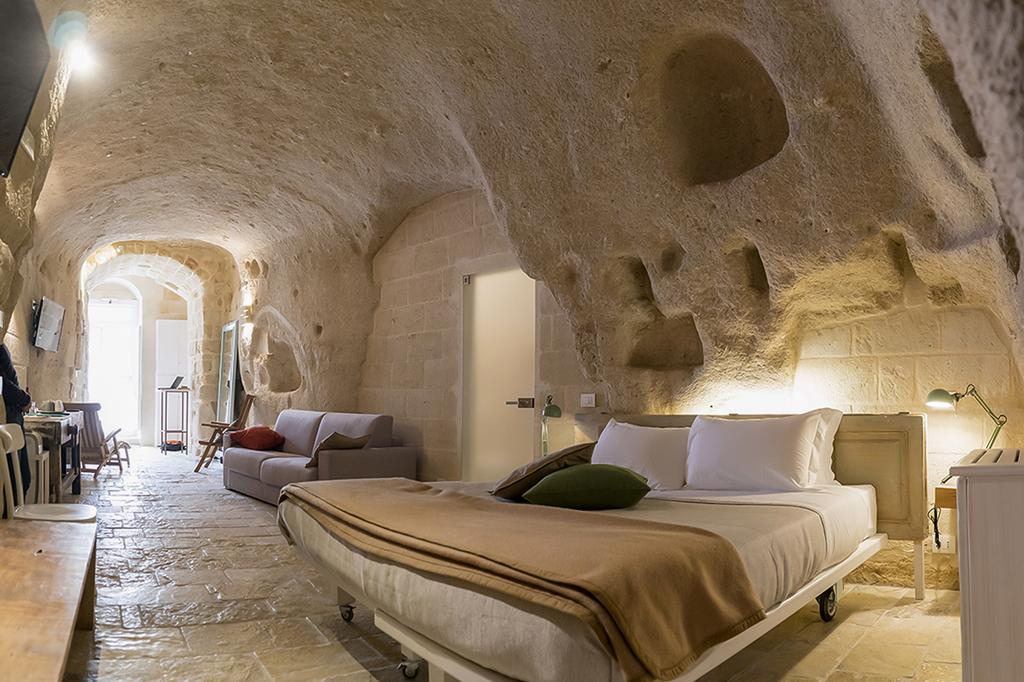 Naviac sa v tomto roku mesto stalo Európskym hlavným mestom kultúry. V blízkosti mesta Matera sa nachádza Puglia či Kalábria a tiež si odkočte aj talianskeho mestečka s rozprávkovými domčekmi Trulli (čítaj článok tu v kategórii Travelling).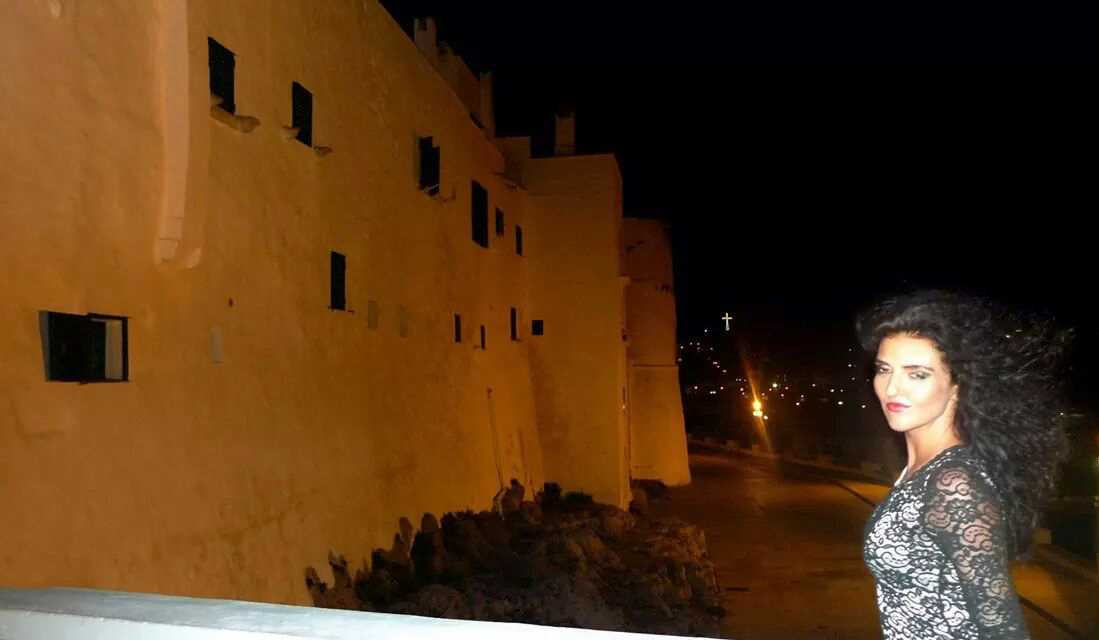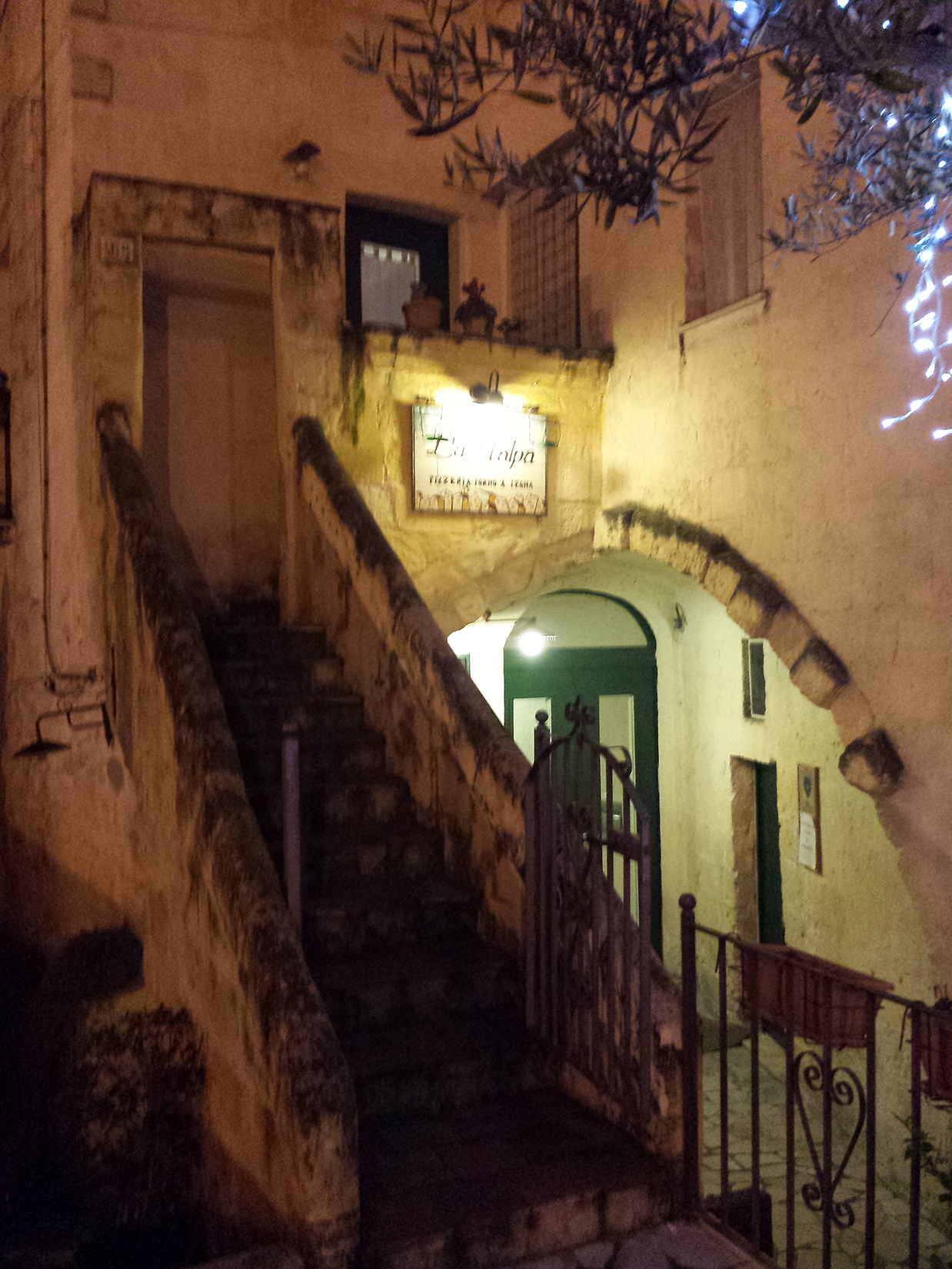 Ing.arch. Miroslava Vaňharová
2 Instagram: myamirell ,
mya_mirell
Facebook: Mya Mirell Fashionista,
Mya Mirell