Milan Fashion Week – 18. 24. september 2018, Móda Ženy, trendy pre jar/leto 2019
Uplynulé svetové týždne módy prebiehajúce tradične v mesiacoch september a október pre sezónu jar/leto 2019 dali tušiť horúcim trendom, ktoré vyvstali z dizajnérskych kolekcií. Pozrime sa na Milan Fashion Week, ktorý pravidelne navštevujem a na jeho septembrovú módnu nádielku, jednotlivé módne prehliadky svetových talianskych dizajnérov. Aké sú teda nové trendy, ktoré sa budú nosiť nasledujúcu sezónu 2019? Rozhodne výrazné, aké predviedli najslávnejšie módne domy, no poďme pekne postupne. V druhom pokračovaní článku o trendoch sa zameriam na najkrajšie looky z prehliadových mól, pozoruhodné novinky podľa jednotlivých dizajnérov. Prinášam vám moje zhodnotenie, pohľad a špecifické znaky kolekcií a trendy z dizajnérskych dielní módnych domov.
ZDOBENIE
Kúzlo jagavých, ligotavých detailov, aplikácie a komplikované zdobenia výšivkami nadobudli v kolekciách talianskych dizajnérov pre rok 2019 opätovné čaro. V pozornosti bol štýl takpovediac všehochuti. Viditeľnými dizajnérmi uplatňujúcimi v kolekciách zdobenia ako trend pre sezónu Jar 2019 sa stali osvedčení lídri na módnom trhu, značky Versace, Prada, Roberto Cavalli a Philipp Plein.
ROBERTO CAVALLI
VERSACE
Flitre, výšivky, farebné šperky uviedla Donatella Versace vo svojej novej kolekcii pre sezónu Jar / Leto 2019.
Zdobenia boli badať aj v kolekciách ostatných módnych značiek ako napríkad Blumarine, Calcaterra a samozrejme Dolce and Gabbana.
BLUMARINE
Značka Blumarine vyšla na mólo s orientom a oranžovými šatami so zlatými výšivkami a športovou podprsenkou – žiarivá svieža kolekcia.
CALCATERRA
Bohato vyšívané šaty – nohavice top a plášť spojený s topánkami, všetko v jednotnom dizajne, predviedla značka Calcaterra.
DOLCE and GABBANA
Značka Dolce and Gabbana predvádza svoj typický oslňujúci štýl žiariaci priehrštím farieb, zlata, striebra, honosného brokátu, bohatých výšiviek, čipiek a vzájomných kombinácií. Na móle sa blysla aj päťdesiatnička, bývalá top modelka z 90. rokov a dnes mature modelka Carla Bruni (vpravo) a taktiež talianska diva, herečka Monica Bellucci.
POTLAČE – VEĽA POTLAČÍ
Súbežne so zdobeniami, mixované potlače sa objavili tentokrát všade a posledná kolekcia Jememy Scotta, značka Moschino toho bola príkladom. Drobné pásiky, maliarske ťahy štetcom, okázalé ozdoby a pokrývky hlavy pripomínajúce 80.roky outré couture sa zjavili na móle počas septembrového Milan Fashion Weeku v kolekciách jednotlivých návrhárov.
MOSCHINO
Kolekcia Moschino pre sezónu Jar/Leto 2019 bola dievčensky svieža, opäť žartovná, potlače akoby neviazané, nedbalé, grafické ťahy náhodne riešené sa objavili na oblečení z textilu, plastu, doplnkoch – klobúkoch, pančuškách, kabelkách aj topánkach. Značka Moschino opäť priniesla expresivitu a jedinečnosť dizajnu spojenú s infantilnou hravosťou, ktorá nekorešponduje s komerčnosťou.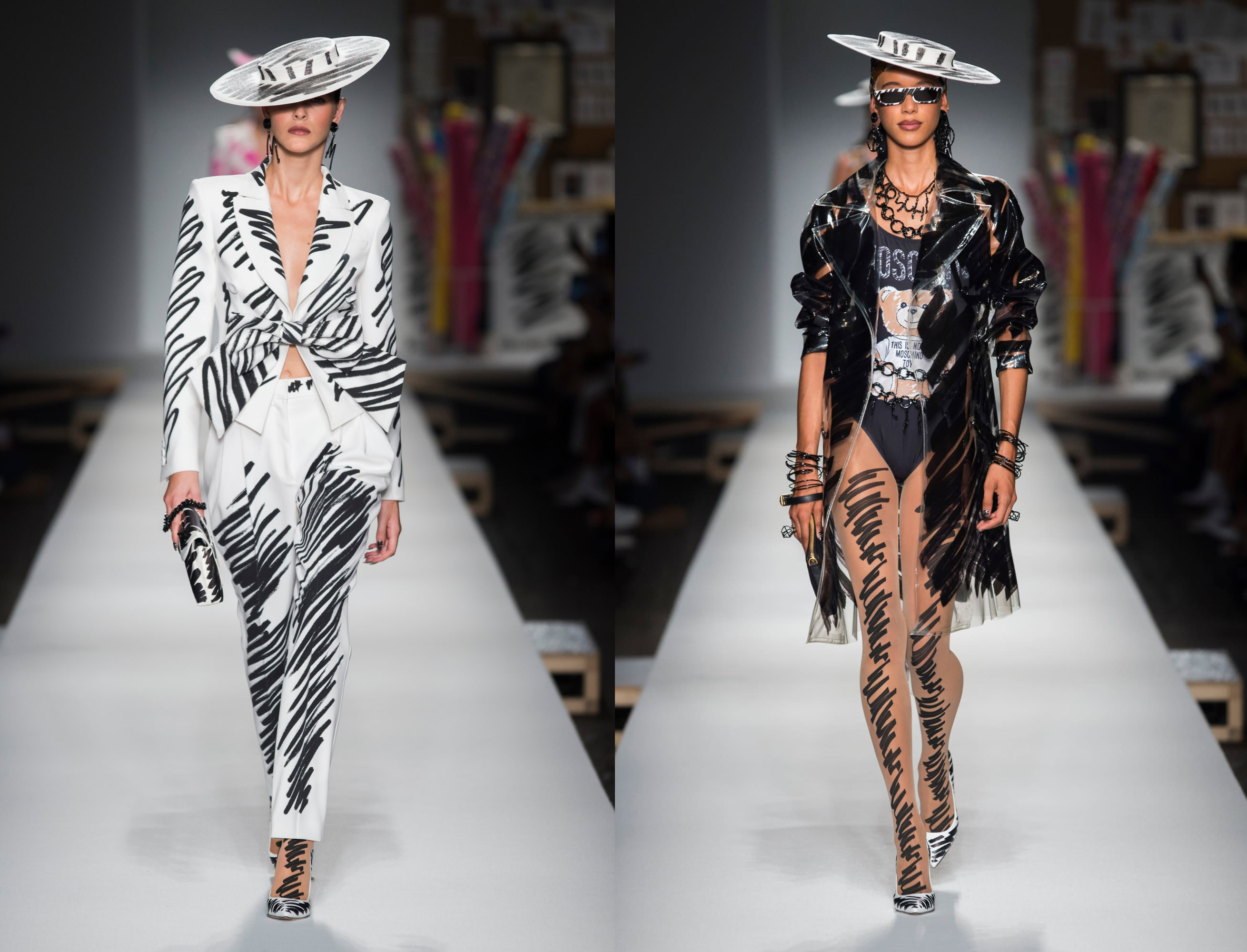 VERSACE
Taktiež aj značka Versace vyšla v septembri 2018 s radostnou, šialenou, potlačami a farbami hýriacou kolekciou pre sezónu 2019. Nič zrejme pre tých, čo majú slabé srdce. Niektoré modely boli skutočne šokujúco prefarbené a prekombinované. Vyzerá to tak, že ulice by sa mali nasledujúce leto zaplniť farbami.
MISSONI, ROBERTO CAVALLI, MARNI
Potlače sa objavili aj v kolekciách ďalších módnych dizajnérov – zľava módna značka Missoni, Marni a potlačami hýrila aj značka Roberto Cavalli.
ICEBERG, JIL SANDER, ERICA CAVALLINI
Prekombinované potlače uviedla aj návrhárka Erica Cavallini – úplne vpravo. Nasledujúcu sezónu sa teda vôbec nemusíme obávať fádnosti.
ETRO
Potlače predviedla aj značka Etro.
SIEŤOVINA – RYBÁRSKA SIEŤ
Mnohí návrhári použili v kolekciách sieťovinu z časti alebo dokonca celoplošne. Mohli sme to vidieť pri značkách Salvatore Ferragamo, Dolce and Gabbana, Calcaterra alebo Ermanno Scervino.
SALVATORE FERRAGAMO
Od rybárskych sietí, sieťoviny všetkých druhov sa tento materiál počas septembrového Milan Fashion Weeku (09/2018) zjavil ako hlavný trend pre sezónu Jar 2019. Kreatívny riaditeľ Paul Andrew značky Salvatore Ferragamo vyslal na mólo modely šiat so širokými okami sieťoviny. Zdá sa, že tomuto neviazanému a najmä vzdušnému športovému štýlu, budeme verní nasledujúcu sezónu a môžeme k tomu zladiť aj podobné topánky.
SALVATORE FERRAGAMO kolekcia jar/leto 2019, zdroj: Vogue comCALCATERRA, ERMANNO SCERVINO, DOLCE and GABBANA
Sieťovina sa objavila aj v kolekciách značiek zľava – Calcaterra, Ermanno Scervino a Dolce and Gabbana.
PASTELY
Okrem divokých a výrazných farieb a potlačí a ich vzájomných kombinácií návrhári ukázali aj jemnejší štýl a zvolili pastelovú farebnosť. Pastely sú tu, ako deklarovali mnohé značky a zostanú trendom pre nasledujúcu sezónu Jar / Leto 2019. Pastely viditeľné v kolekciách značiek Alberta Ferretti, Giorgio Armani, Jil Sander, Missoni, Blumarine, Erica Cavallini, Tod´s, Prada tiež uviedli mnohé iné značky ako sebaistý prvok.
JIL SANDER, BLUMARINE, MISSONI
PRADA, TOD´S, ERICA CAVALLINI
Nežné pastelové farby sa objavili v značkách zľava: Prada, Tod´s a v kolekcii návrhárky Erica Cavallini.