Milan Fashion Week – Móda Ženy, 21. september 2021 – 27. september 2021, sezóna Jar/Leto 2022, časť I .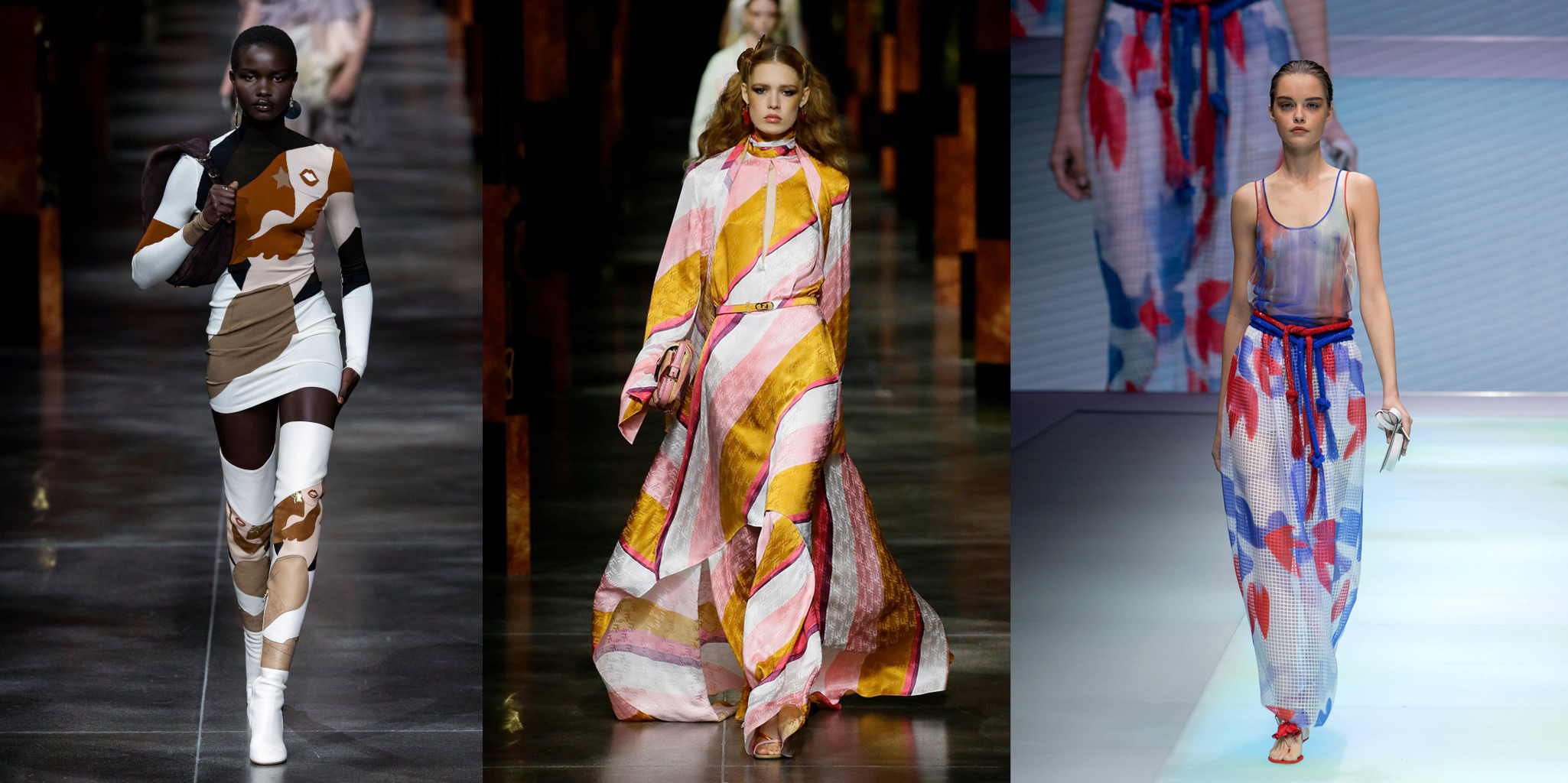 Ciao z Milána! Niekoľko týždňov po Salone del Mobile 2021 , známej výstave nábytku a dizajnu v Milane, je sezóna prehliadok hlavného mesta talianskej módy opäť nabitá. Milano, mekka módy sa opäť teší z ruchu počas Milan Fashion Weeku, prehliadkového týždňa svetovej módy, ktorý prináša náhľad, ako by jedného dňa mohla vyzerať skutočná normálnosť. Posledných 19. mesiacov sa svet zmietal v opakovaných lockdownoch a preto je každý pripravený privítať opätovné otvorenie sa a možno aj malé prevetranie v nevyužívanom šatníku.
Milan Fashion Week, Móda Ženy, sezóna Jar / Leto 2022, ponúkol v tejto sezóne rovnako ako New York a Londýn kombináciu digitálnych módnych šou v kombinácii s klasickými formami predvedenia kolekcií. Mekka módy hostila známe značky, aj tie menej známe a rýchlo sa rozvíjajúce od Fendi, Armani, Vesace, Prada, Dolce and Gabbana, po Andrea Adamo a Sunnei. Prehliadky sa ako obvykle konali na mnohých významných miestach. Pri vstupoch na módne show a prezentácie, sa pri dverách módnych značiek kontrolovali zdravotné preukazy, ktoré im dodávali pocit bezpečia. Sedenie hostí bolo riadené podľa protipandemických opatrení s dodržaním sociálnych vzdialeností a za nosenia masiek.
MILAN FASHION WEEK – JAR/LETO 2022
Dekadencia talianskeho štýlu sa práve ukazuje, pretože mesiac svetových prehliadok módy pokračuje po Londýne v Miláne. S premiérovými návrhármi, ktorí počas Milan Fashion Weeku, Móda Ženy, predstavili v týždni od 21. do 27. septembra 2021 svoje najnovšie kolekcie pre Jar/Leto 2022, vidíme svieži textil, očarujúce večerné oblečenie a samozrejme trendové novinky pre nadchádzajúcu letnú sezónu. Na mólach bol jednoduchou módnou reakciou denim, úplet a ľahko nositeľné topánky.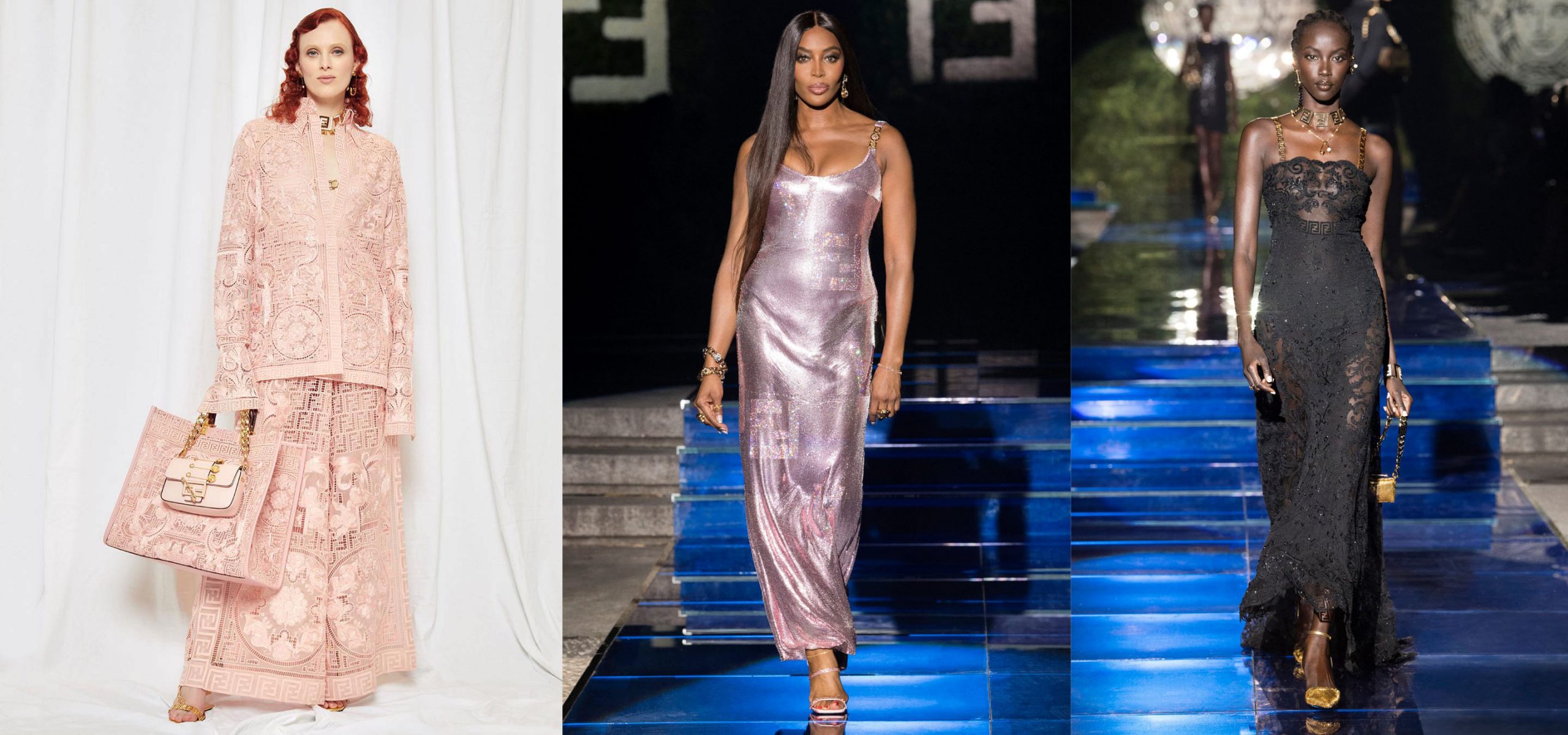 Je to už 18 mesiacov, čo Milano hostilo taký nárazový týždeň prehliadok a prezentácií. Prvé zaujímavé momenty z Milan Fashion Weeku, sezóny Jar/Leto 2022 práve prichádzajú:
FENDI
Potom, čo boli ľudia "tak dlho uzamknutí", sa chcú ženy trochu uvoľniť, ísť von a obliekať sa" , vyjadril sa dizajnér talianskeho luxusného módneho domu Kim Jones, ktorý v stredu, 22. septembra 2021 predstavil svoju najnovšiu kolekciu pre letnú sezónu s ohľadom na tento motív.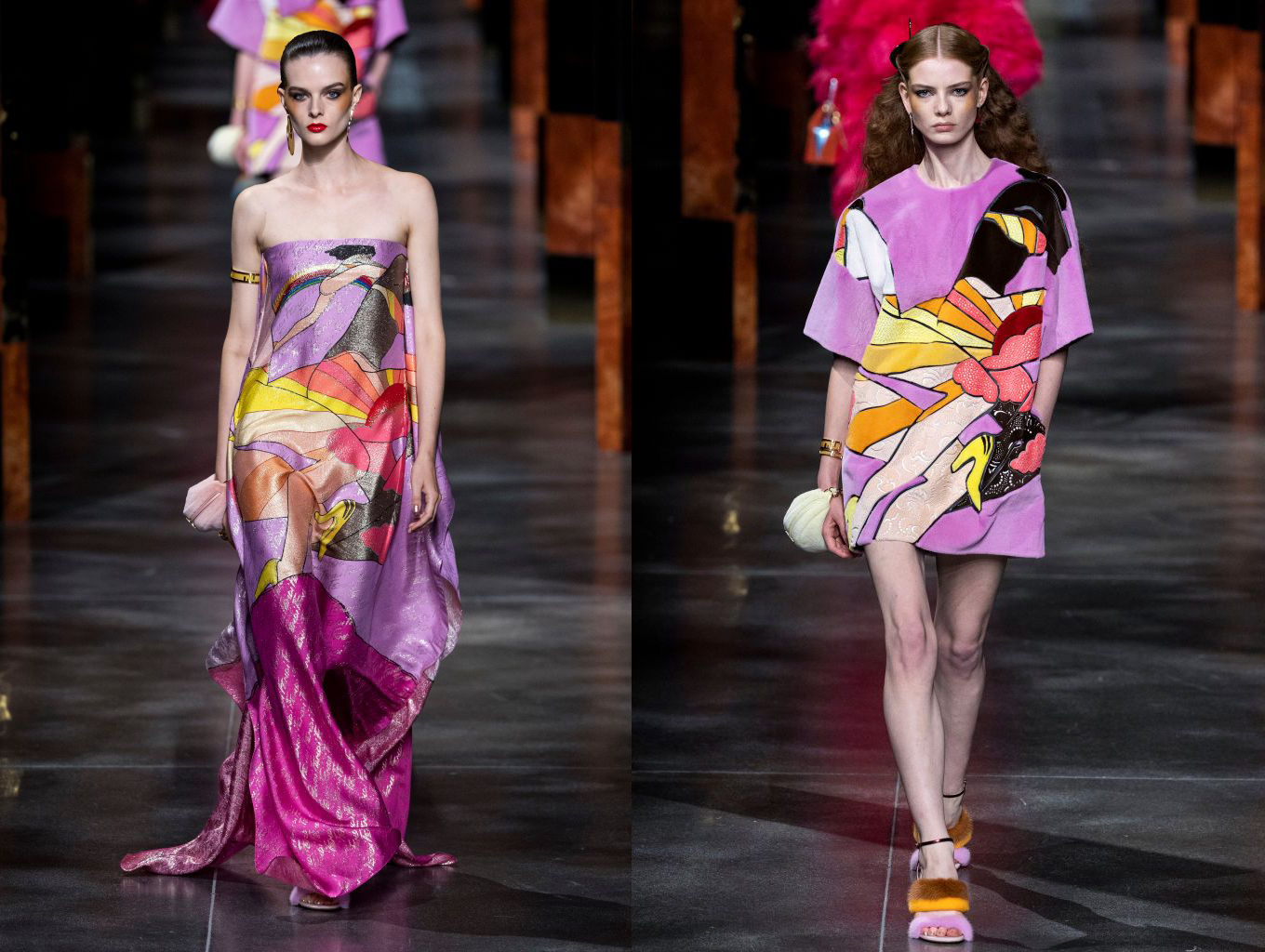 Kolekcia Fendi, Jar/Leto 2022 pod taktovkou Kima Jonsa je inšpirovaná diskotékou, estetikou disco glamour rokov 70-tych, najmä érou Studio-54 v New Yorku.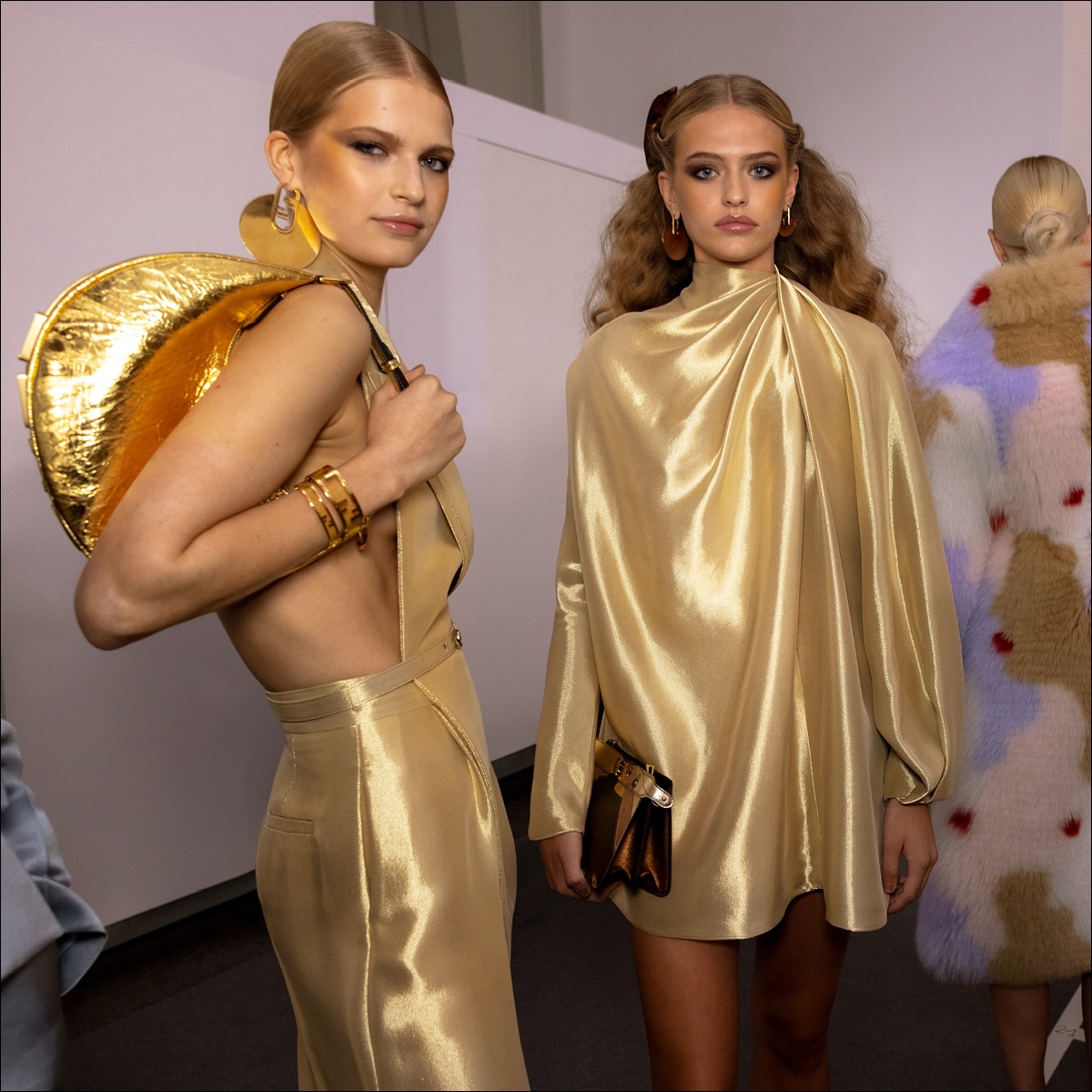 Kim Jones debutoval ako kreatívny riaditeľ značky Fendi Womenswear a Haute Couture na začiatku roka 2021, potom, čo sa stal krátko po smrti legendárneho dizajnéra Karla Lagerfelda jeho nástupcom. Kolekcia Fendi Jar/Leto 2022 je jeho prvá osobná prehliadka na móle od vstupu do talianskej luxusnej značky.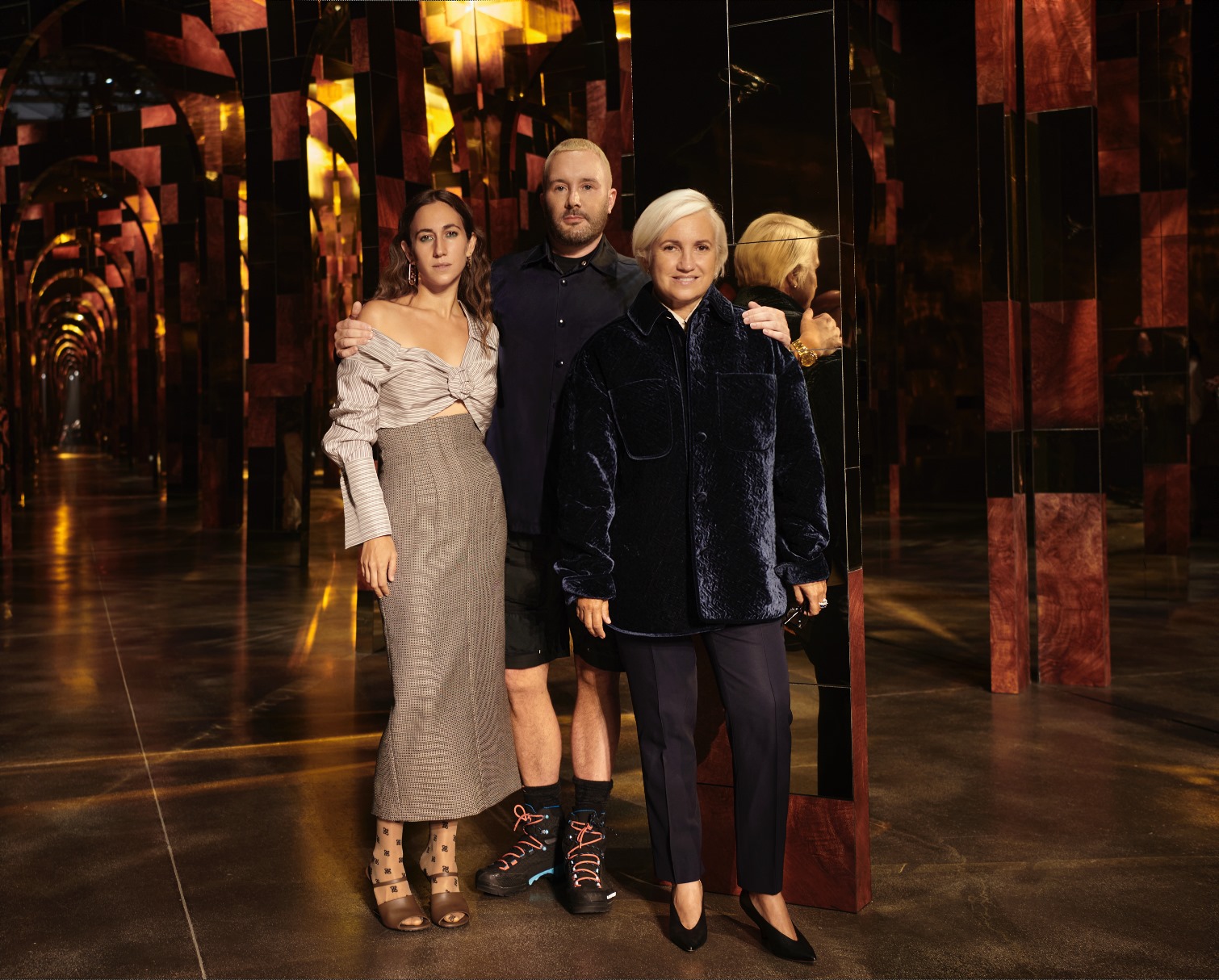 Hľadajúc inšpiráciu z ručne načrtnutého loga Fendi módneho ilustrátora Antonia Lopeza v archívoch značky, poklepal Jones na paletu farieb, ktorá definuje odkaz neskorého Karla Lagerfelda na čiernu, bielu, neutrálnu a svetlo ružovú. V rozhovoroch pre módne magazíny v súvislosti s prehliadkou kolekcie prezradil: "Keď som sa pozeral na Karlov odkaz v módnom dome, pozeral som sa aj okolo neho, na jeho súčasníkov. Na to, koho zaujímal. Lopez bol Karlov priateľ a vždy bol niekým, kto inšpiroval aj mňa. Myslel dopredu a preto som ho chcel predstaviť novej generácii. "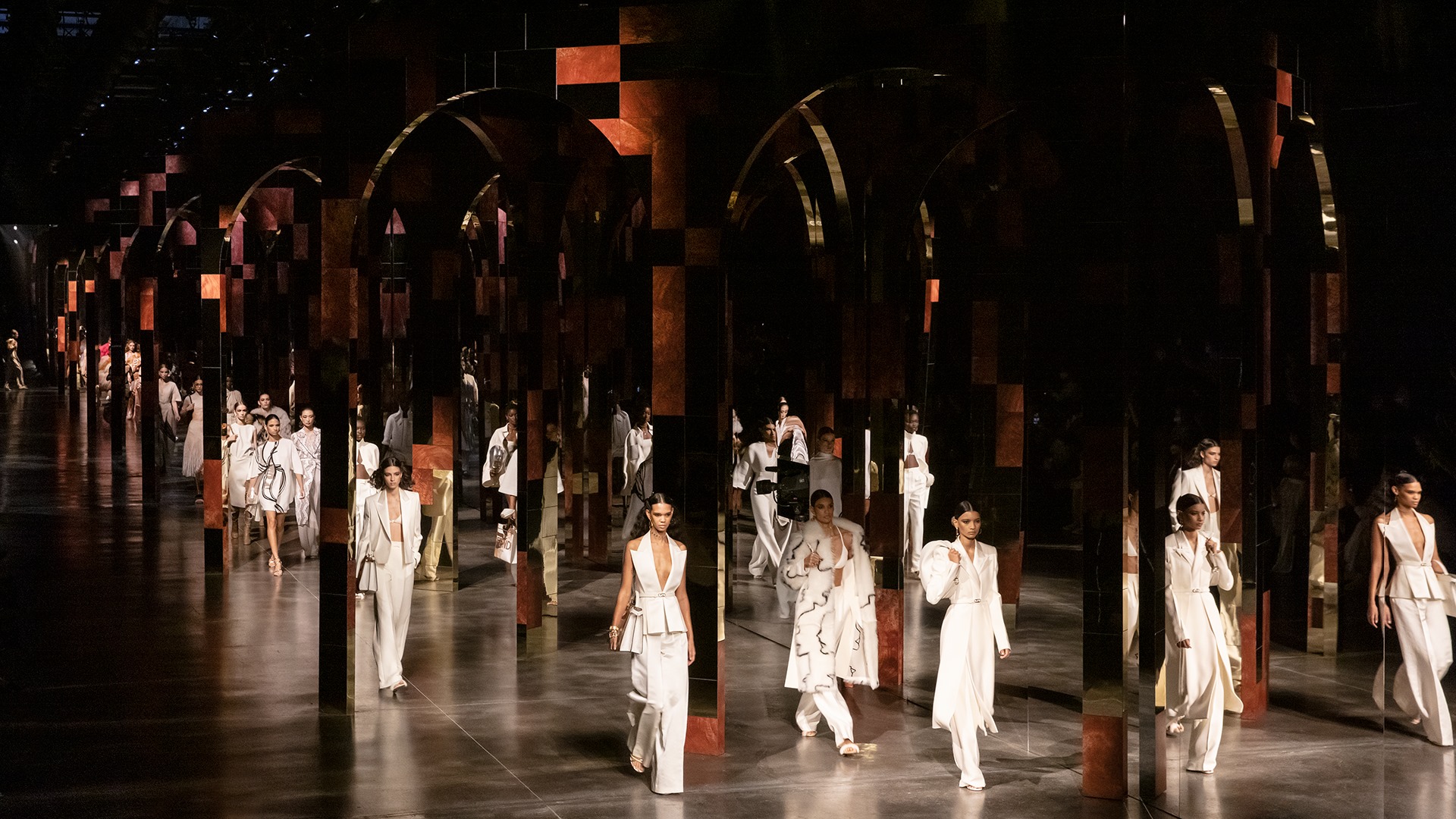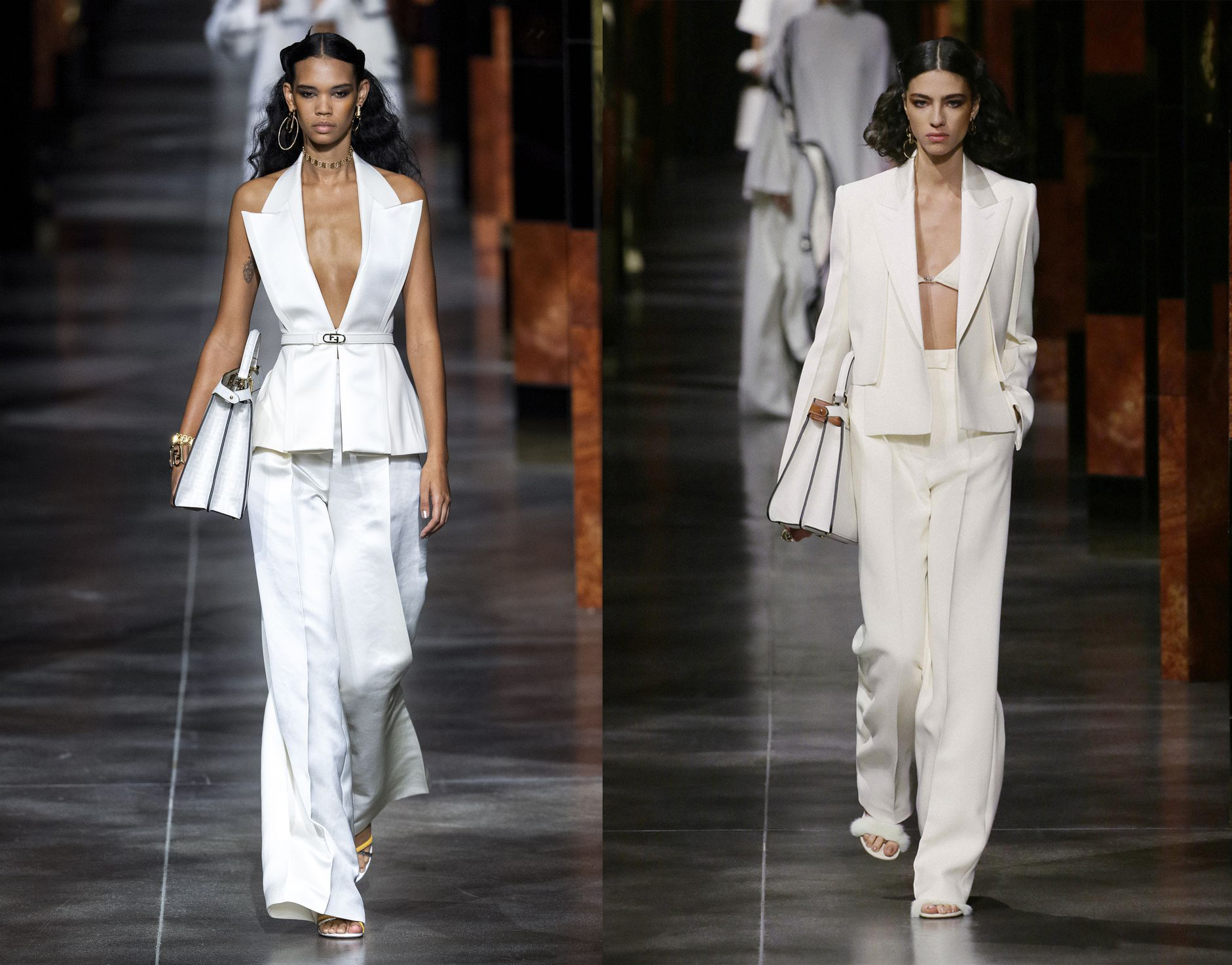 EMPORIO ARMANI – OSLAVA 40-ROČNÉHO VÝROČIA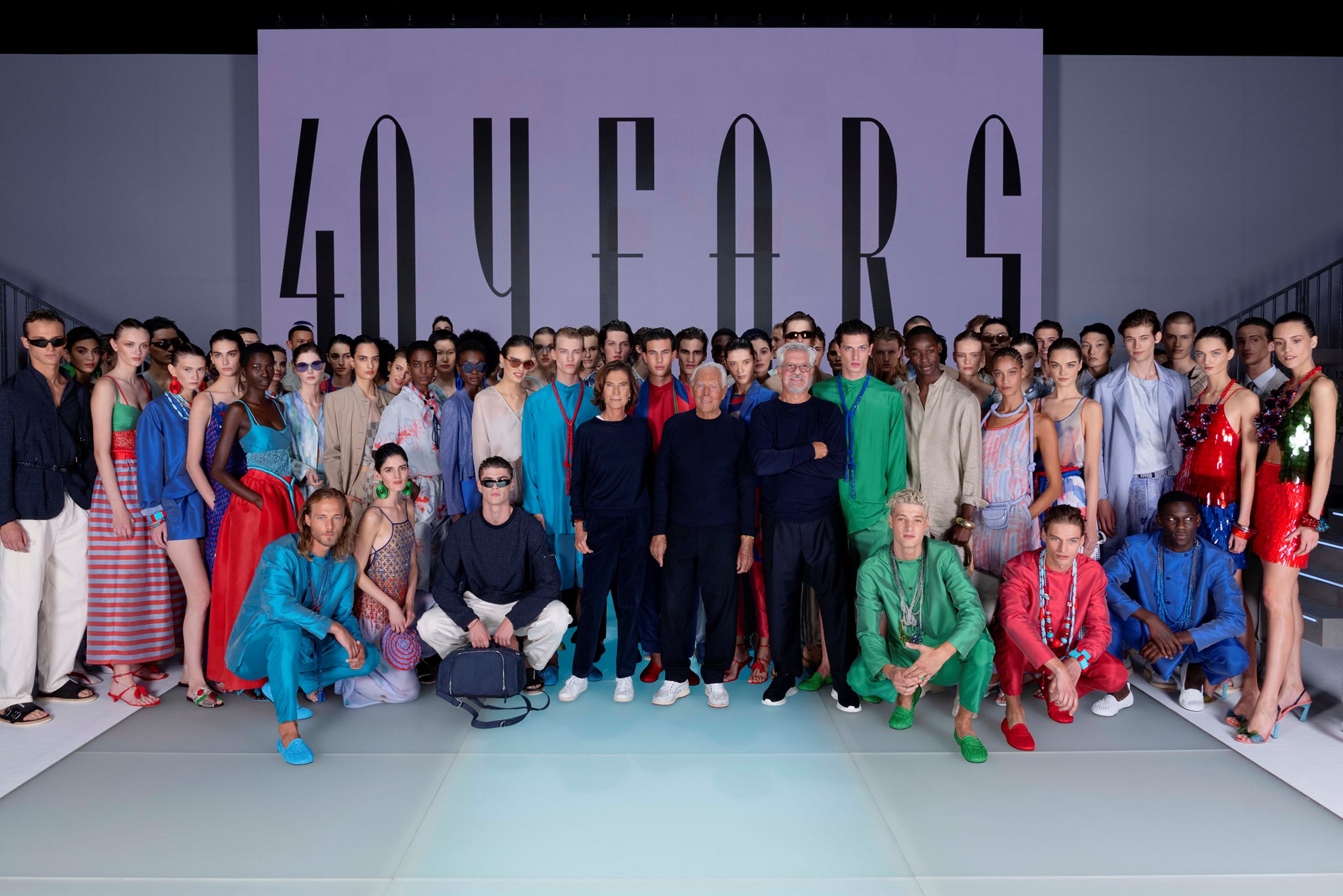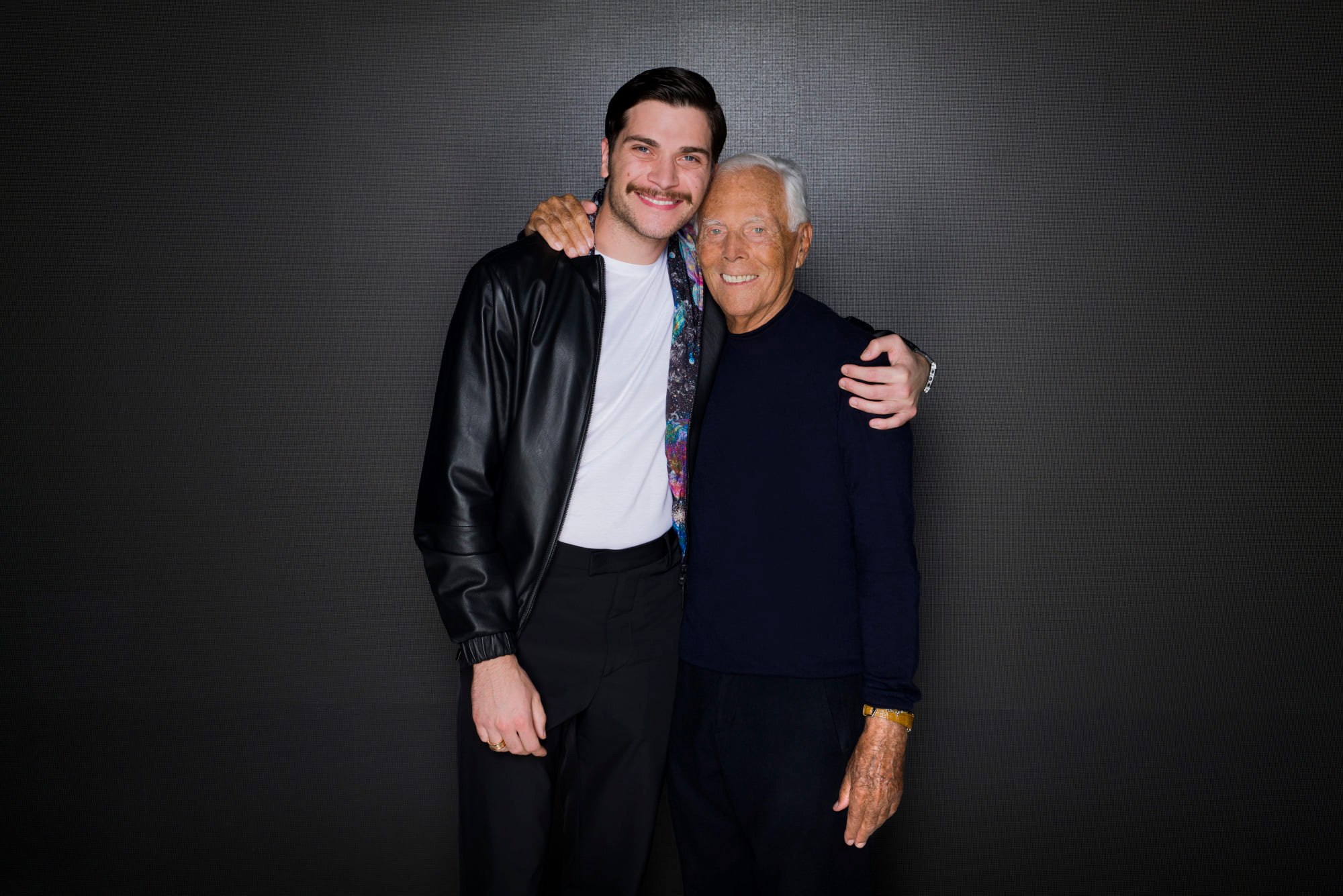 Taliansky dizajnér Giorgio Armani, žijúca módna legenda, oslávil počas Milan Fashion Weeku 40 rokov svojej línie Emporio Armani retrospektívnou šou v múzeu Silos kolekciou, ktorá srší farebným optimizmom.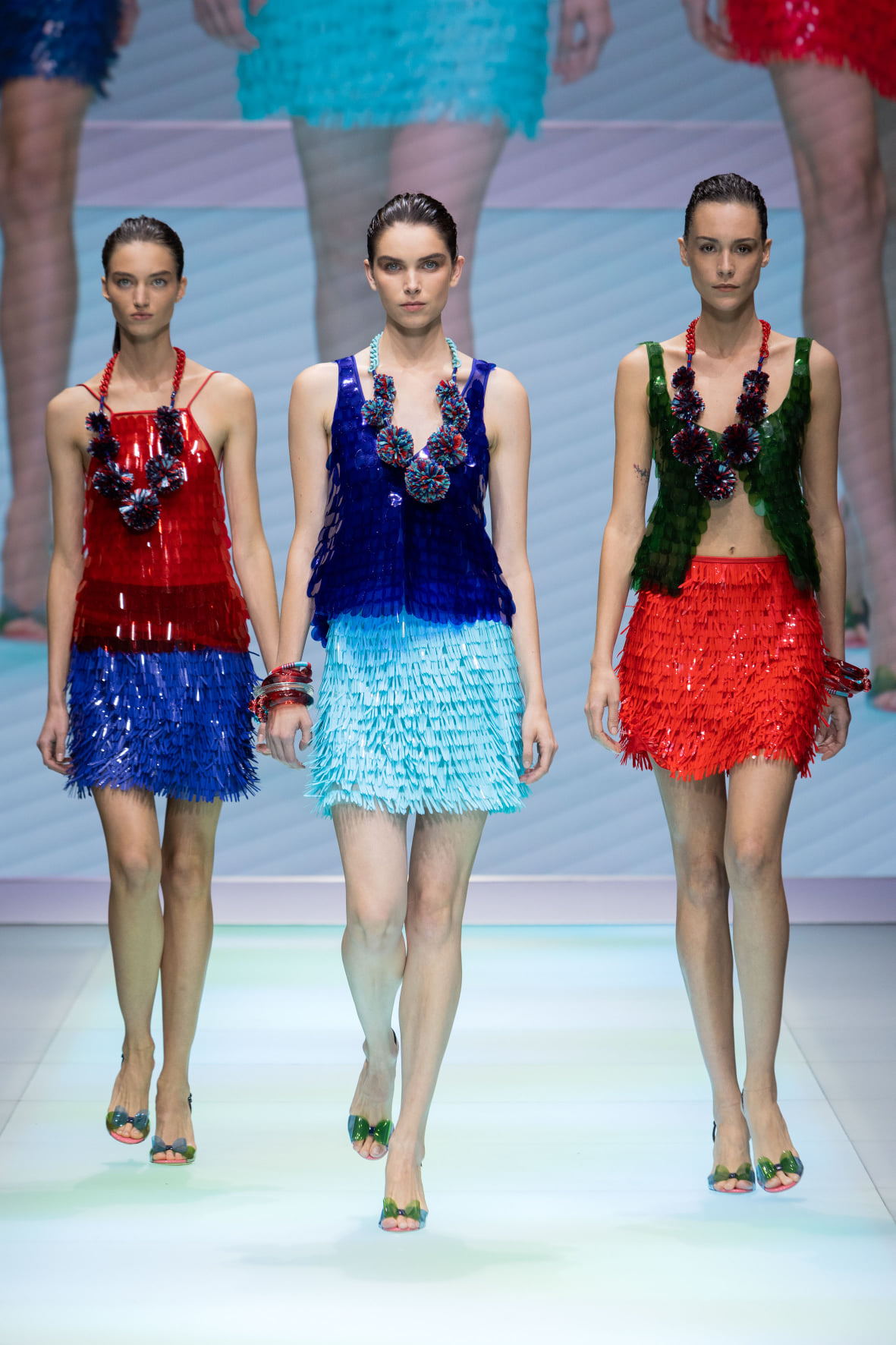 DROME
Kreatívna riaditeľka módnej u nás neznámej značky Drome, Marianna Rosati, využila šancu "konečne opäť žiť" a zažiť "zmysel týždňa módy a zmysel pre stretnutie ľudí".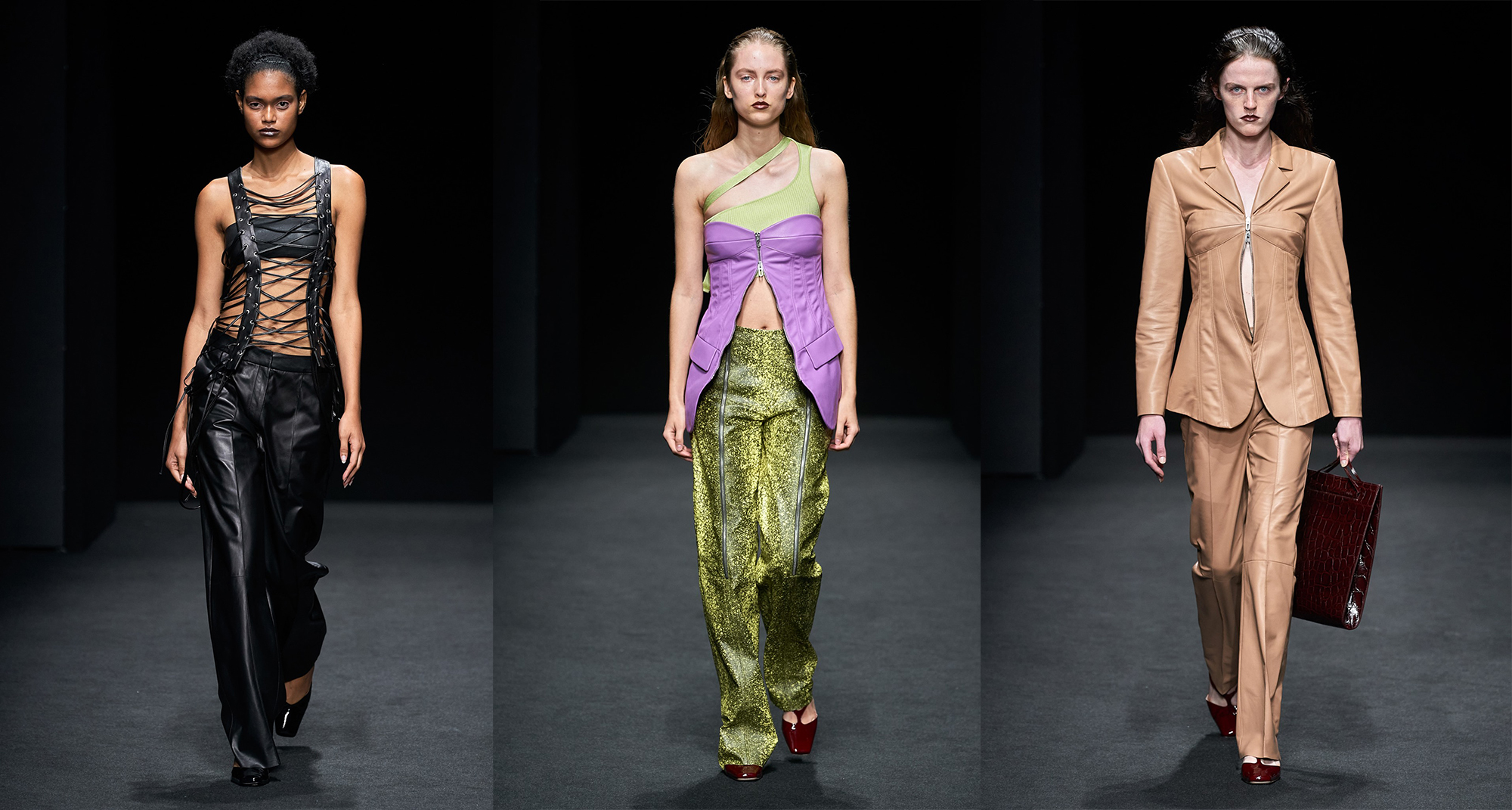 Rosati vzala kino, hudbu a fotografiu ako inšpiráciu pre svoju najnovšiu zbierku kolekcie pre sezónu Jar/Leto 2022 vrátane grafických a psychedelických obrazov. Tie aplikovala na svoje modely, ako sú korzety a bundy. Jej toskánska značka s koreňmi v koženom oblečení si našla fanúšičky u modelky Bella Hadid alebo speváčky Ariany Grande.
Farebné korzety obsahovali zipsy a boli vrstvené atletickými kúskami úpletu. Topy bandeau sa nosili so šnurovanými pletenými motorkárskymi šortkami pre športový vzhľad. Asymetrické topy na jednom ramene obopnuté okolo živôtika boli spárované s nosnými koženými nohavicami značky. Koža bola ošetrená laserovými potlačami pre viacfarebný tekutý efekt.
Paleta farieb bola zásaditá biela, nahá a čierna proti zábleskom jasne ružovej, vresovej modrej a kyslej zelenej.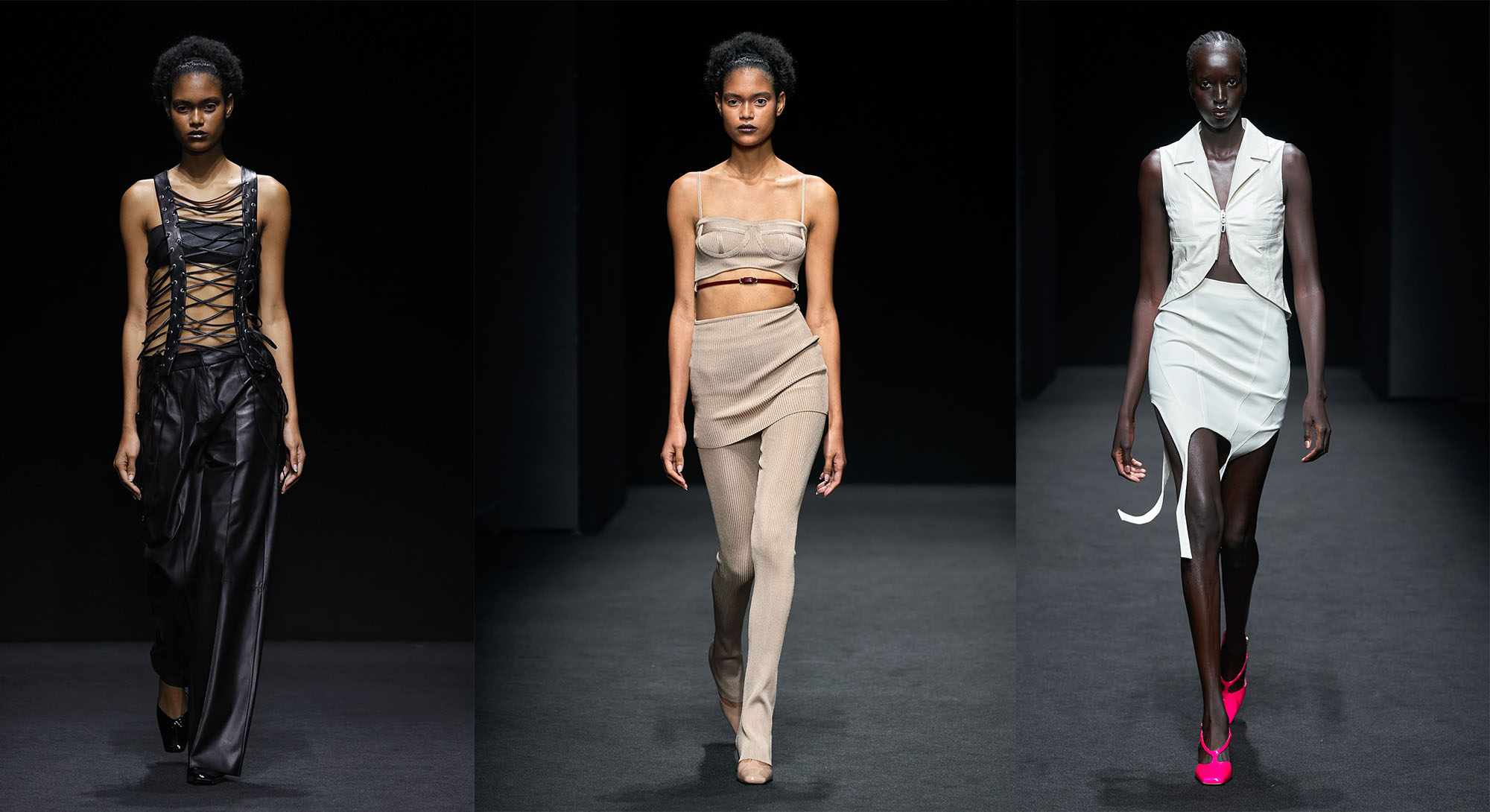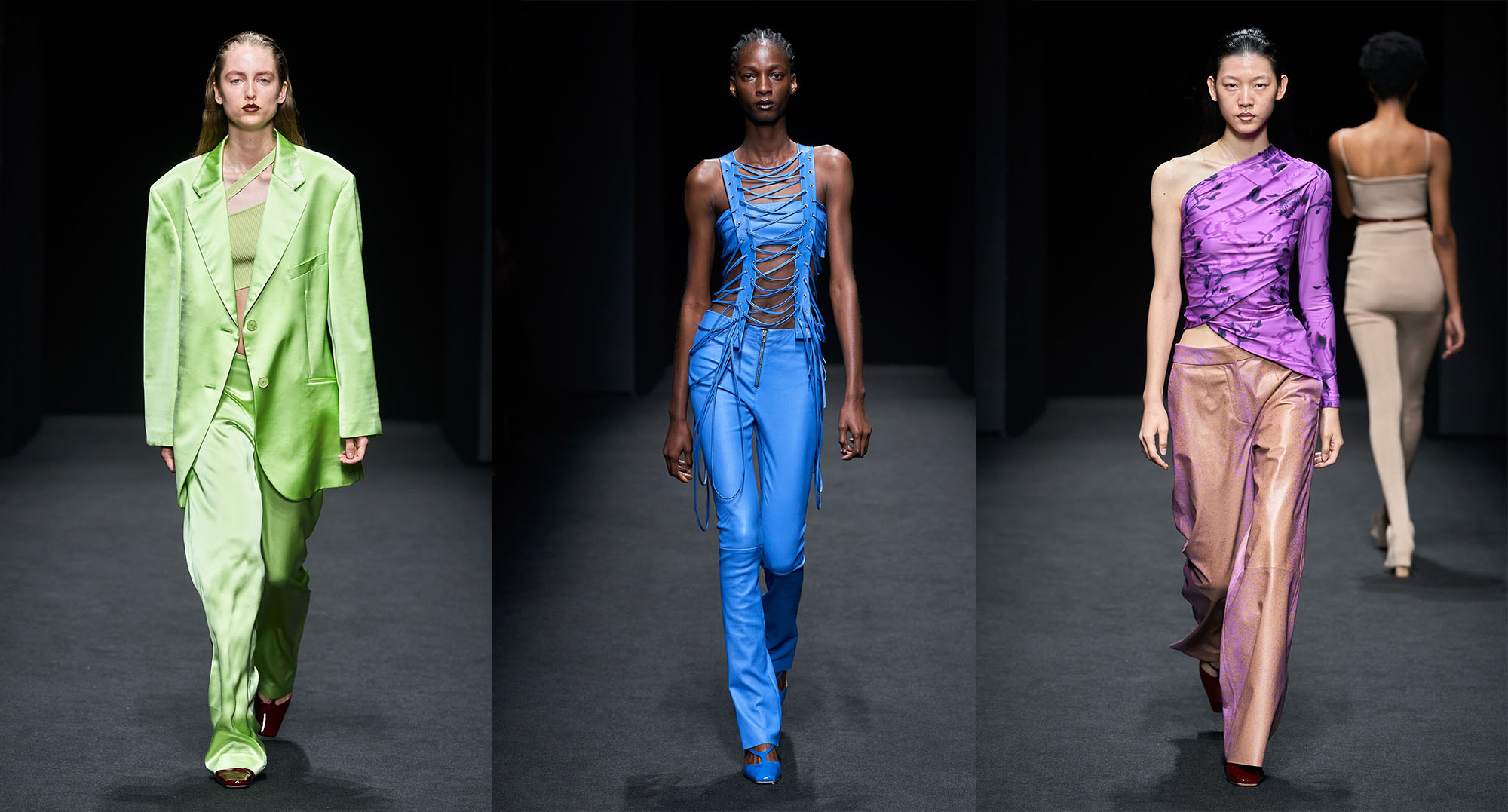 Návrat späť k fyzickým udalostiam navodil dojem, že sa toho málo zmenilo, ale dizajnérka Marianna Rosati povedala, že možno zmeny nastupujú na viac vnútornej úrovni. "Možno je rozdiel v prístupe k veciam." Cítim sa menej stresovaná a uvoľnenejšia. "
Pokračovanie k talianskemu módnemu týždňu – Milan Fashion Week, čítajte v nasledujúcich článkoch.
obrázky: © Vogue, pinterest, Armani, Fendi, Versace, Drome
Sledujte Facebook stránku: Mya Mirell Fashionista a Instagram: mya_mirell .