Milan Fashion Week – zaujímavosti a prekvapivé momenty, 18. – 24. september 2018, Móda Ženy, jar/leto 2019
Milan Fashion Week je očakávaným týždňom módy nasledujúci po New York a Londýn fashion Weeku a tak sa zraky všetkých módnych expertov, fashionistov počas svetových týždňov módy upierajú aj sem. Módny svet s napätím očakáva, čo prinesú špičkové talianske módne domy, aké trendy a vychytávky, čo sa bude nosiť nasledujúcu sezónu a to pred finálnym parížskym týždňom módy, ktorý uzatvára štvoricu maratónu týždňov módy. Miláno je nielen mekka módy, ale aj kolíska talianskeho dizajnu a sídlo najznámejších módnych domov, dizajnérov, celebrít a vyhlásených nákupných bulvárov. Tento týždeň módy je vyhľadávaný pre povestný taliansky temperament, centrum talianskej módy a zaujímavosti, na ktoré je bohatý. Preto pravidelne pritiahne množstvo známych tvárí a slávnych osobností z Talianska ale aj zo sveta. Stáva sa tak magnetom aj pre bežných ľudí zvedavých a hladných po módnej nádielke, na divadlo, ktoré prebieha priamo v uliciach.
Problémom Milan Fashion Weeku však opäť bol harmonogram. Veľkú zmenu a šok priniesla tento rok v septembri 2018 značka Gucci, ktorá sa rozhodla predviesť svoju kolekciu iba v Paríži počas nasledujúceho Paris Fashion Weeku. Milan Fashion Week tak zradila. Harmonogram prehliadok sa tým pádom zhustil a skrátil, pričom všetky ostatné dni módneho týždňa boli plne nabité prehliadkami od rána do večera. Tento týždeň módy, ktorý bol popretkávaný rôznymi módnymi eventami, udalosťami, prezentáciami a koktail parties opäť znamenal zaradiť vysoké nasadenie, v prípade, že chcel pozvaný divák všetko stíhať.
Takýto harmonogram prehliadok znamená značnú hektiku jednak pre fotografov, ktorí sa nestíhajú presunúť z prehliadky na prehliadku, čo zažívam osobne pri stretnutiach a presunoch s nimi. Znamená tiež hektiku pre ostatných pozvaných a zúčastnených hostí, ktorí nemajú obvykle k dispozícii limuzíny, osobných šoférov či celodenný taxík ako najvychytenejšie celebrity.
Niektoré celebrity navštívia iba vybrané módne prehliadky, no módni znalci, svetoví módni kritici, nadšené módne ikony, ostatné celebrity, experti, bloggeri, fashionisti a fashion fotografi pracujúci pre rôzne agentúry mávajú obyčajne viacero pozvánok. Potom sa neraz stane, ako sa to stalo aj mne , že sme nie raz utekali na ďalšiu prehliadku a ponáhľať sa v opätkoch a v outfitoch predstavuje značný problém, navyše v teple, ktoré udrelo tento týždeň módy v septembri 2018. Teploty sa vyšplhali až na 38 stupňov, čo bolo doslova o život. Nie je čas sa občerstviť, najesť a oddýchnuť si. Potom vidno takého kritika módy Simone Marchetti, ako uteká z prehliadky na prehliadku behom, Simone obyčajne používa na presun motorku.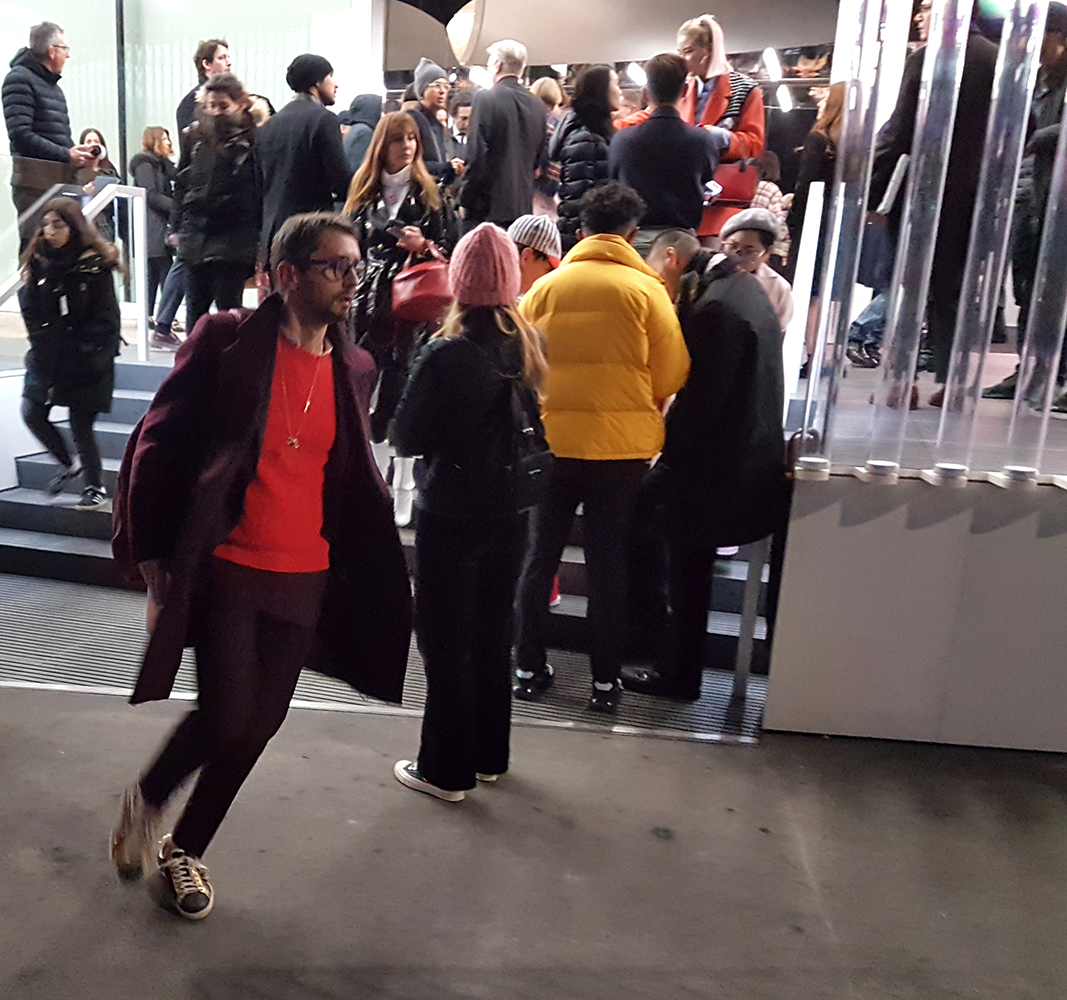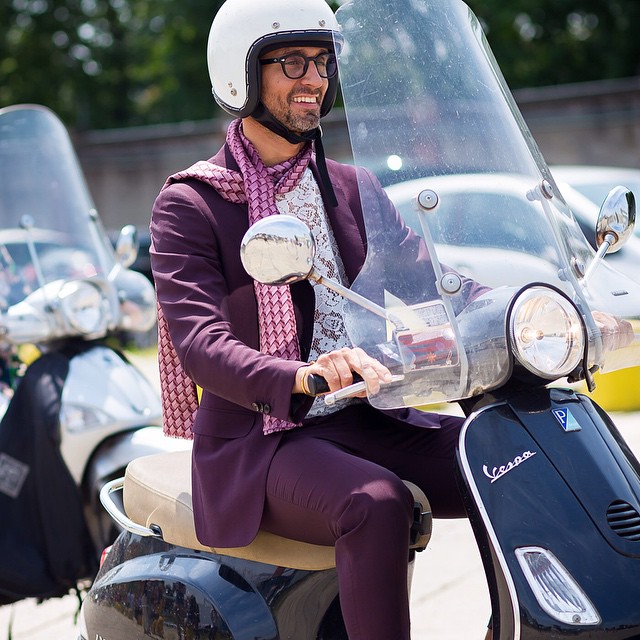 Stihnúť všetko včas nebolo možné, ani v prípade, že som mala pozvánky na viaceré módne akcie. Nasledovali totižto tesne za sebou popretkávané rôznymi prezentáciami. Zlým riešením je aj medzi dve veľké značky vtesnať menej známu značku , no s veľkým potenciálom ako napríklad Calcaterra medzi Etro a Sportmax alebo Tizziano Guardini zaradiť pred prehliadku značky Fendi. Nie je to prvýkrát, čo by sa mala Cameramoda zamyslieť nad časovým harmonogramom koncepcie Milan Fashion Weeku.
Z môjho pohľadu je nemysliteľné sa v Miláne bez motorky bežnou dopravou dostať včas na dané miesto konania, čo je na škodu celej udalosti. Tiež so nezaregistrovala včas zmenu, ktorá sa udiala na poslednú chvíľu a na jednu prehliadku som prišla o hodinu skôr, ďalšiu som potom absolútne nestíhala pre posunutý čas.
Každý, kto zažil tento týždeň módy vie, že jednotlivé miesta konania sa módnych show sú od seba niekedy veľmi vzdialené, trvá dlho sa tam dopraviť klasicky (napríklad Emporio Armani vymyslel tento september prehliadku svojej kolekcie situovať na letisku a predchádzala mu prehliadka značky Moschino, ktorá sa konala na úplne inom konci Milána, dostať sa tam nebola šanca). Treba rátať aj s časovými prestojmi, keďže módne prehliadky zvyknú začínať rôzne, s oneskorením a tiež s dlhými trasami na chodenie. Určite sa nedá všade dostať dopravou, tá vás rozhodne nedopraví presne na miesto.
PRIESTOR PRE ROZVOJ
Ďalším momentom k zamysleniu je, že talianske inštitúcie by sa mali snažiť "živiť", udržať talenty tak, ako to robia Francúzi. Mám nejasný pocit, že sa čosi trochu zmenilo. Druhým badateľným znakom je jasne viditeľná reflexia problémov Talianska, ktoré sa odzrkadľujú v Milan Fashion Weeku. Najväčší hráči s okázalými rozpočtami jednoducho nenechávajú priestor pre nikoho iného. Je dobré, že držia tento preslávený týždeň módy známi najväčší lídri v módnom biznise, aj keď sa niektorí hráči tento rok nezúčastnili, no menej známe značky sa stále nemajú šancu rozvíjať a nie je im umožnené dýchať. To vidno aj v návštevnosti celebrít.
FAVORITNÉ MOMENTY
Tento rok, v septembri 2018 počas Milan Fashion Weeku, Móda Ženy, chýbali v programe prehliadok lídri ako Bottega Veneta a spomínaná značka Gucci, avšak ostatné zvučné mená Milan Fashion Weeku mali stále čo povedať pre nasledujúcu sezónu Jar 2019. Milan Fashion Week bol preto aj túto sezónu zaujímavý, niet pochýb, aj napriek vymenovaným výčitkám. Favoritnými momentami sa stala napríklad prehliadka z dielne Miuccia Prada, ktorá pre sezónu 2019 spojila zúrivú fantáziu s retro školáckou kolekciou, ktorú tvorili mladícke šaty z plachtoviny.
Ďalším zaujímavým momentom septembrového (september 2018 – jar/leto 2019) Milan Fashion Weeku bol luxusný Fendi athleisure štýl s trendy opaskami a prackami, Missoni 65. narodeniny a explózia a epický návrat niektorých supermodeliek 90 rokov ako Shalom Harlow na prehliadke značky Versace a tiež Evi Herzigovej a Helen Christensen na prehliadke značky Dolce and Gabbana, či ikonickej Moniky Bellucci.
Značka MISSONI oslavovala 65. výročie tvorby. Predvádzali najžiadanejšie modelky ako Bella Hadid alebo Kendall Jenner.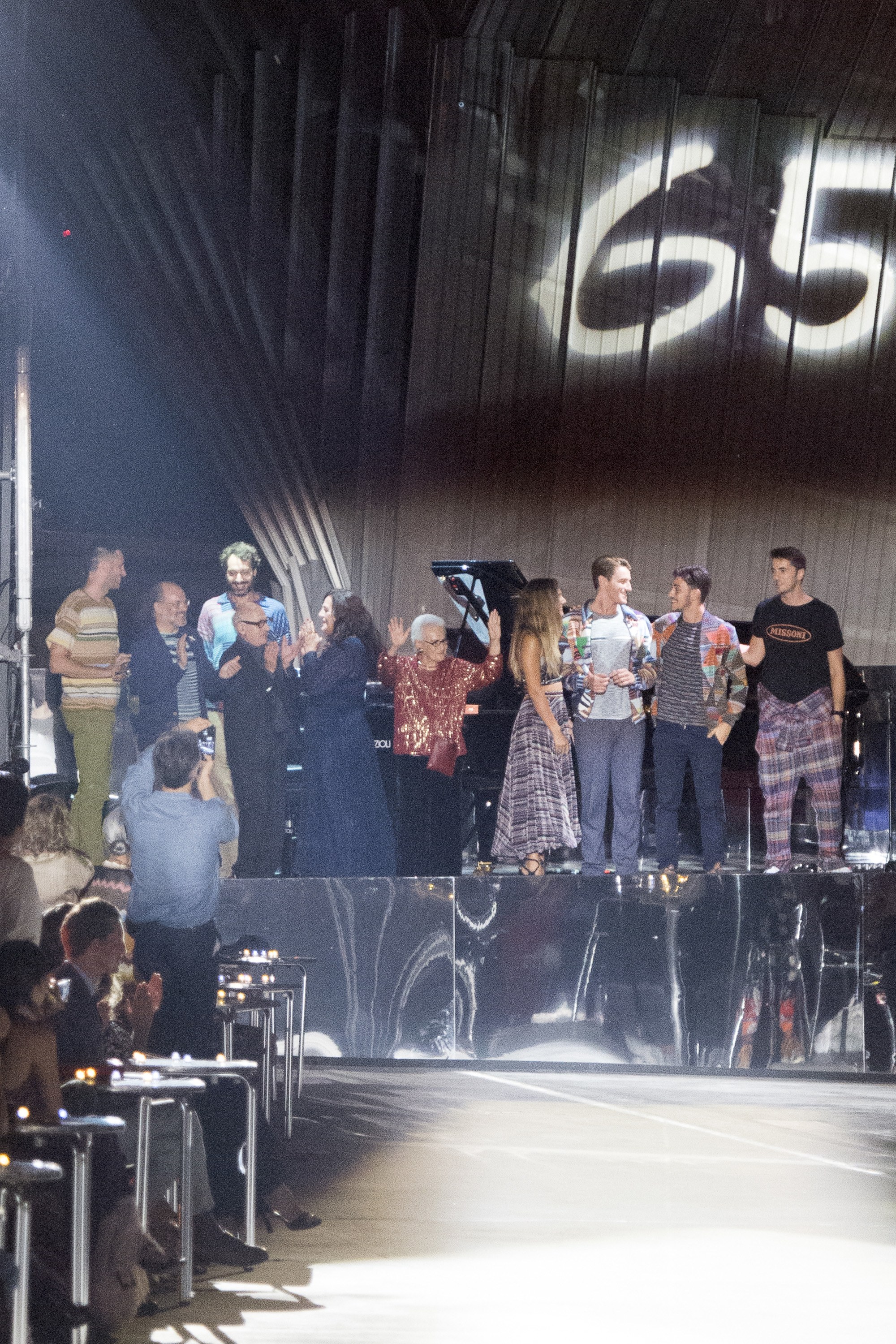 MISSONI – Miláno, týždeň módy, 22. september 2018, kolekcia jar/leto 2019, zdroj: Vogue com
MISSONI – Miláno, týždeň módy, 22. september 2018, kolekcia jar/leto 2019, zdroj: Vogue com
Ikonický opätovný návrat modeliek ako Evi Herzigovej a Helene Christensen či slávnej talianskej herečky Monica Bellucci, ktorá otvárala módnu prehliadku Dolce and Gabbana bol unikátnym momentom septembrového Milan Fashion Weeku. Na tejto prehliadke sa predviedli aj ostatné hviezdy ako Carla Bruni hneď za Evou Herzigovou v zlato-striebornom okázalom nohavicovom modeli, maďarská modelka Barbara Pavlin (Victoria´s Secret Models) , talianske celebrity, plus size modelka Ashley Graham okrem iných.
VERSACE – KONTROVERZNÁ NICKY MINAJ
Milan Fashion Week privítal aj počas septembra 2018 mnohé známe svetové celebrity, ako tomu už býva zvykom. Nechýbala speváčka Rita Ora a tentokrát hviezdna raperka Nicky Minay v outfitoch Versace na prehliadke značky Versace a tiež Fendi. Outfit a najmä jeho veľkosť kontroverznej raperky Nicky Minay budil značnú pozornosť a mal prečo. Či bol vyhovujúci, nechávam na názore čitateľa.
Raperka Nicki Minaj si evidentne ťažkú hlavu z vyliezajúcich bradaviek počas prehliadky značky Versace nerobí.