To najlepšie z mužskej módy Milan Fashion Weeku, jún 2022 – Etro, Prada, JW Anderson, Giorgio Armani, Jar/Leto 2023, II. časť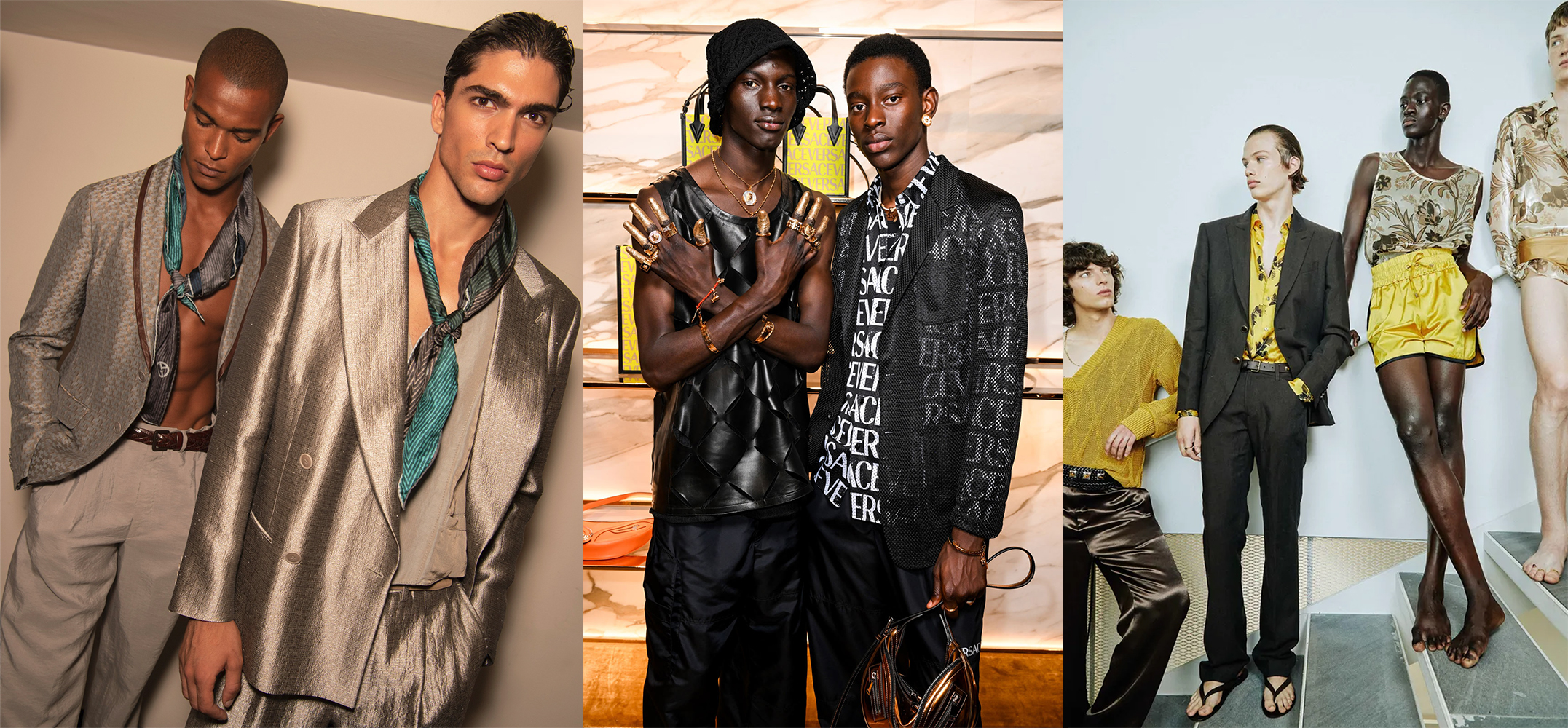 37 stupňov poobede a leto, ktoré sa ešte nezačalo a o ktorom sa už všade píše, že bude najhorúcejšie doposiaľ , sprevádzali pánsku prehliadku módy počas týždňa Milan Fashion Weeku od 17. do 22. júna 2022. A práve globálne otepľovanie je hlavným lightmotívom tohto prehliadkového týždňa módy, ktorý zareagoval pánskou módou pre sezónu Jar/Leto 2023.
Taliansky módny týždeň nabitý dizajnérmi priniesol od archetypálnych pánskych odevov Prady, noughties reedície Dolce & Gabbana , cez mestskú módu, letné novinky až po túžobne očakávaný debut JW Andersona , to najlepšie z Milána.
Pánska edícia milánskeho týždňa módy sa túto sezónu vrátila s istotou po tlmenom januárovom týždni kvôli príchodu variantu Omicron a hostila zvučné VIP mená. Dizajnéri sa pohrávali s pojmom nahota, ktorá sa zrkadlila v mikroskopických šortkách, bosých nohách a veľmi ľahkých sarongoch.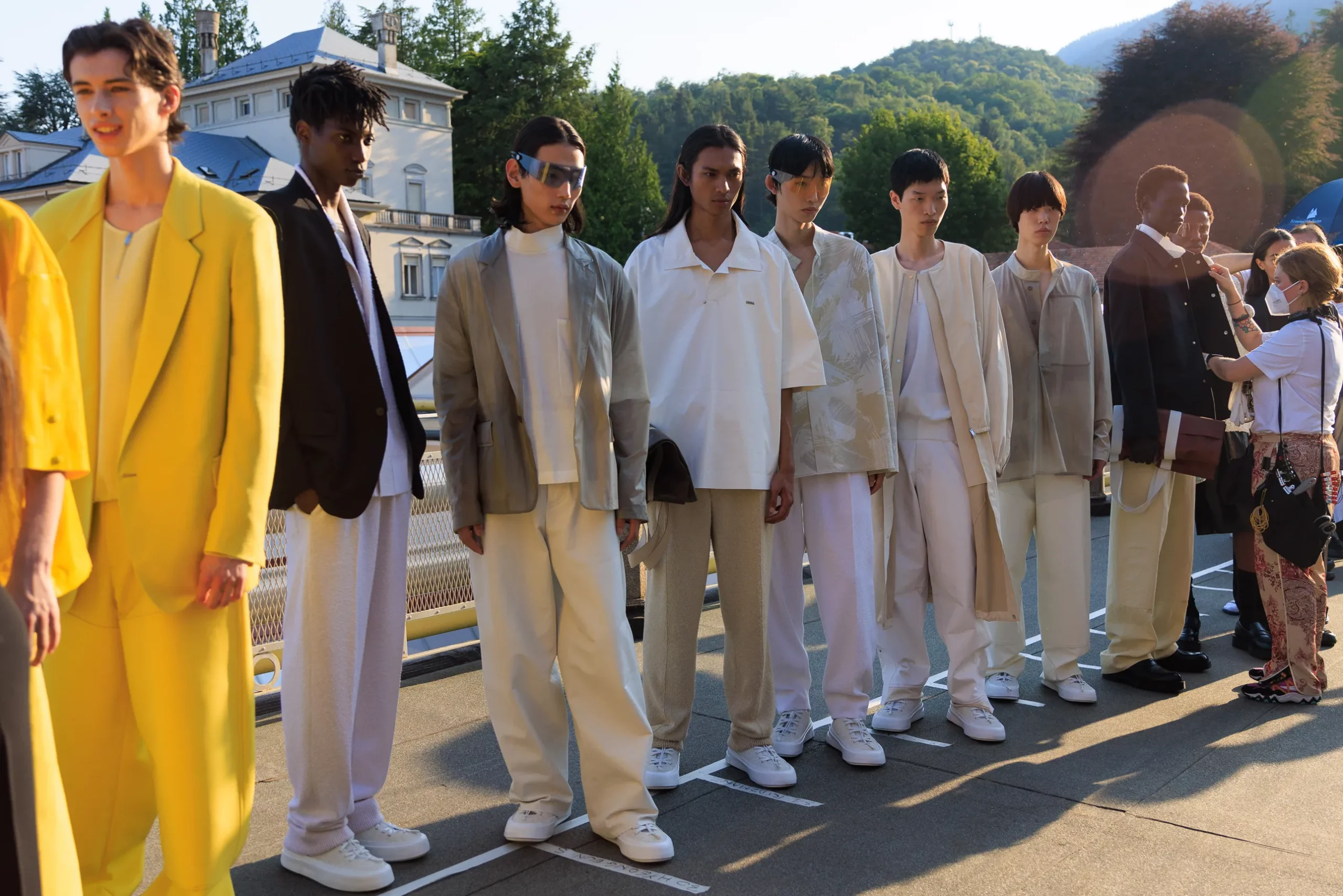 Pod horúcim milánskym slnkom ožili mestské značky ponukami pre sezónu Jar/Leto 2023 navodzujúc únikovú náladu a ponúkajúc množstvo spôsobov obliekania na nadchádzajúcu sezónu.
ETRO
Módna prehliadka kolekcie pánskeho oblečenia Etro s názvom The Wild Power of Poetry , Jar/Leto 2023 počas tejto sezóny Milan Fashion Weeku, bola posledným výletom pre Keana Etra. Značku prevezme v septembri 2022 taliansky dizajnér Marco de Vincenzo vo funkcii kreatívneho riaditeľa, ktorý túto prehliadku sledoval z prvého radu.
Taliansky dizajnér Marco de Vincenzo.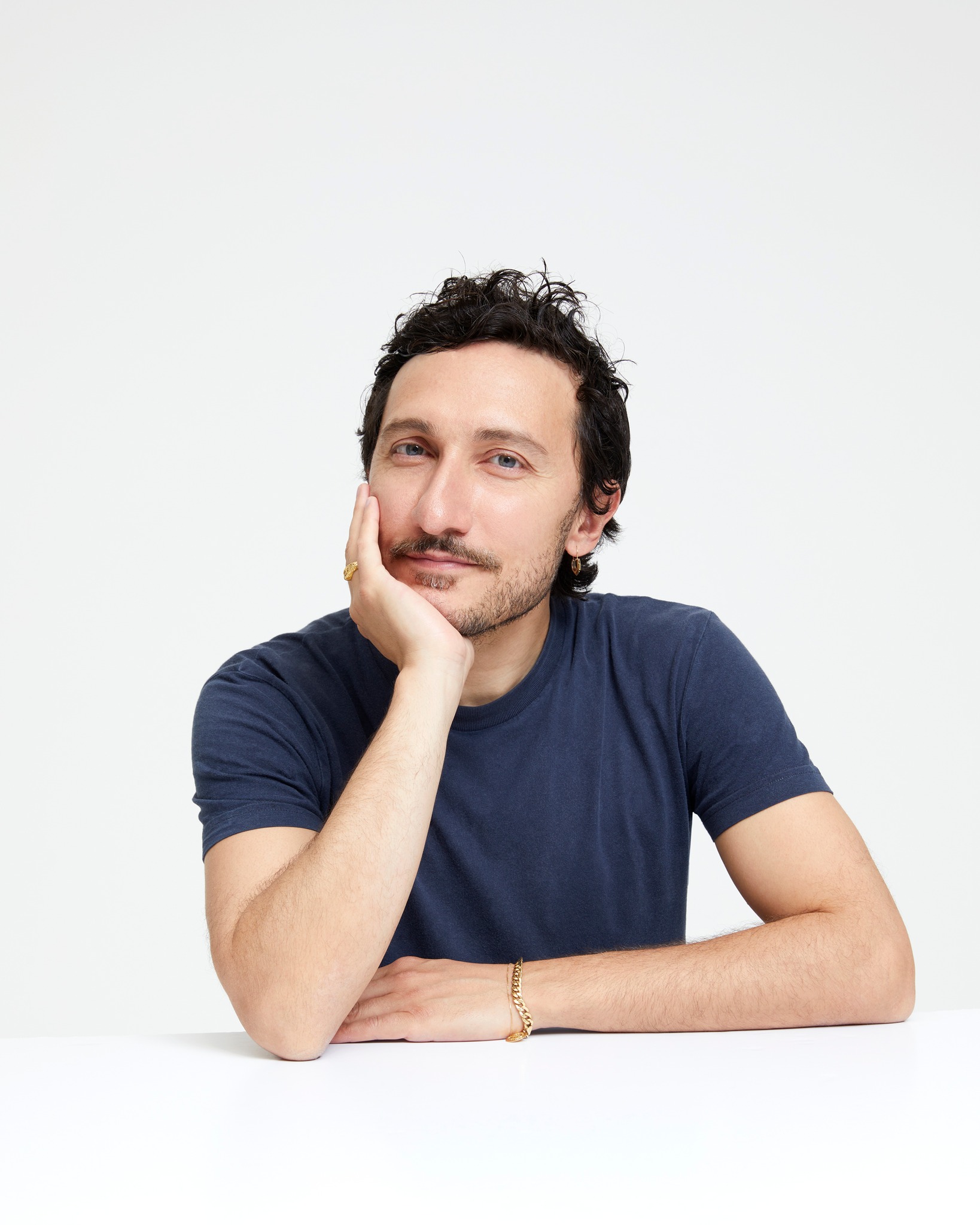 Módny návrhár Kean Etro definoval pánske oblečenie značky Etro už viac ako dve desaťročia.
Zvláštnym a zmyselným momentom v tejto jeho poslednej jazde bola samotná pozvánka na módnu šou poňatá hravou formou. Pred predstavením novej kolekcie bola každému účastníkovi namiesto fyzického pozvania prečítaná báseň po telefóne. Poznámky k tejto šou to opísali ako silu poézie evokovať "utopizmus".
V realite to odzrkadľovalo kolekciu poetickú aj zmyselnú: predvedené boli vlajúce kaftany s ľahučkým pierkom v potlači módneho domu a mdlé krajčírstvo so skromnými plavkami a skrátenými mini šortkami. Bola to presvedčivá ponuka na nadchádzajúcu letnú sezónu, obzvlášť žiadúca vo víkendových horúčavách okolo 30. stupňov a viac.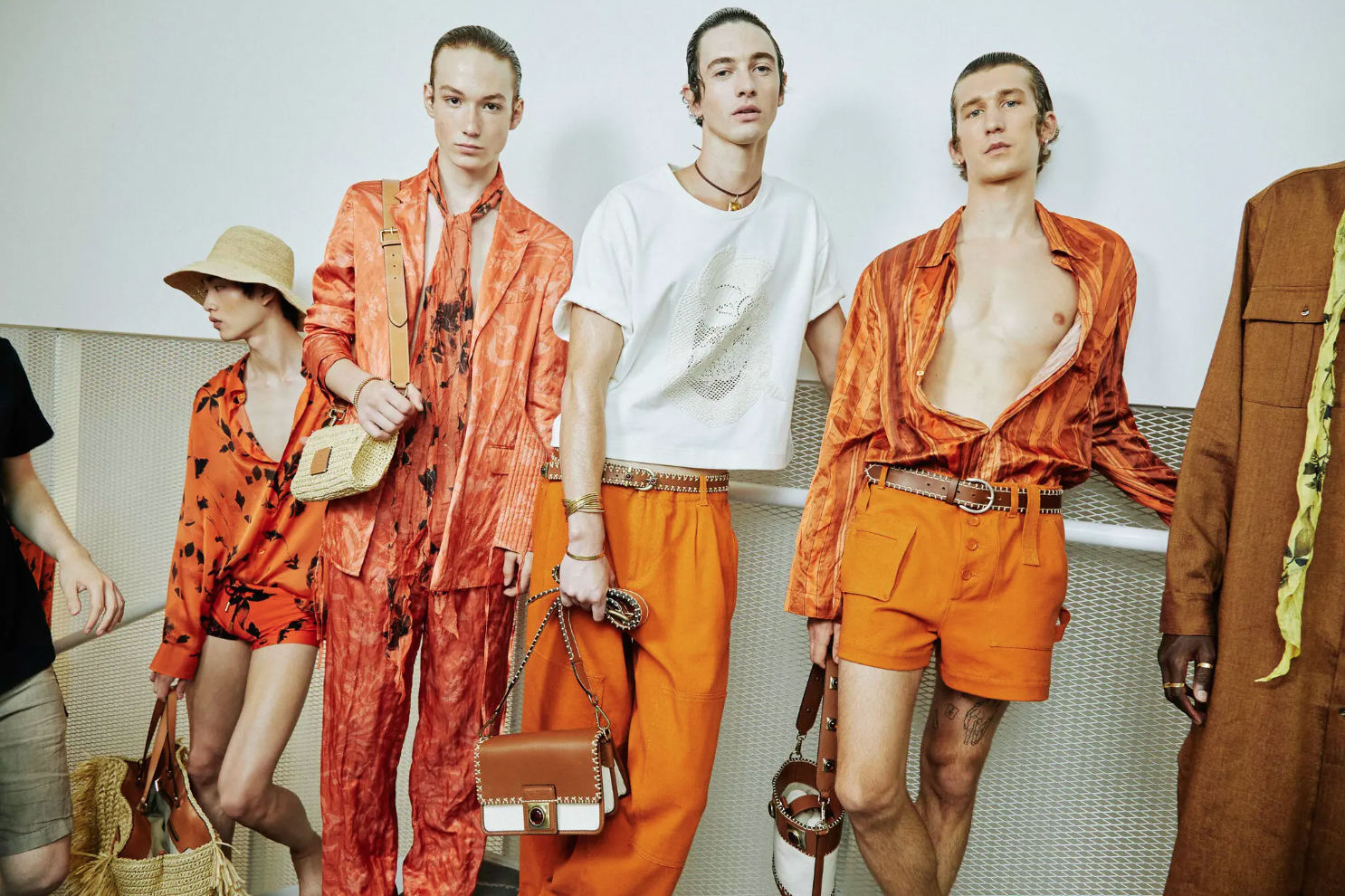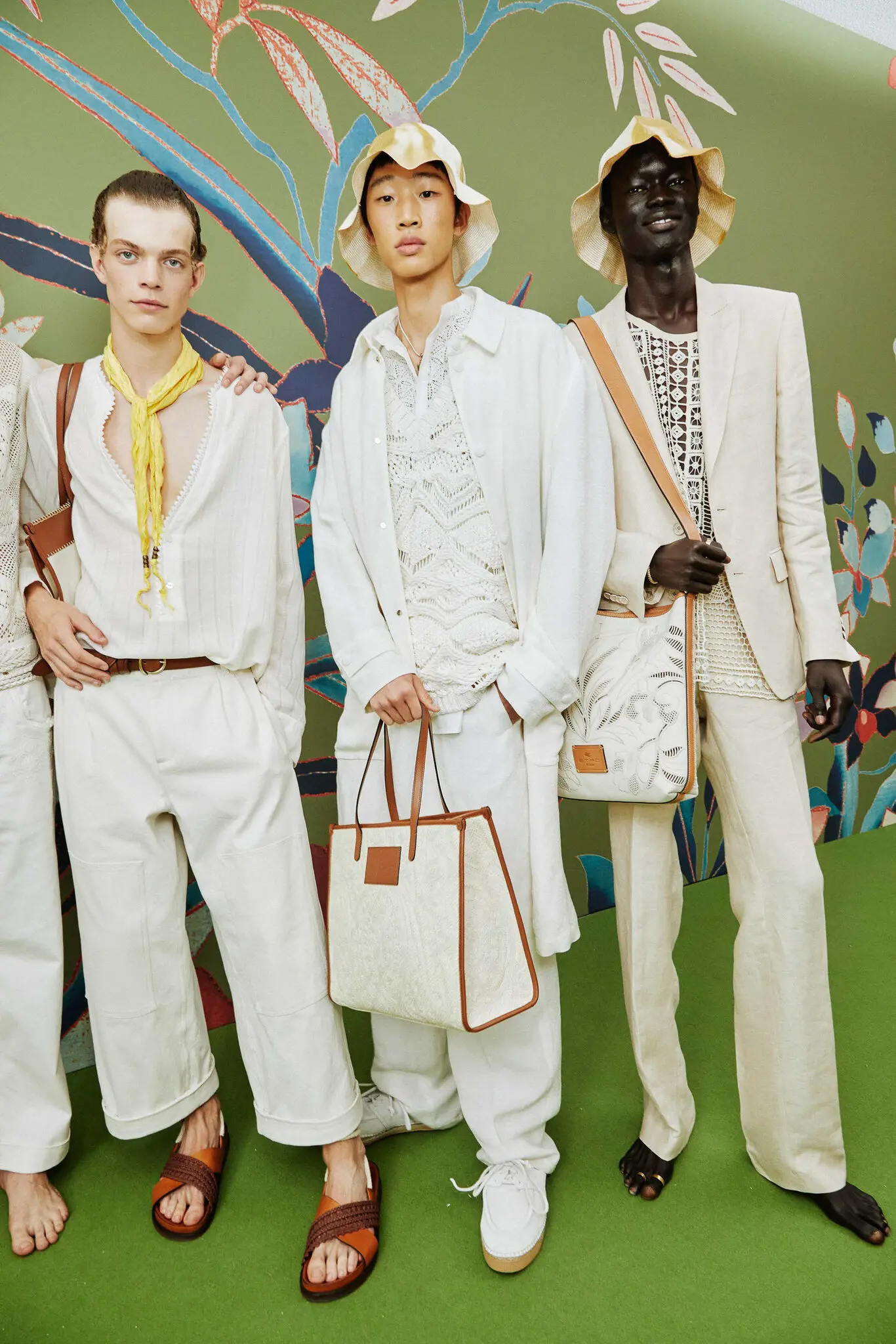 PRADA
Papierovo-biele evokujúce steny domu Prada počas módnej šou plné obrovských okien a chrumkavo zložených ginghamových závesov, poskytli pozadie najnovšej kolekcii Miuccii Prada a Rafa Simonsa. Pozvaní hostia vrátane aktuálnej hviezdy kampane Jeffa Goldbluma sedeli na stoličkách vyrobených z kartónu.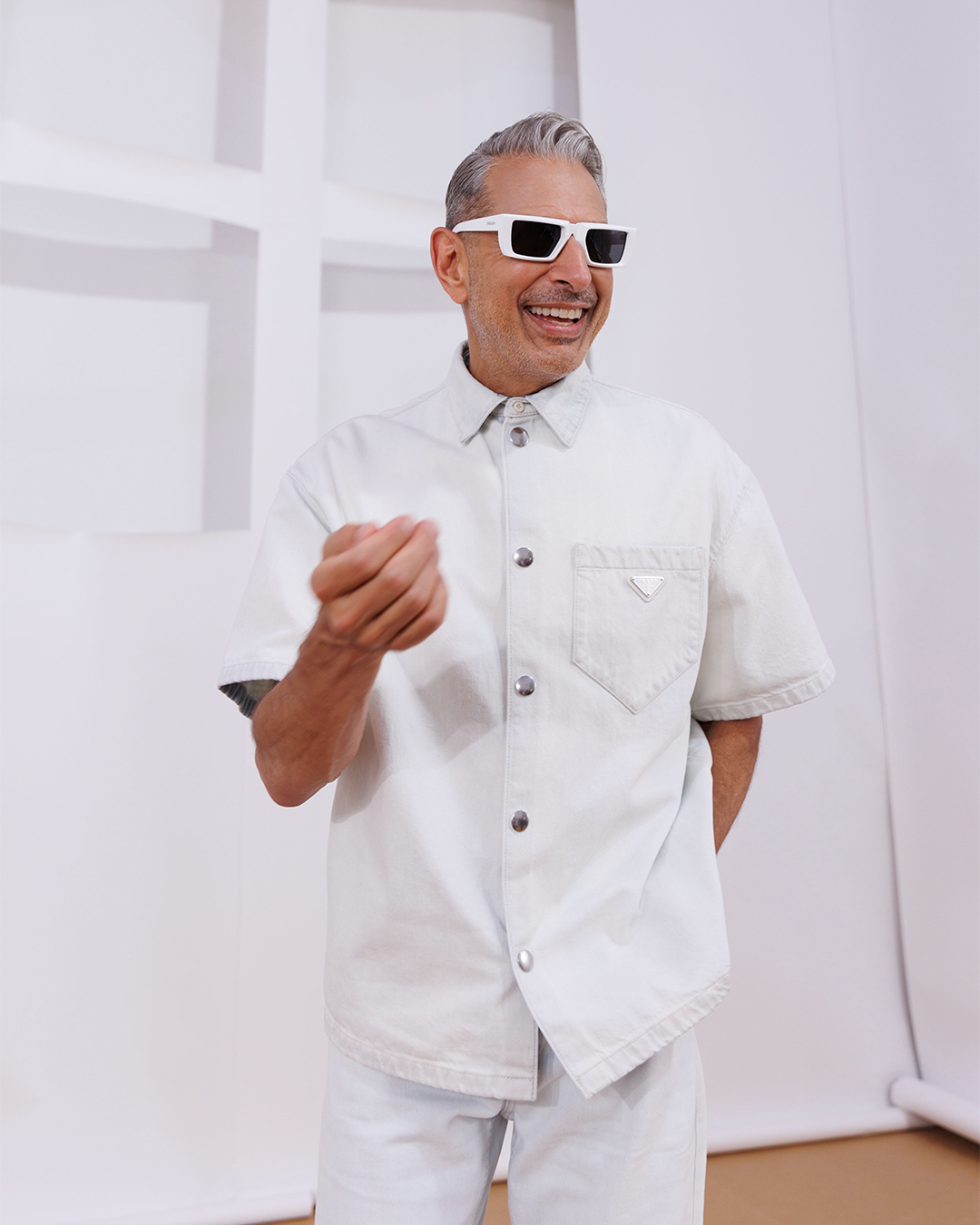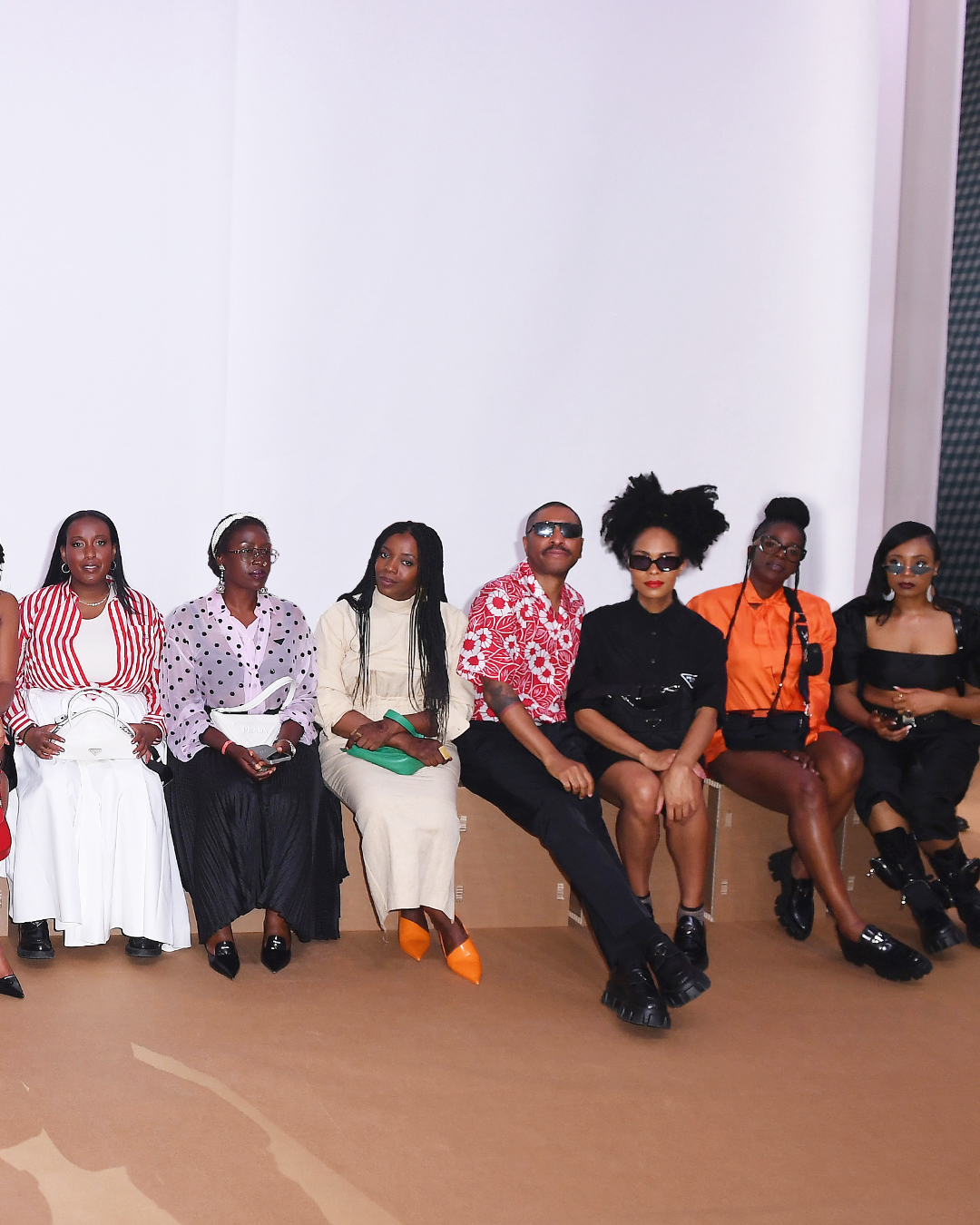 Samotná kolekcia s názvom Prada Choices sa sústreďovala na akt kurátorstva vlastného štýlu – "porovnanie prvkov a odevov, vytváranie dojmu, vytváranie štýlu".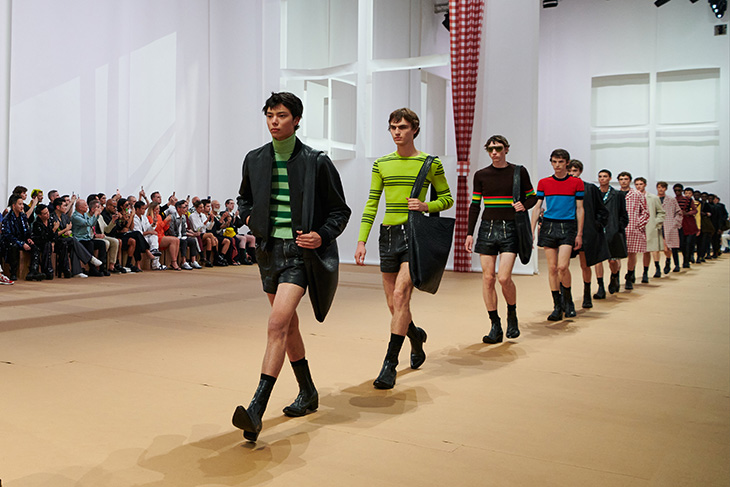 Dizajnérske duo sa zameralo v tejto kolekcii na archetypálne pánske odevy, medzi nimi oblek a sako z mackintosh tkaniny, z džínsoviny a kože. Klasický oblek bol v kontraste napríklad s krátkou koženou a ladiacou vestou spolu s diskrétnymi kabátikmi so štyrmi gombíkmi oproti dvojitej riflovine s kamienkami.
"Odevy sú klasické, ale ich kombinácia je v rozpore, vďaka čomu sú vzrušujúce a nové," vyjadril sa kreatívny dizajnér Raf Simons a Miuccia Prada dodala: "Základom je naozaj koncepčný výber – kabát, džínsy, oblek. Vyzerajú jednoducho, ale sú výsledkom procesu… Je to kombinácia dlhého procesu navrhovania a rozhodovania a potom inštinktu. Je to vecou štýlu."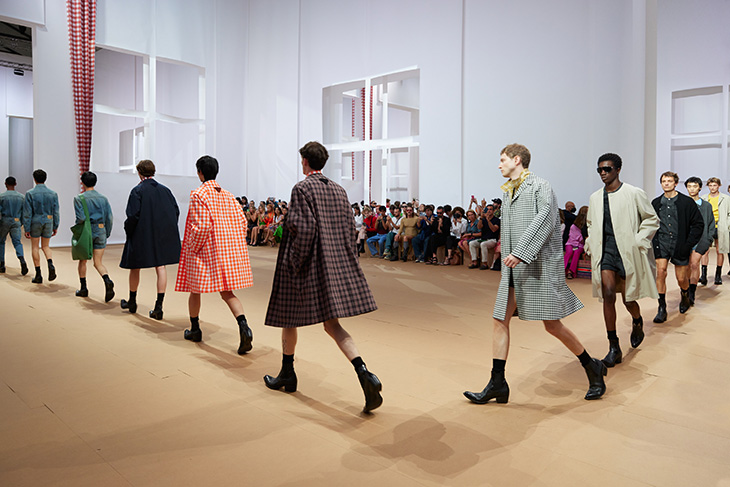 JW ANDERSON
Očakávaným prírastkom do harmonogramu prehliadok Milan Fashion Weeku, pánskej sezóny módy, bol britský dizajnér Jonathan Anderson.
Anderson navrhol kolekciu, ktorej prehliadka sa začala už vonku. Modelky leňošili na bielych podstavcoch pri vstupe do priestoru. Ich rôzne, väčšinou pletené oblečenie bolo ozdobené sloganmi ako "pozri sem, posledná je láska". Video si môžete pozrieť tu: https://www.facebook.com/jwanderson.london/videos/3101266650184840
Vo vnútri, počas módnej prehliadky kolekcie, mali odevy veľmi hravý a vtipný rozmach – riadidlá bicykla a rozbité skateboardy boli pripútané cez hruď, predviedli sa tričká s otvorenými viečkami plechoviek a čiarové kódy vykúkajúce spod roztrhaných džínsových búnd a nohavíc.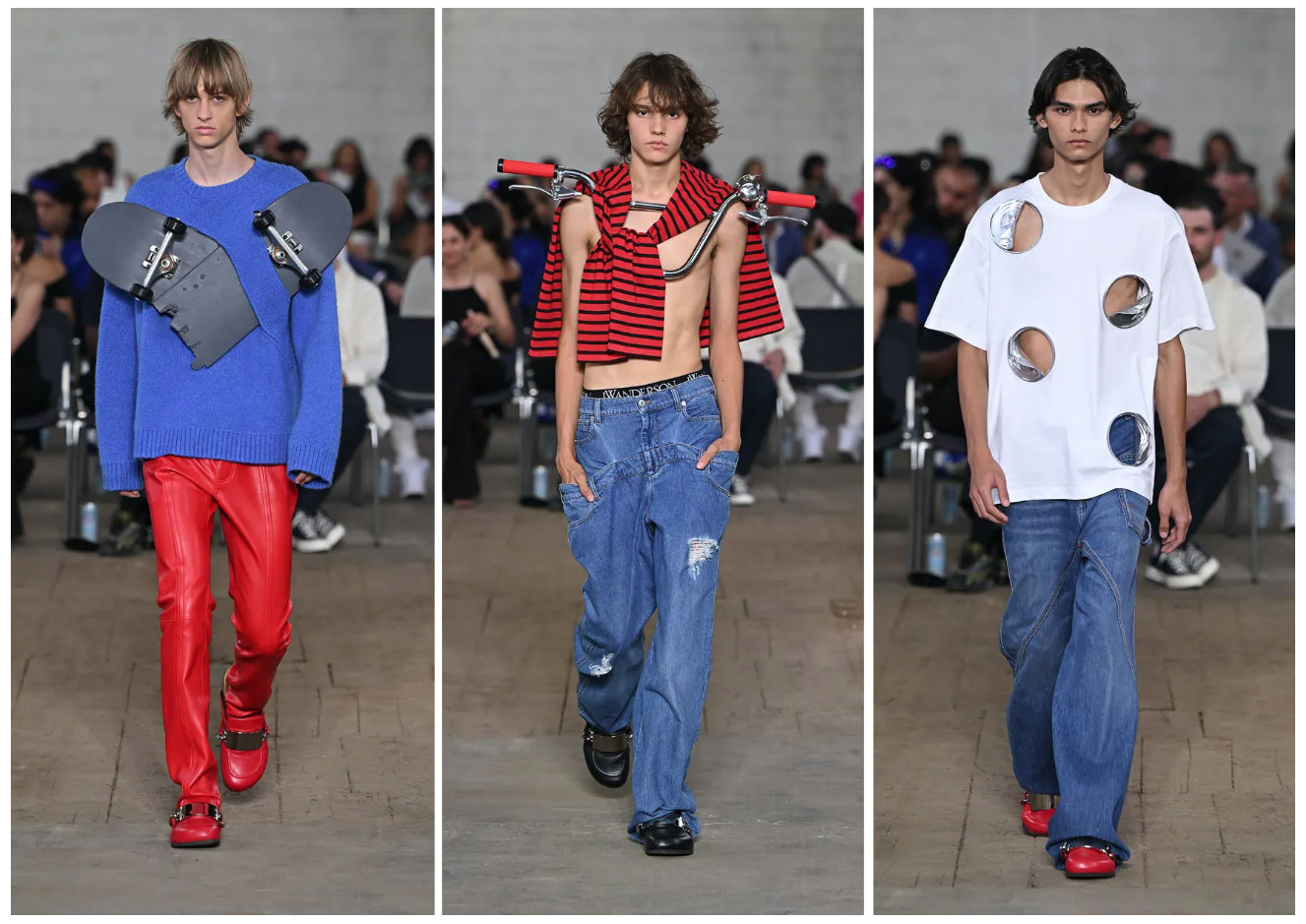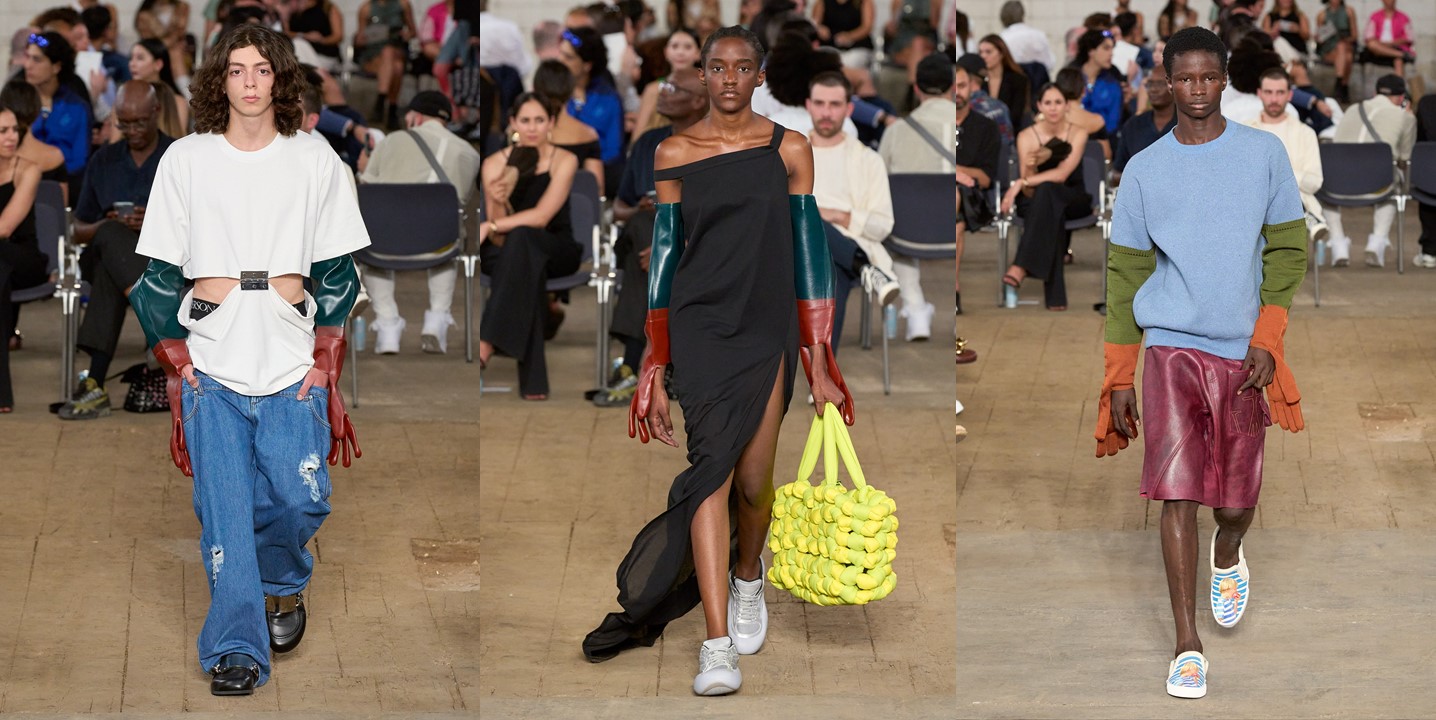 Radostne osobité boli aj doplnky, nazúvacie tenisky zdobené autoportrétom od Rembrandta – potlač, ktorá zdobila rifle a najmä svetre v odvážnych farbách. Poznámky ku kolekcii nazvali stretnutie týchto nesúrodých prvkov "krachom" – "všetko je veľmi subjektívne a skôr záhadné, vzdorovité alebo drzé".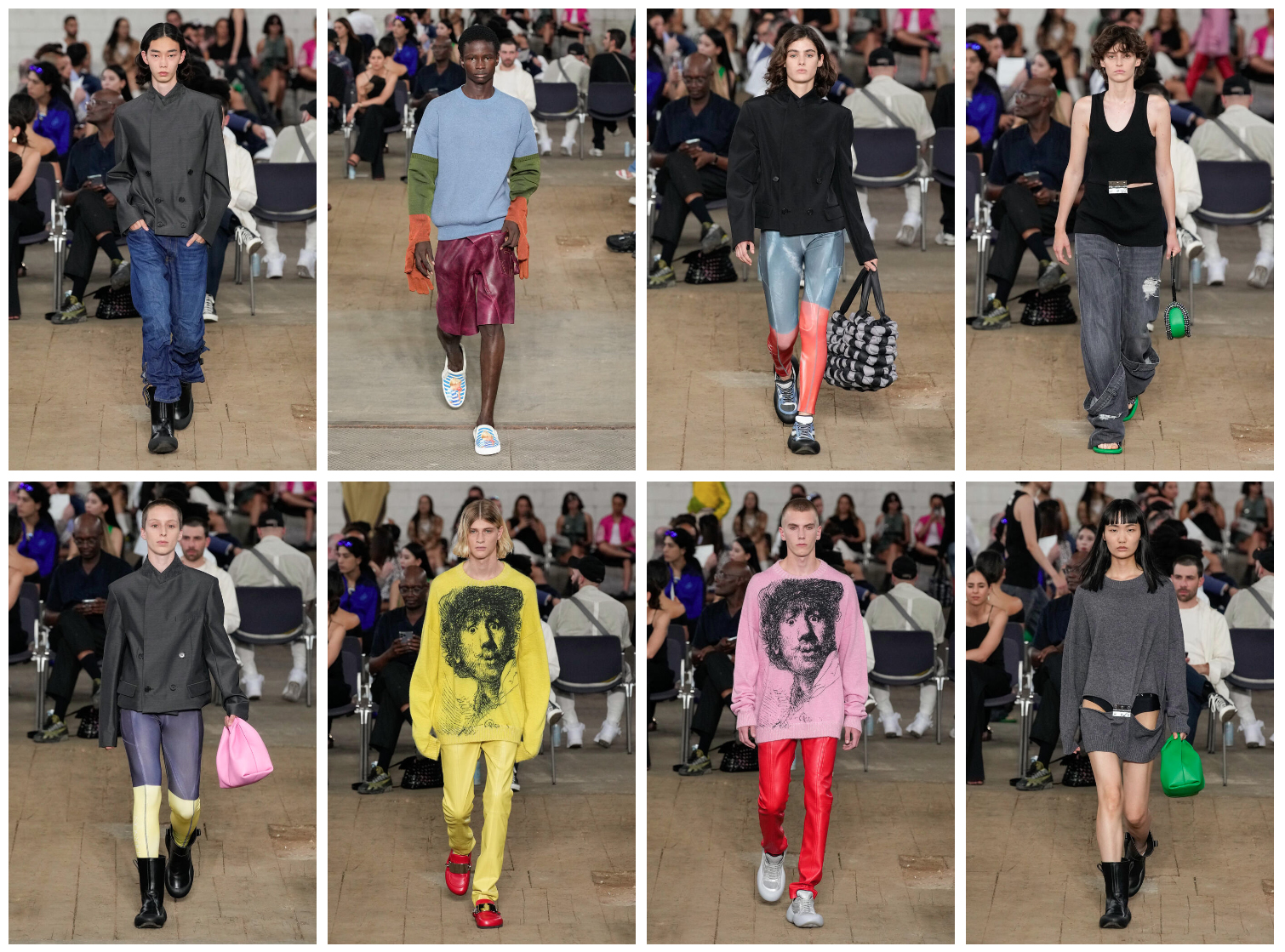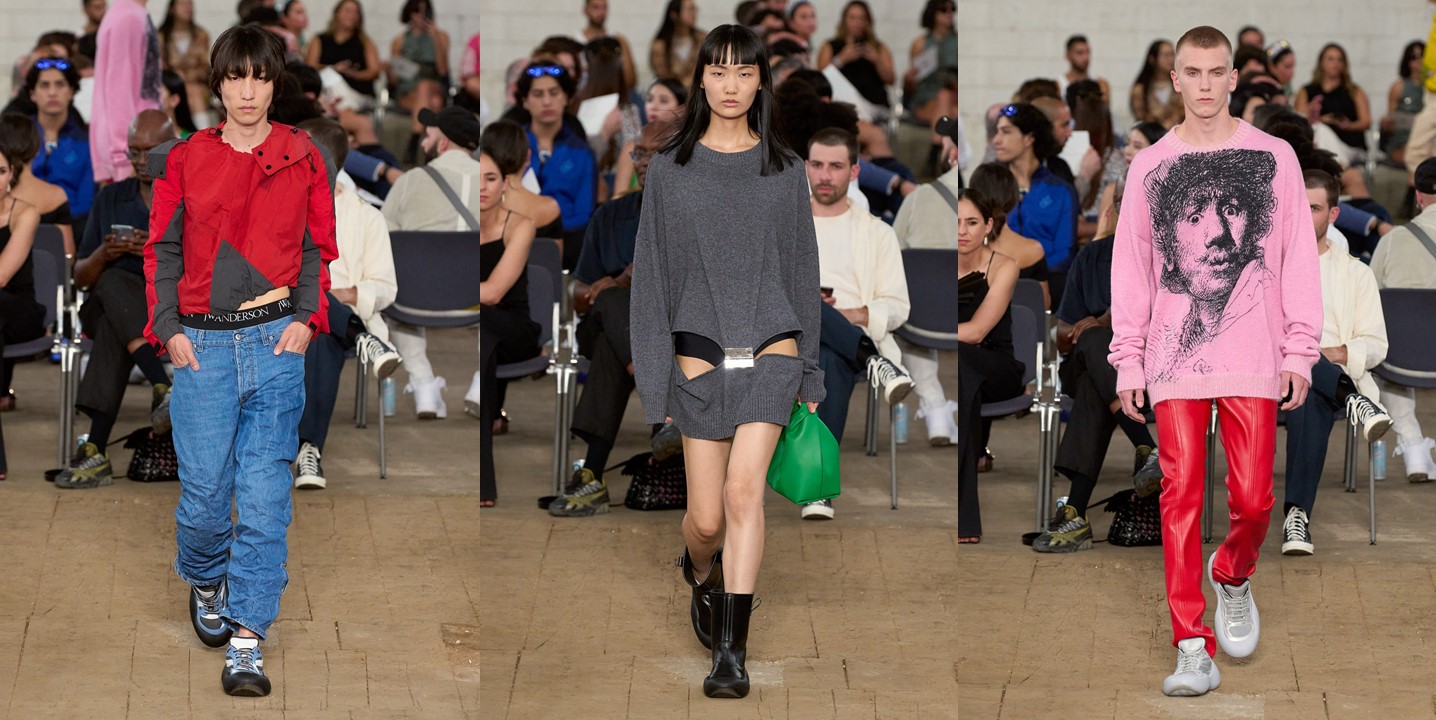 GIORGIO ARMANI
Giorgio Armani zakončil pondelok ráno, 20. júna 2022 búrlivým standing ovation, vhodnou pripomienkou neporovnateľného postavenia, ktoré má taliansky dizajnér vo svojom rodnom meste Miláno. Pri tejto príležitosti boli hostia pozvaní do Armaniho vnútornej svätyne – sídla domu Via Borgonuovo v historickom Palazzo Orsini zo 17. storočia – na intímny výlet do špeciálne vybudovaného priestoru v suteréne budovy. Podobne ako na prehliadke Emporio Armani začiatkom týždňa Milan Fashion Weeku, boli odevy naplnené pocitom ľahkosti. Prevládalo ľahké neštruktúrované krajčírstvo, priesvitné košele bez goliera, hodvábne šatky skrútené a uviazané okolo tela, skombinované s rôznymi kúskami často vrstvenými do jedinečného vzhľadu.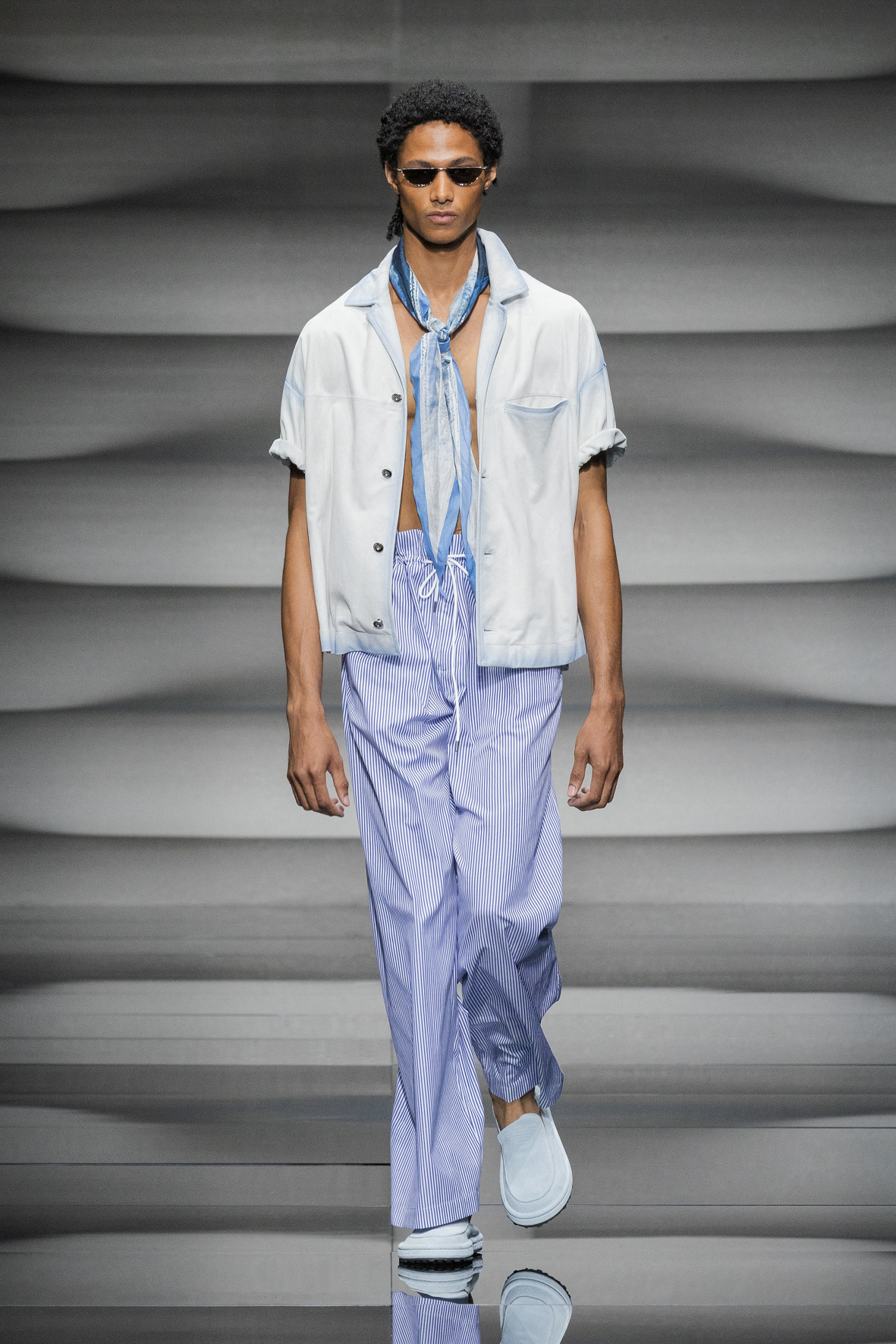 Čo sa týka dizajnu kolekcie Giorgio Armani, Jar/Leto 2022 sa Armani vyjadril, že ho zaujíma spôsob, akým sa oblečenie kombinuje. Popri množstve modrej sa v celej kolekcii našli odtiene béžovej, bielej, zlatej a ecru, čo je ozvena pozadia miestnosti – fotografia púštneho piesku, ktorú vietor zachytáva vo vlnách.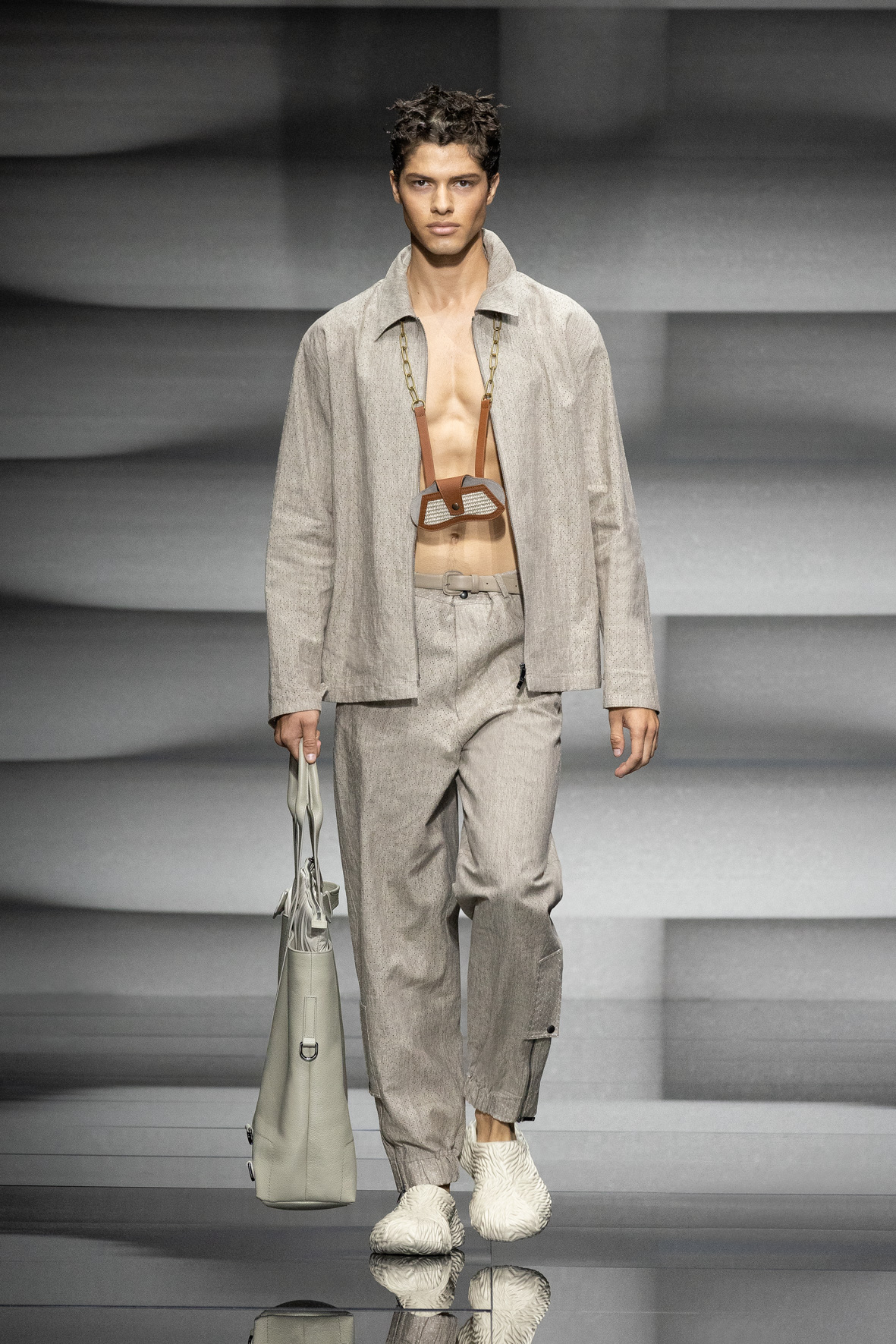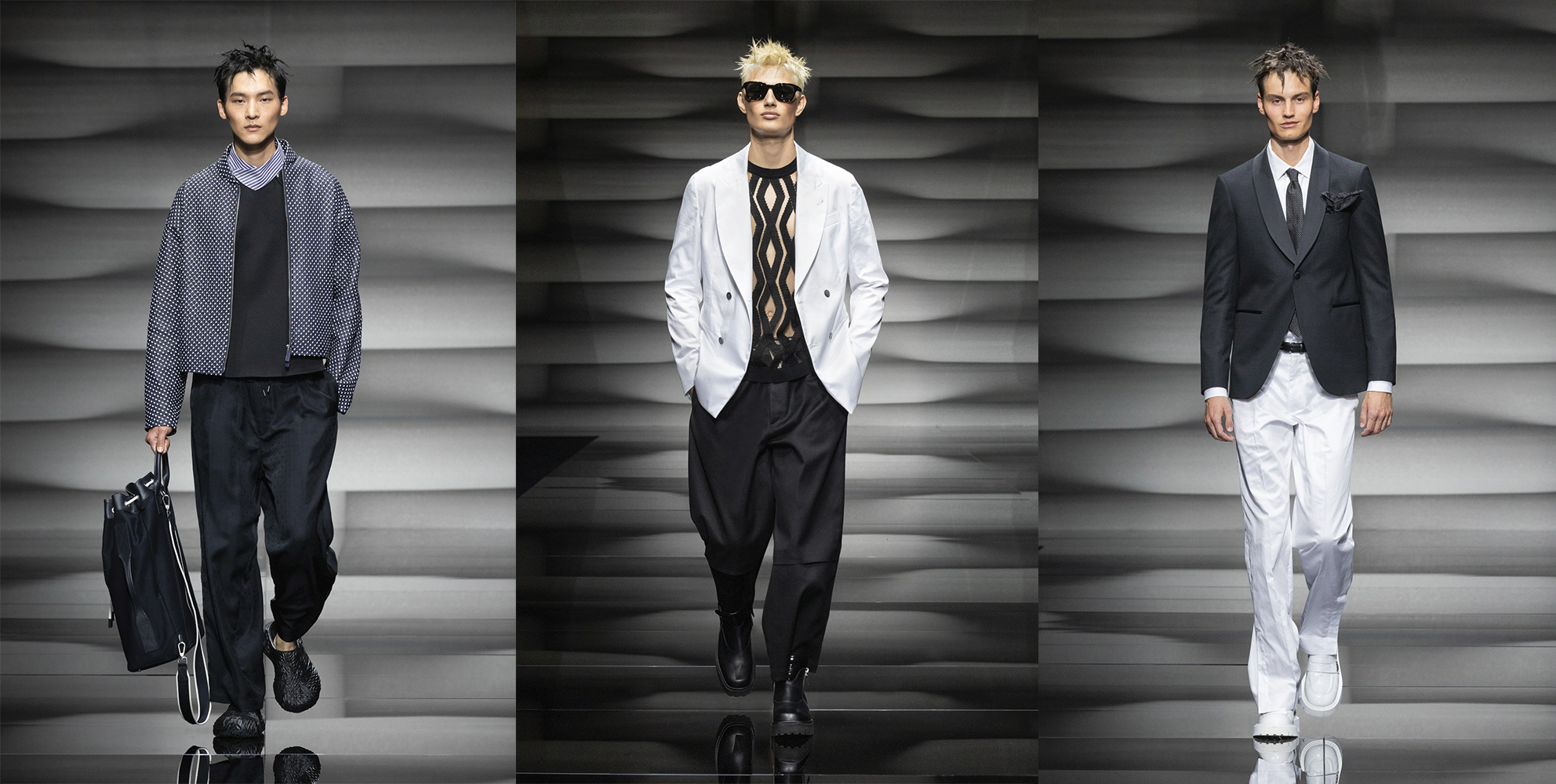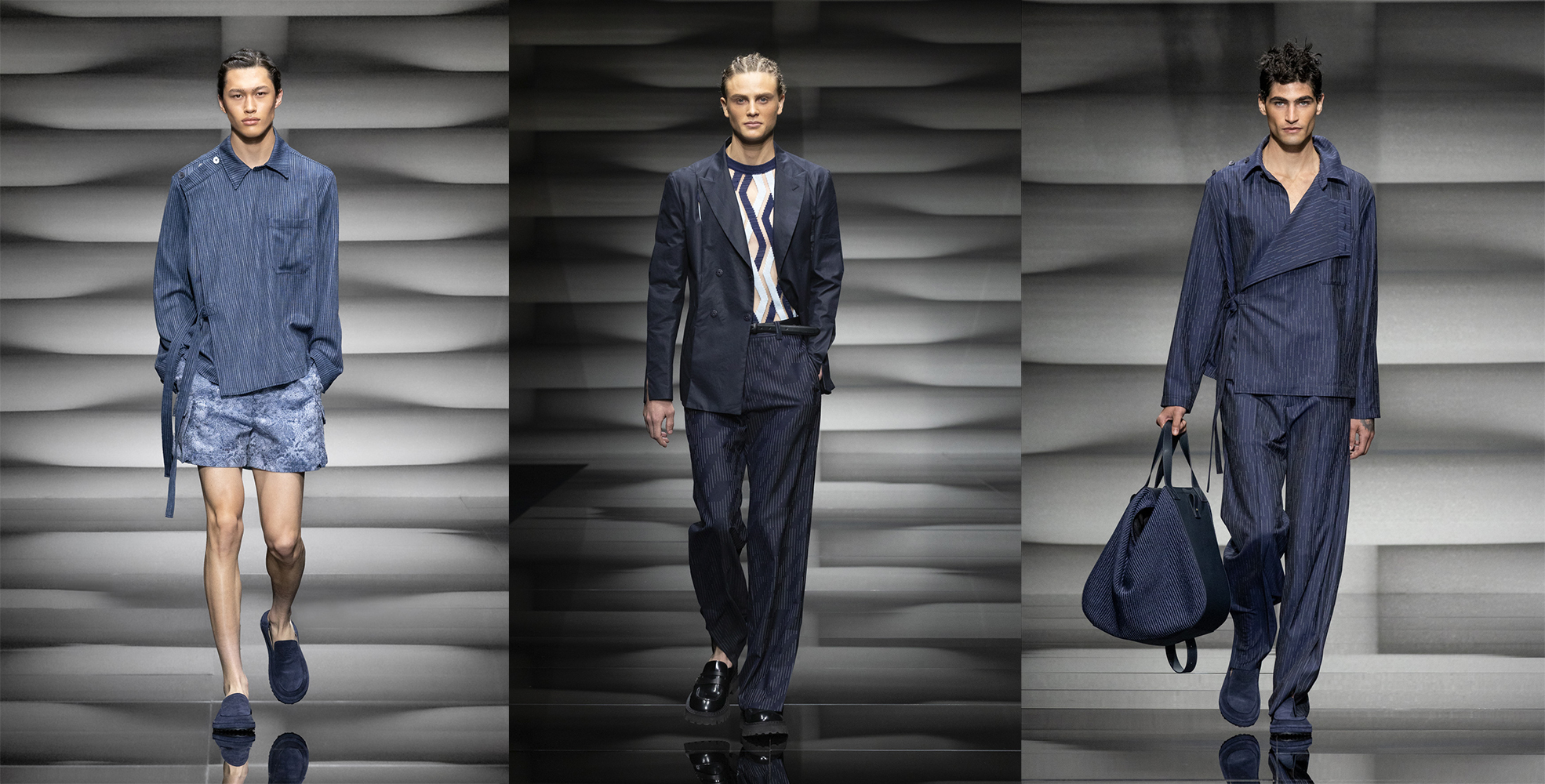 Taliansky dizajnér Giorgio Armani, ktorý oslávil už 87 rokov je jednoznačne stálicou a žijúcou módnou legendou vo svete módy a módnych týždňov a kráľom módy, ako mu právom patrí talianska prezývka il Re della Moda Italiana.
Prvú časť článku si môžete prečítať v histórii na tomto blogu v kategórii Fashion.
obrázky: © Courtesy via Getty Images, Vogue, Versace, Etro, Prada, JW Anderon
Sledujte Facebook stránku: Mya Mirell Fashionista a Instagram: mya_mirell .